Mike Schmitz's Must-Have Productivity Apps
June 1, 2023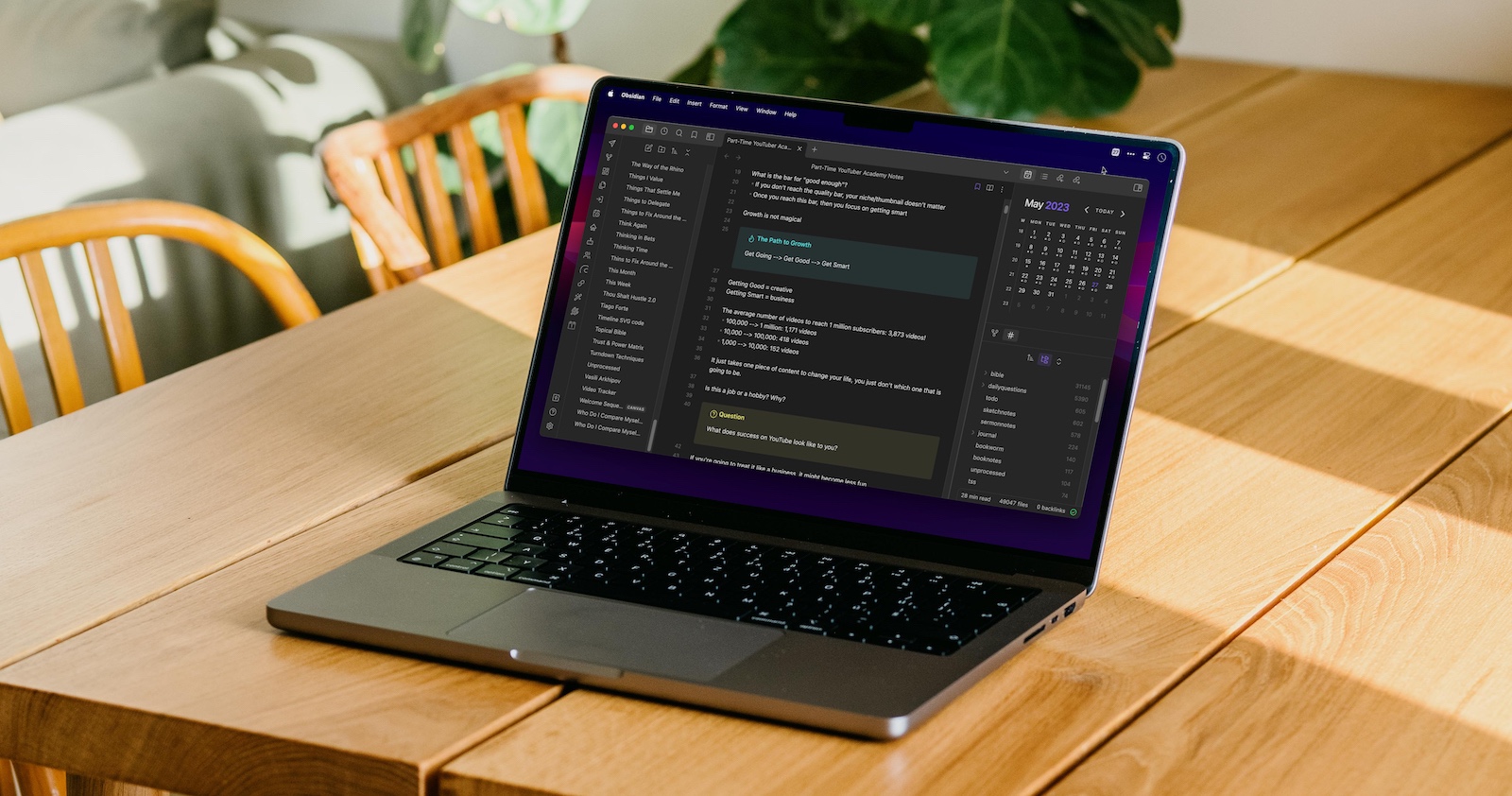 👋🏼 Hi, I'm Mike Schmitz, and I'm an independent creator.
Like Josh, Matt, and Jeff did previously, today I'm going to share a handful of my favorite productivity apps that are essential for how I work.
Obsidian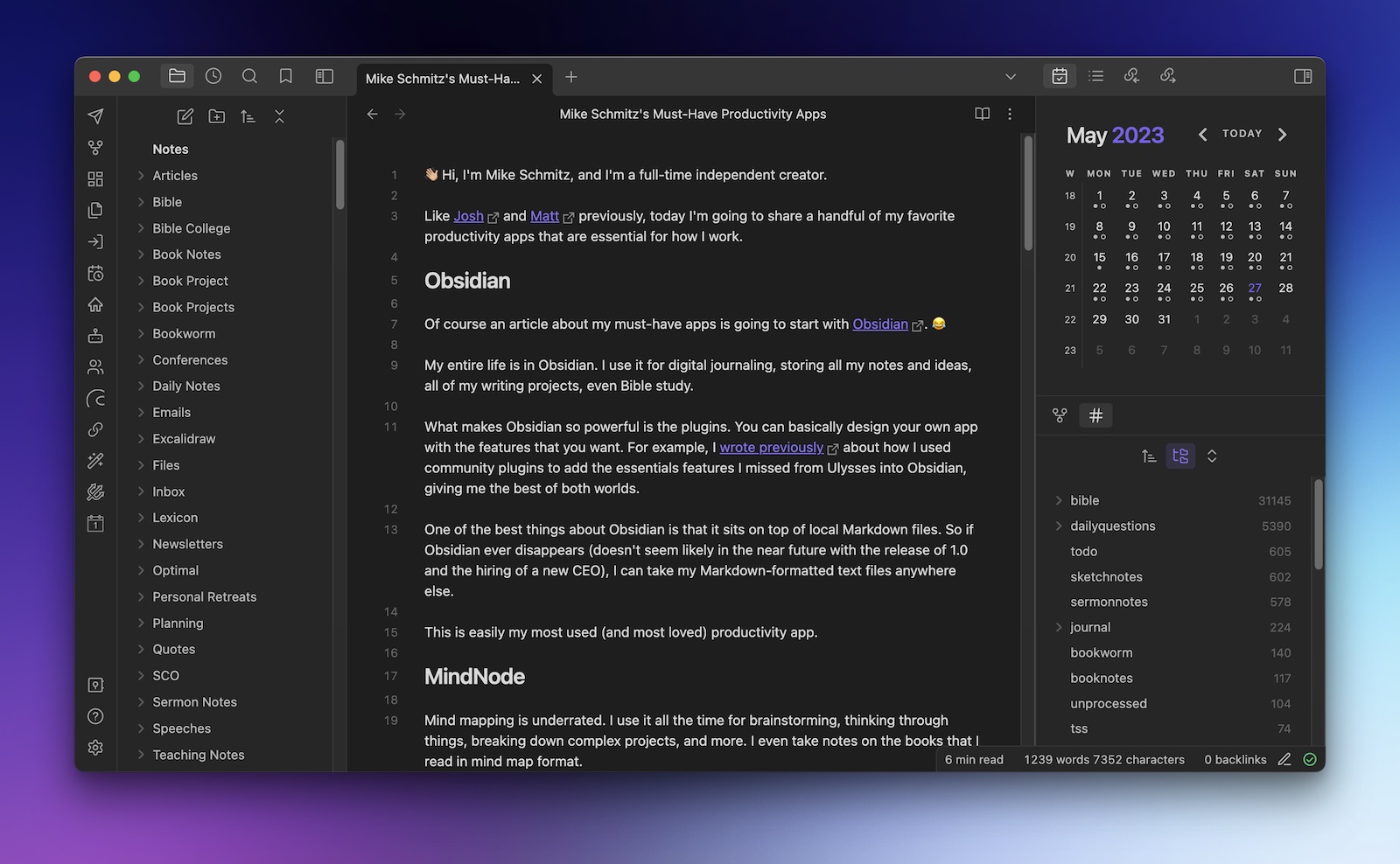 Of course, an article about my must-have apps is going to start with Obsidian. 😂
My entire life is in Obsidian. I use it for digital journaling, storing all my notes and ideas, all of my writing projects, even Bible study.
What makes Obsidian so powerful is the plugins. You can basically design your own app with the features that you want. For example, I wrote previously about how I used community plugins to add the essential features I missed from Ulysses into Obsidian, giving me the best of both worlds.
One of the best things about Obsidian is that it sits on top of local Markdown files. So if Obsidian ever disappears (doesn't seem likely in the near future with the release of 1.0 and the hiring of a new CEO), I can take my Markdown-formatted text files anywhere else.
This is easily my most used (and most loved) productivity app.
MindNode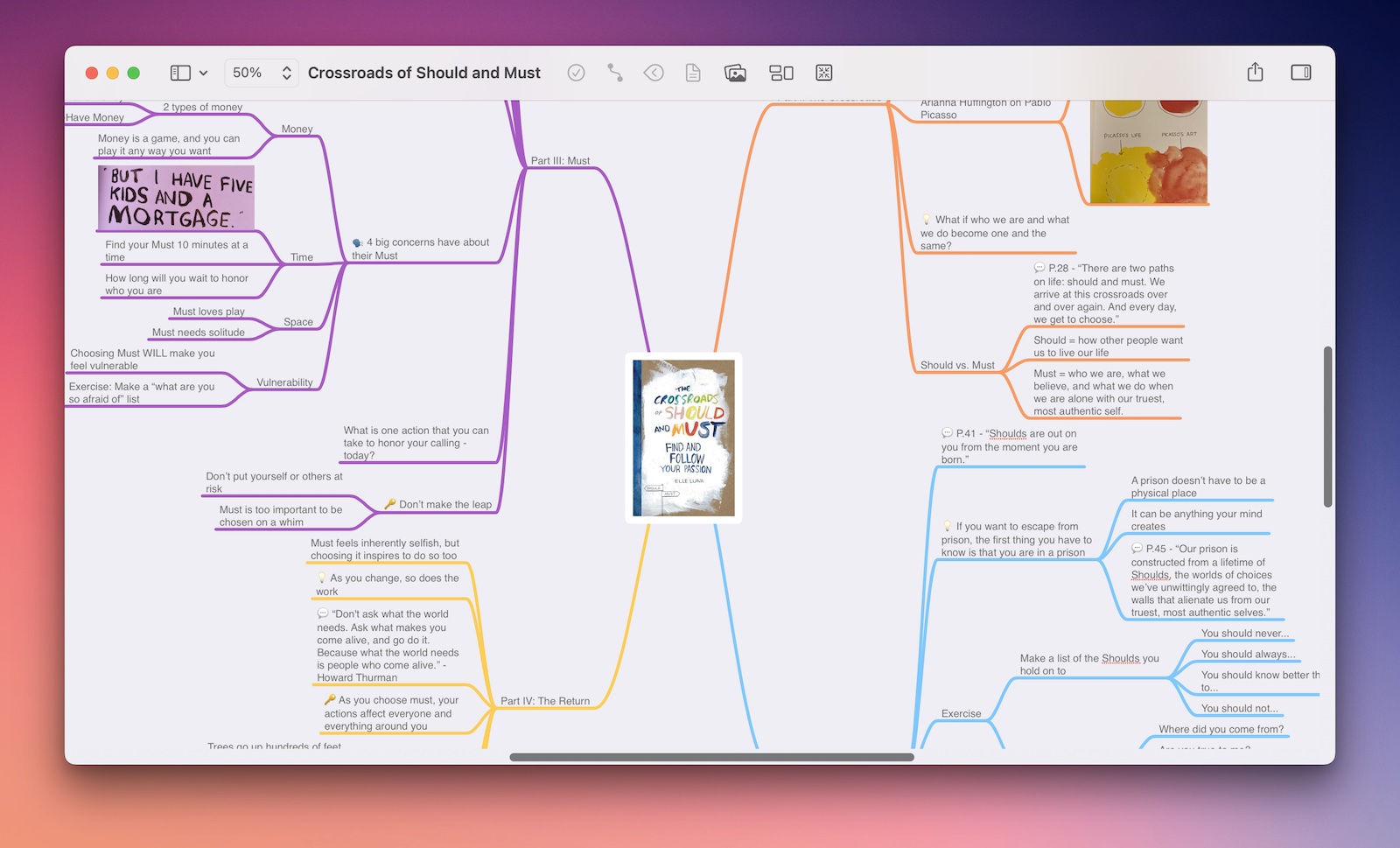 Mind mapping is underrated. I use it all the time for brainstorming, thinking through things, breaking down complex projects, and more. I even take notes on the books that I read in mind map format.
And if you're going to create mind maps, MindNode is the app to use.
It has the best user interface of any mind map app available, and gives you a ton of power while still being incredibly easy to use.
If you are looking for a visual thinking tool for macOS or iOS, you need to check out MindNode.
Keynote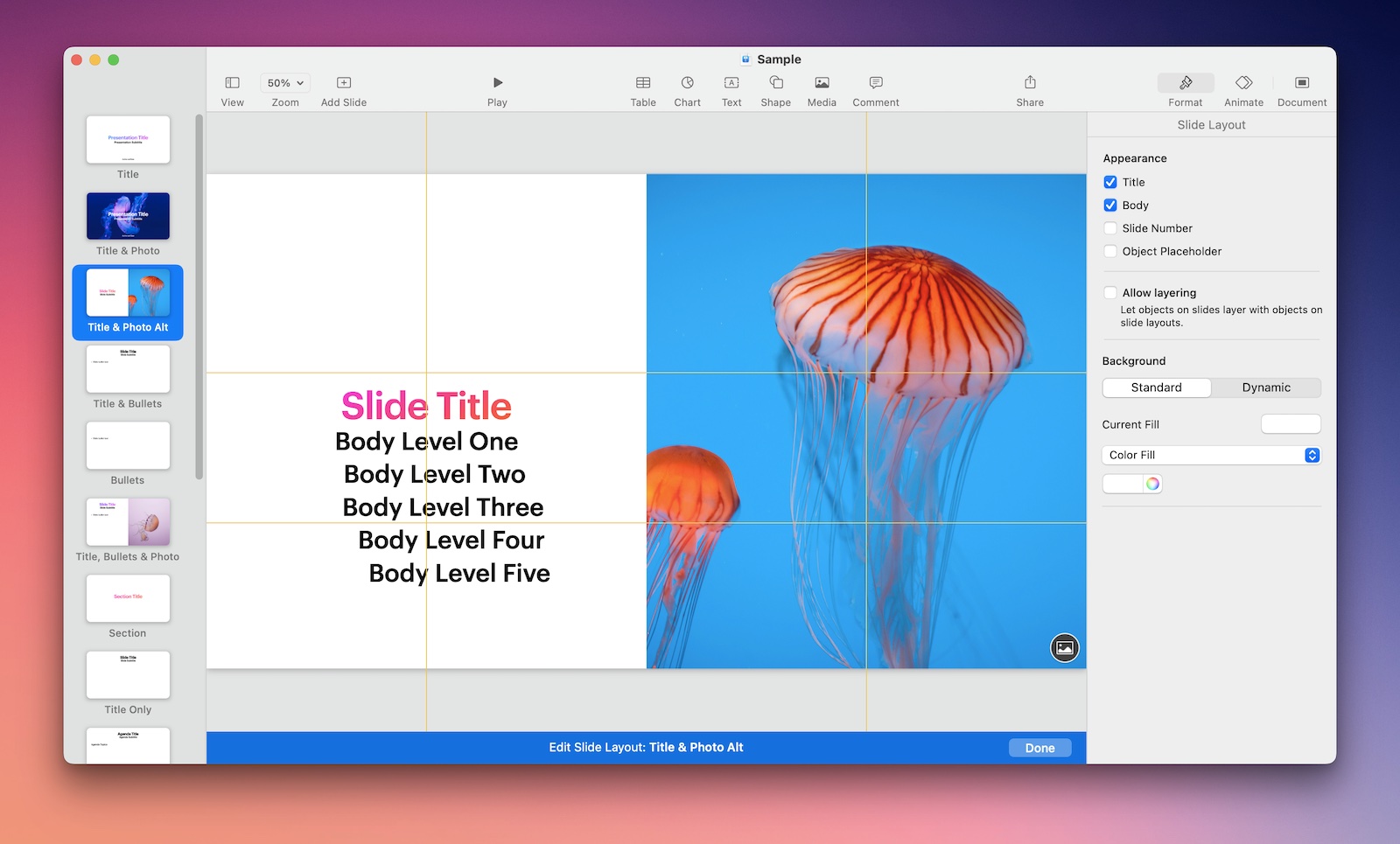 Keynote is a deceptively powerful app that can do WAY more than just create great presentations.
The auto-align feature makes it a great canvas for making quick designs. Yes, they can be exported as images, but I frequently just use CleanShot X to grab a screenshot and add a quick background before sharing.
It's also great for making quick animations with the Magic Move transition. Create a couple of slides, start a presentation, and use screen capturing software like ScreenFlow to record the animation as a video.
Don't write it off just because it's free and comes with your Mac! In my humble opinion, this is easily the best app Apple has ever made.
GoodNotes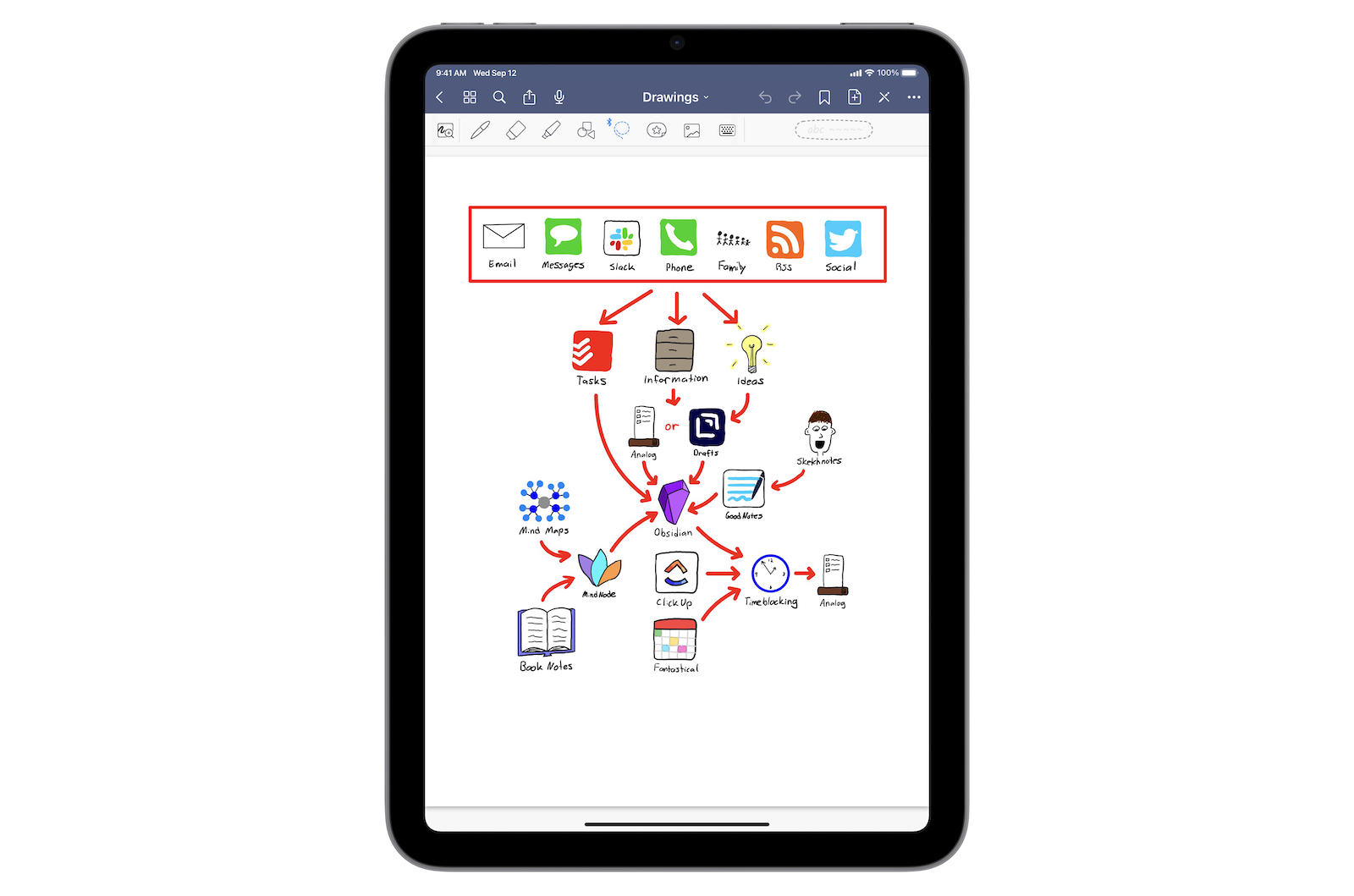 I don't use my iPad mini a lot. But when I do, I'm likely using GoodNotes.
GoodNotes is the app to use if you're going to do anything with handwritten text on the iPad. It's also a great tool for sketching or diagramming, and the ability to add PDF templates opens up a host of other uses for this powerful app (like The Focus Course Digital Planner).
GoodNotes is the place that I create anything with an Apple Pencil. I've tried other more "professional" apps like Procreate, but GoodNotes is the perfect sweet spot between ease of use and powerful tools. I started sketchnoting in GoodNotes several years ago, and it's only gotten easier and more fun.
If you do any kind of sketching or diagramming, this is an essential app.
MacGPT

I wrote recently about my experiments in using ChatGPT for productivity and creativity, but my preferred way to access ChatGPT is through a macOS app called MacGPT.
On the tin, MacGPT is a menu bar app that allows you to quickly access ChatGTP, and the quickest way to access the ChatGPT website for using GPT-4 without a GPT-4 API key. But it also has a couple of other modes (which do require an API key) for accessing ChatGPT via a spotlight-style global textfield or even inline in any text editor.
If you're a heavy ChatGPT user who uses your Mac a lot, check out MacGPT.
Honorable Mentions
The apps listed above are critical for my productivity and creativity workflows. If you took these away, my job gets a lot harder.
But there are a bunch of other apps and utilities that I rely on for my day-to-day work. Here are some of the honorable mentions for apps that are important to me, but not quite essential.
Cron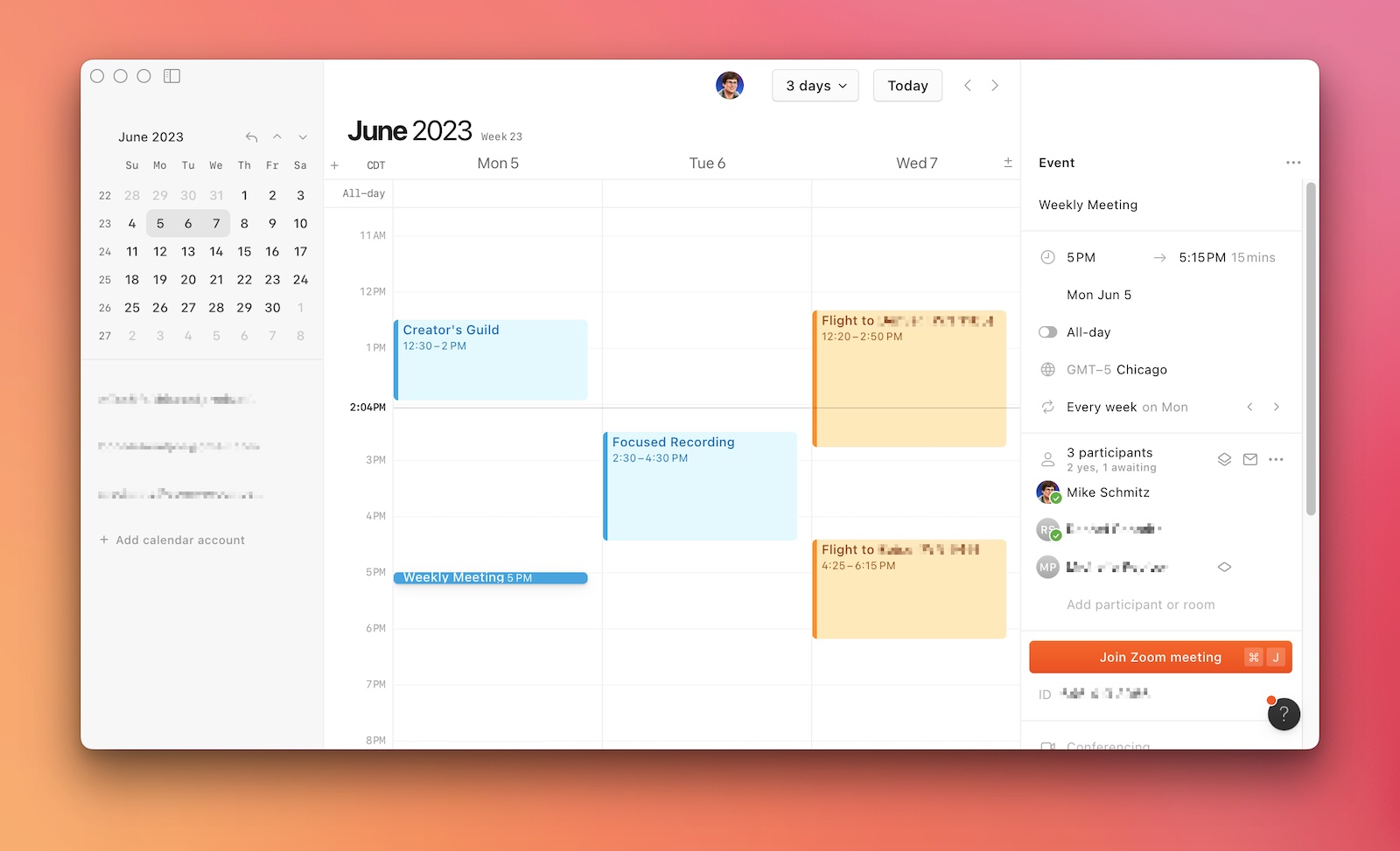 Matt Birchler has convinced me to use Cron as my calendar app. It's Google-only, but I've had countless issues with iCloud calendars, so I'm happy to leave those behind.
The keyboard shortcuts in Cron are top notch. You could probably do everything in Cron without ever taking your hands off the keyboard. But what I really like about it is the built-in scheduling system. Just set some availability on your calendar and Cron gives you a sharable link that people can use to book time on your calendar. It doesn't have all the features of Calendly, but it's so easy to use that I find myself using this instead most of the time.
Best of all, it's completely free. And since the makers of Notion are also behind this app, I'm not worried about this one disappearing any time soon.
CleanShot X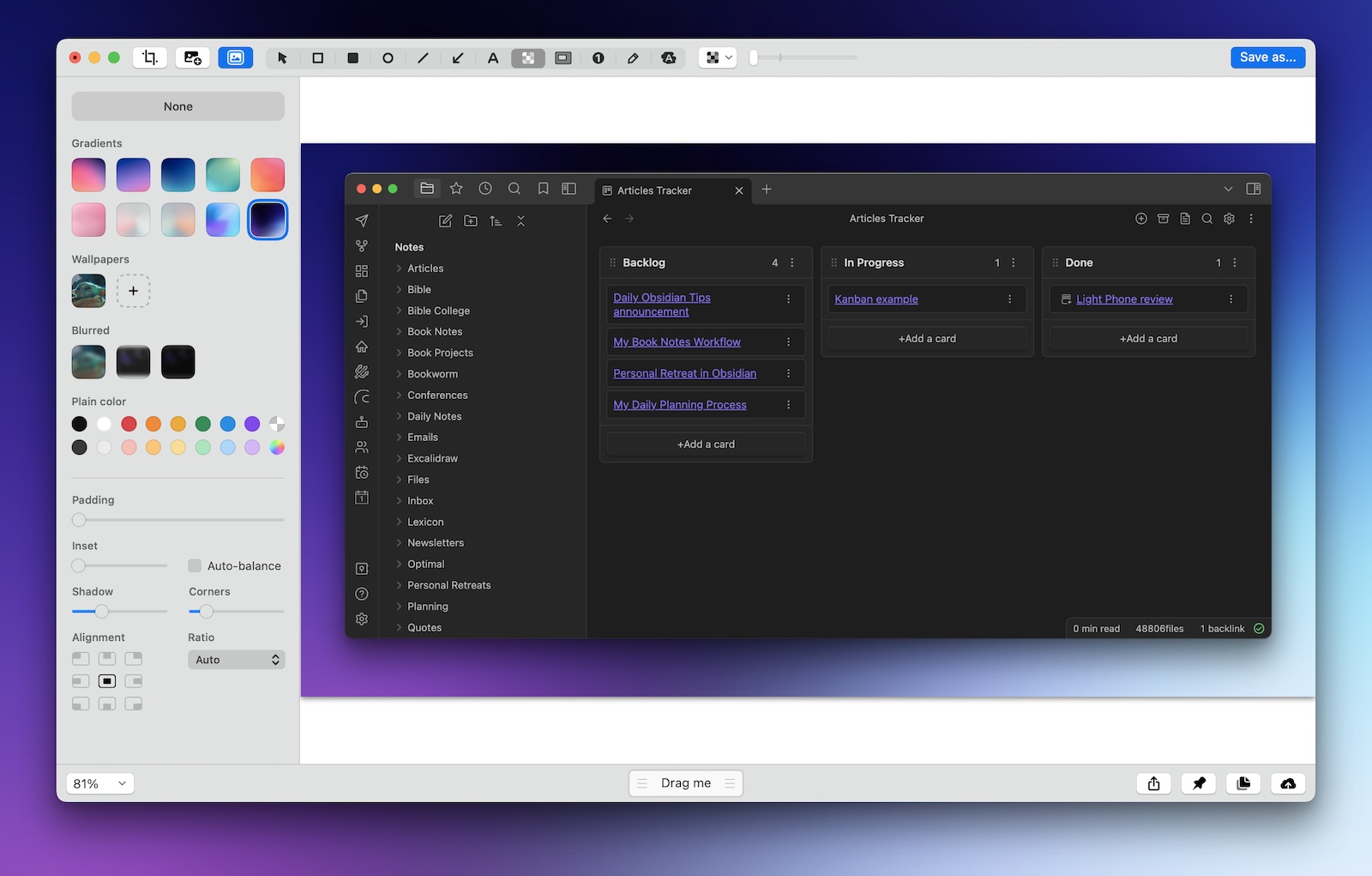 Like Matt, I also use CleanShot X all day, every day. It's a brilliant app.
In addition to letting you make quick edits and share your screenshots to the cloud (so you can share link instead of a file), CleanShot X also makes it easy to capture animated gifs and scrolling screenshots.
But the feature I find myself using the most is the ability to add colorful backgrounds to your screenshots. Built-in macOS screenshots are boring, and CleanShot X makes them a lot more interesting.
Camo Studio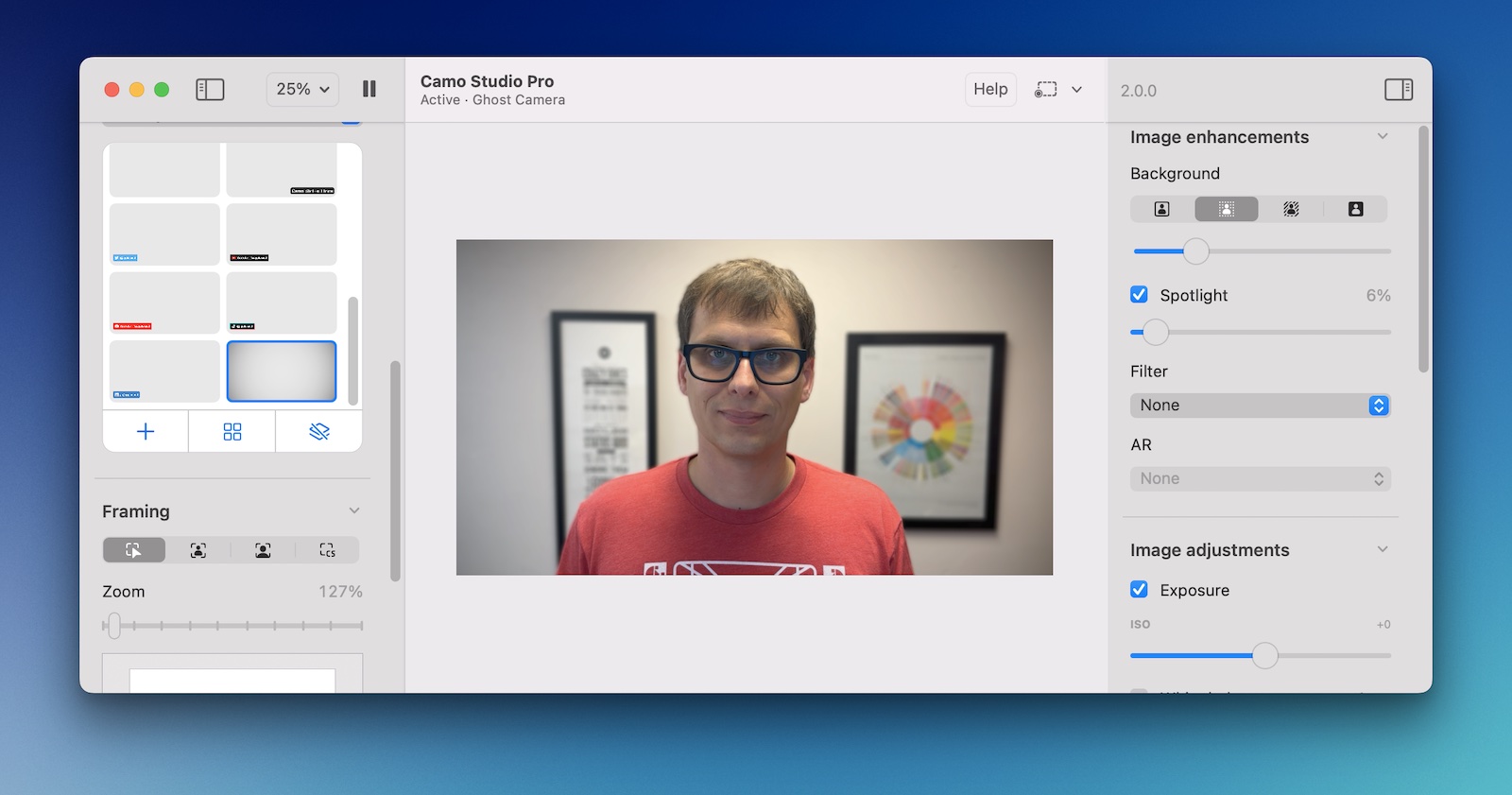 At the day job, I had a lot of meetings. And Camo Studio was essential for whenever I wasn't in my home office to attend them.
For example, I share an office with someone at a coworking space so I can get out of the house once in awhile. I have an external monitor there and can use Continuity Camera, but it's still fairly limited in my ability to touch up my on-screen appearance. But Camo Studio now works with any of your camera sources, so I can customize the video from my Continuity Camera and get it look almost as good as my setup at home.
If you want good-looking video but don't want to spend a ton on a dedicated webcam or camera, check out Camo Studio.
Raycast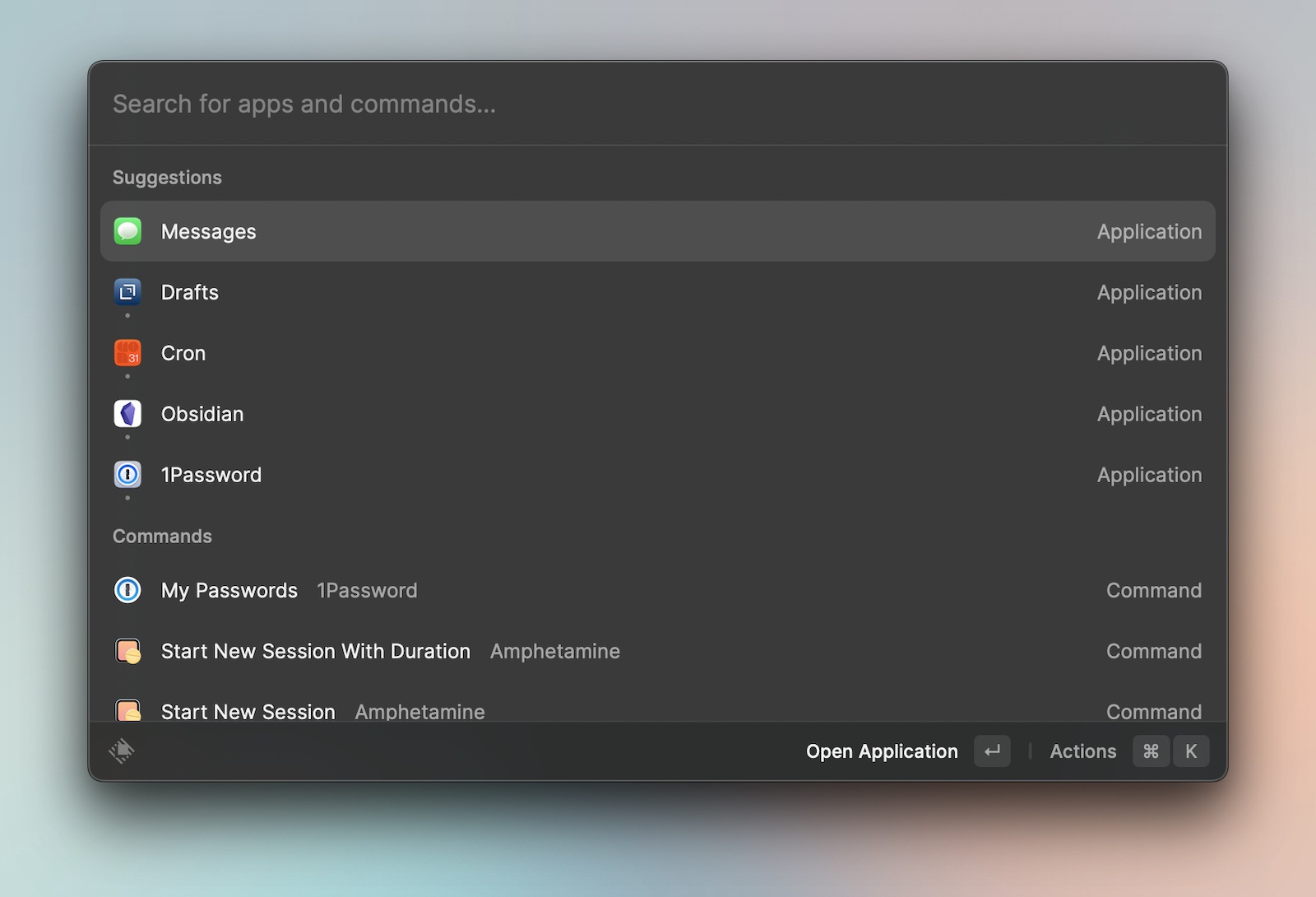 For a long time, I was a die-hard Alfred user. But Raycast has become my launcher of choice because of the library of extensions you can use to easily extend the capabilities of the app.
You can get extensions that allow you to add things directly to Obsidian, view events on your calendar in Fantastical, add todos to your task manager in Things, and a lot more. Just search the Raycast Store and find the one you want to use from within the app itself and click Install.
I also like what Raycast is doing with the built-in AI in the Pro plan. And I'll be really intrigued when they add the promised support for the GPT-4 model.
Drafts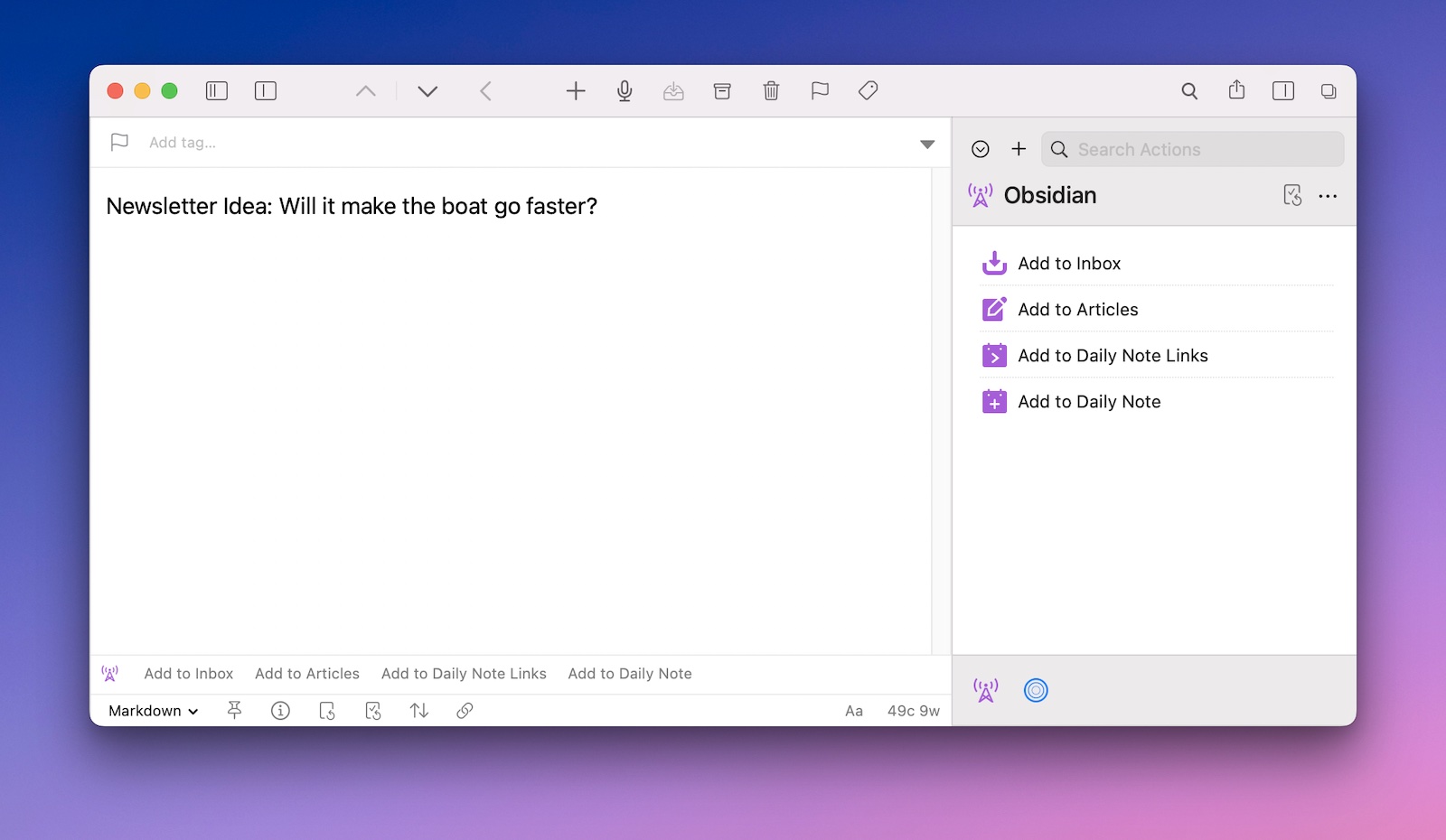 We've written about this a ton before, but I'd be remiss if I didn't mention Drafts. I use Drafts for quick capture on my iPhone and Apple Watch all the time for small bits of information or as the starting place for content pieces. It's especially useful when I want to capture an idea while out for a run.
Where I really rely on Drafts though is on the Mac. That's where I go through everything I've captured and either delete things I don't need or move them to their permanent home (likely Obsidian). Having access to all my Drafts on my Mac (and the actions I use to process them) makes combing through my Drafts inbox a breeze.
Productivity Focus Booster 🚀 Simplify and update your task management
If your to-do list overfloweth and you have multiple areas of life to manage, it's time to get a system that actually works.
Get complete access to all the frameworks, training, coaching, and tools you need to organize your daily tasks, overcome distractions, and stay focused on the things that count (starting today).
Step 1: Refresh → Audit and streamline your current tools and systems and get clear on what's working for and against you.
Step 2: Upgrade → Build a productivity system that plays to your strengths (even if you find "systems" annoying).
Step 3: Nurture → Make your system stick. Create a flywheel that keeps you focused on what matters most day after day.
Get all this, and more, inside the Focus Accelerator membership.
Join 300 focused members who have access to $5,000 worth of our best courses and masterclasses, the Digital Planner, a Private Community Slack, 2x Monthly Coaching Calls, and much, much more…