Jeff Abbott's Must-Have Productivity Apps
May 30, 2023
We've heard from Matt and Josh on which apps they consider irreplaceable for their workflows and productivity, and now it's my turn to pull back the curtain. These days, a lot of my work happens on a work MacBook Pro that is fairly locked down. The IT-managed operating system presents some challenges when it comes to finding a good productivity balance, and these apps meet my needs on my work device and personal devices too.
Todoist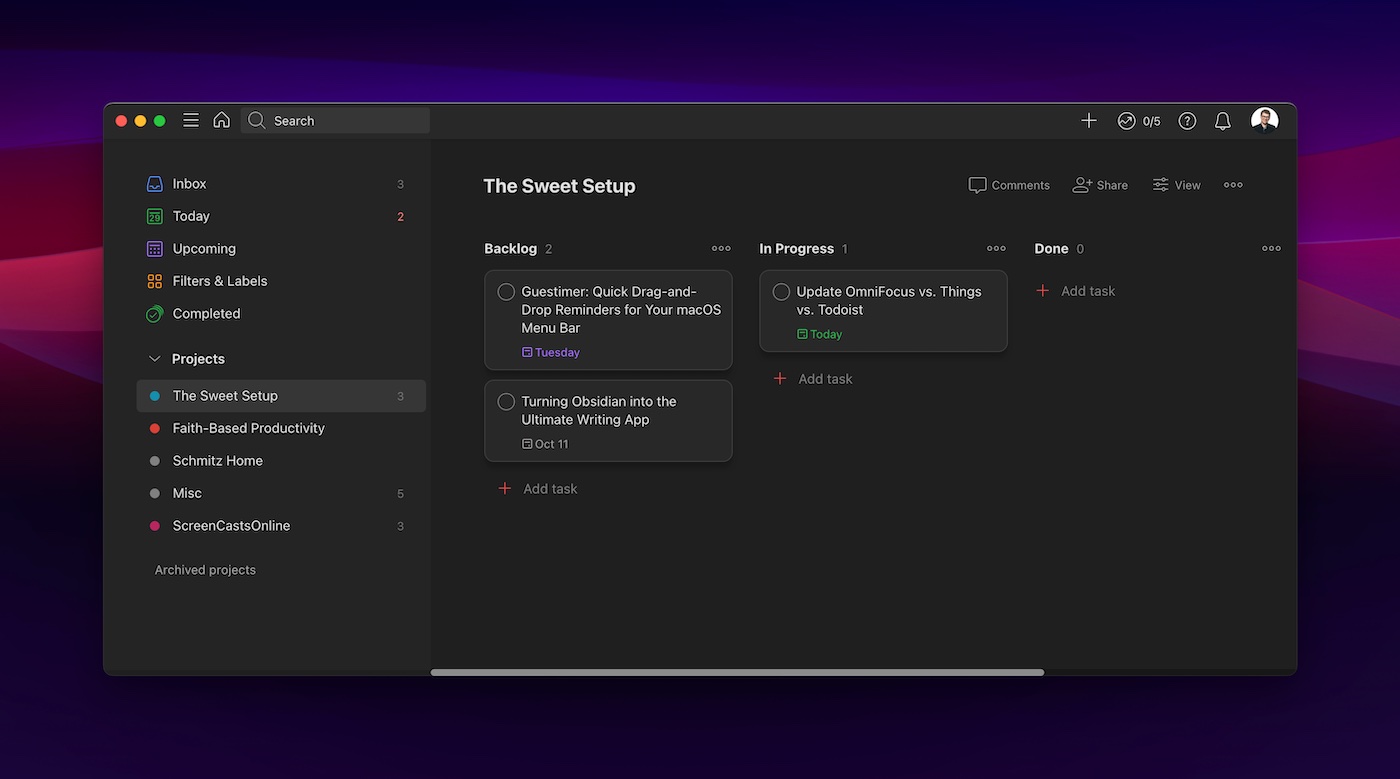 I use Todoist for task management. I spend a considerable amount of time on Linux systems, and I absolutely love how Todoist is available on every modern operating system. I've used Todoist for years and am quite comfortable with its many strengths and weaknesses. It fits my system and helps me stay productive, and that's all I ask of my task manager. Since I share several projects with my partner for house chores and shopping lists, I now consider project sharing and collaboration features a necessity for any task manager. Todoist does this flawlessly across all my devices.
1Password
1Password is essential for me in the way electricity is essentially to electronics. This password manager has matured so much over the past few years, and I love finding new ways to use it for my own needs or our household. 1Password houses all my username/password and MFA tokens, but also holds security keys for logging into remote servers as an additional level of protection for those assets. Like Todoist, 1Password has excellent support for Linux (and even the command line!), and I encourage anyone that uses SSH to check out 1Password's SSH key functionality.
Privacy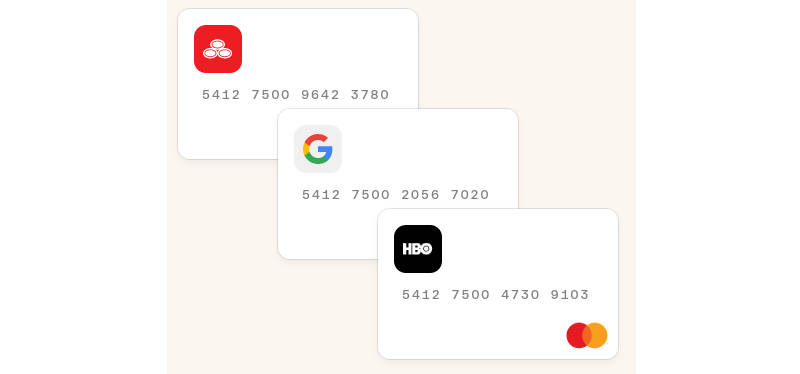 Online shopping is such a large part of our world, and the risk of credit card information being leaked or stolen is at an all time high. Cancelling a credit card is a huge hassle, so we use Privacy whenever possible to reduce that risk. Privacy is a service that 1) securely connects to your bank account for funding and 2) allows you to create credit card information for paying for stuff online. The beauty of this is that you can create a credit card number for each retailer you shop with. Similar to passwords, using different information for every retailer you shop with significantly reduces your exposure if someone steals that information. On top of creating credit card numbers that are locked to specific retailers, you can also create cards that automatically close after one use, automatically limit the max spending amount on a weekly/monthly/yearly basis. This is a service that I recommend to everyone I meet. This service is fantastic on its own, but they've partnered with 1Password recently so that you can create unique Privacy card numbers on checkout forms straight from 1Password. This saves you the step of logging into Privacy and creating a new card.
Fastmail
I've spent a couple years getting away from Gmail, and I chose Fastmail as my email provider. I love Fastmail because I know that I'm paying for a straight-forward, reliable service instead of providing Google with advertising data. After two years, I'm really happy with how rock-solid and fast Fastmail's email, calendar, and contacts platform is. It also simplifies my life by making it easy to use custom domains for email, as well as setting a number of aliases for different purposes. In fact, Fastmail also partnered with 1Password so that you can create unique email aliases straight from 1Password when creating a new account online. It's only a few clicks in Fastmail, but having it automatically populate in the form from the 1Password extension is so useful.
I was a customer of 1Password, Fastmail, and Privacy long before they were in business together, and I'm legitimately happy to see how they work together to make security and privacy easy. Their integrations certainly make a compelling argument to use them if you don't want to use Gmail or iCloud for email.
Obsidian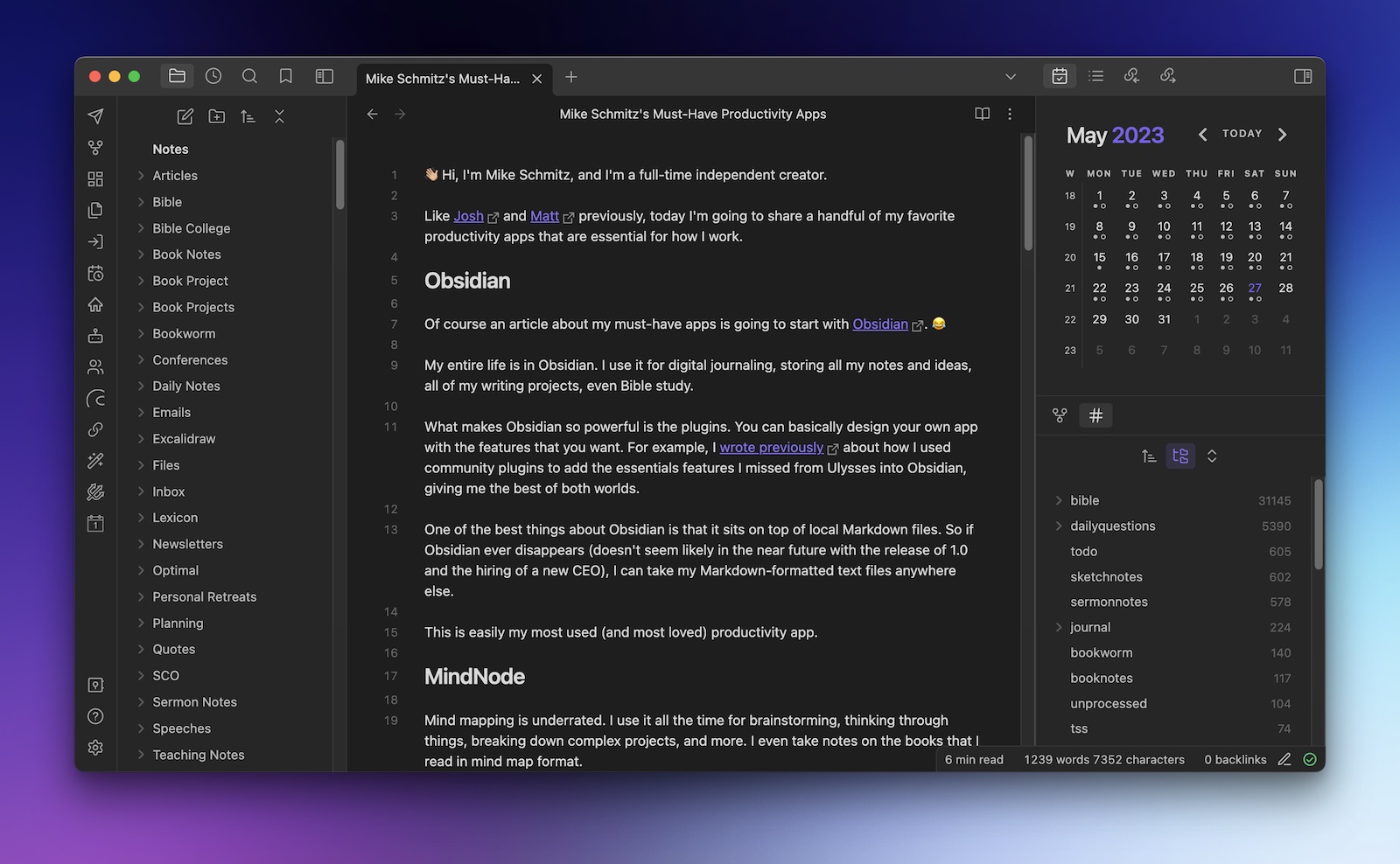 Whether it's notes for work, personal knowledge blurbs, recipes, writing, or editing, I use Obsidian to keep it all organized. This Swiss-knife text tool is great at what it does, and it doesn't hurt that it also has apps that work on any platform you use. I love that this app can be a simple, minimal text editing app when that's what I need, but it's also a powerful organization tool for all the information that I decide to keep around.
Alfred
Alfred is my launcher of choice on macOS, and I quickly forget that it's not actually part of macOS due to how integral it is to how I use a Mac. It's fantastic for quickly launching apps and finding files, but I use it quite a bit for quick calculations and the one-off script run. But, the other major thing I use Alfred for is clipboard management. There are other dedicated clipboard managers out there, but I've always used Alfred for this. It does what I need, and it's second-nature at this point.
Espanso
I used TextExpander for the longest time as a snippet tool, but I moved to Espanso shortly after it came out several years ago. Espanso is open-source and community driven, and also (you guessed it) works on all operating systems. Instead of a GUI tool for setting up snippets and combinations, Espanso relies on a configuration text file, which is something I've come to appreciate from my time on Linux. Adding a snippet or making a small adjustment is quick and easy, and keeping it in sync is easy enough with a file sync tool.
Amethyst
Managing windows can be a headache, and I don't have any interest in clicking and dragging window borders around to set up the perfect layout. Josh mentioned the excellent Magnet in his list of apps, and I love that app for bringing easy window snapping/sizing controls to macOS. It's the perfect gateway drug to what I've used for years now on my Mac: Amethyst. Think of Amethyst as an automatic version of Magnet. Instead of pressing a shortcut key to make a window snap to a certain area, Amethyst automatically tiles all windows on your desktop as you open and close different things. This is a somewhat common thing on Linux, and I'm a big fan of tiling window management systems. Amethyst gives me the tiling window experience on macOS. If you're interested in an even more true-to-form window manager for macOS, check out yabai. I prefer yabai, but it isn't compatible with my IT-managed MacBook Pro.
Meeter Pro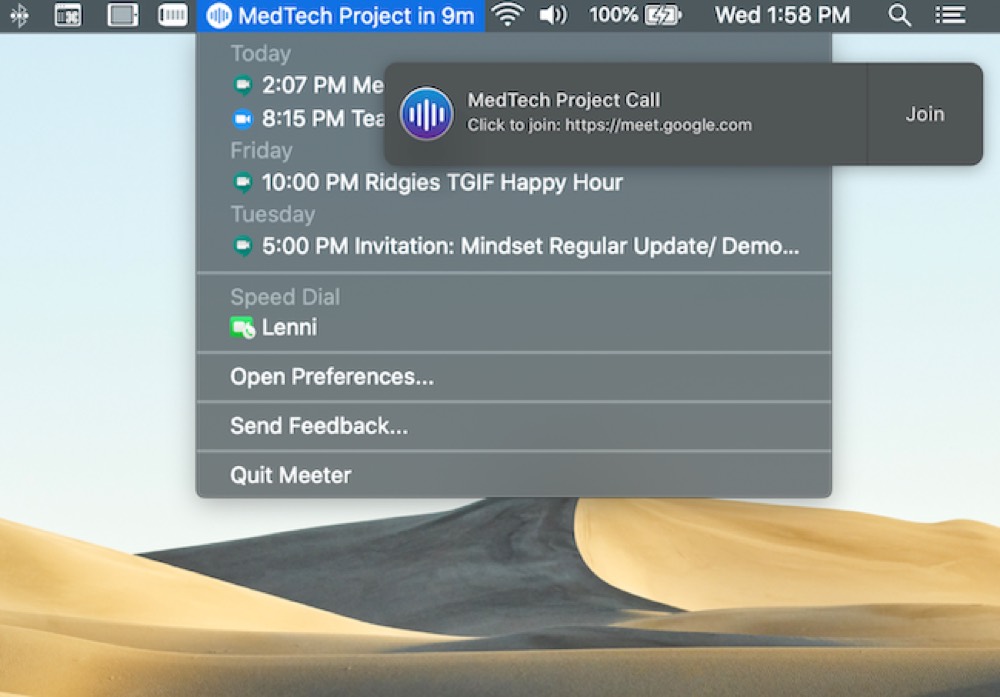 I've written about Meeter Pro before, and I'm still using it today. This is a great menu bar utility that pops up a notification that takes you to the virtual meeting in the calendar invite. This is definitely a "does one thing well" utility, and I really miss it if I don't have it on my work computer. When it's time for a meeting to start, Meeter Pro pops up a notification, and all I have to do is click the notification to launch the meeting — Meeter knows which app to open based on the meeting link. Simple but efficient!
Bartender
Finally, I use Bartender to keep my menu bar tidy. I love how this little utility has grown over the years. It keeps things hidden unless I need to see them, and even when I need to find something that Bartender has hidden, it's just a simple click away under the Bartender menu. This is truly one of the apps that I forget I have installed until I set up a new computer and wonder why it looks so cluttered.
Wrapping up
I'm definitely at a point in my life now where I'm less inclined to try out new apps or tools just because they're new. I've found a really good combination of apps that meet my needs and make me more efficient. I don't see a reason to go looking for something else unless the current apps stop working for me. I'm really enjoying the innovation and collaboration I'm seeing between companies like 1Password, Fastmail, and Privacy, and I want to see more of that in the industry. Making online privacy and security so easy and approachable is a good thing!
Productivity Focus Booster 🚀 Simplify and update your task management
If your to-do list overfloweth and you have multiple areas of life to manage, it's time to get a system that actually works.
Get complete access to all the frameworks, training, coaching, and tools you need to organize your daily tasks, overcome distractions, and stay focused on the things that count (starting today).
Step 1: Refresh → Audit and streamline your current tools and systems and get clear on what's working for and against you.
Step 2: Upgrade → Build a productivity system that plays to your strengths (even if you find "systems" annoying).
Step 3: Nurture → Make your system stick. Create a flywheel that keeps you focused on what matters most day after day.
Get all this, and more, inside the Focus Accelerator membership.
Join 300 focused members who have access to $5,000 worth of our best courses and masterclasses, the Digital Planner, a Private Community Slack, 2x Monthly Coaching Calls, and much, much more…