Apps We're Trying: Meeter Pro
August 31, 2020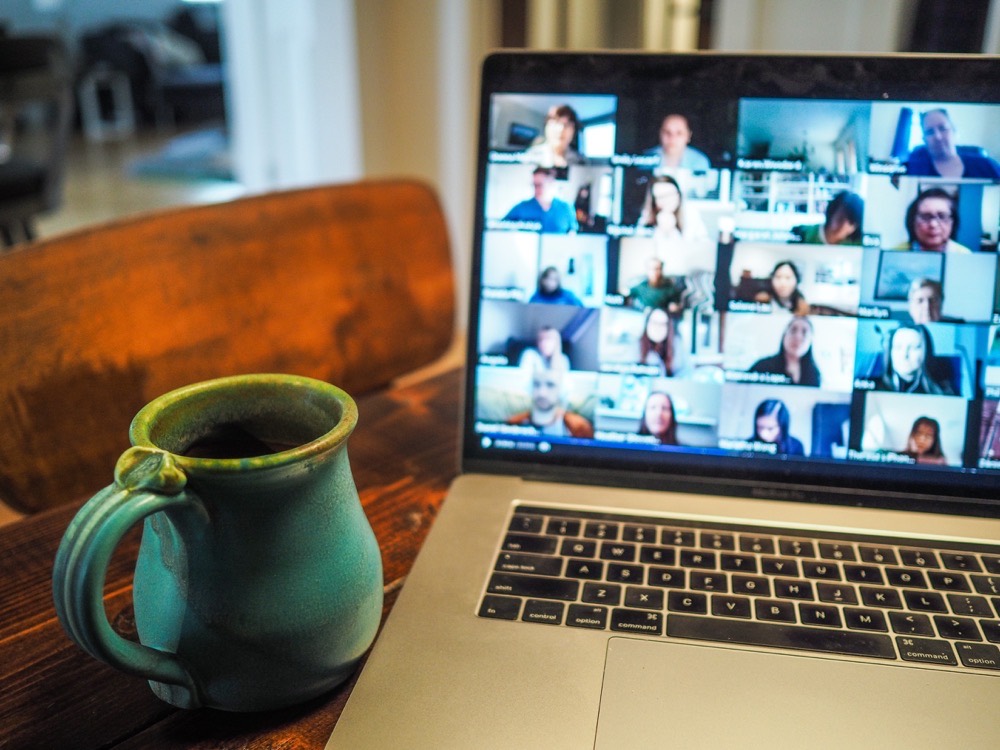 Hero photo by Chris Montgomery on Unsplash.
Back in March when COVID-19 hit in full force across the world, there was a dramatic rise in the number of knowledge workers making a semi-permanent move away from the office and setting up shop in their own homes. There are numerous struggles and challenges that come with transitioning something so prevalent in our lives, but this also means that there are more people aware of and trying to overcome common challenges. And for those of us who have been working from home for years prior to this worldwide pandemic, it's a boon for new utilities and tools that make working remotely more productive and efficient.
One of the biggest hurdles that we've heard many people complain about regarding the shift to remote-first work is the inability to see and meet with people face to face. Zoom calls and other web conferencing platforms are common household names at this point, where before they were somewhat confined to business culture. But juggling all the different online meetings can be challenging since there are so many different platforms to choose from. If you work with other companies and customers, you're likely dealing with at least a handful of different apps to join the different meetings. Each meeting is a last-minute panic to find the right link to click in order to join the meeting. That's where Meeter Pro comes in.
In the category of "does one thing well," Meeter Pro is the menu bar app that collects all of your upcoming meetings into a minimal list and allows you to launch your meetings with one click, regardless of what conference platform they use.
Was it hangouts or zoom? Personal or work calendar? Cut through the noise by simply connecting your calendar, and Meeter will automatically pull all your upcoming calls and let you manage them in one place.
Just like it says on the tin, Meeter collects your meetings from your various calendars, smartly pulls the relevant meeting link, and lists them in a small menu bar list. It's incredibly easy to set up and use, and it's one of those things that I can't believe didn't exist before March.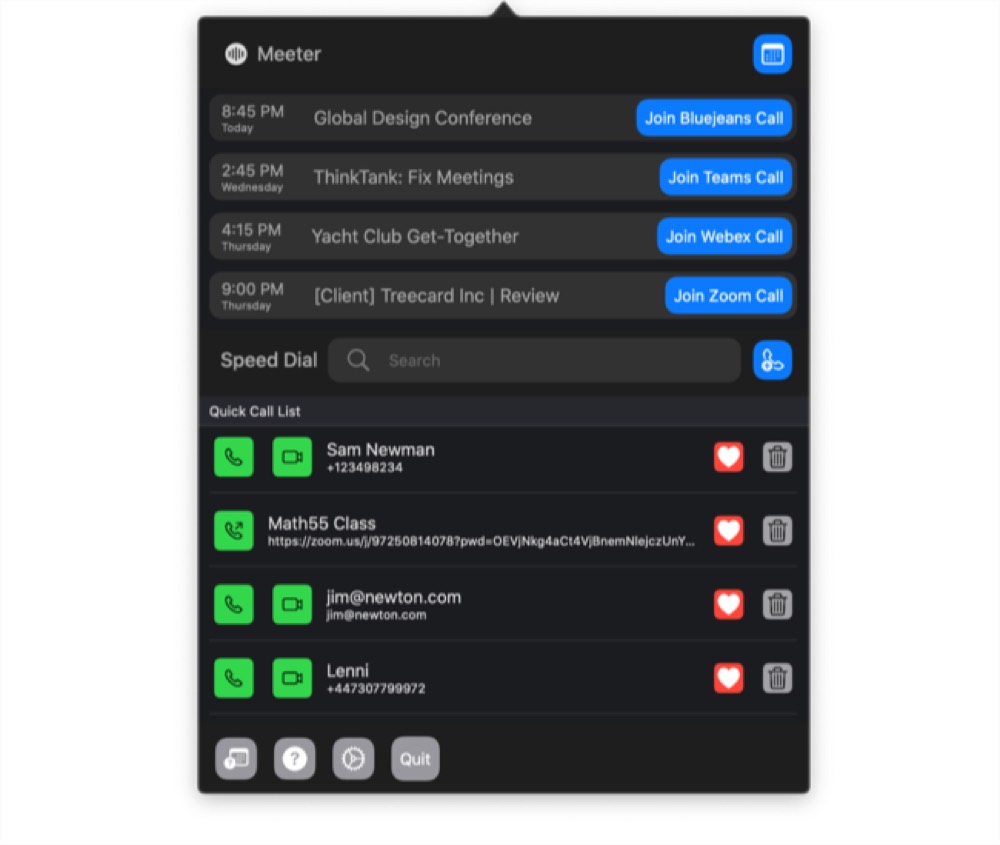 How it Works
Built by a team that's spread across London, Berlin, and Zurich, Meeter was created as a direct response to the mass shift of workers to online conferencing tools. They saw a pain point, and built an awesome tool to make the problem easier to manage.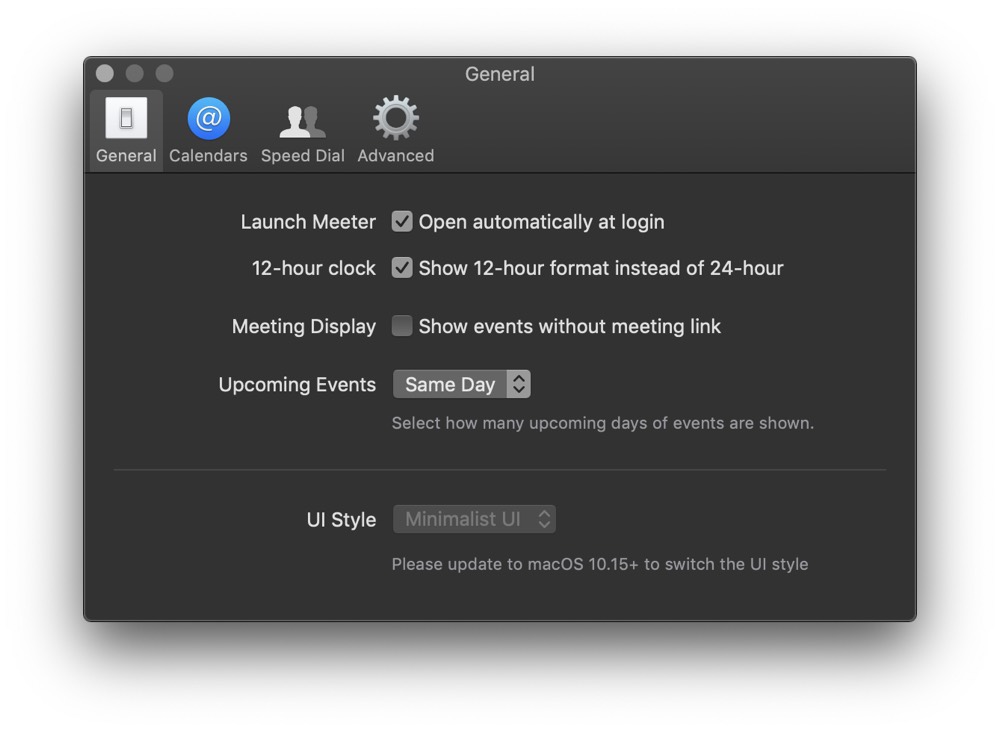 After installing Meeter from the App Store, set up is fast and easy. It automatically pulls calendars that you already have set up through macOS Internet Accounts. In the Calendars tab, you can select which calendars are in scope for your meetings. After a few seconds, your upcoming meetings are listed in the menu bar app. You can specify whether the menu bar includes the amount of time until your next meeting along with the icon. It also has keyboard shortcuts for just about everything the app can do, but I'm personally a huge fan of the CMD + Shift + J for joining my next meeting without clicking anything at all.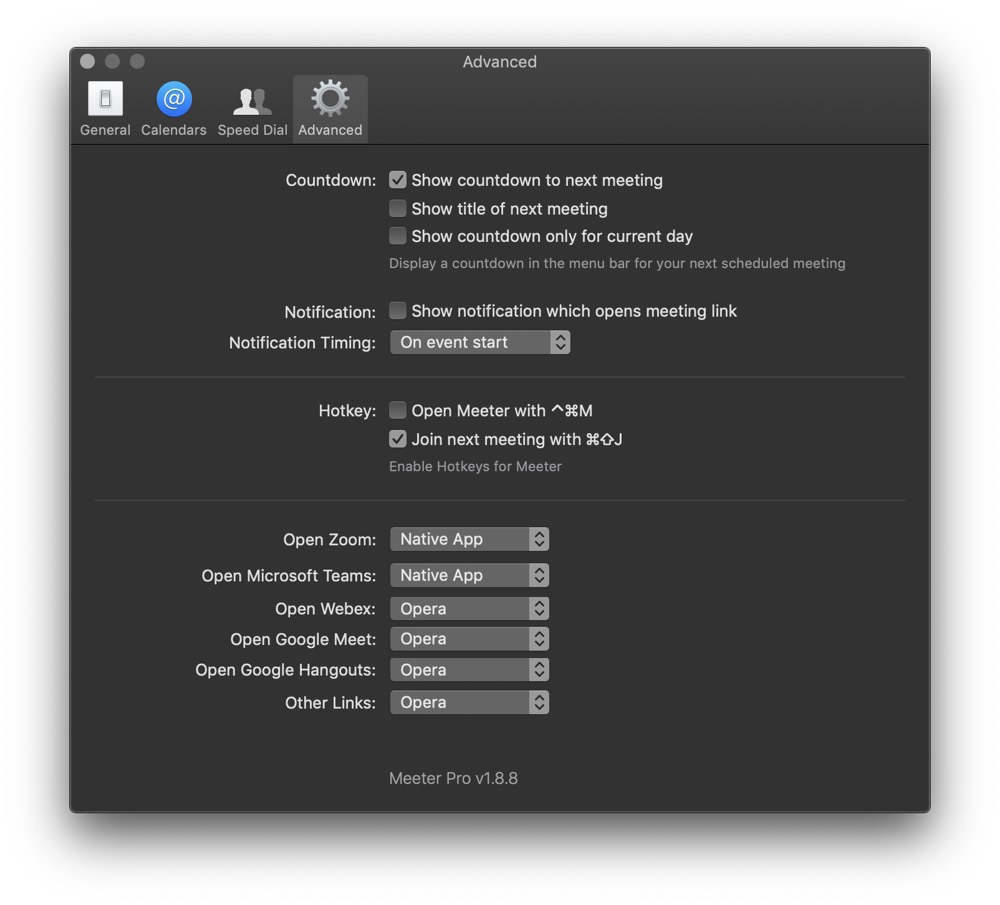 You can also set preferences for whether the meeting tool launches through your browser or the native app (Zoom or Webex, for example). I prefer launching meetings from the native app as it saves a few seconds, but it's nice that the option is there. If you don't have the app installed already, the default option for opening a meeting is your default browser. In my case, this is Opera.
If you have meetings that use the same meeting link and occur fairly often (like a daily stand-up meeting, for example), you can add that meeting to your Speed Dial list. If you enable the Show in Minimalist UI option, the meeting link will always be available in the menu bar list, just a couple of clicks away. This is a really convenient option that helps with those impromptu "Let's jump on a call" moments. Additionally, this could be great for starting FaceTime calls with family and loved ones with just a couple clicks.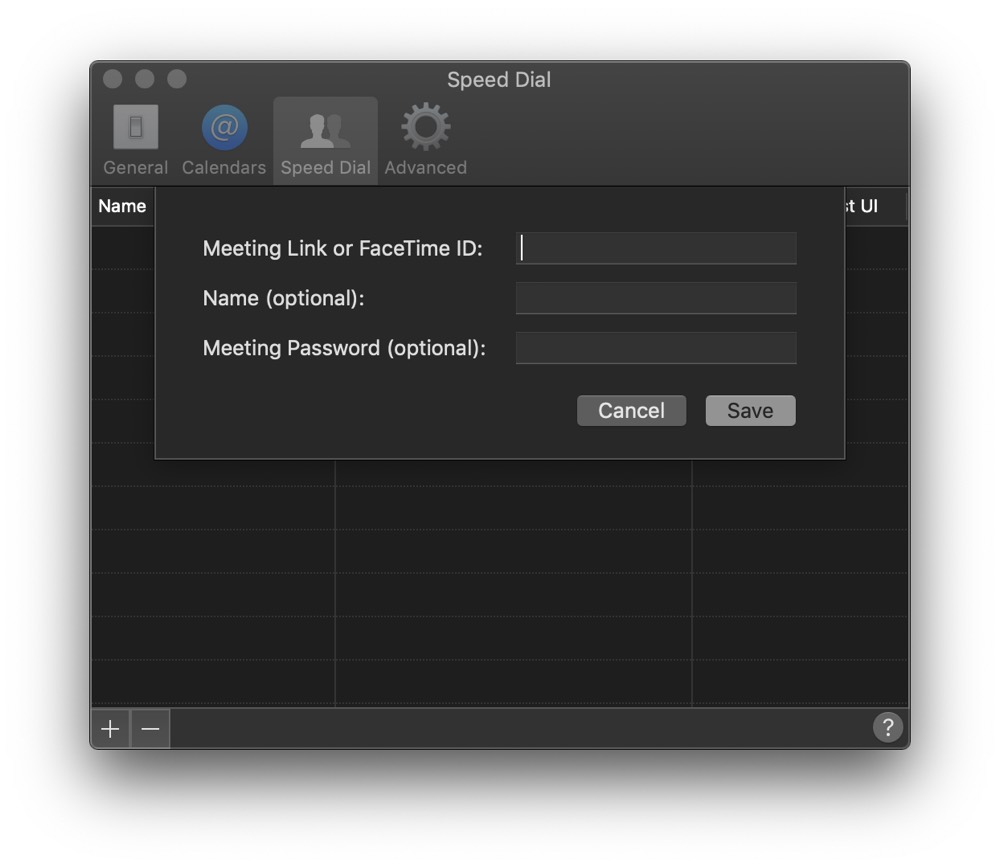 Available App Integrations
The world of teleconferencing tools is large — you might even argue it's too large. Despite that, there's no shortage of app integrations in Meeter Pro. There is compatibility with every major tool, along with many of the not-so-common platforms. And based on the speed at which the Meeter Pro team iterate on this app, I'm fairly certain that they are constantly gathering feedback on how users are using the app and addressing gaps as they come up.
Areas for Improvement
Meeter Pro is a simple app that does one thing well. As it exists on the Mac today, I really have no complaints. My only wish for this app is that my colleagues with Windows computers could have access to this great tool. I have no doubt that porting a small app like this to Windows is a large undertaking, but I sincerely hope that the team is considering other platforms for this fantastic tool. It would even be nice to have an app for mobile devices, as the same problem with finding those pesky "Join meeting" links can be very frustrating when using a phone to join a meeting bridge.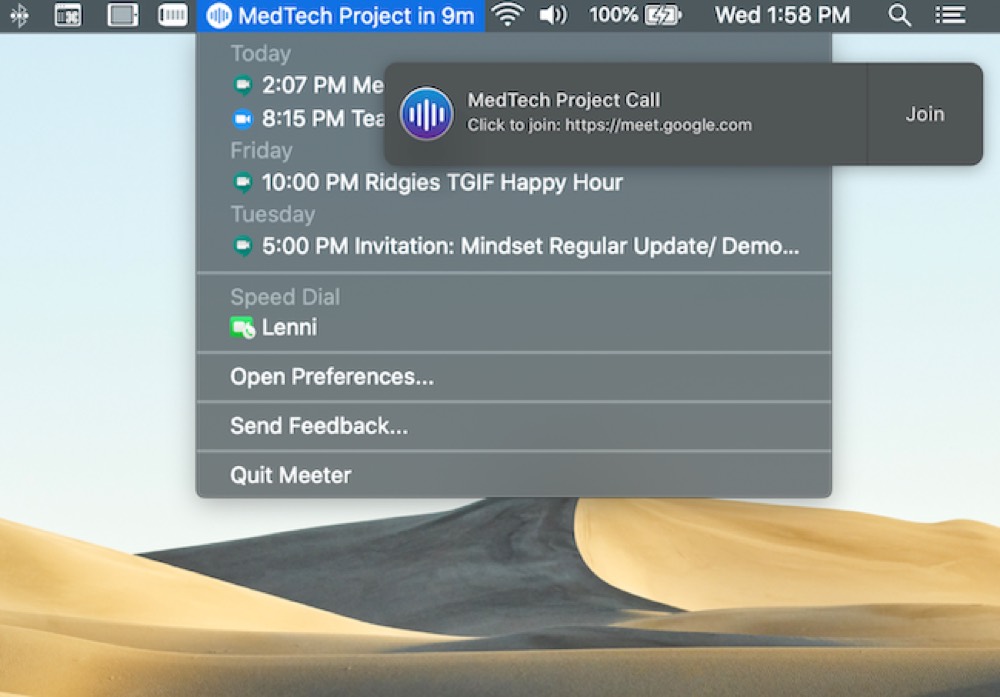 When Meeter was introduced, the Pro tier was an in-app purchase that unlocked a lot of the convenience factors, such as opening a meeting in the native app instead of the default browser. Due to the overwhelming response and adoption of the app, and the fact that COVID-19 is still a problem that will keep knowledge workers away from a communal office for the forseeable future, the Meeter team has indefinitely removed the need for an IAP to unlock the premium features. I'm glad I was able to support this team with some money prior to their decision to make the full version free, and that's even more reason for you to try it out. I hope they bring back the paid option soon so that people can support this fantastic utility.
Meeter is a Mac app that is available on the Mac App Store, as well as part of the Setapp subscription.
Work From Home….
30% Off The WFH Course Bundle
Get our task and time management mini-course (All the Things (Analog)), plus with our Day One in Depth screencast course. This "WFH Bundle" is 30% off right now.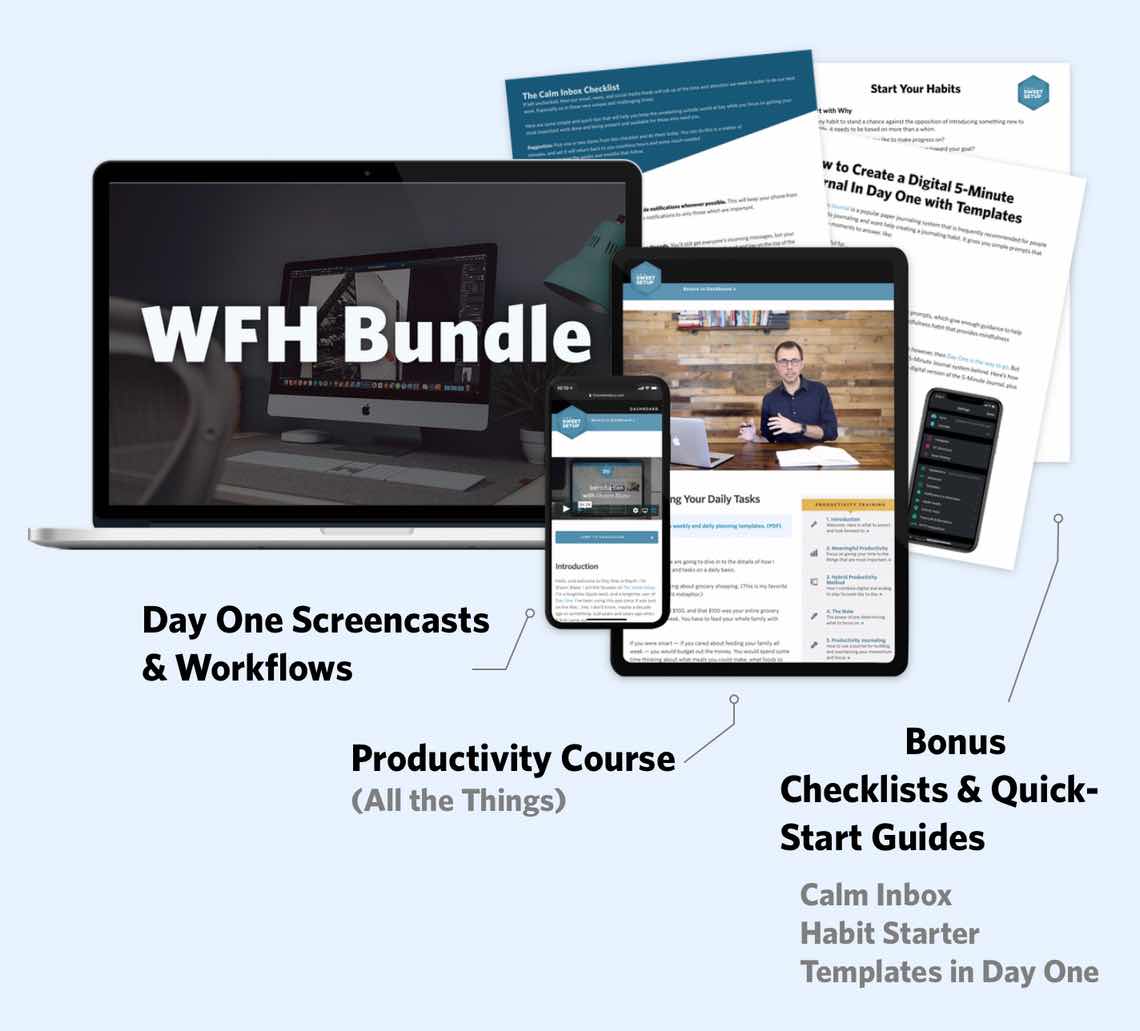 We'll show you…
How to schedule your day for maximum productivity in the least amount of time. This is especially helpful if you and your significant other are juggling responsibilities of kids and home life while also trying to do work.
Weekly planning and reviewing. A great way to get ahead of your upcoming week so you can be prepared and have a priority of what needs to be done.
Custom Productivity Templates: These are a few of the main PDF templates that you can print out or use on your iPad in order to follow along.
How to use Day One, the best journaling app out there: which can help with reducing stress and anxiety, celebrating your wins each day, and keeping a log of what is happening in life right now.
Bundle Bonus: The WFH Bundle also includes three bonuses: The Calm Inbox Checklist, the Habit Tracking Quick-Start Guide, and Using Day One templates for the 5-Minute Journal.
Normal Price: $68
WFH Bundle Price: $47 (You save $21)