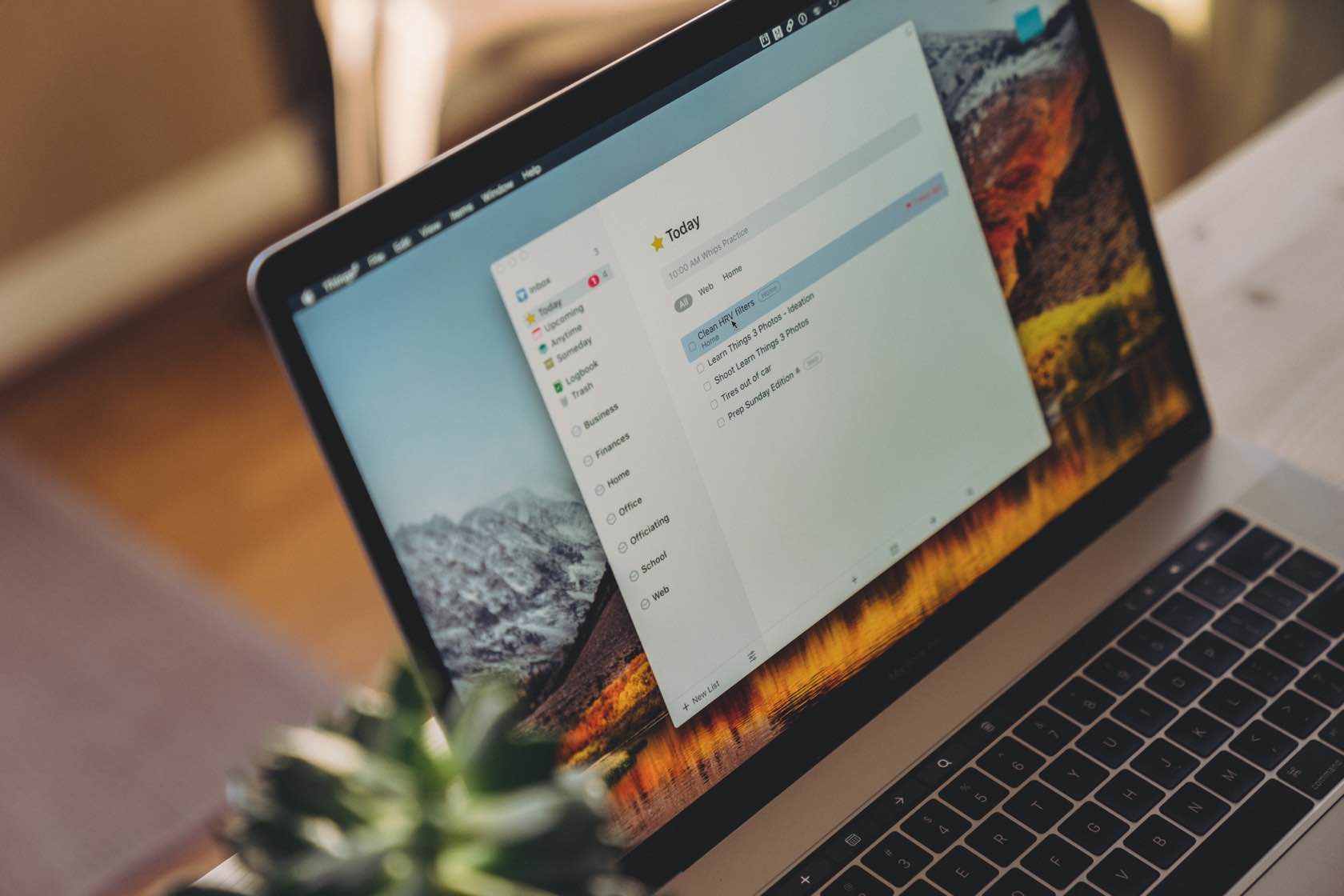 The best productivity and GTD app suite for Mac, iPhone, and iPad
Things
January 2, 2019
As Mac users, we're spoiled when it comes to managing our tasks. There are several cross-platform and web-based task management tools we can use. But, even better, this is a category of apps that are well-represented by Apple developers. In fact, the options are plentiful enough that choosing just one productivity app to use is not easy. And for those of us who naturally focus more on process than outcomes, it can be downright debilitating to land on the best productivity app.
Managing Knowledge Work in 2018
There are a couple of factors to keep in mind when choosing the best productivity app for Apple users. First, thanks to the focus from development teams, this has been a competitive space. Teams like the OmniGroup and Cultured Code have taken turns making the product of choice for many app users, and we've all benefited from having more than one option.
Second, how knowledge workers manage their work has had a lot of attention. Since David Allen first published Getting Things Done in 2001, personal productivity became a household term. However, over the past 17 years, there have been numerous other types of "systems" and methods shared online. It turns out that not all knowledge workers care for GTD's long list of lists and specific processes.
As a result, there are a lot of other styles of tools available to choose from today. Some folks make a case for ditching your task manager and using the calendar instead. Others swear that habits are more important than goals and projects. And no matter what system you use, Pomodoro timers can help maintain your focus and energy levels while you work.
And let's not forget the resurgence of pen and paper — do you bujo?
Choosing a tool to meet your needs in 2018 requires a level of self-awareness about how you do your best work.
---

---
What We're Looking for in a Task Manager
In many ways, our list of criteria has not changed much since 2014 when we first published our recommendation for this space. A task manager needs to be easy to get our ideas into, it should offer several organizational options, and it needs to be available on all our devices.
However, other considerations have melted into the background. Do we need to look for apps that offer syncing? It's pretty much a solved problem now and implicit in all our favorite tools.
And although some of the newer alternatives to this space deserve a look, our recommendation will be limited to those tools that are genuinely focused on managing projects and tasks. Here are the criteria we considered in more detail.
Easy input: no matter what productivity method you practice, getting tasks, reminders, and ideas into your system must be as smooth and frictionless as possible.
Multiple types of work: a good task manager handles everything from large complex projects, to smaller projects, to single recurring tasks. While how you focus your time may be better suited to using a calendar, we still need a place to document all the required tasks for a specific goal.
Various methods of view: the best task managers allow the user to configure a view of their tasks that fits their needs. This is a tricky one as we don't want too much customization, lest we succumb to fiddling. Still, some flexibility is required.
Flexible organization: not everyone needs tags or folders, but for those who do, it's usually essential.
The ability to document: this may be a factor that not all people consider, but documentation is a need in this space. Much of the work we do as knowledge workers requires some related information. If our task management tool allows us to include resources and commentary, that is a vital addition. Otherwise, we need to store all that information in another location.
Aesthetics: while function is more critical, with two equally capable options, form can play an important factor. We want to want to use our tools!
Contenders for The Best Productivity App
We considered the following productivity apps when coming up with our recommendation.
To be sure, there are plenty of other options. The productivity category of the Mac App Store is full — ridiculously so — but there is a lot to sift through, and not all of it is high quality.
There are also plenty of web-based applications that may suit your needs best (see Asana, Basecamp, Flow, Remember The Milk, or Trello). Many of these are more focused on teams and less on personal productivity. We're of the opinion that native apps offer the best experience overall.
Our Pick for Best Productivity and Task-Management App Is Things 3
After a lot of deliberation, our choice for the best GTD product for Apple users is Things from the team at Cultured Code. The launch of Things 3 in 2017 was a complete rebuild, and it is one of the most pleasing and satisfying pieces of software I've ever used. While not as customizable as some of the other options, Things is just so well-designed and hits enough of our criteria that it comes out as our top choice.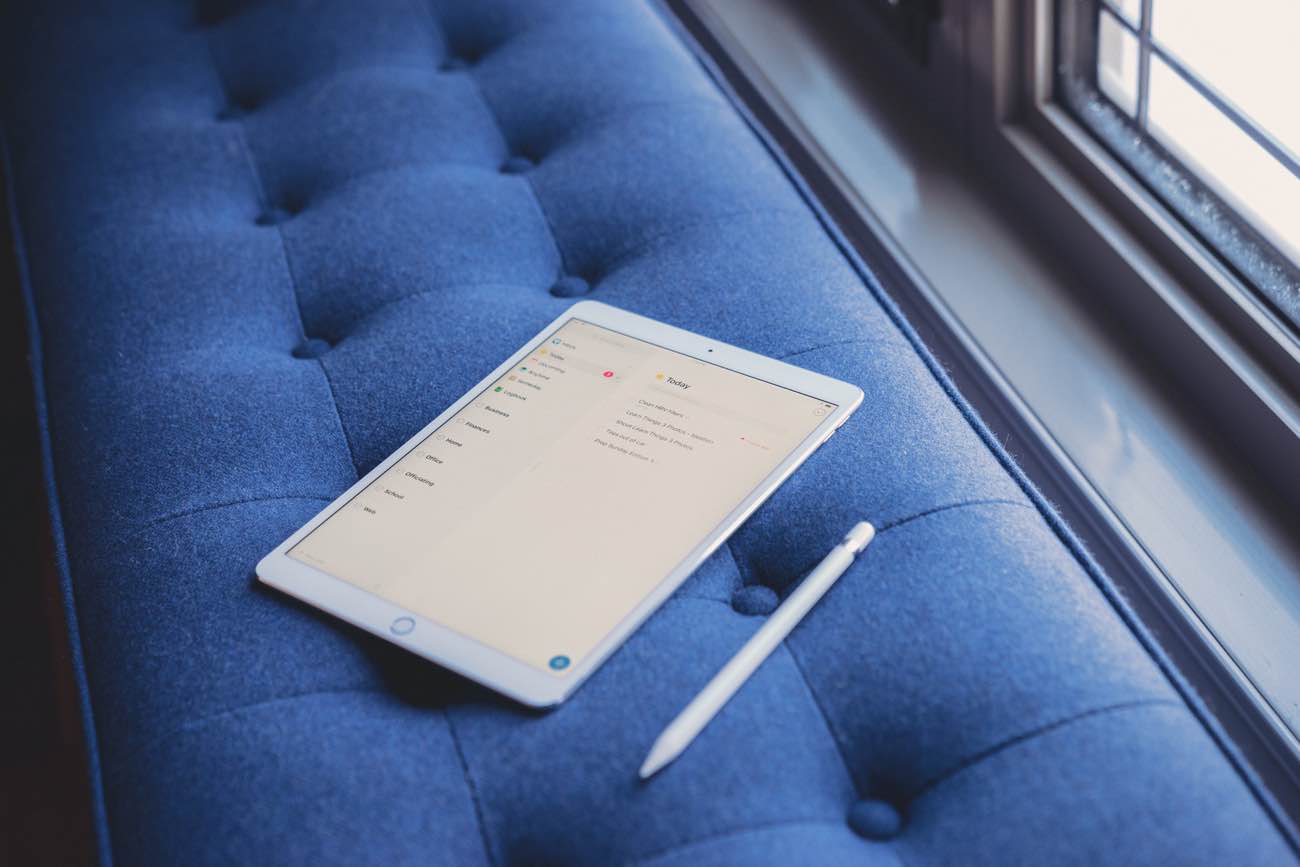 However, this is a difficult choice to make. There are really no wrong choices here. While Things is our choice as the best option, you cannot go wrong with any of the contenders. OmniFocus is still a powerful tool that may fit better for those with more complex needs (aka, "power users"). While not quite as powerful as OmniFocus, 2Do offers more flexibility and options than Things wrapped in a nice interface. And Todoist is a very solid option that works well with a team and gives a consistent experience across devices.
All that to say, whatever your preference, you'll find a solution that fits for you, and Things 3 is the one we'd recommend before all others.
Let's look at why.
Good Design
While aesthetics were at the bottom of our list of criteria, the look and feel of Things 3 is so good that I want to start there. To be clear, the design of this app goes far beyond how it looks.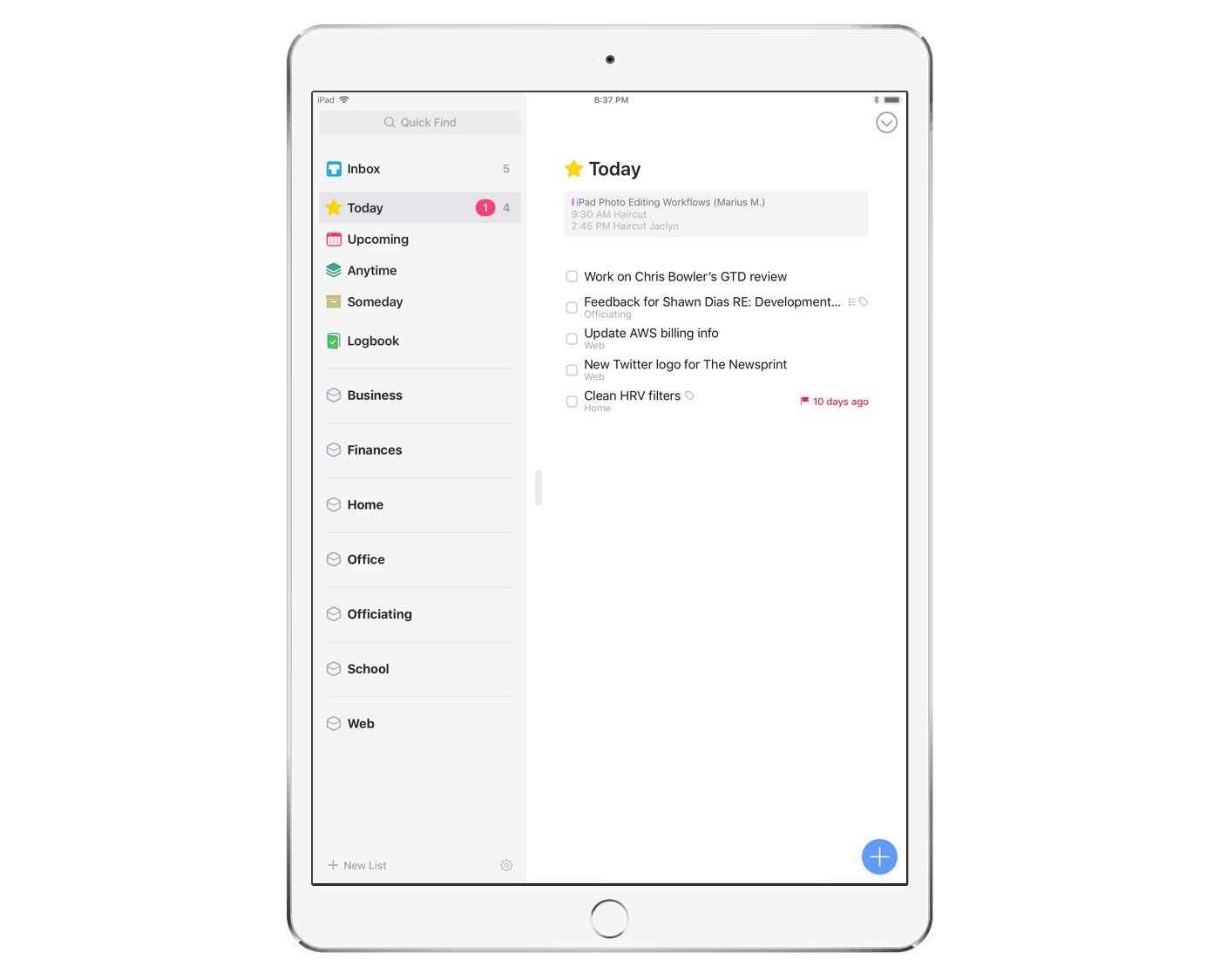 Things has always been a pretty app, but Things 3 brought that aspect of being pleasing to another level. It still looks as sharp as can be, but it's the feel that makes it stand out.
A lot of apps use animations to add cues to their interface; Things makes it buttery smooth. Animations are tricky. When done right, they can add context, give subtle hints about what is possible, and add delight. Done wrong, they scream "gimmick" and corrode the user's trust. Cultured Code nailed the balance between subtlety, utility, and delight with the interactions included in the latest version of Things.
When we talk about the design, we should also include the navigation of the app itself. Any good Mac app includes keyboard shortcuts that enable the user to be more efficient. Things 3 nails this as well.
Open the app and just start typing. Anywhere. Rather than force you to open the Quick Find modal, Things starts displaying search results when you type anywhere in the app that is not an input. Sure, Quick Find can be invoked with the standard CMD+F, but the designers of Things apparently ask the question of whether the user should have to take that step. Why not just show people what they need immediately?
It's this kind of careful consideration that makes the experience what it is. A pleasure!
The rest of the application's navigation is also good. One has to search to find a piece of functionality that is not available via the keyboard.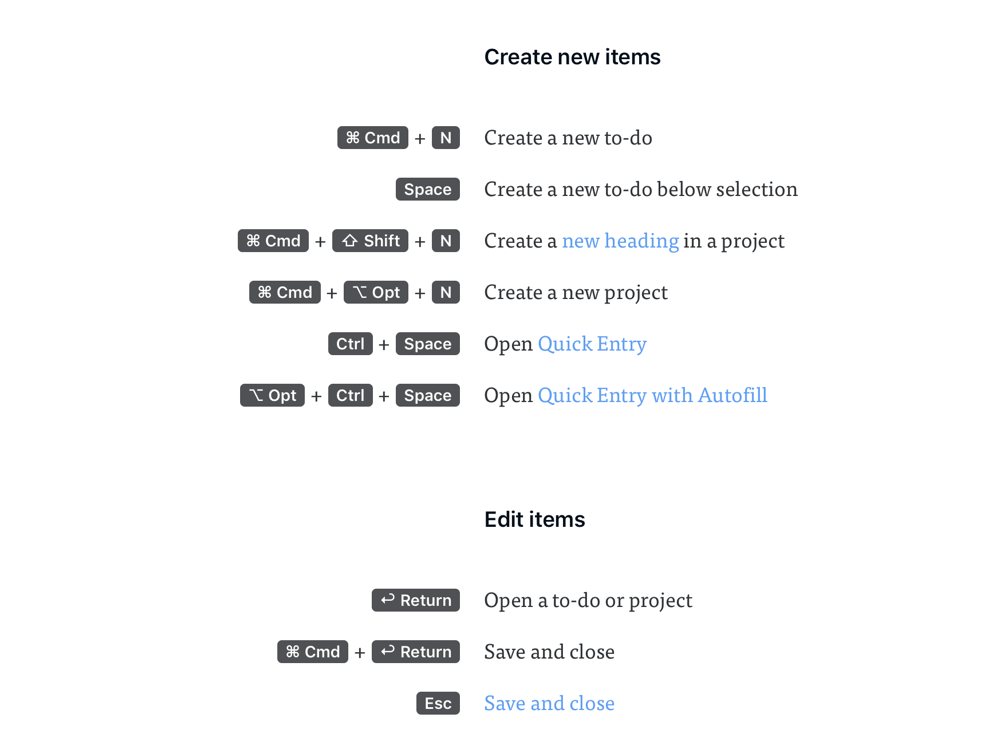 And when it comes to design, there is one characteristic of Things that got my attention more than any other. That is…
Project Documentation
When I first gave Things 3 a look, this is the feature that sold me. A long time ago, Things was my first task management tool as a new Mac user, but with the slow development times at Cultured Code and a lack of sync support, I made a move to OmniFocus. For the better part of 5 years, I never gave Things any further consideration.
When I first tried Things 3, something clicked for me. I wrote about it in my initial review:
In all the services I've used over the years, there has been a gap between managing the actual tasks and the information that is required to work on those tasks. There always needed to be a secondary piece of software required. That might be apps like Yojimbo or Evernote or Ulysses, or it might be parts of the macOS (files/folders in Finder). Things 3 is the first tool that made me think there was a chance I could handle it all in one place.
And indeed, a project in Things feels very much like a blank document rather than a rigid checklist. There is space for notes and reference information that does not feel like a simple free-form text field that is a second-class citizen in the apps UI.
Easy Input
Things, as well as many of the apps in this space, do a good job of making it easy to get stuff into it. Using the Quick Entry dialog, you can quickly type a (customizable) shortcut and enter in a new task. Most task management apps offer this feature, but what I like about Things is, again, the usability. The form includes all the necessary fields, while also including excellent support for using just the keyboard.
Even better, with the Things Helper, you can create tasks from a currently selected item in other apps. Using this, Things will include a link back to the original item. Using one master inbox for all your inputs becomes a lot more feasible with this type of functionality.
The Structure of Your Life
One of the aspects of Things that has always been important is how it structures the tasks that make up your life. At the highest level, it uses GTD's Areas of Responsibility. That allows you to structure your projects, tasks, and checklists according to the various roles you play (project managers, designers, and accountants, but parents, volunteers, coaches as well).
It's possible to set up a similar structure in other task management tools, but I've always appreciated the treatment given to areas in Things. It even gets its own icon!
This approach to the foundational structure in Things makes it easy to focus on one area at a time. So if you're at work and don't care to see your chores around the house, you can view a specific area with all its contained projects and miscellaneous tasks.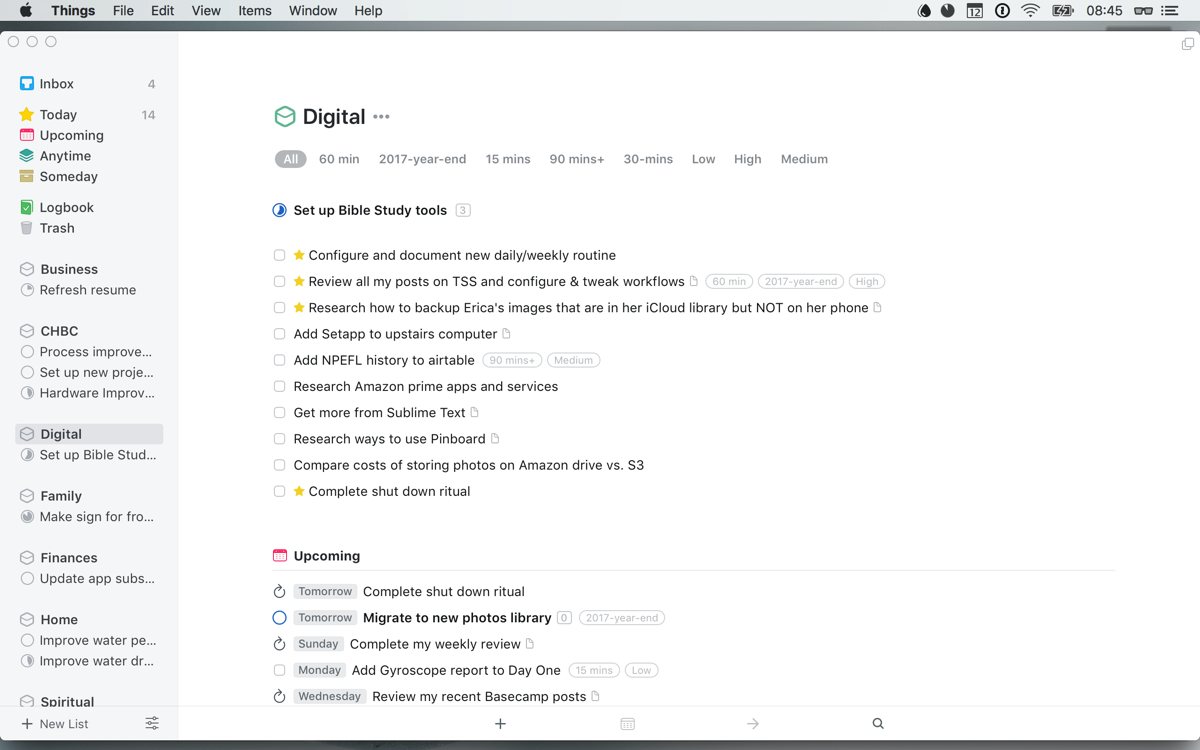 Further down the structure, each project is also given a nice visual treatment. Again, this concept of a blank document works well. A project can include notes at the top of the "document," and then you can include its tasks, sub-tasks, and headings.
This allows you to include any background information or reference materials required at the top of the project. From there, you create the tasks required to complete the project. If your project has specific categories of tasks or is broken into segments, Things lets you create headers to add structure to the project itself.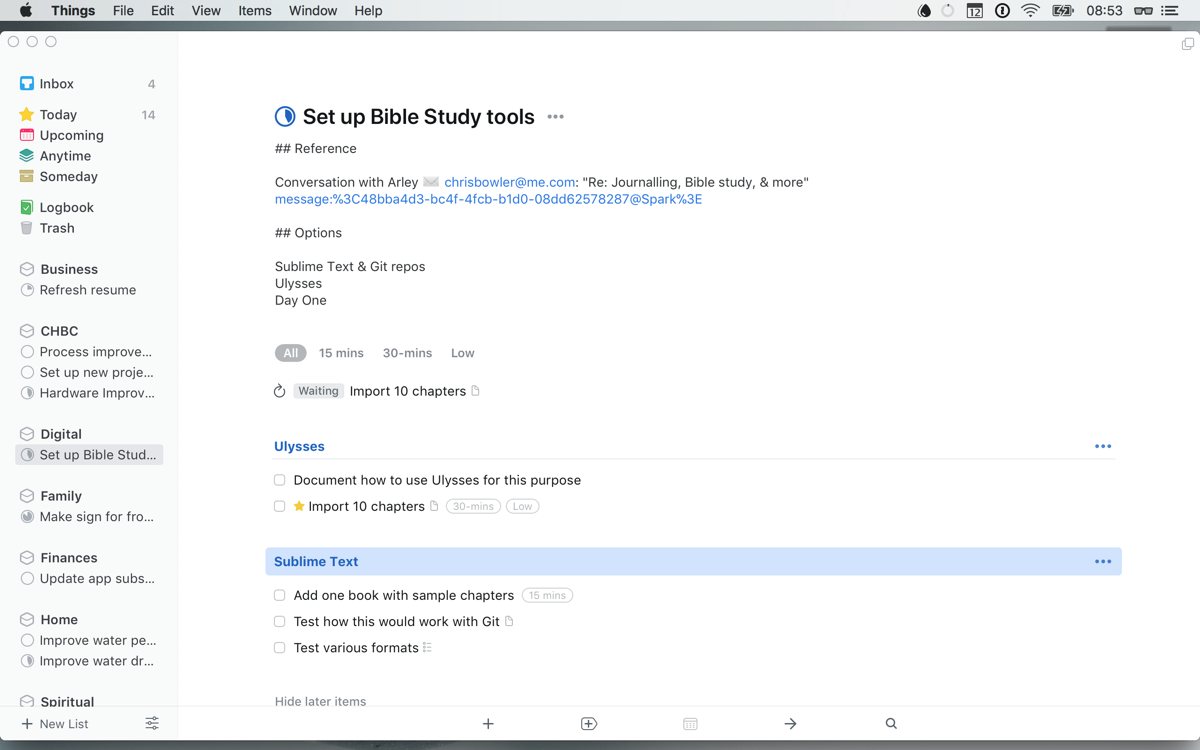 Further, each task can include notes or documentation, and tasks can be recurring or include a checklist. Add it all up, and you get this beautiful document of what needs to be done. You can set this view up to sit on the side of your screen as you plug away.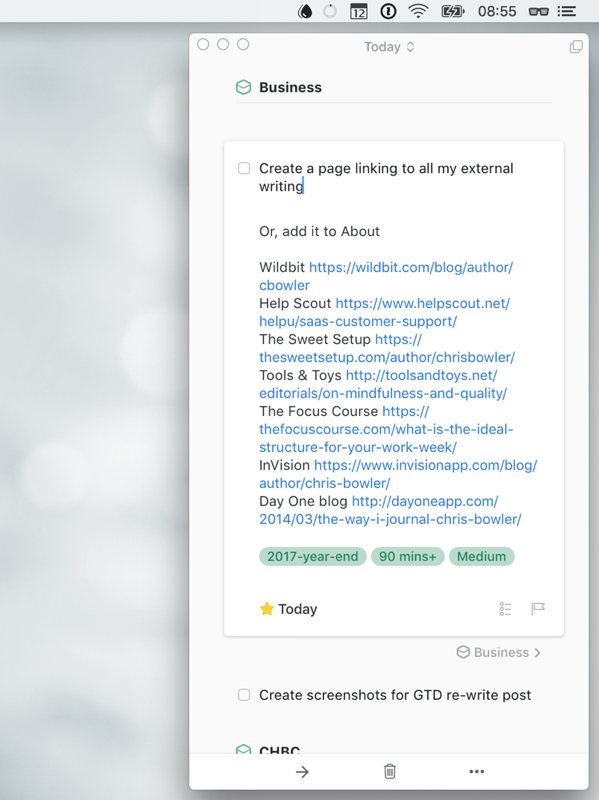 A Wrinkle In Time
Another aspect of Things 3 that I admire is the consideration of how to use time. Yes, you can assign a due date for tasks or projects, but you can also specify a time when you want to work on your tasks (but they are not necessarily due). This is how you add items to Today.
What's great here is that this separates intention from deadlines.
This implementation in Things is very well thought out. If I have a task I want to complete tomorrow, I set that value in the task itself (all from the keyboard, mind you).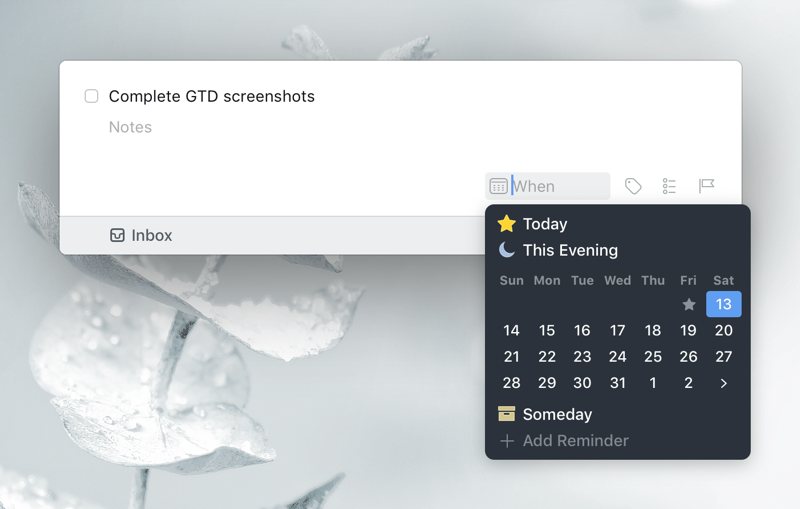 But, if a fire breaks out tomorrow and I'm unable to get to this task, it simply rolls over to the next day. Most other task managers would treat this as an overdue item and give you a glaring read badge. Things just shrugs its shoulders and lets you get to it when you're ready.
This is a far friendlier way of allowing you to address intention when managing your tasks. Due dates are still there for when needed. For me, hard due dates are rare, so the more relaxed approach to time in Things is welcome.
Tags
Most task managers give you the option to use tags. In 2017, tags feel a little like Linux — we're always waiting for them to get the attention they deserve. Yet I (and believe many other Apple users) never seem to get around to using them. Not in the file system, and not in my main applications.
However, I really like the way Things handles tags. Of course, adding a tag to a task or project is quite easy (like OmniFocus and our other contenders), but it's the treatment of tags in the structure of Things that works so well.
The basic structure of Things is as mentioned above. You create high-level Areas of Responsibility or high-level projects to Things. From there, areas can include multiple projects and tasks. In this way, Things operates a lot like folders on your file system.
Tags are how you can view tasks across the different areas and projects in your life. You can view any given tag by using the high-level keyboard-based navigation. Simply start typing the name of a tag and then select it from the search modal. The result is a view that looks like a project.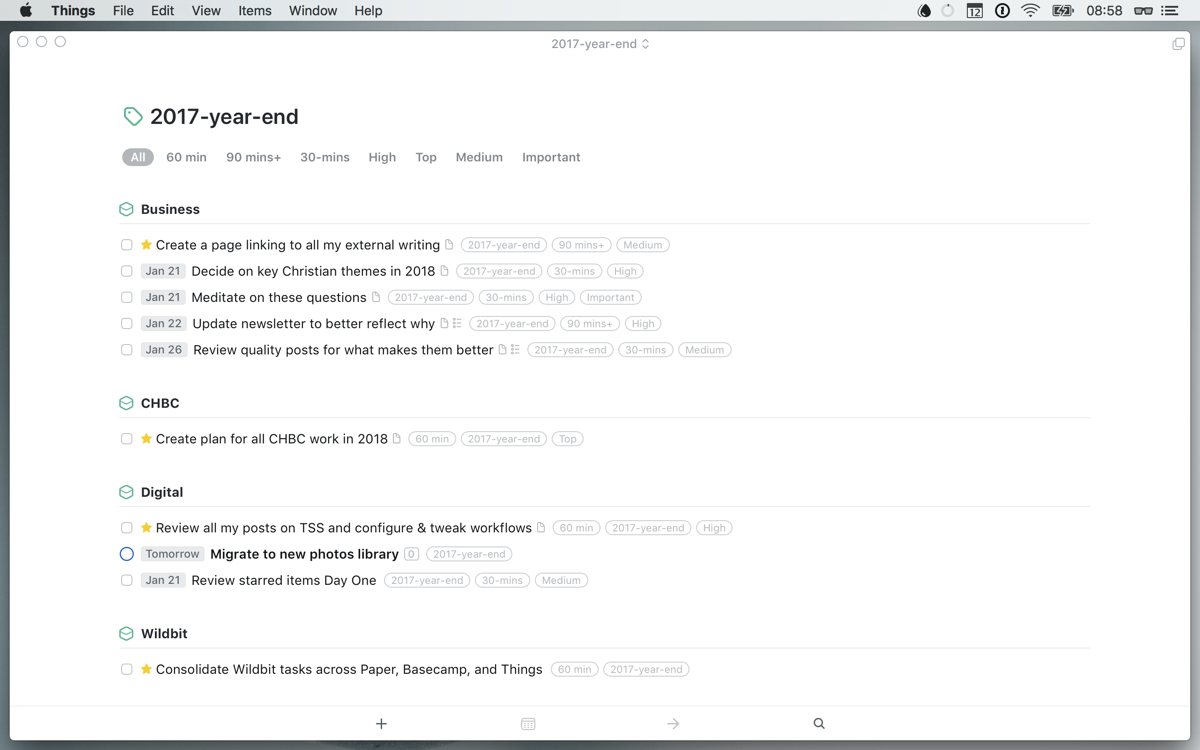 Except it can include tasks that are located in different projects, grouped by area. Since there is little ability to create custom views in Things (more on that below), this ability to view tags allows you the most flexibility. You can even filter your list of tagged tasks by other tags. So meta.
What Could Improve
Things is not perfect, and it's not for everybody. Compared to some of the other options, a lot of people will find it too rigid. Whereas a tool like OmniFocus allows you to configure things in a myriad of ways, Things only gives you a minimal set of options.
Nowhere is this more apparent than creating custom views. Where OmniFocus or 2Do allow you to build highly customized and specific views for your tasks, Things has almost no options at all. If you like to focus on one day at a time, the Today view is a good option. But if you want to look at all items set for Today that only apply to your job, then you'll have to use tags in order show / hide sets of tasks.
The same is true for viewing an entire area of your life. If you view an area that includes projects and single tasks, you cannot see all the tasks for the entire area. All tasks for a specific project can only be viewed by clicking into the project itself. Once you do that, you're down a level and lose the high-level view.
Apart from the lack of customization (which, I should add, some people would see as a positive feature), there are a few other missing features in Things. First, the lack of Markdown support or any other formatting is a bummer. The way Things treats your projects like a document is one of the biggest attractions of this app, so it's surprising that there are no options for writing more readable content. How much more useful would the notes be if you could add headers, bold or italicize text, or even include file attachments?
As well, other apps in this category provide options that some folks will not want to be without:
Tasks in an area or project are not connected to one another and there is no option to make them sequential: you tackle one at a time in any order. For projects that require tasks be completed in a specific order, this can be problematic (especially for teams).
On that last note, there are no collaboration features of any kind. It's task management for individuals.
Again, there is no ability to attach a file to a task. Things does support [URI schemes] for macOS and iOS, but that usage must also be supported by the external app. So Mail.app will provide a link, but Ulysses does not. Files in Finder will include a link, but if that file is moved, the link is not updated. So the usage here is limited.
Things does not support located-based features, such as reminders.
Last, for hardcore iOS users, the lack of shortcuts on the iPad version of Things 3 was disappointing. The shortcuts are so good on the desktop; it was a shock that there were none available on the iPad when Things 3 launched. That changed in an update in May, but the iPad version still lacks compared to the macOS version (compare both).
All things considered, these are small items that do not take away enough from Things. It's the most enjoyable way for Apple users to manage their work. Period.
iPhone and iPad Apps
One last item to mention is the different versions of the product. Apple users in 2017 are people using more than one device. How does Things shape up on an iPad or iPhone compared to the desktop? That's an important question to answer because of the multi-device reality of our day.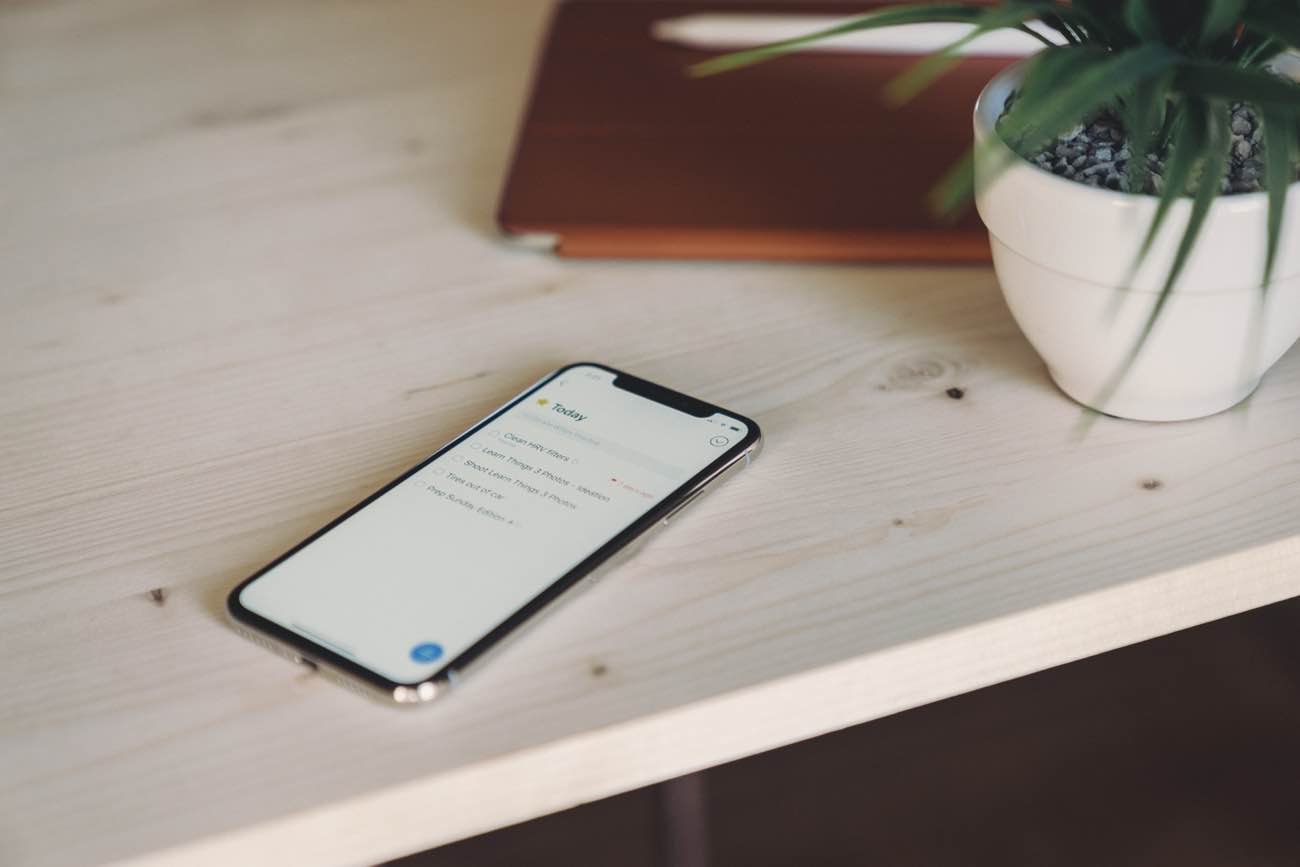 Personally, I downsized to two devices over the last three years. Where I used to use all three options, I currently only use a phone and a laptop. And in my usage, Things is perfect. Where the desktop app allows me to see what I need as I go through my day and throw new stuff into the inbox for later processing, the iPhone app is a wonderful experience for planning.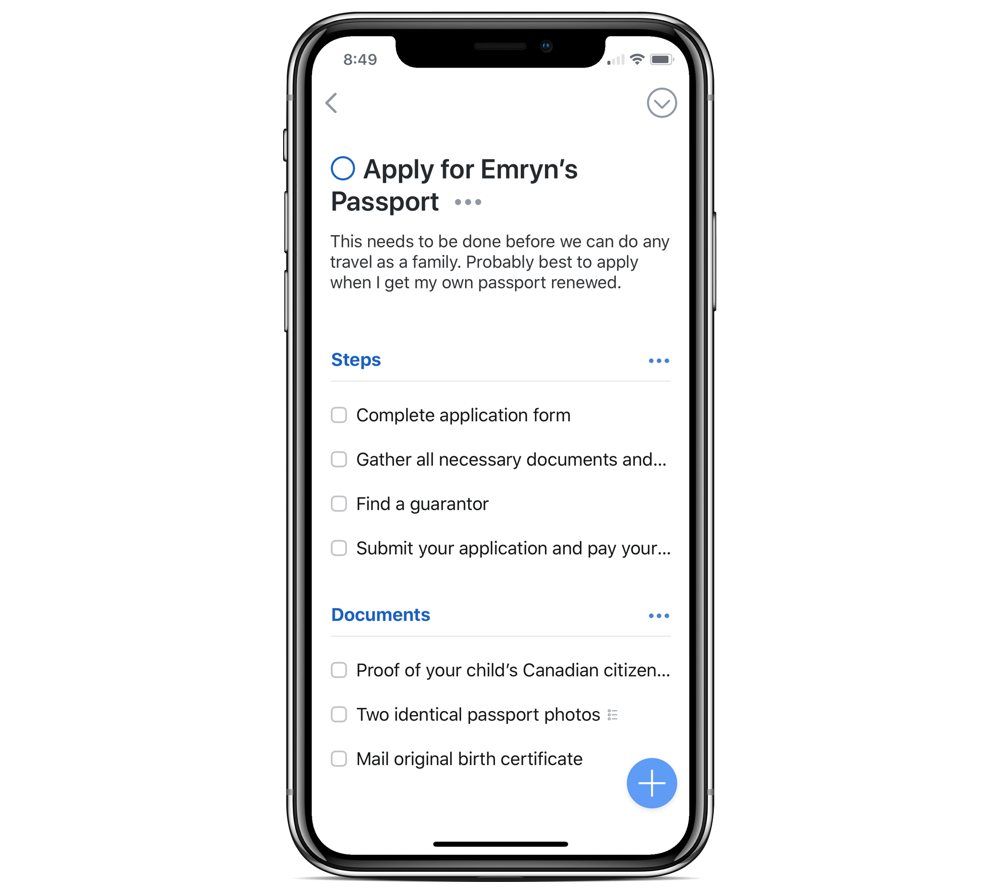 My morning or evening quiet times start with meditation and prayer but often end in review and planning. Things on my phone gives me a very nice view using Areas, Projects, and tags. And where the keyboard navigation is spot on in macOS, the touch-based navigation (and accompanying animations) on iOS are just as good. And so too is the support for drag and drop. Things is above all else a very smooth feeling app.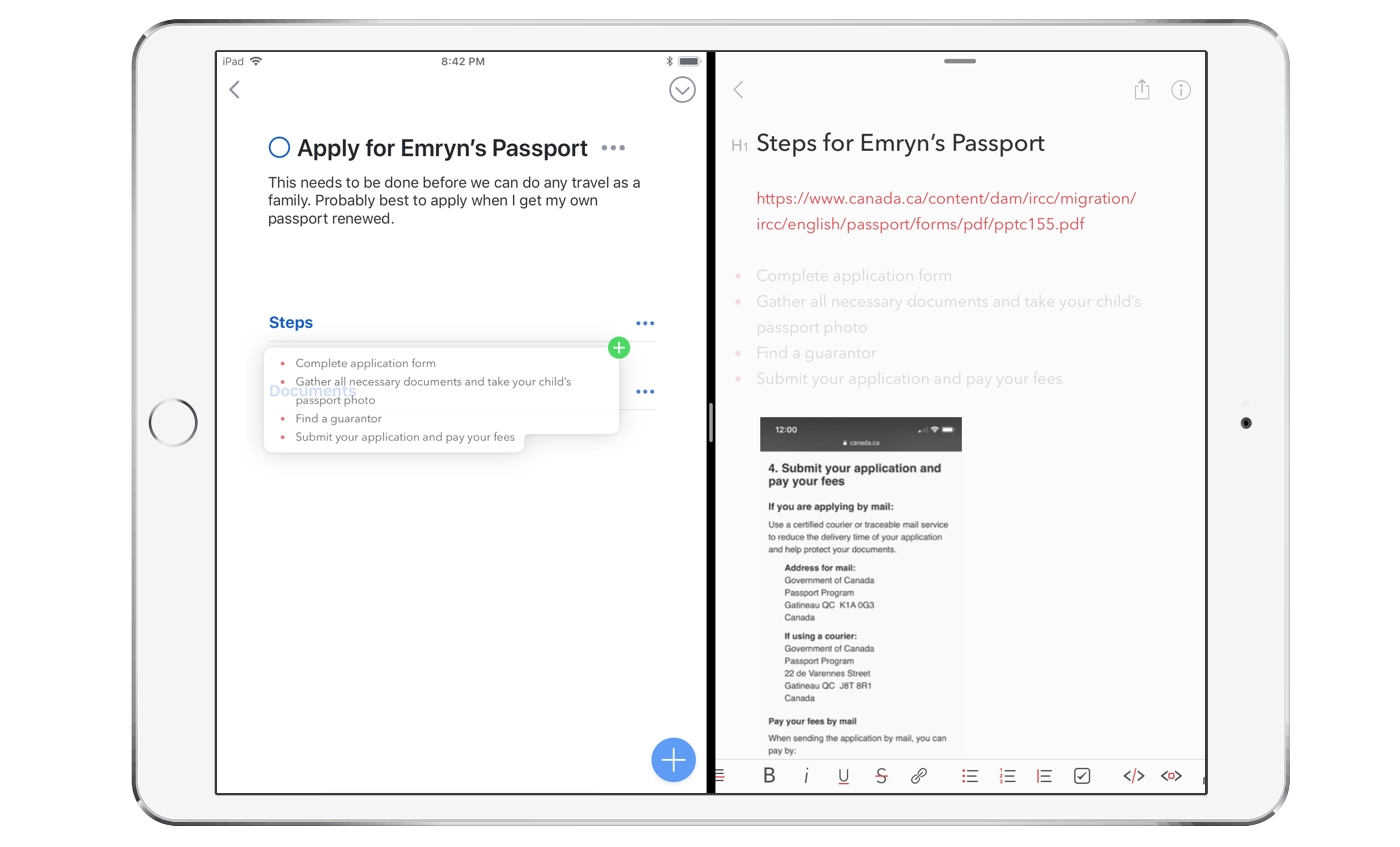 As mentioned above, keyboard support on iOS is lacking and is an area where improvement is needed. iPad users may feel less enthusiastic about our choice here.
Drag and drop in Things for iPad works a bit differently than in OmniFocus for iPad. OmniFocus was one of the first iPad apps to support drag and drop, where you could drag multiple lines of text in from a notes app like Bear and each line becomes its own task. Things, however, takes the dragged text and inserts the text as a note inside a new task.
Which method you prefer will really depend on how you work. It's very easy to create project templates for OmniFocus that can be dragged and dropped in — simply type out each task as a new line inside a text document and save that document somewhere accessible on your iPad. Then, drag in your tasks and you have a pre-determined list of tasks.
Things requires an extra step to create a task using drag and drop on the iPad, but the app assumes you're bringing in background information from a different app and want to summarize that information as the task name. For those looking to use Things as an increasingly complex task manager, this may be the superior form of drag and drop implementation.
Runner-Up: OmniFocus
It's hard enough to pick a winner in this space, let alone a runner-up. Again, each of the contenders listed at the outset would be well worth the investment of your time and money, but if I were forced to make a choice, I would use OmniFocus if Things were no longer an option.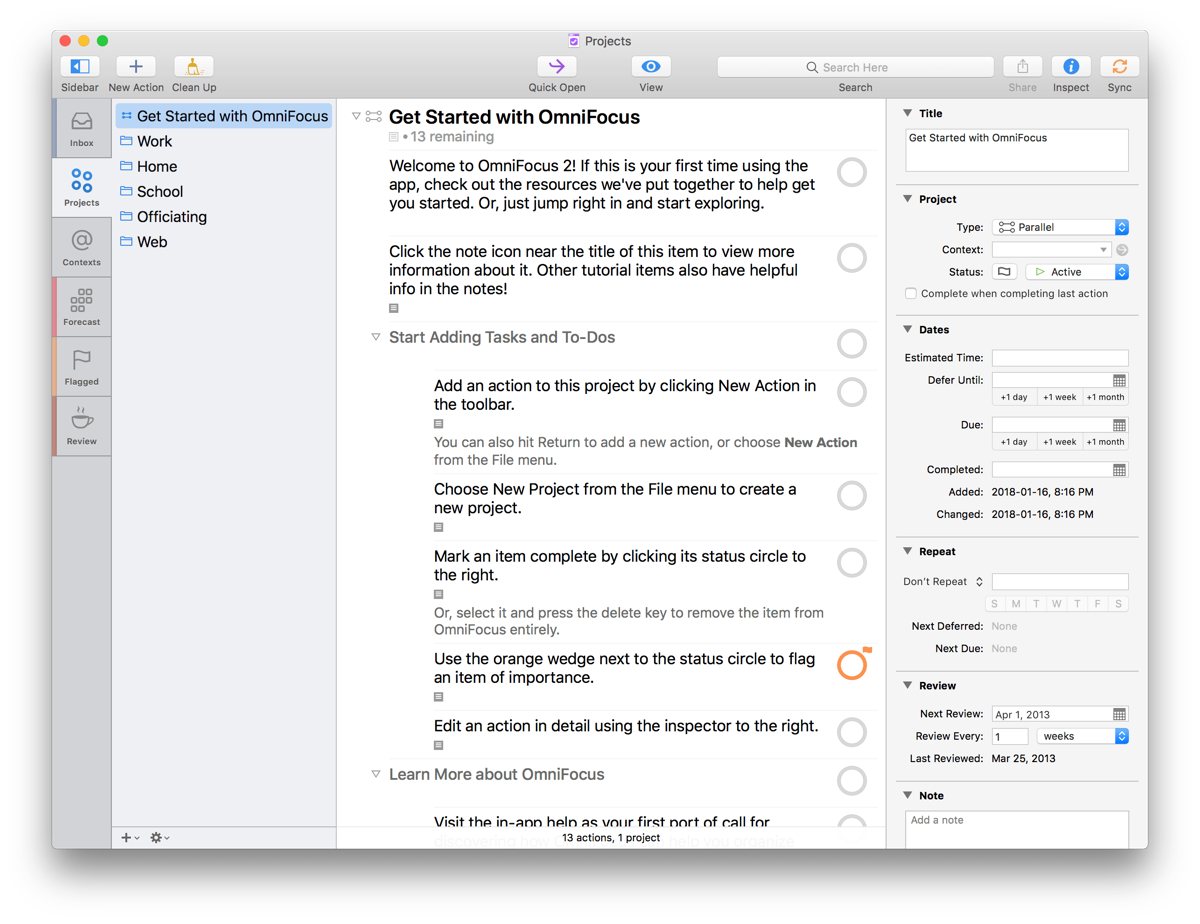 However, it's important to note that OmniFocus was our choice in 2014 and it has not slipped in any way. It's easy to label it as the best choice for power users as it still offers the best feature set and customization, but it goes beyond knobs to twiddle — OmniFocus is also the purest GTD app in a sense. For example, its support for reviews is an admirable inclusion and far better than what any other app in this category offers. Regular reviews is where many people slip up in their productivity habits and eventually lose trust in their system. Any app that emphasizes this aspect of productivity should be applauded.
This emphasis and support for the original definition of GTD, along with the power features it supports, makes OmniFocus a very close second place in our usage.
Capture
This is one of our primary criteria listed above and OmniFocus has included this since day one. The Quick Entry dialog has been included since the first version on OS X, and it gives you the ability to use a keyboard shortcut to get an item out of your head and into OmniFocus.

This applies to the desktop version, of course. When you're hard at work on your laptop or iMac, this option is available. As well, you can use several email clients to turn your emails into tasks. Mail.app and Airmail lead the way here. And AppleScript is another solid option for customizing how OmniFocus fits into your workflows.
Structure
What I enjoy most about OmniFocus is that its structure is adaptable to you, even though it is one of the more GTD-strict productivity apps available. If contexts, start and due dates, recurring tasks, and regular reviews are your thing, OmniFocus is for you. But if you are less persnickety, OmniFocus can be a simple list manager, like many of the other options.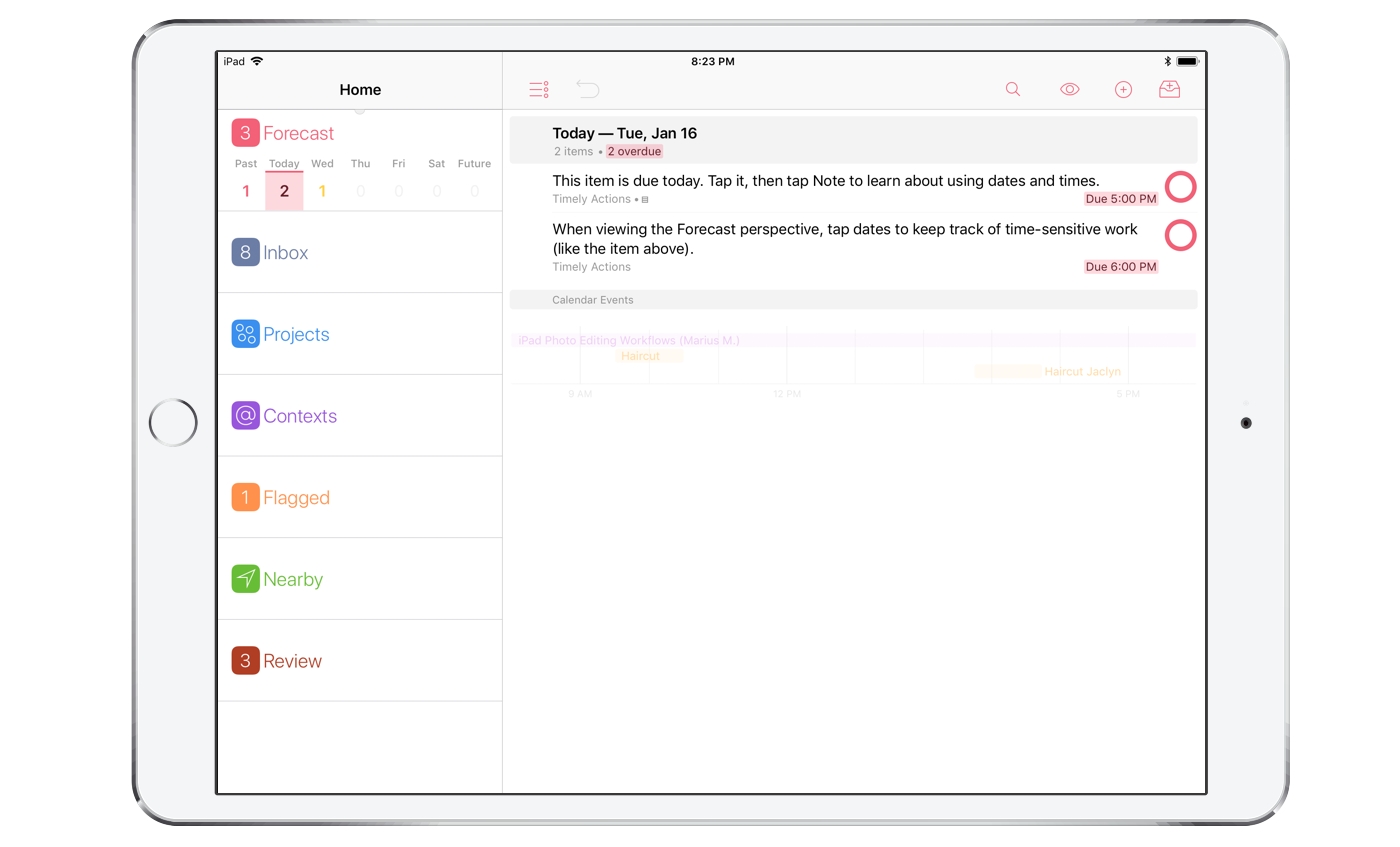 It's the flexibility with the structure, as well as the maneuverability, that shine with this tool. If you take the GTD methodology to heart, you can add your high-level life goals as folders in OmniFocus. Into these go all your projects, sub-projects, and their related tasks.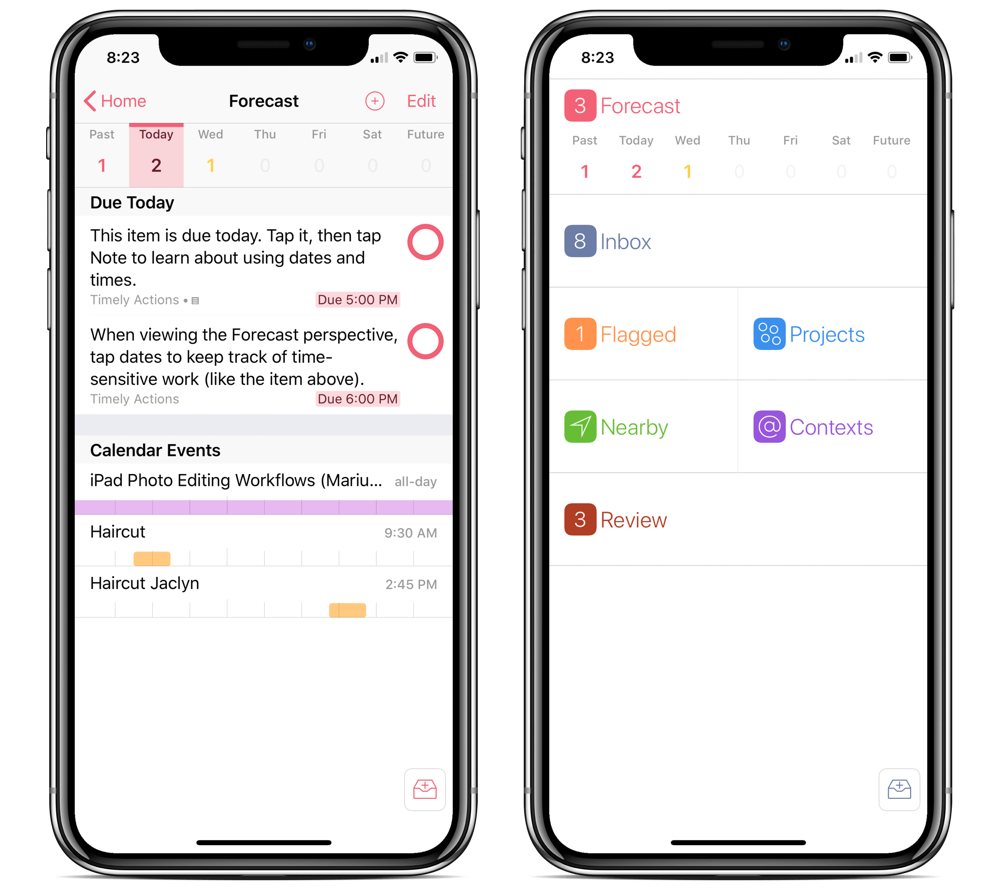 Our productivity tool should allow us to remember why we do the things we do — hopefully, to achieve the larger purposes we have for our lives. OmniFocus enables this in two ways:
It is easy to structure your folders, or areas of responsibility, as the top tier in your OmniFocus database.
Its review capabilities can be used to remind you to take the time to get back up to 40,000 feet and ensure your ground level tasks and 10,000 foot projects are moving you toward your larger goals.
Again, if that is all a lot of mumbo jumbo, you don't have to use it. It gets out of the way.
The Rest of the Story
There's more to this tool; so much more. Keyboard friendly? Check. Different project types, such as parallel and sequential actions? Yep. Does it work well with email apps? You bet. Extensive AppleScript support? You have no idea.
The question with OmniFocus has never been: "Does it have enough power and flexibility?" It has always excelled in this and continues to lead the way. The issue has always been that it can be daunting for the beginner to get started. This is where the constraints and forced focus of iOS has sharpened the skills of the OmniGroup team, and that has benefited the entire suite of apps.
Other Options for Consideration
If you just need a place to store your projects and tasks, but want a little more customization than Things offers, there are a few other options to check out as well.
Todoist
Todoist is a major player in the GTD arena and is the only major player to be available on macOS, Windows, iOS, Chrome, and Android. Todoist is one of the fastest GTD apps as well, as it includes natural language parsing for quick input of tasks. Todoist has been designed to work with many automation and integration services, including (but not limited to) Dropbox, Google Maps, Workflow, Zapier, a range of email clients, and 1Password. And lastly, we love how the Karma system works to keep you motivated and completing tasks throughout the year (not to mention the incredible report Todoist generates and sends you when the clock strikes midnight on December 31st).
Where we feel Todoist falls short is in its design and its differing approach to making your GTD list feel more human. Todoist doesn't offer the same design chops as Things 3, nor does it provide a view of your calendar. Further, Todoist uses differing levels of priorities to differentiate tasks, while Things chooses to split your tasks into "Today" and "Evening" groups instead. While you can emulate these views in Todoist through the use of custom filters, it's not nearly as intuitive as the beautiful execution in Things.
2Do
Like Things, 2Do sports a more pleasing interface than OmniFocus or Todoist. But where Things is more simplistic and includes carefully considered constraints, 2Do offers the ability to tweak what you see in the app and how you use it. It's similar to OmniFocus in that regard, but with a nicer looking UI. If OmniFocus is the second choice for the power users, 2Do is the second best choice for everyone else.
---

---
Conclusion
Sometimes I imagine going back in time to visit the 2007 version of myself and showing off the task management software of 2017. What a stark difference!
No matter your method of productivity, Apple users can find a service that fits their tastes. Things is currently the best of the bunch and we're happy to recommend it. Two or three years from now? Who knows, but we're looking forward to seeing what the amazing community of developers can do by then.
$9.99
Things is a well-designed task manager that is very powerful while also being delightful and easy to use.