Apps we love: Basecamp 3
July 17, 2018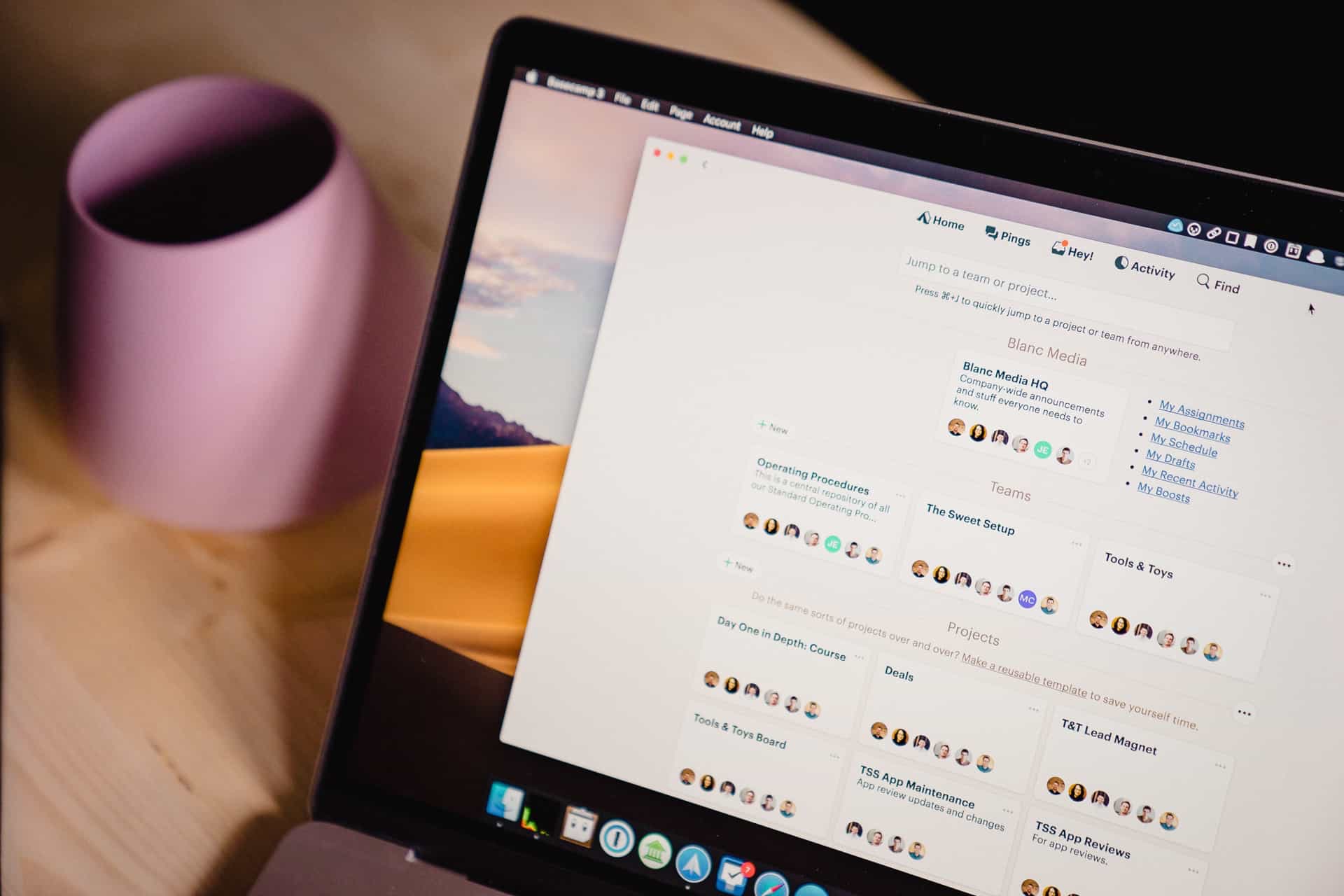 Since every person in an organization has their own approach to getting things done, building software to help people be productive together is a daunting task.
Most offerings go for inclusiveness, trying to cram in every possible feature, view, and option so that all kinds of people can customize it to their liking.
Then there's Basecamp.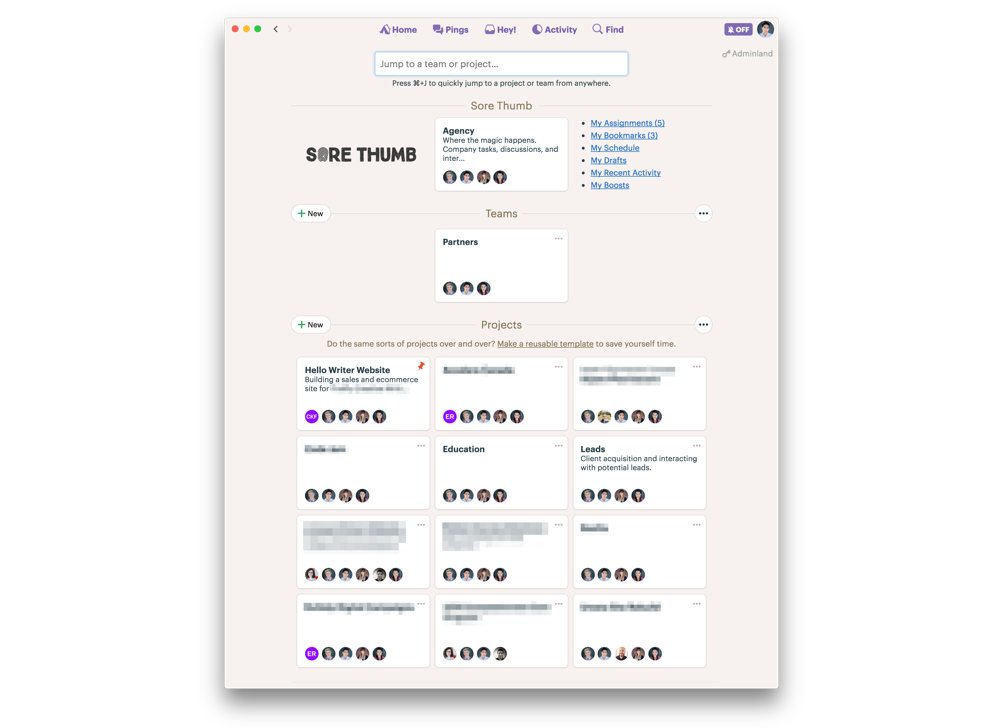 The company turns twenty years old next year, which means they've had a lot of time to refine their vision for what an ideal project management environment looks like. It turns out that the lesson to be learned about how people actually get work done together (not just how they aspire to) is that it's simple. There are countless features that people want, but only a few they actually need.
Basecamp gives you those features.
Battle tested with thousands of clients over several major iterations, Basecamp is now sitting at version 3, which attempts to distill project management to its essence.
Structure
Basecamp is organized into units, each of which can have a customizable set of tools active within it.
These units are either Projects or Teams, but the distinction is semantic—all of Basecamp's tools are available either way. This gives you the option to set up the structure in a way that makes sense for your organization.
A large software organization might have an Engineering Team and a Marketing Team and use Projects as milestones or feature sprints. A small creative agency like mine has a single Team called Partners that we use for internal communication, and then each client project gets its own Project.
Tools of the Trade
Within each Project or Team, you have 7 tools that can be selectively activated or deactivated, depending on the needs of that unit.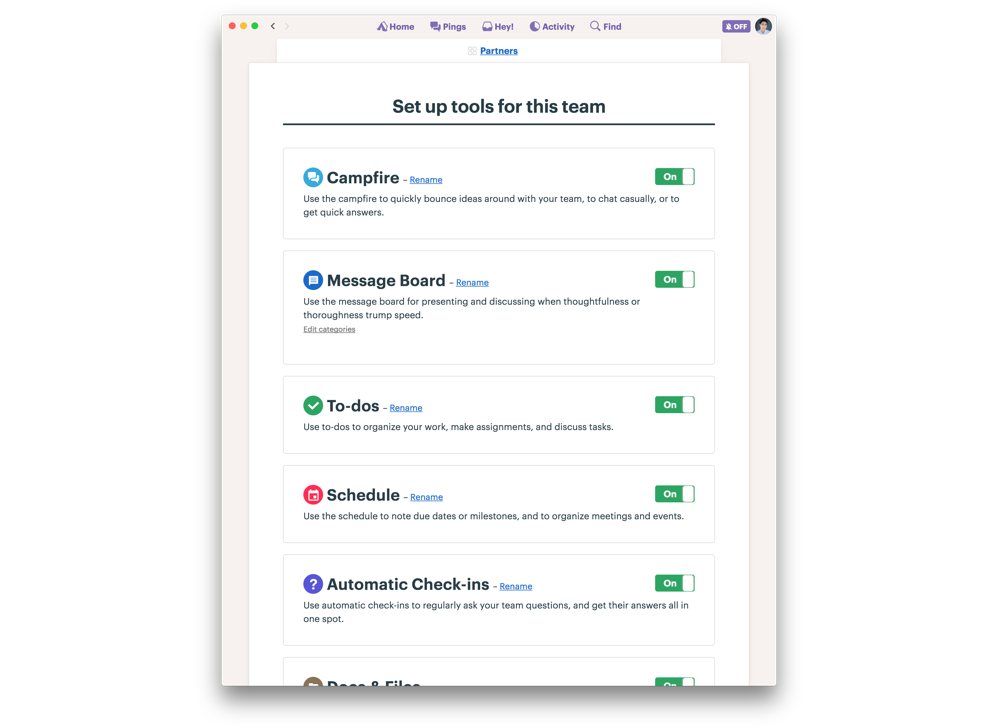 The tools are:
Campfire: a project-specific group chat, like Slack but built into your project management environment.
Message Board: a forum-like system for more deliberate discussions, proposals, and ideas.
To-Dos: the familiar task management system, with lists, assignable tasks, dates, and discussion threads.
Schedule: an internal calendar system for marking milestones, due dates, or meetings.
Automatic Check-Ins: an automated prompt you can set up to ask people for progress reports, or anything else, with answers collected in one spot.
Docs & Files: a full file storage solution, with file versioning, discussion threads, and the ability to make native "docs" with basic formatting.
Email Forwards: a custom email address that you can forward any message to; messages appear in the project and have their own discussion thread, and replies can be sent directly from within Basecamp.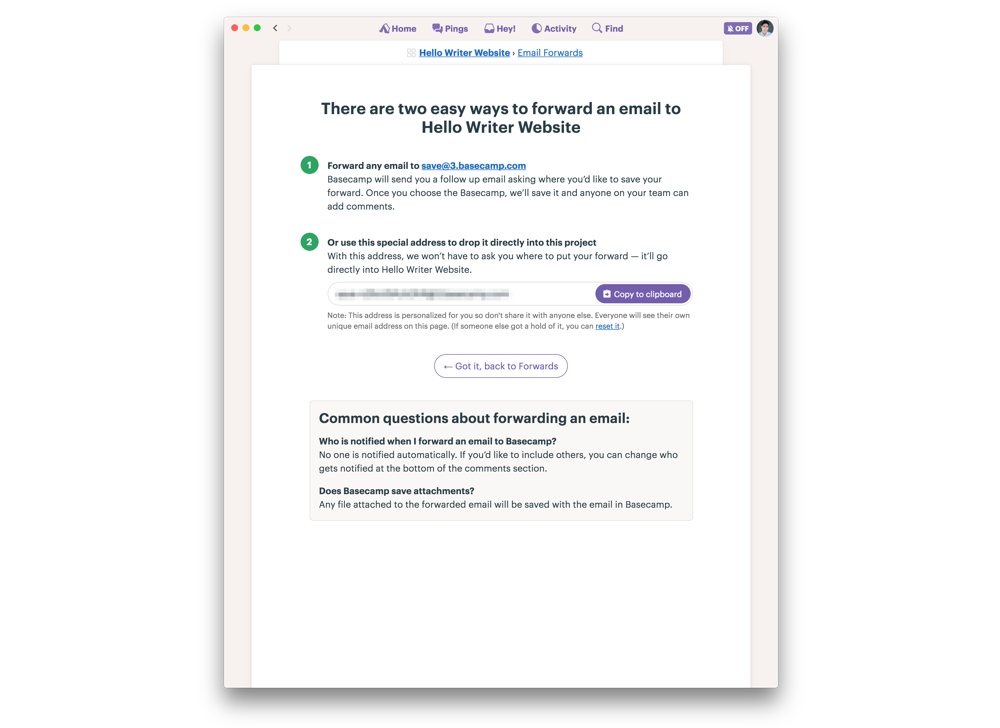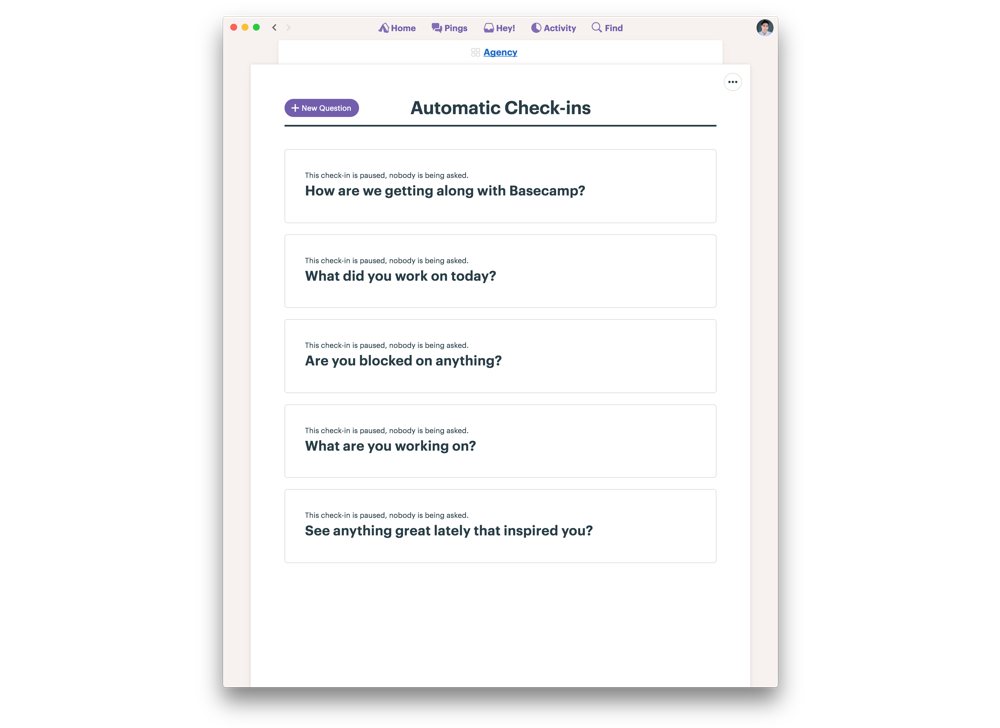 The modularity of this setup means that each Project can have its own configuration of active tools in a custom order that makes sense for the task at hand. Similarly, you can set up Project templates if you find yourself reusing a certain setup for similar kinds of work.
Global Functionality
Above the unit-based portion of Basecamp, you have four other areas that work across the entire account.
Pings are a direct messaging system—like the Campfire tool, except one-on-one. Before Basecamp, there were a lot of small work-related discussions that happened in personal iMessage threads between coworkers, but that stuff shouldn't live there. Bringing it to Basecamp not only offers a healthy work/life separation, but it also means the discussions become fully searchable to the participants for future reference.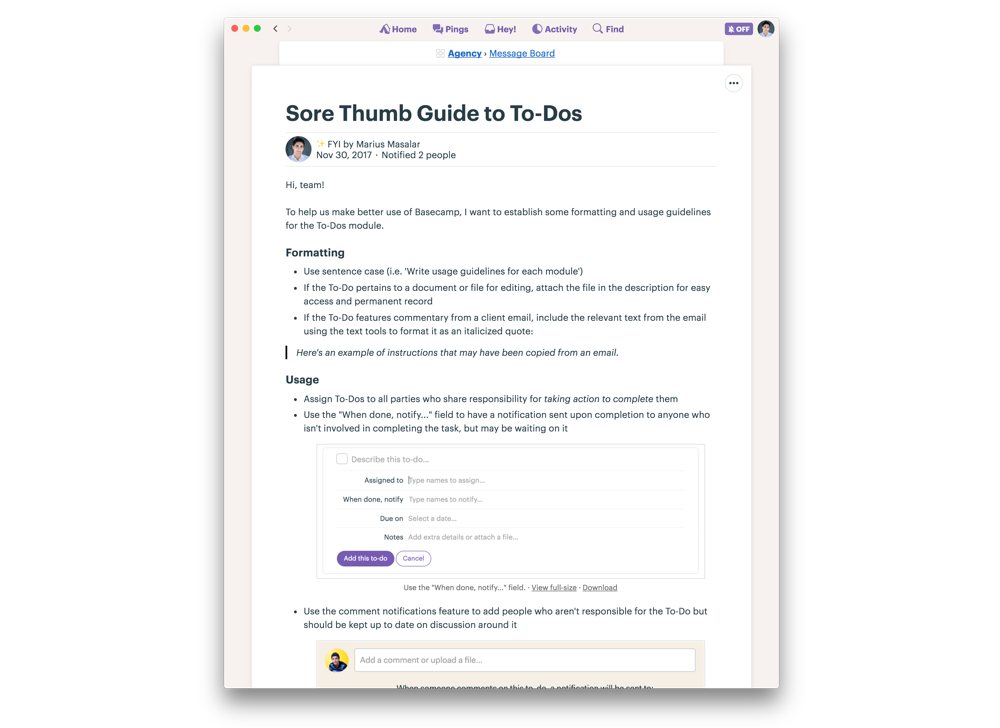 The Hey! menu is a universal notification tray, showing general activity like when a discussion is happening in a Campfire you belong to, along with more specific notifications like mentions, task assignments, due dates, etc.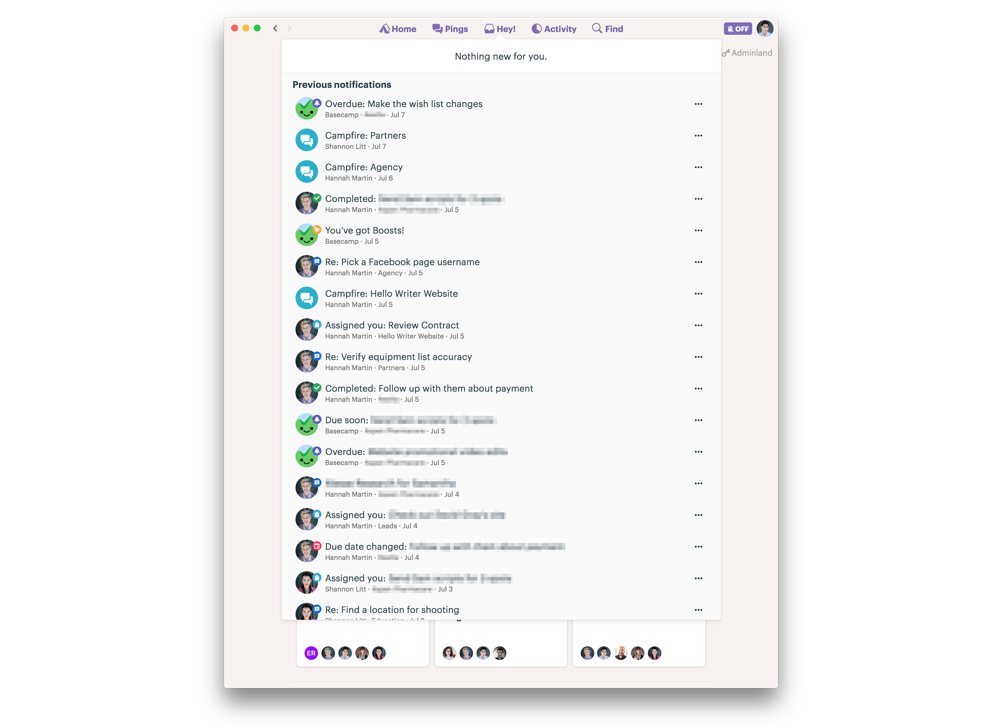 Activity is a productivity timeline, showing what got done and when by whom and for what Project. It's a great way to take the pulse of your organization's overall progress.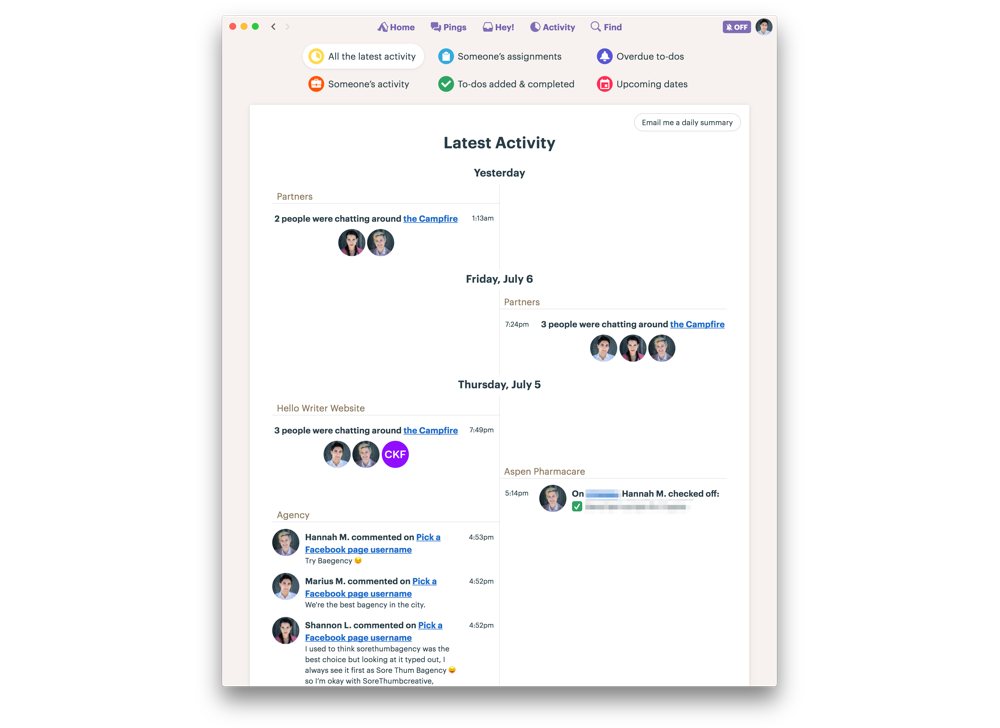 But that's only one of six possible views. The other five are for drilling down to answer more specific questions: what's on someone's plate? What have they been up to? What overdue tasks exist within the organization? What tasks have been added and completed? What important dates are coming up?
This sort of reporting is terrific because it's built around answering the kinds of day-to-day questions that project managers need answers to.
Workflow
Putting it all together forms a surprisingly low-friction environment that's easy to use for people of varying technological skill levels.
Most of Basecamp can be interacted with solely via email, which is perfect for those who don't feel like adding another app to their collection.
Similarly, the app's web-based architecture means that it's equally accessible on any device with an internet connection. There are native apps for iOS, Android, macOS, and Windows, but you can just as easily get the full experience in a browser if you prefer.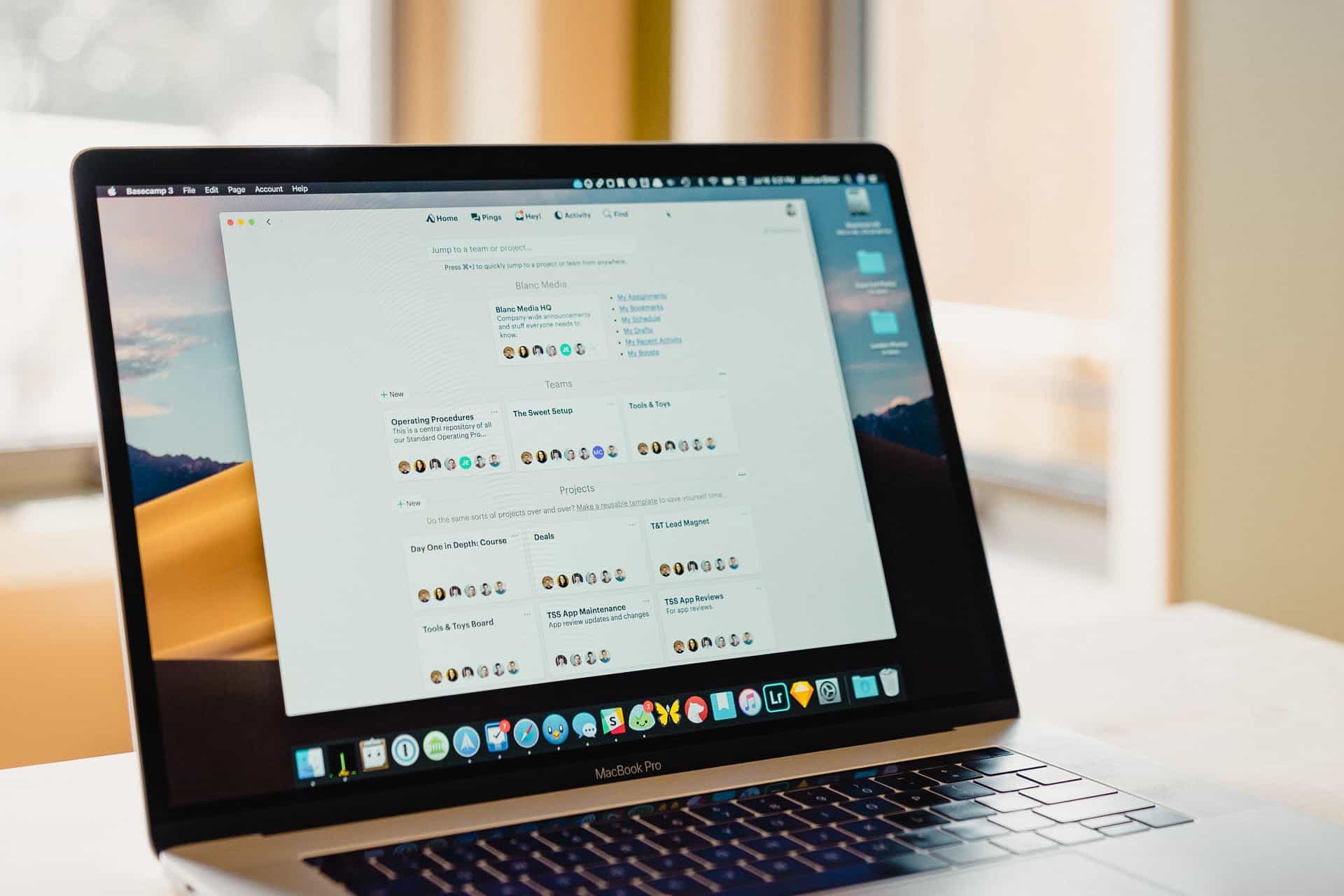 The 5 Best Productivity Apps (Sweet Setup Favorites)
Download: We spend an inordinate amount of time sorting through hundreds of apps to find the very best. This list of must-have productivity apps includes app links, quick-start info, and pro-tip workflow recommendations for each app.
Wrapping Up
Basecamp is full of small, delightful touches that make it clear just how passionate its creators are about helping people not only with being productive, but with creating healthy workflows.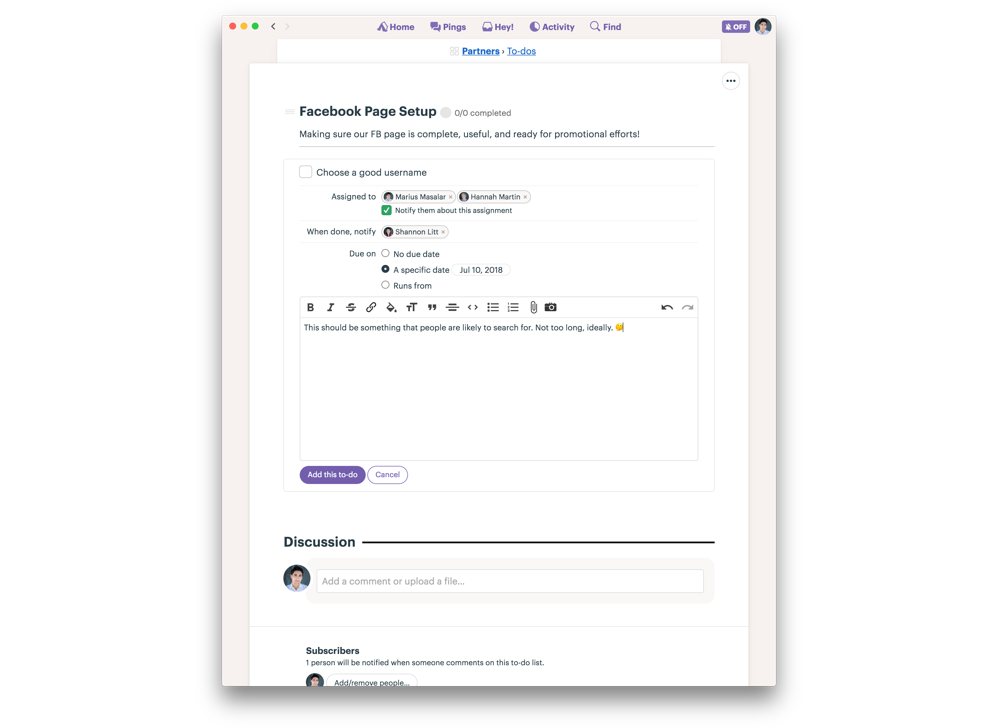 Though the team has remained small, Basecamp's development pace is quick, with frequent updates and an ongoing exploration of new features, many of which are unique to Basecamp (Boosts and Hill Charts , for example) and reflective of a thoughtful company working to make a product that's not only good but good for you.