The Best Pomodoro App for Mac, iPhone, and iPad
Be Focused Pro
September 20, 2019
There are a lot of great options available for a digital implementation of the pomodoro method, but we believe that none of them offer the simple interface and useful features that Be Focused Pro does. It is the best pomodoro app because of its perfect blend of powerful timeboxing tools and a clean, beautiful user interface to help support you when getting your work done.
What is a pomodoro, and why does it need a method?
The word "pomodoro" is actually the Italian word for tomato, which is appropriate once you know that (according to Wikipedia) the pomodoro method (or pomodoro technique) was invented by Francesco Cirillo (an Italian) in the 1980s. The pomodoro method uses a timer to break work down into intervals of 25 minutes.
To get started, just set a 25-minute timer and start working. Once the timer goes off, take a 5 minute break and then set another timer. After 4 cycles (or "pomodoros"), take a longer break (around 30 minutes) before starting again.
The reason the pomodoro method is so effective is that it utilizes a principle called timeboxing to help you focus on a single thing. Timeboxing is where you set aside a period of time to work on one specific task.
For many people, this eliminates the tendency to jump from thing to another and helps you focus on the task you should be doing. It can be a very effective technique for helping you focus, especially if you find yourself easily distracted.
Why do I need an app for it?
Truthfully, you don't. You just need a timer. You could even use a tomato-shaped kitchen timer like Francisco Cirillo did as a university student when he developed the pomodoro method. But, there are several advantages provided by using a dedicated app as a pomodoro timer that are worth considering.
First, a pomodoro app can automatically log the time you spend working. This can make it very easy to see how focused and productive you were for a given time period. A pomodoro app can provide statistics and reports to help you identify what changes or improvements you might need to make to your working environment so that you can focus on the task at hand.
A pomodoro app can also serve as a visual reminder to get back on task while using your device. A visual countdown can serve as a mental reminder to help you stay on task. Some of the apps we looked at even help block out distracting apps and websites (like Twitter or Facebook), which makes it even easier to focus on what you should be doing.
Using a pomodoro app also means that you can implement the pomodoro method anywhere. You don't have to haul around a tomato-shaped kitchen timer like Francisco Cirillo in order to get work done.
What makes a good pomodoro app?
Once you decide to use a pomodoro app, how do you decide which one to use? These are the characteristics we consider important in a pomodoro application and the criteria we used when selecting the best one:
Design – The app should be well-designed so that it is easy to use. One of the things that makes the pomodoro method appealing to so many people is how easy it is to implement, but that beautiful simplicity can easily be lost underneath unneeded features or poor design choices.
Ease of Use – The purpose of any tool is to make the work easier. If the app is not easy to use or it's too difficult to figure out how a certain feature works, it can actually make it harder for you to set your pomodoro and get to work.
Flexibility – While the pomodoro method is simple, it is also flexible. The pomodoro app you choose should be able to accommodate the way that you want to work, whether that be changing the look and feel of the app or simply changing the duration of the timer itself.
Sync – The pomodoro app you choose should sync your pomodoro data between your devices. This allows you to implement the pomodoro method no matter where you are and and eliminates fragmented data.
Additional Features – There's a broad range of additional features available in pomodoro apps, like notifications, reports, and task-specific time tracking. Any additional features the application chooses to implement should stay true to the heart of the pomodoro method and compliment the timer functionality well.
Our Favorite Pomodoro app for Mac (and iOS) is Be Focused Pro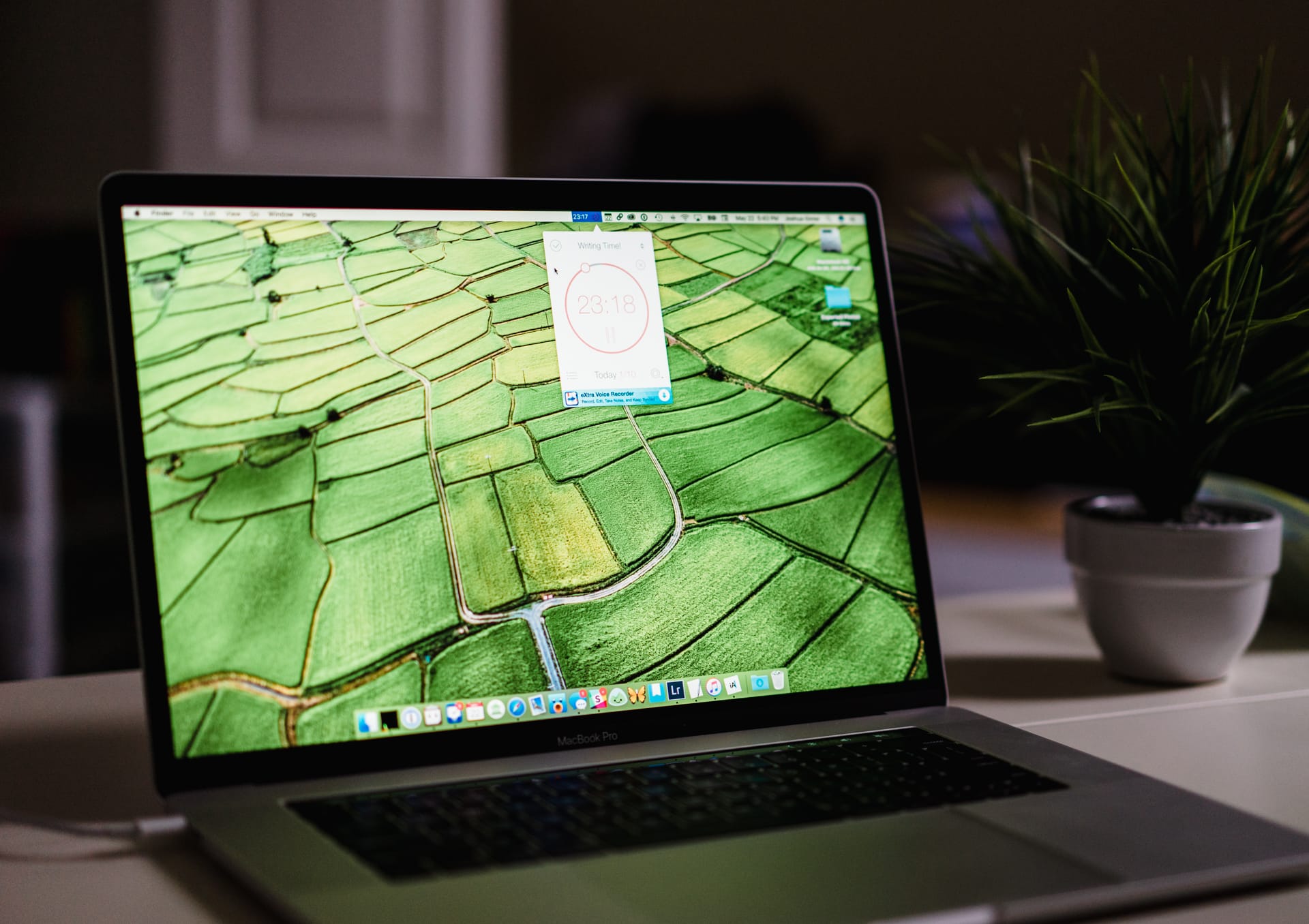 Be Focused Pro is our favorite pomodoro app for macOS. It has a simple and clean user interface that provides easy access to your timers and provides enough additional features without creating clutter that give it enough power to fit just about any workflow.
Be Focused is a menu bar app, which means that your pomodoro timers are always visible, as long as you're not in full-screen mode. There's just something about the visual countdown timer that provides motivation to stay focused on your current task, making this (in our opinion) the ideal way for a pomodoro app to run on your Mac.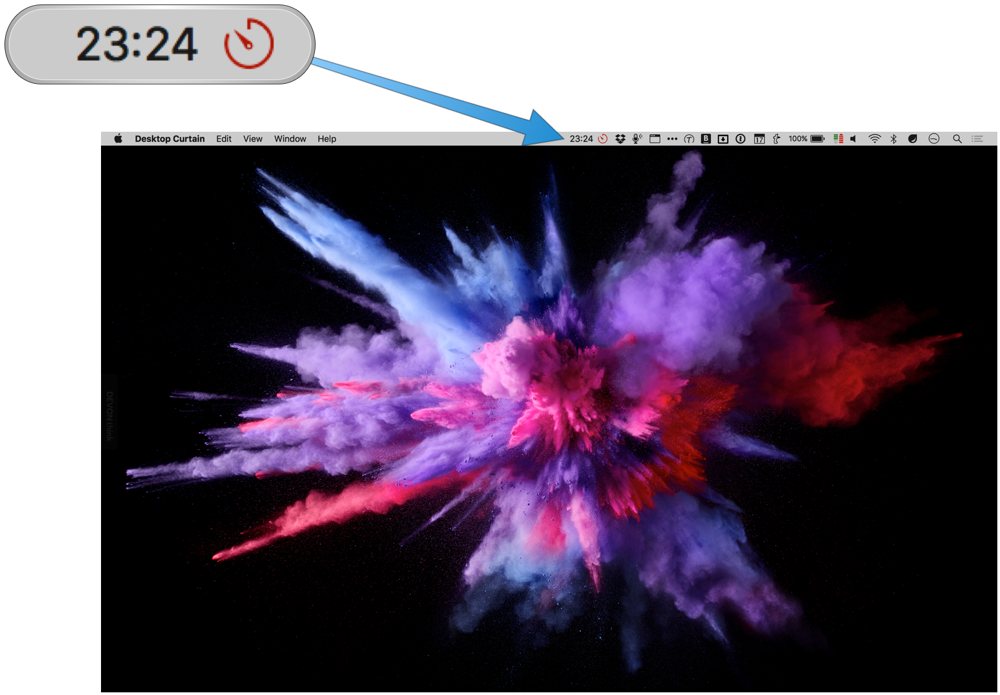 If you click the timer in your menu bar, you see a very simple pop-up user interface that actually provides a lot of information: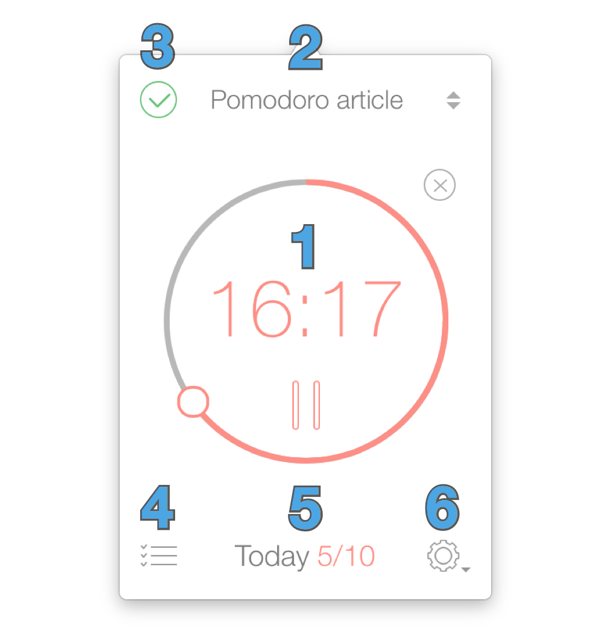 How much time is left in your current pomodoro.
The name of the task you are working on.
Checkbox to mark the current task as completed.
Your task list.
How many pomodoros you've completed out of your goal.
The settings/reports.
The information that Be Focused provides gives you just about anything you might want to see, but at the same time does a very good job at staying out of your way so you can focus on your work. The features themselves are well thought out and just make sense when using the app. For example, you can pause your pomodoro timer if you get interrupted, and if you complete the task you are working on you can click the checkmark to complete it and the next task on your list will be auto-loaded.
There's basic task list integration in Be Focused that allows you to identify what you're working on inside the app, but it's not going to help you manage any big projects. Still, it is nice to see what you have to do as well as what you've completed, and clicking the check mark when you've completed a task is very satisfying.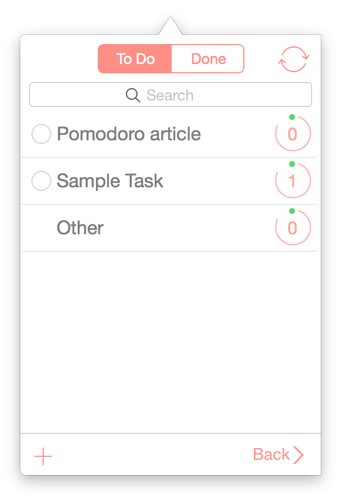 Once your pomodoro is done, the app will notify you that it's time to take a break by playing a sound (which you can customize in the settings) and displaying a notification. You can also customize the length of the timers, the number of pomodoros you'd like to complete in a day, whether you want your timers to auto-start after the previous one is completed, and much more. Be Focused is very customizable.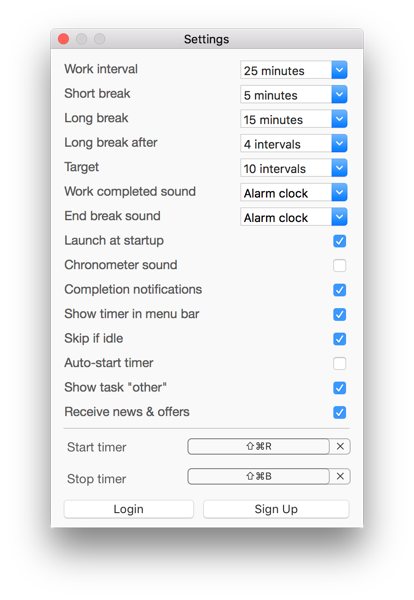 Be Focused also offers some basic reports to track your progress. You can view reports for all tasks or a specific task and use a custom date range to filter visual data. You can also see the work intervals you've finished, number of completed tasks, and total duration. All of these are updated in real time. There's even a red dotted line to indicate your target for number of pomodoros you'd like to complete in a given day (the default is 10).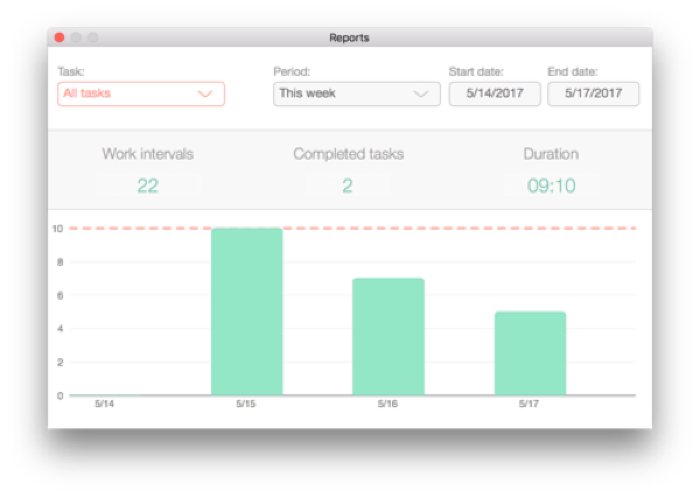 Going Pro
Be Focused is available as a free app in the Mac App Store, but the pro version is $4.99. While most of the features and functionality are available in the free version, the Pro version does have a couple of killer features that make it worth the upgrade.
First, the pro version removes the ads at the bottom of the user interface that are present in the free version. We personally don't like the ads, but if you don't mind seeing them, then you can still get the majority of the functionality in the free version of the app.
Second, the pro version allows you to export your data as a CSV file. This can be useful if you want to include this data along with other information in a spreadsheet. It's probably not necessary for most people, but can certainly come in handy.
Lastly, the Pro version allows you to sync your pomodoro data with Be Focused Pro for iOS. This is the killer feature of Be Focused Pro and the big reason to upgrade. The pro version on the Mac is $4.99 and $1.99 on iOS, meaning your total investment is about $7 to get all the features, eliminate the ads, and sync your data through Be Focused Pro's sync service.
Registration for a sync account is incredibly easy (just enter your email and password), and the sync is flawless in our testing.
Be Focused Pro on iOS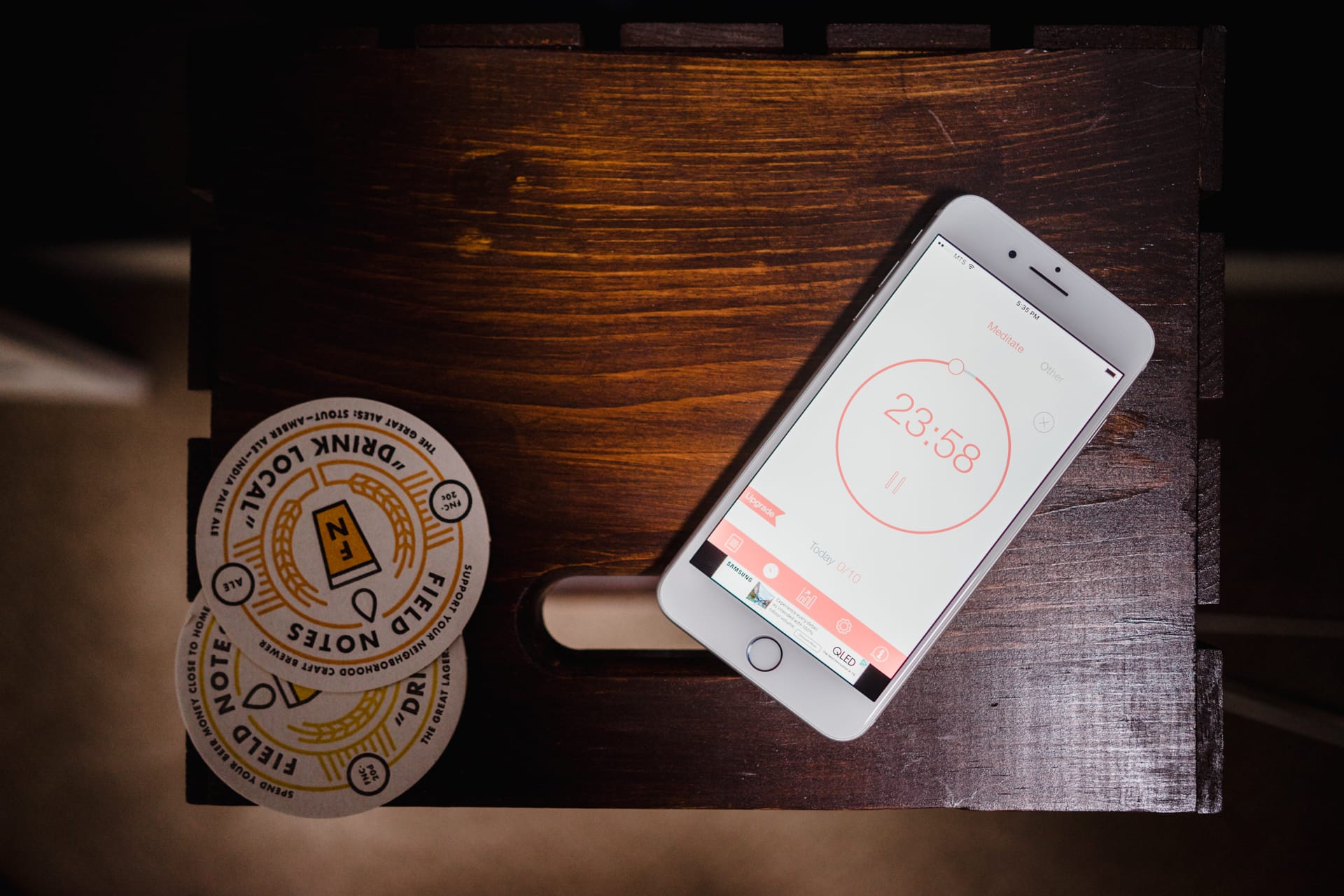 The interface for Be Focused Pro on iOS is very similar to the Mac version, but it's a bit cleaner because it utilizes some of the swipe gestures available on iOS.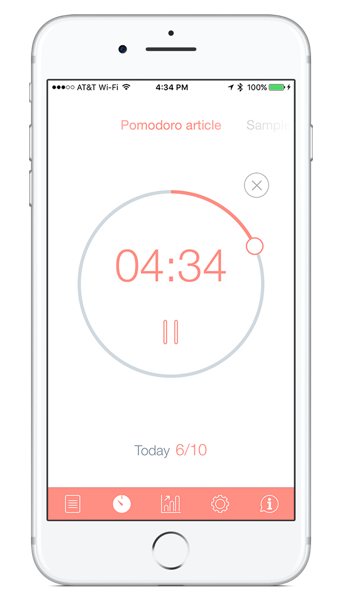 Aside from a few interface changes, the app works the exact same way on iOS. You have separate views for your active pomodoros, task list, reports, and settings that are all accessible via a menu bar at the bottom of the screen. You can start and stop pomodoro timers, check off tasks on your list, and even view reports right from the iOS version. There's a visual overlay that shows you how everything works the first time you launch the app so you don't have to worry about missing any hidden functionality.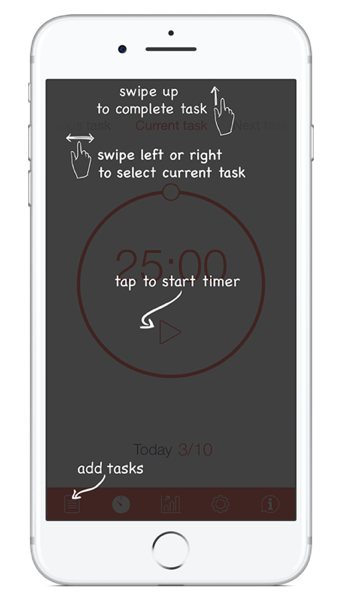 Another nice feature of the iOS version is the inclusion of an Apple Watch app. The interface is obviously limited, but it can still be useful to start and stop timers from your Apple Watch.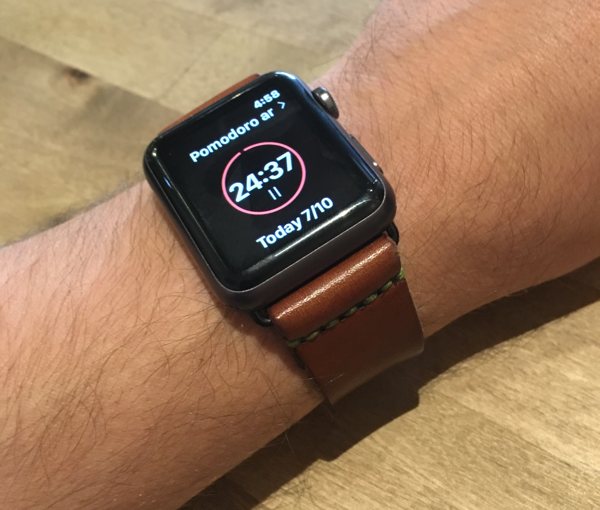 The iOS version of Be Focused Pro is an extremely well-designed complement to the Mac version. If you decide to invest the $4.99 for the Pro version of the Mac app, the $1.99 Pro version on iOS is definitely a worthwhile investment.
Best option for next-level timeboxing
During our testing, we came across one app that could technically be classified as a pomodoro app, but doing so didn't really seem fair since it's capable of so much more. That app is Vitamin-R.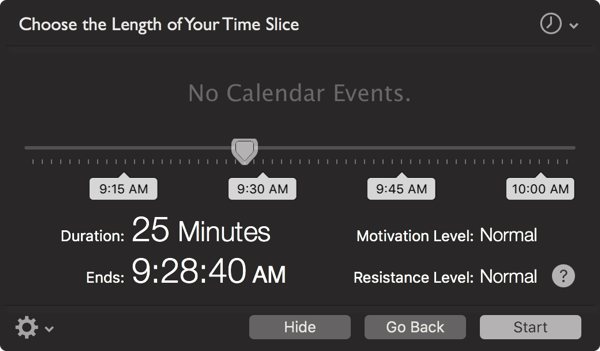 Vitamin-R defines itself as your personal productivity sidekick, and is a great compliment to a full-fledged task manager (like our favorite GTD app, OmniFocus). It even integrates directly with OmniFocus and Things, so you can just drag the task you want to work on into the objective field from your task manager when setting a timer and automatically check the task as completed in your task manager when completed.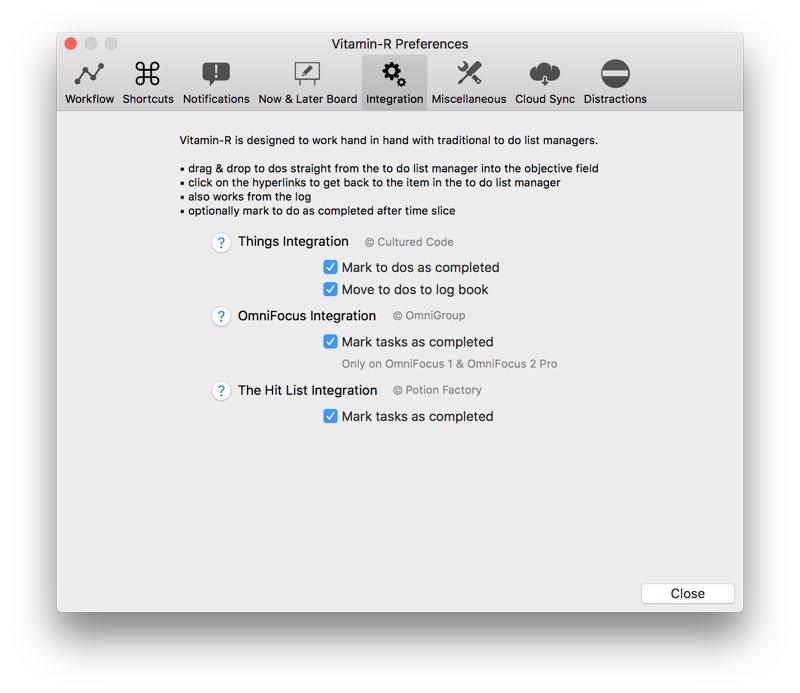 Vitamin-R also gives more detailed reports by asking qualifying questions when your timebox is completed, like "how focused were you?" This qualitative data can really provide some additional insights into how you work in different environments or on different tasks.
If you need a little more help staying on track, Vitamin-R also allows you to block access for certain apps during your time block. So, if you have a habit of checking Twitter in the middle of your pomodoros, Vitamin-R can make it so that isn't an option for you.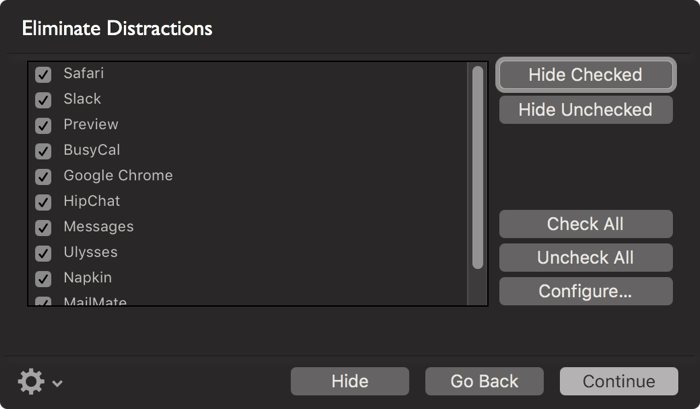 Vitamin-R also provides additional features like a built-in noise machine to create background noise to help you focus, and helps you eliminate clutter by closing unneeded applications for specific work sessions. Vitamin-R is also the most expensive app we looked at, coming in at $24.95 for the Mac version and $5.99 for the iOS version. If you've downloaded our free guide to meaningful productivity and want something more powerful with more advanced features to take your productivity to the next level, you might want to give Vitamin-R a closer look.
Other notable Mac & hybrid options
There were a lot of other high-quality pomodoro apps we looked at when writing this review. None of them quite measured up to our top pick in terms of functionality and features, but there are a couple more worth mentioning.
Tomates
Tomates is a worthy competitor to Be Focused Pro on the Mac. It can also be run as a menu bar app, and you could argue that the interface for Tomates is actually better designed than Be Focused Pro.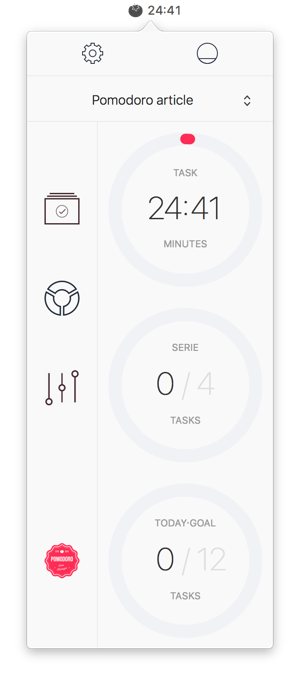 Tomates even has some additional features that are missing from Be Focused Pro, like Touch Bar support. It's an incredibly impressive app, but the one thing that is missing is an iOS counterpart to sync with. The reports in Tomates look great, but they are stuck on your Mac since there is no iOS version. In our opinion, the ability to sync your data puts Be Focused Pro over the top. If you're only looking to implement the pomodoro method on your Mac, Tomates is a great option.
Tadam
Tadam is a minimalist approach to the pomodoro method. Tadam is a macOS menu bar app that shows the progress of your pomodoro timer by filling in a circle instead of displaying the amount of time remaining (you can still see this by selecting the menu bar icon). It's a really well-designed app, but it has made certain design choices that limit its functionality. It does have keyboard shortcuts to start and stop timers and allows you to customize the length of your timers, but it doesn't have reporting or any sort of sync. If you're looking for a minimalistic, Mac-only pomodoro timer, check out Tadam.
Tomighty
Tomighty is a free pomodoro app for both Mac and Windows that provides essential features without the bells and whistles. The interface isn't as nice as Be Focused Pro, but it does quite a bit for a free app. It's a menu bar app that allows you to start and stop times using keyboard shortcuts, and offers quite a bit of customization (including length of timers) given that it's a free app.
One thing that is noticeably missing from Tomighty is reporting. It's hard to complain about this for a free app, but Be Focused Pro is a better option (if you're willing to give up one cup of hipster coffee to get it).
FocusList
FocusList (iOS, Mac) tries to combine your to-do list with a pomodoro timer inside a single application. It's developed by Median Tech, the same developer who makes the free Tomato One timer, but adds some additional features like the ability to estimate task length when planning your day and statistics to show you how accurate your original estimates were.
Unfortunately, this approach really didn't work that well in our testing. It adds additional functionality, but it also adds complexity that really doesn't add much in terms of value. It only allows you to enter task titles and duration, so it's not a really a replacement for a true task manager like OmniFocus or Todoist, and it also doesn't integrate with them like Vitamin-R does.
Zen Timer
Zen Timer takes a different approach to the pomodoro method by displaying a tree on the screen that matures and grows as your pomodoro timer progresses. Once the 25-minute timer is up, the leaves fall gracefully to the ground as an indicator that it's time to take a break.
It's a neat idea, but the novelty wears off quickly. For the same price, you can get Be Focused Pro and get a very powerful and flexible pomodoro app that is flexible enough to adapt to any workflow.
Tomatoes
Tomatoes is very comparable to Be Focused Pro on the Mac, but the interface is much more cluttered and it hasn't been updated in quite some time (the developer's website says it was made for Yosemite). Tomatoes also offers an iOS version and the ability to sync between them, but it's actually more expensive than Be Focused Pro and, in our opinion, isn't as well done. It's hard to justify investing more money for the same functionality available in Be Focused Pro, especially when the interface is more cluttered.
Other notable iOS-only options
There are a ton of options for iOS pomodoro apps. None of them quite measured up to our top pick in terms of functionality and features, but there a couple worth calling out here.
Flat Tomato
Flat Tomato is a simple pomodoro timer that incorporates some unique gestures to the flat (as the name implies) pomodoro timer interface. One unique feature of Flat Tomato is the ability to import tasks from other apps, like the Reminders app or even Todoist. In fact, if you upgrade to the Pro version, Flat Tomato can automatically pull in the tasks that are due today in Todoist. The Pro version also offers iCloud syncing, but since there is no accompanying Mac version, you are limited to syncing your data between iOS devices.
Workflow Timer
Formerly Pomodrone, this app offers a very simple and beautiful pomodoro interface. Premium features features like stats, themes, and goal setting are available via in-app purchase. Its major limitation is the inability to sync your data, but if you're looking for an iOS-only pomodoro timer, then Workflow Timer isn't a bad option.
Conclusion
Be Focused Pro for the Mac and iOS is an excellent and affordable productivity tool for just about anyone. It has a well thought-out user interface, extremely useful features, and the ability to start and stop your timers from anywhere. The reports offer a good amount of information that are easy to understand, and the data syncs between all of your Apple devices. At $4.99 for the Mac and $1.99 for iOS, it's an extremely affordable support tool for anyone who needs a little help focusing on the task at hand.
If you're serious about your productivity, Vitamin-R is a notable upgrade. It's more expensive than Be Focused Pro, but also offers direct integration with task managers like OmniFocus and gives you the ability to block out distracting apps during your timers.
There are a couple other interesting options available on Mac and iOS that offer unique features, but none of them offer the combination of both form and functionality that Be Focused Pro does.
$1.99
Be Focused Pro is the perfect blend of powerful timeboxing tools and a clean, beautiful user interface to help support you when getting your work done.
App Store

$1.99