Using an iPad for photography workflows
January 16, 2018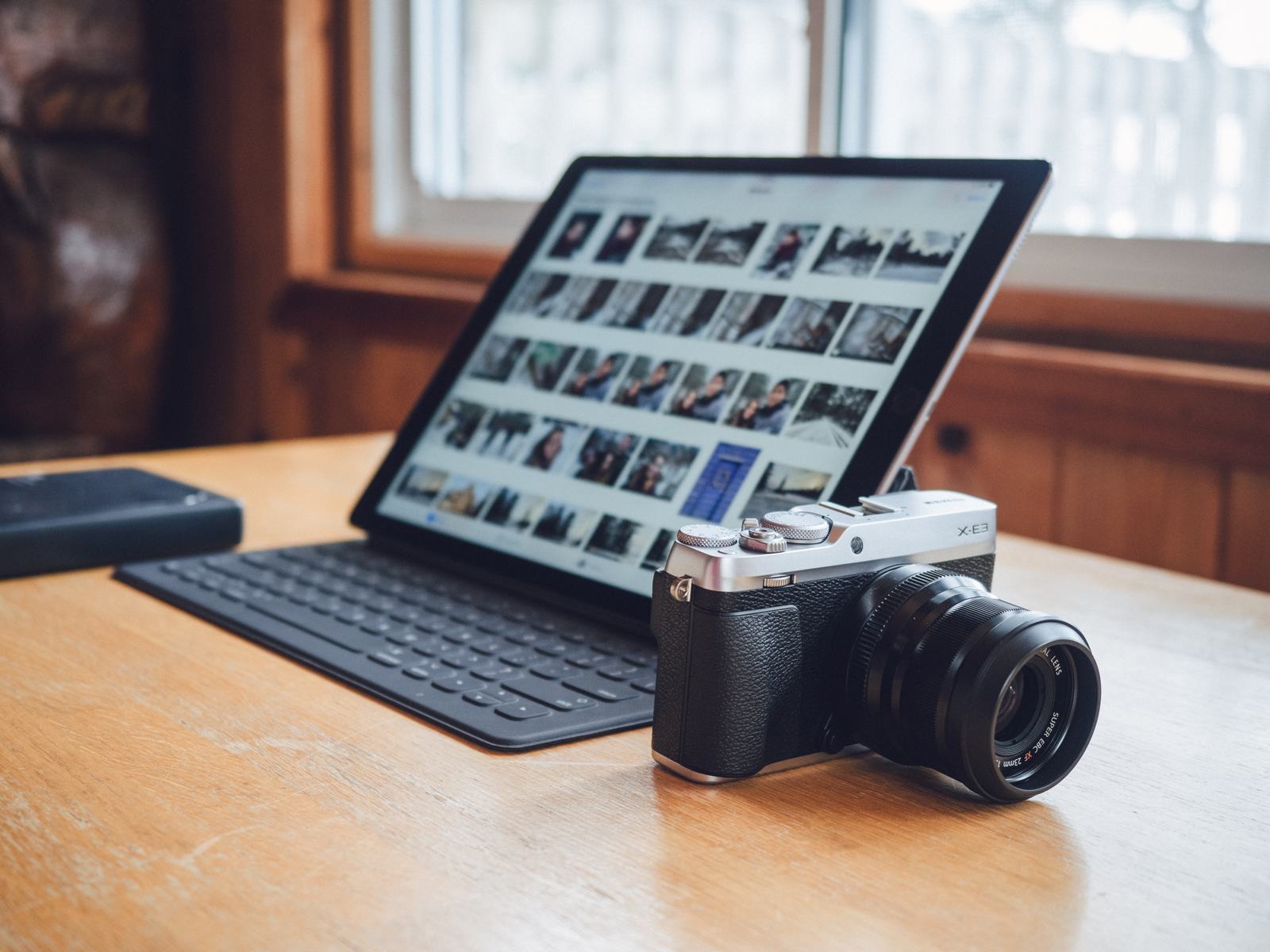 I haven't owned a laptop in half a decade.
​
Over time, I've happily moved more and more of my computing to the iPad, a process that was greatly accelerated two years ago with the arrival of the iPad Pro. I'm still rocking that first-generation 12.9-inch iPad Pro, but what follows is equally applicable to older iPad models as well.
​
Photography was one of the last bastions of Mac usage in my life, but the advent of iOS 11 and a renewed developer interest in professional-grade iOS apps brought more and more of that workflow to the iPad over the past year.
​
To be practical, an iPad photography workflow has to encompass everything from shooting, importing, culling, editing, and the final export. The ideal scenario is to be able to trust the iPad to replace a laptop as my daily photography companion. It needn't do so entirely — I'm happy to continue using my desktop-based collection of apps when I'm at home and need their specific capabilities — but I should feel confident taking nothing but an iPad with me when I head out on a shoot or take my next trip.
And I do.
​
Things aren't perfect yet, but depending on your tolerance for doing things differently, we're finally at a place where the iPad is a viable companion for the working photographer.
Get Our Best Photography Tips & Workflows
Transform your photos and edits from average to awesome with our in-depth, mobile photography course. It's jam-packed with training, ideas, and lessons that can literally transform your photography overnight.
Table of Contents
​
Shooting
While I would never use my iPad to take photos, it can be a useful tool during the planning and capture phases of a project.
​
Here are just a few of the tasks I turn to my iPad for when I'm preparing for and executing a shoot:
Keep a Shot List: A checklist in my notes app — Bear, in my case, but it could be anything — helps me stay on top of what I need to capture.
Assemble a Mood Board: I tend to assemble mood boards with new clients, often using something familiar like Pinterest so that everyone can contribute and refer back to the collection.
Sign Paperwork: The iPad has copies of any documentation I need clients to sign (like model releases) and an Apple Pencil makes it a breeze to get that done without worrying about printouts.
Play Music: Having music playing during a shoot is a great general tip for keeping up the energy, so my iPad finds itself doing double duty as a Spotify machine, beaming music to a portable Bluetooth speaker.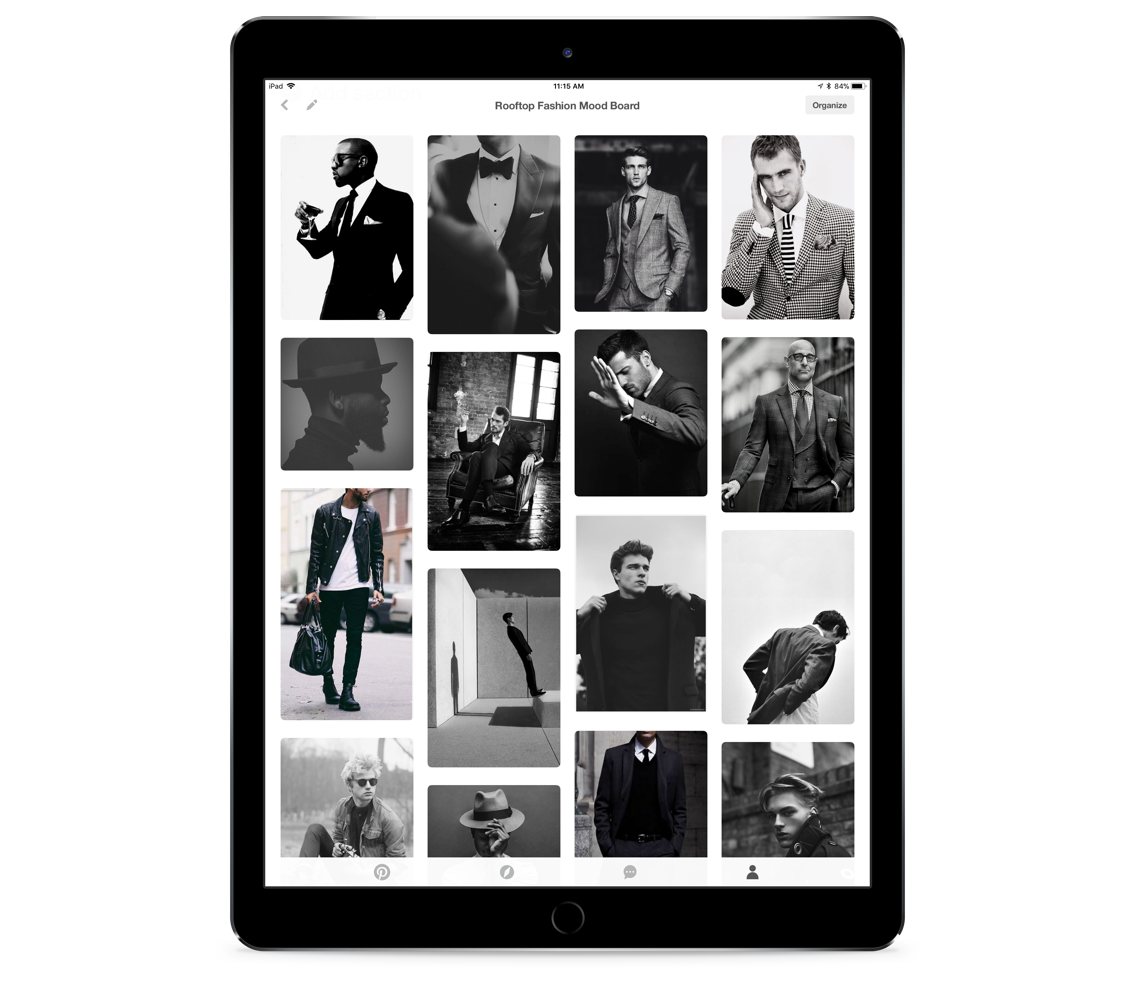 That doesn't even come close to encompassing all the various communication, travel, and other logistical uses I find for it. But all of that is table stakes — useful but not interesting.
​
Taking it to the next level is where things get fun. iOS is rife with apps that can enhance a shoot and I want to mention two that I find especially compelling.
​
PhotoPills
The first is PhotoPills. This popular app is designed to help photographers plan the perfect shot, most famously by letting you plot the trajectories of the sun, moon, and stars across the sky and giving you the tools to find out when and where you need to be to get everything lined up exactly the way you imagined.
​
A robust AR view keeps the process feeling intuitive and futuristic, and the app includes a number of calculators to help you nail the right settings for stars, find your hyper-focal distance, choose the right time lapse interval, and more.
​
Beyond that, PhotoPills also features a thorough library of over 10,000 points of interest, specifically curated for photographers. This comes in handy in conjunction with Instagram's Explore for finding location inspiration, especially while traveling to a new place.
​
Cascable
The second app I use during shooting is one that we'll be returning to later in the guide as well. It's called Cascable, and it's a powerful toolkit for wirelessly connecting to and controlling a wide range of cameras (including the Olympus and Fujifilm cameras I shoot).
​
Once you've connected to your camera using its onboard Wi-Fi, Cascable takes over for the manufacturer connection app and gives you a remote live view, with control over exposure settings, shutter release, etc. with touch-to-focus and useful display augmentations.
​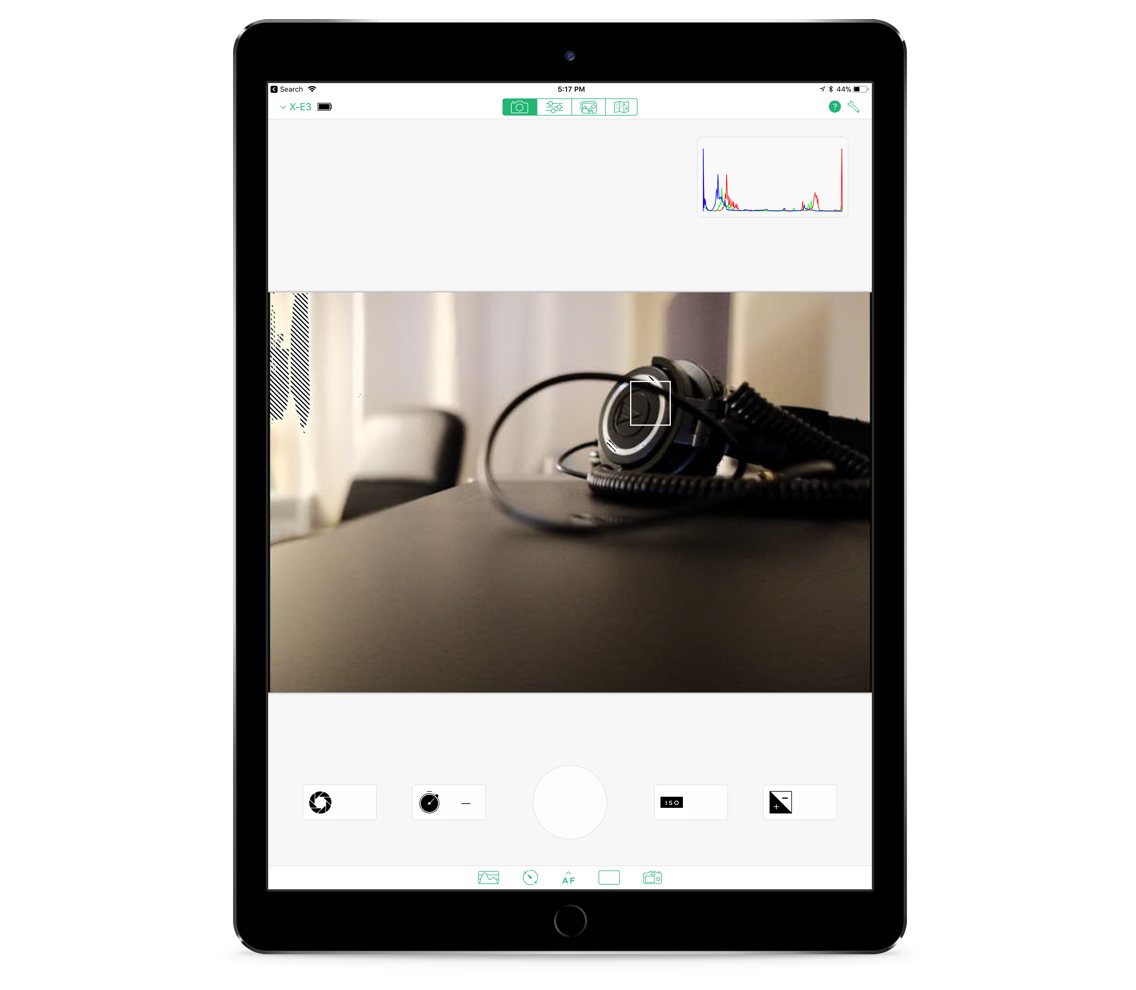 The exact capabilities vary by camera, but this degree of control has advantages both in the field and in the studio.
​
In the studio, Photo Review turns this into something very close to a classic tethering solution, albeit one that's slower. Better still, you can either look at the high-res preview on your iPad screen or beam it to a nearby TV via AirPlay.
​
In the field, the real power comes from the Shutter Robot feature. This automation tool has four modules:
Self Timer
Bulb Timer
Intervalometer
Exposure Bracketing
Each allows you to set up, trigger, and review results for each of these common shooting tasks.
​
---
​
Cascable and PhotoPills are perfect examples of how an iPad can be a useful companion in the pre-production and execution phases of a shoot, but the real question — and the area where iOS devices have traditionally struggled to keep up with a professional workflow — is what happens next.
​
Importing
Whether I'm traveling or shooting at home, I end up with one or more SD cards full of raw and JPG images. The iPad is a perfect tool for triaging those shots, but first I have to get them onto the tablet in the first place.
​
There are four main approaches to this that I know and use:
Using the Apple Camera Connection Kit to import photos directly from my camera and/or SD card.
Using the apps provided by the camera manufacturer to import the photos wirelessly.
Using Cascable to import the photos wirelessly.
Using an SD-equipped portable drive to access the photos.
​
There are benefits and drawbacks to every approach, so let's examine each in turn.
​
Using the Camera Connection Kit
We live in an age of dongles and even this obscure corner of dongle life presents an opportunity for confusion. This is because Apple currently sells not one, not two, but three "camera adapter" products.
​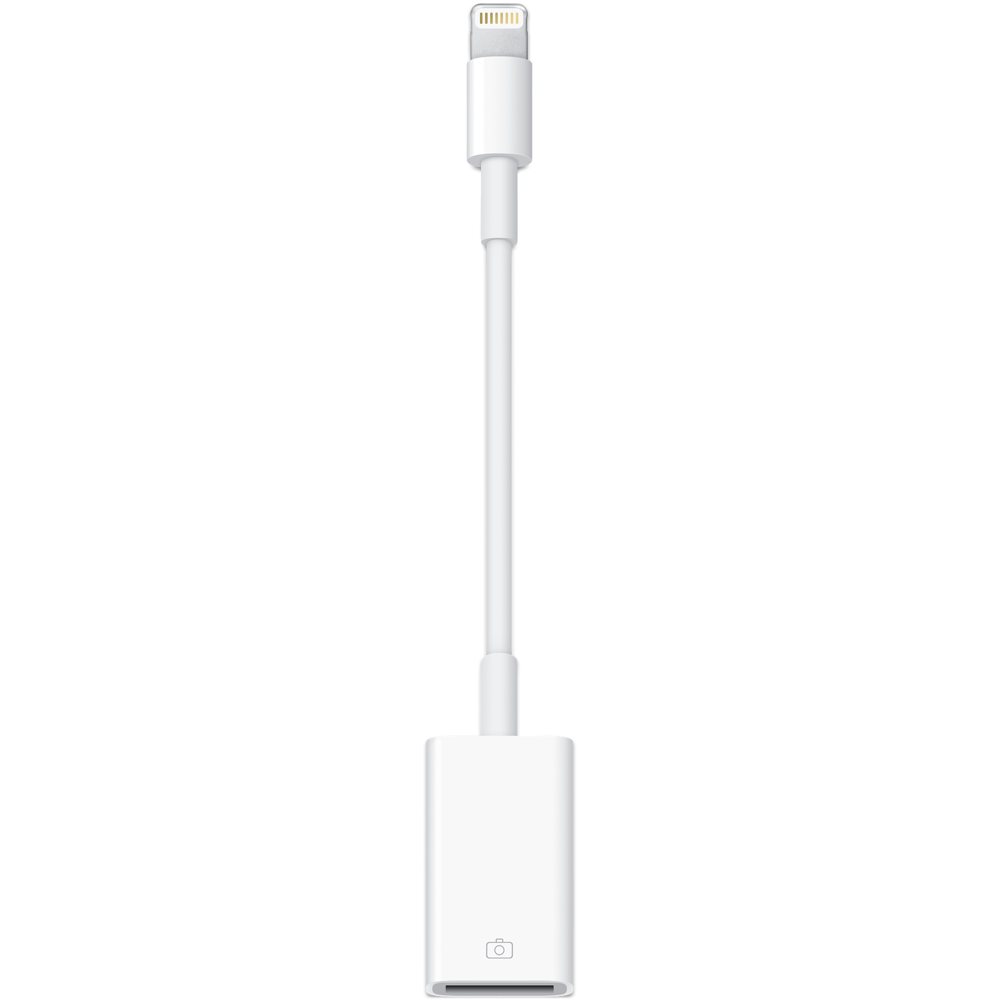 The first is the Lightning to USB Camera Adapter, a simple thing that offers you a familiar USB-A port and nothing else. You plug a USB cable in, hook the other end up to your camera, and import away.
​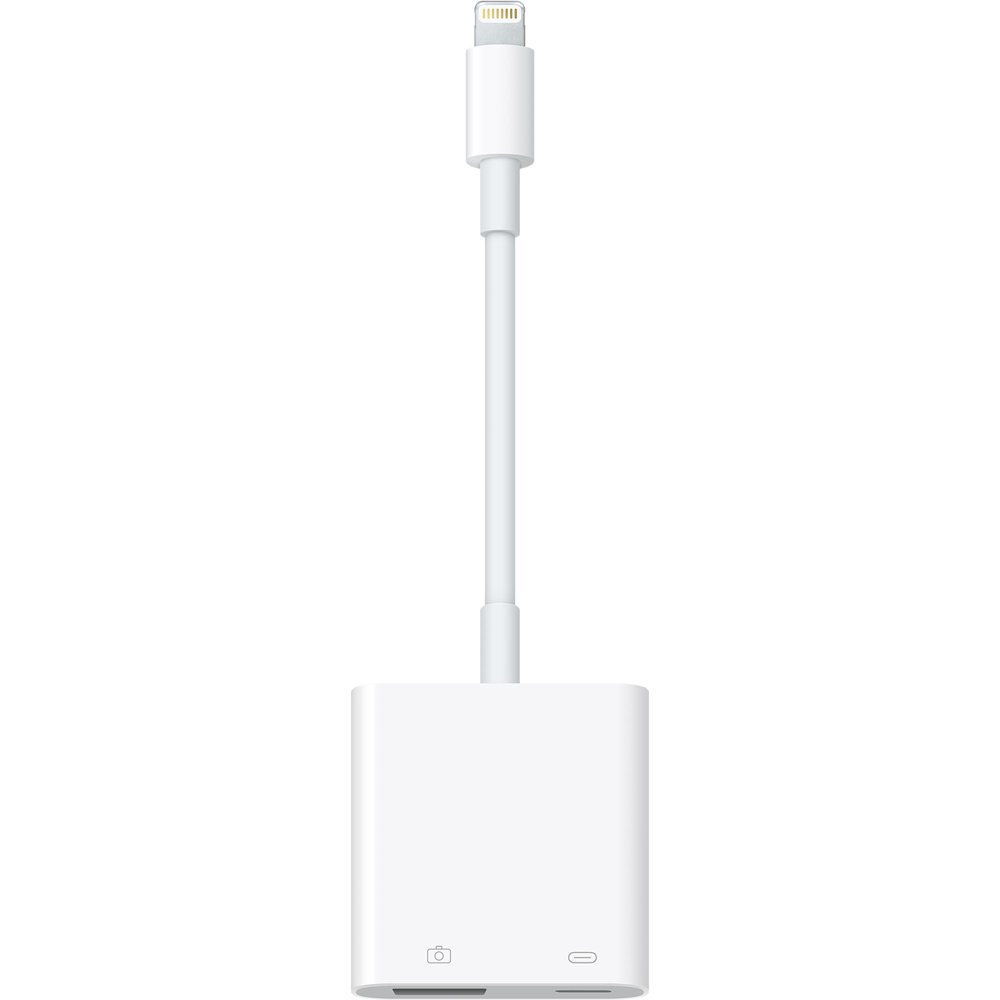 The second option is the Lightning to USB-3 Camera Adapter. As the name suggests, the key difference with this one is that the USB port supports USB-3 transfer speeds, allowing for much quicker importing (from devices that support USB-3). This dongle also has a separate Lightning port so you can keep a charger connected while you use it, and while it has "Camera Adapter" in the name, it's actually much more versatile. This is the dongle to use if you're connecting USB hubs, external sound cards, or other peripherals.
​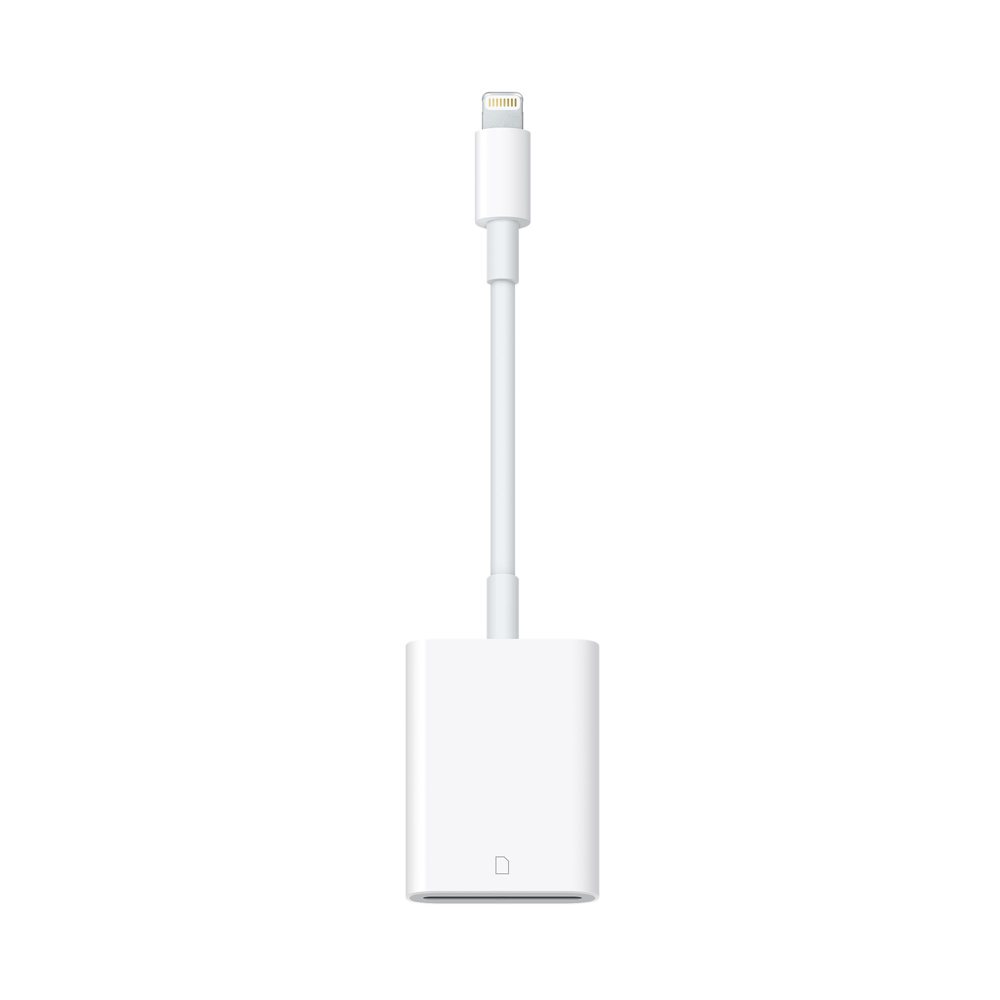 The final option is the Lightning to SD Card Camera Reader. This slim dongle accepts standard-sized SD cards and pulls photos straight off them. It too supports USB-3 transfer speeds on compatible iPads (basically just the iPads Pro, excepting the original 9.7-inch).
​
So which one should you pick? My recommendation (and personal choice) is the Lightning to SD Card Camera Reader. It costs the same as the cheap Lightning to USB Camera Adapter, but supports USB-3 transfer speeds and is just as compact, making it a good fit for travel use.
​
I own the Lightning to USB-3 Camera Adapter as well, but I mostly keep it at home for use when I'm podcasting (for connecting my sound card).
​
The Lightning to USB Camera Adapter (option 1) is the slowest of the three and not worth buying. Even if your iPad doesn't support USB-3 transfer speeds, you can get a dongle that does for the same price in case you upgrade down the line. And if you plan to use it for more than just cameras, the USB-3 version's addition of a Lightning port for power is a huge advantage for things that require more juice than the iPad alone can provide.
​
Using the Manufacturer-Made Apps
This is my least favorite option on the list, mostly because every camera connection app I've tried — from Fujifilm, Olympus, Canon, etc. — has been pretty bad.
​
Even setting aside the often abysmal design, these apps tend to be very slow and have all sorts of bewildering limitations. Most commonly, they don't allow the import of rawfiles from your camera, which is a complete non-starter for the way many photographers work. The fact raw photo importing still isn't provided as an option is disappointing.
​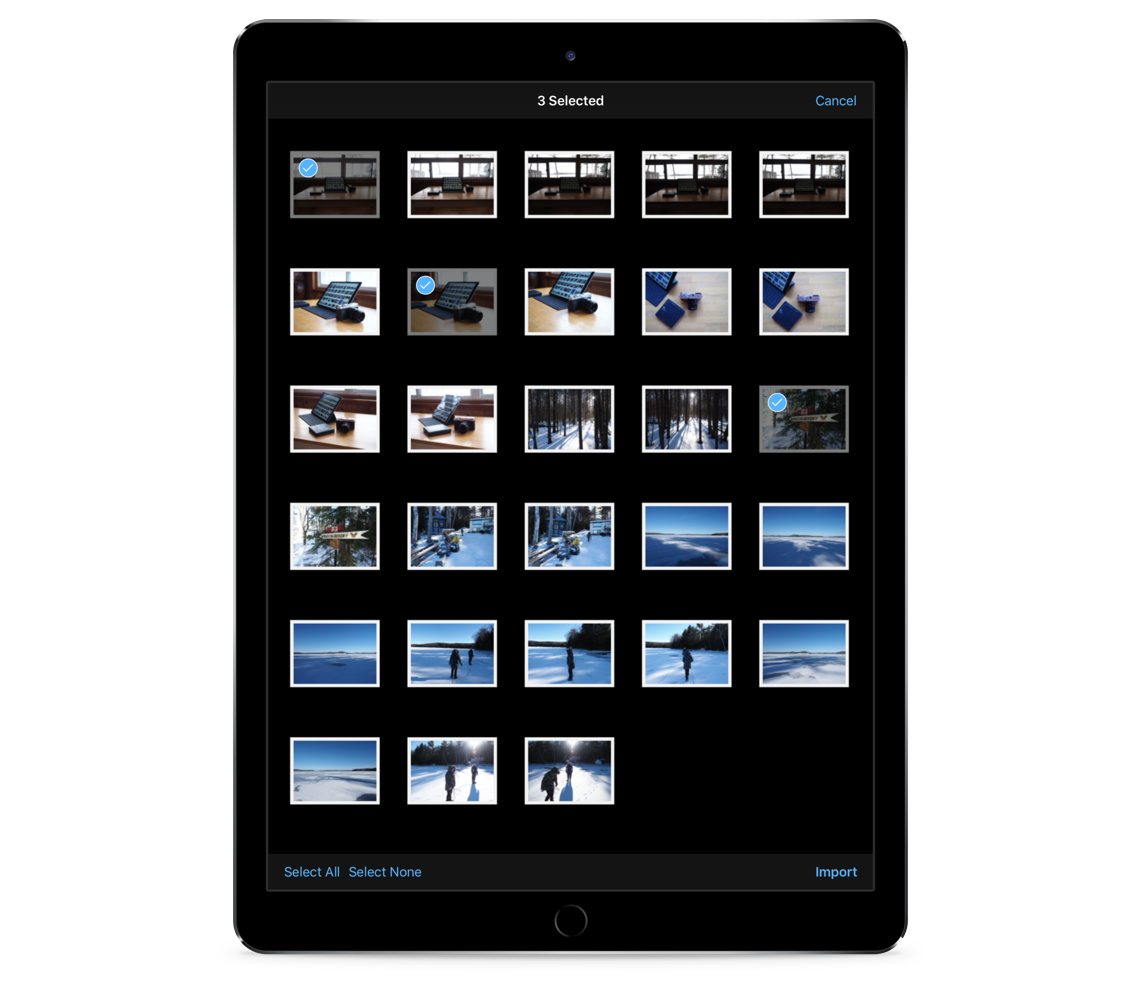 However, the apps do work as long as you keep your expectations basic. They can beam JPGs to your iPad and most also have a remote live view system like Cascable's. Fujifilm's also has the unique ability to utilize the Bluetooth connection option on newer cameras like the Fujifilm X-E3.
​
The lack of raw support and generally slow speeds (Sony is a notable exception to this rule — their app transfers JPGs over very quickly) preclude me from using this option if I can avoid it.
​
Using Cascable
The other side of Cascable's value proposition is that it can use its connection to import photos from your camera to the iPad in whatever format you want: raw, JPG, or both.
​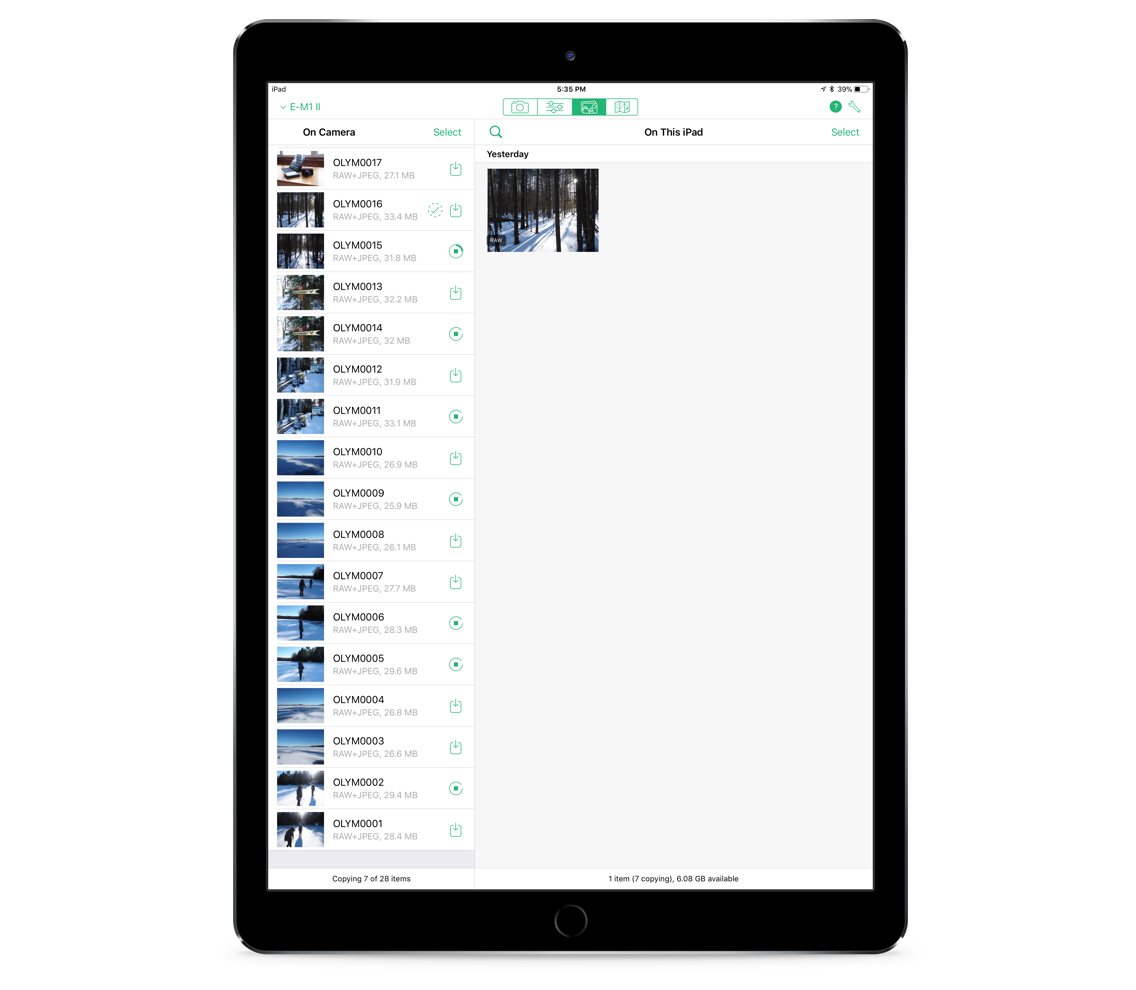 Supporting raw transfer immediately makes it my favorite wireless option. Even still, I use it for JPGs because, at least for the cameras I use regularly, it is consistently faster than the manufacturer apps.
​
Photos get pulled into Cascable's own storage pool and can be sent to the native Photos app where they get uploaded to iCloud Photo Library or directly to a different app.
​
Using a Portable Drive
This is the wildcard option. It's a little less streamlined and a little less convenient, but it has the crucial advantage of providing another layer of backup because the files can exist in three places: the SD card, the portable drive, and the iPad.
​
There have been a few portable drives with built-in SD card slots, but the one I own and have experience with is the Western Digital MyPassport Wireless Pro. I bought it for use while traveling and have now put it through its paces enough to confirm that it works extremely well as a portable data companion on the go.
​
I chose it because of the card slot, but also because it has a few additional tricks up its sleeve:
USB-3 support for speedy data transfer.
Dual-band Wi-Fi using the fastest-available 802.1ac protocol for streaming data to your devices.
Internet pass-through, so you can connect the drive to the internet and your devices to the drive, using it as a sort of mobile router.
Password-protected access.
10-hour battery life.
Integrated 6,400 mAh power bank for charging other devices.
Movie and TV show streaming so you can save space on your devices.
Needless to say, it's a very cool peripheral.
​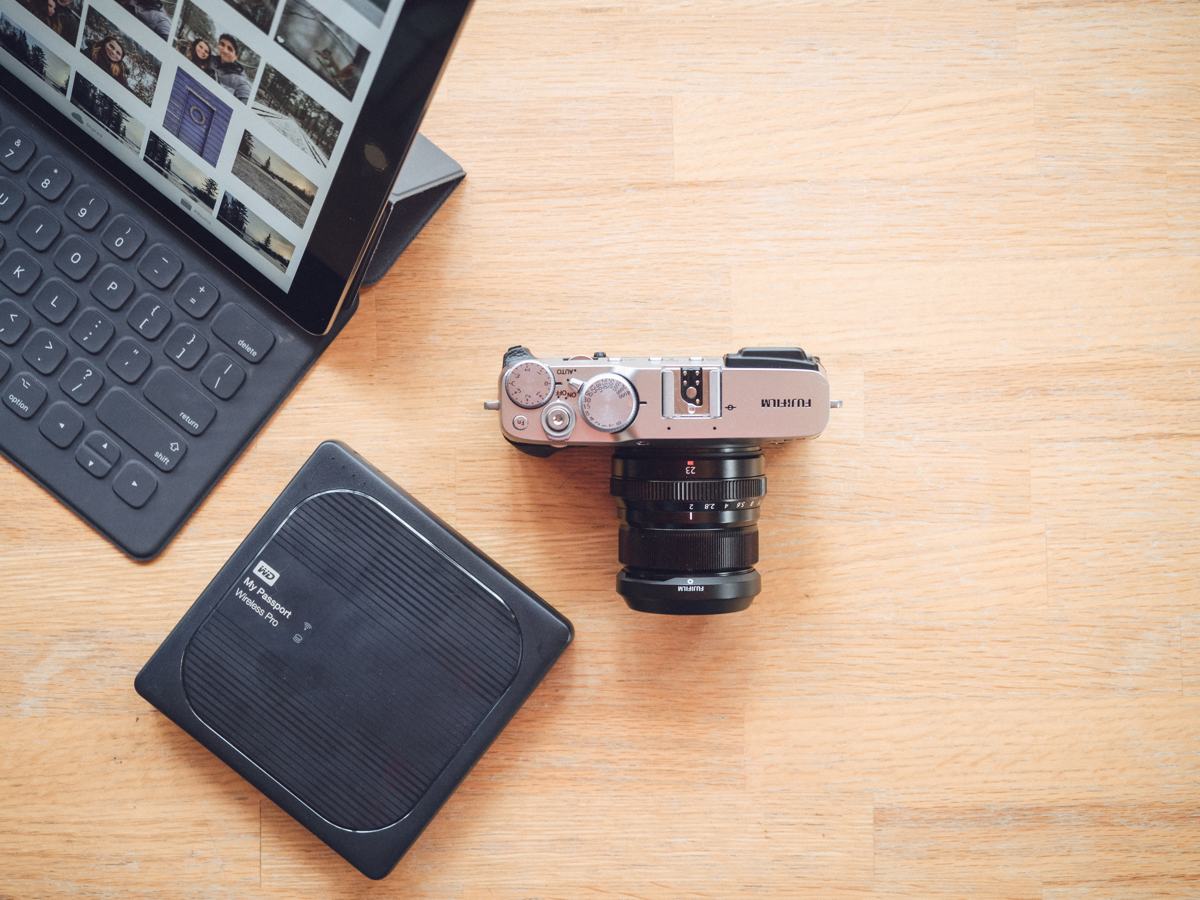 The main downside is the cumbersome workflow if you're not using it in conjunction with one of the other options above. You plug your SD card in and it automatically backs it up to the drive (no need to have your iPad around). Then, you have to access those files via the WD MyCloud app and import them to your iPad.
​
I've ended up completing two imports for each card: one to the drive as a backup and a second to the iPad via the Lightning to SD Card Reader for culling and editing on the go. In other words, I'm relying on the drive primarily as a backup, storing it separately from my used SD cards when I travel.
​
---
​
Regardless of which method you employ, the end result is that you've got a pile of photos sitting in your iPad's Photo app.
​
Now what?
​
Managing & Storing Photos
One of the big downsides to using an iPad for photography (as of iOS 11) is the inability to import photos anywhere other than the Photos app. Even if you don't intend to use it, it remains the only possible destination for importing photos.
​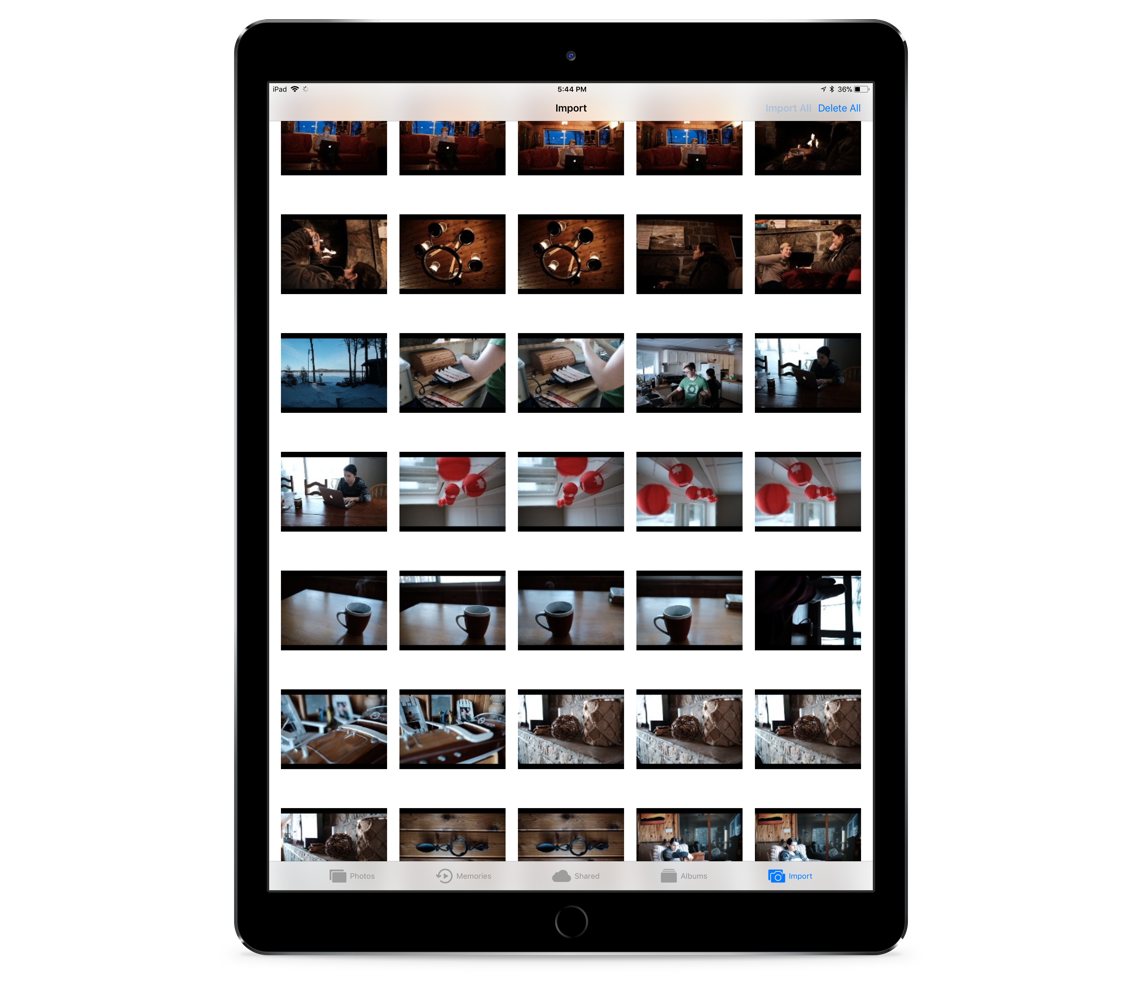 This means using anything other than iCloud Photos requires an additional step of moving the files from Photos to wherever they'll eventually end up. In many cases, you'll then want to delete the iCloud copy so you don't have the files taking up space in two places on your iPad.
​
After your import finishes and you unplug the dongle, you'll be taken to a "Last Import" smart folder in Photos. From here, I recommend you select all the shots and tap Add To, then create a new album so you can easily refer back to those shots and not have them impossibly tangled with your iPhone shots. This makes deleting them later more straightforward.
​
The current landscape of photo management options on the iPad is dominated by a handful of key players:
​
– iCloud Photo Library
– Google Photos
– Adobe Lightroom Mobile
– Cloud Storage
​
As before, it's worth examining each in more detail to understand which is the best fit for your needs.
​
iCloud Photo Library
The default choice is the right one for a lot of users. In fact, it's our pick for the best cloud photo management solution.
​
iCloud Photo Library has come a long way since its inception, offering more robust editing tools, a reliable system for storing edits non-destructively (even if they come from third-party tools), and the unbeatable ubiquity of having access to all your photos no matter what device you're on. Always in perfect sync.
​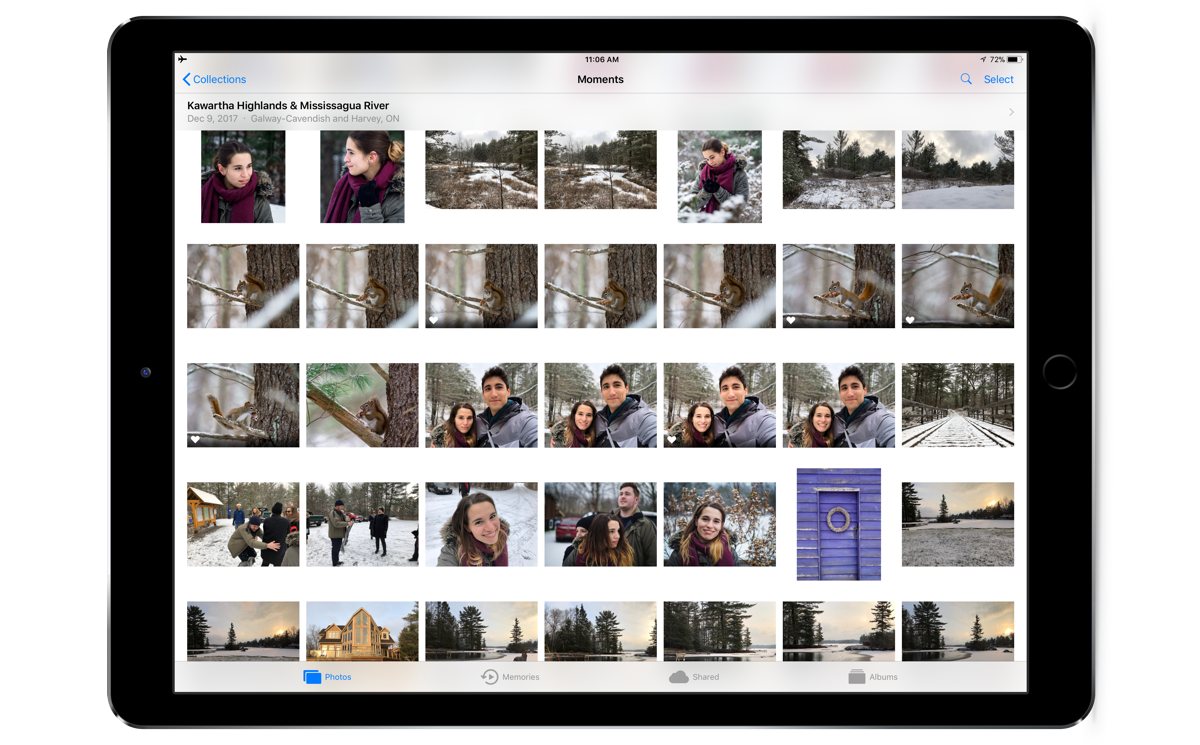 There are some important caveats to keep in mind though. Most important is the fact that you cannot edit raw files using just the Photos app. iCloud Photo Library will store and sync raw files, but it only allows access to the embedded JPG preview for editing within the app. And, to make things more confusing, there's no way to distinguish raw files from JPG files in the library on iOS — no icon, no label, nothing.
​
Needless to say, this is a huge drawback for professionals as manipulating raw data is a basic requirement.
​
Unfortunately, there are more problems too. The "Optimize Storage" feature is unreliable and frustrating. What it's supposed to do is keep the full-resolution versions of recent and favorited files and selectively offload older files to the cloud, leaving only small previews on the device.
​
While ideal in theory, it's too aggressive in practice, even if you have plenty of free space left on the device. I can't count the number of times I've imported new photos, only to have them immediately offloaded to iCloud, requiring me to re-download them minutes later just to move them to another service or to show somebody.
​
If you're mainly dealing with JPG files and you always have a good internet connection, then iCloud Photo Library's problems are easily dismissed.
​
Other apps sync photos across devices. On iOS, it's only iCloud Photo Library that can do it seamlessly, in the background, no matter what. That's a big advantage that no one else can touch.
​
Google Photos
One of the most popular alternatives to iCloud Photo Library is Google Photos.
​
Google has put the full brunt of its vast machine intelligence behind their Photos product, allowing it to provide natural language searching, automatic edits, sharing recommendations, and more.
​
Like all other third-party apps, it has limited background uploading capabilities so it can be a bit of a hassle to get an initial sync completed, but smaller incremental syncing generally happens without issue.
​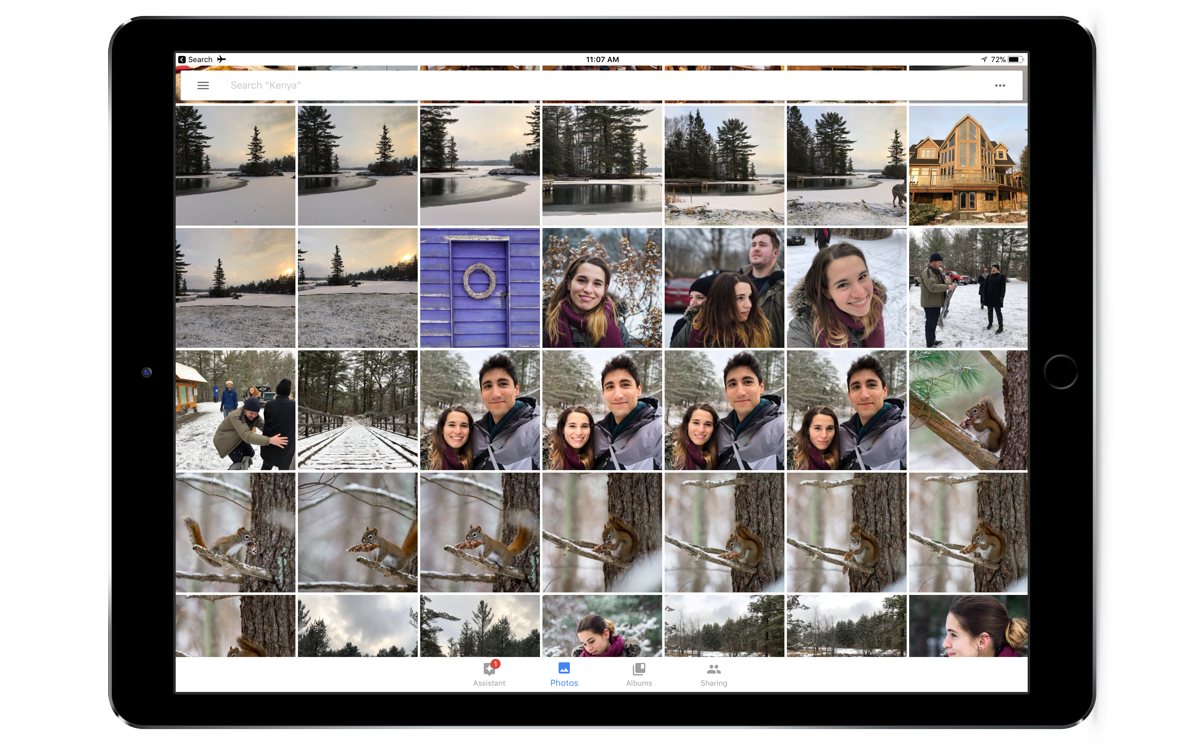 As far as raw files are concerned, Google Photos is similar to iCloud Photo Library: it will sync them, but you need to use a different app to edit. The difference is that Google supports raw files from far fewer cameras than Apple does, unless you convert the files into Adobe's platform-agnostic DNG raw format. That's great to know, but since there's no way to convert files to DNG on an iPad, it leaves those of us with unsupported cameras behind.
​
Google Photos is more of a consumer-oriented choice, ideal for those who aren't keen on manual organization. It provides intelligent automation to help you sort through your shots, plus the world's most capable search to make sure you can always find the image you're looking for.
​
Adobe Lightroom Mobile
The only option designed specifically for professional photographers, Lightroom has evolved into quite a powerful ecosystem of apps.
​
On iOS, Lightroom Mobile allows easy importing of files from the system Photo library as well as the new Files app, and handles the full range of file formats that its desktop counterpart does.
​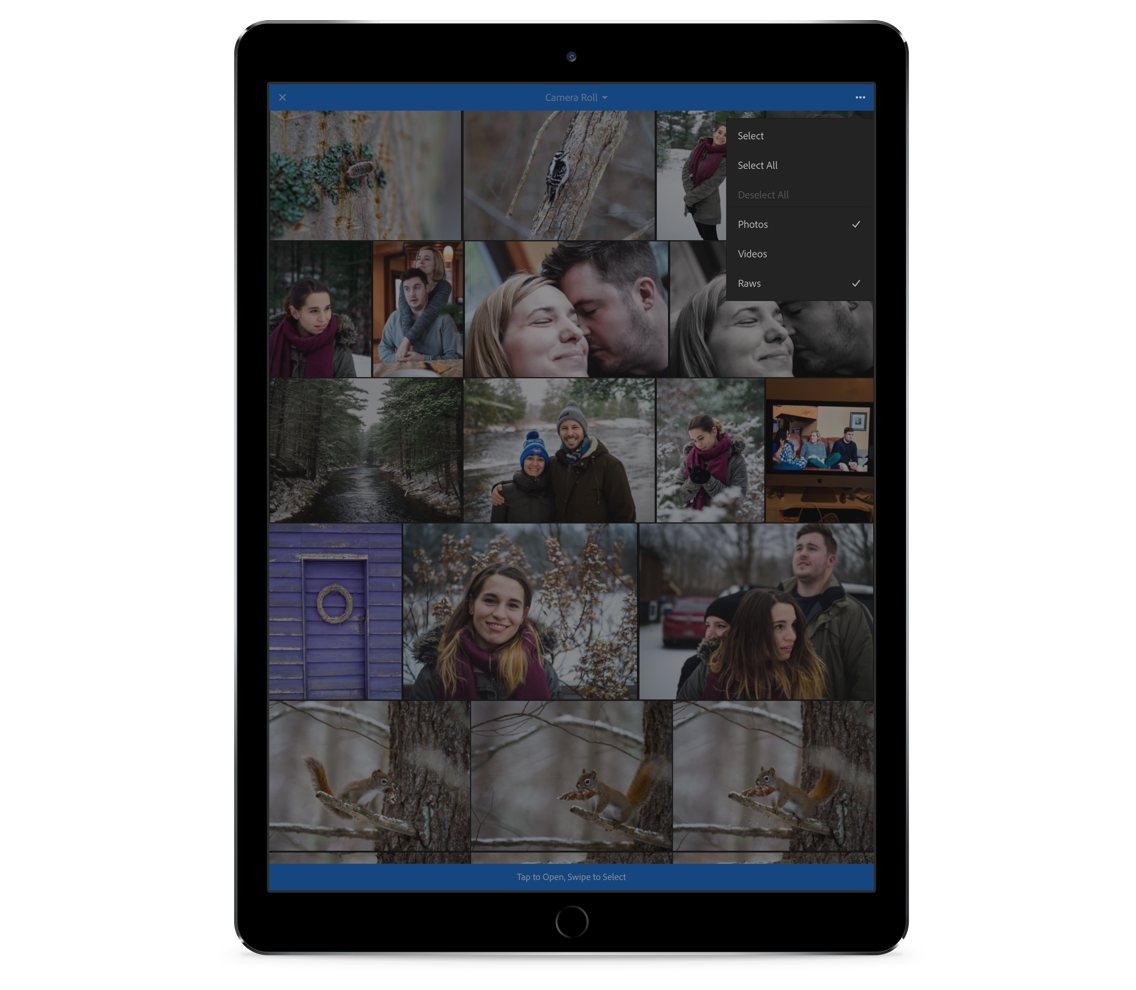 While you still can't directly import files from an SD card into Lightroom Mobile (Apple's fault, not Adobe's), you have a lot of organizational tools at your disposal once you've gotten your photos into the catalog.
​
You can flag and rate photos, create folders and albums, and decide per-album whether you want to keep a local copy of the full-resolution files or just lower resolution Smart Previews. All of this syncs seamlessly to the desktop version of Lightroom (CC or Classic), beaming your original raw files to the cloud for safekeeping and easy access from any of your devices.
​
Cloud Storage
The final option is one that became simpler with iOS 11's introduction of the Files app. You can now access multiple cloud storage destinations from the same interface and move files between them as you see fit.
​
Sending files from the Photos app to cloud storage still requires the same process as other options: first you need to import the shots into Photos, then use the share sheet's Save to Files command to deliver them to the cloud.
​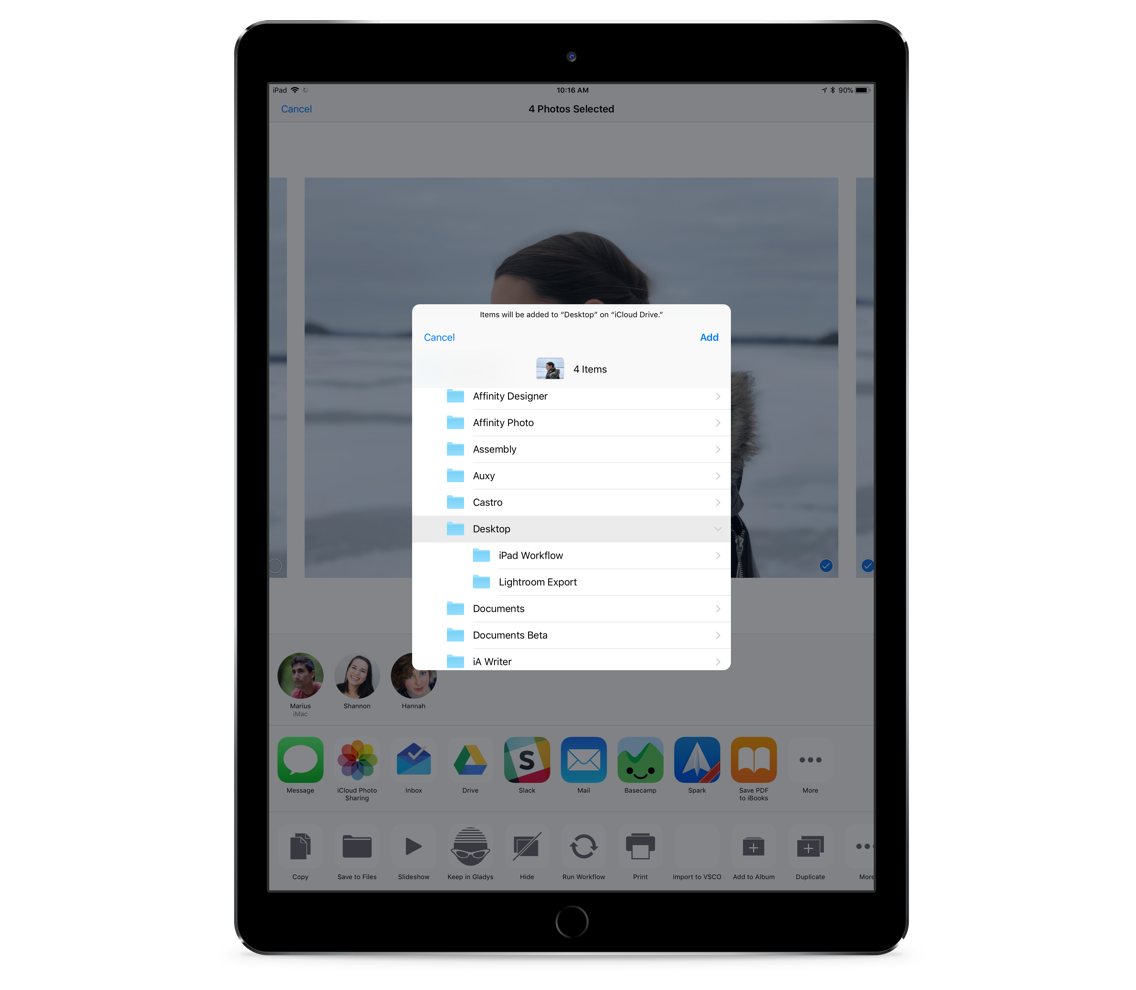 Depending on your storage provider, you may also have the option to send the files to their own dedicated app directly, though that may be less reliable than using the Files API. For instance, Dropbox's own action extension doesn't accept raw files, while Google Drive's does. Using the Files app ensures the raw file is sent no matter what.
​
---
​
Managing photos remains a bit of a quagmire for iPad users.
​
While there's no shortage of good options for storage and sync, the fact that only the native option can directly import photos or upload reliably in the background is frustrating, and there are many small pitfalls associated with handling raw files effectively.
​
Lightroom users — like myself — and JPG shooters are the only folks who stand a chance of being fully satisfied. Luckily, those two categories account for a fair number of photographers, including many professionals.
​
The good news is that once you've imported everything, editing your photos is much less problematic.
​
Editing
In my mind, there are two main approaches to editing photos. The first, and probably the most common for iPad and mobile users, is editing by using filters.
​
Filters are effectively development presets, many of which seek to emulate the look of a classic analog film stock, or a popular movie color grade. They're a fun and quick way to get a photo looking presentable with minimal effort, and honestly that's often all it takes for casual photos.
​
The second editing approach involves getting your hands dirty. Curves, sliders, HSL toning, selective adjustments…the full spectrum of high-end photo editing tools is available for iPad users, and the tactile experience of editing — especially with an Apple Pencil — is often preferable to the desktop equivalent.
​
This category features a plethora of apps that tackle either approach — including the native Photos app — but I'll focus on the handful that I use and trust.
​
Filter Apps
When I'm not interested in detailed manual editing, or I just want to quickly experiment with different looks, there are two main apps I turn to: VSCO and Priime RAW.
​
VSCO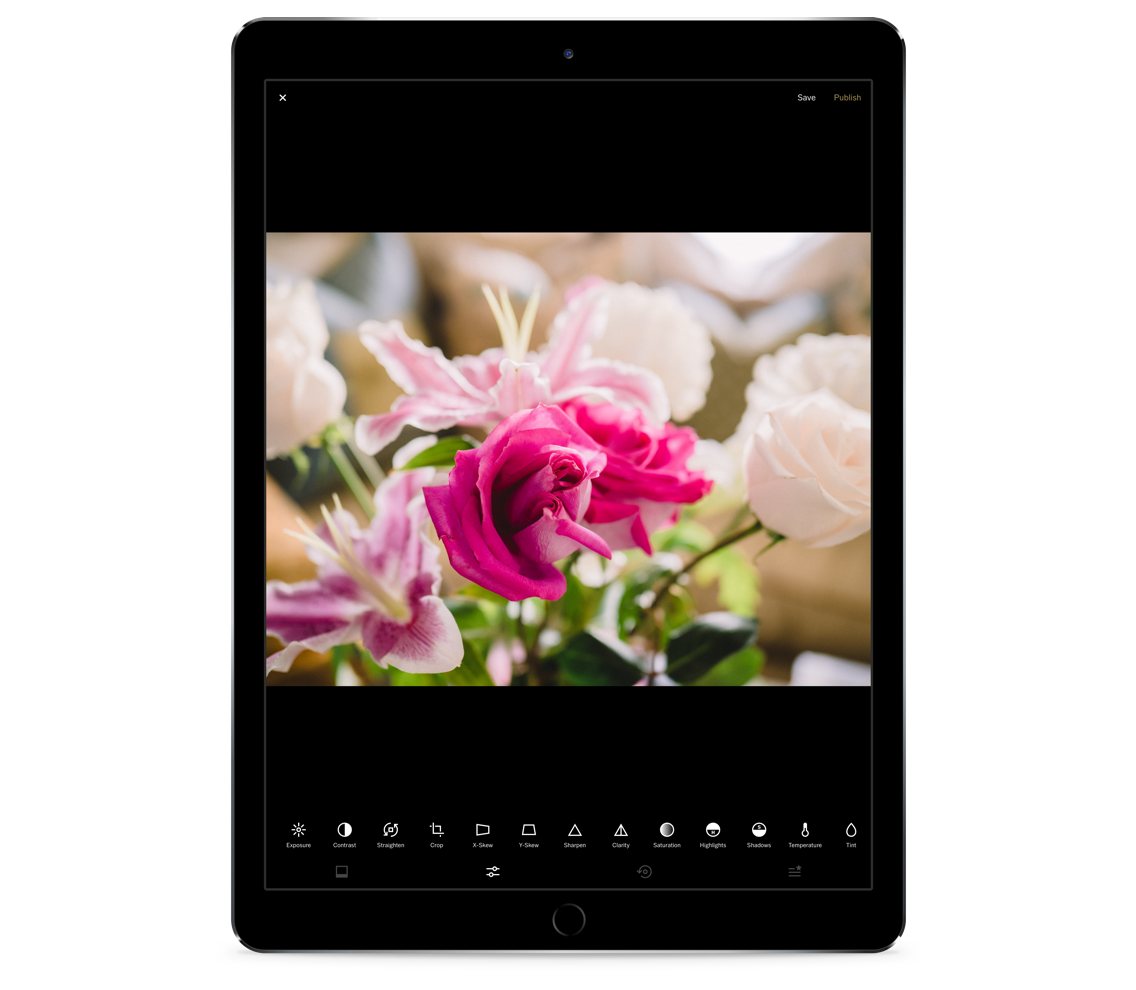 VSCO is a well-known camera and filter app, and the iPad version provides an expansive canvas for working on photos. I'm lukewarm on most of the original filters, but I've been trying out the VSCO X subscription that unlocks new, more customizable filters — all of which have been extremely satisfying to use.
​
VSCO's main downside remains its interface (it's icon-heavy to the point of obscurity) and its workflow, which requires importing shots into the app's storage before editing and then exporting them back out once you're done.
​
Priime RAW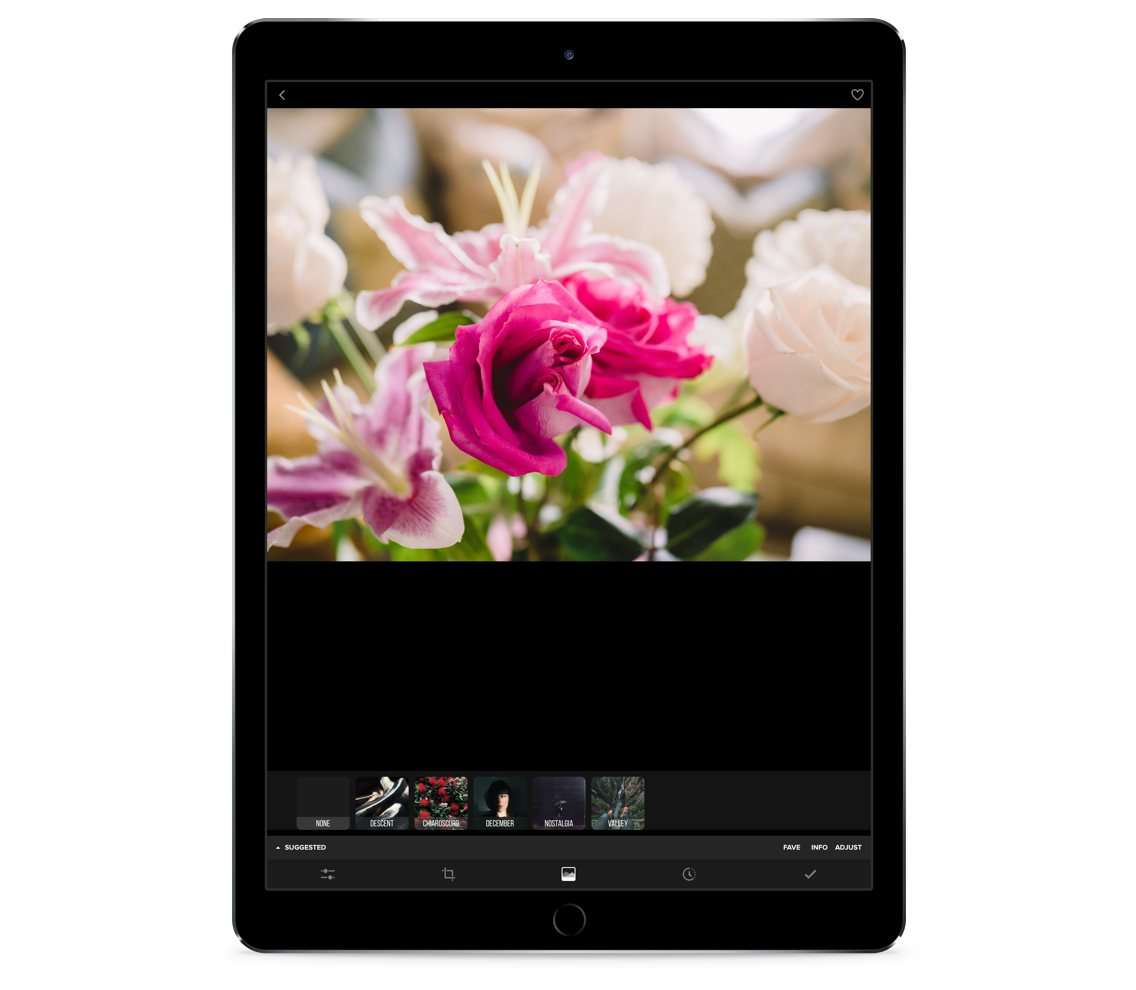 Priime RAW (and its iPhone counterpart Priime) is an app that's flown under many people's radars. Its filters are designed by professional photographers not to emulate specific film stocks, but to impart a "look." They're almost all extremely tasteful, and the app's killer feature is it can scan your image and suggest filters it thinks will work well based on the colors and content.
​
The fact it can pull shots directly from the Photos library without a separate import makes it faster than VSCO in use, and the export workflow is just as effortless.
​
I should also mention there are a few popular apps that currently have no iPad version — Darkroom and Filmborn come to mind. I look forward to native iPad support for both.
​
Image Editing Apps
When the time comes to do some serious editing work, I turn to Affinity Photo, Lightroom Mobile, Snapseed, and Polarr.
​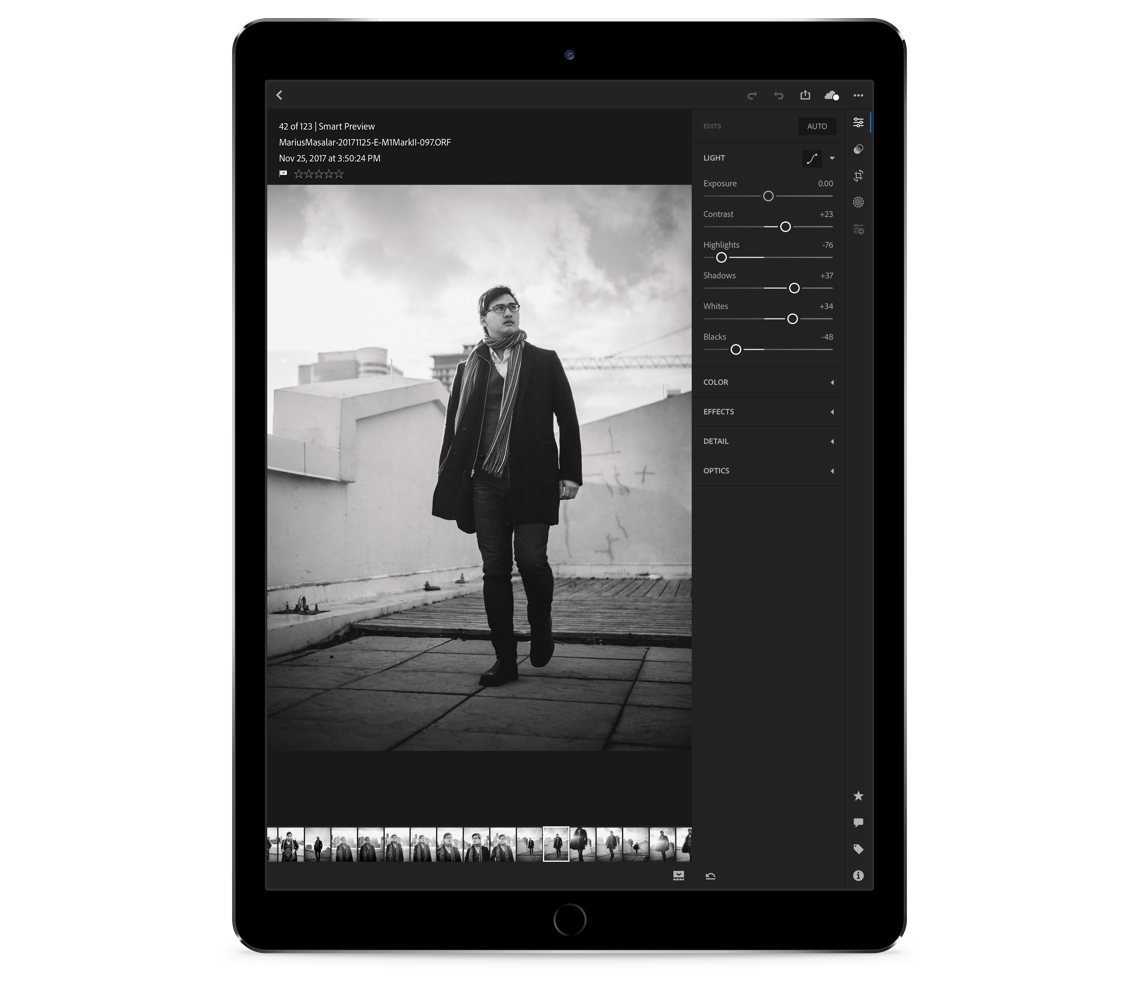 Since I'm a Lightroom user, I do most of my editing in Lightroom Mobile. It has all the tools I find most important for developing raw files: curves, HSL adjustments, sharpening, and noise reduction. It also has a solid set of selective adjustment tools for localized edits and everything stays in sync with my desktop catalog.
​
Well…almost everything.
​
The missing link is the ability to sync Lightroom presets from the desktop version. I have several commercial and personal preset collections that I'd love to have access to on the go, but this remains impossible.
​
There is a workaround involving copy and pasting adjustments from shots that have had presets applied on the desktop, but it's inelegant and takes quite a bit of setup work if you have a large preset collection.
​
The other apps come into play when I have more specialized needs.
​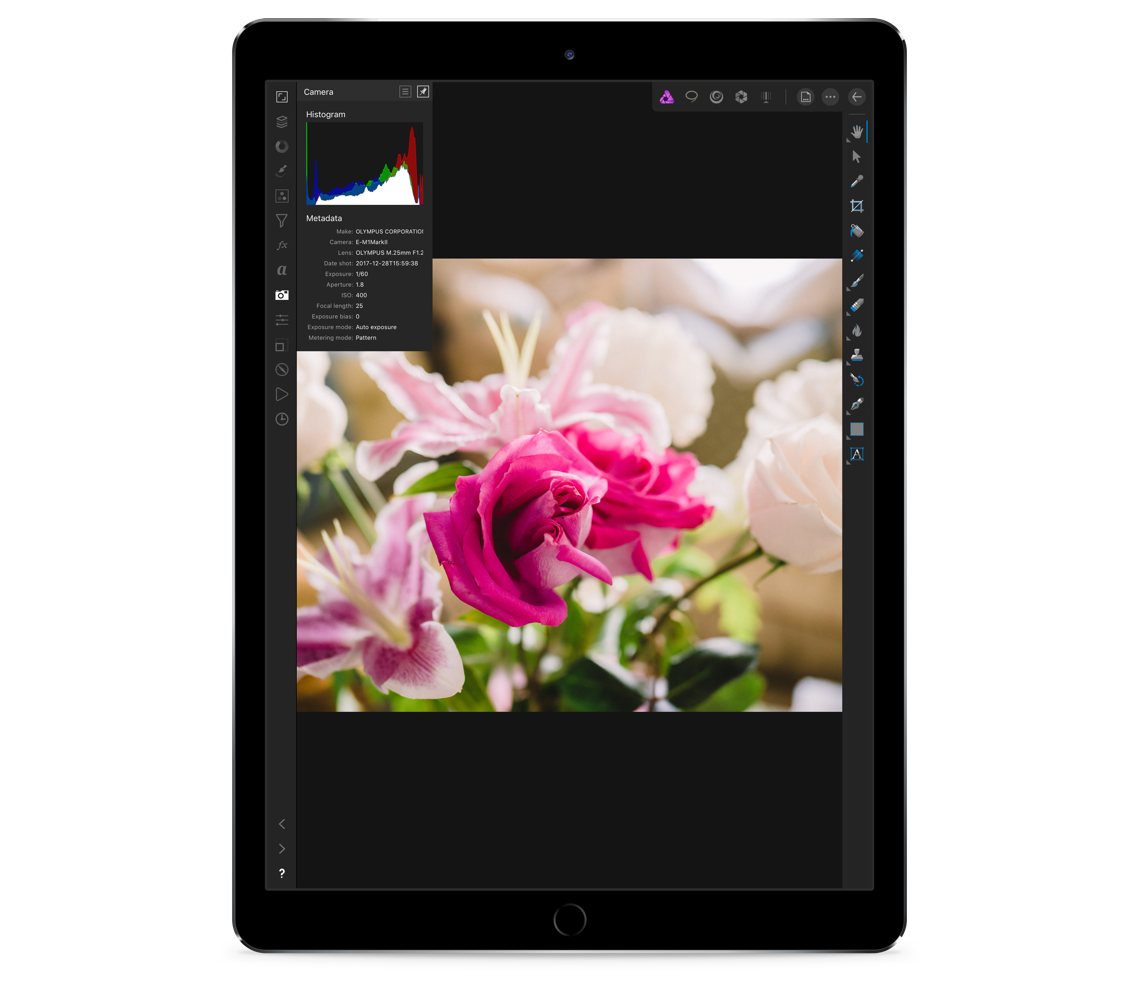 Affinity Photo, for instance, is a mobile replacement for Photoshop. It can do raw development, but also has a tremendous range of tools for removing unwanted objects, adding lighting effects, applying LUTs, HDR and panorama stitching, focus stacking, digital painting, layered workflows, batch processing…the list goes on.
​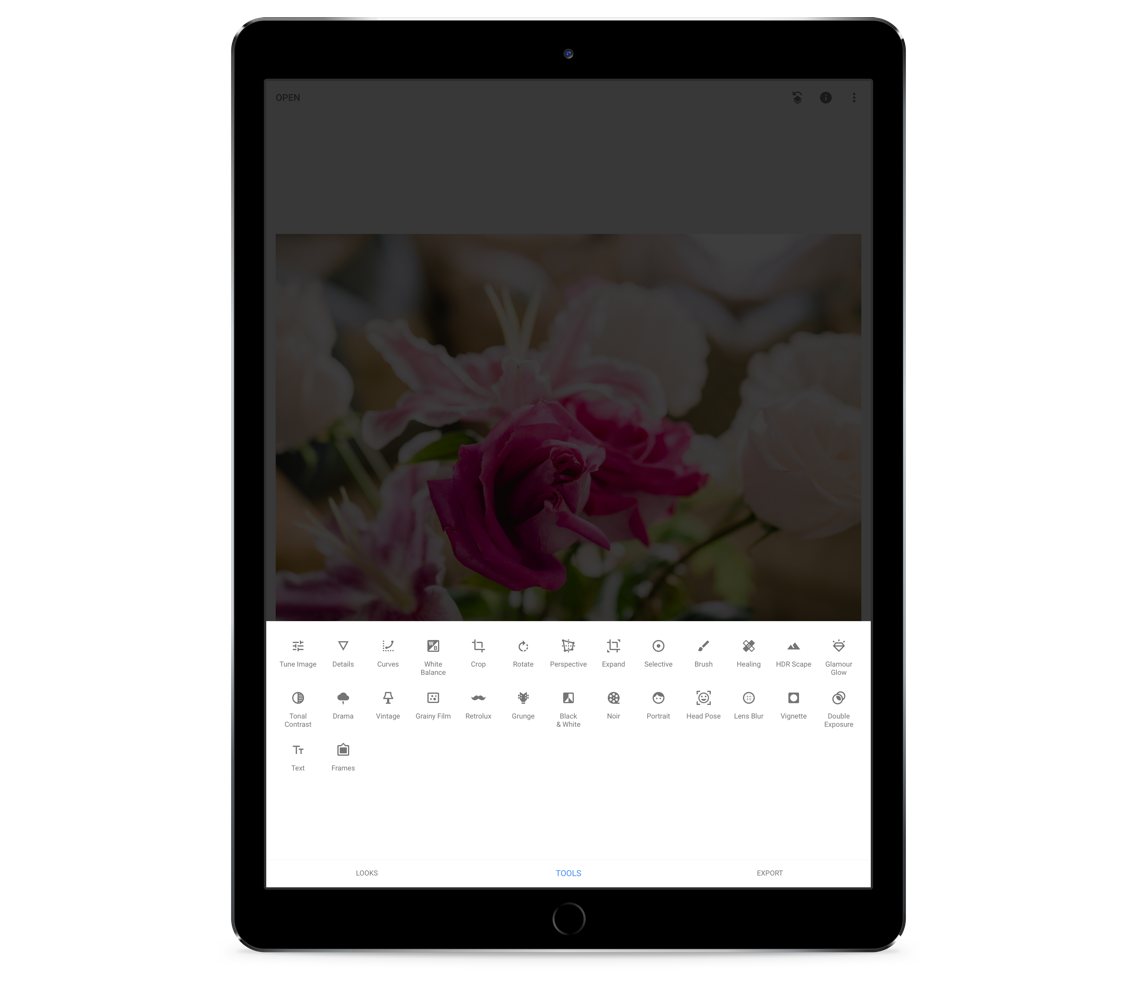 Similarly, Snapseed has the usual suite of development adjustments, but also includes an array of tonal effects and some unique tools that make use of Google's magic powers to provide intelligent eye-brightening, skin-smoothing, and even pose adjustments.
​
Polarr is perhaps the most powerful of the three apps, with a vast toolset for editing, the best grain module on iOS, extremely powerful facial editing, a vast library of filters, and built-in tutorials. The only thing that keeps me from using it for more of my edits is the fact that raw support hasn't (yet) been implemented.
​
Still, I sometimes do basic raw development in Lightroom and send the resulting JPG to Polarr for finishing, which works well.
​
---
​
The final piece in the iPad photo workflow puzzle is taking our edited shots and delivering them to their final destination, whether that be a social network, a client, or back to our storage system of choice.
​
Saving and Sharing
All of the editing apps above make it simple to export your finished work back to wherever it came from, either as a copy or as a new version of the original file.
​
As far as social networks are concerned, most have their own apps to facilitate posting, and while it used to be the case that there was no direct way to publish photos to Instagram from an iPad, that's no longer the case.
​
Earlier this year, the company updated their website to allow uploading from mobile devices, including iPads. The full posting flow is available, including for Instagram Stories, and if you pin the website to your home screen (like you'd do with any other Safari shortcut), it's almost like having an Instagram app.
​
It sounds like a small thing, but photographers used to employ all sorts of wacky workarounds, like putting files into iCloud/Dropbox/etc. and retrieving them from their phones to post. All of that is, thankfully, behind us now.
​
My Workflow
With all the options above, you might be wondering what my own approach is, so here's a quick distillation of how I might tackle a batch of photos while I'm traveling:
Import shots using the Lightning to SD Card Camera Reader and add to an album in Photos for easy retrieval.
Pull photos from that album into Lightroom Mobile.
Delete the copy from the native Photos app (you can do this before they sync to iCloud, by the way — Lightroom copies files into its own storage on import).
Triage photos in Lightroom Mobile using the gesture-based flagging tools.
Filter by "Picked" (I don't use star ratings) and begin editing, copying adjustments to save time for similar shots.
Export any shots that need further editing into whichever app I intend to use for those edits, then send the result back to Lightroom Mobile.
Once I'm back home, I will often export a full-resolution copy of all my final edits for upload to iCloud Photo Library.
​
Despite its Optimize Storage frustrations, iCloud Photo Library remains the cleanest and most accessible way to show photos to family and friends, and I appreciate having another copy of my favorite shots.
​
What's Missing
As we've now seen, it's possible to accomplish all of the core tasks in a photographer's workflow on an iPad.
​
The question is whether or not doing so is worth the difference in workflow, and it also begs the question of what gets left behind in the transition.
​
For me, the downsides of an iPad-first workflow boil down to the following:
File Management Still Sucks: Drag & Drop, the Files app, and other iOS 11 affordances only do so much to mitigate the fact that iOS is a system of silos. Any workflow that involves more than one app requires a lot of shuffling files around from one silo to another, and it isn't fun.
Professional Print Output is Impossible: There's no way to properly prepare files for printing — no ICC profiles, no soft proofing, etc. Print is probably my favorite outcome for the photos I take these days, so the inability to get from panel to paper is unfortunate.
We Need More Professional Apps: I'm a big fan of all of the above, but the ecosystem needs more competition at the very top. I want to see Capture One's raw processing, the full Photoshop, DxO's de-noising, Aurora HDR, etc.
Are these enough to stop me using an iPad? Of course not. Only a couple of years ago, the list was much longer.
​
Conclusions
The iPad is a unique workspace for editing photos. It takes the tactile immediacy of something like a Cintiq tablet and unshackles it from a desktop editing environment.
​
You can directly manipulate items on screen, make precise adjustments with the Apple Pencil, and do it all from the comfort of your couch, the seat of an airplane on the way to your next shoot, or wherever life takes you.
​
Of course, the Surface Pro is a pen-enabled tablet too, and it runs all the top-end software out there. But the iPad benefits from its limitations — iOS and its apps were designed from the ground up to fit a modern, mobile lifestyle. Mobility and efficiency is in its DNA — it wasn't retrofitted to a platform designed for the computing paradigms of yesteryear.
​
As more professionals adopt iPads, I hope we'll see more developers pushing the boundaries of what's possible, removing more and more barriers.
​
The pace of improvement, especially in the past year, leaves me feeling very confident about the future of the iPad in a professional context.
---
We have more useful workflow examples right here.
---
Wait. There's a Bonus….
Custom Productivity Templates
We have a set of custom productivity templates that work well with the iPad app, GoodNotes. And if you want to try them out, we've put together a free guide that can help you.
We'll show you…
How to create and save custom page templates in GoodNotes.
How to use those page templates to transform GoodNotes into your own productivity notebook (or any other type of notebook replacement).
Plus, we also have included a couple of our custom productivity templates for you to get started with. These templates are right out of our popular productivity course.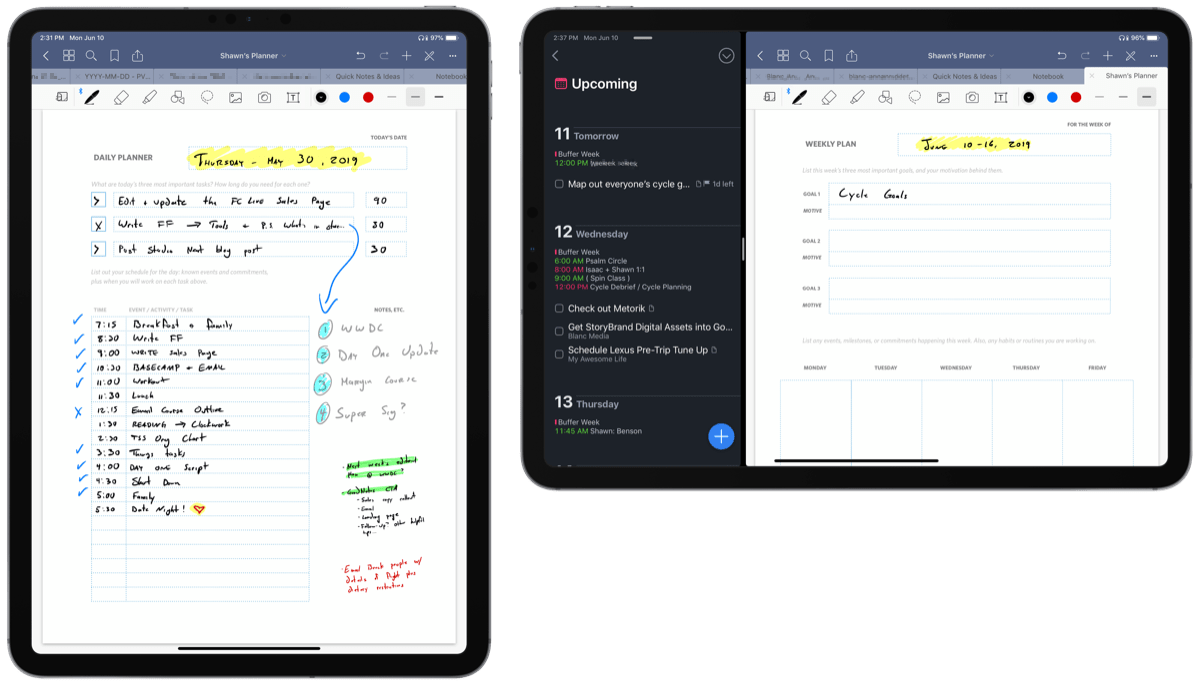 The custom templates and the guide are available for FREE to our email subscriber community. And you can get it right now. By joining the Sweet Setup community you'll also get access to our other guides, early previews to big new reviews and workflow articles we are working on, weekly roundups of our best content, and more.