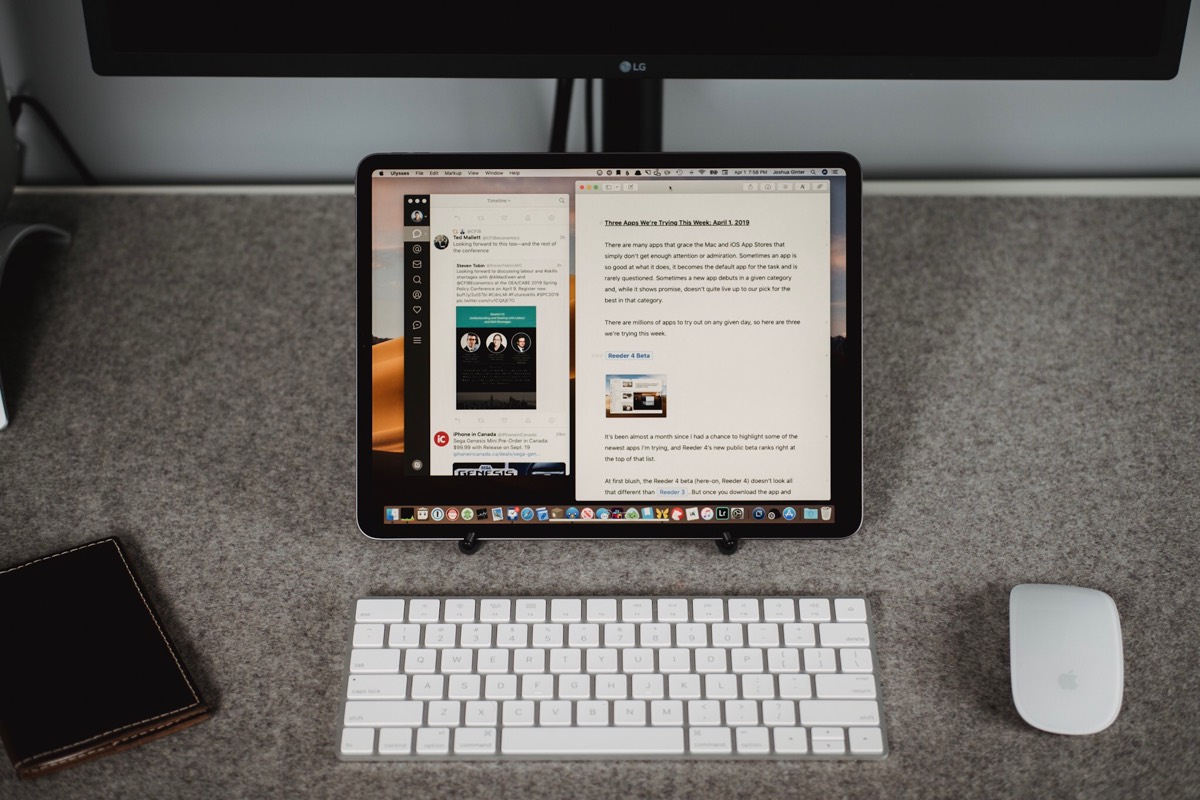 Best App for Using an iPad as an External Display
Air Display 3
May 7, 2019
The iPad is an incredible device in itself, but it can also offer Mac users a portable option for using a second display.
Eight years ago, when my oldest daughter was born, I spent 20 weeks across Canada working and visiting family. I reluctantly gave up my dual monitor setup and spent time trying to figure out how I could use my brand new iPad 2 as a display with my 13″ MacBook Pro. At that point, I used Air Display with my iPad to get a dual monitor experience while working. While it worked, it wasn't amazing.
Luckily, we've come a long way with many decent contenders for making your iPad an external monitor for your Mac.
Our Must-Have, Most Used Productivity Apps
We spend an inordinate amount of time sorting through hundreds of apps to find the very best. We put together a short list of our must-have, most-used apps for increasing productivity.
What is this category?
The apps we're looking at today allow you to use your iPad as a second screen, or (in some cases) run your Mac headless and use only your iPad as the monitor. If you're only looking for a way to remotely connect to your Mac from your iPad, then you should look at VNC apps like Screens.
Criteria
Ease of use — When I want to have an external display for my MacBook Air, I don't want to play around with settings. I want to open the app on my iPad and get to work. Similarly, if I'm using my MacBook Air in clamshell mode, which is most often, and want to connect for a second to test something, I don't want to open the MacBook Air to make it work. I want to easily connect and do the work I need to do.

Complexity of setup — How hard was the initial set up of the macOS portion. Did it install first try, or did I have to perform multiple reboots to make it work properly?

Speed – because we all hate lag — We've come a long way since my first experience eight years ago. If you're using your iPad as a second screen, any type of lag on that second screen is going to drive you nuts. Even if you're simply using it as reference material for a writing or coding project, your web browser should remain responsive the entire time you use it.

Is Wi-Fi required? — In our previous review, we said that Wi-Fi was not required, and we'll stick by that while also noting that wireless connections have come a long way. As you'll see in the review, it's quite possible to use a wireless version of some of the apps.

Does it work with a headless setup? — With more people moving to iOS as their primary computing platform, it's becoming common to only use a Mac in a headless configuration. While some people spend to get a Mac Mini, others retire their old daily driver laptop into a headless Mac in their house. This time around, we added criteria to take this headless Mac setup into account.
Winner: Air Display 3 for Dual Display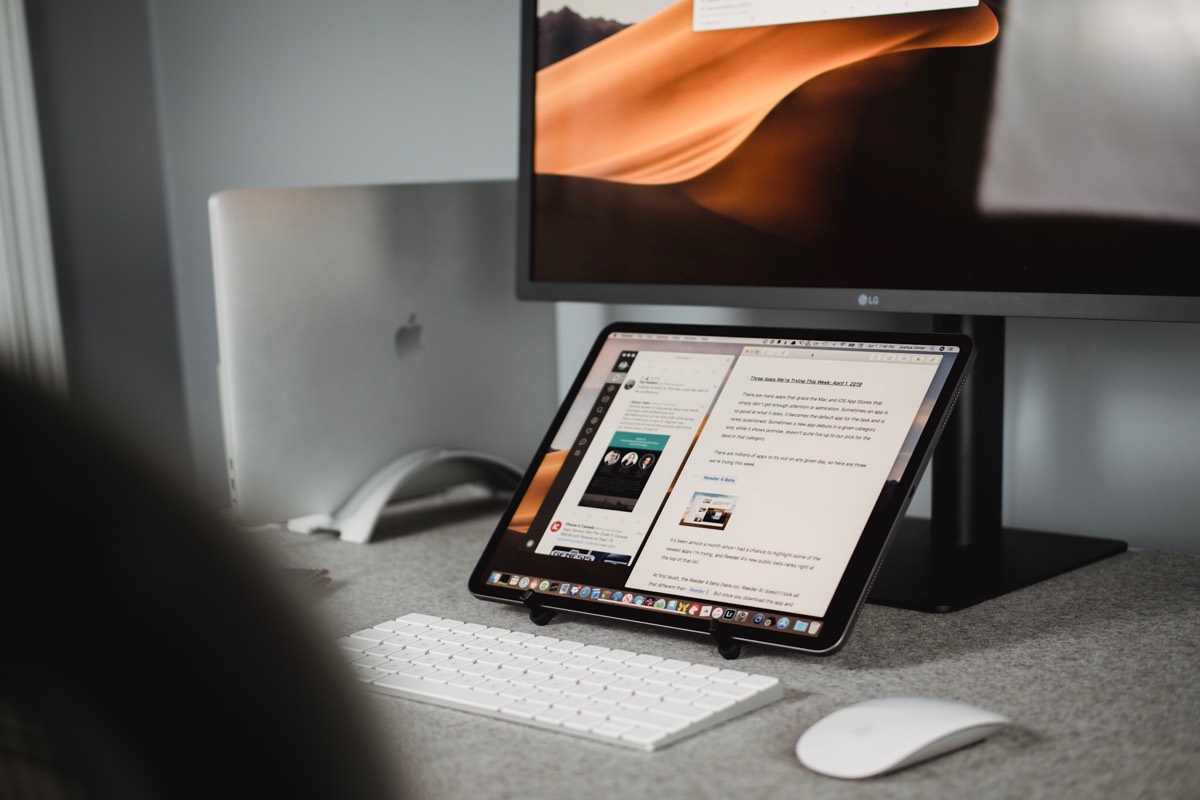 If you only need to use your iPad as a second display, then Air Display 3 is the clear choice. Despite many recent reviews on the App Store saying that it crashed the computer on install or took multiple reboots to work, it installed for me on the first try. In fact, I removed and installed it a number of times during testing as I tested it amongst other apps, and it installed flawlessly every single time.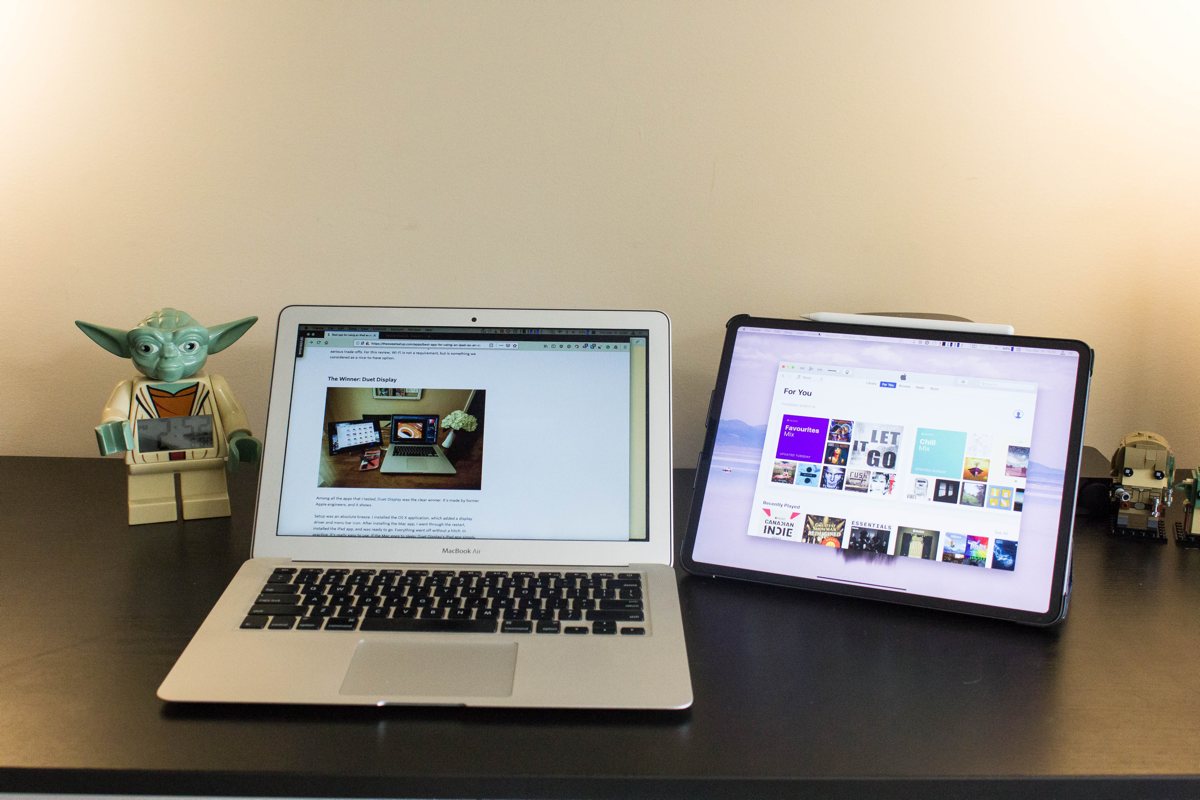 In the lag department, Air Display 3 has none as far as I can tell. I was surprised that even in its wireless setup Air Display 3 was by far the fastest and cleanest experience on my iPad, even at higher resolutions.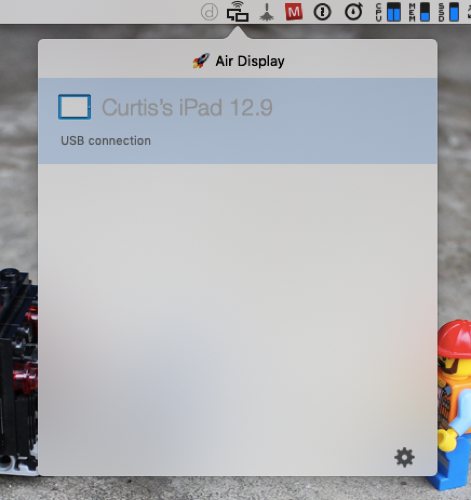 The final thing that put it over the top as my first choice for a dual display setup is that you don't need to carry around a dongle like you do with Luna Display. Air Display 3 is software only and the wireless connection is fast enough that you don't even need to plug it in in many cases. I happily worked for a few hours without a wired connection and rarely noticed that there was any lag.
Another interesting feature that I tried briefly with my wife's 9.7″ iPad Pro was connecting multiple displays. Air Display also worked well in this use case as I drove two external wireless displays with my MacBook Air. With multiple wireless monitor connections the lag became noticeable, but as soon as one was plugged in, the wireless iPad returned to performing flawlessly.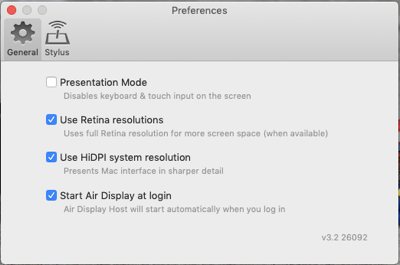 The only spot that it fell down was in the headless connection department. I'll talk more about that next with Luna Display, but suffice to say that reconnecting in a headless setup with Air Display 3 was hit and miss in its wired configuration and almost totally a miss with its wireless setup.
The Winner: Luna Display for Headless macOS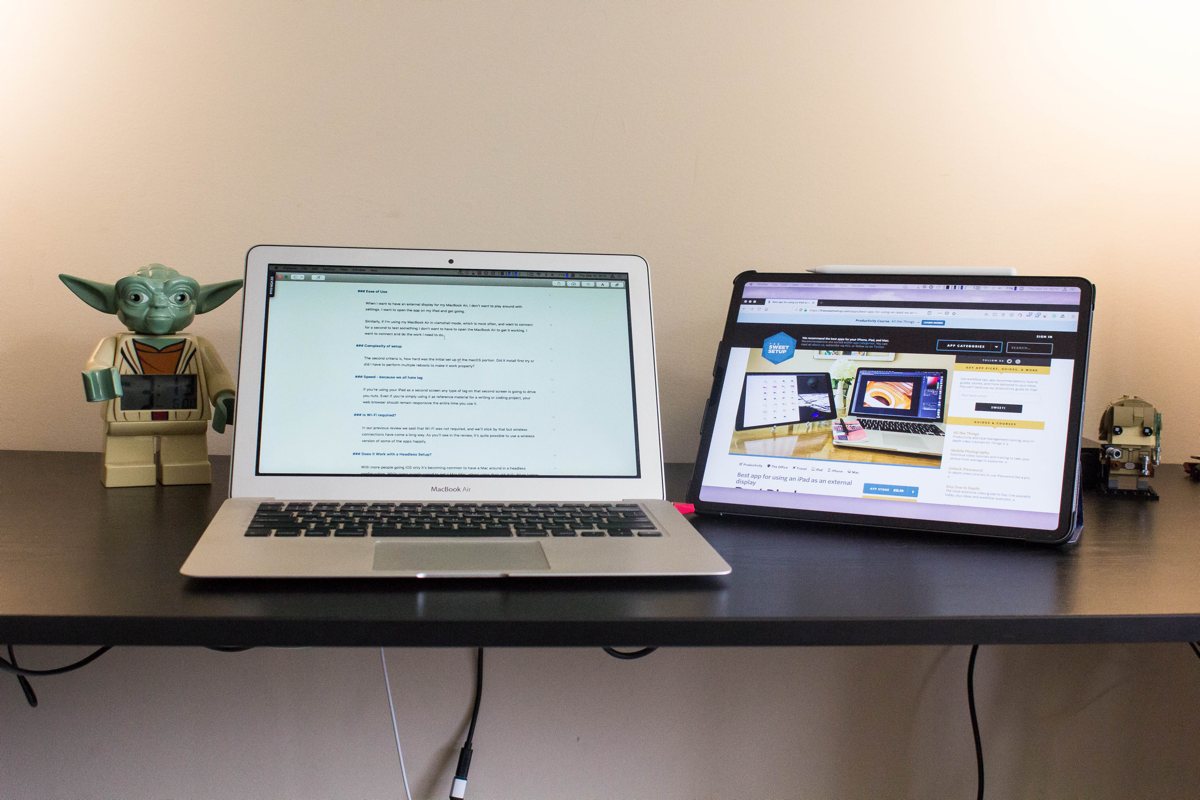 With all the recent hype around Luna Display, I came into this expecting to choose it as the clear winner. While Luna Display is a great option, Air Display 3 performed just as well if all you're looking for is using your iPad as a second display. In fact, Air Display 3 in wireless mode performs better in my testing than Luna Display does in wireless mode.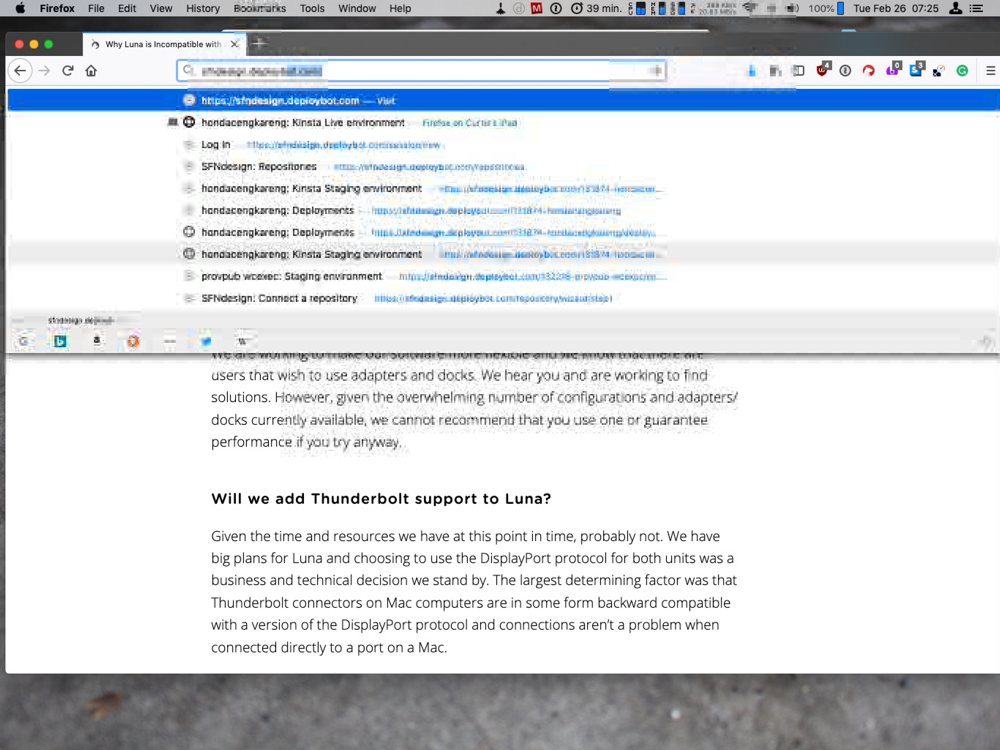 Where Luna Display would look heavily pixelated, so much that I couldn't read the content on the page, Air Display 3 performed flawlessly. Wirelessly, I found that Luna Display often needed a kick to resolve the screen rendering in the form of scrolling the page around a bit so that it would redraw what was on screen.
The single spot that Luna Display far outperformed any of the alternatives was if you're looking for a headless macOS setup. I'm iOS first, so my MacBook Air sits in clamshell mode on a shelf. Every single time I wanted to connect to it via Luna Display, it came up without issues. Air Display 3 would occasionally connect if I was wired, and I was never able to get it to connect when I attempted a wireless connection with my MacBook Air in clamshell mode.
I'd guess that this is because Luna Display tricks macOS into thinking that the dongle plugged in is a display, so my MacBook Air stays in its clamshell mode at the OS level whereas when you disconnect from Air Display 3 the laptop sleeps. I took the screenshot below while testing Air Display 3 while the Luna Display dongle was plugged into my Mac. You can see a mysterious third display in the screenshot below that only shows up when the Luna Display dongle is in my MacBook Air.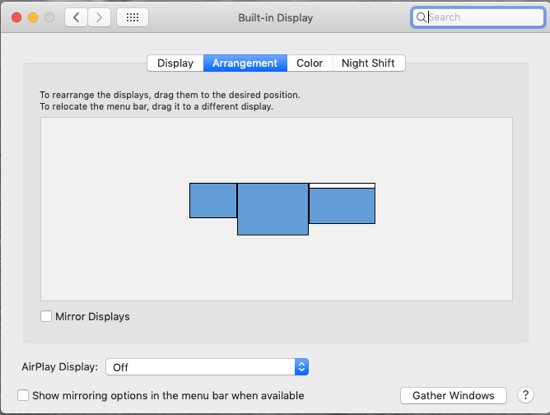 Luna Display had one other annoyance compared to the other apps. It's not a menu bar app, so it's in your App Switcher and Dock the whole time it's activated. I'd love to see them update this so that it operates out of the menu bar and you don't have that bit of extra visual clutter as you're working.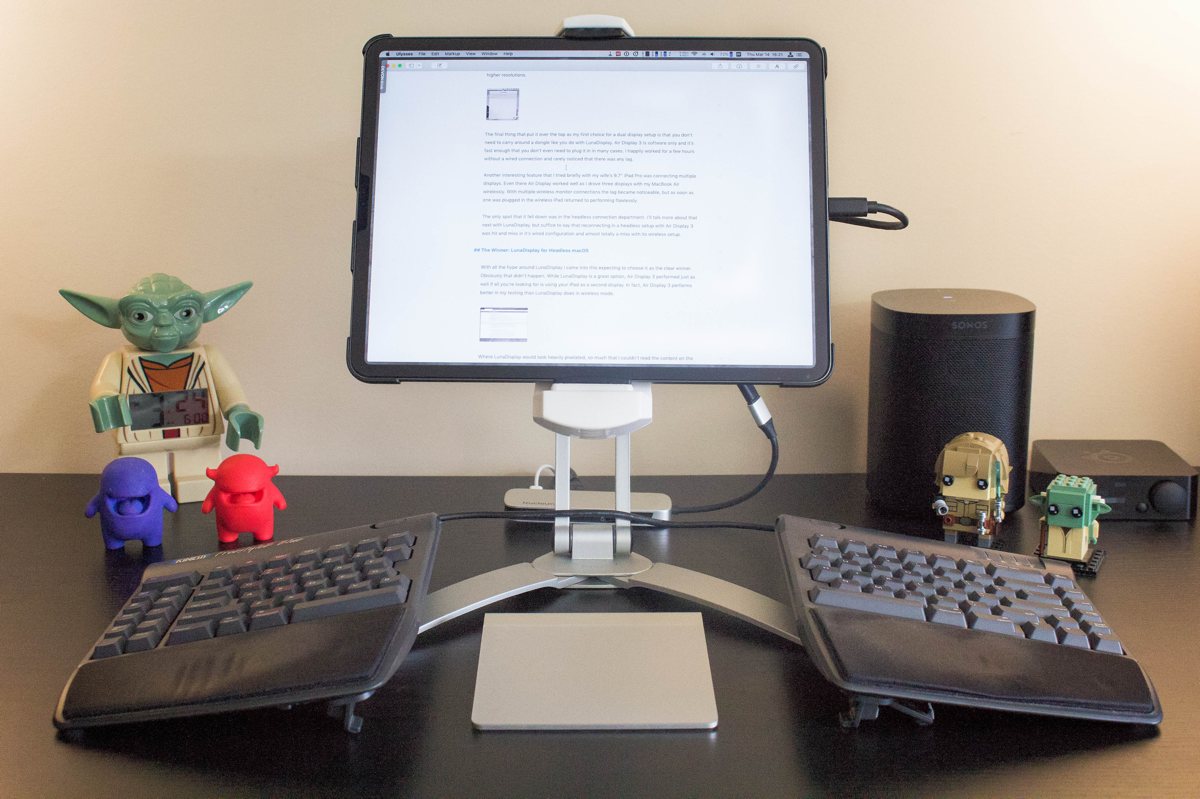 If you're looking for a headless macOS solution, particularly if you're using a laptop in clamshell mode, then Luna Display is the option you should consider first. Since that is my use case 99% of the time, this is what I use in my home office.
Runner Up: Duet Display
This review period spanned a significant update for Duet Display, so my initial impression wasn't great. I had a bunch of random disconnects of the app that I was never able to figure out. I'd get up to get a drink and come back to have Duet Display disconnected. Unfortunately, macOS thought the display was still connected so I had a bunch of windows hidden on a screen I couldn't access.
Both versions of Duet Display I tried had more lag than either Air Display 3 or Luna Display. I even purchased the yearly subscription for Duet Display Pro so I could test out the wireless screen support, but after an afternoon of restarting my Mac and reading through help documentation, I still couldn't get it to connect.
Finally, there were some odd display issues in macOS while using Duet Display. Nothing in your main work area, and nothing that would stop you from working, but shading and coloring wasn't right in the menu bar.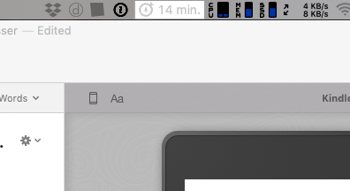 If you don't need wireless or any of the features in their subscription options, then the base Duet Display is great and it's the cheapest option to start using your iPad as a second screen to your Mac.
Our Must-Have, Most Used Productivity Apps
We spend an inordinate amount of time sorting through hundreds of apps to find the very best. We put together a short list of our must-have, most-used apps for increasing productivity.
Other Apps We Reviewed
iDisplay
iDisplay is another app in this category that worked reasonably well, but it didn't make it into the picks because it's not the cheapest option and doesn't do anything better than our current choices if you want to use an iPad as a second screen. However, if you have an Android tablet, it's a good place to start since it supports macOS, Windows, Android, and iOS.
GoodDual Display
GoodDual Display was tested in the last look at this category of apps, and we said that if you could get it on sale it was a no-brainer. With the current version, it really isn't worth trying compared to the other options. While it offers a host of resolutions for your iPad, none of them match the actual aspect ratio of the iPad except for 1024×768, which looks terrible.
Another deal-breaker was that my cursor kept getting stuck on the second screen unless I used Command + Tab to change to an app on a different screen.
Conclusion
This app category is a strong and interesting one that has come a long way since I used Air Display 1 when traveling for a few months after my first child was born. Where Air Display 1 on my iPad 2 was usable, I wouldn't have gone so far as to say it was a delightful experience. In fact, if Air Display 1 was in today's review, it wouldn't even get a mention.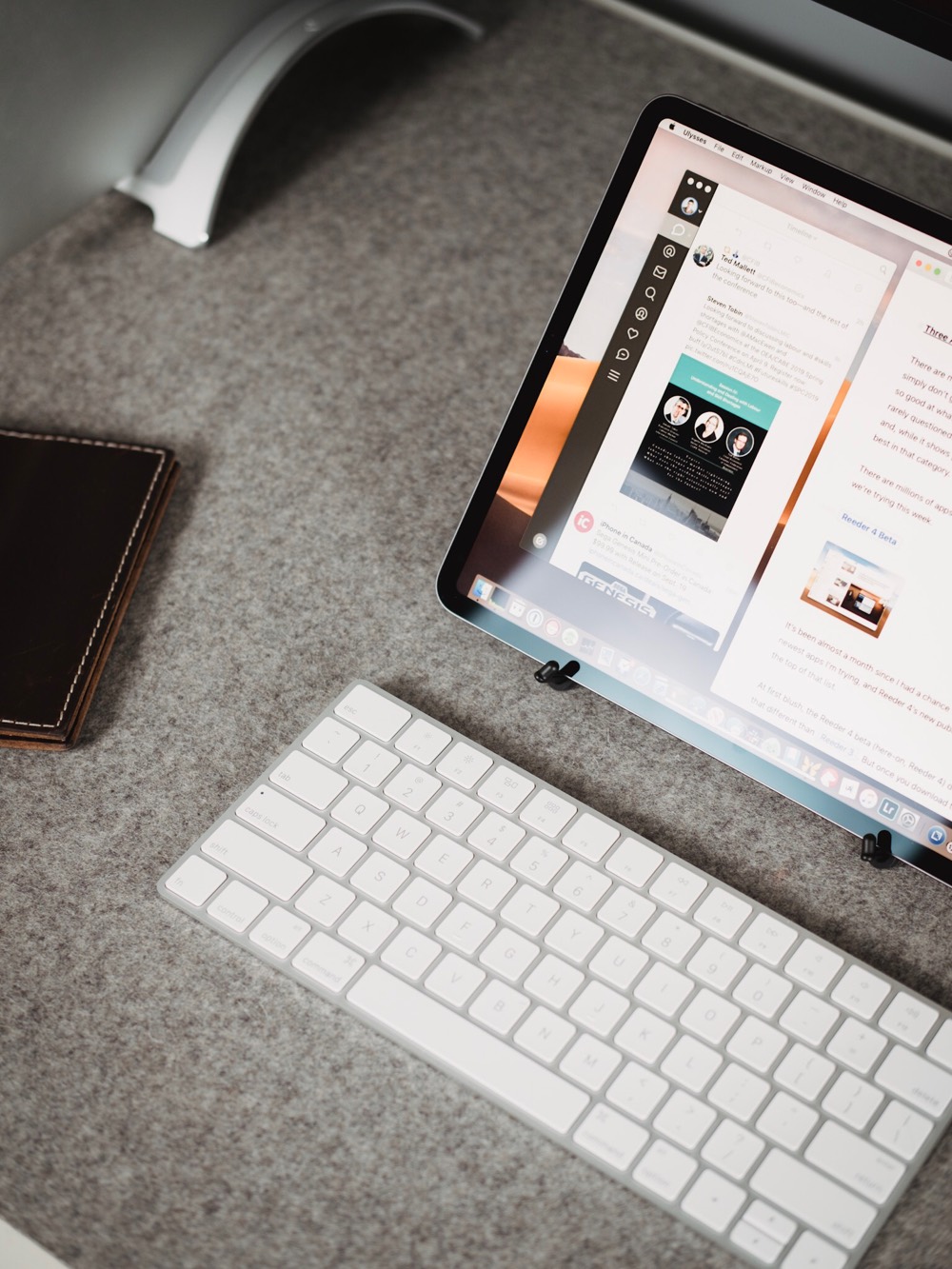 It's nice to see that we've come a long way and that there are many options that are decent if you're looking to use your iPad as a second monitor for your Mac. If that's your only need, then Air Display 3 is the clear winner, both in function and in price.
If you're an "iOS first" person like me, then you'll need to put up with the hefty price of Luna Display to get a really nice headless macOS setup. A wired headless setup with Luna Display was good enough for me to spend a few days doing print design for a local non-profit I'm involved in without feeling the need to take my old monitor out and put it back on my desk.
$9.99
Air Display 3 is the best app for using your iPad as an external display because it's easy to use, reliable, and convenient.
App Store

$9.99