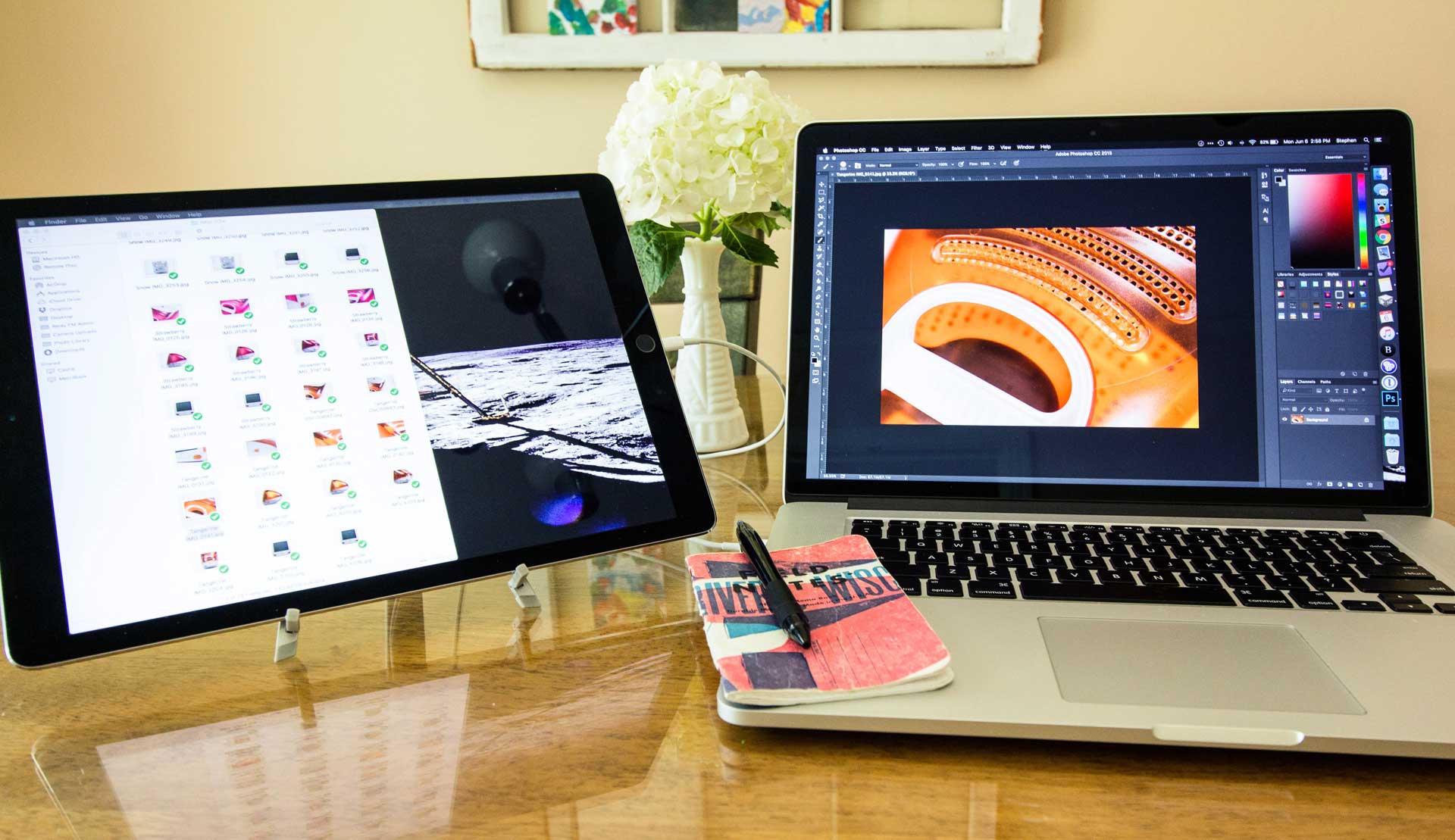 Best app for using an iPad as an external display
Duet Display
December 10, 2018
The iPad is an incredible device in itself, but it can also offer Mac users a portable option for using a second display.
Editor's note, December 10, 2018: Starting with macOS 10.13.4, support for Duet Display was broken. Duet Display released an updated version of the app after macOS 10.14.2 was released, and it seems to have resolved the issue that made the app nearly unusable earlier this year. If you were having trouble using the app, make sure your Mac is up to date and download the latest Duet app (version 2.0.3.8 or above) to enjoy using your iPad as a lag-free external display!
It's certainly not practical to travel with an external monitor, but Duet Display offers the best way to turn your iPad into an incredibly slim and portable second monitor for your Apple laptop of choice. And, if you don't have a case that can prop the iPad up, this tablet stand from Amazon can allow you to position it at a great angle.
While it doesn't offer a wireless connection, I found that to be a sub-par experience in other apps. Paired with a lightning cable, Duet Display simply cannot be beat. Duet Display provides a solid way to have multiple displays wherever you are.
What is this category?
As much as I love iOS, there are certain tasks that I can accomplish faster with a Mac. At work, I have a 24" ViewSonic monitor that sits next to my 13" Retina MacBook Pro. Although I am a fan of the retina screen, I still do a lot of work on my external monitor.
When I am away from the office and need to catch up on work, I miss having a second display. Thanks to my iPad Pro, I don't have to be totally down to one display. Duet Display allows me to use my tablet as a second monitor for my laptop. At 9.7″, it's not as big as my 24" display, but it's big enough to get the job done.
In short, these apps allow you to use your iPad as a second monitor for your laptop, whereas an app like Screens allows you to access a Mac from your iPad.
Criteria
Ease of use
When I want to use my dual display setup, I want to simply plug and play. I expect to need a Mac app running along with the iOS app, but other than that, it should be dead simple to use each time.
Complexity of setup
While the iOS app should be easy to install, how easy is it to set up on the Mac? Is the installer simple, or does it require manual setup?
Speed – is it laggy or buggy?
With this category of apps, this is the single most important feature. If it's laggy, then it won't be usable. While it certainly won't be a fast as an HDMI or VGA connection, it must be useable. I doubt video editing would be possible on any of the apps, but it should be a good place to put an editing pallet or chat client.
Is Wi-Fi required?
Some of the apps I looked at use hard-wired connections (Lightning cable) while others use Wi-Fi. While Wi-Fi offers the convenience of cutting the cable, it does come with serious trade-offs. For this review, Wi-Fi is not a requirement, but is something we considered as a nice-to-have option.
The Winner: Duet Display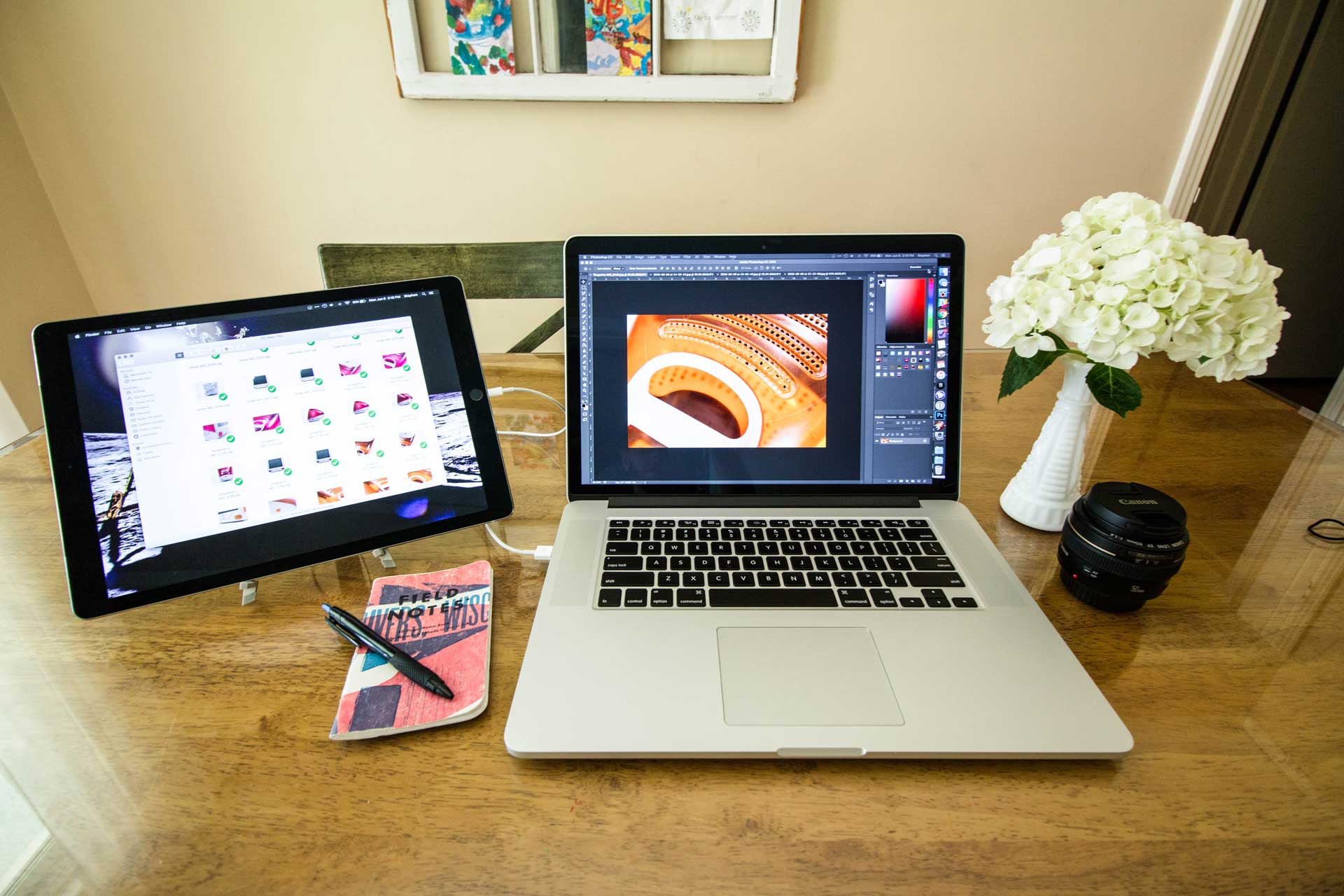 Among all the apps that I tested, Duet Display was the clear winner. It's made by former Apple engineers, and it shows.
Setup was an absolute breeze. I installed the OS X application, which added a display driver and menu bar icon. After installing the Mac app, I went through the restart, installed the iPad app, and was ready to go. Everything went off without a hitch. In practice, it's really easy to use. If the Mac goes to sleep, Duet Display's iPad app simply returns to the main screen asking you to connect a Mac. If you wake the Mac up, Duet Display quickly returns to acting as a second display. From a technical perspective, it feels no different than the normal external monitor I use at work.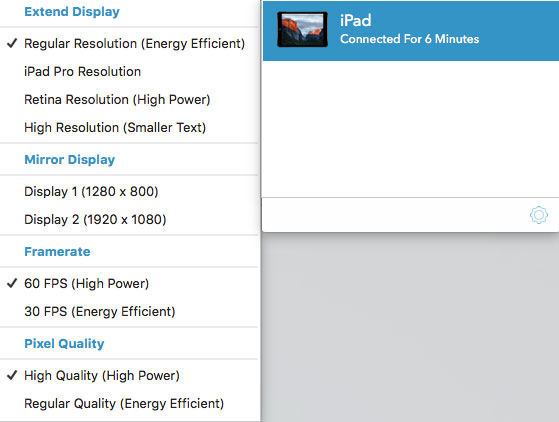 What sets Duet Display apart is how fast it is. It operates with basically zero lag. This is thanks to the fact that Duet Display sends video to the iPad over a Lightning cable. The hardware connection certainly beats other apps that rely on Wi-Fi to transmit data. In my testing, the convenience of a wireless connection don't trump the solid speed of using the Lightning cable.
Duet Display was one of the first apps to use the Lightning/USB connection as opposed to Wi-Fi only. While Apple originally didn't allow apps to access the Lightning connection in this way, they relaxed those rules in December of 2014.
There isn't much to the app, and there shouldn't be. It has one job to solve, and it does it very well.
Runner Up: Air Display 3
Air Display 3 is another well-known app for using your iPad as a second display for your Mac.
While Duet Display installs very easily, I had a little more trouble with Air Display's Mac app. It took two hard reboots to get my Mac to start up normally post-install.
Air Display's customization for screen resolution was a little more confusing than that of Duet Display. Both offered plenty of options, but Duet Display did a better job of explaining each option.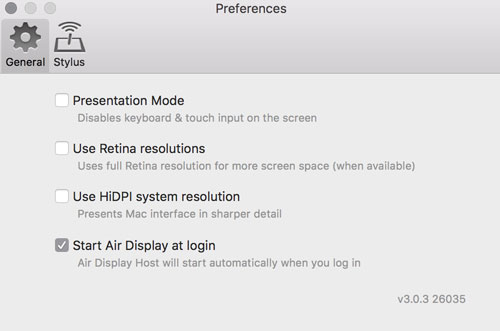 Air Display's killer feature is that it also allows you to touch your Mac display. This is primarily used for a pen/stylus tool. This essentially allows you to use your iPad as a graphics tablet (like a Wacom) for your Mac. It's a custom feature, so compatibily is only in certain apps and styli.
These are the compatible apps:
• Acorn
• Aperture
• ArtRage
• Autodesk Sketchbook Pro, Express
• Flame Painter
• Intensify Pro
• Manga Studio 5
• Mischief
• Motion
• Pixelmator
• Illustrator CC, CC 2014, and CS6
• Lightroom 5
• Photoshop CC 2014, CC, CS5, CS6, and Elements 12
These are the supported pens and styli:
• Wacom
• Intuos Creative Stylus and Creative Stylus 2
• Bamboo Stylus Fineline
• Adonit
• Jot 4 and Jot with Pixelpoint
• Adobe Ink & Slide Creative Cloud Connected Precision Stylus
• FiftyThree Digital Stylus
• Apple Pencil (no palm rejection or eraser support)
If you want these features, Air Display 3 will be the best app for you.
Air Display 3 works over Wi-Fi in addition to connecting through a Lightning cable. Your experience will greatly depend on your Wi-Fi speed. At home, I had zero lag issues. On the public Wi-Fi at Starbucks, it was so-so. Depending on how your corporate Wi-Fi network is configured, it might be a little more difficult to get it working as well.
I would look at Wi-Fi support as a bonus, but not a crucial feature, and would recommend using the Lightning cable whenever possible. Even when comparing the Lightning cable connection with Duet Display over Air Display 3, Duet Display still comes out on top for me (by a hair). This fact combined with an easier setup makes Duet Display the winner.
Other Apps We Reviewed
There are a bunch of other apps out there; here are several we looked at but don't make the cut in our book:
GoodDual Display
GoodDual Display is one of the cheaper apps we looked at. It retails for $4.99, but it often goes on sale for $0.99.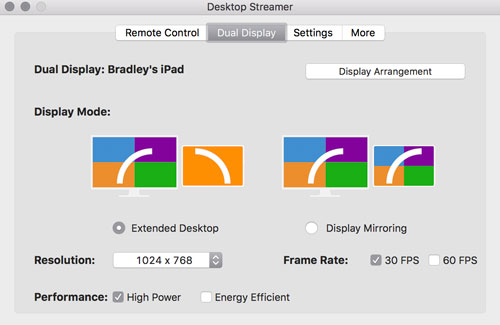 It's not as fast in my experience as Air Display 3 or Duet Display, but it's functional if you only use this style of app occasionally. If you can catch it on sale, it's almost a no-brainer option for $0.99 if you wouldn't use Duet Display enough to warrant its purchase price (normally $15.99).
Wi-Fi Display from Splashtop
Splashtop is a well known remote access application for iOS, Mac, and PC. They also have an app for using your iPad as a second monitor with a Mac or PC.
While some of the menus look dated on the Mac and iOS, the bigger issue I found is that I simply couldn't get it to work. It only works over Wi-Fi, and it refused to connect at work or my home. I tried everything I could in order to make it connect. It just simply refused.
This is the major reason why I wouldn't count on Wi-Fi as a primary connection for this app category. It's a nice-to-have in a pinch, but not something I'd count on working everywhere.
iDisplay
iDisplay is on the top end of the pricing spectrum of the apps we reviewed. The installer was simple enough, but it gets a pass thanks to only working with Wi-Fi. The official website does say that Lightning connection is coming soon, and it cannot come soon enough.
Unlike Wi-Fi Display from Splashtop, it did work on my corporate network, but it proved to be laggy. With it costing near what Duet Display charges, but offering a worse experience, I just can't recommend it.
Conclusion
This app category is unique in that the actual iPad app isn't doing much more than becoming a really thin monitor. This is incredible for Mac users who want a portable dual display setup. Regardless of where I am (coffee shop, home, hotel), I have all the benefits of using dual displays without carrying additional gear.
After testing all the options I could find, Duet Display is the best choice. It's simple to set up, doesn't have a lot of fiddly options to tinker with, and works consistently over the rock solid Lightning cable connection.
$15.99
Duet Display is the best app for using your iPad as an external display because it's easy to use, reliable, and convenient.
App Store

$15.99