Using Pixelmator Photo's ML Match Colors to Replicate Your Favorite Photographers' Color Palettes
April 22, 2020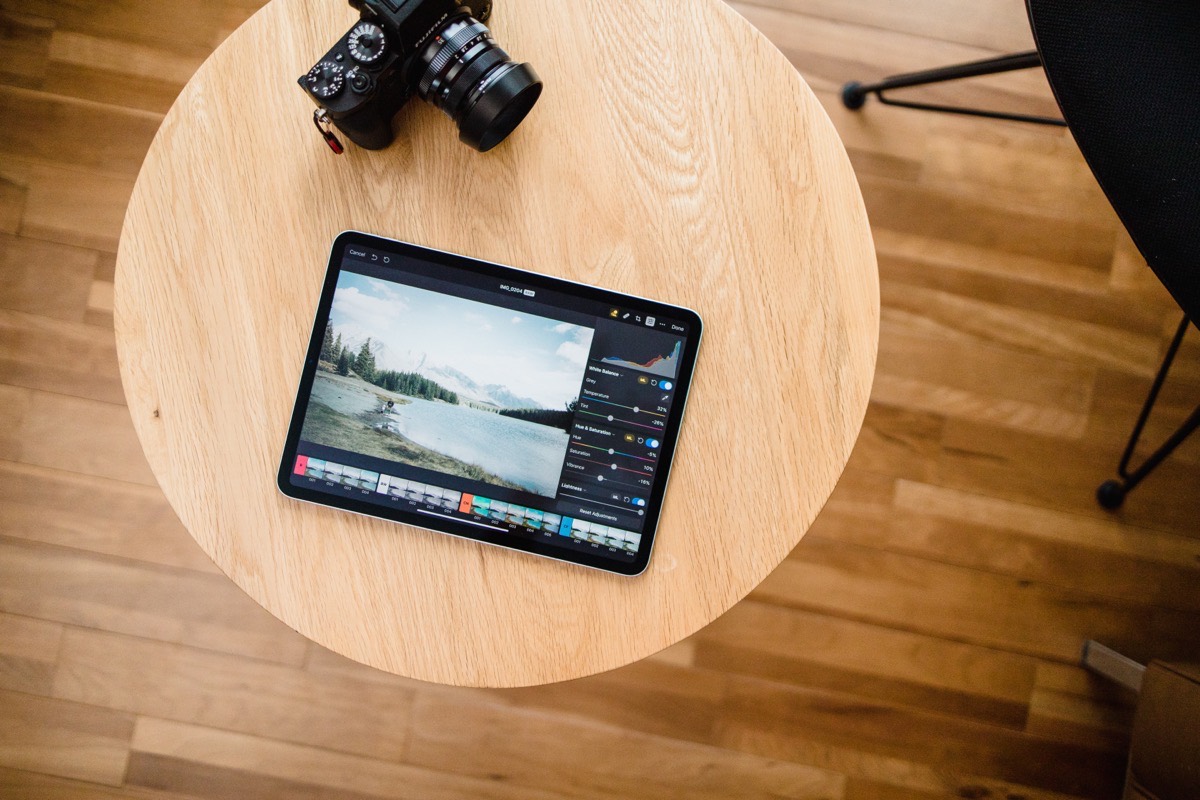 The timeline for many a photographer — at least, this was the case for me — can be outlined somewhat as per the graph below: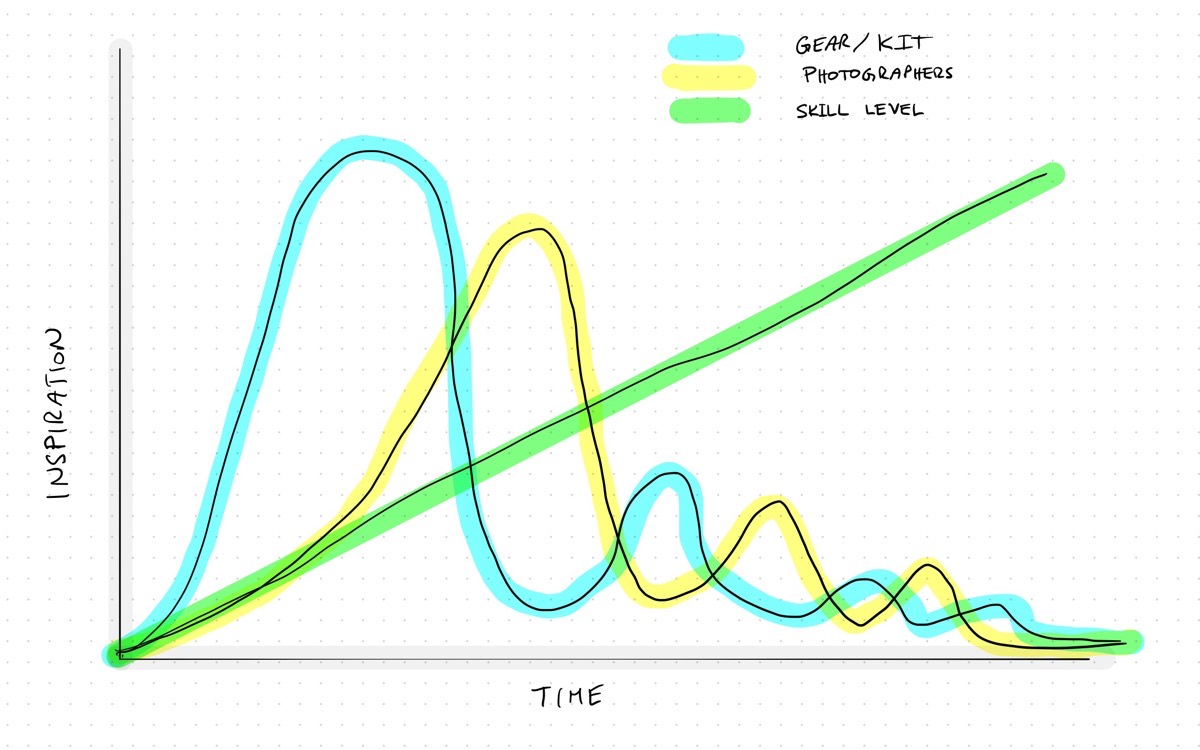 Here, photography gear and kit starts out as the ultimate source of inspiration. This inspiration declines steadily over time, but rears its ugly head on occasion.
The inspiration derived from other photographers takes essentially an inverse effect as gear and kit do. When gear and kit delusions subside, the drive to emulate your favorite photographers rises.
And finally, your own skill set not only grows over time, it also becomes the main source of your own inspiration over time.
I've developed a bit of a list for the second step — photographers like Kate Holstein, Sam Nute, Finn Beales, Dan Tom, and more are stunningly skilled and worthy of emulation. Their compositions are great — often, near perfect — and their colors are their own.
I think the prevailing advice to improve your abilities as a photographer is to focus on composition. Work with prime lenses, learn to position your body and camera in the right spot, and ensure all the pieces of the puzzle fit into your photograph beautifully.
Color is just the icing on top of the composition cake, and everyone likes different brands of icing, right?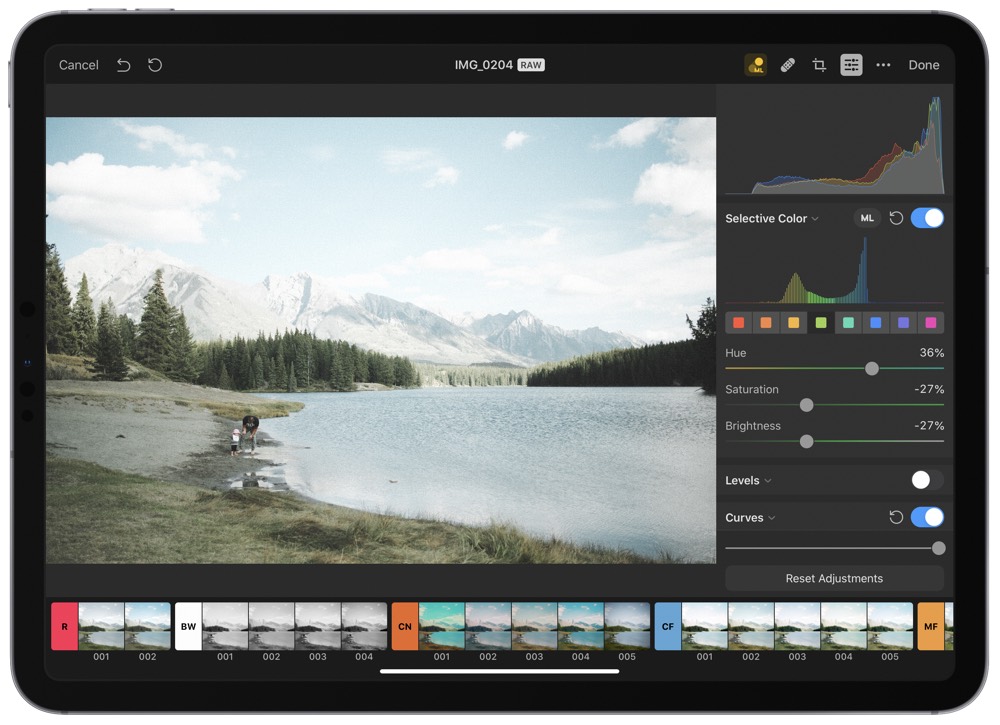 Pixelmator Photo's latest update brought the power of Pixelmator Pro's ML Match Colors from the Mac to the iPad, promising the ability to match the color palettes between sets of photos. ML Match Colors is wonderfully implemented, quickly performed, and easy to use. It promises to use all the powers of the iPad.
But does it promise the power of stealing your favorite photographers' color palettes? Will it make your photos look as good as your favorite photographers' photos?
Of course not!
As is always the case in photography, there are a multitude of variables at play. ML Match Colors handles one specific variable: color.
Using ML Match Colors to Match Your Own Photos
This is the method that I expect the Pixelmator team both wants and expects customers to implement when using ML Match Colors. At first blush, ML Match Colors seems best designed for applying a relatively close color palette to all of your photos in a set.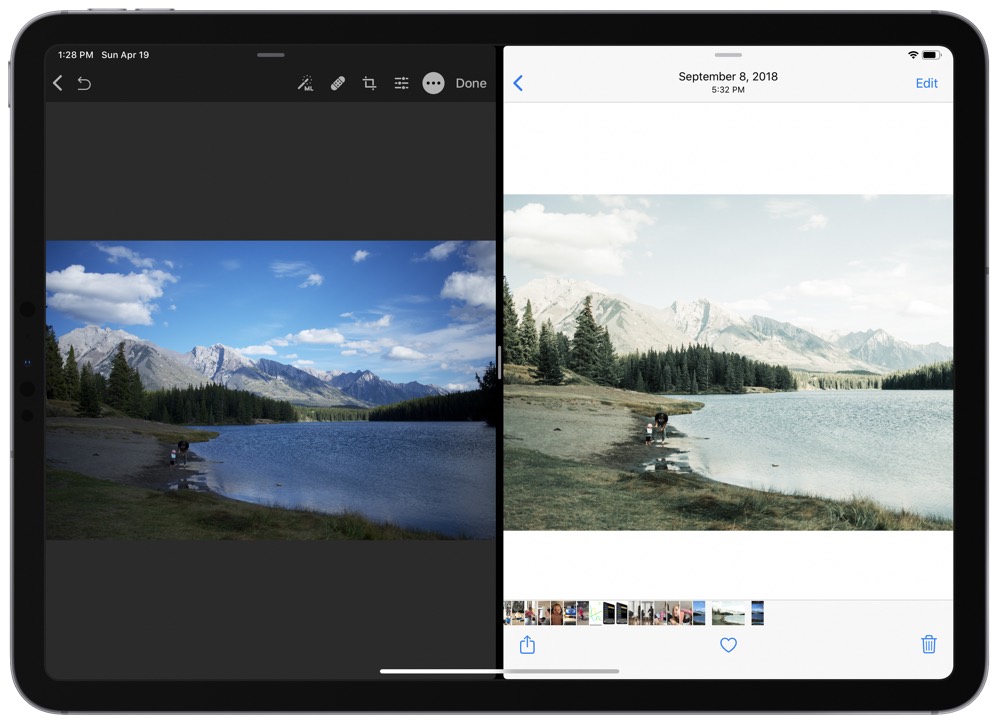 The original photo on the left and my personal edits on the right. Clearly, these two photos are very, very different.
To test the power of ML Match Colors, I used a single photo of my own from a few years ago. Evidently, I've heavily edited this photo, so I exported a copy of the original photo and a copy of the edited photo from Lightroom to my camera roll.

From there, I opened the original raw photo in Pixelmator Photo, dragged an instance of Photos into Split View, and dragged my edited into Pixelmator Photo to match the color palettes.
In general, if an app can or can't deliver on a promise, it's usually due to improper expectations. And since I originally came into this thinking ML Match Colors would also match saturation, hue, intensity, and exposure all at once, well, I was originally disappointed. Here's the result:

But upon further inspection, Pixelmator Photo actually performed great work in matching the colors in these two photos. In retrospect, it's obvious: the colors are properly matched. However, to get to my original end result, I had to jump into the color tools in Pixelmator Photo to dial back intensity, hue, and saturation of individual colors. After maybe a minute or two of experimentation, I came to this end result: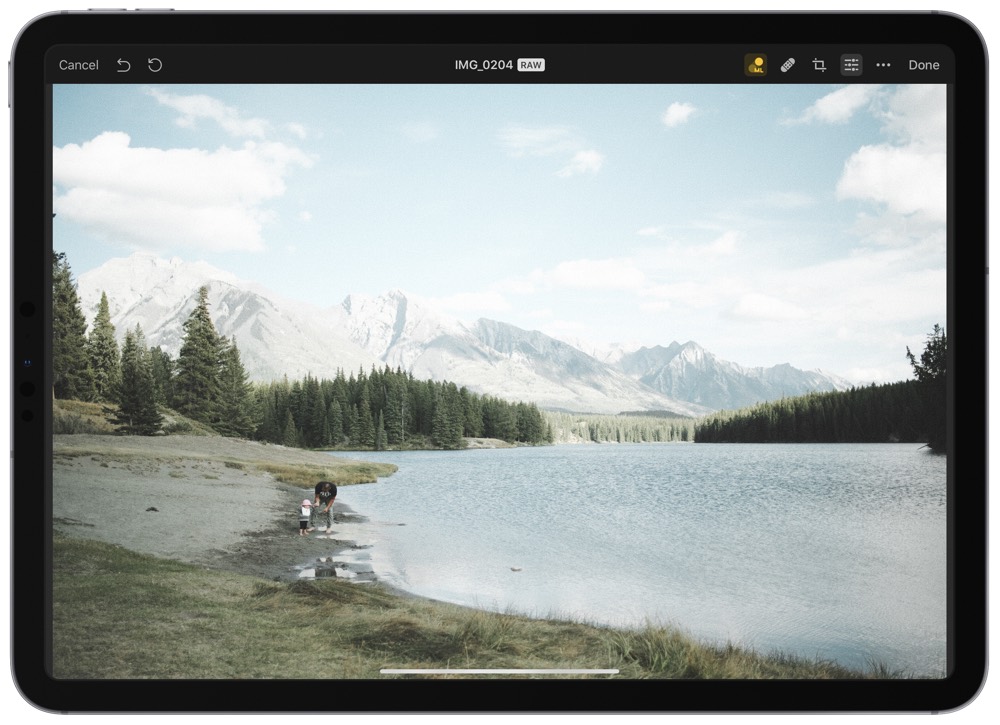 Not bad, actually! Not bad at all.
As I mentioned above, ML Match Colors is explicitly designed to match colors — matching any other elements of exposure, saturation, hue, and more either has to be done manually or through other forms of Pixelmator Photo's machine learning features.
Using ML Match Colors to Match Someone Else's Photos
This whole section likely gets dicey, so I want to ensure I give credit where credit is due, and I want to ensure that the end result of "stealing" someone's color does not actually happen. I fully believe, after you've read through this section, you'll agree that a photographer's stylistic brand and color choices are not in jeopardy thanks to ML Match Colors.
So, Finn Beales is one of the professional photographers I mentioned above who I have a ton of professional respect for. Beales has one of my favorite photography blogs on the planet, shoots some of the best travel and brand photography in the world right now, and has provided a wealth of photographic knowledge in his photography course at Strohl Works. If you want to get a behind-the-scenes look at how Beales works and how he achieves some of his results, that course was some of the best money I've spent in the last two years.
Finn Beales's tremendous travel photography — known as "72 Hrs In…" — is showcased on his personal site. There are a wealth of photos to digest in that section of his blog. One of my favorites is his commissioned work for Travel Alberta, a province and location here in Canada I had the opportunity to travel to myself.
So, with that backstory out of the way, you can likely understand where I'm going with this. Here's Finn Beales' photo of a man at Lake Louise in Banff National Park, Alberta, Canada: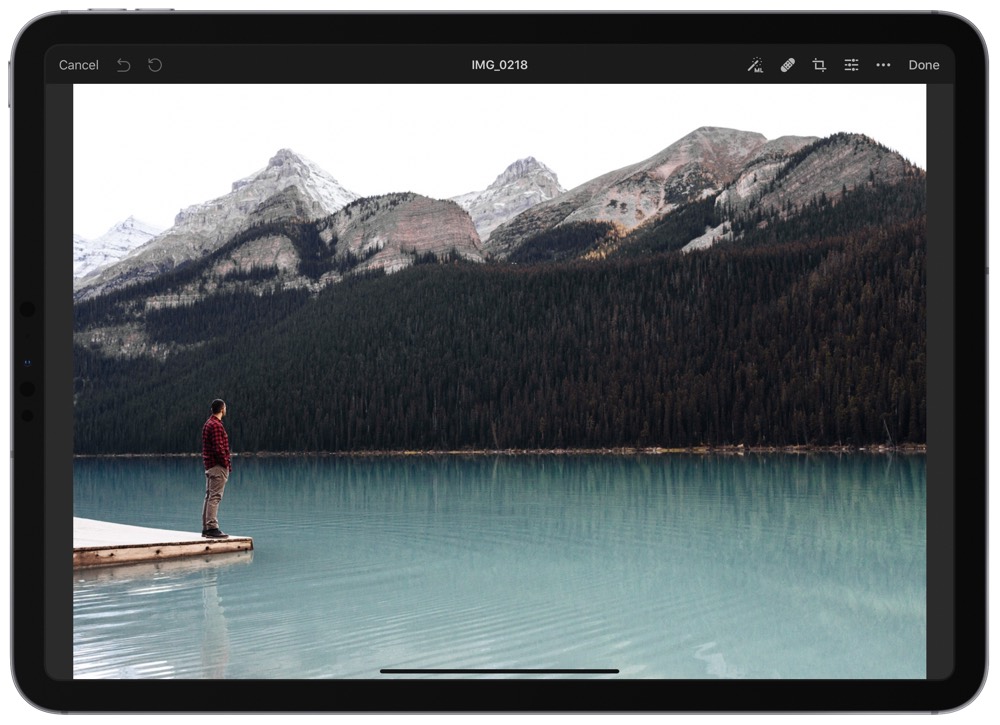 Photo by Finn Beales, used solely for color reference and nothing more.
And here's my photo of that exact same location, albeit with slightly different composition: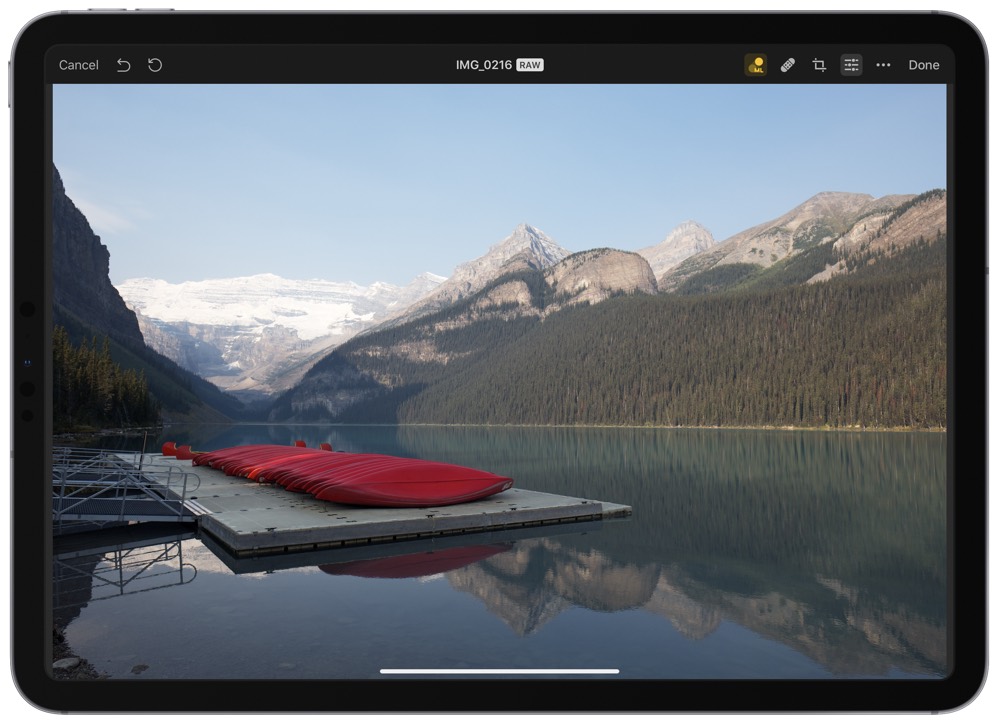 It's very hard to say whether Beales and I shot the photo at the same time of day or in the same kind of weather, among other variables. We were at Lake Louise in the earliest part of the morning, so the orange glows on the mountaintop peaks are about as close as I could get to the oranges in Beales' photo.
And here's the result after dragging and dropping Beales' photo into Pixelmator Photo: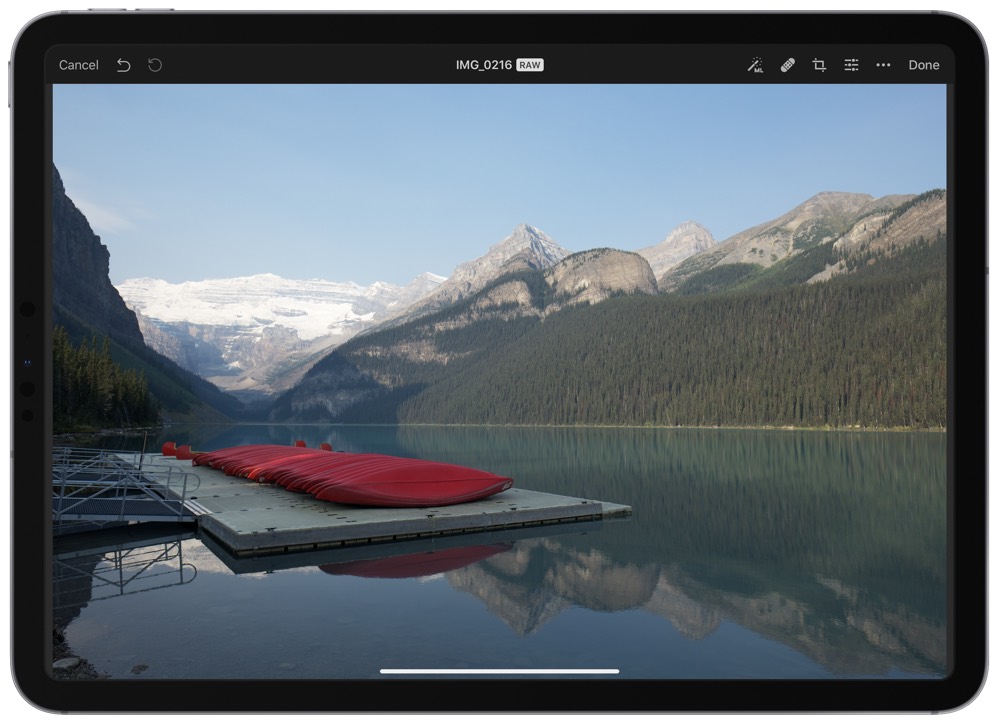 Did my photo change at all? You'd be hard-pressed to tell. I believe many of the colors indeed match those in Beales' photo, but again, hue, saturation, luminosity, brightness, and other variables play a major role in keeping Beales' stylistic color choices his own.
This is good news, in nearly every facet of the story. The learning lessons I'm taking away from this:
Composition remains the most important element of photography. If you don't have good composition, the amount of beautiful color you add or take away from a photograph won't magically transform it into a mystical work of art.
Understanding "color" involves much, much more than simply dragging and dropping one photo onto the other. To achieve a certain look, a full understanding of the color wheel, color and light curves, and color tools is still required.
For all the work professionals have put in to create their own style, brand, and "look", they can be rest assured that other photographers like myself won't be able to replicate that same look with a simple feature in an iPad app.
Other Updates in Pixelmator Photo 1.2
Despite the title ML Match Colors feature debuting in Pixelmator Photo 1.2, the 1.2 app update housed plenty of powerful features for photographers looking to utilize the iPad more and more in their workflows.

Notice the trackpad cursor right in the middle of the photo on the left and the re-shaped cursor in the top right in the right photo. Cursor support is very nicely baked into the latest Pixelmator Photo update.
Trackpad Support: iPadOS 13.4's new trackpad and cursor support has taken the platform by rage. Any app designed with many custom elements has struggled to organically adopt cursor support out of the gate, so updates have been needed to have all apps feel at home in iPadOS 13.4. Pixelmator Photo 1.2 brings full-blown trackpad support to the app, allowing you to whiz around with a mouse or trackpad much like you would on a Mac.
Split View: We chose Adobe Lightroom CC as the best photo editing app for the iPad because of its ecosystem, and we chose Darkroom as the runner-up because of Darkroom's adoption of iOS technologies. With Pixelmator Photo 1.2, you can throw another app into the runner-up column. Pixelmator Photo may now have the best iPadOS technology support of any photo editing app available. The app now supports Split View, which is very powerful in how ML Match Colors is used. The app adeptly uses the iOS photo library rather than maintaining its own photo library housed within the app. And all the machine learning features built into the app make it one of, if not the, most powerful iOS photo editor available for the iPad.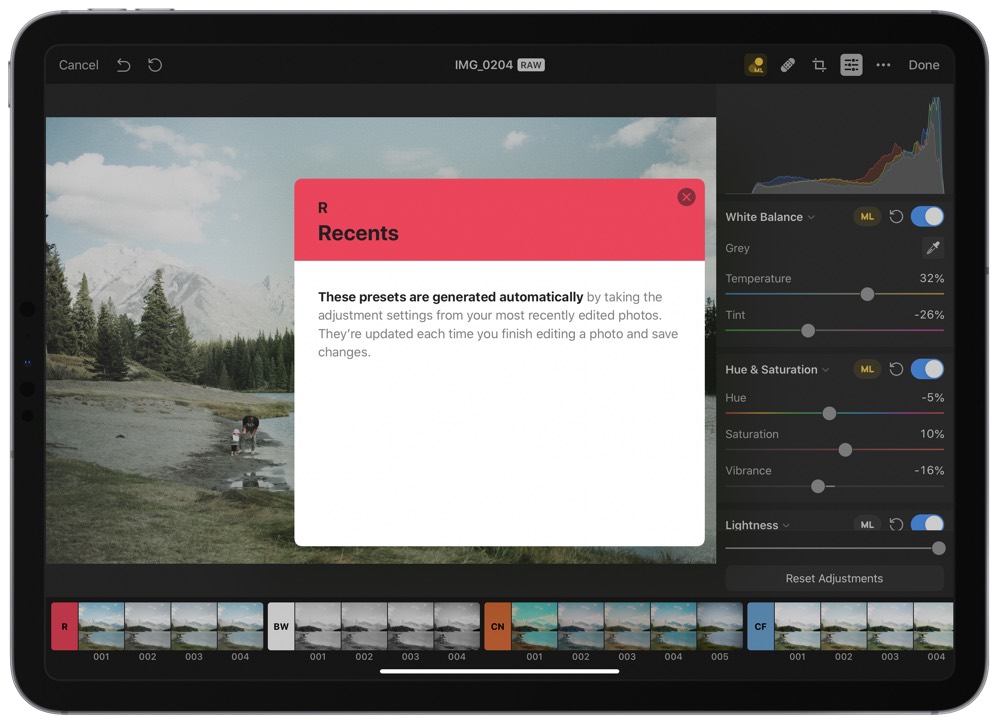 Adjustment Intensity and Recent Adjustments: Pixelmator Photo 1.2 now allows you to fine-tune the intensity of color adjustments and presets. As described above, these tools are fundamental to achieving a desired look after ML Match Colors has done its job.
You're also able to quickly reference and copy the adjustments from your most recently edited photos in Pixelmator Photo 1.2. This, combined with ML Match Colors, make for a quick and easy workflow to edit a batch of photos with the same colors and settings.
Wrap Up
ML Match Colors debuted as a powerful machine learning feature in Pixelmator Pro for the Mac. The feature alone almost had me download Pixelmator Pro. However, I held off, knowing my workflow was going to increasingly move to the iPad. I admit, I didn't expect ML Match Colors to come to the iPad so quickly.
I'm glad I waited. Because I'm positive I would have been initially disappointed with the ML Match Colors feature on the Mac.
Now that I've had a chance to try the feature, I'm more likely to purchase Pixelmator Pro for the Mac, simply because of the feature.
So much of the iPhone and iPad's being is wrapped up in simplicity. The devices themselves are fairly simply to use and can somehow house multiple generations of people into their user bases. This air of simplicity, applied to photography, almost makes it feel like you should be able to take a boring photo of the tree in your backyard and turn it into a masterpiece worthy of the Louvre.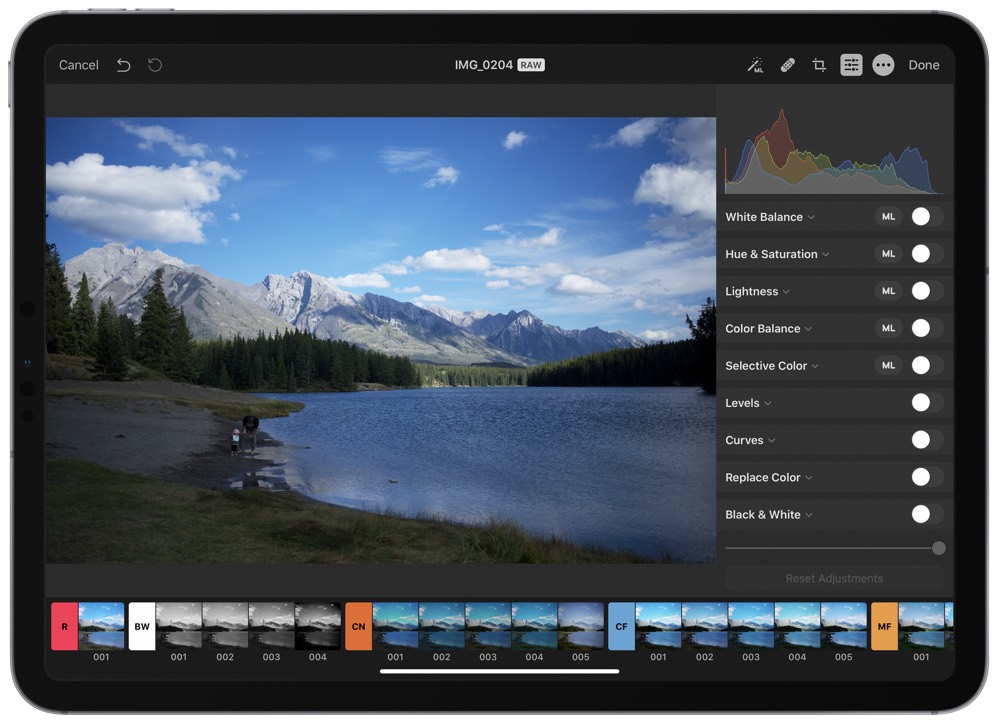 The machine learning features in Pixelmator Photo are a taste of this simplicity, but don't let your imagination run wild. Machine learning features in Pixelmator Photo take advantage of the deepest iOS technologies, eliminate a plethora of difficult and complicated tasks, and make editing photos easier than ever. They aren't a perfect, one-tap-done editing tool.
ML Match Colors may be the very best machine learning tool available inside Pixelmator Photo. Drag and drop your favorite photos — or perhaps you can create and use your own color templates — to match the colors, then tweak everything else inside Pixelmator Photo's vast array of editing tools. If you really want to make it easy, enable all the ML toggles in the tool array, hit export, and you're done.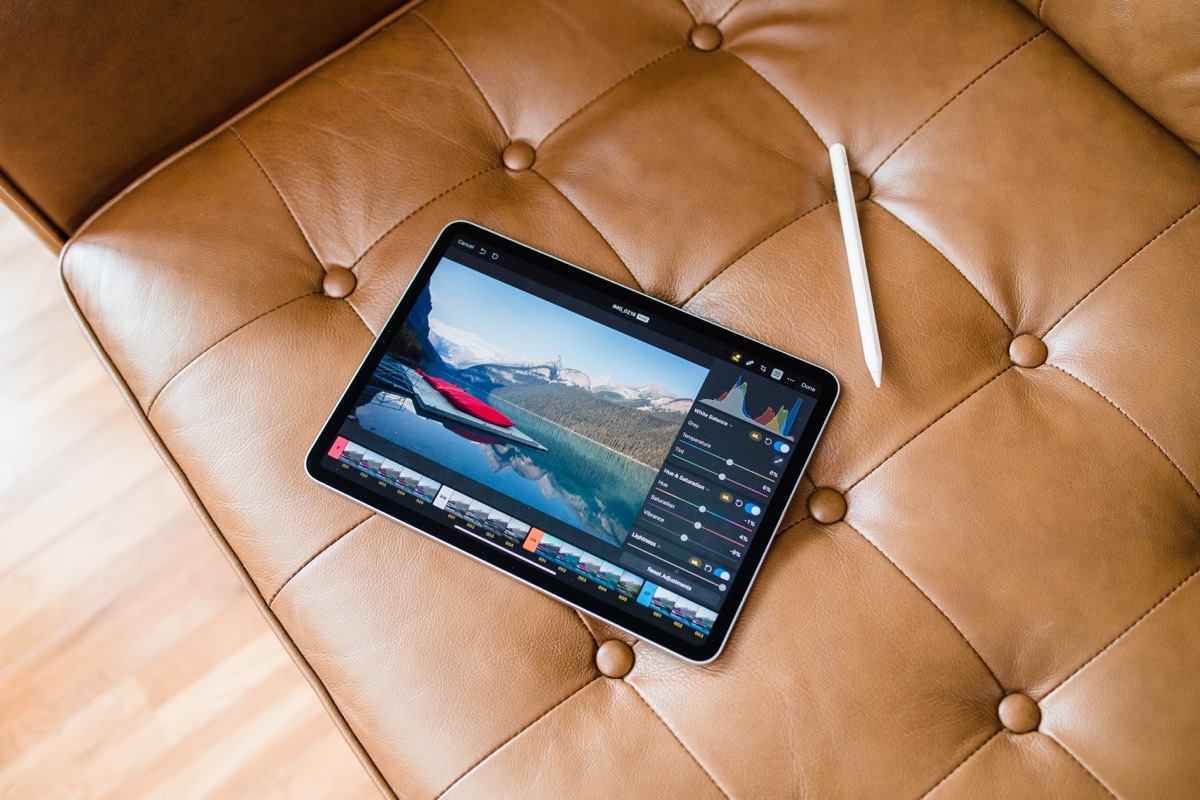 We named Pixelmator Photo as the photo editing app with the most potential in our big review. This 1.2 update really, really builds out some of that potential. And if this is just the start, Pixelmator Photo may move its way up the ladder of the best photo editing iPad apps.
Must-Have, Most-Used Photography Apps
We spend an inordinate amount of time sorting through hundreds of apps to find the very best. Our team here at The Sweet Setup put together a short list of our must-have, most-used apps for taking and editing photos on iPhone and iPad.