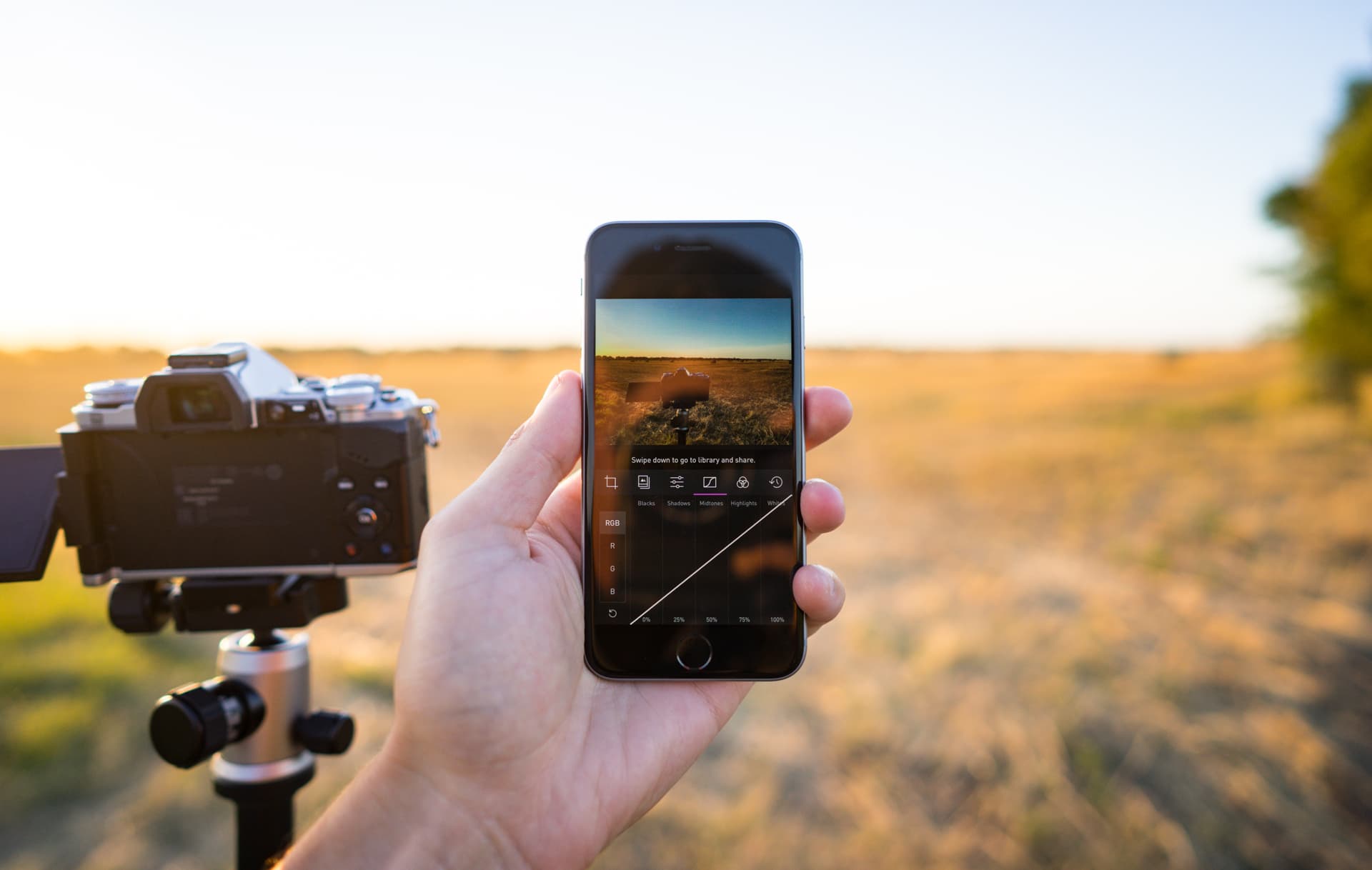 The best photo editing app for the iPhone
Darkroom
October 16, 2017
For the past month, we've been experimenting with two dozen of the best-rated photo manipulation apps for iOS. It's a market crowded with thousands of possible choices, but — with a lot of things considered — we think Darkroom is the best photo editing app for your iPhone.
Free Productivity Guide: Download our simple guide to productivity to help you improve your workflows and be more focused with your time and attention. Get it here.
In 2013, we ventured into the vast landscape of photo editing on the iPhone, assessing a bunch of good choices to find the very best. With its combination of a depth of filters, an array of sophisticated manual editing tools, and easy one-handed use, VSCO held the crown for nearly three full years.
However, after a recent redesign so confusing it necessitated a help article, we asked ourselves if VSCO was still, truly, the best option for our readers. It has a lot going for it, but we think that it has been eclipsed by apps offering better quality editing tools that are married to an easier-to-use interface.
Before we get into why we chose Darkroom as the new champion of photo editing for your iPhone, here's the criteria we used to judge each app:
Clarity of the UI and one-handed usability
Ease of photo management
Variety and quality of filters
Sophistication of manual editing tools
Export quality and preservation of metadata
Performance
Value
Ongoing maintenance and app updates
We also looked at whether the app had a Photos extension or not, though we considered that as more of a bonus feature rather than a core expectation. Whether the app could edit Live Photos didn't factor in, as those are few and far between (though Alive! is decent, if you are looking for that).
Unlike the last time we evaluated this category of apps, the ease of getting the photo into Instagram is no longer a criteria. Almost all apps have Instagram export built in; if they don't, it's available via the system share sheet.
Lastly, we're looking at apps that are able to quickly bring a photo from good to great, not make it look goofy. Save that for Snapchat.
Our Pick: Darkroom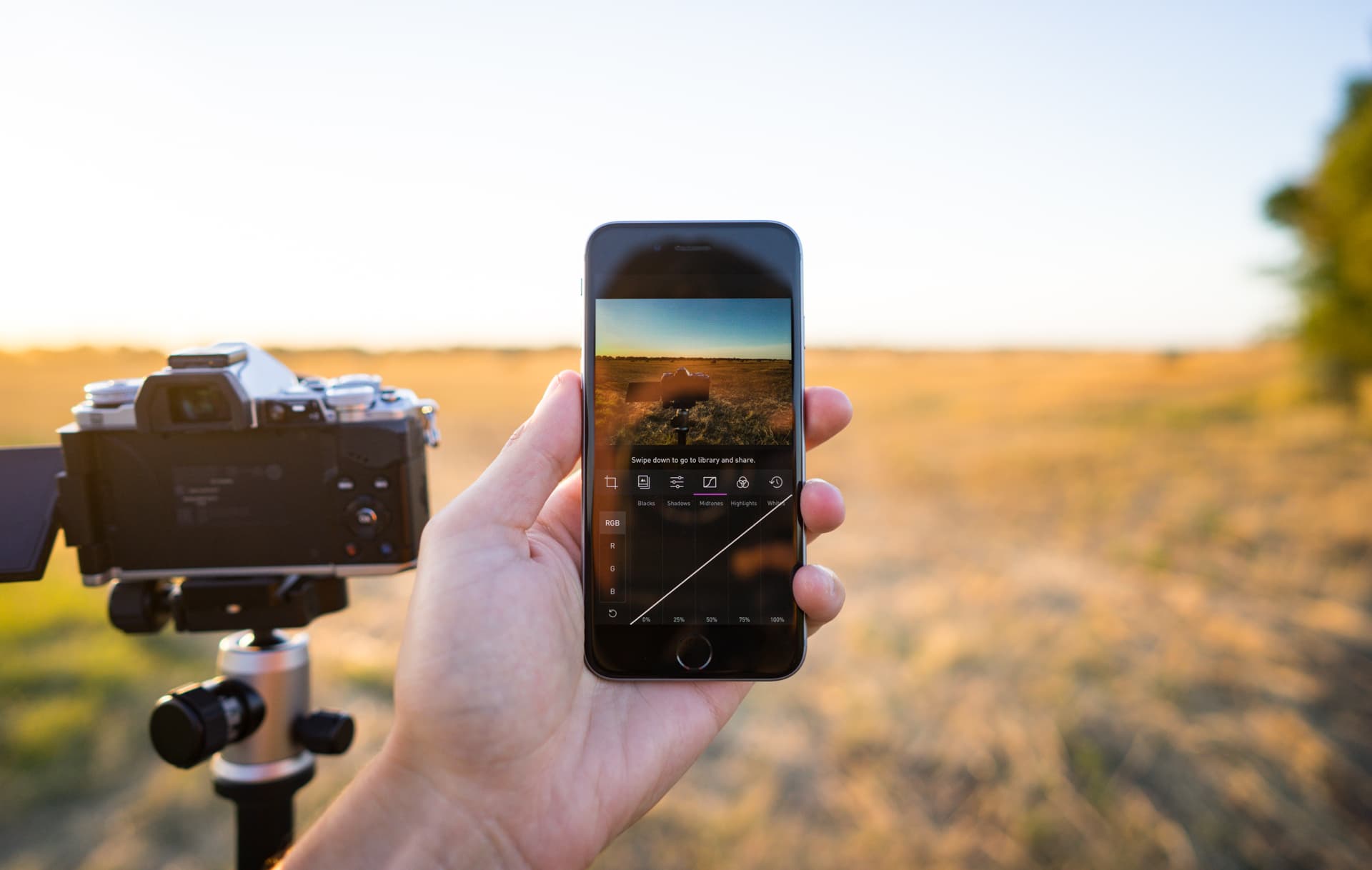 Our runner-up last year, Darkroom, has now taken the crown as our pick for the best photo editing app for the iPhone after a series of significant updates. It has virtually all of the power of VSCO, executed with far greater finesse.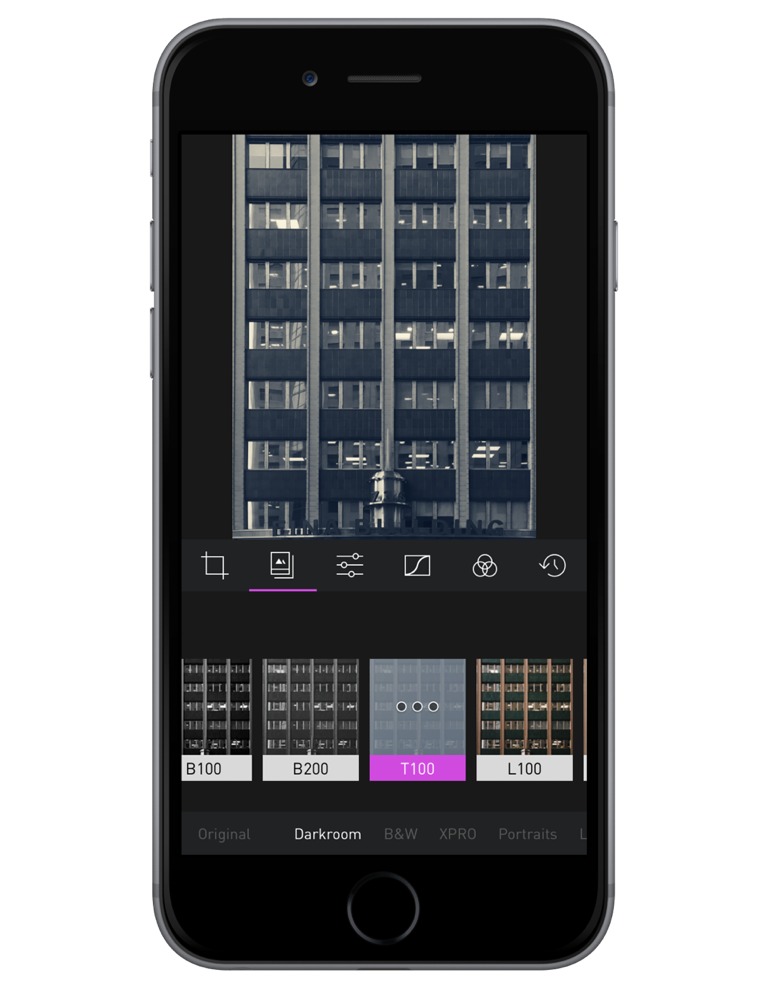 As has become the norm for this category of apps, Darkroom is free to download and comes with a decent selection of tools and filters. A variety of in-app purchases — ranging in price from $2 to $6 — add sets of filters, allow you to share custom-created filters, and unlock powerful editing tools.
Unlike most other photo editors, Darkroom doesn't require an initial importing step, nor does it use its own library. Instead, you get direct access to your iPhone's native photo library. You can choose from any of your albums, and filter your selection to display just the photos that have been edited with Darkroom — more on why that's useful in a minute. Start Darkroom, tap on any photo, and you're editing it immediately. It's really fast, and really nice. It feels like it was designed purely for the iPhone, not as a more elaborate photo editor shoehorned into an iPhone-sized frame.
This feeling of direct manipulation is reflected in the UI. Unlike some other apps where a recalculation is necessary after each adjustment, edits in Darkroom are shown in real-time. It feels fluid and responsive, deferring the app's technological requirements to the user's editing decisions. The visual language of the UI is restrained, too, with straightforward iconography and text labels where appropriate. The only stylistic flourish is a classy use of DIN, in what I assume is a nod towards Leica.
So, what about the editing features themselves? Darkroom's filters and adjustments emphasize subtlety and care in editing. There's nothing gaudy or ostentatious about any of the filters, all inspired by filmic looks, though the names of the films that inspired them are not cited. There's an "XPRO" pack of cross-processed styles, packs for portraits and landscapes, and a requisite black-and-white set. They're all very lovely, giving you plenty of different looks without being overwhelming. I haven't found a single Darkroom filter that I wouldn't use. Instagram's "1977" filter: you know I'm looking at you.
The advanced adjustment tools are where some real magic happens in Darkroom. In general, while you can get 80% of the way towards a great photo with just a filter in almost any app, the remaining 20% comes from a manual fine-tuning of specific image attributes. Darkroom delivers this functionality with aplomb.
It includes the usual assortment of brightness, contrast, sharpness, and saturation sliders, of course. But where Darkroom really shines is with its more sophisticated toolkit. A full RGB curves editor is an in-app purchase away, and it's totally worth it. It is, by far, the nicest curves tool I've used on a touch screen, with an appealing forgiveness for fat-fingered manipulation. There's a little more friction when dragging the curve line, allowing you to make fine adjustments without having to move your finger too delicately. It's wonderful.
So, too, is the specific hue adjustment tool. With a full ROYGBIV — plus pink! — palette, it's a very quick and very easy to craft the image just right. But it's easier to explain in pictures.
In mid-July, I shot this photo from a car window of a canola field in full bloom: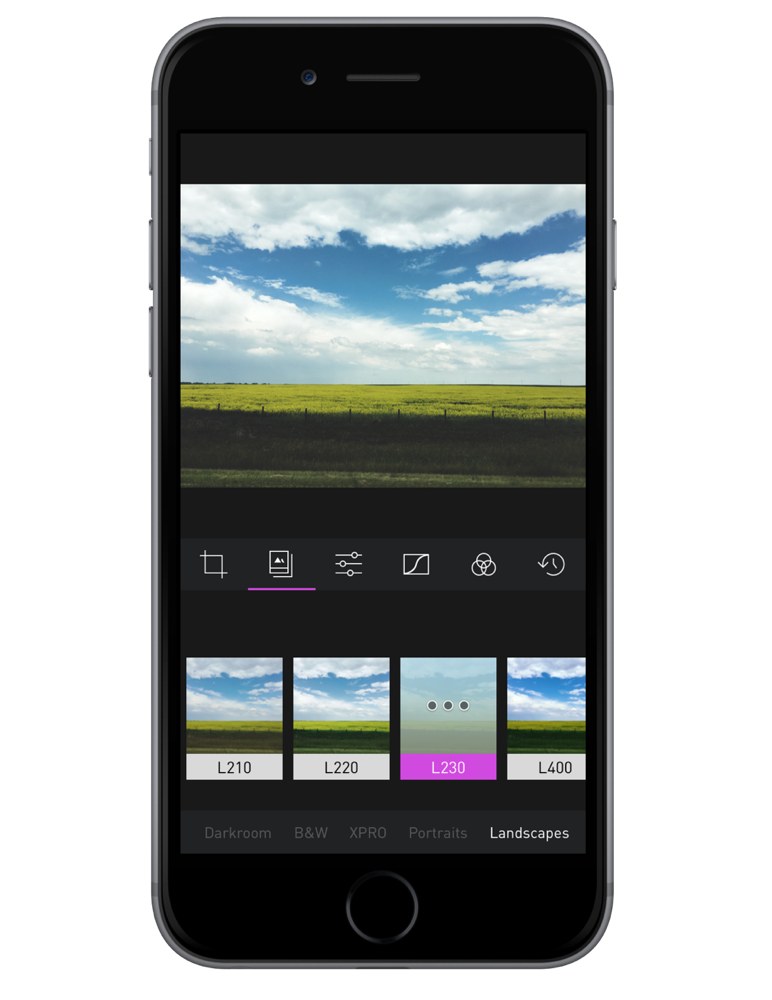 Between my iPhone attempting to white-balance an image from a moving vehicle and the slightly tinted window, you can see that the color of the field ended up a mushy yellow-green instead of the bright yellow I remember. A quick adjustment of the yellows and greens, plus a subtle de-emphasis of the blue sky resulted in an image much closer to the scene I remember.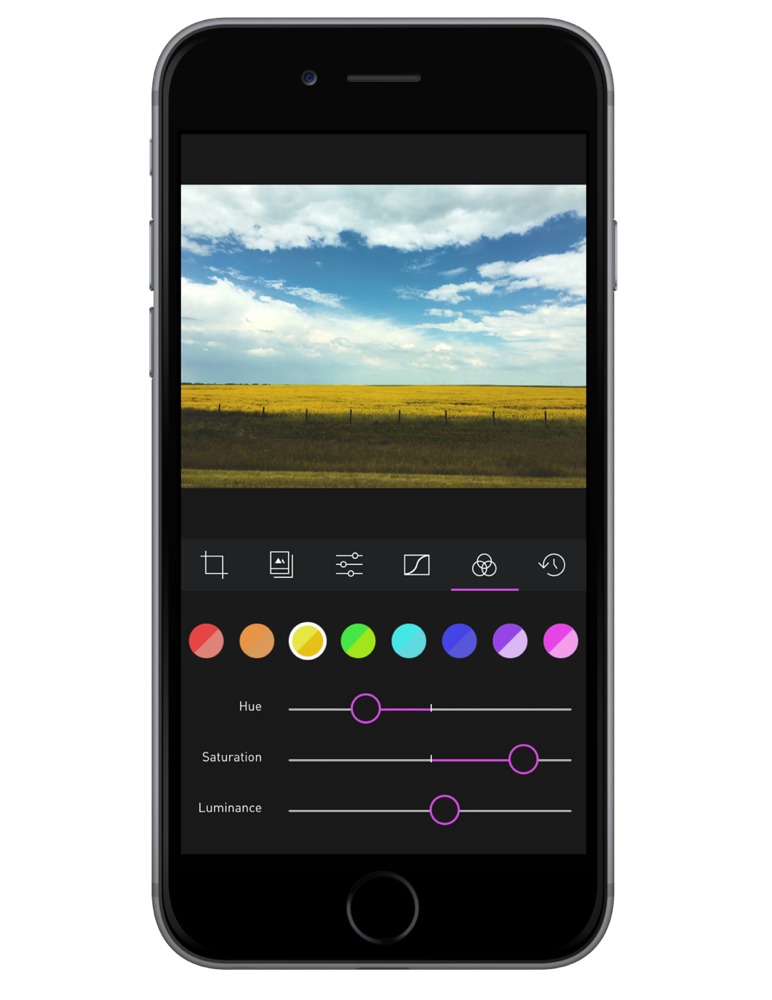 One of the most beautiful aspects of Darkroom is that the edits you make are saved within the app as a "recipe" for each photo. That is, instead of bouncing out a JPG with each iteration, it just loads the edits overtop the original image. That cuts down on files sizes and allows the editing process to be lossless, so you can modify an edit days, weeks, or months after you first started it.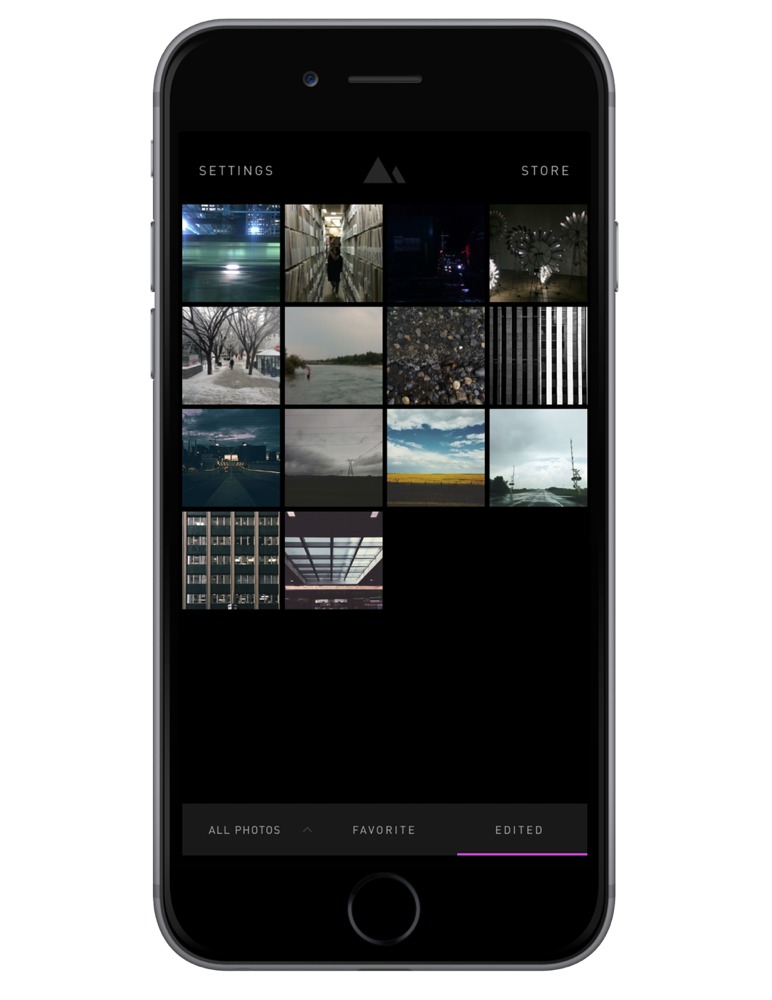 Exporting is similarly straightforward: just tap the "Share" button in the upper-right, and you can save a copy, save overtop the original image — iOS allows you to revert to the original — and export to a variety of apps.
The one niggle I have with Darkroom is that it's almost entirely built and maintained by a single person, Majd Taby. Over the past several months, he's been busy with some time-sensitive projects, so he hasn't had time to update the app. However, Majd has assured me via email that he's working on a significant update for later this year.
All told, Darkroom is an excellent all-around choice for making your photos look fabulous. It allows as much control as you could want without requiring so much of you. It's terrific.
But, what if you liked VSCO, like, a lot?
A Word on VSCO
VSCO stands for the Visual Supply Company, and they pioneered the art of intensive yet straightforward photo editing on the iPhone. VSCO — formerly VSCOCam — has always been a top choice — we previously recommended it as the best photo editing app on the iPhone, and it stayed that way for three years.
But, times have changed. VSCO recently updated their app with a brand new UI that relies upon a weird "joystick" component to slide to different screens within the app. It's needlessly complicated and confusing.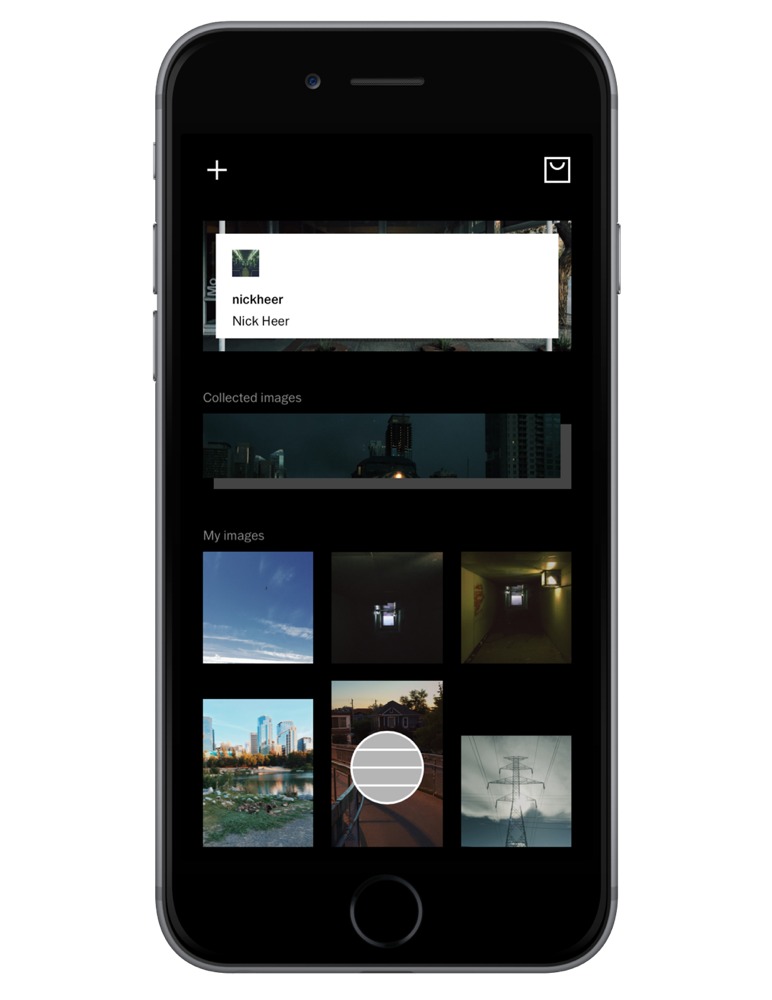 Even with a thumb-sized joystick, this app is no easier to use with one hand, and it's complicated to understand overall. The icons for the advanced editing features are inscrutable, and it's slower than Darkroom in responsiveness.
One of the reasons we loved VSCO was that it was a universal app with a cloud-based sync feature. You could shoot a photo on your iPhone and take advantage of your iPad's big display to edit it. But, as of August 12, library syncing is no longer available. Since VSCO creates a separate library within the app instead of using the default iOS photo library, it feels like a significant loss for that library to not be synced. Between the UI confusion and the removal of syncing, we find it hard to recommend VSCO.
That doesn't mean it's no longer possible to create beautiful images using the app, however. We reached out to a bunch of our favorite Instagram photographers, and they confirmed that they were still using VSCO despite the changes.
Judith Stohn is a Danish photographer with an uncanny knack for creating stunning images on a tiny square canvas. Via email, she notes that she still uses VSCO, but the editing tool isn't the most important part of capturing gorgeous photos:
I'm always very aware of the light when I shoot with my phone — and that saves me a lot in the editing. Most often I want to edit as little as possible. Well, sometimes I believe I've hardly edited, because it looks like how I "experienced" the photo when I took it — but then I compare the edited and the original, and see there is a significant difference.
A quick glance through my Instagram feed shows more of the same. While this image from Nate Crawford may be edited with VSCO, it's the precision of the shot and the lighting that makes it a great photo.
So, while we're not giving VSCO our recommendation this time around, that doesn't mean it's not possible to create some magic with it. It just has a steep learning curve, something which Darkroom lacks.
Also Great: RNI Films
If you liked VSCO's dedication towards mimicking film looks, but find its new UI utterly baffling, RNI Films is a little-known app that you should probably look into.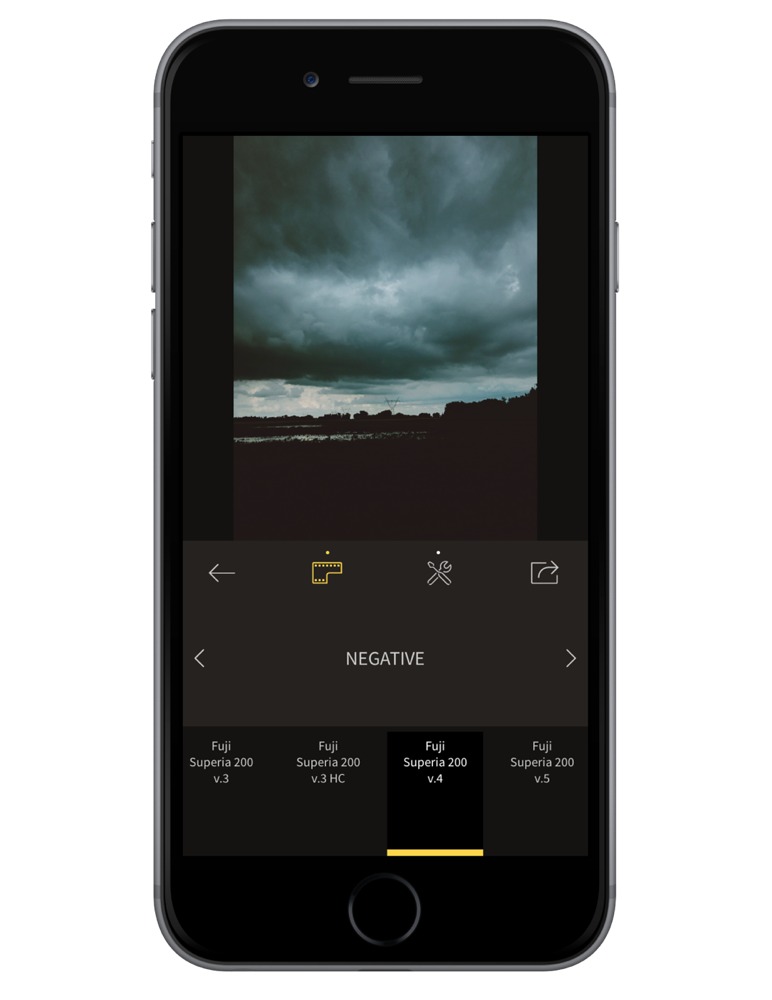 Unlike almost any other app I can think of, RNI Films has a selection of filters that are modeled on actual film stocks. It even labels them with the name of the film: amongst many other choices, there are six different formulations of Kodak Gold 200, a few different versions of Fuji Superia, interpretations of Polaroid and Instax instant films, and a bunch of other films you might be familiar with. The developers have also sampled real film grain and textures.
The editing workflow is fairly straightforward, with one caveat: you must crop after importing your photo, but before applying any other edits, and you cannot re-crop without losing the edits you've made since. That's a little bit irritating.
Once you adjust your workflow slightly, it's a remarkably capable app. The filters — really, the films — are all usable, yet totally different, bringing out qualities you didn't even know your photos had. The tone changes range from subtle to drastic, but none are so garish as to be from a cartoon.
Moreover, the app simply feels like a quality product. I've never experienced a crash or any sense of lag, despite importing large panoramas and RAW photos shot on my digital SLR.
RNI Films is a little on the pricey side, however; with sets of film costing about $5 per, unlocking the full app will cost about $30 in the United States.
It's not as all-around capable as Darkroom, nor is it for every style of photography, but it is a good choice if you take your Instagramming quite seriously.
In Your Toolbox: SKRWT
One constant in all of the apps we tested to replace VSCO is that none have the same perspective correction tools. These aren't so important if you're mostly shooting portraits or taking pictures of your brunch, but if you shoot landscapes or anything architectural, you know how vital it is to adjust for the iPhone's wide angle lens.
There's a dedicated app for this that you should really know about. It's called SKRWT, it costs about $2, and it's amazing.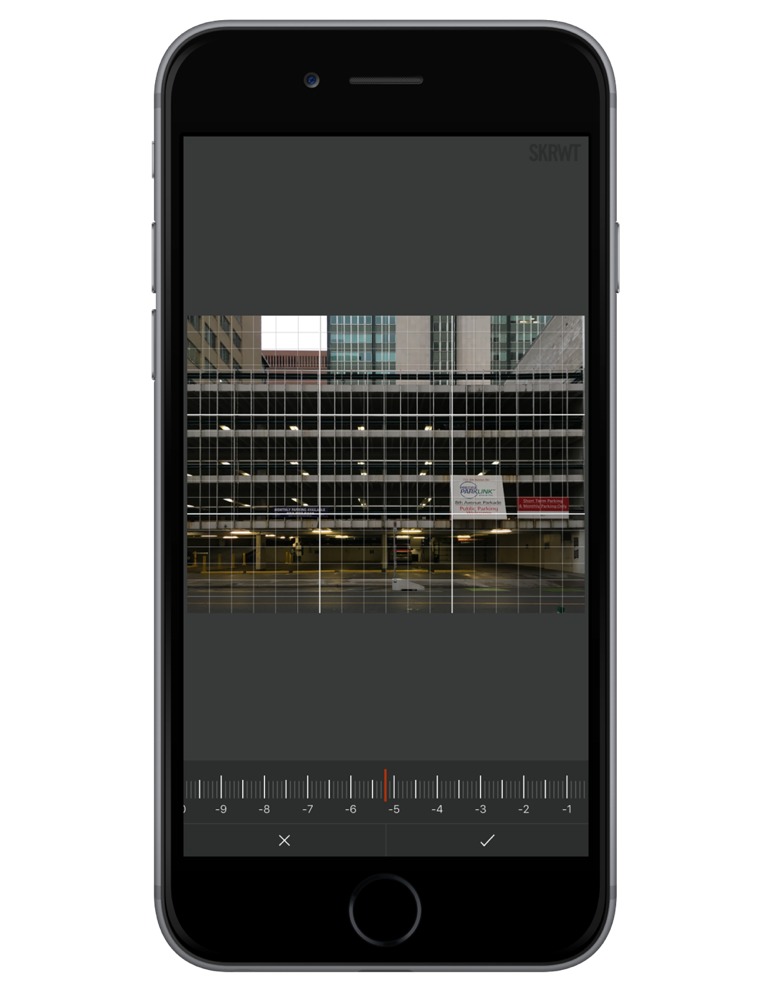 It's very much a single-purpose app — an intermediate step between shooting and color post-processing. Import your photo into SKRWT and you can correct for vertical and horizontal perspective misalignments, rotation, and lens distortion. The controls are easy to use, and the results speak for themselves: virtually every photo I shoot gets put through SKRWT before I post it.
While SKRWT doesn't have the color or styling adjustments of the other apps we tested, we think it makes a robust addition to any iPhone photographer's toolkit.
Other Apps We Recommend, In Brief
Obscura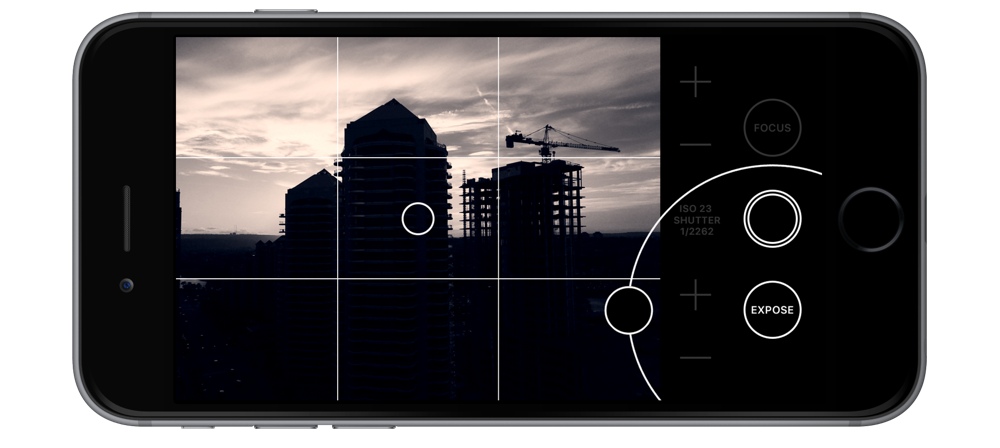 Obscura has always been a bit of an acquired taste. It's always been more of a camera app with manual controls and some pretty extreme filters rather than a post-production app. However, with the recent 3.0 update, it's now possible to import photos from the Camera Roll and apply Obscura's filters within the app. (A previous update included a Photos extension that would allow the same, but I'm not sure Photos extensions are as frequently used as simply opening the equivalent app.)
I've always liked Obscura, but for different reasons than I like — for instance — VSCO or RNI Films. Those apps are all about adding subtle filters that enhance the photo, and making small adjustments to pull out the details. Obscura is completely different: it's about transforming the scene. Oh, sure, there are some subtle filters like Cucumber and Effervescent, but Obscura particularly excels when you use the Rands or Haunted filters. There are few additional controls for post production, but the answer to that is obvious: take the best photo you can, then allow Obscura to kick it into overdrive.
Polarr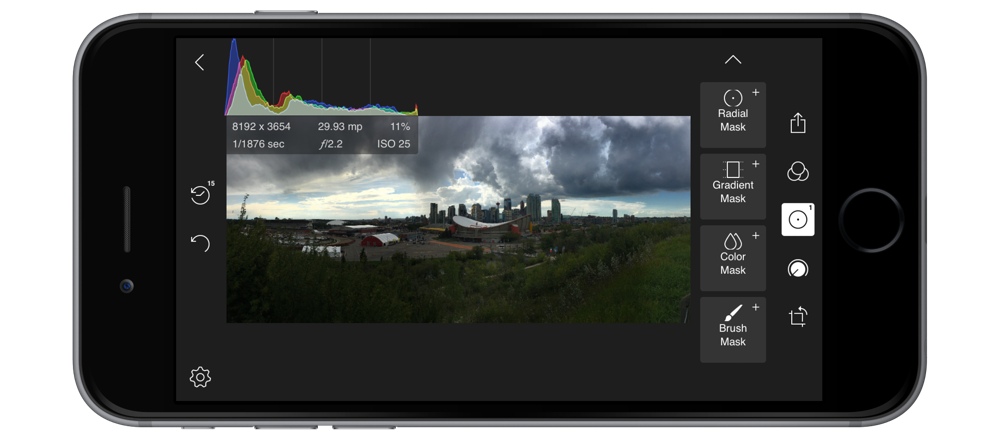 Looking for an almost irresponsible amount of photo editing power on your iPhone? In addition to the usual palette of filters and basic editing tools, Polarr features a set of masking tools, plus various ways to adjust the color of your image. Prefer HSL toning palettes over curves? You got it. It even has batch modes, because why not?
Polarr is a fairly intensive app, with lots of tiny buttons and slightly hidden UI elements. It's not necessarily hard to use — not like the first version of iPhoto on iOS was — but it's not easy to use either. We think it's a great app for those that want a lot of control over their mobile photography. If you're all about the details, Polarr is a great choice. If you're looking for a way to import a photo, apply a filter, and post it to Instagram while you're holding a cup of coffee in the other hand, Polarr is not for you.
Snapseed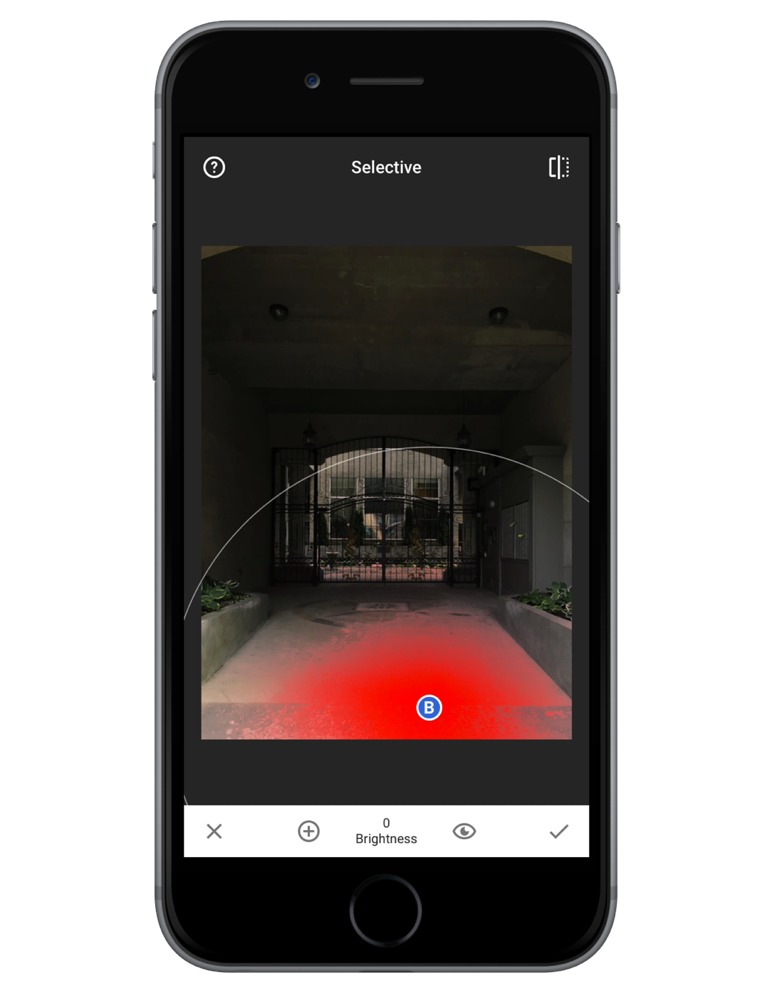 Snapseed has long been an app that you should download, but not necessarily one you must. Its filters are too heavy by default — replete with really strong textures — and its interface is directly pulled from its Android counterpart (no surprise there, as it's from Google).
But, it's worth having on your phone for a single feature: its selective editing tool. You can tap on an area of a photo and pinch to adjust its size, and apply color adjustments to just that area. It's something you probably won't use all the time, but you'll find it indispensable when you need it.
Camera+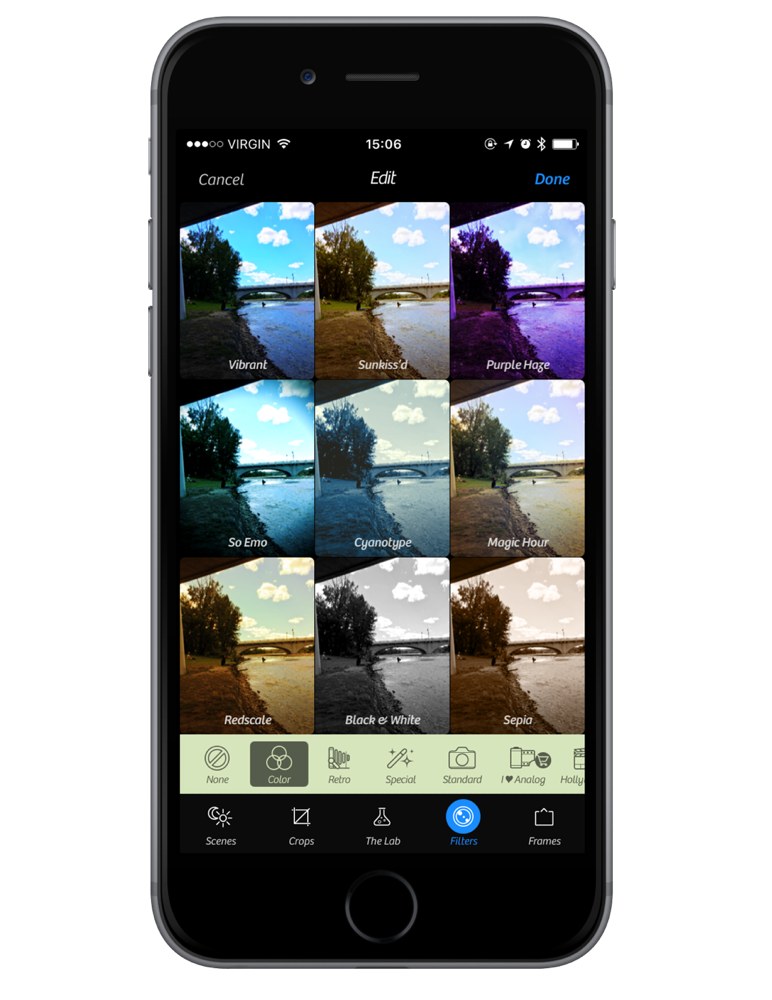 If Camera+ was your go-to app five years ago and you don't think it can be improved upon, you'll probably like it today. It really hasn't changed much. Still, not a bad choice.
---
Free Productivity Guide: Download our simple guide to productivity to help you improve your workflows and be more focused with your time and attention. Get it here.
$0.00 - $5.99
We love Darkroom because of its incredible selection of filters and its powerful fine-tune image editing tools for those who want more.
App Store

$0.00