Must-Have Apps and Gear for the Holidays (2020 Edition)
December 24, 2020
2020 was hard enough without having to think about all the usual holiday stresses:
"Which gifts should I be getting people?"
"What am I going to cook this year?"
"How am I going to keep track of it all?"
It's okay, we're here to help! Below you'll find our annual list of great apps and gear to get you through the holiday season in one piece.
(On the gear front in particular, we highly recommend heading over to our sister site Tools & Toys to peruse the wonderful gift ideas in their latest Christmas Catalog and all their other holiday buying guides from past and present.)
---
Food, Drink, and Shopping
Paprika: If you don't already have your holiday meals lined up yet, now's the time to start saving things into our longtime favorite recipe manager. We've been digging around in the Serious Eats archives ourselves and have been turning up some seriously delicious stuff. (We also have a few of our own standbys when all else fails.)

Instant Pot ($79): One of the most versatile tools in anyone's cooking arsenal. You can use the Instant Pot as a pressure cooker, a slow cooker, or a rice cooker, plus it's good for sautéing, browning, steaming, warming, and even for making yogurt. Its stainless steel inner pot is also more durable than those with nonstick pots, and the unit as a whole is pretty easy to clean.

Adding the Air Fryer Lid ($79) will up your game even more, or you can check out the NuWave "Brio" standalone air fryer ($100) for, say, roasting an entire chicken, cranking out batches of amazing homemade fries, quickly roasting veggies, and more.

AnyList: Not only is this app something we use every single day for adding groceries to our lists, it also works nicely for making gift idea/wish lists, keeping shopping lists for other kinds of stores (IKEA, hardware stores…you name it), and more.

Advencher Supply's enamel-coated mugs ($26 for set of two): These mugs (designed by Dan Cederholm) are a pleasure to drink from and made to last for decades at least, no matter the abuse thrown at them. You can drop 'em, heat 'em over a stove or open fire, toss 'em in a dishwasher, it doesn't matter — they won't break. (Chip, maybe, but never shatter.)

Each 12 oz. mug starts with a durable steel base, which is coated in heavy-duty enamel, then dipped again on the lip and handle for added hardiness.
Utilities
Bonus! One more thing…
The Complete Guide to Managing Tasks in Things (Video)
If you struggle to keep up with all your tasks, we can show you some organization tips that may help you.
We put together a video that shows you everything you need to know about a task in Things:
The difference between start dates and due dates and how to use them effectively.
How to set up reminders so you never forget an important task again.
How to use checklists for tasks that require more than one step.
How to configure daily, weekly, monthly, or even annual repeating tasks.
And more…
You don't have to use any of these things in your tasks if you don't want to. But knowing what they are and how they all work will help you be more organized, save time, and ensure you are using Things in the way that suits you best.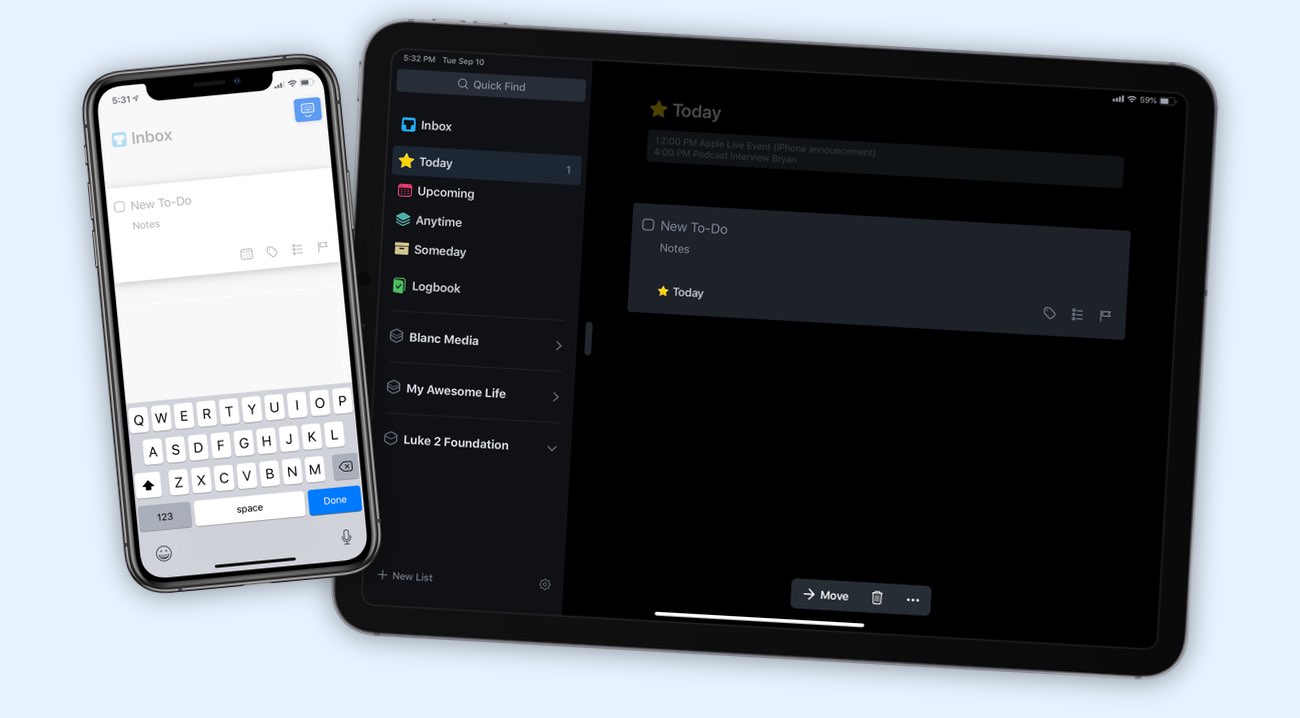 This video is something we have made available for free to our email subscriber community. You can get it right now. By joining the Sweet Setup community you'll also get access to other guides, early previews to big new reviews and workflow articles we are working on, weekly roundups of our best content, and more.
Audio
Headspace: What better way to soothe one's frazzled nerves during the holidays — or anytime really — than a few minutes of dedicated mindfulness meditation? When our minds just won't be quiet, Headspace is the app we turn to.
Marshall "Emberton" portable speaker ($130): Ready to hear Mariah Carey's "All I Want for Christmas" way too many times, as tradition requires? Break out this small-yet-mighty Bluetooth speaker, which goes beyond just good looks by offering 20+ hours of rich, room-filling, 360° playback per charge.

Jabra Evolve 75 wireless stereo headset ($279): Those video calls I mentioned earlier? If you're going to be making a lot of them — whether for personal or work reasons — you might as well have a good headset that doesn't grate on you after a while. Jabra's Evolve 75 headset offers an active noise-cancellation setting to block out distracting noises in your house, plus a noise-cancelling microphone so your loved ones or colleagues don't hear that stuff either.

In fact, the clarity on this microphone is second to none, and it has a super sweet feature: When you want to mute yourself, just flip up the mic/boom arm. 😮
Writing & Making Memories
Day One: Memories are fleeting, but a digital journal can be forever. Day One is the only journaling app for us — the one place we trust to log our most important memories, sentimental photos, innermost thoughts, milestones reached in the past year, and all the other little details about our day-to-day lives that we'll want to revisit later.

We believe in this app so much, and know it's capable of so much, that we have an entire course dedicated to showing you how to get the most out of it.

Twelve South PowerPic ($62): While it looks like any regular frame on your mantle or bedside table, the PowerPic secretly doubles as a wireless charger. Just set any Qi-enabled phone against the photo and it immediately starts getting up to 10 watts of juice.
GoodNotes: We feel like GoodNotes is the secret weapon to using your iPad. Not only is it fantastic for handwriting notes and filling out PDF forms, it's also great for doodling, sketchnoting, and more. Heck, you could hand it to a kid to scribble down their wish list and it'll still be searchable via OCR later.
Darkroom: Your iPhone already captures high-quality shots right out of the camera, but we see no reason not to punch them up for some extra ~m o o d~ before sharing with the world. And for that, you want this Apple Design Award-winning photo editor, even if you prefer to edit your images on iPad.
Artifact Uprising: Want your memories saved in physical form? We've been extremely impressed with the quality of this company's photo prints, from the paper to the spot-on colors, and even to the packaging they arrive in.
Get Our Best Photography Tips & Workflows
Transform your photos and edits from average to awesome with our in-depth, mobile photography course. It's jam-packed with training, ideas, and lessons that can literally transform your photography overnight.