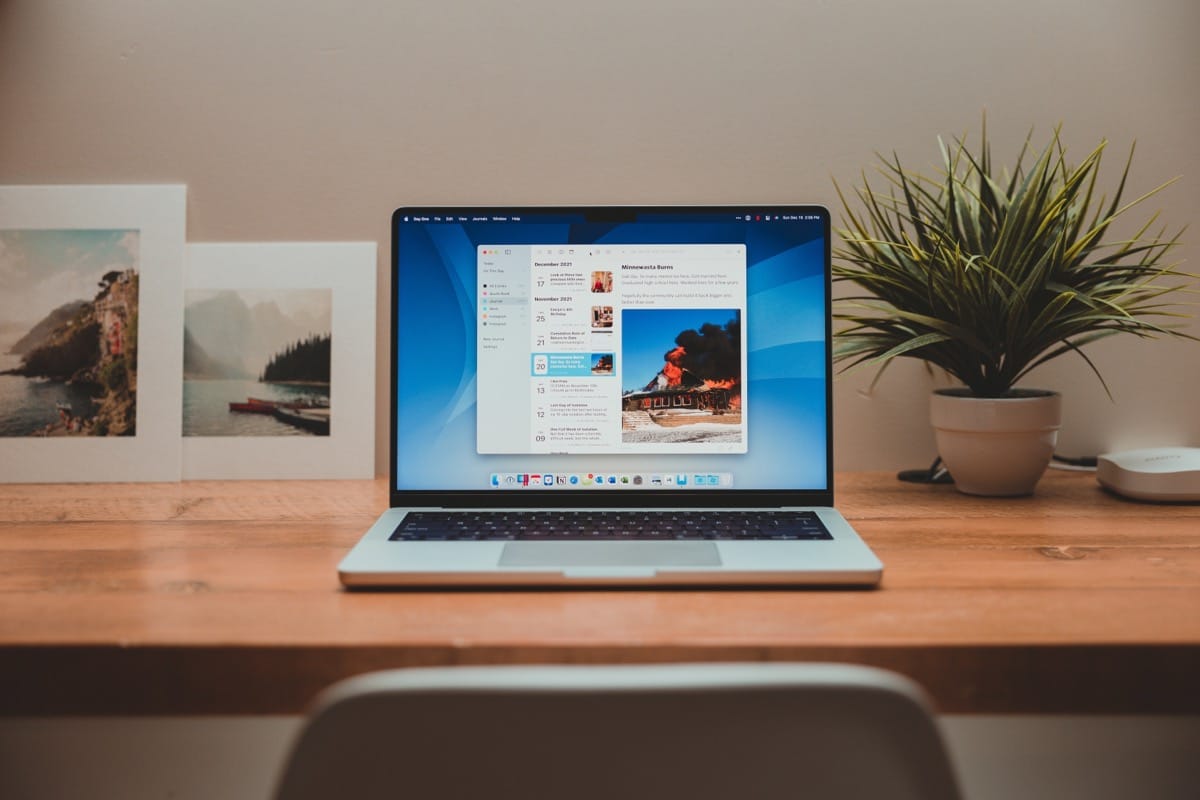 The Best Journaling App for iPhone, iPad, and Mac
Day One
December 22, 2021
If you're looking for the best journaling app, or a great app for logging and recording various events and milestones of your life, then by far and away the best journaling app is Day One.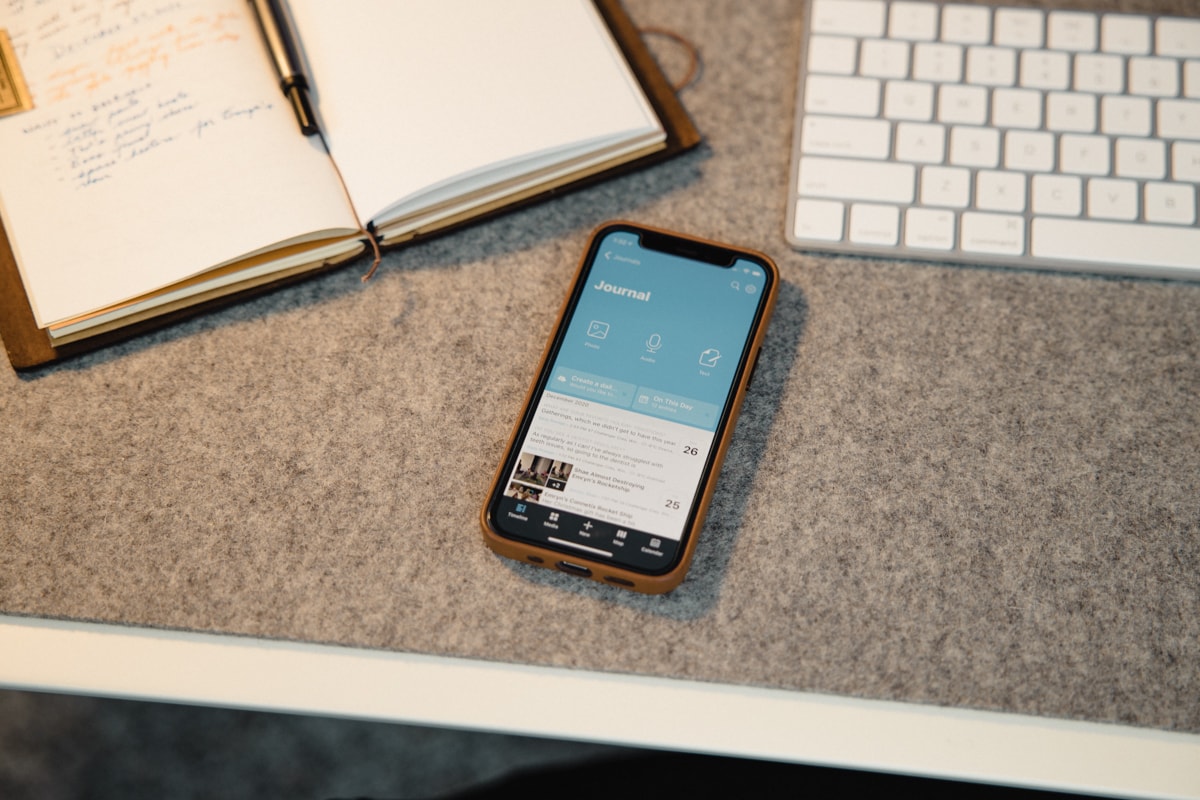 Day One has outstanding apps for the Mac, iPhone, and iPad that all sync. It has a clever and rich feature set that lets you integrate photos, videos, current location, weather data, and more into your journal entries.
Day One was recently acquired by Automattic, the company that owns WordPress.com, Tumblr, Pocket Casts, Simplenote, and more. Though no longer owned by a small company, Day One has seen consistent development right through its time under Automattic. We don't think there's any reason to believe Day One has a shelf life.
Go Digital
The last few years have provided some truly unprecedented events. Never before has there been an event that has so widely impacted an interconnected globe.
Journaling in Day One — the pinnacle of digital journaling — tells your immersive story. A digital journal like Day One allows you to expand beyond the written word — you can capture photos of your daily doings, videos of your little ones having FaceTime conversations with their grandparents, audio snippets of the spooky silence in otherwise bustling streets, and links to the flashiest news stories of the day.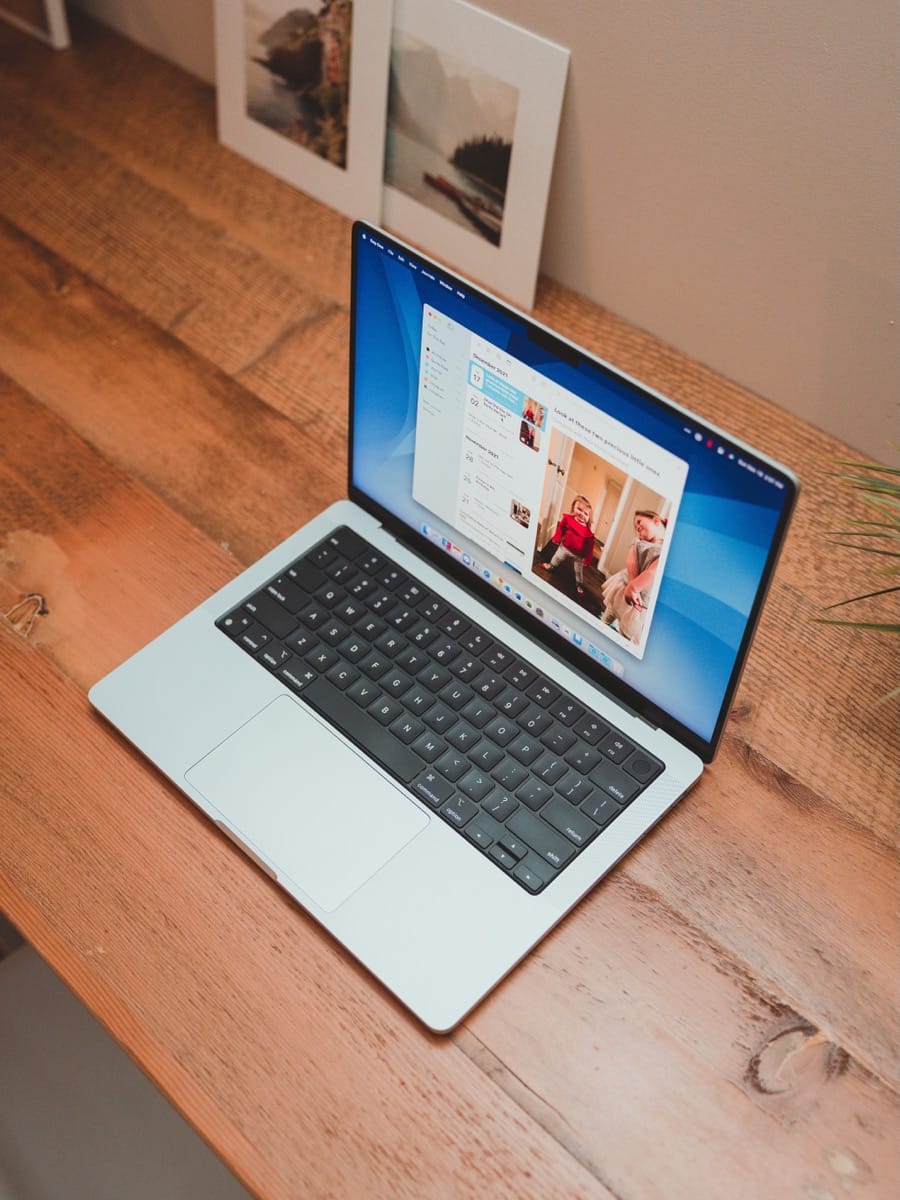 Digital journaling is modern documentation, and Day One has expanded beyond pen and paper more than any other digital journaling app available today.
Advantages and the Importance of Journaling
As a writer, I believe journaling on a regular basis is critical. The writing I do in my journal is writing that will never be edited, judged, or nit-picked. It's the only place where I am completely free to write for my truly ideal reader: future me. I have my own inside jokes, my own running story arc, my own shorthand. I love the freedom to write whatever I want, however I want, with no need to make it tidy, clear, or concise.
Over the years, most of the major, monumental milestones of my life were documented in a Moleskine, but not all. That's why I'm glad to have an app that lets me easily and joyfully add a snapshot or a quick note about an important or memorable event. These are the things my family and I will look back on 20 and 30 years from now with great fondness.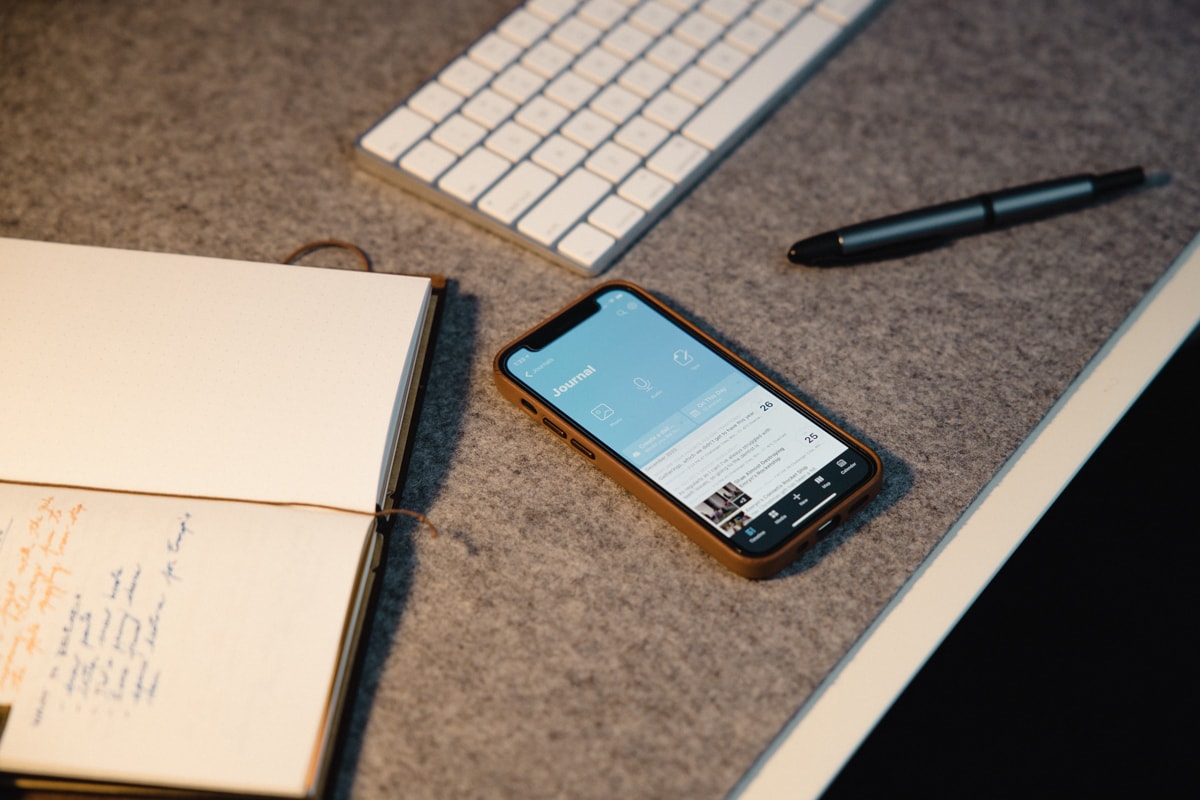 Journaling helps me clear my mind, make sense of difficult and stressful life situations, and it gives me a place to review and/or discover any unhealthy thought patterns I have.
But don't take my word for it. There is quite a bit of scientific and psychological research pointing to the mental and even physical health benefits of journaling.
Based on dozens of various studies and reports conducted over the past 20 years, the online journaling and expressive writing website, My Therapy Journal, states that journaling "provides significant benefits to not only one's psychological well-being, but also one's physical health and physiological functioning. Several researchers, for example, have shown that people who journal report having significantly less distress, feel less depressed, and have an overall better mood. Additionally, individuals also report that journaling changes the way they behave towards and around other people. Other studies have found that people who journal for extended periods of time (months) also report an increase in emotional well-being, a better day-to-day mood, and fewer symptoms of depression."
The My Therapy Journal website also states that "no particular personality type or individual difference appears to predict who benefits from journaling and who does not. This entails that it may benefit people, regardless of whether or not they are someone with the above-mentioned difficulties or if they aren't the journaling type of person.'"
Criteria for the Best Journaling App
Journaling tends to be a pretty personal topic, full of personal anecdotes and preferences that make the ideal journal different for everyone. Some folks want to track as many statistical data sets as possible to critique their habits from an analytical standpoint. Others want a blank canvas that can contain half-written, shorter form thoughts that only become more fully formulated later on.
To that end, a perfect criteria is difficult to nail down. However, as a team, these are a few of the main areas we would expect a digital journal to thrive:
Flexibility: The ideal journal app would be capable of handling written journal entries as well as photos, videos, audio snippets, web pages, PDFs, scans, and a whole range of other media. After all, memories don't always take the form of fully articulated text passages.
Design: Like any good app these days, we would expect a good digital journal to be well-designed, comfortable to return to on a daily basis, and capable of providing a relaxing and serene environment for recording your personal thoughts.
Syncing: The ideal digital journal has to be ready when your inspiration strikes. This could happen at your desktop computer or while you're out-and-about with your phone. No matter where or when you need to create a journal entry, a good digital journal should be ready and waiting.
Security: With your most personal thoughts comes the most important responsibility of all: security. If you're set to pour your deepest personal thoughts into a journal, that digital journal has to ensure it keeps your thoughts personal and doesn't make them public. This involves app-security measures like Face ID/Touch ID support, but also involves proper end-to-end encryption when your data is stored on someone else's servers.
Tracking and Automation: The biggest difference between an analog and digital journal is the latter's ability to automate and make journaling simpler and less time-consuming. Good digital journal apps should have the ability to track a range of data sets, like physical activities, music you're listening to, places you've been, and even statuses you're posting on social media. Of course, this has to be done within the context of safety and security as well.
After-the-Fact Entries and Quick Inputs: Life goes by in a blur, and it's not always possible to capture a journal entry in the thick of things. That's why a variety of ways to create new entries is a must for any good digital journaling app. You need to be able to create entries after you've finished living in the moment. Also, if you find yourself creating entries that are alike, having templates that can do much of the heavy lifting for you is a must. In short, having a variety of ways to create entries is a major factor in picking the best journaling app.
Your criteria list could be much more extensive than the list above, but these are the main factors we've considered when choosing the best journaling app for Mac, iPhone, and iPad.
The Best Journaling App: Day One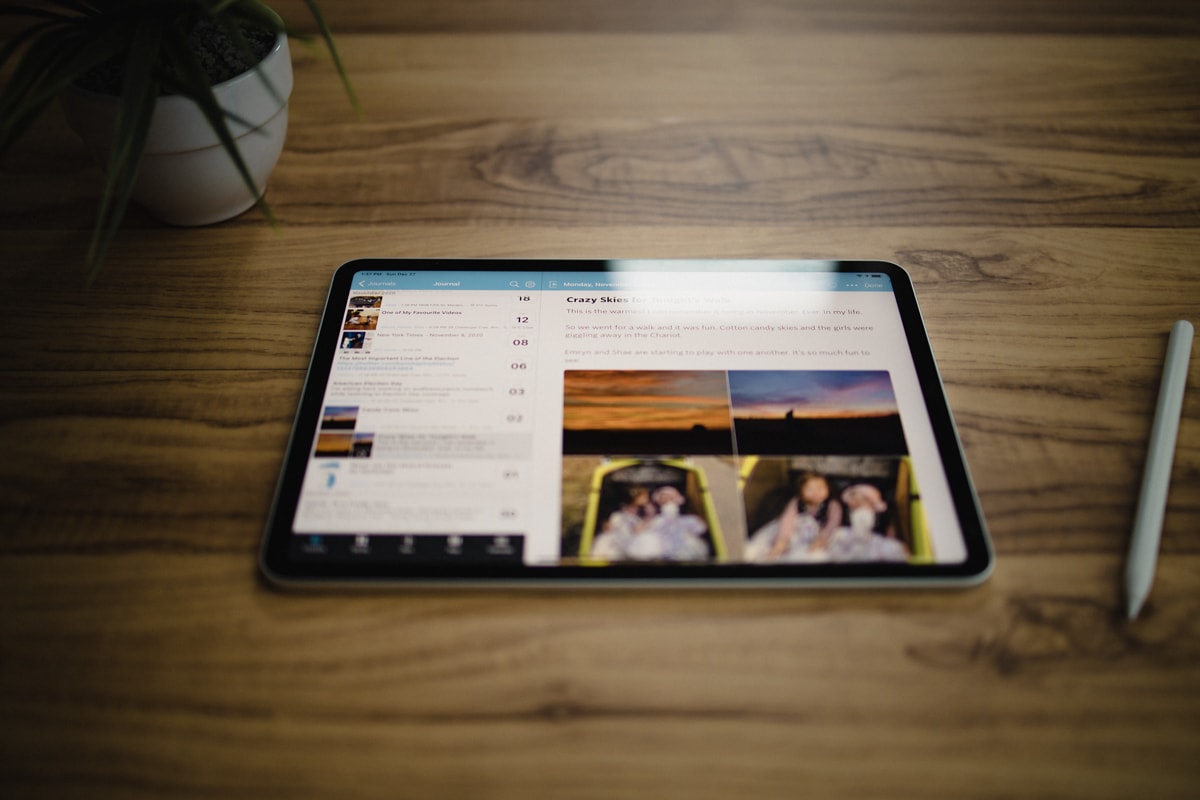 Considering the above criteria, we wholeheartedly recommend Day One as the best journaling app for Mac, iPhone, and iPad. Day One excels in nearly all areas of our criteria list, making journaling on any of your devices a breeze. Day One takes things above and beyond its competitors with a considered design and strong revenue structure. The app and the Bloom Built team have gone through some ups and downs over the app's history, but we believe these problems have resulted in a better and more secure Day One for any potential users.
One of the greatest things about a journaling app is that it need not be only text. Photos, videos, audio snippets, locations, weather, and tags and sorting are all part of the human experience. We have these computers in our pockets at all times, so our journaling app needn't be constrained only to when we have time to sit and muse.
Most of my old journals are logged with pen and paper. I very much enjoy the time when I leave my standard-issue Apple nerd gadgets in the other room and sit down with the analog to write about what's currently on my mind.
Through Twitter, Instagram, email, and other such apps, my days are meticulously logged with over-filtered pictures of the sandwich I ordered for lunch and tweets about the friends I'm out to coffee with. But how many of my tweets or Instagram photos will be worth revisiting 40 years from now? Some of them, maybe, but surely not all of them.
And this is where I see the difference between the deeply personal issues that I write about in my physical notebook and the memories that I log on my iPhone and iPad. The former have great value to me now as it's a way to help me process the current season in life, and the latter have great value to me in the future as they are a way to look back on memories and significant events.
Day One is the journaling app I use, and it becomes more enjoyable the longer I use it.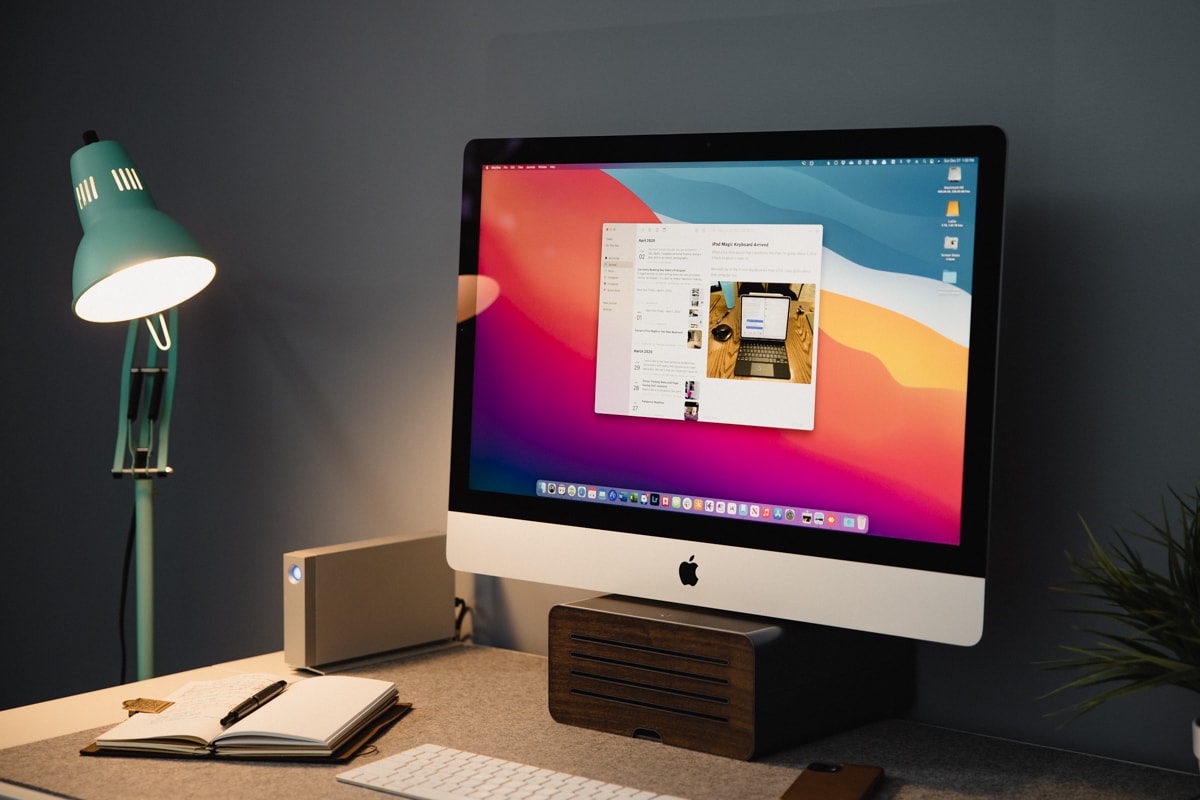 I bought the iPhone and Mac apps when Day One first shipped in March 2011. In part because I'm a sucker for a good looking app, and Day One is extremely well-designed — the color scheme, typography, and the overall design are all clean (I especially love Day One dark mode); no detail is left wanting, no pixel out of place.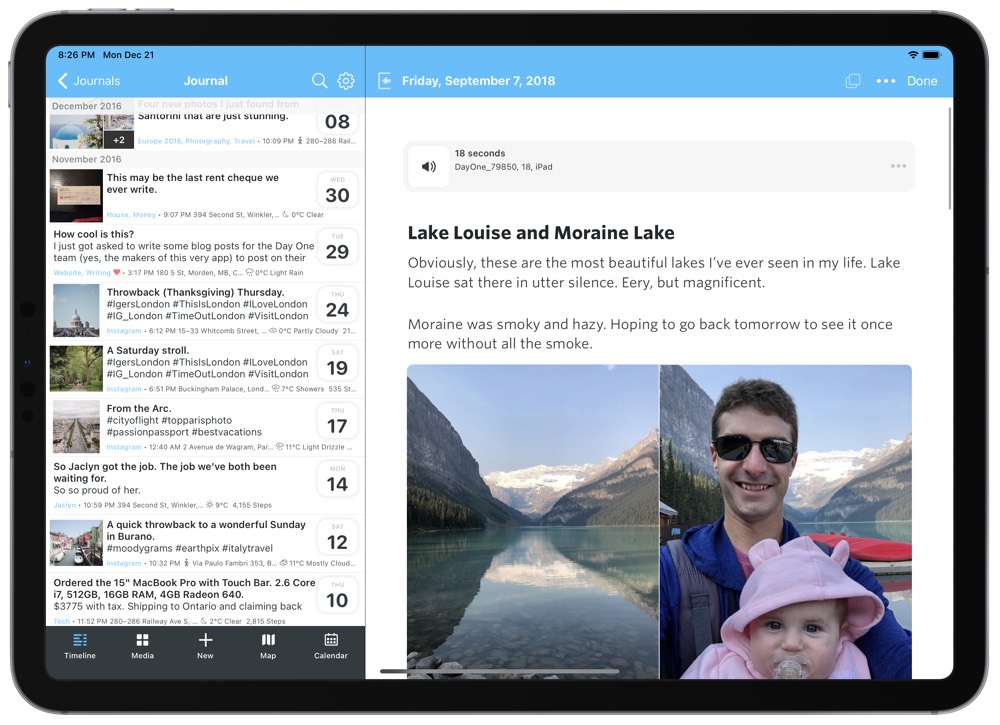 Day One is a work horse. It supports Markdown, it has extensive Shortcuts support, it syncs between iPhone, iPad, and Mac, it has a passcode lock with TouchID and FaceID, it supports adding image, video, audio, and/or text entries, it geotags your entries with your current location and makes a note of the current weather, it tags your current activity status (such as walking, running, flying, etc.), and you can export all your entries as plain text or PDF.
Moreover, you can tag your entries for better organization, and you can favorite certain entries to mark them as being extra special or important. On the iPhone, Day One logs your current activity status, and the Mac version has a gorgeous map view.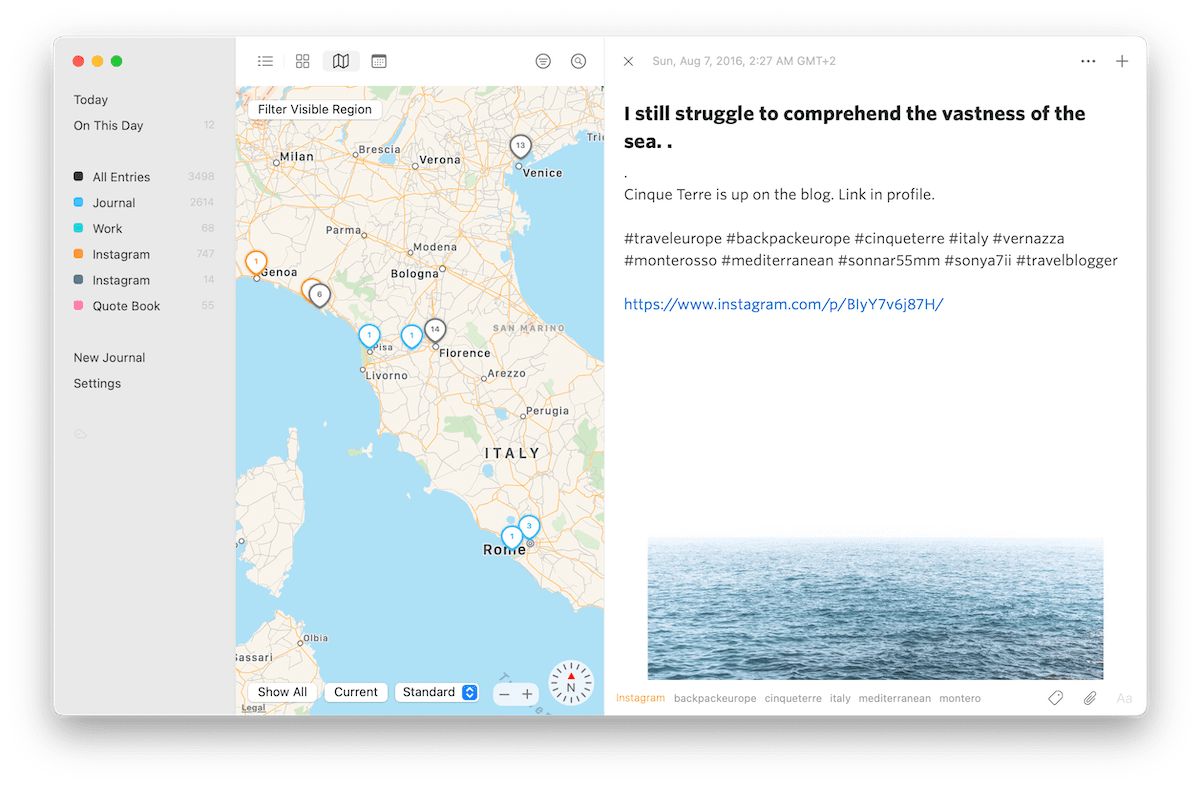 These features, combined with Day One's exquisite design and its specialized apps for the Mac, iPad, and iPhone, make Day One an order of magnitude better than every other journaling app out there.
Over the past five and a half years, I have been using Day One regularly. Many of my entries are nothing more than a photo or a quick video and perhaps a quick descriptive sentence. That, combined with the automatic location and weather logging, means I'm creating worthwhile journal entries with very little effort on my part.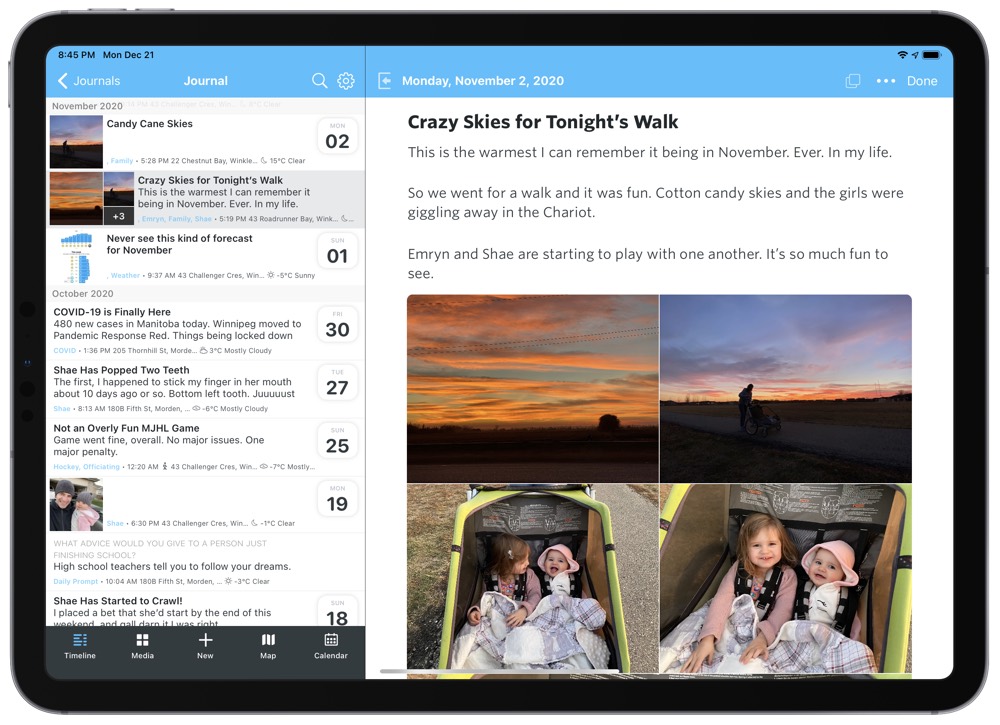 Day One exploits all the technological advantages you would expect in a digital journal: I can use my Mac, iPhone, or iPad to log pictures, videos, notes, audio snippets, and locations. I can even dictate a journal entry from my Apple Watch.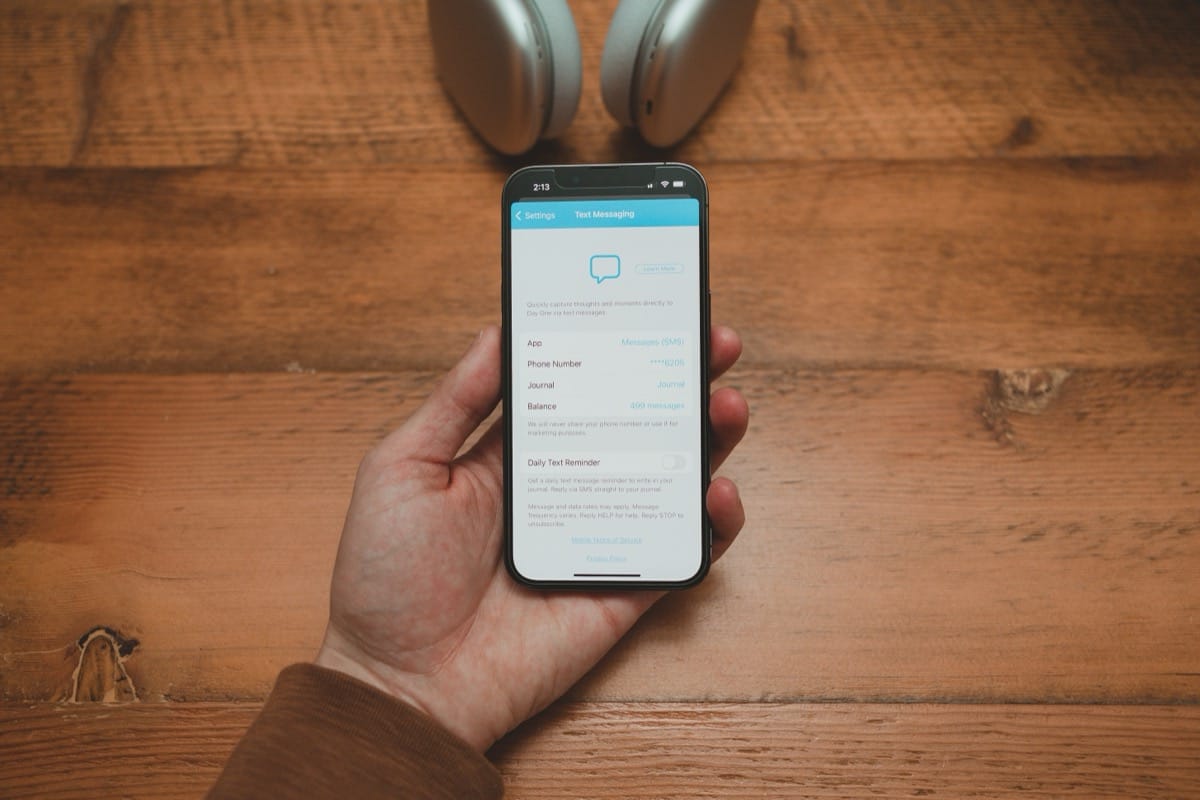 The latest updates in 2021 introduced entry creation via SMS — you can now text an entry directly to your Day One journal.
I can know what the weather was like that day, I can know where I was when I wrote that entry, I can know how many miles I walked at the time of the entry, I can export my entire journal as a Plain Text file or PDF that will be readable 20 years from now, and I can even order a printed book of all my journal entries.
It's these exploits that make the app easy to use, fun to use, and something that requires very little input for a great amount of return.
Wait! There's more….
How to Use Day One in Your Life
For a the best journaling app, you won't do better than Day One. And if you want to discover how to use this app more regularly, and take full advantage of all its features, then we have some video screencasts that can help you.
In our course, Day One in Depth, you get 8 video screencasts that will take you line by line through every feature, setting, preference, and option found in Day One.
We'll show you…
Complete walkthrough of the Mac and iOS apps.
How to create and customize your journal entries (from text, to photo, to audio)
How to find, filter, export, and more.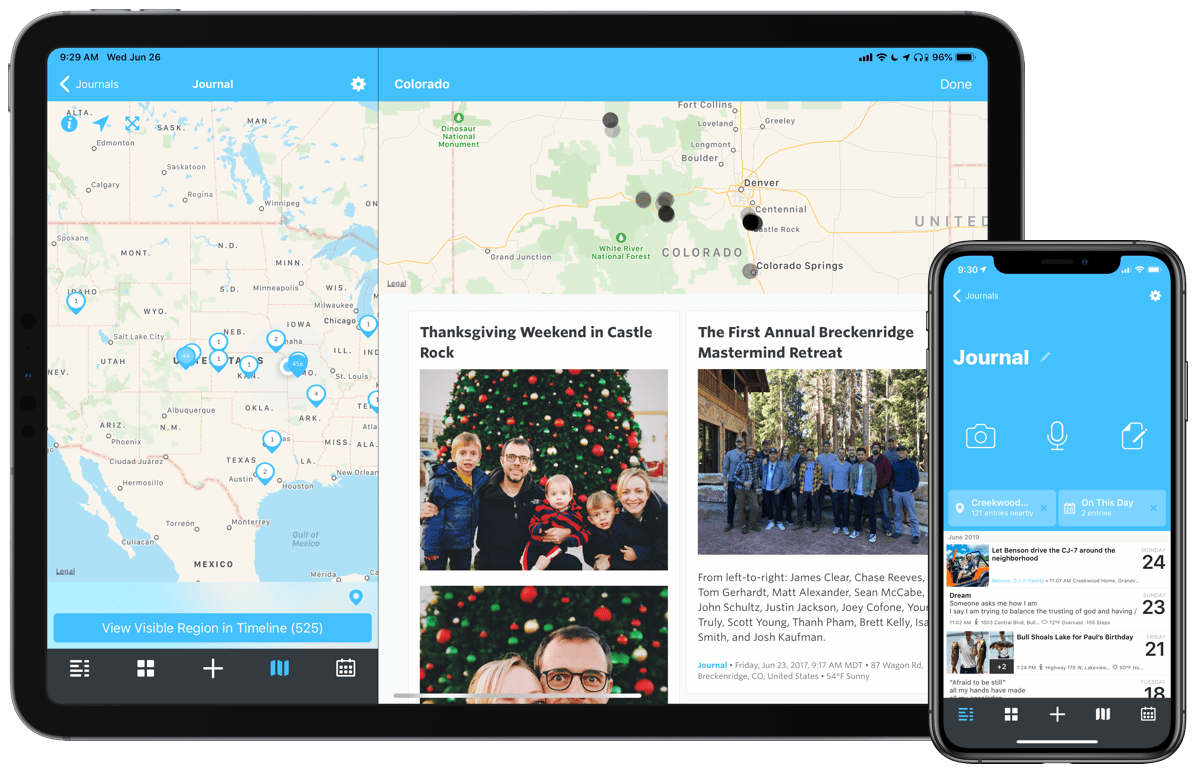 Plus! You will get bonus tips, workflows, and tutorials for how best to use Day One to suit your own needs: from a morning writing time to a photographic travel log, to weekly reviews and productivity journaling — Day One can do it all and we will show you how.
Photos, location, activity status, miles walked, current weather, and music listening
When you open Day One on your iPhone, its main menu screen (or the sidebar on the iPad) has three prominent buttons for adding a quick photo, audio, or text entry.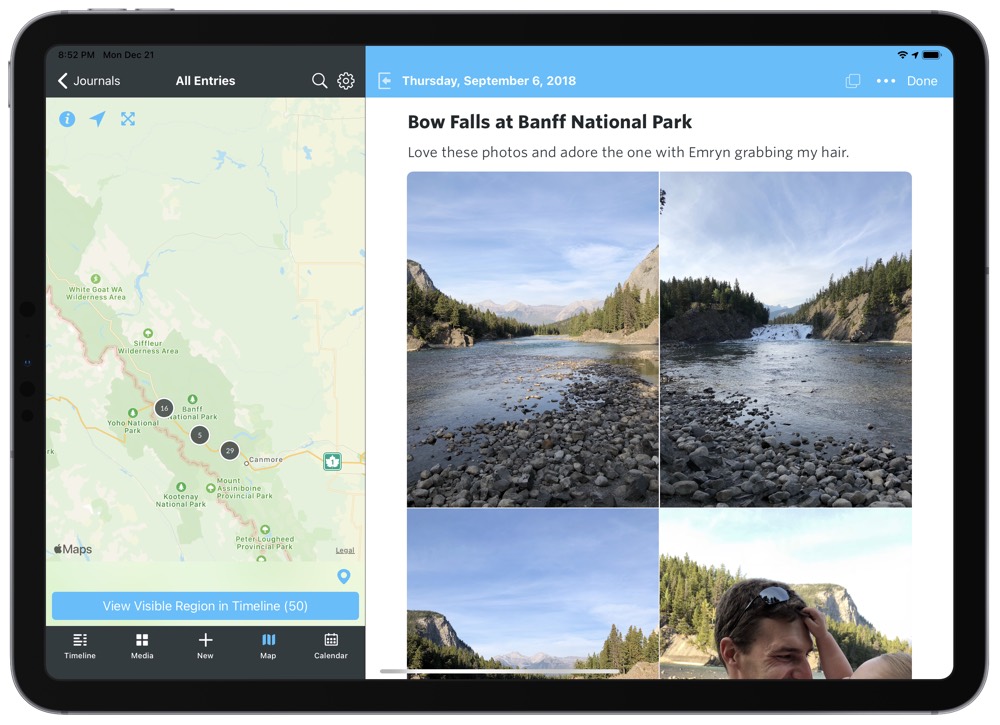 This encourages you to consider that creating a new journal entry using a photo or an audio snippet is just as legitimate as a text entry. And, as I mentioned above, the photo entry feature is the feature that turned Day One around for me, and I've been using it ever since.
But, it's not just that you can slap a photo into a journal entry. Day One is very smart when it comes to adding photos. Say you snapped a picture yesterday when you were out to lunch with some friends. If you use that picture to create a new journal entry, Day One will automatically use the date, time, and location of that photo to appropriately date your journal entry (even the past weather for that time and place is added to the entry). Thanks to this cleverness, it's as if you created the journal entry when you were out to lunch rather than the next day.
Plus, the latest photo features include the creation of photo grids: If you create a journal entry with multiple photos, Day One will automatically organize them into a collection grid to better show off your photographic chops in your journal.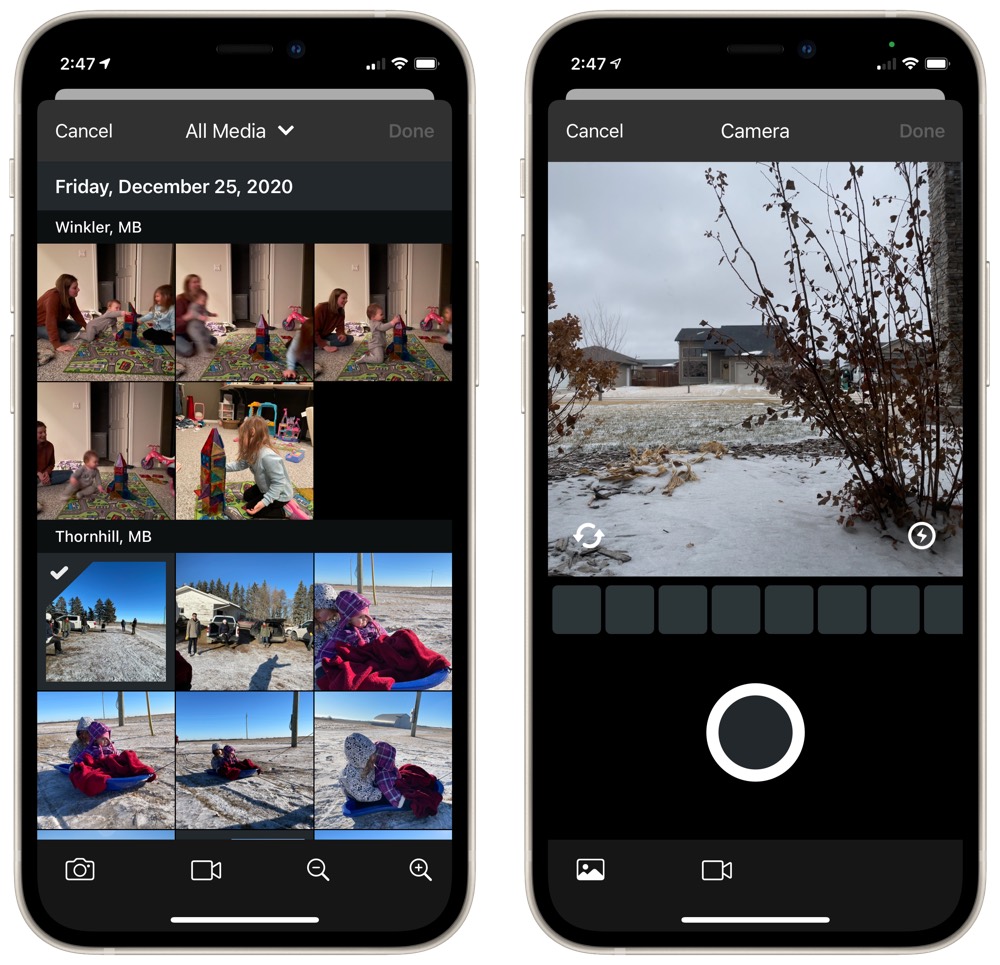 Pictures can be added from the iOS photos app with the Day One extension. Simply select a photo and tap the Day One icon. If the photo has location data, it will be pulled automatically. If not, it can be added manually before being sent to the app.
If these built-in integrations don't cut it for you, you'll be happy to know Day One has a range of IFTTT integrations to make journaling and logging your daily doings that much easier. You can add what you're listening to in Spotify or what you just read in Pocket or Instapaper.
Additional information about weather, location, and more is added with little or no effort, and it makes the entry far more valuable. This is one of the most significant reasons I find Day One to be the best.
Video
The latest updates to Day One have made videos first-class citizens alongside photos — if you can shoot and add a photo to Day One, you can shoot and add a video to Day One in the same manner.
Adding a video to an entry is either done through the Day One entry annotation menu (the paper clip button) or through Day One's extension across iOS. I tend to add videos right from the Camera Roll. Once you've selected the video and shared the video using Day One's share sheet extension, Day One will prepare the video for entry into your journal entry. This generally takes a minute or two for one-minute long videos and prepares the video to autoplay in an entry (which you can turn off in the settings). And if your entry includes more than one video, Day One nicely formats the videos to display in a gallery.
Like any other photo or audio snippet, you can head way back in the past and add old videos to your Day One. This is a pure treasure to me — any of those videos you shot of your kids taking their first steps or saying their first words can be added to Day One, regardless of when they happened.
Video adds a whole new dimension to Day One and is a logical progression from photo and audio snippet entries. With video, all the most important medium types are available to be added to a journal entry. Audio, video, photo, text, PDF, scan, and all the associated metadata can be added to your entries, allowing you the ultimate flexibility in crafting your entries.
Audio
Day One is a fantastic app for capturing and storing the coolest new sounds you've experienced on a trip, your child's first words, or a new guitar riff you heard at a concert (you know, back when we could travel and go to concerts).
Day One provides two types of audio recording: transcription and audio-only.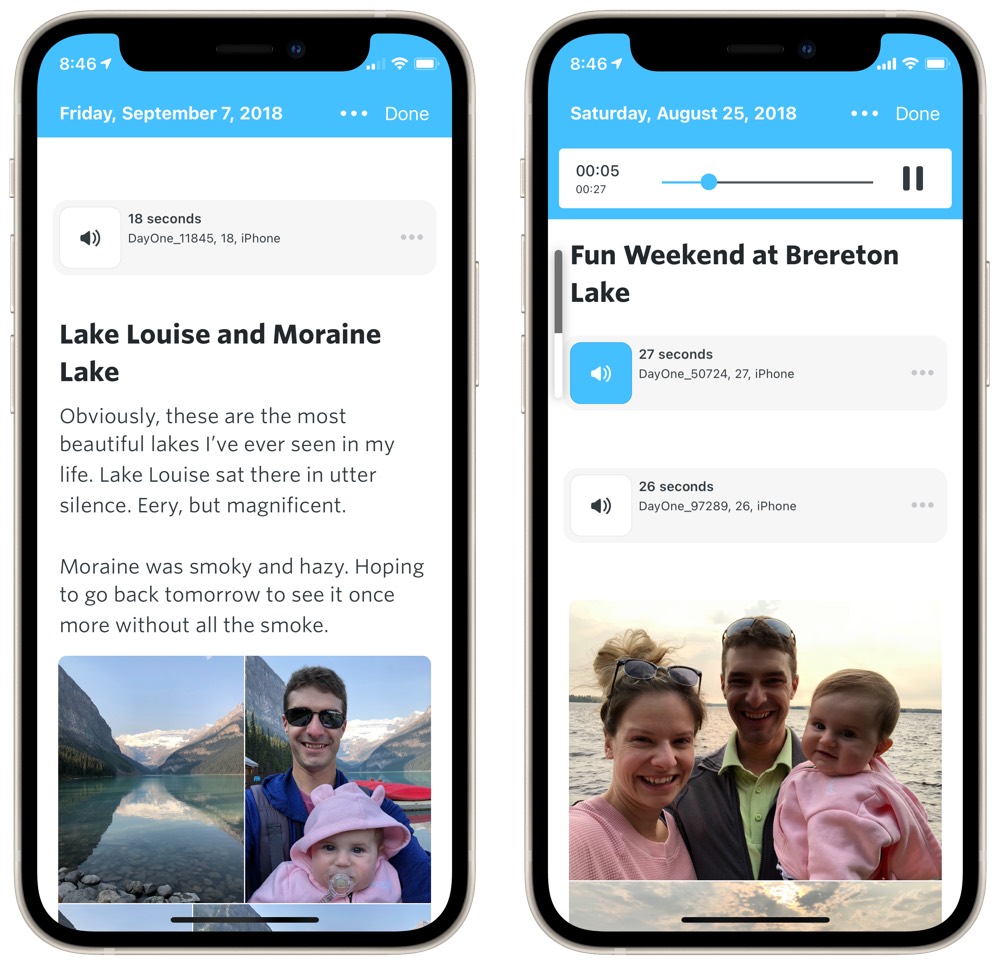 Transcription: When turned on in the Advanced section of Day One's settings, transcription mode allows you to dictate a journal entry. Transcription audio snippets are limited to five-minute segments and are transcribed by Apple as soon as you hit the stop button. Once the transcription has completed, you can start another one minute recording to continue your entry. This can be done up to ten times per entry.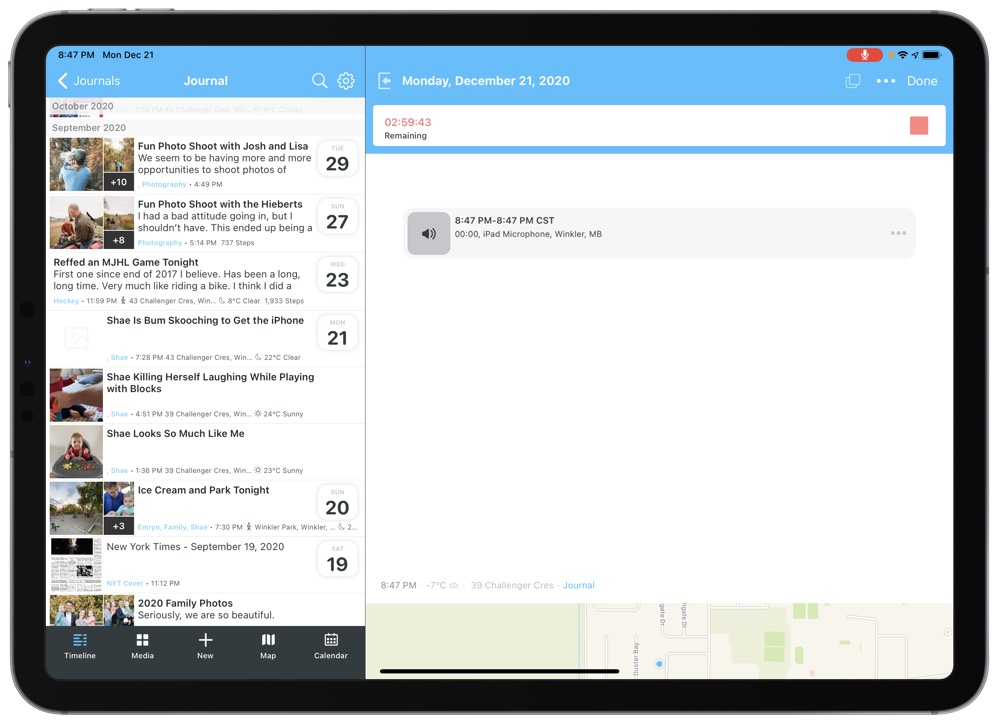 Audio-Only: In audio-only mode, audio entries can skip over the five-minute limitation and extend your audio snippets up to three hours. Just like transcription, you're limited to ten recordings per entry. As expected, transcription doesn't take place in audio-only mode, but you can set Day One to record lengthier sessions (I've found my daughter doesn't babble as much when she sees that glowing screen hovering around, so it takes a little while to get her warmed up).
Typography
By nature of being a date-based journaling app, Day One is extremely typographic-centric. Its design is well-done, showing dates, titles, locations, entry titles, entry text, and more in a clear, legible, and beautiful manner.
As far as typefaces go, Day One offers a semi-granular choice for fonts and sizing on iOS and on Mac, though I wish it would open up to my Mac's whole font library. Day One features fonts from the likes of Hoefler, such as Whitney, Sentinel, and Ideal Sans, as well as Apple's best default fonts like New York.
Markdown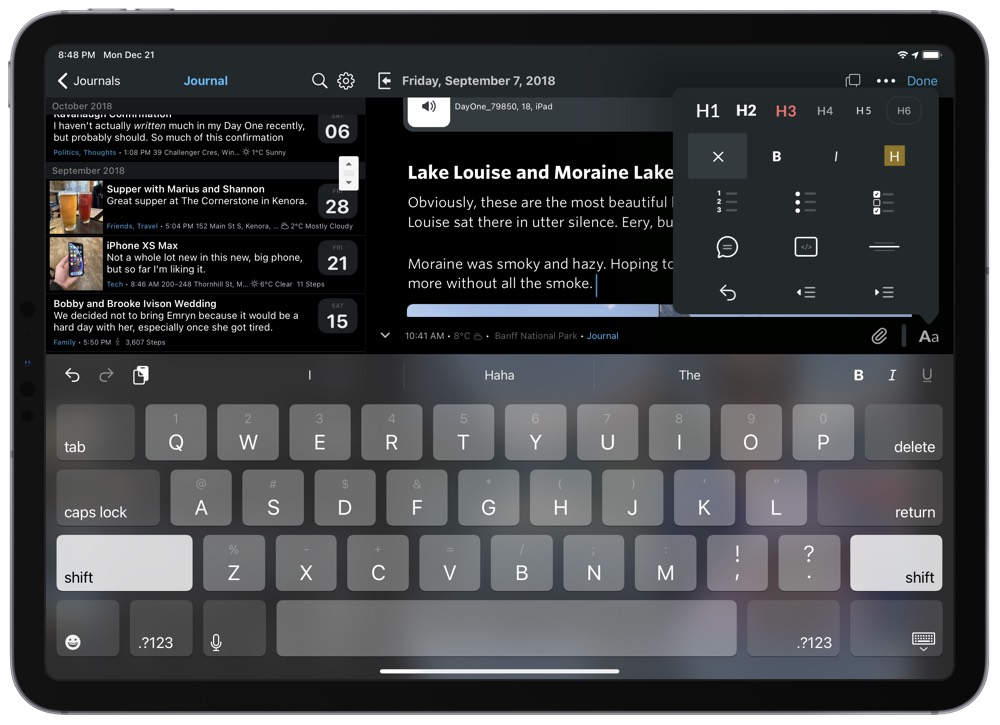 Speaking of typography, Day One supports Markdown and advanced Markdown, including tables and dynamic code blocks. Day One's editor menu stores all your entry's formatting options — hit the little Aa button to find buttons for managing headers, checklists, code blocks, dividers, and any other Markdown formatting you may need. I'm particularly enthused by the latest ability to highlight text — I use highlights all the time in apps like Craft Notes and PDF Expert, and Day One's highlighting capabilities bring its text editor features on par with the best of the competition.
Reminders
If you want to be regimented about your Day One entries (as opposed to writing whenever the mood strikes you), Day One can remind you to punch in.
These reminders can be as often as every 15 minutes or as infrequently as once per week. If, like my pal Chris Bowler, you use Day One as your daily work log or the place for your end-of-day brain dump, then setting a daily reminder just a few minutes before the end of the work day could prove helpful.
When the Mac reminder goes off, Day One's Menubar utility pops open and you can quickly jot down whatever notes you'd like to make. If you're not ready (or if you're still not in the mood to type something), then you can snooze the entry or just skip it altogether.
You can also set reminders on the iPhone and iPad apps. If you do, you'll get a push notification when it's time to jot something down. Slide the notification and Day One opens to a new, blank journal entry.
Daily Prompts
Daily Prompts are scattered throughout the Day One app, ensuring you have no excuse to tap into an external source of inspiration whenever necessary. Daily Prompts are pre-programmed questions that you can answer and which result in a specially formatted entry to bring out some color in your Day One. For instance, there's a current Daily Prompt that asks me if I've seen a dentist regularly.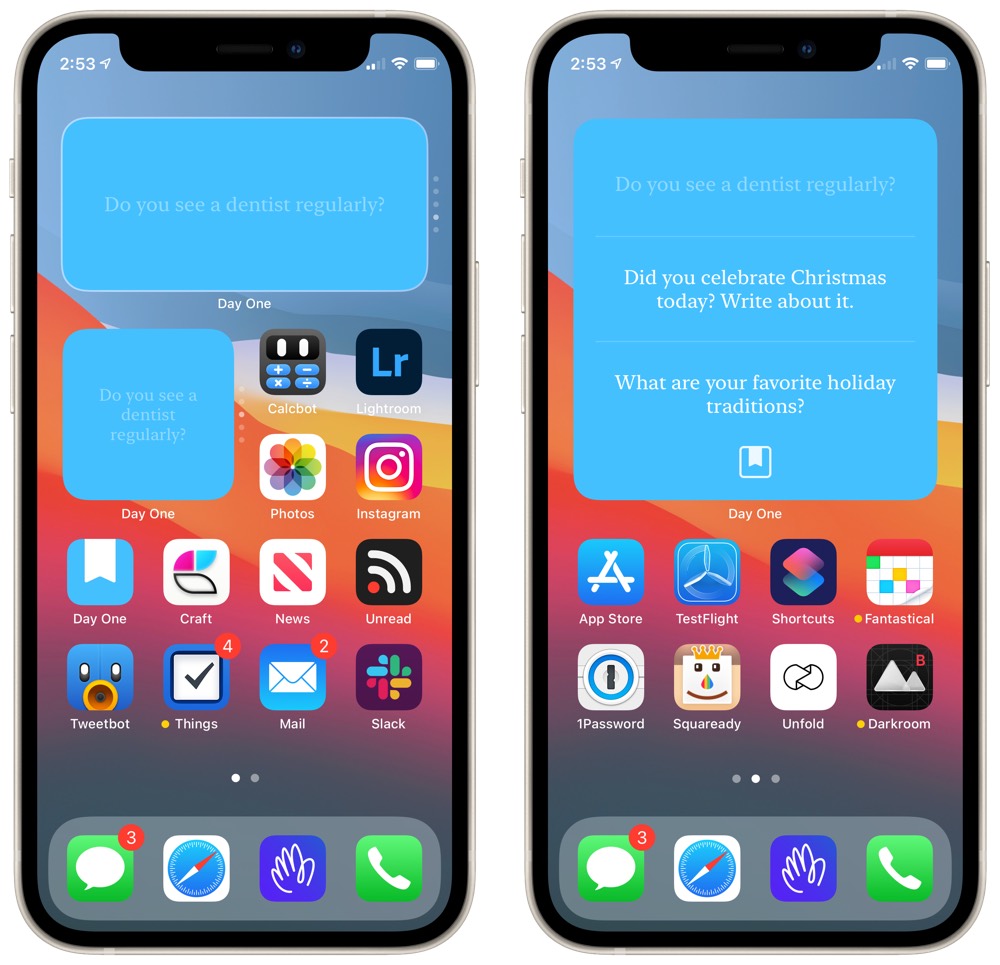 Once answered, the Daily Prompt will show as "Answered" with a little green checkmark, and the answered entry has a neat small caps formatting in the entry sidebar.
You can access Daily Prompts throughout the app. Once you've dismissed the current entry on iPad, there will be a big Daily Prompt in the right entry window. You can access Daily Prompts through the "New" addition button at the bottom of the sidebar menu. This menu houses your most-used templates, entry types, Today feed, and a Daily Prompt. Finally, you can also create a specific Day One widget on iOS devices that provides three different Daily Prompt widget sizes. Using the widget, you can answer any of the Daily Prompts right from the home-screen.
Templates
Back in Day One's early days, there was a community of creators that worked to bend Day One whichever way they needed. Generally, this was done by creating templates inside an app like Launch Center Pro or Drafts, where you could automate the creation of entries to log specific aspects of your life. Now, Day One includes this functionality right inside the app.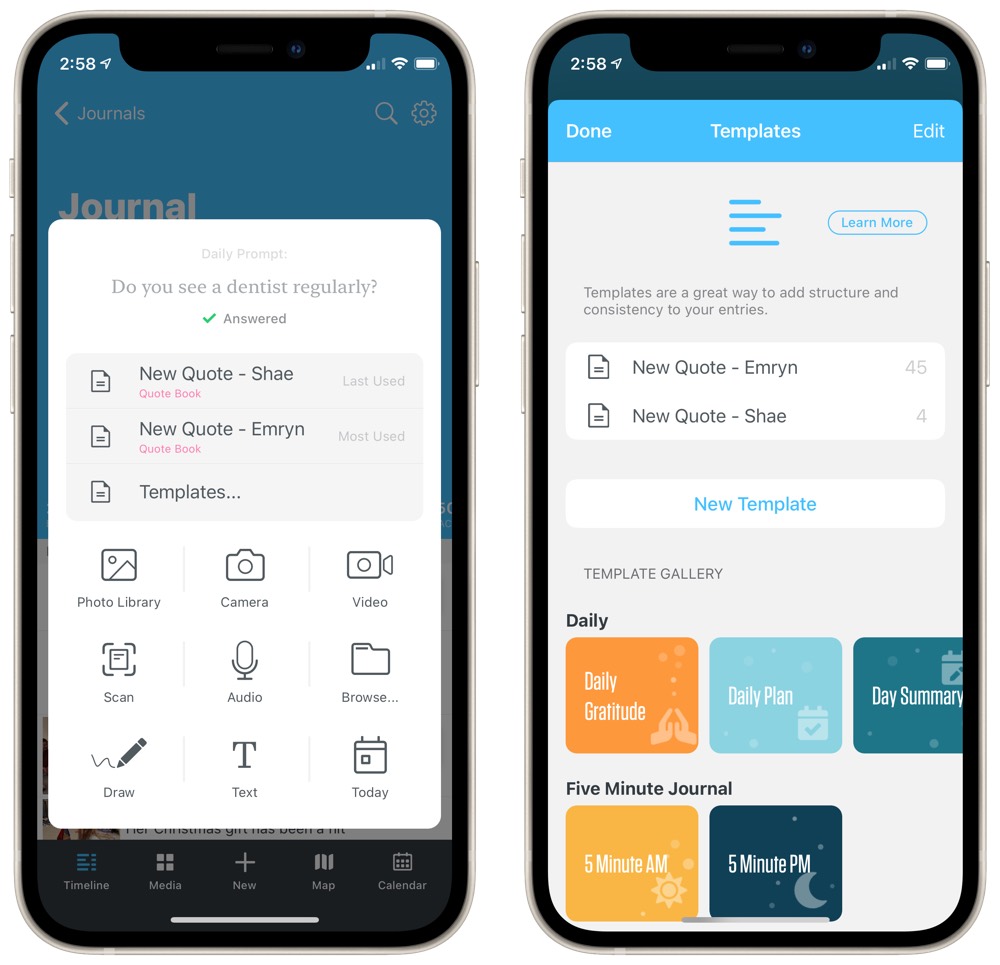 You can create a template right from Day One's settings menu. Inside the menu, there are ten different pre-created templates to provide some inspiration for logging-type entries, or you can create your own custom template through the New Template button. I'd like to see more templates added to this Template Gallery (there haven't been too many templates added since the feature debuted), but the basics are here.
Me personally, I've created two specific templates for tracking new quotes from my two daughters. Each template has a simple Markdown quote block at the top of the entry and the child's name after an em-dash. Any entry created with either of these templates are automatically tagged with the child's name and saved inside a separate journal named Quote Book. This makes quote capture incredibly quick and efficient, which is required given the unpredictable nature of kids.
Organization
Day One has a plethora of awesome organizational features, from the aforementioned tags (an increasingly popular organizational feature we love here at The Sweet Setup) through to the ability to create multiple journals.
We have a range of tips and tricks for tagging in our Day One in Depth course, but, in short, tags allow you to categorize journal entries however you see fit and allow for powerful searching at a future date.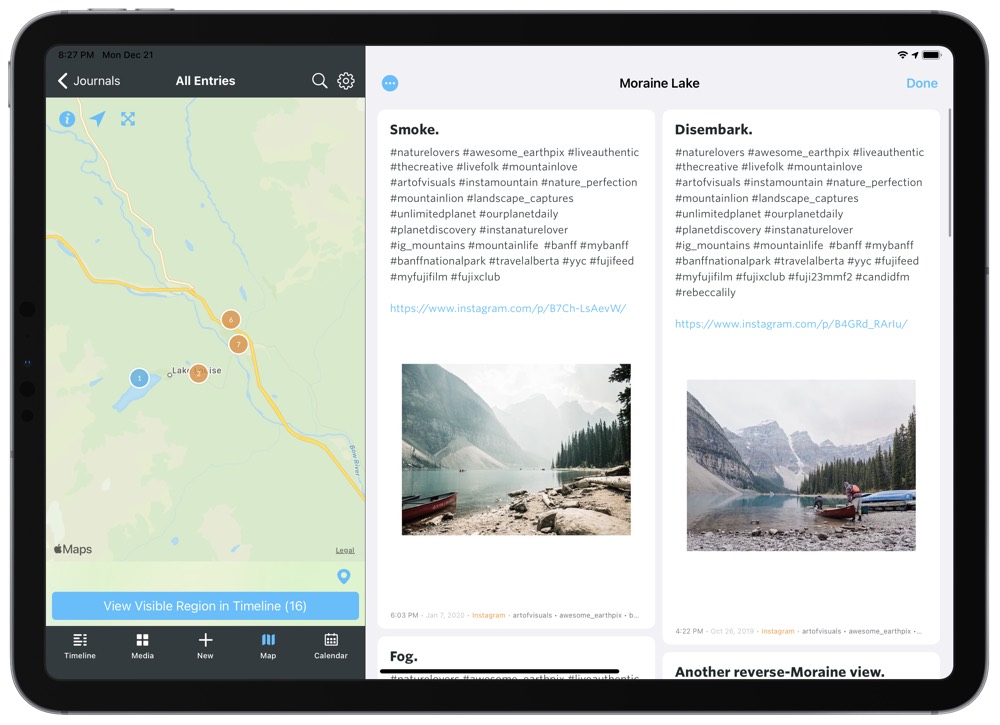 Tags can be combined with multiple journals — Day One supports the creation of entirely separate journals for each area of your life. If you want to automate some work or time tracking entries, you can create a "Work" journal. I've created an "Instagram" journal to keep track of my social photography, as well as a (now defunct) "Fitness" journal I used to track some of my training regiments. Whatever facet of life you want to segment, multiple journals and tags offer a range of organizational structures that are flexible enough to meet most people's needs.
Adding tags to an entry in the latest version of Day One can be done in the content menu located beside the editor menu. Tap the paperclip icon to bring up options for adding tags, photos, audio snippets, and more, or move the entry from the current journal to a different journal.
Today Feed
Along the lines of Day One's neat automations and integrations is the built-in Today Feed (formerly Activity Feed). When you press the + button to bring up all the entry types, you can choose to create an entry from your Today Feed. The Today Feed can be connected to your Instagram account, can track your location history (with your permission), can follow the photos you shoot in your camera roll, shows all your Daily Prompt answers, and shows all the entries you've created on this day in the past, all with the intention of enabling you to create entries faster and in a simpler fashion than ever before.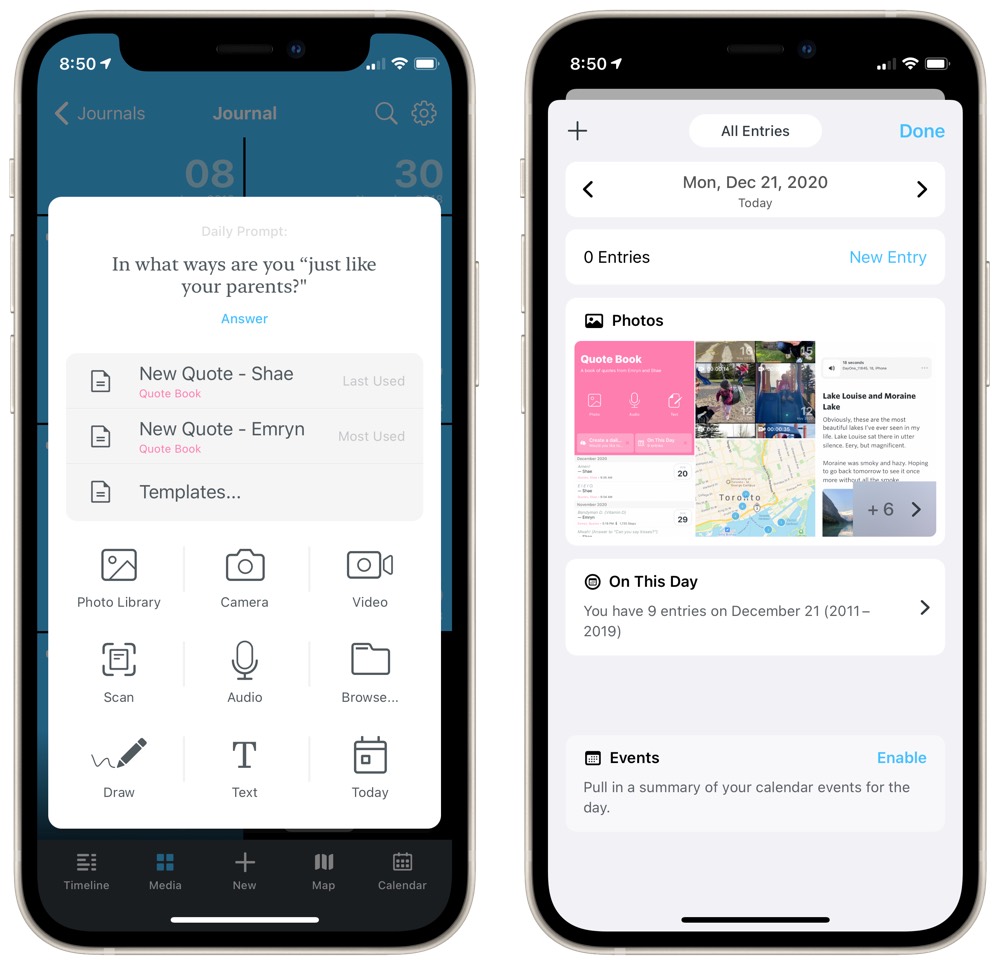 A quick tap on the "+" button on any item in your Today Feed will generate an automated journal entry. Simply type any extra thoughts and change any necessary metadata for the journal entry and you're done.
For those who can't find the inspiration to write out journal entries on a daily basis, the Today Feed is a wonderful feature for automating the journaling process. Plus, the historical element of the Today Feed ensures you can create journal entries when you see fit, rather than pausing to create a journal entry when you're in the middle of living a moment.
Book Printing
The technological world moves at a breakneck pace, so we wouldn't blame any prospective journaler if they were apprehensive to commit to one specific digital journal for years and years of memories. There is great security in knowing your memories and thoughts are printed on physical paper and capable of being stored in your own home or in your personal safe.
One of Day One's features is the ability to print your journal into a full-format book. Day One's book printing features are a pleasure to work through and the result is a wonderfully-formatted book fit for your bookshelf.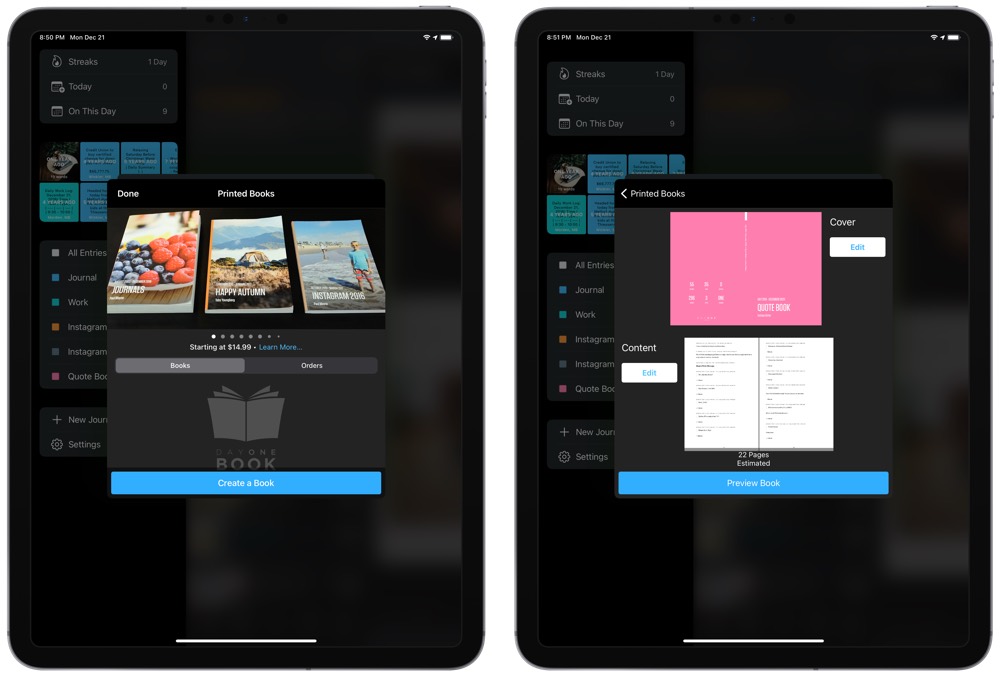 The main menu houses the "Book Printing" option, whereby Day One takes you through a step-by-step process of selecting which of your multiple journals you want printed, which years you want printed, and whether you want full-page maps to showcase where you created your journal entries. You can customize the front cover, the book's color, and whether the book showcases your journal stats.
I'm a particular fan of doing this for my "Instagram" journal — in effect, thanks to Day One, I can print out my entire Instagram feed into a special book for safekeeping, ensuring my photography will last for years regardless of which social network is the latest and greatest.
Books start at $14.99 and can be shipped worldwide. You can order your book with a soft cover or a high-quality hardcover option and all books come with a durable binding. The entire transaction is completed within the app, making the experience polished from start to finish.
Security
With your most personal and deepest thoughts comes the massive responsibility to ensure your journal stays secure as it syncs back and forth between your devices. Day One uses its own custom syncing system and has built in end-to-end encryption to keep your entries secure when they sync with Day One's servers.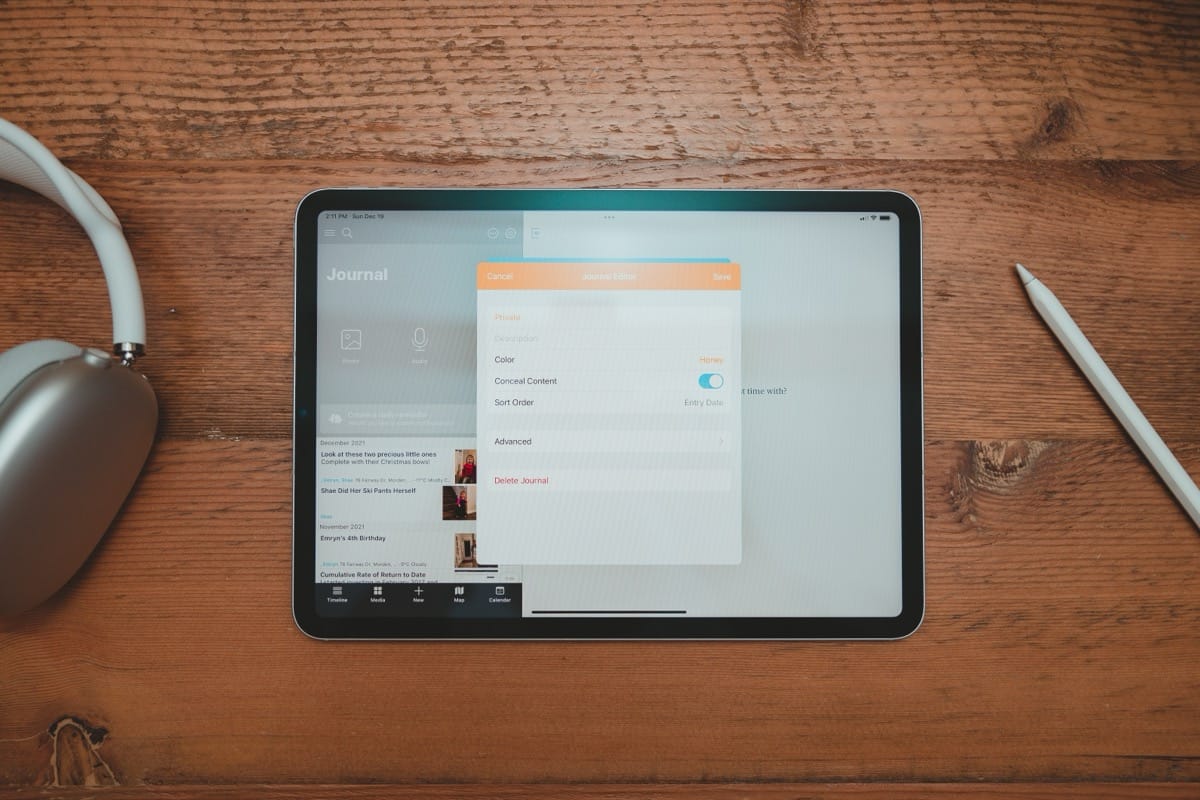 This is of the utmost importance, as a past security glitch resulted in a multi-day outage of Day One Premium's syncing features. The result was transparently outlined in a blog post from Day One's creators, but resulted in just over 100 brand users having their journals shared with one specific Day One account. You can read more about the security glitch here. However, given the amount of time between this review update and the outage, we have great confidence in Day One's continued security.
End-to-end encryption is now the default behavior for new journals and journal entries inside Day One. As part of a Day One Premium subscription, you are provided unlimited encrypted storage to ensure all your data and entries are kept private and secure.
We recommend saving your encryption key in an app like 1Password or a locked note inside Notes.app.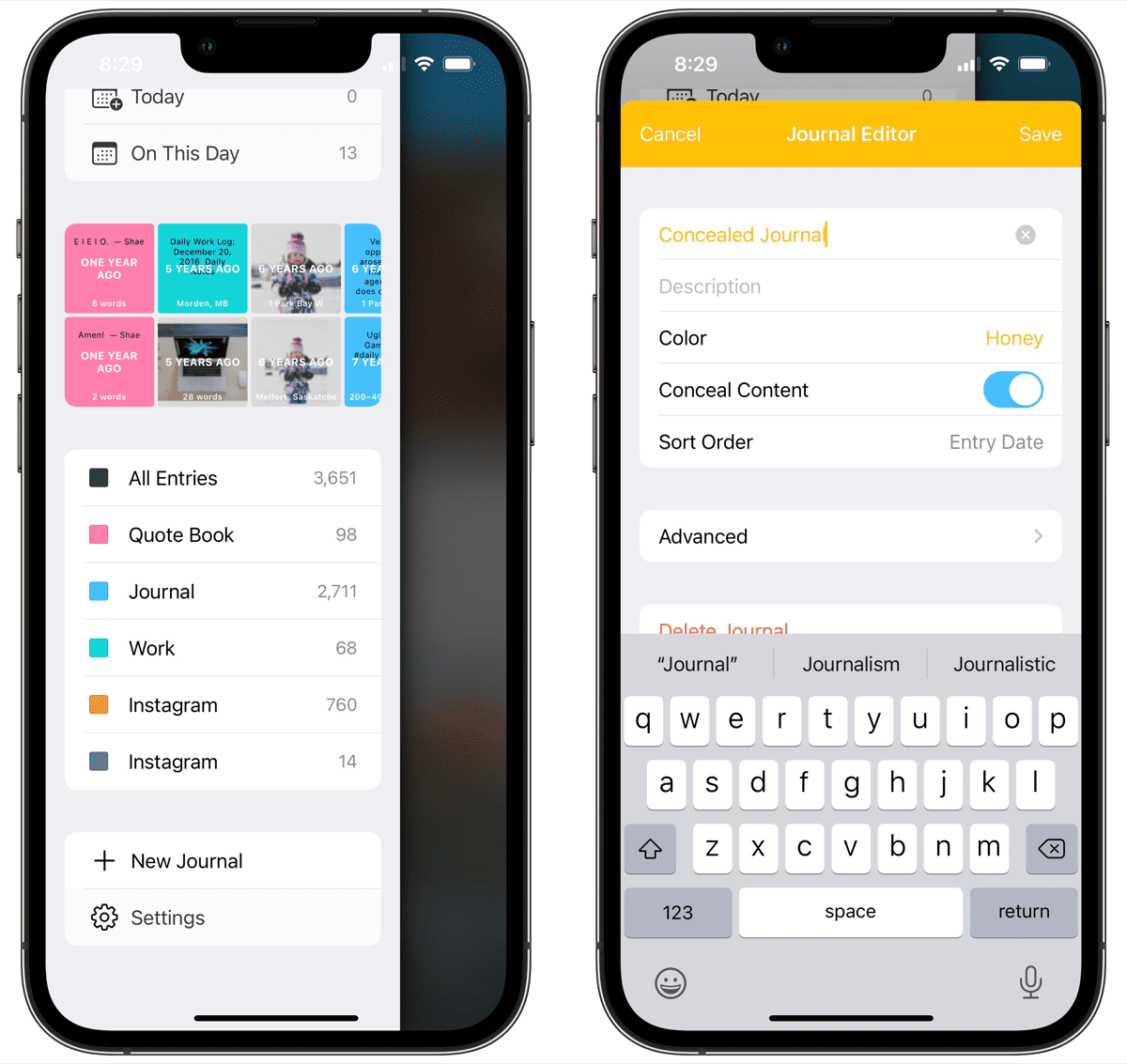 Lastly, Day One has Concealed Journals, a feature that ensures no wandering eyes can read or glimpse your journal entries. Implemented on a journal-by-journal basis, you can conceal photos, videos, and text by tapping the little eye icon on entries in a Concealed Journal. If you're riding public transport or are sharing screenshots with friends and don't want to showcase all your journaled content, Concealed Journals will ensure your security and privacy.
Suggested uses for Day One
Just because Day One is a "journaling app" doesn't mean you have to pour out your heart. It has a broad scope of fully legitimate use cases, such as:
Media log: Use Day One to rate and review your favorite movies, albums, books, etc. I've set up some fun Text Expander snippets that lets me rate something between 1-5 stars.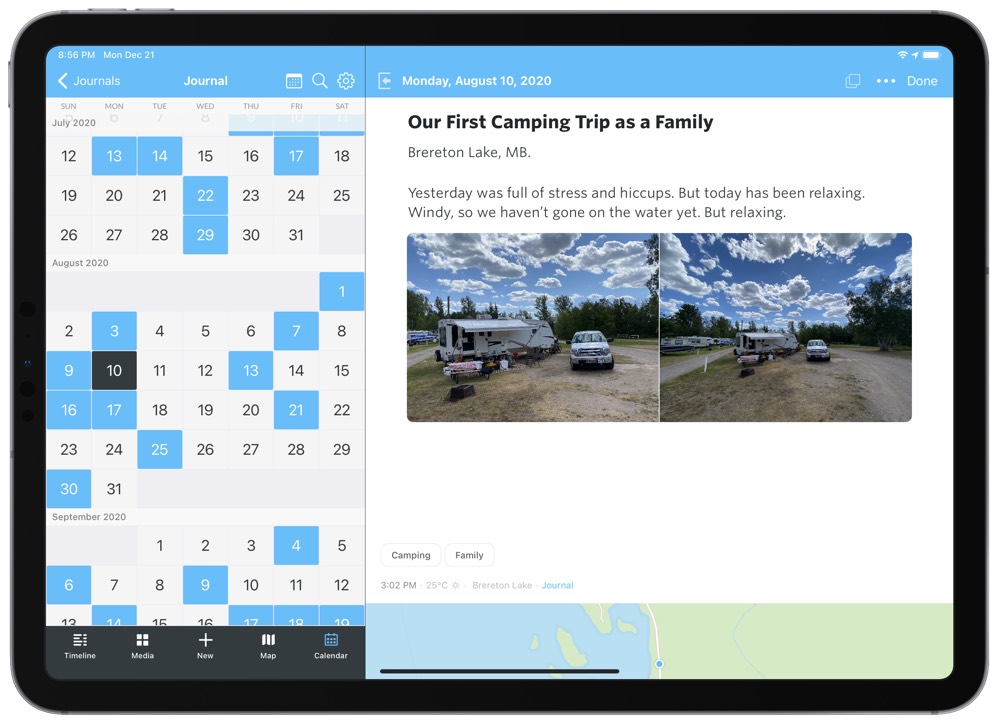 Vacation / Trip Journal: When you combine Day One's automatic location data with the Mac app's map view, you can see all the places where you've added an entry. Also, with tags you can tag your vacations — "Breckenridge 2014" — and then bring up all those entries at once if you wish.

Memories: Like my aforementioned entry of the Macworld party at WWDC, use Day One to quickly capture fun or special events.

Daily debrief: I work at home and it can be hard to transition between work and home life. I try to end my days by doing a brain dump and jotting down all the ideas still in my head, all the loose ends I didn't tie up, and all the things I may want to do but didn't get to.

Sound album: For those who love to experience nature, or for musicians and sound engineers, the audio recording features open a new world of possibilities. I especially imagine musicians hearing something new in a live song or some sort of jingle on the radio and now having the ability to record and collect those sounds in Day One.
It can be hard to call it quits for the day when there are still things that could be done, so the daily debrief is my way of admitting that, yes, the day is done and, yes, there is still work to do, but there is always tomorrow.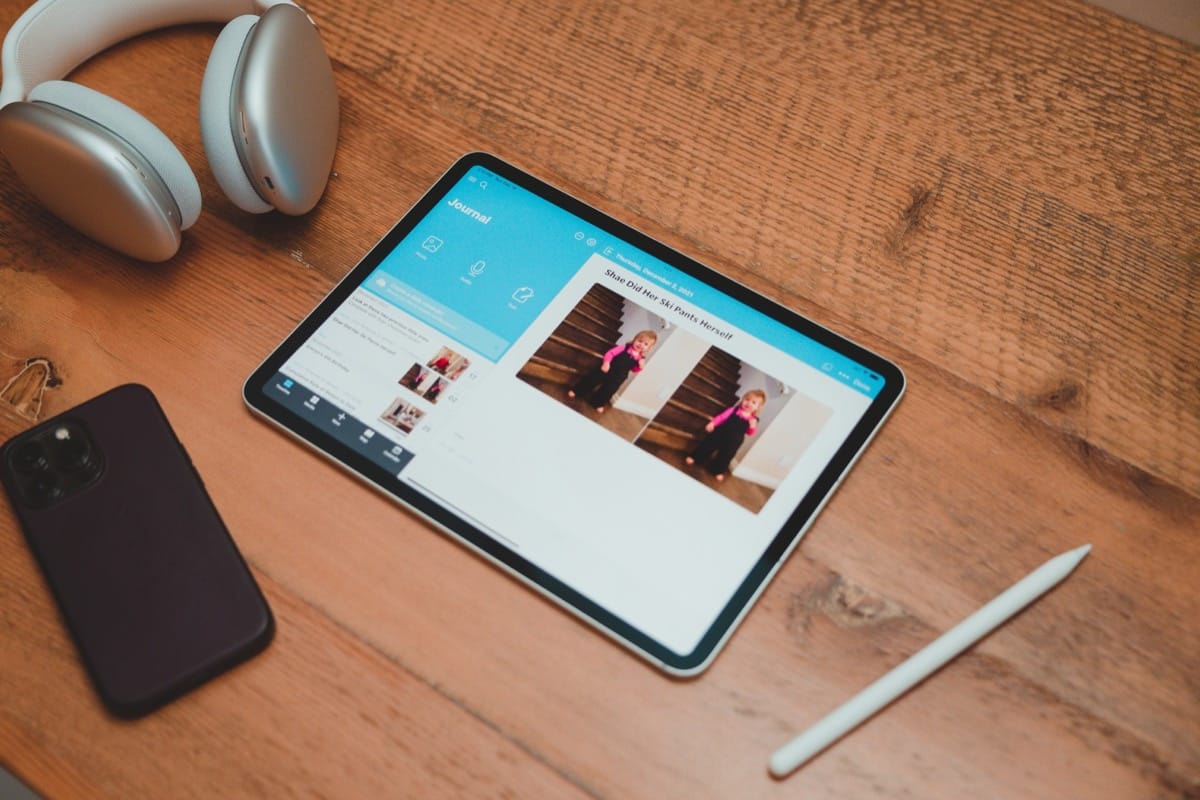 These mental debriefs are some of the things I most appreciate when scanning through old journal entries. It is amazing how many things felt so urgent and important to me at the time, and now when I look back I can be glad I never took action on some of those ideas. Or I can see what ideas and projects did materialize into something and compare my then-expectations to the current reality.
Idea Storage: Tanner Christensen wrote: "The best way to help control the weight of ideas in your mind is also the most effective way to ensure that your good ideas don't get thrown out automatically: write your ideas down." I agree.

Email log: For significant emails we send or receive that are important in our life. I save all the email updates my wife sends out to our family regarding life and kids.

Scan in pages from your Field Notes, Moleskines, etc.: I still use pen and paper often, so why not take a picture or scan in a page from one of my notebooks if the contents of that page are of some significance?

Capturing creative inspiration: As most Hemingway fans know, Ernest Hemingway was quite the notebook aficionado. He used his notebooks to jot down ideas for stories, but also to capture creative inspiration. "He was a keen observer of life, trying to capture the richness and texture of his experiences. He stored sights, sounds, and smells away for future use when they would reemerge as vivid passages in his short stories and novels."
In addition to some of the examples I've listed above, other potential uses include using Day One as a meal log, drink log, word processor, places-visited location log, work journal, fishing/hunting journal, baby book, goals log, photo log, logging routines, life evaluations, medical log, workouts and diets, private project updates, prayer journal, dream journal, listing things we are thankful for, and more.
Thanks to tagging and searching, Day One can serve as all of these things at once. That's the beauty of a personal journaling app, it can be filled with all sorts of topics and media types, with no need to keep it "focused." I think that's the road best traveled –because a huge part of what makes a successful journal is constant use.
Other iOS, iPadOS, and macOS Niceties
Day One is an Apple-device specific app, meaning it has top-end support for all the latest iOS, iPadOS, and macOS features.
Widgets: Day One for iOS and iPadOS has first-class widgets, providing you access to your journal right from your home screen. Widgets can provide you Daily Prompts to quickly answer, quick jogs down memory lane with "On This Day" widgets, glanceable journaling streaks to encourage you to keep your journaling streak alive, and quick access to your Today Feed for creating entries from all your daily activities.
Multi-Window: On iPadOS, Day One has support for multi-window use, allowing you to have multiple instances of Day One open and operating side-by-side. This may be particularly useful if you have multiple journals for tracking specific areas of your life.
External Keyboard Support: Also on iPadOS, Day One has been updated for great external keyboard support. Using the included keyboard shortcuts, you can jump between journals, create new entries from scratch or from a template, jump into the settings, and more. Of course, there are loads of great text editing shortcuts as well, keeping your fingers on the keyboard and your mind in the zone. Finally, Day One has been updated for cursor support if you use an iPad Magic Keyboard or an external trackpad or mouse.
Shortcuts: Creative automators will likely find Day One's Shortcuts features to be their most used methods for getting data into Day One as fast as possible. Day One has quite the list of approved shortcut options, from finding and showing specific entries to the ability to bake in answering a Daily Prompt into any workflow series. Using Shortcuts, it's quite easy to imagine a morning routine that involves answering a few Daily Prompts or templated journal entries alongside a variety of other apps on iOS.
Pricing & Day One Premium
Day One is a free app with a subscription the developer has named "Day One Premium."
Premium comes with support for backup and sync, unlimited journals, unlimited encrypted storage for photos and videos, 25% off book orders, drawing entry features, PDF embedding and scanning, additional journal colors, and audio recording. This subscription costs $34.99 a year, with various discounts available for first-time buyers and customers of the previously for-pay app. Some will see this as pricey for an App Store subscription, but it's well worth it. The app has been around since the beginning of the Mac App Store and has seen significant development since then. We want our journaling app to be around for the long haul, and the subscription business model promises just that.
Alternative solutions for a "journaling app"
Summary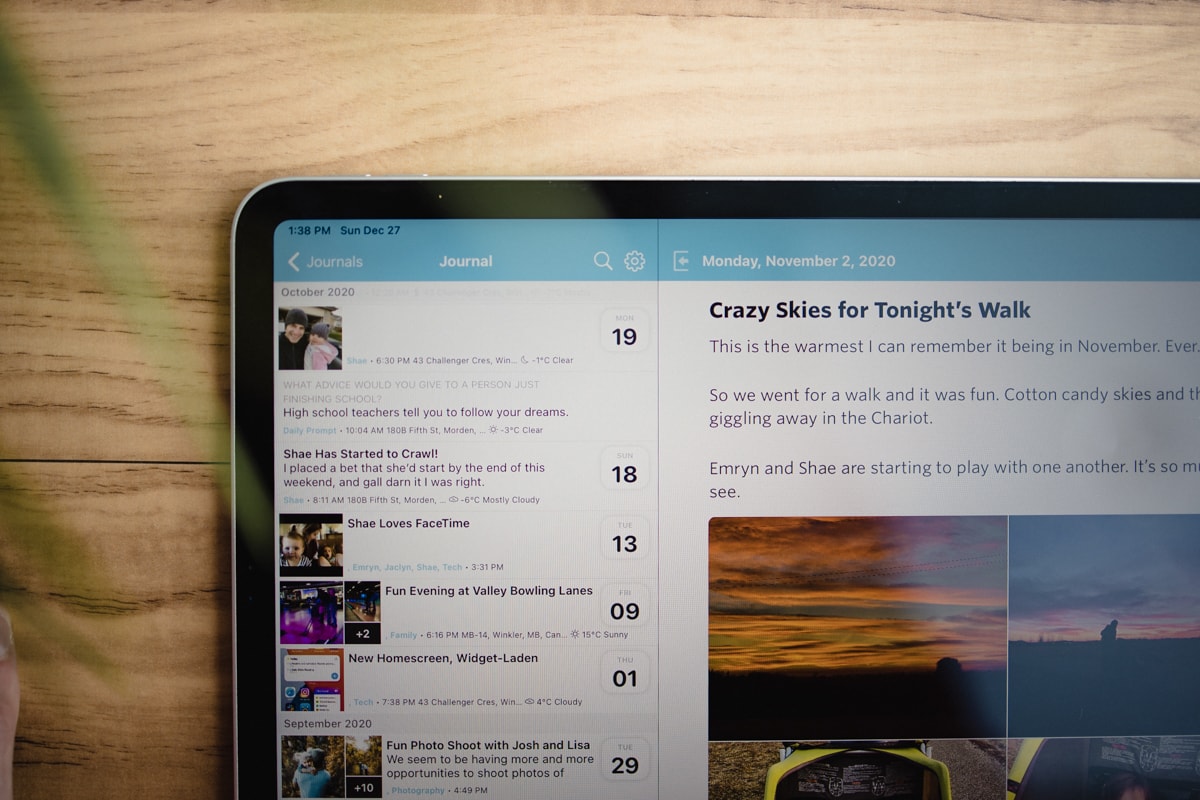 The journaling category in the Mac and iOS App Stores is a little less crowded than other categories, but there are a few great contenders. Day One has been the best journaling app for Mac since it was first introduced in March 2011 and its iOS apps have held the crown ever since they were introduced. Day One's combination of design, sync, automation, security, and extra features like book printing make it a worthy journaling app.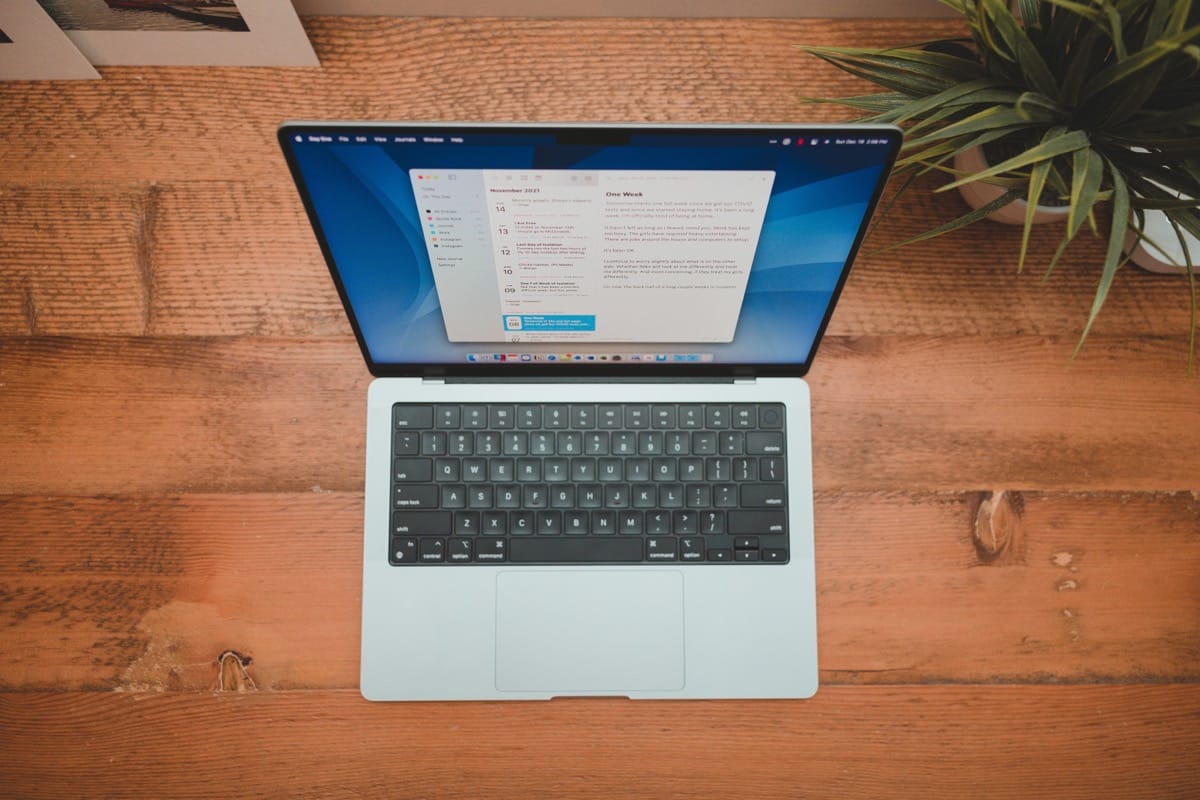 In the years 2020 and 2021, there's been a great deal to look back and reflect on. The world has undergone the most unique global emergency we've seen in our lifetimes and has culminated in lessons learned that should last the rest of our lives. Having a place to store our thoughts, emotions, and activities has become more vital than ever, and Day One meets the need perfectly.
Given the modern ability to quickly and efficiently document nearly any facet of our lives, this 21st Century emergency will likely carry with it more data, more research, and more reflection than any event in human history. My own little circle of documentation has taken place inside Day One, and I look forward to revisiting this crazy time decades from now.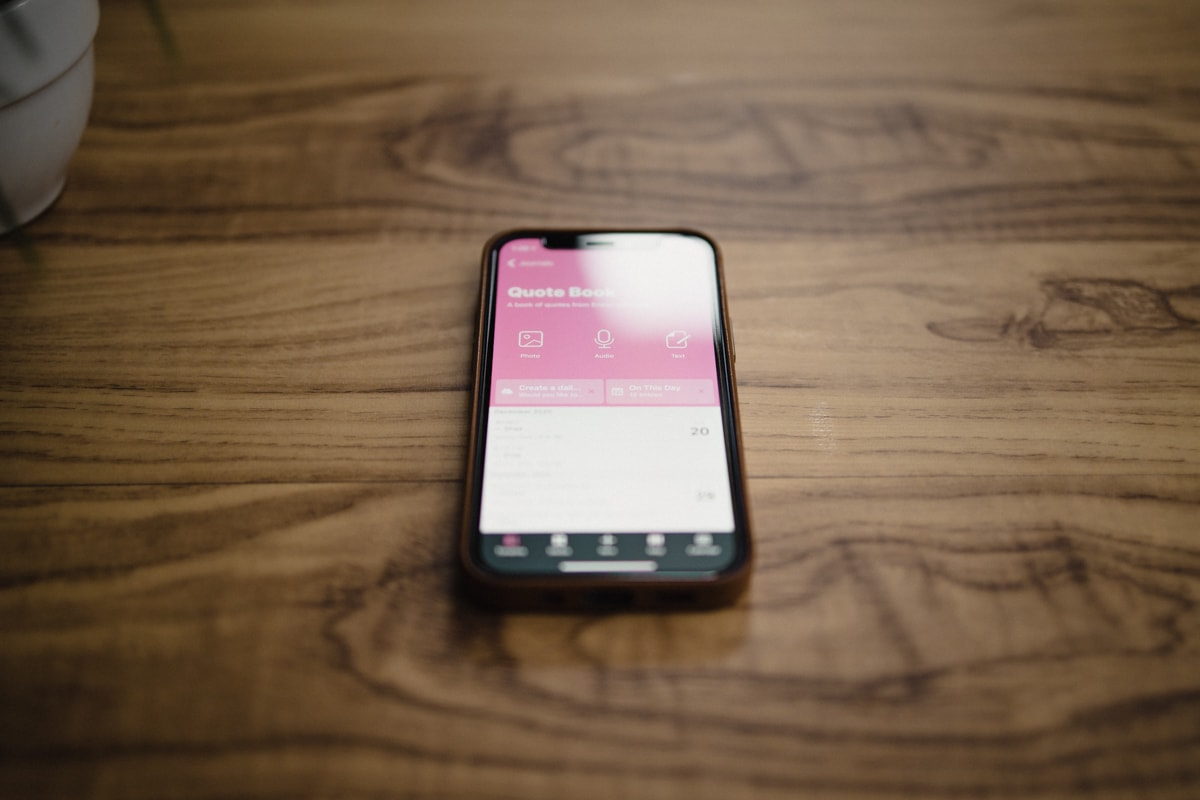 As a whole, Day One is a wonderful app for logging all sorts of data, keeping track of all your vacations, tracking your pregnancy, tracking your little one's physical and behavioral growth, or logging all your work activities. The list of potential uses for Day One is endless, as is our love for the app. Day One is one of the most personal apps on the App Store and is likely one of the few apps capable of making people cry with joy as they reminisce over the times and years that were.
This is one app that deserves to be on every iPhone or iPad.
$0.00 - $34.99/year
For a classy journaling app that works on all your devices, you can't do better than Day One.