A Review of the Artifact Uprising Photo Printing Service
September 10, 2020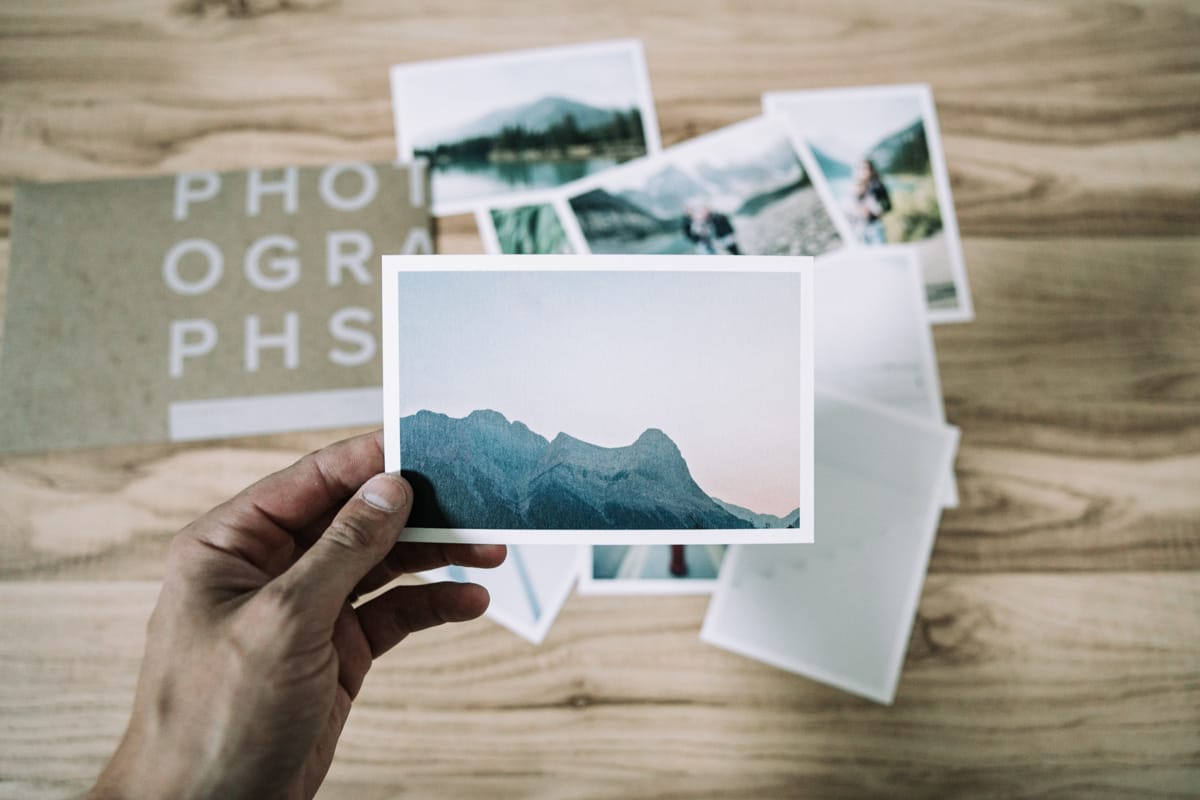 As summer draws ever nearer to a close, it comes high time to review a bunch of the photos you shot over the summer. Whether you choose to edit, share, or publish the photos will be up to you, but I often find myself printing off my favorites each September.
And I've been very pleased with how Artifact Uprising makes the intangible tangible on each print run.
Artifact Uprising offers a wide range of printed photo products, like Everyday Print Sets, Ultra-Thick Signature Prints (my personal favorite), Gallery Wall Frames, Large Format Prints, Hardcover Photo Books, and even photo accessories for showcasing your photography in your home.
From creation to order to shipment, Artifact has the photo printing service experience nailed to a "T" — if you're willing to pay for it.
Artifact's Wide Range of High Quality Photo Products
I have yet to come across an Artifact product I'm disappointed in. We have various Everyday Print Sets scattered throughout the house, a few Gallery Frames hanging on the wall, a Hardcover Photo Book of our trip to Europe a few years ago, and a bunch of Ultra-Thick Signature Prints on display in my home office. Each has their own unique set of qualities and prices, ensuring there's a product to meet your needs.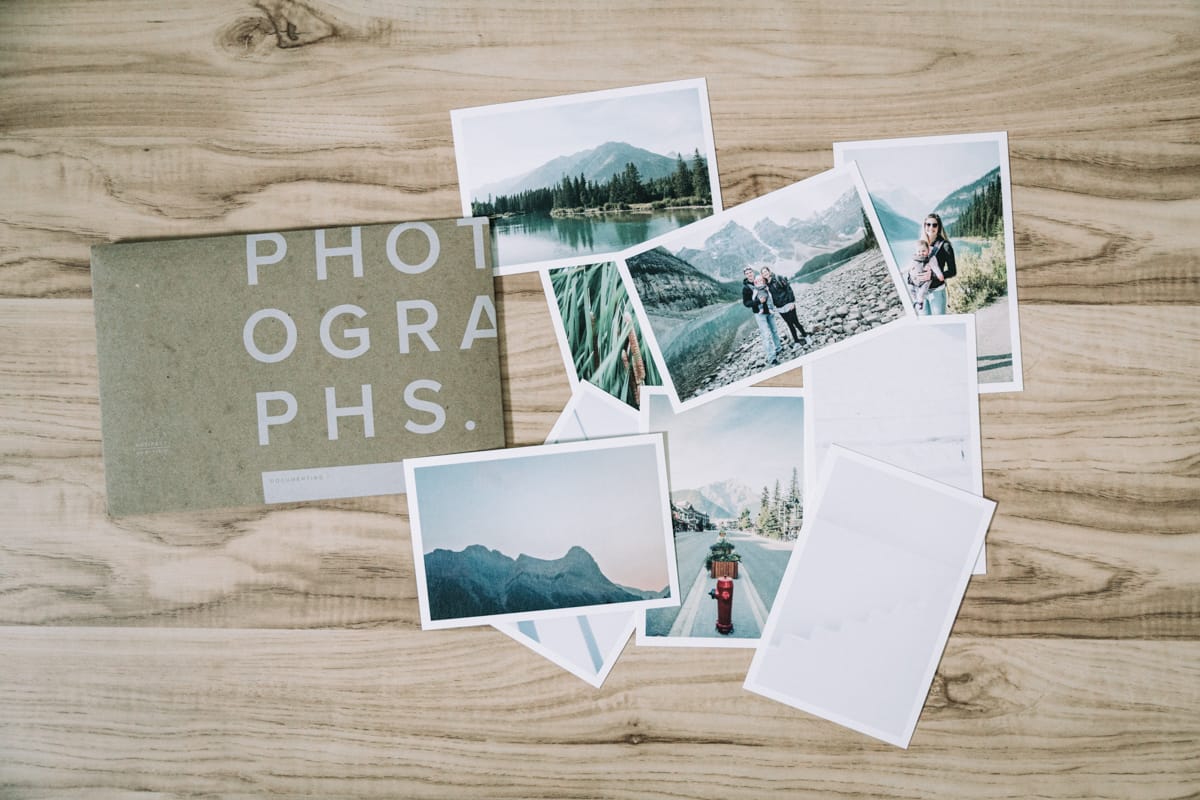 Everyday Print Sets are Artifact's "entry level" print, in that they are the least expensive product available. Everyday Prints are available in sizes ranging from 3.25″ x 3.25″ to 5″ x 7″ and come in matte, satin, or double-thick materials. Double-thick Everyday Prints aren't as thick as Ultra-Thick, but they are clearly more durable than standard matte/satin finishes. You can order a set of 10 Everyday Prints in the smallest size for only $9, while you can spend up to $60 on a 50-pack of the largest size Everyday Print set.
To showcase those Everyday Prints, Artifact offers a simple walnut wall-mounted shelf designed specifically for Everyday Prints. Shelves range in size and price, but they have an attractive, modern, yet somewhat-vintage aesthetic that will fit many decors.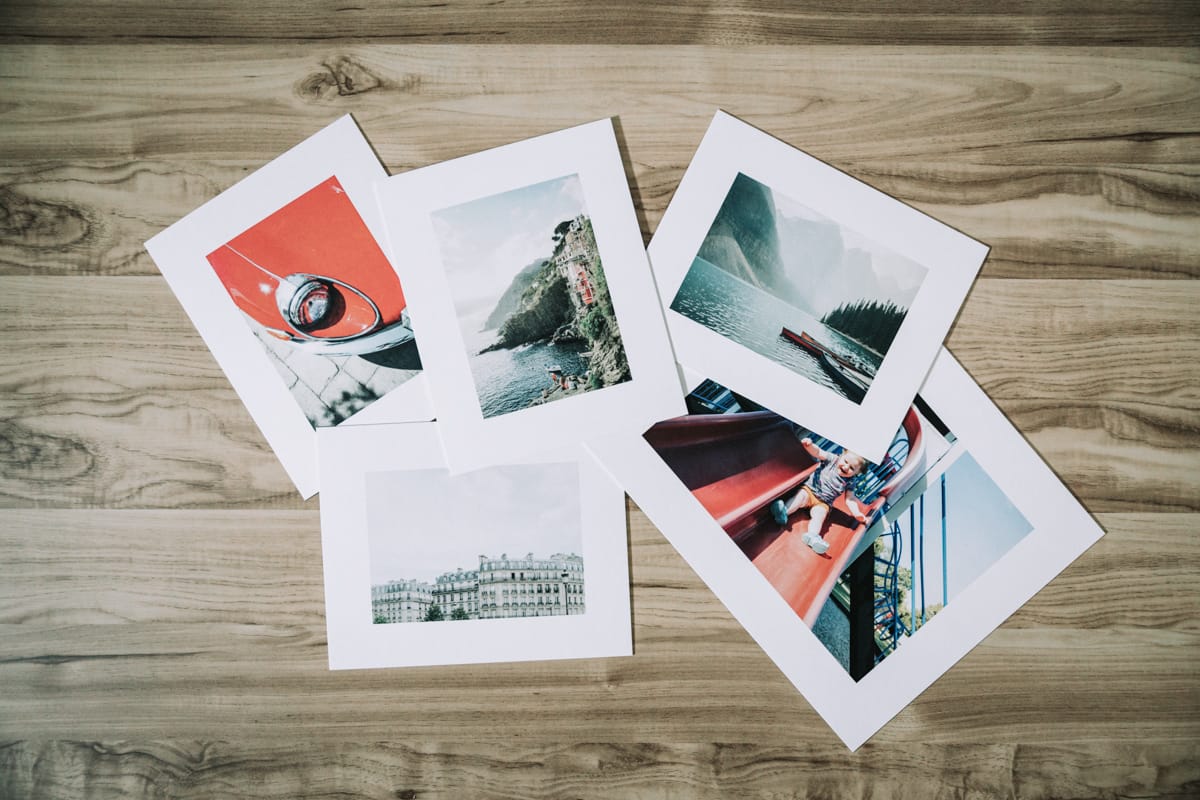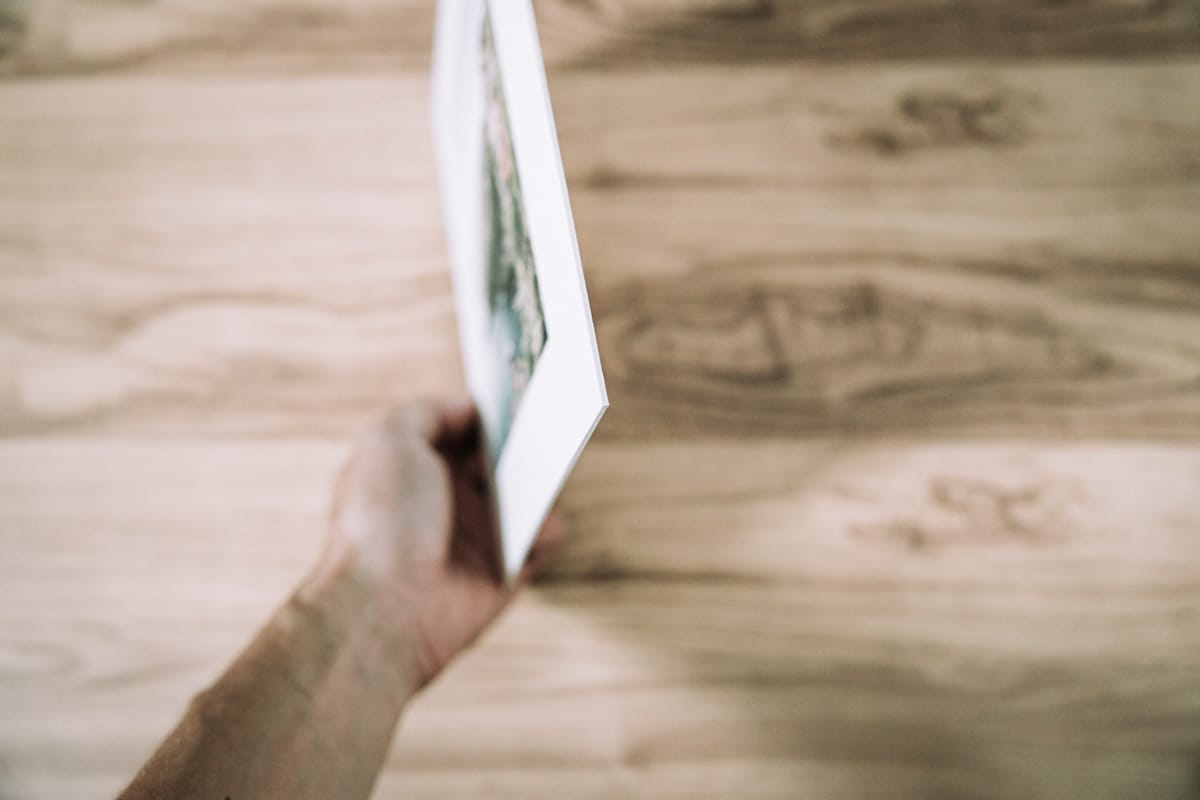 Ultra-Thick Signature Prints are, you guessed it, ultra-thick — they are an ideal way to showcase your very best photographic work in a physical portfolio. You can order either a single 11″ x 14″, two 8″ x 10″ or 8″ x 8″, or four 5″ x 7″. These are my favorite Artifact product, bar none, and I feel the best value comes in at the two 8″ x 10″ set. No matter the number of Ultra-Thicks you want, you're looking at $30 plus shipping for the prints.
Large Format Prints are great for if you have your own frames and simply want a larger size to mount on the wall. Large Formats start at 8″ x 10″ for $20 and range to an astounding 60″ x 40″ for $160. The largest sizes do require a fairly high resolution photograph to begin with (as we'll discuss), otherwise Artifact's editing program will simply reject the order.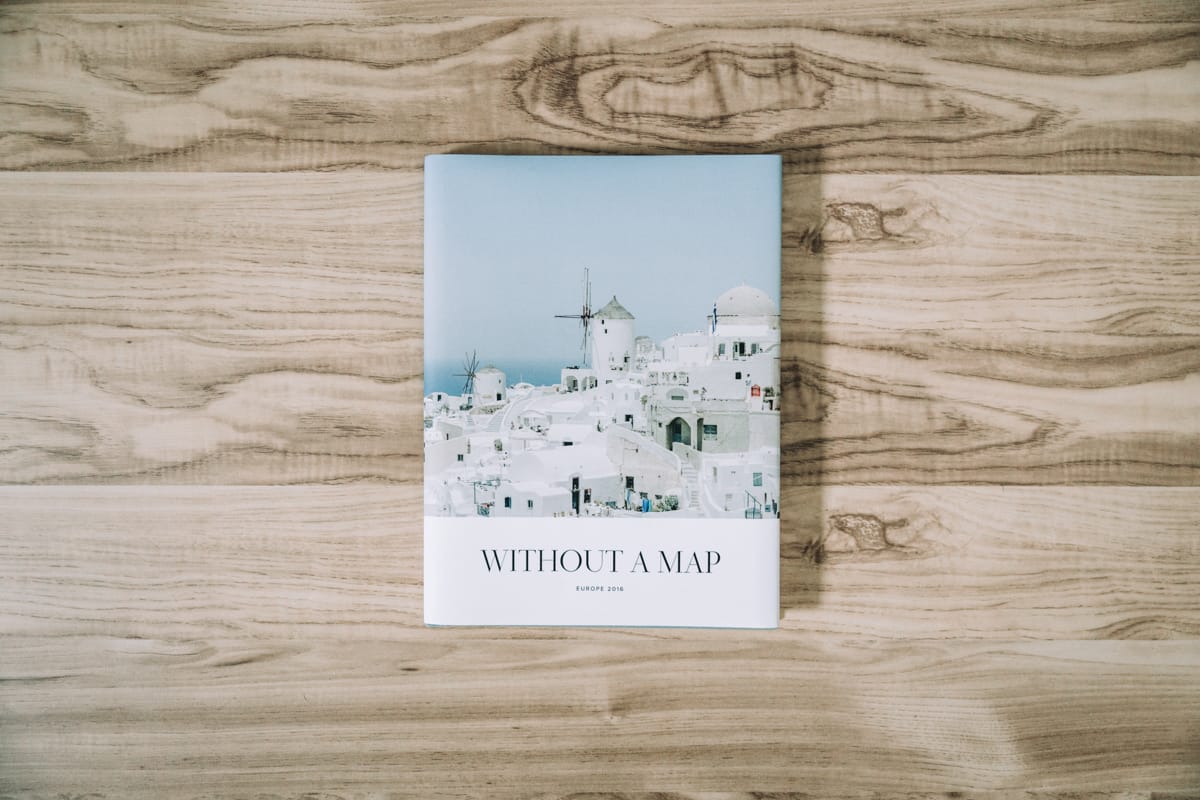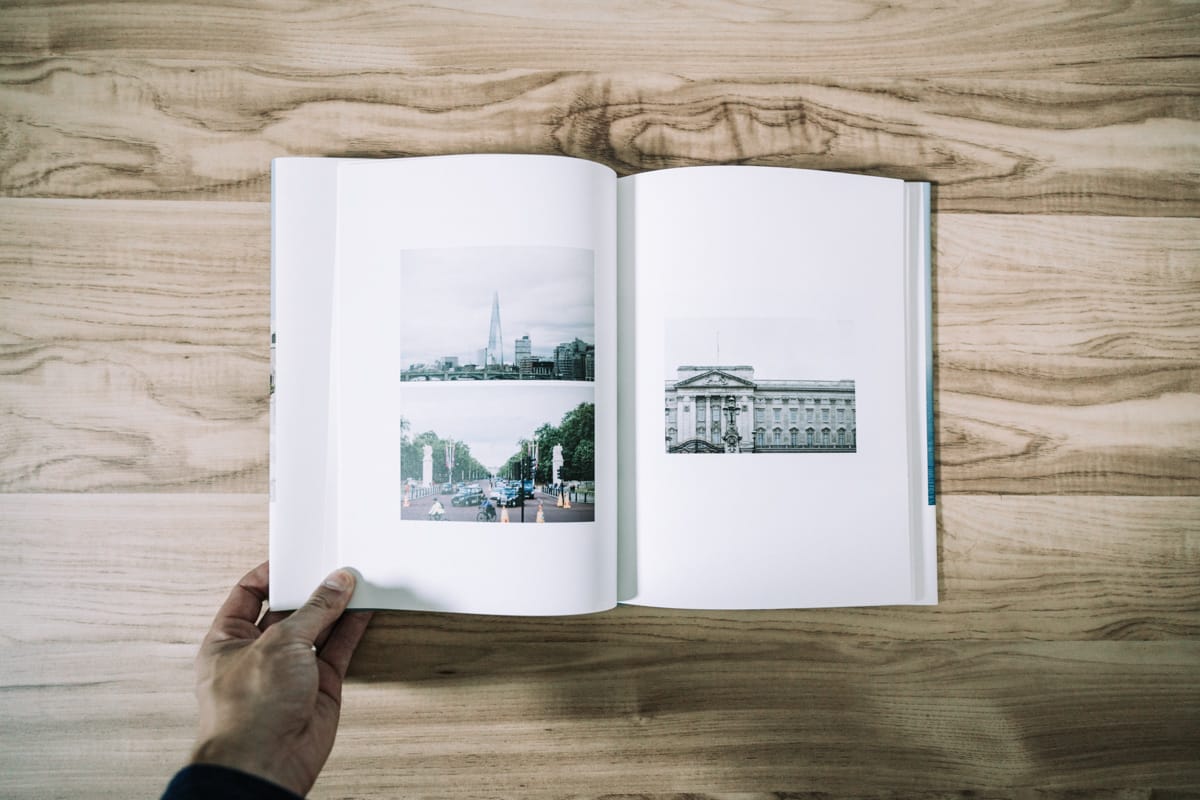 Artifact also offers a wide range of photo book products, from Signature LayFlat Albums to simple Hardcover and Softcover Photo Books and Baby Books. Each have their own price range and are a great joy to edit and create inside Artifact's product editor. They're particularly good for living on a coffee table, in my opinion.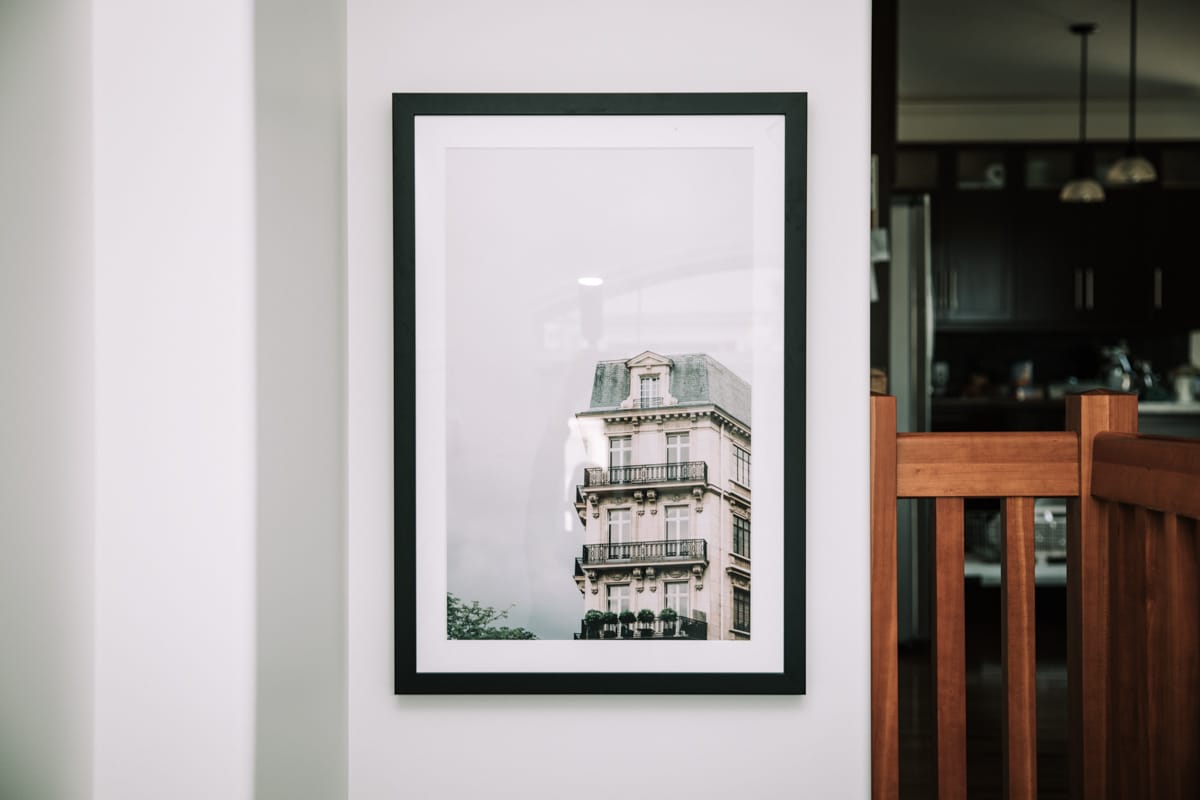 Last but not least, Artifact also offers framed prints called Gallery Frames. These are some of Artifact's highest quality and most expensive products. You can choose frames in a white, black, maple, or walnut finish that range in size from 8″ x 10″ all the way up to 30″ x 40″ frames.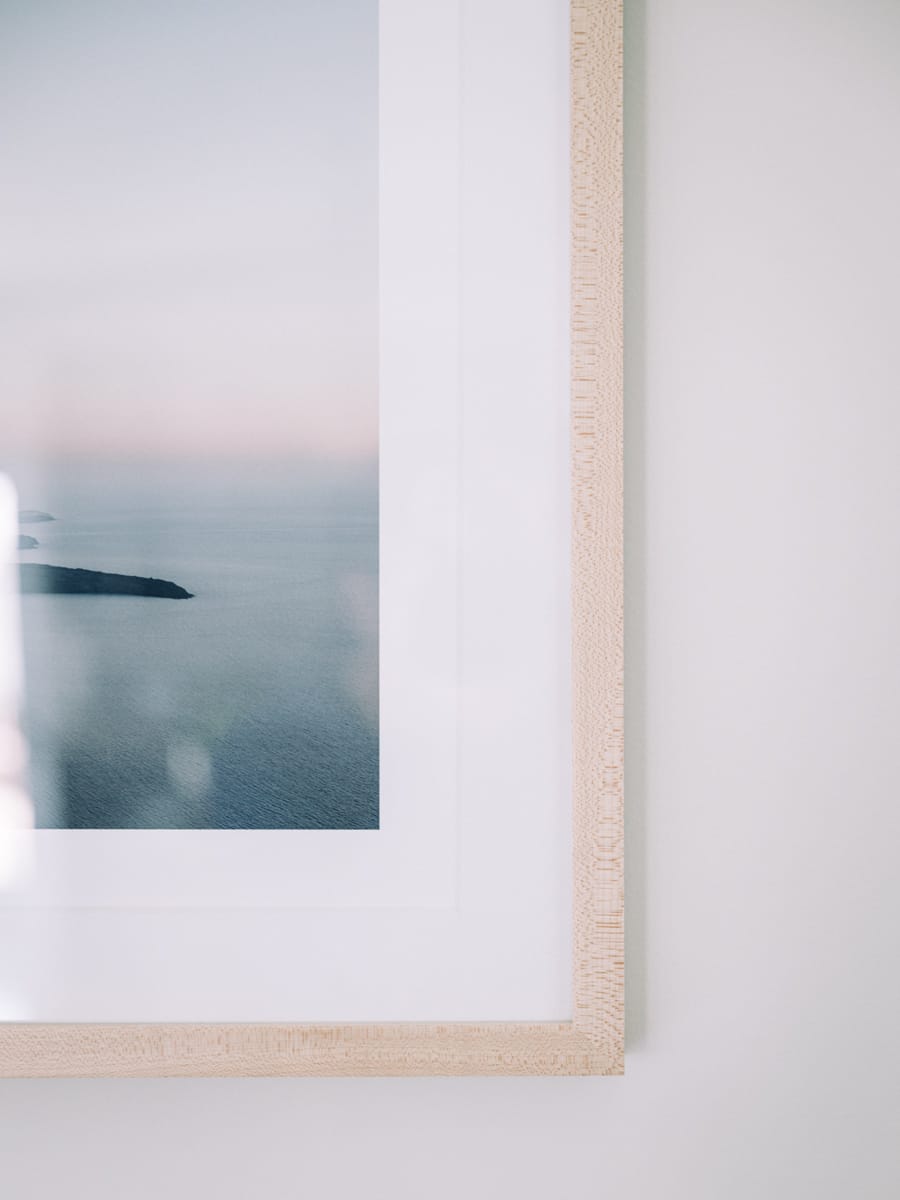 Aside from Ultra-Thicks, Gallery Frames are our second favorite Artifact products. The wood is thick, but the frames themselves aren't overly heavy, ensuring an easy hang on any wall. I'm also fond of the hanging wire (as opposed to key holes in the frame itself), ensuring a much easier time hanging a cantered and straight frame. Though expensive, Gallery Frames look fantastic on any wall.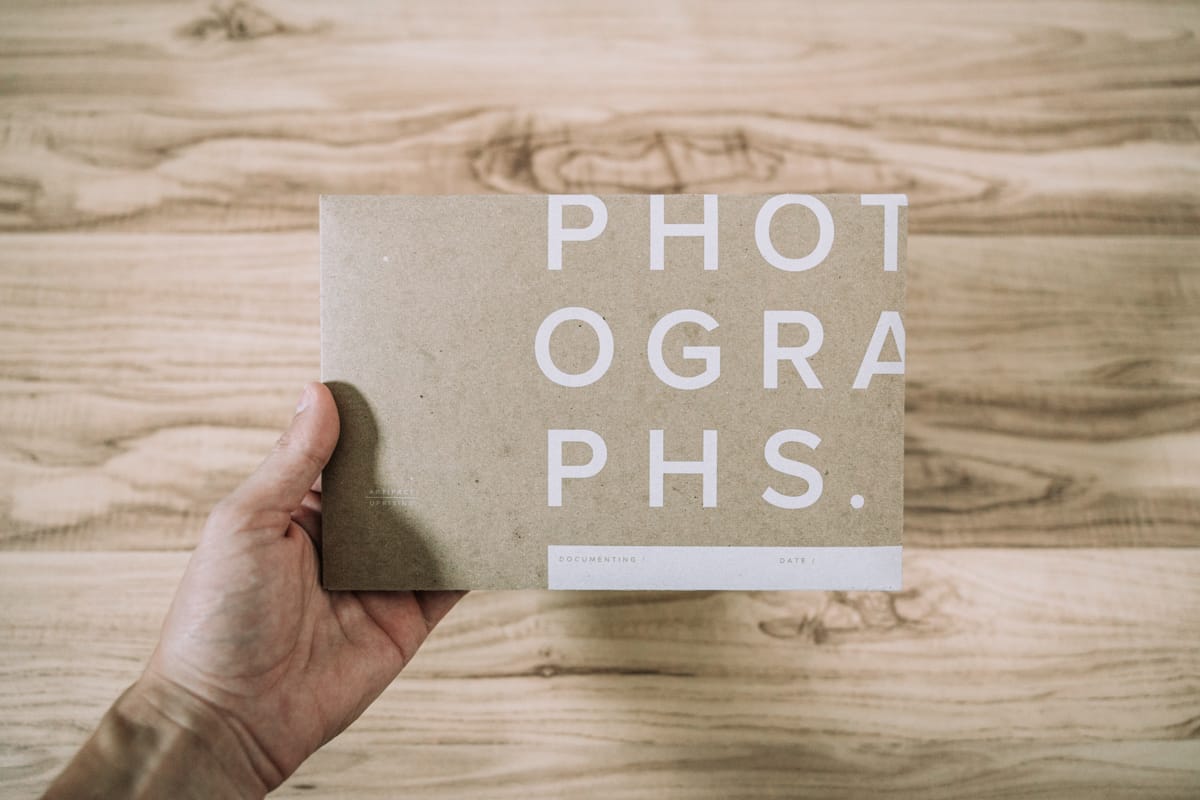 No matter your photo printing goals, Artifact Uprising will have a photo product for you. They range greatly in price, but in general, any worthwhile Artifact product will cost a few extra dollars. All of Artifact's products are of the highest quality, from the carefully chosen paper to the spot-on color printing, and — my favorite — the best packaging I've come across.
The only hiccup in the entire experience may be Artifact's product editor.
From time to time.
Get Our Best Photography Tips & Workflows
Transform your photos and edits from average to awesome with our in-depth, mobile photography course. It's jam-packed with training, ideas, and lessons that can literally transform your photography overnight.
The Artifact Uprising Online Editor and App
Perhaps it's a bit critical to state Artifact's online editor is the only hiccup you'll experience along the way — you may be turned off by the expensive prices and expensive shipping rates (if you live internationally) long before you ever hit the editor.
The Web Editor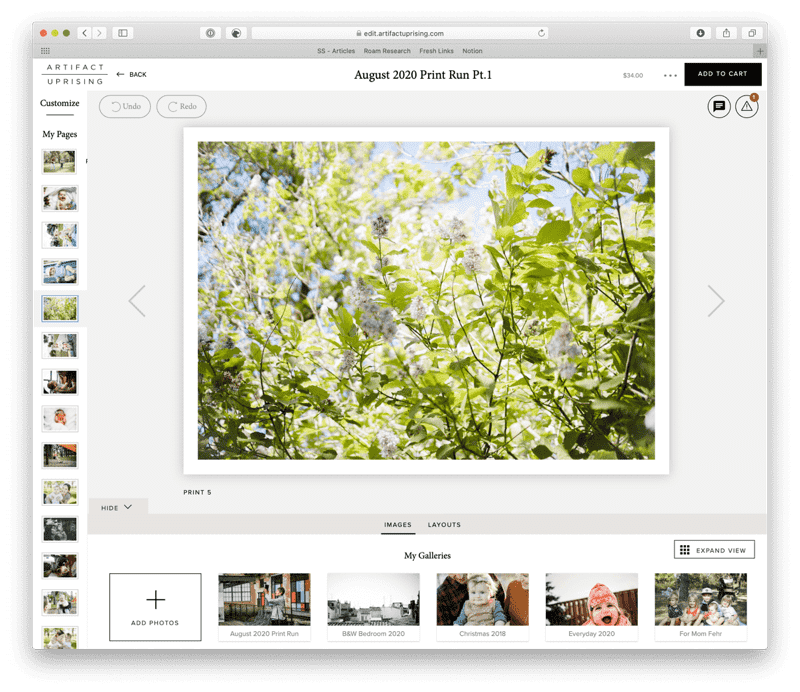 Artifact's web editor offers a pretty great experience. Once you've hit the Create Your Print button, you're taken to the editor, where you can upload your images to a gallery either from your computer or from places like Instagram or Facebook. Once uploaded, the photos live in Artifact's program for a lengthy period of time, ensuring you can come back to your project if you haven't finished editing in one sitting.
To start, I try to export photos on my Mac (from an app like Lightroom CC) to a dedicated Exported Photos folder on my desktop. I'm not overly particular about the way I export photos for printing in Artifact's service — I export a .jpg photo at 100% quality in DCI-P3 wide color quality. Though it depends on your camera's sensor resolution, my 30MP EOS-R files are usually only 12MB or so in this format, so they don't take too long to upload to Artifact's web editor.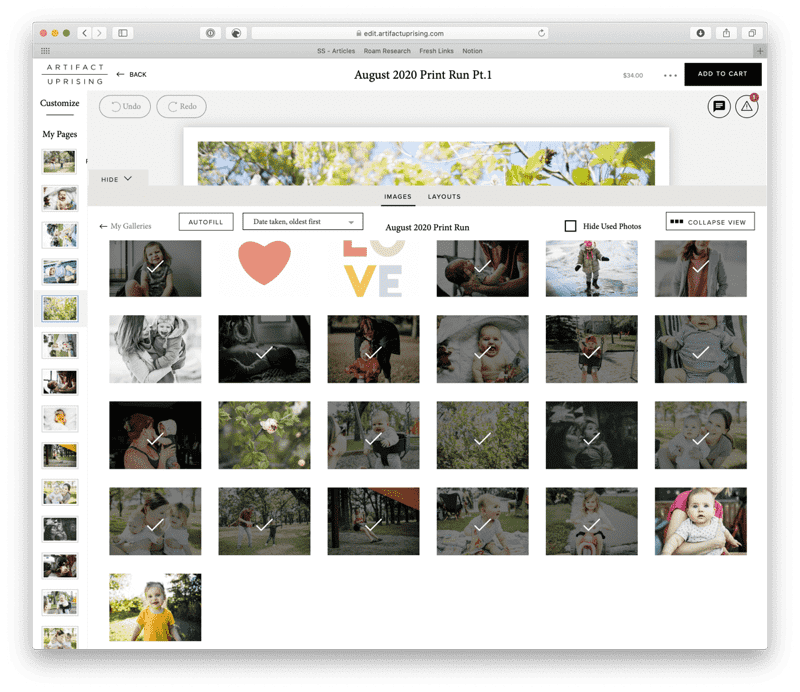 Once uploaded, you can drill into any gallery and click Add to add the selected photo to the current product (or page in a book). Photo books offer a wide range of photo templates for each page, allowing you to customize the layouts to your heart's content. Artifact also offers an autofill option, if you simply want to hammer out a high quality photo book in minutes. Autofill inserts the photos in the order in which they are updated, so if you're aiming for an accurate timeline in a book, autofill will require accurately ordered photos from the start.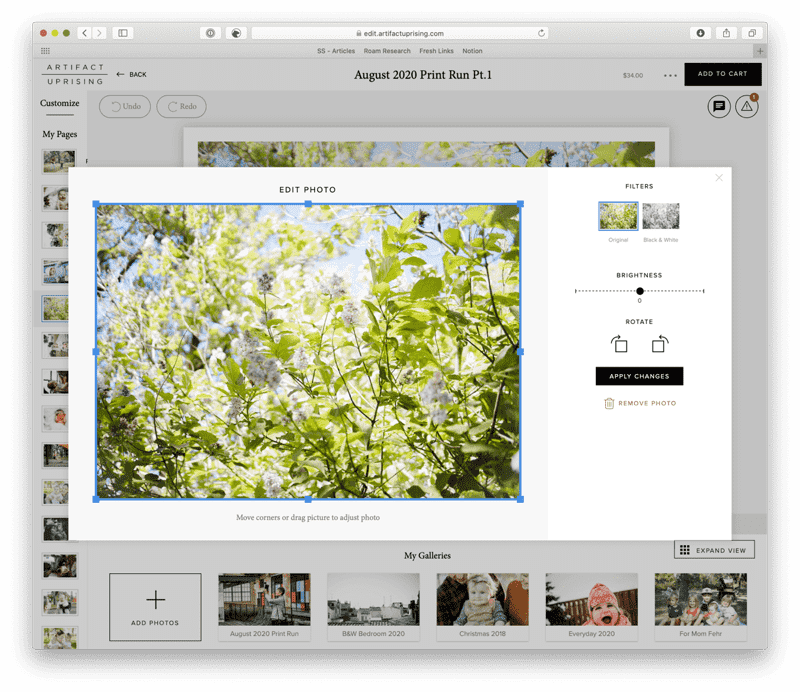 Once a photo has been added, you can edit the photo by brightening, straightening, or cropping if required. I'd recommend completing your edits inside an app like Lightroom or Darkroom and exporting the finished product from there — Artifact's actual editing tools are fairly limited.
I'd also recommend rotating your portrait photos so they are "sideways" in Artifact's online editor — to my understanding, you can't order some landscape photos and some portrait photos in one Everyday Print order. Instead, you have to rotate portrait photos 90 degrees so they print correctly.
Lastly, I've often run into low resolution warnings when adding photos to a print, especially with Large Format Prints and Gallery Frames. Artifact's editor warns you to upload a higher resolution image or to choose a different image or product entirely, but I've accidentally ordered a "low resolution" photo in a Gallery Frame once before. All Artifact did was shrink the size of the image inside the frame, and I didn't notice the printing decision until well after the frame was hung.
If you choose to print a low resolution image in a Large Format Print, proceed at your own risk. But my experience was still great, nonetheless.
The iPhone App (and the Lack of iPad App)
Artifact's iPhone app offers much of the online photo printing service inside a native app, but there are a few odd limitations.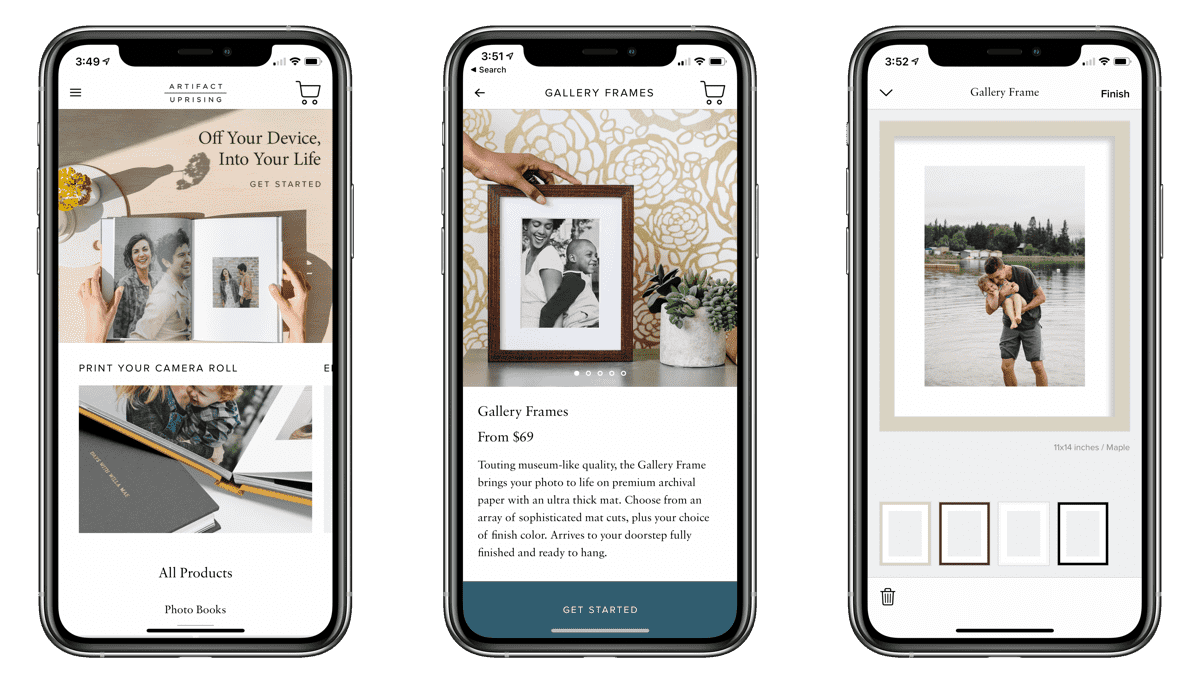 The iPhone app offers almost all the same products offered on the online web store, however my favorite Ultra-Thick Signature prints do not appear. Odd, if you ask me.
However, once you've chosen one of the iPhone-available products, you can add photos from the iPhone's camera roll or any album in the Photos app, or you can add photos directly from Instagram. This is a nice perk of the iPhone app, especially if you're iOS-first like many folks are today.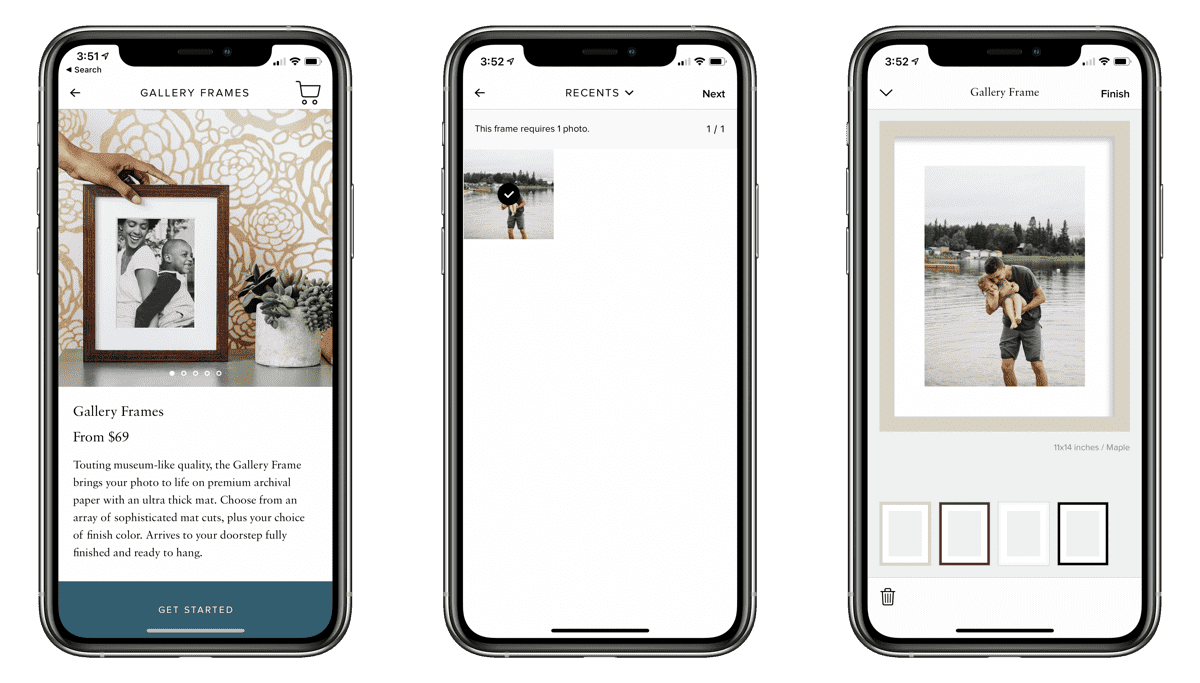 I do, however, find it a bit tedious to edit an entire photo book on the iPhone. The iPhone, even with the larger Plus/Max-sized screen, isn't ideal for longer spans of photo and product editing. In my mind, Artifact's iPhone app is ideal for printing off your favorite iPhone and Instagram photos in an Everday Print Set. Otherwise, I recommend jumping onto a Mac.
And finally, the biggest caveat of all in my opinion: iPhone projects and online editor projects do not sync through your account. As a result, if you start a project on your iPhone, you will not be able to pick up on the Mac where you left off on the iPhone. And vice versa. More than once, I've wanted to sync a project over to my iPhone to more easily grab an iPhone photo in my camera roll. Instead, you have to AirDrop that photo to your Mac and add the photo that way.
Like my discussion about Unfold a short while ago, I believe Artifact Uprising's native iOS app would be best served on the iPad. Alas, the current Artifact app is only available on the iPhone, meaning you can't make use of the iPad's glorious creativity-first display.
Artifact Uprising is My Favorite Photo Printing Service
While I haven't tried all the available photo printing services, Artifact Uprising's overall printing experience through the online editor and the final quality of the printed product make the service my go-to pick for making my photos a tangible memory.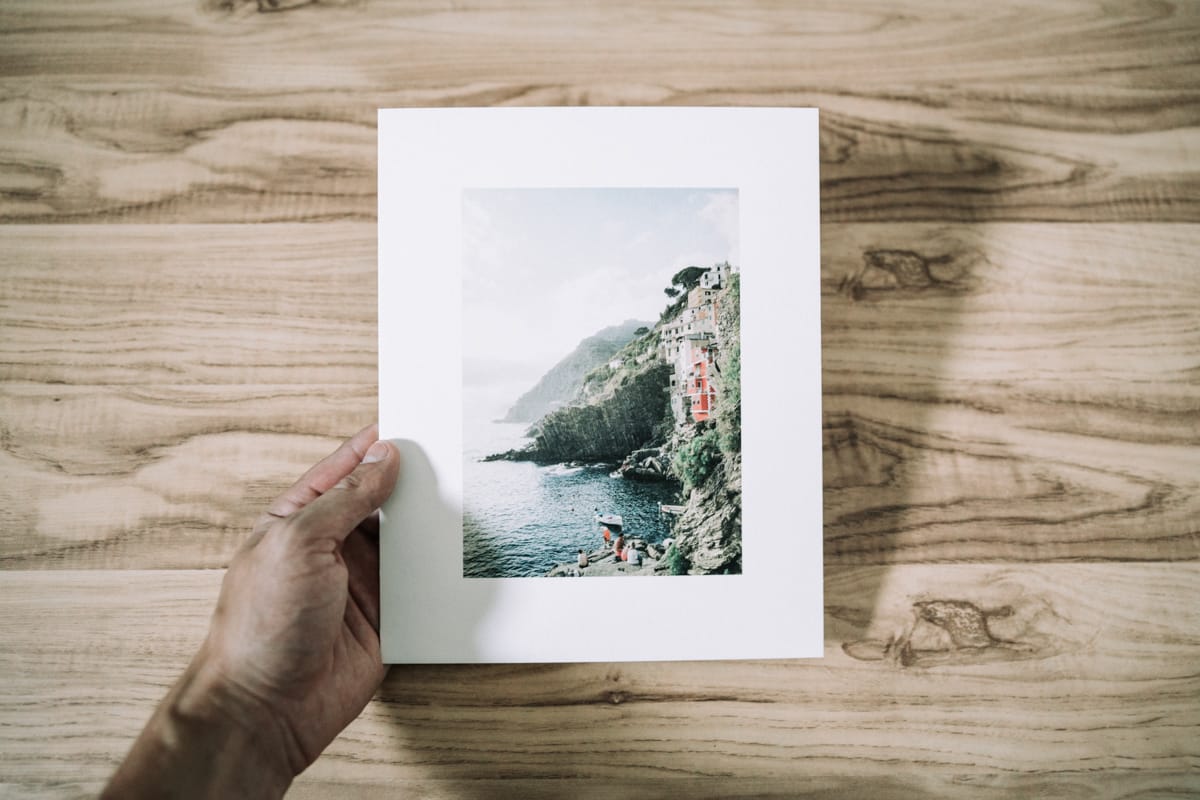 Though each Artifact product is expensive — especially the Ultra-Thick Signature Prints and the larger Gallery Frames — I've been extremely impressed with the final quality of every Artifact shipment. These Artifact prints are made for the long-term, and I hope my kids and grandkids enjoy browsing through them when I'm much older.
When I'm, indeed, an artifact.
Get Our Best Photography Tips & Workflows
Transform your photos and edits from average to awesome with our in-depth, mobile photography course. It's jam-packed with training, ideas, and lessons that can literally transform your photography overnight.