Apps We Love: Unfold (for Improving Your Instagram Stories)
August 27, 2020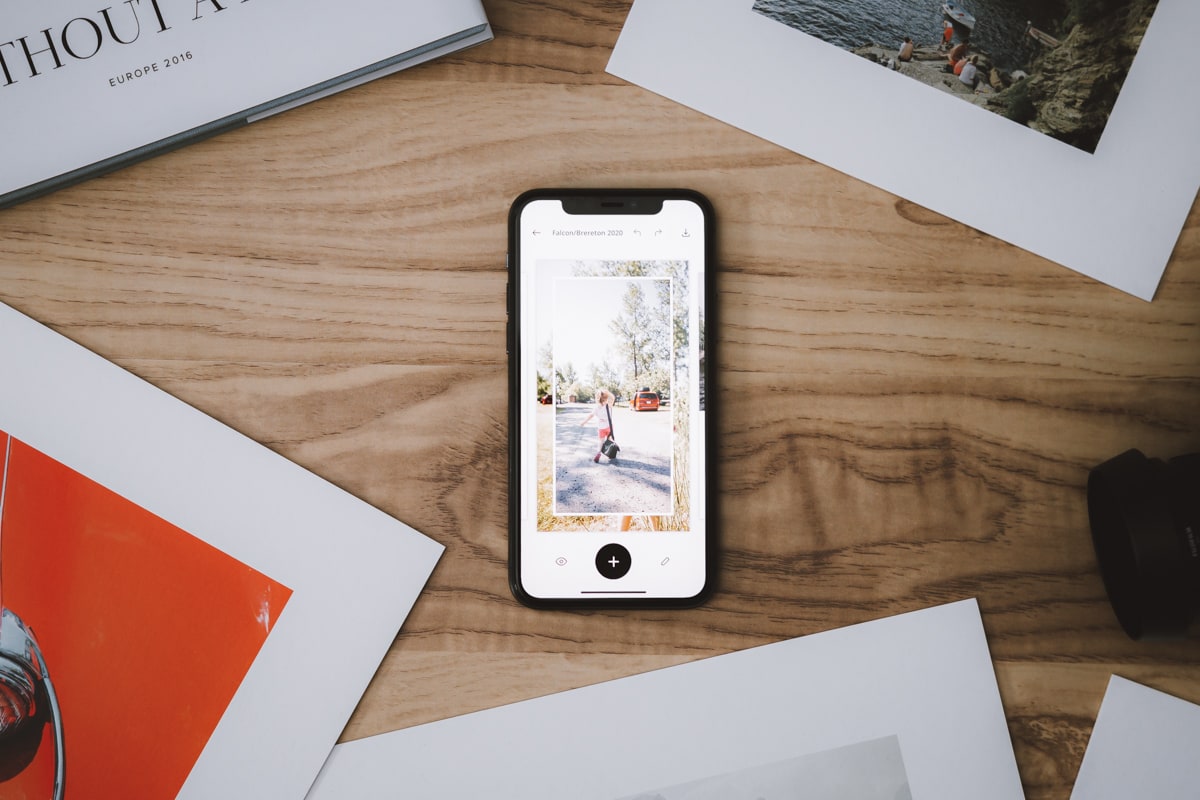 It's probably somewhat disingenuous to state I'm "trying" Unfold for the first time, as I've used Unfold for Instagram Stories creation for a couple years at this point. It's probably best to put that out there, up front.
But hear me out.
I went searching for other Instagram Stories apps the other day, with the hope of finding something new and fresh to spice up my Instagram feed. All I was met with were a variety of apps that didn't look up to snuff, or apps like Adobe Spark, which appeared to be way more powerful than what I was looking for.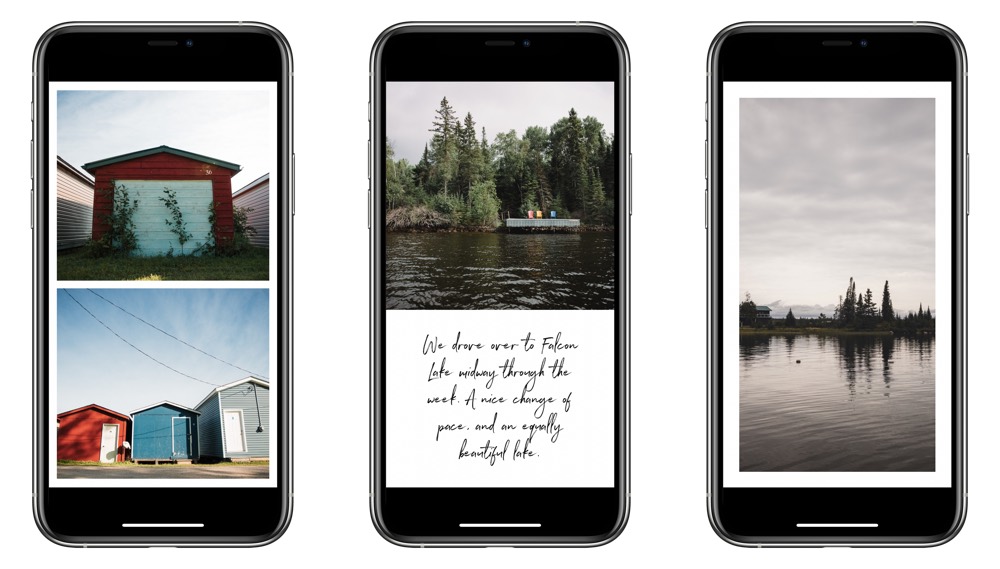 The result: it only seemed fair to give Unfold a shoutout for being one of the easiest-to-use Instagram Stories apps for such a long time. After what feels like forever, there still aren't a variety of other Instagram Stories apps that meet or exceed Unfold.
We'll likely prepare an over-arching review of all the best Instagram Stories creation apps in the semi-near future. For now, I want to admire Unfold for a bit.
Unfold's Simple and Minimal Templates for Instagram Stories
It's very easy to be swept into the extremes on Instagram. There are those who create ultra-curated, deeply impressive Instagram Stories that look like ultra-short feature films, and there are those who take a snapshot, type a blurb, and post. It may be my following list, but I don't know too many Instagrammers who are in-between.
My goal has always been to hover somewhere in the middle. I don't have the time (or the skill) to create a blink-and-you'll-miss-it feature film, nor do I want to my Instagram Stories to look like everyone else's Stories. Because, of course, I want to get those views.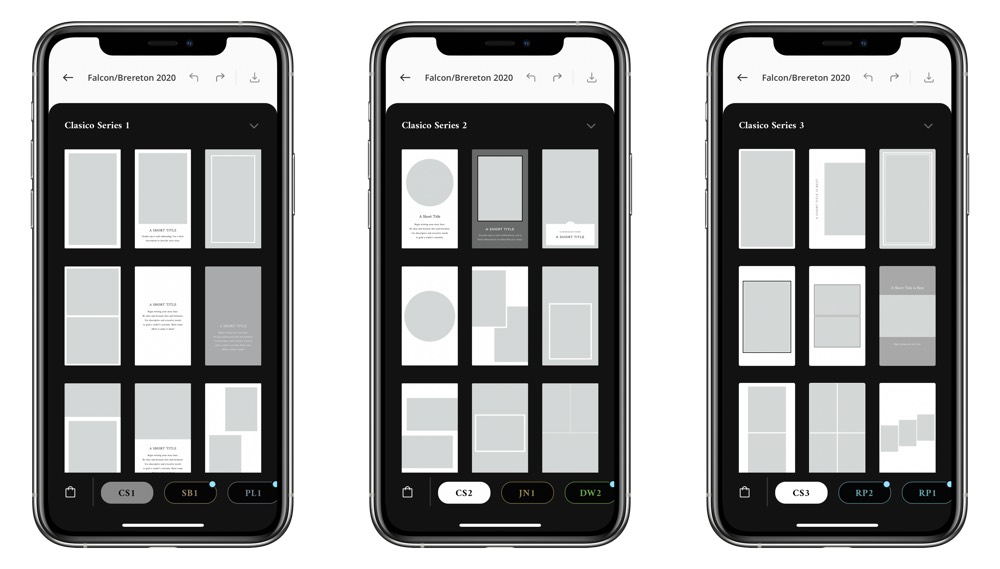 Unfold's simple-to-use and beautiful-to-look-at templates have helped hover that middle line. Unfold's templates verge on being extra-curated, but there are a range of templates that are simple, elegant, and precise, showcasing your photography in an attractive way.
To start, you simply need to hit the giant + button at the bottom of the app to create a new Instagram Story. Once created and named, you can tap + again to choose from a wide variety of Unfold's templates. I'm particularly fond of Clasico templates — they're simple and elegant, have a wide variety of text and photo combinations, and have generic white backgrounds that fit the look I'm often going for.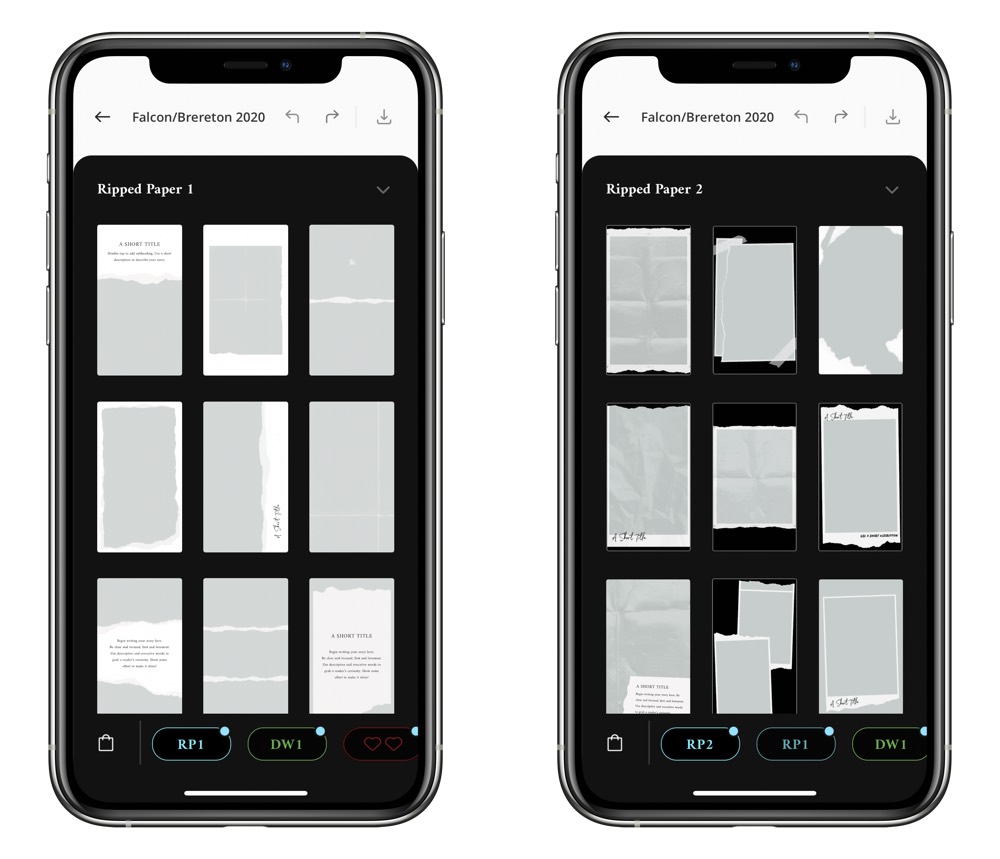 If you're more into skeuomorphic templates, you may find Ripped Paper or Film Frames to fit the aesthetic you're looking for. Film Frames especially provides an instant retro feel to your Stories.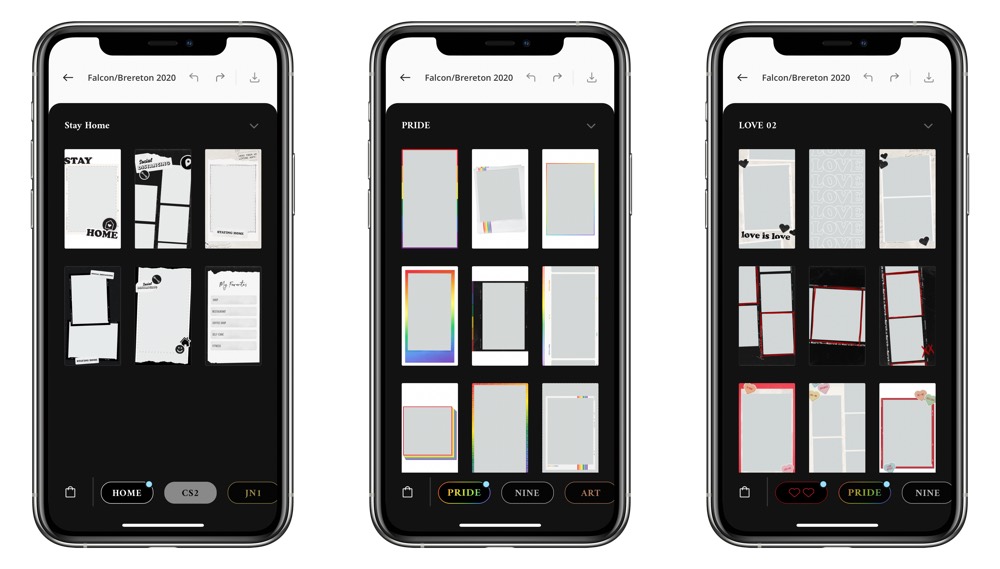 There are a whole host of template options in Unfold's store and/or Unfold+. Unfold+ — the app's subscription option — unlocks all templates across the board, providing a plethora of options to build out your stories.
Long story short, Unfold's template options appear to be second to none. The simple Clasico templates are what drew me into the app at the very start, and there are so many more options to explore.
Get Our Best Photography Tips & Workflows
Transform your photos and edits from average to awesome with our in-depth, mobile photography course. It's jam-packed with training, ideas, and lessons that can literally transform your photography overnight.
Story Customization
Each template series provides a variety of click-and-go options, but you can customize each individual template to your heart's content. Though more is unlocked when you up the ante to Unfold+, there are still plenty of options for customizing each page of your Story.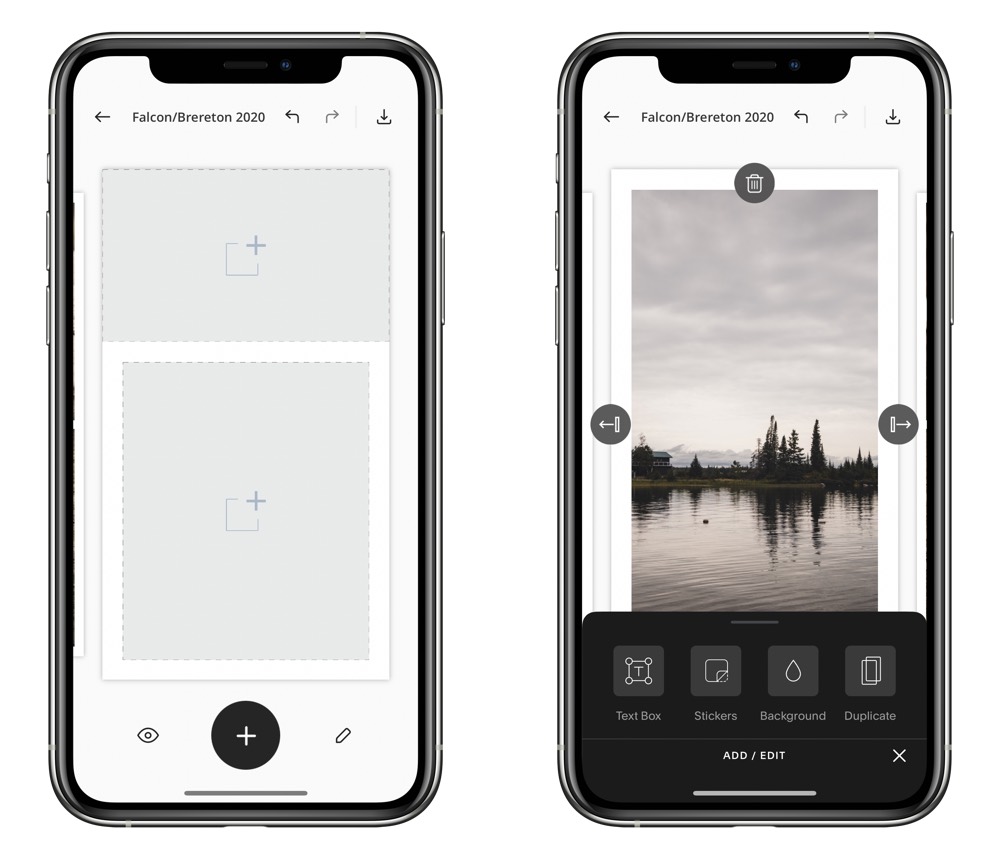 First, tap the big + button to choose your template. Once chosen, the template will provide big grey squares or default text boxes ready for your customization. Tapping a grey square opens up your photos to populate the page (if you're choosing multiple images for the page, you can select all the photos you want in the page in one go, and then move around after all the images have been populated.) Tapping a text box allows you to edit the text, and buttons above the keyboard enable you to change the font, font size, color, and more.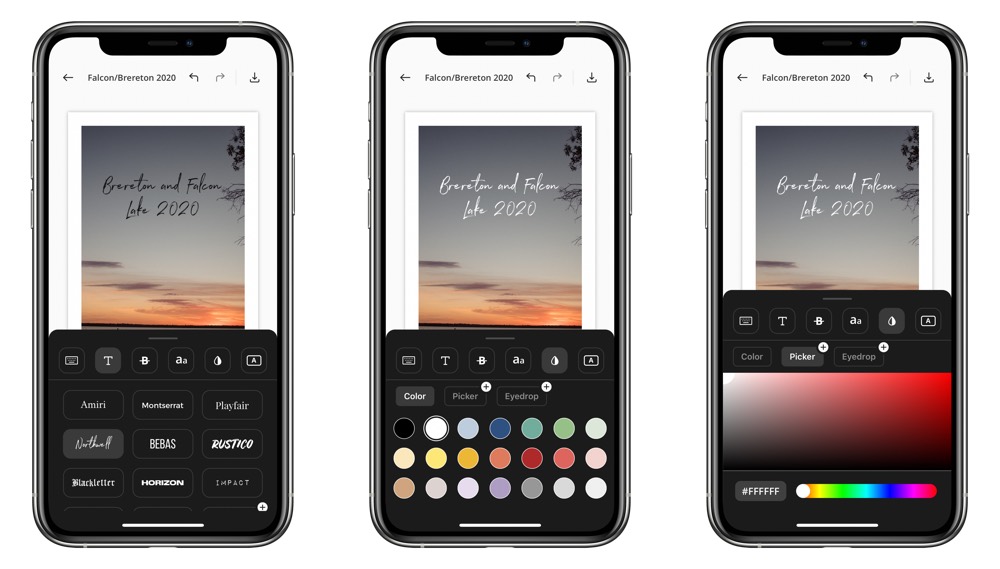 Unfold recently received the ability to upload your own custom fonts thanks to the feature addition in iOS 13. For those with custom fonts (we love Whitney around here), you can really bring out your own personality in your Stories.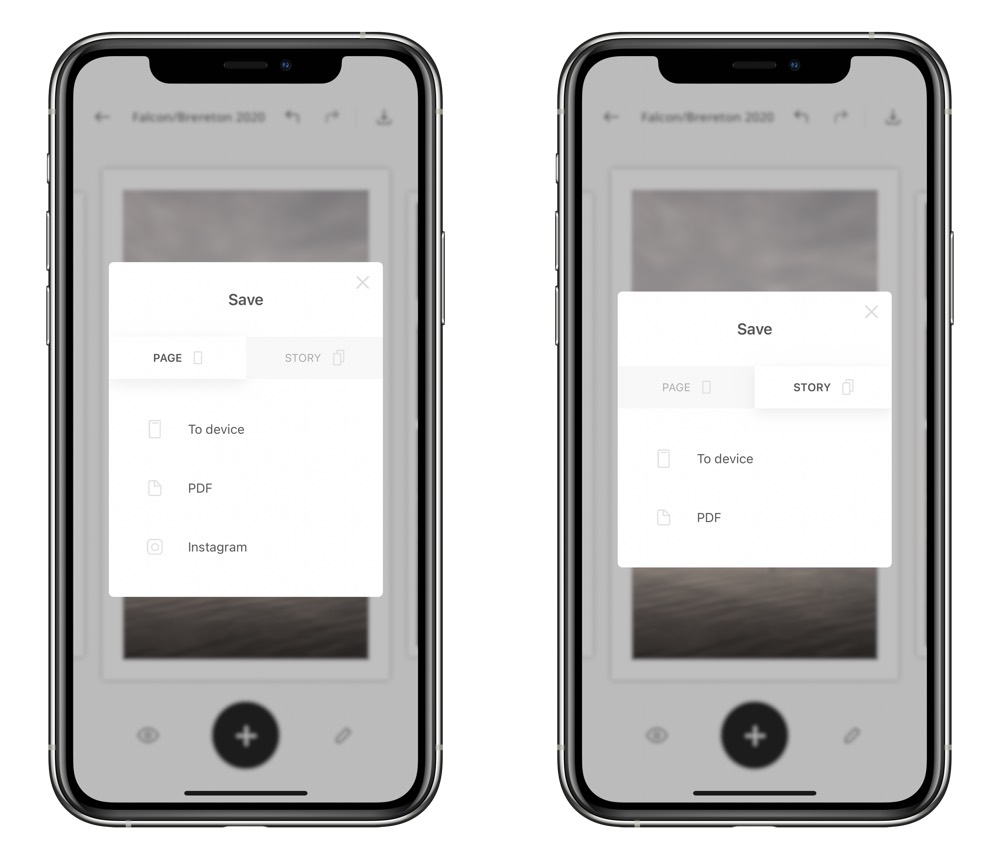 Once you've finished all your creating, you can quickly export either the current page or the entire Story for sharing. In the top right corner, tap the downward arrow and tap Page to save the current page or Story to save the entire story. If you're exporting a single page, you can export that page directly from Unfold to Instagram, providing direct access to your Stories portal. I, however, tend to use the To Device option in the Story tab, as it works pretty well to quickly export everything to the camera roll and share to your Stories feed from the camera roll.
As I mentioned above, I'm quite fond of the Clasico series templates, and I rarely change the text boxes and fonts too much. I find it to be a lot of tedious work to endlessly edit inside Unfold on the iPhone.
Why?
Because Unfold is only available for the iPhone. This is perhaps Unfold's single biggest weak spot — creating Instagram Stories on the small iPhone screen can be a test of patience due to the small screen size, the small touch targets, the small keyboard, and more. I'd love to see Unfold available for the iPad, where you could build out stories with a bigger canvas and with more on-screen tools at once. Once you're done on the iPad, a quick export to your camera roll should sync over the completed Story pages to your iPhone, where you can post through the Instagram app.
As a whole, the ability to customize the already-great templates inside Unfold will bring out loads of artistic skill in the aspiring Instagram Story-teller. Having to do all that art on an iPhone may be a test of patience, however.
Unfold+
As I've mentioned over and over, Unfold's subscription service may be worth the $4/month or $26.50/year membership price tag if you're looking for even greater levels of customization. Unfold+ unlocks all the app's Story templates, fonts, font colors, stickers, stamps, backgrounds, and additional tools for further customizing background color.
Unfold is one of those few apps where I feel there's an extremely healthy balance of free and for-pay features hidden behind the subscription price. You can create all sorts of great Instagram Stories with the free tools and features, but gaining early access to new templates and having the entire app at your disposal when creativity is flowing may be worth the coin.
You can also purchase individual template packs for a couple dollars if you're not looking to fully subscribe but want to try out a for-pay Story template. I've purchased a few of these in the past and have had no regrets.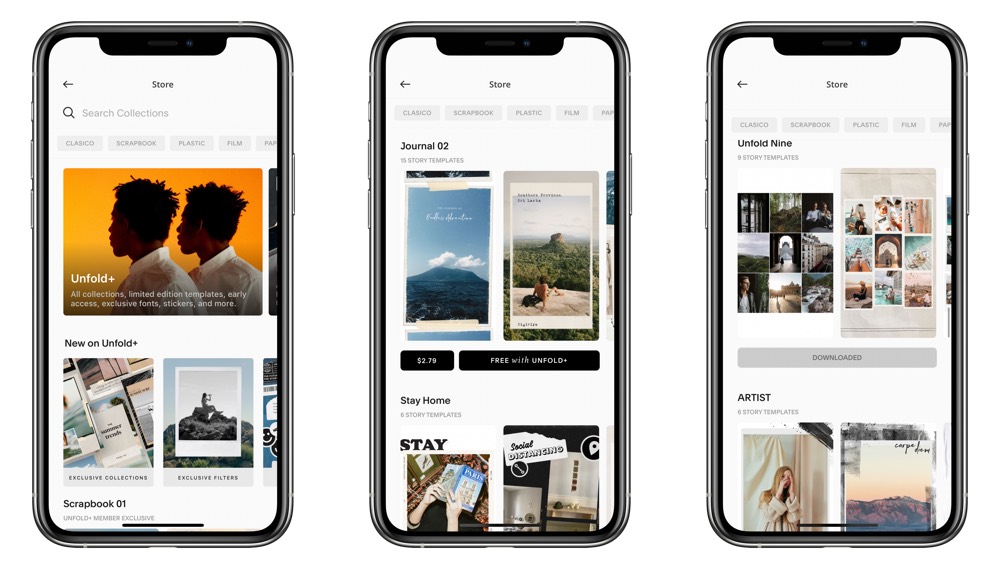 I think the value balance will fall toward the subscription price if you're looking to utilize all sorts of custom fonts, custom colors, and the most intricate templates. If you're like me and are looking for a simple, elegant way to showcase your photography through the Instagram Stories portal, I think many of Unfold's free features will suit you well.
Wrap Up
It's been ages since I last visited the Unfold developer website, but I was slightly caught off-guard when I began my Unfold research and discovered Unfold had officially joined the Squarespace team. As of October 22, 2019, Unfold has been part of the Squarespace app suite.
I think this spells both good and bad news.
The good news: Squarespace appears to be a hugely successful company and has perhaps the very best taste for simple and elegant web design in the world right now. Creating a Squarespace website is super easy, but also somewhat challenging due to all the great website themes available. Considering Squarespace's design track record, I think Unfold has the right designer hands wrapped around it.
The bad news is that Squarespace has never focused on providing solid native apps for iPhone or iPad. For as long as I can remember, editing and creating a Squarespace site was best done at a Mac. With the iPad's desktop-level browser support, editing that site on the iPad is now possible, but there's still no solid, true native app to be found.
I worry this may spell doom for any potential iPad app for Unfold.
Unfold desperately needs an iPad app.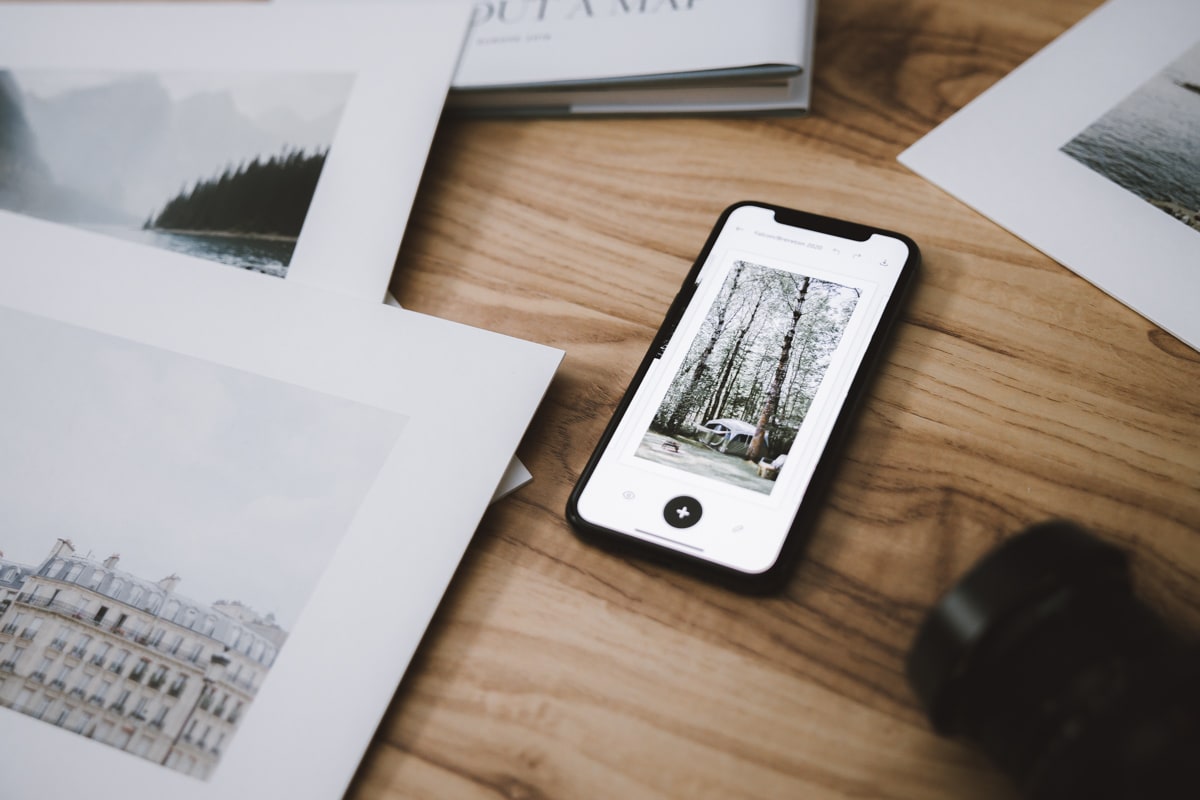 The iPhone is the camera that's always with you, ready to capture moments at a whim and share those moments with family and friends.
The iPad is the device for taking those moments and creating around them. The big glowing canvas just yearns for apps like Unfold to make use of their giant screens and ultra-powerful onboard chips.
Unfold is one of the best apps in my mobile photography repertoire so far. Its design, templates, and ease of use make it an inviting app to use before sharing photography on Instagram. If Unfold were to have an iPad app, it would jump to the front of my iPad home screen in a heartbeat, and I'd have Instagram Stories to share each and every day.
Get Our Best Photography Tips & Workflows
Transform your photos and edits from average to awesome with our in-depth, mobile photography course. It's jam-packed with training, ideas, and lessons that can literally transform your photography overnight.