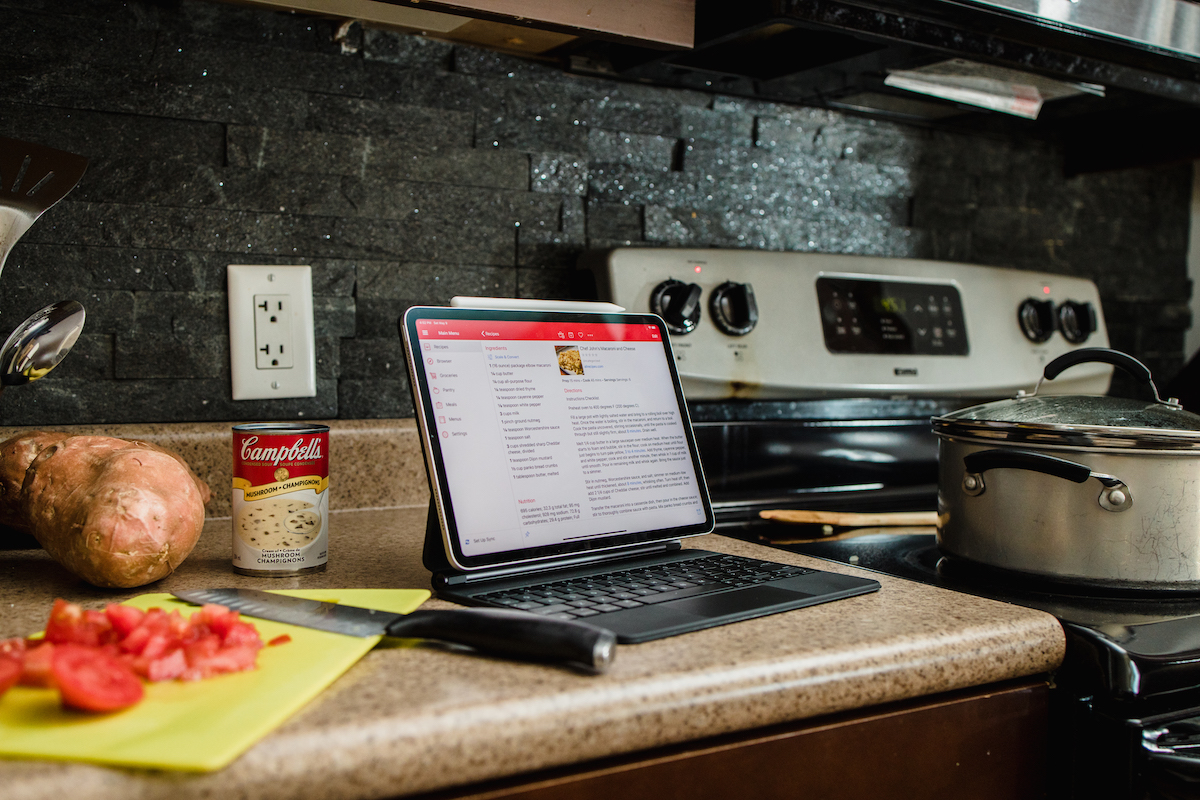 The best recipe manager for iPhone, iPad, and Mac
Paprika
May 11, 2020
The best recipe app for iOS, Paprika, is more than just a recipe manager. Paprika makes it easy to plan, save, shop for, cook, and organize all your favorite recipes. In addition to its universal iOS app, Paprika has a great Mac app that syncs with your mobile devices perfectly. Both apps are available on the App Store and, after a huge 3.0 update on both platforms nine months ago, Paprika kept its status as the king of the hill, a position it continues to enjoy to this day.
Table of Contents
Curated List of Must-Have Apps
We spend an inordinate amount of time sorting through hundreds of apps to find the very best. Our team here at The Sweet Setup put together a short list of our must-have, most-used apps in 2022.
You will get…
The current list of The Sweet Setup's top 8, must-have apps.
A special, pro tip for each app to help you save time and become more of a power user.
A hidden feature of each app that you may not have known about.
The Sweet Setup Staff Picks for 2022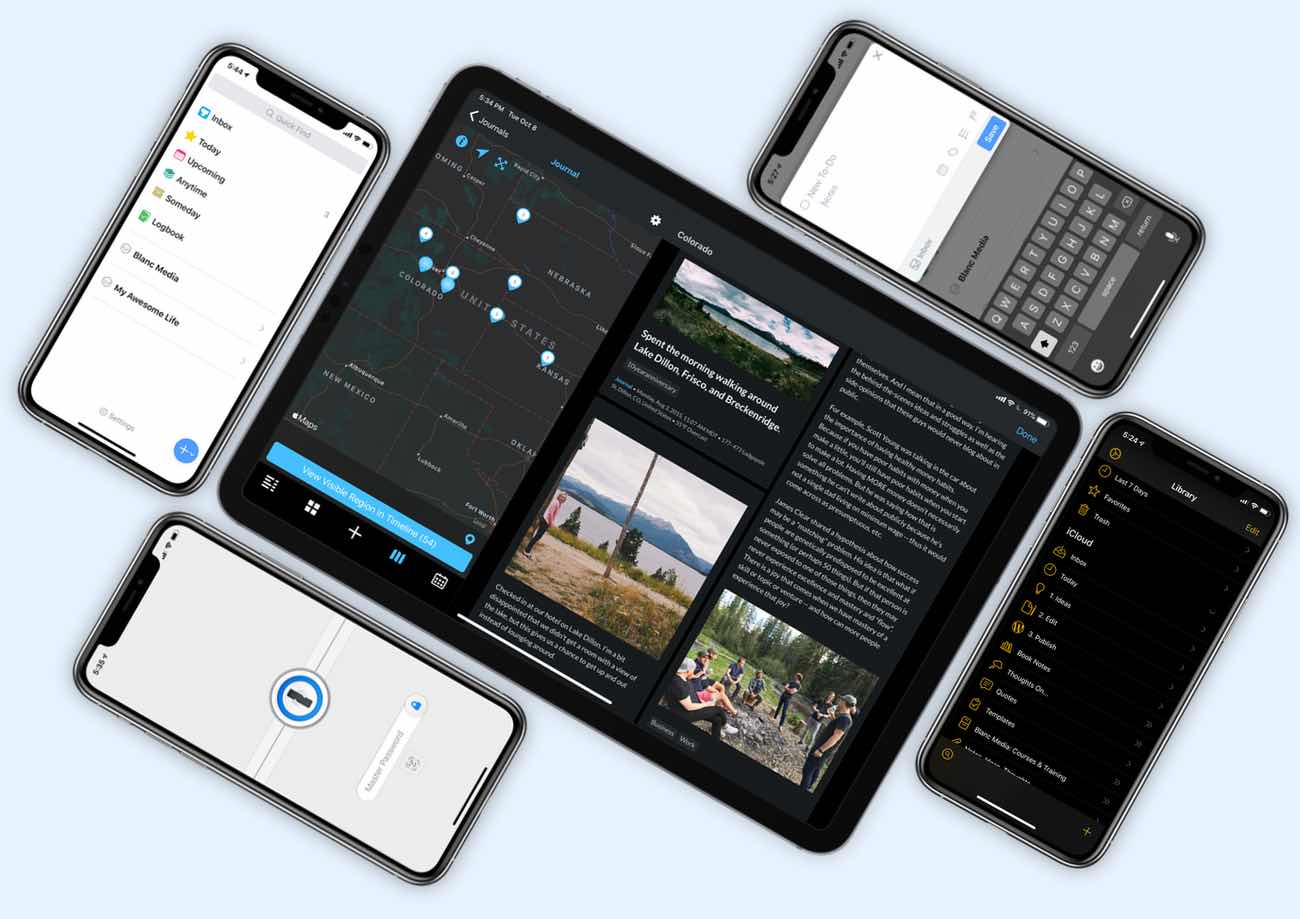 These apps work on iPad, iPhone, and Mac. And they range across several different categories but are mostly focused on productivity. They will help you get the most out of your devices and your day.
Introduction
While not as crowded as the weather app category, there are certainly plenty of apps on the App Store for managing recipe collections. For the first edition of this review way back in 2013, we asked our foodie friends and Twitter followers to tell us their favorite apps for managing recipes. Since then, we've continued testing the apps in this space and generally keeping an eye on the App Store for new contenders.
Admittedly, not a whole lot has changed in the nine months or so since we last updated this review, but we'd rather our readers know that we're staying on top of things than let the information languish and leave you all wondering what the current state of things is.
The Apps We Tested
What We Look For in a Recipe Manager
Any recipe app worth its salt (heh) should offer the following features:
An easy way to add recipes from anywhere, whether it's creating one manually or using a web browser extension to clip recipe metadata from sites straight into the app.
A design that's both readable and has decently large touch targets for using the app while cooking.
The ability to scale recipes if you want to cook more or less servings.
Full recipe sync between devices, with bonus points for recipe import/export/backup.
There are also some things we actively eliminate apps from consideration for:
We prefer apps that aren't tied to a particular "brand" — even ones we enjoy, such as NYT Cooking and its companion app.
We also don't need our top recipe app to be a social network. We have plenty enough of those in our lives without bringing our kitchens into it.
To put it simply, Paprika 3 for iOS provides all the features you need to be an organized and effective home cook. Paprika also works great for casual cooks who just want to store all their recipes on their iOS device (and/or Mac).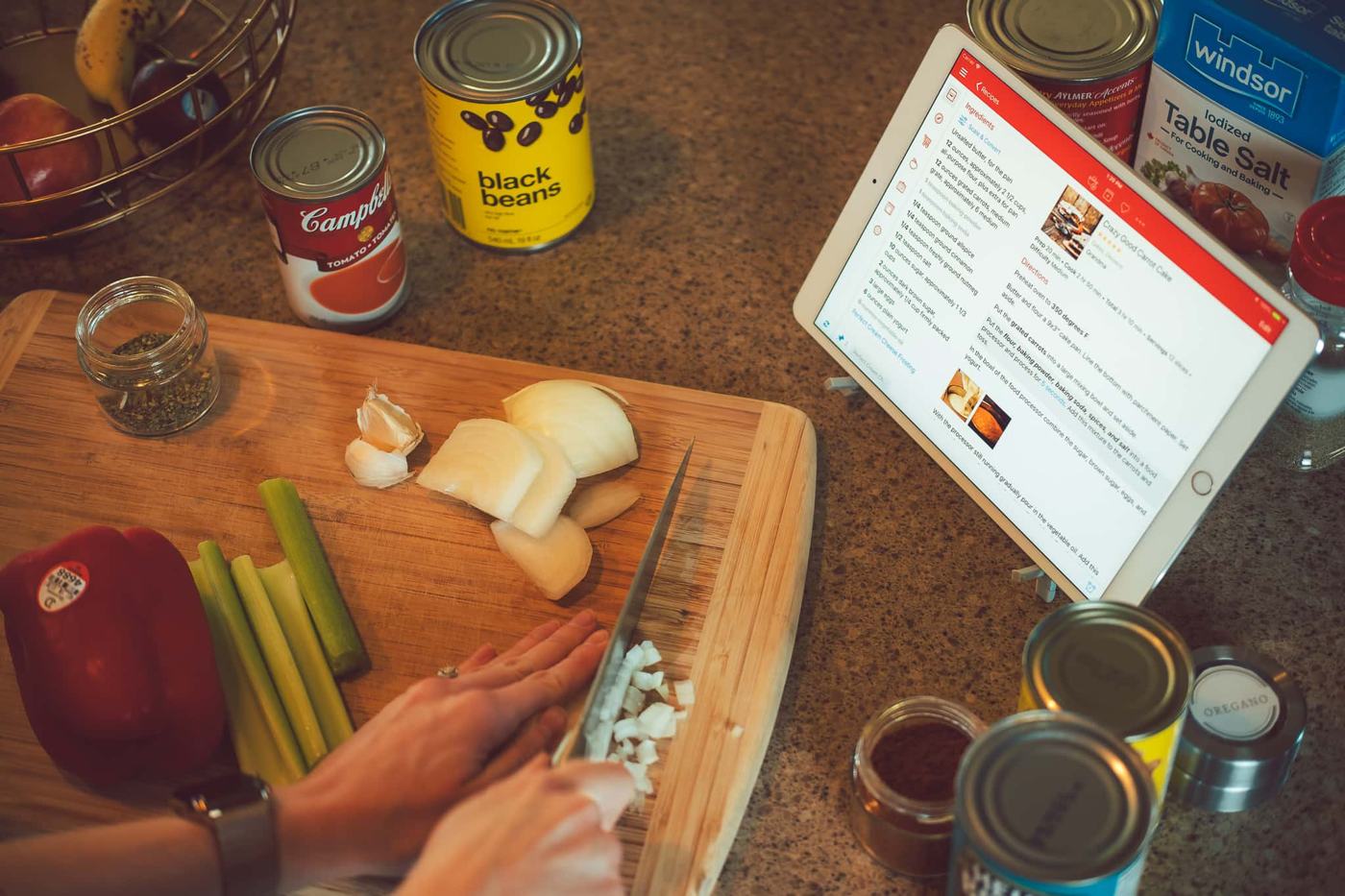 Adding recipes is a snap, with support for many popular recipe websites and food blogs. It's even easy to import recipes from "unsupported" websites using Paprika's integrated browser and its clever way of assigning any highlighted text to various sections of a recipe. Moreover, Paprika's cooking-specific auto-complete smarts help alleviate some of the pain of manually entering recipes.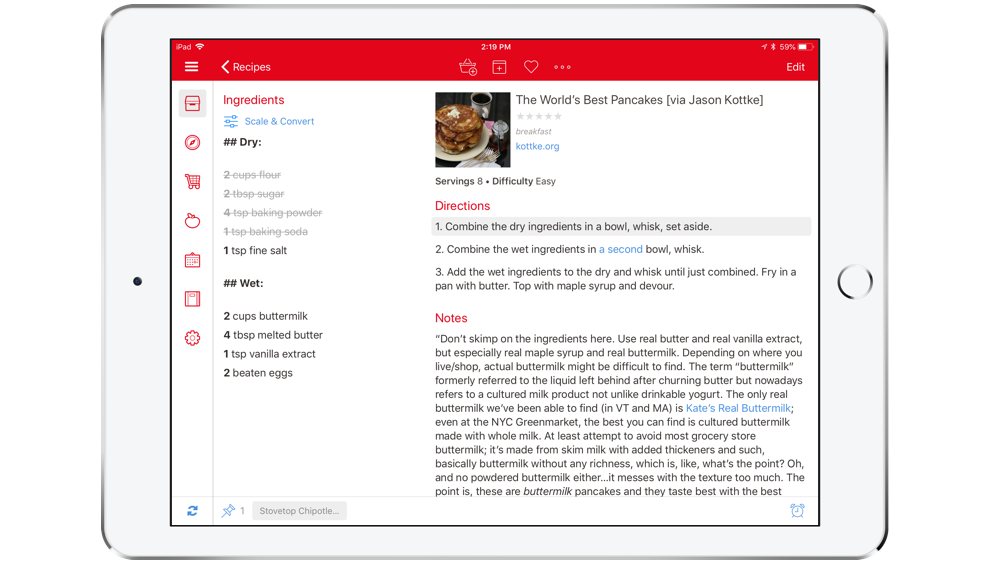 Once you've collected your recipes, you can plan your week (or month) of meals on a calendar and even let Paprika auto-create your grocery list with all the ingredients you need for those recipes. It's like the recipe-focused counterpart to the more grocery-centric app, AnyList.
If you've never used a recipe app before, or have never settled on one, Paprika is the one you want. You will never have to organize printed recipes from the internet, write a paper grocery list, or forget to pick up that key ingredient from the store again.
Cooking with Paprika
Paprika is a perfect companion both in and out of the kitchen. No matter which device(s) you enjoy reading your favorite recipe blogs from, it's always a cinch to clip recipes to try later. When it comes time to sit down and plan the next week's meals, Paprika makes it easy to create a meal plan and a grocery list, which in turn greatly simplifies your trip to the store after a busy day at work.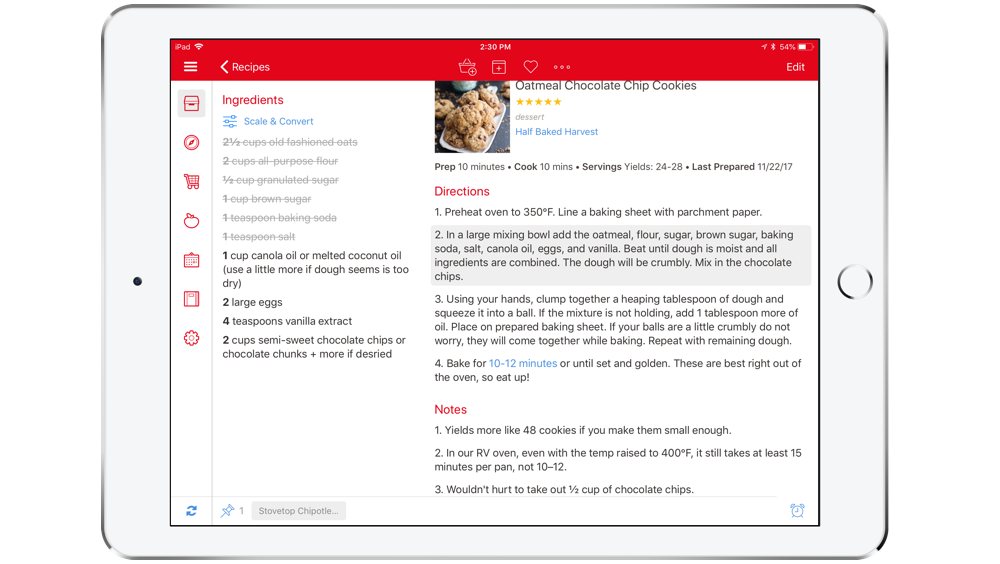 When cooking with Paprika, the ability to keep multiple recipes at your fingertips, cross out ingredients as you add them, set timers right from the directions, and mark your spot in the directions are all huge benefits over a paper recipe book. When you make changes to a recipe or want to remember what you did or things you liked or didn't like, Paprika makes it easy to make adjustments and keep notes on all your recipes. No more trying to set timers on your microwave and stove, and no more scribbling notes on your printed recipes, hoping you'll find them in the future.
The free Paprika Cloud Sync service syncs everything in Paprika to the cloud and all your devices, all in real time. Since it uses its own sync service rather than iCloud, it's easy to create an account to share between everyone in your household. It's totally seamless and efficient, no matter how you use Paprika across all your devices.
Viewing and Managing Recipes
When you first open Paprika, you're presented with the main recipes screen. From here you can browse recipes by category, run a search, and sort the list by Name, Rating, or Most Recent.
When viewing a recipe, you can add it to Paprika's meal planner calendar by tapping the appropriate button at the top — it's the calendar-y looking one between the shopping basket and the heart — which helps you plan out your meals for the next day, week, or month. Tapping that basket button adds that recipe's ingredients to your Groceries list, minus the ones already listed on your Pantry page.
The ellipses button (•••) gives options for duplicating, printing, emailing, and sharing the recipe by either AirDrop or link.
Nifty Recipe Features
Paprika's unit converter can be a life-saver if you forget, for example, how many tablespoons are in a ¼ cup. You also have the option to scale the ingredients in your recipe automatically for times when you want to prepare more or less servings than the recipe calls for, such as making 2.5x the normal amount of sweet potato casserole because all the in-laws are coming over for dinner.
Other features that make Paprika a great partner while cooking include automatic timers recognized from the recipe's directions, the ability to cross off ingredients as you use them, and the ability to mark your spot in the directions with a simple tap. Pro tip: Increasing the recipe font size in the settings also helps make a more appropriately-sized touch target.
When preparing an important meal that includes an entrée and multiple sides, it's helpful to have quick access to multiple recipes on the fly. Paprika allows you to pin active recipes to the bottom toolbar — just tap the pin icon at the bottom left of any recipe to get the menu for it — making it easy to switch in the midst of cooking so you don't burn the butter while trying to look up the right temperature to cook the turkey to. What's even cooler is that these pins instantly sync between devices to make busy cooks' lives as easy as humanly possible.
Automatically Import Recipes from the Web
Paprika also excels at adding recipes. There is a large list of supported sites, including big names like Serious Eats, Bon Appetit, AllRecipes, and Cook's Illustrated, but also lots of little guys. Adding a recipe from a supported site is as simple as tapping the Download button on the in-app browser and letting it work its magic, or you can send things to Paprika via the web browser extension.
With unsupported sites, Paprika still makes the process of clipping recipe information relatively simple. If you've got the recipe open in the browser, just highlight any bit of text and tap the appropriate field button at the bottom to automatically file the information there: Name, Description, Ingredients, Directions, etc.
Adding Your Own Recipes
If you want to add your family recipes to Paprika, the iPad version provides some extra tools to make the process a little less painful. Above the keyboard is a toolbar that includes some formatting options — bold, italics, adding photos and links, etc — but more importantly, it offers quick access to common measurement terms, fractions for ingredients, and the degree (°) symbol.
It gets even cooler once you start typing. The toolbar only shows a bunch of numerals and fractions by default, but if you start typing, say, tab, it starts populating the toolbar with buttons for things like tablespoon, tab, tablet, tabasco sauce, and so on. Just tap one and it adds that word for you, autocomplete style.
This makes the process of adding information about a given recipe so easy. (It was harder than you'd think not to use a "smooth as butter" pun right ther- oh wait.)
The Power of Paprika's Built-In Grocery List
Paprika lets you easily make your grocery list based on recipes you're planning to cook soon. While viewing a recipe, tap the Shopping Cart button at the top to instantly add all the ingredients needed for that recipe to your Grocery List. A popup will display, allowing you to check or uncheck ingredients before adding them to your list in case you already have certain items. You can also manually add items to your Grocery List.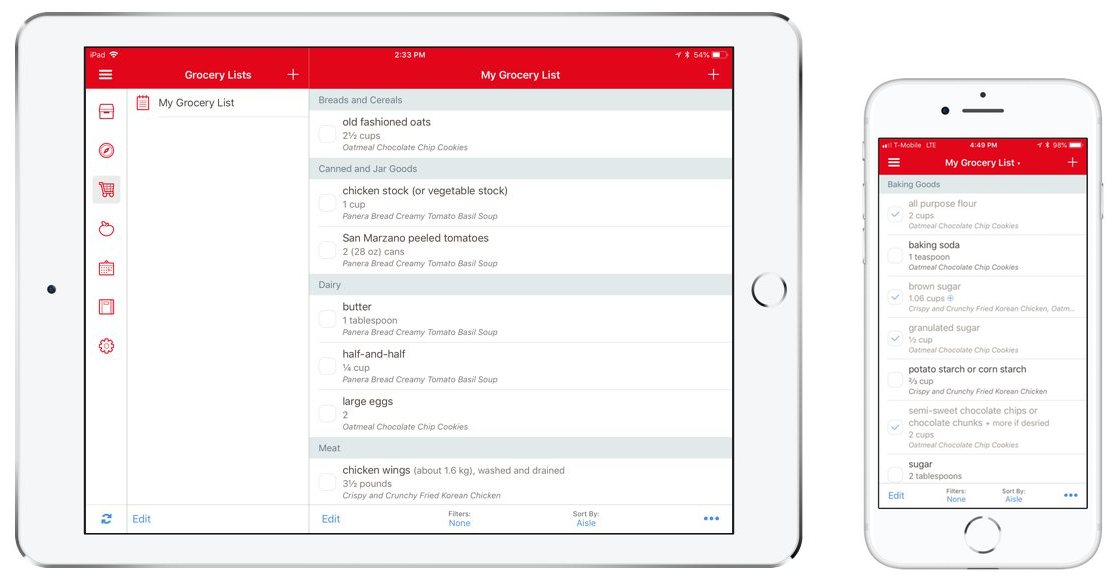 When viewing the Grocery List, similar items are consolidated, like if one recipe calls for one egg and another one needs two, your grocery list will have 3 eggs with both recipes listed underneath. Items are also sorted by category, making it easy to find everything in the store without having to backtrack while shopping.
As you'd expect, the Grocery List allows you to check off items as you purchase them. If you'd prefer to shop from a Reminders list, Paprika will export your Grocery List to the iOS Reminders app. Unfortunately, the Reminders sync is only one-way. Items you check off in Reminders don't get synced back to the Grocery List in Paprika.
Another great feature in the Grocery List is the Pantry (apple icon in sidebar). You can use the Pantry to keep track of all the ingredients you already have in your kitchen. When adding recipes to your Grocery List, any items already in your Pantry will automatically be unchecked.
Meal Planning
The Meals view (calendar icon in sidebar) allows you to make daily, weekly, and/or monthly meal plans directly inside Paprika. To add meals to your Meal Plan, you can select recipes from inside the Meal Planner, or add them to your Meal Plan from the recipe screen. You can add notes to your menu to assist in organizing your meal.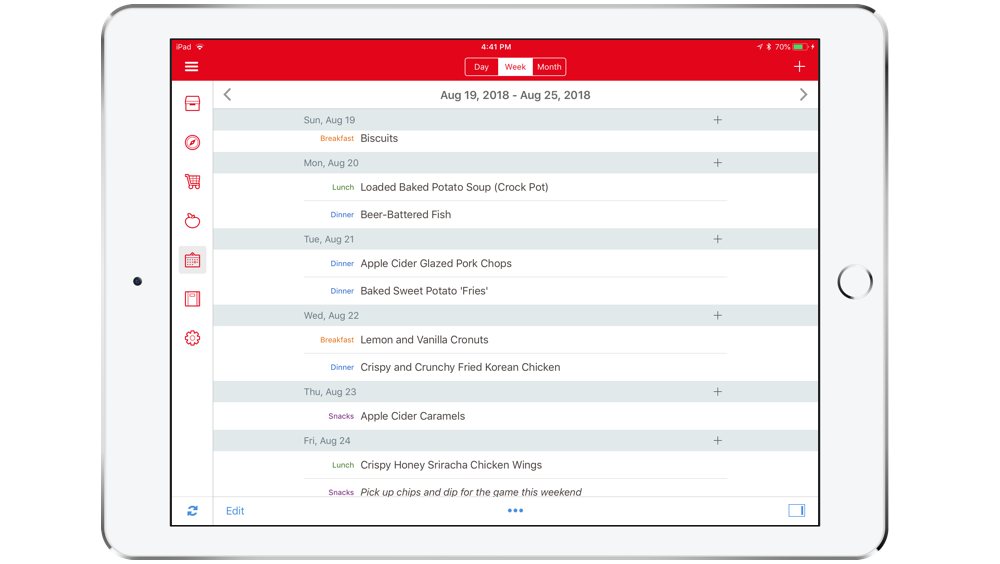 The Meal Planner also allows you to add all the ingredients from a plan to your Grocery List, export the meals to Calendar.app, save a menu (including notes) for easy re-use, and email or print your Meal Plan.
Price
Paprika is $5 for the iOS app, and $30 for the Mac app.
We think the above prices are reasonable because of the full suite of features offered by the apps, the free cloud syncing, and the attention to detail at every level.
If spending $35 on the Paprika suite of apps sounds like too much, it's okay — you don't need both versions. They both work great on their own, although if we had to recommend one over the other, we'd go with the iOS version so you can make the best use of that Grocery List feature when you go out shopping.
AnyList is already our favorite grocery app, but it does have some built-in recipe management features that make it noteworthy enough to put on this list, particularly once you've dropped eight bucks to unlock the features within AnyList Complete. Those features, combined with the overall high quality of the app, catapaulted AnyList over Basil to become our new second place winner.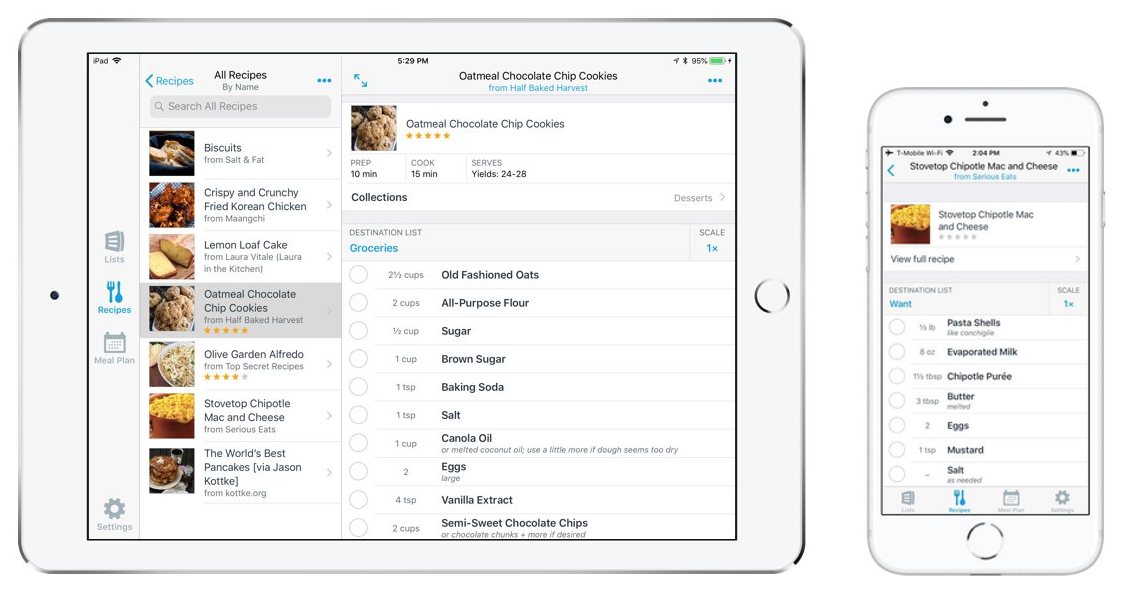 Something to note off the bat: Our general take is that, while Paprika and AnyList both allow you to manage recipes and grocery lists, Paprika is better at the former while AnyList is better at the latter. With AnyList Complete, you do get things like recipe scaling, custom recipe photos (rather than generic icons), the ability to add recipe ingredients straight to your shopping list, importing recipes from the web, and a decent amount of recipe organization (recipes are tagged/filed in "Collections" for easy browsing later).
However, there are some things that make AnyList a bit less ideal than Paprika as a recipe app:
There's no way to cross off added ingredients or completed steps as you work your way through a recipe. Tapping an ingredient only adds it to your shopping list of choice, which goes back to AnyList's focus being more on grocery shopping than cooking.
On iPad, the ingredients are listed above the preparation steps rather than having the sections side by side, so you can't view both lists simultaneously like you can in Paprika.
On iPhone, tapping into a recipe brings up only an ingredient list at first, where you can quickly add things to your shopping list. You have to then tap "Show Full Recipe" to reach the recipe itself, an extra step that again demonstrates AnyList's greater focus on groceries.
AnyList keeps ingredients and steps separated as individual items, à la spreadsheet cells. Paprika, on the other hand, is more like a custom Markdown editor where you can bold certain text (which is handy for splitting ingredients and instructions into separate lists with their own "headings") and even add in-line links, [Like so](url_here).
Recipe instructions in Paprika intelligently convert any mentions of time ("30 seconds", "7 to 8 minutes", etc.) into clickable "links" that open up a timer overlay with that amount of time put in, ready to start. AnyList does no such thing.
Those caveats aside, AnyList is a more-than-capable way of creating, saving, and organizing recipes, and when using it, you definitely still feel the developers' commitment to app quality and stability. If they can just do some tinkering on the actual cooking side of things, Paprika will have a much tougher contender on its hands. As it is, it's a solid enough recipe manager even if you stick with the free app without unlocking AnyList Complete.
Before today's review update, our longstanding tradition was to award our second place nomination to Basil. For years it was Paprika's most solid competitor, going all the way back to the days of iOS 7. These days however, it seems as though the developer has practically abandoned the app, with only a couple updates released in the last two years — and even those were only to fix a few minor issues (and in one case, to add a tip jar in settings). Thus, we have finally bumped it down to third place. Sad trombone.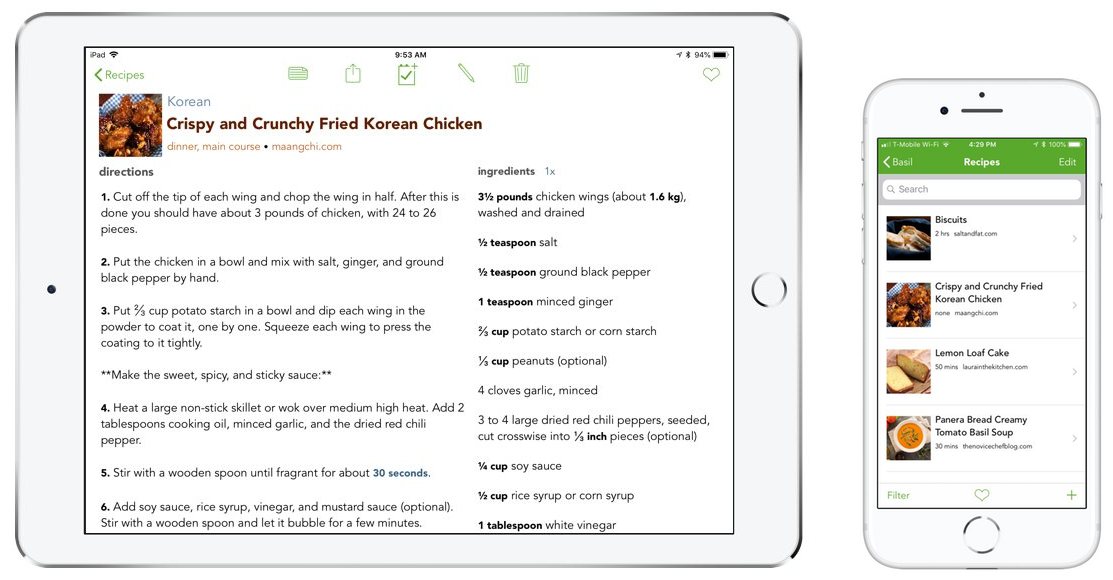 Despite not being updated in any real way recently, Basil still beats out the rest of the competition listed below. That should tell you something about the base level of quality it was built on. While Basil only handles recipes and a very basic shopping list, it does a stellar job at recipe management and in-kitchen use.
One feature that differentiates Basil from Paprika and AnyList is its tagging system. When you add a recipe to Basil, you can tag it by both meal type and cuisine, making it a snap to organize recipes without much effort. Paprika offers categories you can create and add recipes to, but Basil's splitting of these things into two sections allows you to drill down even further when you're looking for things later.
If you're unconcerned about the lack of recent updates or any Mac version to speak of, Basil is worth consideration and costs just $5. Hopefully it'll see some love again in the future.
Other Apps we Cooked With
Conclusion
Paprika looks great, does an awesome job of clipping recipes from the web, and helps you plan, shop, and cook all your meals. If you're looking for the best recipe app that is easy to use and full of features, look no further than Paprika on iOS and Mac.
Curated List of Must-Have Apps
We spend an inordinate amount of time sorting through hundreds of apps to find the very best. Our team here at The Sweet Setup put together a short list of our must-have, most-used apps in 2022.
You will get…
The current list of The Sweet Setup's top 8, must-have apps.
A special, pro tip for each app to help you save time and become more of a power user.
A hidden feature of each app that you may not have known about.
The Sweet Setup Staff Picks for 2022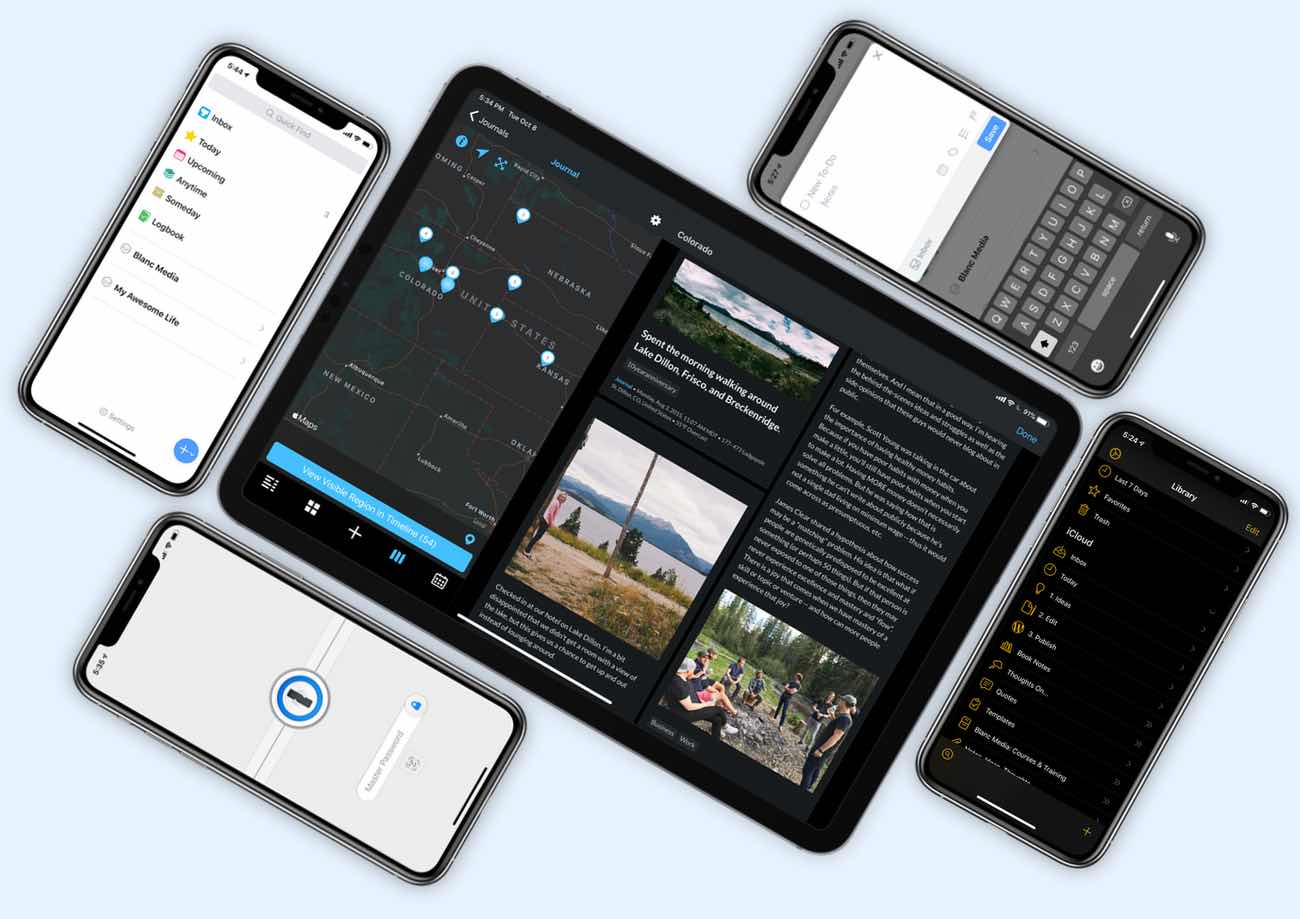 These apps work on iPad, iPhone, and Mac. And they range across several different categories but are mostly focused on productivity. They will help you get the most out of your devices and your day.
$4.99
Paprika is the best app for organizing all your favorite recipes, and it makes it easy to plan, save, shop, and cook.
App Store

$4.99