Chloe's Must-Have Productivity Apps
April 20, 2023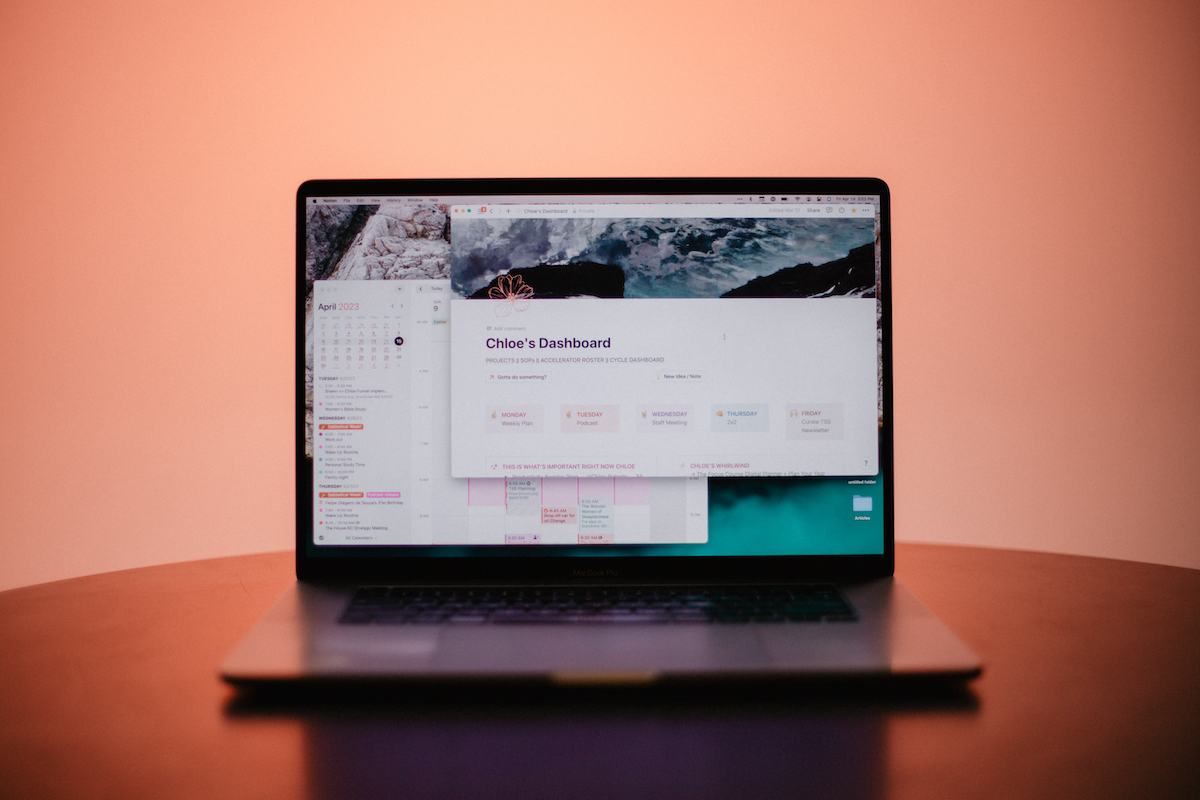 When you create a productivity system or find a new app, the goal needs to always be the same. Does this system or app serve me and my goals? I am definitely guilty of spending time perfecting my system to the point that it becomes so rigid that it's unusable. Or I just end up "playing" with the latest app that interests me.
I have to remind myself that my apps and systems should empower me to actually get work done. Not just think about or prepare to do the work. Meta work is great, but it should enable me to do my work well, not just think about doing the work.
My system is constantly evolving and adapting to what I need and how my environment changes. And that evolution has definitely sped up since I joined the Blanc Media team.
With that said, let's take a look at my must-have productivity apps.
Here's a list of my favorites:
I also have a few honorable mentions that I'll touch on at the end.
Notion
I was introduced to Notion when I joined the Blanc Media team in September of 2021. When I first saw it, I thought it was pretty cool. Then I watched a few videos and was even more intrigued. It was all downhill from there.
We use Notion here at Blanc Media for pretty much everything. It's how we manage our projects, manage our editorial calendar, collaborate with all our writers, build out new courses… It's pretty all-encompassing for us.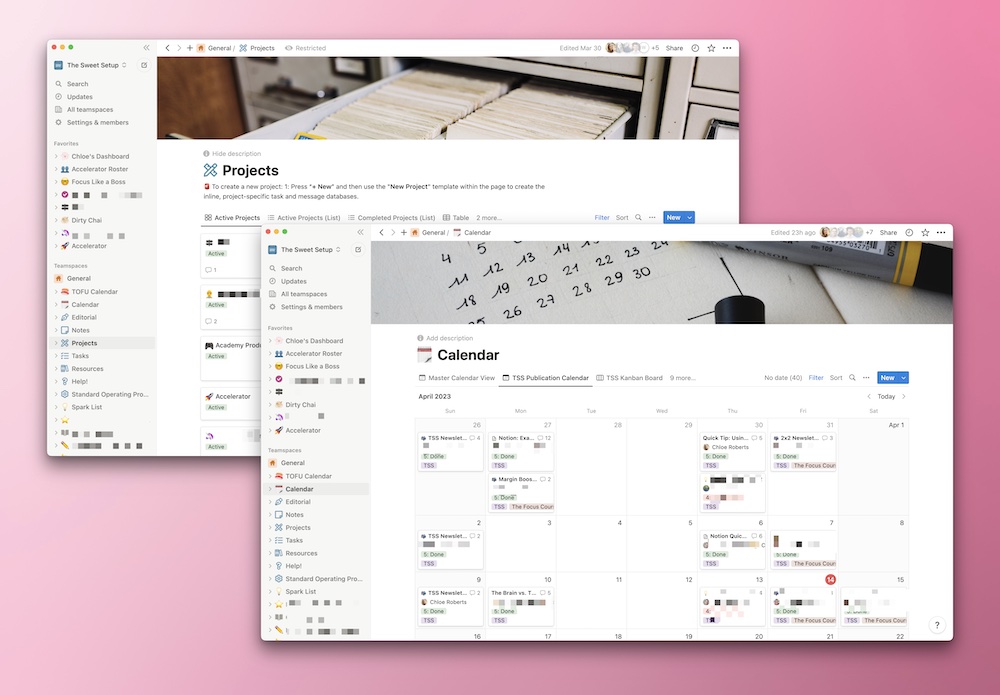 I have created my own private dashboard within our workspace so I can see everything that is assigned to me. Not just tasks, but upcoming articles that I need to review or write, emails that are going out, and projects I am a part of. It's how I get a quick glance at what's most important to me at any given moment. I have a spot for quick capture, my personal Notes database, and Standard Operating Procedures (SOPs).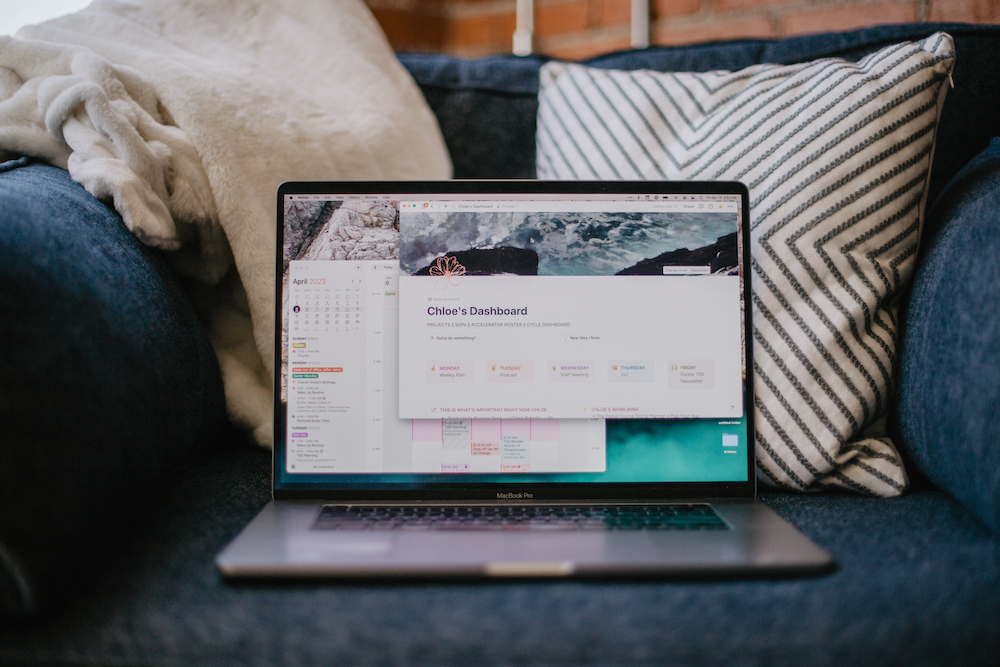 That's one of the things I love most about Notion — it's customizable, so I make it work for me. I also change my dashboard and setup pretty frequently. I add new features, change the filters, and add new projects… With our 8-week work cycles, our project load changes about every 2 months, so I usually give my dashboard a refresh of sorts around then. I also do it so it doesn't become stale.
Fantastical
When I was using iCal, I had no idea what I was missing. Fantastical is a pretty sweet next-level calendar app. It's pretty much always open on my computer. I usually have it set up to see my current week on the right with the sidebar showing everything happening today and the monthly calendar on the left.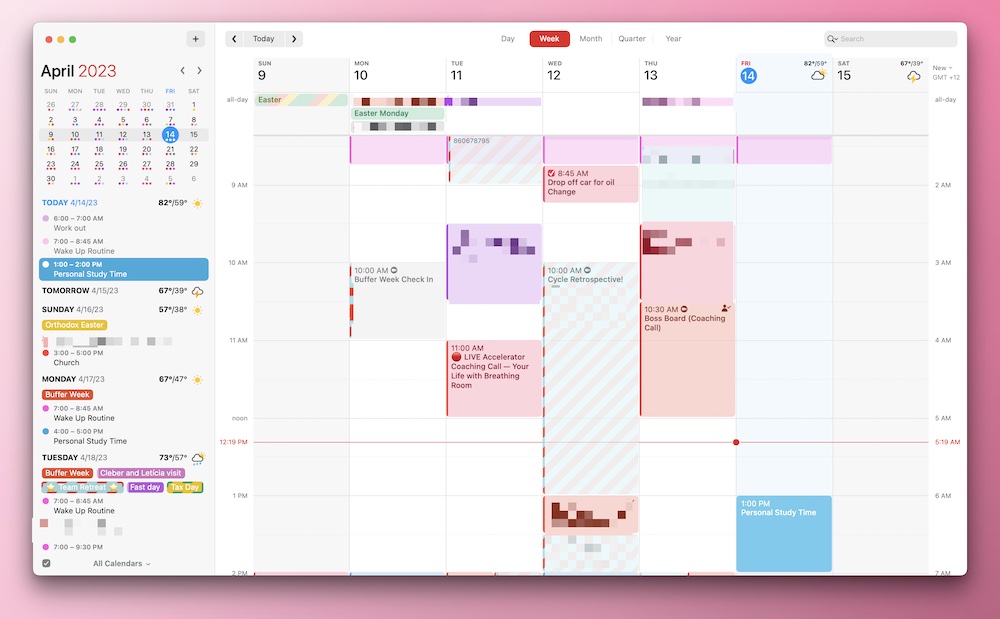 There were 2 game-changers for me in Fantastical. The first being the natural language input for events and reminders. I just press command + N and start typing the event coming up and it adds it. For example: Meeting with Shawn next Thursday at 12pm. It adds the event to my calendar for next Thursday at 12pm. It's pretty great.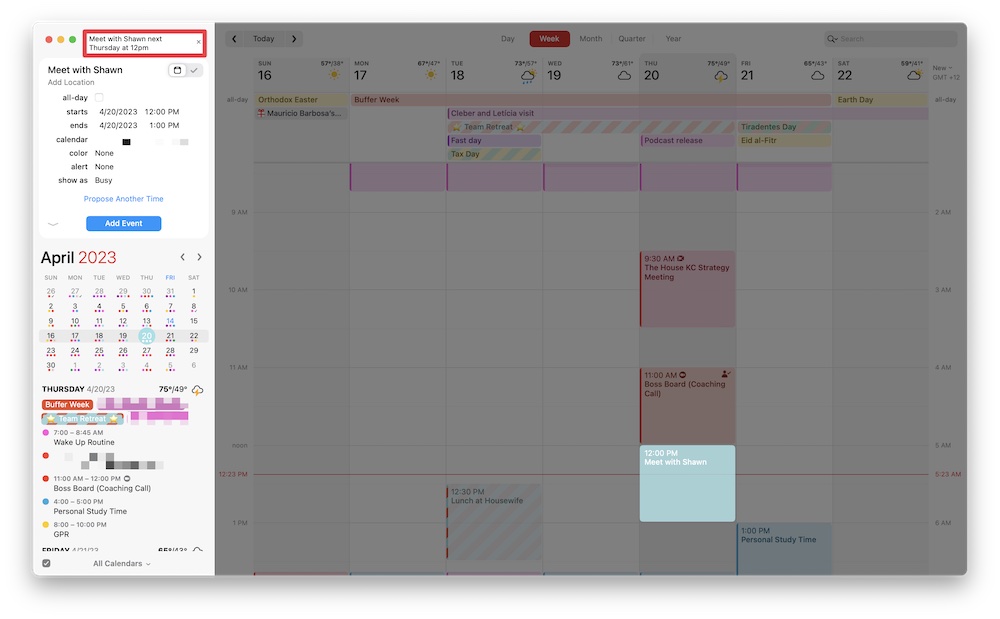 The same goes for reminders and tasks, I just press command + R and type "Pick up oranges at Costco at 5pm" and it adds the task to my calendar. This coincides with Shawn's saying that your tasks should live on your calendar. It also integrates with Apple's Reminder app, so if you add a reminder there it will add it to your calendar (if you want).
The other game changer is the "propose events" feature. I can create an event like "Meet with Isaac about Accelerator" and then pick 4 different times that work for me. I then add him as an invitee and it will send him an email with the 4 proposed times and let him choose which works for him. Until he chooses, it blocks off the 4 times on my calendar so I don't double-book. Once he decides on one, it deletes the ones that don't work and keeps the one that does. Brilliant. There is also a feature to send someone your link and let them choose a time on your calendar to meet, similar to Calendly. But I haven't messed with that much yet, I'm not popular enough to need to send my own scheduling link around.
Fantastical helps me stay on top of my schedule. I can easily add events and reminders to my calendar and see everything I want to see at a glance. Oh, and did I mention it has time-zone support? I can see my time on one side and any other time zone I want on the other side. Lifesaver.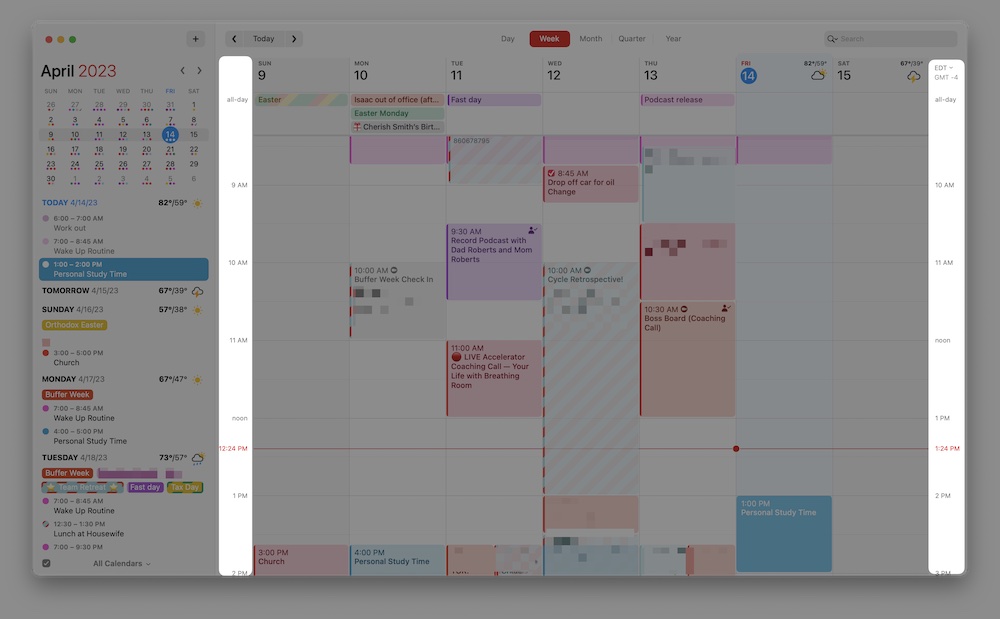 Apple Reminders
Something important to know about me is that I don't like using a lot of different apps. I like to find apps that can do more than one thing or are super easy to use. So I use Notion for my work task management. I use my analog planner from Golden Coil to plan my day. And yes, I use the Reminders app to capture the random stuff that floats through my head. Like, go to Target after work. Set up YNAB before it all goes to heck at the beginning of the month. Fun adult stuff like that.
So no, I don't use Things (anymore), Todoist, OmniFocus or any of those apps. Because then I would feel (and have felt) caught between Notion and another task management app for my work life. And as I mentioned, I want to use the least amount of apps possible. This system works for me. Some are probably cringing thinking that I "only" use the Reminders app. But I'm over here chilling asking Siri to remind me to watch Hunger Games tonight (as if I really need a reminder).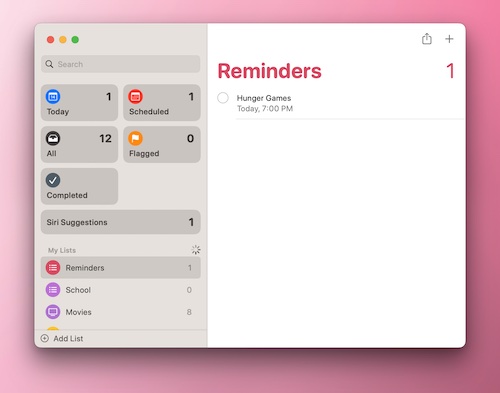 I also love that Fantastical and Reminders integrate. So any reminder that I create in Reminders automatically gets added to my calendar.
This system might change in the future. I am young and, honestly, a lot of stuff lives in my head. When my head starts to fail me and a more robust system is needed, I might go back to Things (hopefully by then there are some sweet new integrations).
Ulysses
I am currently using Ulysses to write this article. I love it. Shawn introduced me to it a while back and I've pretty much never looked back.
I've used a lot of writing apps. EverNote, Bear, good ole' Word. But Ulysses has become my favorite. The interface is so clean and distraction-free. I love TypeWriter Mode (it fades out all the paragraphs except the one I'm writing). It supports Markdown formatting, which is what pretty much all of us use over here.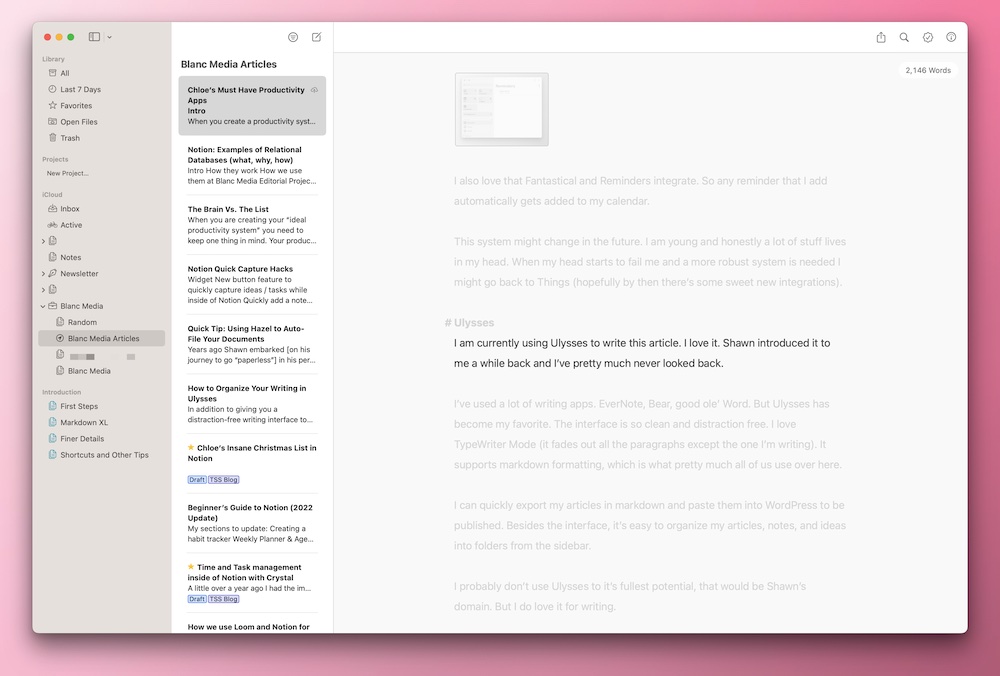 I can quickly export my articles in Markdown and paste them into WordPress to be published. Besides the interface, it's easy to organize my articles, notes, and ideas into folders from the sidebar.
I probably don't use Ulysses to its fullest potential — that would be Shawn's domain. But I do love it for writing.
I usually do the actual writing on my iPad Pro (3rd gen) with my Magic Keyboard (this thing really is magic). But I love that I can jump on my Mac and quickly drop it into WordPress. It also backs up everything pretty regularly, so that's comforting. 'Cause you never know.
Communication Apps
One of the things I love about the work culture here at Blanc Media is our communication etiquette. We use Notion and Slack. When someone tags you in Notion you can expect a response within 24 hours (during weekdays) and if someone sends you a message in Slack, you can expect a response within 4 hours. This helps us all work async and not get distracted by incessant urgent notifications. And, on the very rare occasions that we need to contact someone immediately, we can call or text someone. I text people because I am in that awkward gap between Millennials and Gen Z, so that means I hate phone calls.
We use Slack here every day. It's our main mode of communication as a team. We have a few main channels and I use the private DMs all the time. It's really nice to have a separate communication app from the one you use for your personal life. I have a focus mode that silences all work communication from 6pm until 8am the next day. I can rest assured that if the world starts burning down, someone will call or text me (hopefully text…). This helps us all really disconnect and leave work at work.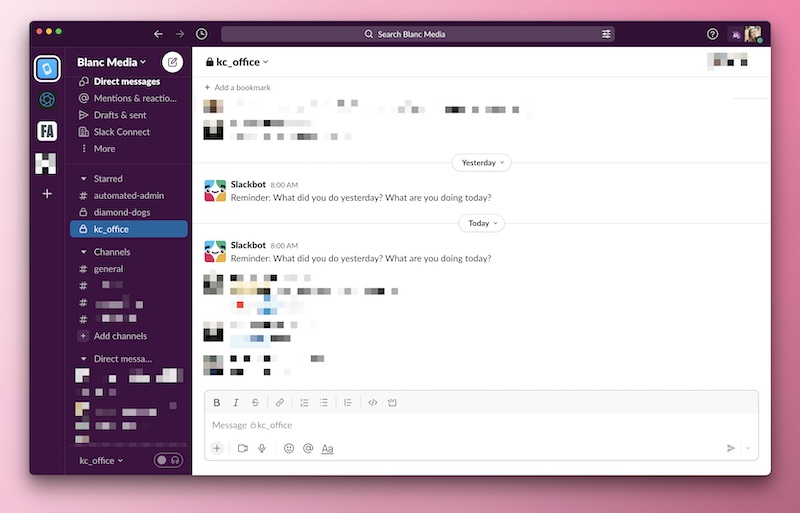 I also use the Apple Mail app. There's nothing fancy about it. I don't even use SaneBox (but I'm considering it). I honestly don't get a ton of emails. All of our work communication is in slack. The only time I use email for work is when I'm communicating with outside clients or contractors. And then I'm always disappointed that I can't add the unicorn parrot emoji…

Honorable mentions
I have a lot of "little apps" that run in the background or that I use occasionally that are pretty great. I have a subscription to SetApp. It's one of the best subscriptions that I pay for monthly. That is where I found out about most of these apps.
Bartender
Bartender organizes your menu bar. It's pretty fantastic. I have an obnoxious amount of stuff on my menu bar and Bartender hides everything I don't want to see. I get a bit stressed out by the clutter on my computer, so having a clean menu bar is pretty great.

There are also a few tricks you can do with Bartender. Like how it will hide your battery level until it's below a certain percentage, and then it will appear. Cool right?
Paste
Paste might be my favorite discovery from SetApp. It saves everything you ever copy. You heard me right. No more accidentally "copying over" something you still needed.
I just pull up Paste with the keyboard shortcut Command + Shift + V and it brings up the menu and I can paste something that I've previously copied. You can also create folders with items that you frequently need to paste.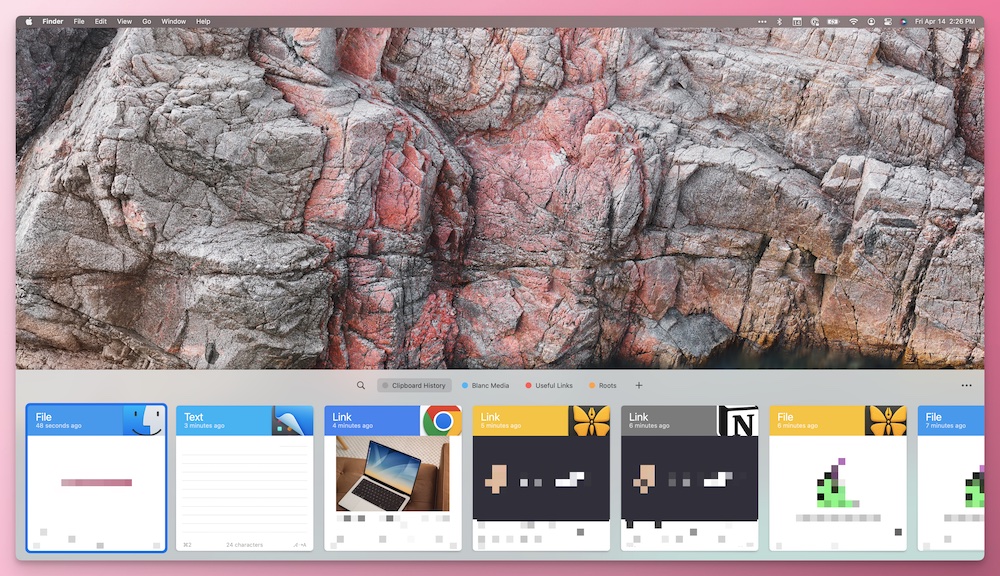 I have a folder for Blanc Media with links I need a lot, snippets of code, color codes, etc.
It has saved my hide more than once.
Clean Shot X
CleanShot X This is my favorite screenshot app. I can take screenshots and edit and annotate them quickly. I used to go through some serious hoops to make useful annotated screenshots, but now it's super easy with CleanShot X.
I've set it up so that every time I take a screenshot, a menu comes up for me to name it. Half the time I don't change the name from the default gibberish. But whenever I am writing an article and need to give my screenshots name, this menu is a lifesaver for keeping things organized.
I can also record videos and GIFs, blur out or highlight sections of my screenshots, and take a scrolling screenshot. It's pretty great. You can also set the keyboard shortcuts you want to take specific types of screenshots (a specific window, an entire screen, or just a part of your screen).
Apple Music
I don't think I can work for 5 minutes without music. One day I forgot my AirPods at home when I went to the office, and suffice to say it was not a happy day.
Music helps me get in the zone. I've gotten pretty good at figuring out what kind of music I need to listen to in order to work well. For example, I never listen to a brand new album in a deep work session. All I will want to do it listen to the new tunes.
I am an Apple Music fan. I am on a family plan with my family, so it's pretty cheap. Access to streaming has been pretty life-changing for my focus.
Wrap Up
My must-have apps might not be the shiniest or most complicated system (you'll be seeing some of those in the next few weeks I'm sure), but it works for me. My system is also constantly evolving as my personal and work life change and as I learn more.
I am constantly looking for ways to make my system more efficient. I love (non-crappy) integrations and ways to make things seamless.
My system is pretty dialed in. I quickly plop down at my desk, choose a playlist, and get in the zone.
Remember the importance of having a system that serves you and your goals. I've dialed in my system enough to help me get my work done, and enjoy myself as I do it. If you're struggling to figure out your ideal productivity system, remember it's not all about the apps you use. It's about helping you do the things that matter. Your apps should help make that easier, and you know have some fun along the way.
🚀 Upgrade: Boost Your Habits
Introducing the new Focus Boosters.
Inside our popular community membership, join us for a the Habit Building challenge (a.k.a. "Booster"). You'll find out how to make simple changes that will make your daily life better, remove distractions, and create a new simple habit.
Membership Includes: Simple Habits Course, Habit Tracking Templates, Digital Planner, Private Community Slack, 2x Monthly Coaching Calls, and much, much more…