Fantastical 3.6 Brings Powerful Scheduling Tools to an Already Incredible App
February 8, 2022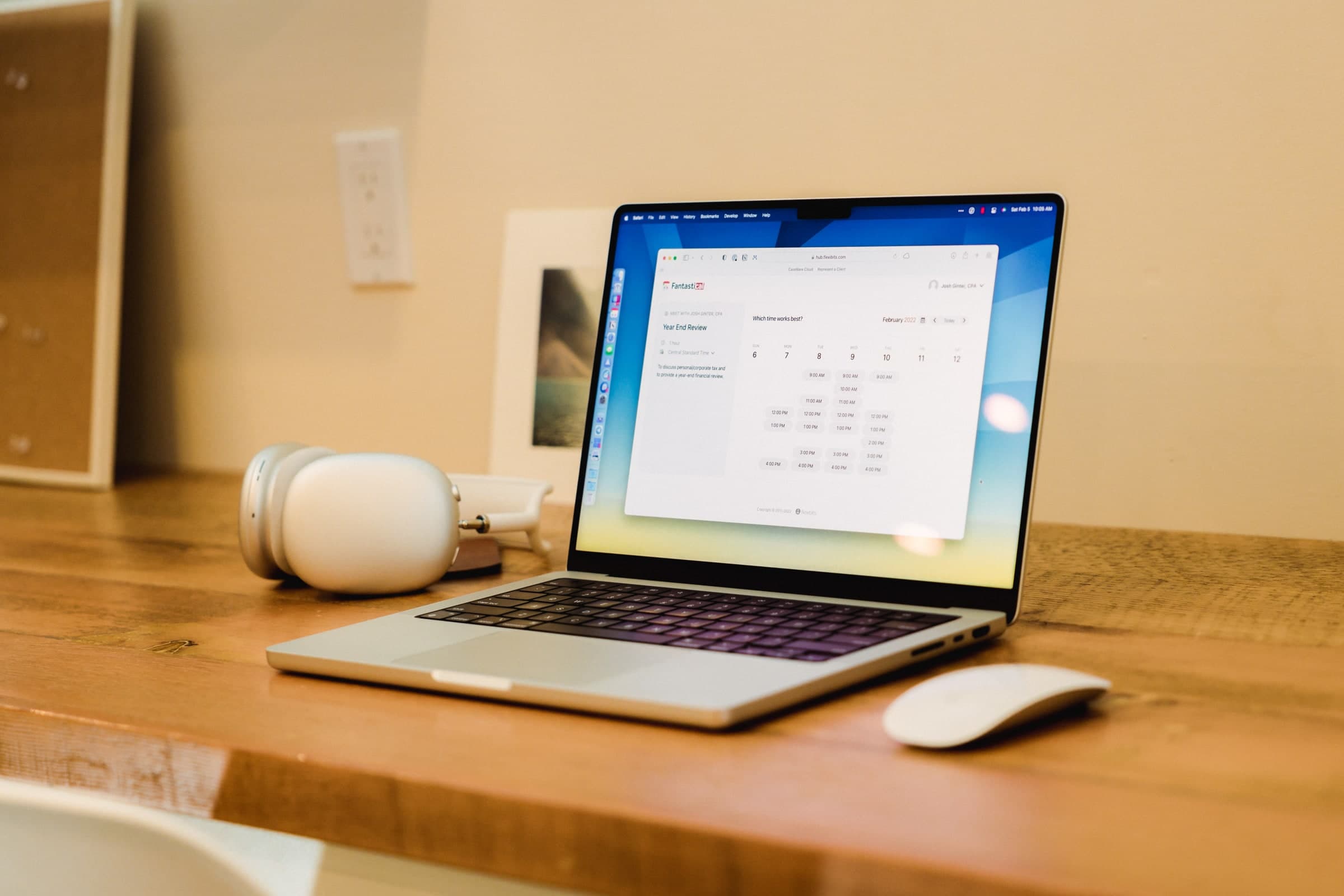 Fantastical has long been our favorite calendar app for Mac, iPhone, and iPad because of its beautiful UI and powerful natural language processing. But with the release of Fantastical 3.6, it doesn't feel right to call it a calendar app any more. It's more like a powerful scheduling platform that happens to be packaged inside a beautiful Mac or iOS device.
Version 3.6 introduces Fantastical Scheduling, which is a fantastic implementation of two powerful scheduling tools: Openings and Proposals.
Openings
Openings is a feature that lets users share their availability and allow recipients to book a meeting slot from the organizer's calendar.
Organizers can create and share customized Fantastical links so that recipients can request and book meetings in one of the available time slots — even if they don't use Fantastical themselves.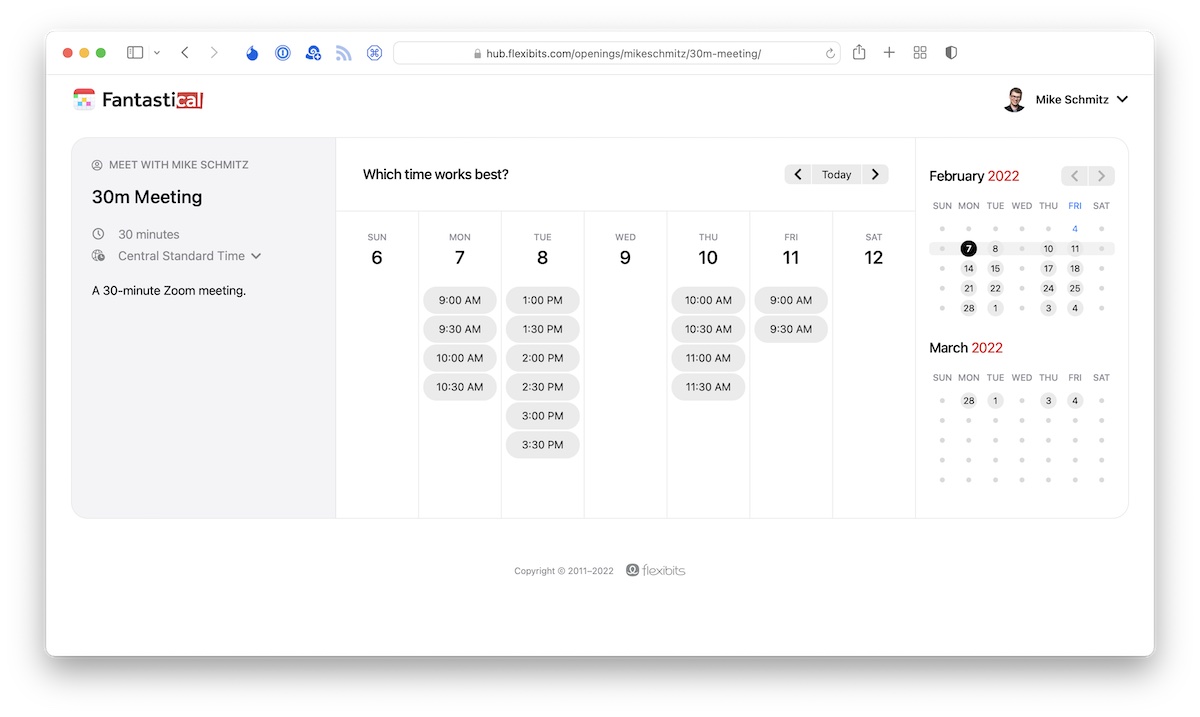 Requests can be automatically added to the organizer's calendar, or the organizer can also choose to manually approve the requested meeting time. You can create and save your own meeting templates, and availability can be determined by the selection of a specific calendar set — a very nice feature that has been the main reason I couldn't use a scheduling service like Calendly.
It's also important to note that Flexibits does this while taking user privacy seriously. To determine availability, Openings only uploads which time slots are unavailable. No event details (name, location, invitees, etc.) are shared when using Openings.
More Powerful Proposals
Proposals was originally released with Fantastical version 3, but it's gotten a big upgrade here.
When creating a meeting proposal, you can now click a button to create a sharable meeting link proposal: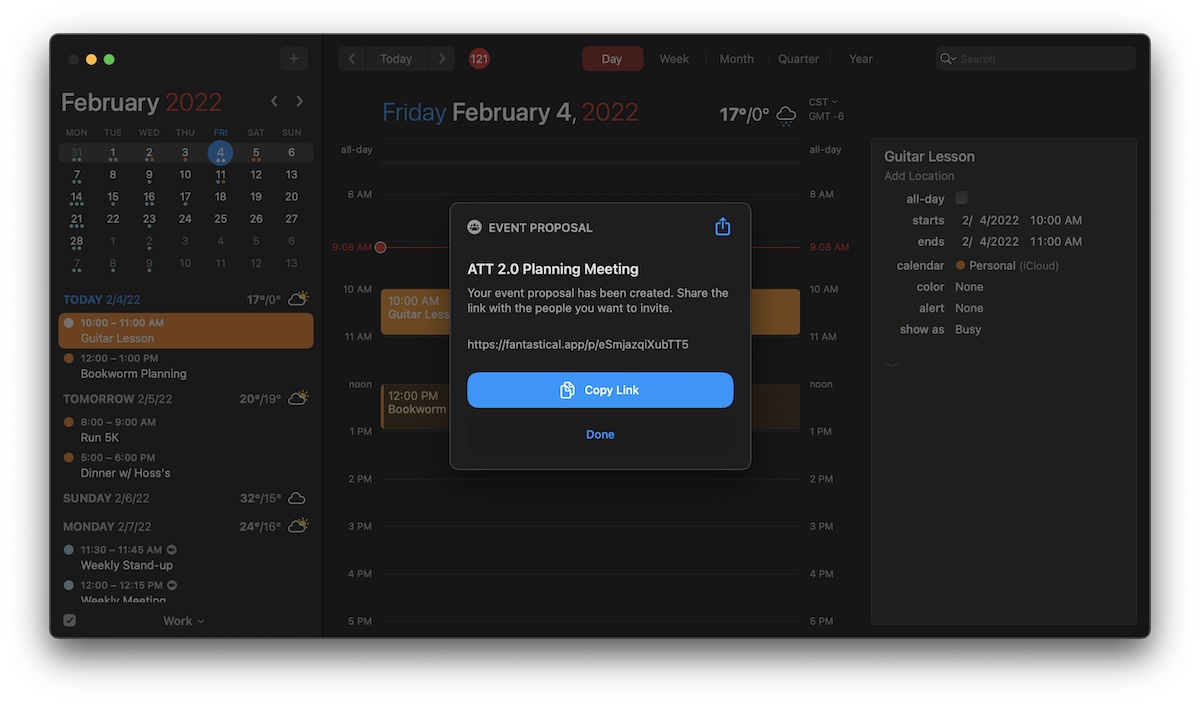 This allows you to share the link directly with the people you want to schedule the meeting with instead of sending it via email. The recipients just click the link and can now vote for their desired time slot in a web interface (think Doodle, but better).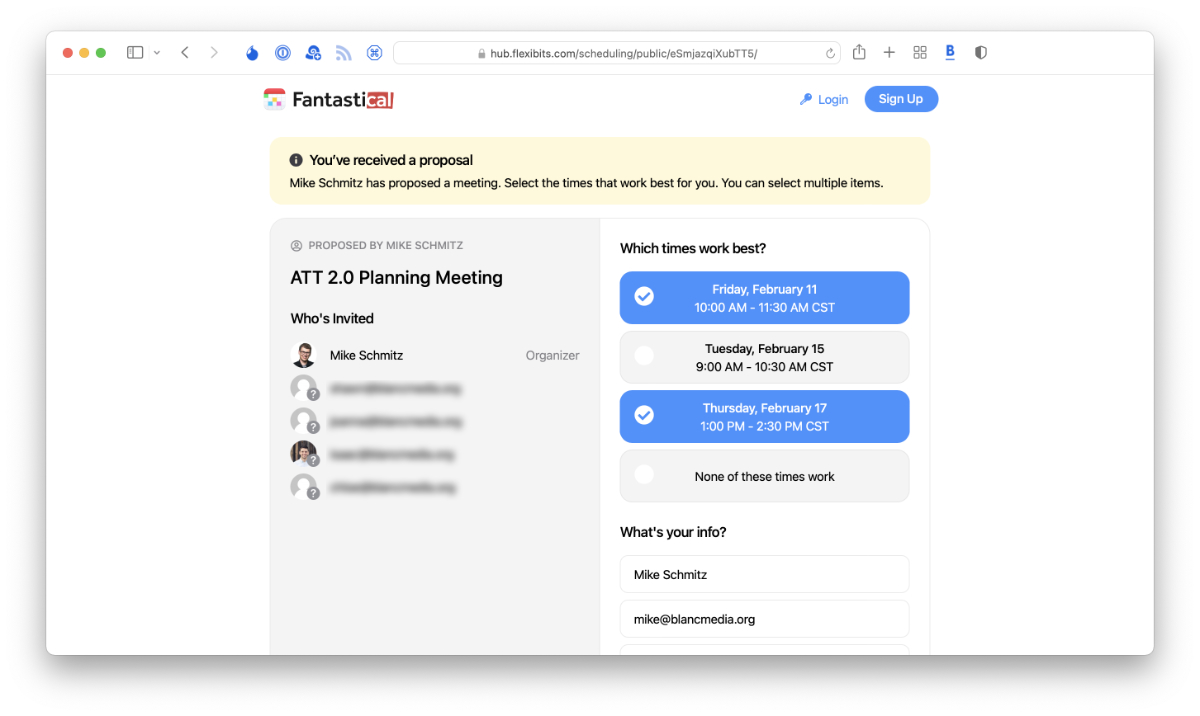 Again, recipients don't need to to have a Fantastical account to use this feature. Without a Fantastical account, they can participate in polls but can't see who voted for what time slots.
The power of Openings and Proposals is best seen with a practical example, so here's how Josh Ginter plans to use these features as an accountant in the upcoming tax season.
How I'm Using Fantastical Scheduling to Automate My Upcoming Tax Season
I have to admit to falling away from Fantastical for a few years in recent memory. When Flexibits first debuted the Flexibits Premium subscription, I couldn't find the value in an expensive calendar app at the time. Life was less busy and I could keep on top of my doings through the stock (and free) Calendar app.
But finishing school led to more face-to-face client time, which led to an increased scheduling need. It was almost like an On/Off switch — one day, scheduling wasn't necessary, and the next, I felt like I couldn't move forward without a plan.
Since then, Fantastical and Flexibits Premium has become the best app money I spend. Proposed Events make short work of bringing a group together to meet. Reminders integration allows for a simple form of task management. And Fantastical's "Duplicate as Event" feature — which turns tasks into event blocks — is amazing for time-blocking.
Fantastical 3.6's new Openings and Proposals only push the envelope further and only make the subscription that much more valuable. This was already my most-used app on my Mac. Going forward, thanks to Openings, I suspect Fantastical will become my lifeline professional app.
How I Use Openings
Fantastical's Openings is seemingly made for professionals like me. Tax season runs from March 1 to April 30 in Canada. Face-to-face client time makes up the majority of each business day, while preparation for the next day most often takes place outside business hours.
It's not just a personal tax return either — there are corporate tax returns and financial statements to prepare for businesses, both of which need to happen during the busiest parts of the season.
Openings is how I'm going to tackle the upcoming tax season.
First, I've opted into Openings — a security feature that needs to be pointed out. Working with confidential client information requires an intense focus on privacy, and Fantastical's Openings ensures you must opt into the feature and ensures only minimal data is shared to the Flexibits server.
Second, I've applied my Openings calendars to an overall broad calendar set. If I block out a time block that provides time to rest and relax, I want that to be blocked in my "Rest and Relaxation" calendar and I want that time to come off of my Openings schedule. I have about 12 different calendars and I want them all to feed into — or take away from — my Openings schedule.
Next, I've created two specific meeting templates: Personal Tax Return and Year End Review. Each are given their own URL unique with my username. Each have their own pre-populated information to provide a brief description for the meeting. I've actually saved these URLs as text snippets in Alfred, allowing both to be quickly pasted in a text message or an email with a simple keystroke. I also like how you can choose your own URL — if you use this for professional purposes, you can ensure an appropriate and professional username lines each URL.
Both meeting templates are set up as 1-hour blocks from 9:00AM to 5:00PM Monday to Thursday and 9:00AM to 3:00PM on Friday, simply to ensure I can head out with my colleagues from the office to celebrate another successful week. Come tax season, I'll likely add some availability hours in the latter hours of the day to provide some flexibility for clients who work during regular business hours, and I'll likely add some hours on a Saturday morning. It's work overload, but it's that time of the year.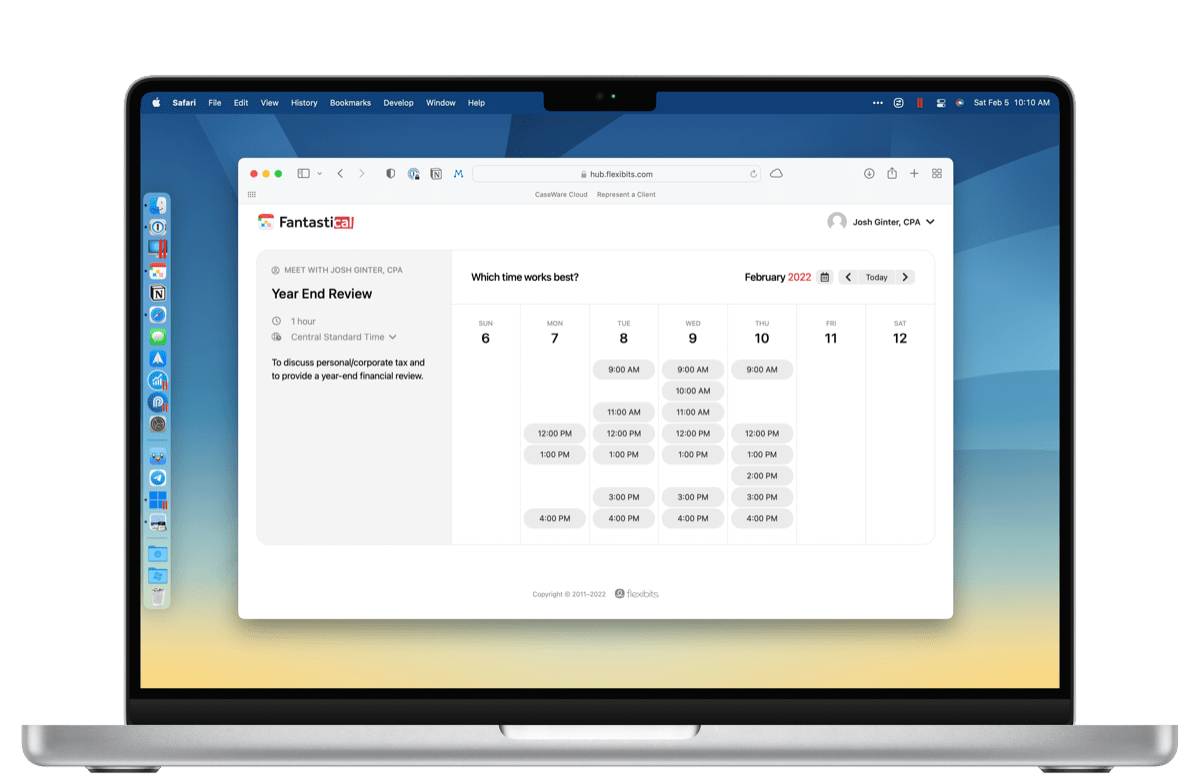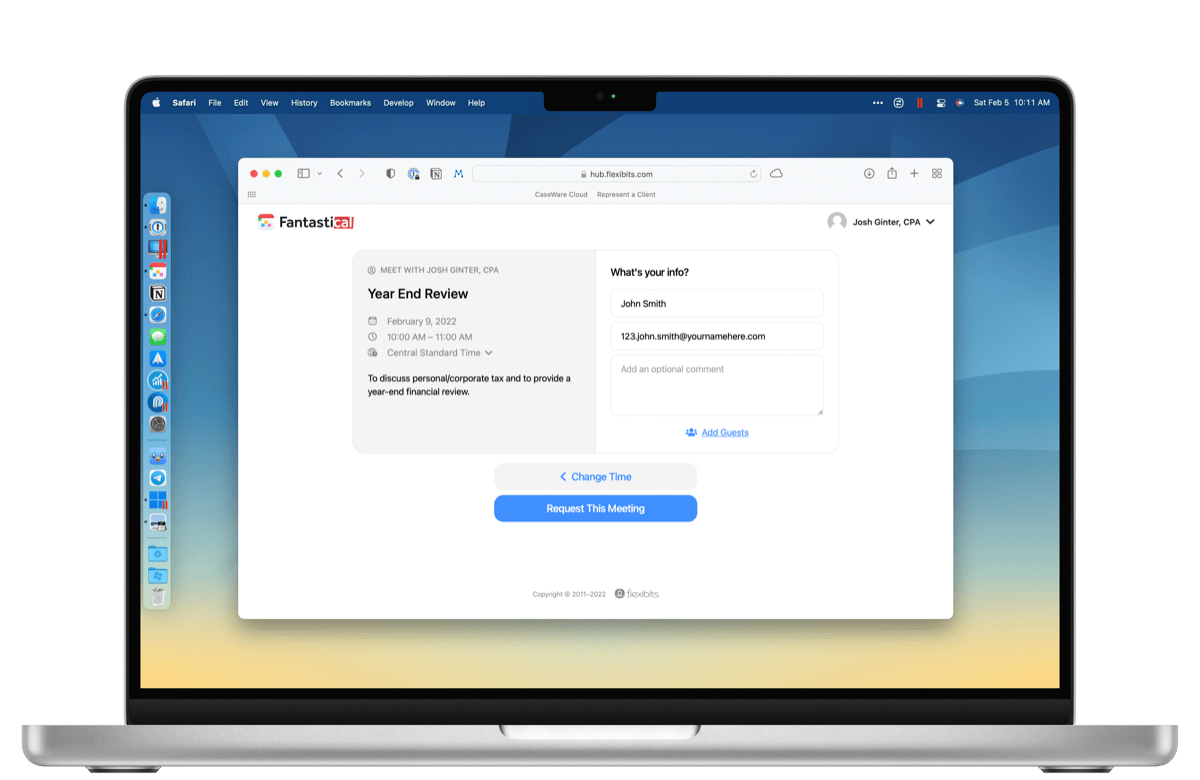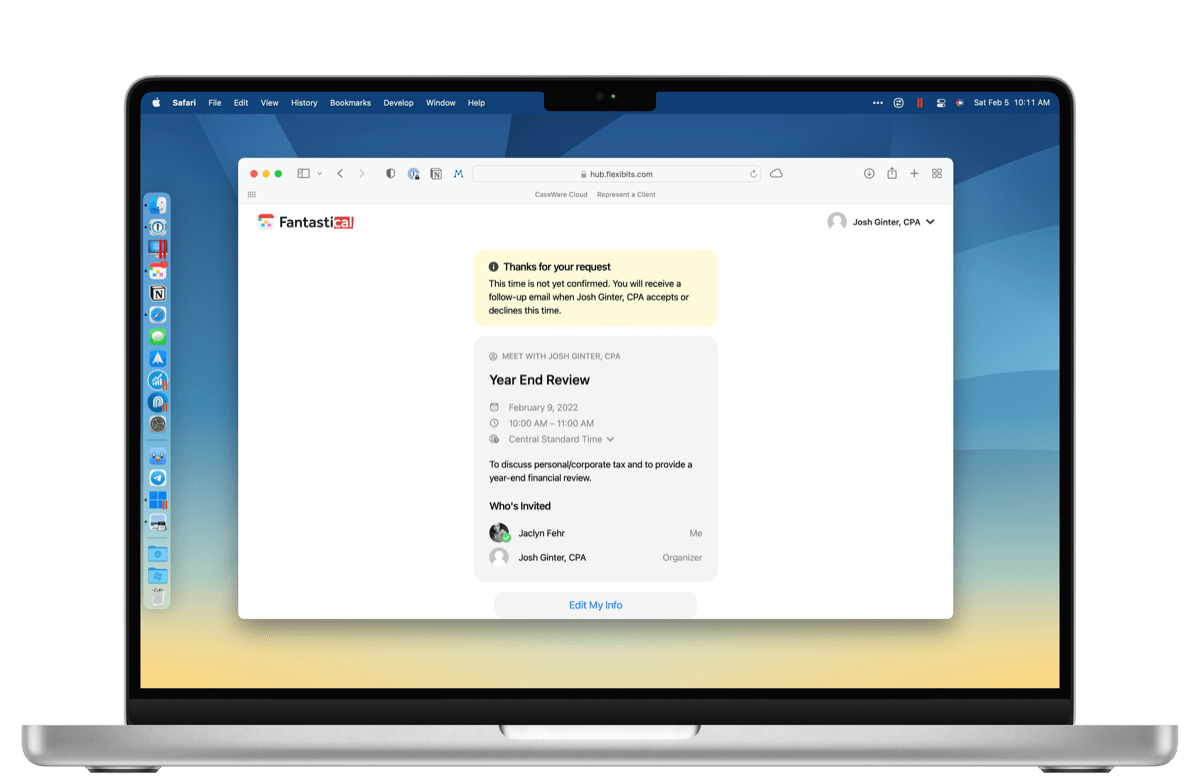 Once these meeting templates have been set up, it's been incredibly easy to share my schedule with anyone who wants to come down to the office. A simple keystroke pastes the URL anywhere and the recipient can click or tap the link to be taken to my specific Openings site. They'll quickly see which times I have open in the current week and it only takes two clicks to request a meeting time. Three taps — one on the URL, one on the block of time, and one on the "Request Time" button — and you can gain access to my time.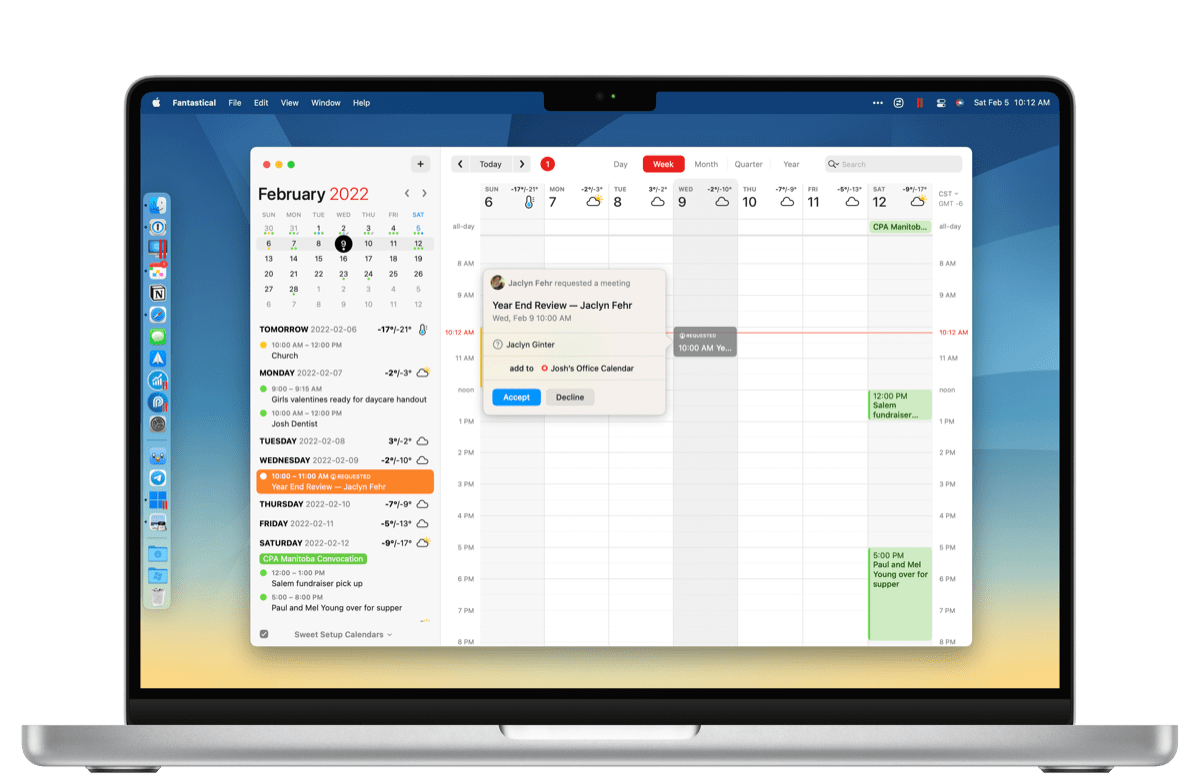 Once requested, I get a little ping on my phone and an email that allows for approval (or denial) of the requested time. I like the ability to approve a meeting — nothing can truly blindside you if you have to say "Yes" or "No" to that meeting.
When you sell time, providing access to time is likely a strong success driver. And the ability to still control that time works toward the ultimate goal of having margin.
I expect Openings will make short work of this upcoming tax season. In the past, I'd lose an hour or more per week corresponding to line up meeting times. In the even further past, lawyers and accountants would hire assistants to simply manage their meeting schedule. Now, Fantastical Openings can do it all through a shareable URL.
A Brief Thought on How Improved Proposals Will Affect My Professional Work
A person's financial and tax circumstances are usually kept private and within a small group of people — it's pretty rare to meet with a large group of clients with these sorts of agenda items. However, when meeting with companies to discuss annual financial statements, it is normal to require a larger group to join the meeting. Fantastical's improved Proposals are sure to help out in this fashion.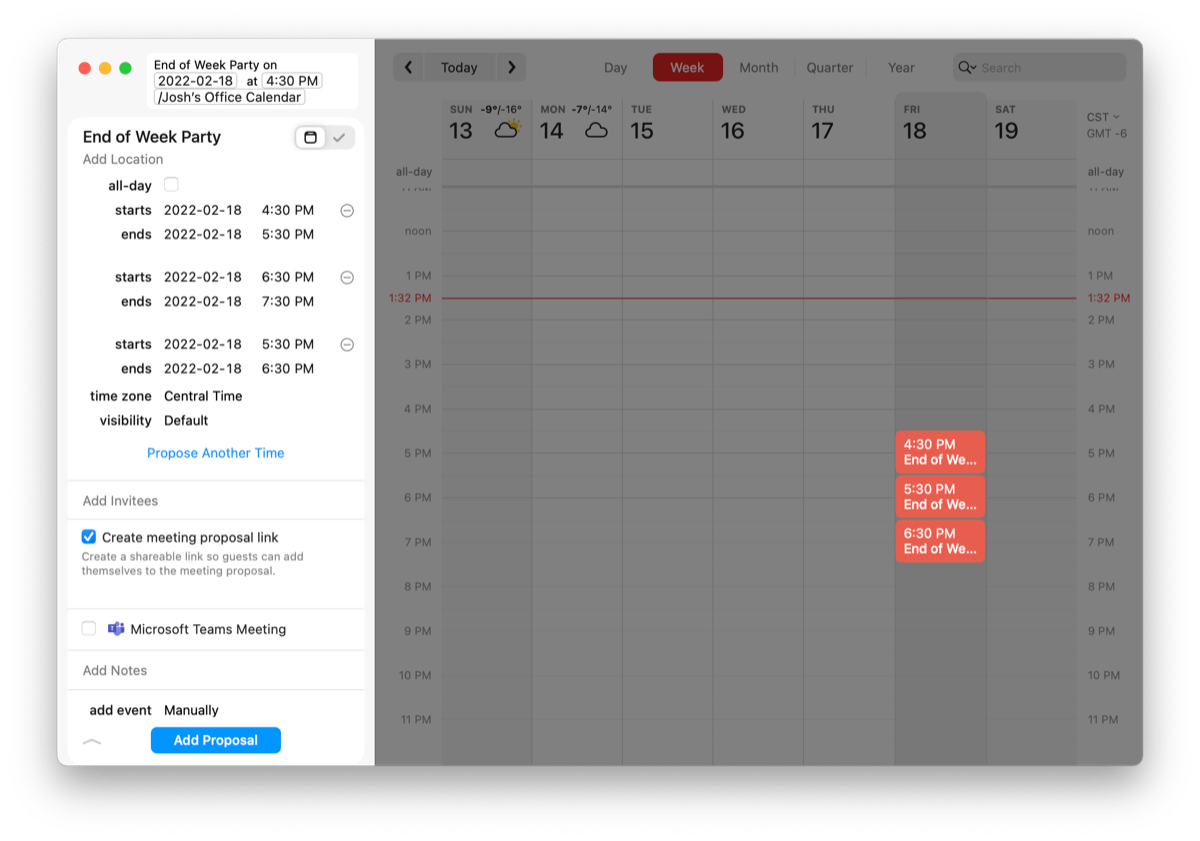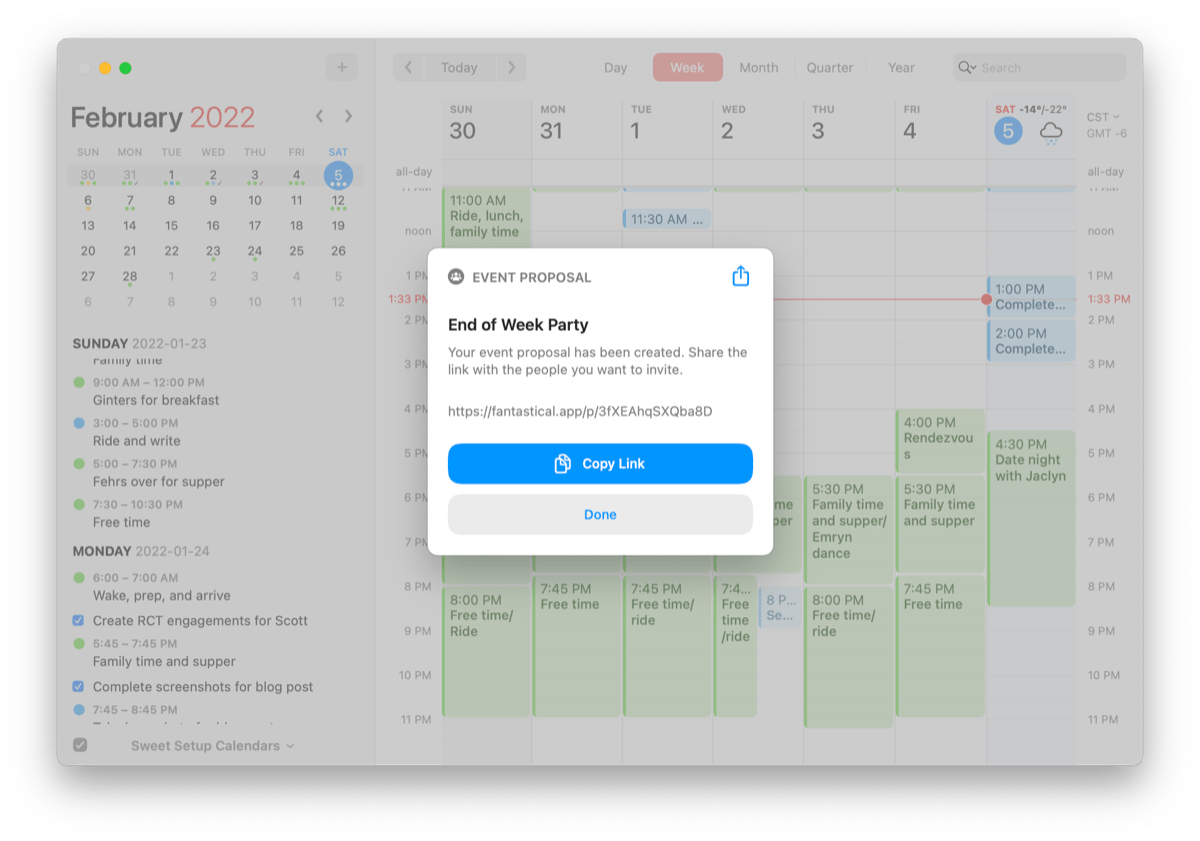 Once you've created that shareable URL and copied it to your clipboard, it's as easy as pasting the URL in a group-wide or company-wide email. Anyone who visits the link can input their information and vote on the best time.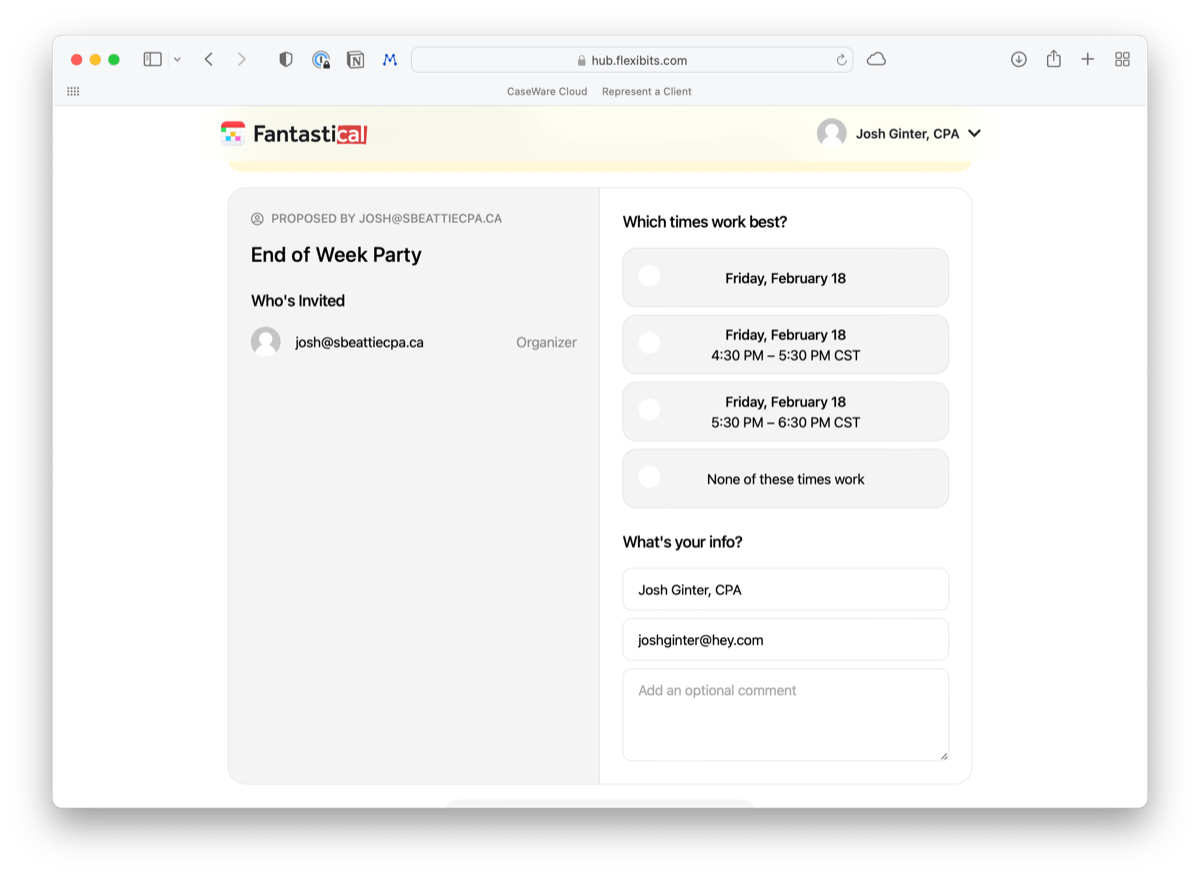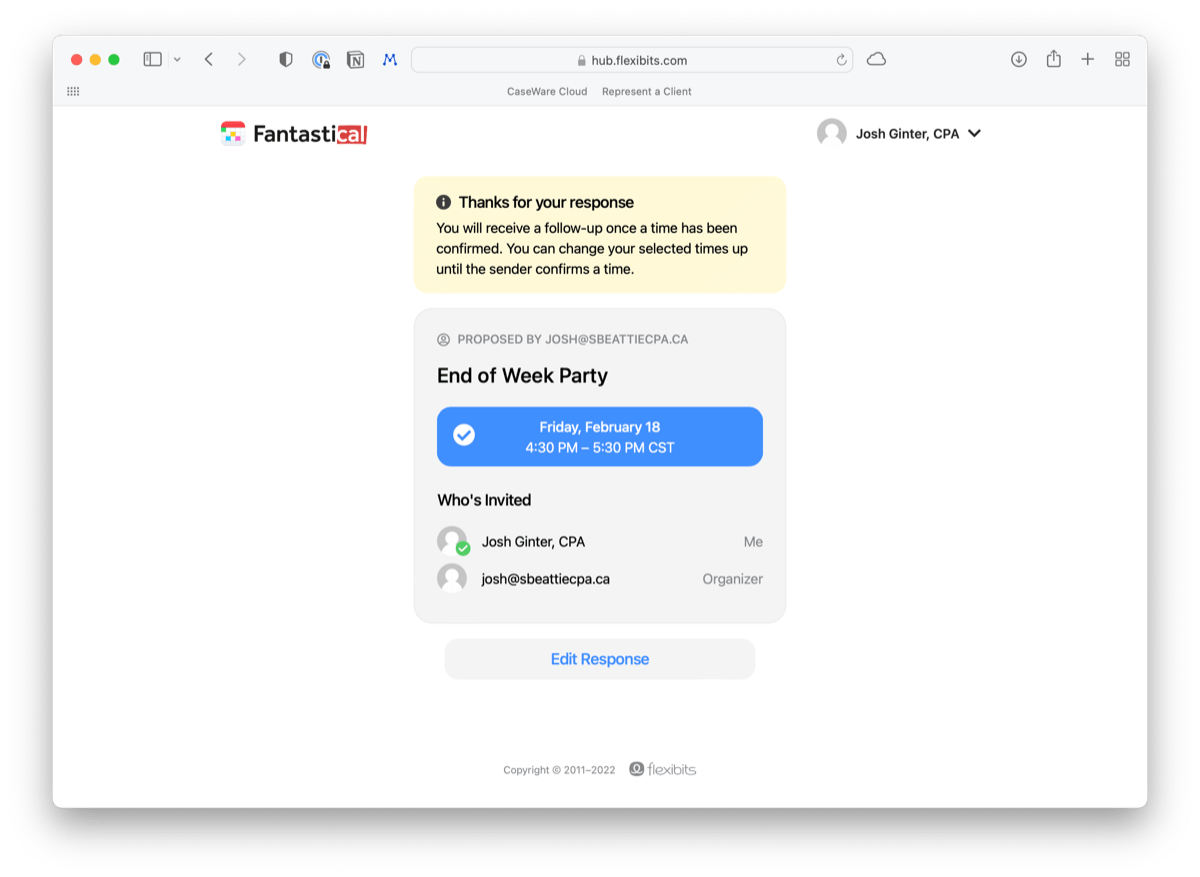 You've been able to create a shareable link in Fantastical that can be sent to any invitee for quite awhile. However, the ability to vote on the best time and to provide commentary to the event host has never been possible.
In the past, if I've used the shareable proposal link, I'll end up receiving commentary messages and emails outside of the event itself, leading to an unnecessary email or message thread that's completely disjointed from the proposed event.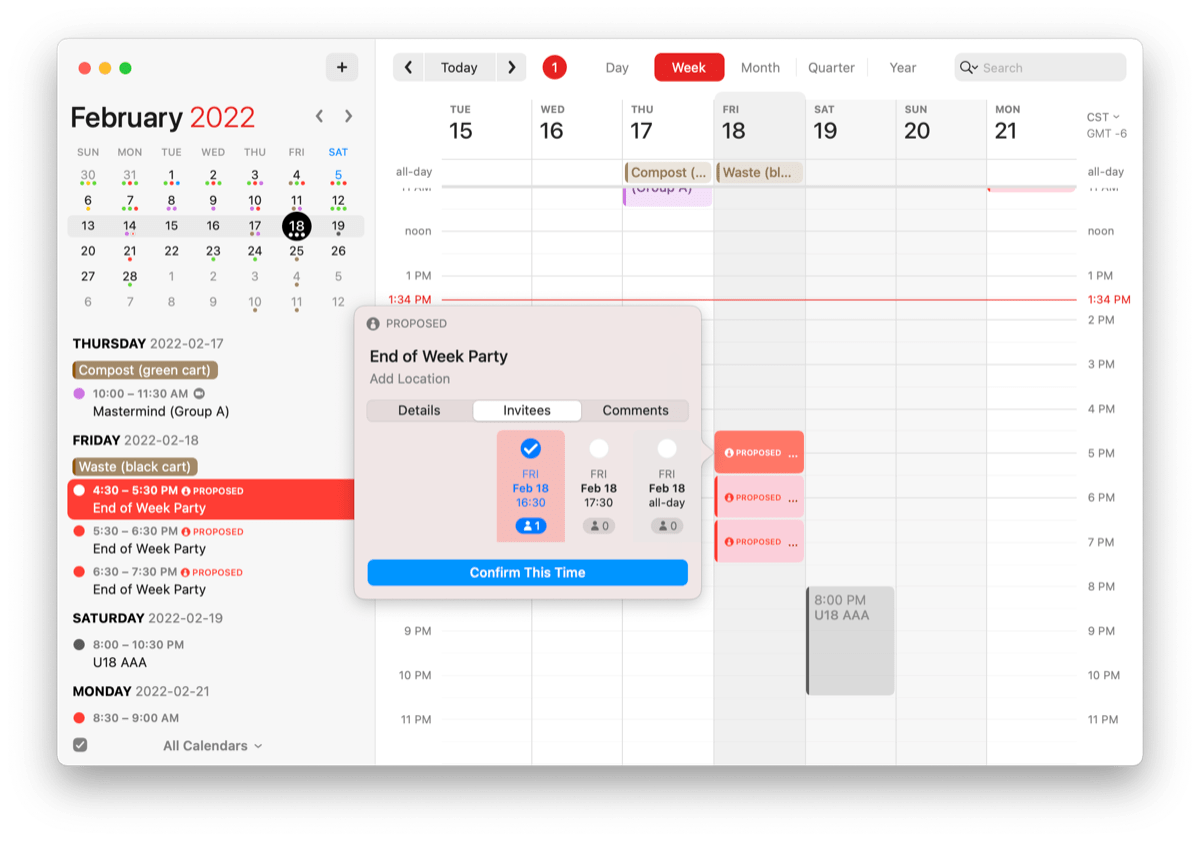 Now, with commentary and the ability to track attendance and vote status right in Fantastical, these comment threads will move to a consolidated place and make planning that much easier.
I don't expect I'll use these revamped Proposals features in Fantastical all that often. But where I was unlikely to use a shareable proposal link in the past and opt to type in each invitee's email into Fantastical, I'm surely going to opt for the shareable proposal URL instead.
Conclusion
Fantastical made a few nerds angry when it switched to a subscription model in January of 2020. Some people couldn't understand why they should pay a subscription for a calendar app they'd already purchased. The standard line in this scenario is usually something along the lines of "the switch to a subscription will allow us to continue pushing the app forward and adding new features."
And while not every app to make some form of that promise has been able to deliver, Fantastical has done it in spades with version 3.6. That being said, it's not perfect. I do wish there were options to set meeting buffers and limit the number of meetings that can be booked in a given day. But the features here are well-designed and add a ton of value to the Flexibits Premium subscription we were already willing to pay for.
The Sweet Setup Staff Picks for 2022
We spend an inordinate amount of time sorting through hundreds of apps to find the very best. Our team here at The Sweet Setup put together a short list of our must-have, most-used apps in 2022.