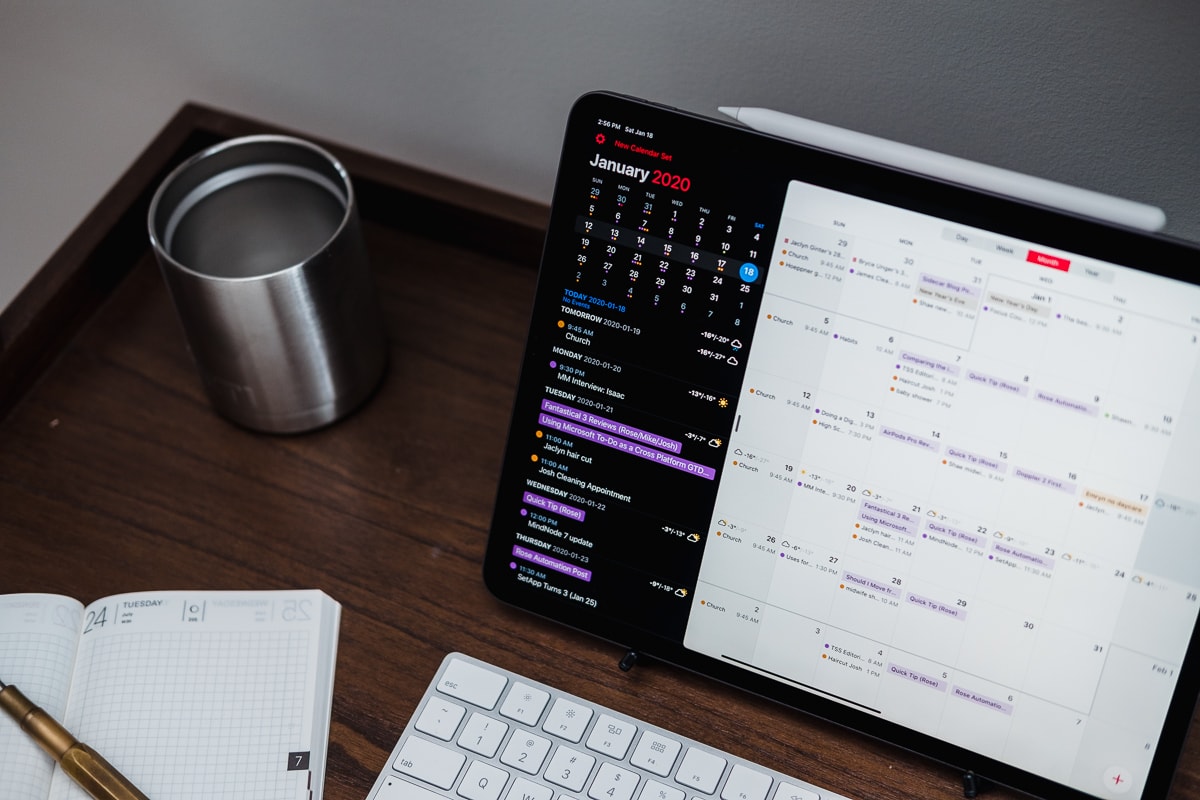 The Best Calendar App for iPad
Fantastical 3
November 24, 2020
The debut of Fantastical 3 in January 2020 sparked a variety of conversations, specifically with our app picking team. Fantastical 3 spawned a conversation about app subscriptions, to be sure. Any keen-eyed readers will notice we didn't immediately provide a selection for the best calendar app for the iPad on Fantastical 3's launch day — on that day, we weren't sure Fantastical 3 was the best calendar app for the iPad.
Even now, we see multiple points of view. There is a wide variety of users in the calendaring world, some of which are captured perfectly with the high-end power user features found in Fantastical 3's subscription. But there is also a huge swath of users who find the stock iOS calendar app meets their needs, save for its somewhat uninspired design.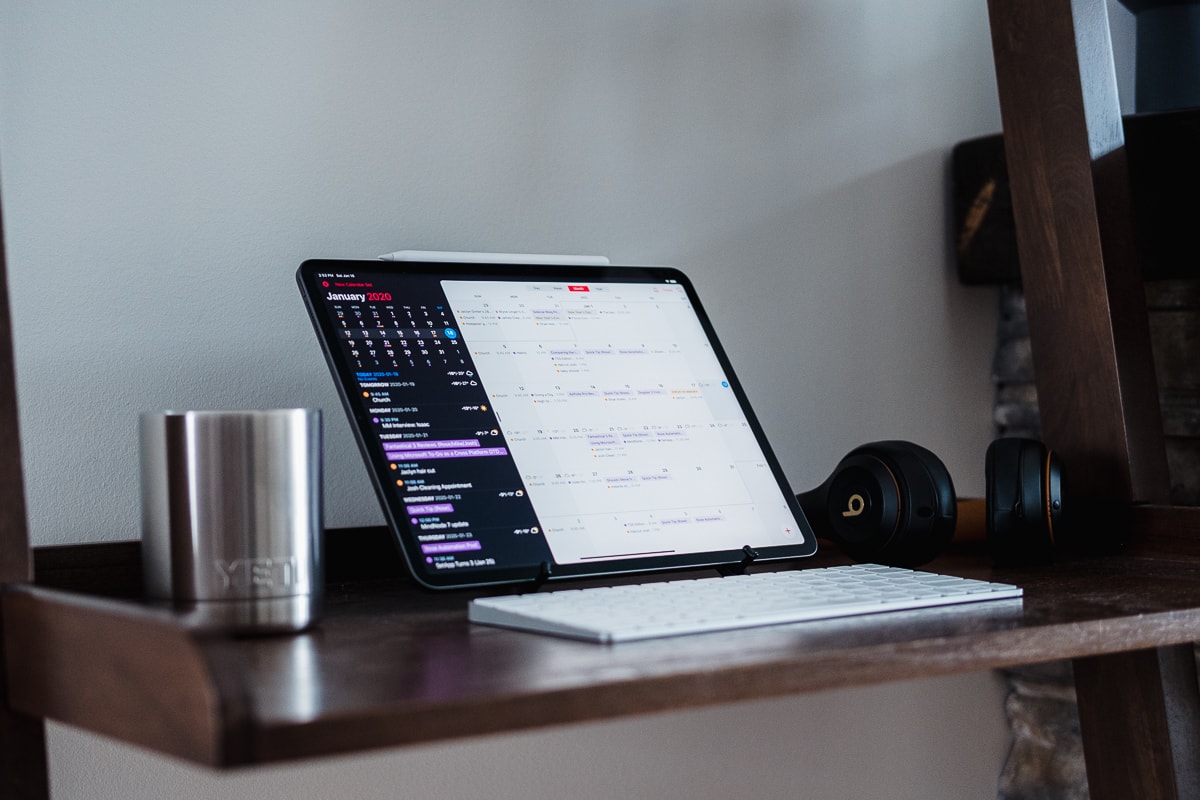 Why Upgrade from Apple Calendar?
There is already a solid looking calendar app that ships on every Apple device. So why would you want to spend money on a third-party calendar app for your iPad?
The big reason to upgrade is that the built-in calendar app is pretty limited. It lets you see your appointments and schedule new ones, but that's about it. It's not going to have additional features like natural language processing or give you scheduling links that make booking the appointment easier.
So if you don't need anything more than basic calendar management and the ability to sync your meetings between your Apple devices, then the default Apple Calendar is probably fine for you. But if you're looking for an app that helps you elevate your time management game and be more productive, there's a couple great choices for iPadOS.
After spending the last three weeks to a month testing a wide variety of calendar apps for the iPad, there are two undeniable truths:
Fantastical 3 is the best calendar app for the iPad, bar none. However, unlocking all of Fantastical 3's best features requires a $40/year fee, which is significantly more expensive than other one-time purchase calendar apps (but, we have to state, Fantastical 3's subscription pricing is not more expensive than other calendar app subscriptions).
Calendars 5 by Readdle is a powerful calendar app with many of the best features found in Fantastical 3, but for a one-time purchase price of only $6.99. For users looking to save money but want to upgrade over the minimal features found in the stock iOS calendar app, Calendars 5 may be the best value calendar app for the iPad.
Normally, we try to stand on a soapbox and declare a specific winner in a specific category. We can definitively say Fantastical 3 is the best calendar app. However, we're unsure if it's the best value for all calendar app users.
Our Criteria for the Best iPad Calendar App
Calendaring is one of those interesting areas where each person uses each of their devices differently. For those working on a Mac each day, the calendar app may perform dual-purposes, like entering events and referencing events. Then, perhaps, most referencing is done on the iPhone while on-the-go.
The iPad falls under the same blanket — how you work each day will define your calendaring needs. I, for instance, do almost no calendaring on the Mac or on the iPhone, but instead use the iPad for scheduling events, referencing events, and finding open times in my schedule.
As a result, the criteria for the best calendar app for the iPad is the same as the criteria for the Mac:
Ease of use: The number one priority of a calendar app must be the UI. How intuitive is the app? How easy is it to add a new event and invite people to it? How does the app handle tasks or todos when necessary? These are some of the questions we considered when looking at the available options for calendar apps on the iPad.
Design: Many people resist looking at their calendar because they resent the fact that their time is already spoken for. When you learn to manage your time well, you have more time for the things that are important to you. Since it's critical you spend time managing this part of your life, an attractive user interface can make time management more approachable and enjoyable.
Scheduling Features: Calendar apps have remained largely the same for a long time. If you're going to invest in something beyond the stock Calendar app, the app you decide to use should give you additional features to help you take your time management game to the next level.
Price: Because Apple gives you a decent calendar app on the iPad for free, price is certainly a factor we consider. The iPad calendar app you decide to use should give you the features you need at a price that you're comfortable with.
Integrations: Because iPad users do not all use the same calendar service (iCloud, Google Calendar, Exchange, etc.), the calendar app you use must work with all the available options. Additionally, it should integrate with other apps (where appropriate) to make managing your events and time-sensitive tasks easier.
Cross-Platform Sync: Lastly, because most of us live in a multi-device environment, your calendar app should have a macOS and iPhone version that syncs seamlessly with the iPad version.
The Calendar App Contenders
While it didn't take long to hone in on the best calendar app for the iPad, here is the long list of apps we looked at for this review: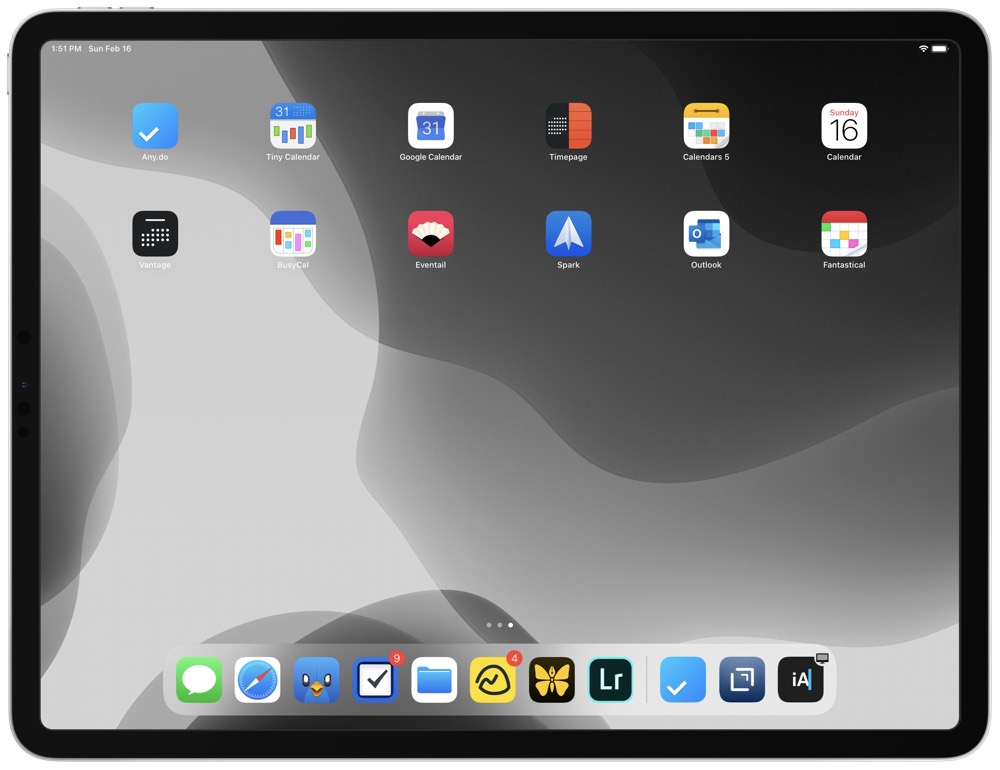 Fantastical 3
Microsoft Outlook
Spark
Apple Calendar
Calendars 5
Timepage
Eventail
BusyCal
Tiny Calendar
Any.Do
Vantage Calendar
You'll notice a few email apps on this list. We'd be remiss not to at least consider email apps that have a calendar integrated into their process. Microsoft Outlook, for instance, is an app my office relies on more for calendaring than for email. Because emailing and calendaring can often go hand-in-hand, we wouldn't begrudge anyone for wanting to keep a simple calendar within their email app.
The Best Calendar App for the iPad: Fantastical 3
Sometimes, the best choice is the more expensive option. When choosing between the "very best" and the "very best value", price will play a role. But when simply selecting the "very best" calendar app, Fantastical 3 is the undisputed best calendar app for the iPad.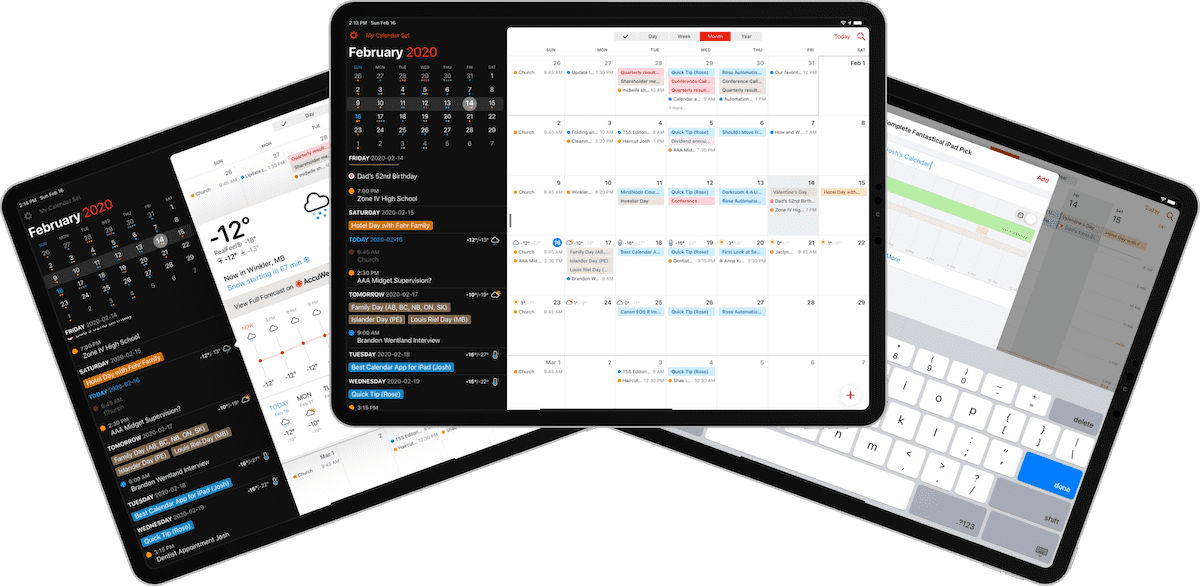 Fantastical 3 is the most beautiful calendar app on the iPad and finds a way to use the iPad's screen real estate in the most intuitive way of any of the contenders listed above. The app has a wide variety of calendaring views to choose from, has natural language parsing for ultra-fast event entering, and has power-user features like proposed event times, templates, 10-day weather forecasting, and more.
Power users will appreciate the more powerful calendar features in Fantastical 3, while power users who previously purchased Fantastical 2 as a standalone app also have access to all those same features. Even for brand new Fantastical users, Fantastical 3's free tier provides all the same features as the stock calendar app, but in a more beautiful package. (More on that free tier below).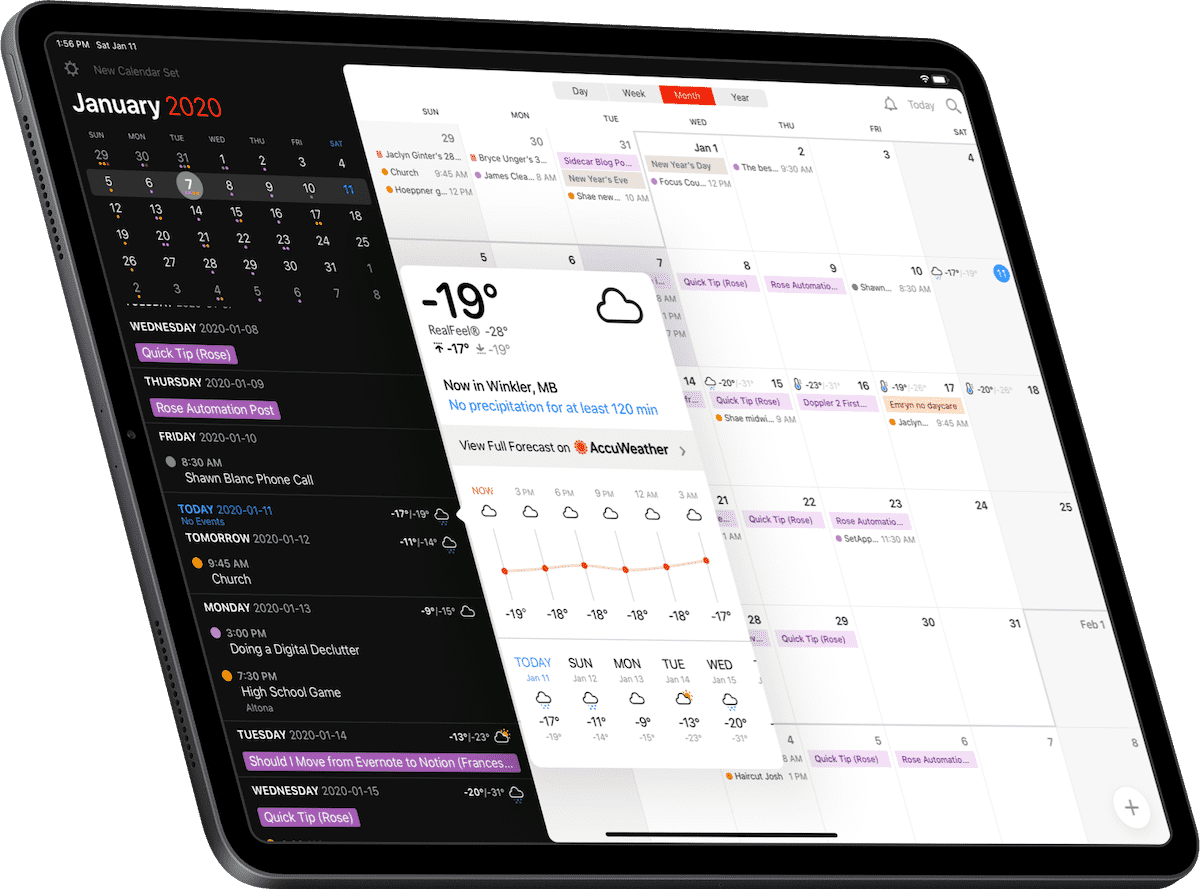 In short, we believe Fantastical 3 is the best calendar app for the iPad for most people. However, for brand new users who find the $40/year annual subscription fee to be too much to stomach, we have a one-time purchase pick as well.
On Fantastical 3's Pricing Structure
First, the elephant in the room: Fantastical 3's recent update ushered in an entirely new pricing structure and one that has caught some users off-guard and is sure to make new users raise an eyebrow.
Fantastical 3 offers two pricing tiers and an option for Version 2 purchasers to upgrade to a version of Fantastical 3 that only has the features of the previous Fantastical 2.
Fantastical 3's free version provides essentially the same calendaring features as the built-in stock calendar app. You can add accounts, add events and tasks, show location event details, and see a three-day weather forecast with the free Fantastical 3. Beyond this, all of Fantastical 3's best features are locked behind subscription pricing.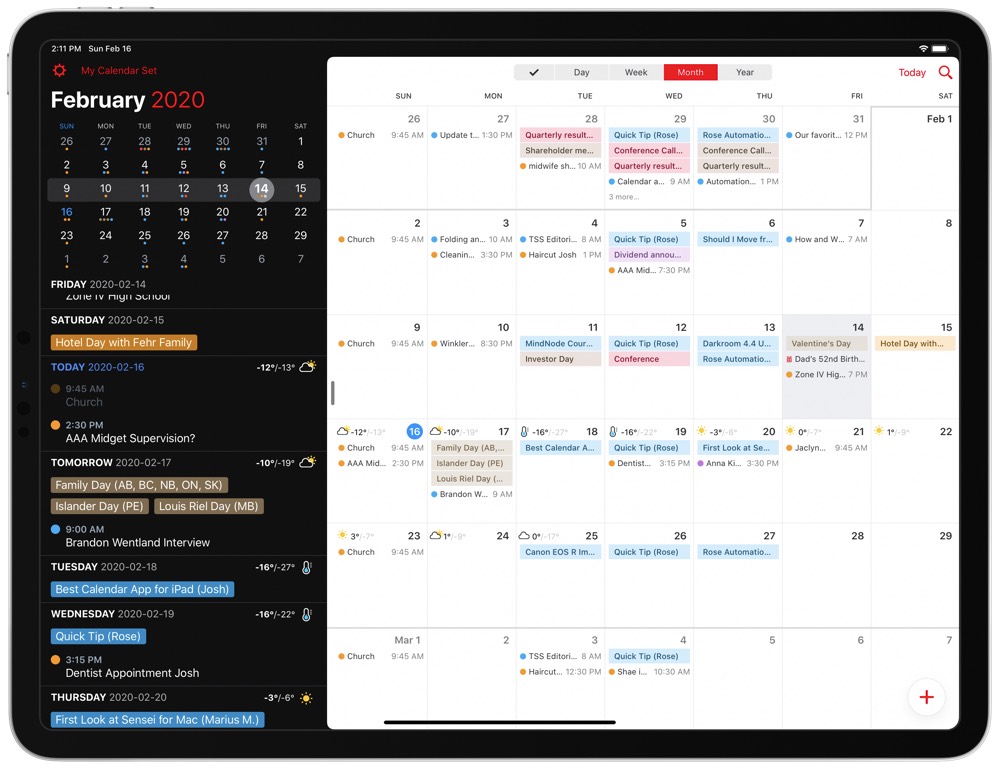 The single biggest feature that feels missing for free tier Fantastical 3 users is the full screen day/week/month/year view. On the iPad, this means the entire right side of the app is effectively hidden behind the subscription, leaving you only the small calendar and a list of events in the left sidebar. Fortunately on the iPad, you can hide away the big Fantastical Premium view by moving Fantastical 3 into Split Screen and just using the small monthly/weekly calendar and list. But for those wanting the full screen view or who want to avoid views that work as advertisements for the Fantastical Premium subscription, the free tier may end up becoming something of a nuisance.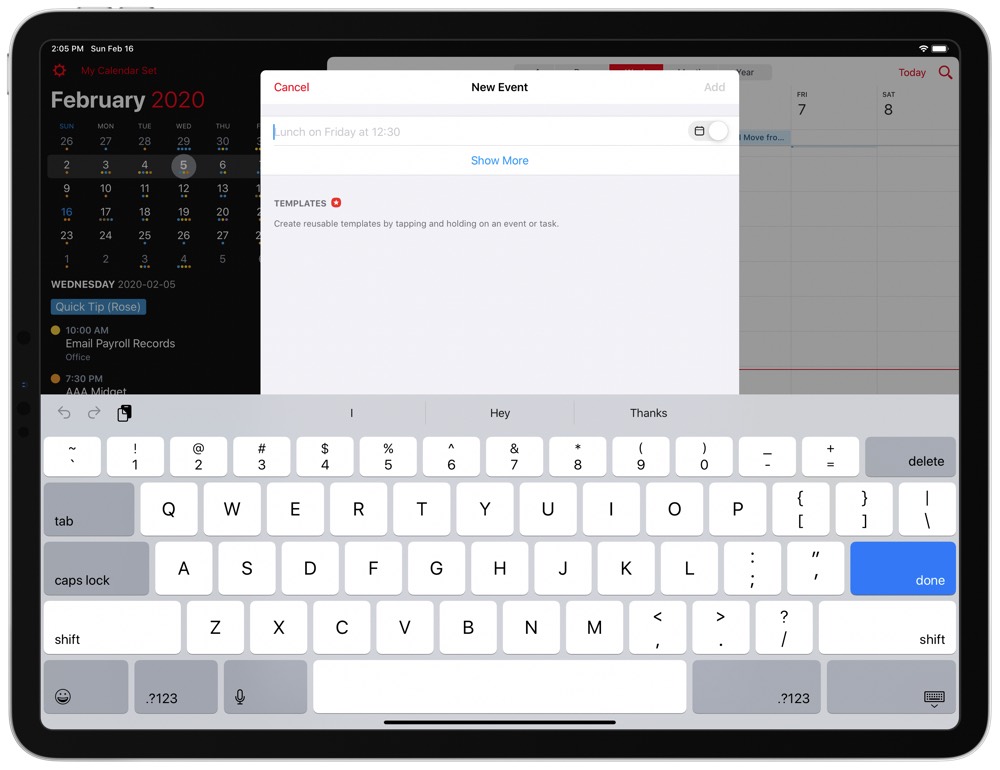 Fantastical 3 has an upgrade option for previous Fantastical 2 purchasers. This option provides exactly the same set of features as were previously available in Fantastical 2, and on some platforms, a feature or two more than under the previous Fantastical 2. This does, however, mean that the best new features are unavailable for upgraders. Features like templates, the 10-day forecast, interesting calendar sets, collaboration features, and customization features are all denoted with a red star, signifying a Fantastical Premium subscription is required.
Finally, Fantastical 3's Premium subscription comes in at $4.99/month or $39.99/year and unlocks everything Fantastical 3 has to offer (a subset of which was listed above) and unlocks Fantastical 3 on all other platforms as well. In our experience, there is a group of users who will find this pricing completely and utterly worthwhile, as those who need to schedule many meetings and collaborate with others will be in their calendars for lengthy periods of time each day.
The subscription pricing also allows for seasonal use as well. As an accountant, I tend to need my calendar extensively between January and June. During these months, I'm in and out of my calendar a dozen times or more each day. During the off-season, I can go a week or more without looking at my calendar. A monthly subscription price may be the right structure for seasonal users who need power user features at only specific times of the year.
We want to make it very clear that we are aware of Fantastical 3's subscription pricing structure, especially in the current environment of many apps moving to a subscription structure. Subscription fatigue is a real thing, and we understand if someone finds a calendar app on the chopping block. If you're looking for the best calendar app at any cost, Fantastical 3's pricing is sure to be considered fair, especially given the incredible list of power features.
Full Screen Day/Week/Month/Year on the iPad
Fantastical 3's new and improved design is something to behold, especially in the arena of calendar apps. The visual design of Fantastical is great to look at, and makes it easy to understand your schedule at a glance. No other app looks as beautiful, has as many visual customization options, and makes better use of the iPad's screen than Fantastical 3. In fact, to my dismay, it's that last comment that really stood out when testing all the different calendar options.

Fantastical 3 makes exceptional use of the iPad screen, specifically the largest 12.9-inch iPad Pro display. The left sidebar can be sized to two different sizes, with the wider of the two feeling very natural on the big 12.9-inch iPad Pro. The narrower of the two sidebars feels most natural when the iPad Pro is in portrait orientation.
There are five full-screen views available in Fantastical 3: Tasks, Day, Week, Month, and Year. I generally don't find myself in full-full-screen mode (i.e. with the left sidebar completely pulled away), but I do find myself jumping between the full-screen Week and Month view most often. On the big screen, the Month view is exceptional for quick multi-week planning, while the Day and Week view are best for drilling down and fine-tuning your daily agenda.
Unfortunately, at this time, Fantastical's unique Week Ticker found on the iPhone isn't available on the iPad. On the iPhone, you can slide the top calendar down for a full-screen view or slide it up to a month view and a five-day Week Ticker. The Week Ticker is one of my favorite visual elements of Fantastical on the iPhone and I'm excited to see it on the iPad.
Natural Language Processing in Fantastical
There was a time when Fantastical's natural language parsing for creating events was an exclusive feature that literally no other app had. This feature alone made Fantastical worth a purchase, and this feature alone made Fantastical the very best calendar app available.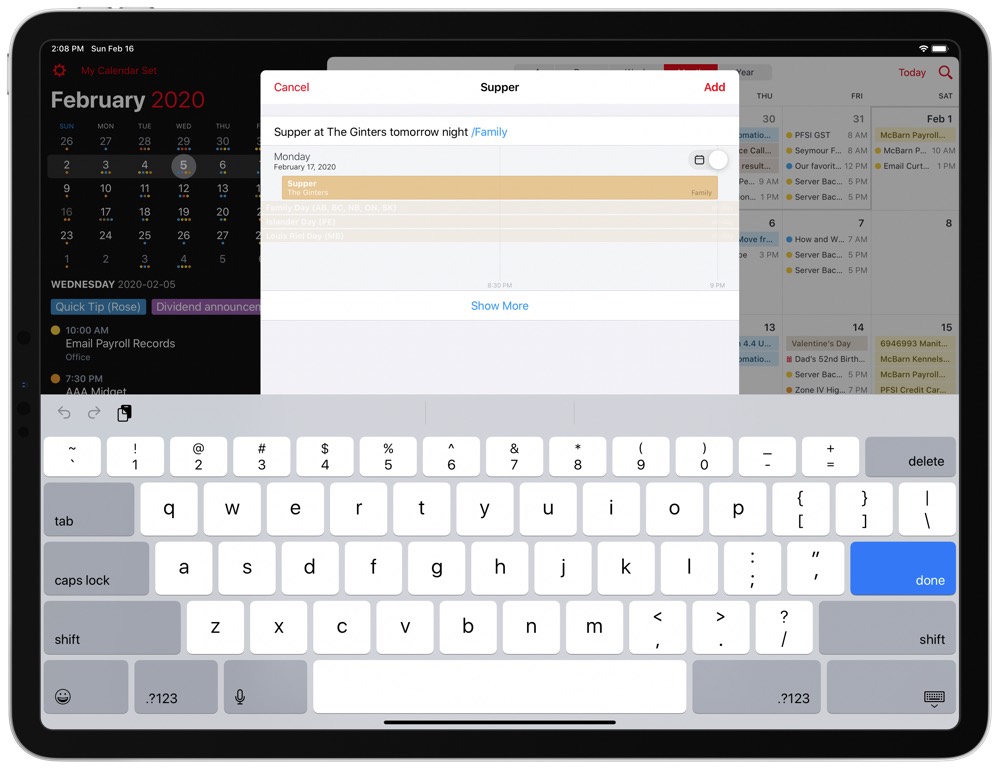 Times have changed, and a variety of apps sport natural language parsing for quickly creating events in the most natural way. Fantastical still finds a way to be the most intuitive of the bunch, however — as you're typing the details of your event into the field, specific details fly off the field and into the small calendar view below, providing a touch of whimsy and magic in the process. Where apps like Tweetbot have audio cues that build out the app's character, it's Fantastical's implementation of natural language parsing that feels the best on the iPad.
In short, natural language parsing allows you to add things like:
Grocery shopping at Woodman's Friday at 5pm
Soccer practice Tuesday at 6
Lunch with Josh at Joe's Sandwich Shop 1:30 Monday
directly to your calendar, all without having to select details from different menus. You can even add a forward slash (/) and the first letter of the specific calendar to which you're adding your event to quickly organize your event as well.
It does takes a little while to understand the format Fantastical wants you to use for natural language, but once you understand it, calendar event creation gets much easier. We've even got a guide to help you get the most out of it.
Calendar Sets and Interesting Calendars
Calendar Sets used to be a Mac-only feature for Fantastical users, but Fantastical 3 now has the ability to sync Calendar Sets over to the iPad as well. In short, Calendar Sets allow you to see a subset of the calendars on your device and can be set to be activated when arriving or leaving a specific location. This is ideal for bringing up a list of your most-used work calendars, while keeping your personal and private calendars available for your off-duty hours.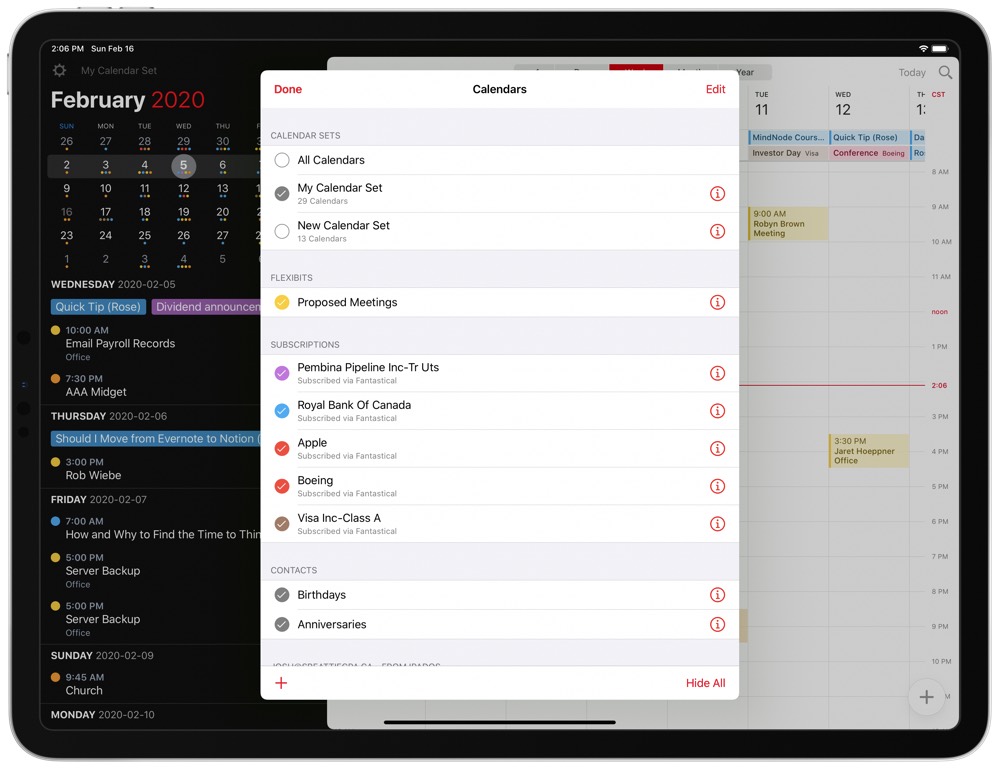 Interesting Calendars is a new feature to Fantastical 3 (and one which has been around in our secondary calendar pick for a little while) that actually caught me by surprise. Inside Fantastical, you can subscribe to a variety of interesting calendars, such as your favorite sport's teams schedule, your favorite TV show's schedule, and my personal favorite, to a variety of investor-related schedules of your portfolio stock choices. This last option is particularly useful if you keep a steady eye on your investment portfolio — you can select from all of the S&P 500 stocks and be provided with earnings release dates and investor updates.
Weather Forecast in Fantastical
I've used many weather apps and, no matter how hard I try, I can't get the habit to stick on the iPad. I check the weather every morning on my iPhone (or via Siri on the HomePod), but even if I put a weather app on my iPad home screen or in the Today widget section, I still won't use the app on the iPad.
Fantastical 3's new built-in weather peek is just the perfect smattering of weather details I need on the iPad.
Each view (day/week/month/year) has its own information placement to quickly view the day's weather, as does the left sidebar. You can tap the weather icons to provide a quick popover that showcases all the most important weather aspects for the day or up to 10 days in the future.
The current day's weather is the most populated and complete, and offers current temperatures, "Feels Like" temperatures (good for those blistering wind chills here in Manitoba), precipitation forecasts, next 12-hour forecasts with a handy temperature line graph, and a scrollable 10-day forecast on the bottom. Should you need more weather data, you can tap the View Full Forecast on AccuWeather button to find all the weather data you need.
Future forecasts provide less data — only expected highs and lows and the 10-day forecast are provided.

Tapping on any bit of weather data in the popover window opens an AccuWeather tab in Safari, which comes complete with all sorts of weather data… and advertisements. This is the only hiccup in an otherwise super handy feature in Fantastical 3.
Again, I don't generally need in-depth weather data on my iPad. By the time I crack open my iPad for the day, I've long since decided what to wear to combat the day's forecast. For me, heavy weather lifting is done on the iPhone, and casual weather checking is done on the iPad. Fantastical's new weather functionality fits my needs on the iPad perfectly.
Fantastical's New Collaboration Tools on the iPad
What I assume is one of the main driving factors for a monthly subscription option, Fantastical's new collaboration and proposed meeting tools are very powerful and and built for busy professionals. By creating an event and tapping Propose Another Time, you can quickly build out web-based forms for event recipients to choose from to nail down a time that works best for everyone.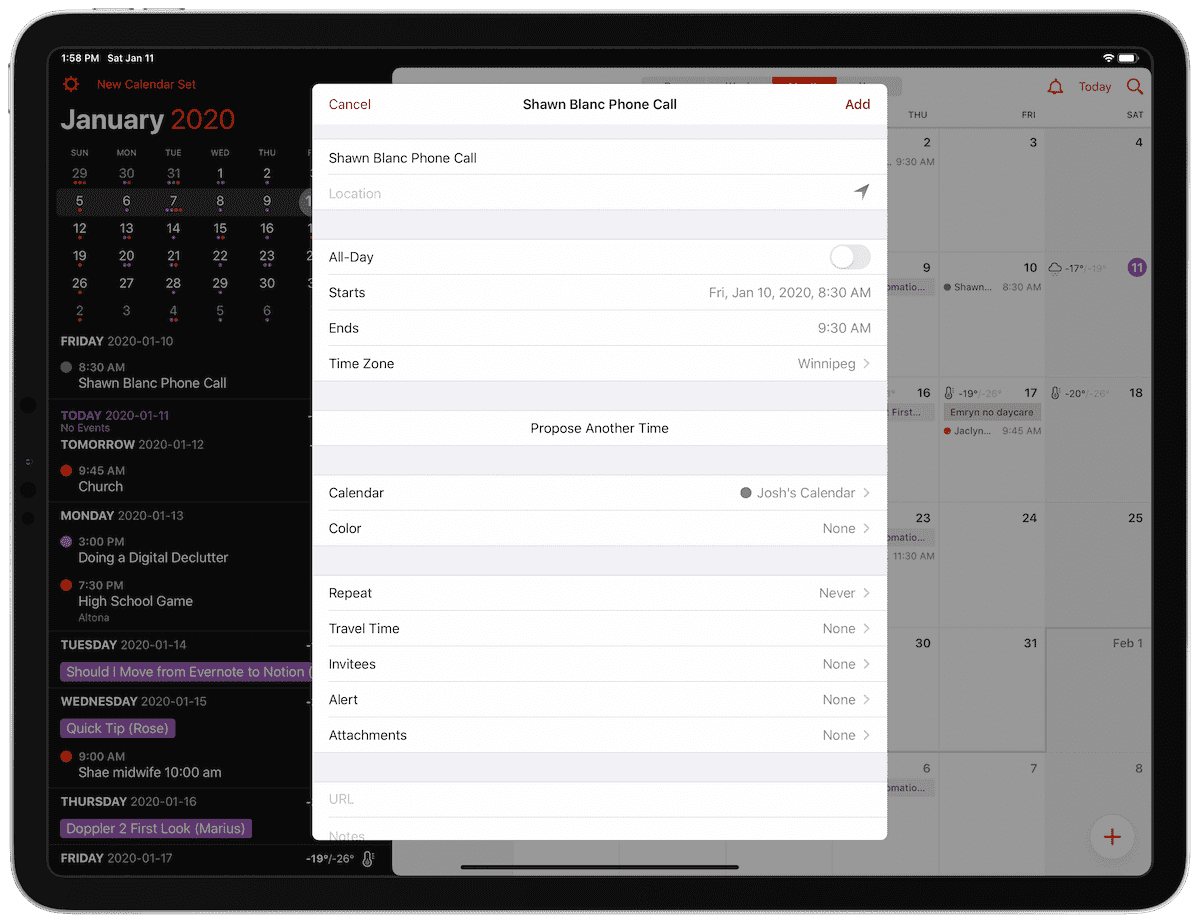 Proposing meetings is incredibly easy. Create a new meeting by tapping the + button, use Fantastical's incredible natural language parsing to create your event (or create via a template), add your invitees, and then tap Show More to reveal the option to propose an additional meeting time. Once there is an agreed upon meeting time, the chosen time is added to your calendar account (Google, iCloud, etc.) accordingly (this can be changed in the settings to block off all proposed times if you prefer to hold those spots so you don't end up double-booked). Recipients can even respond unanimously when choosing a proposed meeting time.
It should be noted that this approach is different from other calendaring services that allow people to "book" you. Fantastical allows the meeting creator to pick a set list of proposed times that recipients can choose from, while other scheduling services show the recipient all of your unscheduled or unblocked times and allow them to select the best time. How you schedule yourself is pretty personal and may even be industry-specific, so having Fantastical's scheduling option is great for users who haven't found the alternative scheduling method to work for them.
Fantastical Templates on the iPad
For events that have the same details — the same location, the same time, the same duration, or the same recipients — Fantastical provides templates for quickly scheduling like-events. For example, we have a monthly planning call here at The Sweet Setup where we talk through the articles we want to publish and the reviews we want to update. It's always an hour, it always includes the same people, and always takes place on Zoom.

On iPad, you can create a template by long-pressing on any event in your calendar and tapping Create Template. Once created, when you create a new event, you'll notice the templated event available under the natural language parsing field. Simply tapping the templated event pre-populates all the necessary details, leaving you to choose a date. It's quick, easy, and painless, and makes scheduling that much easier on the iPad.
Wrapping Up Fantastical 3 on the iPad
If it wasn't evident, subscribing to Fantastical Premium opens up a wide world of powerful calendaring features. From template creation, to collaboration, to weather forecasts, to the very best UI design on the iPad, Fantastical 3 and Fantastical Premium provides the ultimate calendaring experience on the iPad. This is, bar none, the best calendar app for the iPad.
As I've mentioned half a dozen times already, though, we're aware that this group of power features isn't for everyone. For those not needing the extra Fantastical power and the extra Fantastical price, our runner-up pick is a one-time purchase option with natural language parsing, a clean and easy-to-use design, and the best event detail integration available.
For Users Looking For a One-Time Purchase Option: Calendars 5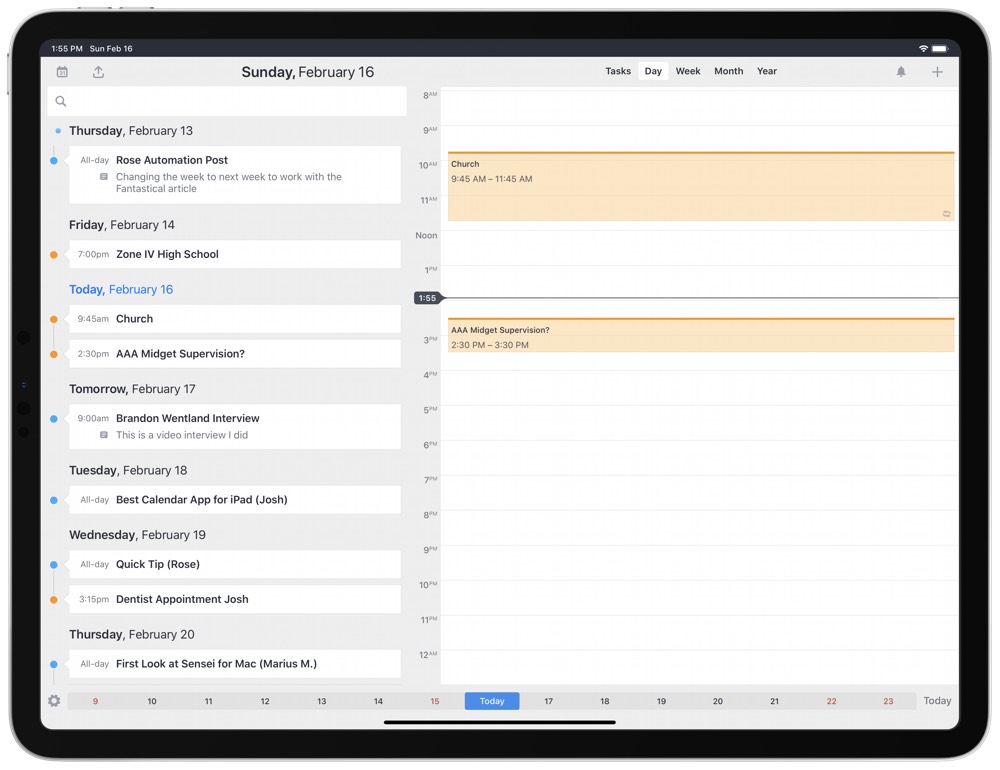 Calendars 5 really surprised me during testing. I had purchased Calendars 5 when testing these calendar apps in the pre-iPad Pro days, and I was pleasantly surprised to see my single purchase way back then was still available and being updated today. Calendars 5 provides an effective, utilitarian design and approach to calendaring that some users will flat out prefer to Fantastical. And for me, the extra touch regarding event details is what put Calendars 5 over the top.
Calendars 5 provides all the best, most essential calendar features one could need, specifically natural language parsing, event invitations, high quality "Add to Siri" integrations, task and Reminders integrations, and event detail integrations from apps like Basecamp. Calendars 5 is missing major collaboration features found in Fantastical 3, template creation, weather forecasting, and some of the powerful visual customization options. If these features aren't needed in your toolkit, Calendars 5 is sure to meet and exceed expectations.
Calendars 5 Design and UI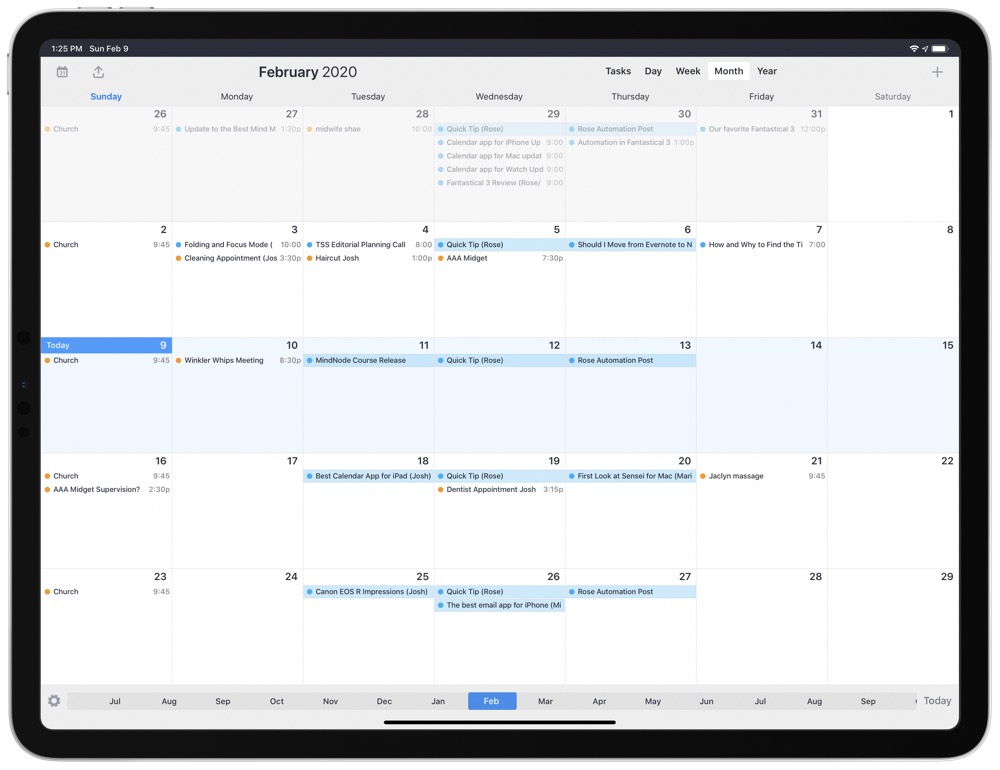 When I downloaded Calendars 5 to my iPad Pro for testing, I had forgotten the app was created by Readdle, the makers of the best PDF app for iPad and the best email app for iPad. I looked at the app and marvelled at how utilitarian and functional the app appeared, and I remarked that the app feels like it was made by "that company that made Spark and PDF Expert."
Kudos to Readdle for maintaining a consistent experience across their apps.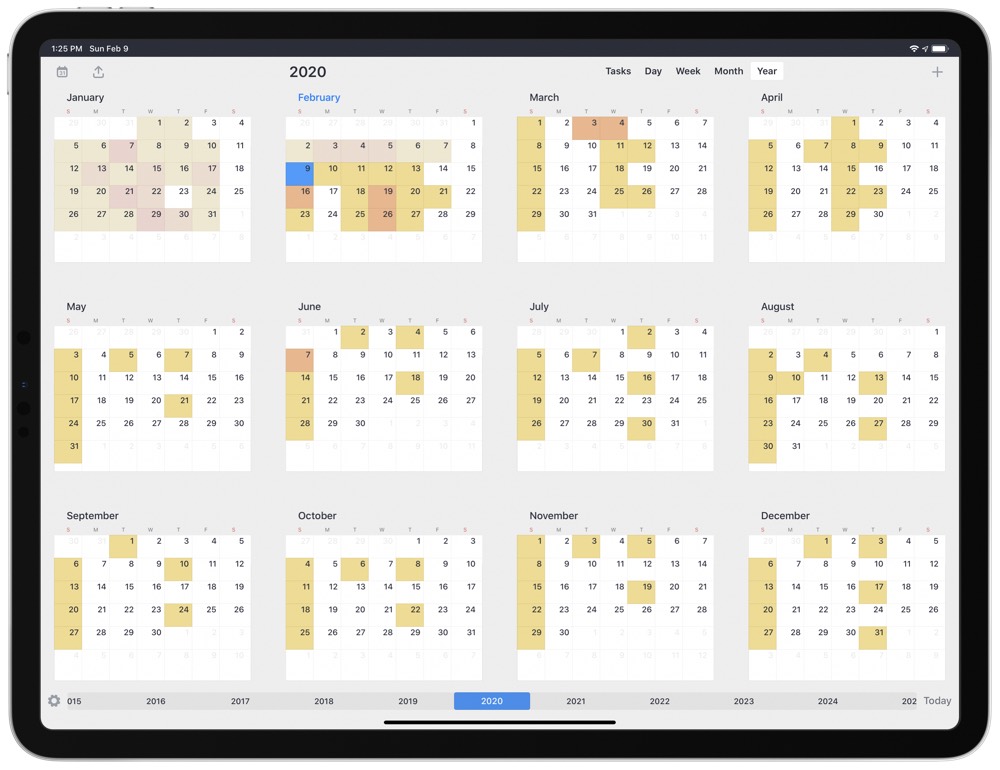 Calendars 5 is by no means wonderfully beautiful to look at, but it doesn't need to be. The app looks functional and is easy to follow thanks to its no-nonsense design. The off-grey background feels somewhat stale, but contributes to the no-nonsense approach of the app. As a whole, color is kept to a minimum, being solely used for denoting different calendars and tasks.
Natural Language Parsing in Calendars 5
Natural language parsing in Calendars 5 works effectively identically to Fantastical 3. The major difference between the two is the amount of whimsy — which is to say there's still a little animation which provides healthy feedback in Calendars 5.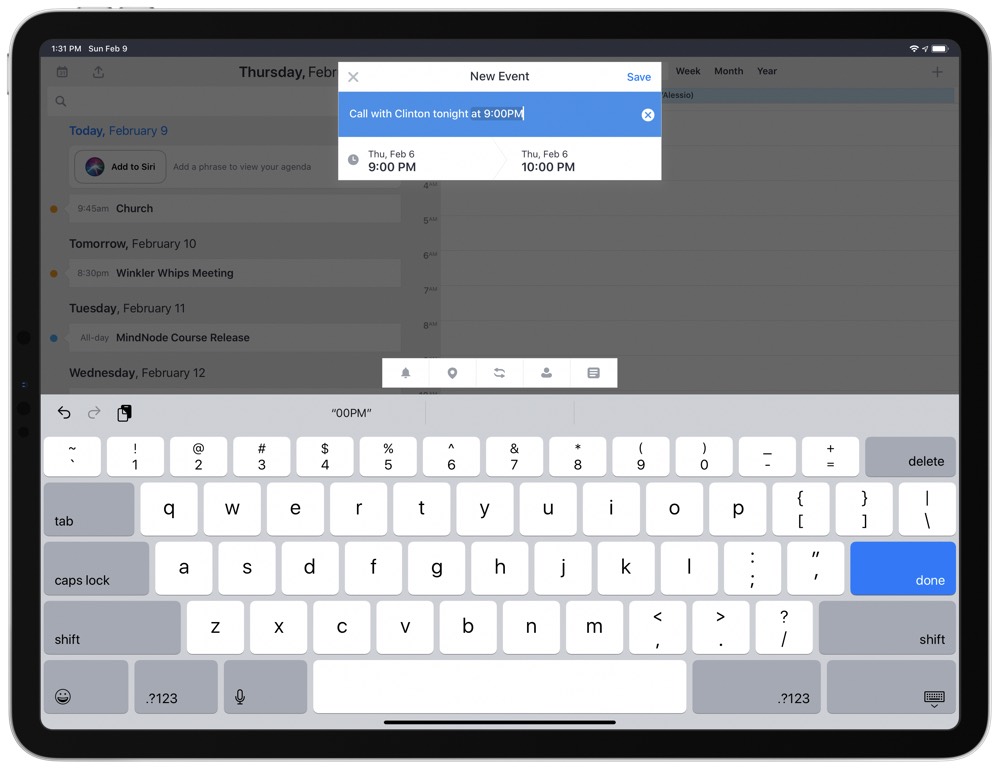 Like Fantastical, typing AAA Midget Supervision at 7:30PM on Wednesday automatically populates all the details for your event, and a/ following by the calendar letter provides instant calendar organization as well.
Quite simply, whether you choose Fantastical or Calendars 5, you're set with the very best natural language parsing for event creation available on the App Store. This method of creating events is simply the best, and Calendars 5's implementation of natural language parsing is no slouch.
Siri Shortcuts and Add to Siri in Calendars 5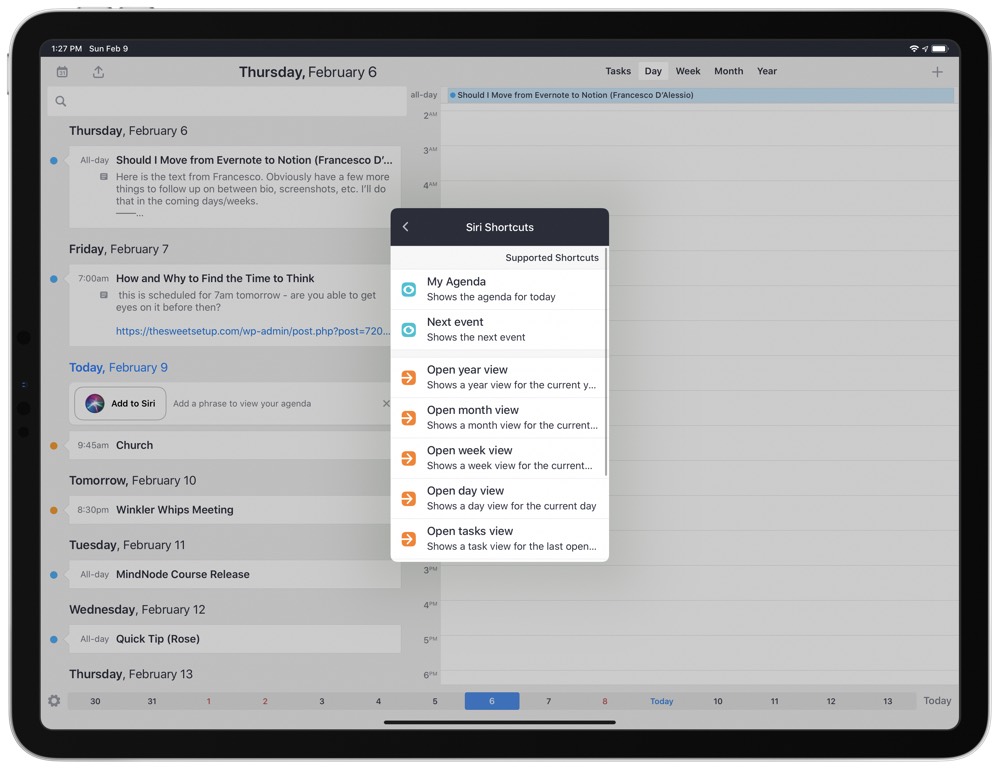 Built right into Calendars 5's settings menu is a dedicated Siri Shortcuts menu, designed to allow you to interact directly with your calendar via Siri. You can quickly create Siri Shortcuts to show your agenda, show your next event, open a specific day/week/month/year view, or create a new task or event.
Many of these same options can be found via Shortcuts for Fantastical 3, but having them built into Calendars 5 may provide more opportunity to integrate Siri into your calendar and scheduling workflow.
PDF Preview of Upcoming Schedule
A super small, albeit handy feature for those folks who work in offices that haven't caught up with the times, Calendars 5 offers a quick and easy way to share your calendar via PDF. Tapping the Share button in the top left corner provides a PDF preview of your day/week/month calendar, which you can directly share with a recipient.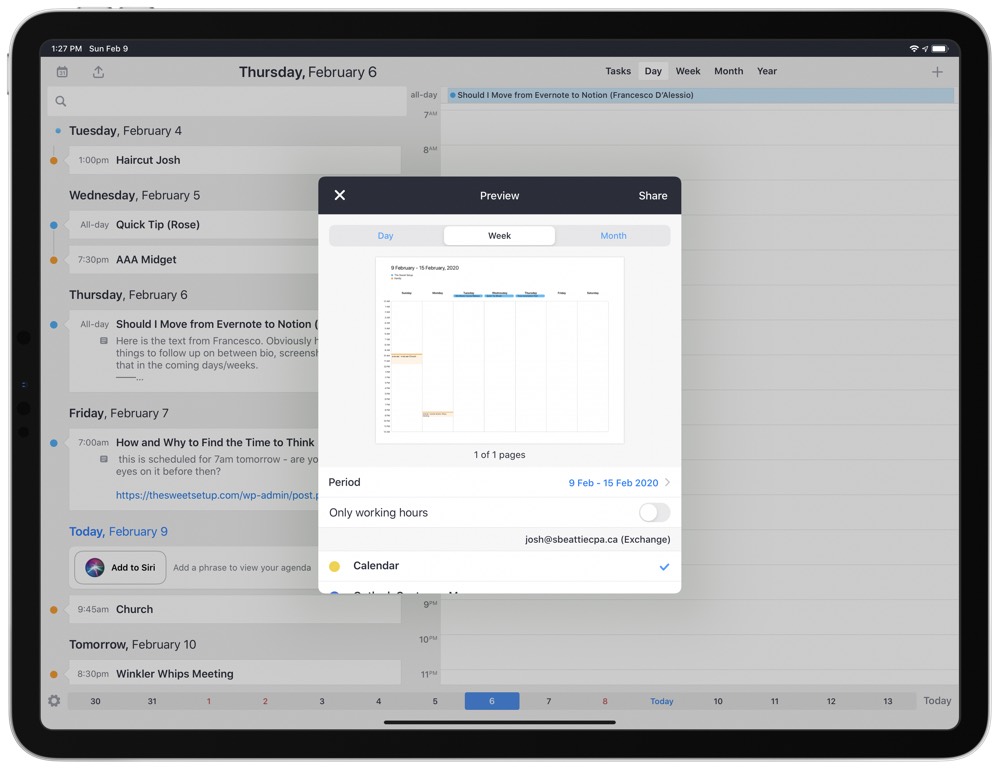 There are likely a dozen or more ways to share a calendar that don't involve PDFs, but professional offices (who are notorious for being behind the times; I work in one, after all) may find this feature quite handy.
Calendars 5 Pricing
Plain and simple, Calendars 5 provides the majority of the best features found in Fantastical 3 for a fraction of the price. Calendars 5 has a one-off purchase price of $6.99 from the App Store, providing all the benefits of natural language input, task management, event creation and invitations, and more for a single purchase.
Long-term, Calendars 5 is likely to provide more value for the user who doesn't need Fantastical's powerful collaboration features. But if you need collaboration tools, Calendars 5 simply doesn't offer what you're looking for.
Other Contenders
We drilled into as many calendar apps as we could to ensure we had a strong feeling of the calendar app landscape. Here are a few that caught our attention, but ultimately fell short.
Any.Do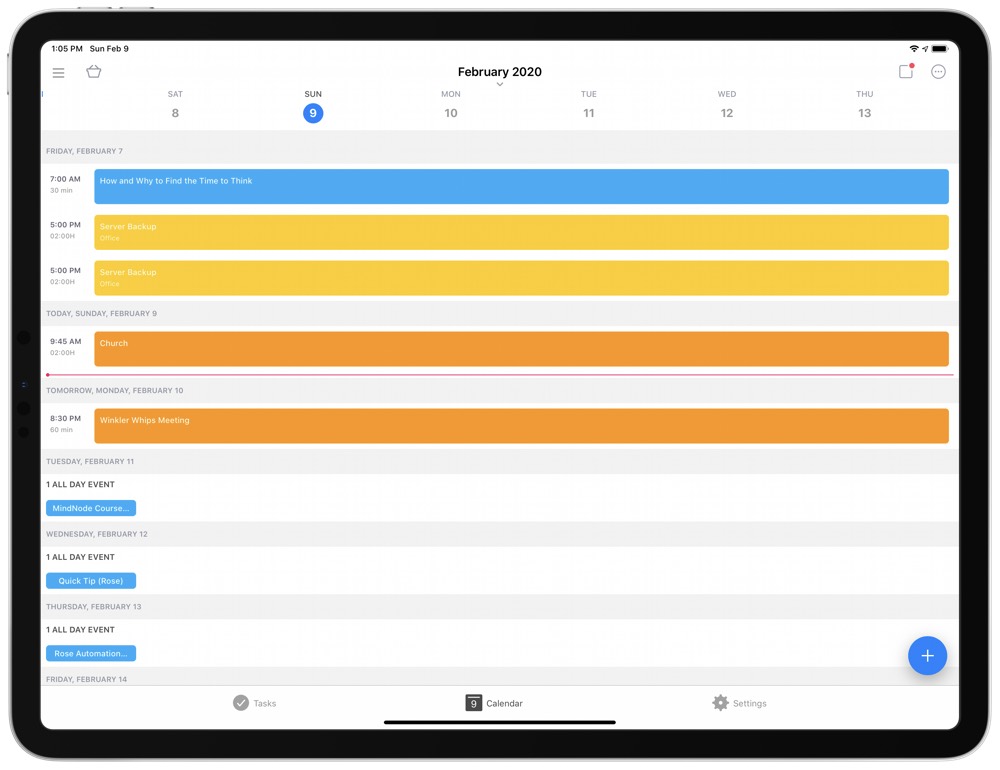 Any.Do provides a very clean, minimal calendaring experience, but one that likely feels more at home on the iPhone. The app is powerful and fairly easy to use, but doesn't utilize the large 12.9-inch iPad Pro display well at all, and is priced even higher than Fantastical 3.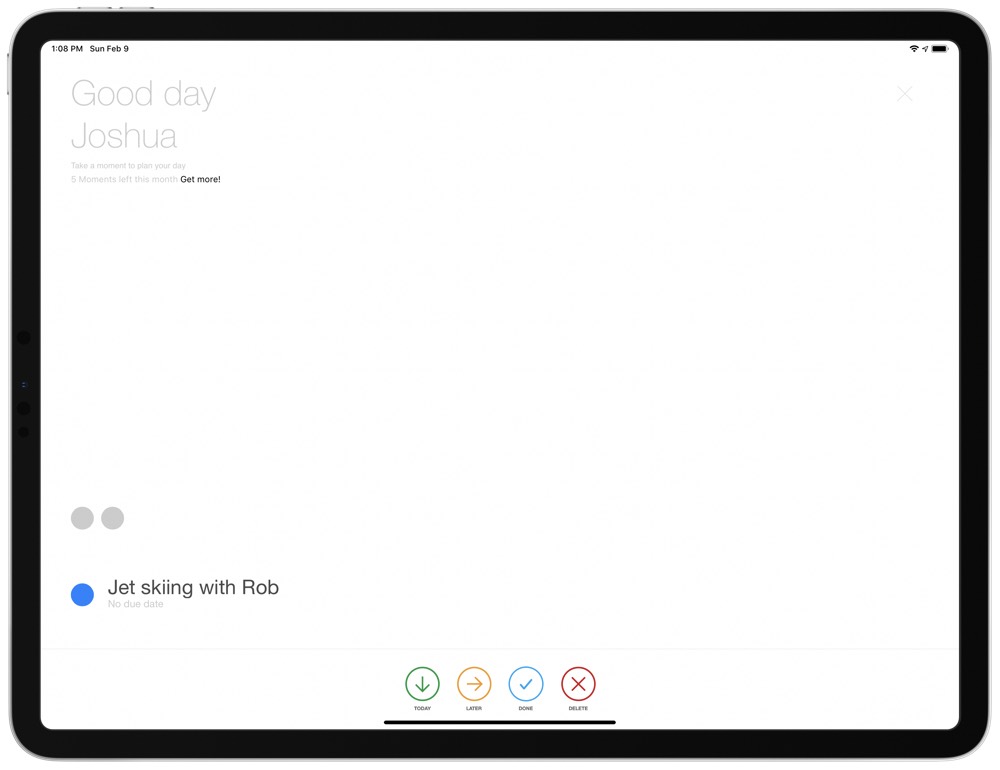 One area we want to draw attention to, though: Any.Do has a very serene and wonderful daily planning exercise that guides you through your upcoming tasks and events for the ultimate daily planning experience. Again, this is likely best experienced on an iPhone because of all the wasted iPad screen real estate, but it's a cool feature nonetheless.
Google Calendar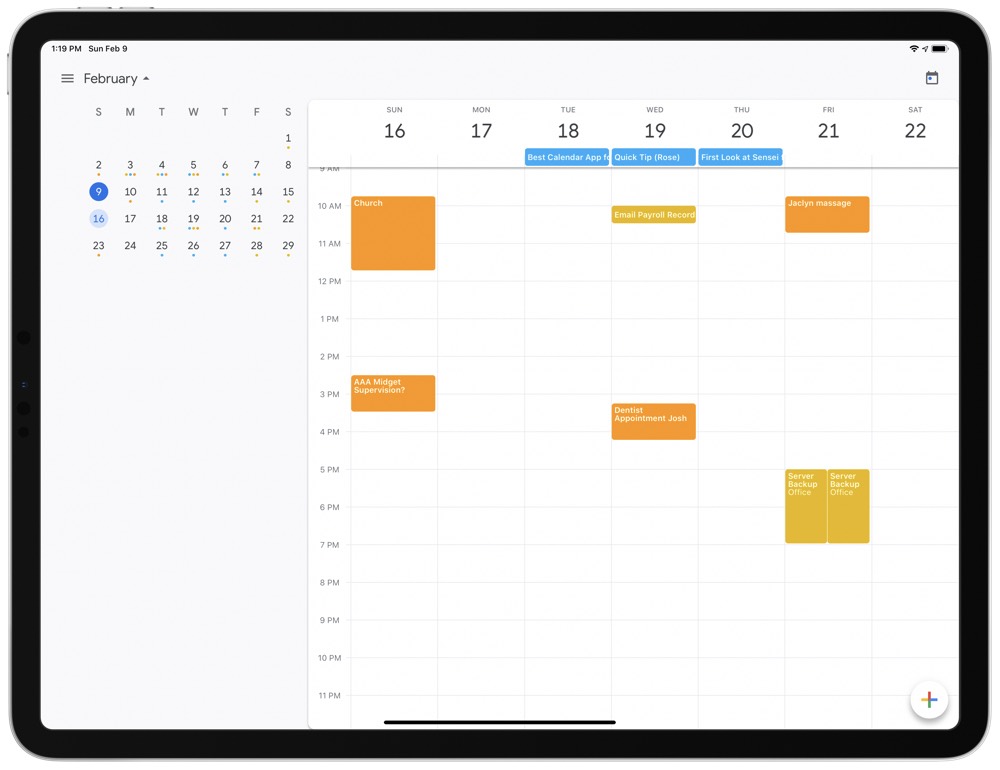 Google Calendar is a quintessential Google app, complete with the Google design language and high quality integration with Google G Suite services. The monthly calendar is the most legible and easy to scan monthly calendar of any calendar app we tested, while Google Hangouts integration is sure to make collaborative meetings that much easier for Google users.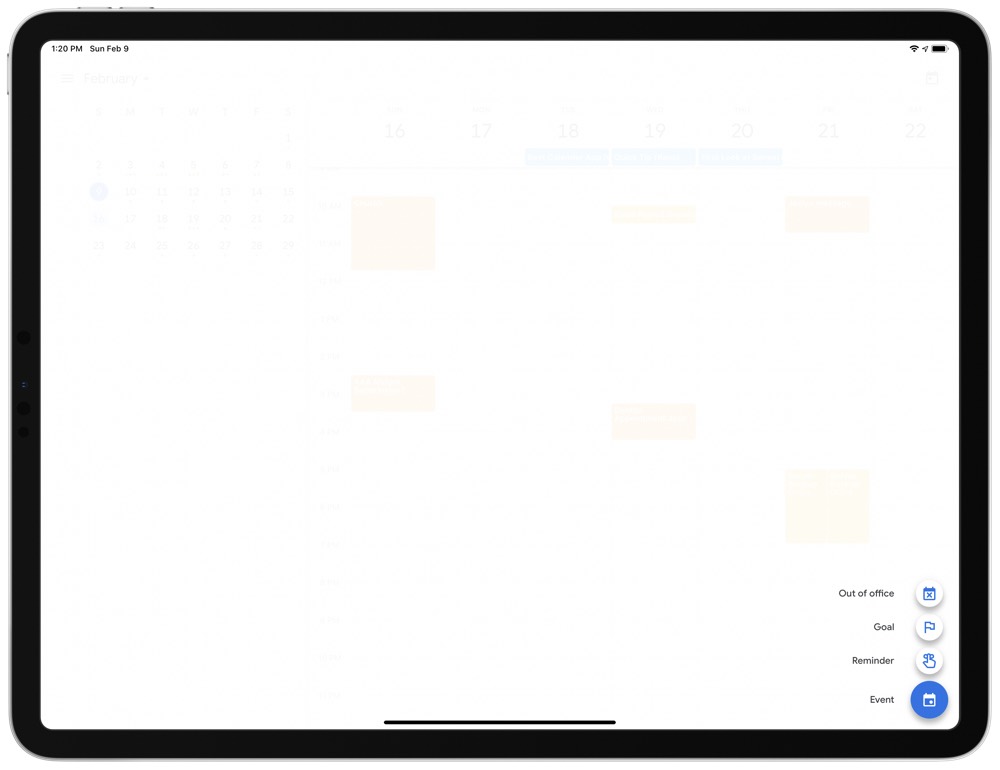 We, however, don't like the wasted space of the left sidebar on the iPad, and tapping the New Event button in the bottom right corner provides the most hysterical waste of space of any calendar app in the competition. There are handy features here, such as scheduling "Out of Office" time or such as creating a goal for yourself. But as a whole, Google Calendar's use of the iPad screen (among other missing features, like natural language parsing) will be dealbreakers for some.
Timepage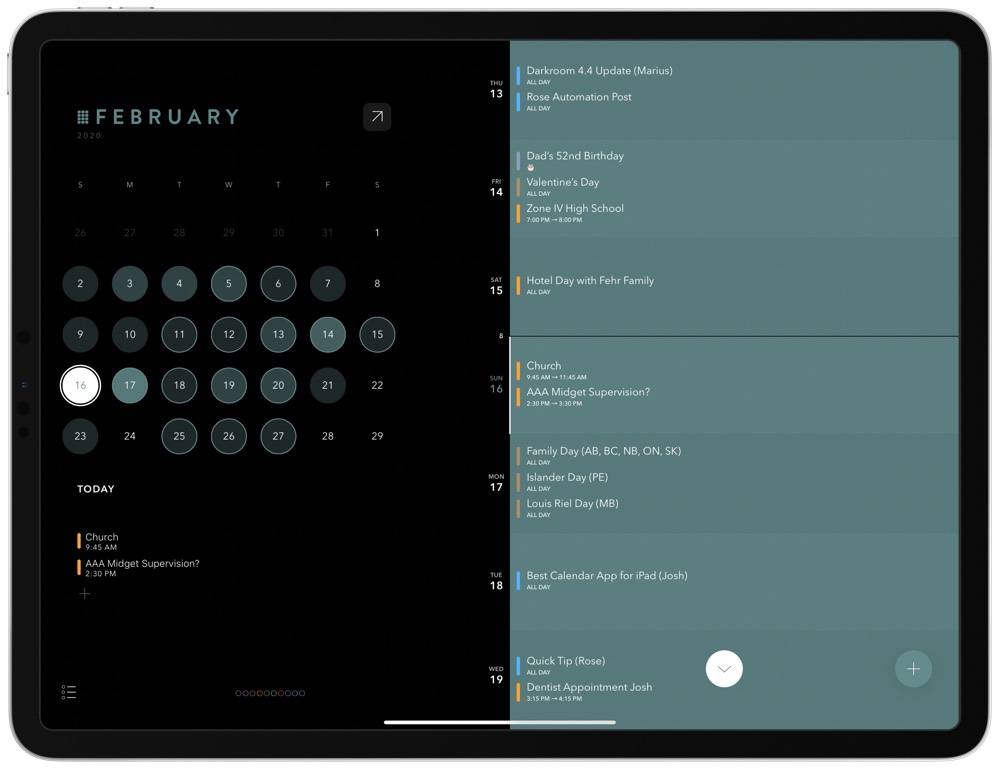 Timepage surely gives Fantastical a run for its money as the most beautiful calendar app available for the iPad. However, Timepage comes at it from an entirely different design aesthetic. You can set your favorite color in the app's onboarding screen, which will dominate your list view. The app makes heavy usage of swiping and gestures — swiping left and right reveals a split-screen monthly calendar, a full-screen monthly calendar, and the most intuitive daily agenda of any app we tested.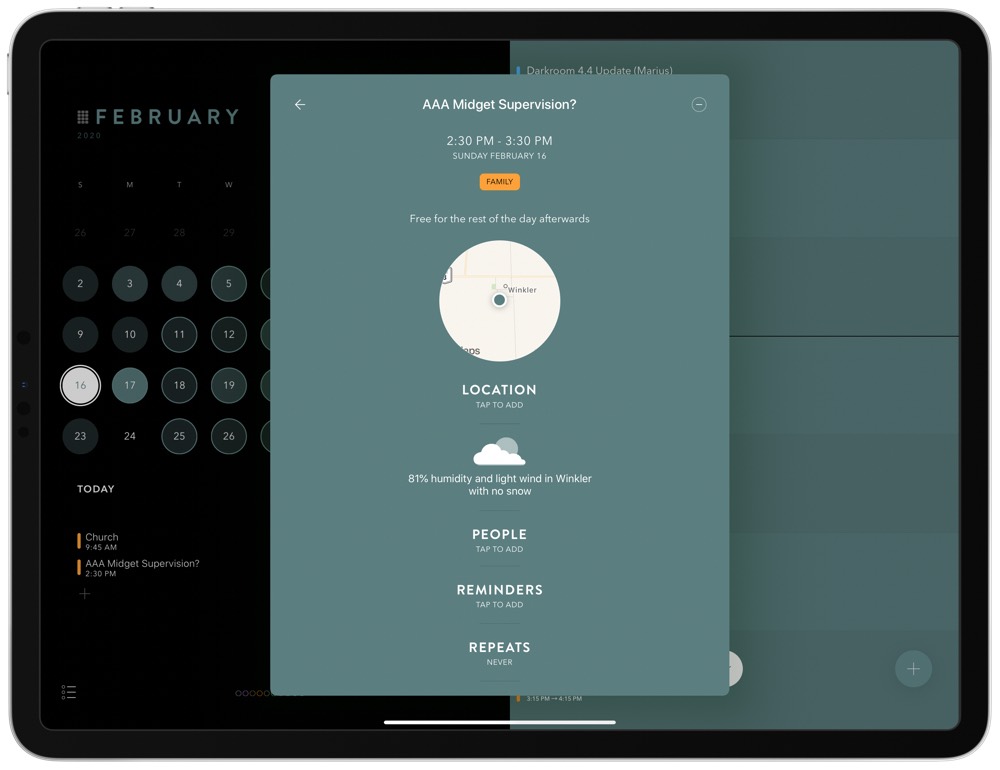 Tapping on an event in the monthly calendar provides a beautiful, information-packed event detail window. My favorite perk of this detail view: Timepage provides you with a look at what you're doing after the event, which gives you context to your daily events.
Timepage also has other unique features we haven't seen anywhere else, including Timepage Assistant and smart alerts for rain, daily briefing, follow-ups, and time-to-leave alerts, Siri Shortcuts built into the app, and integration with Moleskine's Actions productivity app (which is perhaps the most beautiful productivity app available on the App Store).
There's not a lot to dislike in Timepage other than the pricing structure: The app requires a subscription after the seven-day free trial expires. A monthly subscription costs $1.99/month and an annual subscription comes in at $11.99/year, which is significantly less than Fantastical 3. However, Fantastical 3 provides a wide range of additional features in its subscription pricing. We expect those who go down the path of subscription pricing to opt for Fantastical's additional features instead of Timepage's beautiful design.
Eventail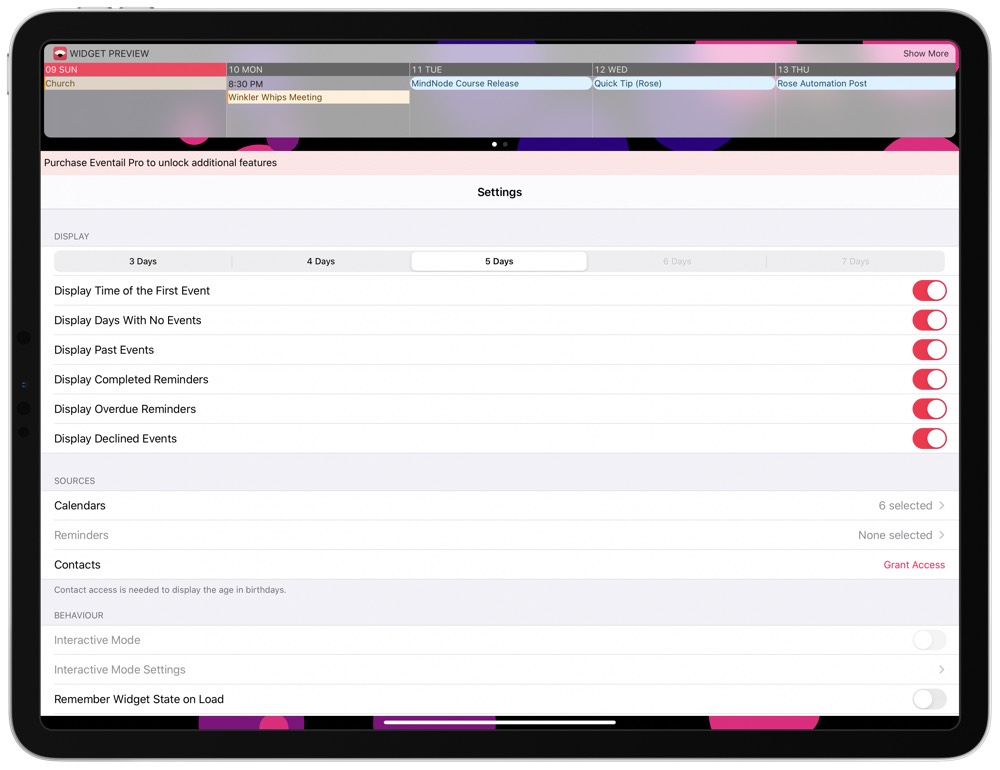 Eventail isn't really a calendar app, per se, but rather a surprisingly powerful Today Widget. Eventail debuted when most calendar apps had disappointing Today Widgets, many of which have now been improved. But the premise is simple, especially considering Today Widgets can now be pinned directly to the iPadOS home screen: If all you need is a Today Widget view for glancing at your upcoming schedule, Eventail may fit your needs perfectly.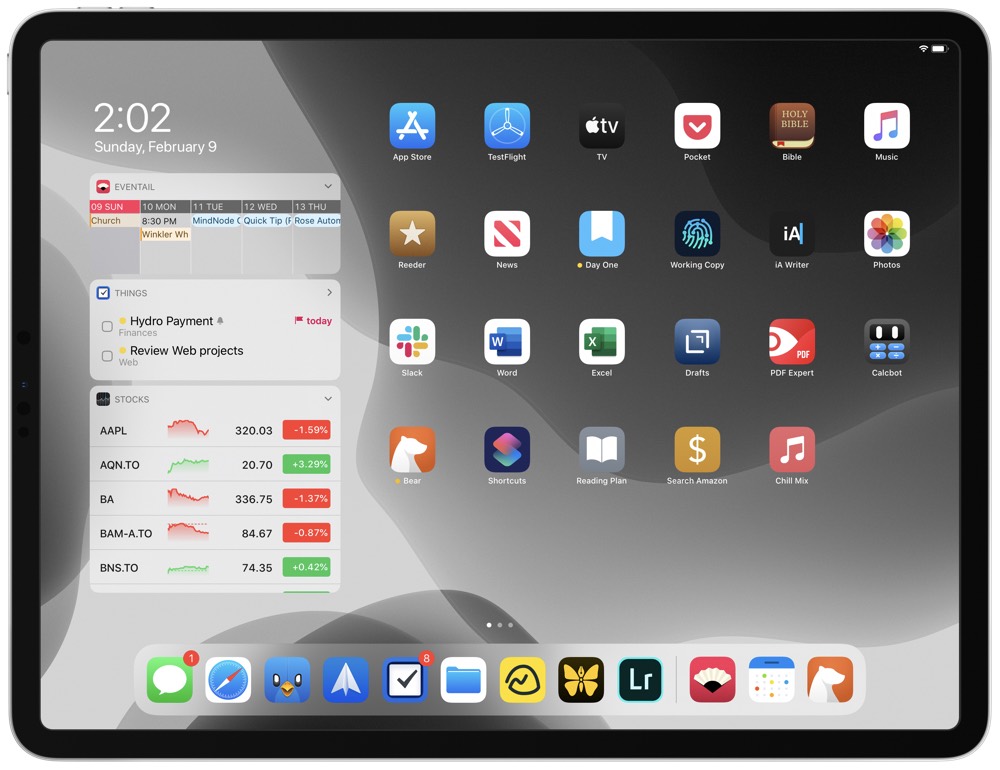 It should be noted that you can't add events through Eventail or do any sort of event organization. Eventail is simply a better looking and more information-dense Today Widget than the stock calendar app.
BusyCal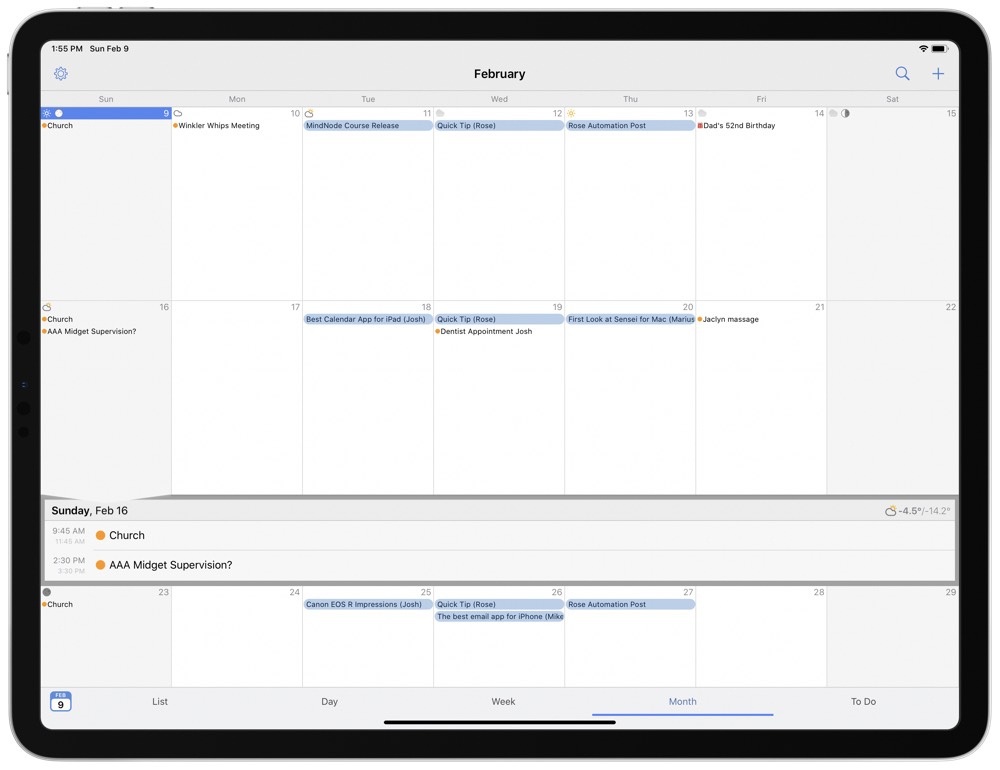 BusyCal has a strong reputation for calendaring on the Mac, so I was excited to try the app on the iPad to see what the fuss was all about. Unfortunately though, that same reputation hasn't carried over to Apple's tablet format.
The app has the same utilitarian design as Calendars 5, but makes no use of the large iPad display. The app looks and feels stale and provides no additional functionality over and above our two top calendar picks.
You can add moon phases to your calendar, though.
Tiny Calendar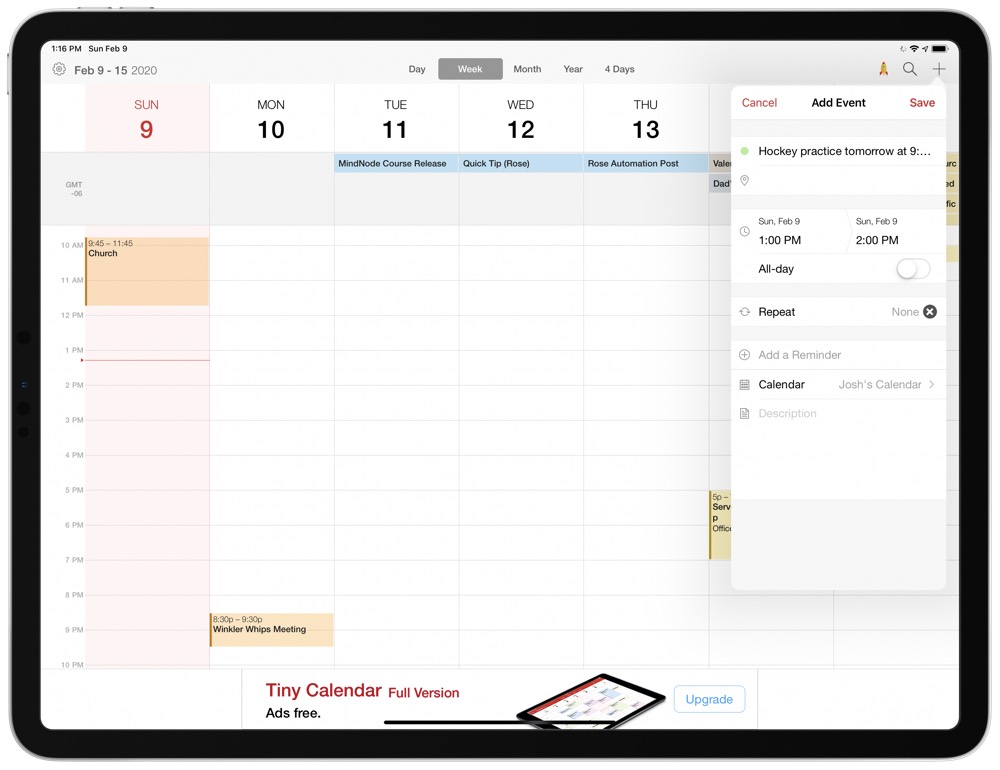 Tiny Calendar is a reasonably good calendaring app to get on the cheap — you can download and use Tiny Calendar's free app pretty extensively, and you can get rid of ads by subscribing for $7/year or a one-time purchase of $13.99. However, the app doesn't make it immediately clear what exactly Tiny Calendar Premium unlocks besides getting rid of ads.
The other frustration I have with Tiny Calendar is if you enable notifications, the app will ping you every day that you haven't opened the app. This might be one of the most intrusive, most annoying notifications I've come across in recent memory.
Vantage Calendar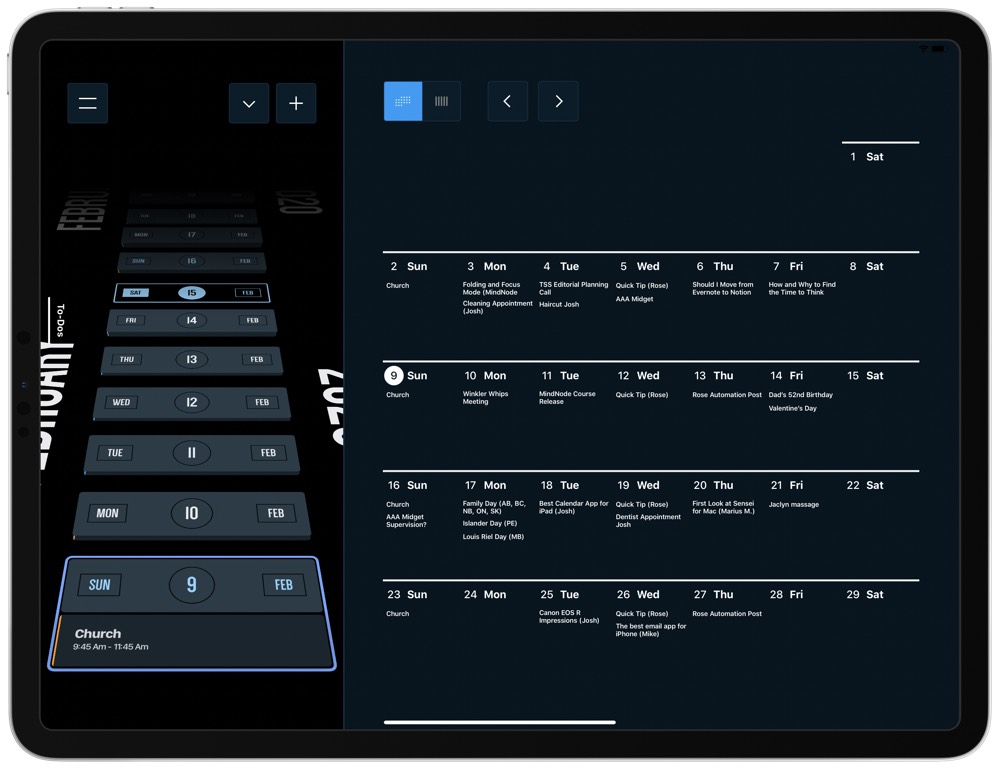 Vantage Calendar has the most unique design of any calendar app I've ever seen — it reminds me a lot of the old Guitar Hero games where the required note to be played flies to the bottom of the screen. Vantage Calendar has a surprising amount of features hidden behind the unique design, but we expect the polarizing design will be off-putting for some.
Vantage Calendar also has a unique pricing structure. The app provides you with five free credits that allow you to unlock different areas of the app, such as sticker packs, conversion, search, colors, tasks, and copy and paste. Once used up, you can purchase the remaining in-app features for $9.99.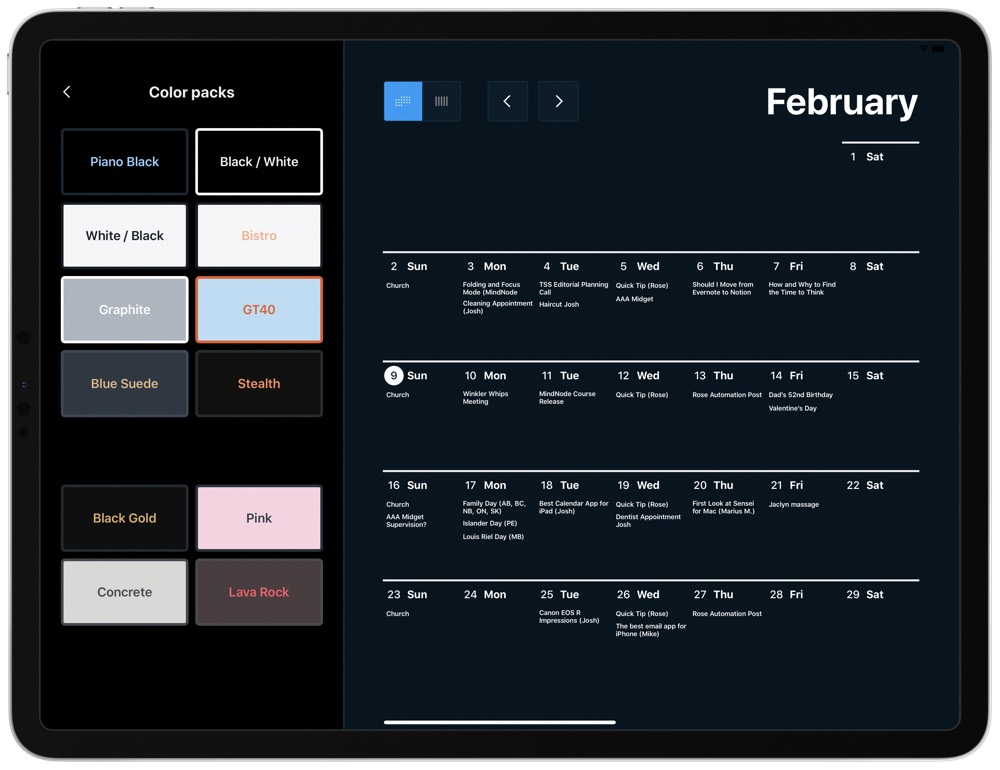 Vantage Calendar's sticker packs and colors are two features we haven't seen in other calendaring apps. Both serve to bring out a unique level of personalization in your calendar.
Wrap Up
We've had more difficult app picks in the past, but there's some conflict and tension surrounding the best calendar app for the iPad. At the time of writing, more and more users are finding themselves in subscription fatigue, and outspoken users have surrounded Fantastical's switch to subscription pricing with a cloud of negativity. We don't believe this is entirely fair for Fantastical's development team, nor do we neglect the reality of increasing app prices and the decisions customers have to make.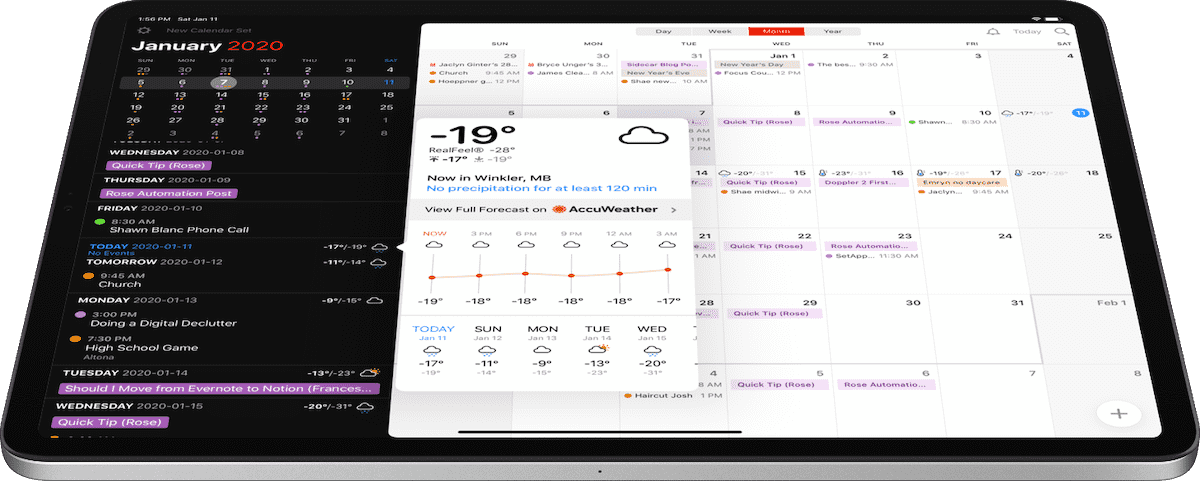 Despite the switch to subscription pricing and a somewhat negative rollout with some hiccups, Fantastical 3's premium feature set make the app the very best calendar app for the iPad. If money is no factor, or if you find yourself hungry for better scheduling features to optimize your busy life, Fantastical 3 will have your needs covered and then some. The subscription gives Apple users the ability to use Fantastical on the desktop or on the go, providing feature parity on the Mac, iPad, iPhone, or even Apple Watch. Plus, Fantastical 3 is beautiful to look at.
If, however, money is a factor and you don't need Fantastical 3's premium feature set, Calendars 5 and, to a degree, Moleskine's Timepage are tremendously good apps that comes in at a lower price. Calendars 5 provides natural language parsing and an easy-to-use UI that fits nicely alongside other powerful software from Readdle. And Timepage provides one of the most beautiful app UIs on the market.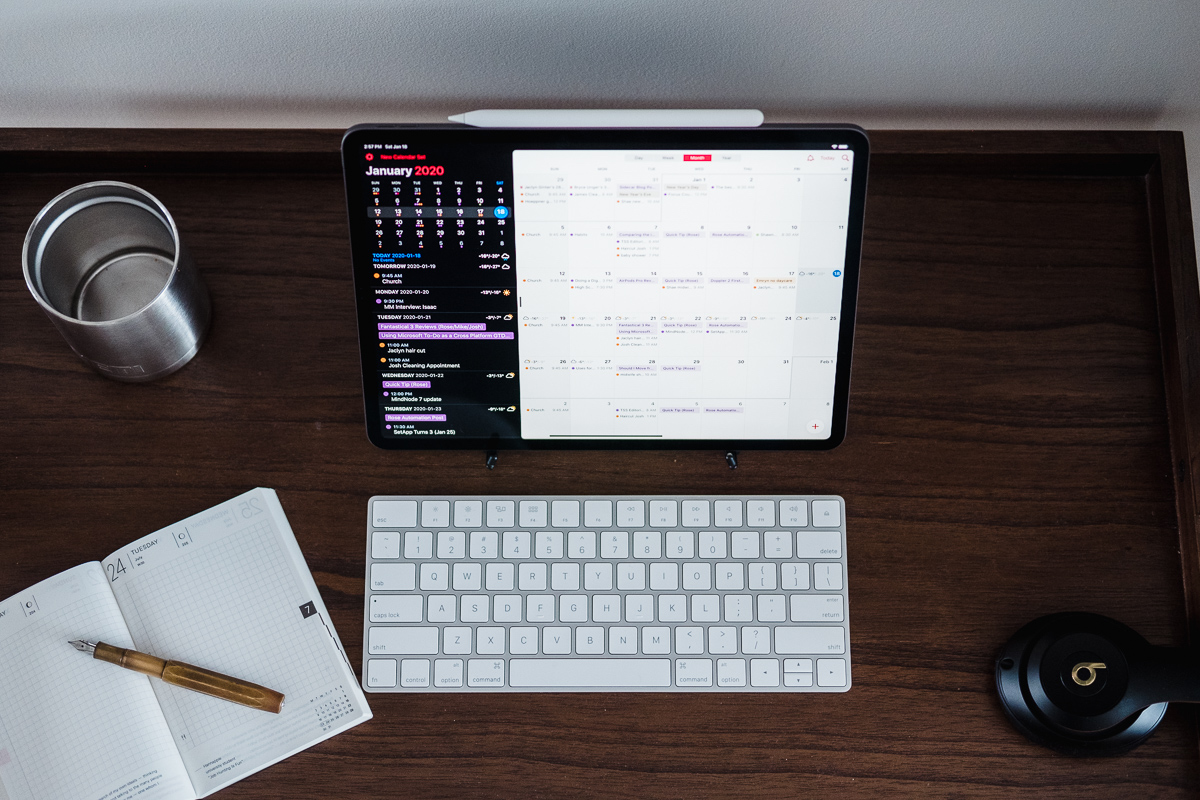 Calendaring can be a stale, frustrating element of keeping your life optimized. But throw any of Fantastical 3, Calendars 5, or Timepage into the mix, and you'll find yourself wanting to schedule events for the sake of using these apps.
$0 - $39.99/Year
A calendar app with delightful design, superior natural language text entry, and support for iCloud reminders.
App Store

$0