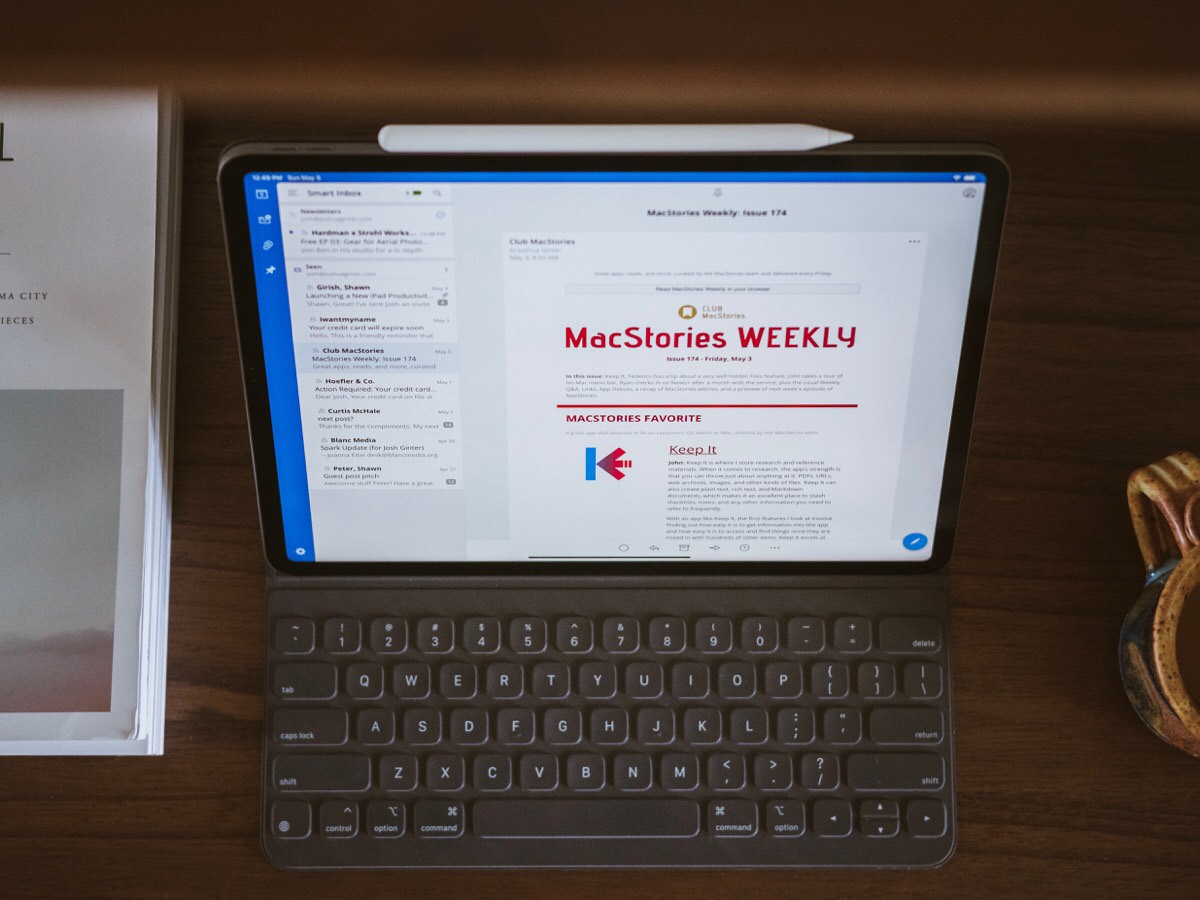 The Best iPad Email App
Spark
May 7, 2019
After spending a significant amount of time sending and receiving emails on our iPad, we've found what we believe to be the best iPad email app — along with a runner-up option for iPad power users in particular — for those looking for an alternative to Apple's native iPad email app.
Email Problem?
We've got a new project in the works related to email and inbox management. If you'd like to be the first to know more, drop in your details.
The iPad is an incredibly powerful device, but the hardware is only as capable as the software that it runs. Apple's native Mail app for iPad and iPhone has remained pretty much the same since it's last major update in iOS 8. Fortunately, third-party email — and productivity apps at large — have come a long way and there are some great options for getting real work done on your iPad.
And like it or hate it, a lot of that work requires dealing with email. So, why not make sure you are using the best iPad email app? We can help…
Criteria for the Best iPad Email App
In selecting the best iPad email app, we used the following criteria to select the winner:
Overall Design — Dealing with email can be annoying, especially when using a poorly designed app that doesn't take advantage of the iPad's touch interface. The iOS email client you decide to use should provide you with a well-designed user interface that helps you process email quickly, even when taking the constraints of iOS into account.
Ease of use — Just like on the Mac, the iOS email client you use should give you the tools you need to get the job done while staying out of the way as much as possible. You want to focus on processing your email, not trying to navigate complex menus or by trying to discover features that you know are there somewhere.
Support for Keyboard Shortcuts – This is becoming fairly standard, but not all apps support keyboard shortcuts the same way. Some apps have nearly full Gmail keybinding support, while others use the standard Apple Mail shortcuts which can be a bit more cumbersome and only supports a few common actions. Which style you prefer is personal preference, but being able to navigate email using an external keyboard on your iPad is important.
Customizable Swipe Gestures – Swipe gestures make it easy to take quick action on an email and are a natural way to interact with messages on your iPad. Well-thought-out swipe gestures can actually make triaging email on your iOS device even easier than on your Mac, and the best iOS email clients even allow you to customize these swipe gestures to your liking.
Support for Multiple Account Types — There are many email providers, and the best iPad email app should be flexible enough to offer support for any type of account — Gmail, iCloud, Yahoo, Exchange, IMAP, etc. If an email app doesn't support your email provider, then unfortunately it's just not an option for you — no matter how awesome it looks.
Update Schedule — Many a once-promising iPad email apps have fallen into obscurity. Third-party email apps for iPad can be a tough market, and unfortunately it's common for these apps to be abandoned by their developers. The iPad email app you use should have a track record of being well-supported to minimize the risk of it suddenly disappearing and thus forcing you to figure out a new tool for your iPad email workflow.
Privacy — There's been a lot of noise in the third-party email space lately about apps and services that do questionable things with the data they glean from looking at your emails. You can decide for yourself if the tradeoff from the data you involuntarily share is worth the service you get in return, but we tend to be wary of apps that don't respect your email privacy or explicitly ask for your permission.
Integration with Other Apps/Services — If you really want to be productive on your iPad, the email client you decide to use MUST integrate with other productivity apps. Many of the best iPad email apps allow you to include a link back to a specific email message from the other app (such as if you work with the best task manager) so you can get back to that message quickly when you're in the proper place or frame of mind to do so.
Our pick for the best iPad Email App: Spark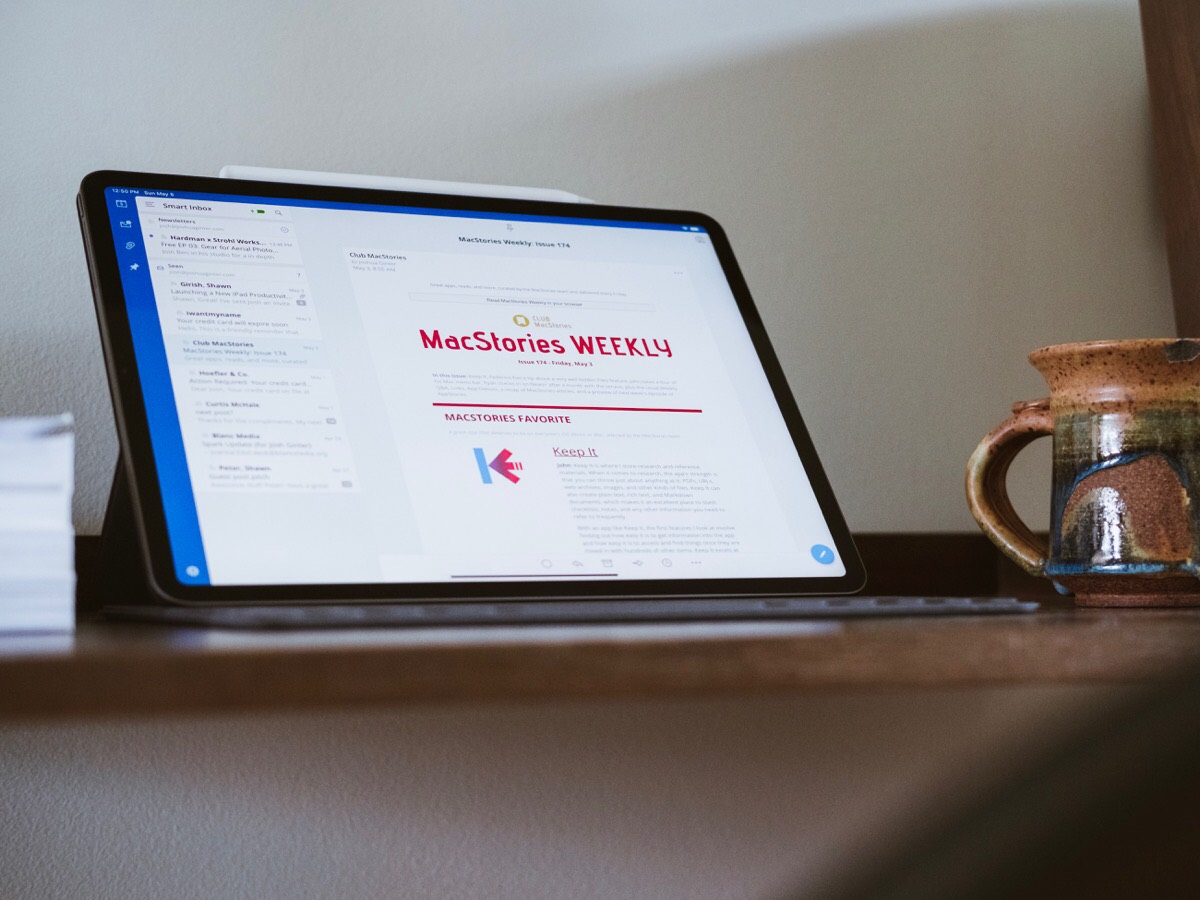 Spark is our favorite iPad Email app because it comes the closest to giving what we consider to be an ideal environment for dealing with email on your iOS device.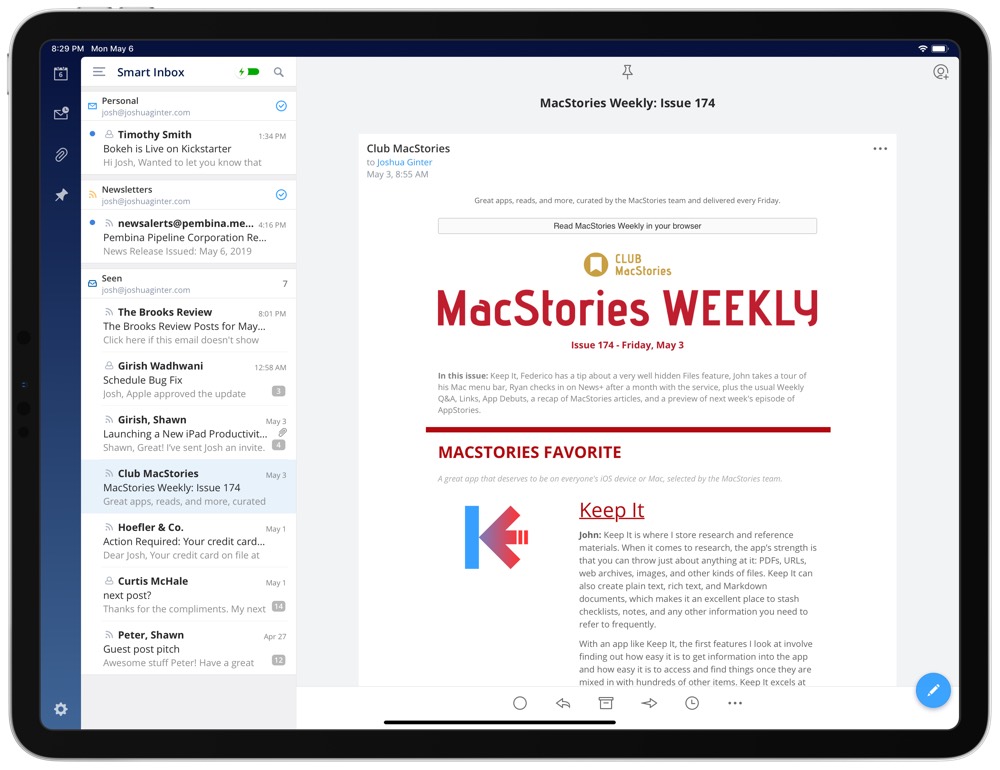 It has a great combination of powerful features, a clean, well-designed user interface, and customization options that allow you to make Spark work the way you do. It's a great productivity tool for individual users, and (just like the Mac version) also offers some innovative features for teams that need to collaborate on emails together.
The Best iPad Email App Should Be a Productivity Powerhouse
As the number of emails we receive continues to climb, there are two approaches we can take:
Process email more efficiently (so we can get through them faster).
Process email more effectively (so we don't get so many in the first place).
There are many email apps and services that attempt to help stem the email tide, but few (none?) of them have been very successful on mobile platforms. That's because there has historically been some limitations surround iOS hardware, but this is no longer the case with the current iPads.
One challenge that still exists on iOS though is discoverability. There is no mouse cursor, and there are no menus where you can see all of the features available in a given application. It can be difficult to achieve feature parity with a desktop client without making those features "undiscoverable" behind an invisible swipe gesture. But Spark gives you all the features that made it our favorite third-party email client for Mac in a well-thought-out interface that looks and feels great on iOS – even on the limited screen real estate of an iPhone.
But speaking of swipe gestures, that's actually one of the ways to turn the forced constraints of iOS into an advantage. Customizable swipe gestures are one way that Spark takes advantage of the touch interface on iOS to give you the best possible iOS email triage experience. Swipe gestures are a very natural way to triage email by swiping to send things to the appropriate container. Does this email require action? Send it to your task manager. Is it a newsletter you don't have time for right now? Sent it to your read-it-later service.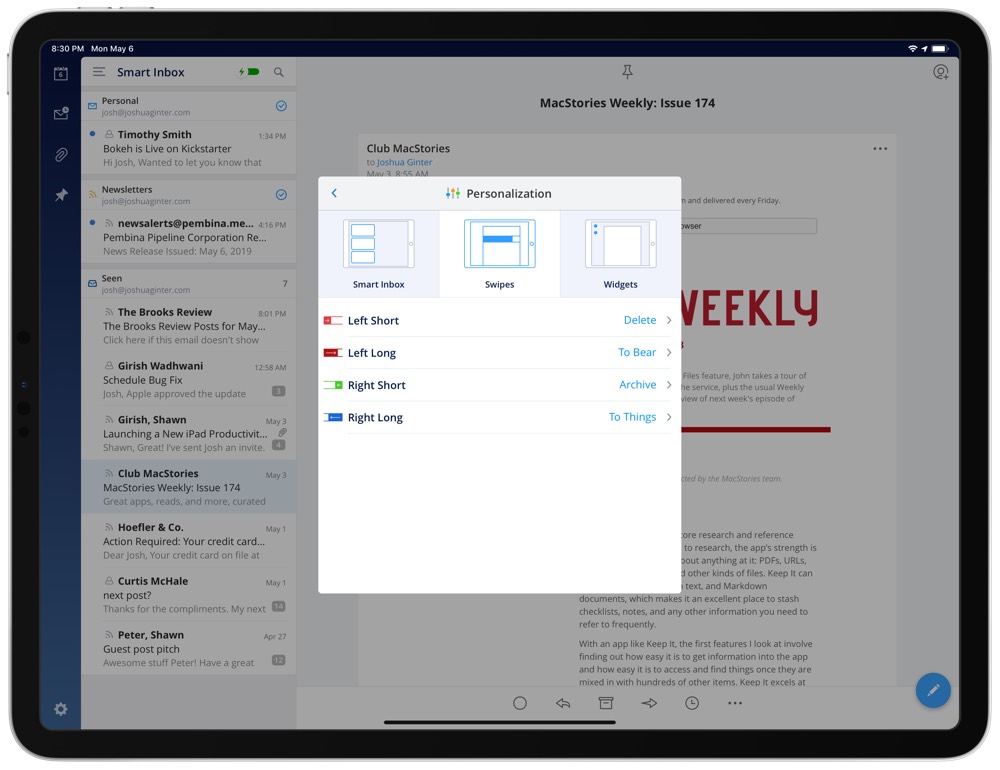 Spark allows you to set up to four custom Swipe gestures: left short, left long, right short, and right long. You can choose between standard functions like archiving a message as well as built-in features like snoozing email for a set period of time, as well as saving the message to other productivity apps like Things, OmniFocus, Evernote, and many more. Having both short and long swipe options for both left and right swipes is a nice touch, giving you enough options to handle just about any message that might make its way into your inbox in the appropriate manner. By being able to customize these gestures, you have the ability to transform Spark into a powerful email triage tool.
Email triage only works if your email client connects to the other productivity apps that you use. Fortunately, Spark connects with a long list of productivity apps – including our favorite GTD app, Things. When you send a message to another app, a pop-up window appears that allows you to customize what is sent. For example, when sending a message to Things, you can change the name of the task (by default it inherits the subject line from the email), you can choose to save the contents of the email with a link back to the original message or just the link itself, and pick a start date (for when you want to start working on the task).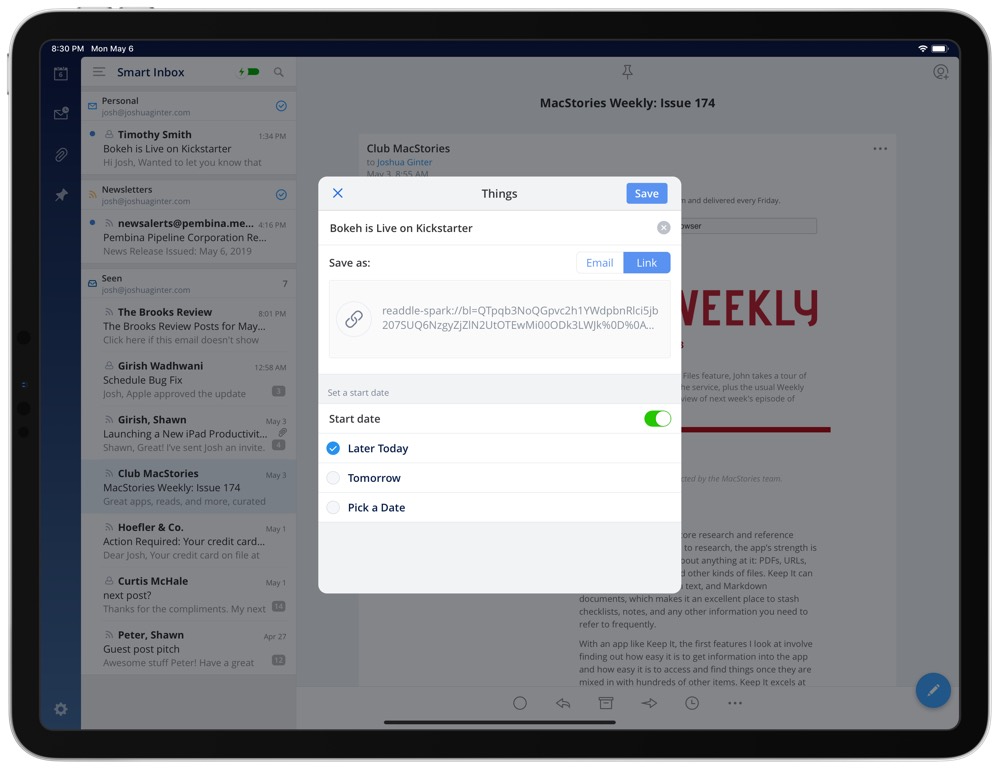 This link back to the original message is important, especially for tasks. This allows you to go straight to the message when it's time to reply or take action without having to search through your archive folder (or even worse, your inbox if you never filed it) when you need it later. The link Spark provides is a proprietary link, meaning that if you send a message to Things from Spark on your iPad, you won't be able to open it if you use a different email client on your Mac. As long as you're all in with Spark, this isn't an issue. But if you want to use Spark on iOS and something different on the Mac, your links aren't going to work because they don't use the system default message:// URL scheme. This is a nerdy detail to be sure, and for most people though it won't make a difference.
Another way that Spark can boost your email productivity is through a feature called the Smart Inbox. The Smart Inbox collects emails from all of your accounts and automatically organizes them into categories like Notifications, Newsletters, Personal, and Seen. This shows you the real emails from real people first so you can respond to the things that are important and save the rest (that aren't urgent) for later. And for those messages that don't require a lengthy reply, Spark also gives you Quick Replies that allows you to send short, templated responses. These are handy when you need to indicate that you've received or seen an email but don't necessarily need to type out a lengthy reply, which can be difficult and cumbersome on a mobile device. You can even customize your notifications based on your Smart Inbox settings so you only get notified of messages that are important. This significantly reduces the number of interruptions you have to deal with compared to standard email notifications and makes sure that when you are interrupted it is only for something that is truly worthwhile.
Not Just a Pretty Face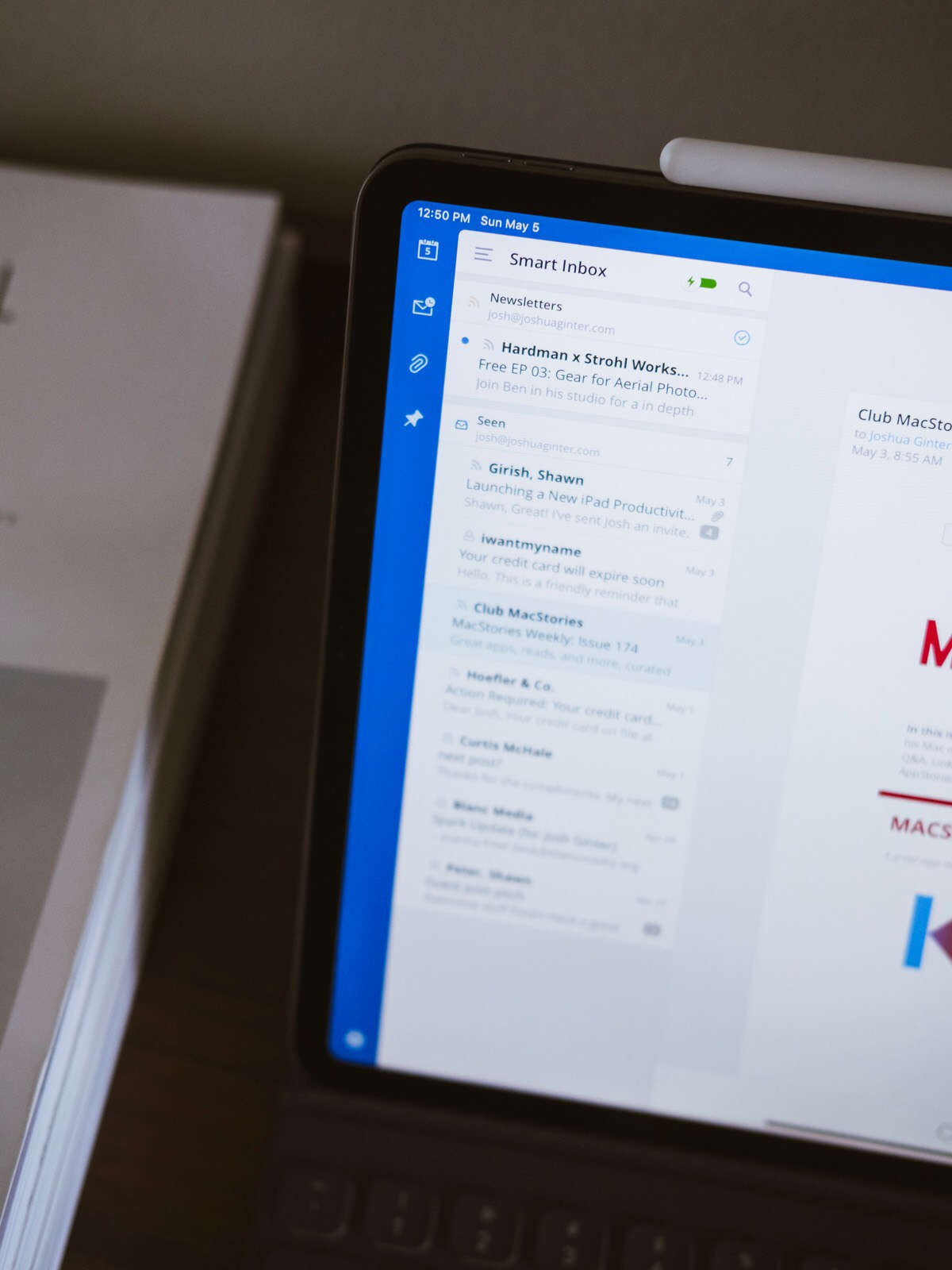 Spark has a gorgeous interface, but there's a surprising amount of power that lies just beneath the surface.
For example, in addition to customizing the swipe gestures, you can also customize the widgets that appear on the sidebar. By default you'll see a couple of options for your calendar and your recently seen emails, but you can add other items like snoozed emails, emails with attachments, or pinned emails that you want to have quick access to later. You can even create Smart Folders that automatically organize your email messages based on criteria like who it's from, what's in the subject line, or what day it was received.
Another thing that can be difficult on iOS is searching for messages to find what you're looking for. Searching in Spark is simple thanks to a powerful natural language parser. So instead of searching for best email app and adding a from: modifier, then typing the domain like thesweetsetup.com, you can use something more natural like The best email app from The Sweet Setup and Spark will parse it and find what you're looking for.
But this is just the tip of the email productivity iceberg. There are a ton of other useful features in Spark, including Send Later options, Reminders, Templates, multiple signatures, and more. Spark even has support for keyboard shortcuts, but unfortunately the Gmail keybindings (which are simpler than the ones found in Apple Mail) are not supported. Some of the most interesting features are built around the idea of collaborative email.
Just to be clear, even if you've never used Spark's collaboration features, it's still an incredible email client. Some organizations may need team-based email, like when sending a proposal to a potential customer, and Spark gives you the ability to do this from within the email client itself.
Spark also has an interesting pricing model built on its unique team-based collaborative features. If you're going to use Spark for personal use, it's completely free. The Free version even allows you to get started with the team features, giving you up to 5GB of team file storage, 2 active collaborators (perfect if you work with an assistant), and up to 5 email templates. You can upgrade to the Premium plan for a larger team, which includes 10GB per team member of file storage, unlimited collaborators, unlimited email templates, and even advanced link sharing options. The Premium plan is $7.99 a user per month (or $6.39/user per month if billed annually).
Email Problem?
We've got a new project in the works related to email and inbox management. If you'd like to be the first to know more, drop in your details.
A VERY Close Second (the best iPad email app for power users): Airmail
Airmail is a very solid iPad email app. In fact, you could argue that Airmail is an even better option for email power users because it gives you a few extra features that Spark lacks.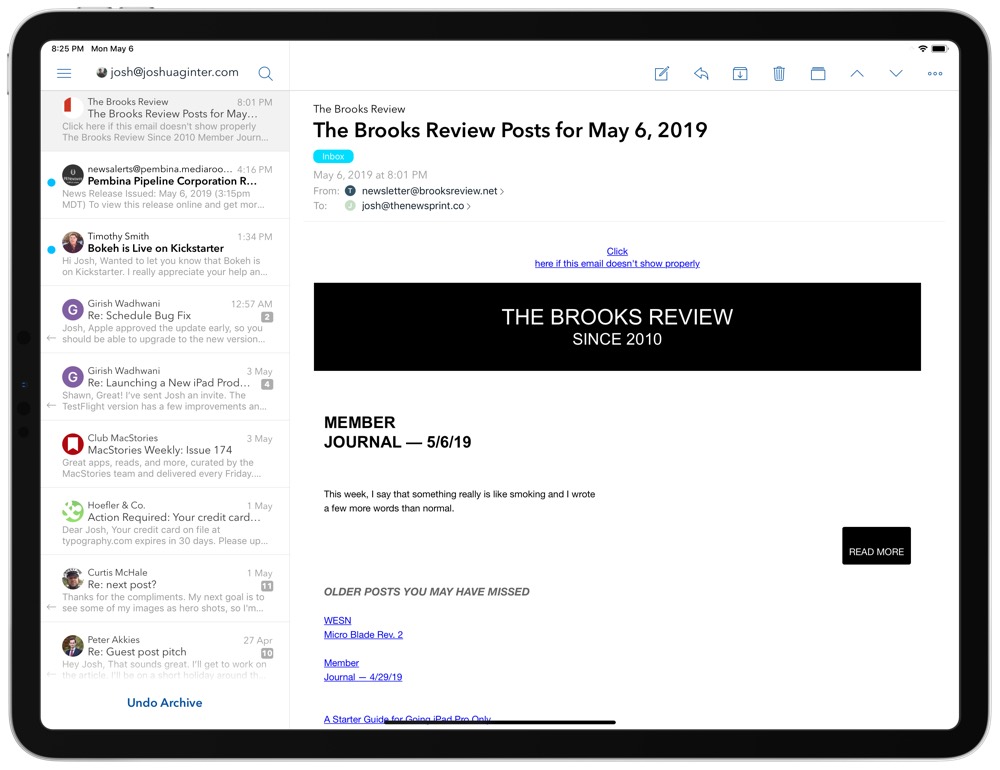 For one thing, Airmail gives you the ability to identify senders as VIPs. By identifying VIPs, you are able to block notifications from everyone except the people you absolutely need to hear from or reply to in a timely manner. This is an important feature on a mobile email client because it can significantly decrease the number of potential interruptions from notifications while still giving you the ability to be reached by someone you identify as important (like a boss or significant other). For many corporate workers who relish the idea of working without interruption but still have to be reachable at a moments notice by their boss or manager via email, this is a killer feature.
If you use an external keyboard with your iPad (like the Smart Keyboard Folio with the new iPad Pro), Airmail also supports a ridiculous number of keyboard shortcuts. Airmail uses the standard Gmail keybindings, so if you rely on your keyboard to process email more efficiently, then Airmail has you covered.
Another place Airmail shines is the integrations with other apps. Airmail integrates with the most productivity apps out of any third-party email client we looked at, and it's not even close. If you're particular about the other apps you use in your iOS productivity workflows but still want a powerful third-party email client that can integrate with them, Airmail may be your best option.
Airmail also gives you the ability to customize your left and right swipe gestures, but you're not limited to just two options for each. If you want to assign 4 different gestures to your left and right swipes, with Airmail you can. Just select as many actions as you want for each swipe gesture, and Airmail will accommodate you.
There are a couple of things we don't like about Airmail, though. For one thing, Airmail takes a task-based approach to email that we didn't really care for. Each message in Airmail can be marked as To Do, Memo, or Done. Selecting one of these options will apply an identifier (similar to a tag) to the message and move it to the appropriate container inside of Airmail.
A To Do is (just like it sounds) something you need to do or take action on. For example, if your boss asks you to send an updated report or your spouse emails you to pick something up from the store on your way home, you might classify that as a To Do.
Once a task is completed, it is marked as Done, while a Memo is defined by Airmail's support documentation as something that you need to memorize or store for later.
The problem is that the way Airmail handles this is through additional IMAP folders. This isn't a huge deal, but if you tried out Airmail and marked an email as a task then decided not to use it, you might not be able to find that message in another email client because it has been moved into a proprietary folder. But of course, you don't have to use these features and can rely on the numerous integrations with other productivity apps instead.
But the bigger issue (just like with the Mac version) is reliability. In our testing, we noticed Airmail will occasionally not send your message. It appears this issue has been addressed in newer versions, but having a message fail to send when you think it has been sent is a big problem. Even once is too often, and unfortunately we've been burned by this in the past on iOS. It's quite possible you won't have any issues with this, but it's something you need to be aware of.
That said, Airmail is still a great email app overall. Airmail is also a one-time cost, so if Spark's pricing model makes you a little bit nervous and you'd rather pay one time for your iOS email client, Airmail is a great alternative.
Airmail is available on the App Store for $4.99.
Other iPad Email Apps
Outlook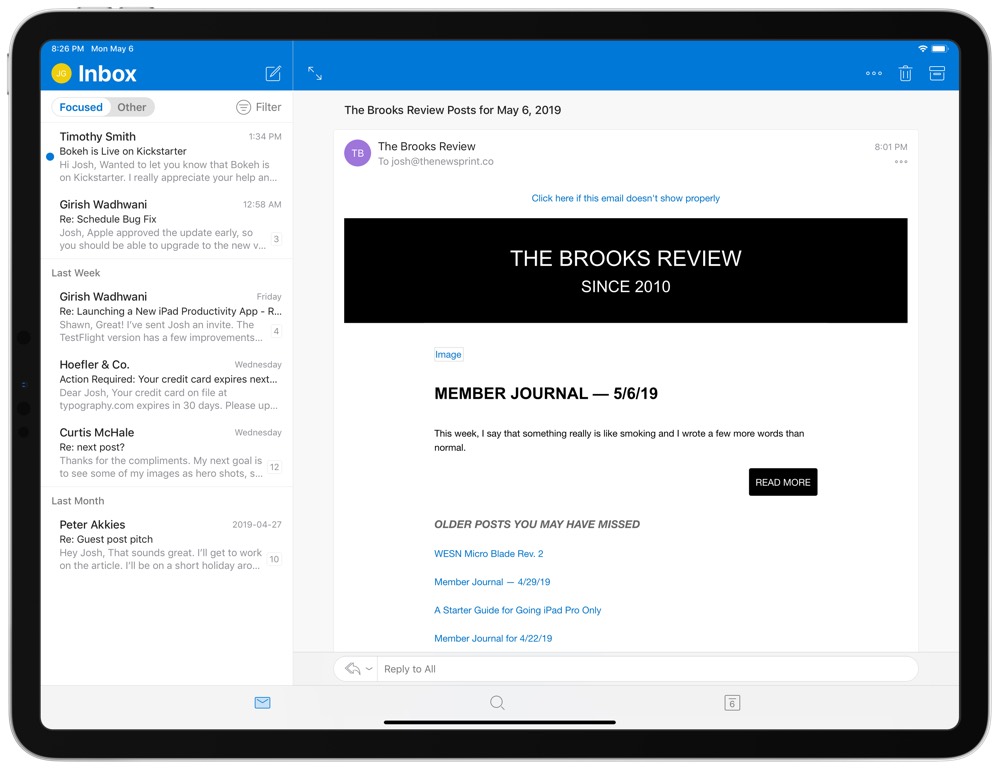 Outlook was our previous pick for the best third-party email app for iOS because it offered a smart inbox, great snoozing features, and a built-in calendar. Unfortunately for Outlook, Spark now offers all of these features – and in our opinion, they're implemented far better. That doesn't mean Outlook is bad, but in our opinion Spark has eclipsed it in just about every area.
If you happen to be an Office365 subscriber though, Outlook may still be the best option for you because of the integration with Office apps, files, and teams. By being a part of the Office365 suite, there are some things you can do with Outlook that are just impossible with any other iOS email client. For example, with Outlook for iOS you can open Word, Excel, or other Office document attachments to edit them directly in the corresponding app and attach them back to an email. So if you spend a lot of time in Office, Outlook may be for you.
Newton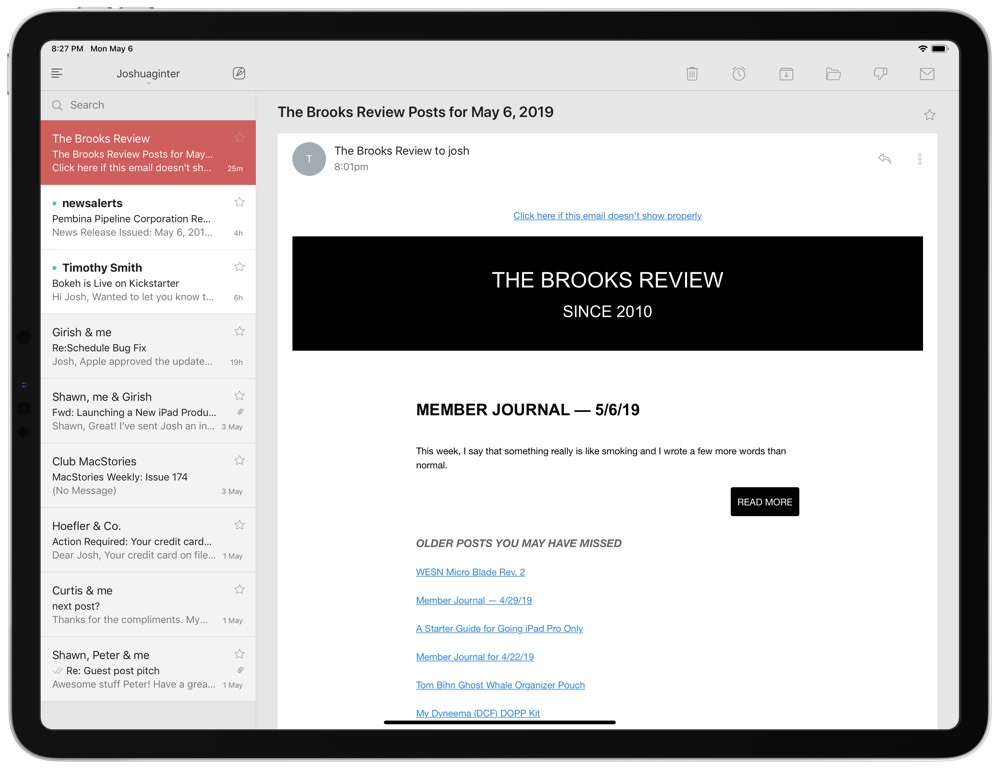 It's been a wild ride for Newton, the email app that made headlines when it was unexpectedly updated for iOS, Mac and Android. Originally launched in 2013 as CloudMagic and rebranded as newton in 2016, the app made a name for itself as a powerful yet simple email client that worked great across multiple platforms. And even though it built what seemed to be a solid subscriber base with over 40,000 users, it was shut down in 2018 because it wasn't profitable. About a month later, the company was purchased by the smartphone company Essential, but nothing was known about future plans.
Suddenly, the app was revived. The updates included several new features, like the ability to delete a single email in a thread, support for task managers like OmniFocus, Things, and 2Do, and a ton of improvements to the compose window on the Mac.
Unfortunately, there was also bit of a hullabaloo when Newton reappeared about the new Privacy Policy. At the time it was relaunched, the privacy policy stated:
We may work with third-party social platforms, such as Facebook, to serve ads to you as part of a customized campaign, unless you notify us that you prefer not to have information about you used in this way by sending an email to notices@newtonhq.com indicating the email address you wish to have removed from customized ad campaigns.
It's been modified since, but it's still a bit concerning and reason for us not to recommend this app. It's also subscription-based, and priced at $49/year. At that price point, it's too expensive for the majority of email users to consider.
Edison
Formerly known as EasilyDo, Edison email is a well-designed app with some interesting features, like Undo Send, tracking packages and deliveries, and the ability to unsubscribe from a mailing list with a single tap. It's an incredibly fast app that gives you a lot of powerful features.
Unfortunately, there are privacy concerns swirling around Edison as well. According to MacRumors, Edison has been known to allow employees to read users' emails in an effort to build its Smart Replies feature:
Edison, and other developers of apps that work with Gmail and similar email services don't appear to have misused customer information, but many customers are likely to be concerned about the fact that employees at some email companies are reading their emails. Many customers are also likely unaware they're consenting to such practices when signing up for a third-party email app.
Edison email is completely free, which is also a red flag. If you're concerned about email privacy, we recommend staying away from Edison. In fact, you have to go to Settings → Manage Privacy and opt out of data sharing once you connect your account to the app.
Gmail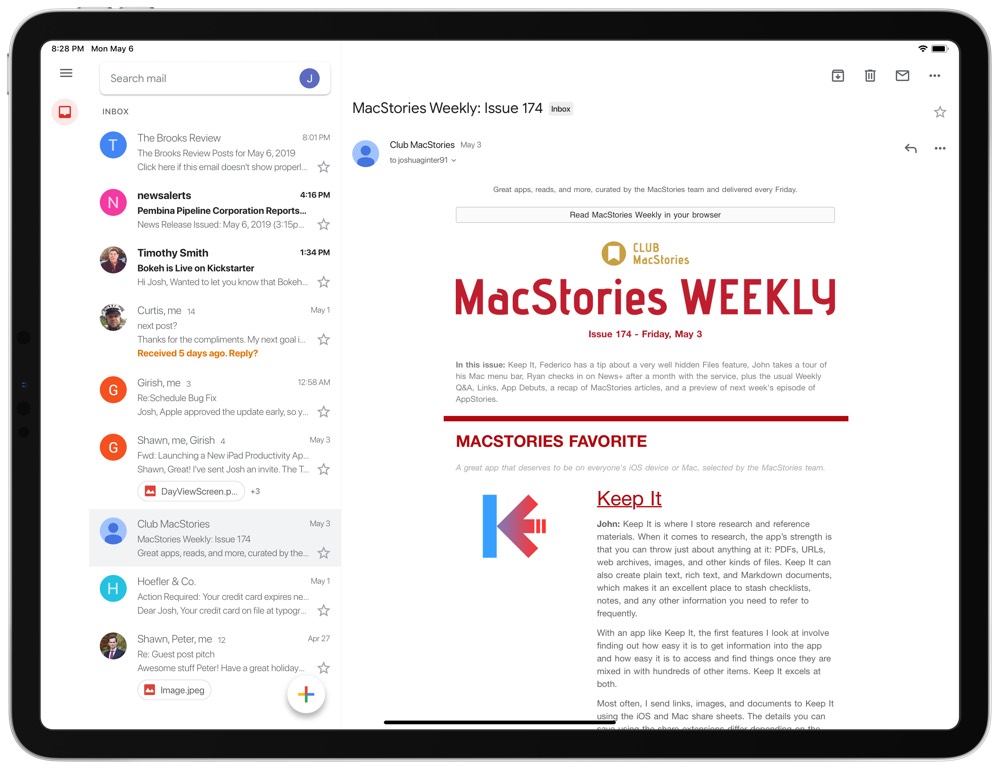 What Outlook is for Office365 users, the Gmail app is for Google users. Because Google is based on IMAP, it works with other third-party applications, but the best experience (the one that supports everything Google has to offer) is definitely in the Gmail app. The Gmail app may be the best for you if you have a Google account and rely on Gmail features like labeling and starring. And because it's powered by Google, the search inside of the Gmail app is better than any other app we tested.
The obvious problem with the Gmail app is that it has limited support for other email account types. It also does a poor job of integrating with other iOS productivity apps – especially when compared to apps like Spark & Airmail.
Dispatch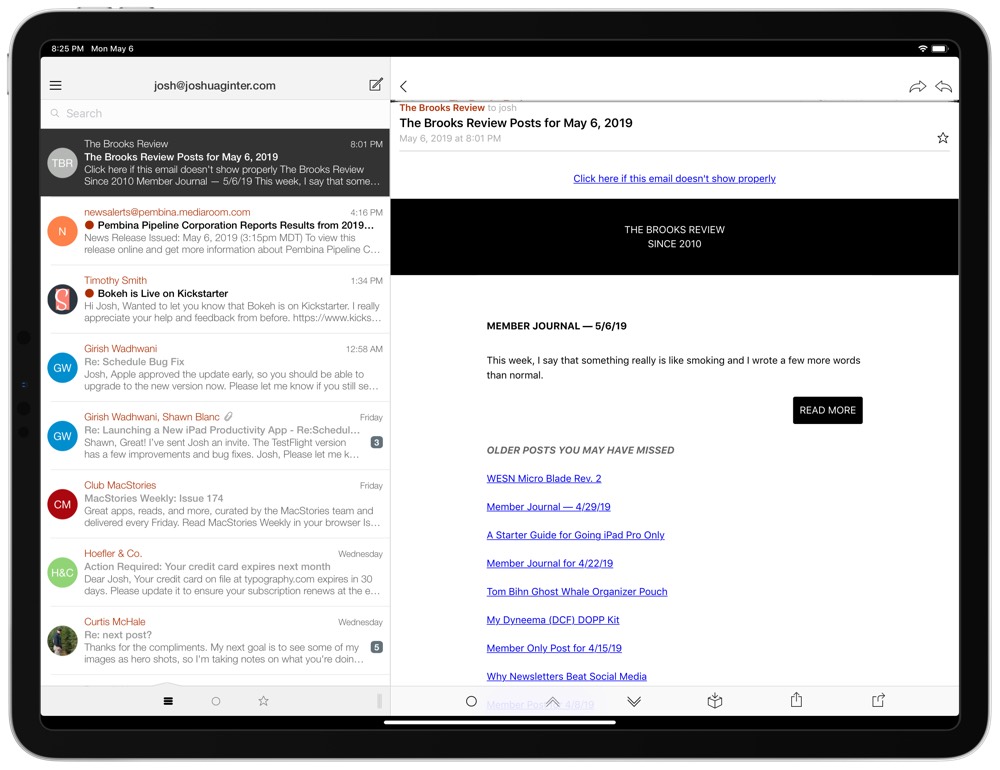 Dispatch used to be an incredible email app. It was one of the first to offer customizable swipe gestures and integrations with other productivity apps, as well as integration with TextExpander, email templates, and many other firsts for iOS third-party email clients.
How the mighty have fallen.
Dispatch is still functional, but hasn't been updated in a LONG time. In fact, the website still has screenshots from iOS 6! It's too bad, because Dispatch does have one feature that none of the other apps we looked at has: the ability to use the standard message:// URL scheme. As we mentioned earlier, this is important if you use different email clients on different platforms. Dispatch gives you the ability to send emails to other productivity apps using this more flexible URL format, but unfortunately the rest of the app is (at best) outdated and (in some cases) unusable.
Conclusion: The Best iPad Email App(s)
Spark is a powerful productivity app that harnesses the power of your iPad to help you process email with ruthless efficiency.
The Smart Inbox feature does a great job of showing you which emails you should pay attention to first, and the customizable swipe gestures make it easy to take action on those messages right from your inbox.
If Spark's pricing model makes you nervous, or if you rely on VIP notifications, or if you need an integration with a productivity app that Spark doesn't offer, then check out Airmail. These are the two best iPad email apps available today.
Email Problem?
We've got a new project in the works related to email and inbox management. If you'd like to be the first to know more, drop in your details.