Airmail Switches to Subscription-Based Pricing
July 18, 2019
This week, the popular email app Airmail made the switch from a standard paid app to a subscription-based app, angering many of its users. Before the change, Airmail was priced at $4.99 in the iOS App Store. Now, Airmail Premium (which allows you to use multiple accounts and enable push notifications) is $2.99/month or $9.99/year. The single account limitation is probably a dealbreaker for many people, but if you purchased the app previously then you still have multiple account support (but no push notifications).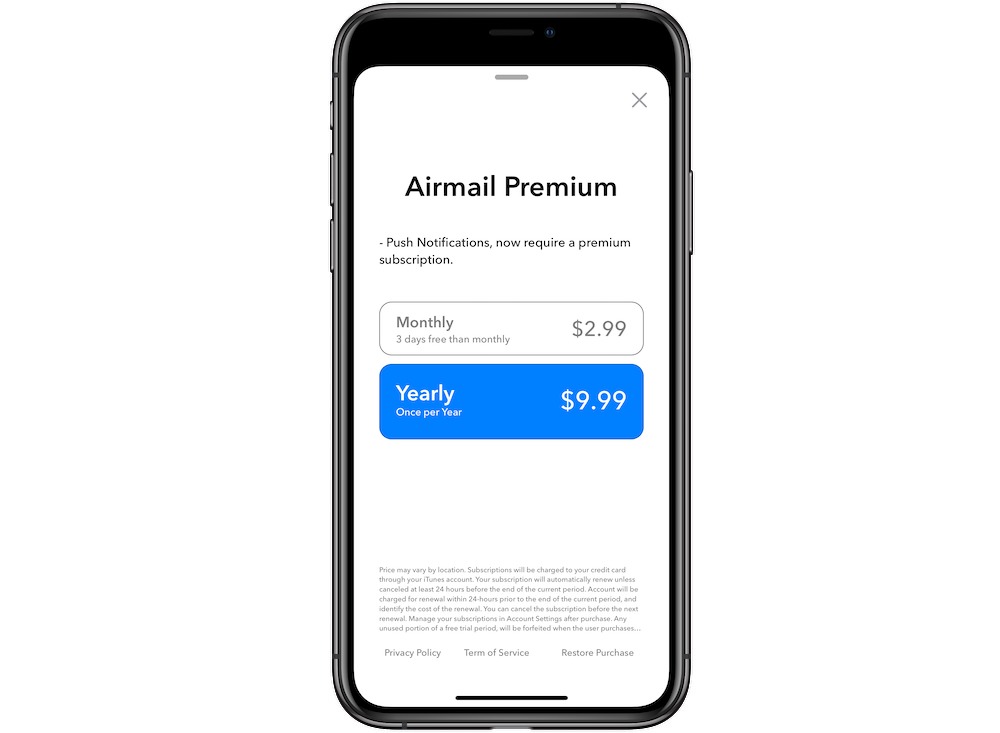 The removal of push notifications in particular seems like an interesting choice. Many people rely on push notifications for how they handle email on their iOS devices, so there's no doubt this will negatively impact many users of the app. The question is whether push notifications should be considered "primary functionality." Here's an interesting tidbit from a recent MacRumors article:
At face value, the change appears to violate Apple's App Store Review Guidelines, which state "if you are changing your existing app to a subscription-based business model, you should not take away the primary functionality existing users have already paid for." We've reached out to Airmail and Apple for comment.
The MacRumors article also contains a statement from an Airmail developer that says the change was made "to keep the business sustainable as we face increasing backend service expenses." This makes sense, especially since Airmail says it uses its own server infrastructure to deliver notifications (which is likely why Airmail is the only third-party email app we've found able to offer VIP notifications).
The absence of push notifications will no doubt be viewed as losing a feature, but I'd argue it doesn't have to be. If you want to be more intentional with how you use your technology, not being able to receive push notifications could actually be a positive thing. In fact, one of the first changes I make whenever I install a new iOS email app on a device is immediately change the notifications from push (receiving new email/notifications all the time) to pull (receiving email only when I check it manually). This change means I only get new email on my device when I go into the app. I don't want just anyone being able to steal my focus and concentration when I'm "in the zone" or spending time with my family. I've even taken this a step further on my phone and uninstalled email entirely. It takes some getting used to, but breaking technology's hold on our attention is an important step in making time for what's important if you really want to live a fulfilling life.
Setting aside the debate about whether push notifications are a useful feature, we're not necessarily against subscriptions for apps that improve our workflows and give us fair value. And truth-be-told, the fact that Airmail still gives you all the other features makes the free version pretty powerful. The real problem with the whole situation in our opinion is the way that this change was (or rather, wasn't) communicated to customers who are now being asked to subscribe to features that, as of last week, they had already paid for.