Things vs OmniFocus vs Todoist: A Comparison of the Best GTD and Productivity Apps
February 8, 2018
Here is a comparison of the top three productivity apps (Things vs OmniFocus vs Todoist) to help you decide which is the best fit.
In another article, we have already written about how we believe Things is the best productivity and task management app. But we know that different people have different needs and preferences. And, with so many excellent task management apps to choose from, it can be difficult to know which one is right for you if you are still on the fence one way or another. Thus, we wanted to put together this comparison show how Things compares to OmniFocus compares to Todoist.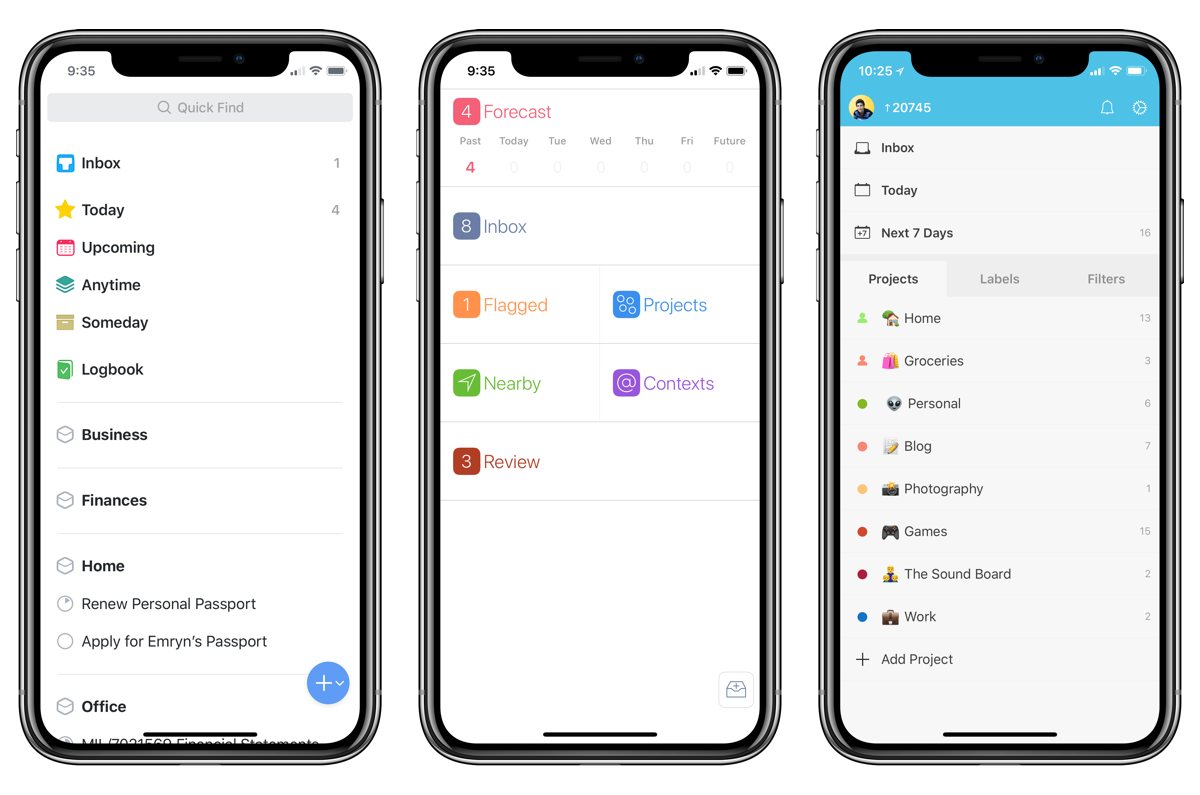 From Left to Right: Things, OmniFocus, Todoist
It's remarkable how much nuance exists within the concept of task management.
Over the years, we've seen multiple apps emerge to tackle this problem. Some are heavily focused on a particular methodology such as GTD, while others cast a wider net, catering to all sorts of workflows.
From that vast array of options, I keep coming back to a stalwart few that have proven themselves to be capable, thoughtful, and genuinely helpful in the pursuit of a more productive, organized life: Things, OmniFocus, and Todoist.
The only way to properly assess these options is to dive in and spend a long time using them; they need to flex to accommodate both the busiest and calmest times in my life.
What follows is not an attempt to crown a winner — it's an examination of how these equally-compelling apps compare in long-term use. The goal is to highlight the strengths and weaknesses of each in a way that makes it clear which is the best fit for your needs.
Things 3: Advantages
Since the earliest days of the App Store, Things has made a name for itself as one of the most beautiful, effective task management apps on the market.
In functional terms, Things 3 is a measured re-thinking: it doesn't fix what wasn't broken, but streamlines and builds upon previous versions. While there are many things to love about the app, these are the aspects that had the most impact on my usage.
Peerless Design
Things 3 is beautiful. Inside and out.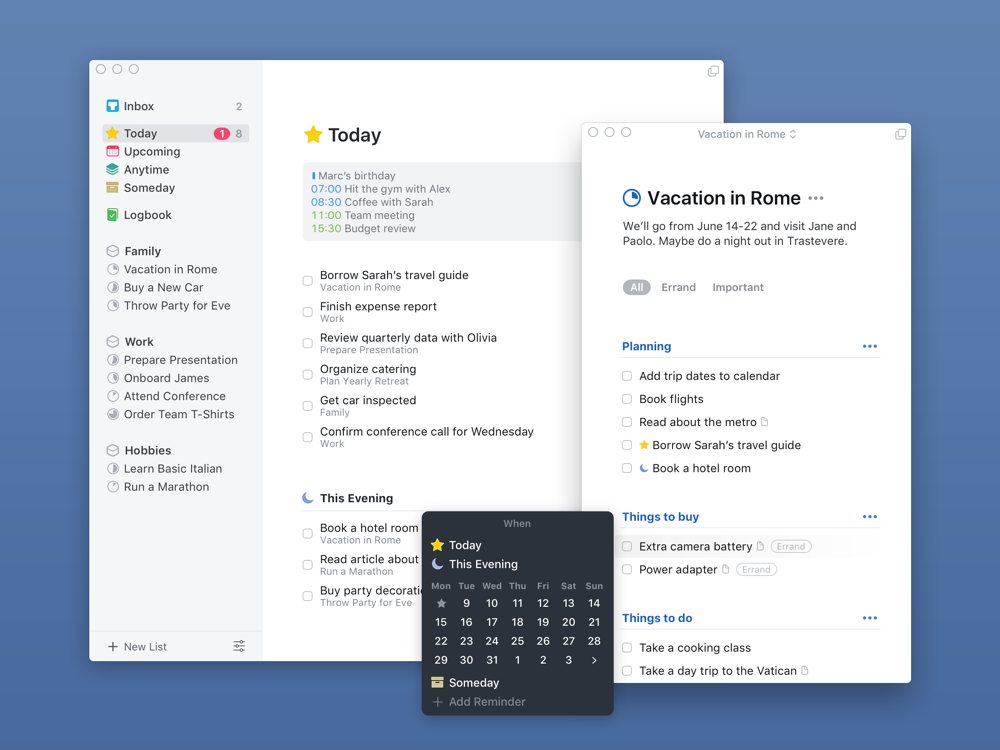 It feels comfortable, inviting, and alive in a way that's utterly engrossing. It's clean without being sparse, delightful without being showy, and organized without being rigid.
Things is wise about scaling the complexity of its interface, only ever showing you what's relevant to your usage; if you don't use tags, the tag navigation isn't shown to you. If you have no deleted tasks, you don't see the trash bin.
Human Nature
With that out of the way, I want to unpack some of the inner beauty by mentioning what I've come to think of as its "human" nature. Even small details of semantics reveal a thoughtful understanding of how people actually tackle their tasks in the real world.
My favorite example of this is the fact that overdue tasks don't need to be manually re-scheduled — they just stay in your Today view. New tasks are highlighted at the beginning of each day, but you're not punished for not making it through everything.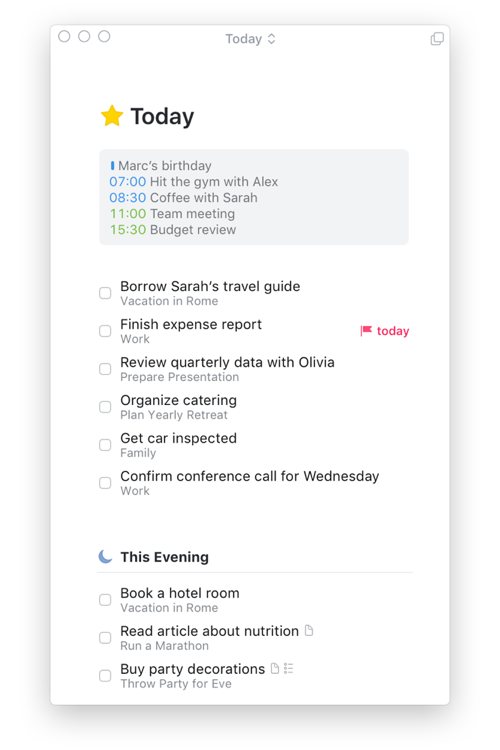 There's also the way in which Things handles priorities. Things lets you segregate tasks within your day simply as "Today" or "This Evening." Work stuff probably needs to get done during the day (Today), whereas chores and optional things can generally be relegated to This Evening. It's a practical simplification.
Rather than feeling like a system, a mechanism, Things feels like a friendly, relatable companion.
Viewing Calendar Events in Today
Since I spend the vast majority of my time in the Today view, the fact that Things displays my calendar events there is a boon.
My entire day — events and tasks alike — is visible at a glance from a single app.
Task Entry
Things offers a pretty standard task entry system, including a system-wide Quick Entry dialog, but it also has a few tricks up its sleeve.
From Safari, Mail, or Finder, you can use Quick Entry With Autofill to capture selected text, or create a task that automatically has a link to the relevant email or file attached to it.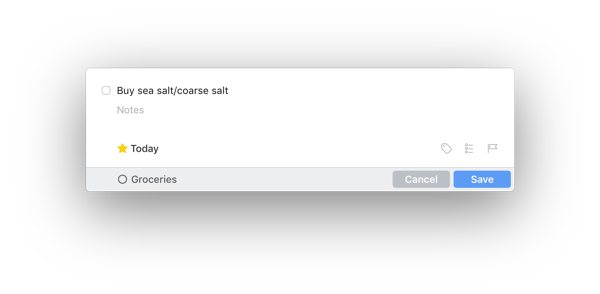 More interestingly, Things is now able to capture tasks by voice using the improved SiriKit, and you can dictate almost all metadata to it. Siri has a limited understanding of the Things structure (it doesn't know the difference between Areas, Projects, and Tags), but it's still useful to be able to quickly dictate new tasks in.
Navigation Shortcuts
Things features a solid collection of well-chosen keyboard shortcuts, but it also has an even faster method for getting around.
From anywhere in the app, just start typing and you're already surfacing tasks, Areas, Projects, or tags. Hit Return and it pops you right over to the result.
It's an effortless, universal search system that keyboard warriors will find indispensable.
Intelligent Date Picker
While it doesn't have Todoist's system-wide natural language input, Things 3 has it where it matters most: the date picker.
You can type your intended date as you would in a message to a friend "tomorrow at noon," or "next Wednesday," and Things will understand what you mean and assign it accordingly. Beyond that, Things also shows you intelligent suggestions as you type, showing you three likely options for whatever you're entering.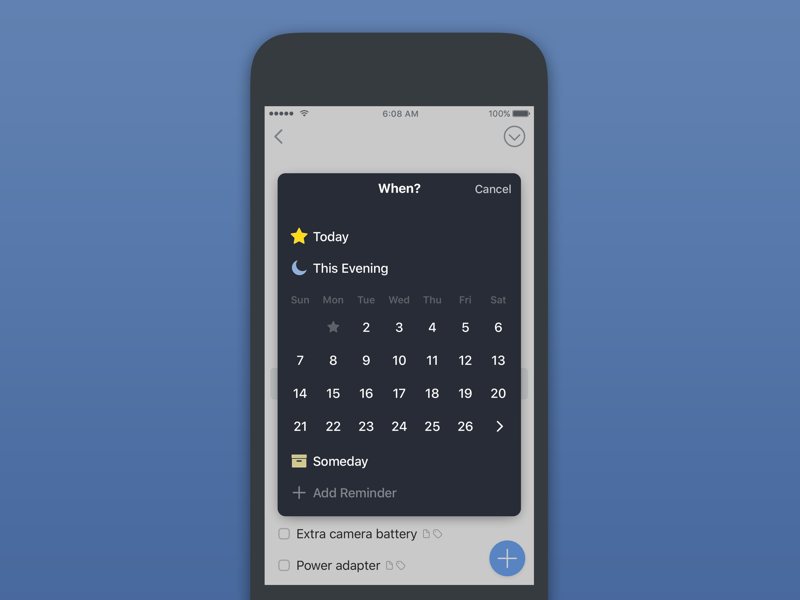 If you prefer to click through the calendar view, you can navigate it more quickly than in any other app because the months aren't paginated. Click at the end of the calendar in the date picker and you enter a scrolling view where months are separated by a simple line and you can zip through weeks in a flash to find the date you're after.
Logging Completed Tasks
I like being able to see the tasks I've accomplished as well as when I completed them. It's almost like a simple journaling system built into a process I'm already using.
In Things 3, past tasks are housed in the Logbook, an ongoing record of your task management history. Unlike most task management software, completed tasks don't necessarily disappear from your normal views when you check them off.
Instead, there's a dedicated shortcut to log items to the Logbook. If you find yourself wanting to keep track of your day's accomplishments easily, then you can simply let completed tasks remain in place until the evening, then log everything in one quick action.
Mail to Things
A new Mail to Things system allows you to forward emails to a custom email address to save messages as tasks in your Inbox.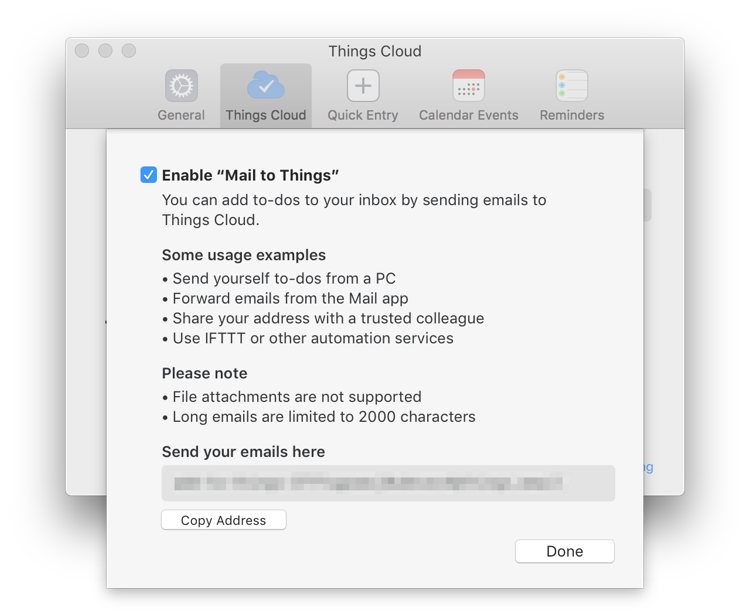 While the mail-in system is fairly rudimentary, the potential is there for it to open up sophisticated integrations with other services, and even other platforms.
Things 3: Room for Improvement
While it ticks more or less all the boxes, Things 3 isn't perfect.
Speed
I don't subscribe to the notion of capturing tasks into an inbox and then moving them; I prefer to enter all relevant metadata at time of capture rather than splitting it into two separate steps.
As a result, Things still feels slower to me than Todoist. Being able to simply type out all relevant aspects of a task with no tabbing between different fields or clicking around is hard to beat.
There's also a design aspect to this though. In Things, tapping the new task button begins an animation that lasts a few fractions of a second longer than I think is necessary. Splitting hairs, perhaps, but those fractions add up.
No Smart Search or Filters
In situations where you have a large number of tasks, it's useful to be able to narrow them down by various criteria outside of the Project/Area/Tag structure.
In other apps, this is usually accomplished using some equivalent of a smart search that allows you to specify several criteria and view tasks that conform to that filter, regardless of where they're stored.
There's no way to do this in Things.
As a practical example, I can't create a view that shows me all tasks with the "Mac" tag and a due date, or all tasks without tags from any Area/Project.
No Collaboration
My final complaint is the most damning: Things 3 has no notion of collaboration. It entirely omits a huge aspect of task management: other people.
While you can MacGyver a workaround by sharing your Mail to Things address or using IFTTT, there isn't a native workflow for working on a project with someone else or delegating a task to them in a way that you can both keep track of.
This isn't only a roadblock in business contexts; I like to keep a shared list of home-related tasks with my partner so that she and I can stay on the same page about joint concerns. We also keep a shared grocery list.
Users of Things have to rely on a different app even in simple situations like that.
Things 3: Conclusion
There's a reason Things 3 recently earned our pick for the best task management solution for most people.
It combines thoughtful functionality with beautiful design and presents it in a human way that makes it feel accessible, even to task management beginners.
---
Todoist: Advantages
While it still bears the hallmarks of its web-based beginnings, Todoist has evolved into a robust platform for task management.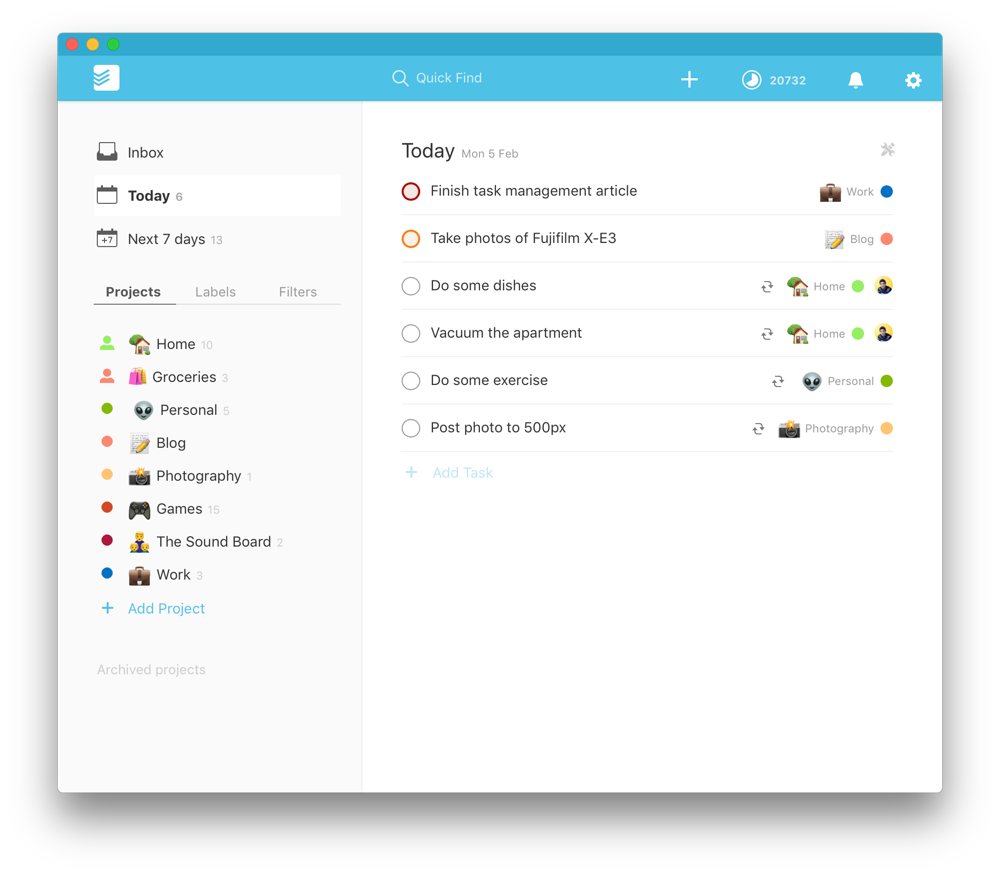 While it lacks the visual flair of Things and OmniFocus, it leverages its no-nonsense design to provide tremendous speed of operation and a remarkable degree of consistency across all platforms.
Natural Language Input
More than anything else, natural language input sets Todoist apart from its peers.
It makes specific aspects of task management (like capture and delegation) faster, but more importantly it can condense all of those steps into one. Since I don't like the capture-then-delegate workflow, this makes Todoist's approach feel very natural to me.

Whenever I'm capturing a task, I know at least some, if not all, of its related metadata — what container it fits into, when it's due, etc. Todoist allows me to effortlessly handle all of that information at time of capture.
I can type Buy milk tomorrow at noon #home p1 to create a task in my Home project that is due tomorrow with a reminder set for noon and a priority of 1. I can just as easily describe recurring dates, including when they should start and end; Every other Tuesday until March works as you'd expect it to.
Collaboration & Conversation
Todoist is the only app in this collection that supports true, native collaboration with others.
You can share projects, assign tasks to people, and chat about whatever you're working on through comment threads on each individual task or the project as a whole.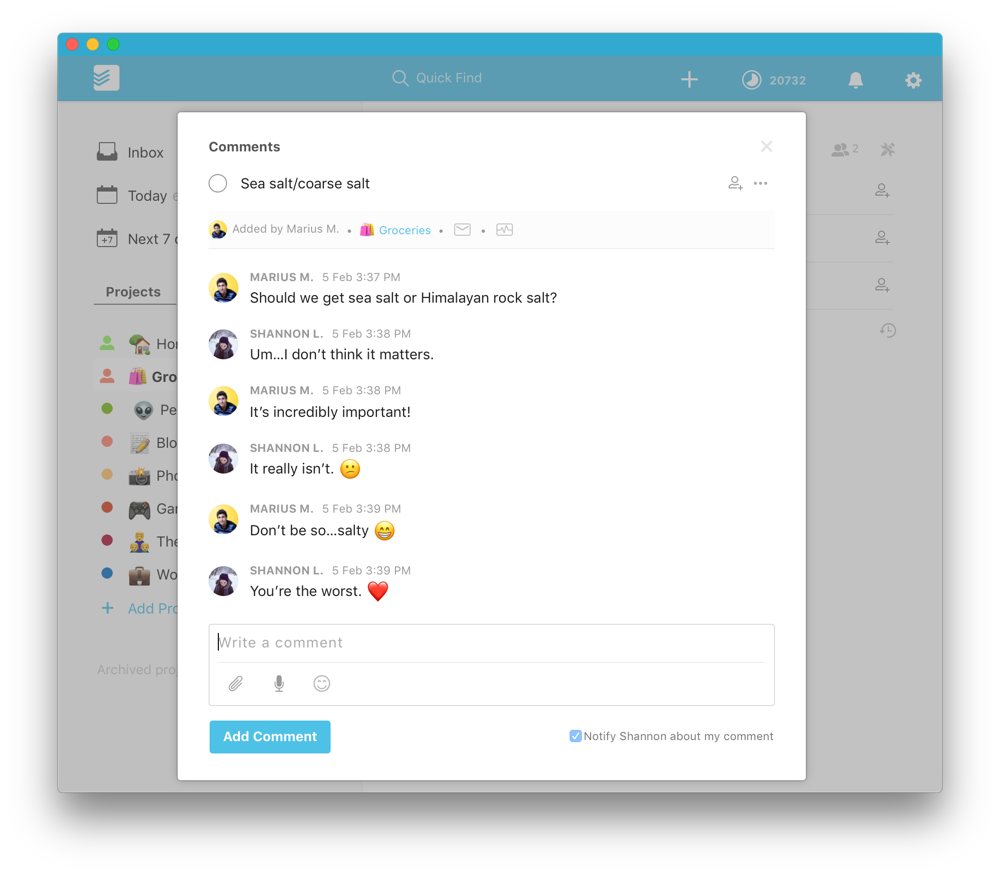 These comment threads can contain file attachments with easy importing from Dropbox or Google Drive, plus a normal upload option. You can also make use of emoji and Markdown syntax to format your messages.
Robust Email Capture
Similar to the new Mail to Things feature, Todoist has a system for capturing items via email, but it's much more sophisticated.
You can choose to send an email into a project (each project has its own dedicated address), or directly into the comment thread of a specific task. Attachments are brought along seamlessly, and you can use the familiar natural language syntax (in the subject or body of the email) to including metadata as you send.
Karma
Unique to Todoist is a gamification of your task list known as Karma.
In a nutshell, Karma allows you to set goals for how many tasks you'd like to complete in a day or week, and it keeps you accountable. You'll earn points for completing tasks, but also for deleting, re-scheduling, and otherwise interacting with your task list. This entire feature can be disabled, of course, but I find it helpful because it prevents me from adding things and ignoring them.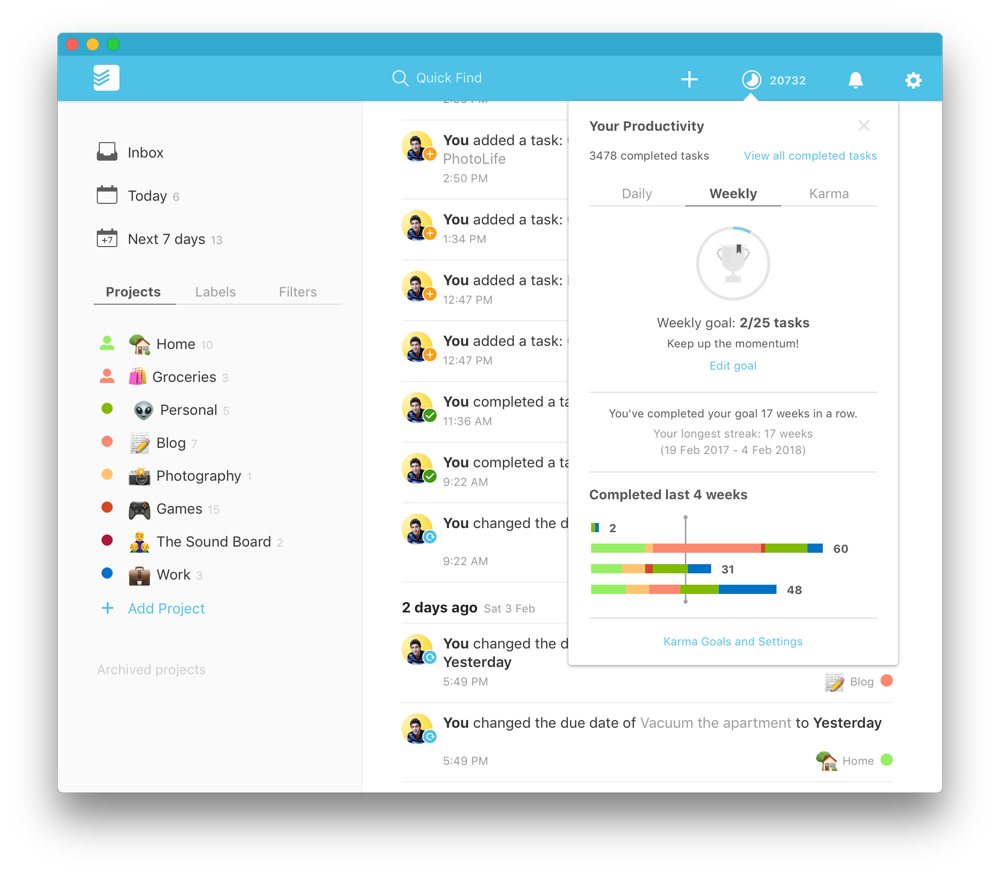 Karma is also where Todoist's completed tasks archive is kept, though it's actually a lot more powerful than a simple completion record. Besides completed tasks, you can also see Added, Updated, and Deleted tasks, and added comments. In other words, it's a full activity log that captures not only the result, but the process.
Cross-Platform & Web Access
OmniFocus and Things are both strictly Apple-focused, a choice which has allowed them to double-down on the advantages of macOS and iOS.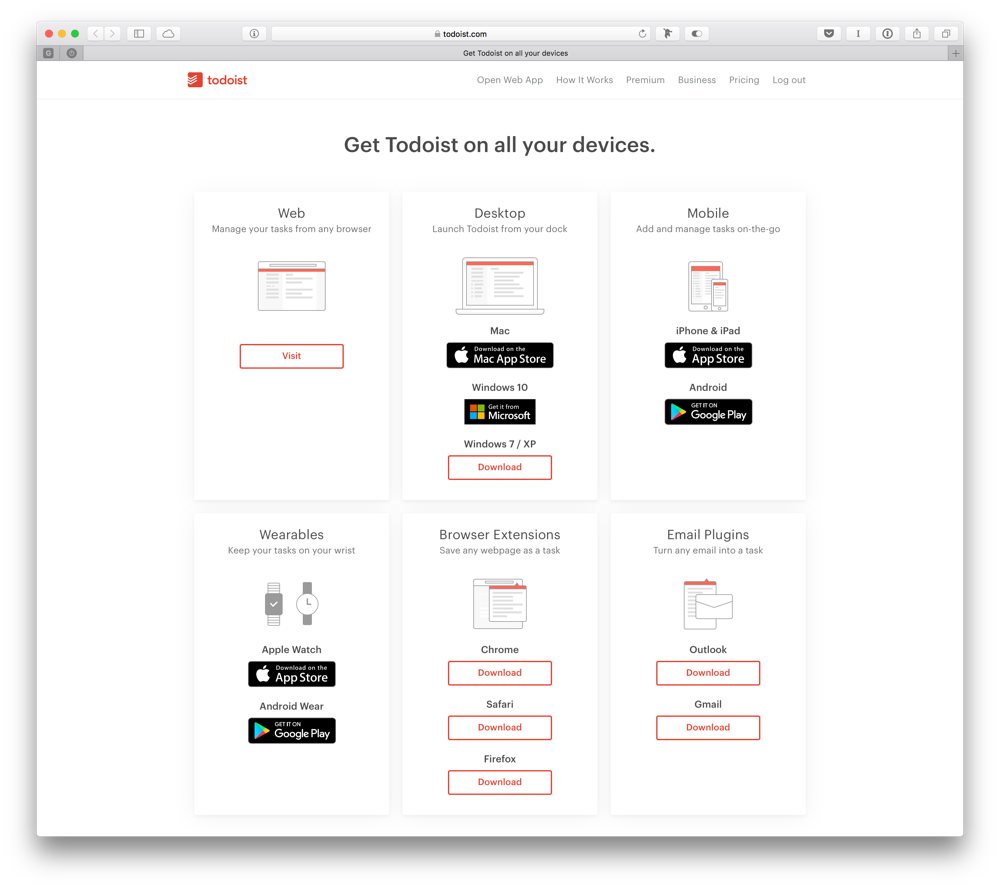 Todoist's web roots allowed it to spread beyond those confines to Android, Windows, Chrome, and web. This last option is an important one, because it means you can access your task list from anything with a browser.
The fact that each platform retains full functionality and the same design makes it really feel like Todoist is with you everywhere.
Todoist: Room for Improvement
For all its rich functionality and speed, Todoist is missing some quality-of-life details that would go a long way toward improving the experience.
Due vs. Start Dates
The ability to separate a task's due date from the date you want to start working on it is an important part of many workflows.
There's been a lot of ongoing demand for it, and a recent AMA suggests that it's something Todoist's developers might revisit.
Better Handling of Sub-Tasks
It's possible to nest tasks in Todoist to help break down larger items. You can even fold them up as you would expect.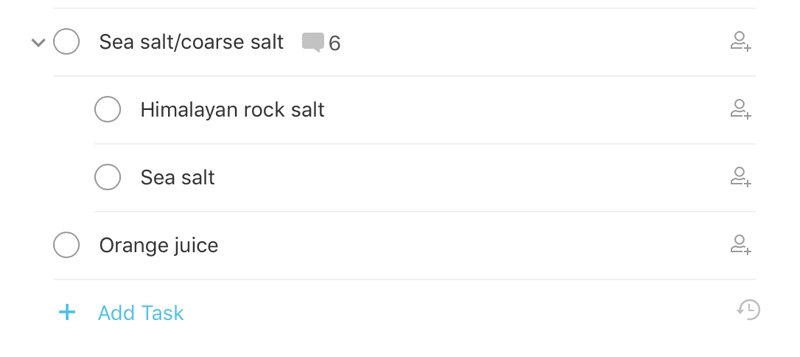 The problem is that manipulating them is kind of awkward, and other than the indenting there's very little to designate them as subordinate in the information hierarchy.
Smarter Today View
Todoist has all sorts of calendar integration options, but all I actually want is for it to show me my day's events above my task list, similar to how Things and OmniFocus do.
I'd also like to be able to customize the Today view a bit more in terms of sorting so that I could, for example, separate tasks out by project.
Better Search Results
Searching in Todoist is very quick for finding active tasks, but slow when you ask it to look through completed tasks as well.
Furthermore, the way completed tasks are shown in the search results offers no information about when they were completed. The only place you can see completion info is in the Activity log.
Better 3D Touch Support on iOS
For some reason, the 3D Touch shortcut to add a new task on the iPhone app doesn't take you to the natural-language-enabled quick entry; instead, it takes you to the full task entry form that requires you to tap between fields.
It's maddening that the shortcut you expect to provide the fastest method of task entry is in fact the slowest.
The actual fastest way to add a task is to open the app and tap the add task button. The app opens instantly, and any time you lose doing that is gained back by having natural language input for the task entry.
Todoist: Conclusion
Lean and limber, Todoist offers the fastest, most widely available task management workflow out there.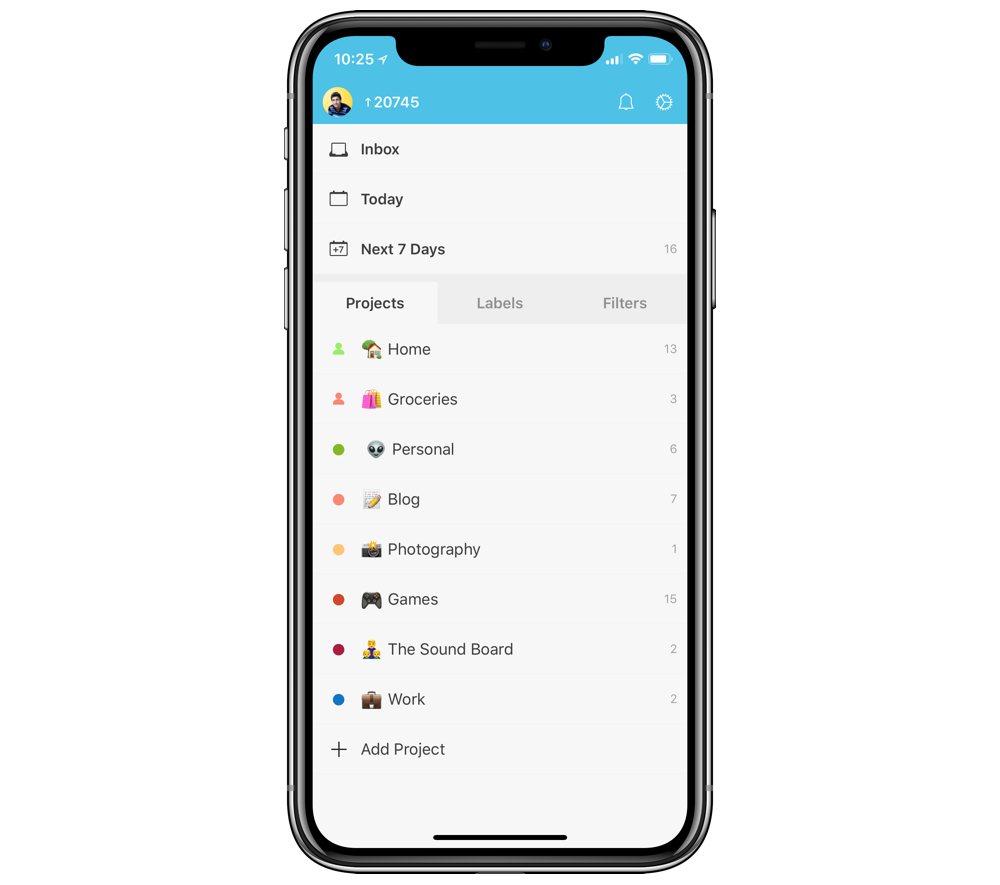 It's not as polished as Things or as powerful as OmniFocus, but it strikes a comfortable balance and embraces its strengths with confidence. It's the task management app that's worked best for me for the longest time.
Since my experience with the OmniFocus suite is significantly more limited than with Things 3 and Todoist, I'll hand the reigns over to Josh Ginter, who has worked extensively with the app over the years.
---
OmniFocus 2: Advantages
OmniFocus has been in its second iteration since May 2014, but remains one of the best GTD options for power users and those searching for high levels of customization. OmniFocus adheres very closely to the original GTD methodology, down to its sometimes-confusing terminology.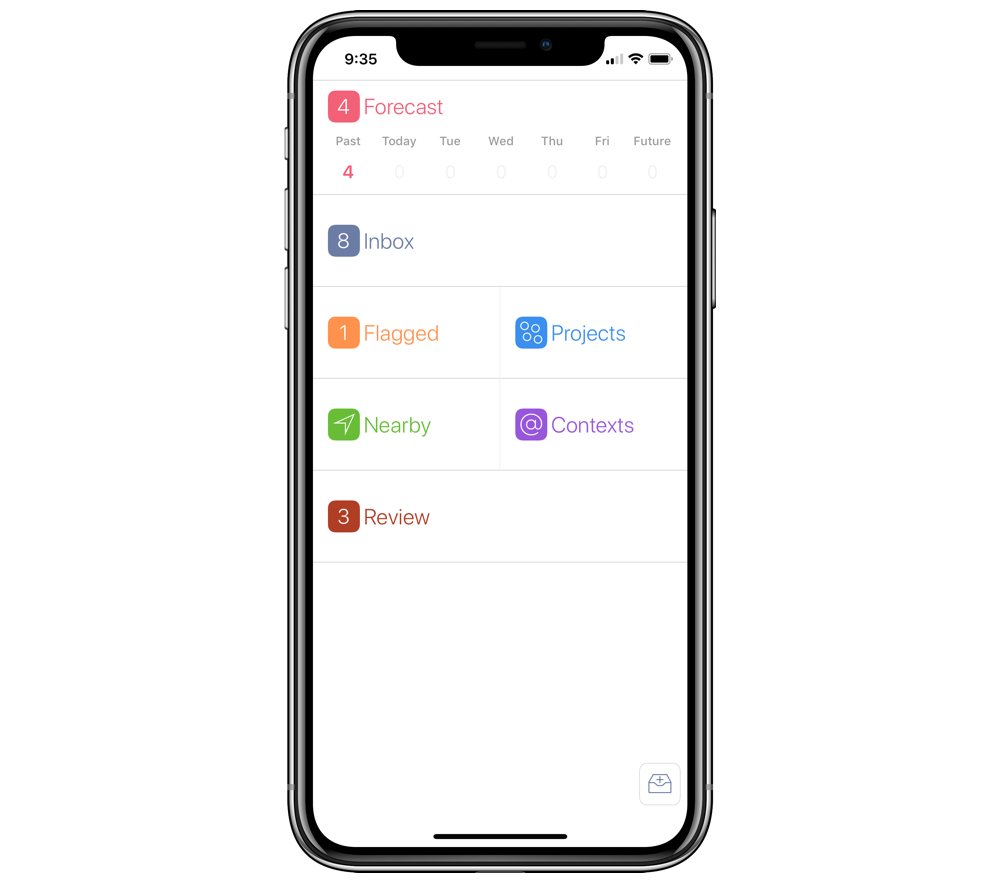 Encouragingly, Ken Case, OmniGroup's CEO, recently announced development of OmniFocus 3 for Mac, iOS, and — for the first time ever — the web.
Despite OmniFocus 3's promised improvements, OmniFocus 2 remains a valid choice for the biggest GTD'ers out there.
A Customized Environment
OmniFocus 2's most important advantage is its rich and customizable functionality, especially in the Pro version, which includes the ability to adjust core structural elements:
Custom Perspectives: Default "perspectives" — like an "Area" in Things — ship with the standard OmniFocus 2 app, but you can create custom ones. Best of all, OmniFocus allows a task to appear in more than one perspective, ensuring your custom "Today" perspective isn't the only place that "Take out the garbage" task can be found.

Custom Styles: OmniFocus 2's design has become a bit dated, so the Pro version allows you to create your own themes.

Custom Columns: OmniFocus 2.3 brought with it the ability to display your task's metadata with custom columns. Instead of the "Fluid" layout, custom columns can show you specific types of metadata at a glance instead of inside the inspector.

Customizable Sidebar: OmniFocus' sidebar is where most of your navigation takes place, so it's only natural to want to customize the perspectives located in the sidebar.
Powerful Automation
By upgrading to OmniFocus Pro, you open up a wide world of automation features.
Combining OmniFocus' well-documented x-callback URL scheme with the power of Workflow opens a lot of doors for inter-app automation and task management.
AppleScript Support is also available in the Pro feature-set. A useful example of this is the ability to create an entire project inside OmniFocus from a template. If you complete the same types of projects over and over (I'm thinking something like professional services) for a client, the ability to automate project creation for consistency of service is invaluable.
Although not "automation" per se, OmniFocus' drag & drop implementation on iOS 11 for iPad is pretty great as well. OmniFocus recognizes a hyphenated list as a delineated list of tasks, making dragging in new task lists a breeze.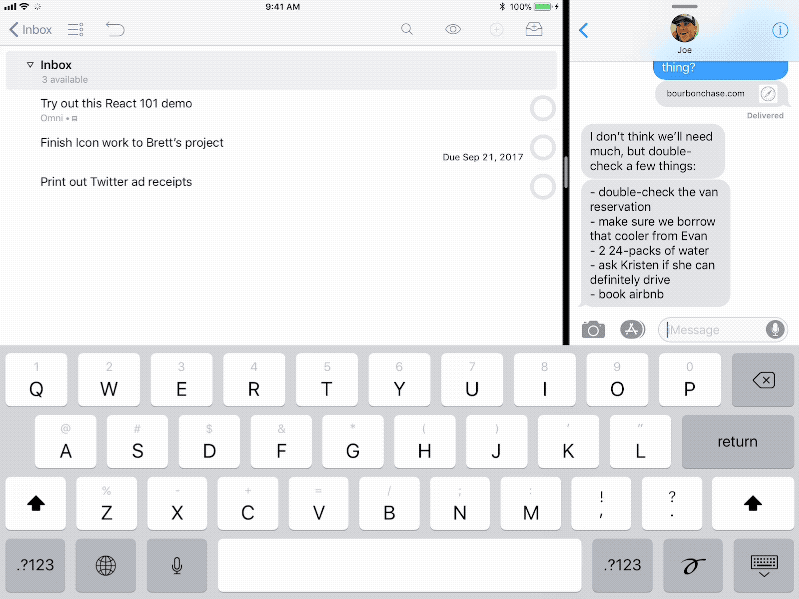 If you create project templates inside a text file on the iPad, having a project template would be as simple as dragging & dropping the task list into place.
Different Project Types
OmniFocus provides a plethora of project options for organizing, filtering, and differentiating all the different ways your work can manifest:
Sequential Projects: Sequential projects require you to follow a step-by-step approach to reach the final product. Step 1 must be completed before Step 2, and so on.
Parallel Projects: Parallel projects make all the steps within a project available to complete in any order.
Single Action Lists: As the OmniFocus manual points out, single action lists aren't really projects at all. They are just lists of actions or items to be checked off at any time. Effectively, these are slightly-related tasks that aren't interdependent.
Note Attachments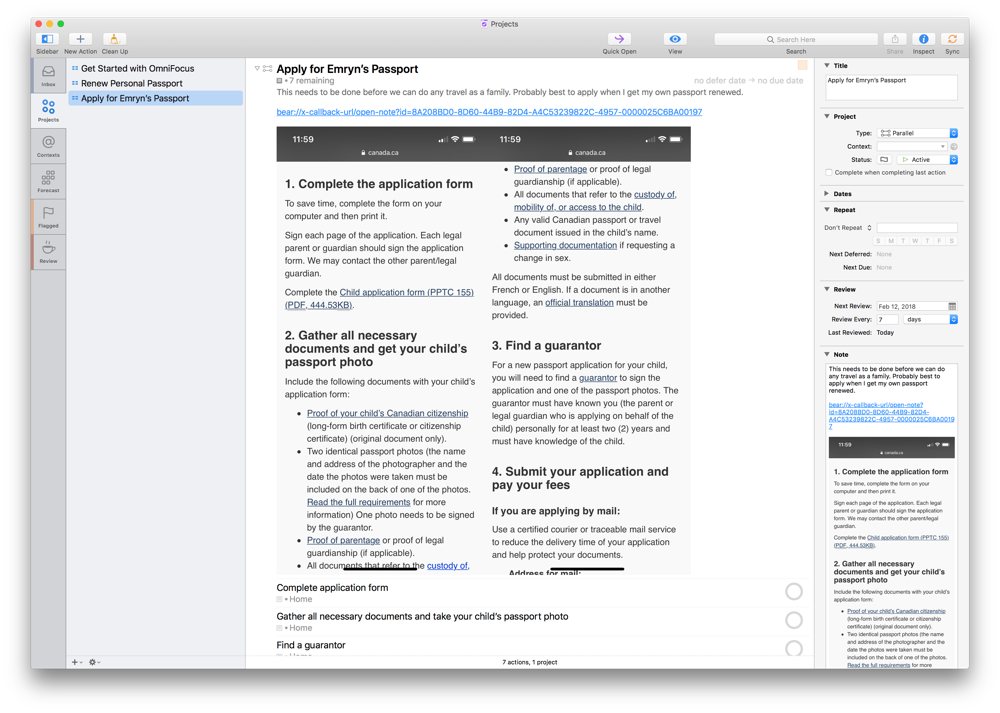 Like Todoist, OmniFocus lets you attach files from the Edit menu or from the Finder. It also provides a handy list of all your attachments in a dedicated attachment list. For those who work extensively with PDFs (*raises hand*), this would be a major time-saver.
Review Module
OmniFocus ships with a built-in Review perspective, aiding you in staying on top of all your outstanding tasks and projects at whichever intervals you prefer. When delegating and triaging your tasks out of the inbox, you can select a review period in the task's inspector window. OmniFocus will then remind you to check in on that specific task or project to ensure it's still valid.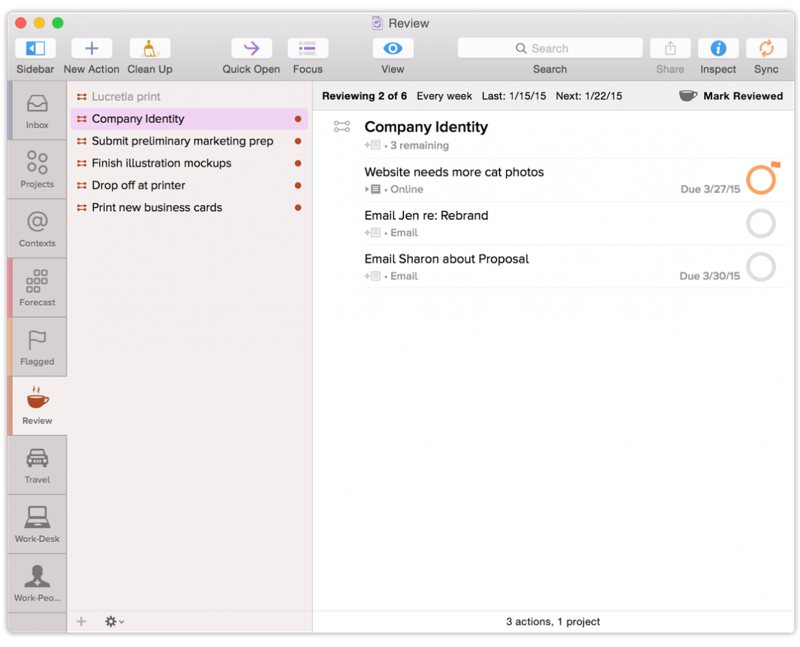 Reviewing your tasks can become somewhat of a chore, but devout followers of the GTD methodology will appreciate its presence.
OmniFocus 2: Room for Improvement
Despite the rich Pro feature-set and seemingly endless customization options, there are aspects of the app that could use some work or which don't exist at all.
Note: There are a range of new features coming in OmniFocus 3, some of which are areas of improvement listed below. We recognize the impending improvements and work below to compare OmniFocus 2's feature set with its current competitors.
Learning Curve and Accessibility to the GTD Framework
It almost goes without saying that OmniFocus appears designed for a specific type of user. Generally speaking:
You need to understand how the Getting Things Done methodology works and how to move from brain dump to triage to action.
You need to understand the GTD terminology. Terms such as "perspective" or "context" aren't immediately explained, making for an overwhelming first impression if you're new to the app.
You need to understand a task's inspector window and how changing each task's options and preferences will affect that task's placement within the app.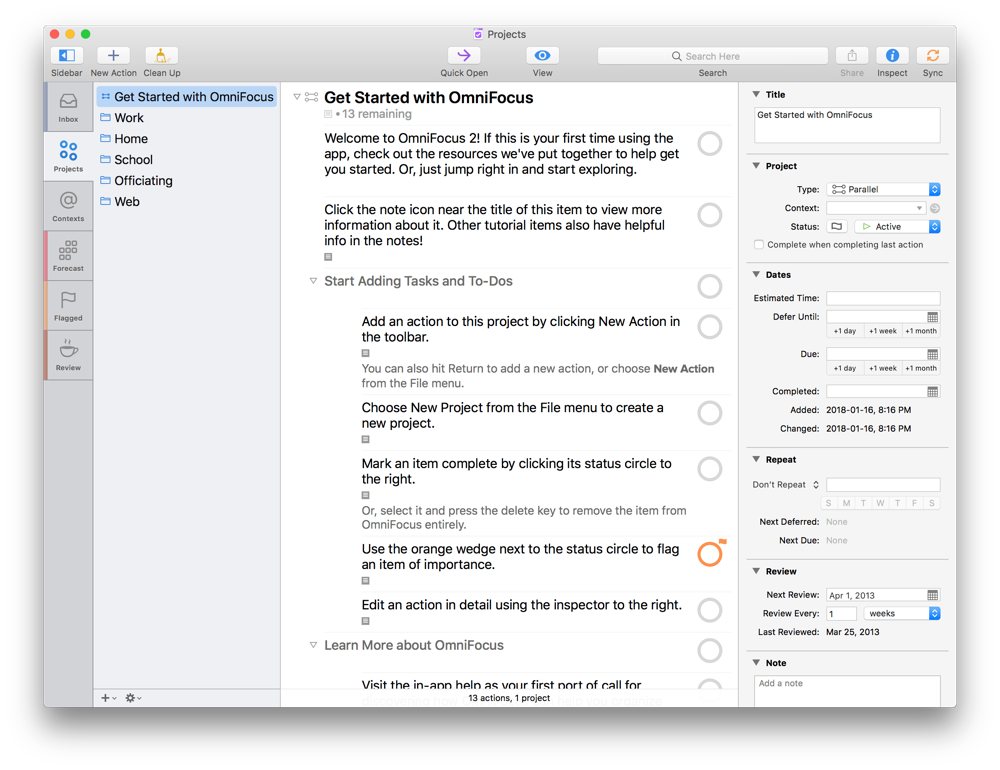 The OmniFocus learning curve is drastic and overwhelming. There's no "jumping into" OmniFocus, nor is it easy to make the app fit into your own preconceived workflow. And, if you want to take advantage of many of the automation features, you'll have to have prior AppleScript knowledge to put the best features to work.
OmniFocus 3 has promised the introduction of tags rather than contexts, making for a more understandable approach to designating tasks and projects. This also allows for even greater organization, as multiple tags can be applied to a task or project. We expect tags to greatly improve OmniFocus' accessibility to new users.
OmniFocus 3 also promises Javascript support for deeper levels of automation.
Design
OmniFocus 2 maintains its 2014 launch aesthetic, making it feel a bit dated in the iOS 11 and macOS typography-heavy design era.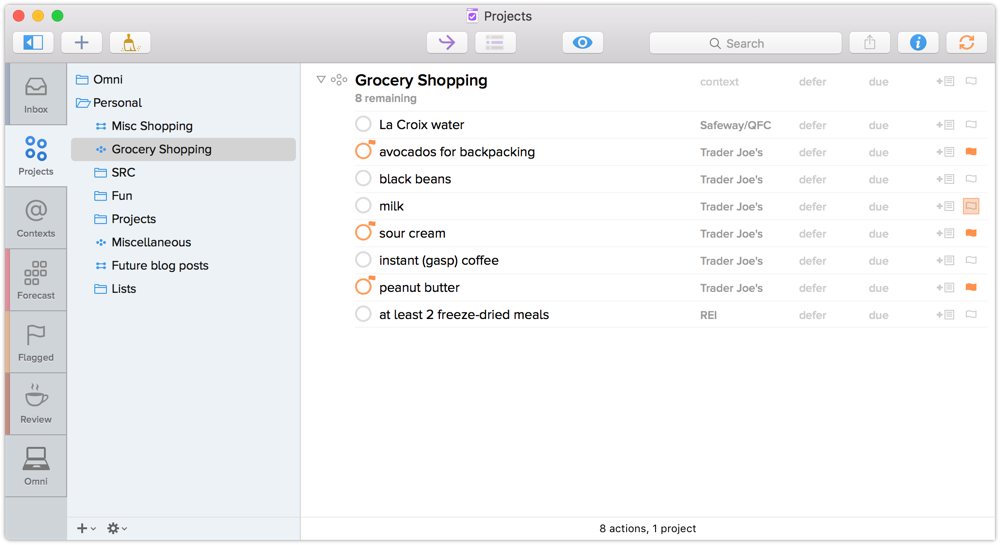 It goes beyond just color palettes, too. OmniFocus 2's iOS home screen looks odd on the latest iOS devices. The big squares and rectangle buttons on the main view have always looked different than prevailing design trends.
And although the big yellow, red, and orange circles are very easy to hit and shout "get things done!" from the top of their lungs, they feel somewhat out of place.
OmniFocus 3 is set to introduce an all-new design for macOS and iOS. This is Ken Case's screenshot from a tweet in late January 2018.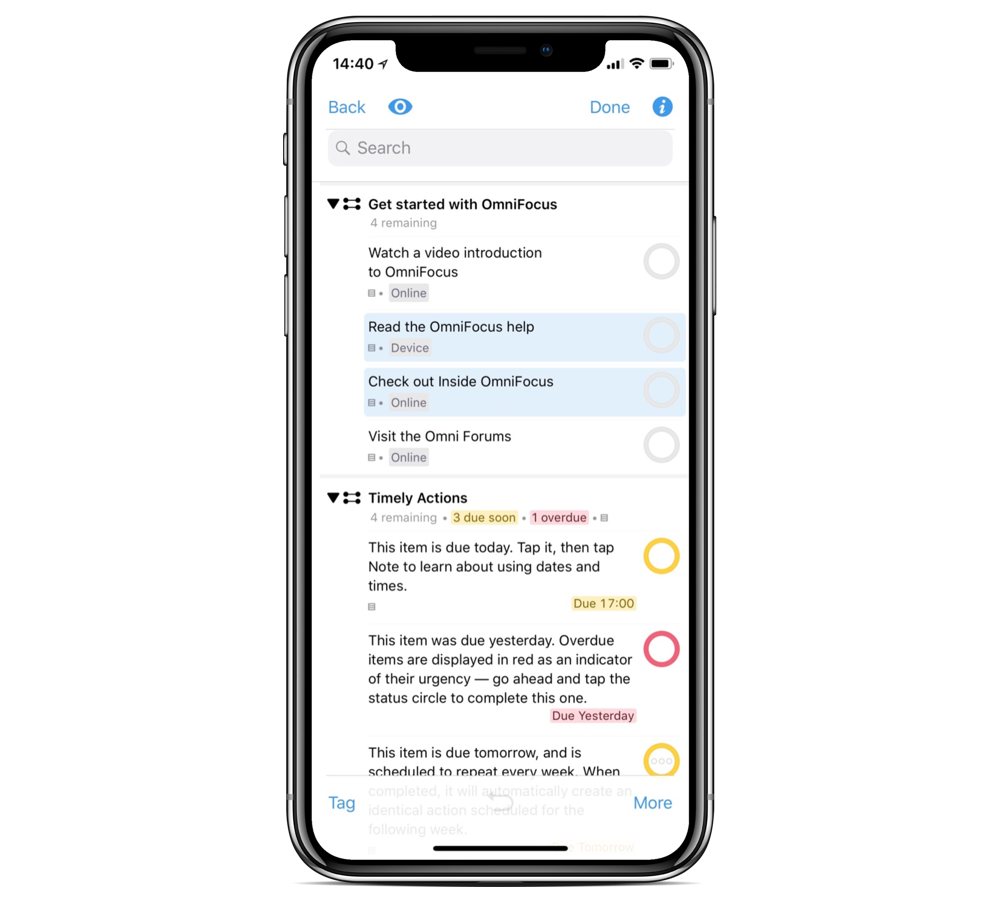 Speed of Entering Tasks
Just like Things 3, entering tasks can be a chore. This could be chalked up to the GTD methodology, but as we've seen with Todoist, triaging tasks doesn't have to require extra effort.

Tasks are added to the OmniFocus inbox, at which point you can opt to set a due date, context, perspective, defer date, review period, whether the task is part of a project, and whether the item should be flagged for importance. There is no sense of "quick to-do list" anywhere to be found in OmniFocus.
No Collaboration
Like Things, OmniFocus does not have methods for collaborating on tasks with other individuals. You cannot share a task to a different OmniFocus user, and there are no ways to share a task with a non-OmniFocus user. The extent of OmniFocus' collaboration features begins and ends with the built-in share sheet.
OmniFocus 3 is set to introduce a new collaboration method for sharing tasks between individuals. Collaboration is not expected to be significant and may only maintain a relatively simplistic feature-set, but collaborative tasks are forthcoming in the next version.
No Web App
OmniFocus is a Mac and iOS-only GTD app suite, ensuring those who have to use a Windows PC at the office or who require a non-Apple work phone utilize other methods for getting tasks into OmniFocus. OmniFocus does have the ability to mail tasks into your OmniFocus inbox, but, in contrast with Todoist, this is still a half-baked attempt.
Once again, the Omni Group has roadmapped a solution for this as well. OmniFocus for the Web is in development as of the time of this article and is set for release an unknown date in the future. The web-based app is not expected to have the full feature-set of the OmniFocus app suite, but will aid those who are not on an Apple device to manage at least some aspects of their tasks.
Cost
Of the three apps compared in this article, OmniFocus rings in at the most expensive app suite.
OmniFocus 2 for iOS offers a 14-day free trial, at which point an in-app purchase is required for the Standard or Pro features. A Standard purchase will run you $39.99 USD for a universal iOS app, while the Pro purchase costs $59.99 USD.
On the Mac, OmniFocus 2's Standard feature-set is $39.99 USD, while the Pro feature-set will hit you with a $79.99 USD purchase price.
As a result, for the full set of OmniFocus Pro features on Mac and iOS, you're looking at $140 USD after a 14-day free trial on iOS. When compared to the other options here, this can be a substantial barrier.
It's clear from feature and price perspectives that OmniFocus is geared firmly toward the power user.
OmniFocus 2: Conclusion
If Things 3 is the stylish car driving down the highway, and Todoist the SUV that can do it all, then OmniFocus 2 is the heavy duty pickup truck that gets the job done with power to spare. From customization and automation through to the app's Forecast and Review perspectives, OmniFocus brings the full GTD methodology to the forefront.
And it has a price to match.
If you're a heavy GTD user or have some relatively serious project management needs, OmniFocus may be the best suited for your workflow.
---
Wrap-Up: Things vs OmniFocus vs Todoist
I want to leave you with some thoughts about what kind of workflow each app is best suited for.
As you might imagine, given our selection for best productivity solution, we believe that Things is the best option for the vast majority of use cases. It's accessible enough for beginners, and capable enough to scale with more complicated workloads. It's also the most delightful to use, and feels the least technical. When in doubt, start with Things.
Dedicated adherents to the GTD methodology, or those who have sophisticated or extensive task management needs, are probably best served by OmniFocus. OmniFocus, especially its Pro version, offers more customization, more metadata, more sorting, and just generally more than any other solution on the market. Power users in the upper echelons of task management workloads should look no further.
Todoist is ideal for those who prioritize speed, collaboration, and cross-platform access above all else. It's rock-solid, laser quick, and leans on AI to provide intelligent assistance wherever it can. If you need to work with others across a wide range of workflow types, enjoy automating tasks, and put function over form, Todoist is going to be a perfect fit.
Whatever you choose, remember that the purpose of task management isn't to make and manage complicated lists, it's to accomplish the things on that list. The app's job is to keep you aware, equipped, and on-task. Avoid unnecessary complexity, focus on the results, and go get things done!