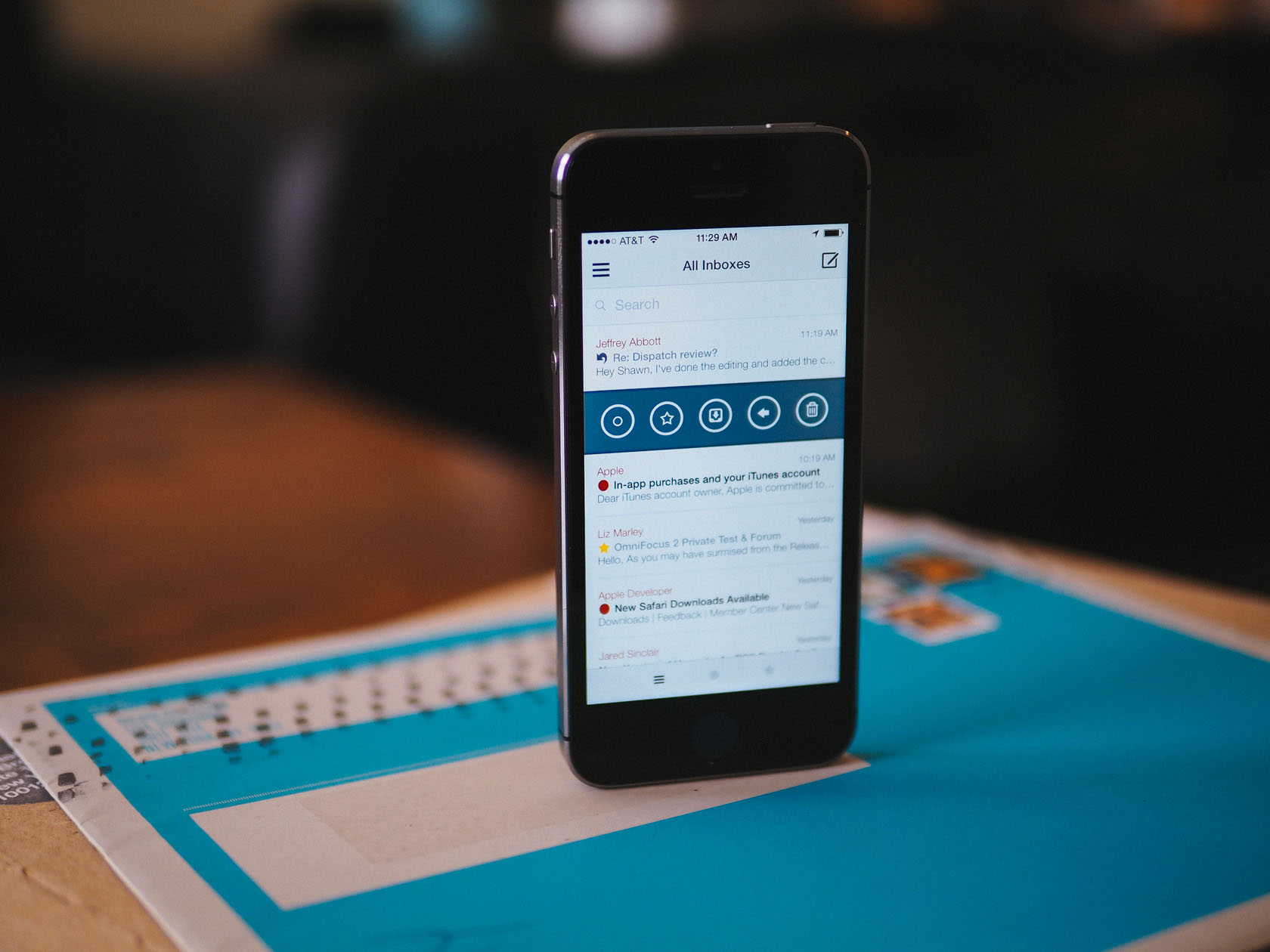 The best iPhone email app for power users
Dispatch
December 9, 2015
Email has been with us for more than two decades now, but many of us still struggle to manage our overflowing inbox. One of the most common, and convenient, ways to access that inbox is through our iPhones. I tried a dozen different email apps for the iPhone to see if any actually helped me get through my email faster. In the end, I found Dispatch to be the best at culling through messages and extracting what I need so I can get on with the real work of my life.
---
The Problem
My relationship with email (and my problems with it) began in 1994, only a few years after the creation of the World Wide Web, and before most people had internet access in their homes. I, like thousands of other young people around the country, received my first email account in the grungy computer lab of my college dorm. It felt magical at first — this electronic, near-instantaneous method of sending messages to friends around the country. But the ease with which you could write back to an email was both a curse and a blessing. If you were trying to sustain a long-distance relationship, like I was, you could get into trouble if you didn't respond to email quickly or frequently enough. The dorm's computer lab (no one had email in their dorm rooms yet) became the Grand Central Station of both anticipation and obligation. Did she write to me? Do I have to write back to her right now? Even then, at the very beginning, email was a source of anxiety.
The way I used email would evolve over time, but that sense of anxiety never really went away. I got a job at a software company after college, and email became a near-constant presence in my work life, something that reasserted itself with demands, questions, jokes, and often irrelevant information every time I sat down at my desk. Back then, everyone left their email client open all day long so that people could inject their thoughts into your brain at will.
And it only got worse with the invention of the smartphone. When I took a job working from home, I felt obligated to buy a Blackberry so that I could respond to email at a moment's notice. My demanding, unpredictable boss sent emails at all hours of the day and night. The mere possibility that he could be writing with some new urgent request or complaint turned each vibration of my phone into a mildly traumatic electrical shock.
I reached a breaking point at my next job, where on top of the email from another demanding boss, from co-workers, and from the larger company managers, I had to manage the flood of listener email for a nationally syndicated public radio show. My job was supposed to consist primarily of researching and booking guests, writing copy, and editing audio interviews, but it often felt as if I spent most of my day drowning in email.
The Solution?
It was not long after I quit that job that I first discovered Merlin Mann's famous talk about Inbox Zero, an idea so life-hacked to pieces that people rarely associate it with Mann's original insight. What I found revelatory was the idea that email had become a Pandora's box of anxiety because its contents are unknown and always growing. We fear both opening it and not opening it. This fear paralyzes us, so that we stand outside the box, obsessive-compulsively checking and checking and checking our email, but failing to take any meaningful action on most of what we receive because the thought of doing so fills us with implacable dread. As Mann wrote,
Just remember that every email you read, re-read, and re-re-re-re-re-read as it sits in that big dumb pile is actually incurring mental debt on your behalf. The interest you pay on email you're reluctant to deal with is compounded every day and, in all likelihood, it's what's led you to feeling like such a useless slacker today.
Mann's advice was fairly straight-forward. For every email you read, you should do one of the following things: delete it forever, archive it for reference, delegate it to someone else, respond immediately, or turn it into an action that you will execute at a later time or date. It sounds so simple, and yet somehow it's so difficult. Many people tried and failed to live up to this goal. Some people called it a myth. Mann himself eventually clarified what he meant.
For me, the real 'zero' in Inbox Zero is more about consciously managing the amount of our attention that we commit (or, far more often, cede) to thinking and worrying about what may or may not be piling up while we're away doing the real work of our lives.
But the reason so many of us worry about what's piling up in that box, and then feel paralyzed when we actually open it, is that it isn't immediately obvious how to turn those messages into actions. We say to ourselves, "Here is something I should respond to. I will respond to it later." But when later comes, the box has changed, and there's new messages to respond to. The process can feel like digging a hole in the rain. No matter how fast we dig, the dirt keeps spilling in around us.
What we need is a more efficient tool for the digging.
Our criteria for a great iPhone email app
There are numerous email applications for a variety of devices, from Macs to iPads to iPhones, but I was specifically looking for an iPhone application because so many of us receive email on our phones first. We use our iPhones to casually check email when standing in line at the post office, or when sitting on the couch during a television commercial break, etc. The fact that we almost always have a cellphone in reach makes it perhaps the best device for managing the onslaught of communication overload.
I considered the following criteria for each iPhone email app I tested:
support for most IMAP-based email clients (Gmail, iCloud, Yahoo, etc.)
a unified inbox for multiple accounts
fluid, intuitive gestures for easy deleting, archiving, and marking email as spam
advanced settings for custom salutations, signatures, and form responses
powerful tools for turning important emails into to-do items, reference material, and calendar events
support for iOS 8 sharing extensions
Apple's own email app is great
If you value simplicity above all else in your email setup, Apple's built-in Mail app on the iPhone is great.
It supports most major email accounts, allows you to read and write emails, and allows you to create events in your calendar by tapping on dates. It gives you access to all your folders, including drafts and sent items. However, becuase Apple still does not let you pick another default mail application. So, when you tap on the share button in a different app to email a copy of something, you'll be going through Apple's mail app.
It's a shame, Apple does not allow the built in Mail app to access iOS 8 sharing extensions.
Other Contenders
The iOS apps for Gmail (Free — Universal) and Yahoo Mail (Free — Universal) might also appeal to you if you exclusively use email through their services. Heavy users of Gmail's labeling system might particularly enjoy its implementation of that feature, but again, you'll be lacking many more of the advanced options I outlined above, and you'll (of course) be restricted to what email services you can use. I also find the lack of a unified inbox in Gmail to be frustrating.
There are a number of apps that have tried to "reinvent" the email inbox. The most prominent of these is Mailbox (Free — Universal), which first popularized the idea of turning the email inbox into a to-do list and snoozing emails for later with a mere swipe of the finger. I was excited to try Mailbox when it first launched (I was on the infamous waiting list). I loved the idea that I could fling an email into the future, and it would return to me, like a boomerang, at precisely the moment when I'd be able to deal with it. But the ability to hit the snooze button (as anyone with an alarm clock knows) is problematic. Sending emails into the future, and adding them to special list-like folders, didn't help me deal with the problem of email, it just let me delay that problem. After about six months with Mailbox, I was disillusioned.
The same can be said for most of the other apps I tested for this review, including Evomail (Free — Universal), Seed (Free — iPhone only), myMail (Free — iPhone only), and Boxer ($0.99 — Universal). Each has their own gesture-based system for deleting, archiving, or reminding you to do something about an email. Of these, Boxer offers the richest set of ways to act on an email, offering reminders, labels, quick responses, the (perhaps dubious) ability to "like" a message, and integration with Evernote and Sanebox.
Then there are the even more radical approaches. SquareOne (Free — iPhone only) helps you sort your email into custom "zones" or folders, so that you can tell at a glance where your email is coming from. Sorting my email into zones, however, doesn't help me act on it. Mail Pilot ($9.99 — Universal), which started as a Kickstarter project and has a companion Mac app, turns each of your emails into a to-do item, with a little circle you can tap to check off when you "complete" an email, reminding you that each message should be thought of as requiring an action. I like the idea, but this was the only app I tried that gave me multiple connection errors and actually failed to retrieve many of my messages.
It should also be noted that many of these email apps actually create new folders within your email system in order to "snooze" your messages, add them to special lists, or turn them into to-do items. I'm not sure I want an iPhone mail app mucking around with the folder structure of my email. In addition, every single one of these apps (except for Mailbox) lost points for automatically appending each email I wrote with the spammy message:"Sent from [blank] app!" None made it obvious how to turn off this "feature." Mailbox, on the other hand, only offers to spam your friends when you reach Inbox Zero for the first time.
One app that deserves honorable mention is Triage ($2.99 — iPhone only), which only tries to do one thing well: sorting the wheat from the chaff. In Triage, your emails are displayed as a stack, and you can either toss each one up to archive it or down to keep it (I would have reversed the up-down metaphor, but that's just me). It's simple, intuitive, and even fun. You can read the messages and reply if necessary, but the main purpose of the app is to give you an easy way to quickly archive anything not worth your time. It's a good idea that's well-executed, but it doesn't offer a unified inbox, and it hasn't been updated since September 2013.
Update, 2014-03-28: Not long after this review of Dispatch went live, we got several people asking about Cloud Magic (Free — Universial), an email app that somehow didn't come up in my research. People were right to ask, because Cloud Magic is a beautifully designed app with unique powers. The app's main feature is what its website calls "Contextual Cards for popular business apps." Basically, while reading an email, you can tap a button and send the content of the email to a variety of other apps, including Evernote, Trello, Pocket, Salesforce, Mailchimp, Asana, Todoist and Zen Desk. The concept is similar to Dispatch, except that these interactions with other apps all occur inside Cloud Magic, which feels more elegant than being sent to another app and then back by way of a call-back url. The downside of that elegance, however, is that Cloud Magic only has a few partners at present. If you don't use Trello for your to-do list, you're out of luck. Ditto if you prefer Instapaper to Pocket. Cloud Magic's website says that more "cards" are coming, so it's worth keeping an eye on the app. But for now, it's only the ideal app if you rely on the other apps inside its current ecosystem.
Our Favorite: Dispatch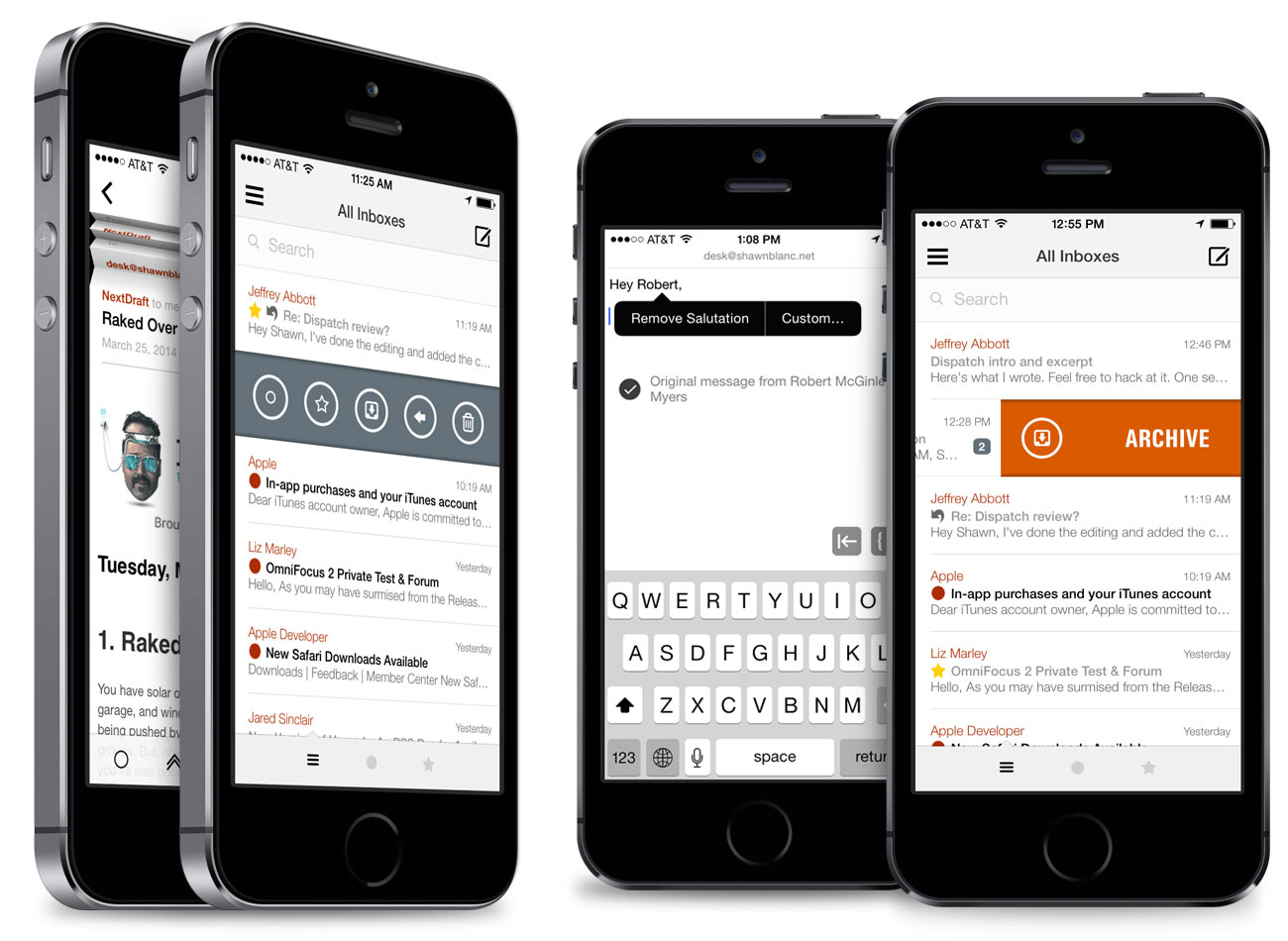 All of which brings me to Dispatch ($4.99 — iPhone only), which comes recommended by iMore, Cult of Mac, Practically Efficient, Lifehacker, and Macstories, among others.
In writing this review, I reached out to David Sparks, who literally wrote the book on email, to see if he had an opinion. Sparks said he uses the paid service Sanebox to keep a lot of email from ever reaching his email inbox, but he still considers Dispatch to be "unmatched for 'Get My Email into some place else' on iOS."
This power to extract your email and "transform" it into action items or reference material by sending it to other apps is what makes Dispatch different from all the other email apps I tried, and it's what makes Dispatch the best iPhone email app for managing your inbox.
The design of Dispatch is minimal, text-based, and elegant. When you open the app, you're presented with the usual list view of your email. Dispatch supports background refresh, so as long as you check it on a regular basis, your email will be downloaded in the background. You can customize how many lines of each email you see in the list view. You can interact with each email from the list view by swiping left to right across the message. A short swipe slides out a panel of five actions, nicely designed to feel like a direct action rather than an abstract gesture.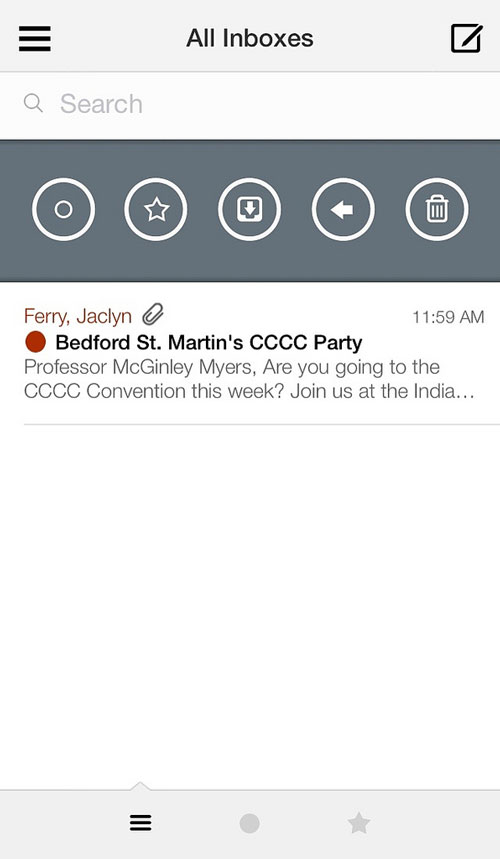 The five options allow you to: (1) mark the message as read or unread; (2) star/flag the message; (3) archive the message; (4) move the message to a folder of your choosing (you can configure this button to offer the option of one specific folder you use a lot); or (5) delete the message.
A longer swipe initiates what Dispatch calls a "quick action," which is user-configurable. The default quick action is to archive the message, but you can also configure the quick action to be delete or mark the message as spam.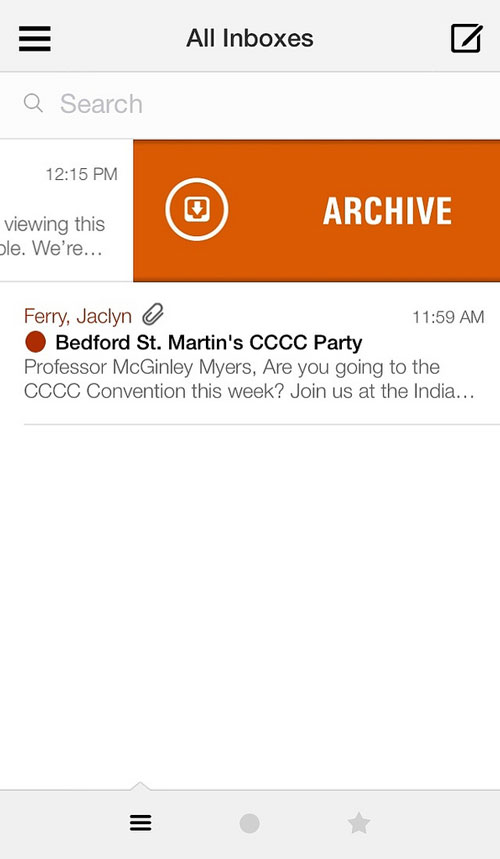 I tried "delete" for a while, but I found that I occasionally deleted messages I hadn't meant to delete. There is an "undo" button, but I still think it's safer to have the quick action be non-destructive in case you're powering through a lot of email and not paying close enough attention to what you're doing.
Dispatch's Real Power
Still, none of these actions are much more powerful than what other email apps offer. The real power comes when you decide a message is important enough to open.
From the message view, you have the typical abilities to reply to or forward the message, to star or mark as unread, to move to the next message or the previous message, or to archive the message you're currently reading. Most importantly, in the lower right hand corner, you'll find a pre-iOS 7-style "share" button (a box with an arrow arcing out of it). Most of Dispatch's unique abilities lie under this tiny button, which is why it also constitutes the app's icon.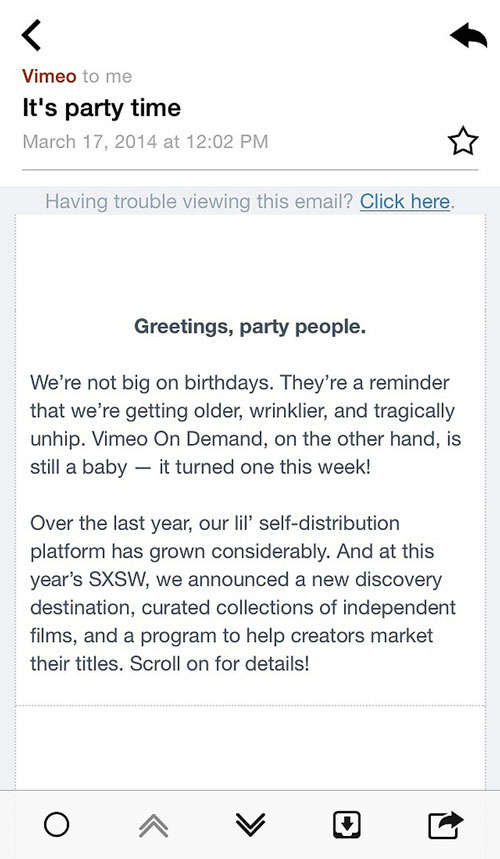 Tapping the button allows you to send your email message to any one of more than two dozen supported apps. For example, if the message is reference material, you can send it to Evernote, and before you send it, you can choose a specific Evernote notebook and add tags as well (attachments can also be included). If the message refers to an event you want on your calendar, you can send it to Calendar or, even better, to Fantastical, which will parse the language of the message (or whatever you highlighted in the message before you sent it to Fantastical) to create the event, filling in date and time and location if included in that message.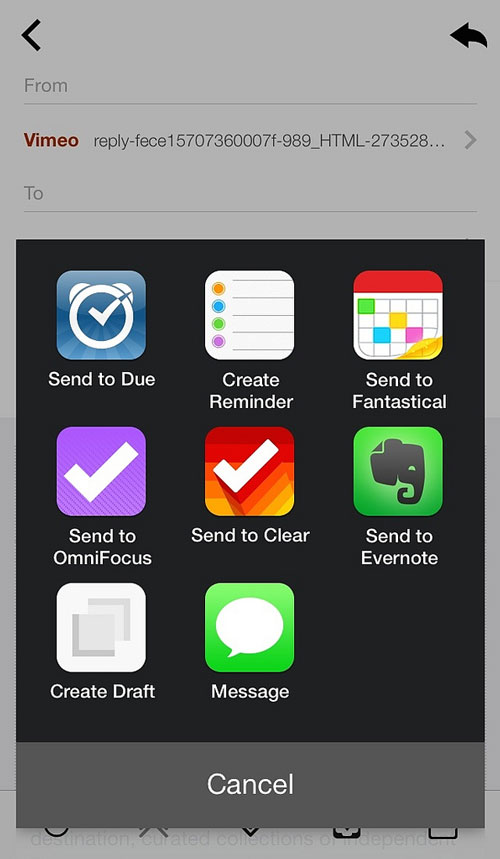 If the message needs to become an action item, you can turn it into a task in many of the most popular to-do apps, including Reminders, OmniFocus, Things, Asana, The Hit List, or Due, among others. Choosing this action also gives you the opportunity to edit the task before you send it. For example, if you get an email from your boss with the subject line "Meeting on Friday" and you choose to send that email to Omnifocus, Dispatch will assume that the task should be called "Meeting on Friday." But before you create the task, you can change the text of the task to say, "Write email to boss about why there shouldn't be a meeting on Friday," then the task you create in OmniFocus will also include the text of the email in the note field.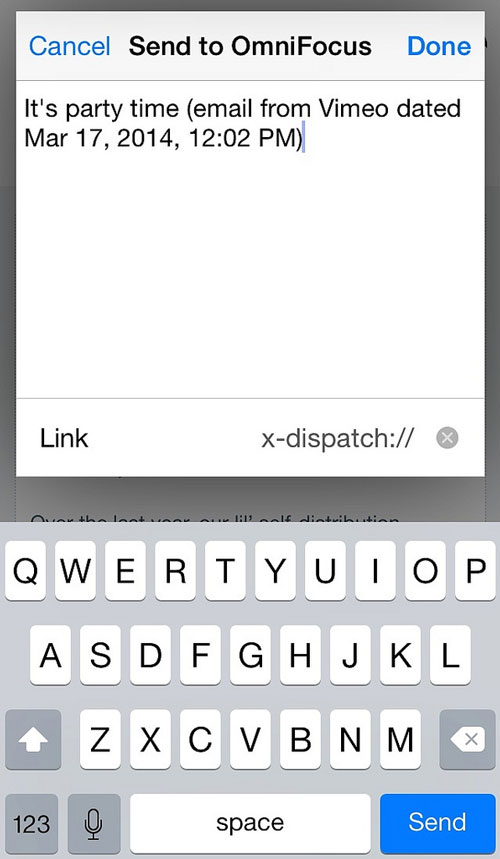 I cannot stress the importance of this feature highly enough. Procrastination is often the result of not thinking through what we need to do before we sit down to do it. Of the email apps I tested, Dispatch is the only one that makes it possible to break down, in the moment, what the action is that needs to be taken on that email, rather than merely delaying that action until some future date or time. And it allows us to use our preferred application for processing such actions, rather than leaving us stranded in our iOS email inbox.
Dispatch has multiple other interfaces with third-party apps, including sending links to services like Instapaper or Pocket, opening links in Chrome or 1Password, and opening addresses in Maps or Google Maps. The app's website says it supports a total of 22 third-party apps, but based on the apps listed in Dispatch's settings, I suspect that number has actually grown and the website just hasn't been updated recently. The app, on the other hand, receives frequent updates, adding new third-party support and functionality all the time. Again, just simply allowing sharing extensions is an improvement over Apple's Mail app, but Dispatch takes the integration a step further.
Attaching Files
The documentation for the update says that Dispatch now supports iOS 8's new document picker, but I haven't been able to try the feature, as I don't have iCloud Drive enabled. I do have Dropbox, which should theoretically be supported, but I only have the option to insert links to files from Dropbox, not the files themselves. I reached out to the developer, and he said this is a bug that will be fixed soon.
Addressing an Email
In previous versions of Dispatch, tapping on the compose button would take you directly to the body of the email to begin typing your message. Then, you could choose your recipients and your subject. This took some getting used to, and apparently some folks complained; the new version of Dispatch reverts to the traditional email routine of starting with recipients and subject before the body of the message.
Unique Design Details
There are a few aspects of Dispatch's design that might throw off newcomers a bit. For example, Dispatch hides unnecessary information unless it's needed. If you receive an email that was sent to multiple recipients, you will see each of the recipients' names at the top of the email, but if you want to see their email addresses, you can pull down on the list and the addresses will be revealed through a beautiful unfolding paper animation. Attachments are also hidden behind this virtually folded paper.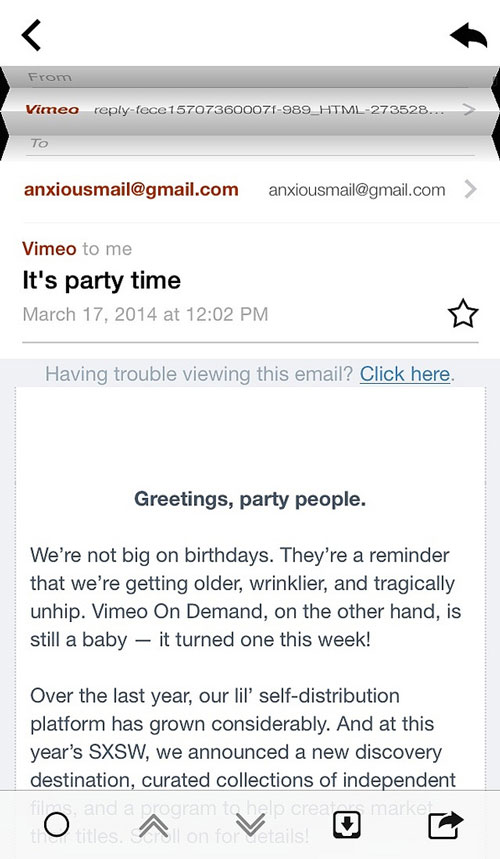 Dispatch includes an automatic salutation — Hi Name, — whenever you reply to an email. You can customize this salutation, turn it off for certain contacts, or turn it off altogether. Additionally, when replying to an email, you have a convenient button to tap if you don't want to include the original message in your reply. You can also highlight a certain portion of the original email, tap "Quote," and your reply will only include that bit of text for you to respond to.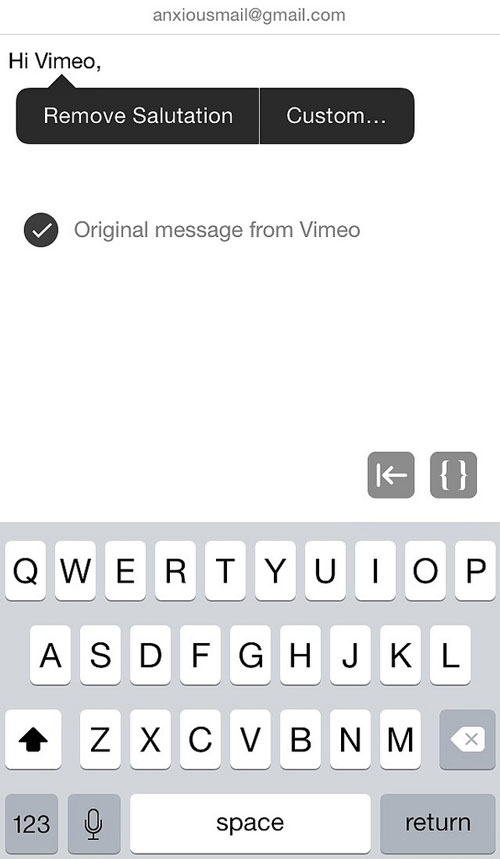 With its iOS 8 update, Dispatch still doesn't offer a landscape view of the mailbox in the manner of Apple's Mail app. Instead, landscape only becomes available while composing the body of the message. There are still a few bugs with rotation in iOS 8, and it occasionally took one or two tries for me to bring up the landscape keyboard in Dispatch, but I welcome the change, as I've always preferred typing in landscape.
Dispatch is the only email application I tried that includes sounds as part of its design. Swiping across an email in the list view to reveal the action panel results in a metallic click sound. Swiping further, to execute the quick action of archiving or deleting a message, results in a slightly different clink sound, almost like very faintly tapping a spoon on a piece of glass. Software sound design is a matter of personal taste, and some people choose to turn sounds off altogether, but I'm a fan of great sound design, and Dispatch's sounds give me a pleasant, almost tactile feedback when culling my inbox. I'm not as big a fan of Dispatch's new mail sound, a strange sort of double blip, but it's inoffensive enough that I haven't ever been tempted to turn sounds off altogether (which you can do).
Dispatch has also been designed specifically for iPhone 6 and 6+, adding new thumb-friendly gestures where tapping used to be necessary. While reading a message, just swipe right to left to reply. When you finish typing, you can swipe down on the screen to add more recipients. If you're ready to send the message, you can just swipe right to left. You're notified of this action by a red circle that slowly forms itself around the send icon in the upper right corner.
Finally, by far my favorite new feature of the iOS 8 update of the app is actionable notifications. Now, when emails come in, you can quickly act on them from the lock screen, notification center, or by dragging down on a banner at the top of the screen. You have two options: you can archive the message right from the notification, or, if you tap "Reply," you're taken directly to the body of the message to which you're replying.
Quibbles
It's worth noting what features Dispatch lacks in comparison to the competition.
First, unlike most of the other email apps available, Dispatch has no iPad version. It also does not support Exchange email accounts (which are supported by myMail, Seed, and Boxer). Its search function allows for advanced searches of both your inbox and your archive folders (searching by sender, recipient, subject, or message content), but it seems a bit slow in comparison to apps like Mailbox and Gmail. You can attach photos to an email as you're sending it, and you can attach links to Dropbox files if you have Dropbox on your iPhone, but you don't have the more advanced option provided by Mailbox to attach an actual file from your Dropbox folder.
There also seems to be a bug in the way Dispatch displays certain emails that contain responsive web elements. Text and images in these emails get squashed in strange ways that I don't see on other apps.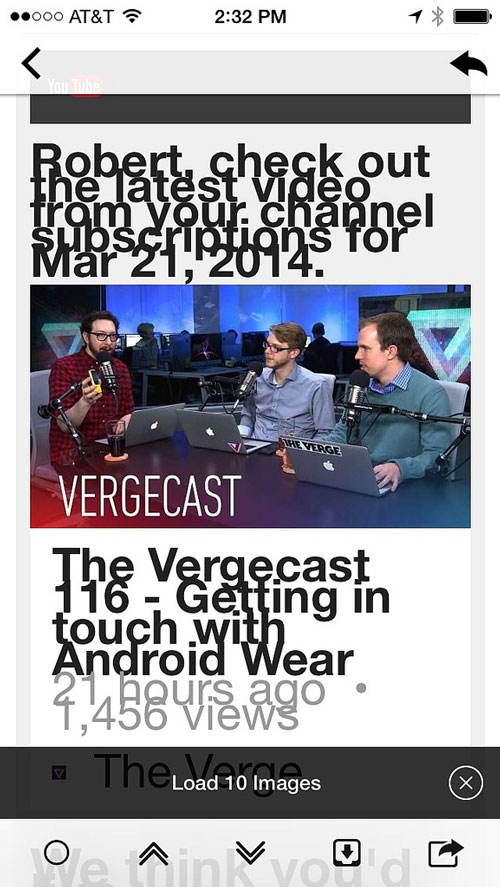 So far, this hasn't been a big issue for me because I don't subscribe to a lot of these types of newsletter emails. I reached out to the developers of the app, and they wrote back to confirm they are aware of the issue and it is something they hope to refine in future.
Conclusion
Speaking of sandwiches, Merlin Mann used the metaphor of a sandwich-maker in his original Inbox Zero talk to describe how we should think about our relationship to email. A sandwich-maker doesn't look at his stack of orders piling up and think about how to organize them or how to add them to various folders or lists within his sandwich order system. He just turns those orders into sandwiches.
Email is a medium for communicating messages. Our goal with each email we read should be to liberate the meaning from the message and make something happen in the real world. As Mann says, "Once you've mined the gold out of your email, it's a dead skeletal husk and you can throw it away."
With the advent of sharing extensions, I wondered if iOS 8 might make apps like Dispatch obsolete, but so far that's certainly not the case. Dispatch is still the best app for sharing the content of email messages with apps like Omnifocus, Evernote, Fantastical, and many others, and it just keeps getting better. This update is free for existing users. Otherwise, the app is well worth the $7 price tag.
Dispatch is the best email app for the iPhone because it's the best app I've found for mining out that gold, for scooping out the meaning of the message, and using the rest of my software arsenal (Evernote, Omnifocus, Fantastical, Due, etc.) to manage that meaning in my real life.
$6.99
For a powerful iPhone (and iPad) email client, Dispatch helps you manage your inbox and act on emails with ease.
App Store

$6.99