Apps for new iOS devices
December 25, 2017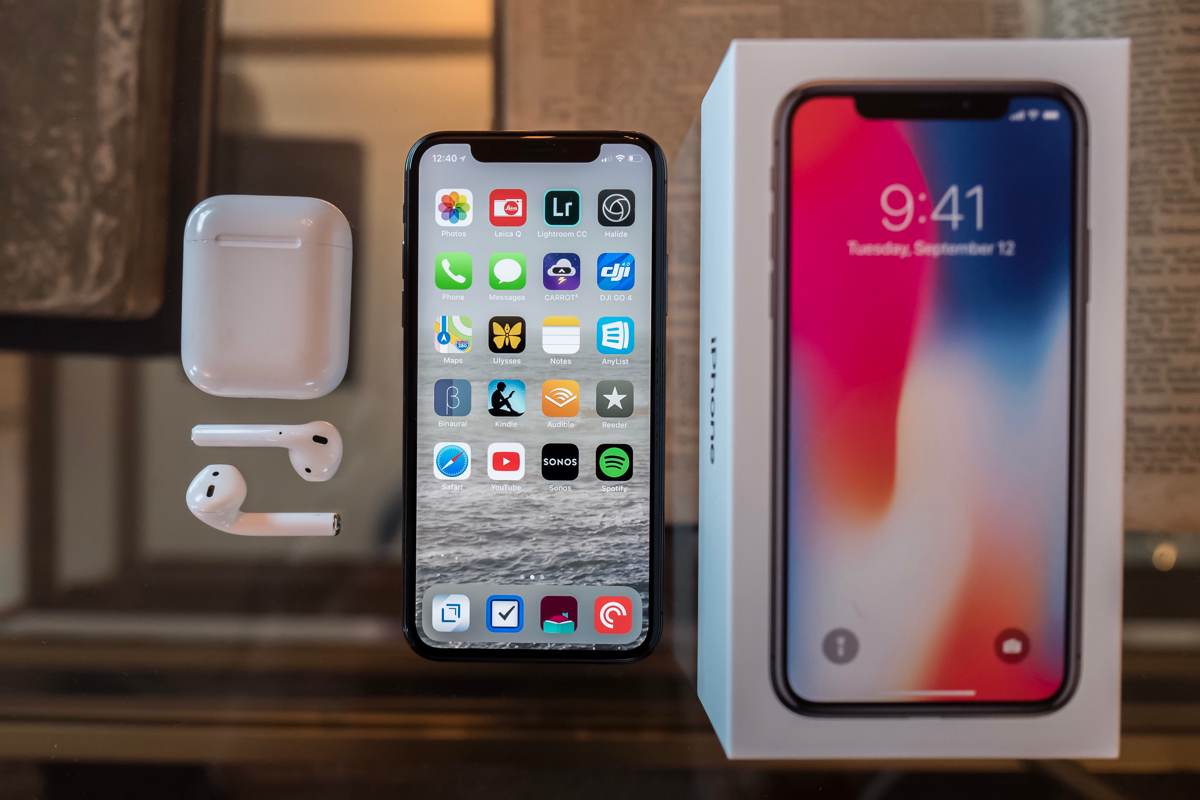 The Christmas season is a time that many of us unwrap new iPhones, iPads, and iPods. Anytime I get a new device, I always take a look around to see if there are any new apps that can help make my mobile computing life better. Throughout 2017, we constantly looked for the best of the best. Here are a few of my favorites:
This weather app is really fantastic, which is why it is our pick for best general purpose weather app. It has a great interface, is highly customizable, and has a lot of personality. It's $3.99 on The App Store, and there are a few in-app purchase memberships for additional features.
Our go-to scanner app, Scanbot, continues to be the easiest and most reliable scanner app for iOS. Even with some built-in scanning features in iOS Notes, I still rely on Scanbot to help me track expenses while traveling. It's a free download on The App Store, and you can unlock additional features with various in-app purchases.
If you are looking to reset your body after a fun Christmas season, I would look at Zero. Zero is a 16-Hour intermittent fasting app. This form of fasting was made popular by Hugh Jackman and Dwayne Johnson as a daily fast to trim extra pounds. It's pretty simple — you simply fast from dinner to lunch (nothing except water and black coffee).
I was skeptical at first, but I've been surprised at how well I've felt. It's a free download on The App Store.
Screens is my favorite remote access solution for macOS and iOS. The iOS app allows you access your Mac from an iPhone or an iPad. The Mac version allows you to control another Mac remotely.
While remote access can sometimes be tricky to set up, the free Screens Connect service allows you to avoid forwarding ports or setting up a static IP address.
Screens can be downloaded on iOS for $19.99 and on macOS for $29.99.
Deliveries has been my favorite way to track packages for many years. With three kids and a full-time job, I rely on online shopping for everything from fun to essentials. Deliveries makes tracking all my orders a breeze.
Download it on iOS for$4.99 or on macOS for $4.99.
While the app comes built-in to all iOS and macOS devices, Apple Music is a great addition to any new device. With access to over 40 million songs, support for Apple Watch over LTE, and access on Apple TV, an Apple Music subscription makes a lot of sense for iOS and macOS users. It's only $9.99 per month or $14.99 per month for a family plan (up to 6 people).
Record Bird makes it incredibly easy to get notifications when your favorite artists are releasing new material. While Apple Music appears to have this built in, I have yet to get a notification. Record Bird has worked every time.
It's a free download on The App Store.
Runkeeper is the app that has been on my iPhone the longest of any device. I've tracked over 600 runs with it since 2010. It has a great community, plenty of training plans, and does what it needs to do. It makes it easy to track your distance and your pace.
Download it on The App Store for free.
I've used Yahoo Sports since it was Citizen Sports back in the iPhone OS 2.0 days. It features a clean design, customizable push notifications, relevant news, and in-depth results for your favorite games.
Download it on the App Store for free.
Square Cash is the best way to pay friends and family back for Christmas expenses. If you need to settle up for food or gifts, I highly recommend Square Cash.
It can be downloaded for free on The App Store.
If one of your children got a new iOS device for Christmas, I would recommend checking out curbi. It uses VPN technology that allows you to control and monitor what your children are doing on their devices.
Download the curbi parent app for free onThe App Store to give it a shot.
Formerly known as Cloak, Encrypt.me is my favorite VPN service for macOS and iOS. Encrypt.me has a killer feature: it automatically connects and disconnects based on the Wi-Fi network you are connected to.
Here is how this might work in real life: Your home network and your work network are set to trusted. When you are connected to those networks, VPN is off. When you visit your local coffee shop, Encrypt.me will automatically connect and secure your connection. When you leave that Wi-Fi connection and switch back to LTE, Encrypt.me will disconnect (you can set cellular connections to untrusted if you want).
It's a free download on The App Store, but it does require an active subscription. Weekly passes are $3.99, monthly passes are $9.99, and a yearly pass is only $99.99.
Dark Room is the best photo editor for iPhone. It combines the best balance of power, ease-of-use, and frequent updates. If you've taken a bunch of pictures over the holidays, Dark Room would be a great addition to your iPhone.
One of the best things about the app is that it doesn't try to create its own photo library. It simply taps into your built-in camera roll.
It's a free download on The App Store, and there are various in-app purchase upgrades.
If you have been traveling internationally during the holidays, I highly recommend you download the Mobile Passport app. When I traveled to Belize earlier this year, it saved us hours in the customs/security line at the Atlanta airport.
It's a free download on The App Store.
Overcast is the best podcast app for iPhone and iPad. I've used a ton of iOS podcast apps, and I always come back to Overcast. Even the iOS 11 upgrade of the built-in app can't overtake Overcast.
Overcast has a very easy-to-use interface, has seen frequent updates, and it's available as a universal iOS app and a web-based player. I love the smart speed and voice boost functions as well.
It's a free download on The App Store, and there is an optional premium upgrade to disable ads and unlock additional features.
If you aren't satisfied with the built-in calendar app, I recommend you check out Fantastical. It's the best third-party calendar app for iPhone. You can easily add new entries and view your upcoming appointments in an easy to scroll list-view.
If you like it, I would recommend checking out the macOS version as well.
Fantastical 2 for iPhone can be downloaded for $4.99 on The App Store.
I think that YouVersion is the best Bible app for iOS. It's free, has a great design, tons of translations, built-in audio Bibles, access from almost any device (with note syncing), and is frequently updated.
January is when a lot of people set goals to read the Bible more, so grab YouVersion for free on The App Store if you want to get started.
Wait. There's a Bonus….
Custom Productivity Templates
We have a set of custom productivity templates that work well with the iPad app, GoodNotes. And if you want to try them out, we've put together a free guide that can help you.
We'll show you…
How to create and save custom page templates in GoodNotes.
How to use those page templates to transform GoodNotes into your own productivity notebook (or any other type of notebook replacement).
Plus, we also have included a couple of our custom productivity templates for you to get started with. These templates are right out of our popular productivity course.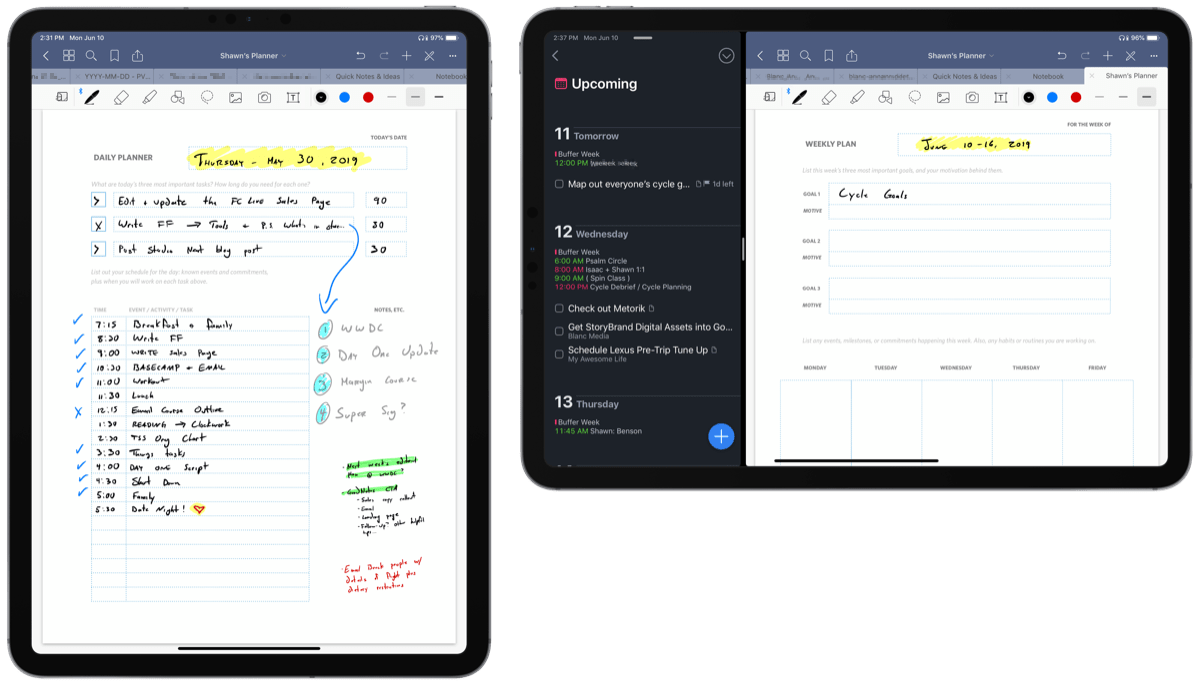 The custom templates and the guide are available for FREE to our email subscriber community. And you can get it right now. By joining the Sweet Setup community you'll also get access to our other guides, early previews to big new reviews and workflow articles we are working on, weekly roundups of our best content, and more.