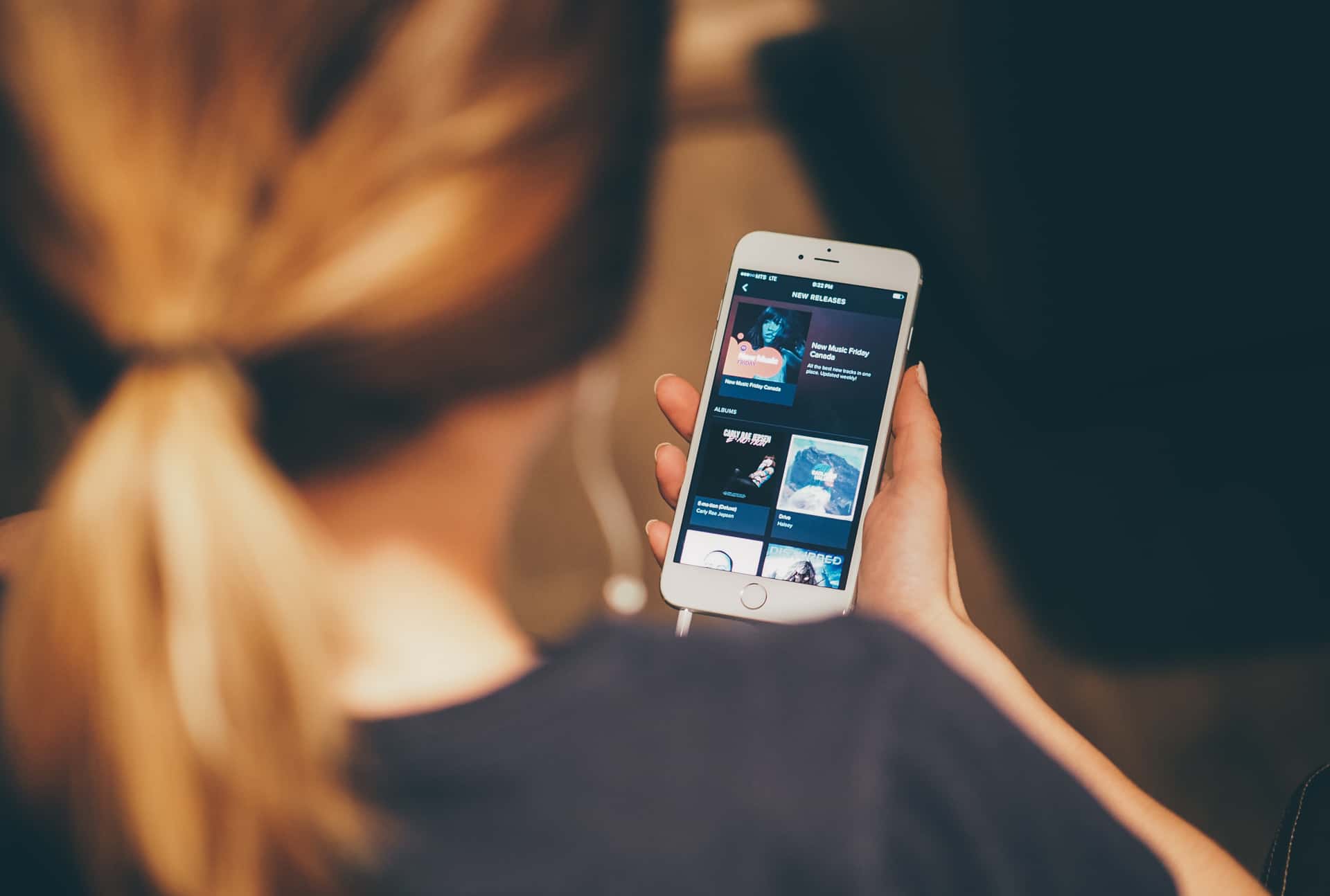 The best music streaming service
Spotify
May 2, 2017
Spotify is currently the best option available for an on-demand streaming music service. It has the features, the users, and the catalog to back up that claim.
It's a hard thing to define exactly, but in 2014, streaming music was still a novelty. Now that Apple has debuted Apple Music, it's safe to say the age of streaming music is finally here.
There's a small chance on-demand streaming music won't ever catch on with the mainstream population — that the monthly costs will be too preventative in some way — but, for better or worse, this is streaming music's time in the spotlight.
 
Nearly every top technology company has an offering in this space, and they all vary slightly from each other in features and cost. Some music streaming services are free and thus don't require as much commitment — for example, SoundCloud or Amazon Music (for Prime subscribers).
There's also Apple Music and Google All Access, which are paid choices and want to be your only option. They try to do it all with storage of personal music in an online locker, as well as some form of Internet radio, with both complimenting an on-demand song selection.
Then there's Spotify, which rides the line of paid and free and can be used as haphazardly as you'd like. Because Spotify restricts full access for mobile usage, it's hard to consider it a free option for those interested in truly on-demand music streaming, but it might suffice in a pinch — or to test the waters.
These different pricing tiers make it a little tricky to select only one option for all users interested in the best streaming music solution. We're still going to try to help you narrow the selection down as best as possible and highlight services with great free features to help supplement paid ones.
A note to readers: The streaming music space is increasingly volatile. There are constantly new features being released and there will inevitably be service consolidation sooner or later. A small part of recommending a music service, similar to the case with a photo service, is also to limit the risk of needing to switch to a different service because of acquisition or loss of funding.
The pick: Spotify
If you've never subscribed to or used an on-demand streaming music service, our recommendation is Spotify.
Spotify is the go-to choice right now because it has nearly every feature other services have, it has the most users (your friends,) plus it's gotten really good at what it does.
Apple Music is a very close second and is extremely promising, but lacks some features and has some software bugs out of the gate.
Not only is Spotify the best option, but it's the service least likely to call it quits on music anytime soon. You may want to switch at some point, but it shouldn't be because you're forced to change music services.
Spotify has a free tier that makes it easy to jump in and try it. Spotify has also been running a promotion that will give you three months of premium service for $0.99.
Who is it for? Spotify is taking the Netflix approach and tries tobe available on whatever platform you use — even the web to some extent. It will most likely remain the default choice for anyone not quite sure what they specifically want to get out of their streaming music service.
For those reasons, Spotify is the streaming music service to beat. It's the company betting on streaming music for survival, rather than a value-add proposition. Spotify's also been doing this for more than 8 years, trying to bring free and paid streaming music to the masses.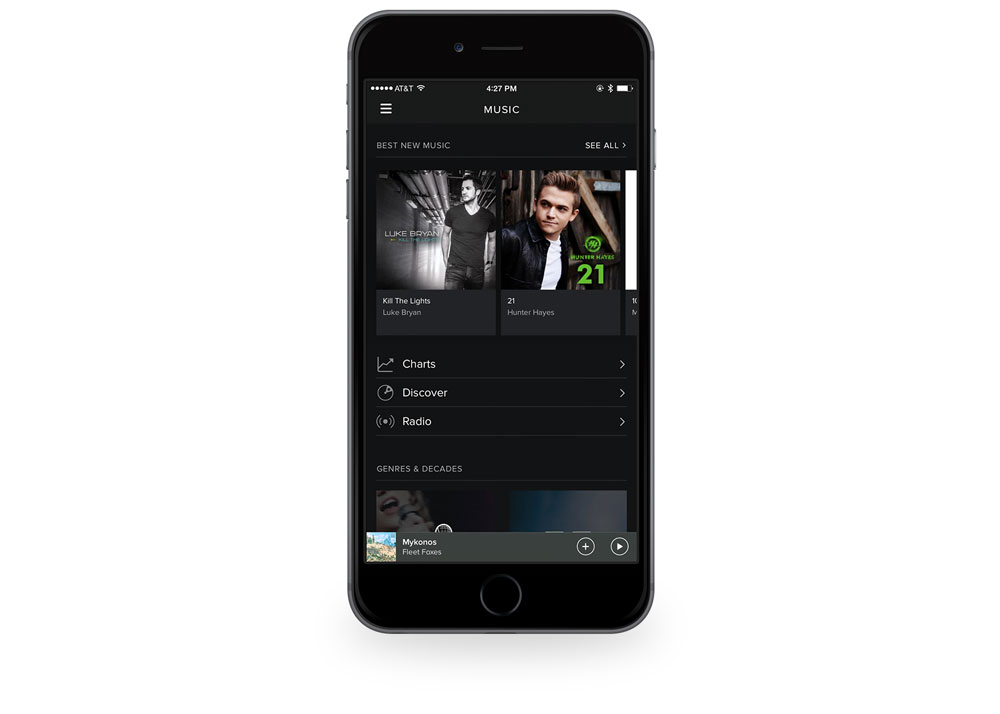 You won't find Taylor Swift's music on Spotify, but you will find nearly every other artist that's available to stream on all the other services. Plus, like each service, it has its own set of limited exclusives and Spotify Sessions for certain artists recording versions for the company.
Spotify offers on-demand streaming music, algorithmic Internet radio, and user-created playlists, among other features. Spotify's radio service may pale in comparison to Apple's celebrity-laden DJs, and has never really been championed by anyone, but it will keep music flowing if that's what you need. If you are interested in manually digging in and discovering new music, you can search based on mood, new releases, and recommendations based on your listening history.
If you're less interested in doing the work, Spotify now features a personal "Discover Weekly" playlist updated for each user every week. The Discover Weekly playlist has been widely praised for its song selections, despite being powered by an algorithm.
Since most of the top-tier music services have a roughly equal catalog of music to choose from, Spotify's main advantage is its brand recognition and large user base. However, if you manage to discover new music, sharing it still remains a pain. Since Spotify has a free tier that is currently used by the most people (75 million worldwide as of June 2015), sharing a Spotify link has the best results. The company's embeddable playlists remain as frustrating as Adobe's Flash, but the communal aspect Spotify holds is nothing to sneeze at.
Spotify is available for free (with ads) on the desktop, or for $9.99/month for the ad-free version. If you don't pay, you'll gets ads on mobile as well, with the additional penalty of having albums play their tracks out of order. The Spotify Family Plan includes up to six individual Spotify Premium accounts for only $14.99 a month.
Spotify Apps
Spotify's desktop experience isn't a shining example of how to build an app. The design is horrendous, the layout is clunky, and the app doesn't have great performance. Like iTunes, it is what it is and if you want to listen on the desktop, you're pretty much stuck with it. The web version requires Flash, so that's a non-starter for many users.
Spotify on mobile is little different story. The Android and iOS versions are decent. While I have some minor complaints about the layout and colors, it works fine.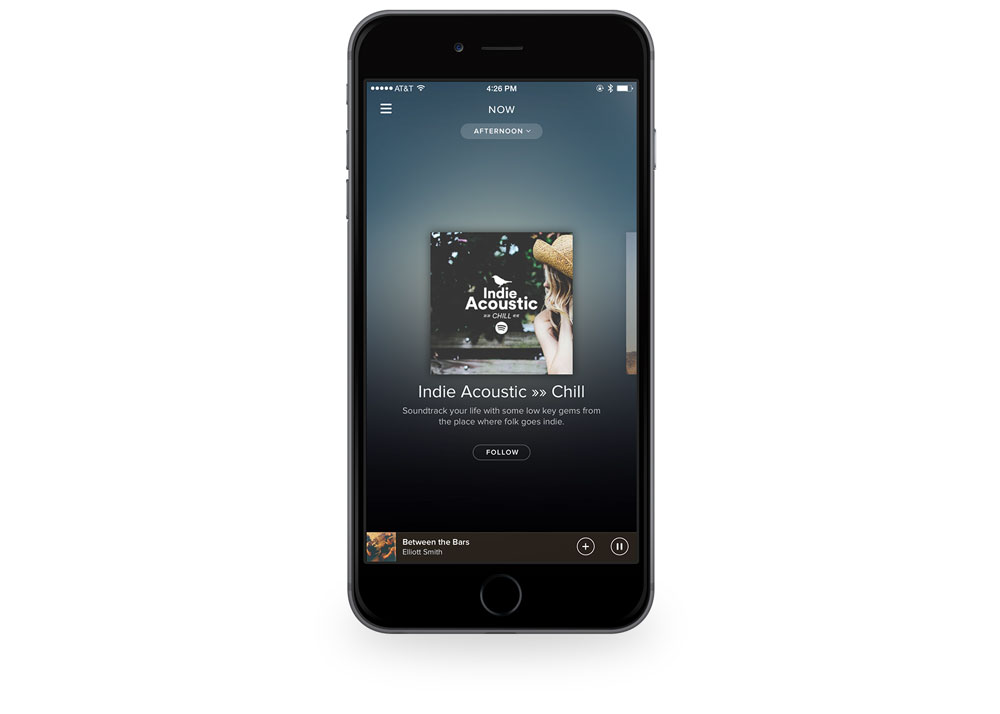 Spotify also has an extensive relationship with third-party developers. This means that lots of apps can use, or might need, a Spotify premium account to do cool things with the service's catalog of music. For example, Pacemaker is a fun DJ app that lets you remix any song in Spotify's collection if you're a paying subscriber.
This type of support may or may not seem like a big deal in theory, but it's kind of like the iOS and Android app situation. After a while, all of the buzz of apps being released on iOS first generates a reason to consider switching.
Sonos support is another reason to keep paying the monthly Spotify fee. It's great to have unlimited music access on your phone or computer, but having it on high quality wireless speakers in your home is amazing.
Spotify Issues?
Spotify has some of its own quirks and issues, like the fact that you can currently only add 10,000 songs or albums to your library before it will start rejecting new additions. This limitation has been known for awhile, but as of right now has yet to be changed.
On August 20, 2015, Spotify released an updated privacy policy that caused quite a stir due to the personal and uncomfortable level of personal data it wanted to collect. This has since been updated and clarified to better indicate what data would be used and in what ways. After the company's follow up, there does not seem to be any reason for concern about malicious intentions.
Spotify has been around a lot longer though and it's had time to address any critical flaws it once had.
Other paid options
---
Who is it for? The Apple user (Mac, PC, iOS, Android, and Apple TV) who wants to mix paid and streaming music
Apple is entering year two of its foray into the streaming music space. After a rough start in year one, iOS 10 brought a much needed visual overhaul. With access across iTunes, iOS, Android, and Apple TV, it's a great option if you are an Apple household.
Unlike Spotify, there's no free tier; it costs $9.99/month for access to on-demand music streaming or $14.99/month for a 6-person family plan. Apple currently offers a three-month free trial which should be ample time to figure out if Apple Music works well for you. There's also a discount available to college students.
What makes Apple Music unique to Spotify? At its core, the streaming services offer roughly the same thing. Access to tens of millions of songs for a low monthly fee with options to download offline. The major difference that Apple Music brings is the ability to mix purchased, ripped, and streamed music in one library. Spotify has the option to add your iTunes tracks to your Spotify library, but it's a simple matching method vs matching + uploading (no custom concert rips, etc). If it can't match it, you can't use it.
Apple Music Apps
While iOS 9's version of Apple Music left a lot to be desired in terms of simplicity, iOS 10 brought a fresh approach. Connect has been demoted, while My Library has been given a top spot to the left. My Library is where you can access anything you've saved. This includes playlists, artists, and albums. I love the dedicated "Recently Added" section.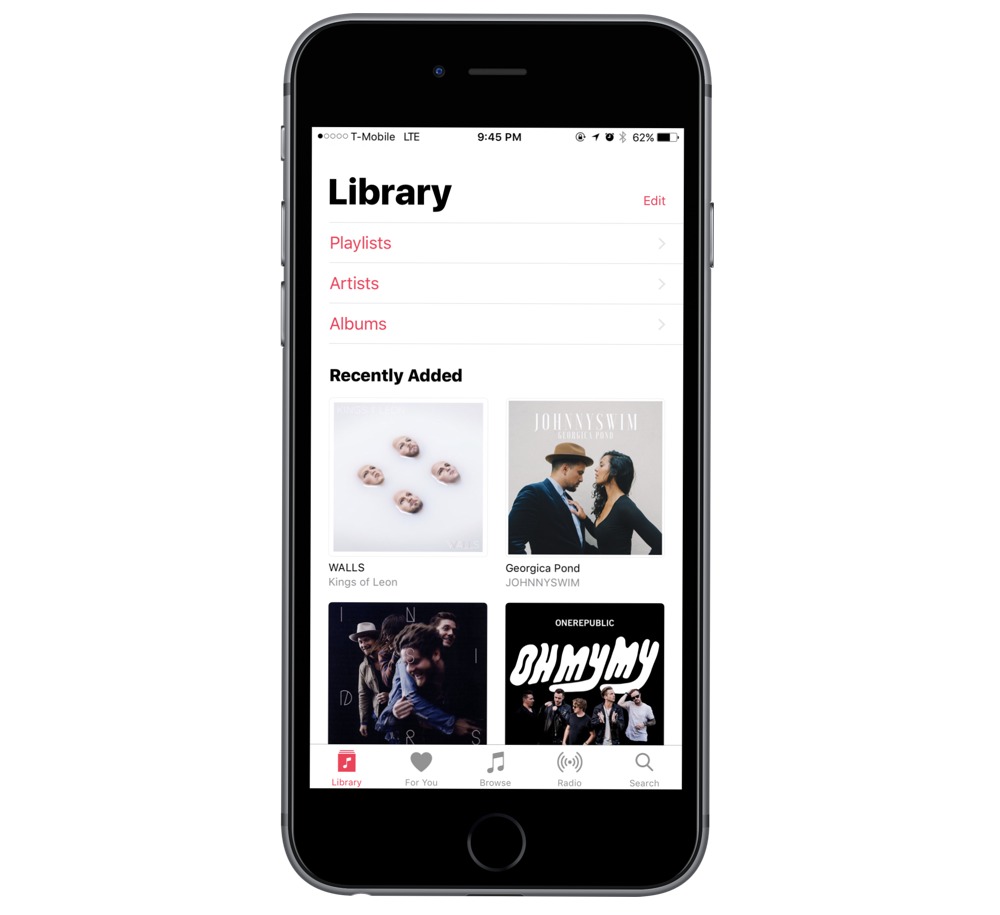 The For You section contains things you might like, which is based on your past listening and current library. It contains a New Music Mix (updated on Friday) or a Favorites Mix (updated on Wednesday). These are playlists I have used quite a bit since the iOS 10 launch. It also contains other albums and playlists it thinks you may enjoy. I've found that aspect of it to be passable, but not significant overall.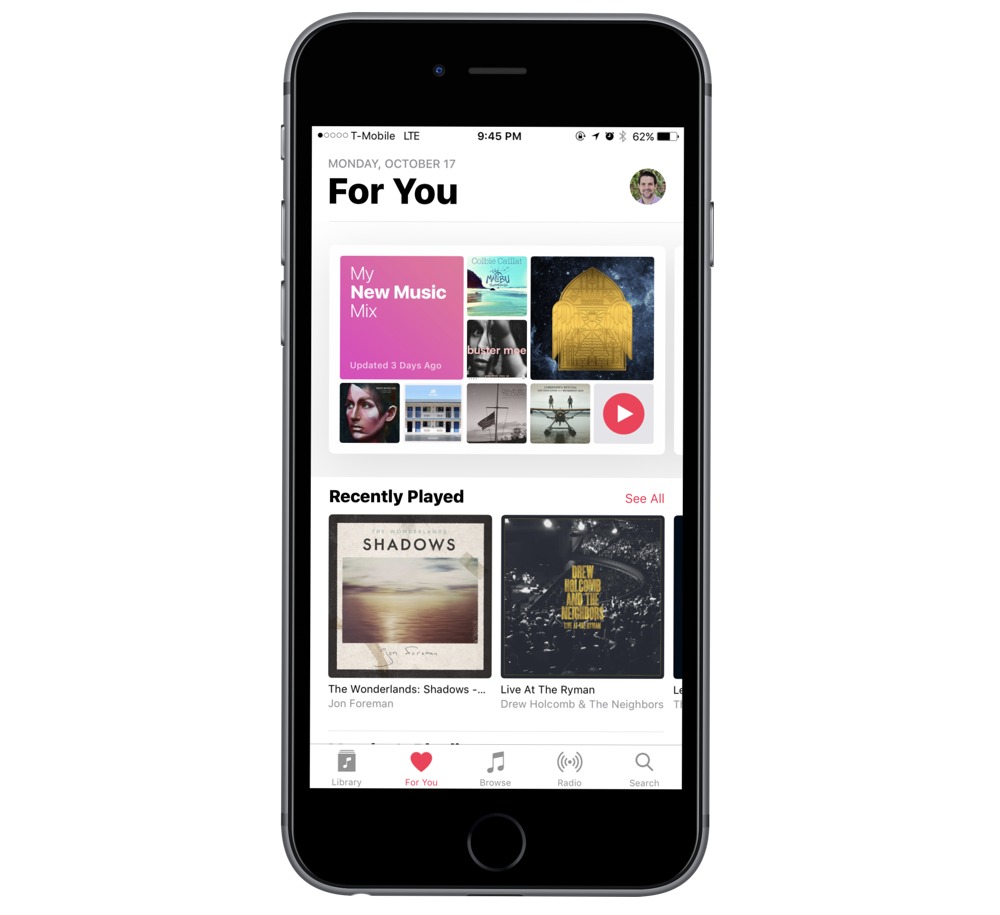 Moving to the line of the next section, the Browse tab is where you can find new music based on charts and playlists. Apple provides activity playlists (workout, BBQ'ing, etc), along with top playlists for genres (singer/songwriter, alternative, etc). Many of them are frequently updated, and I have found some of them to be fantastic.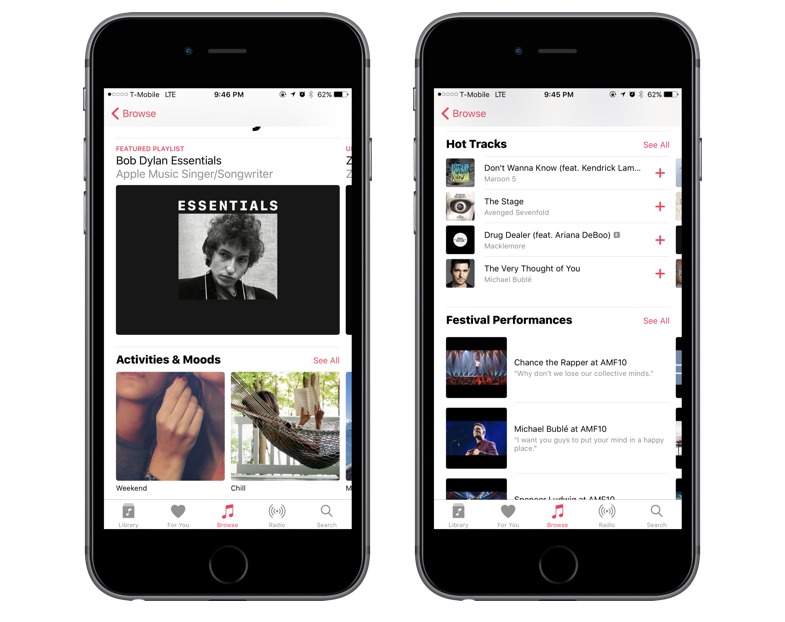 Radio is a mixture of Beats1 and customized stations. While a lot of the novelty of Beats1 has worn off for me (I find it rarely plays genres I enjoy), I do believe in the model. I am hopeful that additional radio stations come alive in the future. You can also create a custom station based on individual artists as well.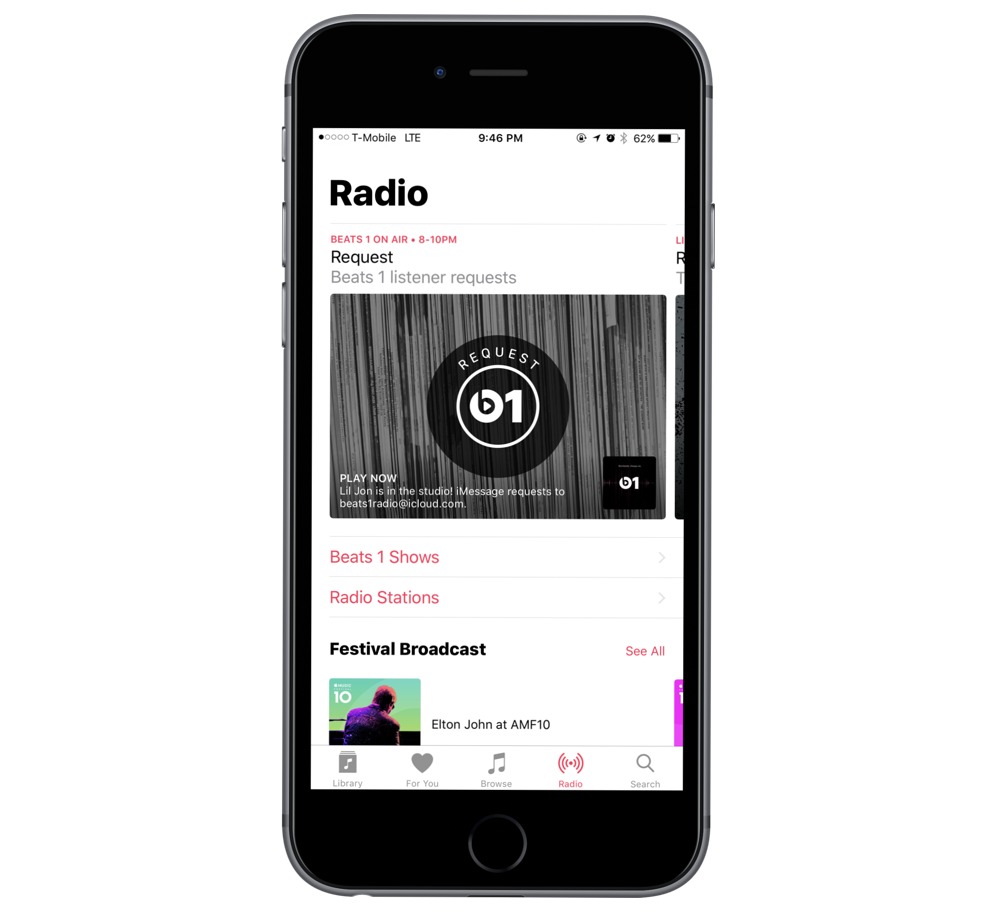 The Search tab does what you'd expect. If you want to find something, you can most likely find it here.
The last aspect of the iOS apps I want to cover is the Now Playing screen. Overall, the iOS 10 version is a huge improvement for me. The only thing that took a hit was the fact that I can no longer heart a song with one tap. I have to hit the ellipses in the bottom right, and then tap Love. I find myself not "liking" and "disliking" songs as often because of this. It's also a bit confusing to locate the shuffle and repeat options (hint: you pull up from the bottom).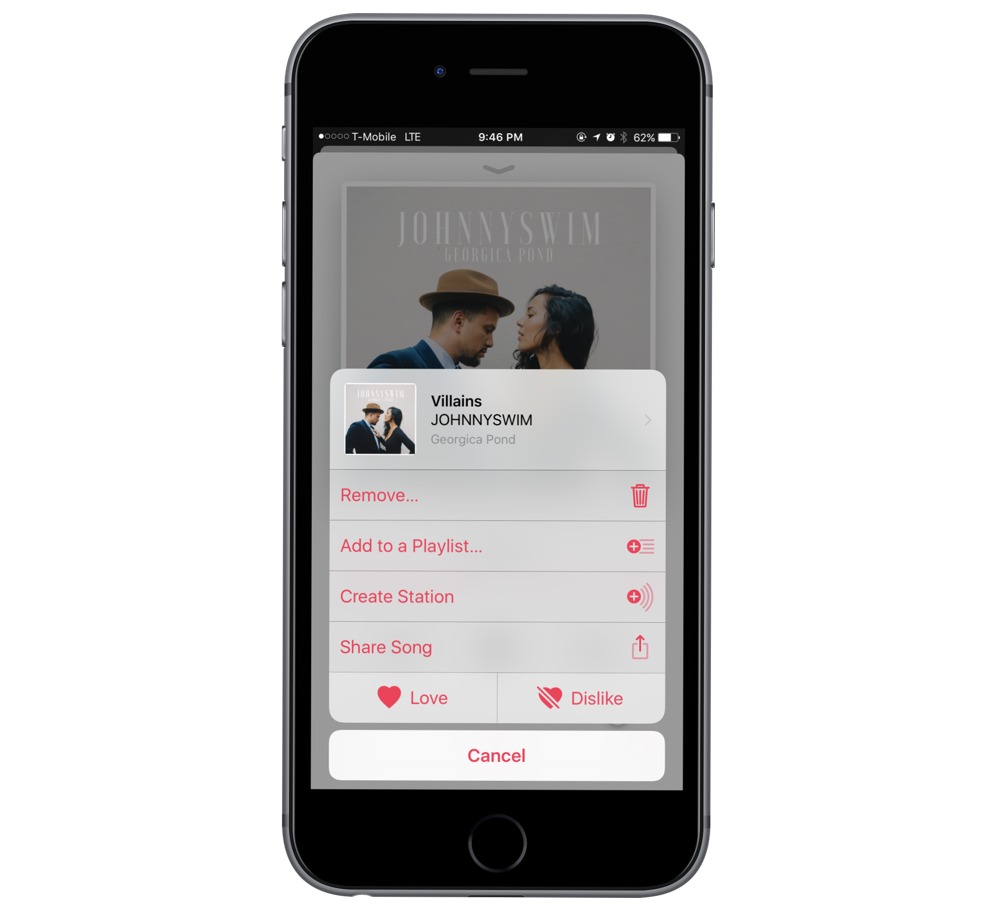 The Mac and PC versions that live inside of iTunes have gotten a lot better, but I'd still prefer to see a ground-up rewrite of iTunes that makes Apple Music the center. The Apple TV app does what you'd expect. The features I described above are largely the same for tvOS. Having a service that works across all my devices is an incredible experience.
One of the biggest issues with the original launch of Apple Music was how it fell apart on one of the key aspects: uploading your existing library. It relied on simple metadata matching which lead to awful results. I don't have that complicated of a library, and I ran into quite a number of issues (mismatched songs, etc). Thankfully, that problem is now solved. With iOS 10, Apple is using audio finger printing to determine which tracks need to be uploaded. This feature has been rock solid for me.
While Spotify might provide a better pure streaming experience, Apple Music does a great job of mixing purchased, ripped, and streamed libraries. While this does add some complexity, it largely does what it sets out to do. If that's what you want out of your music service, Apple Music will fit the bill.
Who is it for? Google Music makes the most sense for the dedicated Android user, but it may be the sleeper service that just can't get the recognition it deserves.
This question could backfire, but, when was the last time you heard an artist, record label, or random person on Twitter mention Google Play Music All Access? Part of the problem has to be the name, but Google's problem in the music space is brand awareness. I know people use the service, but not nearly enough.
Google Music — what I'm going to refer to it as — is one of the most interesting music services available right now. It offers free cloud storage for your personal library so you can upload ripped or purchased music and stream it back anywhere — at no cost. This is Google's equivalent of iTunes Match. As an added benefit, even if you don't subscribe to Google Music's on-demand features (which run $9.99/month), you could still use this for your personal music and a different streaming service to have unlimited access to all the latest songs.
Its Internet radio is a cut above the rest because of its addition of Songza, which is the music service that recommended music based on circumstances like mood, time of day, or event, rather than just by genre.
One of the areas Google Music does suffer is in the playlist category. The service has playlists, of course, but they aren't present throughout the on-demand interface. You can create your own, but they are second-class citizens to the radio function.
Another interesting choice is the lack of sharing buttons throughout the interface. If you drill down to a song's landing page in the mobile app, you can find a way that offers sharing, but the quick links (represented by …) mostly point toward starting radio listening. Even on the web, Google Music's main "app," sharing is not emphasized with only "get link" and "Google+" as the options. For most people, this doesn't offer the sharing methods they typically use.
This could be a big reason for the lack of people talking about the service and sharing links to songs. If sharing was easier, I think the service would gain more awareness.
Google Music Apps
Google Music on mobile (iOS and Android) is a joy to use. The company's material design language is perfectly suited and all the features are easy to find and use. The problem is that features like playlists and sharing don't seem to be a priority for Google.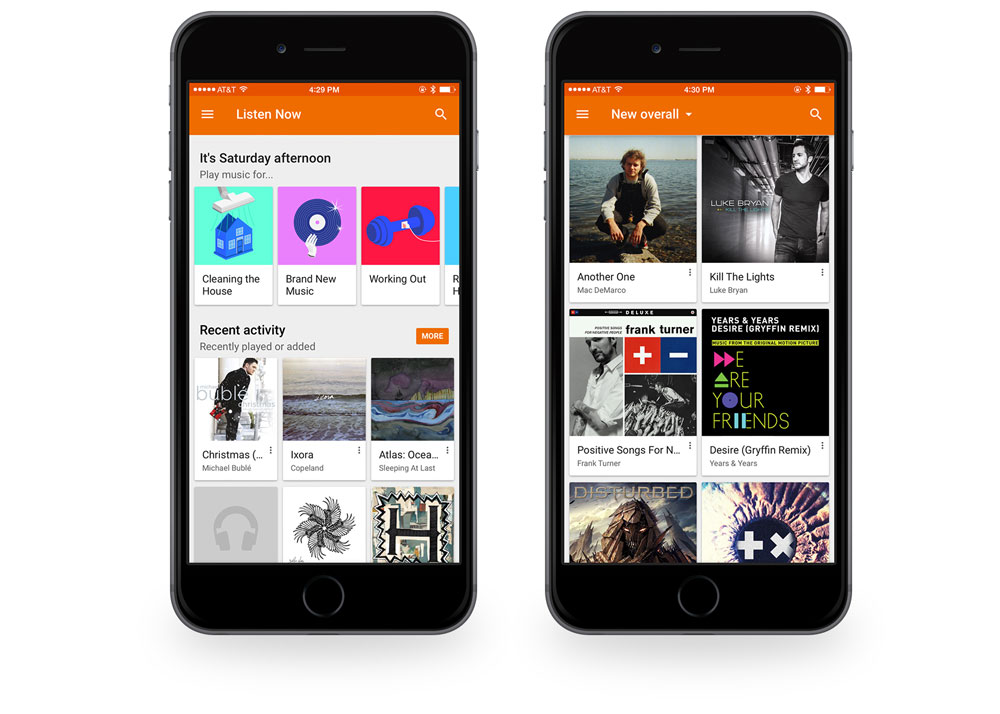 Mobile is not Google Music's problem; the biggest concern is the main web app. It appears to be a scaled up version of the mobile experience, which isn't as bad as it sounds, but requires Flash, which will turn many users off.
One of the coolest features is probably using Google Music's Android app with a Sonos speaker. You can play music on the speaker system outside of its first-party app, acting sort of like Bluetooth or AirPlay — though its neither of those. You can use the Google Music app to control the Sonos speakers, so for those that don't like the Sonos app, it becomes a compelling feature.
Google Music Issues?
Google Music gets the big picture right, but it's the finer details where the music service gets frustrating beyond casual use. One recent issue was with an update to its mobile app which seems to have deleted some user's downloaded music, according to App Store reviews. Another update that began highlighting radio over things like playlists also caused user backlash, but that's more of a calculated move forward.
Amazon Music is one of the newest entrants into the increasingly crowded streaming market. For Prime members, it's only $7.99 per month, so it is certainly one of the cheapest options out there. A family plan is $14.99 per month, which is inline with other providers.
In a lot of ways, it's a blend of Apple Music and Spotify. It uses a dark interface (like Spotify), but has a similar layout to Apple Music. The iOS app great, but it doesn't have a native macOS app. It relies solely on a web app. Thankfully it doesn't use Flash.
It checks all the boxes of being a great service, but it's hard to see why you'd pick it over Spotify or Apple Music. The price is certainly a bit cheaper, but it doesn't excel above the competition at anything it does.
Unless you rely heavily on Fire TV or the Amazon Echo, I'd choose one of the other options. Apple Music is tightly integrated into iOS and macOS, and Spotify has everything Amazon has and more.
You can download the Amazon Music app for free on the App Store.
Free options
SoundCloud is an interesting entry in the music listening space. You can compare it to YouTube as the audio equivalent. YouTube will host your video and make it easy to share — SoundCloud does that for music, podcasts, and other audio.
Because SoundCloud is the audio hosting solution, the amount of available songs varies wildly and usually includes some illegally uploaded tracks. The amount of illegal music has significantly decreased over the years, however, and lots of artists and records have gotten onboard with putting at least a few songs on the service.
One of SoundCloud's main features has been the visible waveform and the ability to comment on specific sections of the song. The comments are usually annoying, but the company has definitely built a brand around the waveform.
SoundCloud's iOS app can be frustratingly minimal, but it's still beautiful. The way it feels like you're sliding the background to scroll through a track instead of the track position marker, exemplifies the app's appeal.
SoundCloud may not yet be a Spotify competitor (there's long been rumors of it being a formal on-demand service), but it's a convenient way to dive into the underground music scene. It's big for certain genres of music, like EDM, because of its independent nature.
The Rest
There are a lot of different choices if the other mentioned services don't scratch your itch. For example, Microsoft has Groove Music which was previously named Xbox Music. It works well if you live in the Microsoft ecosystem, but even then it's hard to recommend to Windows lovers over Spotify.
Tidal will be an interesting case-study one day. The service, which is backed by lots of musical celebrities, is trying to be the artist-friendly music service. So far, it's yet to really prove it can offer musicians much that other services can't. The other differentiator is its high-resolution audio quality as an added top tier at $20/month.
As a competitor to Pandora, 8Tracks goes the other way and relies solely on user curation rather than computer algorithms. Users create playlists based on anything, and then those playlists are available for anyone to listen to.
Deezer has never really gained a U.S. audience the way it did overseas, but it still is worth considering if high-resolution audio is on your must-have list. Deezer partnered with Sonos to offer its high-quality audio, which makes sense because you need good speakers with which to listen.
Conclusion
We expect the music streaming scene to continue evolving every month, but for right now, Spotify is the best pick for most people.