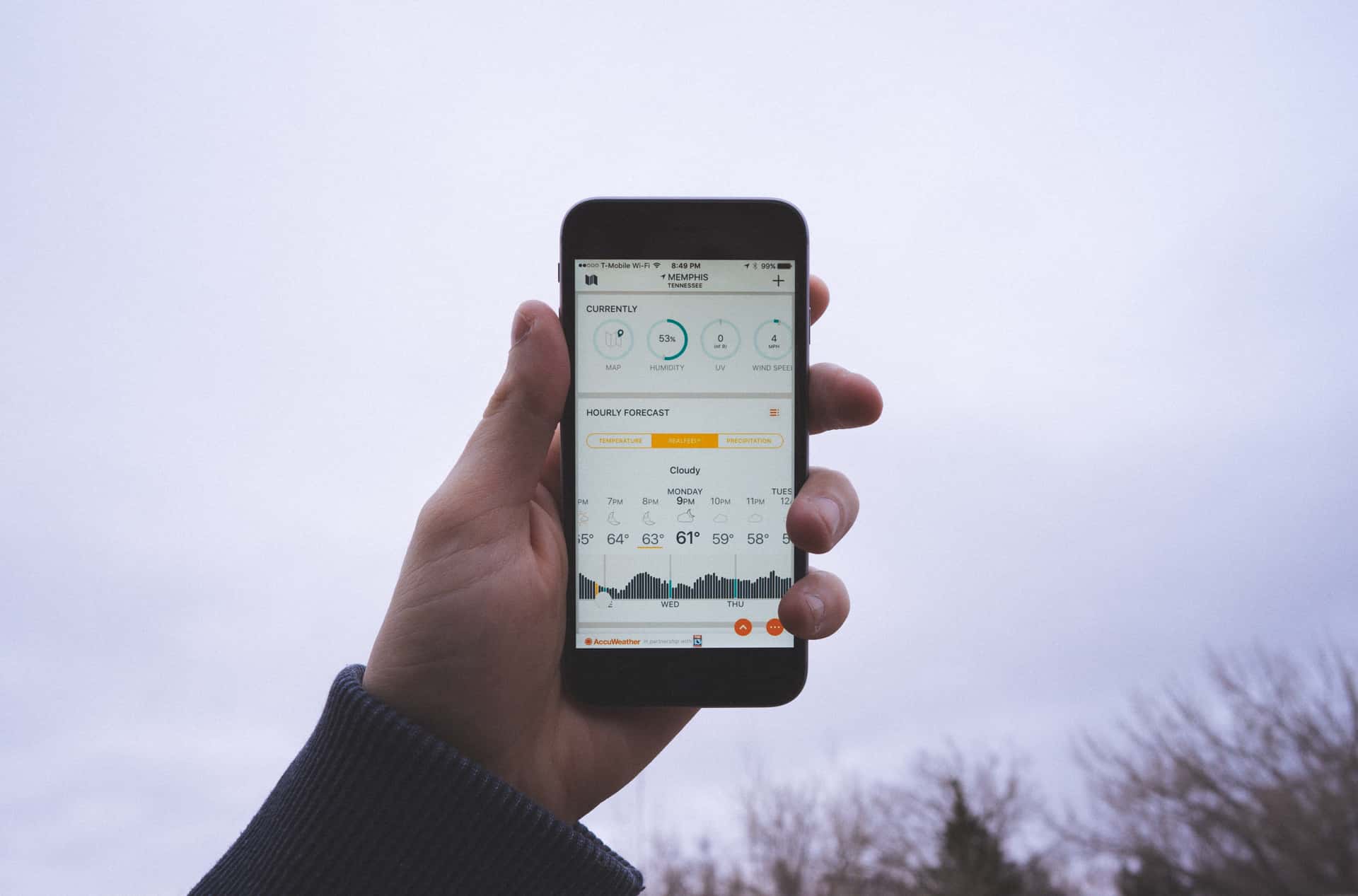 The best general-purpose weather app
AccuWeather Platinum
March 8, 2016
Choosing the best general-purpose weather app is no small task, especially when you consider the thousands of weather apps in the App Store. So, naturally, we disregarded the sheer size of the task and put only the best weather apps to the test. We put 20 popular, general-purpose weather apps through their paces in order to pick the apps we feel are worthy of delivering your weather forecast each day.
It's important to note we're not talking about radar apps here. If you're looking for a swirly, colorful weather map chock-full of precipitation predictions, check out our radar app review.
As for our weather apps, we looked at a handful of considerations:
Design: Is the app pleasing to look at? Is it something you'll want to rest your eyes on each day? Does it stand out?
Ease of use: Is the app intuitive? How hard is it to determine the temperature? The forecast?
Features: What can this app do for you? Does it do anything noticeably better than other weather apps?
Accuracy: Is the weather information accurate? Are you going to walk out into a rainstorm while the app merrily informs you it's sunny and 92°?
Price: Lest we forget there's a free weather app bundled with every iPhone. Any third-party app will need to earn its keep.
Our Pick: AccuWeather Platinum
When it was all said and done, AccuWeather Platinum checked all the necessary boxes, making it our pick for the best general-purpose weather app.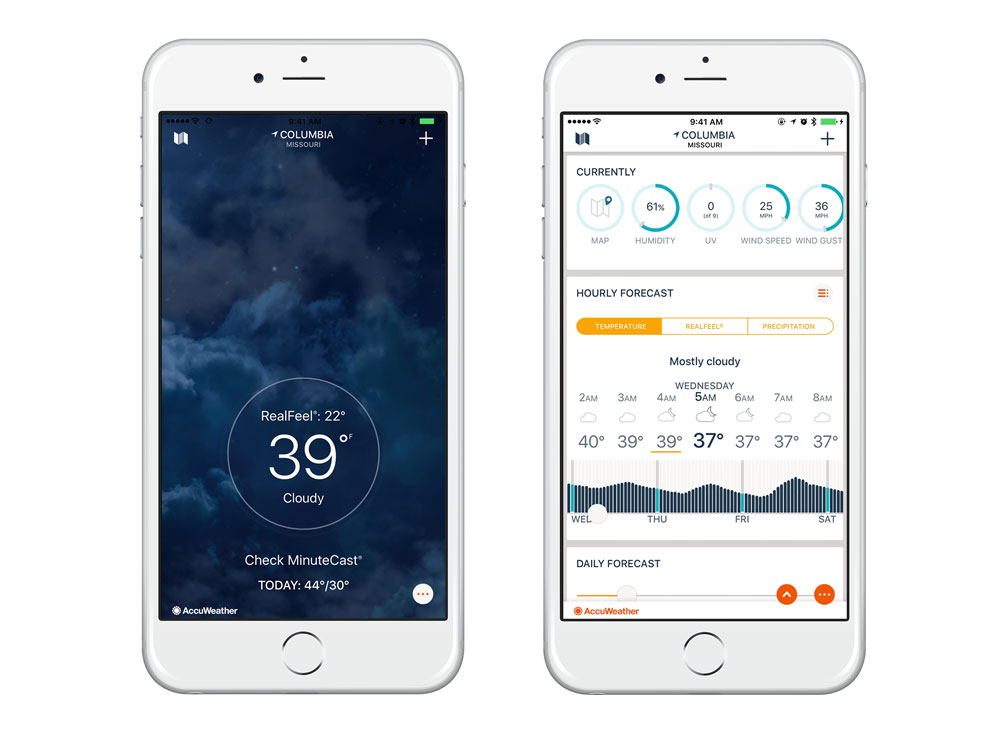 Design
The app's main screen is a sight to behold — especially when you're running it on an iPad. The animated background gives you a quick understanding of what the weather is like. If you want specifics, you can take a look at the actual temperature and RealFeel temperature in the circle on the screen.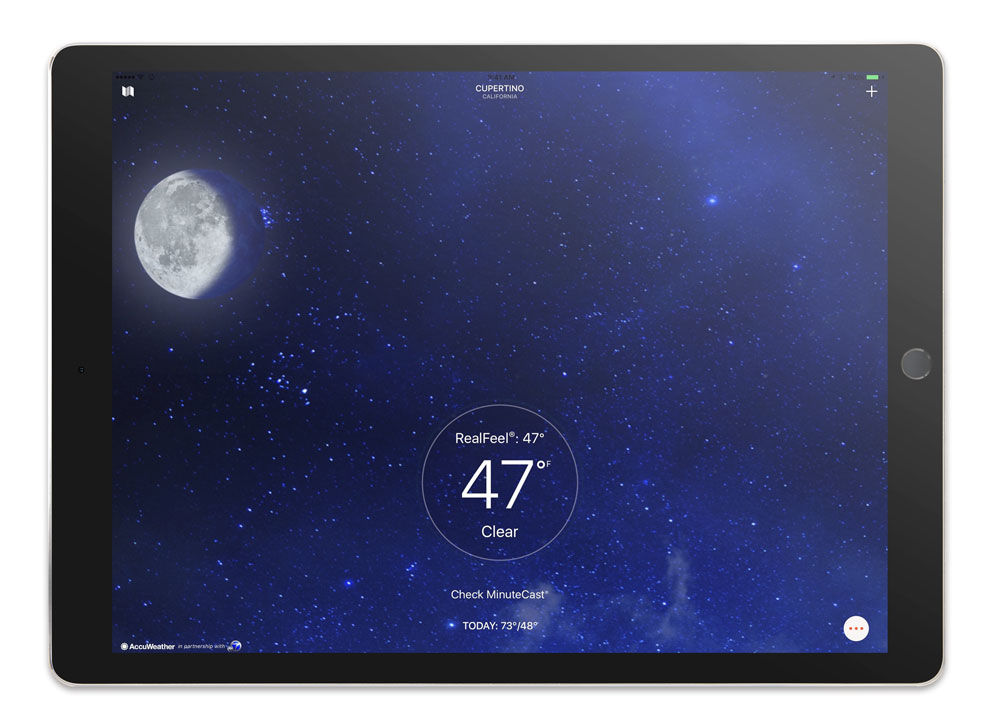 Many of the apps we tried insisted on complicating the main screen by crowding it with unnecessary data. When you open your weather app to, well, check the weather, you should be able to do that quickly and efficiently. AccuWeather Platinum makes this possible.
The app's detailed weather data (accessed via a swipe up from the bottom) is well-organized and easily consumable. Some of the apps we tested let us manipulate the detailed weather data to our heart's content, but it wasn't always clear what exactly we were adjusting. AccuWeather's animations and tooltips served to clarify how and what we were manipulating.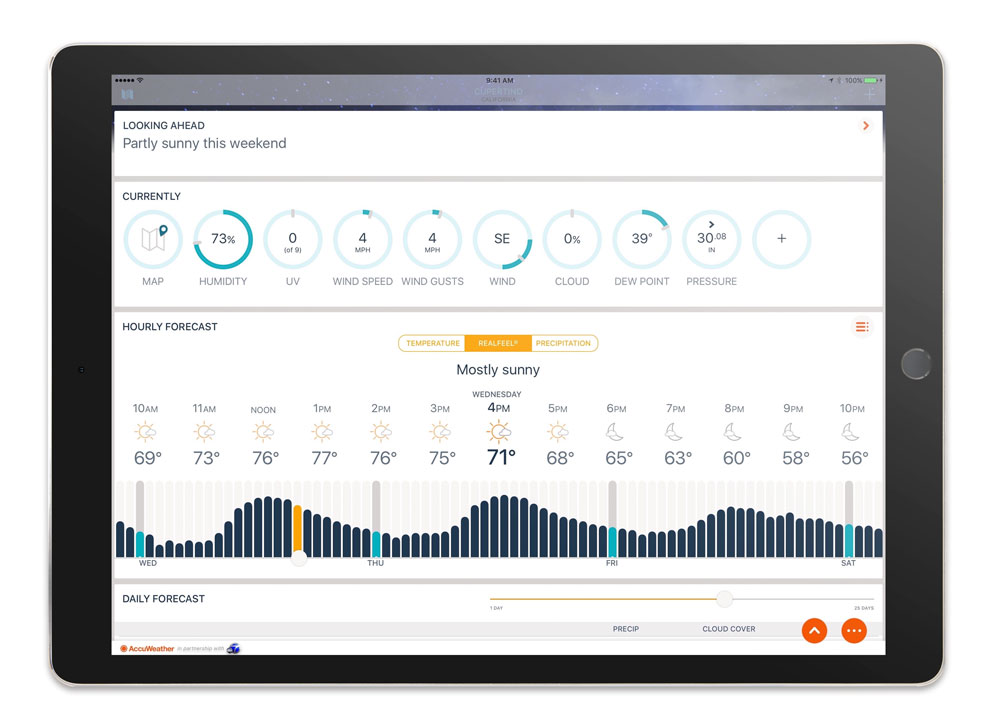 Ease of Use
AccuWeather Platinum's intuitive, easy-to-use interface was an important factor in naming it the best general-purpose weather app. Several of the apps on our list were fun, interesting, and even quirky in their forecasting, but they often focused too heavily on those unique traits, sacrificing usability in the process.
A weather app should be a frictionless tool in your day-to-day life. "Frictionless" happens to be exactly how we'd describe AccuWeather Platinum. The app is designed in such a way that it's easy to access all parts of the app without much thought. The main, animated screen is your hub; a simple swipe left, right, or up will take you to the app's other important screens.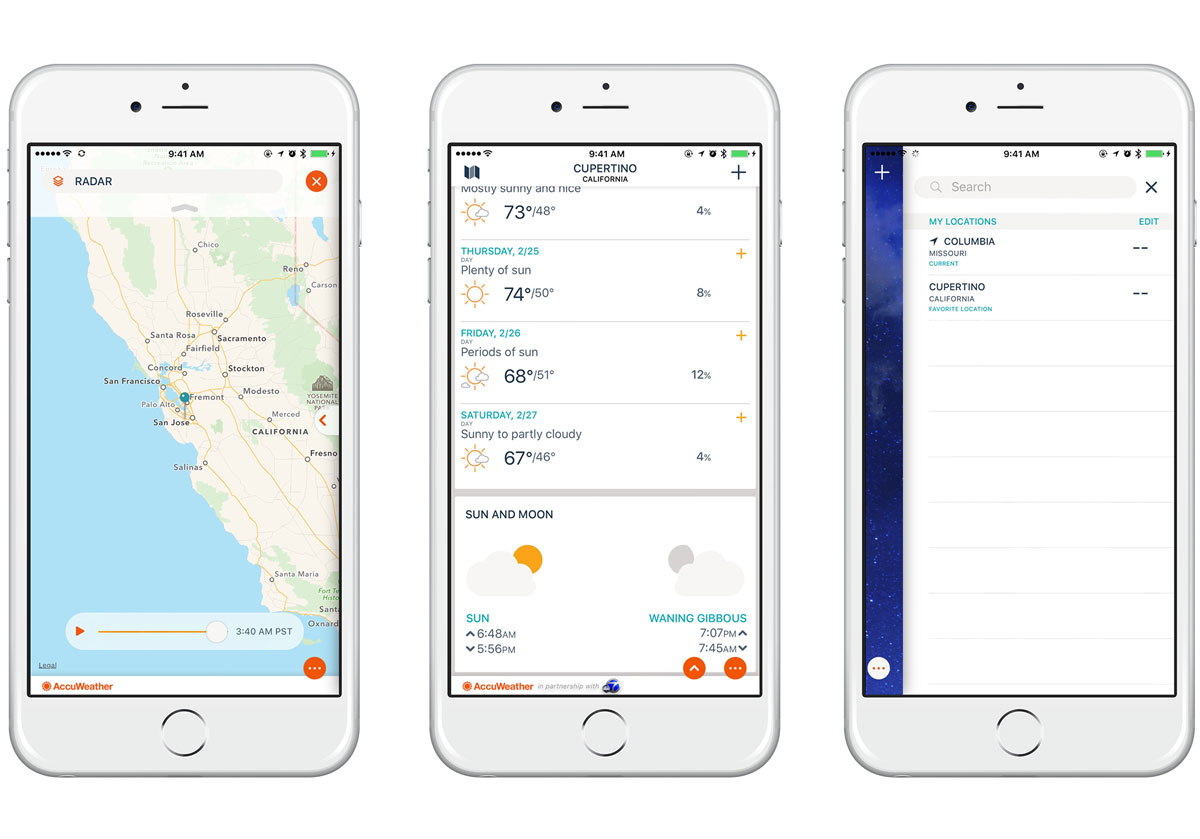 Accessing the app's settings is fairly intuitive as well, thanks to the ever-persistent ellipses menu button in the bottom corner of the app. It kind of reminds us of Android's floating action button.
Ultimately, AccuWeather outranked about 90 percent of the apps we tested in terms of ease-of-use. The app even started us off with a tutorial — several of the apps we tried out could have benefited from a user tutorial.
Features
AccuWeather Platinum features all the typical features you'd expect from a weather app: an hourly forecast, a multi-day forecast (up to 25 days), and a RADAR map to keep an eye on incoming precipitation.
But the app also has a few tricks up its proverbial sleeve: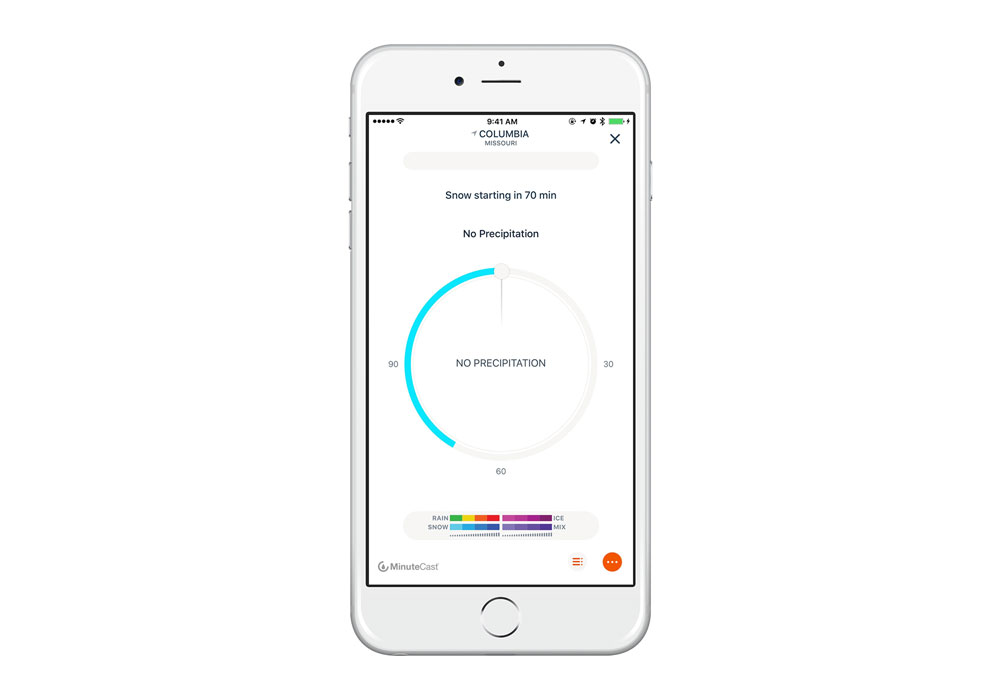 AccUcast: AccuWeather's AccUcast feature lets users report weather conditions, creating a crowdsourced map of user-submitted data.

Detailed Current Conditions: AccuWeather's current conditions are customizable; you're not forced to keep track of wind speed and cloud cover if you don't want to.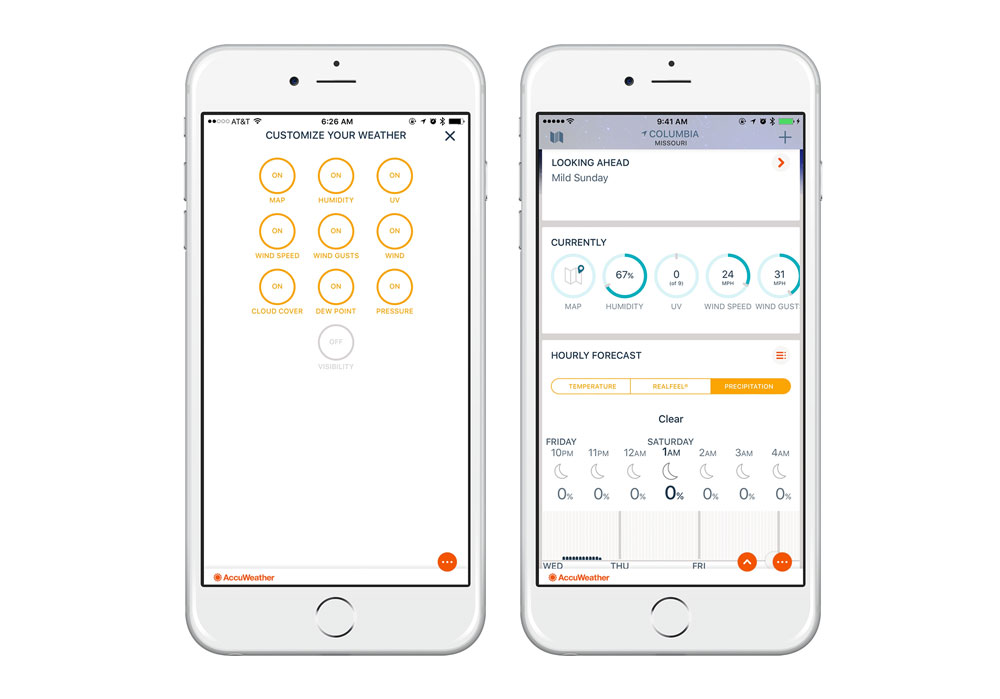 Today Widget: AccuWeather Platinum features a Today widget for iOS that displays MinuteCast data, coupled with the current temperature and day's forecast.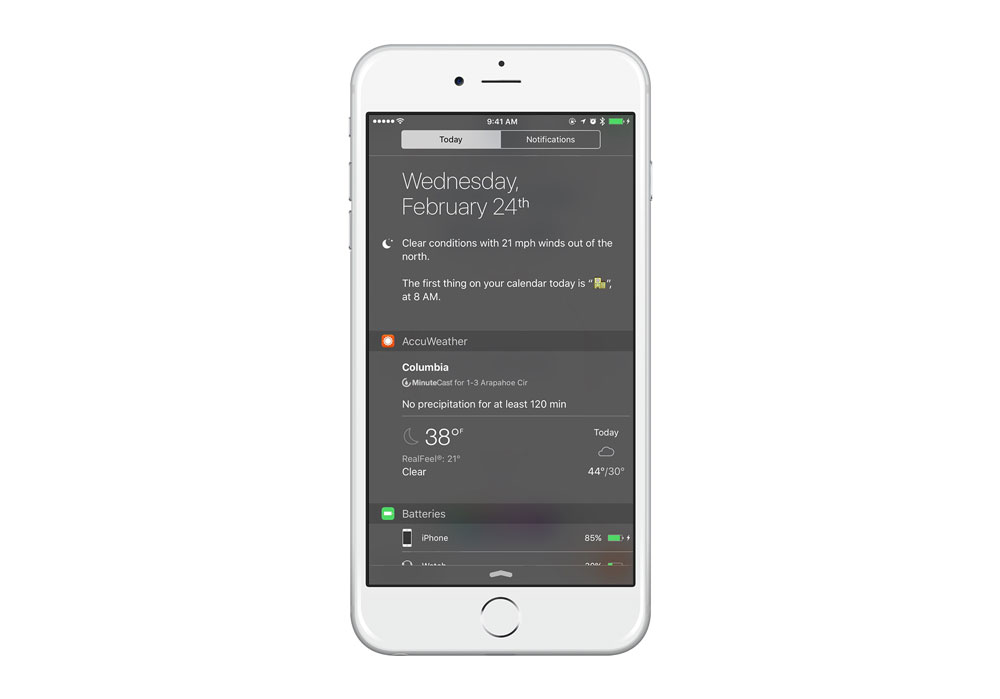 Apple Watch App and Glance: AccuWeather Platinum isn't just available for iPad, it's also optimized for the Apple Watch. The app displays all your typical weather forecast data, and the Glance displays a pared down version of the same.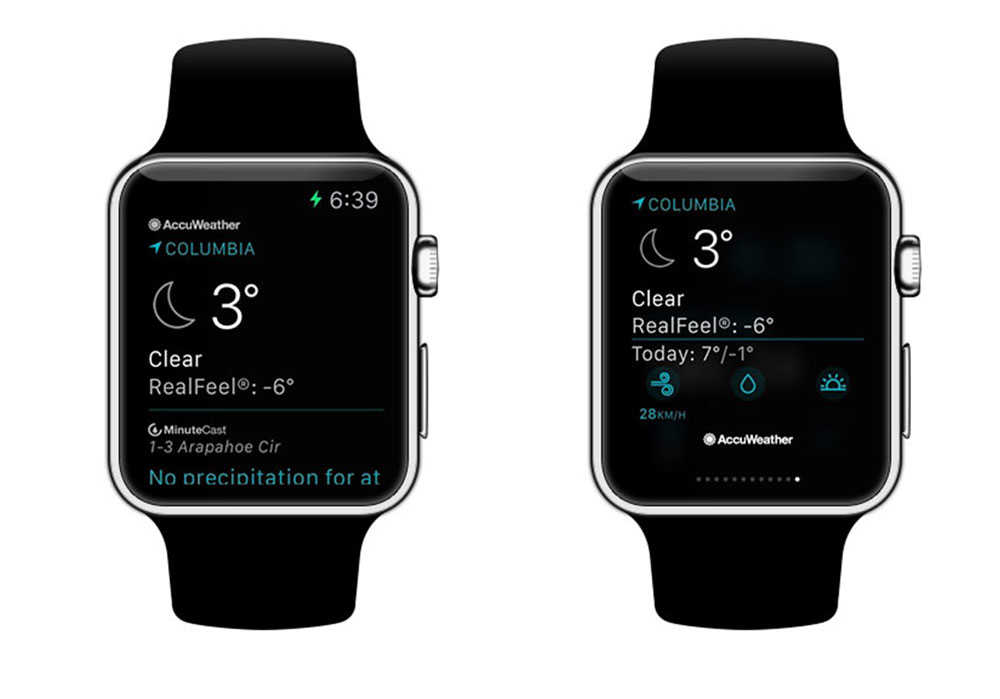 Accuracy
AccuWeather uses both proprietary technology and readily available government data to determine its weather forecasts. In our testing, AccuWeather Platinum accurately determined temperature measurements and reliable forecasts when compared to local meteorological measurements.
We should note, however, nearly three-quarters of the apps we tested were highly accurate in their reported weather data. Because of this, accuracy did not play a large part in our decision to select AccuWeather Platinum. The only apps that stood out were the few that consistently reported inaccurate data.
Price
It can be tough to argue spending any amount of money on a weather app is worth it when iPhones come with a free weather app. But when you consider the exceptional design of AccuWeather Platinum, its wide swath of features, and its easy-to-use interface, $3.99 starts to make a little more sense.
Our Quibbles
It can't all be positive. We took issue with a few of AccuWeather Platinum's features.
Our one complaint regarding the app's design: It's not very customizable. Many of the apps we tested offered themes, allowing you to personalize your weather app to suit your taste. AccuWeather shirks this opportunity, seemingly in favor of a more simplistic look and feel.
It would be nice if the Today widget were customizable so we could remove unnecessary information. Many of the weather apps we tested neglected to offer customization for their Today widgets. A multitude of large Today widgets defeats the purpose of that Notification Center feature, as it becomes more crowded.
Our Second-Place Pick: Perfect Weather
Perfect Weather is perfectly minimalist in its execution. The app gives you all the information you need on one screen, and makes use of a clever, foldable UI to hide and reveal information as it's needed. It's an iPhone-only app, and it's available for $2.99 in the App Store.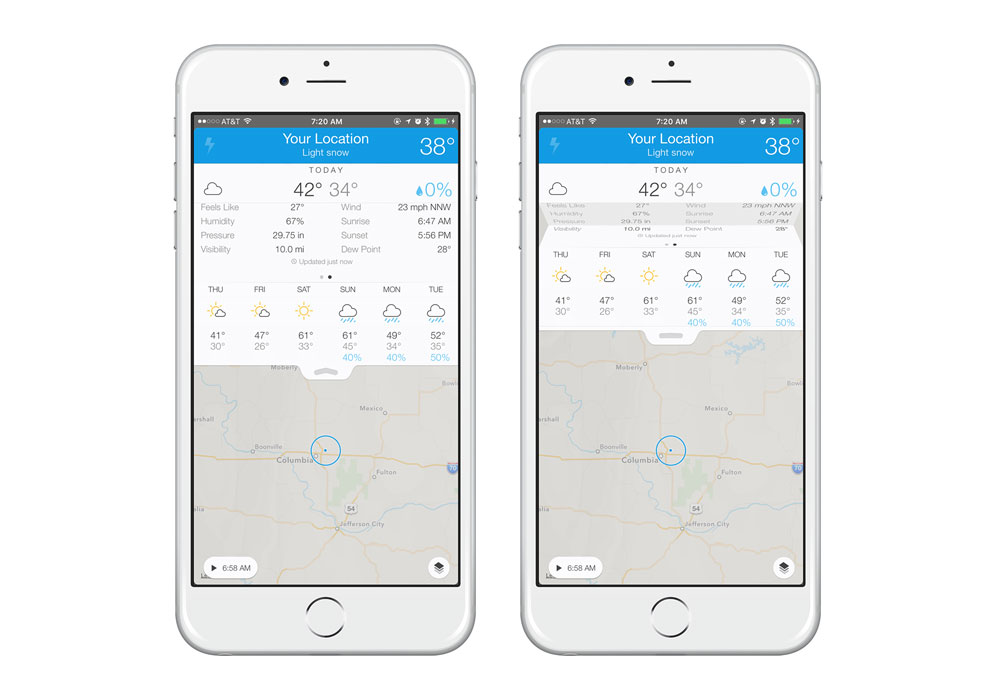 Our Considerations
Perfect Weather is very simple in its design, but the app's bright colors make it pop. It's a pleasure to look at, and it's easy to discern which bits of information pertain to which location.
Perfect Weather is easy to use, despite the fact it lacks a user tutorial. Once we started swiping around, it was easy to figure out the app.
As far as features, Perfect Weather packs in the standard set: a 7-day forecast, RADAR maps, current conditions, precipitation predictions and temperature charts. However, it's noticeably lacking an iPad app, and it's one of the few indie apps we tested that doesn't get its weather data from Dark Sky's Forecast.io. Perfect Weather's data comes from Weather Decision Technologies.
Honorable Mention: Poncho
Poncho is a quirky weather app that doesn't sacrifice accuracy and thoroughness for its quirkiness. The app is more than just a general-purpose weather app, though. It's also an alarm clock and transit monitor — Poncho can wake you up and tell you you're going to miss the bus all at once.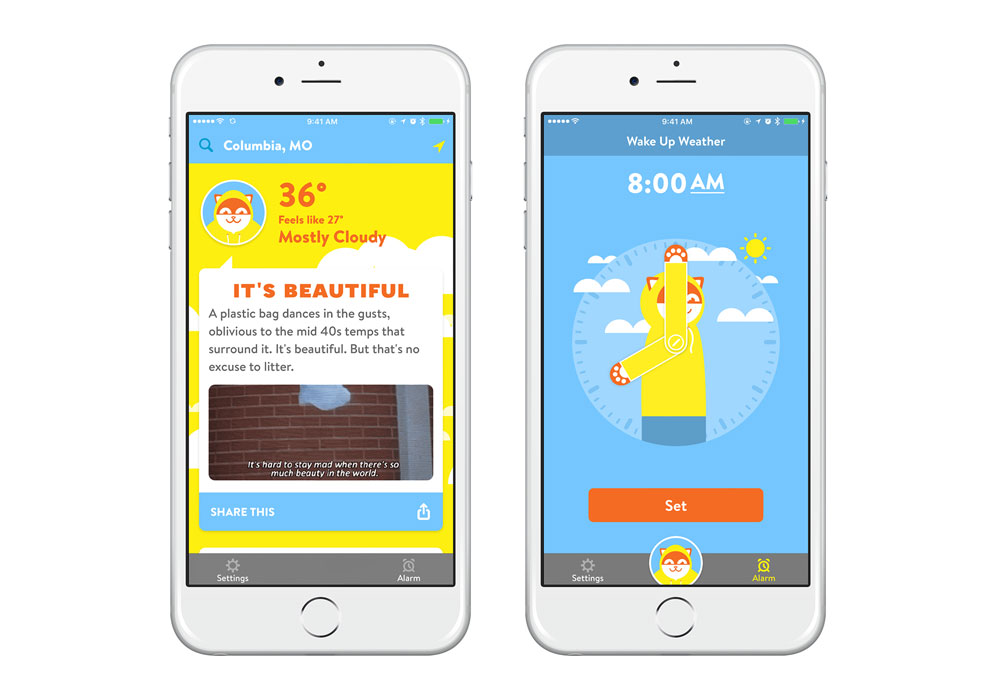 Our Considerations
When we added Poncho to the list, we weren't expecting to be impressed by its weather forecasts, but, rather, charmed by its personality. Instead, we found an accurate weather app with all the trimmings: multi-day forecasts, temperature graphs, wind speeds, pollen count, and more.
Poncho is a free app available for both iPhone and iPad.
Let's Digest
AccuWeather Platinum earns top honors for being the best general-purpose weather app based on our considerations. Perfect Weather is pretty doggone perfect, too. Where it's lacking in features, it makes up in ease-of-use. If you're looking for something a little more flavorful, you might try Poncho or CARROT Weather. If tracking temperature trends and consuming infographics sounds interesting to you, you might want to look at Weather Line or Weathertron. If you're just after a good-looking weather app, though, we'd recommend Fresh Air or Sunshine — yes, those are apps.
Conclusion
AccuWeather Platinum's easy-to-read weather info, coupled with its eye-catching design, makes it stand out in an overcast sea of look-alike weather apps. The app is intuitive, it's hyper-accurate, and packs in detailed weather data for those who want it. You can snag the universal app (it works on iPhone and iPad) for $3.99 in the App Store.
$3.99
AccuWeather Platinum is our favorite general purpose weather app because it's intuitive, hyper-accurate, and packs in detailed weather data for those who want it.
App Store

$3.99