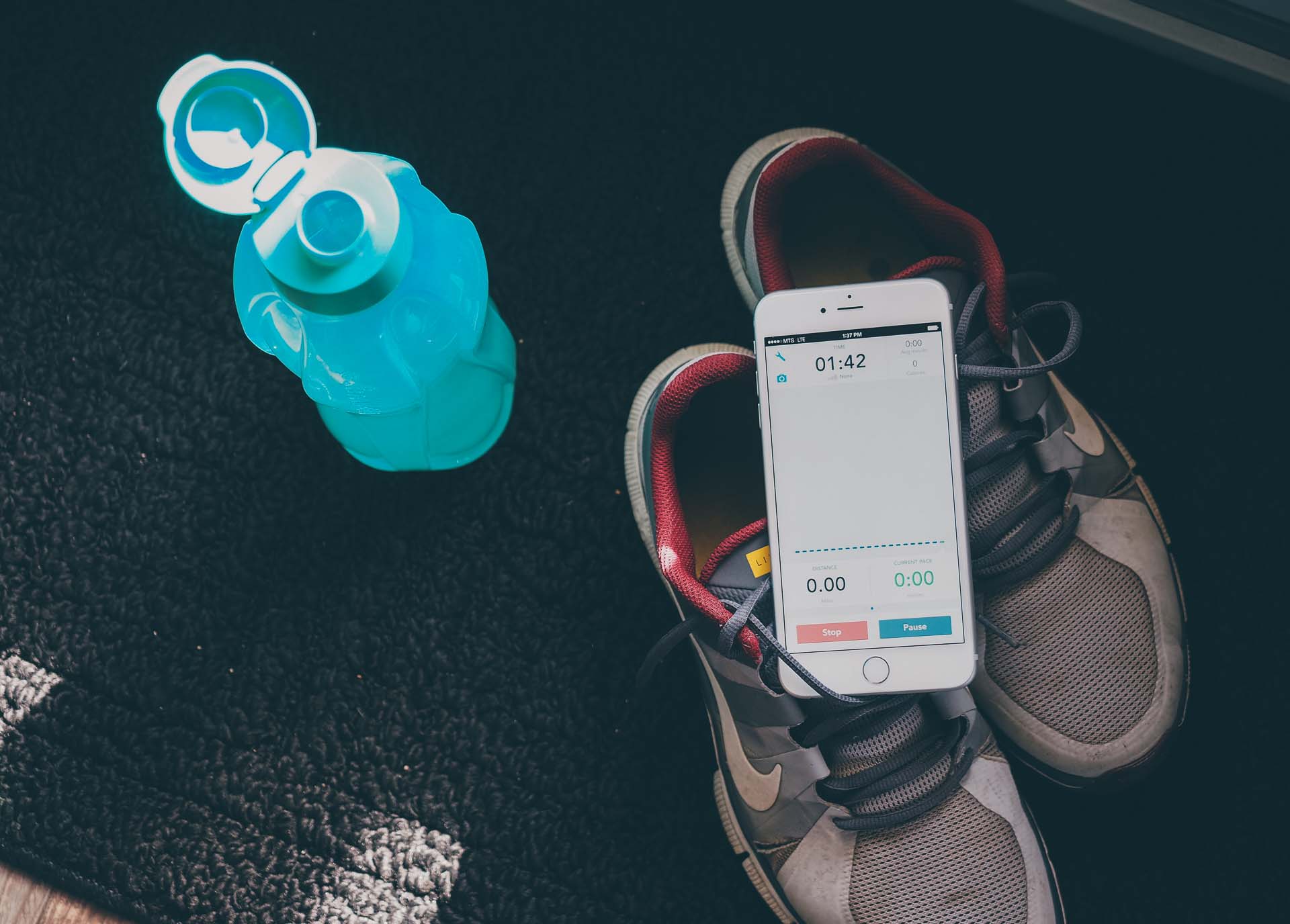 Our favorite run tracking app
RunKeeper
November 13, 2017
While a lot of runners prefer watches with dedicated GPS units — like this one — the iPhone makes for a great alternative. There are a lot of run-tracking apps, but RunKeeper is the best running app due to its deep feature set, vibrant community, and strong integration with other services. I've tracked over 400 runs with it, and even after spending time with a host of other applications, RunKeeper stands apart.
Why track your runs?
I'm a firm believer in the mantra that what doesn't get measured doesn't get done. Did your doctor want you to start running 3-4 days a week? Did you? If you don't track it, then it probably won't happen. All that is standing between you and tracking your run is an app download.
If you already use your iPhone while running to listen to music, there is really no reason to not track your runs using the built-in GPS. The apps provide useful statistics during and after your run. Likewise, It's helpful to know your current pace and distance. It helps keep you on track and on pace with your desired speed.
Review considerations
When looking for the best running app, we focused on a few aspects. Is it easy to use? Is it accurate? Can you export your data? Does it integrate with other services? Can you listen to audio from other apps while running?
The thing that makes run trackers different than other types of apps if that you really don't spend a lot of time actually looking at them. You launch it and run. You really want a running app that gets out of the way and works in the background.
One thing to note: pretty much all of the apps were fairly consistent in what they measured. I had a measured 1 mile track that I tested each app with, and they were all within 0.05 miles of it. All of the apps we tested also include audible notifications while running. This includes current distance, pace, etc.
The best Running App: RunKeeper
RunKeeper has been around for a long time. In fact, the app originally debuted way back in 2008. I first used it in 2010 when I started running for exercise. Since then, the app has evolved quite a bit; it's continually being developed and is generally quick to take advantage of the latest and greatest APIs and hardware from Cupertino.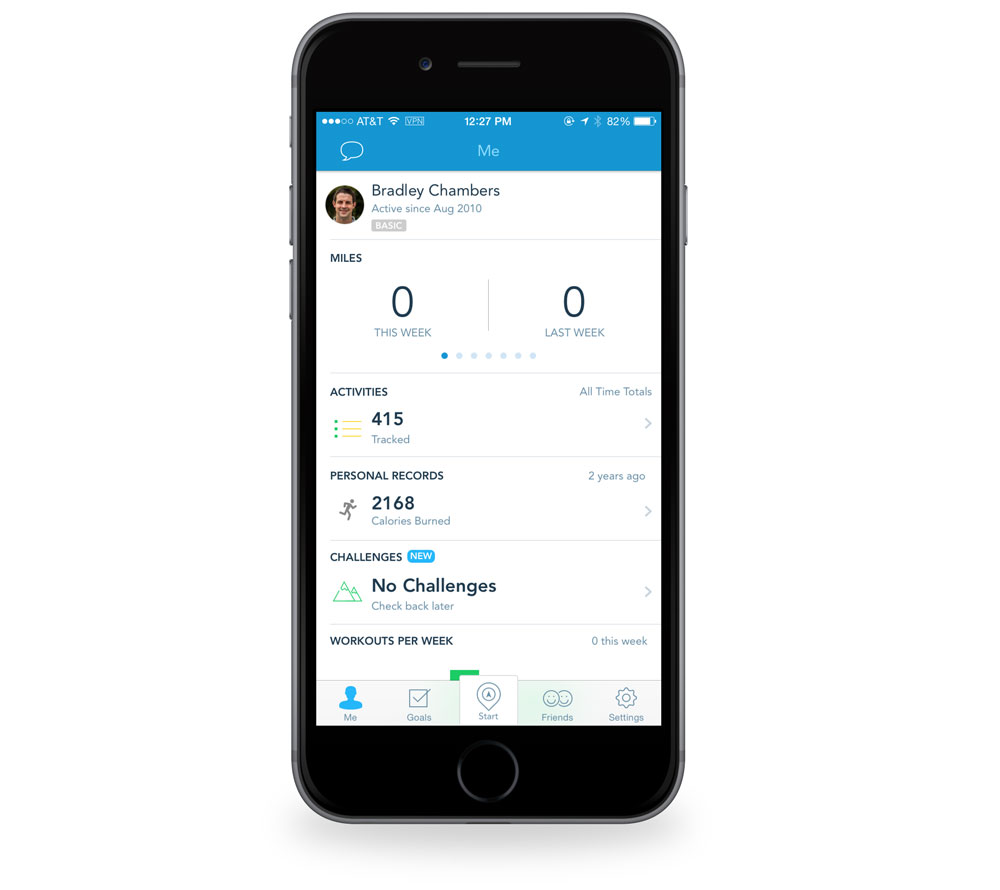 From a design perspective, RunKeeper does a great job at striking the balance between being focused and providing access to the entire RunKeeper ecosystem. When you launch the app, you can easily start running with just a tap of a button. Outside of the actual run screen, the app offers access to all of your statistics, your friends' running feed, and your goals screen.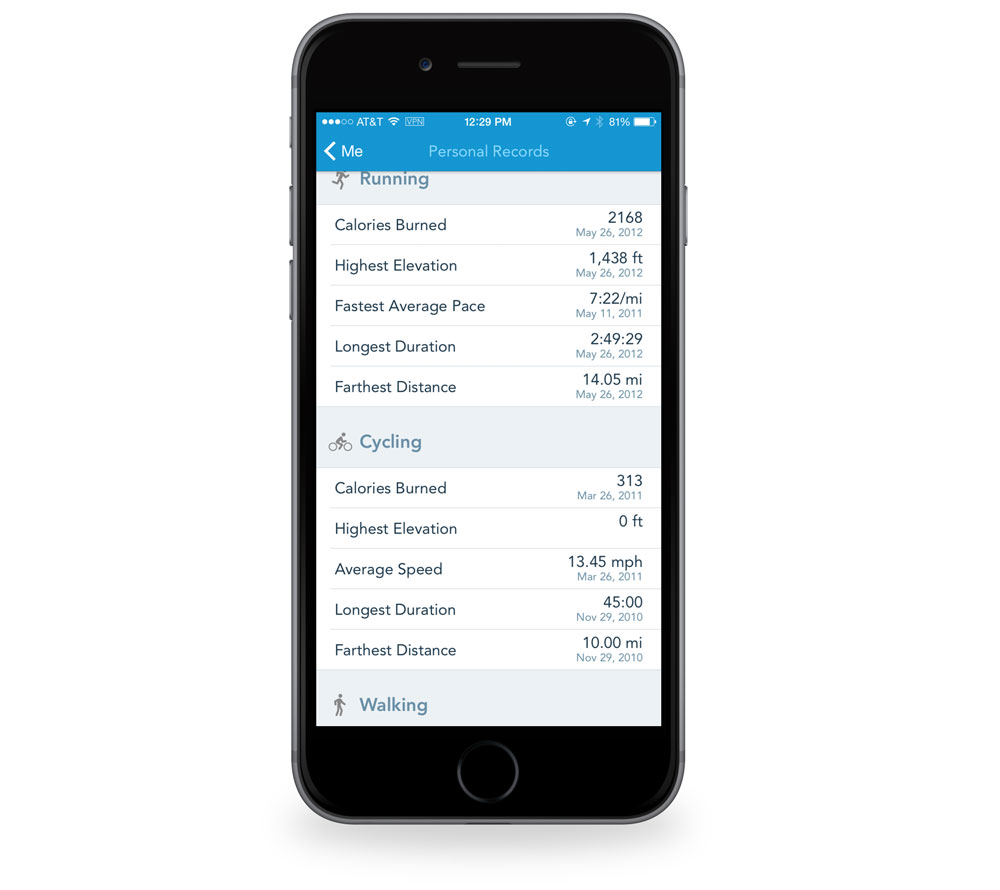 RunKeeper integrates with the iOS Music app as well Spotify, although a Premium membership is required for the latter. It's important to note that iOS can play any music app on top of RunKeeper. This means you can Overcast while running, but it isn't integrated inside the app. I actually don't mind this, because it's faster for me to just find the album in the audio app while running.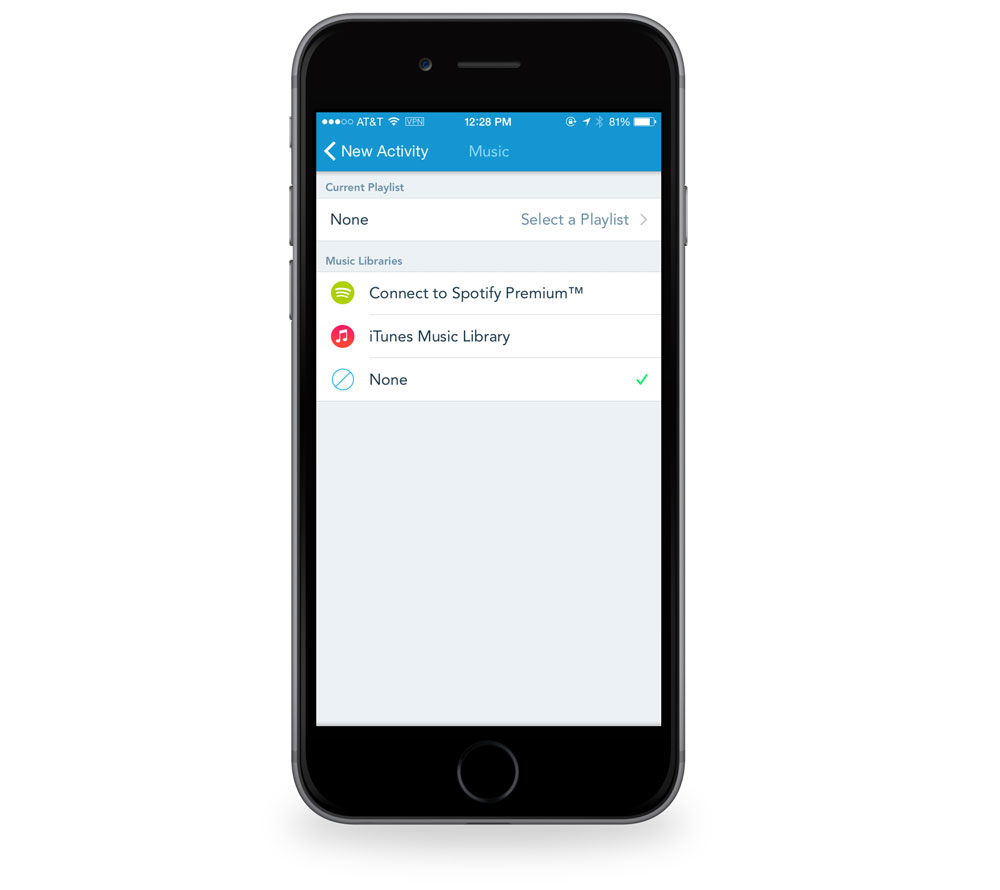 One of the key areas that RunKeeper really stands apart from the competition is its training classes. It's got a large variety; some of them are free, and others require a subscription to their "Elite" service, which is $9.99/mo or $39.99/year. It starts by asking about your motivation and goals. Some of the goals include achieving a new distance by a certain date, losing weight, finishing a race, or achieving a total distance run by a certain date. You can then move onto your training plans. The four training categories are:
Do a Race
Learn to Run
Get Fit
Lose Weight
Once you decide what your goal is, you can move onto picking a training plan. One thing to note is that these aren't random plans made up by RunKeeper employees. They are from real running coaches. I used one when I ran a half-marathon a few years back, and I was very impressed with the scope of the plan. I was well-prepared on race day. As an example of the depth of the plans, there are three different 10k race preparation plans. Each one has a different time goal (sub 55, sub 60, sub 65). Under the Learn to Run section, there are a number of options from folks just starting out to folks wanting to get ready for a sub-30-minute 5k.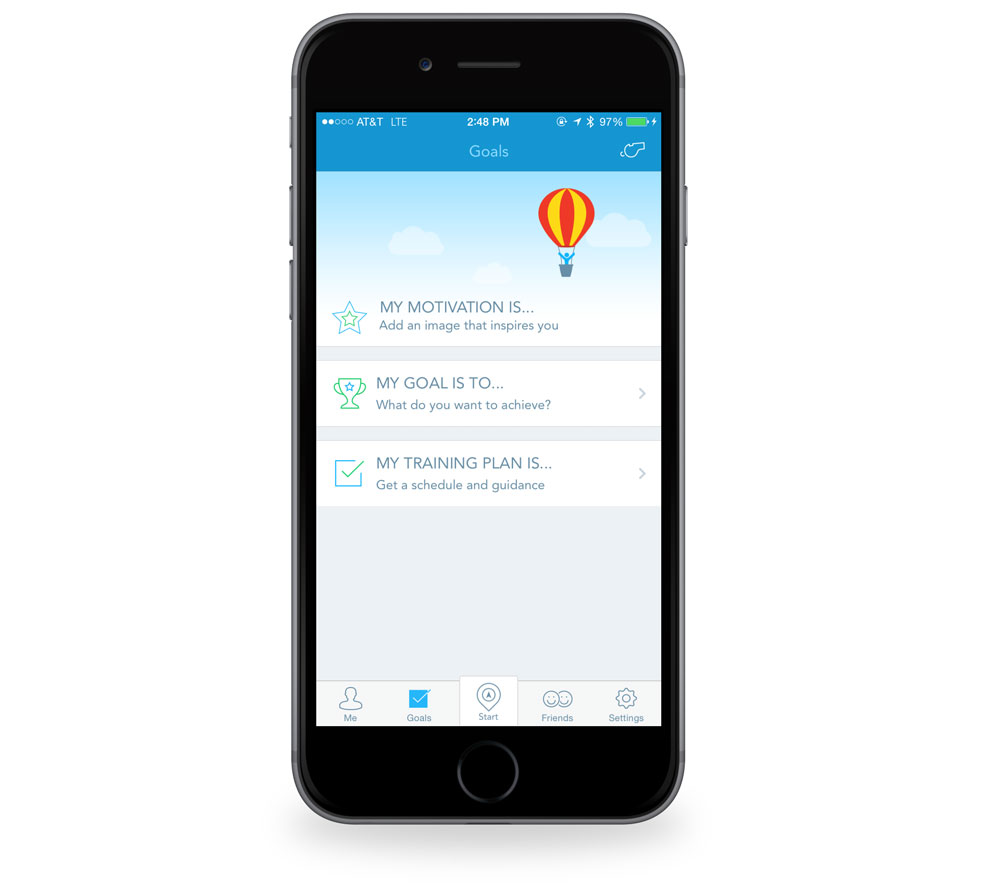 FitnessKeeper, the company behind RunKeeper, also has an API that allows other app developers to connect with RunKeeper's cloud. This allows apps like MyFitnessPal to pull in your runs when counting up your calories.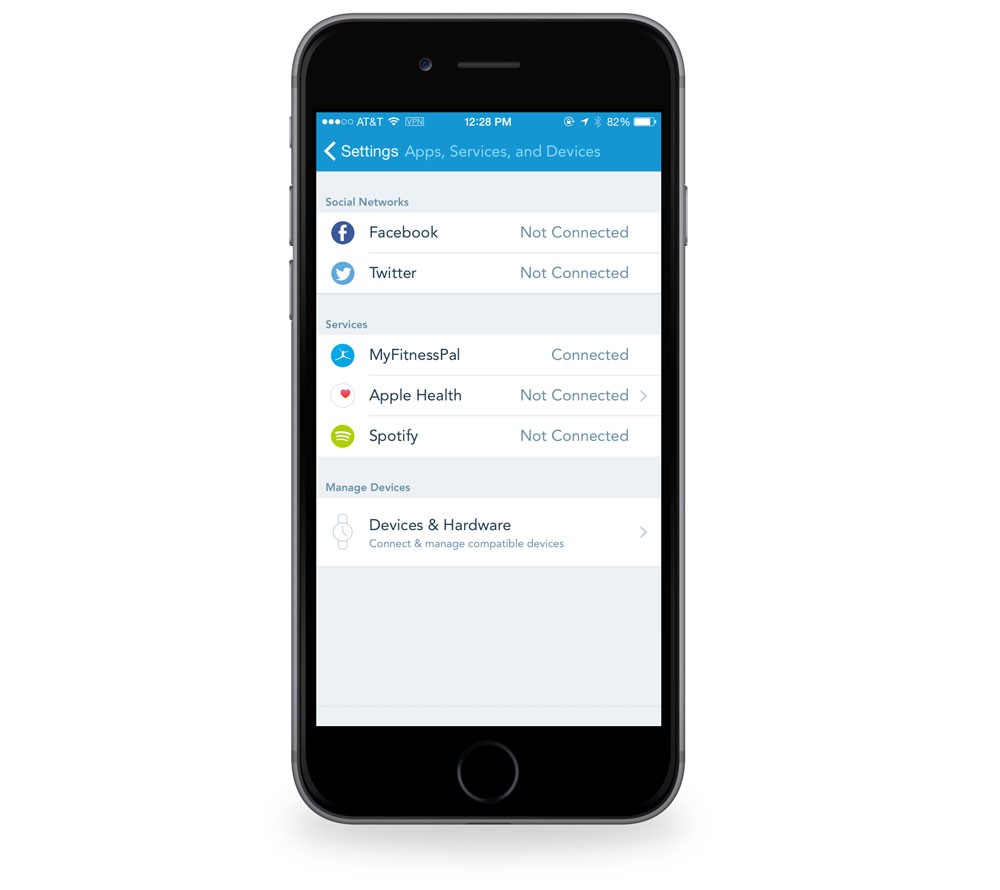 The exciting thing about the Health Graph is that it's a device-agnostic platform. My dream is a plate that can measure the calories of the food I'm eating. If someone ever makes that (it's available for liquids), it's completely possible that the plates app could be talking to RunKeeper and MyFitnessPal to give you a complete picture of your calorie intake and expenditure for the day automatically.
One of the things that I feel like RunKeeper needs to add is a Shoe Tracker. For the heavy runners, tracking mileage on shoes is important as you need to replace them every so often. Since RunKeeper hasn't added it yet, someone else did. This is the value of the Health Graph. On top of the API, RunKeeper also allows you to export your data into GPX and CSV formats.
In a world of services and companies who want to own your data, the Health Graph project was a bold move for RunKeeper. They basically made it possible for an app to replace its core feature of tracking your runs. RunKeeper's business model is simple, though. They want to provide enough value to sell Elite memberships. If Health Graph is at the center of your fitness life, you are more likely to buy a scale to automatically update your weight on RunKeeper. You are more likely to buy a blood pressure monitor that can sync with your RunKeeper profile than one that can't.
For hardware and software companies, it's a feature that adds value and a way for a product to stand out from a competitor. For end users, it's a way to get a bigger picture of your health over time. There is a lot more to fitness than just running. Weight loss is just as much diet as it is exercise. Sleep patterns can also play a role here. Getting a clear picture of how diet, sleep, exercise, blood pressure, and heart rate can all impact your overall well-being is important. Health Graph wants to be the glue that connects all the pieces. Runkeeper also has support for Apple Watch's built-in GPS so you can track runs without carrying your iPhone.
With over 30 million users, RunKeeper is a heavy hitter in the fitness industry. With the strength of Asics, they show no signs of slowing down. With a very mature feature set, an open API, and a growing user-base, RunKeeper is my favorite run tracker for the iPhone.
RunKeeper is free, and there is an option for an Elite membership ($9.99/mo or $39.99/year) that enables deeper statistics, a goal coach, premium training plans, and the ability to broadcast your runs live on the internet. You can pay for the membership through an in-app purchase (IAP) or on RunKeeper's website.
Runner Up: Strava
Like all the apps we looked at, Strava does a great job at tracking runs. It's accurate, and it generally does what it says it does. The user interface is clean and easy to use. It also includes a native Apple Watch app for tracking without your iPhone.
My main issue with Strava is with the confusing privacy settings. RunKeeper has drastically simpler settings (you pick who can view your Activities and Maps). With services that are tracking GPS and showing maps of where I have been, it needs to be painfully clear who can see that information. I imported my entire run history in Strava. I thought I had set my account as 100% private, but I kept getting "kudos" emails from random people that liked my runs. I have no idea how they saw them, or what they could see (maps vs just the data). One nice thing about Strava is you can set a "home zone" to block out all runs near your home.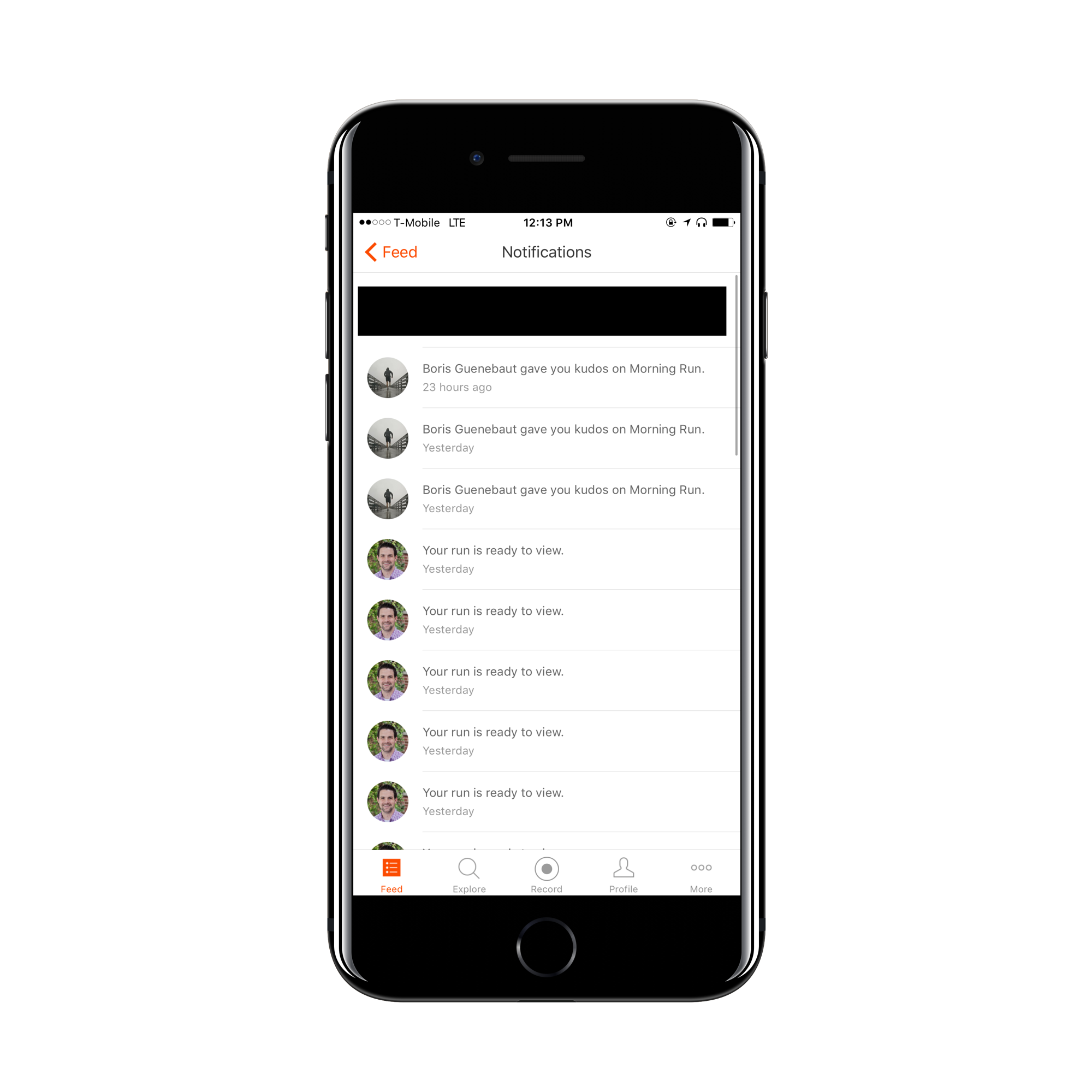 Strava is free to use, and there is a $59.99/year option to upgrade for progress goals, training videos, the ability to see when friends are active, and a few other items.
The Others
Nike+ Run Club
Nike+ Run Club will be installed by a lot of people because of the name recognition alone. Nike is obviously a powerhouse in the fitness game with shoes, clothes, and other athletic gear. They also have a close relationship with Apple as there is even a Nike branded Apple Watch.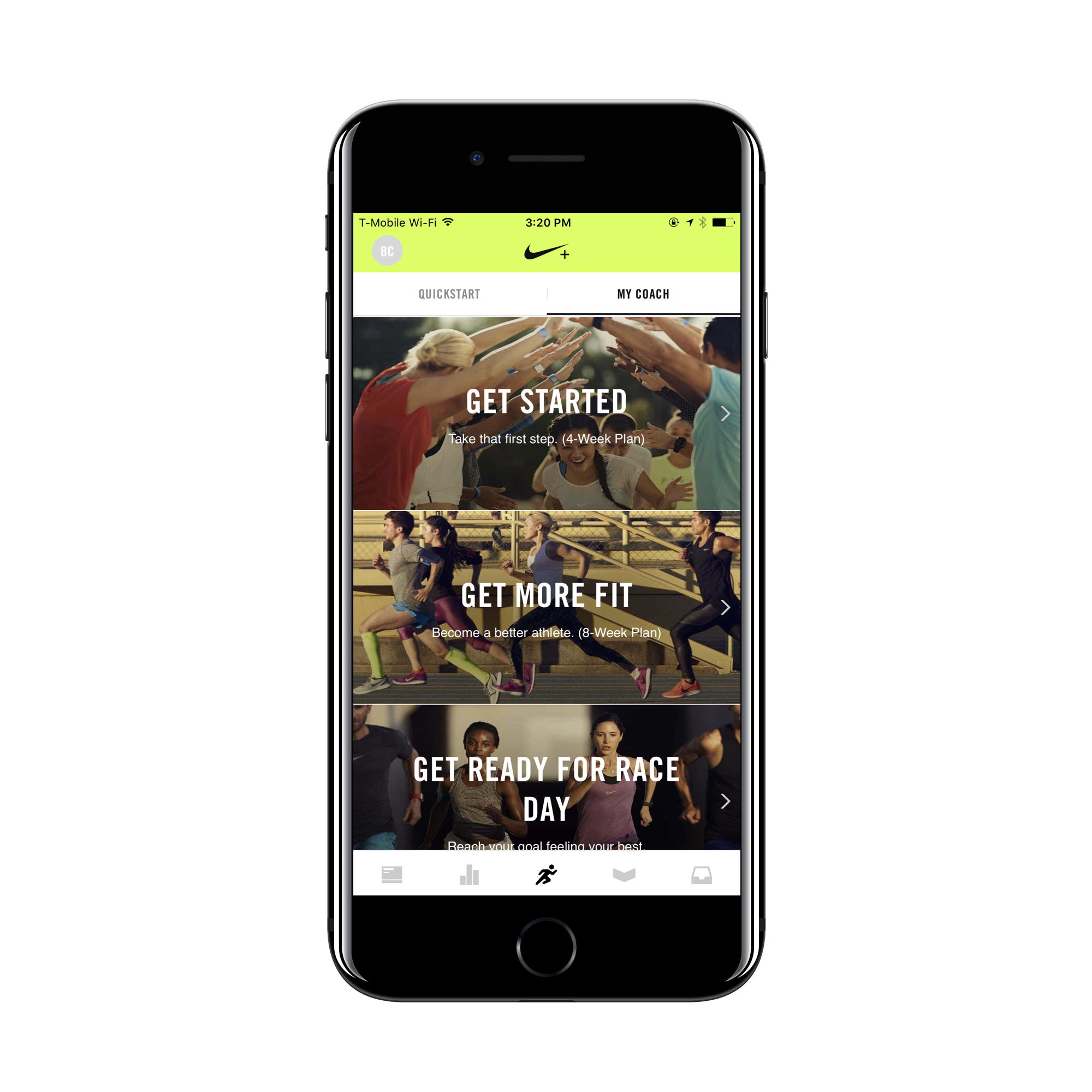 I find the app really confusing compared Runkeeper, and its much harder to use than the previous version of the app. Judging by comments from other users, I am not the only one. Outside of being built into the Nike+ Apple Watch, I can't think of a single reason to use it over Runkeeper or Strava.
Nike+ Run Club is free on the App Store.
Health.app
Health.app was introduced with iOS 8. If you have an iPhone 5s or newer, it can track your runs using the iPhone's motion co-processor. Health.app is not really meant to track your runs like the other apps. Does it track your steps? Yes, but there is no way to tell the app that you are starting or ending a run. You can manually add your runs, but that really defeats the point of the app in my opinion. Since it's the actual hardware tracking your steps, any app can request to have access to your step data.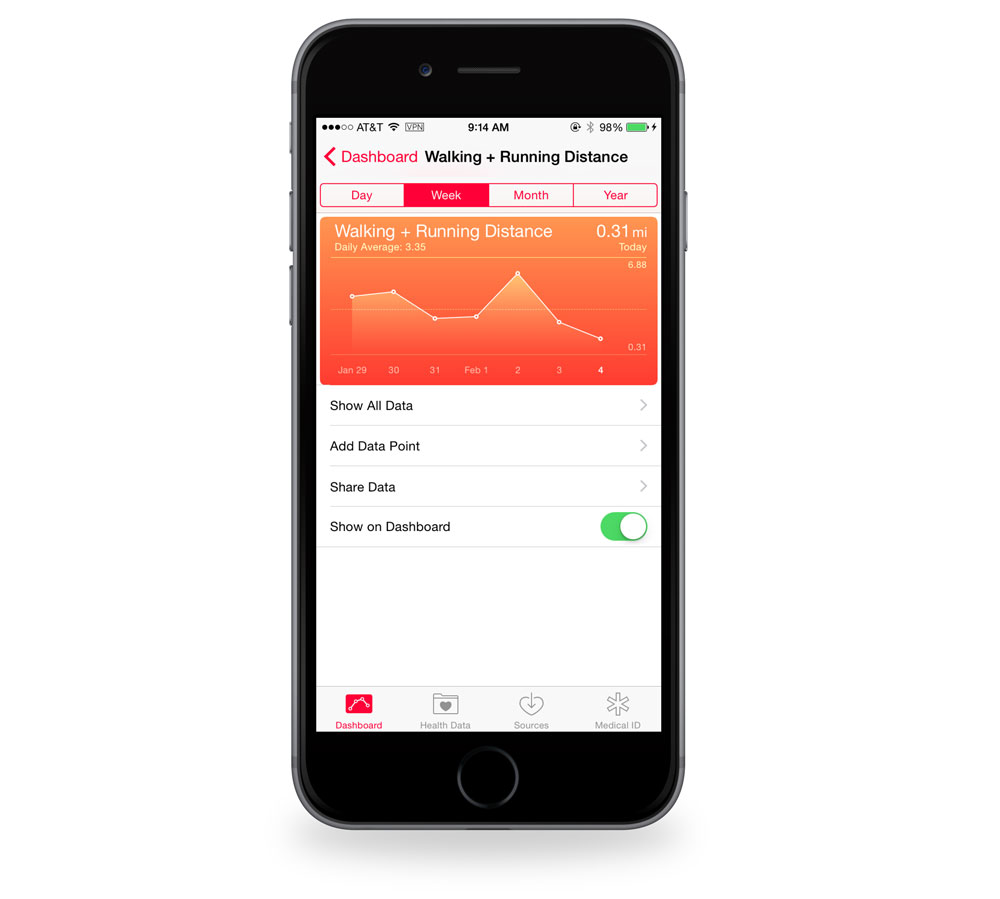 The main focus of the Health app is collecting data from other apps. Many of the other apps we are looking at can write data to your health profile in order to get a broader picture of your overall health. The one key to remember about Health.app is that it's a central place for apps to read and write. While we mentioned the strength of RunKeeper's cloud platform, it's possible that Health.app integration negates the importance of that in the long term. If Apple's platform becomes a key integration point for fitness apps, then Health.app will be the hub. If you have an Apple Watch, you can use it + the Activity.app as your primary platform, though.
Zombies, Run!
Zombies, Run! was originally funded by a Kickstarter campaign back in 2011. Oddly enough, it was the very first campaign I backed. The premise behind it is that it combines running with a story. There are campaigns, side quests, and a radio mode, and as you run, you hear more of the story, collect supplies, and build your base. All of your data can sync back to your online profile.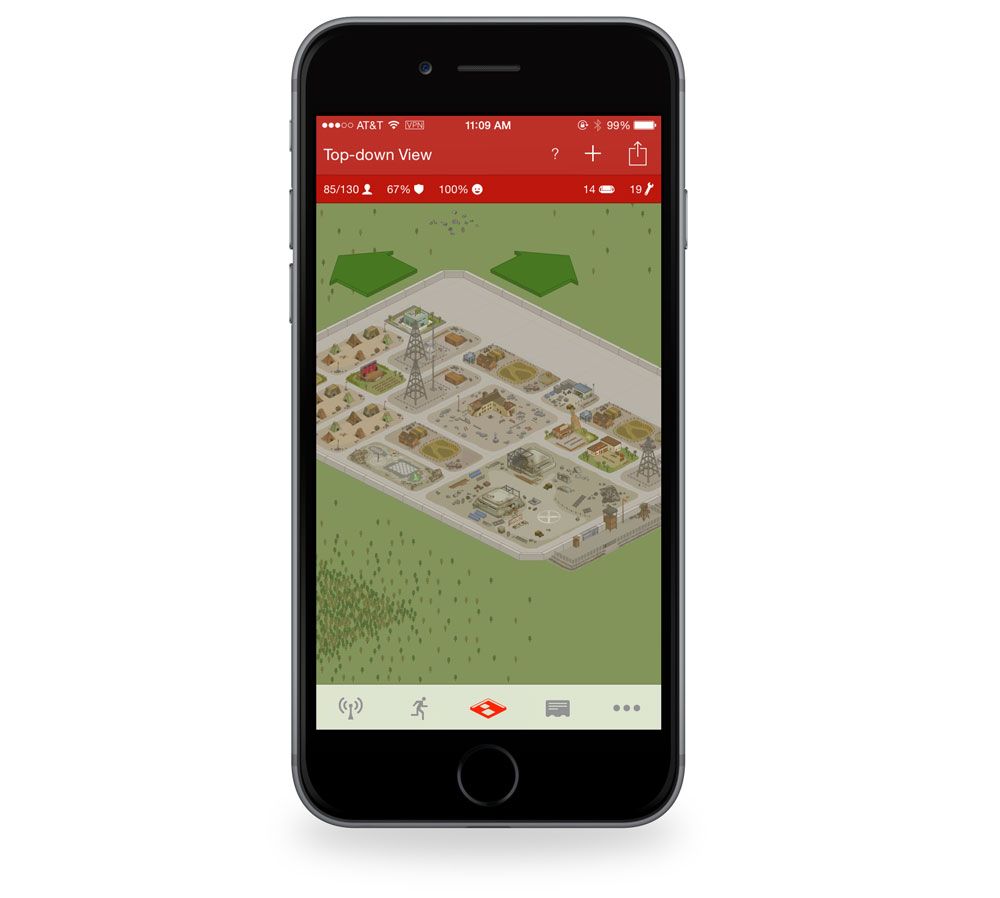 From a design standpoint, Zombies, Run is well done. The app is very different from the original version, and that is a good thing. Like with most apps, the fact that it has been updated for the iPhone 6 is a great sign. It's got a typical lower tab bar layout. You can start a run, manage your base, view the codex (relevant to the story), and control your settings. The app comes with a few missions downloaded, and it's easy to download new ones as you need them. I like this model because you can control how much data the app is using. The story is currently on season 3, so it would be wasteful to have seasons 1 and 2 downloaded if you have already completed them.
This app is different than most of the other apps we looked at. It's one part run-tracker and one part audiobook. The beauty of this app is that they've turned running into a game. They have multiple mission types:
Story
This is where you actually play the main missions. Season 1 contains 23 missions, but 2 and 3 contain double that amount each. You can customize the length of the mission from 30 to 60 minutes depending on how often you want to run. As you run, the app will periodically tell you part of the story. You are playing the role of "Runner 5" in a post-zombie apocalypse world. As you complete missions, you will learn more about what caused the zombies, and what the plan is going forward.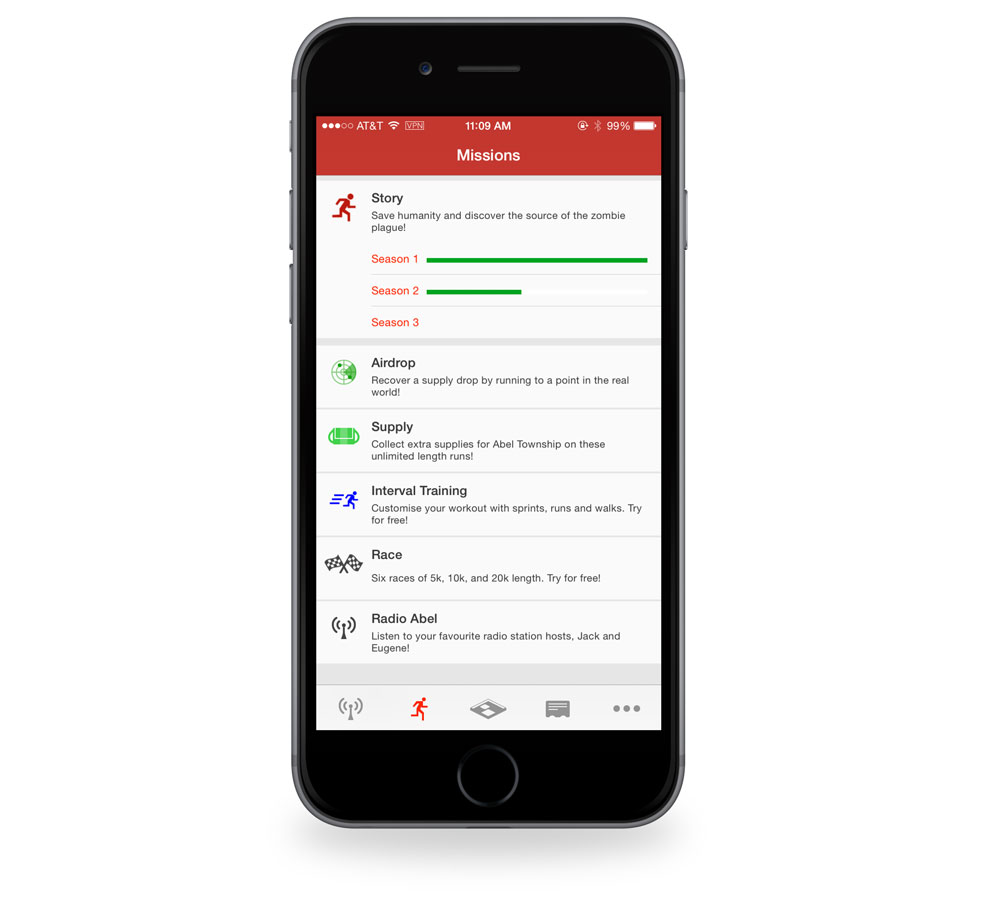 Airdrop
This is where you can set a point on a map and run to it for a "supply drop."
Supply Runs
These missions are just for general running. You can run for any length of time and select various mission types (fuel run, food supply run, etc).
Interval Training
These missions allow you to do a customized workout with sprints, runs, and walks. It requires a $2.99 in-app purchase.
Race
There are six different types of races: 5 km, 10 km, and 20 km. There are three you can try for free, but you can unlock three more for a $1.99 in-app purchase.
Radio Abel
Radio Abel is for when you just want to run without focusing on missions or anything else. Radio Abel is the hosted by folks at the base. They discuss current news, etc.
Music Integration
Zombies, Run has built-in support for your iPhone playlists. The ideal way to use it is to set up a running playlist and use it from within the app. You can use Spotify, Rdio, or a podcast app if you want, but you'll need to manually pause it when the story starts playing.
Verdict
Zombies, Run is a great app. It's well supported and is a lot of fun. Would I say that it's my favorite way to track runs? Probably not, but it can actually sync your runs to RunKeeper, so it can be a great addition. You can use it when you want to hear the new stories, but still keep your data in sync with your RunKeeper database. If you want to completely export your data, the Zombies, Run website offers the ability to export into GPX format for loading into other mapping software.
Zombies, Run is $3.99, but that only unlocks Season 1. There are additional in-app purchases for season 2 and 3.
MapMyRun
MapMyRun is another well known running service.
Like all the other apps, the basics work well, so our criticisms come from small details. The side bar contains way too many items. The app includes a food tracker along with Under Armour ads. These ads can be turned off with a premium membership of $5.99/month or $29.99/year, though. MapMyRun also includes a very limited number of challenges (only one while we were testing, but a banner ad said more were coming soon), but no training classes.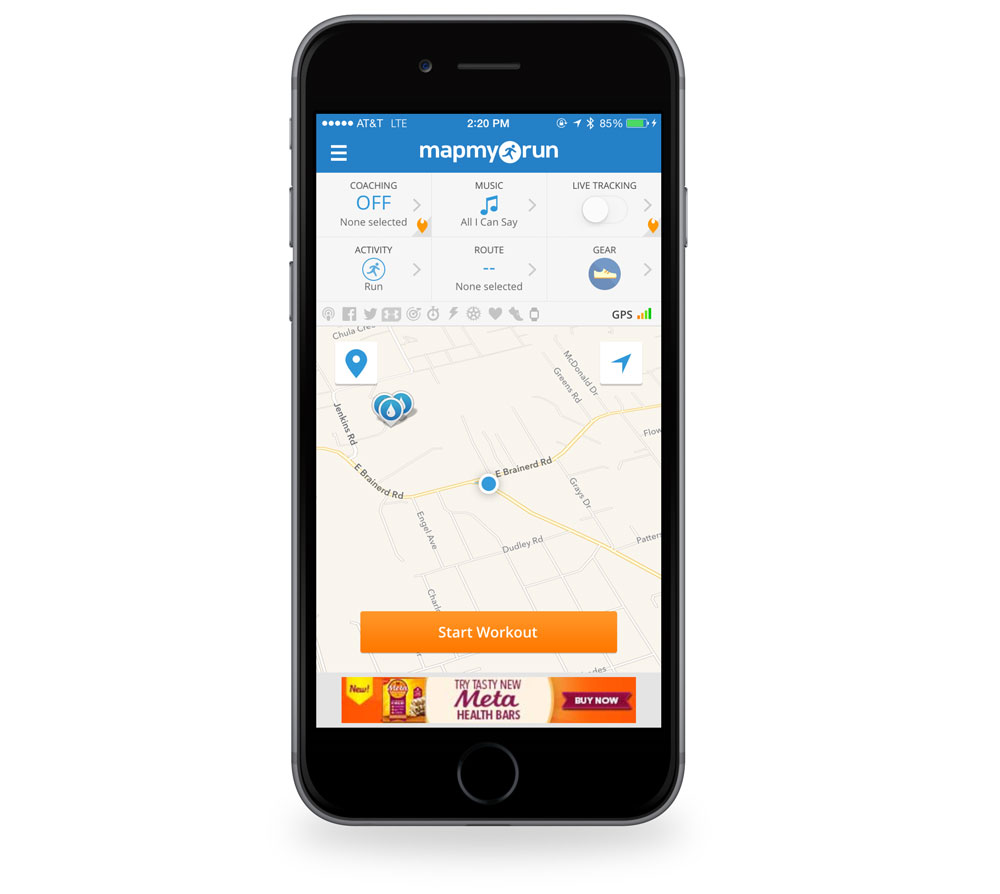 MapMyRun is free on the App Store.
Runtastic
The problem with running apps is the majority of the time that you are using the app, you aren't looking at the screen. This makes it hard to make your app stand out. Runtastic has a very solid design. I like the fonts, but the sidebar is a bit cluttered for my taste. I feel like it could have been condensed into half the number of items.
One really interesting feature, though, is the Story Running. Similar to Zombies, Run, it weaves in an audio story as you run. Instead of an overarching story, each story is independent. It's a clever feature that's not easily copied. They are typically $0.99 per story, but they are free with a Gold membership ($4.99/month of $29.99/year). The gold membership also nets you free training plans as well.
Overall, the app works well, and I have no major complaints. It allows me to use the built-in music player, the iOS music player, or "no audio" (meaning you can use Overcast, Rdio, etc).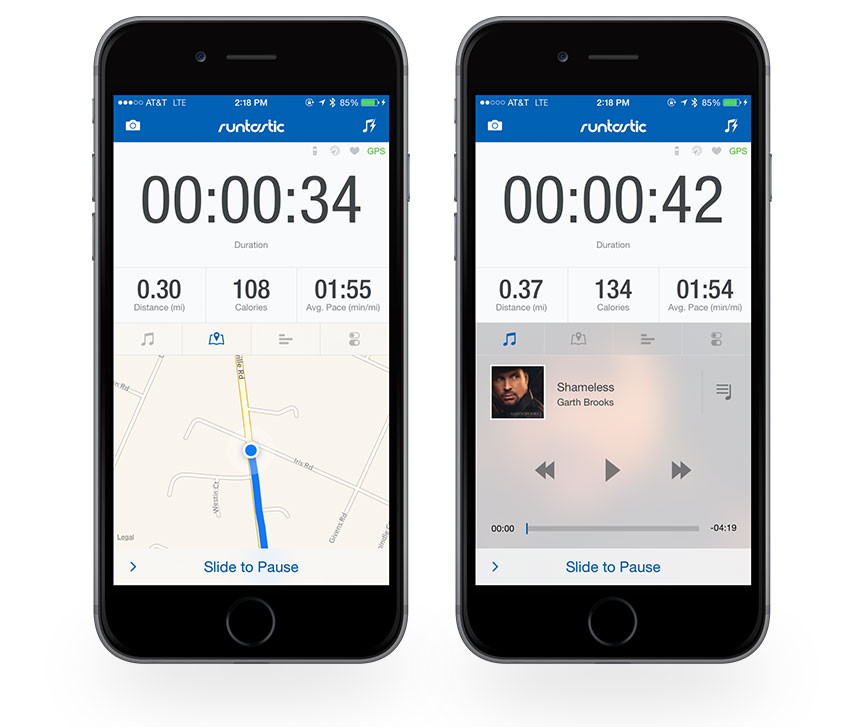 Runtastic Pro is $4.99, but there is also a free version. On top of the paid app, there is also a Gold Membership. I'd prefer they simplify the service down to a free app, but have an option to upgrade to the membership.
Endomondo
Endmonodo, like MapMyRun, is now owned by Under Armour. It's a free app that, like all the others, does the basics just fine. I'm not in love with the design, but I know that can be a subjective issue. The free version does have ads, though. I know they have to make money, but I'd really rather see ads avoided for this type of app. The premium version has a nice selection of training plans that offer some nice customization. Overall, RunKeeper just provides a more detailed experience within the app and offers more with the free version.
Endmonodo is a free app, and the premium version is $3.99/mo or $29.99 a year.
iSmoothRun
iSmoothRun is a highly rated app. It's one of the few apps that is a paid product ($5.99 purchase price), but it's really just a standalone app. Can it export to just about anything? Yes, but in a world of connected platforms, we expect services to just work and stay in sync. From a design standpoint, it's minimal but very functional. It provides a great amount of detail that a lot of runners will probably like. My main concern is its lack of true integration with other platforms and lack of training classes. While the developer claims it's a feature that they "don't lock you in to a provider," I personally want an app that is going to be tightly integrated with a service. It's a great app, and some hardcore runners may prefer it, but it's hard to recommend it over RunKeeper.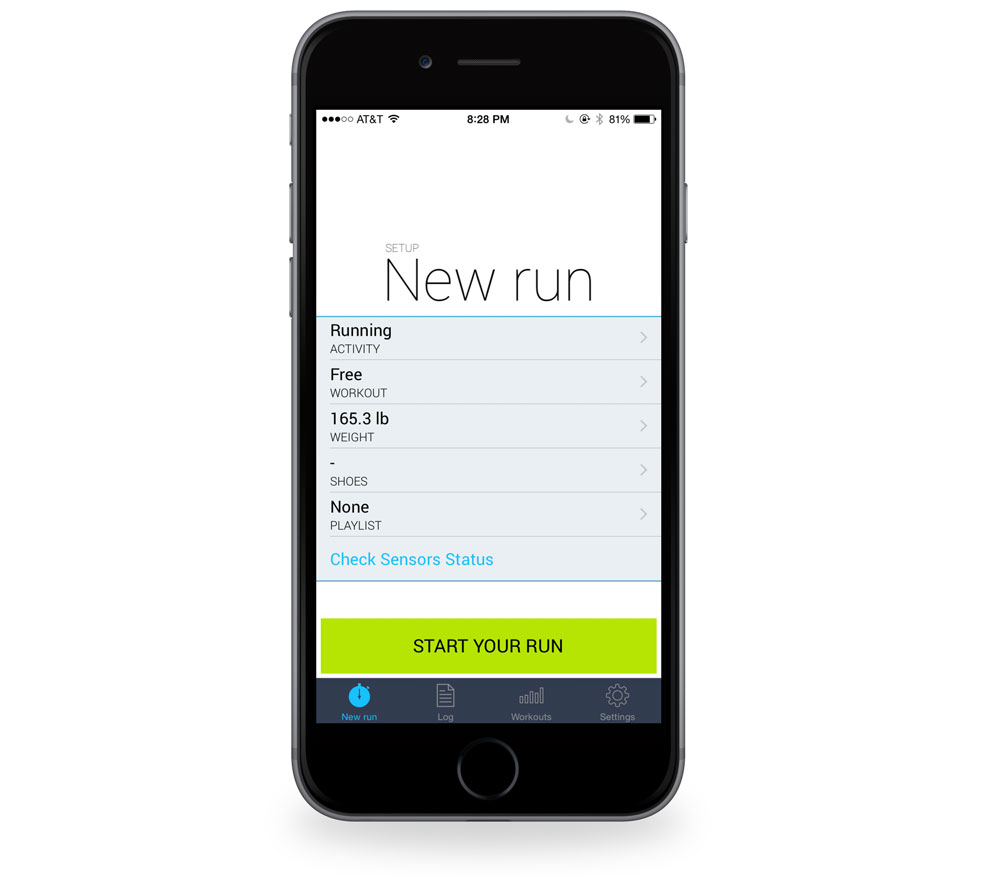 iSmoothRun is $5.99 on the App Store.
Running Gear
When starting a new running program, gear can help you get started on the right foot. Different runners like different kind of gear, so think through what you might want and what would help your run.
Headphones
Jaybird X3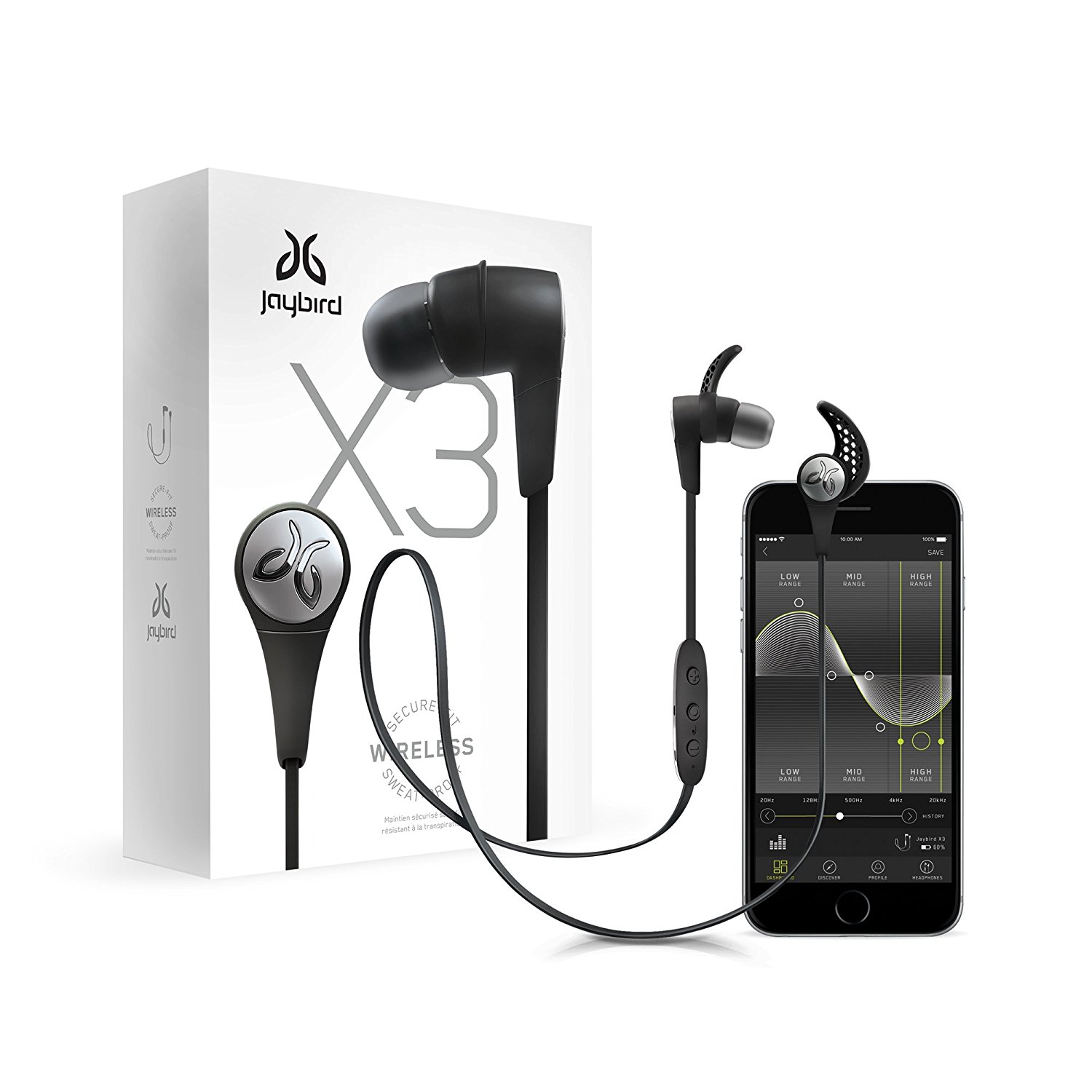 The JayBird X3 are an awesome set of Bluetooth earbuds to run with. They sound great and aren't likely to fall out during your workout, especially since there's no cable between the buds and your iPhone to catch on things. It includes an 8-hour battery life, in-line mic, and lifetime warranty against sweat. You can pick up a pair of the JayBird BlueBuds X on Amazon for $129.99
PowerBeats 3 Wireless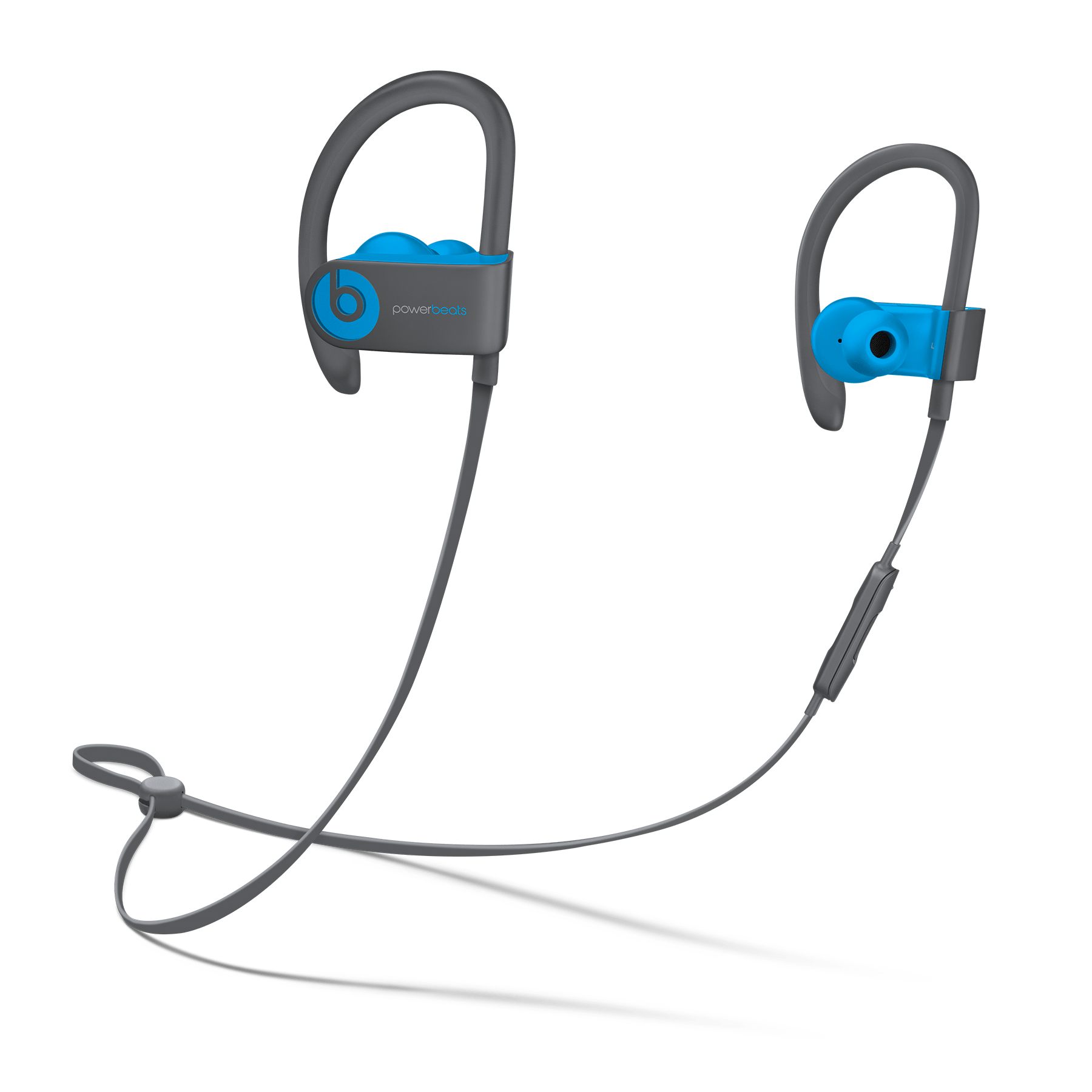 The main thing that would draw me to the Powerbeats 3.0 over the JayBird model is that I liked how they had an ear clip vs just being an in-ear model. This made me think it would help them stay into place as I ran. The music quality is great, but the most important thing is they are extremely comfortable. They don't flop around or get in my way. They also include the new W1 chip so it's easy to move them between iPhone, iPad, and macOS.
You can buy them on Amazon for $149-$199.
AirPods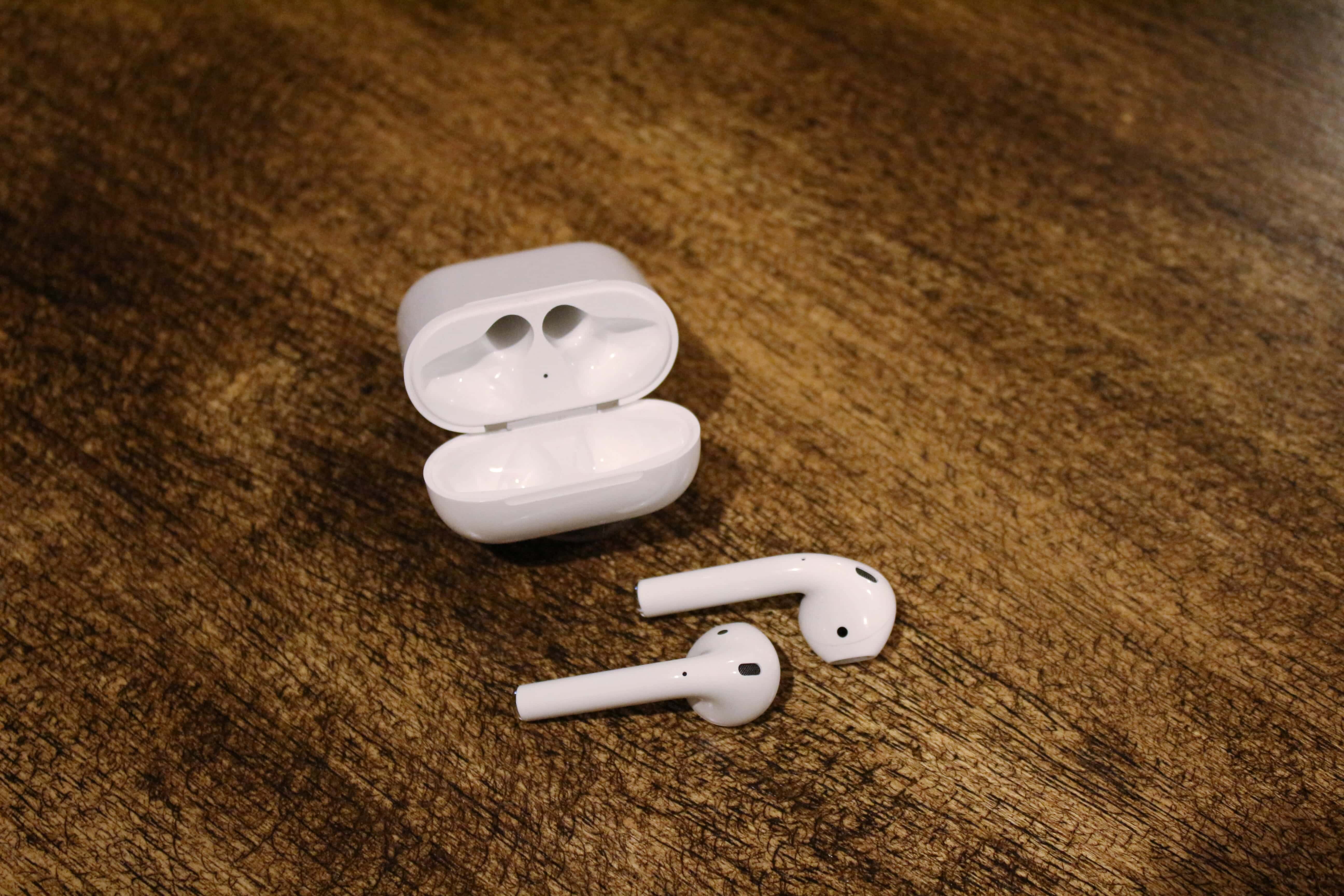 After using the Powerbeats line for years, I recently switched over to using the AirPods when running. They stay in place (even when I was running in 12 mph wind), and they feel great. They sound great, but still let in a little outside noise. This is helpful when running outdoors. I was skeptical at first glance, but AirPods are my favorite headphones past or present. Tools and Toys has a more detailed review that I recommend checking out.
You can buy them on The Apple Store for $159.00.
Storing Your Gear
Hydration Running Belt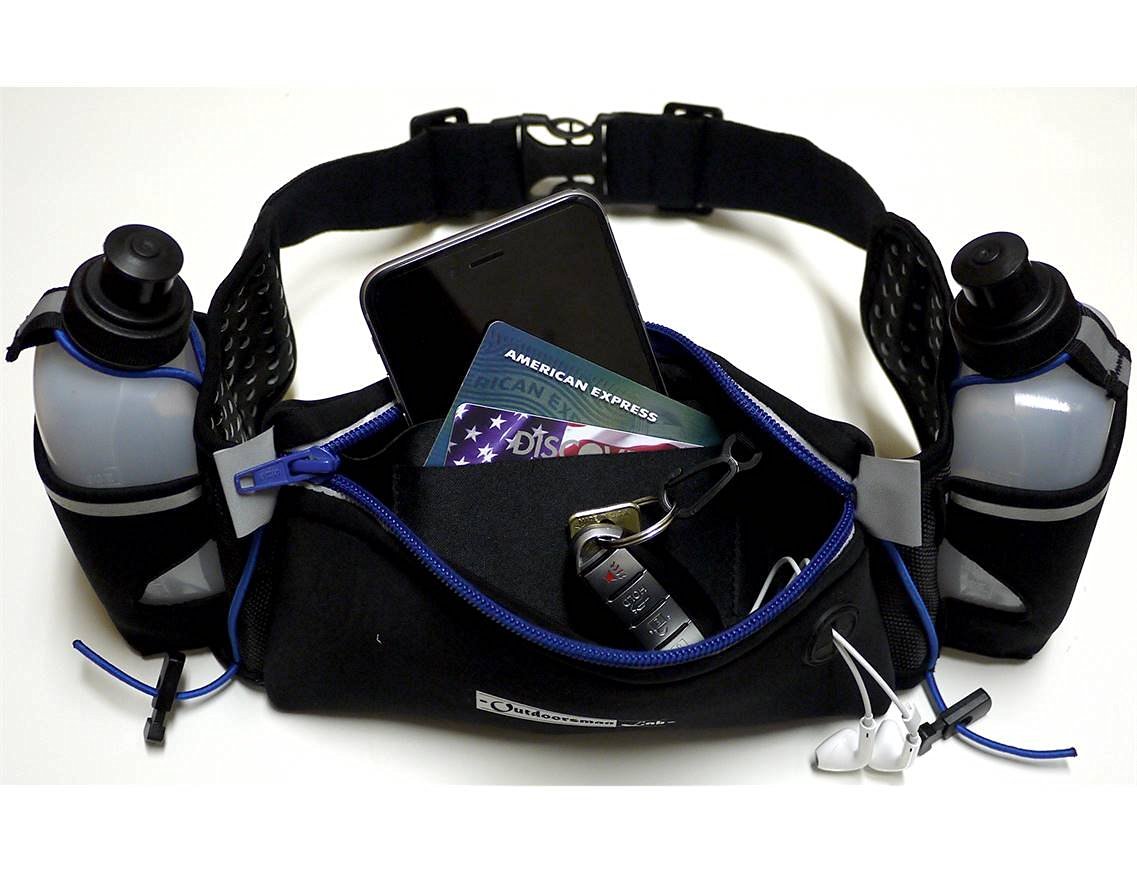 For whatever reason, I run a lot better if I can drink water during my runs. Even on short 2-3 mile runs, I can still consume 20 oz of water with ease. I decided to upgrade my running belt this year and get one that included water bottles. I love this belt because it holds my iPhone 7 Plus, keys, and allows me to have water within reach.
You can get it on Amazon for $12.
iPhone 7 Plus Armband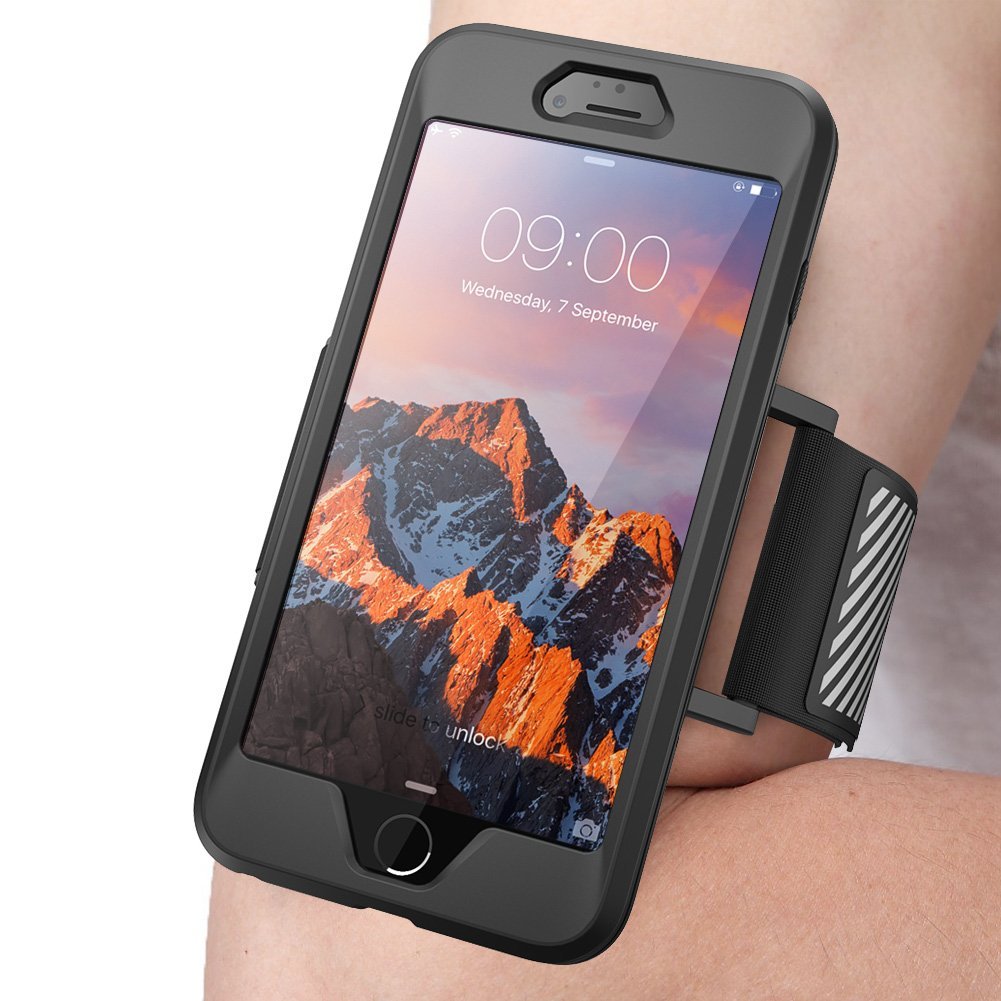 This armband fits the iPhone 7 Plus perfectly and securely. The volume, silent, lock, and Home buttons are all easily accessible, and since there's no plastic "window" to cover the iPhone screen, it is very easy to view and tap on the screen during a workout.
The silicone case is lightweight and has two slots in the back for the elastic band so it can to be removed if needed, allowing the case to stand alone as, well, a case. The band itself is stretchy, easily adjustable, and breathes nicely, fitting any arm between 9″ and 21″. You can get it on Amazon for $15.95. If you have an iPhone 7, they have a similar model for it.
Conclusion
If you've noticed, we really nitpicked a lot of these apps. The reason is that they are all good. All of the apps are updated for the iPhone 6 and are well-maintained. From a functionality standpoint, they all do what they say they are going to do. If you use any of the apps we looked at, you are using a premium app. We just feel that RunKeeper provides that best overall experience in regards to design, user experience, community, and integration with other platforms.
$0 - $9.99/monthly
RunKeeper is our favorite running app due to its deep feature set, vibrant community, and strong integration with other services.
App Store

$0