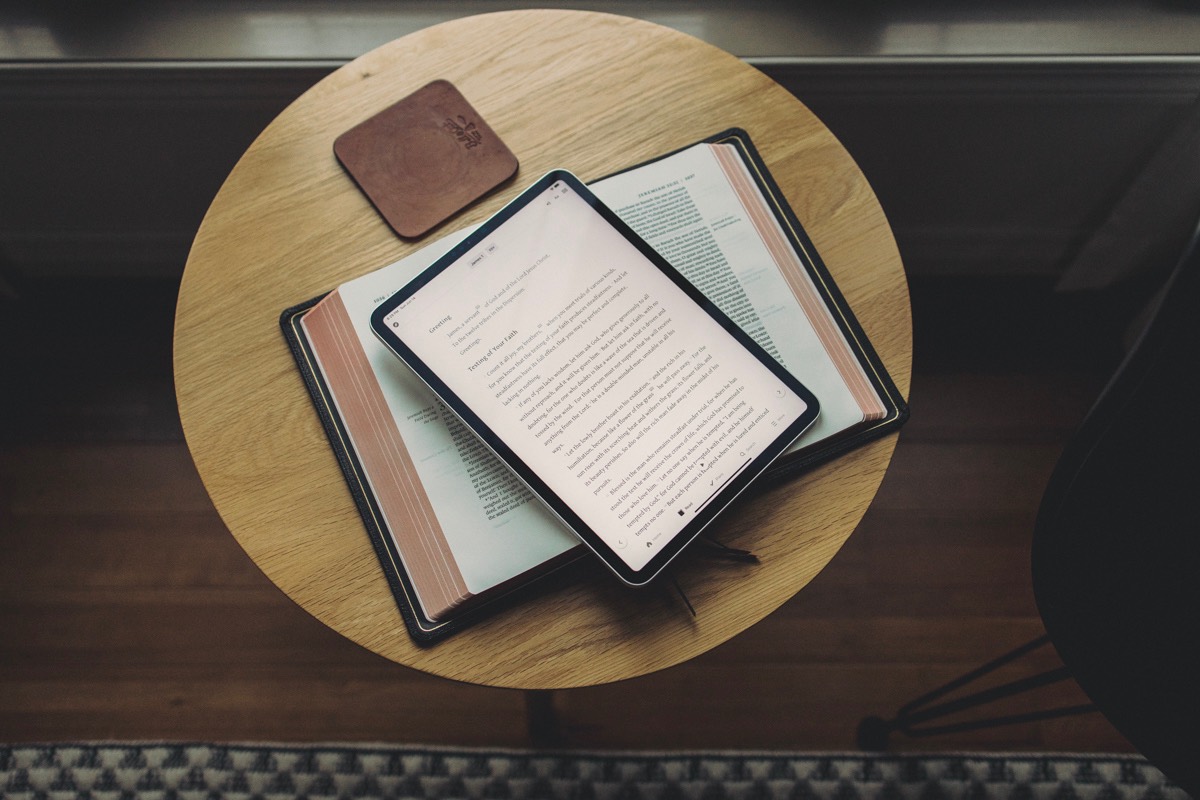 The Best Bible App for iPhone and iPad
YouVersion
June 16, 2020
The best Bible app for iOS is The Bible app from YouVersion. It offers a great user interface, easy (and free) access to a large number of translations in many languages, and offers a bunch of great reading plans. It also includes audio Bible support (if you prefer to listen), accessibility from almost any device (with bookmark and note syncing), and is frequently updated. It strikes the perfect balance between design and functionality for most users regardless of price.
If you're looking for something for serious study, Logos is a great (but pricey) option. It gives you several powerful tools like lexicons and interlinears that help you take your Bible study to the next level and dig into the original texts — even if you're not an expert on ancient Greek or Hebrew.
Why You Should Trust Us
This review is one that I've always wanted to write.
In addition to being a nerd who loves Apple technology, I'm also a student who is passionate about my faith. In fact, I went back to school several years ago and got a Bible College degree just for funsies. I've never aspired to be a priest or a pastor, but I did want to learn more about the Bible. So when I had the opportunity to take night classes through the sattelite campus at my local church, I did full-time for four years.
While my Bible College experience was definitely not as rigorous as a lot of seminaries, it did give me a greater appreciation for some of the technological study tools we have available to us today. So while I'm not a Greek or Hebrew scholar, I can say I've gone to school for this and I do have a basic understanding of the original languages the Bible was written in.
Why does this even matter?
Because the original languages are often much more descriptive than our traditional English translations. For example, there are multiple words used in the Greek (the language of the New Testament) for our English word, love:
eros = desire, sexual love
phileo = brotherly love, like as a friend
agape = the highest form of love, charity
(Note that these are the rough English spelling of the original Greek words — this is a not intended to be a lesson in Biblical Greek.)
As you can see, understanding the differences between the original words used can significantly alter your perception of the meaning a particular verse has. And with the technology we have available to us today, it's easier than ever to understand which word was used and what the author actually meant.
So in this review, we'll look at two categories:
The best everyday app for most people who just want a great app for their daily Bible reading.
The best serious study tool for people who want to dig deeper in their understanding of the scriptures.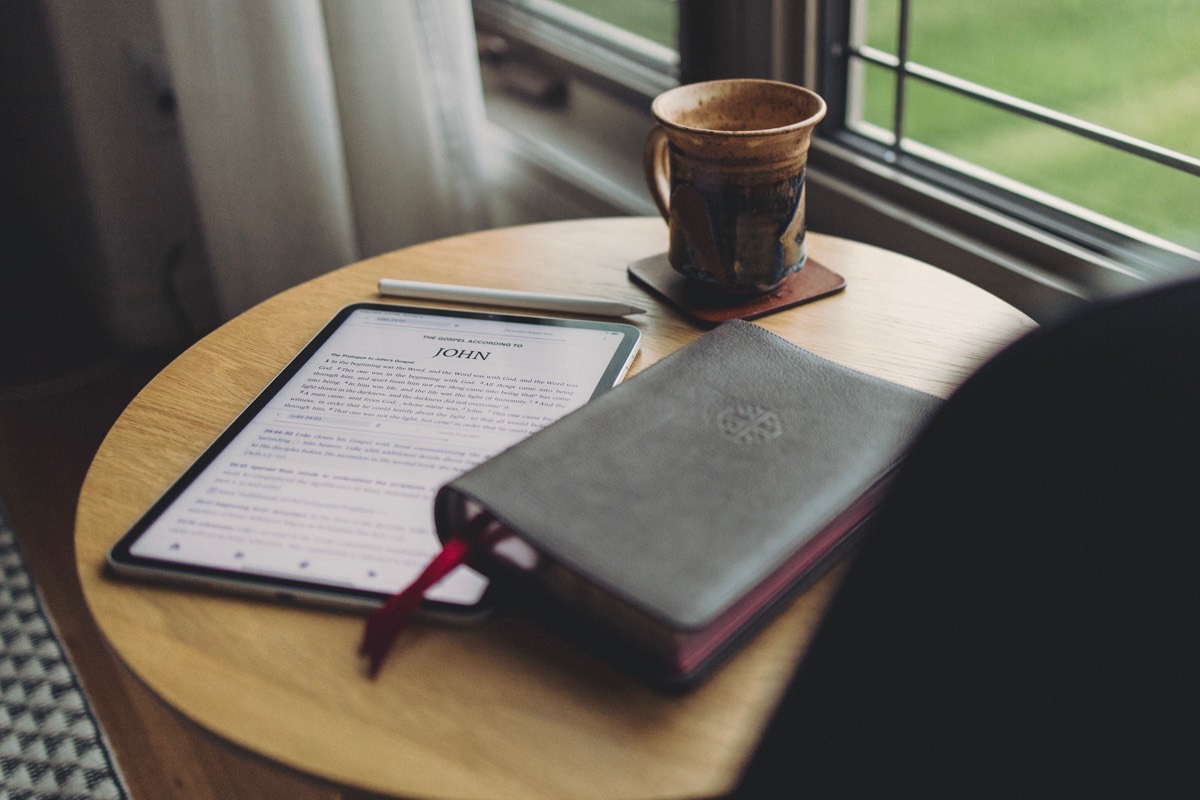 The Candidates
There are a ton of options available for people who want to study their Bible on their iOS device. Here are the ones we considered for this review:
There are many other options available, but these were the most popular or the best fit for our selection criteria.
Our Criteria for The Best Bible App
In order to pick the best Bible app for iOS, the following criteria were used.
Design: Does the app follow current iOS design standards? Does it provide a great experience from initial launch, reading, and displaying any extras it provides?
Ease of Use: When it comes to apps that are used for reference and study, it's easy to be heavy on features and material while being near impossible to figure out the basics. Does it provide an easy way to access what you want without needing ten taps to get there?
Available Translation: There are lot of Bible translations available today. From the ESV, HCSB, NASB, and NKJV, there are a lot of translations that people use. Does the app provide versatility when it comes to translation options?
Offline Support: This is a must-have feature. My iPad is WiFi only, so I need the option to be able to download my preferred translations so I can read them offline.
Study Tools: A good Bible app will give you more than just the text. Additional tools like reading plans, bookmarks, highlights, and scripture notes help you apply what you read to your own life.
Update Schedule: A quick search in the App Store will return hundreds of options that are no longer in development. A good Bible app is consistently updated to take advantage of modern iOS features.
Price: You can get a lot for free, which makes price even more important when trying to balance cost vs. features when picking the Bible app you're going to use.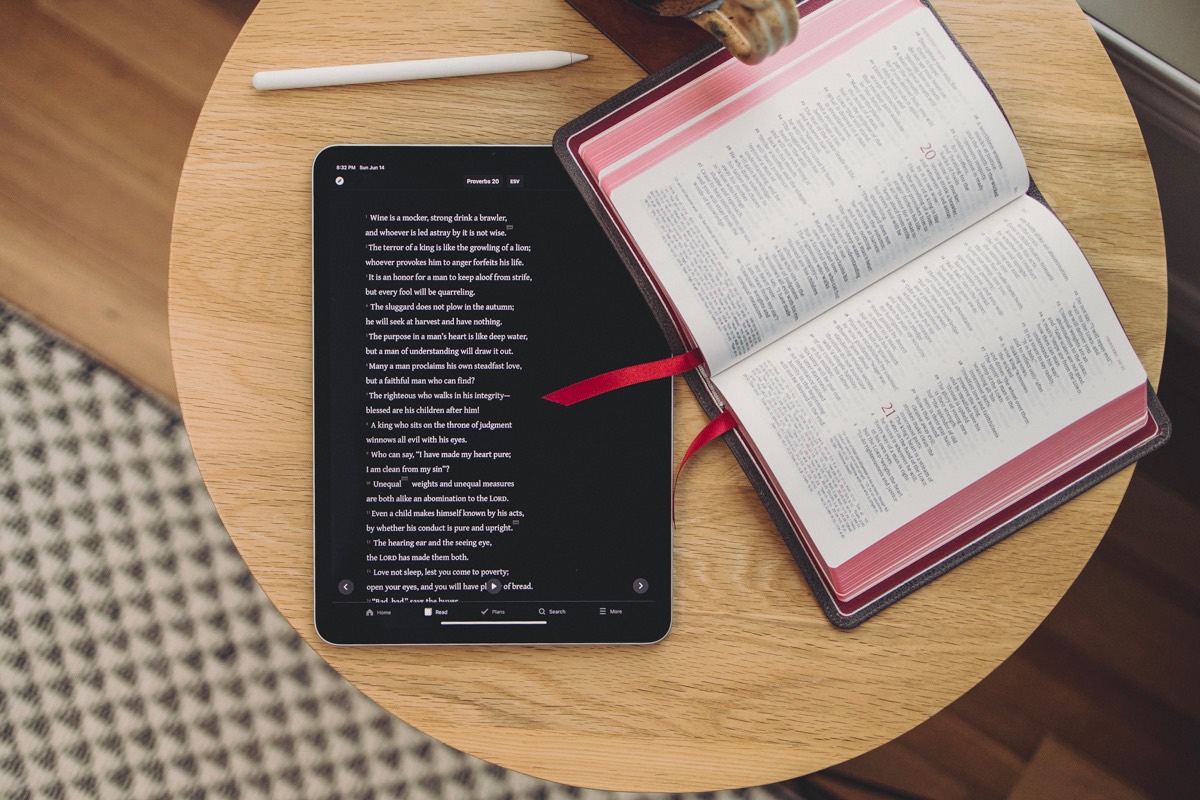 I have multiple Bible apps on my devices, but I use The Bible App by YouVersion 95% of the time because it offers the perfect balance between form and function. If you simply want a great user experience while reading your Bible on your iOS device, The Bible App by YouVersion is hard to beat.
The first thing to notice about YouVersion is it offers an incredibly clean reading interface. Just the chapter and translation are displayed in the bar at the top, and a play button (when available) to bring up the audio version if you want to listen to the selected passage instead of reading it at the bottom.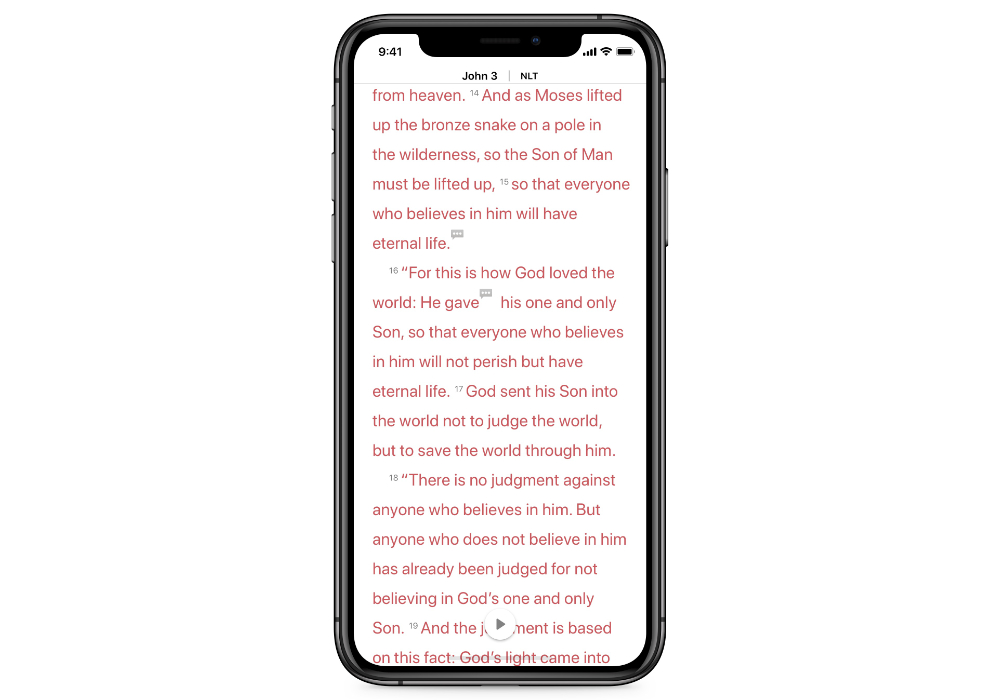 Tapping the bar at the top brings up some additional options, like related content (i.e. videos), audio and text display options (including a beautiful dark mode), buttons to jump forward and back from the current chapter, and a bottom bar that allows you to navigate to other parts of the app.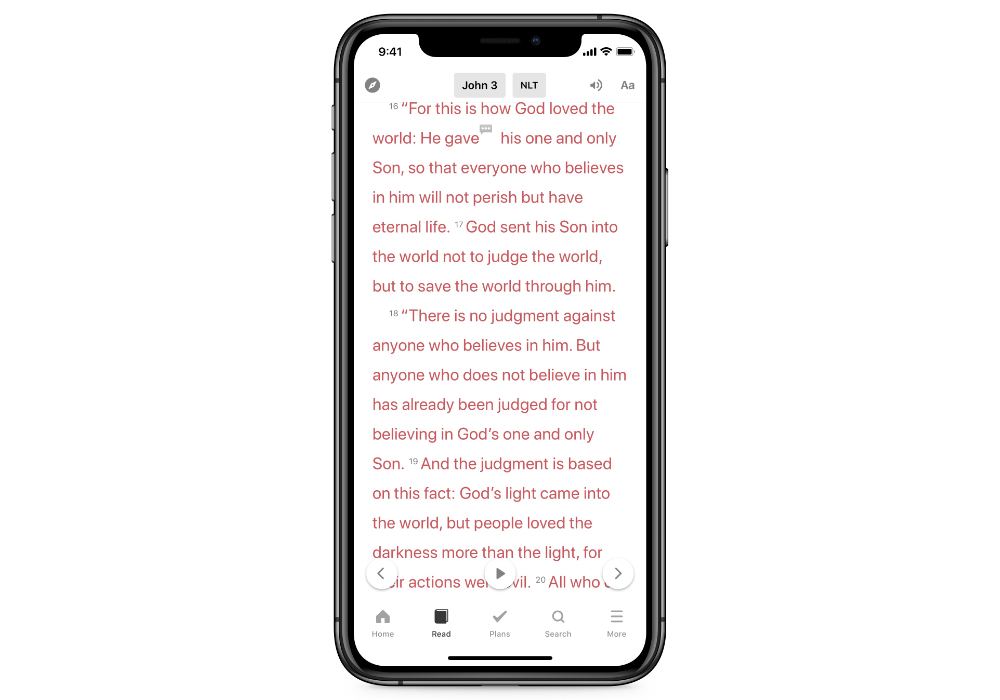 On the increased screen real-estate of the iPad, you also have the ability to compare two versions side-by-side. This allows you add additional context to what you're reading. For example, you could compare the traditional King James Version on one side with a more modern translation (like the New Living Translation) on the right.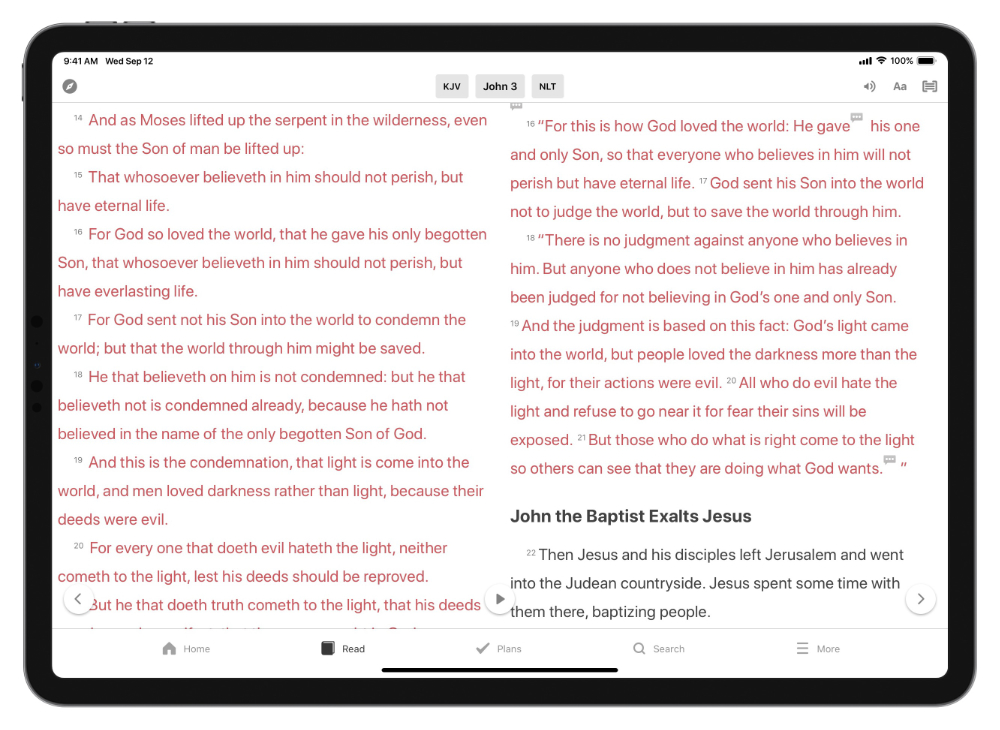 This is done really well, and the verses are kept in parallel while you scroll up and down the page.
Tapping a verse will underline it and give you options to share the verse, create an image from the text, compare it in different versions, add it as a bookmark, or create notes or prayer requests inside the app from your selection.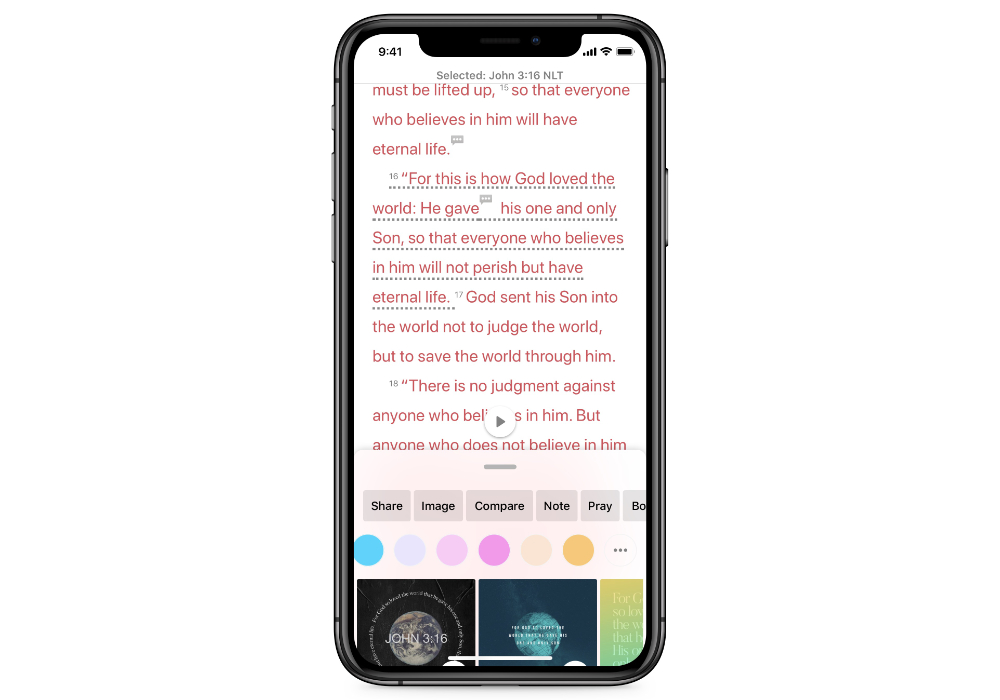 There are several colors you can choose from for highlights, and you can even show related scriptures from either your personal study notes or from the YouVersion community. All of these features are easily accessible, but they aren't cluttering up the interface if you don't want or need them. The app really does an incredible job offering a bunch of discoverable and useful tools in a way that isn't distracting.
The biggest feature though is easily the number of translations that are available in the app. At the time of our review, there were 2,082 versions available in 1,420 languages!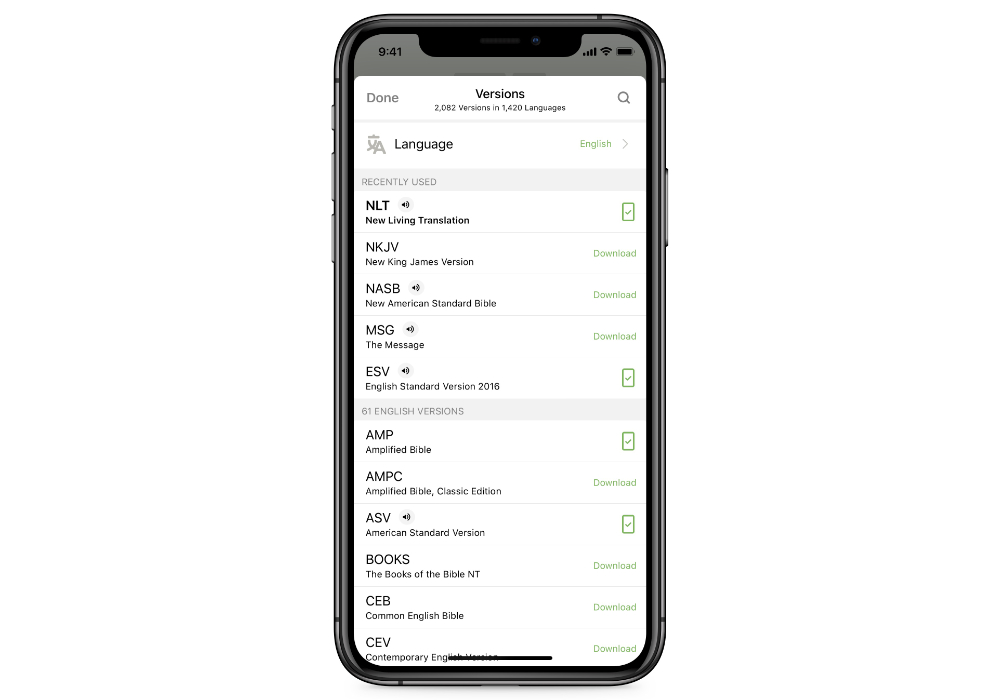 There are 61 English versions alone, including:
English Standard Version (ESV)
New American Standard Bible (NASB)
New Living Translation (NLT)
Amplified Bible (AMP)
Holman Christian Standard Bible (HCSB)
The Message (MSG)
New King James Version (NKJV)
The Passion Translation (TPT)
And all of these translations are offered for free.
That's kind of amazing when you think about it. The size of the library that you have access to is pretty incredible.
Many of these translations (most of them, in fact) are available to download for offline use, and a good number of them have audio versions included as well.
Speaking of the audio versions, they are really well done. There aren't any options for selecting different voices, and the narrator will vary from version to version. In our testing, all the narration sounded professional.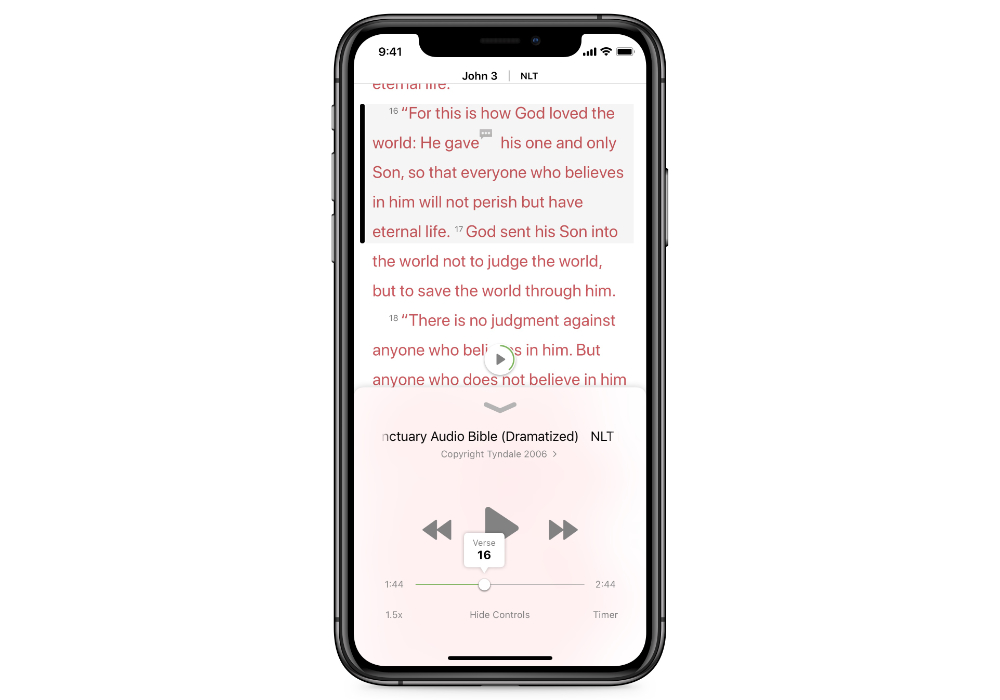 The audio player also offers speed adjustment options like you'd find in a podcast app, and includes a timer to automatically stop after a period of time.
I also appreciate the streaks feature to help create momentum to keep growing your Bible-reading habit. It's accessible from the Home screen, and shows you the length of your current streak as well as the number of perfect weeks you've had.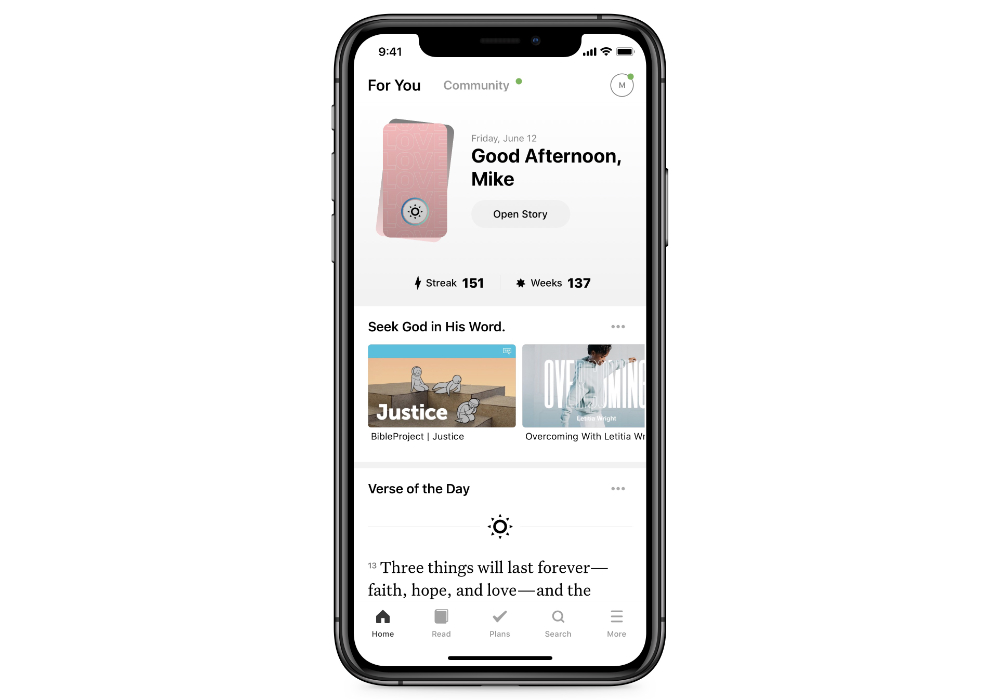 The Home screen offers several other tools, including a daily story (that looks a lot like the topical stories you might find in a meditation app) and a verse of the day. It also gives you access to any prayer lists or reading plans, and makes suggestions for connecting to other people you might know in the YouVersion community.
The reading plans in the app are done well, and there's a bunch of them to choose from. I'm currently doing two plans: one private that I'm doing myself, and one that I do with my discipleship group at church. In addition to splitting up the readings the same way the private plans do, the group plans also offer one additional step at the end where you can share what you got out of the day's reading: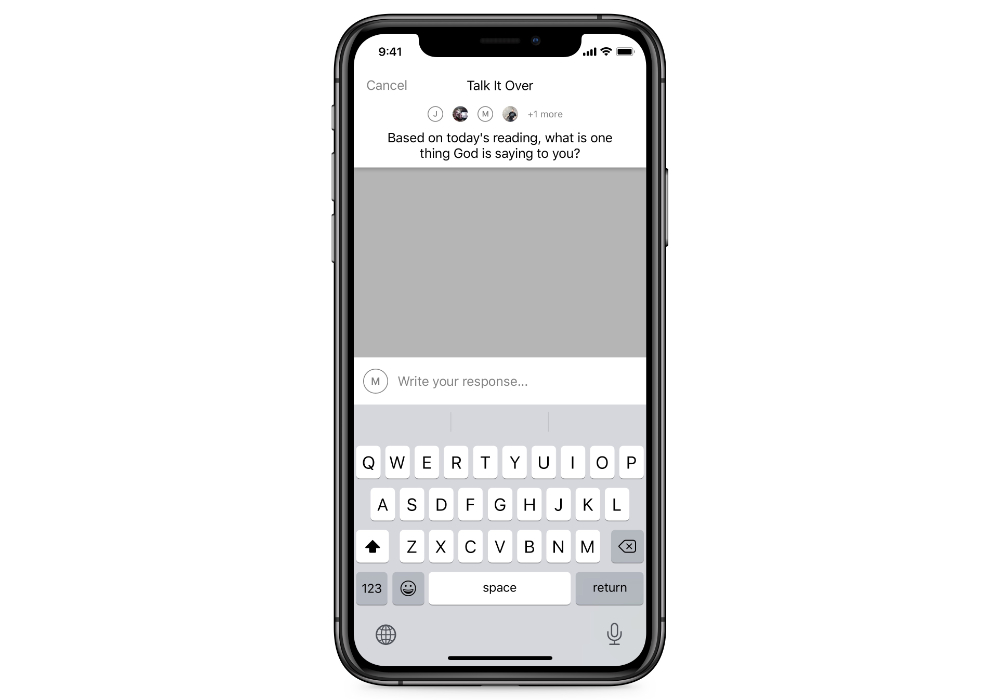 I really like this feature.
By having to answer what you got out of the reading, your expectation level is heightened. There's less incentive to "just get it done" when you know you'll have to give a public answer based on what you just read. There's also built-in accountability with check marks that appear over the icons for the people in the group (sometimes you just need a little help from your friends).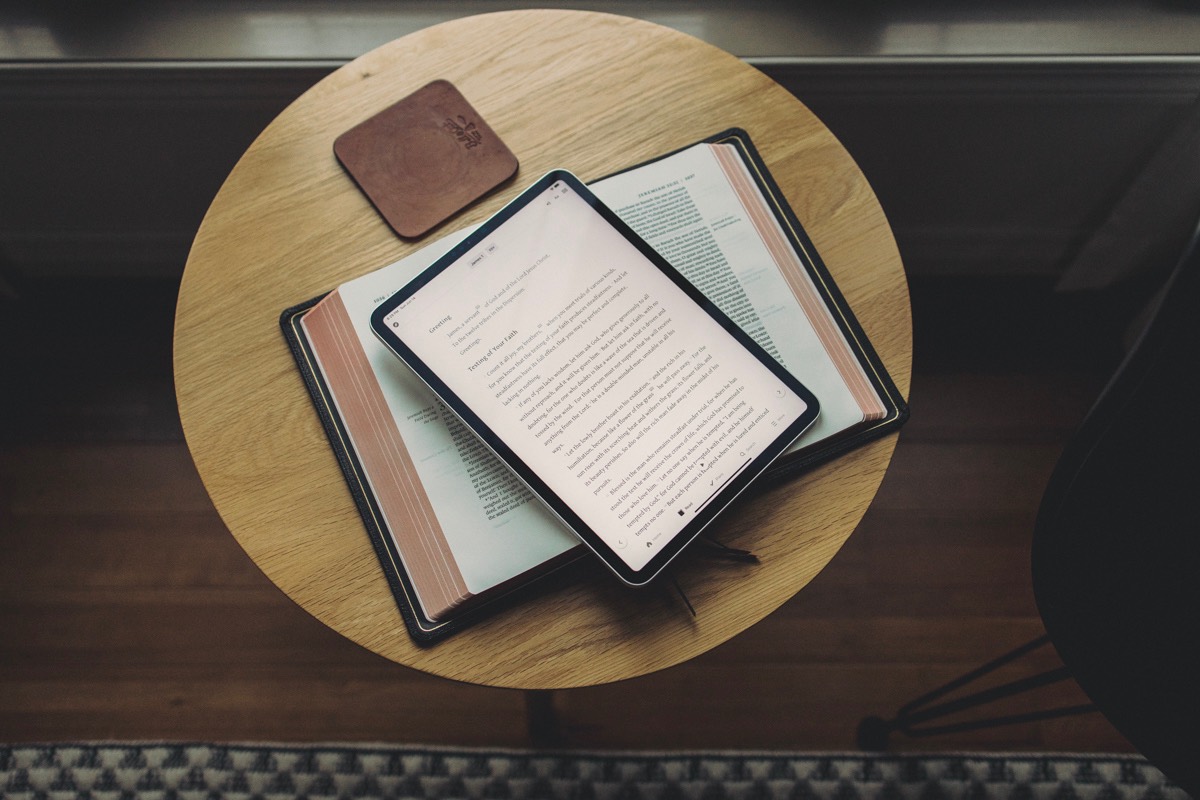 Overall, The Bible App by YouVersion is tough to beat. It gives you a bunch of incredible tools and translations in a great user interface that makes it easy and fun to read. It's kind of hard to believe that it's free, but if you want to support the development, consider making a donation.
You can download The Bible App by YouVersion for free on the App Store.
Best Option for Serious Study: Logos (Honorable Mention: Accordance)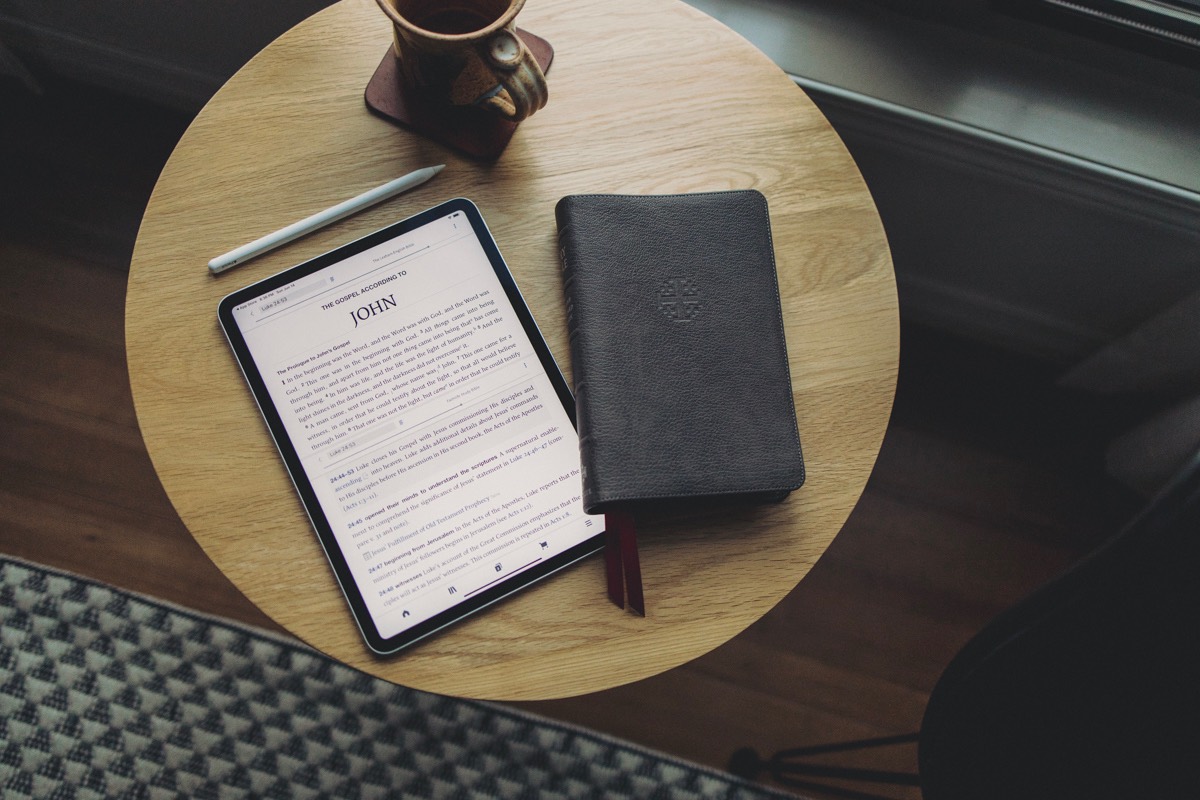 When it comes to scholarly study, there are really two heavyweight contenders: Logos, and Accordance. Both offer powerful tools to help you take your Bible study to the next level and offer powerful Mac apps that give you additional control when unlocking the power of your theological library. We like Logos because it offers a better iOS experience.
Like YouVersion's Bible App, the interface in the Logos iOS app is very clean and easy to use. It's extremely minimal, and I personally like it a little bit better.
But (in my opinion) the biggest benefit that both Logos and Accordance give you is the ability to quickly access the original languages via Strong's Numbers — even on your iOS device.
Strong's Numbers are basically a numerical index of every word used in the original Hebrew and Greek texts of our modern-day Bibles. The numbers make it easy to look up the original word and its accompanying definition in the English language. By looking up the Strong's Number, you can connect the meaning of English word used in our modern translations back to the full meaning in the original Hebrew and Greek manuscripts.
These Strong's Numbers come from a reference work called a concordance. A concordance is an alphabetical list of words and their definitions, like a dictionary. For example, you can be reading your Bible and see that the Strong's number for the word love is used in a specific scripture reference. For example, John 15:9 in the King James says:
As the Father hath loved me, so have I loved you: continue ye in my love.
Using the concordance, you can see the Strong's number for the word love at the end of this verse is G26. From here, you can go to the Greek section of a strong's concordance and find the 26th entry in numerical order, which is agape, and see the full meaning of the original word.
Tools like this have existed for a long time, and allowed Bible students (like myself, back in the day) to look up the real meanings of the words used in the original languages without having to be an expert in those languages to understand what they were saying.
But now it's a lot easier.
With tools like Logos and Accordance, you don't have to flip through a book anymore. Just highlight a specific word in an English translation, and you can instantly see both the original word used and the definition of that word from the Strong's concordance (or other original language tools you have access to):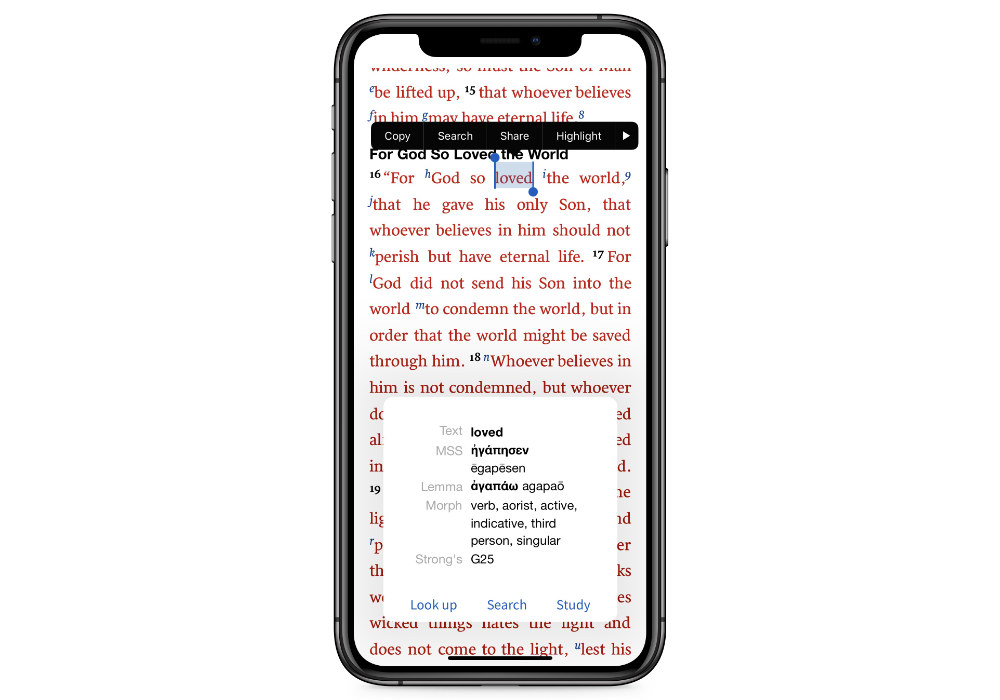 This interlinking of available resources can be really powerful. Which is also why both Accordance and Logos price their software based on the included works in the library you purchase, and can be insanely expensive.
Here's a listing of the current collections available for purchase via the Logos website:
Basic (Free)
Essentials ($49.99)
Starter ($294.99)
Bronze ($629.99)
Silver ($999.99)
Gold ($1,549.99)
Platinum ($2,149.99)
Diamond ($3,449.99)
Portfolio ($4,979.99)
Collector's Edition ($10,799.99)
Yes, you read that right — you can actually spend over $10,000 on a Bible app.
If you're a Pastor, maybe some of the those larger plans make sense. But for most people, you won't ever need to spend that much.
This can be a little confusing because Logos is available as a free download on the App Store. There's also a basic in-app purchase that gives you a bunch of resources for $3.99/month, but to get the maximum benefit out of the app you'll need to invest in a library package.
As a Bible College student myself, I have paid for both Logos and Accordance. My library continues to transfer over with me from version to version, and usually the core features upgrade for the Mac app (where both of these applications really shine) is somewhere around $50.
The library is really important if you decide to invest in a tool like this. Using the Bible text as an anchor, you're able to link together ideas and passages from any reference works in your library. This makes topical study or following chains of related scripture references incredibly easy.
The nice part about these apps is that your library is able to sync with you to your iOS devices. Once you sign up for an account and make a purchase, you have access to all the versions, commentaries, and tools included everywhere you go. And there are a bunch more tools you can't get anywhere else. For example, here's a couple of things you can do with Logos:
Passage Guide — Search all your commentaries, books, journals, and even ancient literature to help you learn from scholarly, pastoral, and historic guidance on your passage.
Reference Scanner — Snap a photo of a Bible reference in a book, bulletin, and more, and the Logos mobile app will open your Bible to that reference.
Topic Guide — Gathers information from your library about a topic or concept. Using included datasets that you have access to, the guide finds topics in your Bible dictionaries and other resources that correspond to the key term you enter.
Exegetical Guide — Helps you accurately interpret a verse or passage by investigating textual variance, grammatical constructions, syntax, or even a word-by-word analysis of the text in its original language.
Bible Word Study — Provides detailed information about specific English, Greek, Hebrew, or Aramaic words. Includes definitions, different translations of the word, grammatical relationships, prepositional uses, and more.
On iOS, the iPad is where these tools can really shine. You can split your interface to display multiple tools and texts at a time, for example, a Bible text on one side and a Bible Word Study on the other: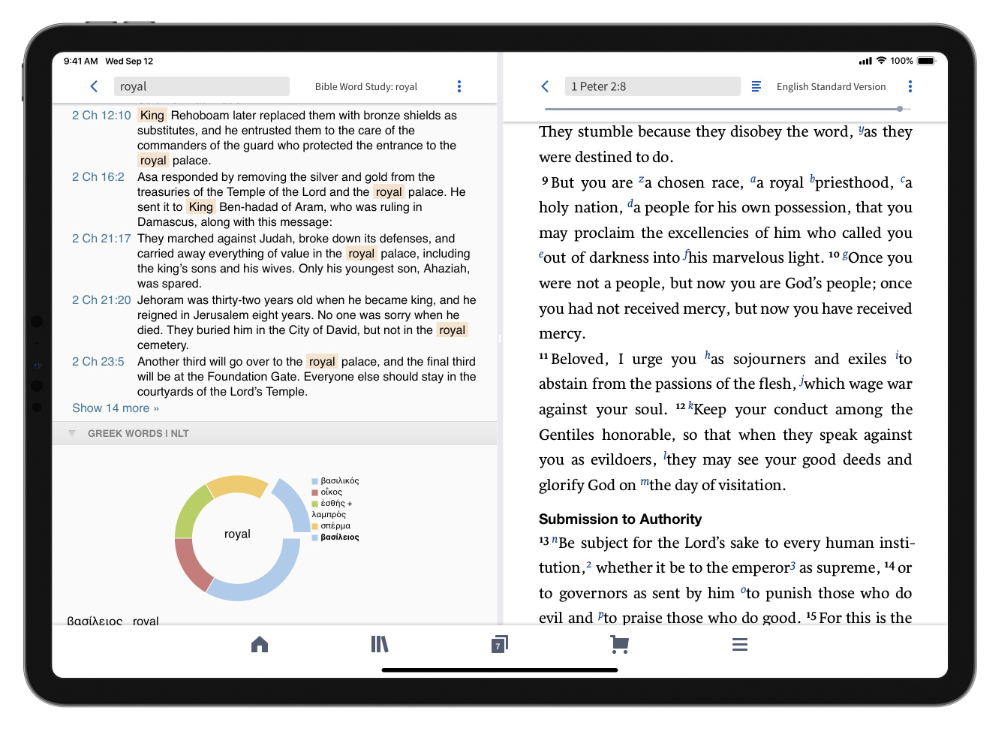 By the way, similar versions to most of these tools are also available for Accordance. We think the Logos interface is a little nicer, but each app has different included resources and different ways of implementing the additional study tools. For example, here's what the Accordance iOS app looks like: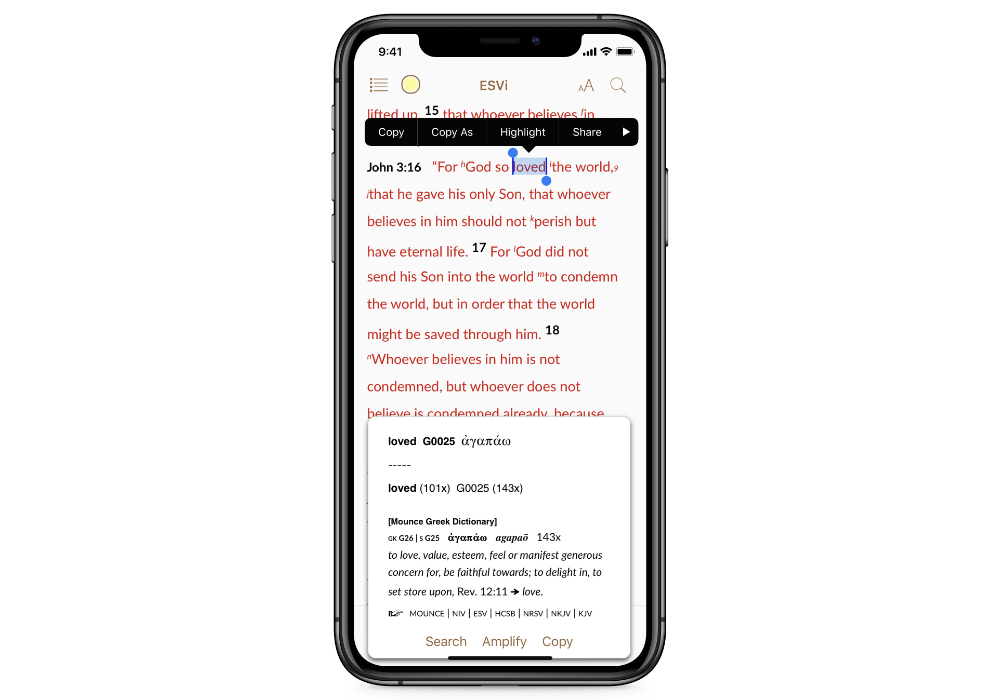 If you decide to make an investment into an app by purchasing a library, we recommend that you look at both options first to see which one clicks for you.
It's hard to say whether these apps are a worthwhile investment for an individual who's considering investing in them. My rule of thumb would be that if you're not sure you need tools like these, then you don't. For most people, Logos is overkill. But if you know you need something to assist you in your theological study, then Logos may be a worthwhile investment.
Our Must-Have, Most Used Productivity Apps
We spend an inordinate amount of time sorting through hundreds of apps to find the very best. We put together a short list of our must-have, most-used apps for increasing productivity.
Other Options to Consider
Here are the other apps we looked at when selecting the best Bible app for iOS.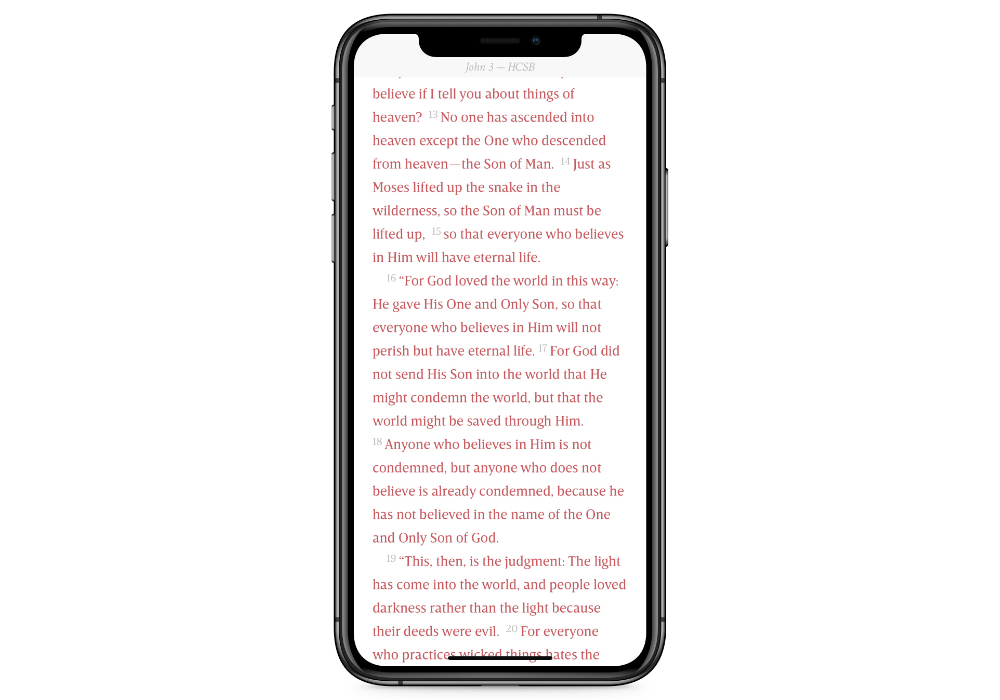 NeuBible is a beautiful app designed to give a stellar reading experience. It doesn't include audio Bible support, commentaries, or note taking — just a great user interface for distraction-free reading. It only includes nine translations, and many of them are in-app purchases.
Unfortunately, it looks like it's no longer being actively developed.
Previously our runner-up, the last update NeuBible received was in 2018. It still offers a solid UI, but I'd be hesitant to invest much into the app. Since most of the available translations are in-app purchases, we recommend that you look at The Bible App by YouVersion first.
You can download NeuBible on the App Store for $4.99.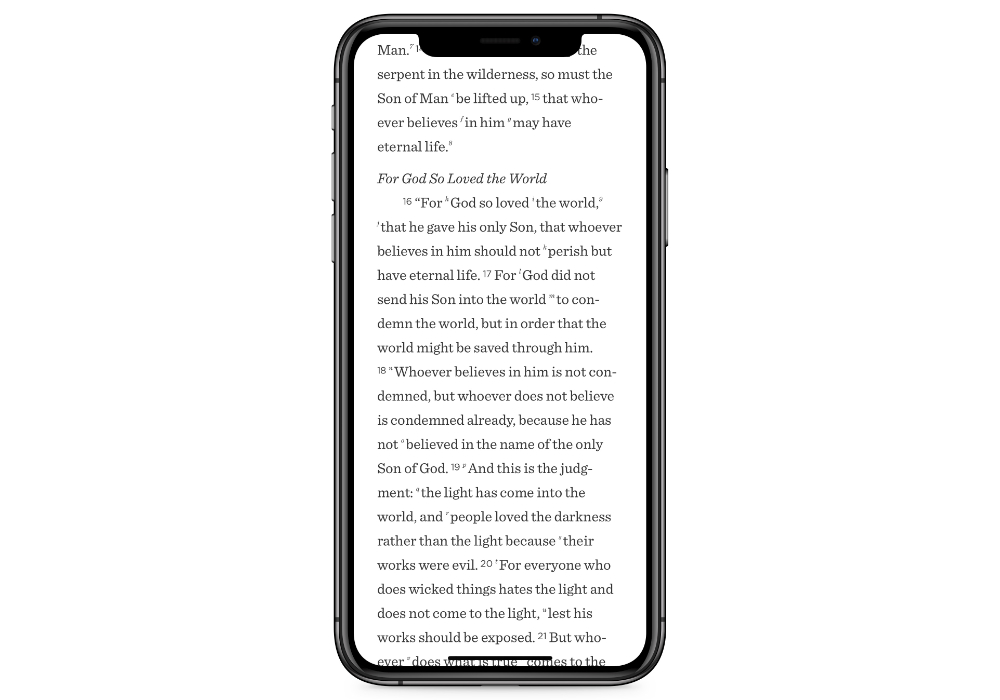 The free ESV Bible app is published by Crossway, the publishers of the English Standard Version Bible known for its balance between historical accuracy and modern language. If you are all-in with the ESV translation, then this is a solid app that gives you access to reading plans, audio capability, and more.
But personally, I like to look at verses in multiple translations when I study. Because this app is built entirely upon a single translation, you lose the ability to do that. The design is not quite as nice as The Bible App by YouVersion, and there's really nothing here that would cause the average person to pick this app instead.
Bible App by Olive Tree is a well-known Bible app on iOS that is developed by Harper Collins Publishing. It has apps for iOS, Mac, and the web that feature a really nice design, and gives you access to a lot of study tools — even in the free version.
Like Logos, you can build your library and use original language tools, interlinearies, and commentaries. But the library is limited when compared to Logos or Accordance. The app is consistently updated though, so if you're looking to dabble in something more powerful but aren't ready to make a serious financial commitment, Bible App by Olive Tree is a good way to kick the tires.
Bible App by Olive Tree is available for free on the App Store and offers several in-app purchases to expand your library. On the plus side, you can purchase them individually, but they can also add up quickly.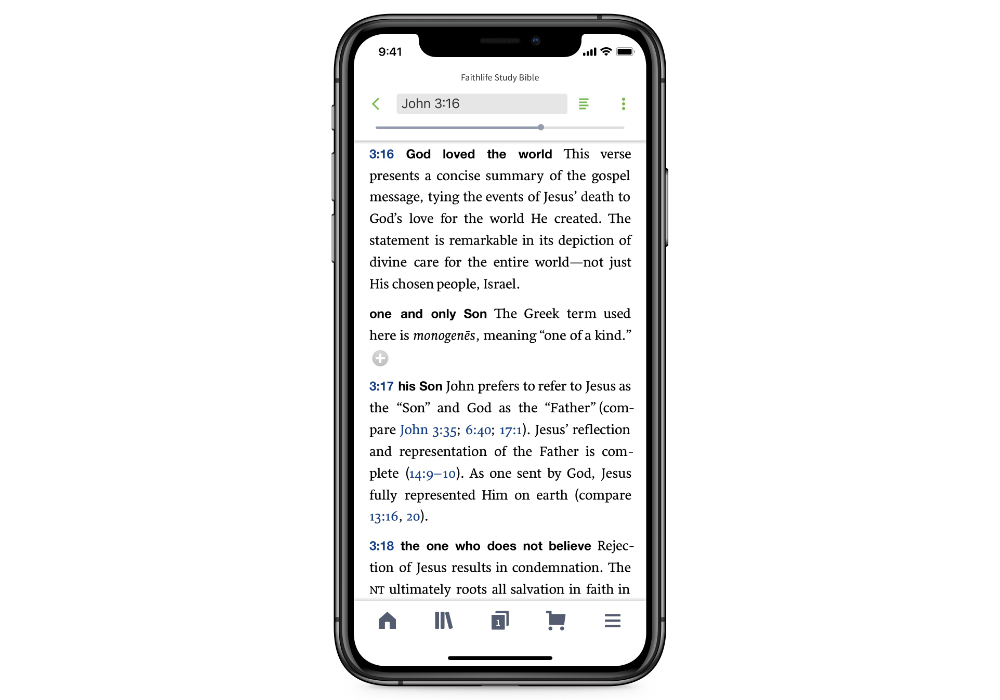 If the Faithlife Study Bible app looks familiar, it should. It's developed by the same company behind the Logos app we discussed earlier. It's almost identical in its user interface design, but doesn't offer the same level of power-user study features that its big brother does.
Think of the Faithlife Study Bible app as Logos Lite. It gives you access to a Bible dictionary, reading plans, and lots of multimedia resources like photos, videos, and infographics (these things are also available in Logos).
You can download the app for free on the App Store, but many features are available via in-app purchase. If you're going to invest in additional resources, we recommend that you take a look at Logos first.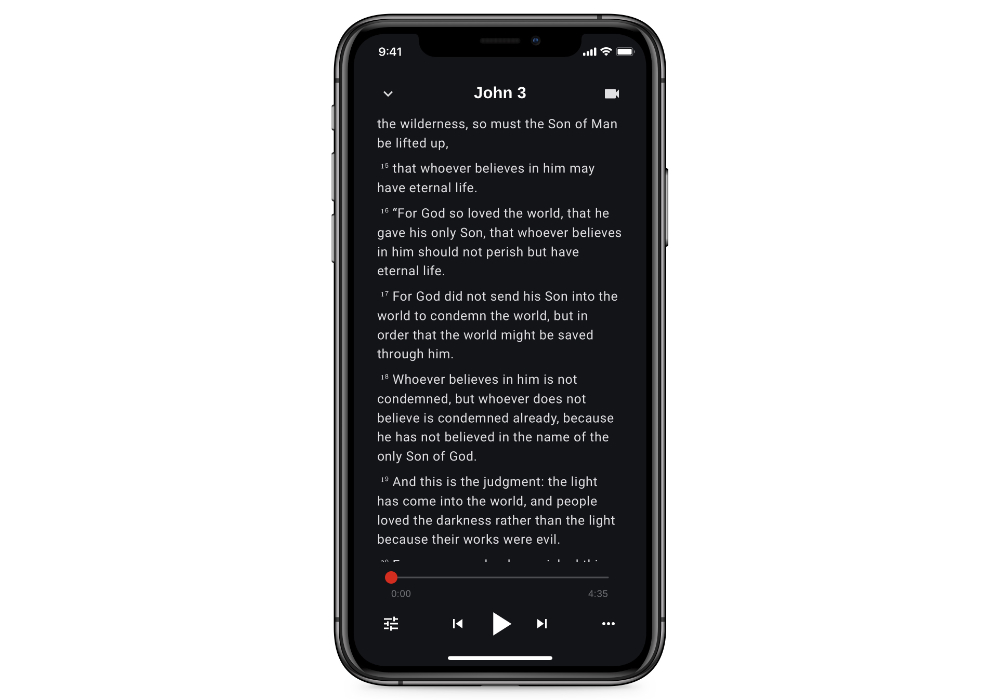 Bible.is originally started as an audio Bible experience and includes dramatized versions in over 1,000 languages. I used to use Bible.is exclusively for listening to the Bible, before those features were added to other apps like The Bible App by YouVersion.
Over the years they've added other features like highlighting and reading plans, rounding it out into a solid app. But the interface is a little clunky and doesn't quite measure up in comparison to The Bible App by YouVersion as our pick for the best Bible app for iOS.
You can download Bible.is for free on the App Store.
If you're simply looking for the best audio Bible experience, check out Dwell. It offers a range of voices to choose from, offers a great user interface, and allows you to select from different types of ambient musical backgrounds. You can mix the voice and music levels, and there are controls to alter the playback speed.
The knock against Dwell is that it is audio-only (there is no text version if you want to read along). And while it's technically free to download from the App Store, it's really $29.99/year in order to use it (which is a little pricey). The app requires you to sign up for a subscription on launch (with a 1-week free trial) before you gain access to the app. Personally, it's hard for us to justify the extra cost compared to what YouVersion gives you for free.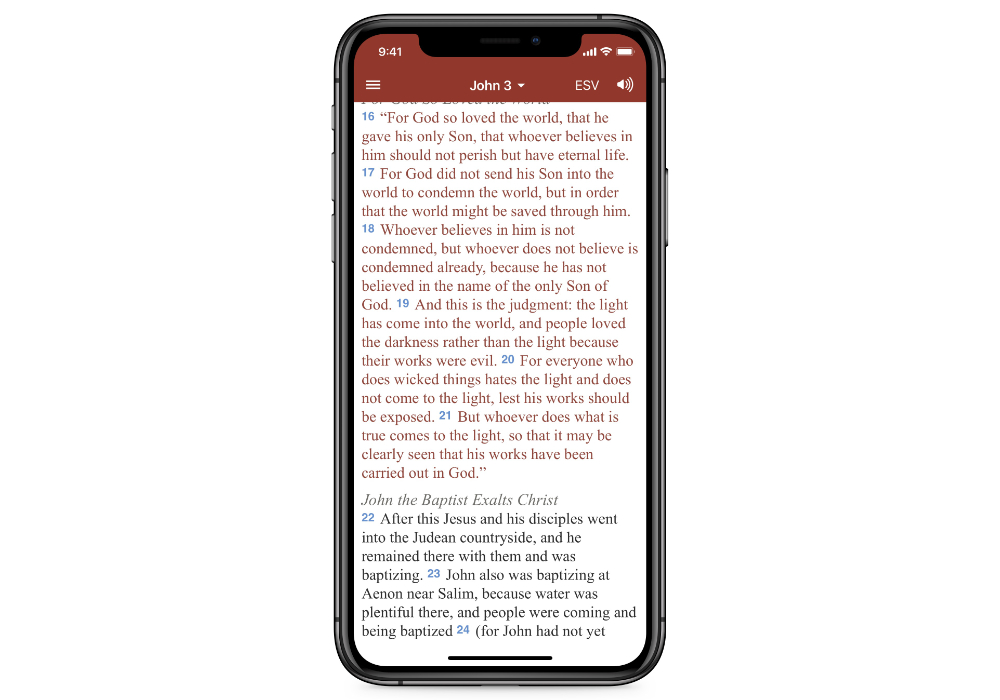 Bible Gateway is an app by Biblegateway.com. The website and the name have been around for a long time, originally started in 1993 by then-student Nick Hengeveld who had a vision to make the Bible digitally accessible to everyone via the internet.1 It's been a major player in making the digital Bible accessible.
Unfortunately for Bible Gateway, it's just not as nice as The Bible App by YouVersion. It does offer a lot of translations, audio Bible support, and reading plans, but the interface isn't great. It's also ad-supported, which just looks odd in a Bible app.
It can be downloaded for free on the App Store, and includes monthly and yearly subscription options. These get you "fewer ads" and access to additional resources.
Wait. There's a Bonus….
Custom Productivity Templates for Your iPad
If you want to use custom productivity templates on your iPad, we've put together a free, walkthrough guide along with two of our in-house templates that can help you get started.
We'll show you…
How to create and save custom page templates.
How to use those page templates to transform GoodNotes into your own productivity notebook (or any other type of notebook replacement).
Plus, we also have included two of our custom productivity templates for you to get started with.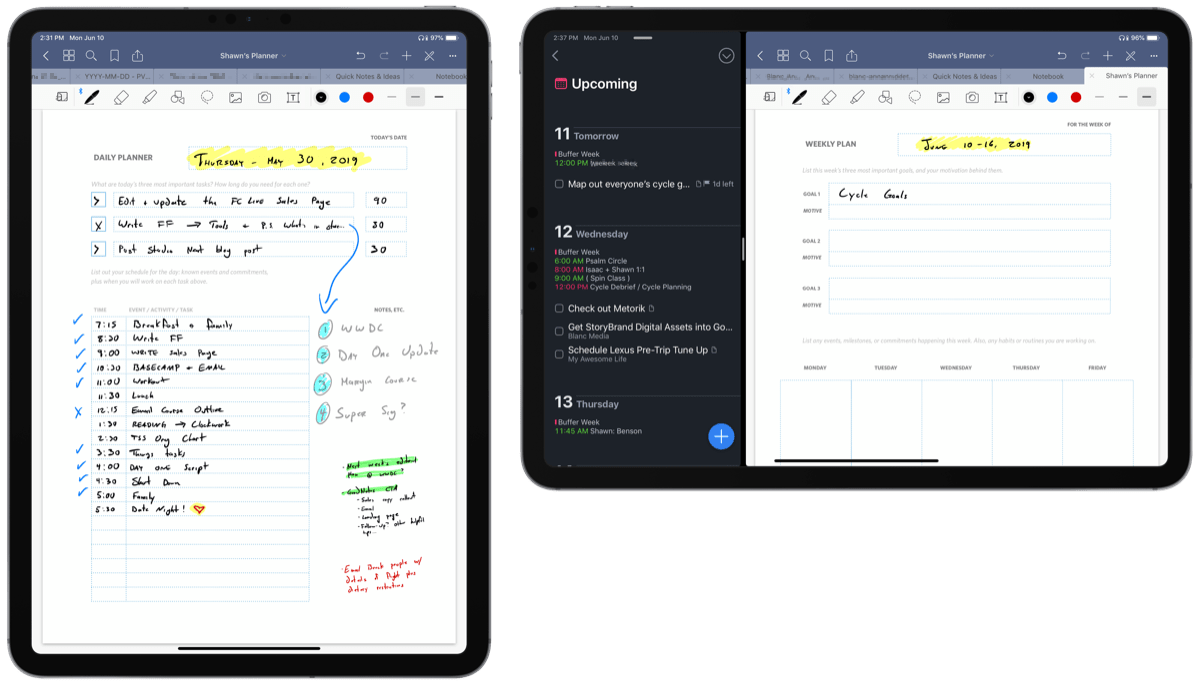 This guide is available for FREE to our email subscriber community. And you can get it right now.
By joining the Sweet Setup community you'll also get access to our other guides, early previews to big new reviews and workflow articles we are working on, weekly roundups of our best content, and more.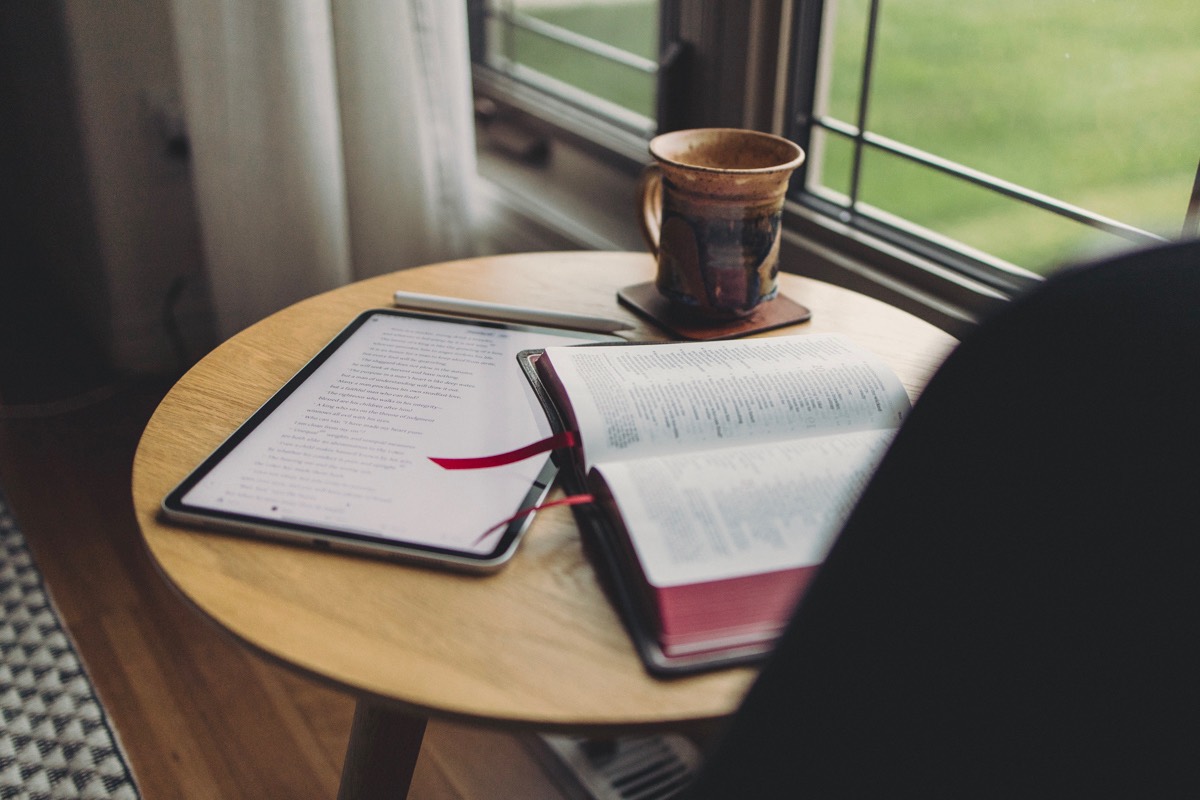 Conclusion
There are a lot of great options out there for Bible study on iOS, but the Bible App by YouVersion is the one we recommend for most people. It sets the bar extremely high with a great user interface, a large number of available translations, a large library of reading plans, and audio Bible support. If you need something more for serious study, we recommend Logos because it gives you incredibly powerful research tools — though it can come with a pretty hefty price tag.
$0
YouVersion's Bible is the best overall experience because it's easy to use, supports many versions, and provides a great reading experience.
App Store

$0