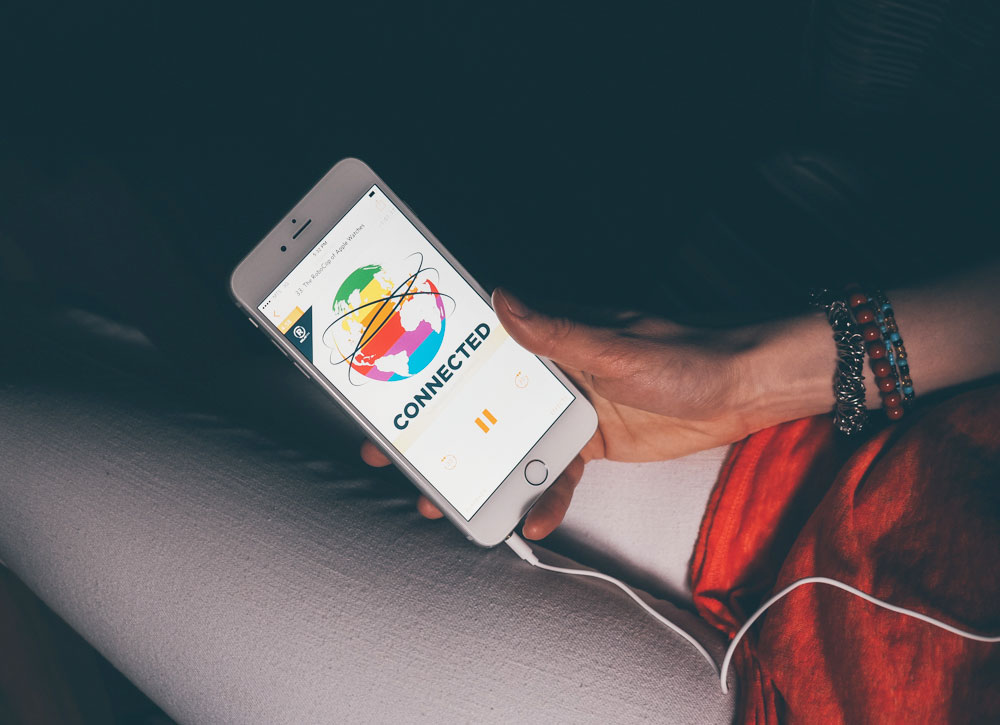 Our favorite podcast client for iOS
Overcast
August 18, 2016
Editor's Note: Pocket Casts 6 and Castro 2 recently shipped. We're spending some time with them and will be updating this review shortly.
There are many podcast clients in the App Store. Our new pick for what we consider to be the best podcast client for iOS is Overcast. Overcast has a very easy-to-use interface, in the year since it was released it has seen frequent updates, and it's available as a universal iOS app and a web-based player. But best of all are Overcast's two most useful and compelling features: Smart Speed and Voice Boost (which we'll get into later).
Overcast has become the podcast client of choice for all of us here at The Sweet Setup. Its Smart Speed feature has saved us a more than a cumulative 100 extra hours of listening time, beyond just standard speed adjustments alone. After comparing it to the competition and using it extensively, Overcast is the podcasting app we recommend.
Overcast is free on the iOS App Store as a universal app. It comes complete with these features:
Smart Speed
Voice Boost
Cellular downloads
Variable playback speed
Per-podcast effects settings
One-by-one playback option
Sleep timer
Unlimited number of playlists
Unlimited episodes shown in playlists
Smart Speed and Voice Boost are the two most compelling features that give Overcast our recommendation.
---
Overcast Background
Overcast was developed by Marco Arment, known for Tumblr, Instapaper, the Accidental Tech Podcast, and more. It was originally announced in September of 2013, and shipped in mid-2014. Overcast was never meant to offer every feature possible, but in reality it was built for Marco — he just happened to let the rest of us use it. Here is how he describes it:
If you need tons of features or anything I'm choosing not to do, you'll probably be happier with one of the others. (Before I started using Overcast full-time, Downcast was my podcast app of choice.)

I'm adding some new stuff that I haven't seen before in podcast players, and implementing what I think is the best set of core features from the existing apps. It's my ideal podcast app.
With version 2, Arment added streaming to the app and made it free, eschewing the previous in-app purchase to unlock the best features. Overcast is a free app with optional in-app $1/month patronage.
Patronage brings several goodies, including the ability to upload an audio file directly to Overcast. This is great if you have something you want to listen to using the app, but don't want to share on a semi-public service like HuffDuffer. Patrons also have access to one of the best dark themes we've seen in an app to date: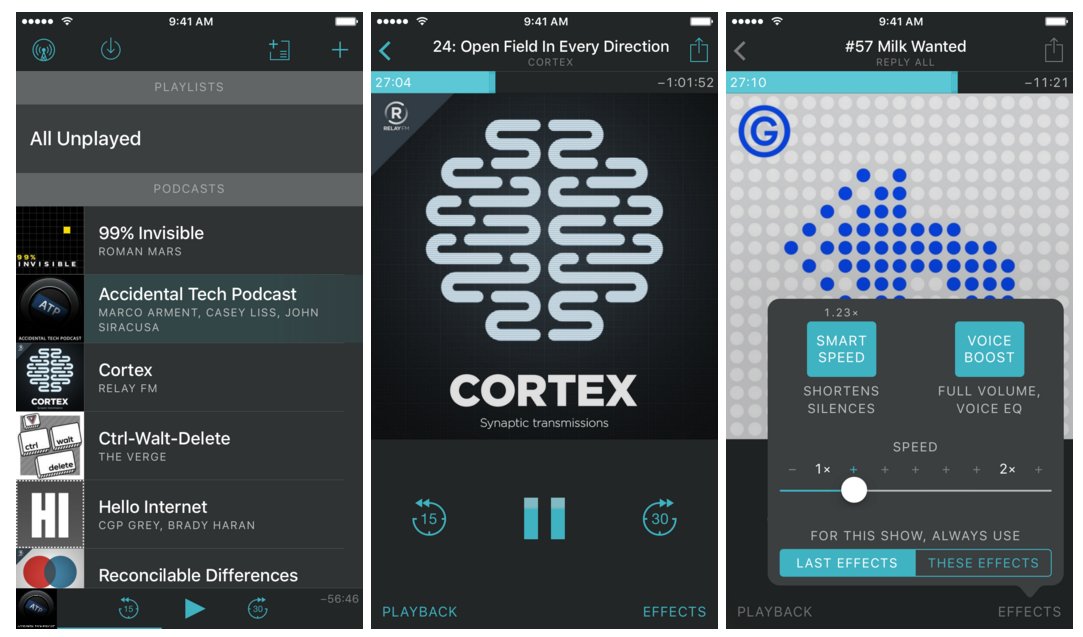 Design
Overcast's design strikes a nice balance between following modern iOS design standards, but stays unique. The design leans heavily on the orange text and white background. The main navigation includes a list of your playlists, your subscriptions, and buttons to further manage your subscriptions/playlists. The buttons don't include text, which might be a problem for new users, but once you discover what they do, it's perfectly fine.
Now Playing
The "now playing" screen of a podcast app is often the one that brings the most discussion among users. There are countless different ways to display the same data.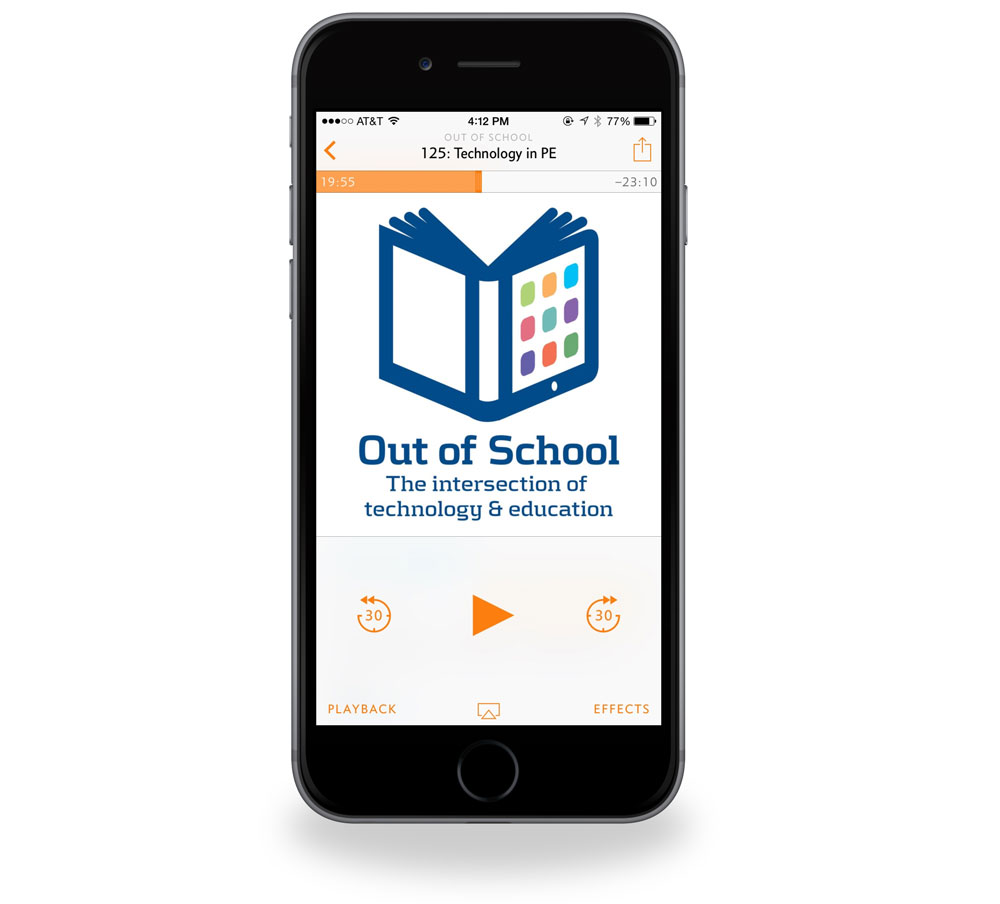 At the top of the screen, there is a back button, show name/episode title, and a sharing button. Under that row is the scrubber, which is extremely easy to move back and forth. The artwork section follows and takes up a large portion of the screen. If you drag up on the artwork, you find the show notes and the ability to recommend the show (more on that later). Under the artwork is a play button, and forward/back buttons (the times are customizable). At the bottom, there is a playback button (sleep timer and an option to play the next show after the current one ends), AirPlay, and audio effects (playback speed, Smart Speed, and Voice Boost).
The iPad version
Overcast didn't launch originally with an iPad version, but it has since been added. I don't listen to many podcasts on my iPad, so I'm not sure of the appeal here, but it's obvious that some people use it. When you look at Overcast's UI, you can see how it was built with the mindset of running on a multitude of screen sizes. From the iPhone 4s to the iPad Air, Overcast grows intelligently and makes the best use of the screen size. As Apple's screen sizes continue to change, Overcast looks poised to adapt elegantly.
Features
Overcast was never meant to be the most feature rich client. It's meant to offer the right features as opposed to every feature. There are tons of very fine-tuned controls that an app like Downcast will offer in regards to download management that Overcast is probably never going to offer.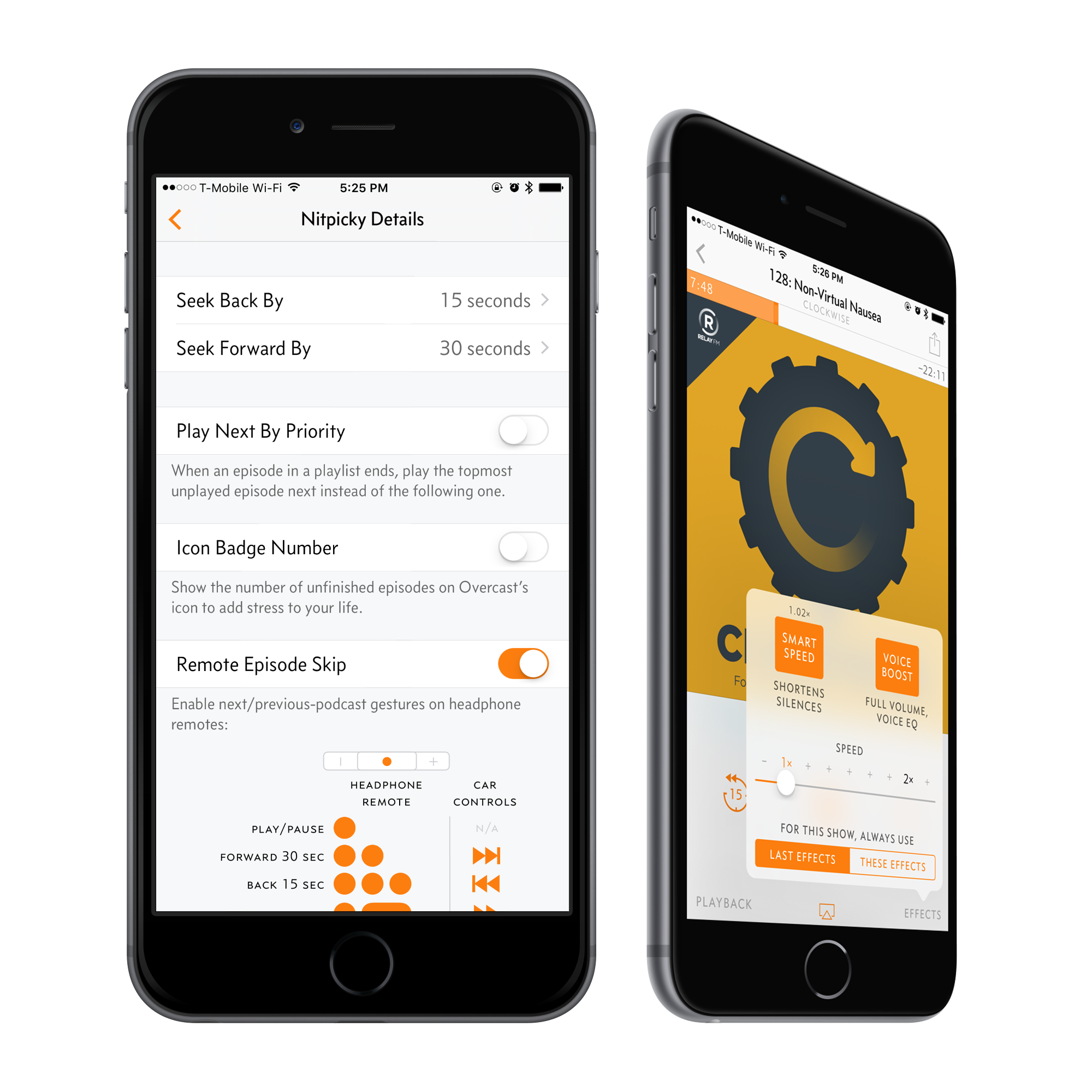 Overcast's two most unique features are Smart Speed and Voice Boost.
Smart Speed
Smart Speed shortens silences without any distortion. Instead of having to do a straight-up 1.5x or 2x playback across the board, Smart Speed speeds up shows more intelligently.
From the Overcast website, Smart Speed is described as a way to "pick up extra speed without distortion." Smart Speed "dynamically shortens silences in talk shows. Conversations still sound so natural that you'll forget it's on — until you see how much extra time you've saved."
And here's how Marco Arment recently described Smart Speed:
I see Smart Speed as getting one more notch on the speed meter for free. Whatever your preferred speed setting is for other reasons (pace, sound quality, intelligibility), Smart Speed tends to get you roughly the actual speed of the next highest one.
Evan Pederson ran a side-by-side test, comparing a podcast running in Overcast's Smart Speed to the same one running in real time, and he found the time savings to average between 1.2x and 1.4x for shows that often have frequent pauses. Other shows, such as Roman Mars's 99% Invisible, which are tightly edited, didn't benefit as much from the Smart Speed because there were less gaps and breaks to cut out.
For those who want to save some time listening to certain podcasts yet who don't want the distortion that comes with 1.5x or even 2x speeds, Smart Speed is a happy medium. All of your shows will be shorter, but you likely won't be able to tell any difference in listening quality. This feature is especially helpful for FM radio based shows where there is often silence from callers and other random pauses.
As I mentioned at the beginning of this article, Smart Speed has saved the Sweet Setup team more than a cumulative 100 extra hours of listening time, beyond just standard speed adjustments alone.
Voice Boost
Voice Boost is a feature that aims to normalize the volume and make shows easier to listen to when in noisy situations (like your car). It uses a technique of dynamic compression equalization, which compensates quiet and overly loud audio to a more enjoyable, consistent volume. For shows with less-than-ideal editing, Voice Boost can be an ear-saver.
Streaming
As of version 2.0, Overcast supports streaming.
Streaming lets content begin playing immediately. There's no reason to wait for a 50 MB download to complete before hitting play anymore. Additionally, you can set Overcast to stream instead of download, saving storage space.
As with download content, streaming episodes can use Voice Boost and Smart Speed.
Discovery
Overcast includes a well-stocked built-in directory. Like most apps, it's pulling from the iTunes Store. It also has a way to see what other shows your Twitter followers have recommended. I've really enjoyed the recommendations feature and have discovered new shows because of it. Of course, you can also add custom URLs if a show isn't listed in the directory.
Marco has also included some "Starter Kits" for various genres and content providers. These are helpful for folks who might subscribe to one or two shows and want to find more.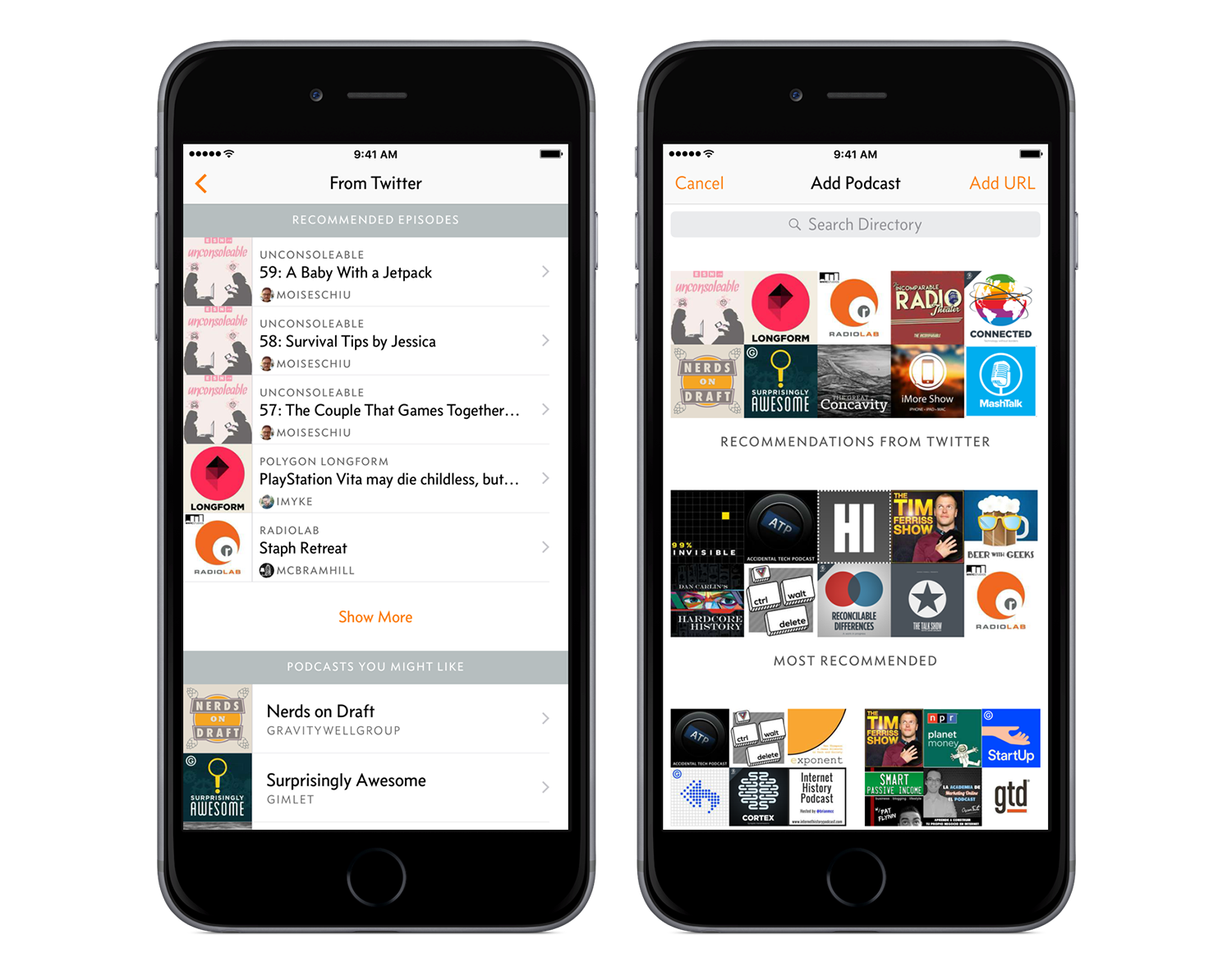 Downloading & Notifications
Overcast supports background downloading and push notifications. Thanks to its server-side component, your device doesn't have to ping every show's feed. Overcast does it server-side and then just tells the device what's new.
Playlists
Like most podcatchers, Overcast supports playlists. Playlists can filter based on status (played/unplayed), and can also affect all shows or just individual ones.
Additionally, your favorite show can be marked as a priority, which means their new episodes will always be front and center. You could easily make a "non-technology" playlist for those times when you want a change of pace. As your podcast subscriptions grow, making use of Overcast's playlist feature will help keep you organized.
Sharing
As we mentioned before, Overcast allows you to recommend shows right inside the app. Using Twitter as the friends list, you can see what people you follow are recommending. You can also share the show to various social networks using the iOS share sheet. The link allows you to play the show directly in the browser.
A close runner-up: Pocket Casts
Pocket Casts is a solid suite of apps. In fact, if you need an app that works on an Android phone (and syncs with your iPad), Pocket Casts is the best app for you. There is a lot to like here: frequent updates, free syncing across all your devices, web playback ($9 one time fee), and a rich feature set. The design of the app is also very well done.
When it comes down to picking between two great apps, Overcast edges it out with a few unique features like Smart Speed and Voice Boost, but if you're cross-platform, Pocket Casts the way to go.
Apple's built-in podcasts app
Of course, not everyone wants to pay for apps, and there are several free podcast apps on the App Store. The most notable is Apple's own app that is built directly into iOS.
Apple's Podcasts app can use your Apple ID to sync subscriptions, so adding new shows can be done from the desktop version of iTunes or even the Apple TV. It can stream and/or download files, and iCloud syncs your play position across devices.
Podcasts has "Stations" built-in which are akin to playlists in iTunes. Stations can be used to filter unplayed episodes. However, Apple's implementation can be set up to affect only certain shows, so, for example, creating a group of all Unplayed Relay.FM shows could be done easily.
If you listen to podcasts across a range of devices, or just really like Apple's first-party ecosystem, you might be happy with just using Apple's built in app.
While Apple's app is nice enough, Overcasts' interface is far more enjoyable to use, discovery is easier, and recommending shows is dead simple. With features like Smart Speed and Voice Boost, Overcast is worth the download. Since the app is free, there is no reason not to at least try it. Syncing is also rock solid. iCloud syncing for the Apple's podcast app is much better than it used to be, but it's far from perfect. If you listen to more than one show, I highly recommend you give Overcast a shot.
Castro
Castro was released in late 2013 to much fanfare. Dan Benjamin, the founder of the 5by5 podcast network, is quoted saying: "Podcasting apps are so tough to get right. I've tried them all, and Castro fits perfectly with the way I like to manage and listen."
Castro is free with in-app patronage, the UI's use of blur is stunning, and it's very snappy. Moreover, it has a very clever timeline scrubber — just slide the bottom play controls to the left or right to quickly fast-forward or rewind to a certain spot in the podcast episode you're listening to. The developers are rumored to be working on version 2, so we will certainly pay attention to it.
However, our pick for the best podcast app remains Overcast because of its unique features, syncing, and the availability of native apps for iPhone and iPad. If you don't need (or want) the robust features Overcast offers — and many don't — then Castro won't do you wrong. It's simple, delightful, and easy to navigate.
Other podcast apps we tested
Other apps we tested include: Downcast which is well-equipped, but the interface is clunky and fairly ugly in places; PodCruncher is fine for a stand alone iPhone app, but it's fairly basic; Stitcher which is a well-known name, but is an entire ecosystem unto itself, bringing a level of complexity most podcatchers don't have; and the Feed Wrangler-powered PodWrangler has a solid back-end, but is light on features for power users.
Get It
Overcast is universal and is free in the iOS App Store. Since its release back in 2014, it's seen frequent updates (including CarPlay support). I've tried just about every podcast app, and we always come back to Overcast.