A lot of our favorite apps are on sale for the holidays
December 16, 2014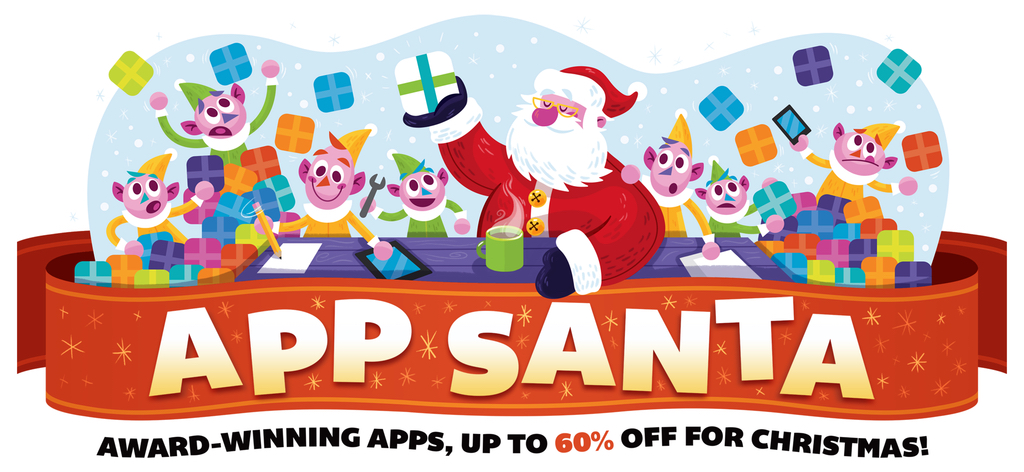 Just like last year, the App Santa promotion running, and several of our favorite iOS developers have put their apps on sale for the holidays.
About 40 apps in total are on sale for the promotion. Below we've picked out a handful that are the apps on sale that we recommend year-round, regardless of price.
Day One Journaling App
Day One is the very best journaling app for the Apple user. All of us here at TSS use it, and it's one of those apps we will still be using in years to come. It supports iCloud and Dropbox sync for keeping your journal intact across the 3-app suite for Mac and iOS. With the recent addition of Touch ID support, the developers are not taking the foot off the gas. The app is incredibly easy to use.
Clear Reminders and To-Dos for iOS and Mac
Clear is our favorite simple to-do list for the Mac and iOS. It has a delightful design and iCloud-powered sync and alerts.
Mileage Log+
Mileage Log for iOS: $9.99 → $4.99
There are 2 types of people: those who need to track mileage and those who don't. If you do, then you know how tedious this process can be. It's just another filler task to your day that isn't helping you accomplish your goal. With support for quick entry, quick access to frequent trips, and great export options, Mileage Log+ is worth its weight in gold.
Tweetbot 3
Tweetbot for iPhone: $4.99 → $2.99
Tweetbot is our favorite Twitter app for iOS. With power user features such as muting of clients (think Nike+ or Spotify posts), hashtag blocking, and a modern iOS 8 design, Tweetbot could charge $50/year and I'd probably pay it. Everytime I log into the official Twitter app, I tell myself that my usage of Twitter will dramatically go down if I have to use something other than Tweetbot. If you don't own Tweetbot, this Christmas is the time to rectify that problem.
PCalc for iOS
PCalc is our pick for the best calculator on the iPhone. It's a universal app, so you get the iPad version as well. Its combination of features, customizations, and user interface niceties is designed to get your calculations done quickly. If you want a calculator that has lots of power features but values its user interface above all, you'll want PCalc.
Deliveries Package Tracking
The holidays are a busy time, and Deliveries is the best way to keep up with packages in shipment. Just updated for iOS 8 and OS X Yosemite, Deliveries is modern, good-looking and powerful. It supports just about any carrier you've ever heard of, and makes it easy to add new tracking numbers then be updated via push notifications as they travel closer to their destinations.
PDF Expert 5
While working with PDFs used to be clunky on devices like the iPad, PDF Expert 5 makes it easier than ever. It allows for editing, re-ordering, scanning and more, all from a clean, fast interface.
Castro for Podcasts
While not as powerful as apps like PocketCasts or Overcast, Castro may be the most handsome of all the iPhone podcast clients. If you don't need syncing to other devices, or just want something dead simple to use, check out Castro.
Couch to 5K
With January around the corner, taking up running to get in shape is a on a lot of New Year's Resolution lists. Go Couch to 5K is one of the better run-coaching apps out there, and several of us here at TSS have used it. It includes voice coaching, GPS tracking, a great design, and more.
Drafts 4
Drafts is where text starts on iOS. With its powerful set of tools, Drafts can be used to send text to almost any app or service in the iOS ecosystem.
Terminology
Terminology for iOS: $2.99 → $1.99
While Google has become the de-facto dictionary for the masses, Terminology packs a full offline U.S. English dictionary and word reference toolkit in a universal iOS app. iCloud sync keeps favorites, history and actions in sync between multiple devices.
Calendars 5
Calendars 5 is a universal app that adds powerful gestures and natural language processing to your events and tasks. While it's great on both devices, the iPad version of the app really shines with a custom block view that makes viewing large numbers of events easy and quick.