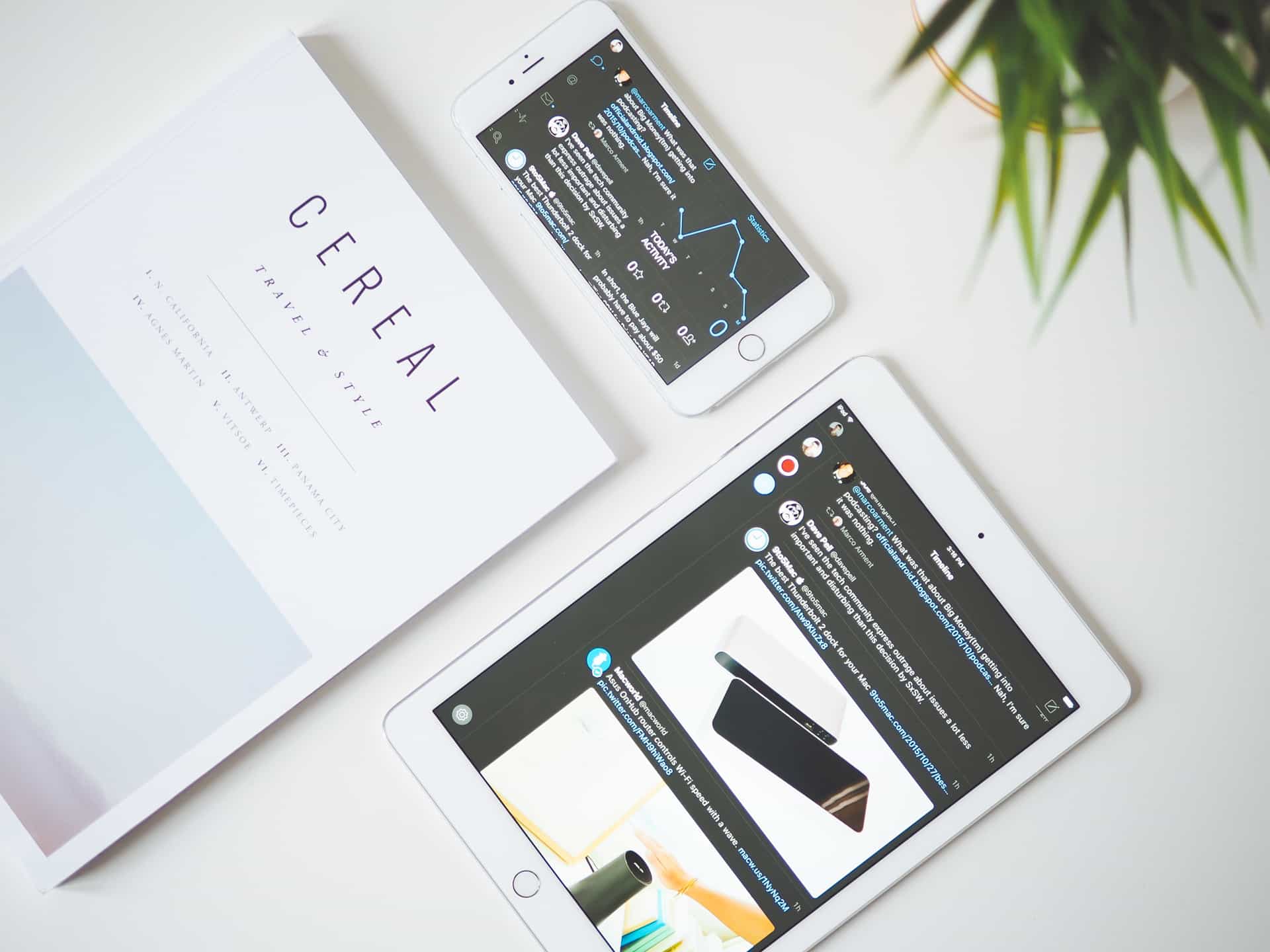 The best Twitter app for iOS
Tweetbot
August 16, 2018
OK, so you're already on Twitter; basically everyone is. Possibly more than once. But the perennial question is, what client should you use on your iOS device? There are several good options, but Tweetbot 4 is the best.
Tweetbot 4 is full of features, looks great on iPhones and iPads, and brings a level of power and finesse to Twitter that other clients can't match.
Setup & Configuration
On first launch, Tweetbot will ask to use any Twitter accounts that have been entered in Settings on the device. Additional accounts are easily added by tapping the + button on the account screen.
Notifications can be set up and configured on a per-account basis. Tweetbot can alert you to mentions (from everyone or just those you follow), direct messages, and new followers. Additionally, you can opt in to notifications for when your tweets are favorited, retweeted, or quoted.
Like Tweetbot for Mac, the iOS app can use several different services to share things like photos, videos, and links. Services like bit.ly, CloudApp, Droplr, Pocket, and Instapaper can be configured on a per-account basis.
User Interface
There's an elephant in the room. For years, Tweetbot on iPad still shipped with its pre-iOS 7 user interface, feeling older and older by the day. In October 2015, that changed. Tweetbot 4 is a universal app; the iPhone and iPad will receive updates at the same time from here on out.
Tweetbot 4 is a modern iOS app through-and-through. It uses Apple's San Francisco font face (Avenir can be swapped in), bright colors, white space, and blur to fit in right at home.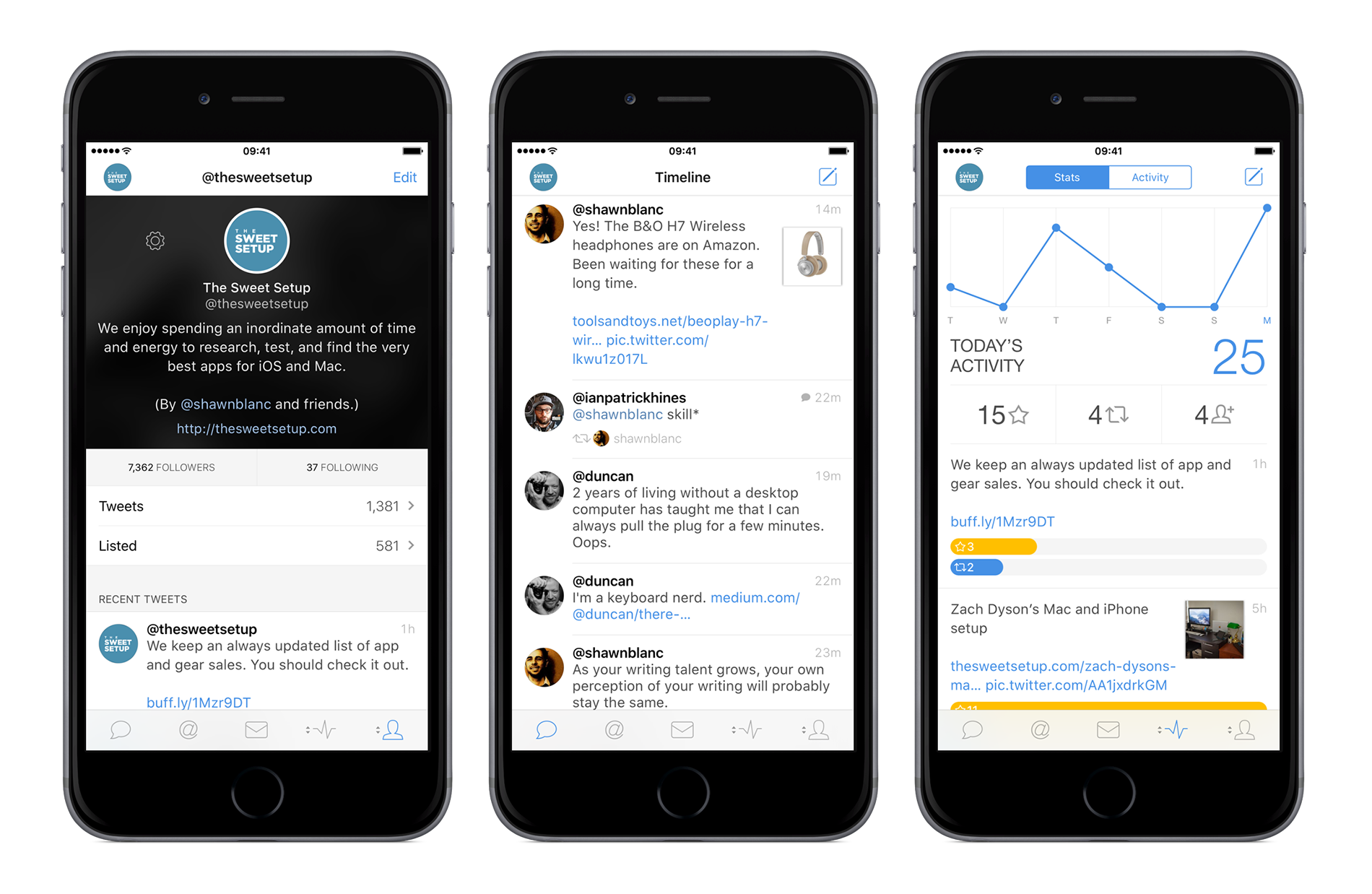 As Tweetbot 3 for iPhone, this version includes a dark mode, making it easier to use the app late at night or in the early morning. To enable it, swipe down with two fingers on the screen; swipe up to turn the lights back on, so to speak. Additionally, Tweetbot can select the theme for you, based on display brightness.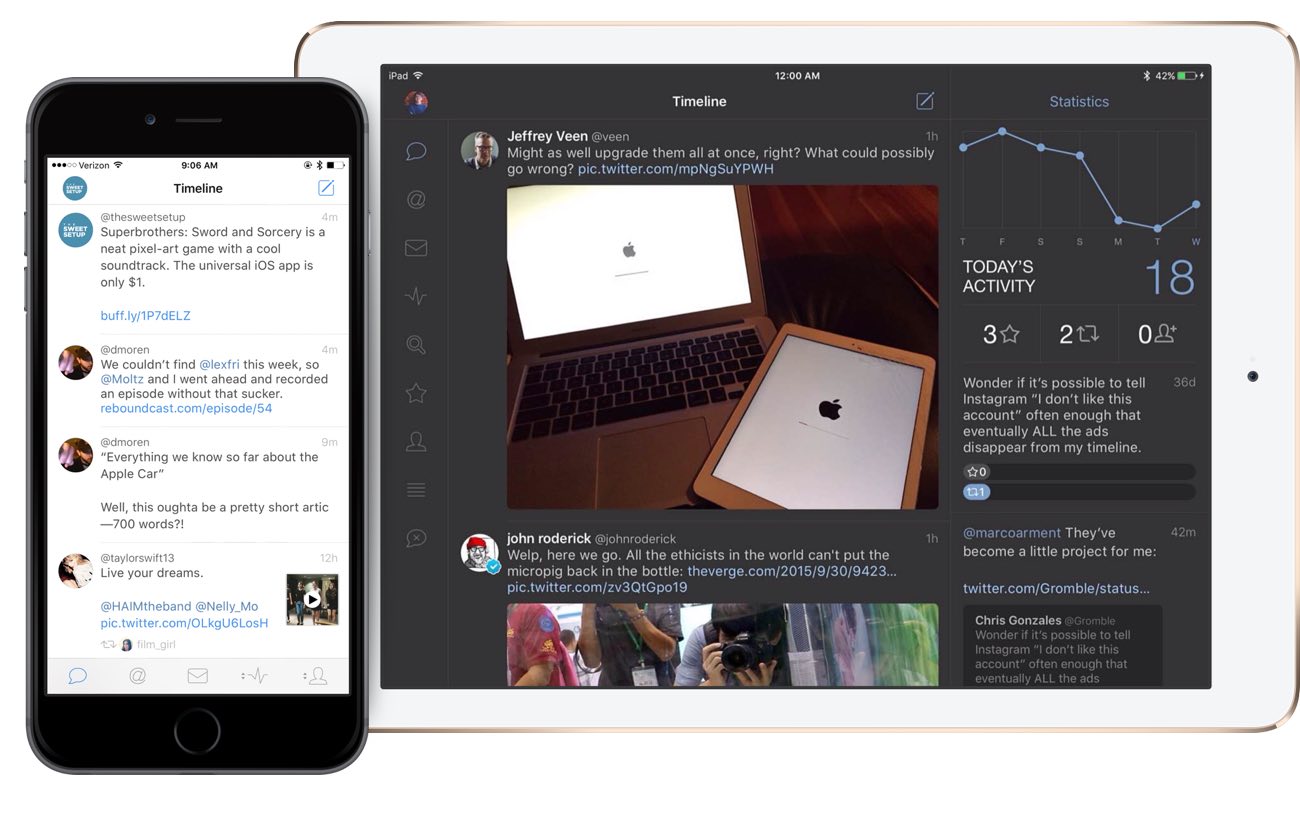 The limited number of UI options from earlier versions of Tweetbot remain. You can change font size, whether to display usernames and/or full names, select sizes for image thumbnails, the shape of avatars, and if they should display verified badges or not.
If your device supports 3D Touch, you can use it to peek and pop into user profiles, web pages, and more. Likewise, a 3D Touch on the app's icon lets you jump straight to the Activity screen or the new tweet screen, with the option to do so and attach the last photo taken on the device.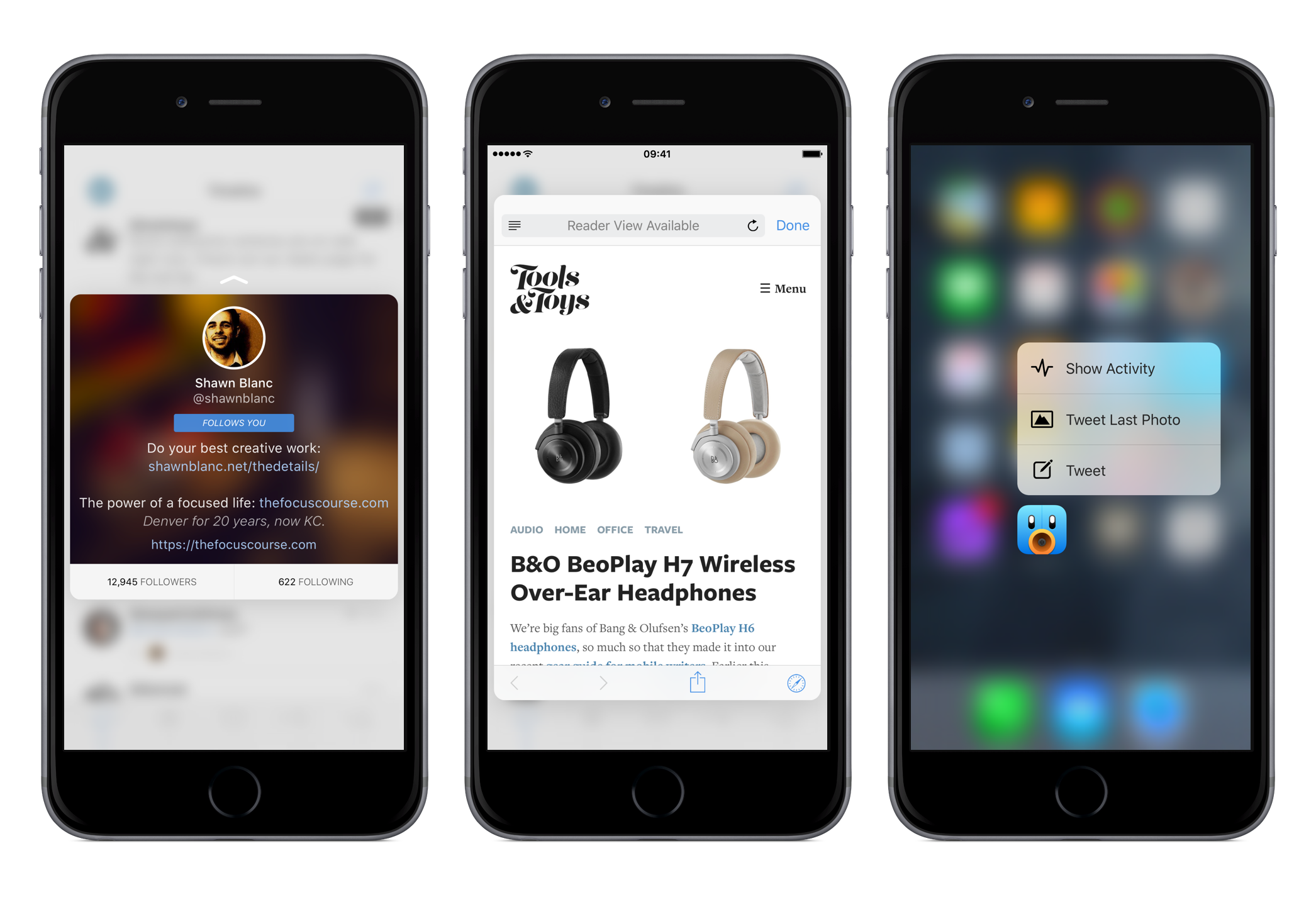 Tweetbot's timeline view may look simple, but there's a lot of power under the hood.
Tapping a tweet unveils actions like reply, retweet or quote, favorite, and share from this view. (Long press on these items for hidden goodies.) Tapping the gear icon allows you to view details, RTs, favorites, or translate the tweet: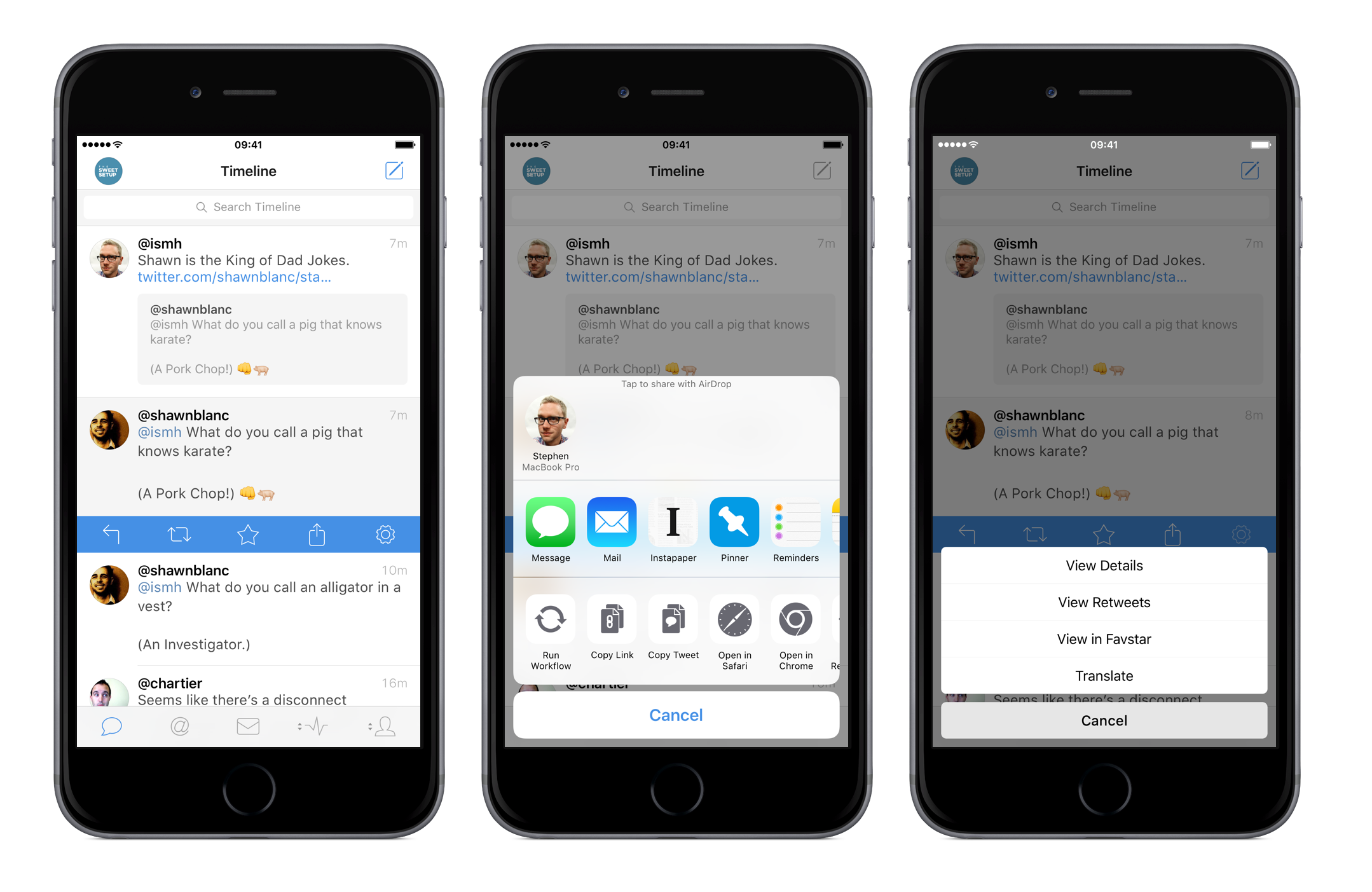 Swiping on a tweet will pull in any related tweets. It's a great way to catch up on a conversation thread or view a bunch of replies all in one place.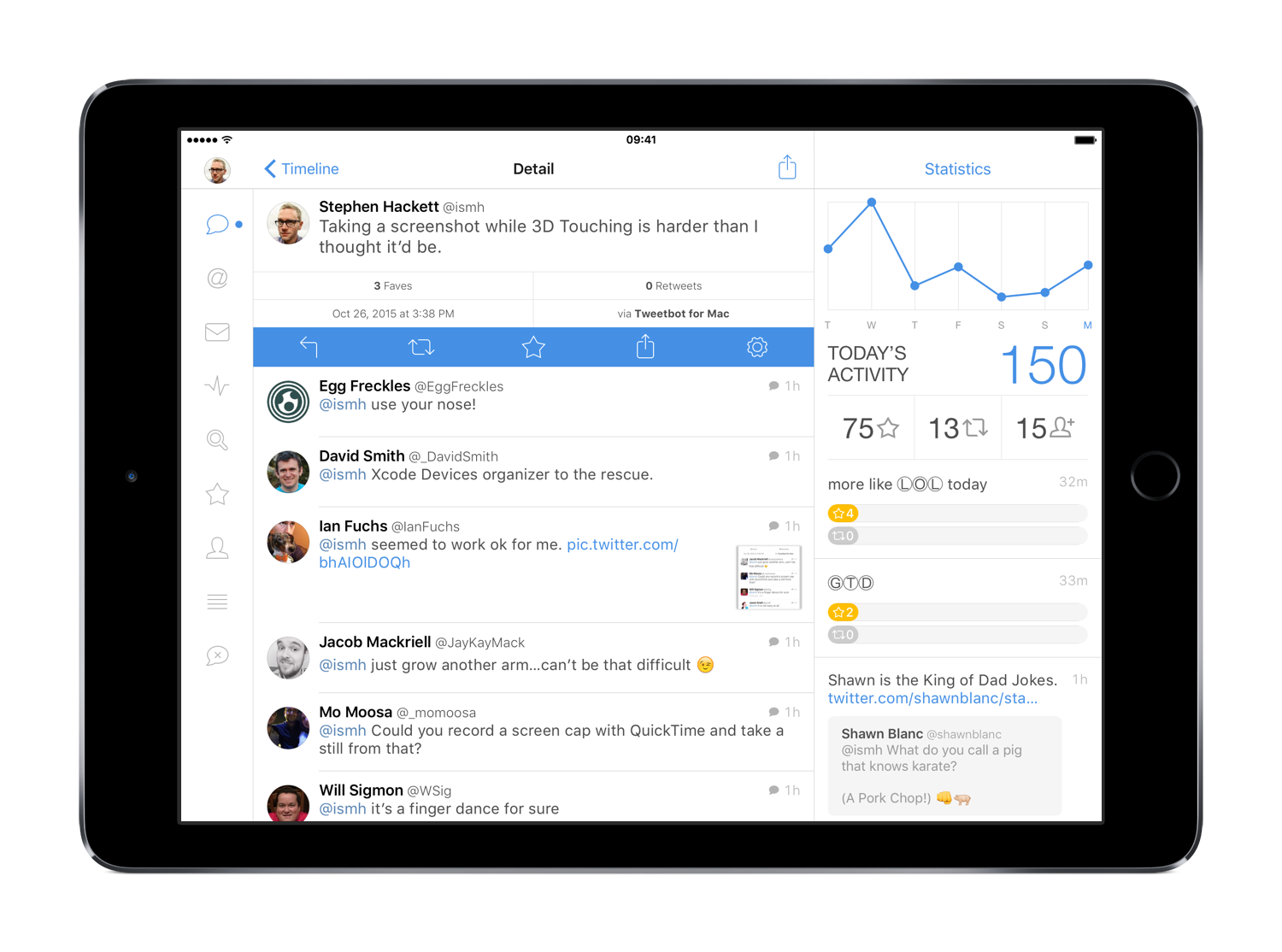 The main view in the app can show more than just your timeline. On the iPad, the icons down the right side of the screen will switch the view between the Timeline, Mentions, Direct Messages, Stats/Activity, Search, Favorites, your Profile, Lists, and Mute Filters.
(On the iPhone, some of these are stashed away in the last two controls across the bottom of the screen. Long press to change between them.)
With their devices in the landscape orientation, iPad and iPhone Plus users will see an extra column to the right of the main timeline view. This always-visible right-hand pane that — by tapping on the name at the top — can be set to display: (a) your mentions stream; (b) one of your saved searches (iPad-only); (c) one of your Twitter lists (iPad-only); or (d) one of Tweetbot's two new tabs: Stats and Activity.
While it's a little frustrating that this second pane doesn't offer the same customization both on iPhone and iPad, it's a small space on the iPhone, and I'm sure the developers had to make a decision about what was feasible to show there.
Advanced Features
Tweetbot checks all the boxes required to make a good Twitter client. It's easy to read the timeline, check on replies, and dive into a conversation with just a tap or two. You can update your profile, edit your lists, and check on saved searches easily, as well.
Tweetbot includes a powerful mute filter. Muted users, hashtags, or phrases will simply vanish from your timeline. It's smart, though: Tweetbot won't mute your mentions or DMs if they contain muted language or are from a muted user.
To mute a hashtag, simply tap on it in your timeline. A menu will slide up from the bottom of the screen. Tap Mute, then the amount of time you want to mute the hashtag for. Trying to avoid news about a TV show? A day may be long enough. Trying to avoid news about #KanyeForPresident? Go ahead and select "Forever."
Likewise, users can be muted. If you view their profile, you can tap the gear icon and mute from there. Mute filters can be viewed and edited in its own view.
New to Tweetbot 4 is Activity and Stats. The first is a running list of the ways other Twitter users have interacted with you and your tweets. Your newest followers, favorites, RTs, mentions, and more will show in reverse chronological order.
Stats is a little more interesting. Here's Federico Viticci, in his review of the app:
In this page, you'll get a weekly chart of your daily activity on Twitter with separate counts for faves, retweets, and new followers for the current day. A big, blue 'Today' number shows a count of everything reported in the Activity stream since midnight local time, and tweets that have recently received faves and retweets are displayed at the bottom in a scrollable timeline.
Tweetbot 4 uses iOS 9's Safari View Controller instead of a custom in-app browser. This means in-app browsing is just as fast as it is in Safari, but as SVC takes over the entire screen, gone are the days of following a link in your Mentions timeline and leaving the webpage up as you tap your way through other views in the app.
Apple Watch
Added in version 4.1, Tweetbot for Apple Watch brings the app's Activity screen to the wrist. Your replies, likes and more are all present, just like on iOS.

If you press hard on the list, you can issue a new tweet with Siri.
…and that's about it as far as this app. That's not to say it is bad; we tend to like Watch apps that are simple and quick. Tweetbot is both.
Price
Tweetbot 4 is a $9.99 universal iOS app and it requires iOS 9.
Some may consider that expensive in a world of free apps, and while we think its worth it, there are other options.
Other Contenders
There are several Twitter clients on the iOS App Store, but only two are worth looking at if Tweetbot isn't your cup of tea.
Twitterrific
Twitterrific for iOS has been around since day one of the App Store. Over the years, its undergone numerous revisions, and is a solid alternative if you don't care for Tweetbot.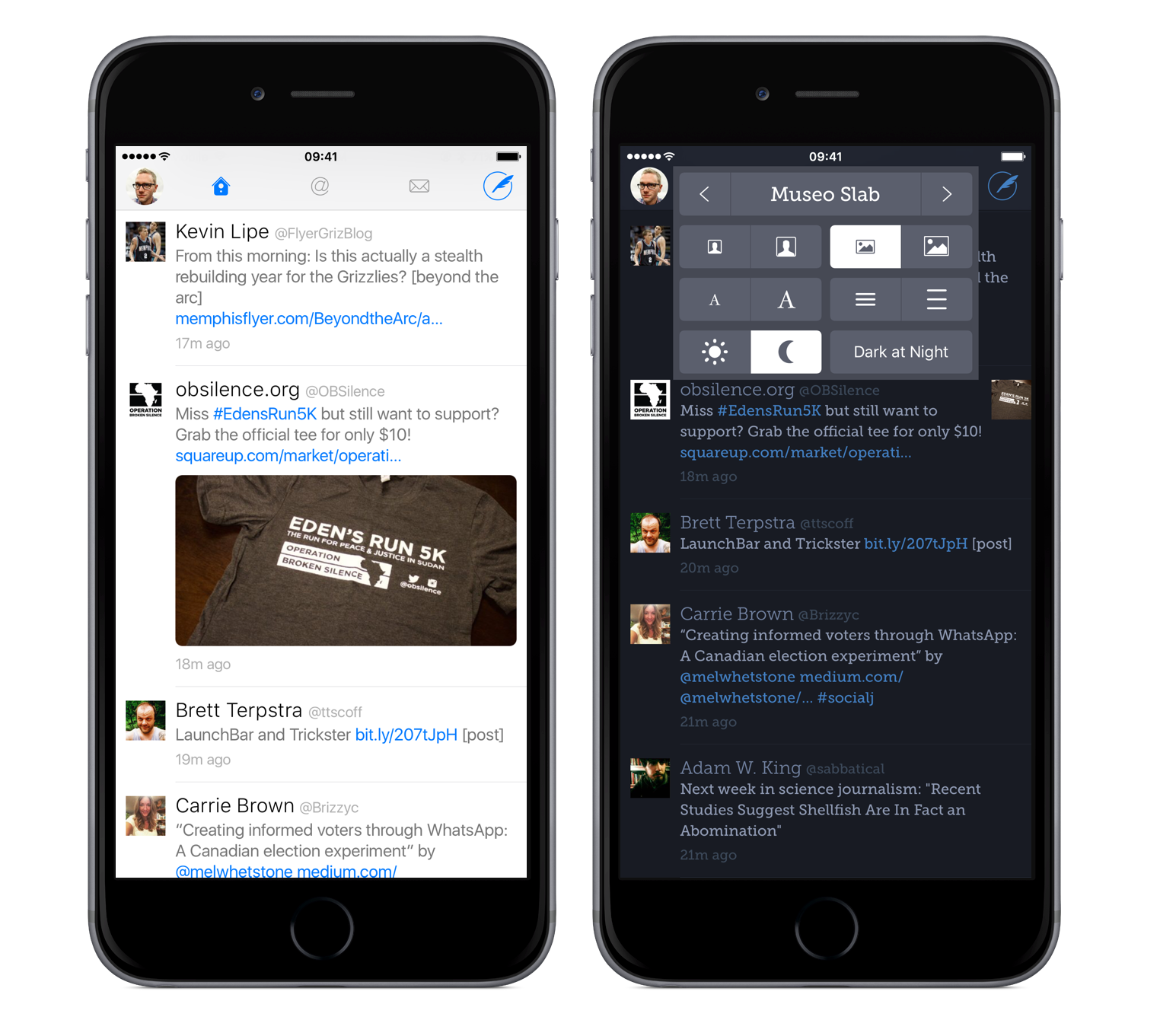 While both it and Tweetbot offer a dark mode (seriously, all apps should do this), Twitterrific goes a step further, allowing users to choose from multiple fonts, adjust things like line height of text, and even avatar size.
It supports all of iOS 9's multitasking features, and comes with an Apple Watch app, unlike Tweetbot. On the Watch, you can compose new tweets with Siri, track tweet's stats, receive notifications, and reply to mentions, replies, and direct messages. You can even follow new followers back, all without pulling your phone out of your pocket.
All of these events show up in order; tapping them reveals the actions you can take on them.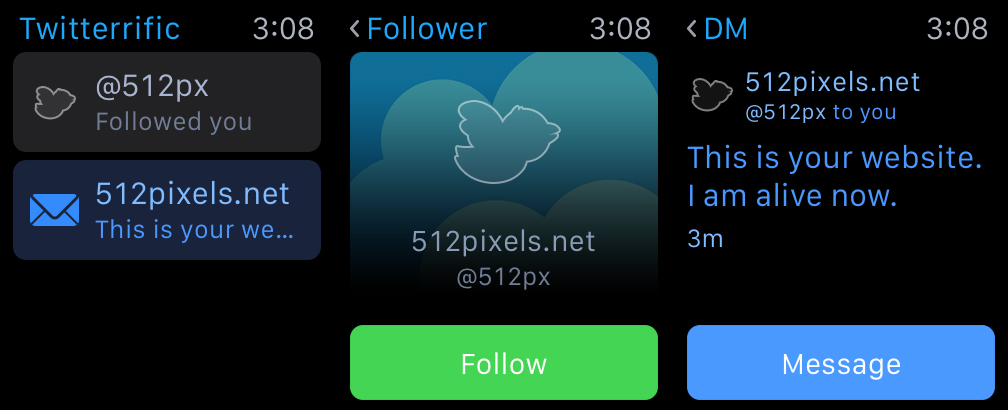 If having Twitter on your wrist is important to you, Twitterrific gets it right. It's more full-featured than Tweetbot, without a doubt.
Twitterrific is free on the iOS App Store. In-app purchases are available to enable push notifications and tweet translation and remove ads. All in all, you can spend $4.99 unlocking features in Twitterrific.
Twitter.app
Twitter's first-party client (written here as Twitter.app to avoid confusion) is free and updated on a regular basis, which is a pretty hard thing to argue with, if we were all to be honest.
So let me argue with it.
Twitter.app seems to be the company's playground. New ideas and new features are added, and very often, not to everyone's account at once. The result is a UI and feature set that can be confusing. While the good ideas often stick around, users are forced to live with Twitter's bad ideas until they're sorted out.
If you use Twitter while on your iPad, you'll notice the Twitter.app isn't designed to take advantage of the additional screen real estate.
In Conclusion
While Tweetbot for iPad may have been a long-time coming, version 4 marks the return of the app being our true favorite when it comes to iOS. Tweetbot 4 is well-designed, easy-to-use, but customizable and powerful at the same time. That's a powerful combination when it comes to iOS software, and its why we recommend Tweetbot for iOS above its competition.
$4.99
Just updated, Tweetbot has all the features you're likely to need and then some, plus it is delightfully well designed.
App Store

$4.99