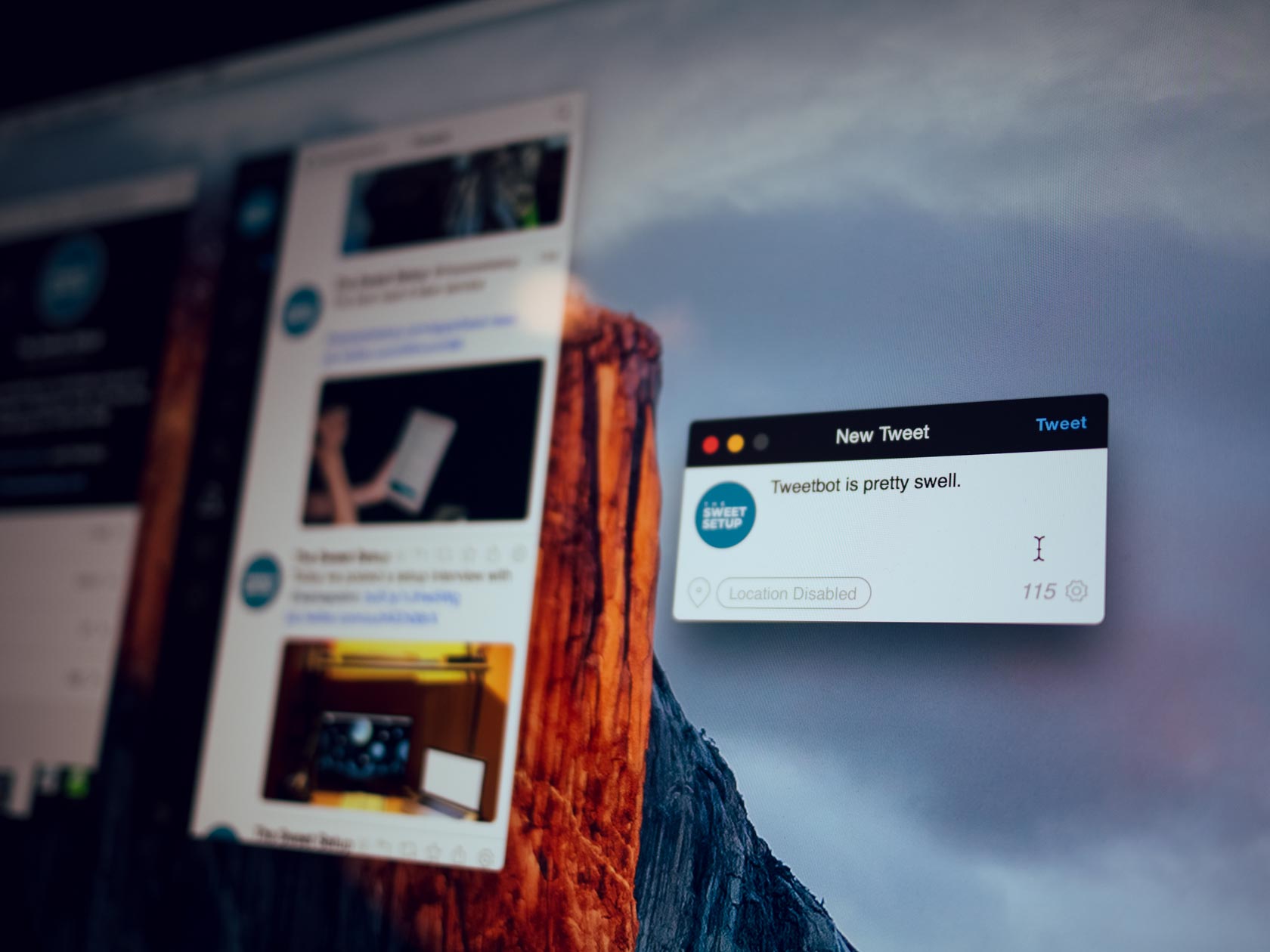 The best Twitter client for Mac
Tweetbot
May 17, 2018
Tweetbot has long been our favorite Twitter Client. And with Tweetbot 2, it continues to be the best way to use Twitter on a Mac. The latest version of Tweetbot brings an updated design to match OS X's new aesthetic, while retaining the powerful options many Twitter users crave.
Twitter has become an indispensable tool for millions of people each day. It's part news outlet, part water cooler, and part gossip column. It's the social network many of us check countless times a day on our phones and computers.
Twitter the network and Twitter the company are two different things, and the latter has made some decisions with its first-party apps that many users don't like. Tweetbot for iOS is the best way to tweet and interact with other users on the go, but there's a lot of competition in the space.
---
Editor's note: Tweetbot 3 was released by Tapbots on May 15, 2018. Tweetbot 3 brings with it a range of new features and a new design. Tweetbot 3 is an entirely new app, requiring existing Tweetbot 2 users to purchase the new app to upgrade. We will be updating this review soon with discussions about all the new features in Tweetbot 3 as well as a roundup of new competitors we've discovered recently.
---
Tweetbot is the best Twitter client for the Mac
On the Mac, it's a little bit of a different story. In our estimation, Tweetbot is really the only good choice for the discerning users.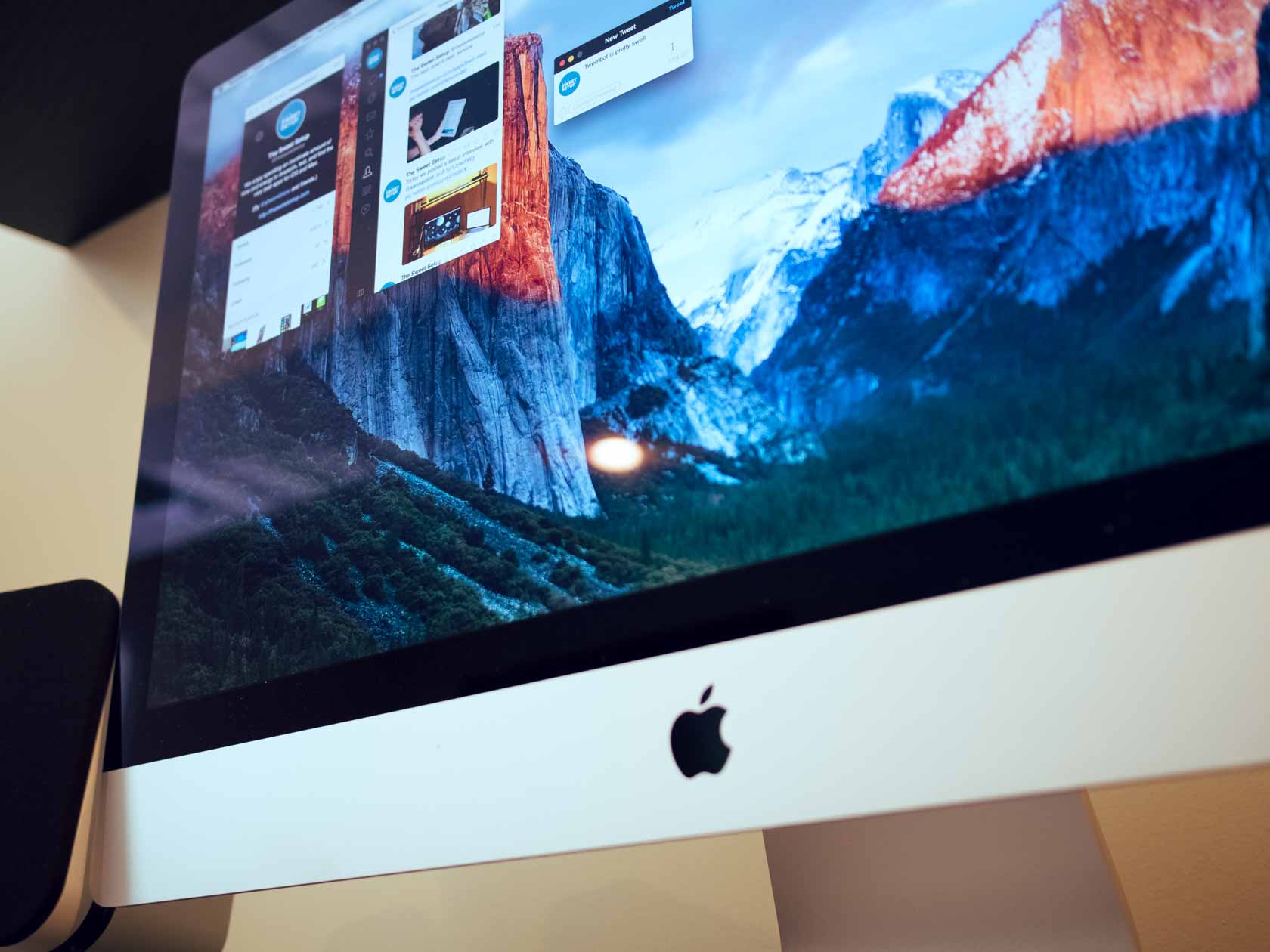 It comes at a cost, however. Tweetbot for Mac is over twice the cost as the next-best app, Twitterific, and they both compete with free applications, and of course, the web. If you're the type of user who wants the best client, regardless of cost, Tweetbot 2 for Mac is for you.
Setup & Third-Party Services
While OS X can store and use Twitter credentials for things like Share Sheets, Tweetbot can't tap into them; instead, the app sends users out to the web to authenticate when adding accounts: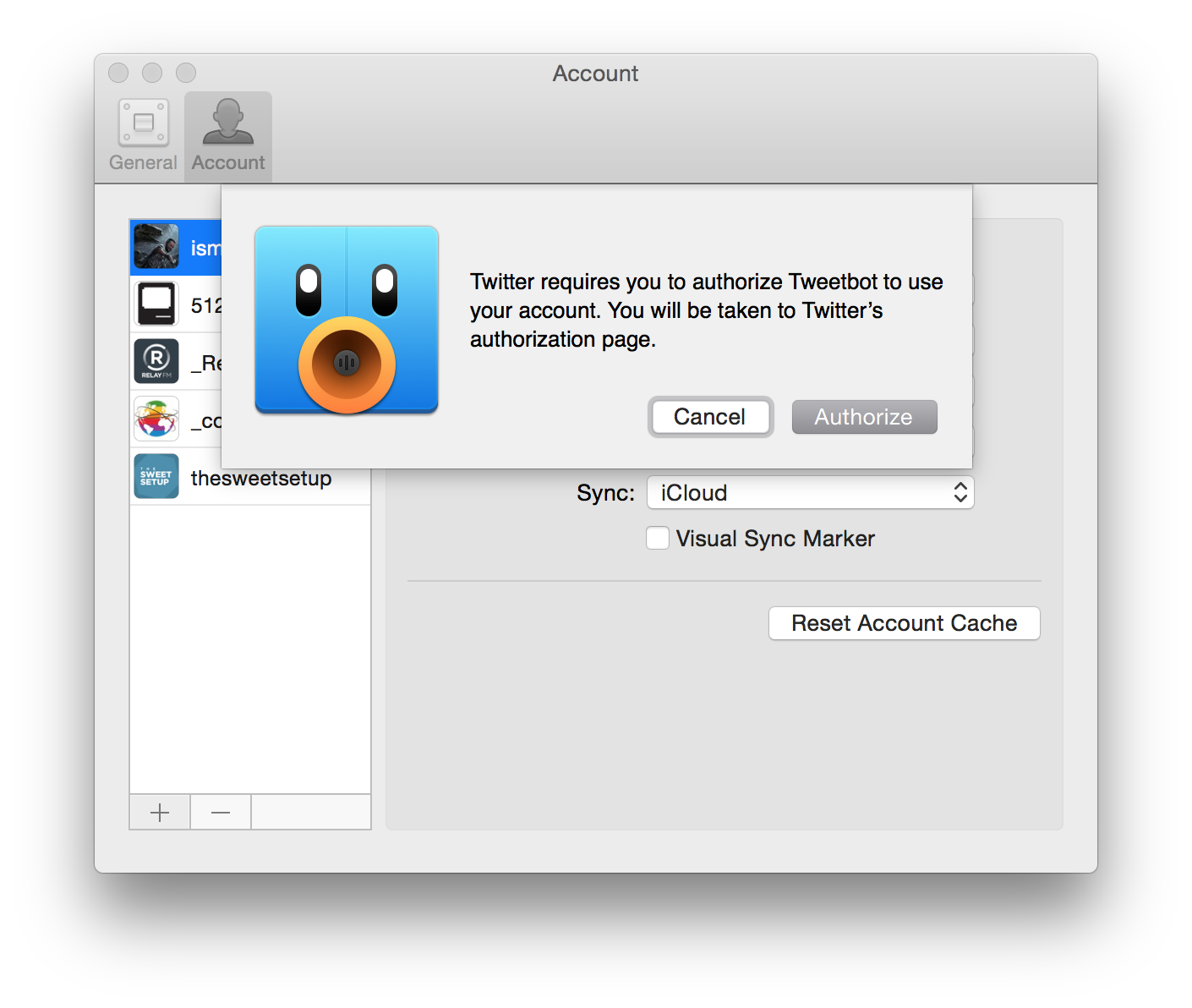 Once an account is set up, there are numerous ways in which the settings for that account can be tweaked: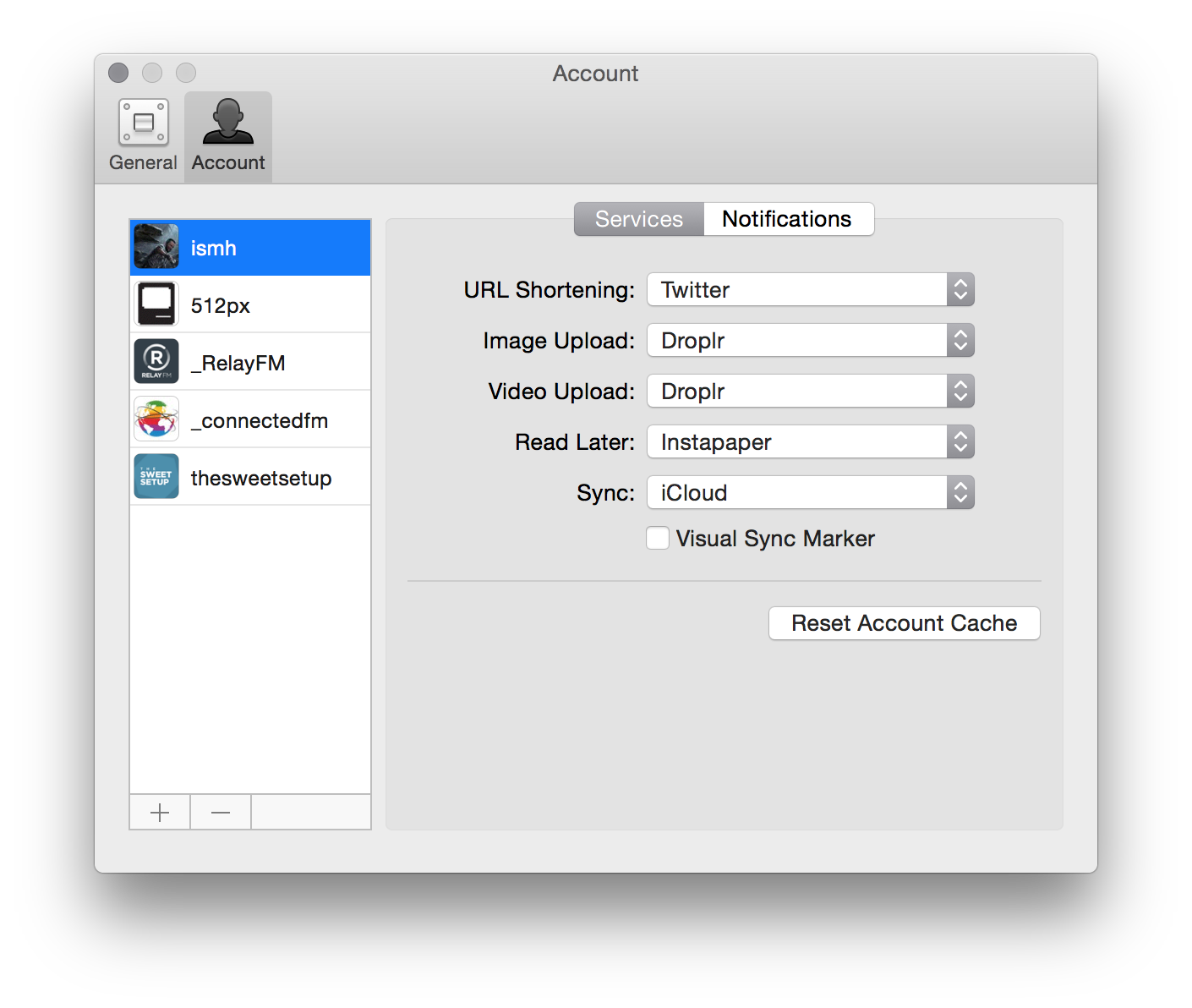 The application can use many third-party services for various types of tasks:
URL Shortening:
Twitter
bitly
CloudApp
Droplr
Custom (in which you provide the app with an API endpoint)
Image Upload:
CloudApp
Droplr
img.ly
Mobypicture
Twitter
yfrog
Custom
Video Upload:
CloudApp
Droplr
Mobypicture
yfrog
Custom
Read Later:
bitly
Instapaper
Pinboard
Pocket
Readability
Safari Reading List
With Tweetbot available on both OS X and iOS, the app can sync things like read status and timeline position via iCloud or Tweet Marker.
Notifications & Settings
If you're like me and manage multiple heavily-trafficked accounts, having fine-grain control over notifications is key to a usable Twitter client. Thankfully, Tweetbot has just what the doctor ordered.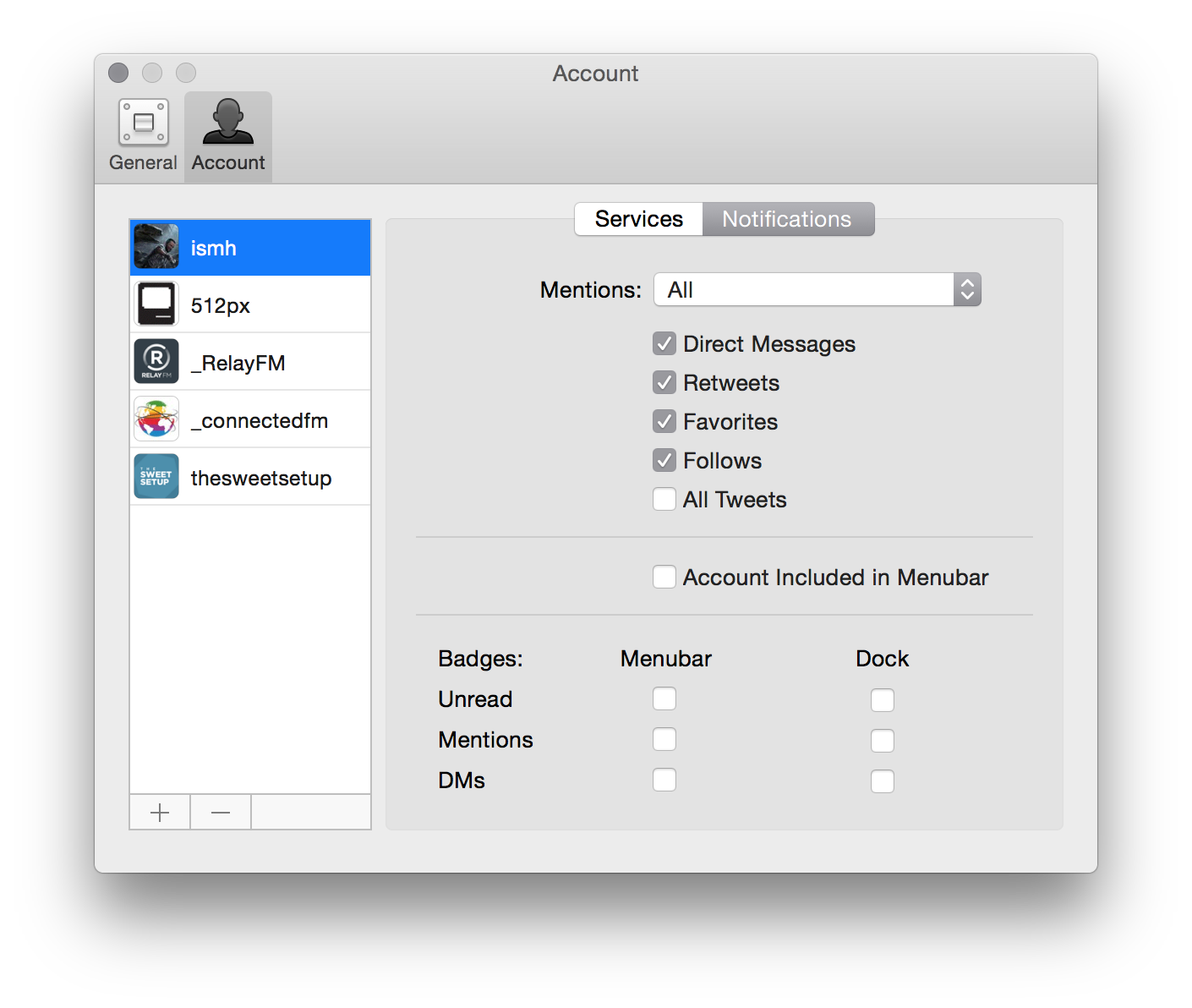 That screen may be a tad confusing, but in short, on a per account basis, you can select what type of notifications you'd like to receive on your Mac:
Mentions from people you follow or all mentions
Direct Messages
Retweets
Favorites
Follows
Selecting the last checkbox, All Tweets will result in a push notification for every tweet from accounts you are following.
Use it with caution, or your Mac may just explode into a cloud of notification dust.
You can also select which accounts can turn the menu bar icon blue (if you have the Show Menu Bar Icon option selected in General settings) or put a badge on the application's Dock icon.
Speaking of Tweetbot's General settings, everything from font and thumbnail size to quote format and avatar style can be edited easily to tailer the UI and experience to your taste.
Timelines & Columns
The timeline, of course, is the heart and soul of the Twitter experience. It's where you read, reply, RT, and fave things as they stream by.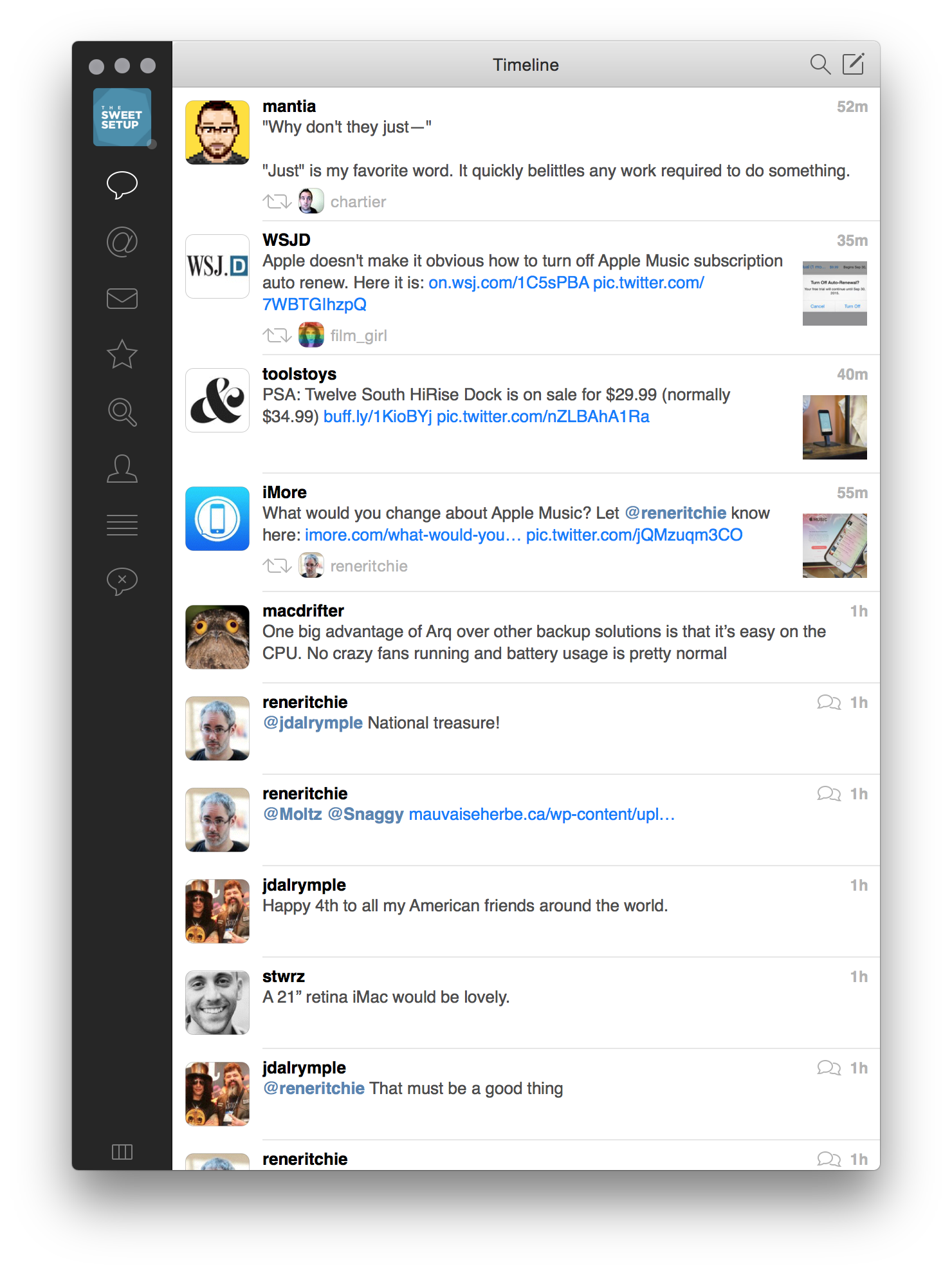 Down the left side are controls to navigate from the main timeline to Mentions, DMs, Favorites, and more. (Pro tip: visit the Window menu for keyboard shortcuts to jump into these different timelines.) The main section of the window is composed of tweets, with new ones loading in at the top.
Tweebot can stream new tweets as they come in, automatically scrolling your timeline as new content is published by those you follow. This feature is nice, but it can be distracting, as you'll see the timeline move out of the corner of your eye if you're working in another open window.
Hovering over a tweet exposes ways to interact with it, including Reply, Retweet (or Quote), Favorite, and Share (think: Read it Later services). Lesser-used tools are hidden behind the gear icon.

If you want to see more than a single timeline at once, click the small button at the bottom of the dark part of the main Tweetbot window to open additional columns.
The controls for this are a little confusing at times. If you're viewing your Replies, for example, and choose to "Open in a New Column," the view will change, adding a new column to the right with your Replies in view, but the main column won't go back to the main timeline. It can be used for the main timeline, however, as the view used for the first column can be changed.
Once it's setup, this mode can be useful. For example, I can have the main timeline, Mentions, and a saved search for "RelayFM" open all at once: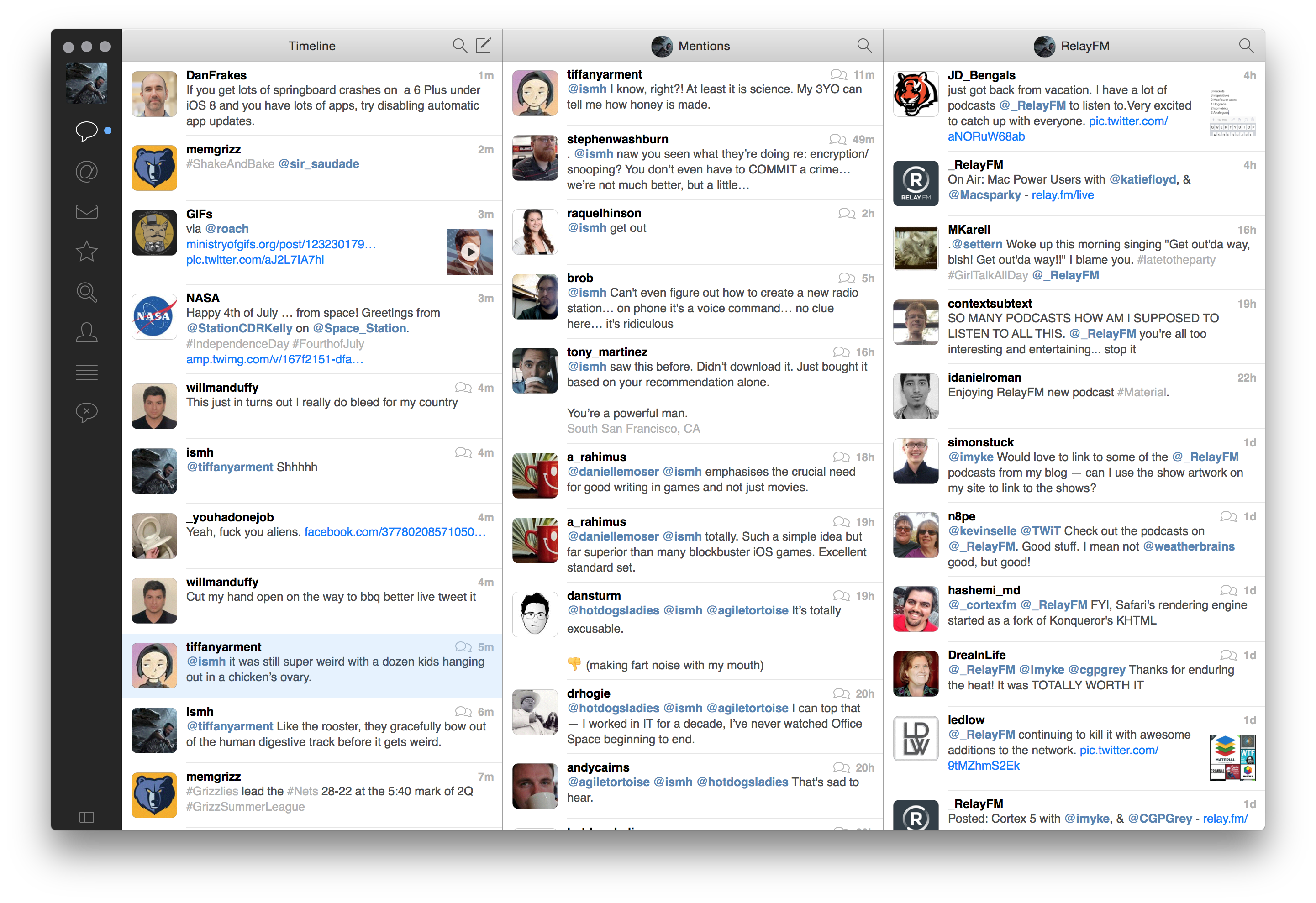 Conversations & Profiles
Following a conversation in Tweetbot is easy. Simply click on a tweet and the app will pull in any tweets in the thread in chronological order.
Likewise, clicking on an avatar will load a user's profile, nicely formatted with their information and a gird of recently-shared media at the bottom: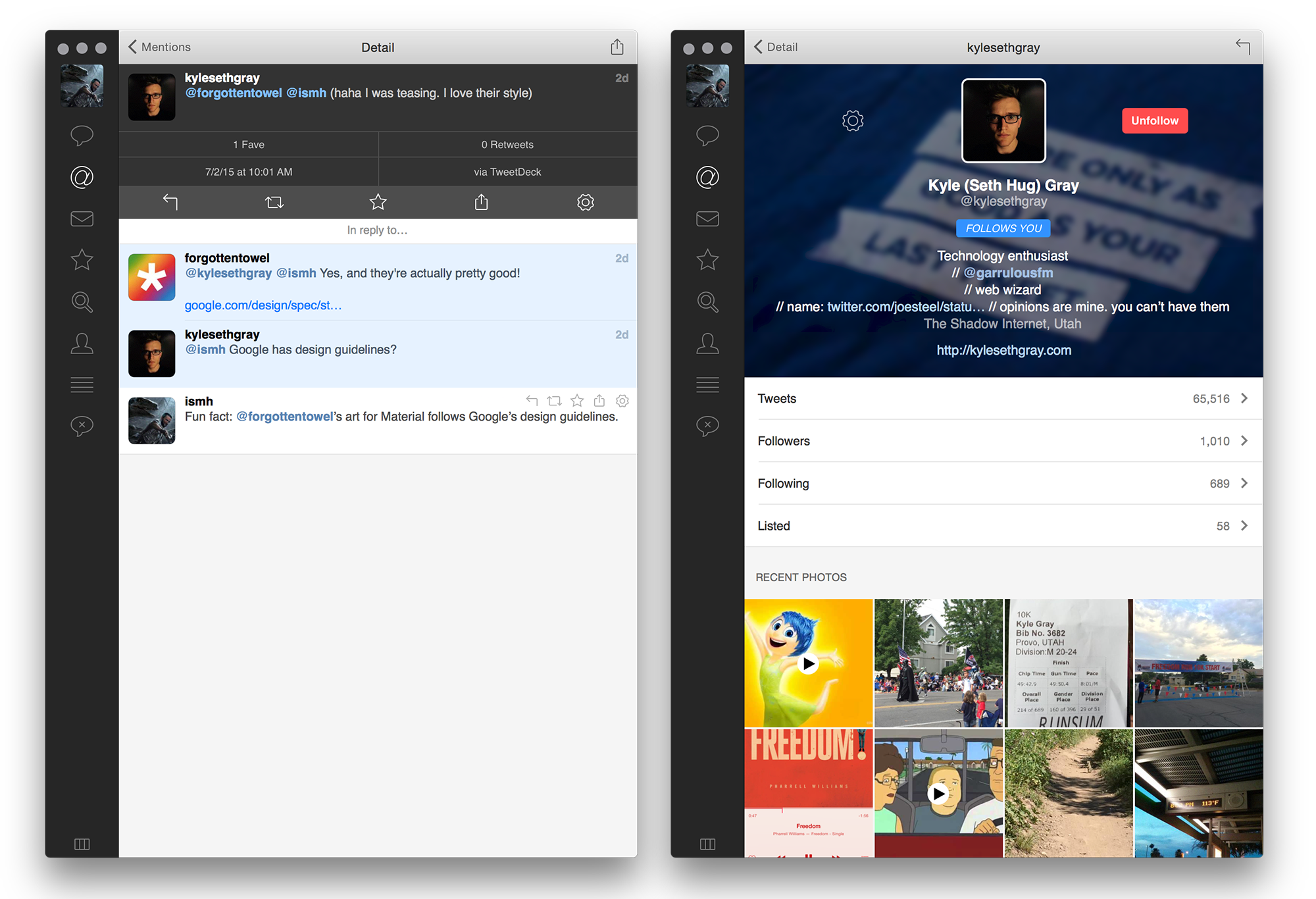 Editing your own profile is easy in Tweetbot 2. Simply navigate to it, and click the Edit button in the upper-right corner of the UI: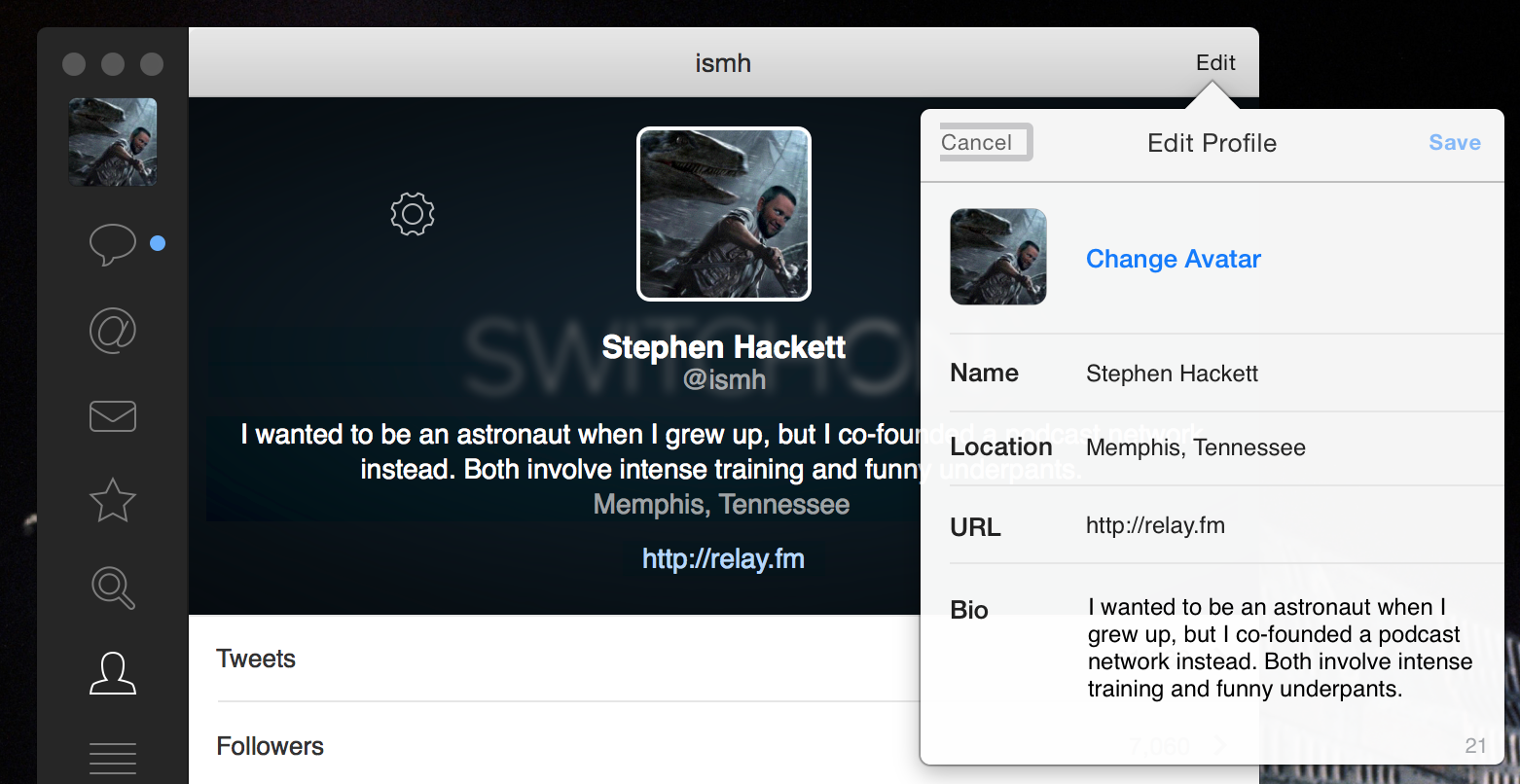 Note you will have to visit the Twitter website to edit your banner image, as this isn't supported in the 3rd-party API at this time.
Composing Tweets
As important as reading tweets and conversations is, actually tweeting is a huge part of any app experience. Tweetbot has a lot of nice tricks rolled up its sleeves when it comes to communicating in 140 characters.
If you begin to type a username, Tweetbot will attempt to auto-complete the name from a list of users. You can use the arrow keys to drop down and select the user you intend to mention: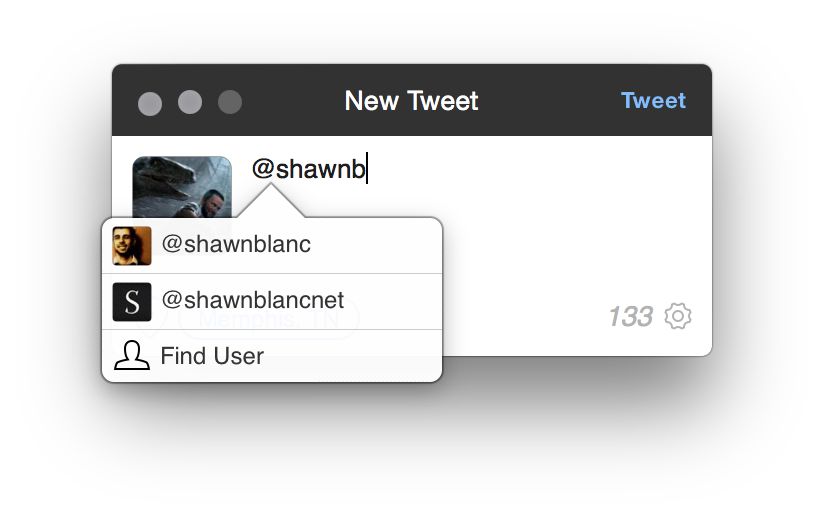 If you reply to a tweet, Tweetbot will include the users mentioned, with secondary users' names highlighted. While at first this seems like a weird trick, it's actually quite clever.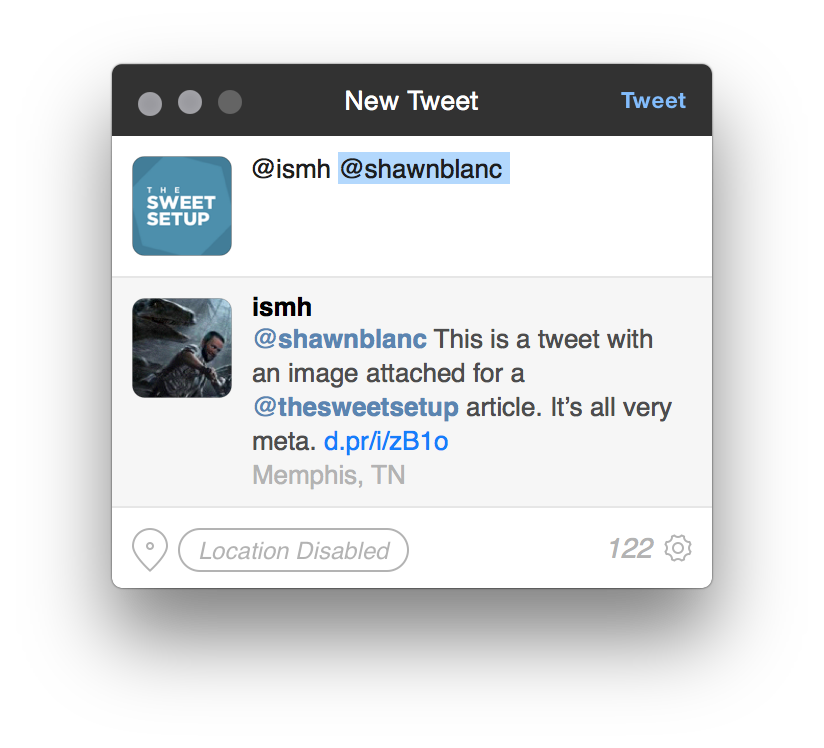 If I start typing in the window pictured above, the TSS account will just mention @ismh in the reply, and drop @shawnblanc from the thread. This would give me more characters to reply with, and keep the chatter down from the point of view of someone who may get swept up in a conversation they aren't really a part of. However, if the TSS account wants to mention @ismh and @shawnblanc, it's as easy as clicking off the highlighted word or using the right arrow key to move the cursor.
Adding media to a tweet is simple. Clicking the gear icon in the bottom-right of the New Tweet window reveals a menu to add images or videos using whichever upload services have been configured in settings. Additionally, media can be dragged into this window from Finder, and Tweetbot will upload it and insert a link without using the gear icon and subsequent menu.
Likewise, attaching a location to a tweet is simple. If Tweetbot has been granted permission to use OS X's Location Services, clicking the map pin graphic will allow Tweetbot to ping your location and attach that data to your tweet as well.
Muting & Lists
From time to time, a user, hashtag, or phrase may temporarily take over your timeline. Tweetbot includes a feature named Muting, which removes tweets completely from your timeline based on person, keyword, hashtag, or even Twitter client, for durations of a day, a week, a month, or forever.
The last item in the timeline controller is a speech bubble with an X drawn in the center. Clicking on it brings up the Mute Filters view. There, you can add keywords, etc., you'd like to mute, as well as edit existing mute filters.
If you're in any of the timeline or other views, you can mute a user by right-clicking on their profile image. If there's an automated tweet you're just tired of seeing, you can mute that client from the conversation view by right-clicking the via (client name) detail.
If you are a Twitter lists user, Tweetbot has a couple of nice features for you. You can create and follow lists easily, as well as edit members of any particular list. However, you cannot fully replace the main timeline with any list.
Other Options
Tweetbot ships with more features than any other Mac Twitter client, but the $9.99 price point may turn some users off. In that case, there are two alternatives worth looking at.
Twitterrific
The Iconfactory relaunched Twitterrific for macOS in October of 2017 after a successful Kickstarter campaign.
Like most other Twitter clients, Twitterrific brings the whole host of Twitter interactions — tweet, reply, send direct messages, favorites, and lists, to name a few. More importantly, Twitterrific's hallmark feature — like on iOS — is its customization options. Users can change fonts and font sizes, switch between dark and light themes, and change how images and videos are displayed.
With the relaunch of Twitterrific, The Iconfactory has also added support for multiple windows and timelines, accessibility improvements through VoiceOver, and a redesign that supports the latest Retina Displays, Notification Center, and full screen mode. This includes adoption of the system-wide share sheet to copy links and text and open a tweet in a browser, send a tweet to Notes, or send a tweet to other social media services.
These latest features bring Twitterrific to near feature parity with its iOS brother. However, there are still a few notable differences between the macOS and iOS apps:
Saved tweet drafts are not available in Twitterrific for macOS.
Managing your profile and lists is not currently available.
Muffles, or Twitterrific's "mute filters," cannot be managed on the macOS version of the app.
As it stands, Tweetbot remains our favorite Twitter client for the Mac. Although the level of customization may not be at Twitterrific's level, many of the notable features missing from Twitterrific's 1.0 release can be found in Tweetbot for macOS.
Twitter for Mac
Twitter for Mac is the company's official — and free — application for macOS. After a period of inactivity, the app seems to be getting updates again, but this client lacks many of the features pro users will miss if moving away from Tweetbot.
The big upside here is that the app gets the job done for free. While simple, it's completely functional, and if you don't care about bells and whistles, you could do worse.
In Closing
Most Mac owners are discerning users of consumer technology. We care about the fit and finish of things. We understand what Steve Jobs meant when he said "Design is how it works." Through that lens, using Tweetbot 2 for Mac is a no-brainer. It offers lots of power and options in a customizable, handsome interface. If you use Twitter on your Mac, this application deserves a spot in your Dock.
$9.99
Tweetbot is our favorite Twitter client for Mac because of its awesome feature set and delightful design.
App Store

$9.99