iPadOS 14: The Power User Update (Kinda)
June 26, 2020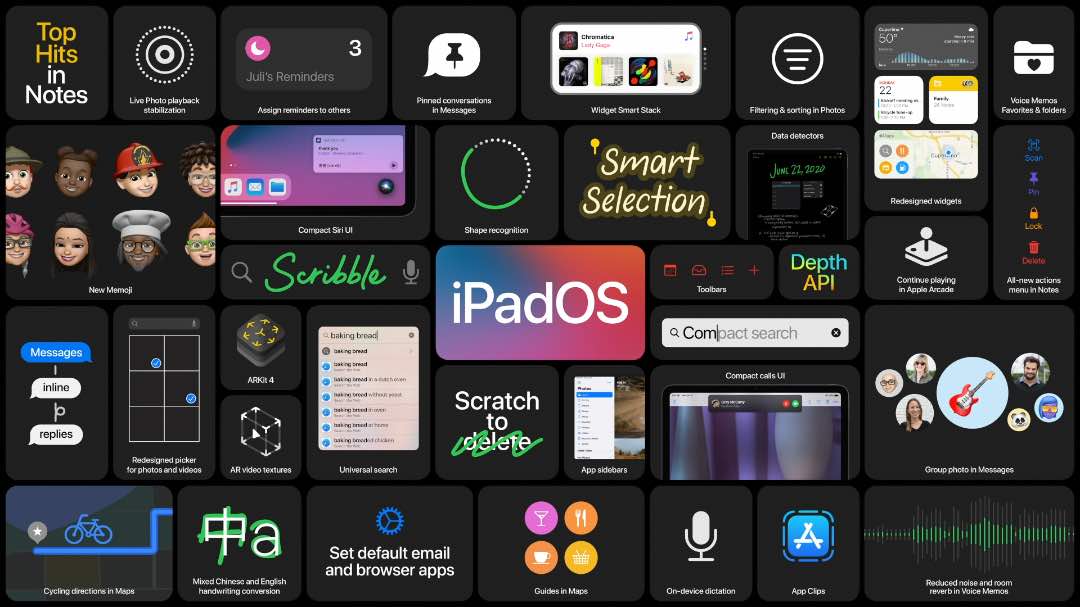 The updates of iPadOS 14 feel like updates done by people who actually use their iPad, for people who use their iPad. 1
At first, I felt that these updates were especially and obviously for power users.
But the more I think about it, the less sure I am about that. Some updates, such as folders inside of the Shortcuts app, are obviously for power users. But, honestly, most of these updates are just genuinely good and helpful updates the folks who use their iPad a lot — regardless of if they are a nerdy power user or not.
Now, as a nerdy power user myself, obviously I want the nerdy power user updates. And over the past several years, Apple has not hidden their focus on moving the iPad towards a "real computer".
My iPad usage has skyrocketed since the that first combination of the 10.5" iPad Pro and iOS 11 from back in 2017. Since that time, Apple has shipped a slew of power-user features: multitasking with multi-window support, drag and drop, a dedicated files app, Shortcuts, Home screen widgets, and even mouse pointer support.
With iPadOS 14 there are a few new power-user features, and a whole lot of refinements and iterations to the iPadOS as a whole. All good things.
. . . . . . .
The two biggest things that caught my attention during Monday's WWDC Keynote were Scribble and Search.
But, as you can see from Apple's "overview slide" at the top of this article, there are quite a few new headline features beyond Search and Scribble:
Compact notifications (for calls, Shortcuts, Siri, and more)
The ability to assign tasks to people in the Reminders app
The removal of that letterpress texture inside the Notes app
The ability to set your preferred default email and browser apps
New Menus and Sidebars that allow for more information density and a more focused app layout
Folders in Shortcuts (for those who have a LOT of Shortcuts)
Refinements to iMessage (especially within groups)
And more.
My iPadOS 14 wish list wasn't all that long, to be honest. A few things I was hoping for included hotkey shortcuts to trigger Shortcut shortcuts; background running of shortcuts (so you wouldn't have to go into the app all the time); multi-user support; modernizing of the Home screen; and the removal of that darn texture inside of Apple Notes.
And we got just about all of. Wohoo!
I want to share a bit about some of the hallmark features of iPadOS that I think will have the most exciting and positive impact for those who use their iPads every day.
---
The New Search on iPadOS 14
Right off the bat, I had two questions about the new Search in iPadOS 14.
Why are Compact Search and Universal Search each their own "feature"?
How is Search on iPadOS 14 different than it is currently in iOS 13?
To answer the first question:
Compact = a new design to the search dialog that no longer takes over the whole screen.
Universal = a new search engine that is faster and more robust.
Functionality-wise, the new search is more or less the same thing we already have. It just looks different.
I am all for the new look. But I also wish it was a bit more robust.
When talking about the new search during his WWDC Keynote presentation, Craig Federighi said that the new Search could be used as an App Launcher… which got me thinking there was more going on here.
To say "app launcher" is a quick way to get any Mac nerd's ears to perk up. I've been using app launchers on my Mac since as long as I can remember. I first fell into those waters with Quicksilver (remember Quicksilver!?), then I moved to LaunchBar (the original Command+Space app). Alfred is our top pick here at TSS.
I use the Command + Space hotkey on my iPad all the time to open up the search, where I mostly go to launch and navigate between apps. (There is an irony to trying to navigating a touchscreen tablet mostly via the keyboard. But, for the persnickety power user, it's often the best way.)
In iPadOS 13, using Command + Space is not as powerful or fast as a dedicated app launcher such as LaunchBar or Alfred or even Spotlight. But there are quite a few things you can do with it. And I was hoping we'd see some significant improvements to search with iPadOS 14.
However, Search on iPadOS 14 appears to be, more or less, just a fresh design for the same functionality that already exists on iPadOS 13 and before.
But! With some of the design and feature updates to how Shortcuts run on iPadOS 14, you can now run some shortcuts without having the actual Shortcuts app launch.
And! Since you can launch Shortcuts directly from the Search bar, there are ways you can trigger common actions and workflows directly from the keyboard.
For example:
Text entry that goes to a new Drafts document.
Text entry that appends or prepends to a specific Draft (or Ulysses sheet, etc.)
Create a new to-do item in your task manager of choice
So you can, in a sense, use the Compact Search to trigger helpful little Shortcut workflows without going to and fro inbetween apps. It can all happen right there, and then you return to what you were doing.
Full interaction with a shortcut (enter text, choose from list) in iOS/iPadOS 14 without opening the Shortcuts app, directly from Search. This is super nice. pic.twitter.com/uBoTxQ5eWF

— Federico Viticci (@viticci) June 22, 2020
What's great about this is how powerful it can be. But! The problem with having to "customize" your "smart" app launcher is that, well, most of us are terrible at analyzing our own common workflows, computing habits, and productivity defaults.
We don't really know what we could improve upon. We need someone else to help us.
This is why having an app launcher learn your behavior can feel magical. Because it gives you what you need when you need it before you even realize it. This is something that Siri is supposed to help solve, but it's still not there yet.
Not only am I excited about the improvements to Search and Shortcuts in iPadOS 14, but the fact that Apple is rebuilding this means there will be more innovation to come.
Scribble: More than just a neat feature for tablets
One thing I shared during our TSS live Keynote Reactions webinar that we hosted on Monday, I shared about how Scribble is more than just a neat feature for a tablet-based operating system…
Scribble solves a genuine problem that anyone with an iPad and Apple Pencil has faced.
One thing I love about the iPad is how it can be modular.
I mostly use my iPad with the Magic Keyboard attached — such as right now as I am writing this article.
But I also regularly will "undock" the iPad and use it just as a tablet.
Tablet mode is how I use the iPad for activities such as reading, browsing the web, sketching out a mindmap idea, watching videos, writing down notes and ideas, or editing photos.
The Apple Pencil is the tool I use when I'm using an app such as GoodNotes or Lightroom.
If you've ever been using your Apple Pencil and then did literally anything else at all on the iPad, then you've experienced first hand the jarring speed bumps that come with trying to navigate around other apps with the Pencil in your hand. Yes, it's totally doable, but it also feels a bit like a hack.
However, now, with Scribble you can write directly into a text field instead of peck-typing one letter at a time! It means that instead of the Apple Pencil getting in your way if you are not using a "handwriting" app, the Pencil can help you navigate and use the iPad even more.
What a thoughtful and welcome improvement. One that just makes sense. Scribble seems like something that should have been a feature of the iPad since at least day one of the iPad Pro and its Pencil.
Miscellany of Additional iPadOS Features
Notifications: If you think full-screen takeover for Siri and incoming phone calls is obnoxious on an iPhone, imagine how much moreso on an iPad. There have been a lot of designs from the iPhone that that just got plopped onto the iPad's bigger screen. Compacted notifications on the iPad finally fix one of those last frontiers from the iPhone. This is one way, in particular, that iPadOS is moving closer to macOS.

Default Mail and Browser: iPadOS will now let you choose which email app you want to use as your default. Which means that when you tap on a URL or on a mailto link, you can choose which app you want to open up instead of Safari or the built-in Mail app. There are many 3rd-party email apps that offer quite a bit more functionality than the default one. So, if you prefer to use Spark, Outlook, Airmail, Gmail, or Hey2 now you can go all in. Which is something that we've been able to do on the Mac since forever.

Menus and Sidebars: The new, streamlined menus and sidebars allow for better navigation within an app, more information density, and just a generally more streamlined app layout. Again, Mac users, stop me if you've seen this before.
. . . . .
These are all very welcome, exciting, and thoughtful refinements to the iPad. And, as I mentioned, they all feel like ways that iPadOS is moving closer to macOS (in a good way).
Along with the updates to macOS 11 (!) and the upcoming transition to Apple Silicon Macs, it is apparent that iPadOS and macOS are moving toward each other at an increasing rate.
It shouldn't feel like there are tradeoffs if you are choosing between an iPad or a Mac. The more continuity there is between apps, operating systems, and the work we are doing on these multiple devices, the better.