Essential Apps for New iPhones
December 21, 2018
Yesterday, we kicked off a quick holiday series of app roundups that make great initial downloads for brand new Apple Watches. No matter the app category you're looking for, there's bound to be a great third-party alternative that is both worth your money and time.
Same goes for the iPhone, except the iPhone's app selection is exponentially larger than the Apple Watch. Where on the Apple Watch you have one or two great apps per category, on the iPhone, you have seven to ten great apps per category.
The following five apps are apps we consider absolutely essential for every iPhone, as well as a range of apps that are simply better than their first-party counterparts made by Apple.
Wait. There's a Bonus….
Custom Productivity Templates
We have a set of custom productivity templates that work well with the iPad app, GoodNotes. And if you want to try them out, we've put together a free guide that can help you.
We'll show you…
How to create and save custom page templates in GoodNotes.
How to use those page templates to transform GoodNotes into your own productivity notebook (or any other type of notebook replacement).
Plus, we also have included a couple of our custom productivity templates for you to get started with. These templates are right out of our popular productivity course.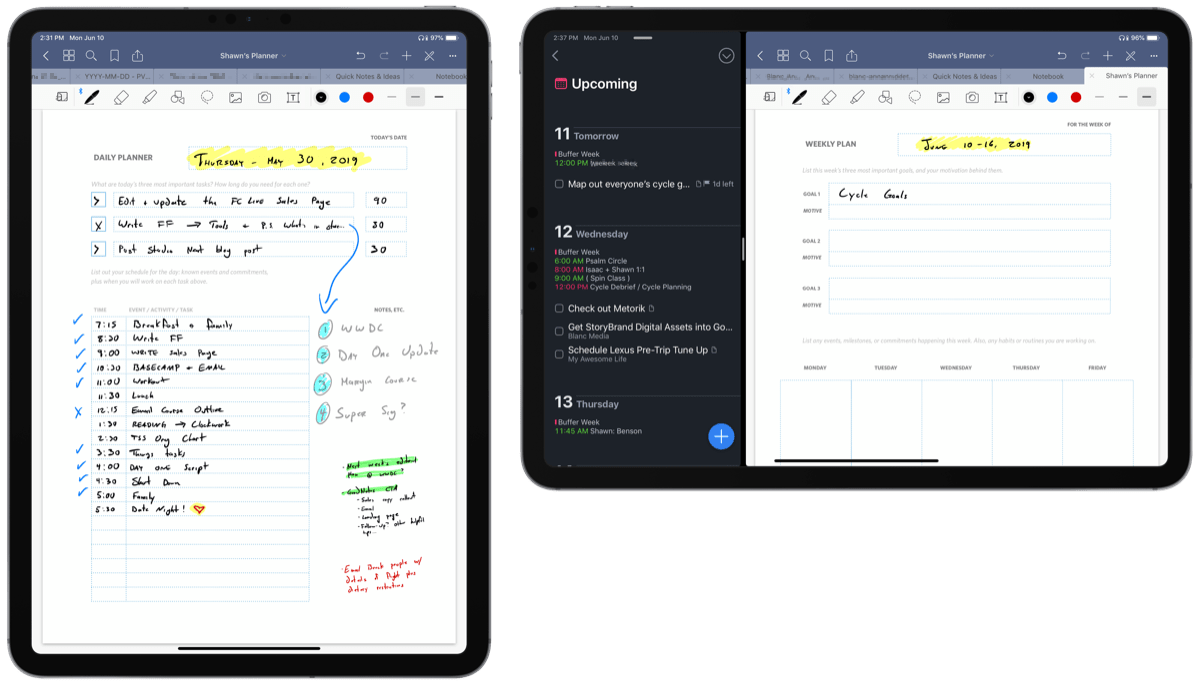 The custom templates and the guide are available for FREE to our email subscriber community. And you can get it right now. By joining the Sweet Setup community you'll also get access to our other guides, early previews to big new reviews and workflow articles we are working on, weekly roundups of our best content, and more.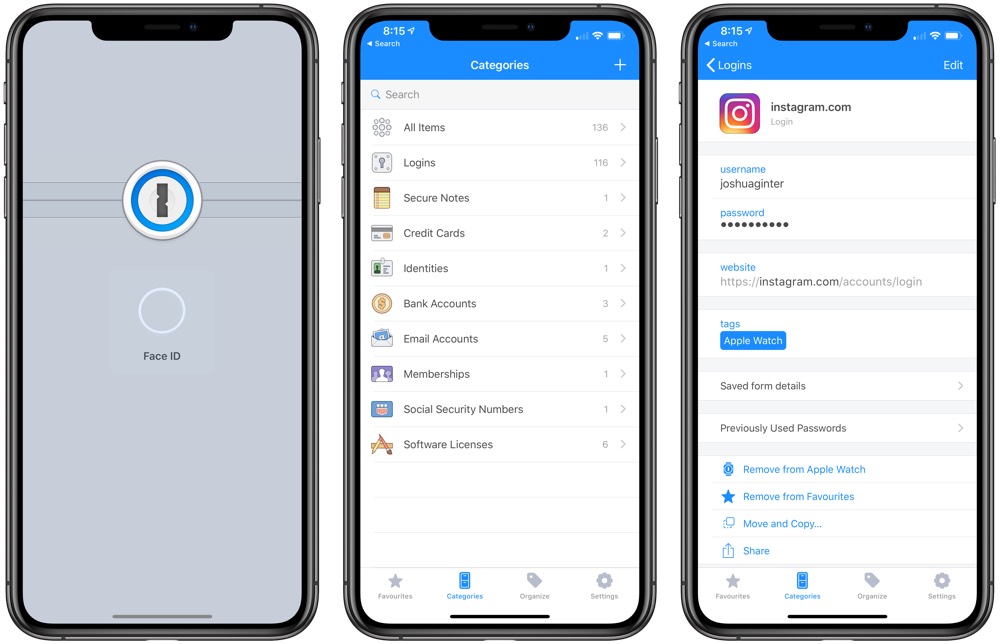 A password manager — an app you install on your Mac, iPhone, and/or iPad to store all your various passwords — is the premier solution to easily keeping all your passwords secure. 1Password is still the most well-rounded password manager on the market.
1Password first asks you to create a master password, which you can use to log in to the app to store all your other passwords, personal information, and more. 1Password can generate secure passwords for new logins, be accessed through iOS's new Password Autofill feature using Face ID or Touch ID, and be accessed inside other apps to quickly log into your secured accounts. One of our favorite uses for 1Password is the creation of a digital will, providing your family a first place to look for all your secure information.
We have a wide range of information on The Sweet Setup dedicated to 1Password, such as our full fledged course, our review, how-tos, and more. 1Password requires an in-app subscription to be used across your devices, but this is one of those must-have devices, no matter who you are or what you do.
You can download 1Password for free on the App Store and sign up for the subscription in the app.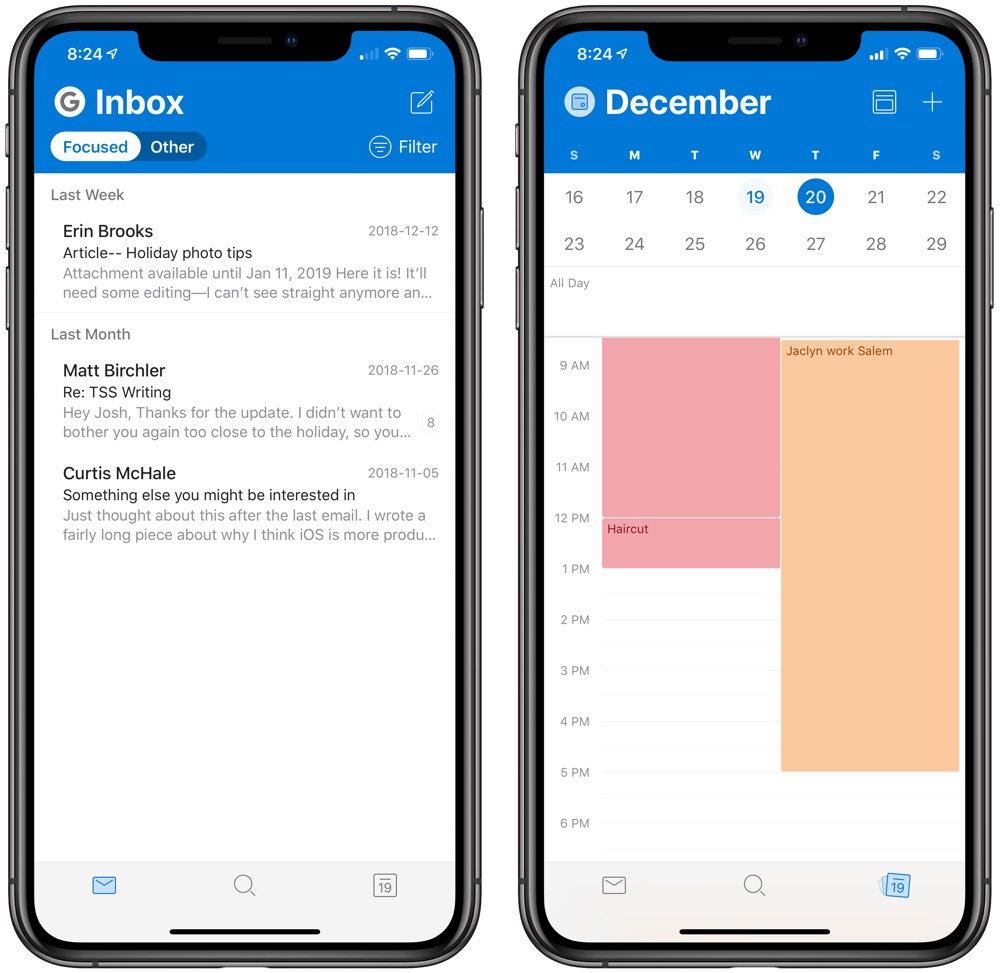 It's crazy to think that Microsoft makes a better email app for the iPhone than Apple, but it's true: Microsoft Outlook for iOS is our pick for the best email app for the iPhone. Outlook's design, quick sync, and integrated calendar make it a one-stop email shop for staying on top of your correspondence.
Email apps are deeply personal, however. Everyone manages their email differently, which makes finding the best iPhone email app a difficult task. For some, it's a to-do list. For others, it's a temporary holding place until emails are processed into a task management system.
Outlook excels at getting you into your most important emails under the "Focused" inbox, replying or triaging that email, sending it off to a different app, or handling the attached file in the email. In fact, one of my favorite features in Outlook is its quick "Files" integration — simply tap the search button at the bottom of the screen and scan through your attached files in chronological order.
Outlook for iOS just received a fresh coat of paint (in fact, it may not have rolled out to every iOS device just yet) and is due for a range of updates in 2019.
For a better email experience, we recommend Microsoft Outlook for iOS. Download it for free on the App Store and check out our review for more details and information on more email apps.
A Better Photo Editor: Darkroom
Apple introduces more and more photo editing features in the built-in Photos app each year, but none of those features are as useful as the ones found in Darkroom. We think Darkroom represents the best balance of power, ease-of-use, end product, and frequent updates. In fact, the latest major version of Darkroom has truly solidified the app's lead.
For a start, it's a beautifully-designed app that feels right at home on the iPhone. Check out the awesome icon, with its carefully-rendered neon glow and "cabling" for a start. And that attention to detail carries through the app, too: it doesn't use any interface elements straight out of UIKit, but everything feels very fluid, responsive, and crisp. It's a very elegant app, especially with small but great features like hiding screenshots in the photo picker.
The latest update — Darkroom 4.0 — introduced a new app icon, a wide range of features, and (most importantly), a universal iPad app.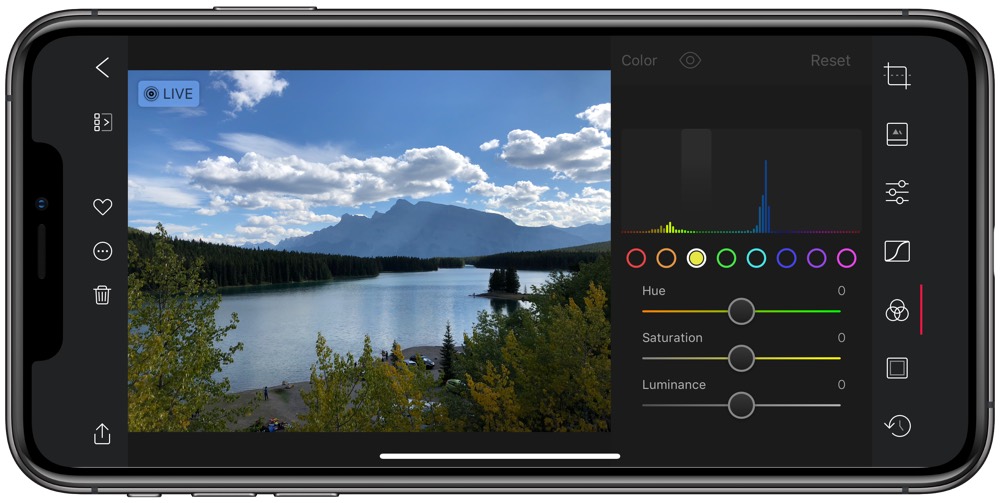 Darkroom integrates very well with apps like Halide — probably the best manual camera app for the iPhone — as well as Moment, the iPhone lens manufacturer.
Darkroom is (somehow) a free download on the App Store and you can purchase a range of extra features and filters in the app. Check out our review from this past August to get a hang of everything Darkroom has to offer. And if you want even more mobile photography how-tos, we have a huge course made just for you.
An App to Manage Email Newsletters: Stoop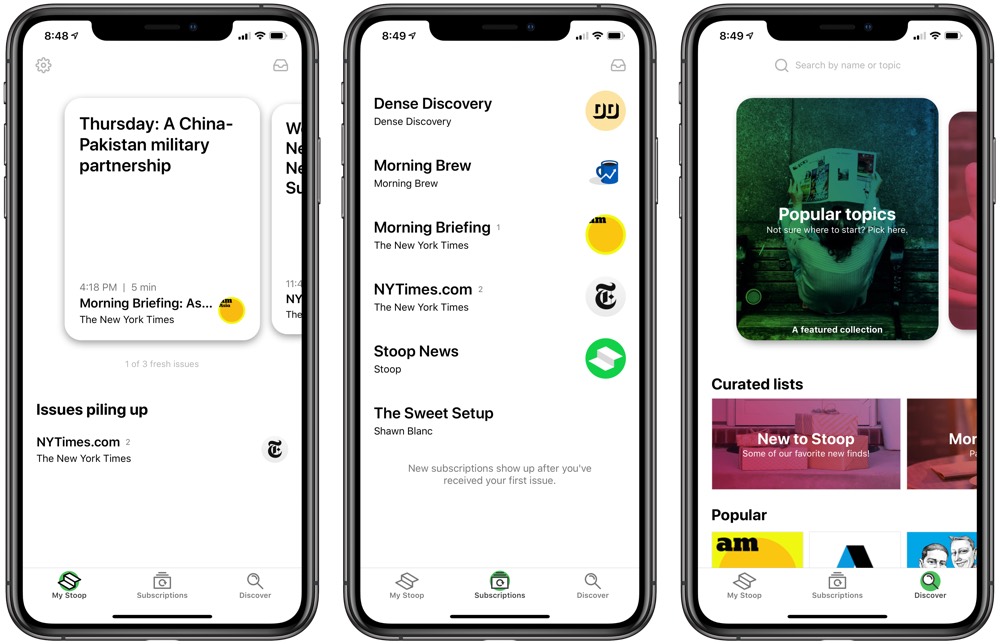 Stoop is a new app I was recently recommended that makes short work of all the newsletters flooding your email inbox. When you download and sign up for Stoop, the app provides you a Stoop-specific email, which is then used to subscribe to all of your favorite newsletters. You can discover new and popular newsletters right in the app, or use the Stoop email in your browser and register for a newsletter that way.
Inside the app is a wonderful reading experience. You can triage your Stoop email right in the app and Stoop then whisks your available newsletters to a home screen with well-designed cards and previews. Inside, the reading experience is better than trying to read a newsletter inside your email app. Once you're done reading, a quick archive button sits at the bottom and you can quickly jump to your next newsletter.
Stoop is very new on my iPhone, but I've quickly realized this app is necessary for all other iPhone users. It dramatically improves your email inbox clutter and puts newsletters into a more comfortable reading arena.
You can download Stoop for iPhone for free on the App Store.
The Best Journaling App: Day One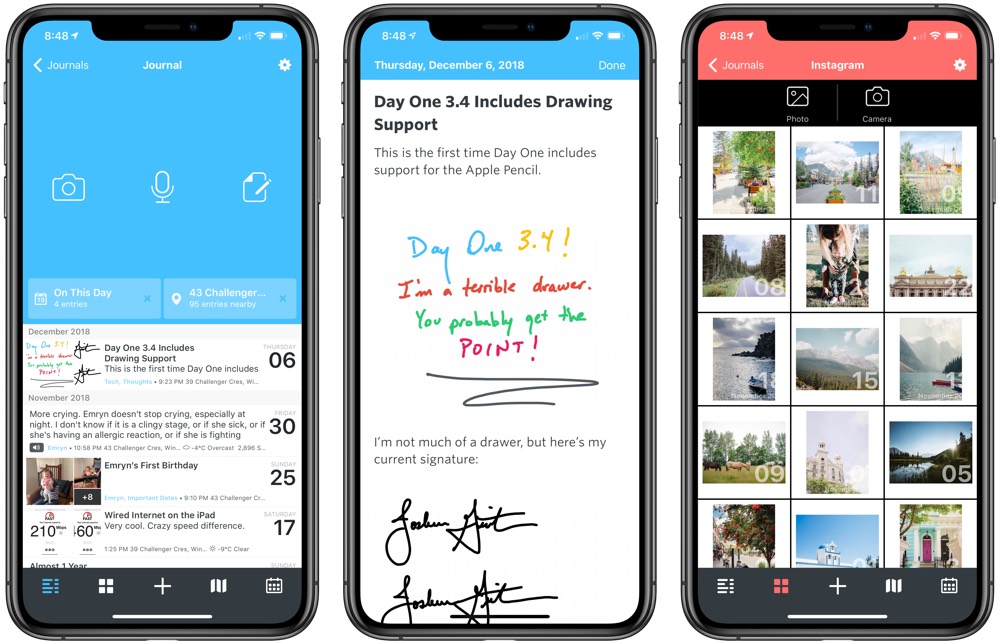 Ever since Day One debuted for the Mac in 2011, it has been the best journaling app available for Apple devices. Day One reached Version 3 in 2018, has more options for different journal entry types, and even has printing options to make your digital journal a real, physical book. We love Day One here at The Sweet Setup, and it ranks up in the top shelf alongside 1Password.
One of the greatest things about a journaling app is that it need not be only text. Photos, audio snippets, locations, weather, and tags and sorting are all part of the human experience. We have these computers in our pockets at all times, so our journaling app needn't be constrained only to when we have time to sit and muse. Day One combines the simple daily log, event log, activity log, or whatever else log, along with a photo or sound album, and long-form expressive writing. It serves many purposes.
Day One is a work horse. It supports Markdown, it works with TextExpander on iOS, it syncs between iPhone, iPad, and Mac, it has a passcode lock with TouchID and FaceID support, it supports adding image and/or text entries, it geotags your entries with your current location and makes a note of the current weather, you can tag your current activity status (such as walking, running, flying, etc.), and you can export all your entries as plain text or PDF. Plus, with version 3, you can add audio entries and even drawing entries.
Day One is a free download on the App Store and in-app subscription unlocks all the features you'll need to stay on top of your digital journal. Check out our full review for a look at the entire Day One platform, and our course has even more tips for getting the most out of your digital journal.
Wait! There's more….
How to Use Day One in Your Life
For a the best journaling app, you won't do better than Day One. And if you want to discover how to use this app more regularly, and take full advantage of all its features, then we have some video screencasts that can help you.
In our course, Day One in Depth, you get 8 video screencasts that will take you line by line through every feature, setting, preference, and option found in Day One.
We'll show you…
Complete walkthrough of the Mac and iOS apps.
How to create and customize your journal entries (from text, to photo, to audio)
How to find, filter, export, and more.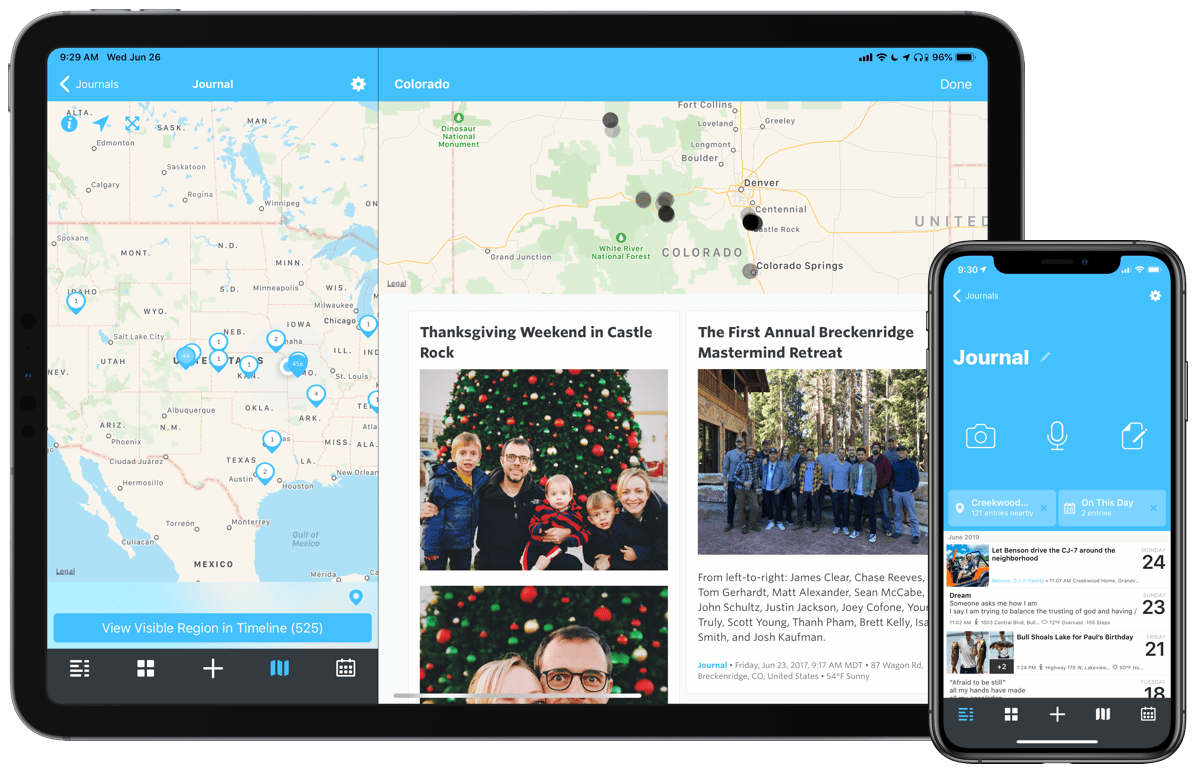 Plus! You will get bonus tips, workflows, and tutorials for how best to use Day One to suit your own needs: from a morning writing time to a photographic travel log, to weekly reviews and productivity journaling — Day One can do it all and we will show you how.