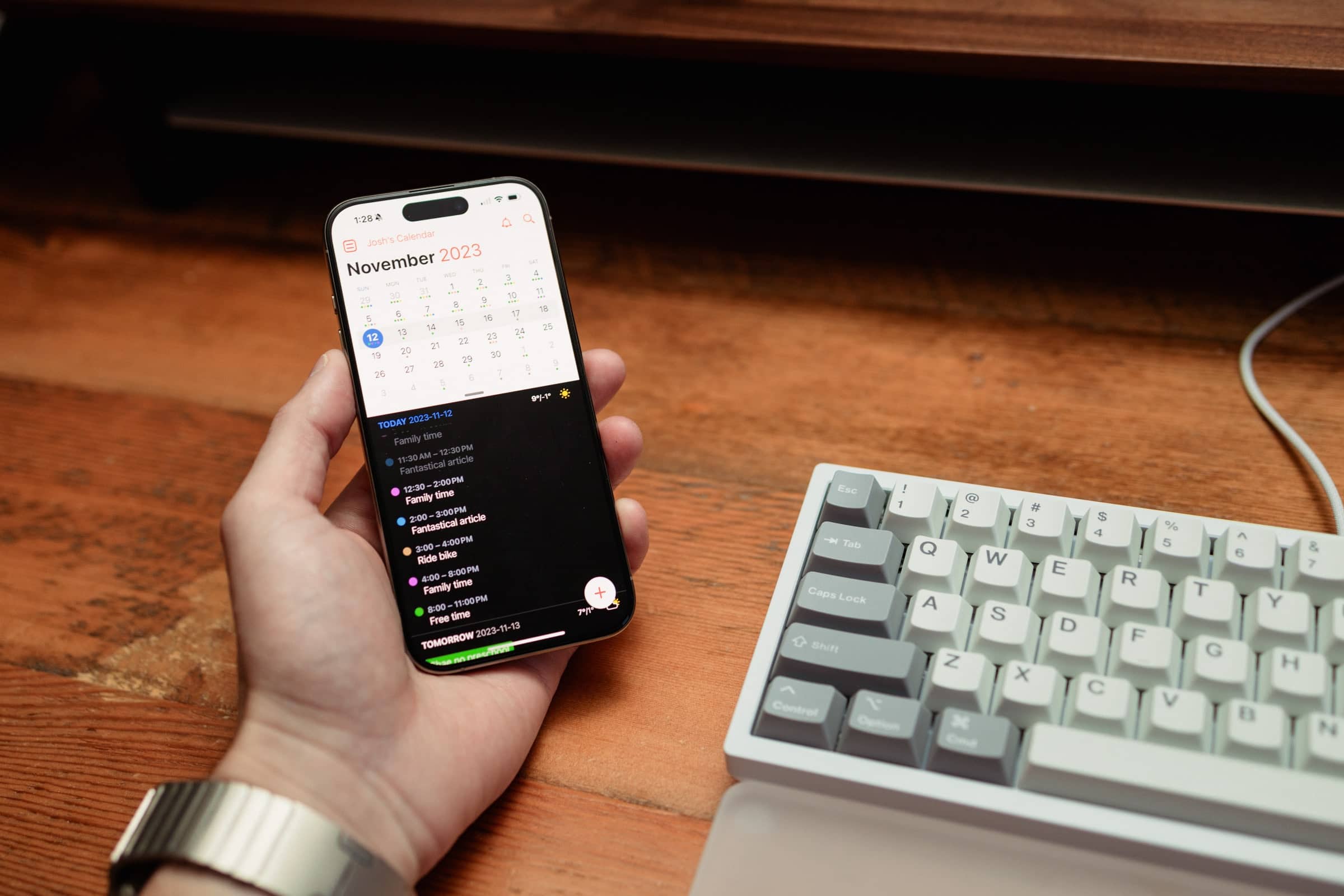 The Best Calendar App for iPhone
Fantastical
November 12, 2023
The perfect iPhone calendar app is hard to find. It has to be easy to use, present you with all the data you need, and provide integrations with the right data sources and applications to help you not only plan your day, but also allow you to execute your plan and quickly and easily capture new events as you find out about them.
It's been a few years since we dipped our toes into the calendar category and there are some notable changes to the landscape. Artificial intelligence has permeated itself into almost every app imaginable. The combination of scheduling and task completion have come together to boost productivity levels. And managing busy schedules has introduced a need for direct calendar invites for any and all of life's events.
The result is a whole slate of new calendar apps for iPhone to discover and learn. There are a variety of new apps since the last time we tested, and we're excited to highlight them.
Nevertheless, our calendar criteria hasn't changed. We wanted to know which apps were the easiest to use for entering new events, viewing your current agenda, and more. Based on several different criteria, Fantastical continues to be the choice for the best calendar app for iPhone.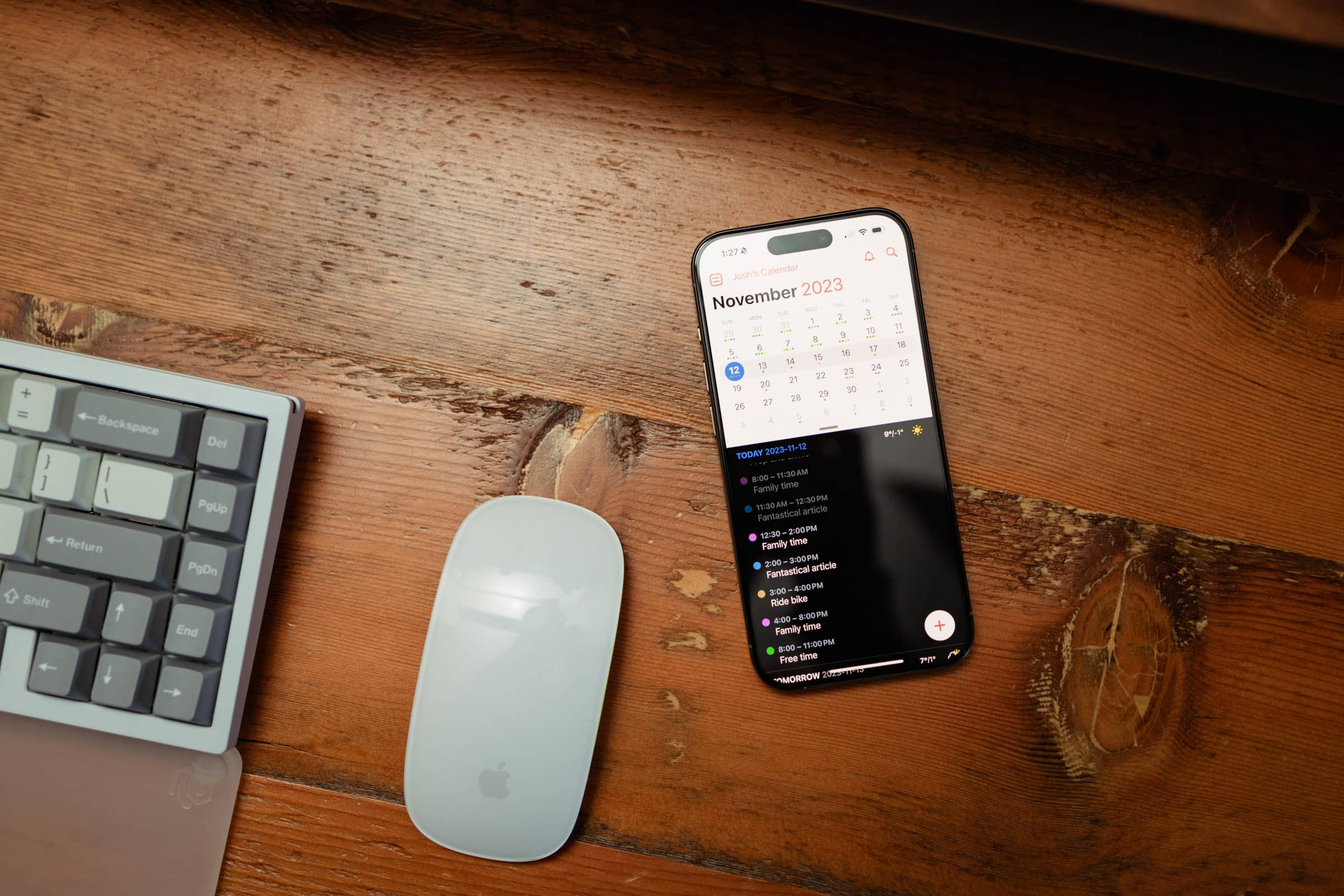 In a nutshell, what makes Fantastical the best calendar app is its great design, superior natural language text entry, and its support for Apple Reminders.
But the race in late 2023 is closer than ever. Other apps have caught up to Fantastical in terms of design, natural language input, and handling everyday tasks. Other apps have even utilized AI to better build out your daily schedule, something Fantastical can't boast about. In prior races where Fantastical exceeded expectations, the bar has now been cleared by other competitors as well.
Instead, this time around, it's Fantastical's feature-equivalent performance on any Apple platform, its Openings and Proposals features, and its wide support of all calendar services that put it over the top. Many of Fantastical's best competitors are limited to a small number of calendar services, don't offer high-end scheduling capabilities, nor offer a feature-complete app on the iPhone.
We're glad to see such great competition in the calendar category in 2023/2024. Fantastical is still the best option there is, but you now have a wider variety of choices than ever before.
Why Upgrade from Apple Calendar?
There is already a great looking calendar app that ships on every Apple device — Apple's own Calendar app has great design, great functionality, and some first-party integrations other apps aren't allowed to have. So why would you want to spend money on a third-party calendar app for your iPhone?
The big reason to upgrade is that the built-in calendar app is pretty limited. It lets you see your appointments and schedule new ones, but that's about it. It's not going to have additional features like natural language entry or scheduling links that make booking the appointment easier. It also doesn't have any AI features or any productivity integrations to allow for time-blocking your schedule.
If you don't need anything more than basic calendar functionality and the ability to sync between your Apple devices, then Apple Calendar is a great choice. But if you're looking for an app that helps you take your time management up a notch, there's a bunch of great options for the iPhone.
What Makes a Great iPhone Calendar App?
The calendar app you decide to use is more than just a pretty interface for your meetings. We used the following criteria when selecting the best calendar app for iPhone:
Ease of Use The best calendar app needs to make it quick and easy to view your calendar. It should provide you different calendar views that are easy to switch between so you can visualize your events in the way that is most helpful to you.

Adding/Finding Events: The best calendar app needs to have fast and easy event entry. To us, this means great natural language parsing (but more on that in a bit).

Scheduling Features: If you're going to invest in something beyond the stock Calendar app, the app you use should give you some additional features to help you manage your time even better. You should have the ability to time-block your day, provide proposal times for an event with attendees, and even provide open-ended invitations.

Integrations: If the calendar app can't interface with the calendar syncing service you're using, it can't be the best because the app would be silo'd to your iPhone only. It should also integrate with other apps (where appropriate) to make managing your events and time-sensitive tasks easier.

Cross-Platform Sync: Lastly, because most of us live in a multi-device environment, your calendar app should have a macOS and iPhone version that syncs seamlessly with the iPad version. And if you can get your event information on your Apple Watch as well, even better.

Great iPhone functionality: Many amazing apps these days are debuting first for the web, then potentially as a macOS desktop app, and then iPhone functionality is tagged on to allow for on-the-go entry or reference. The iPhone shouldn't play second fiddle — the iPhone is a full-fledged device on its own and we want the best calendar app to be as close to feature-equivalent as possible with the iPad, Mac, or web counterpart.
The Best Calendar App for iPhone: Fantastical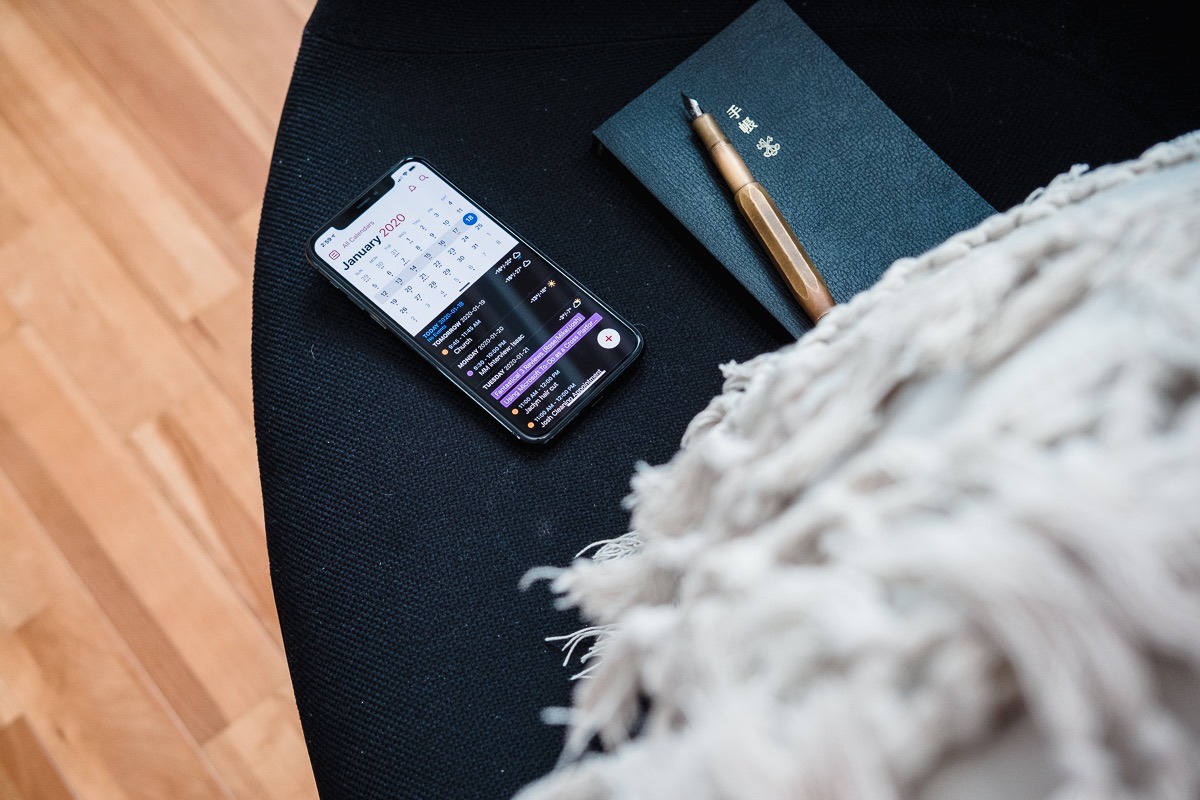 Fantastical meets all our criteria for a great calendar app, and we recommend it unreservedly for iPhone users of all ages, professions, and varying degrees of busy-ness.
It is the easiest to use (for adding/editing events) and the easiest to read (for checking schedules) for most people. Fantastical's natural language parsing is second to none, making it fast and easy to add events, and it has a simple-yet-powerful design. The week ticker makes it easy to visualize your week ahead, a simple pull switches to a month calendar view, and it supports any calendar you can add to iOS. In addition to all this, it offers a series of full screen views that are designed to take advantage of whatever size screen you have from the latest iPhone to the 12.9″ iPad Pro and everything else.
Fantastical is fully native and fully functional on the iPhone, something many of the best competitors can't offer. You can tune your Openings templates, propose multiple times for an event, and jump into conference calls all from the iPhone, without the need for a Mac. Fantastical also offers the best iPhone Home Screen and Lock Screen widgets, hands down — the three-week Lock Screen widget is one of the prettiest Lock Screen widgets available on the App Store.
Fantastical's Design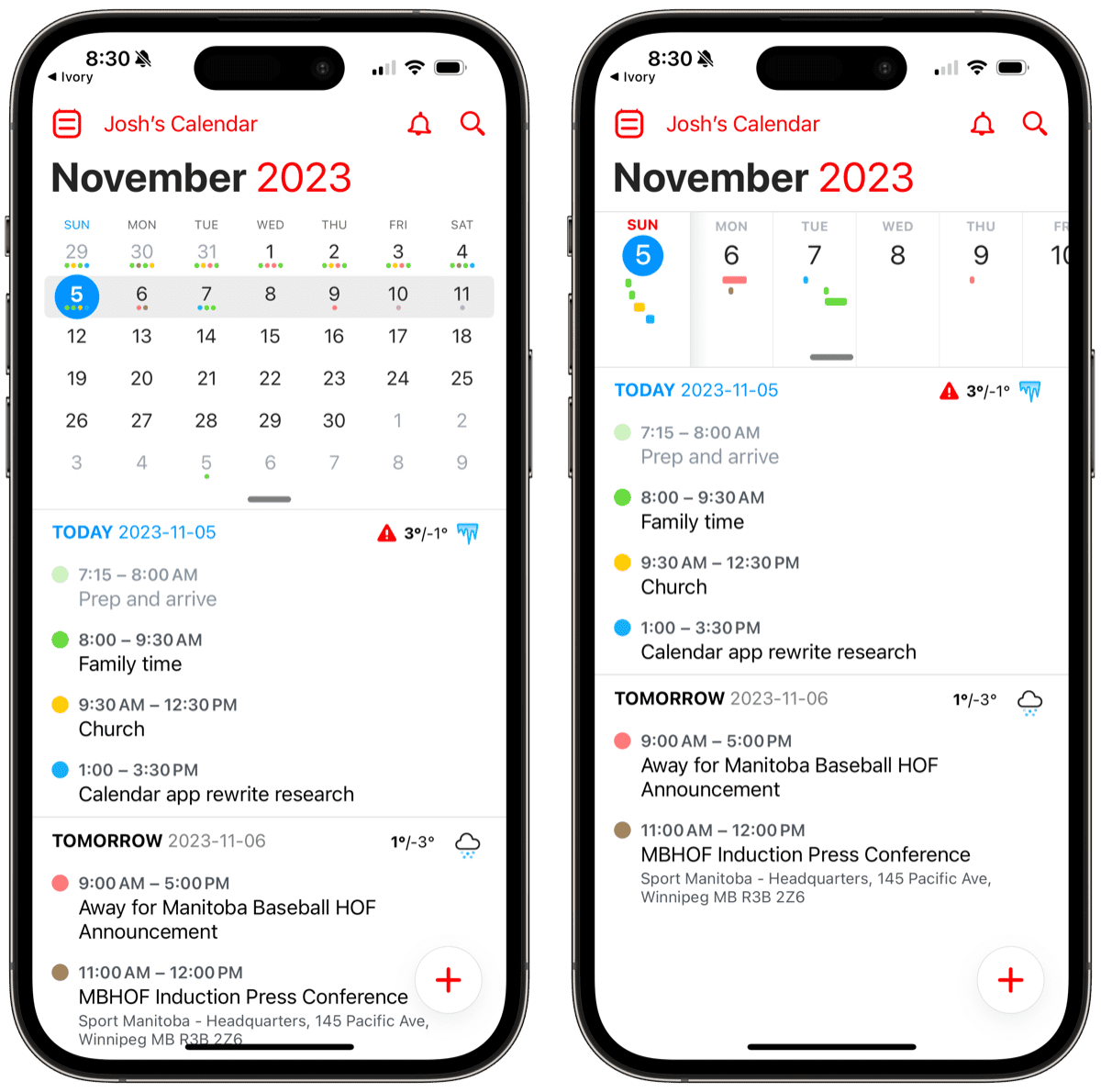 On the iPhone, Fantastical offers a choice of two kinds of views: list or full screen. Both give you a great way to see your upcoming events. The list view has three options: the Tasks view, the DayTicker, and the Calendar view. Both the DayTicker and the calendar have a list of events below the visual area, and in the Settings, you can choose if that list should include all events, just the selected day, or the selected day and the following day. The Tasks view is focused on your Reminders (or you can add Todoist to the app and sync your task list back and forth between the GTD app and Fantastical). You can pull down on the top area of the screen (such as the Tasks title) to get to the next view, and drag it up to enter the previous view.
The Tasks view shows your reminders ordered by reminder time or grouped by list, according to your preference.
The DayTicker is a great way to get a general overview of how busy the upcoming week is and to quickly swipe ahead to a specific date. The ticker shows lines (color coded to your calendars) indicating when you have events throughout each day.
With a simple pull on the week ticker, you can swap it out for a monthly calendar view, making it easy to get an overview of any month and the day of the week a date lands on, etc. Each date on the calendar with events scheduled shows a dot (again, color-coded to your calendars).
If you rotate your iPhone into landscape mode, it switches to a week "block" view, similar to what you see in Calendar in macOS. This gives you a great visualization of how your time is blocked out over the next week while also seeing details for each day. From the block view, you can also drag and drop events to change the time and date. In addition, you can also hide the sidebar and view your whole week across your iPhone screen.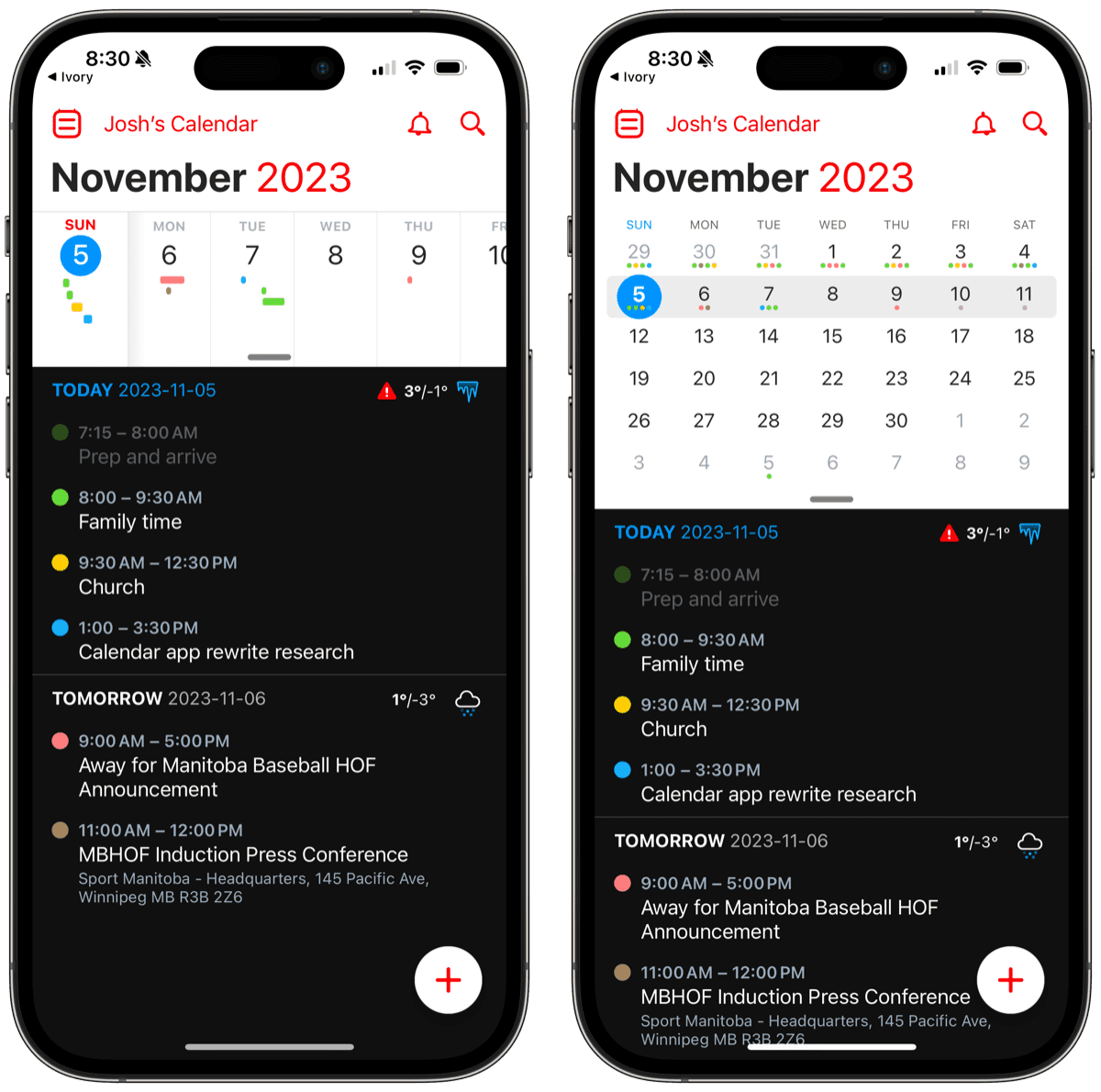 Along with these views, you also have the option to turn on a great dark theme. It is clear that everything in Fantastical's design was carefully considered and serves to improve the functionality of the app.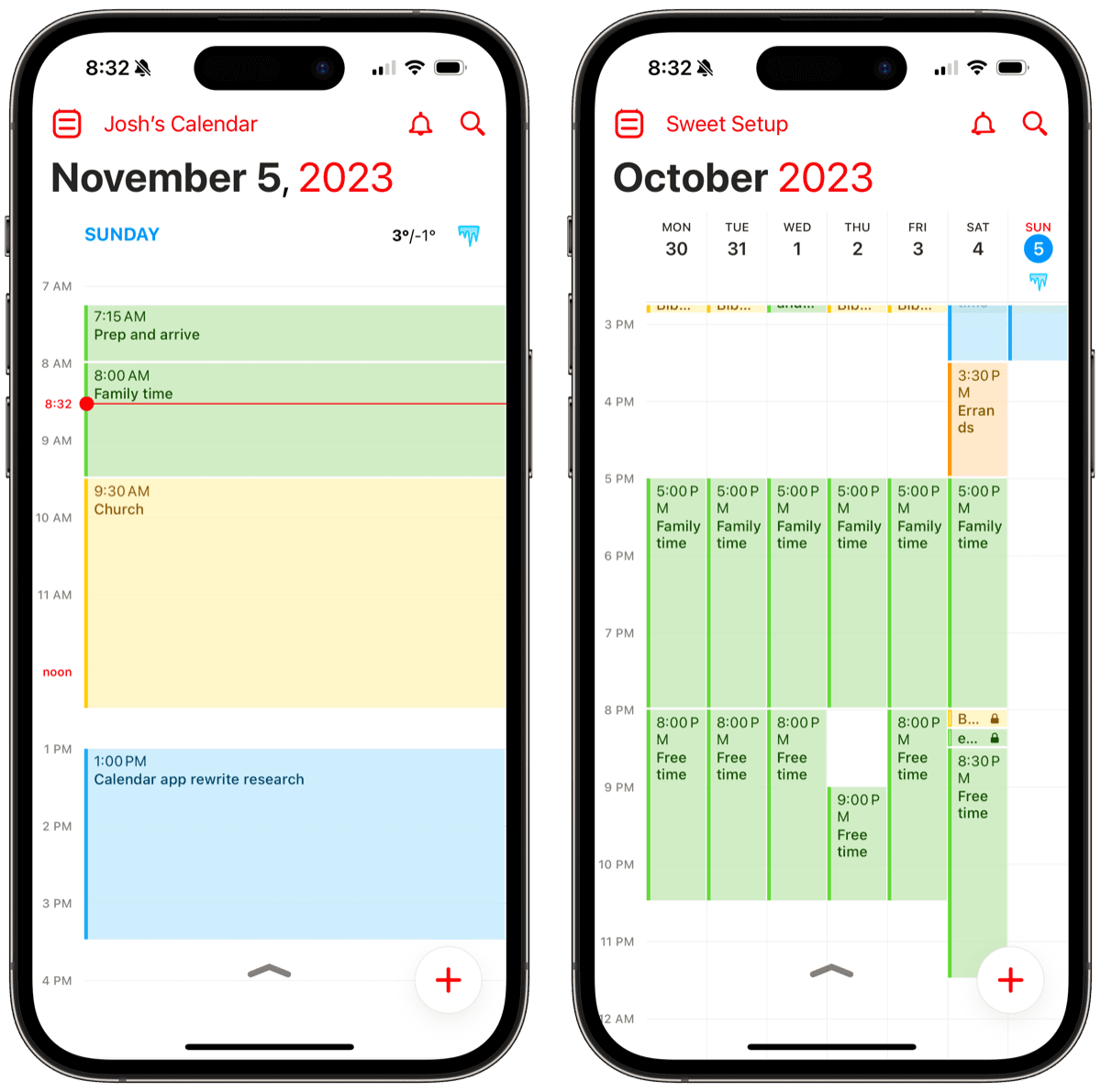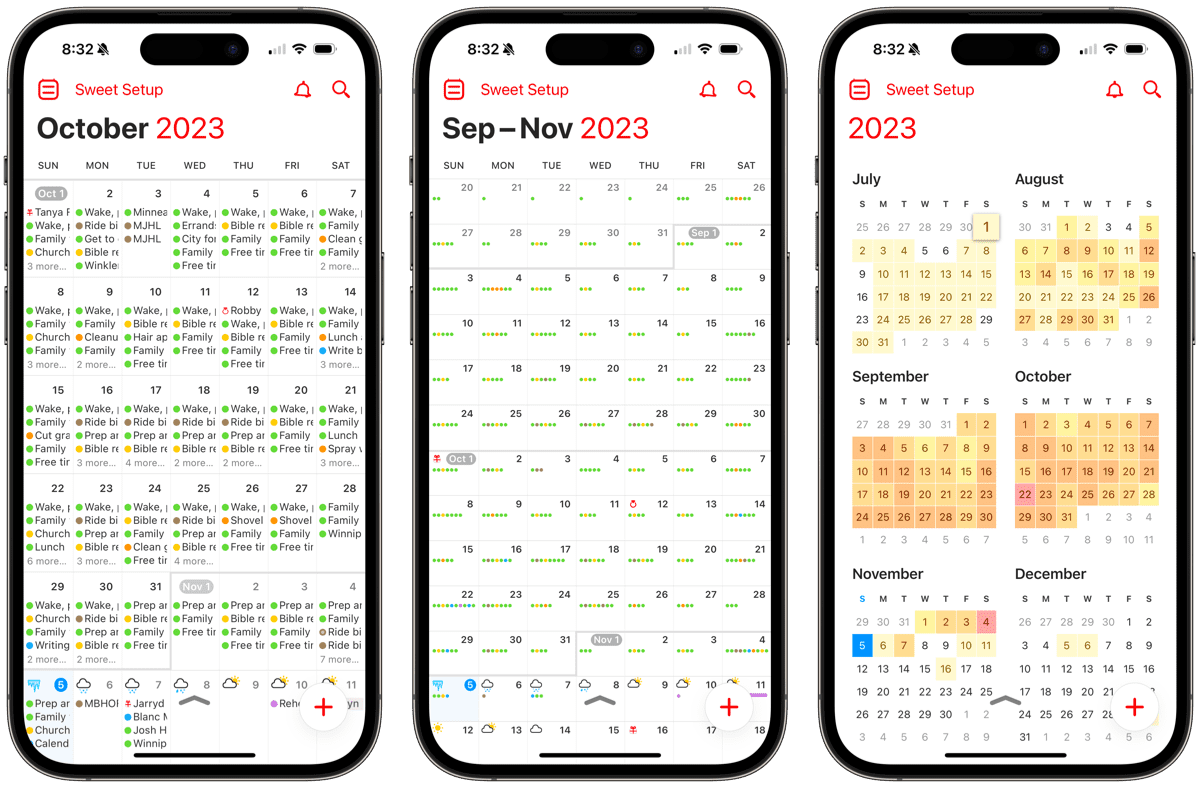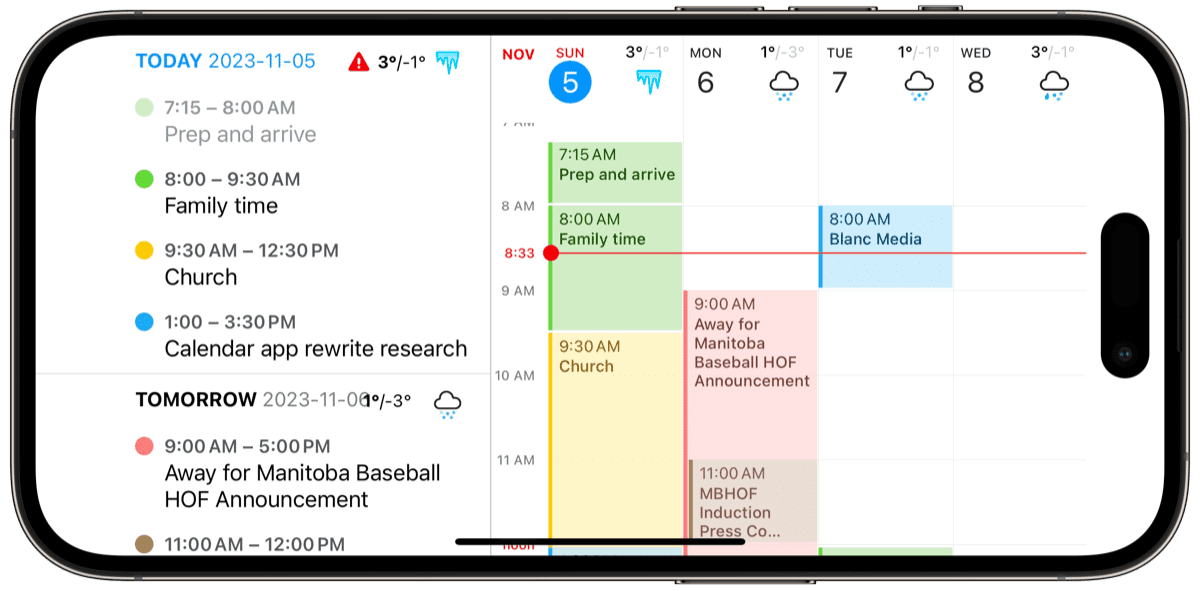 In addition to this you have the four full screen views, which include daily, weekly, monthly, and a yearly view. All of them are what you would expect with regards to their names, and while the weekly and monthly views look a little cramped on the iPhone 15 Pro screen, they're a great overview of what's going on. Thanks to the ability to tap the view options and use a "slide and release" gesture, you can easily switch to any other view quickly without it feeling like a chore. This allows you to zoom in and out on your time as easily as you can use the pinch to zoom in on the daily and weekly views to increase and decrease the space allocated per hour.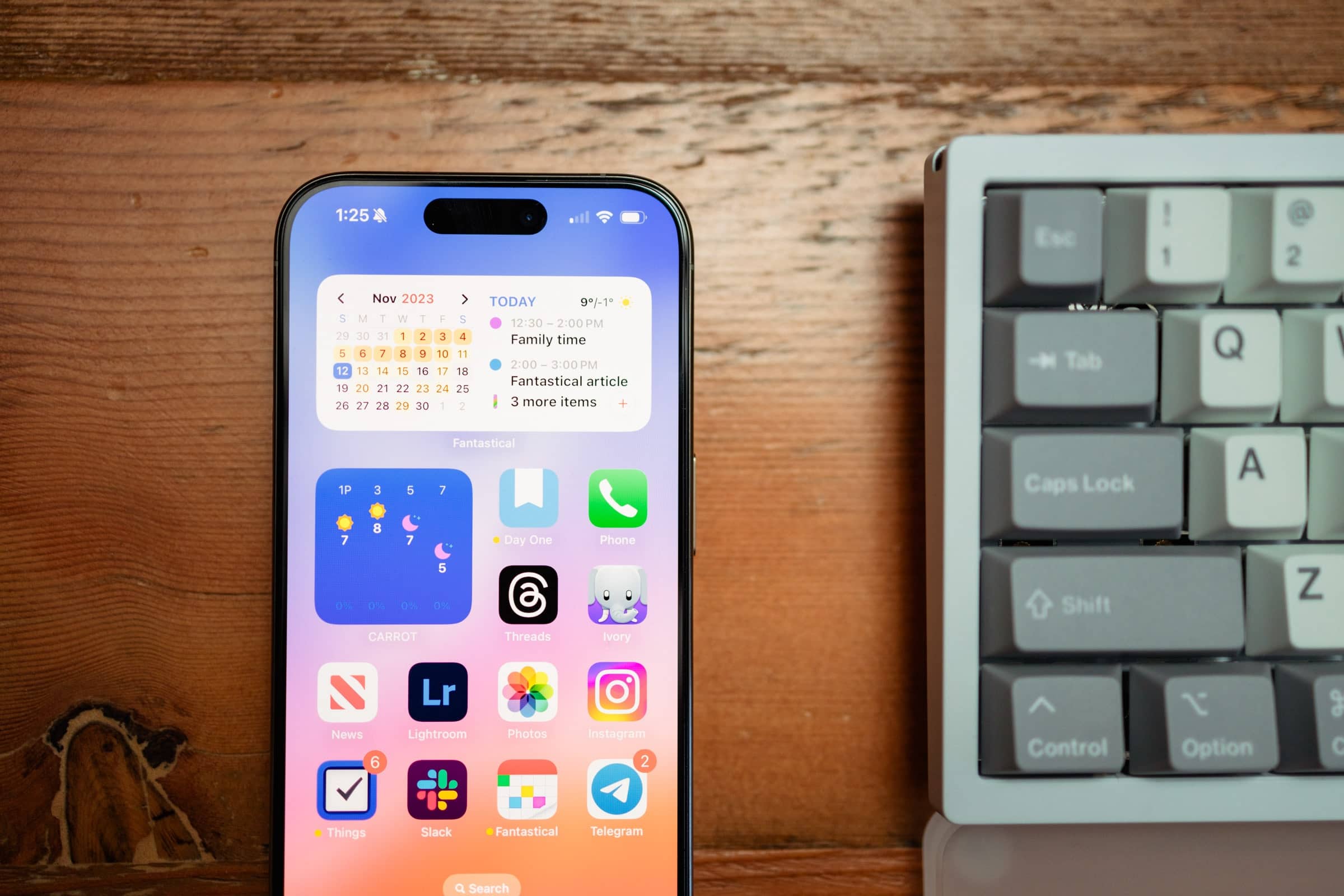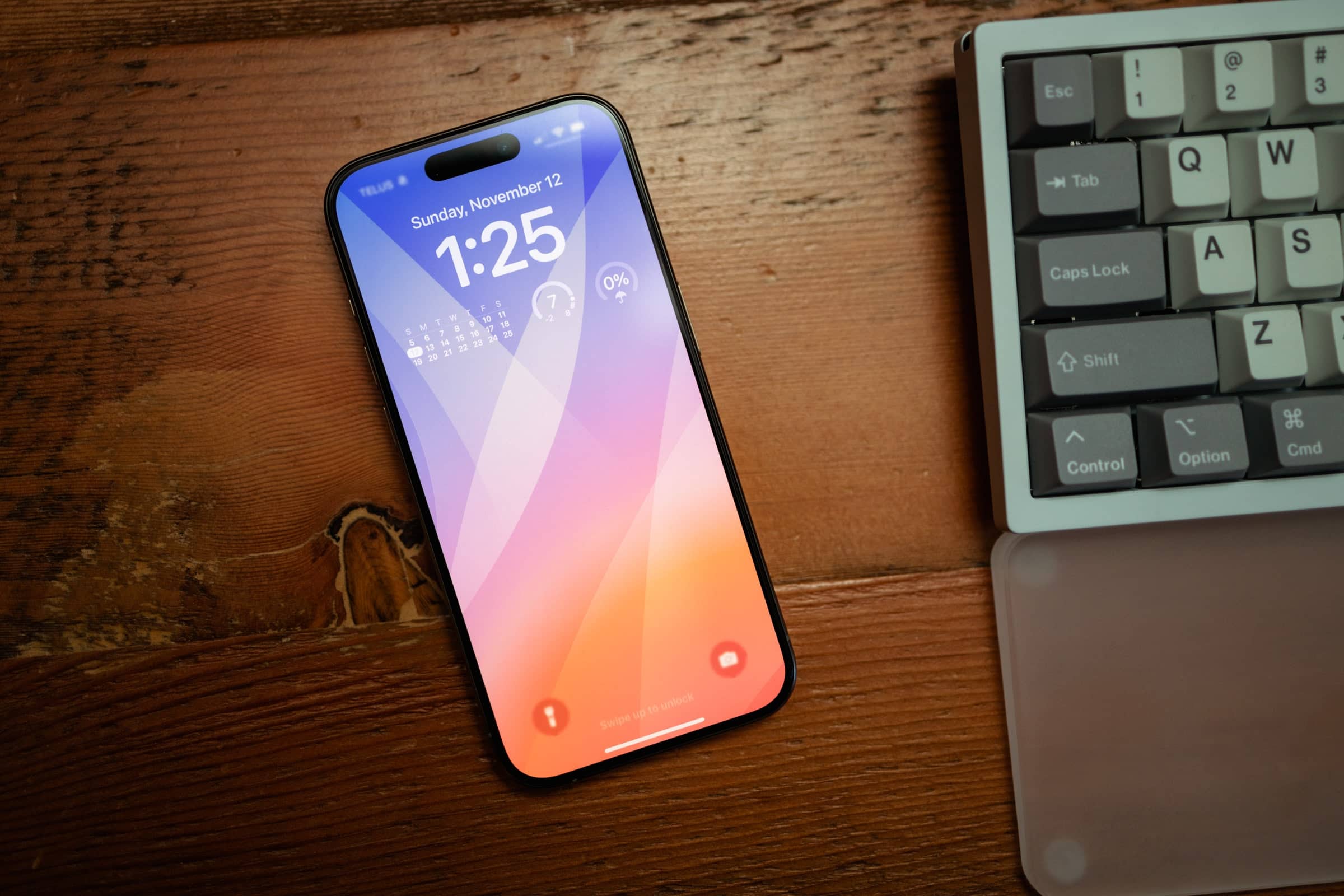 iOS has allowed apps to extend beyond the boundaries of a single app and Fantastical has made the trek to the Home Screen and Lock Screen in the best of ways. Fantastical's Home Screen widgets are beautiful, functional, and instantly glanceable.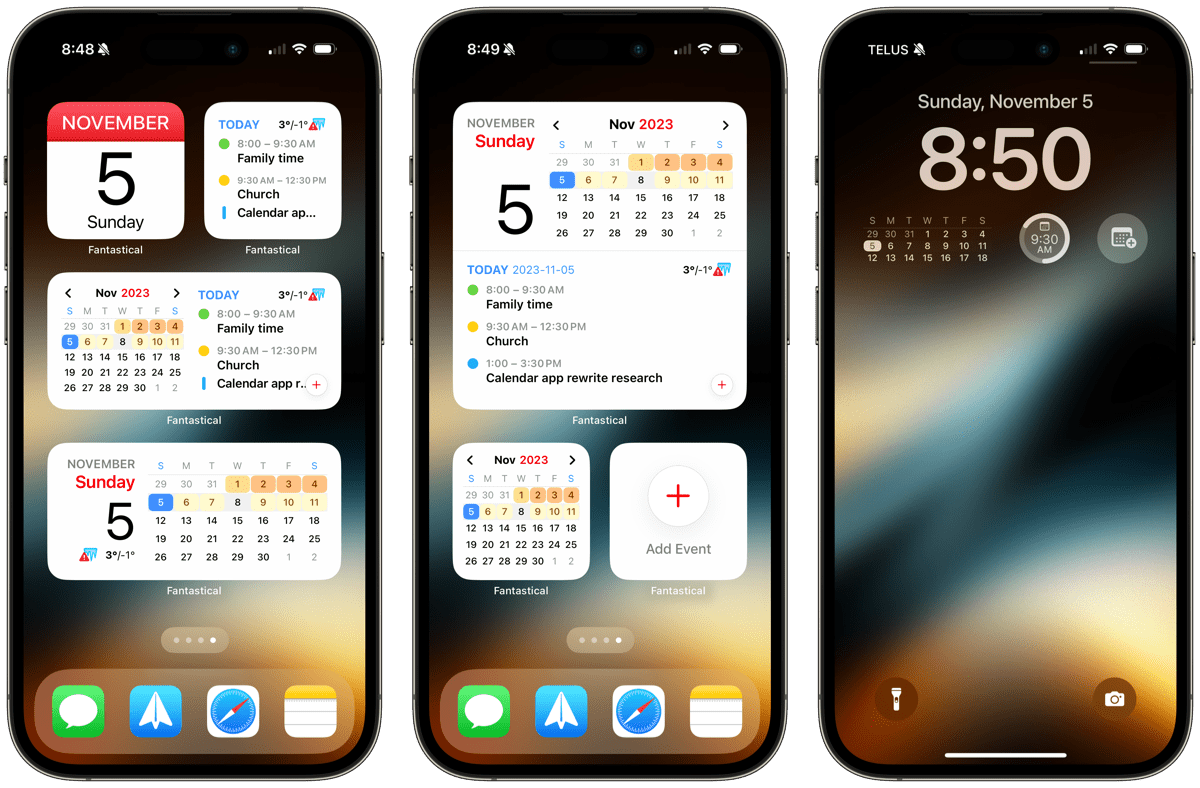 Widgets can be fine-tuned to showcase a heat map of your day (the warmer the day, the more events on your schedule) or to showcase the busy-ness of your day via individual dots.
Widgets are interactive, so you can jump to a future date in various widgets and see your schedule right from the Home Screen. This is best done on the largest iPhone Home Screen widgets, but is entirely possible in the mid-sized widget.
You can instantly jump into creating an event from the Home Screen with Fantastical's simple "Add Event" widget. This widget works great alongside some of our other favorite actionable widgets, including Day One and Bear.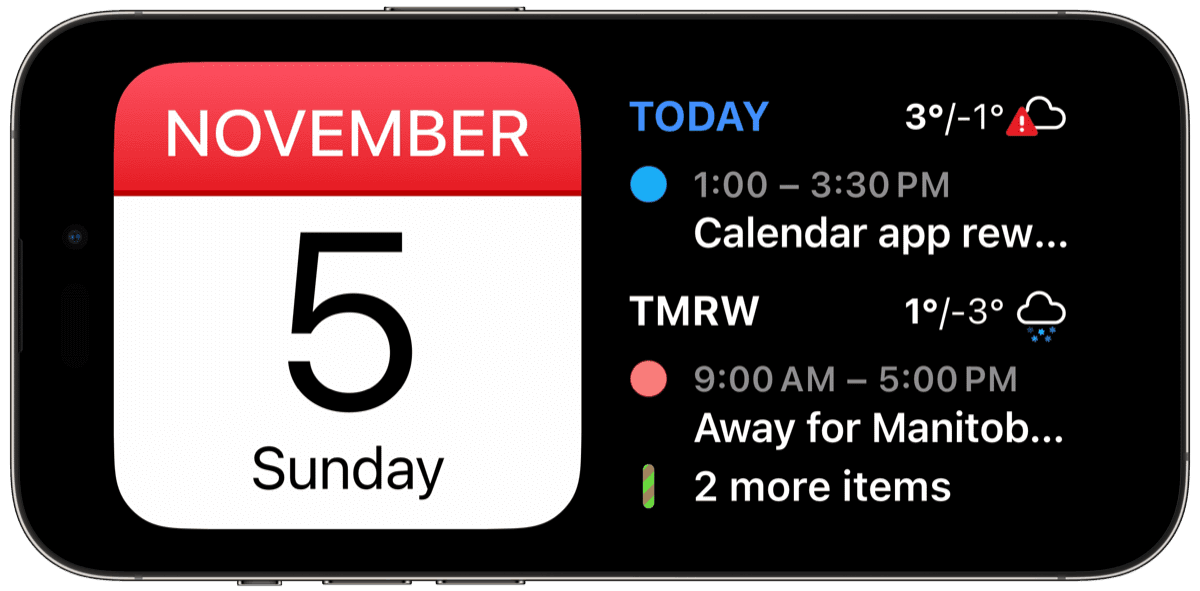 And one step further: Fantastical has also made its way to your nightstand or desk with beautiful Standby Mode widgets. These are largely baked-in with other widget features in iOS, but Fantastical's Standby Mode widgets are great for keeping track of your day from your docked iPhone at your desk or waking up to see what's on your plate.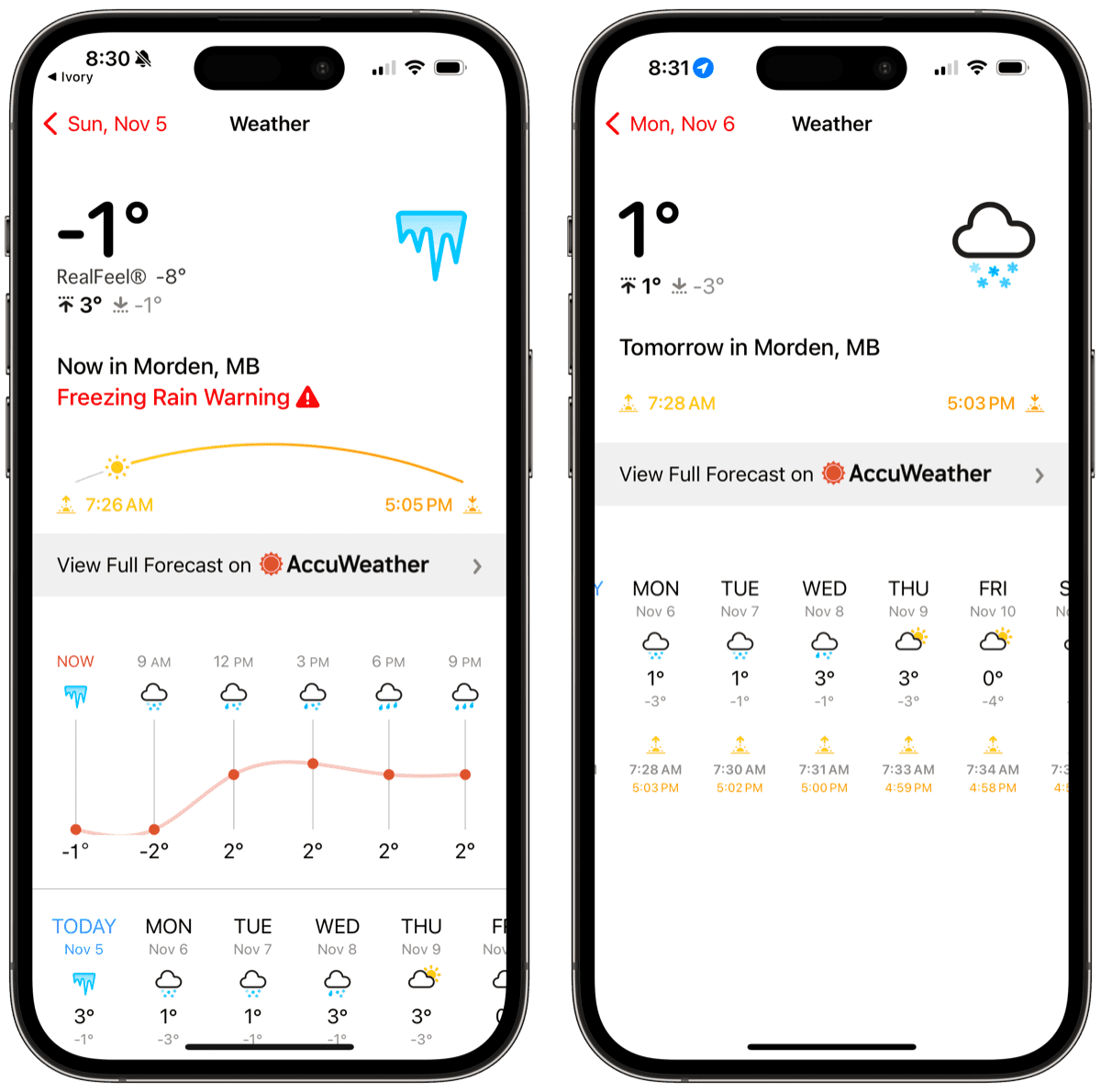 Fantastical even has upcoming weather forecasts built right into your calendar.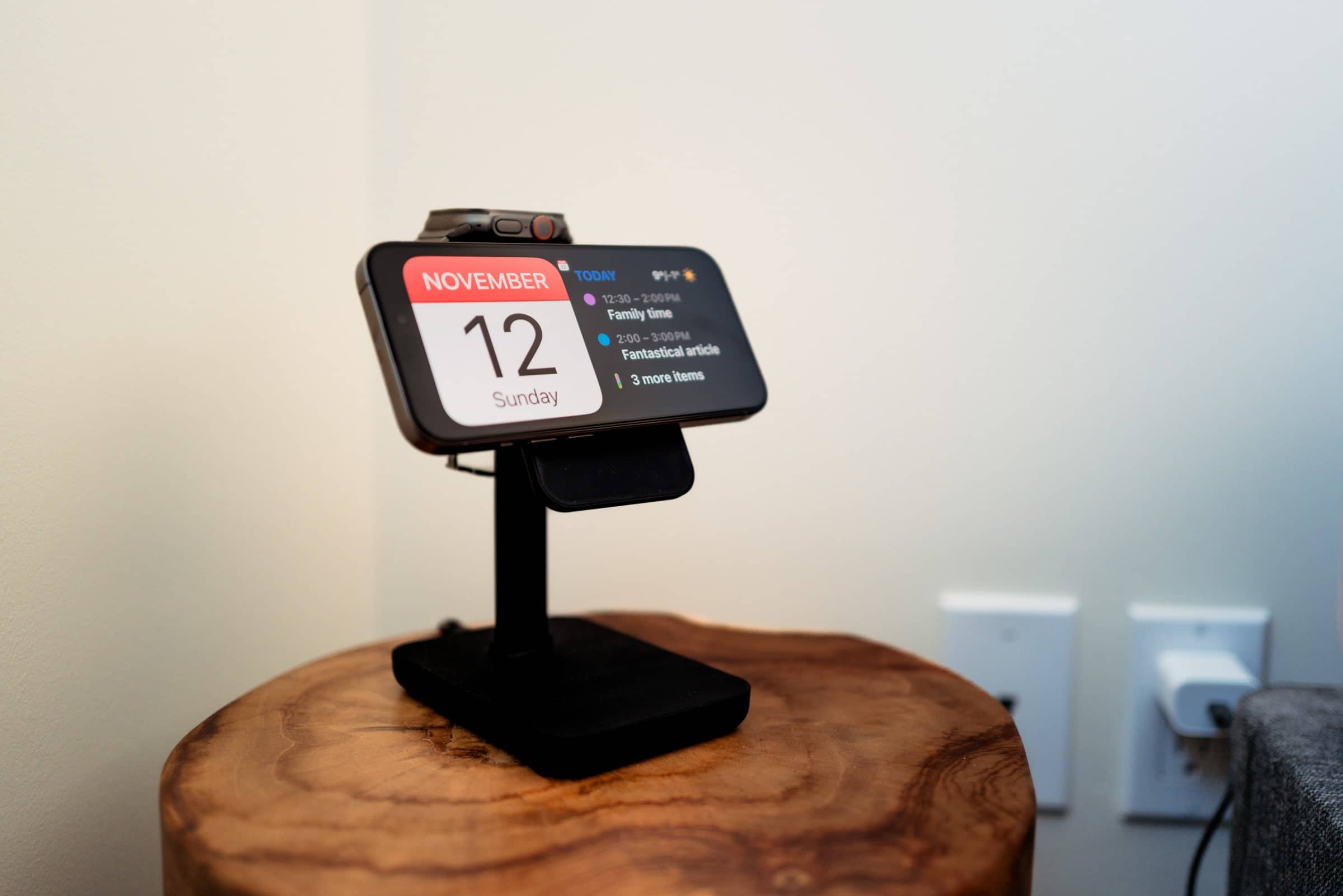 Fantastical is available on all Apple platforms, making it a great pick if you use more than one Apple device. For new users the subscription model may be hard to swallow, but for calendar pro users there's easily enough here to justify the cost.
What Makes Fantastical the Best
A long while ago, we took a little poll on Twitter regarding people's calendar use on their iPhones. The results were not scientifically conclusive, but they do provide some interesting data points.
In the poll, we asked people how many events they enter into their iPhone on a weekly basis. Of 179 total responses:
73% enter 1 or fewer events per day (130 people)
21% enter an average of 2 events per day (38 people)
6% enter an average of 3 events per day (10)
Less than 1% enter 4 or more events per day (1)
So, 94 percent of the total respondents use their iPhone calendar app two or fewer times per day to enter in a new event, while most of those people actually use it once or less per day.
Of the majority who do not enter multiple events per day on the iPhone, we think it's safe to assume they never become deeply familiar with the user interface of their calendar app. This unfamiliarity leads to friction when entering events, whether you know it or not, because your brain has to process and re-learn the interface every time you enter a new event.
What is an "interface" we are extremely familiar with? Natural language.
We say things like "Meet Joe for lunch tomorrow at 12:30" all the time. It's called "natural language" for a reason — we say these sentences in our conversations, emails, text messages, etc.
A calendar app that can accept and parse natural language is one we can use as infrequently as we want without suffering the consequences of an unfamiliar input interface. And Fantastical has the best natural language processing we've ever seen. With Fantastical, you don't have to enter text like a computer for the app to understand it.
Design Your Ideal Weekly Schedule
Free → Video Workshop + Productivity Templates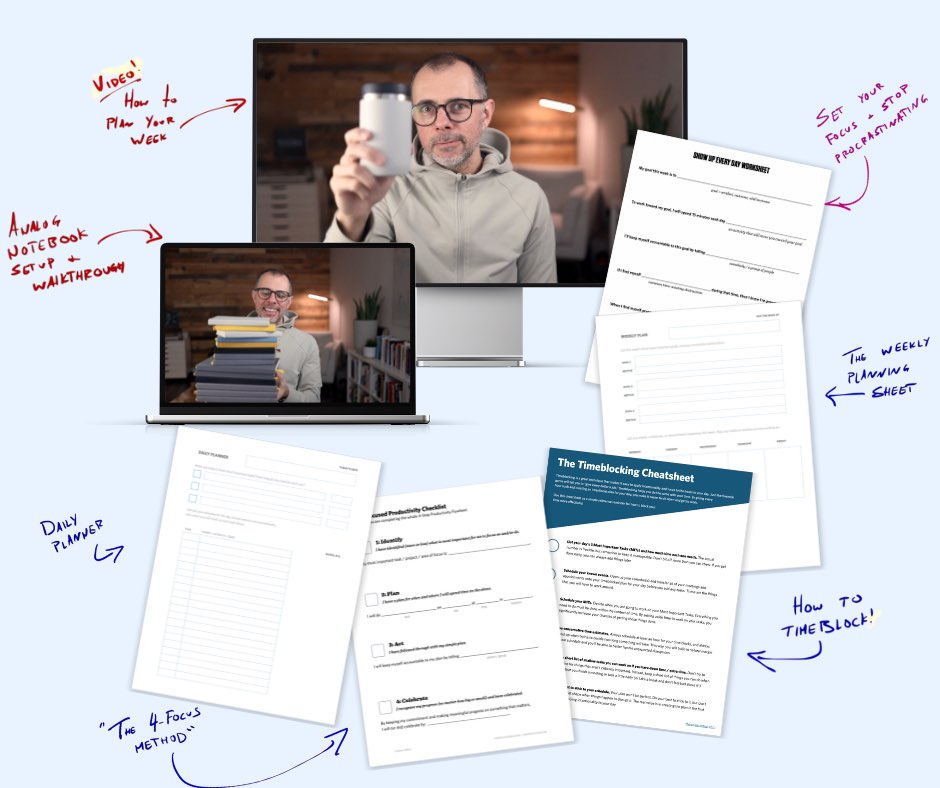 GET THE WORKSHOP + TEMPLATES
If you want to reduce the busywork and distractions, then sign up here for instant access to a brief video workshop on How to Plan Your Week.
♥️ Quick Note: You'll get access to the workshop, plus a few additional bonuses to help you overcome procrastination and deal with distractions so you can spend more time on the important work that matters.
Fantastical has the best natural language input mechanics of any other calendar app, far and away. Not only is it fast and intelligent at parsing just about any event- or reminder-based sentence, but Fantastical has easy-to-understand animations that let us know how the app is translating our words.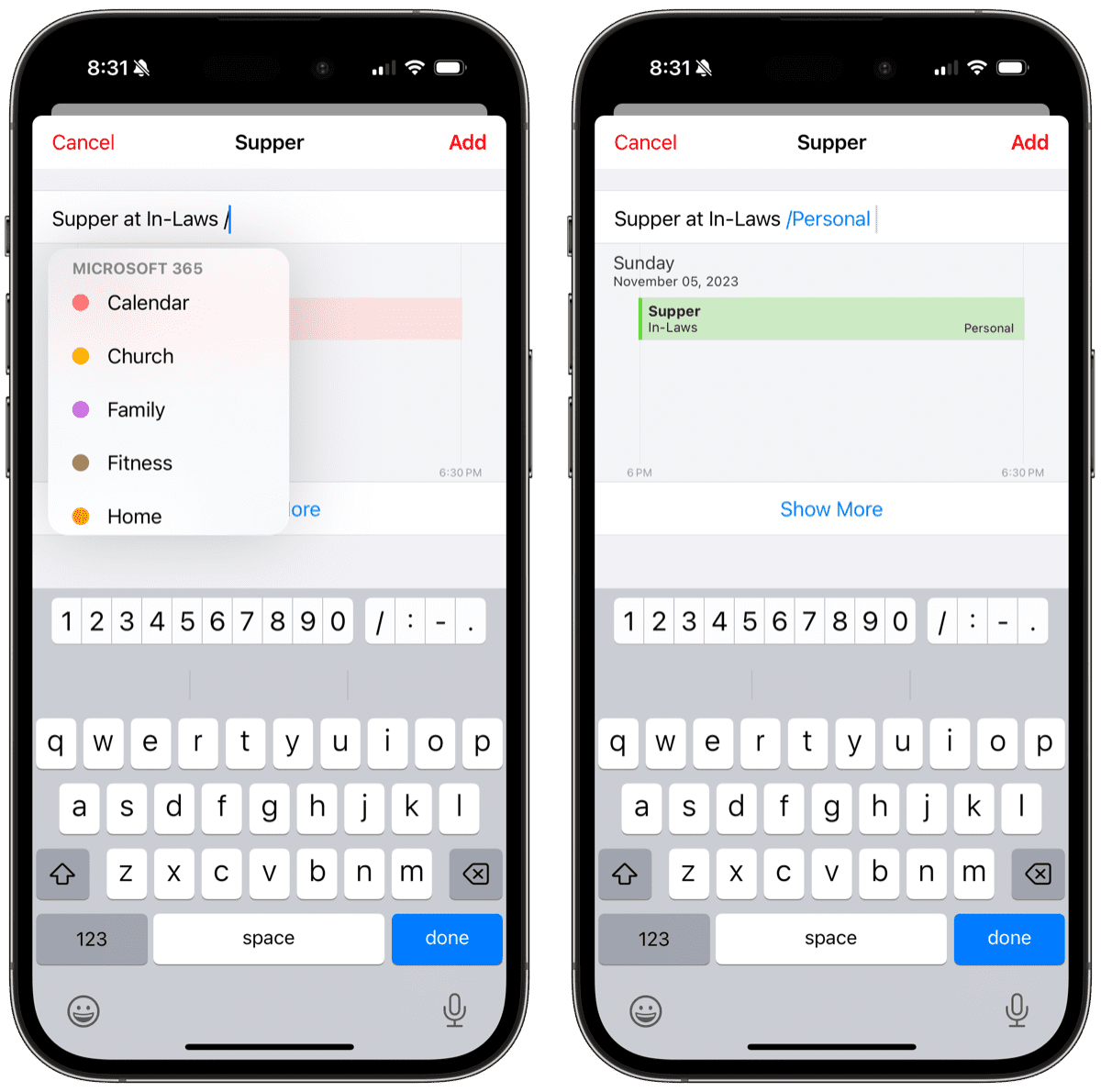 As Dr. Drang pointed out, Fantastical's animations do more than dazzle:
The animations are providing instant feedback on how Fantastical is parsing your words and, more important, they're teaching you Fantastical's syntax.
Natural language parsing makes it easy to switch between entering an event or a reminder. For a reminder, you simply start by typing "task," "todo," or "reminder." You can also toggle a switch (if you prefer) that tells Fantastical you're entering a reminder and not an event.
Some examples of natural language expressions you can enter:
Shopping at Giant Eagle Saturday at 8am: Fantastical will create an event called "Shopping" with location "Giant Eagle" and schedule it for this upcoming Saturday at 8 am.

Vacation in Canada Aug 9-15th: Fantastical will create an event called "Vacation" with location "Canada" and schedule it as an all-day event August 9-15th.

task pick up milk at 4:30pm: Fantastical will create a reminder called "pick up milk" and alert you at 4:30pm.

Meeting every Wednesday at 1:30pm repeat weekly alert 10 min: Fantastical will create a repeating event called "Meeting" scheduled to repeat every Wednesday at 1:30pm with an alert 10 minutes before the start time (rather than the default reminder in the app).
(If you need a little more help making the most of natural language entry in Fantastical, make sure to download the guide at the beginning or end of this review.)
Scheduling Features in Fantastical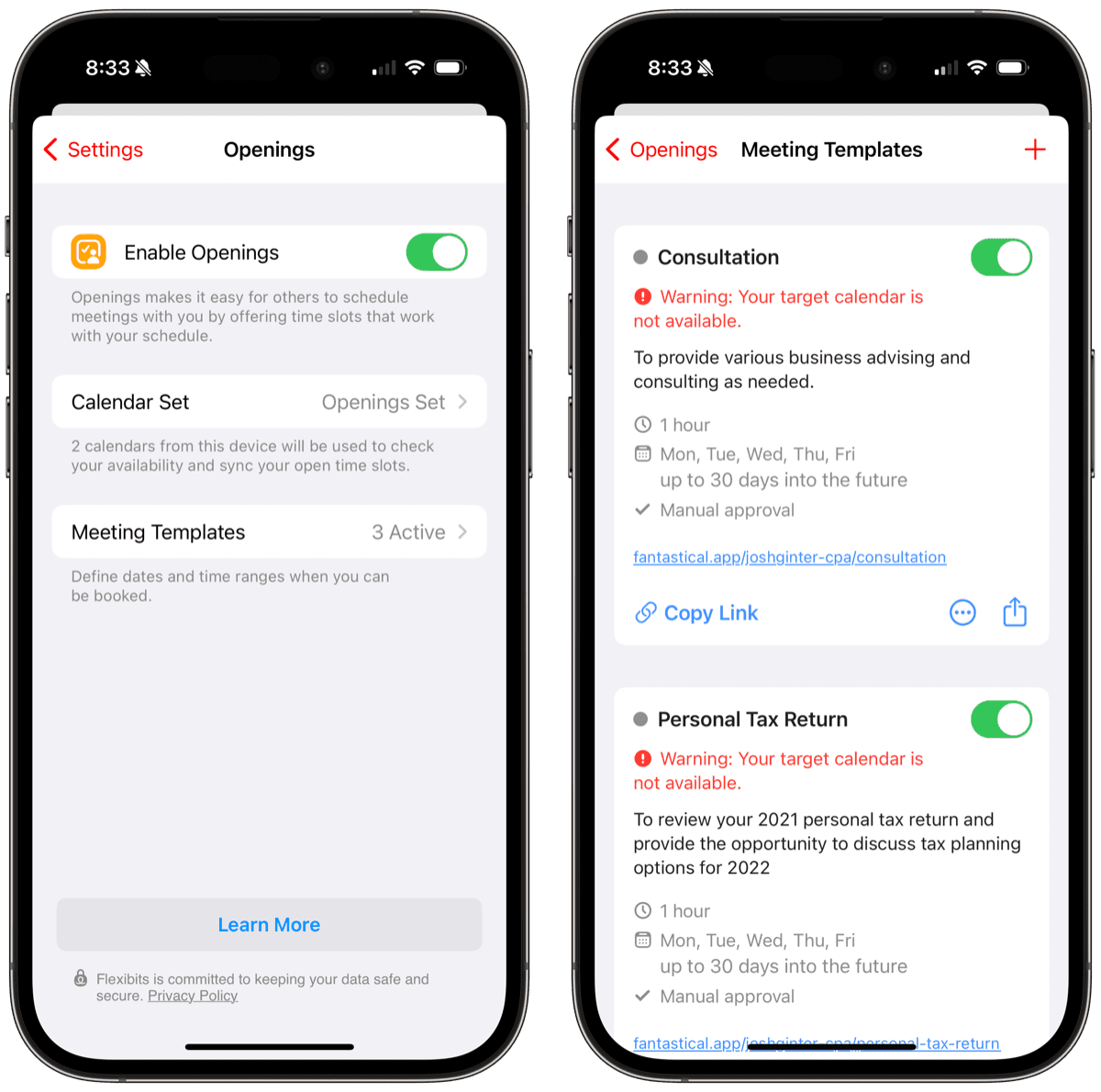 The latest version of Fantastical for iPhone has a bevy of new scheduling features since our last major update to this review, cementing our choice as the continued pick. Fantastical Openings is a built-in scheduling service enabling invitees to pick a meeting time with you based on your availability (think Calendly but baked-into Fantastical). Openings makes short work of back-and-forth when setting meeting times.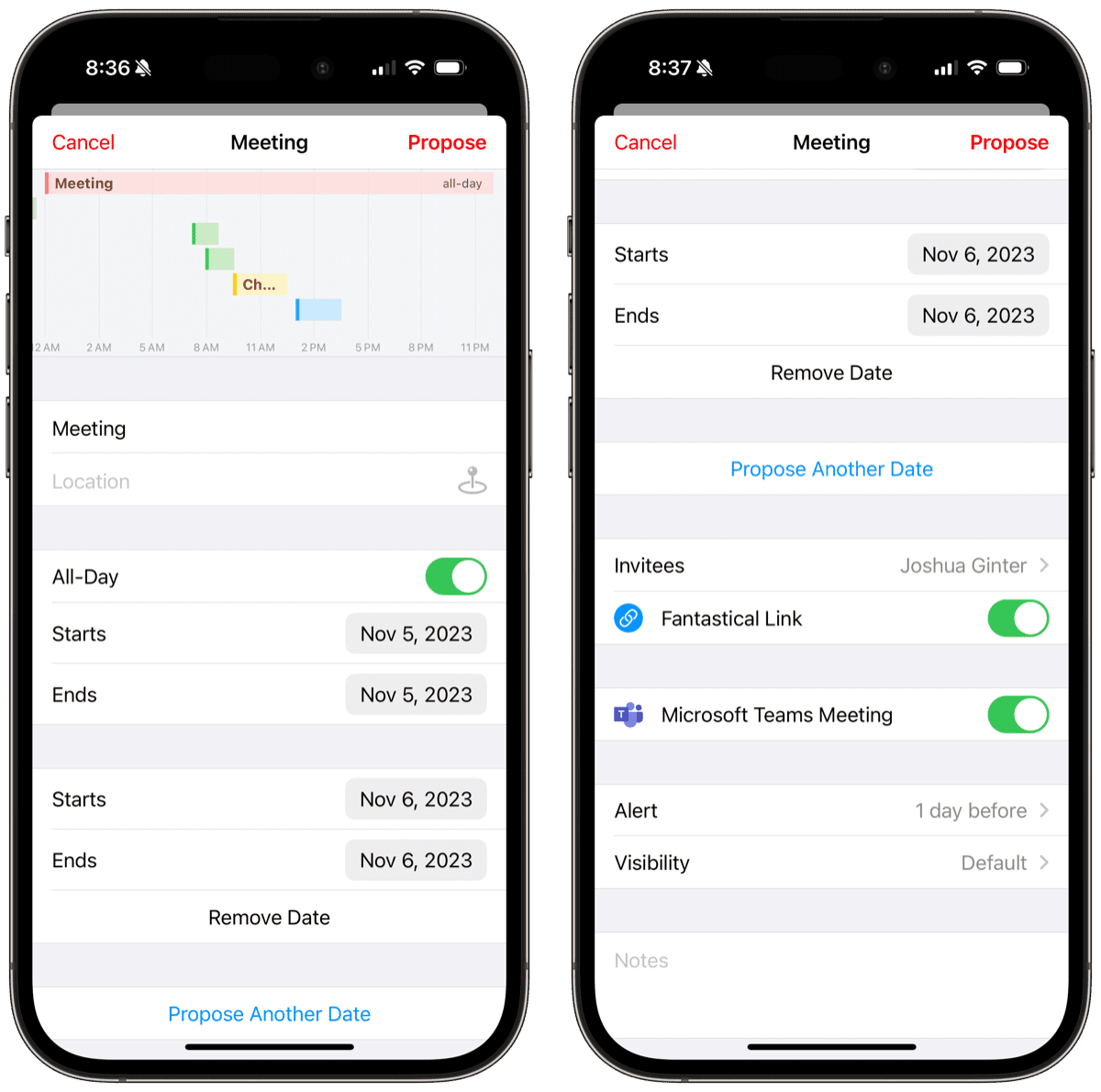 Proposals also cut out a bunch of back-and-forth, as you can create an event with invitees and propose more than a single time.
Fantastical also has wide-ranging polls you can send to many invitees to survey individuals on the best meeting time. Once the survey is complete, Fantastical provides you the most chosen options and you can schedule your event with those attendees accordingly.
Lastly, as an addition to all the scheduling features now built into Fantastical, the app also boasts travel time additions to your schedule. If you have scheduled an event at a distant location, Fantastical will block out the required time to travel to the event location ahead of time. This has become a hard-selling feature for many competing calendar apps and Fantastical has had this feature around for some time.
All in all, Fantastical has become more than a simple well-designed calendar app. You can now use the app to build out a productive daily schedule right from your iPhone and you can do so efficiently thanks to Openings, Proposals, surveys, and more.
Fantastical's Newest Table Stakes Feature: Time-Blocking Capabilities
The modern playbook around productivity has become quite clear: If you want to get something done, the best way to ensure you get it done is to schedule time in your day to get it done. We've become big proponents of time-blocking here at The Sweet Setup and we're so glad to see a plethora of the latest calendar and productivity apps put your task list next to your schedule.
Fantastical is still a calendar-first app, ensuring no users are alienated if they aren't looking to time-block. But a closer look under the hood reveals a number of great time-blocking features to ensure you can build out your ultimate daily schedule.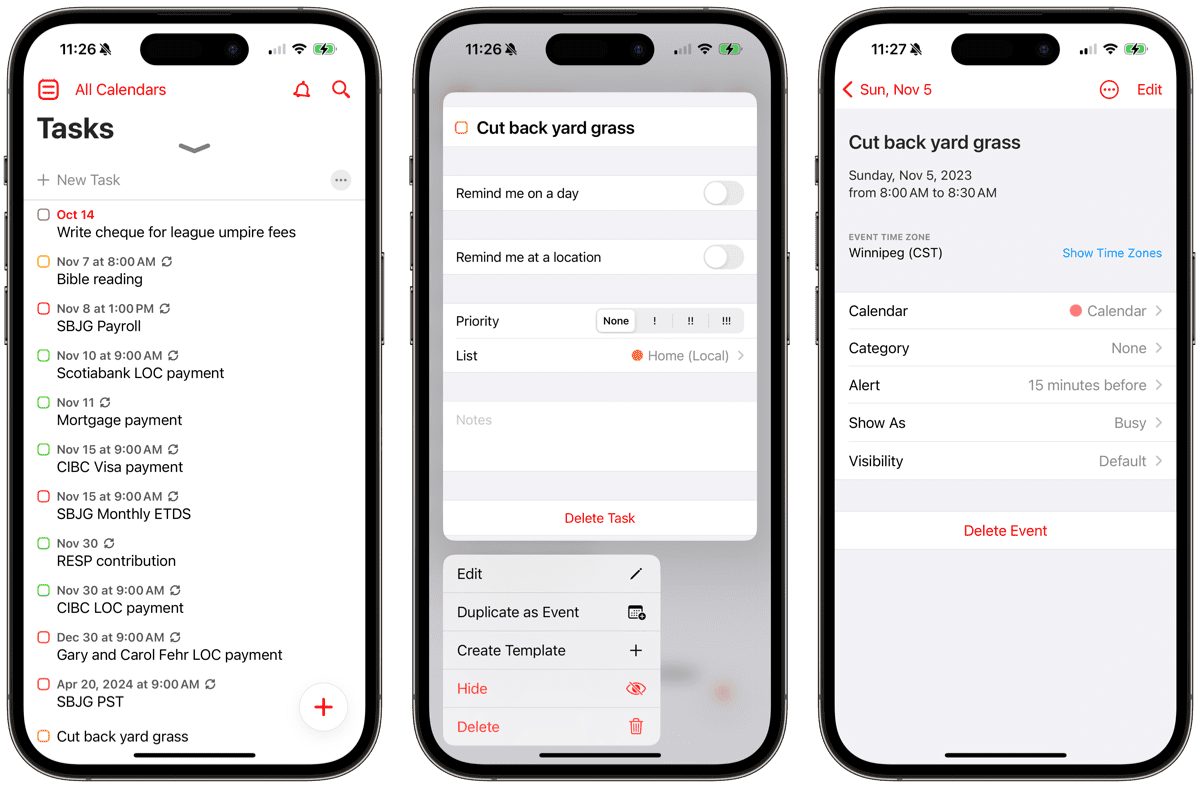 Reminders and Todoist have direct integration with Fantastical, allowing you to view and manage your task list right in Fantastical. Best of all, you can directly add tasks from Reminders to your calendar by long-pressing on the task and tapping Duplicate as Event. This will put the task into your schedule and you can adjust the block of time accordingly.
You can add tasks as time blocks in Fantastical from an app like Things from the iOS share sheet.
You can use Shortcuts to quickly block out your day for focused work with just a few taps.
You can discover more Fantastical time-blocking tips and tricks in our article here. Just know that Fantastical does a great job holding its own against modern productivity apps which have been directly made for bringing your calendar and your task list together (sometimes with a spritz of AI as well.)
Other iPhone Calendar Apps We Considered
Calendar 366
Calendar 366 is a calendar app that comes with a $10 price tag and requires a one-time purchase. It bears a striking resemblance to Fantastical, but offers a lighter interface. Like Fantastical, it includes calendar sets for better organization and also provides support for to-do lists. Users can conveniently invite attendees to events and seamlessly sync their calendars with iCloud, Exchange, Google, and Outlook. However, one notable missing feature in Calendar 366 is the absence of an "openings" feature, which could be a drawback for some users.
BusyCal
BusyCal is a calendar application that offers a sleek and polished experience on Mac, although its iPhone app falls short in terms of design and user experience. The app boasts a visually appealing icon and provides useful features such as to-do support, travel time estimation for blocking out commute time, and weather integration similar to Fantastical. Furthermore, BusyCal offers natural language processing (NLP) capabilities and allows users to organize events using tags, which can be quite handy for efficient event management.
In terms of compatibility, BusyCal supports various calendar services including iCloud, Google, Office 365, Exchange, and Yahoo. BusyCal comes with a one-time purchase cost of $9.99, which may be a factor to consider for users looking for free or subscription-based alternatives or for individuals not wanting to pay for Fantastical's monthly subscription. Overall, while BusyCal impresses with its aesthetics and functionality on Mac, its iPhone app could benefit from improvements to match the same level of quality and usability.
Outlook
Most of us have encountered Outlook in some way, shape, or form throughout our lives, at least as an email application. The iPhone version is primarily designed for email, but it also offers calendaring and contacts integration. It offers views similar to the day ticker and calendar list views in Fantastical, and as a free app it's a great option — especially if you use Exchange or Outlook calendars.
Moleskine Timepage
Moleskine Timepage is a beautiful calendar app with a nearly unmatched design. It also works great with Moleskine's Actions app. However, we feel that Timepage's subscription pricing is a bit high for the feature-set. And the relative lack of table-stakes calendaring features inside the app have it falling short next to Fantastical and other options.
Google Calendar
The Google Calendar app is a solid choice if you primarily use Google Calendars, but even if you don't, you can still use it as long as you have a Google account (you must sign in to enable the app to work). Once you're signed in, you can enable the accounts on your device and view them. The app offers several views, including a list of your events with an optional month overview at the top, as well as a day, 3-day, week and month views. The app is free to download and use, and supports multiple account types.
As you'll see below though, if you're looking for a better looking and more functional Google Calendar experience, Cron may be your best option.
Calendars 5
Another calendar app worth checking out is Calendars 5.
Calendars by Readdle is a feature-rich calendar app that offers a range of functionalities. It includes convenient features such as invitations, video call integration, and Apple Maps or Google Maps integration. With extensive Tasks support, the app goes beyond just managing events and provides a comprehensive GTD (Getting Things Done) experience. The unique week view on iPhone, where events move horizontally instead of vertically, offers a fresh perspective on scheduling. The app even boasts natural language parsing, much like Fantastical.
In terms of accessibility, Calendars by Readdle is available on multiple devices, including iPhone, iPad, and Mac, allowing users to seamlessly sync their calendars across platforms. The app offers both a subscription option priced at $20 per year and the flexibility to add individual features for specific prices. This pricing structure allows users to tailor their experience based on their needs and preferences.
Overall, Calendars by Readdle presents a compelling option for users seeking a powerful and versatile calendar app. With its extensive feature set, multi-device support, and flexible pricing options, it caters to a wide range of users' scheduling and productivity needs.
Calendars for iPhone feels a little behind Calendars for Mac. Readdle recently revamped Calendars on the Mac, putting the app way further ahead of its iPhone counterpart. Once Calendars for iPhone gets the same treatment, we may have to revisit this review to see where Calendars shakes out.
Design Your Ideal Weekly Schedule
Free → Video Workshop + Productivity Templates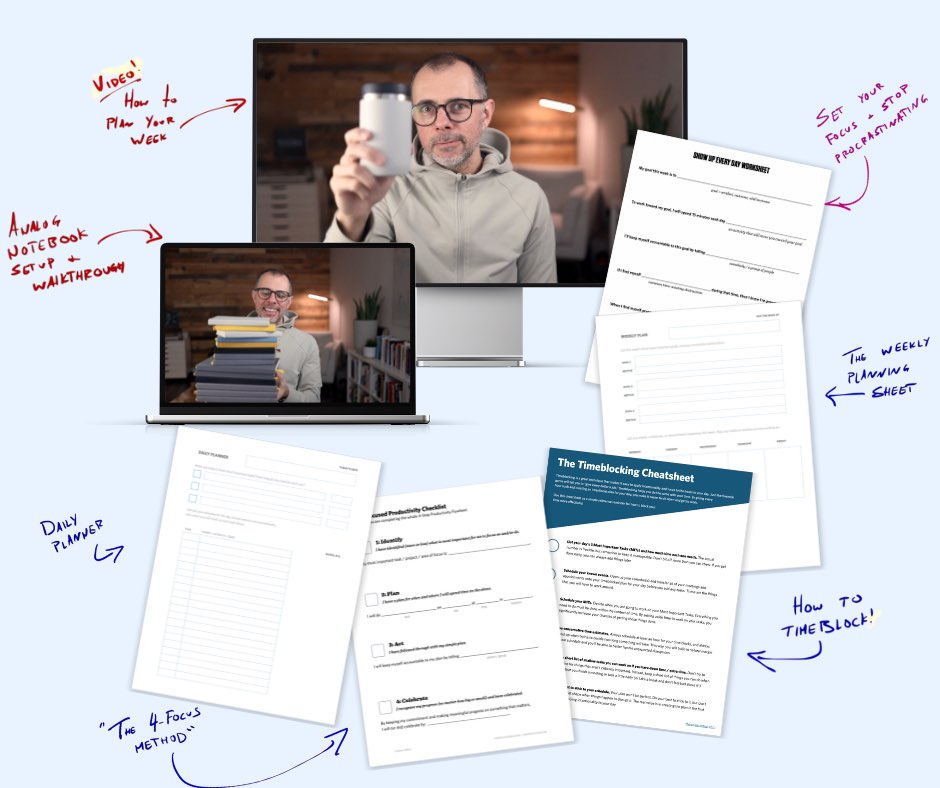 GET THE WORKSHOP + TEMPLATES
If you want to reduce the busywork and distractions, then sign up here for instant access to a brief video workshop on How to Plan Your Week.
♥️ Quick Note: You'll get access to the workshop, plus a few additional bonuses to help you overcome procrastination and deal with distractions so you can spend more time on the important work that matters.
MayDay
AI-powered MayDay is currently in public beta, with a strong emphasis on its AI assistant. The platform aims to optimize meetings and tasks while providing flexibility. By leveraging AI capabilities, MayDay automatically builds out users' schedules, offers AI-assisted scheduling links, and even auto-schedules tasks. It employs a time-blocking approach that uses AI to safeguard users' time and allows for natural language input. Additionally, MayDay introduces the concept of Time Windows, enabling users to define the type of time they want to allocate for specific activities, with AI adjusting the schedule accordingly.
MayDay integrates with Google and Microsoft 365 and offers native apps for iPhone, iPad, and Mac. With its visually appealing design, MayDay provides users with an enjoyable user experience. While pricing details are not yet available, MayDay has plans to unveil pricing options in the near future.
Overall, MayDay is an AI-powered platform that empowers users to optimize their schedules, enhance productivity, and streamline their workflow. With its AI assistant, intuitive design, and promising features, MayDay has the potential to become a core calendar app for many users. For now though, we're curious to see where the app goes after release from the public beta.
Skiff
Skiff is a platform that offers a comprehensive suite of productivity tools, including a calendar app available for $3 per month. Skiff prioritizes privacy and encryption, ensuring that user data remains secure. Skiff's calendar app boasts integrated video conferencing capabilities, allowing for seamless communication and collaboration.
One of Skiff's standout features is its ability to automatically sync emails with events from popular email providers such as Gmail, Outlook, Yahoo, and iCal. This integration streamlines the process of managing schedules and ensures that important information is always up to date. Furthermore, Skiff supports shared calendars, making it easy to coordinate and collaborate with colleagues or family members.
Skiff's iOS support is minimal, primarily limited to checking the calendar. The platform shines in its browser app, providing users with a focused and efficient productivity experience.
The Best Simple Calendar App for Google Calendar Users: Cron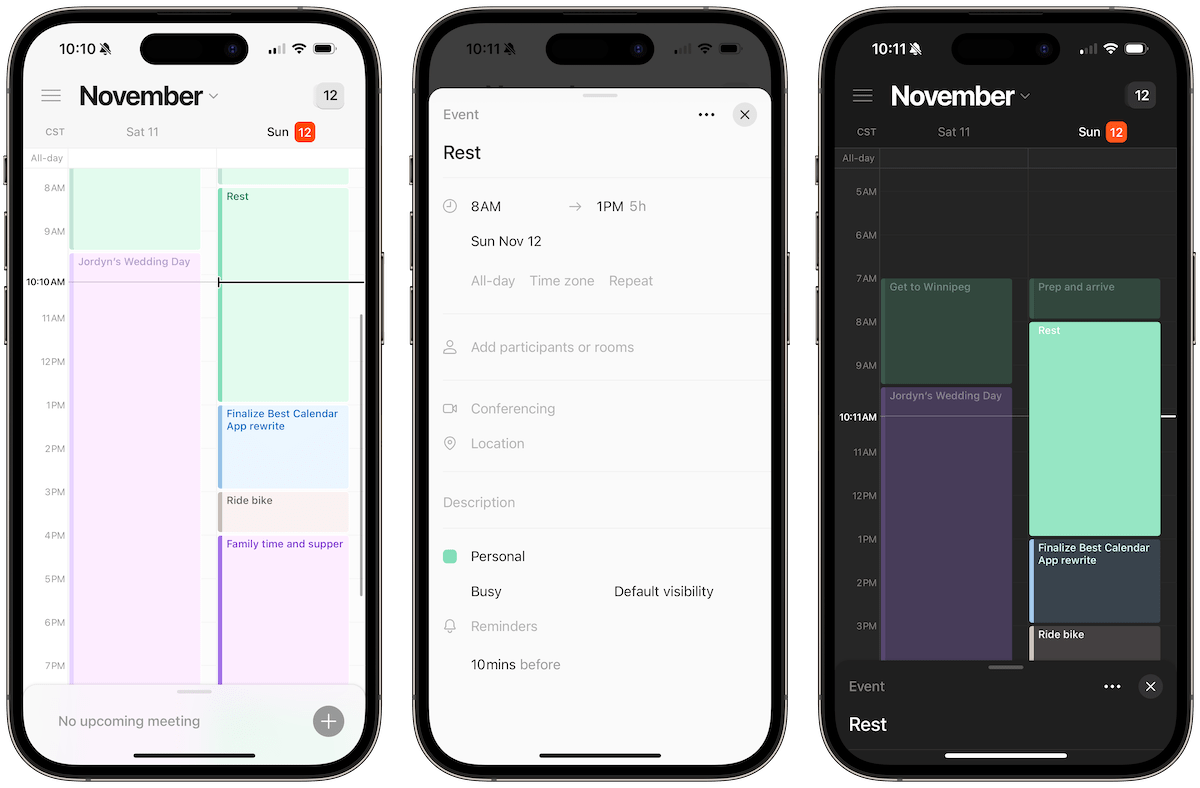 Not all calendar apps are created with a wide range of calendar service compatibility. There has become a very split world in the category of email, calendar, cloud, and other services: Microsoft 365 has become entrenched in the business and enterprise world thanks to Office apps and Google has become entrenched in many of the coolest startup technology companies in the world. Many folks will find themselves locked into Microsoft 365 thanks to their work, while others will have the freedom to experience the wealth of opportunities Google opens in its cloud services.
Alongside Google's Gmail, Google Calendar is seemingly widely popular in the app development crowd. And as such, Google Calendar has a number of apps which are specifically Google Calendar only. The best of these Google-only calendar apps is Cron.
Cron was its own startup calendar app specifically devoted to Google services and was purchased in 2022. Since then, it appears the app has taken the calendar place of Notion's previously announced deep integration with Google Calendar. Today, Cron stands as one of the best-designed calendar apps on the iPhone and one of the most functional, albeit simpler, calendar apps available.
Cron's main view is the single, dual, or triple day view. Events are blurred out as you complete them and new events are big and bold on the screen. Tapping on an event slides up the bottom bar, revealing all the event's details. You can edit:
Regular details like time, location, and more.
Set recurring/repeating events.
Set the time zone of the event.
Add participants or rooms (great for Meet and other conference call rooms).
Create Google Meet links right in the event detail.
Set alerts and reminders about the event.
Cron also has great Home Screen and Lock Screen widgets in iOS 17, most of which look a lot like Fantastical's options, but with fewer dashes of color.
Cron on the iPhone is reasonably simple. There are many features found in Fantastical that aren't available (perhaps yet?) in Cron, such as:
Scheduling features.
Sharing availability features (these are exclusive to the Cron desktop/web app at this time).
No native iPad app.
Equivalent functionality across iPhone, iPad, Mac, and the web.
Perhaps the last bullet is the biggest limitation (or second biggest, after the Google-only limitation): As of the time of writing, Cron for the web and Cron for Mac have significantly more features than Cron for iPhone. The most popular feature — Availability Sharing — is exclusive to the desktop at this time.
We're excited to see where Cron goes in the future. If you are a Google-specific user, consider taking a look at Cron to satisfy your calendaring needs.
Two Other Interesting Time-Blocking Calendar Apps: Morgen Calendar and Sunsama
Calendaring has become somewhat of a two-pronged venture: the first being your standard calendaring, scheduling, and planning approach, and the second being a more holistic approach that combines all your tasks, emails, and other lists alongside your schedule. These two-pronged apps are more involved, require daily planning to properly utilize, and generally cost considerably more than a simple calendar app.
Two such apps we think you should check out if you are looking for a more holistic approach to time-blocking are Morgen and Sunsama. We've already written extensively about Sunsama here, here, here, here, and here. And we've recently discovered Morgen, which provides a less in-depth approach to Sunsama's offering.
Morgen Calendar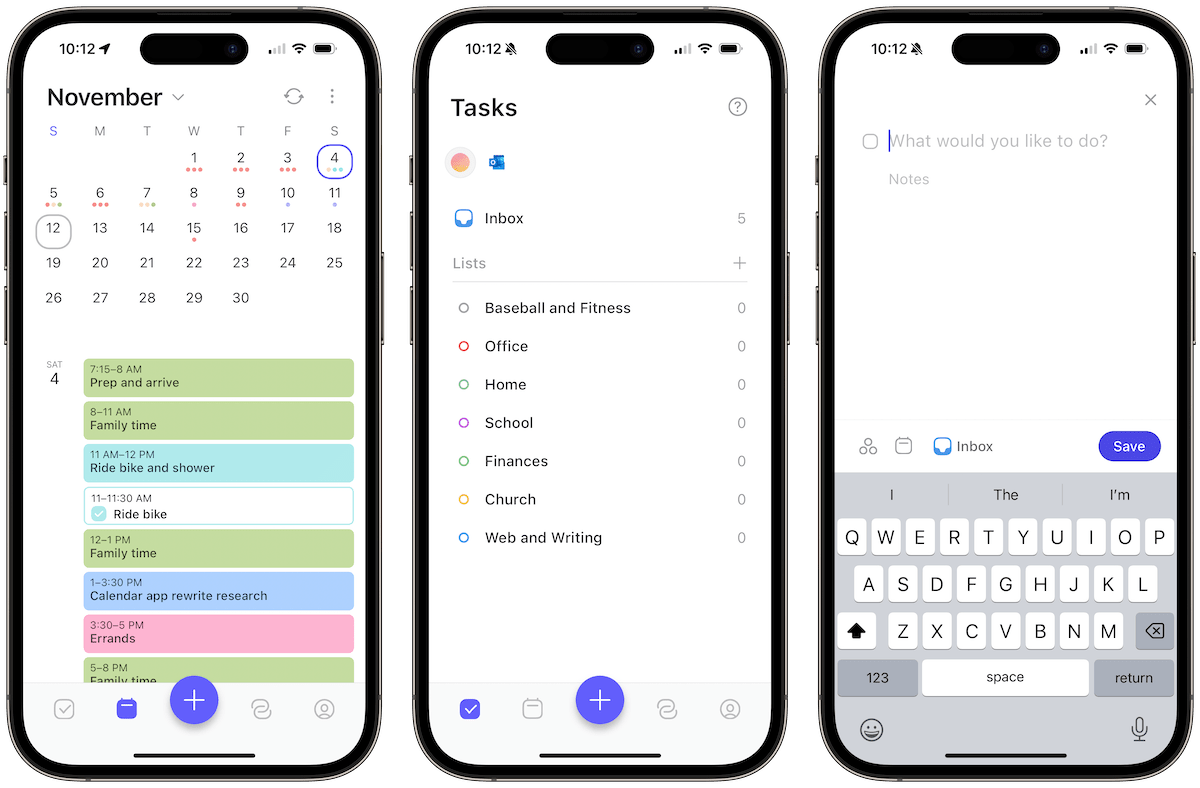 When you first land on the Morgen website, the landing page feels immediately designed for developers and other tech-savvy folks. Rest assured, the Morgen Calendar app itself has less to do with Morgen Assist and more to do with managing your tasks and schedule in one beautifully designed view.
Morgen's premise lines up a lot with an app like Sunsama: All your productivity, task, and calendar lists in one single view that can be dragged and dropped into your schedule to easily time-block your day. Even Morgen's roadmap is reminiscent of Sunsama.
As it stands right now though, Morgen is simpler. You can add in your calendar (a single calendar integration is available in the free tier and multiple calendars and task integrations can be added in the pro tier), use Morgen for managing your task list through Morgen's own task functionality or by adding in your Todoist list, add in your Outlook account to manage your emails, and more. You can then take all these tasks and drag and drop them into time blocks in your day.
Morgen is beautiful to look at. The tasks page is very reminiscent of Things 3 on iPhone and the calendar portion of the app is colorful and easy to use.
We're also really impressed with Morgen's scheduling assistant. You can quickly create booking templates that can then be sent to recipients to pick a time and schedule a meeting with you. This is a lot like Openings in Fantastical, but may actually be easier to use than the Fantastical option.
Like Cron though, Morgen on the iPhone is a more limited experience than Morgen on the desktop. Certain more-involved features — like the booking templates above — have to be created in Morgen on the desktop before the booking link can be quickly copied on the iPhone and sent to a recipient. It's also not as full-featured as an iOS app — Home Screen widgets are available, but they're limited, and there's no Shortcuts functionality to speak of.
Morgen's free tier is pretty generous, enabling you to add a single calendar integration and use Morgen to manage your daily tasks. The free tier also includes the booking and scheduling templates for booking meetings with recipients. Assuming this stays free forever, we think Morgen could be a great addition on top of your calendar app, especially if you're looking for a beautiful task manager as well. Morgen's Pro tier is priced at $9/month and provides more integrations if you want to take your time-blocking to the next level.
Sunsama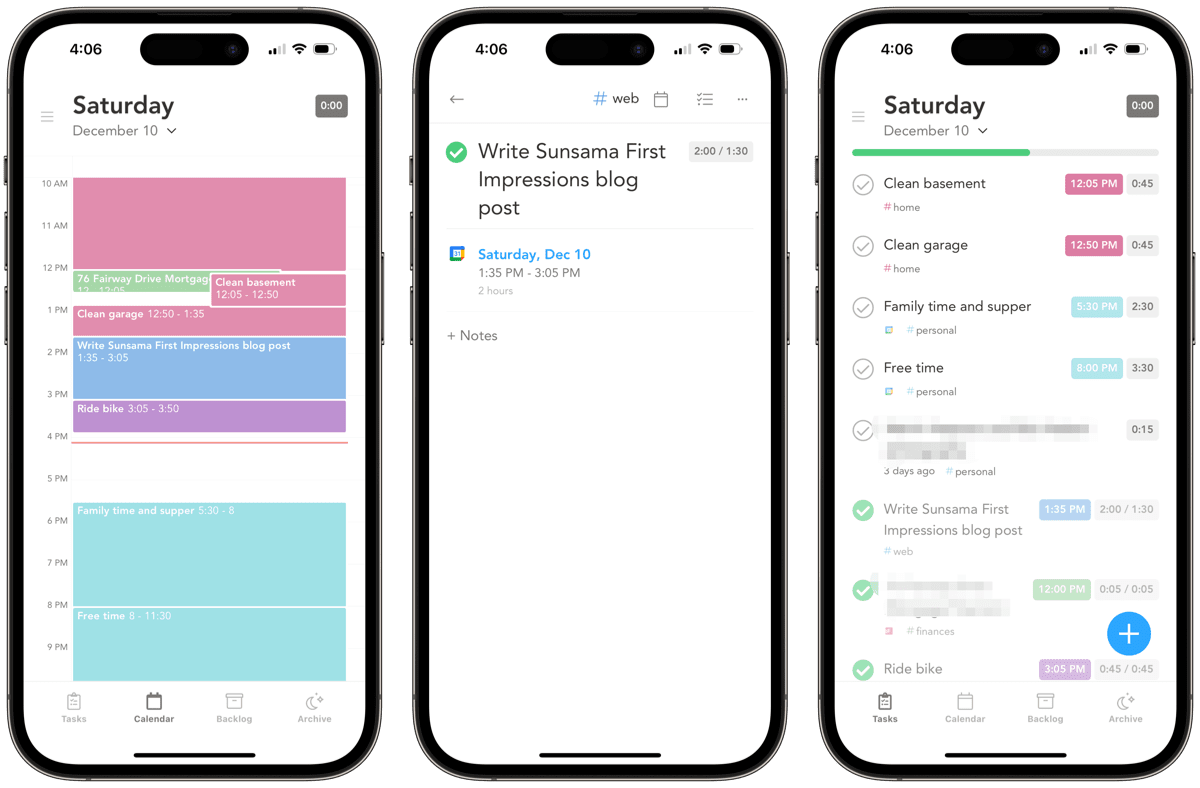 As mentioned above, we've had a lot of experience with Sunsama to date. Sunsama feels like The Focus Course in application form — you can use the app to plan your day, work through your day, track your time during the day, and reflect on your day, all with relative ease and inside a beautifully calm app.
Sunsama's best features (in our opinion) are the startup and shutdown routines, which ensure you work through your backlog of tasks, schedule the estimated required time to complete your work, and then shut it down at the end of the day to ensure you get your required rest.
You can also use Sunsama to plan the entire week ahead and reflect on the week that was. Or you can use the app to manage your team, take meeting minutes, and track your time in a task down to the second.
From 30,000 feet, Sunsama is a workhorse productivity app. If you are a heavy planner and stick to your daily plan pretty religiously, Sunsama could be a productivity boon for you. And this may well justify the steeper Sunsama cost: At $20/month ($16 if an annual subscription), Sunsama is certainly on the more expensive side. If you're looking for a simpler approach to combining your task list and your calendar and don't need the time-tracking, daily startup and shutdown, and weekly planning and reflection features, perhaps Morgen will fit your needs instead.
Design Your Ideal Weekly Schedule
Free → Video Workshop + Productivity Templates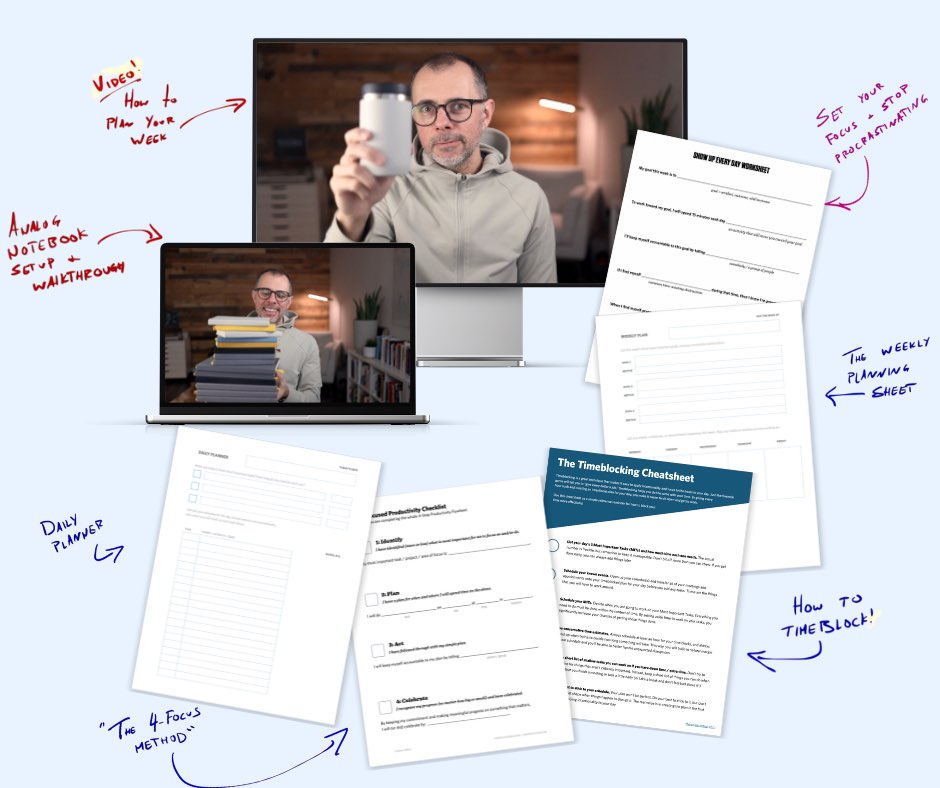 GET THE WORKSHOP + TEMPLATES
If you want to reduce the busywork and distractions, then sign up here for instant access to a brief video workshop on How to Plan Your Week.
♥️ Quick Note: You'll get access to the workshop, plus a few additional bonuses to help you overcome procrastination and deal with distractions so you can spend more time on the important work that matters.
Wrap Up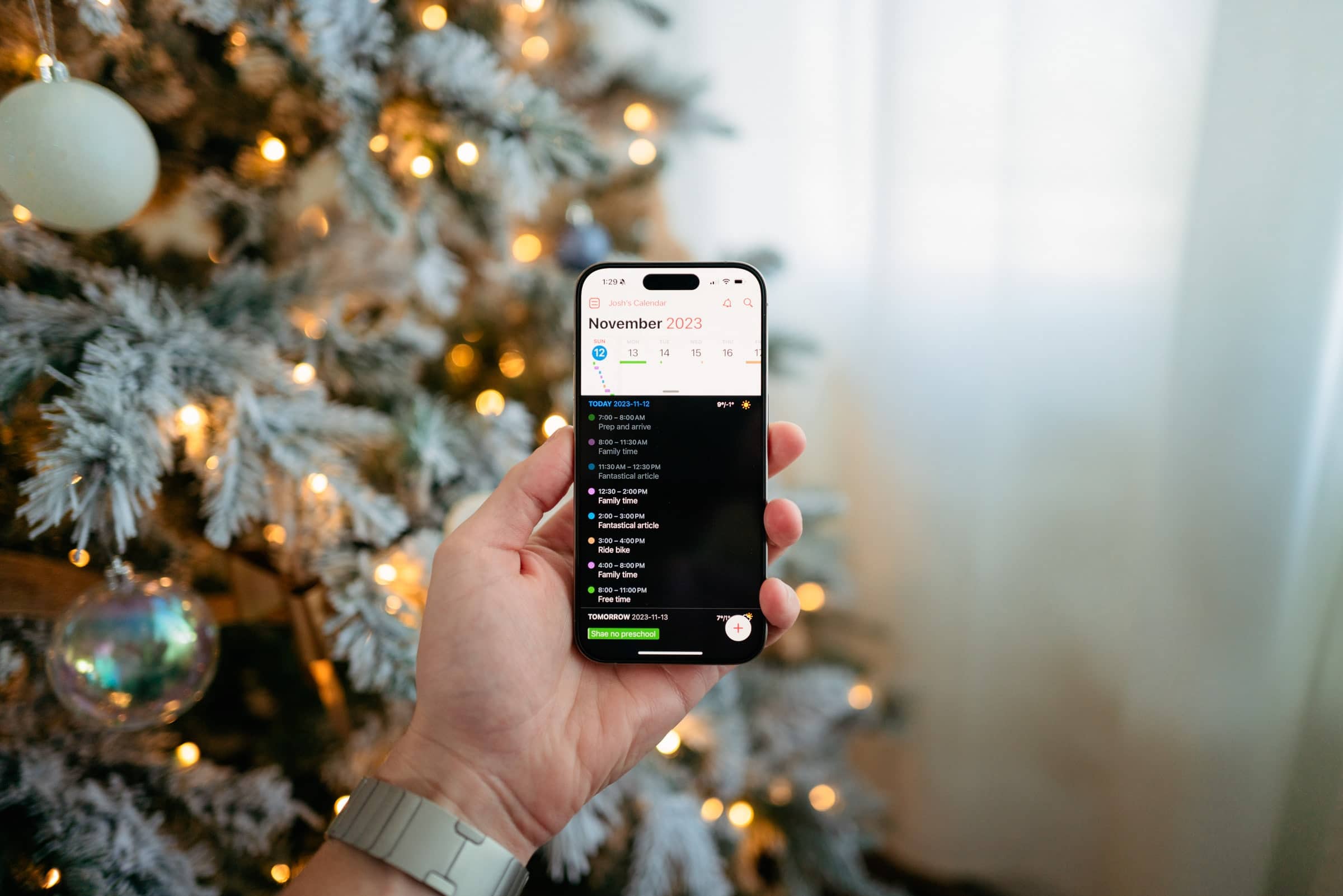 Fantastical is our pick for the best iPhone calendar app. It offers great design, great views of your calendar events, and superior natural language parsing for event and reminder entry that offer a big productivity boost for Apple users who need some help managing their time a little better. It also works great with Fantastical for the Mac, iPad, and Apple watch, giving you feature parity across the entire Apple ecosystem.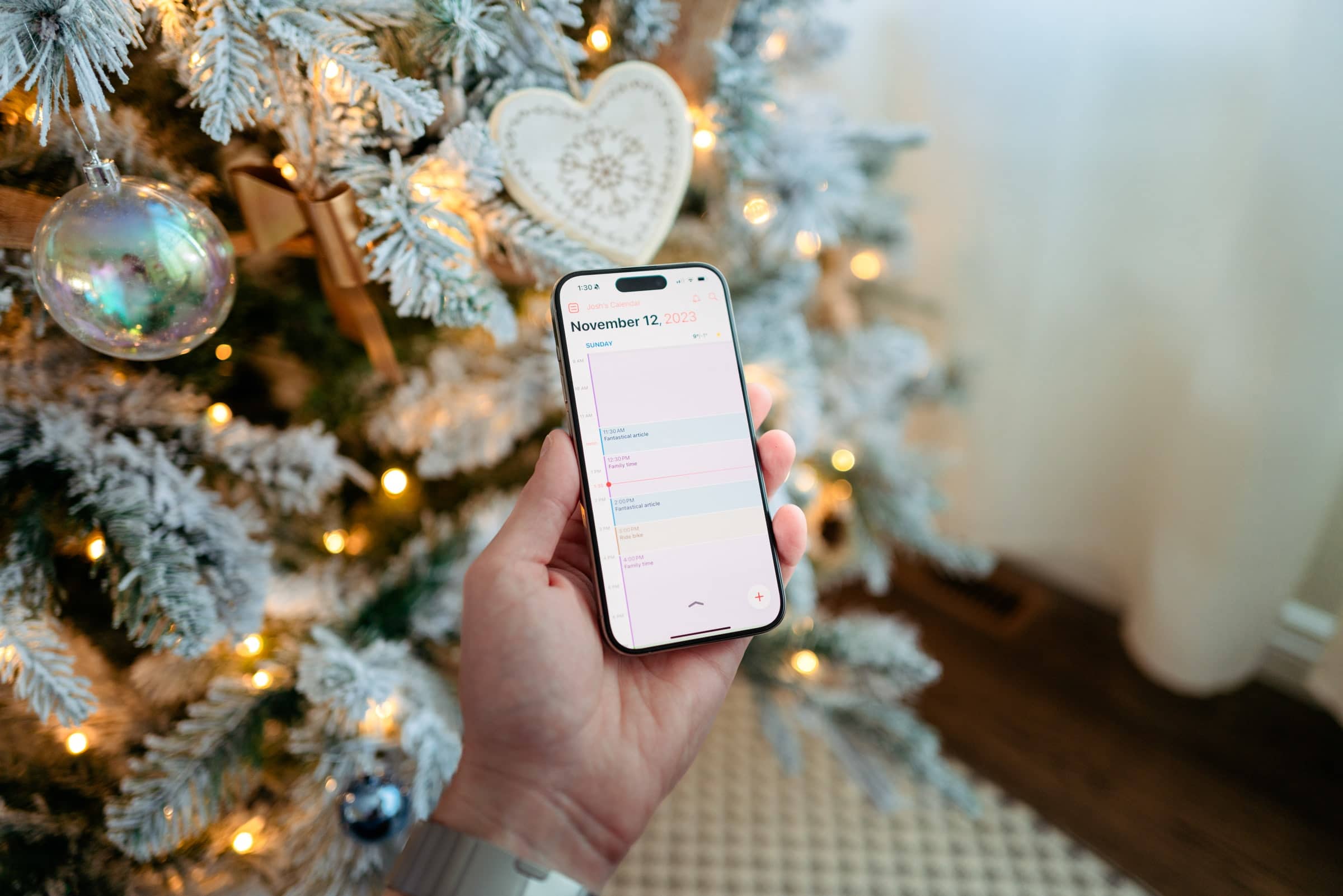 Do keep in mind though that this race is closer than it has been in years past. While Fantastical is the best choice, you can't go wrong with apps like Cron (if you're looking for a free, Google Calendar-only option) or with a more productivity-enhanced app like Morgen (which we think has an incredibly generous free tier any calendaring person could use).
Whatever you choose, it feels like we're in the golden age of calendar and scheduling apps. You almost can't go wrong anymore.
$0 - $56.99/Year
A calendar app with delightful design, superior natural language text entry, and support for iCloud reminders.
App Store

$0