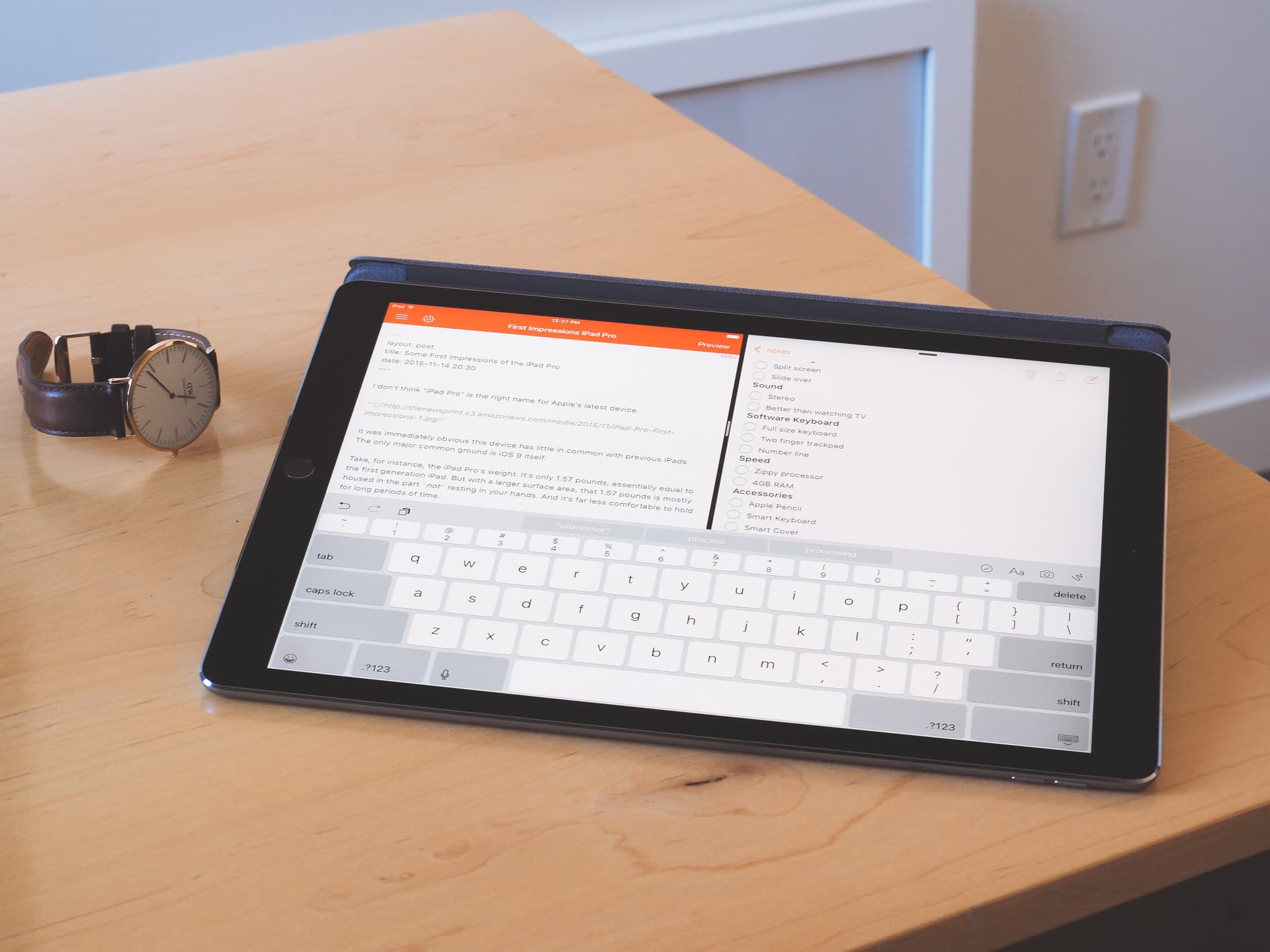 The best note-taking app for iOS
1Writer
March 12, 2017
Notes apps are prevalent in the iOS App Store, and the millions who use them seem to want different things from each app. Unlike mail apps where your goal is to read, sort, and delete mail, or weather apps for checking the daily forecast, notes apps present a bigger challenge in determining which is the best.
So much so that we think picking one app would be a disservice to the many note-taking apps and their users. With that in mind, we tested a lot of apps and think that 1Writer is the best plain-text notes app, while Notes.app is the best all-in-one notes app.
Free Productivity Guide: Download our simple guide to productivity to help you improve your workflows and be more focused with your time and attention. Get it here.
What's the difference?
While researching the current field of iOS note-taking apps, the trend we saw was that users either gravitated towards a very simple app or a more full-featured one.
Plain-text notes apps are just as they sound. They use plain- and/or Markdown-formatted text usually with some sort of organization based on tags, folders, or lists modified by date or name.
All-in-one notes apps should give you the ability to create richly-formatted notes with features like attachments, photos, checklists, reminders, flexible organization, collaboration, and other customizable options.
Criteria
No matter how simple or robust you want your note-taking app to be, we looked for a specific set of qualities when testing each candidate:
Features – Ideally, our favorite note-taking apps are able to sync reliably with cloud services, handle copy conflicts, have easy importing/exporting, hold a large number of notes without showing slowdowns, and offer sharing options to other apps. Additionally, search is a huge factor; we'd like our app to be able to find a note quickly no matter how many we have.

Design – Great UI and UX design is paramount when using a notes app. The reading and writing environment needs to be simple yet functional, and navigation around the app should feel natural.

Ease of use – If we have to look up how to figure out an app, then it's not going to make the cut. A great notes app will be intuitive enough to create, find, and organize our notes on first launch.

Price – Like other apps we review at The Sweet Setup, we are happy to pay for a great tool — though, having a price tag on an app doesn't always reflect its quality. As long as we think the price is fair, we are more than happy to download and support iOS developers.
The best plain-text notes app: 1Writer
1Writer is a simple, yet flexible plain-text notes app. As a Markdown editor, some may only see it as an app aimed towards long-form writing, but it also shines for note-taking. There's a lot to take advantage of in this seemingly minimal app, but let's start with its look and feel.
Experience
1Writer has a three-pane gesture-based UI. The center pane is where you write your notes and spend most of your time. If you swipe left of that pane, you get an in-app browser. If you swipe right of the center pane, you will see a file picker with access to your folders, tags, and a cog icon representing settings.
The theme of 1Writer is customizable. You can choose from five different color schemes in addition to a Dark Mode.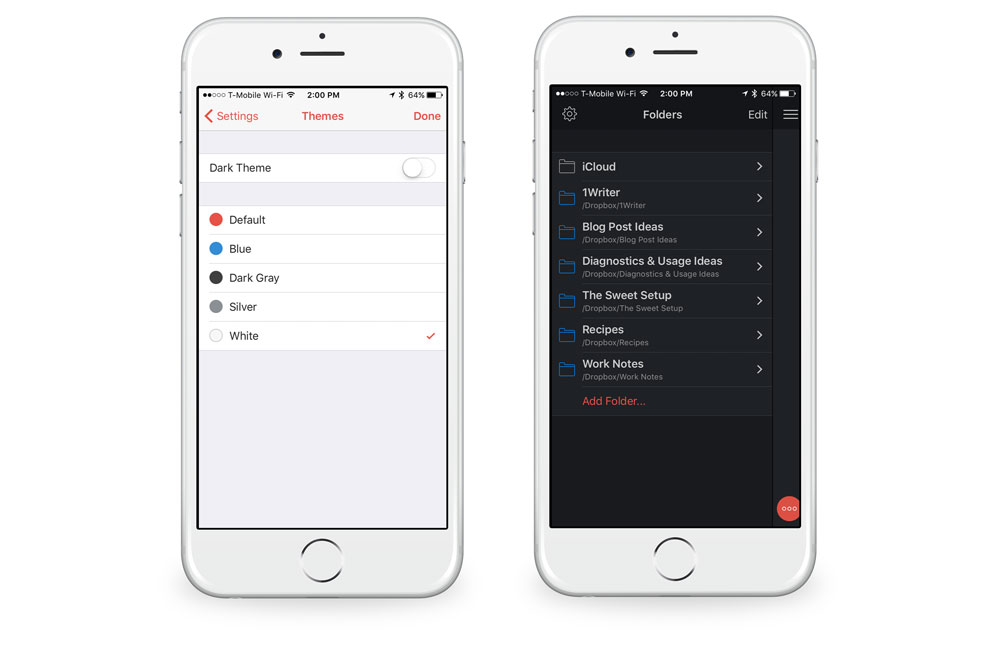 Once you are accustomed to how 1Writer is laid out, it's a real advantage over other apps. Jumping between multiple notes and searching through the in-app browser feels effortless.
Services
1Writer syncs your files with Dropbox and iCloud. You can only have one iCloud folder containing subfolders, but if using Dropbox, you can add as many folders as you'd like. A lot of 1Writer's competitors only allow one specific Dropbox folder, which felt limiting at times for organization.
1Writer also hooks into services for sharing links and uploading photos. For example, when you add something from your camera roll, 1Writer will intelligently upload it to your service, grab the link, and place it in Markdown. 1Writer works with CloudApp, Evernote, Droplr, and Dropbox.
Composing
When you want to start a new note, you have a few options. You can toggle a setting that starts a new note each time you launch the app. If you want to take a more organized approach, you can start a new note within a specific folder from the file picker. Lastly, if you are already in a note, the plus symbol in the bottom right corner gives you even more options, like opening a recent note or starting another new note in the same folder.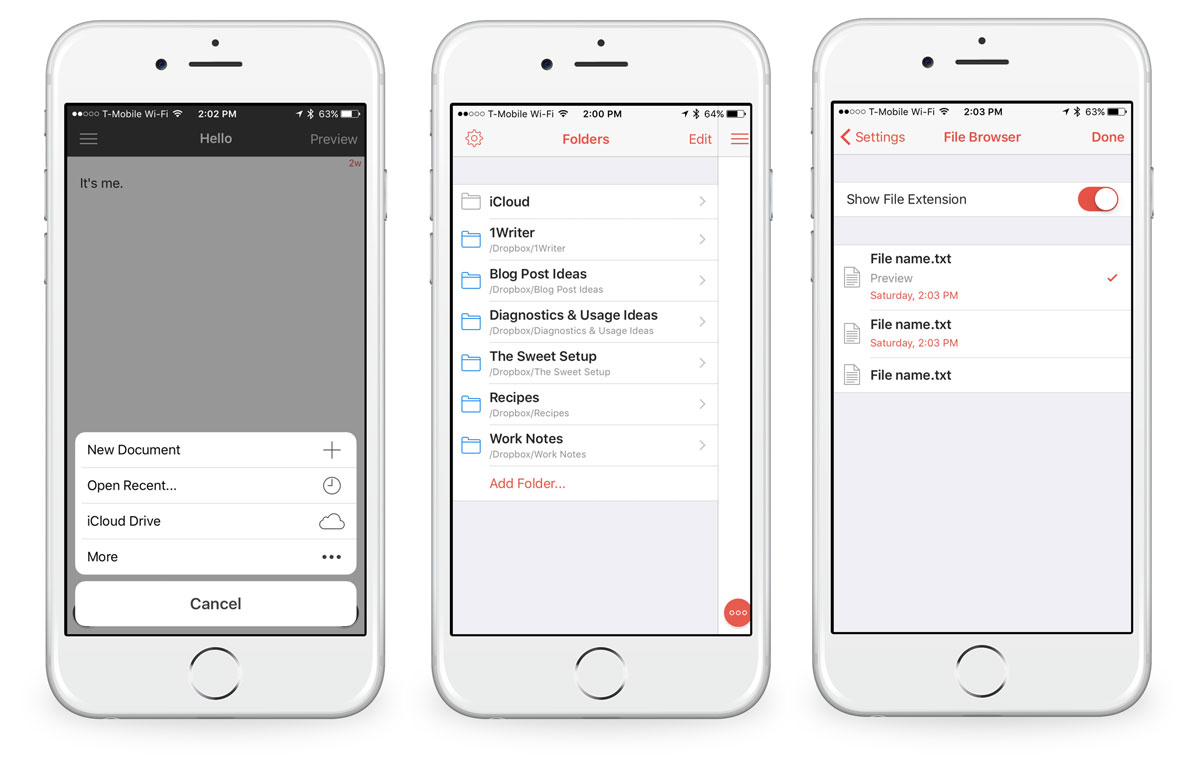 No matter how you start a note, once it has been created, you can title it immediately or leave the default title, which is the date and time.
For Markdown lovers, a custom row is added to the keyboard for quick access to emphasis, linking, lists, undo/redo, check boxes, and a lot more.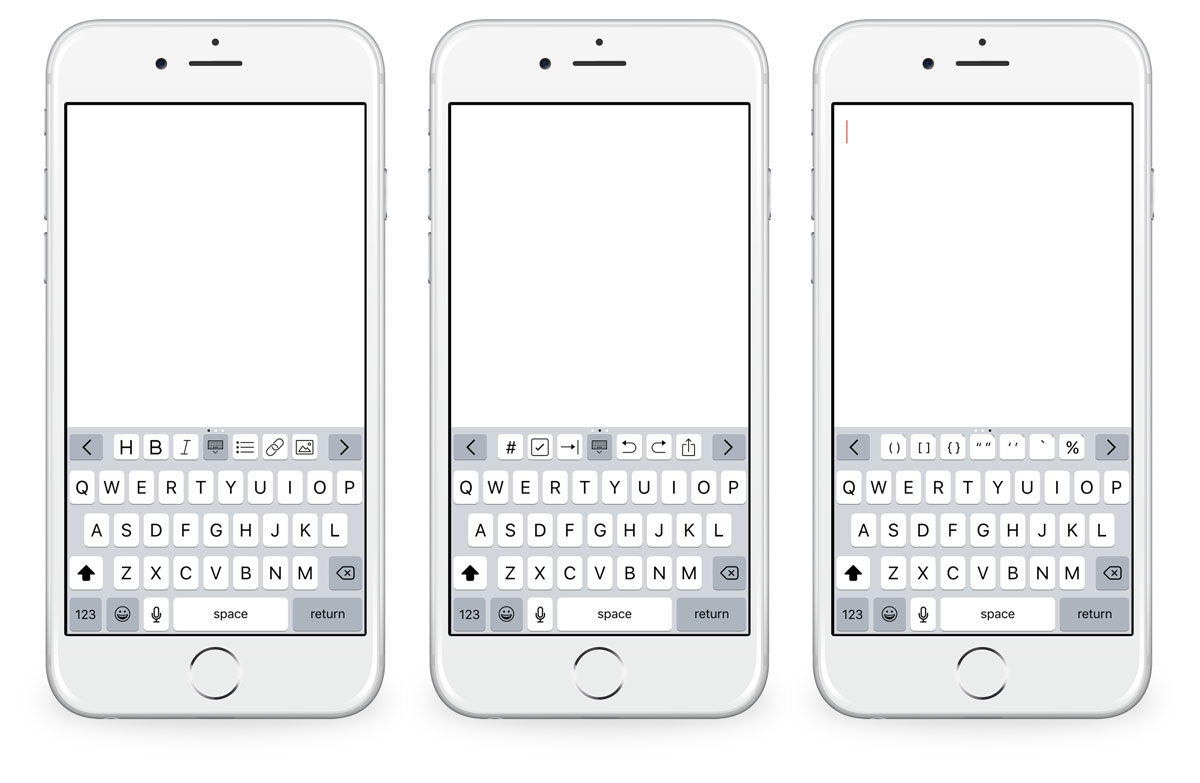 Once you've finished typing and have dismissed the keyboard, an ellipsis in the bottom left corner gives you actionable items. You can copy or email the full text, print wirelessly, open in another application, pin the file to the top of 1Writer's Notification Center widget, grab a shareable link, or add a custom action.
Custom actions are powerful. You can create and add your own URL or JavaScript actions, and for those who aren't as savvy, 1Writer provides an Action Directory where you can install different scripts directly through Safari.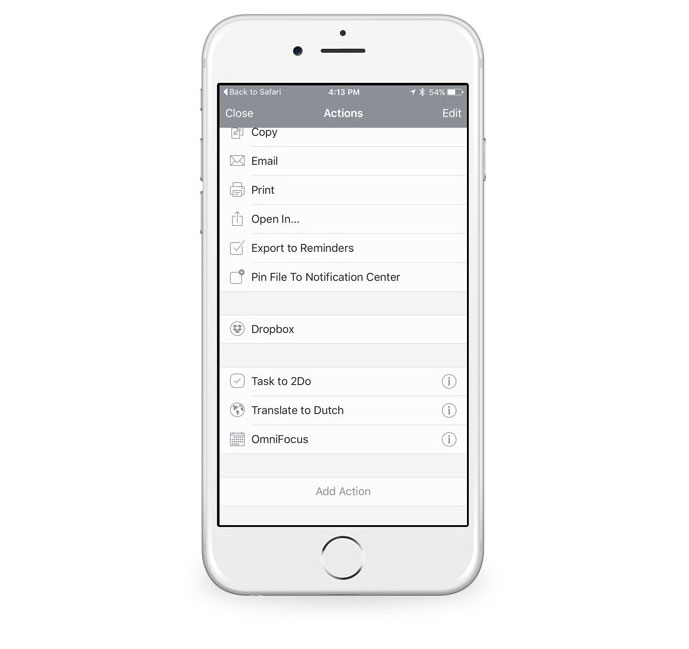 A great example of this is the OmniFocus Action which will create a task in OmniFocus based on the open note.
1Writer also supports 3D Touch on the home screen with quick actions. It will show your most recent note, tags, open the full recent notes lists, or start a new note. While this is very useful, we'd also like to see peek and pop functionality added inside the app for links and notes within a list.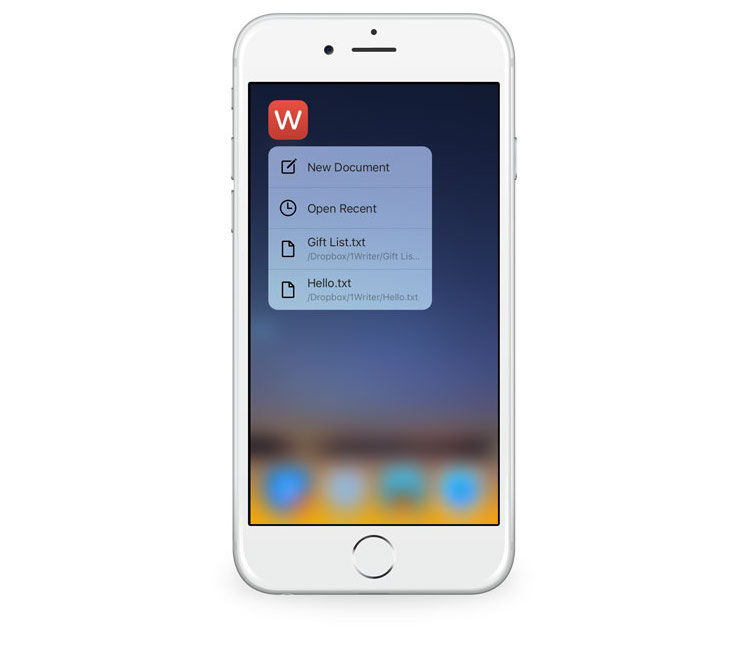 One last feature to mention when you're composing a note is the Preview button. If you press this, you'll be shown the formatted text of the note you're writing. This is very helpful when writing a note in Markdown, as it lets you check your syntax and take a quick peek at how it's turning out.
Find
Searching for a note or text within a note is speedy and impressive. With hundreds of notes, 1Writer found what we wanted instantly. In our testing, it even cached this data offline for search. This powerful search also applied to Spotlight, with which 1Writer integrates.
If folders aren't enough for organization, 1Writer implements a tagging system via hashtags. For example, if you type "#chores" anywhere in your note, it will be tagged for later and can be found in the file picker. In new notes, typing "#" will bring up recent tags for quick tagging. Hashtags are an optional feature and can be toggled off in settings.
For research, the in-app browser works well, but it isn't using SafariViewController and that's something we hope the developer re-incorporates into the app. If you do not like the in-app browser, it can be toggled off in settings.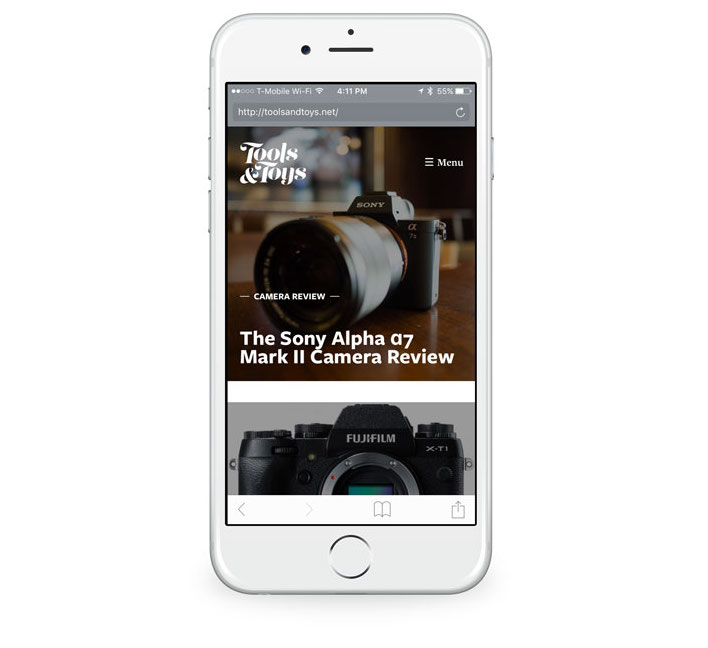 To Your Liking
One of the best things about 1Writer is its flexibility. Whether you are using it for notes or long-form writing, the app has just enough settings to cater to both:
Passcode and Touch ID — You can set a four-digit passcode or use Touch ID to protect your information inside the app.
Filetype — You can choose ten different file extensions for your notes. By default, .txt is chosen.
Style — Fifteen-plus font choices, line-spacing, font-sizing, and other style themes are available to customize.
These options are all presented in a cohesive page. Most settings are convenient toggles, and it doesn't feel like a chore to change things.
Free Productivity Guide: Download our simple guide to productivity to help you improve your workflows and be more focused with your time and attention. Get it here.
Bottom Line
1Writer is such a powerful plain-text editor and a joy for notes. It somehow perfectly meshes simplicity and fine-grained customization without making the app feel overwhelming. 1Writer is a universal app and costs $4.99 in the App Store.
Honorable Mentions
Bear — Bear deserves a lot of love. It has a great design, and a rock solid sync system built on CloudKit. It's free with a $14.99/year subscription to unlock sync between all your devices, application themes and exporting. Bear is great for quick notes or in-depth articles. It supports inline code, embedded images, and a really awesome Cross-Note Links to connect notes together.
Drafts — Drafts is a Markdown-equipped app that can sync with different services and is jam-packed with every option one could imagine. It makes for a great power-user notes app, but it may feel overwhelming for some.
nvNotes – Think Vesper with some additional settings plus Markdown support. nvNotes is another well-designed minimal app that syncs with Dropbox and offers theme and font customization.

Simplenote – A veteran notes app for iOS, Simplenote lives up to its name. We'd compare it to Vesper as they both share a few things in common, such as a unique sync service and tagging system, but its design is even more — well — simple.
---
The best all-in-one note taking app: Notes.app
Some users like apps that are less fiddly with richer features, and that's where Apple's Notes.app comes in.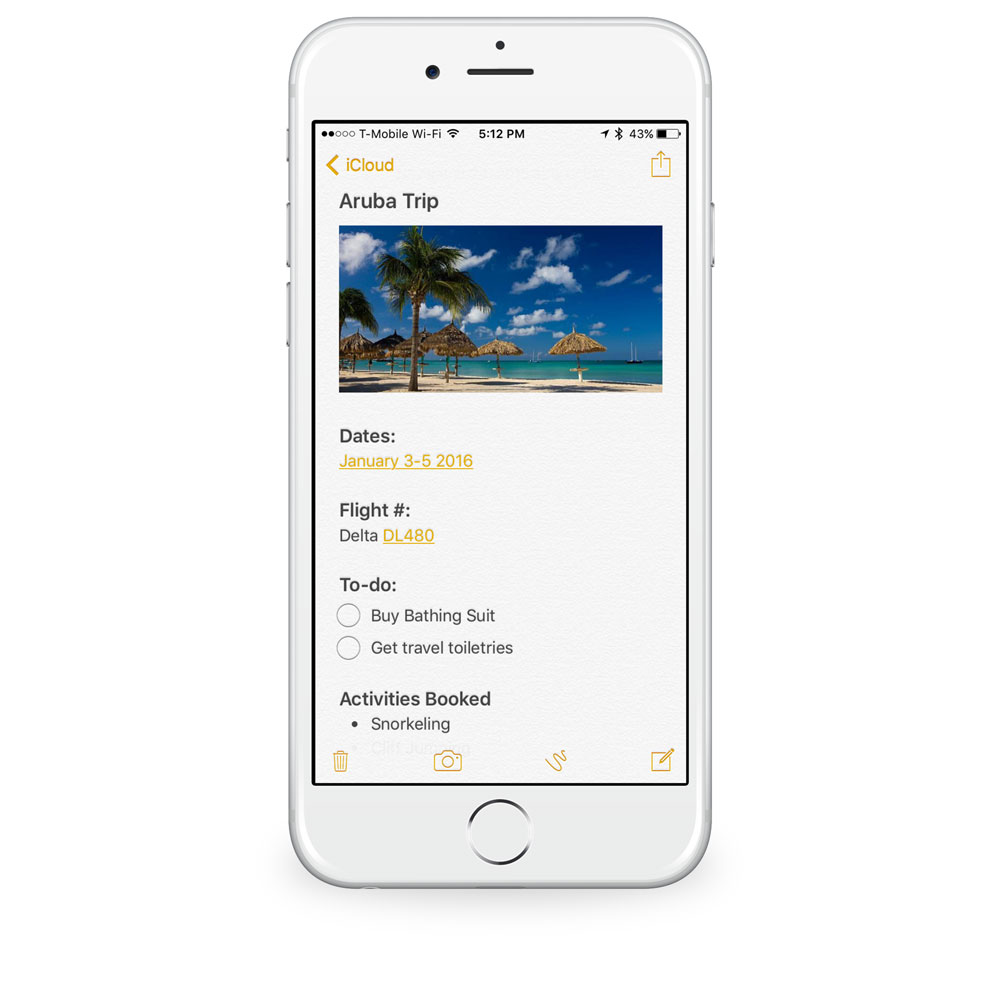 With the introduction of iOS 9 and OS X El Capitan, Apple gave Notes a well-needed upgrade and impressed us with many feature improvements and deep OS and Siri integration. In testing Notes against competitors like Evernote and OneNote, we thought Notes gave the best combination of features, speed, and user experience.
Look and Feel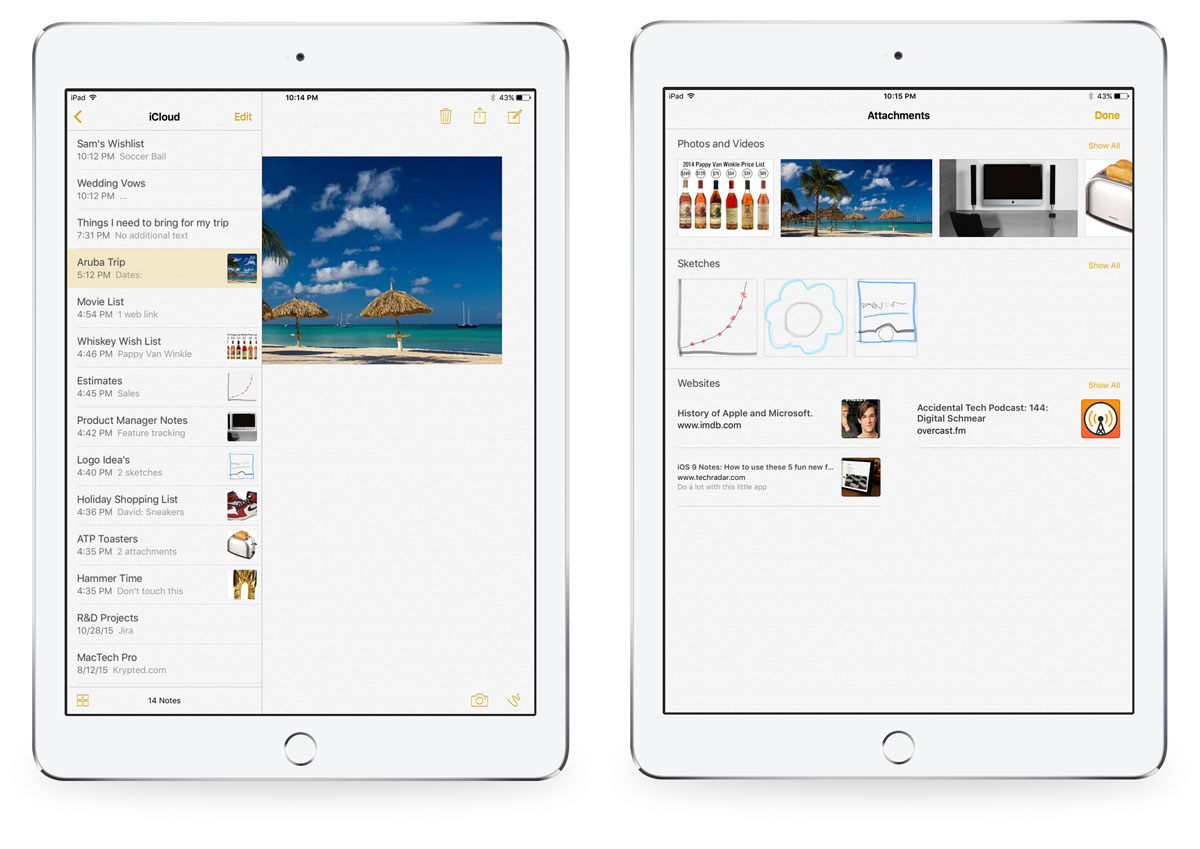 Let's get one thing out of the way. The textured background in Notes' UI is the app's weak spot. Someone at Apple doesn't want to let this small skeuomorphic touch go. While we don't think it's a deal-breaker, we wouldn't be sad if it gets replaced in the future.
If you are familiar with any iteration of Notes on iOS, the layout hasn't changed much. Your list of notes take center stage with two buttons on the bottom. One is to compose a new note and the other will show your attachments. If you have any photos or sketches attached to a note, you will see a thumbnail in the list, which can help you find a note quickly.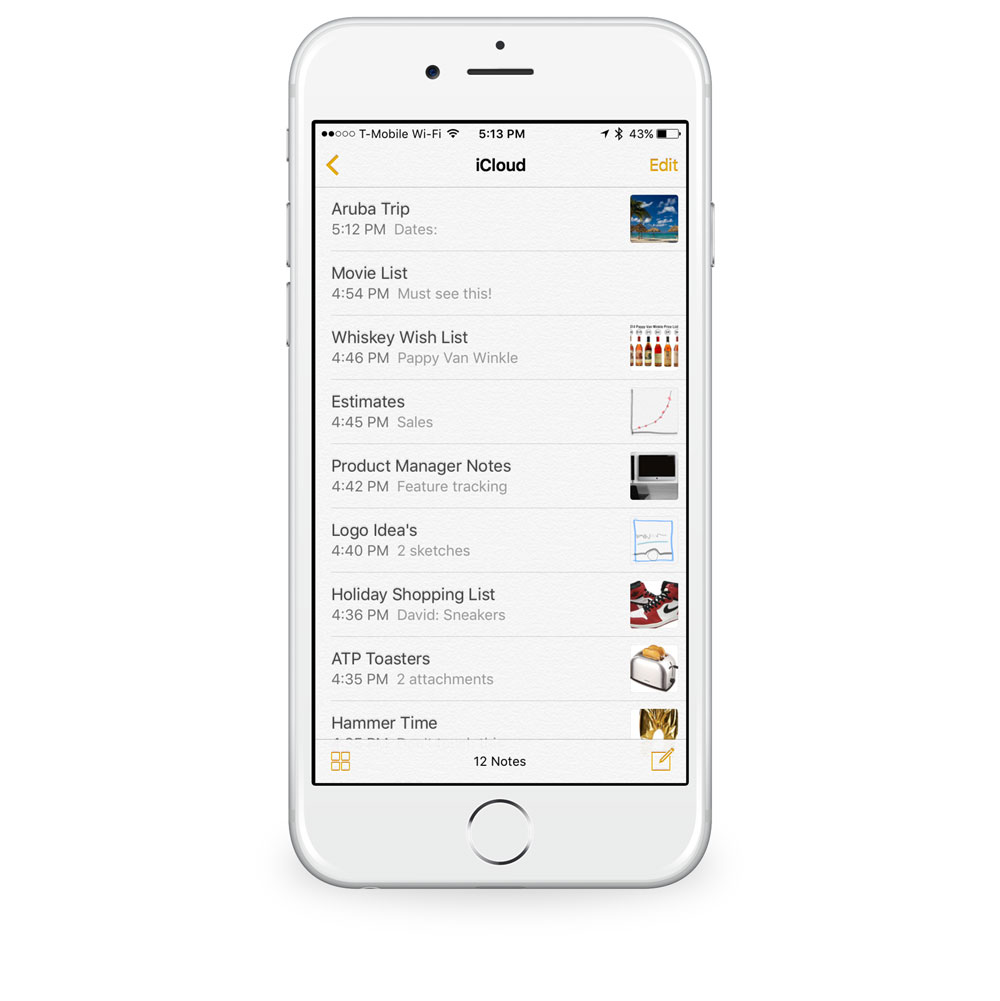 On iPhone, when you swipe to the right, you are shown the folder picker. If you are using multiple services to sync notes, folders are listed in alphabetical order under each service's name. Notes has a very simple interface, but it's packed with power once you start working with your notes.
Services
Although Notes will sync with other services like Yahoo! and Google, iCloud is recommended for sync. In its infancy, iCloud had some speed bumps with reliability, but in our testing it was just as solid as services like Dropbox and Google Drive even with a large set of notes.
Tools
Notes has a toolbox of features that make your notes more readable and structured. When in a note, you can get to these tools by tapping the plus symbol above the keyboard which expands the different options. These options are checklists, styling, photo/video upload, and sketches.
Checklists let you add a radio button followed by text, which is useful for notes ranging from grocery lists to quick to-dos.
The styling options are awesome for making your notes look more readable, especially the more lengthy ones. Your choices are title, heading, body, bulleted list, dashed list, and numbered list. This is in addition to the bold, underline, and italic options given when highlighting text. In Settings → Notes you can set either title, heading, or body as your default style for the first line of a note.

Photo/Video uploads are straight-forward. Video does get compressed within a note to help with storage and syncing.
The sketch option won't appeal to everyone, but for creative thinkers it's a very nice tool to have. Your sketching tools are a pen, highlighter, pencil, ruler, and eraser with twenty-four colors to choose from. Larger iOS devices feel more appropriate for a feature like this, and we see many use cases where this could be extremely valuable.

The Attachments window in notes is brought up by tapping the icon of four squares in the bottom left corner of your notes list. This section proved very useful once there were more than a handful of notes with attachments. It sorts attachments by type and you can show all the attachments within a specific type.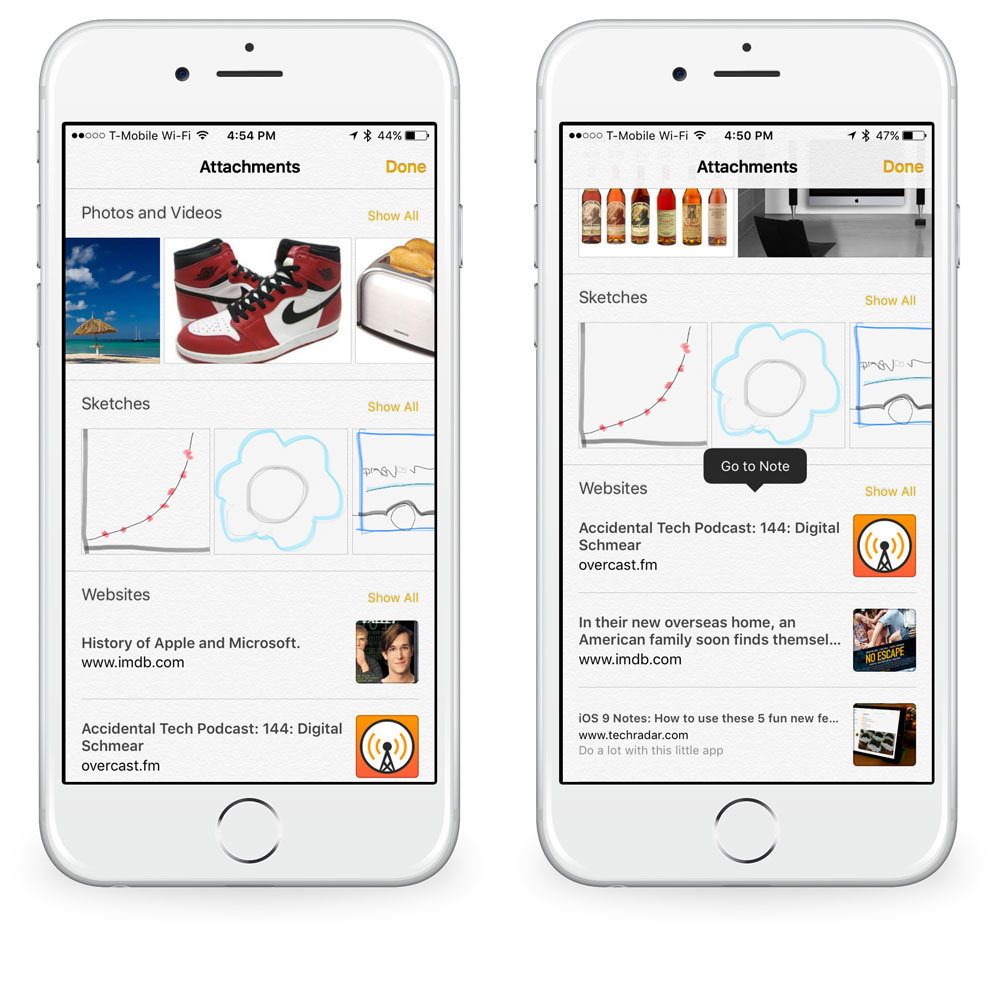 3D Touch
3D Touch enables a new level of interaction with Notes. Its quick action menu on the home screen lets you start a new note, photo, or sketch, though we'd like to see these be customizable in future versions of iOS.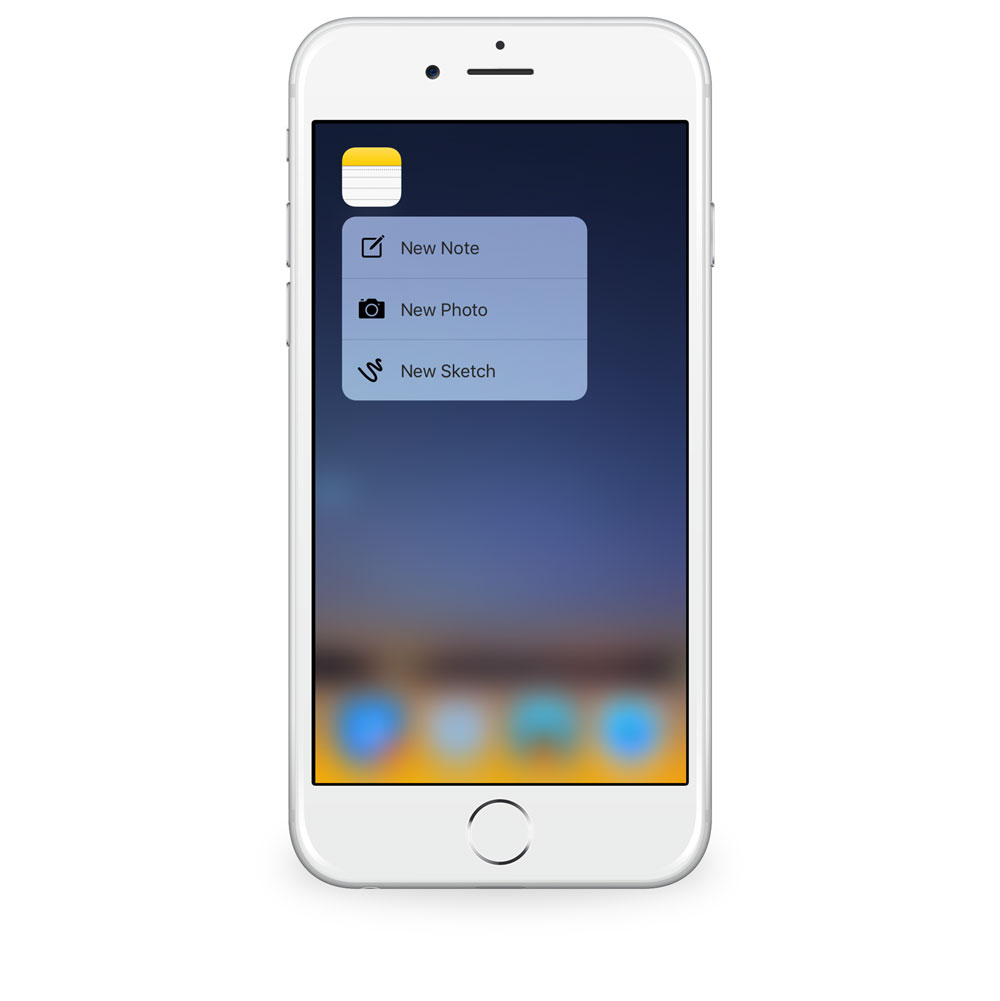 Throughout the app, you can peek and pop on a note within a list, attachments, and links. Once we imported over a hundred notes, this feature became a huge timesaver for sorting and finding a note quickly.
OS
The tools inside Notes aren't the only reason why we think it is the best. Notes being a first-party app gives it a large advantage over its competitors. With deep hooks into iOS and Siri, there is a lot more that can be added to a note.
The share sheet in almost any application has the option to add an element to notes. For example: If you have a note called "Movie List" with all the movies you want to see, you can be in the IMDB app and add a movie from the app directly to your list. And with iOS deep-linking, tapping that element inside your note will jump you back to the IMDB app. It's a very clever option available to notes, and we found that we used it more and more during testing.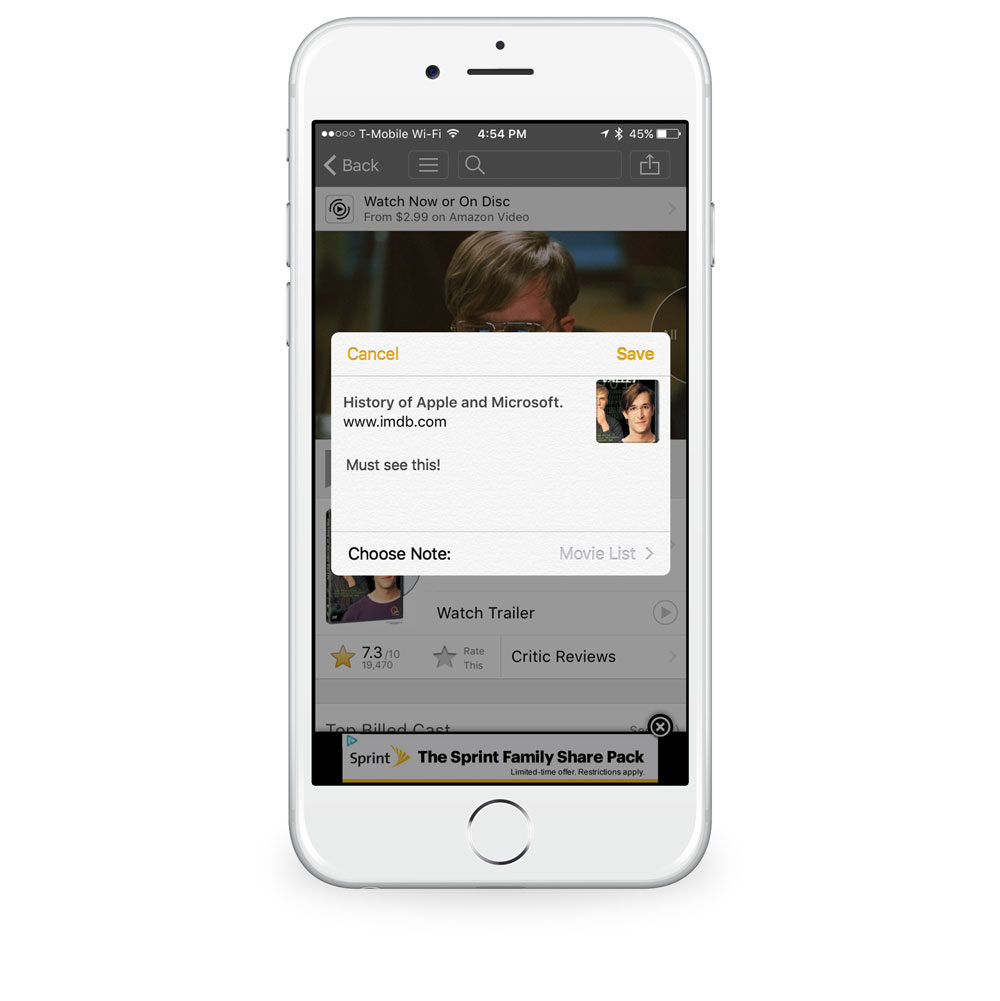 Siri's capabilities for Notes has grown larger due to iOS 9's Proactive technology. In many areas of the OS you can ask Siri to "Add this to Notes" or "Add this to my Recipe notes" and Siri will obey. When you are saying "this," Siri knows that the page or app you are in is what should be added to the note. Other Siri commands that we found helpful are:
"Create note: Things I need to bring for my trip"
"Note that I ran 5 miles today"
"Create grocery list note"
"Find my grocery list note"
"Add noodles to my grocery list note"
This level of power in Notes makes it extremely valuable. Search is outstanding and fast. You can search inside the app, in Spotlight, and with Siri.
Bottom Line
Notes looks basic, but once you understand all of its power, it can become an invaluable part of how you work on iOS. It is fast, integrated, easy to use, and included on every iOS device.
Honorable Mentions
Evernote — Evernote is a giant in the notes space. It can do more feature-wise than Apple's Notes, but we think it falls short in other ways. Its interface is clunky and crowded, over time you are nudged to try new features via pop-ups, and even when paying for premium, its search could use improvement.
OneNote — OneNote's user experience paradigm is less than ideal. The hierarchy of notebooks, tabs, and notes within tabs makes it overwhelming once you are over a handful of notes. That being said, it's feature-rich and has many things in common with Evernote. If you are coming from the desktop app, this may feel like home for you, but a new iOS notes user could find OneNote overwhelming.
Conclusion
There is a level of personal preference when it comes to picking your notes app on iOS. The market of apps seems to grow each day and finding the right balance of features, design, ease of use, and price is a monumental task. We think 1Writer and Notes.app meet those requirements and hope this helps you find the tool that works best for you.
Free Productivity Guide: Download our simple guide to productivity to help you improve your workflows and be more focused with your time and attention. Get it here.
$4.99
1Writer is our favorite plain-text notes app for its power and ease-of-use, while Notes.app is our favorite all-around notes app for its deep integration in iOS.
App Store

$4.99