What's in my 2019 WWDC Travel Bag
June 2, 2019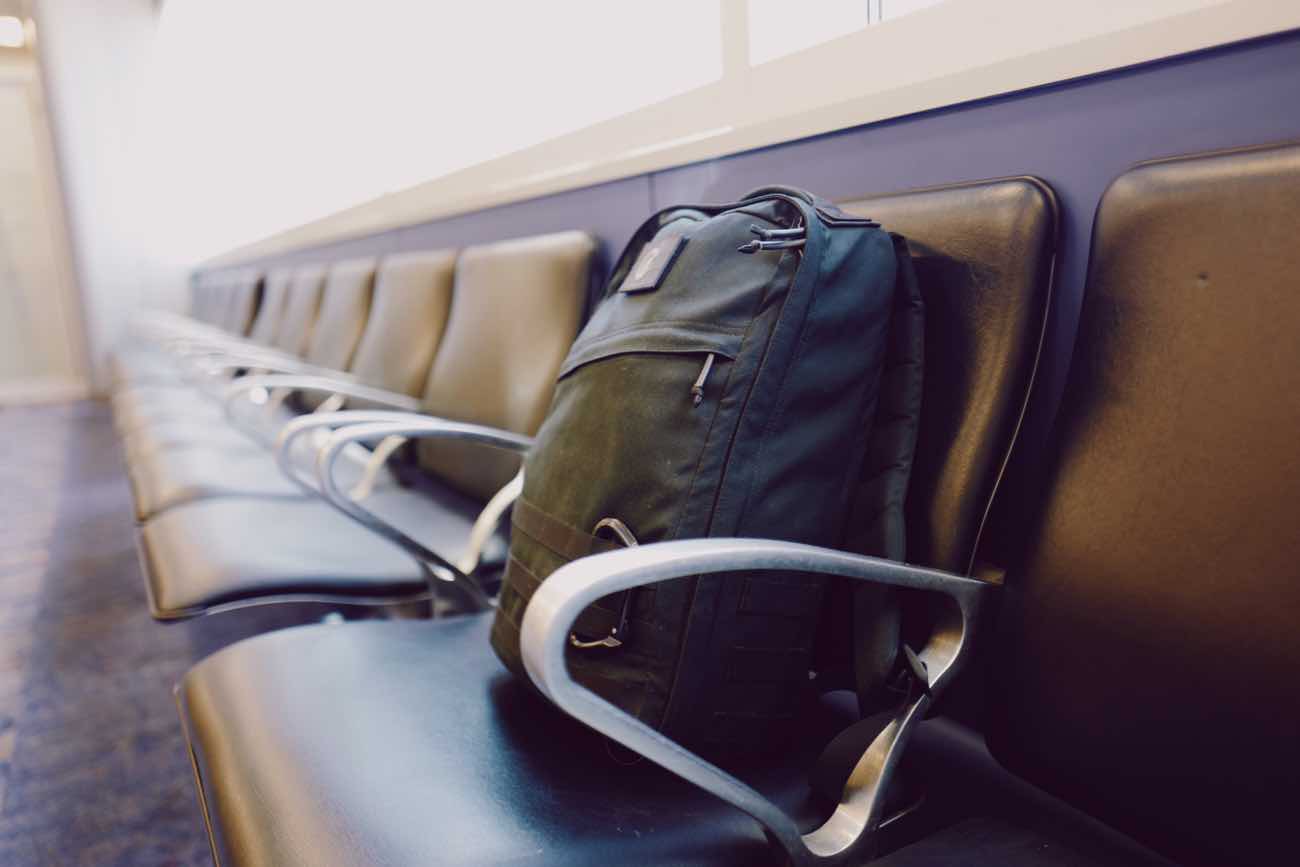 As I type this, I'm en route to San Jose for WWDC 2019. I'm somewhere over the Colorado mountains according to the Southwest flight tracker website…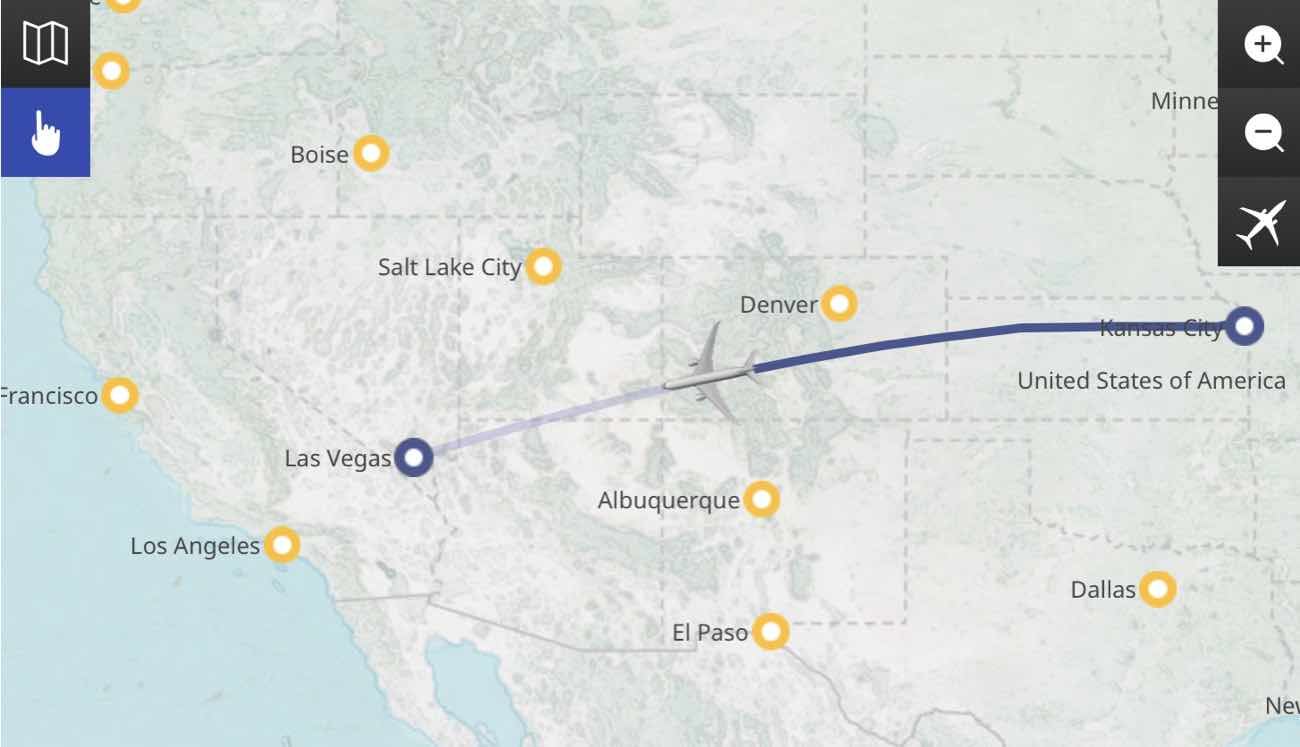 I am a recovering over-packer. I always tend to assume the worst-case scenarios and, thus, always wanting to be over prepared. But over time I've learned that I need far less gear than I think I need.
Here's a look at my travel bag for WWDC 2019 and what's inside…
The Goruck GR-1 Backpack
I have two travel bag setups depending on the length and type of trip I'm going on.
Setup 1 is a weekender duffle bag and my Timbuk 2 messenger bag.
Setup 2 is just my Goruck GR-1 backpack.
For WWDC, I'm traveling with setup 2: the Goruck. And there are two reasons I'm taking just the Goruck backpack.
First of all, my trip to San Jose is short enough that I can easily fit everything I need into the backpack (assuming I don't over pack).
And secondly, during my time at WWDC I won't need to carry anything with me during the day other than my iPhone and my camera. Thus, I have no need for a smaller EDC bag.
The Sweet Setup Staff Picks for 2019
We spend an inordinate amount of time sorting through hundreds of apps to find the very best. Our team here at The Sweet Setup put together a short list of our must-have, most-used apps in 2019.
Sidebar about the People
This is my 7th or 8th trip to WWDC (I can't quite remember actuallly). And for me, ever year is entirely about meetups with people. I go to WWDC to spend as much time with other people as possible. This means getting meals, coffees, and drinks with my fellow Apple nerds and friends — as well as meeting and connecting with new folks.
Last year, at WWDC 2018, two big highlights of my trip included having breakfast with Matthew Panzarino and talking about fatherhood and work-life balance. And then a day trip with David Smith and Casey Liss up to the Tesla Factory followed by lunch in Cupertino.
It was also last year where I got to meet Rosemary Orchard. And now she a weekly contributor to The Sweet Setup!
Packing Cubes
These are a new addition for me, and where have they been all my life?!
I (finally) picked up two packing cubes, and they're a packing game changer. I got two of the smaller sized cubes from Goruck. Two of the small ones fit in my GR-1 just about exactly. And thus, obviously, one cube will fill up just less than half of my bag.
There are several advantages to the packing cubes:
You can put your extra pair of shoes in there so they won't get other items dirty.
You now have a spot to stash the clothes you wear during your trip so that on the return flight you don't have dirty clothes mingling with the rest of your stuff.
And most helpful: You can compress your socks, shirts, underwear, and the like all into a cube. This helps you pack the same or more amount of items into a smaller space that is also neatly contained.
Here's what my bag looks like with a single packing cube: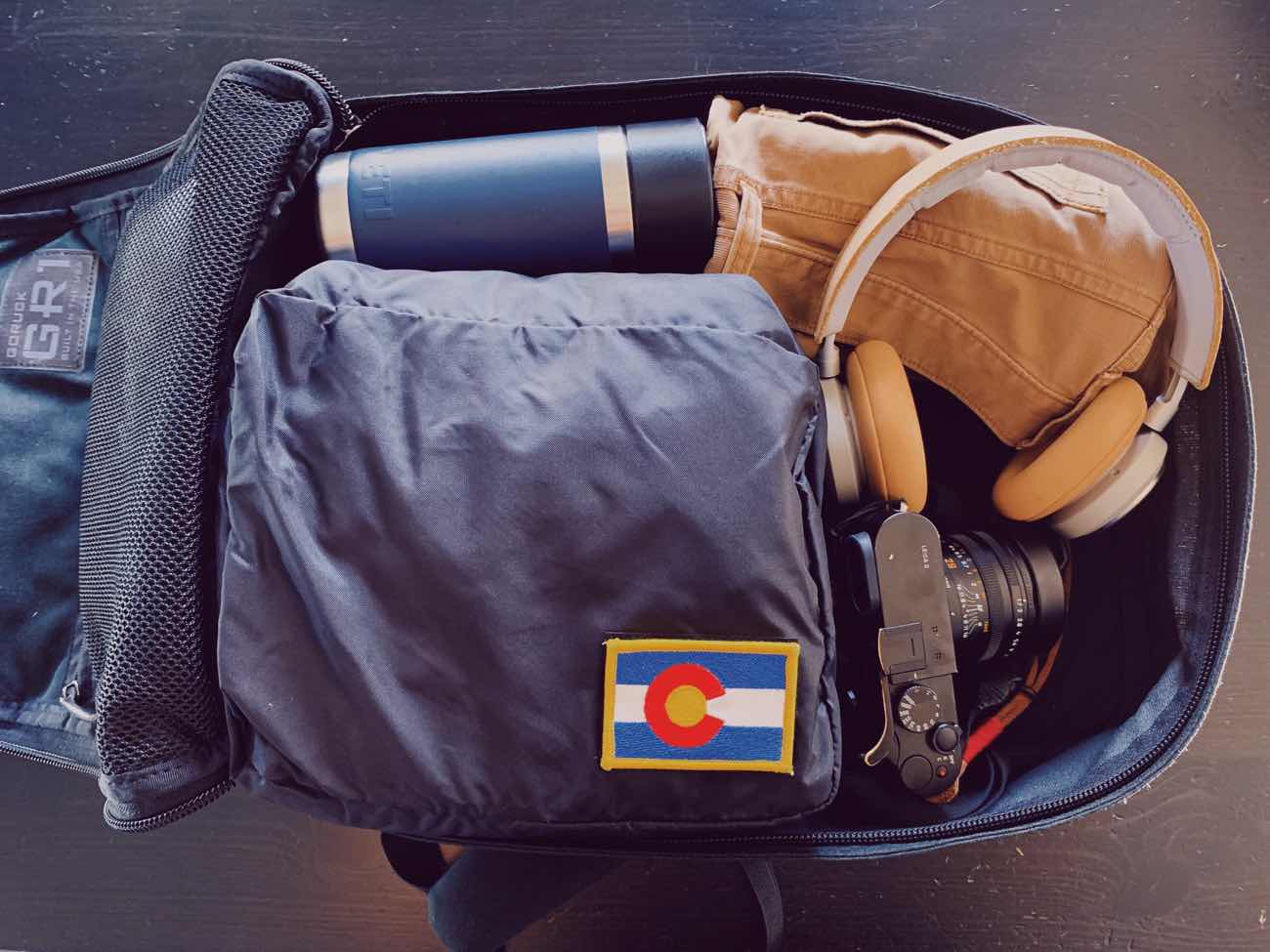 I am packed for a 4-day trip (departing today Sunday and returning on Wednesday). So I only need clean shirts, underwear, and socks for Monday, Tuesday, and Wednesday. Plus a set of workout clothes. It's not much, and so it all fits quite easily into one of the smaller Goruck packing cubes.
I also have my Anker power brick and my two Dopp kits packed into the cube. (See below for details on those items.)
By compressing it all into the cube, my bag is much more tidy and is has saved me overall packing space. Leaving me plenty of room for an extra pair of pants, a hoodie, my camera, headphones, coffee / water bottle, sunglasses case, and my iPad Pro.
(Side note, Ben Brooks has some advice and opinions on packing cubes. He prefers the Tom Bihn ones, but since I already had a Goruck gift card and a GR-1 I opted for the ones from Goruck and I think they're fine.)
Cable Dopp Kit
You can't travel any longer without a plethora of plugs and wires.
It was Casey Liss who introduced me to the idea of a cable Dopp kit (which he calls a "Go Pack"). It's basically a small travel pouch that contains all the necessary accessories for your electronic gear. This pouch is only to be used for traveling.
I bought one of Jeff Sheldon's canvas pencil bags and filled with all the necessary cables:
Lighting cable for iPhone
USB-C for iPad and headphones
Apple watch charger
Two, 5W wall warts
A 12W plug
Wired, lighting earbuds
Spare Apple Watch strap
Micro-USB cable (for charging my Anker power brick)
Magic Micro Fiber rag
These is everything I need to keep my electronics charged when I travel. And by keeping it all in a single Dopp kit, all I have to do when packing for a trip is grab the pouch. I don't have to go hunting around my home for all the cables I need, nor do I have to unplug a bunch of cables from my office or bedroom.
REI Dopp Kit bag
This is a small bag and fits everything I need. And, similar to the cable kit, I keep my toiletries Dopp kit stocked with all my travel necessities (mini toothpaste, deodorant, ibuprofen, floss, fingernail clipper, etc.). And I never steal anything from it when at home, so I can just grab it and toss it into my bag when packing.
YETI Coffee & Water Rambler
This little 12-ounce canteen is awesome. It's my favorite YETI item to date. And that's saying a lot because I also own an old-school YETI mug, one of thier newer mugs with the handle, a 32-ounce canister, and a coozi.
What's I love about this canteen is the size and the lid.
It holds just 12 ounces, and so it's small and compact. It fits in any cup holder.
And it also seals completely, with no leaking. My other YETI coffee mugs have that flip-tab lid which does well enough at blocking the coffee from spilling out the spout, but they are not leak proof at all. You couldn't put one in your bag if it had any liquid in it.
But this canteen is completely spill proof. It is vacuum sealed with a twist-locking cap. So I can put it in my bag, even when it's filled with liquid, and it won't spill. And it's small enough to be a convenient and useful travel item.
Leica Q
I've now been shooting with the Leica Q for about one year. In fact, it was at WWDC 2018 where Drew Coffman lent me his Leica Q for an afternoon and I instantly fell in love with. I came home from San Jose and bought a used Q from eBay and I'm so glad I did.
I have loved using this camera over the past year. It has a look and a charm that is unlike any other camera I've ever used. (You can see more photos and articles here.)
B&O H9i Noise Cancelling Headphones
After much deliberation and testing, these are the headphones I landed on as the best for noise cancelling.
Anker Power Brick
This thing is a beast. It has two USB ports and enough juice to charge my iPad Pro.
iPad Pro (11-inch)
Of course the iPad Pro. This already my main computer when I'm working even in my office. So naturally it's going to be my main computer when traveling.
When I travel, I always make sure to have a few course training videos and also a movie or two downloaded onto the iPad so I can do some class learning while on the plane.
I use Apple's keyboard folio for typing. It's thin, which is my number one requirement, and I don't mind the typing experience. Even though it's not a fun and fancy clickey keyboard, I've never disliked the typing on the folio. (Though I do wish it had a dedicated Siri button. I use type-to-Siri for improving some of my productivity on the iPad, and having to press and hold the power / Siri button is not nearly as elegant as a dedicated keyboard button would be.)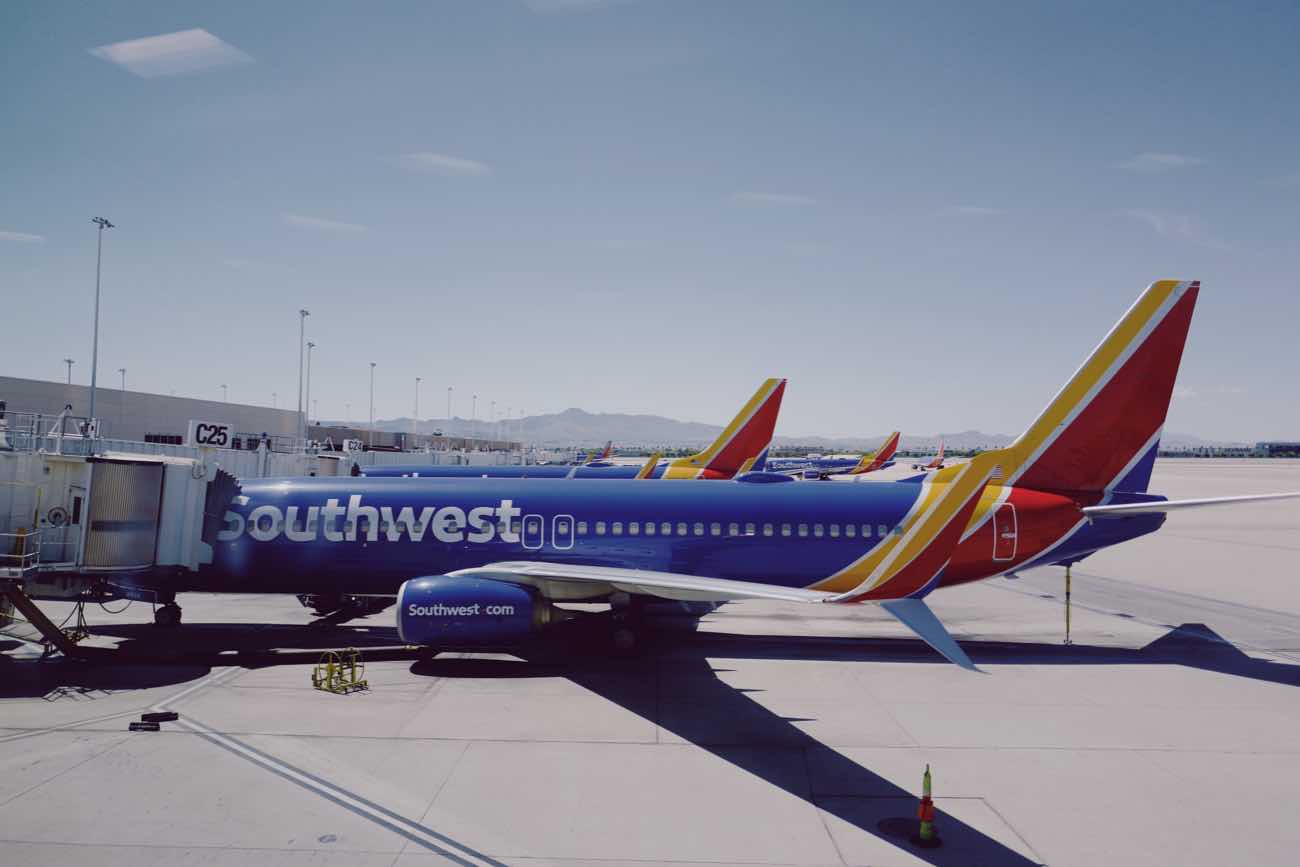 A few other notes on travel gear, apps, and workflows.
If you'd like some further reading on my approach to travel, here are some more articles I've written:
The Sweet Setup Staff Picks for 2019
We spend an inordinate amount of time sorting through hundreds of apps to find the very best. Our team here at The Sweet Setup put together a short list of our must-have, most-used apps in 2019.