My iPad Writing Setup
March 13, 2019
Even though, as I type this, there is a 27-inch Retina iMac just a few feet away from me, I prefer the 11-inch iPad Pro.
Over the past two years, my usage between Mac and iPad has basically flip-flopped. In early 2017, I bought a 9.7-inch iPad Pro, which I promptly upgraded as soon as the 10.5-inch came out. And last fall, when the new 12.9- and 11-inch iPads Pro were released, I upgraded again.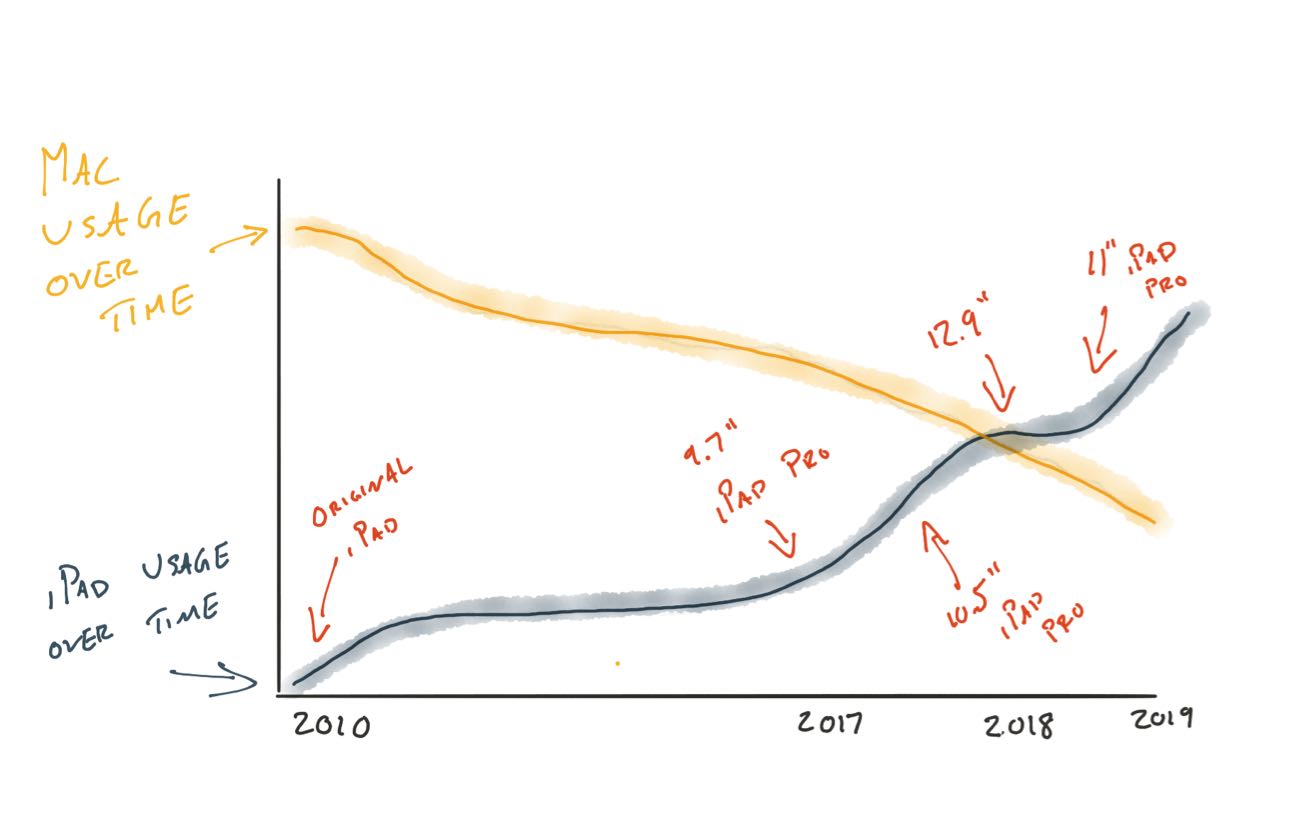 While the new 12.9-inch iPad Pro is awesome, it wasn't for me. I traded it in for the 11-inch instead and am very glad I did so.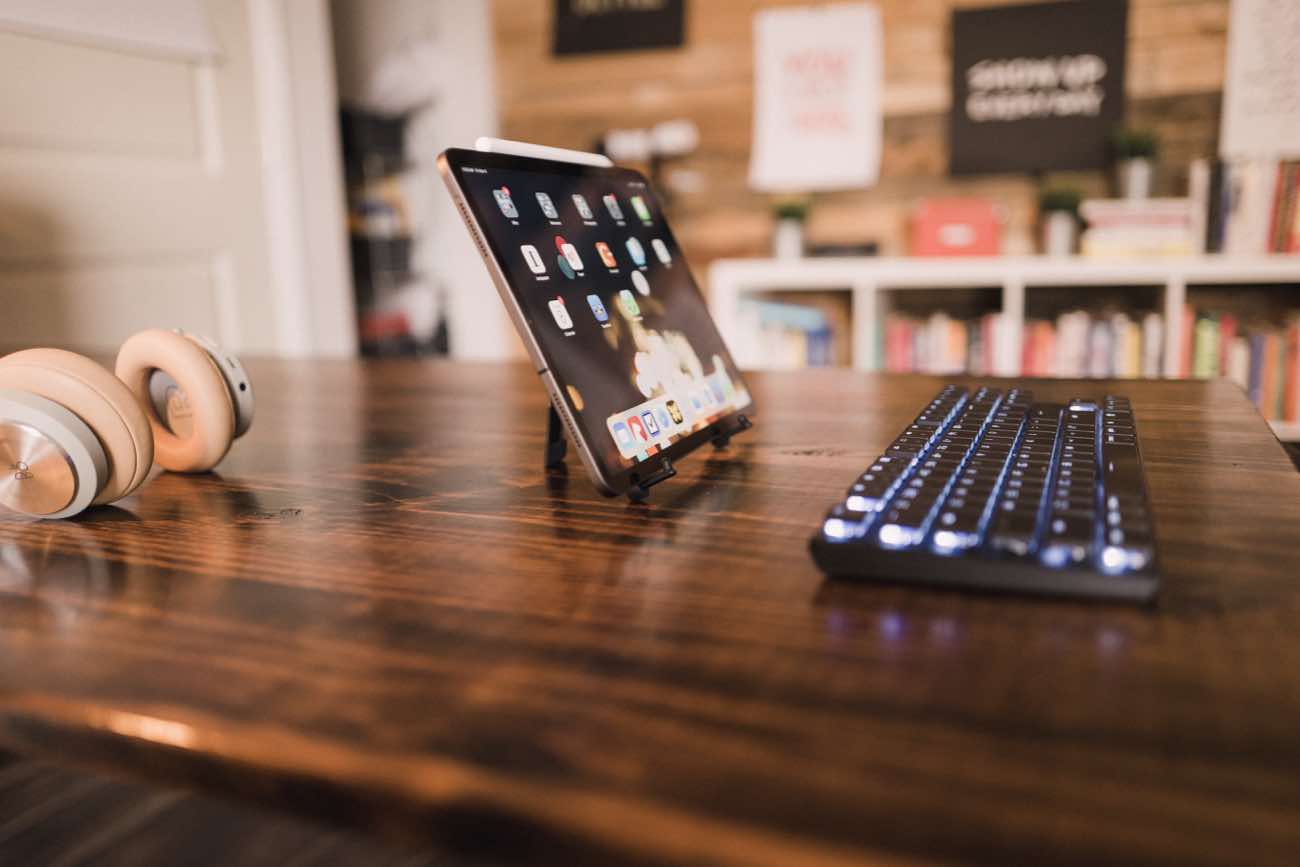 My current iPad Writing Setup is actually quite simple. It consists of just a few things:
11-inch iPad Pro
As you can see from the super-awesome chart at the beginning of this post, these days I do just about everything from the iPad. iOS and the iPad have helped me to slow down, simplify, and focus more on the task at hand.
I also love that when I am doing research and reading I can just stand up, pick up the tablet, and start walking around my office while I continue to read and study.
Likewise, when I'm proofreading an article, I often will just stand up and pace while editing. It's fantastic.
(Side note: If you're looking for the wallpaper I'm currently using on my iPad, it's from my Blurry Kansas City photos which you can find along with the the high-res versions here.)
Keychron Keyboard
About a month ago, I posted a review of the Keychron bluetooth keyboard, so you can read more of my thoughts in that article.
While I'm still using the keyboard because I love that it's wireless, it's not exactly a delightful piece of hardware… I have an awesome keyboard plugged into my Mac, but I don't want to plug anything into the iPad. As mentioned above, I love being able to just pick up the tablet and walk around with it.
So, at the moment, the only other decent keyboard alternative I see is Apple's bluetooth option, which I would probably get if the smaller, tenkeyless version came in black.
Twelve South Compass Pro
This is the newest addition to my writing setup and it makes the whole thing complete.
With the Compass, you can position the iPad however you like and leave the pencil attached. You can adjust the back leg to get various angles; you can rest the iPad in either portrait or landscape mode; and you can even set the iPad into a "drafting" position in order to draw using the Pencil.
The Compass is just a fantastic iPad stand. It offers exactly the kind of flexibility I need. I love it.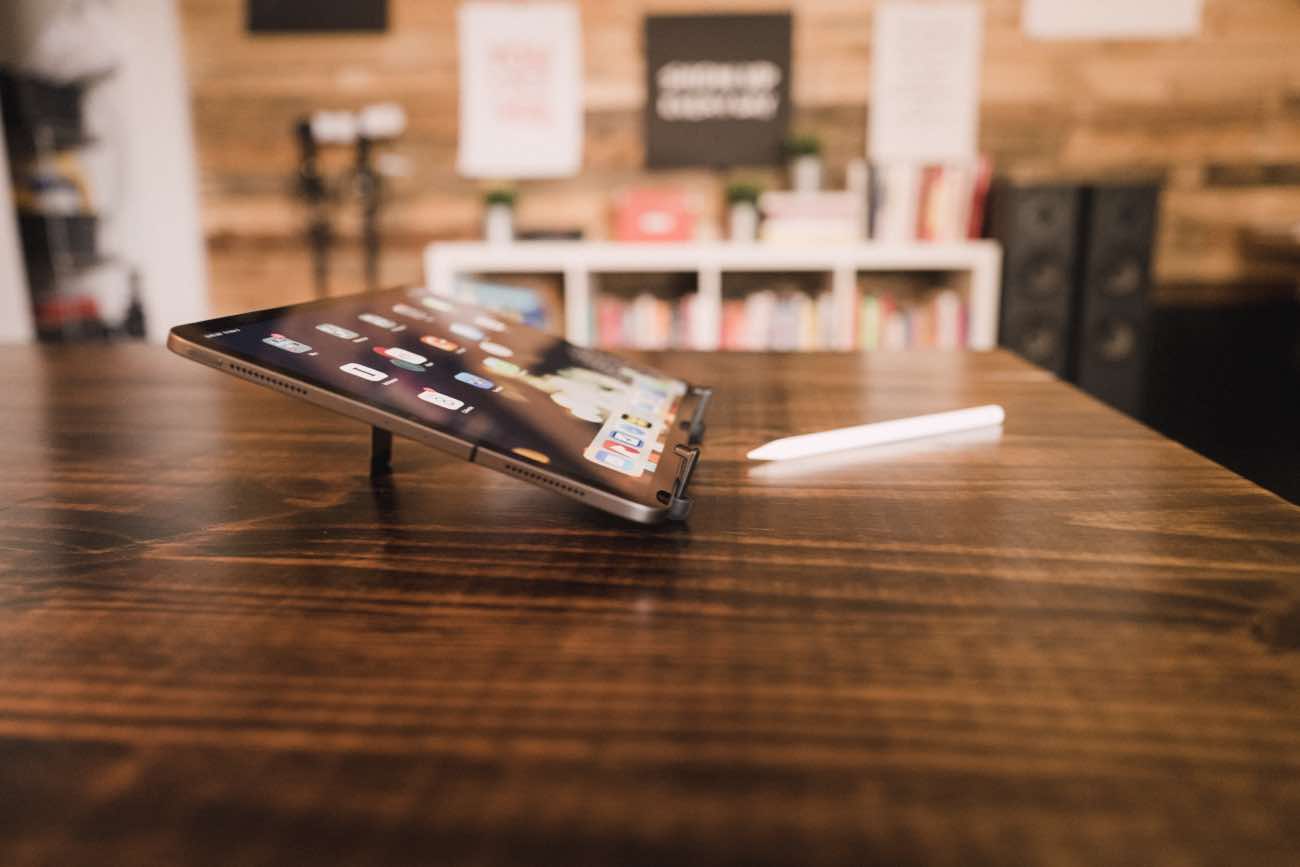 Additionally, all the "contact" points of the Compass stand are coated in rubber. So you never feel like the iPad will be scratched. And the thing is so heavy you could also use it as a weapon to defend yourself in case anyone were to break into your office.
Ulysses
Back in 2017, around the same time I began using the iPad more and more, I also began using Ulysses as my one and only writing app. I centralized all of my ideas, notes, thoughts, quotes, and more into this singular app. And it has been liberating to my writing process.
You can read more about my own Ulysses setup here, and you can read our in-depth article on why we think it's the best writing app here.
Audio Miscellany
Two small but important things not mentioned regarding music for writing. (A very important topic.)
I recently picked up a pair of Bang & Olufsen H9i headphones. It's a long story, but I believe these are the best noise-cancelling headphones you can buy (yes, even better than the Sony XM3s).


One of the very few iOS Shortcuts I use is a "time to write" shortcut. When I trigger the shortcut, it puts my iPad into Do Not Disturb, opens up Ulysses to my Ideas folder, and starts playing the Pure Focus playlist.
Coda
As mentioned, iOS and the iPad have helped me to slow down, simplify, and focus more on the task at hand — especially when that task is writing. Next week, I'll be sharing a bit more of my writing process regarding how I use Ulysses for my blogging workflow.
---
Stop losing your ideas and notes to multiple apps…

An online course to help you save time, organize your notes, and master the best writing app for Mac and iOS: Ulysses.
---