Ulysses vs. Day One
August 18, 2017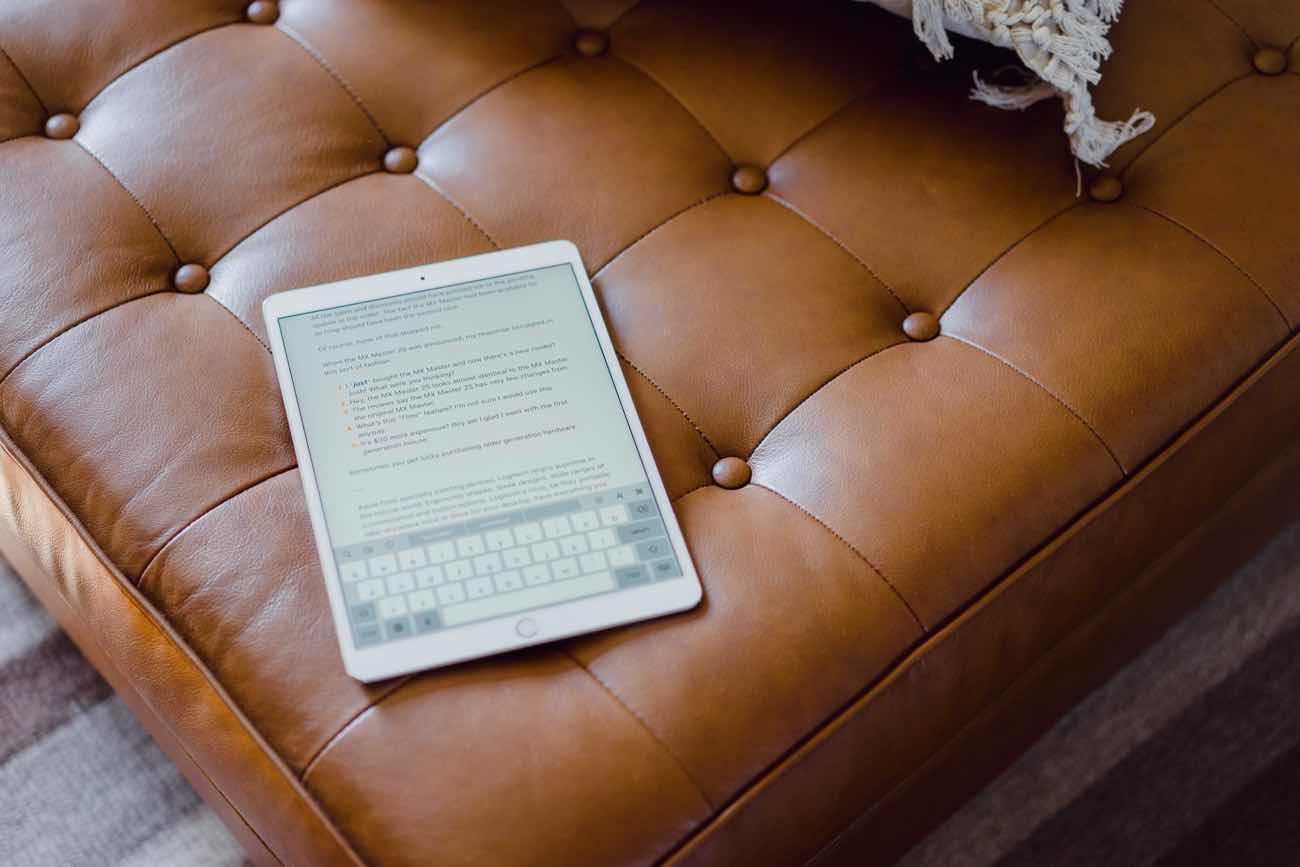 Recently, quite a few folks have asked me how Ulysses and Day One compare and if one could replace the other.
Basically, how much overlap is there between Ulysses and Day One? Could you or I use Day One instead of Ulysses or the other way around? I think it will be easiest to answer this question by explaining how and why I use each of these apps.
In a nut, for me, Ulysses is work stuff and Day One is personal stuff. If these apps joined together to form a mullet, Ulysses would be the business in front and Day One the party in back.
I use Ulysses for all of my writing and writing-fodder. It's where I do my writing and also where I keep all my ideas, quotes, inspiration, notes, and works in progress.
In Day One I keep all of my personal memories and thoughts. I have Day One entries all the way back to 2004. (Yep, 2004 — I've added stuff into Day One that was photographed or written even before the iPhone existed). In my Day One are all sorts of photos and memories and seasons of life that I want to revisit a year or 10 from now.
By default, Day One entries are sorted by date. But you can also sort by tags, locations, and more. If anything, Day One's map view is the single greatest cinched: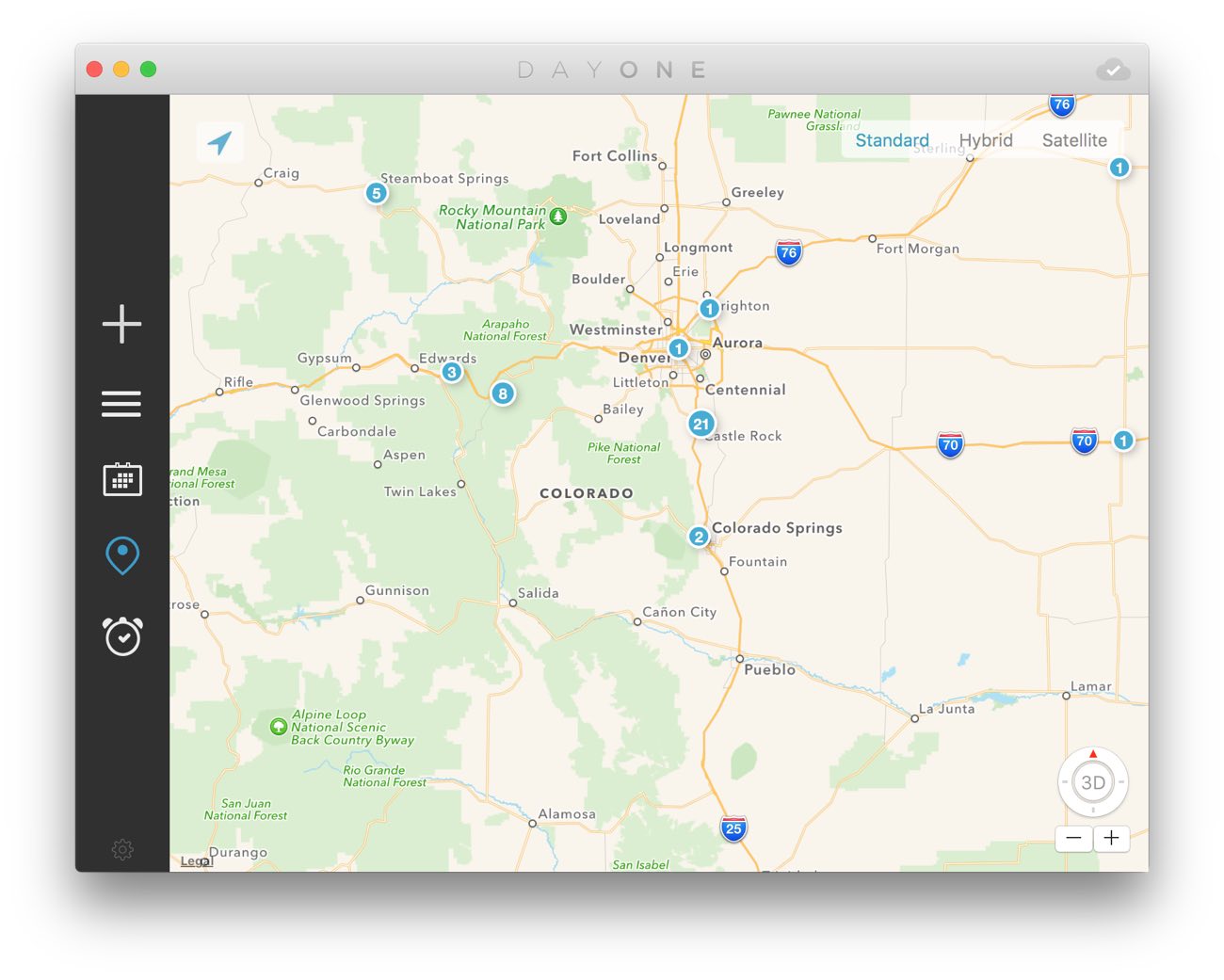 I've already written in-depth articles already for both apps, explaining what's in my Day One and what's in my Ulysses, but here's a quick summary…
In my Day One you would find…
Images, photos, screenshots, and even "scans" of notes from friends and pictures my kids drew.
A travel log, thanks to Day One geotagging your entries.
My productivity journal, where I recognize and reflect on the small and big wins of work and life.
Personal thoughts.
Reviews of books, movies, drinks, and the like.
In my Ulysses you would find…
Ideas for blog posts, articles, newsletters, and the like.
Articles that are ready to be edited and published.
Research, notes, highlights, and takeaways from books I've read.
Current projects in process (such as a workshop I'm putting on in September, an upcoming new email management course, and even the Learn Ulysses tutorials that we're shipping next week).
An archive of everything I've written and published.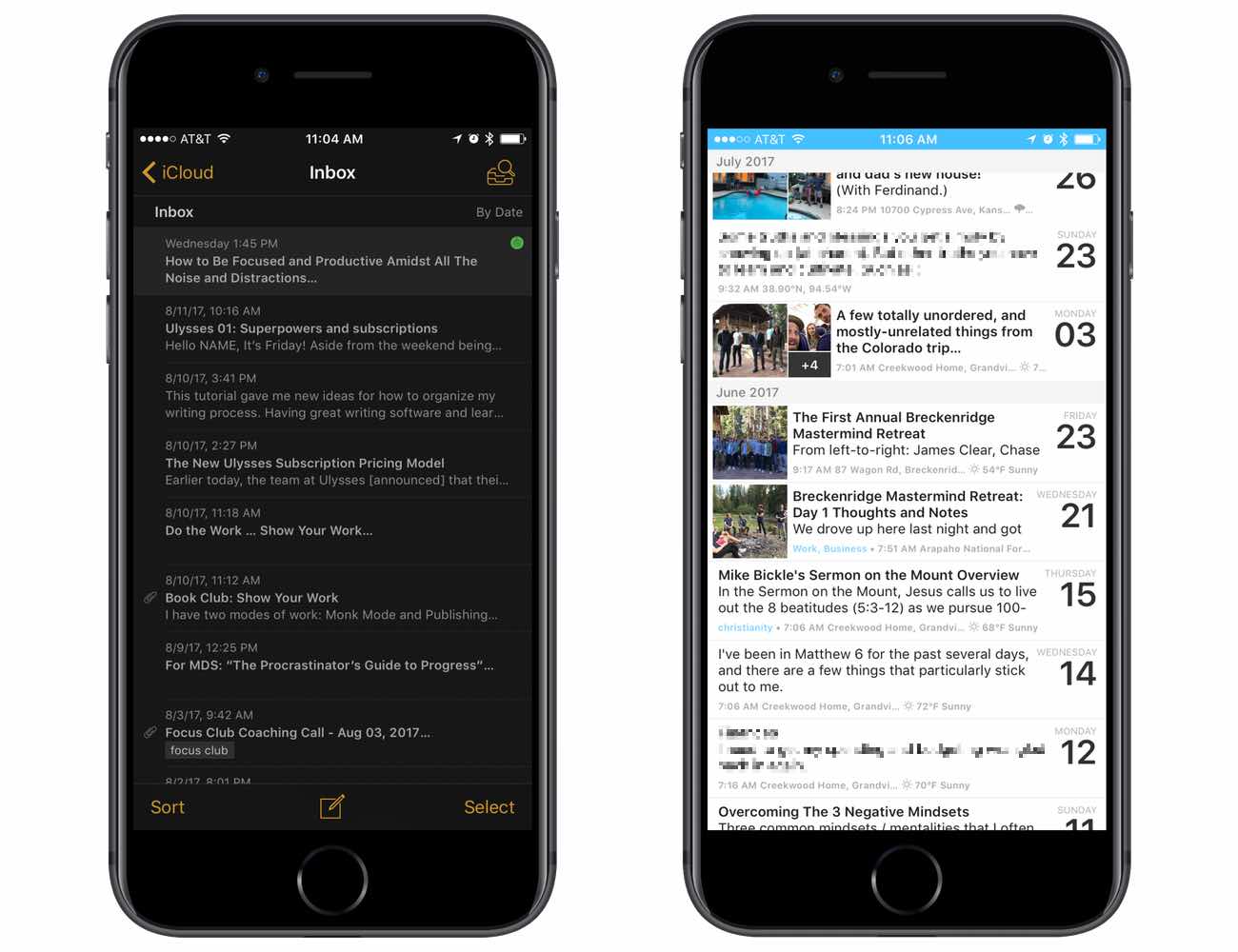 To come back around to the question, the obvious answer is that, yes, you could use just Ulysses or just Day One for all your writing and personal journaling. But I wouldn't want to, and you may not want to either.
Why? Because if you keep a written journal with any regularity, there are so many advantages to using Day One for that purpose. And if you write and publish and take notes at all, there are so many advantages to using Ulysses for that purpose.
Ulysses is excellent for focused writing and organizing your thoughts. It's also great for compiling and organizing the ancillary stuff of ideas, inspiration, notes, etc. And, obviously, Ulysses is an excellent writing app in and of itself — it even lets you customize your writing theme with a light mode and dark mode, and other syntax colors, and even custom typefaces.
Day One is excellent for capturing your photo- and text-based journal entries. And since it automatically logs the time and location of those entries, it makes them all the more relevant and memorable when returning to them later.
Ulysses is for creating and exporting. It's for works in progress that you plan to put out there. It's a place to do the work and then publish that work.
Day One is kind-of the opposite. It's a place to store and keep your personal thoughts and memories. One is a platform, the other is a safe.
---
Long-time readers know that I am a big fan of apps that do one thing well. Both of these apps are the best of the best at what they do. And thus, in that way they are similar. They are both well-designed. They are both high-quality and show an obvious attention to detail. They are both simple and useful, and even have best-of-breed versions that sync across iPhone, iPad, and Mac.
By now, hopefully you've got enough of an idea about how these apps work that you can decide for yourself if one or the other suit your needs. If you want to know more about how to get the most from each of these apps we have an in-depth guide to Day One and an upcoming course to help you Learn Ulysses.
At the end of the day, there is no harm in giving one or the other (or both) of these apps a shot and seeing how they suit your needs, quirks, and workflows.
If you have more questions, don't hesitate to hit us up on Twitter: @thesweetsetup.
---
Stop losing your ideas and notes to multiple apps…

An online course to help you save time, organize your notes, and master the best writing app for Mac and iOS: Ulysses.
---