Tweetbot 4: A Huge Update to Our Favorite Twitter app for iPhone and iPad
October 1, 2015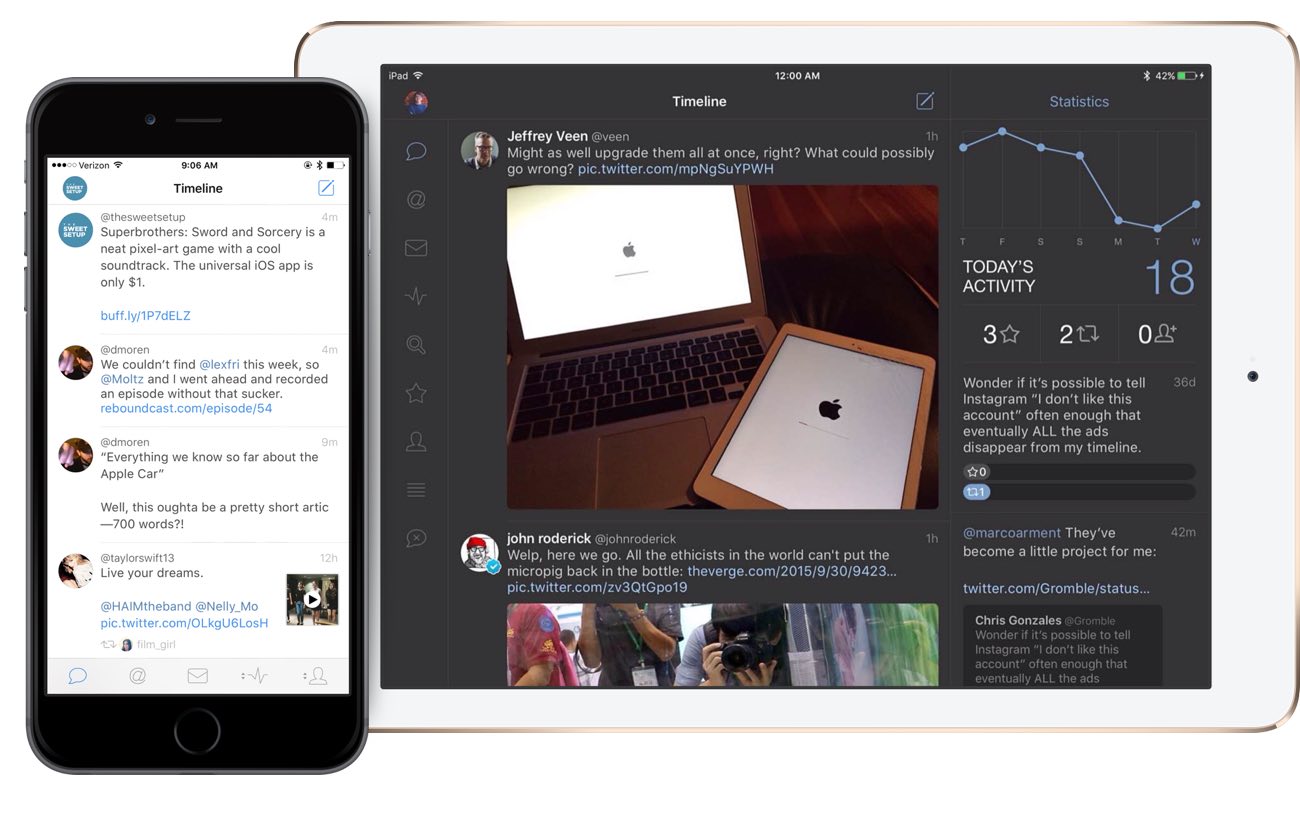 Folks, the wait is over. Tweetbot 4 for iOS is finally1 here, and we couldn't be more excited to tell you about it.
The new Tweetbot is a universal app, and it brings some significant changes to both the iPhone and, yes, the iPad. Tweetbot 4 is a paid update — $10, but on sale at launch for just $5.
Why do I say "finally"? Well, it helps to first understand that: (1) my primary device is an iPad; and (2) I spend a lot of time reading Twitter — it's where I get most of my news, and it's how I stay up-to-date on what my online friends are up to. Tweetbot 3 for iPhone, released nearly two years ago, has made this a joy to do.
However, the last major update to Tweetbot for iPad was in April 2013 — ah, the heady days of iOS 6 — with only a handful of minor fixes after that. iOS 7 and 8 came and went without an update in sight, which meant not only retaining that shiny, candy-like design years after everyone else had abandoned such things, but also not having access to core iOS features so many other apps had immediately taken advantage of. (Share sheets, anyone?)
Meanwhile, Twitter continued adding new features to their own platform, none of which Tweetbot for iPad could take advantage of until now:
The ability to properly view certain pic.twitter.com links, such as videos, gifs, or multi-image attachments.
Being able to preview tweet links as inline quotes.
Support for longer direct messages.
Needless to say, it's great to see the Tapbots team turning their attention back to the iPad.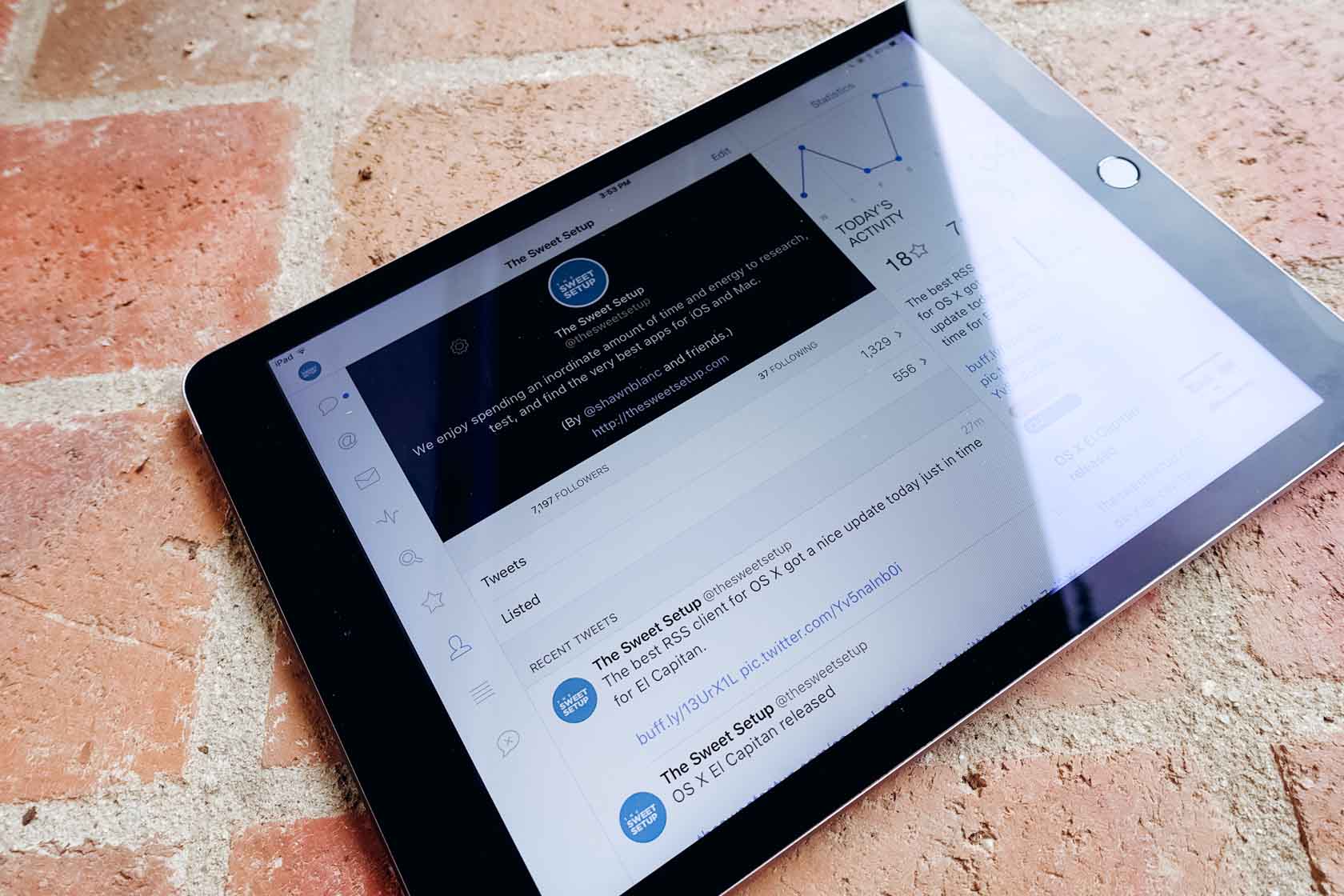 What's New?
Tweetbot 4 is a $10 universal app (on sale for $5 during launch) and a separate purchase from previous versions.
The upgrade from Tweetbot 3 → Tweetbot 4 on iPhone isn't nearly as drastic as the iPad's upgrade from Tweetbot 2. We will mainly focus on the iPad version of TB4 in this post because that's what has us most excited right now. If you're an iPhone user, there's plenty for you to like about this release, though, including a new landscape view for 6 Plus/6S Plus users.
Now, onto the new stuff…
The first difference is the app icon — it's been slightly modified from the icon Tweetbot 3 for iPhone has been using, mainly to be a tad flatter and brighter. It suits iOS 9 well.
Open the app for the first time, log into your Twitter account (or add any accounts you've already set up within iOS), choose whether or not to follow @tapbots or @tweetbot for support (if neither, tap "No Thank You" at the lower right), and then you'll be taken to your timeline.
Right away you'll notice how different the new interface is, right down to the new San Francisco typeface introduced with iOS 9. (Avenir is still available in settings, if you prefer it.)
For comparison, here's the old Tweetbot for iPad: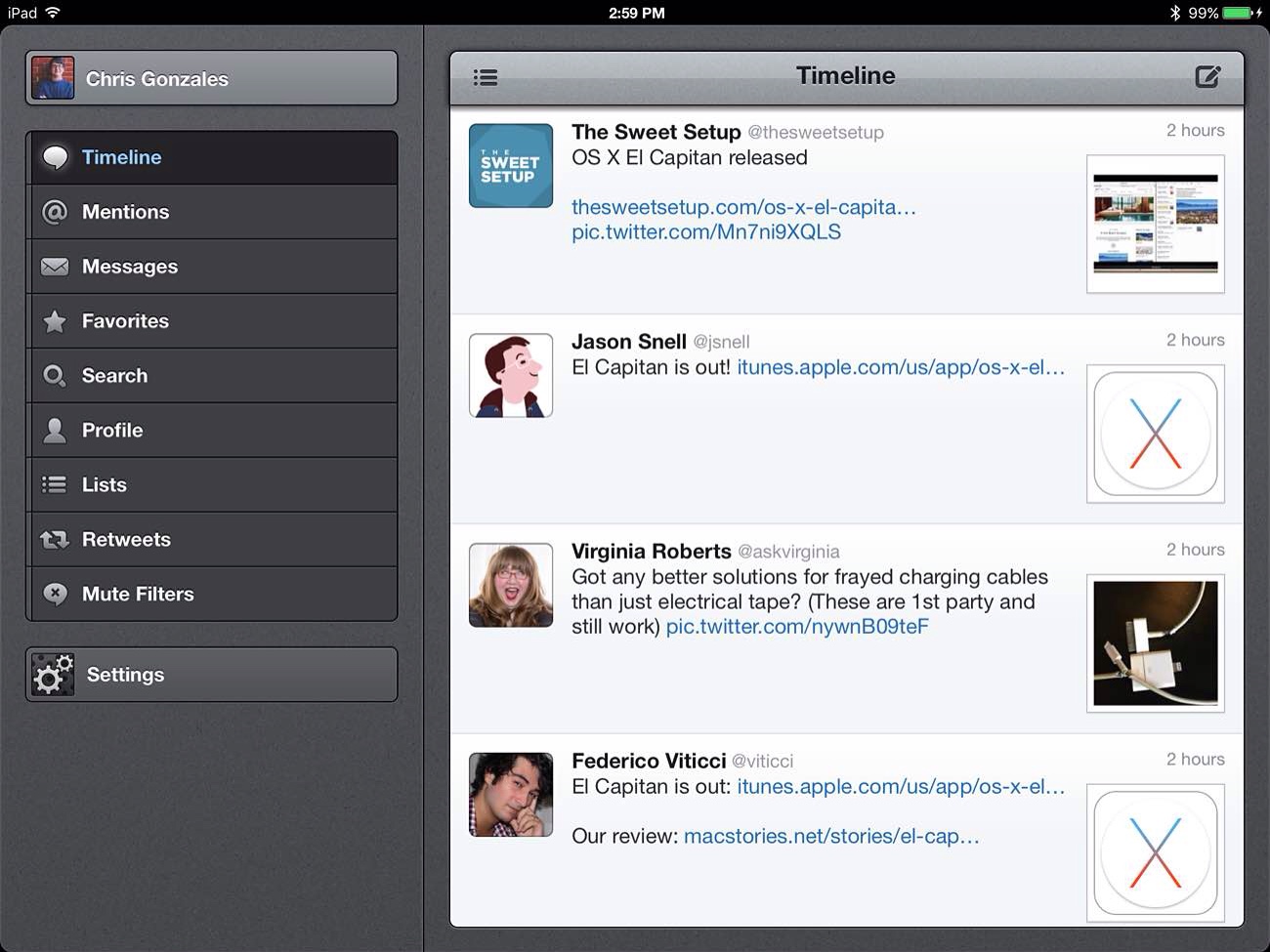 Now, behold Tweetbot 4 on iPad: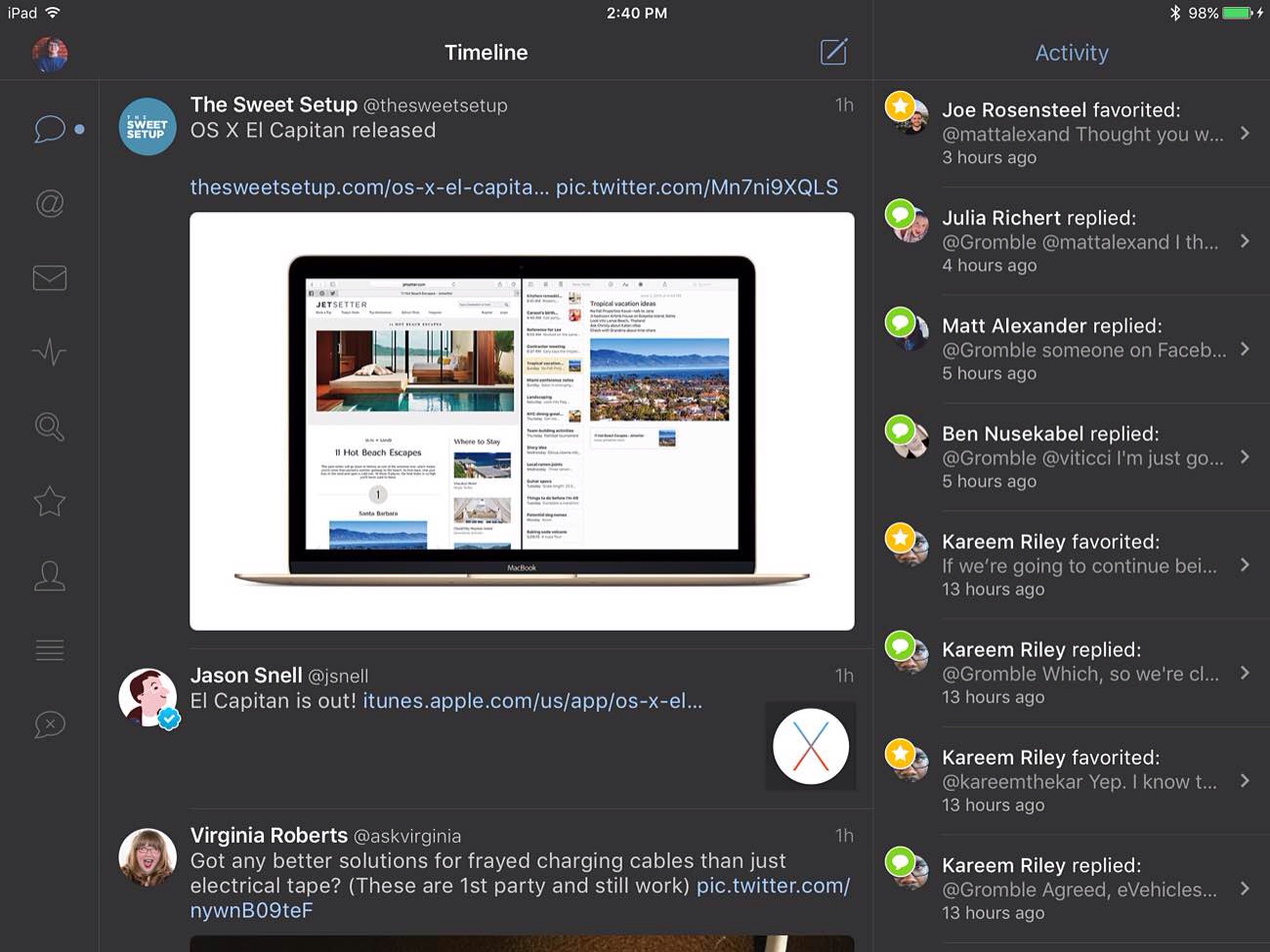 Gone are the iPad app's days of textured backdrops, drop shadows, and button gradients. In their place is the same gorgeous landscape of thin lines, flat surfaces, and solid colors that the iPhone app has had for the past two years. It's everything we've wanted the iPad version to be ever since iOS 7 shipped.
Side note: Most screenshots showcase Tweetbot's dark mode simply because I prefer it, but here's a look at light mode: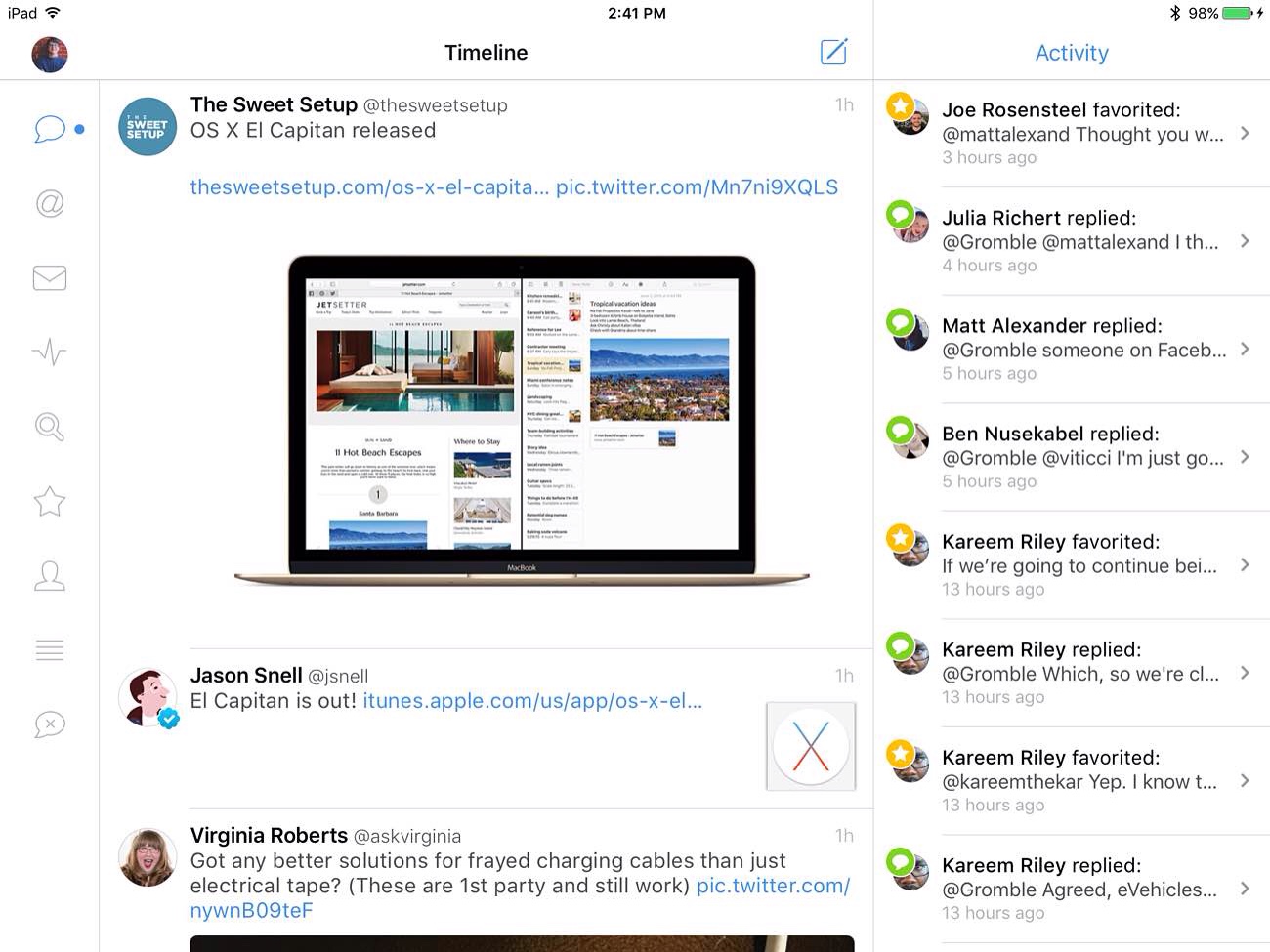 Tip: As with Tweetbot 3 for iPhone, you can easily toggle between light and dark modes by swiping up or down with two fingers — like flipping a light switch. Up for light mode, down for dark mode.
Now, notice that the left navigation bar has shrunk to a column of icons without text labels. In landscape mode on iPad and iPhone 6/6s Plus, this leaves room for a big new feature: An always-visible right-hand pane that, by tapping on the name at the top, can be set to display: (a) your mentions stream; (b) one of your saved searches (iPad-only); (c) one of your Twitter lists (iPad-only); or (d) one of Tweetbot's two new tabs: Stats and Activity.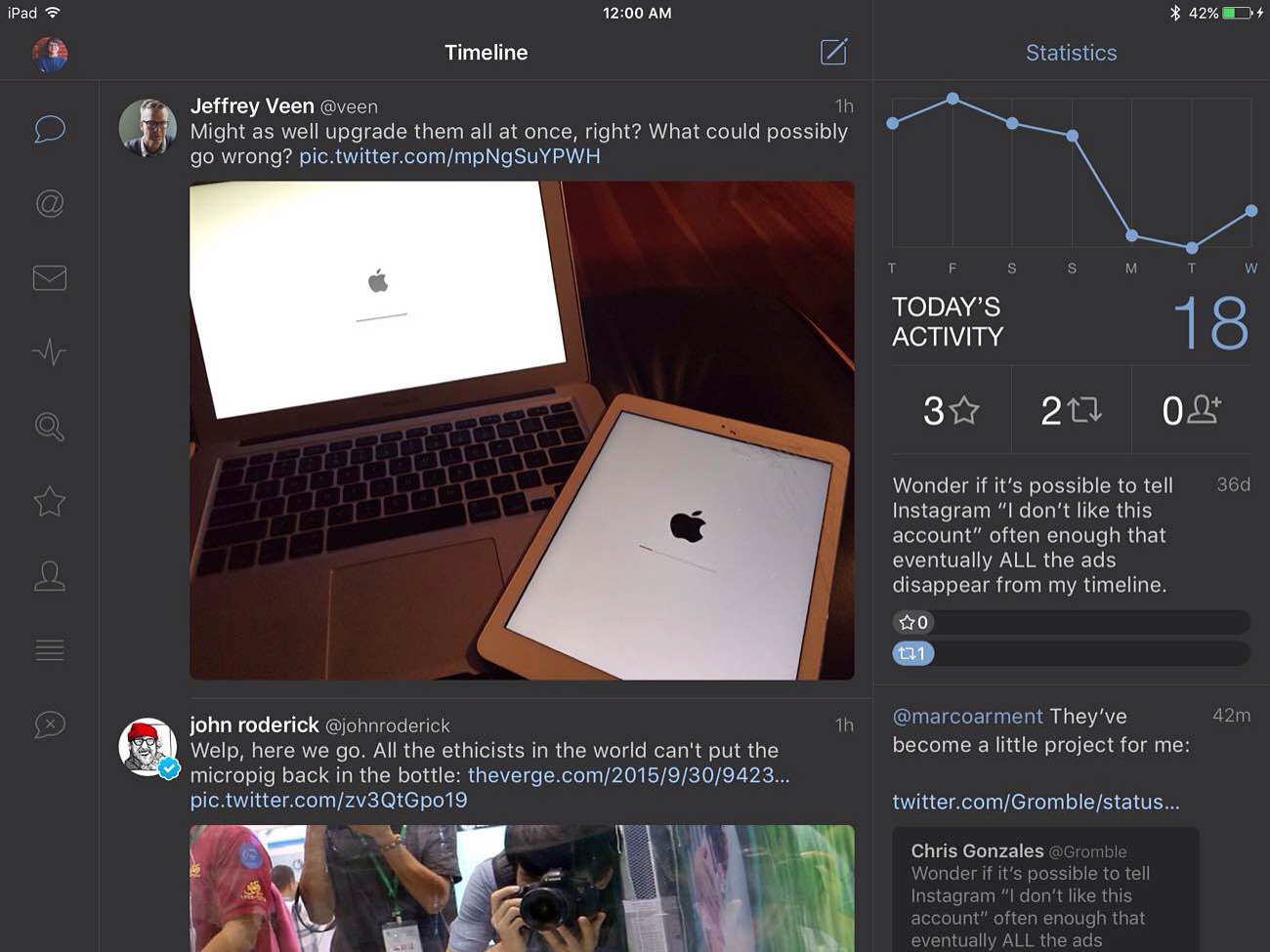 While it's a little frustrating that this second pane doesn't offer the same customization both on iPhone and iPad, it's a small space on the iPhone, and I'm sure the developers had to make a decision about what was feasible to show there on the iPhone.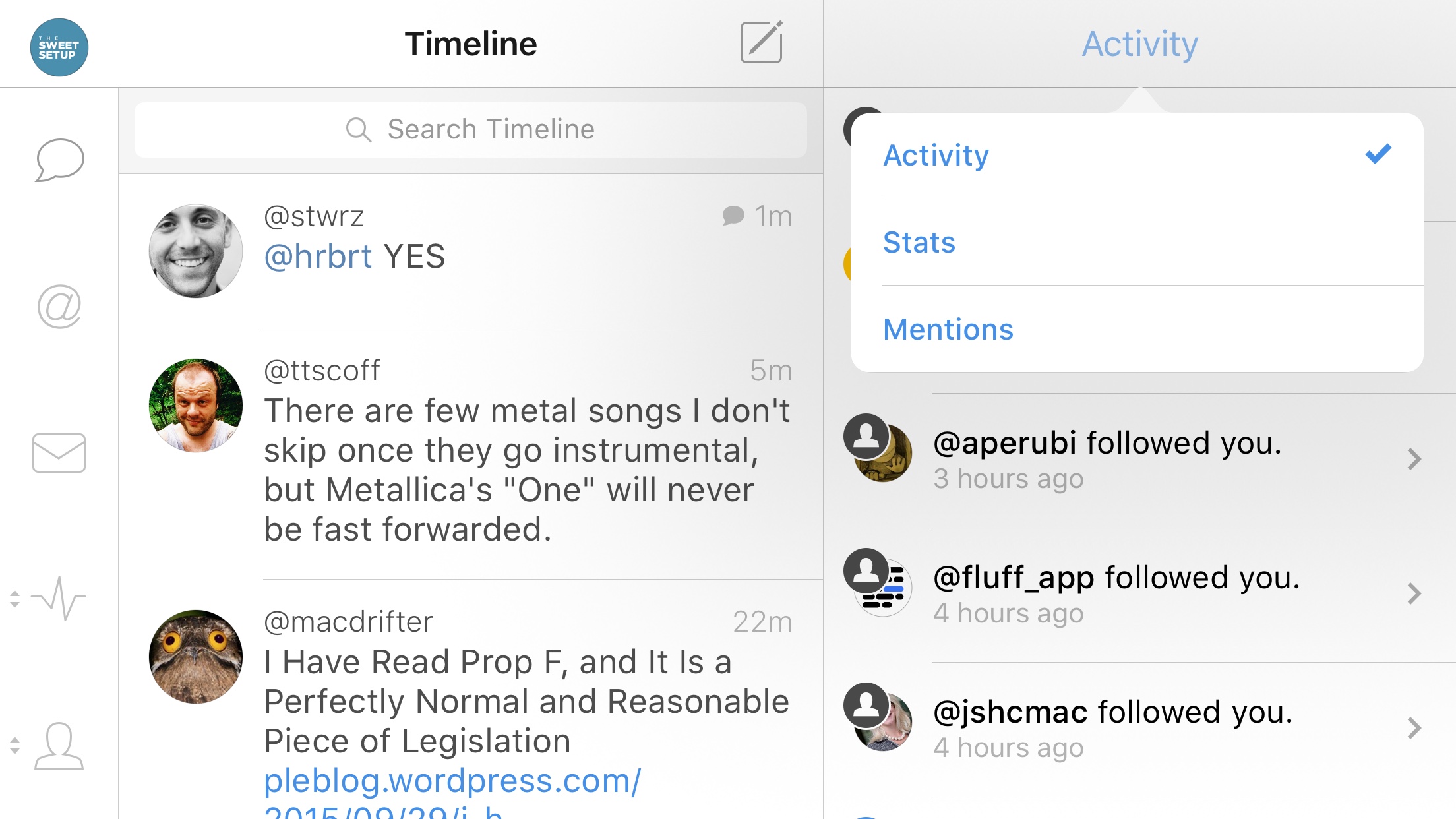 Stats provides a lovely way to view how well you've been tweeting, so to speak. Here, you can check how many favorites, retweets, and followers you've gotten today, as well as individual favorite/retweet stats for your last 99 tweets.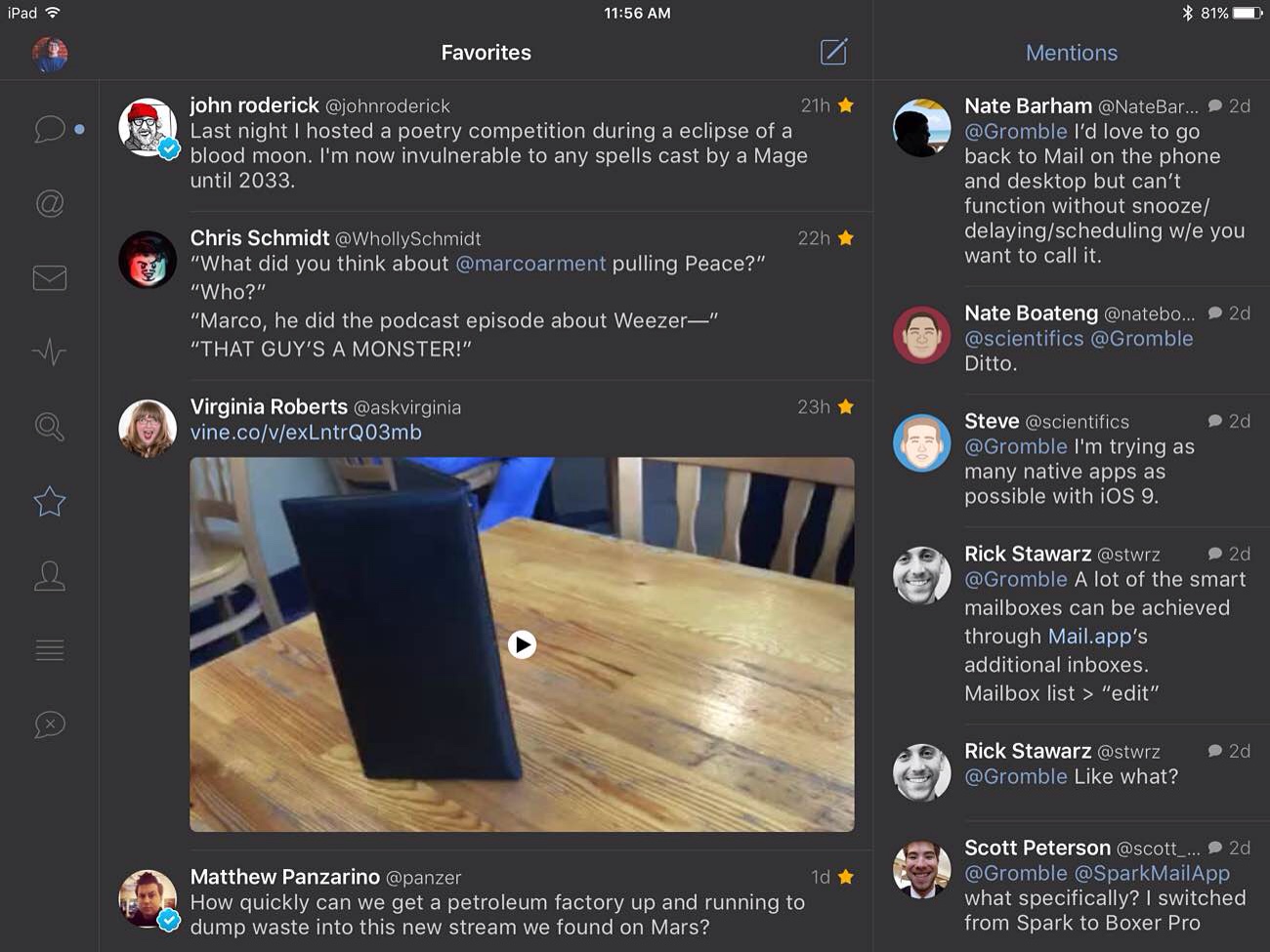 Activity is basically a simplified form of Twitter's Notifications tab. It shows you, in reverse-chronological order, who has recently followed you, replied to you, or interacted with one of your tweets. Tapping one of the latter notifications opens that person's profile rather than the tweet they favorited or retweeted, which I find odd.
The only thing this view seems not to display (relative to Twitter's Notifications tab) is when someone adds you to one of their Twitter lists.
Tip: Tap-and-hold any user's avatar — including those on the Activity tab — to bring up advanced options for that person (such as direct-messaging them, following them, or reporting them for spam) or to quickly see whether or not they follow you.
As you read your timeline, you'll eventually notice that links now open in iOS 9's new Safari View Controller, which has also been implemented by apps like Instapaper. While this is great in that it presents a simple and secure web view for users — one which app developers can easily implement without having to custom-code their own solutions — it does have its limitations:
No support for 1Password as of yet. On the bright side, of course, is that saved passwords in iOS can still be auto-filled, and, if you must access something in 1Password, you can always bounce the page to Safari.
I had hoped Tweetbot would play YouTube and Vimeo videos natively, but they are instead opened as webpages in Safari View Controller. This is further complicated if you have either of those video apps installed; every time, a pop-up dialog asks if you'd like to open the video in its respective app. Not a very seamless experience, something you rarely see in a Tapbots product.
For those of us who use external Bluetooth keyboards with our iPads, one new feature in particular is worth rejoicing over: Keyboard shortcuts! As in other apps, holding the CMD key (⌘) for a few seconds will display a list of available shortcuts. In Tweetbot 4, ⌘+N lets you compose a new tweet, while ⌘+[1–9] opens the app's various tabs (⌘+1 for Timeline, ⌘+3 for Direct Messages, etc). My hope is that they'll one day add a ⌘+F shortcut that brings up the current view's search bar.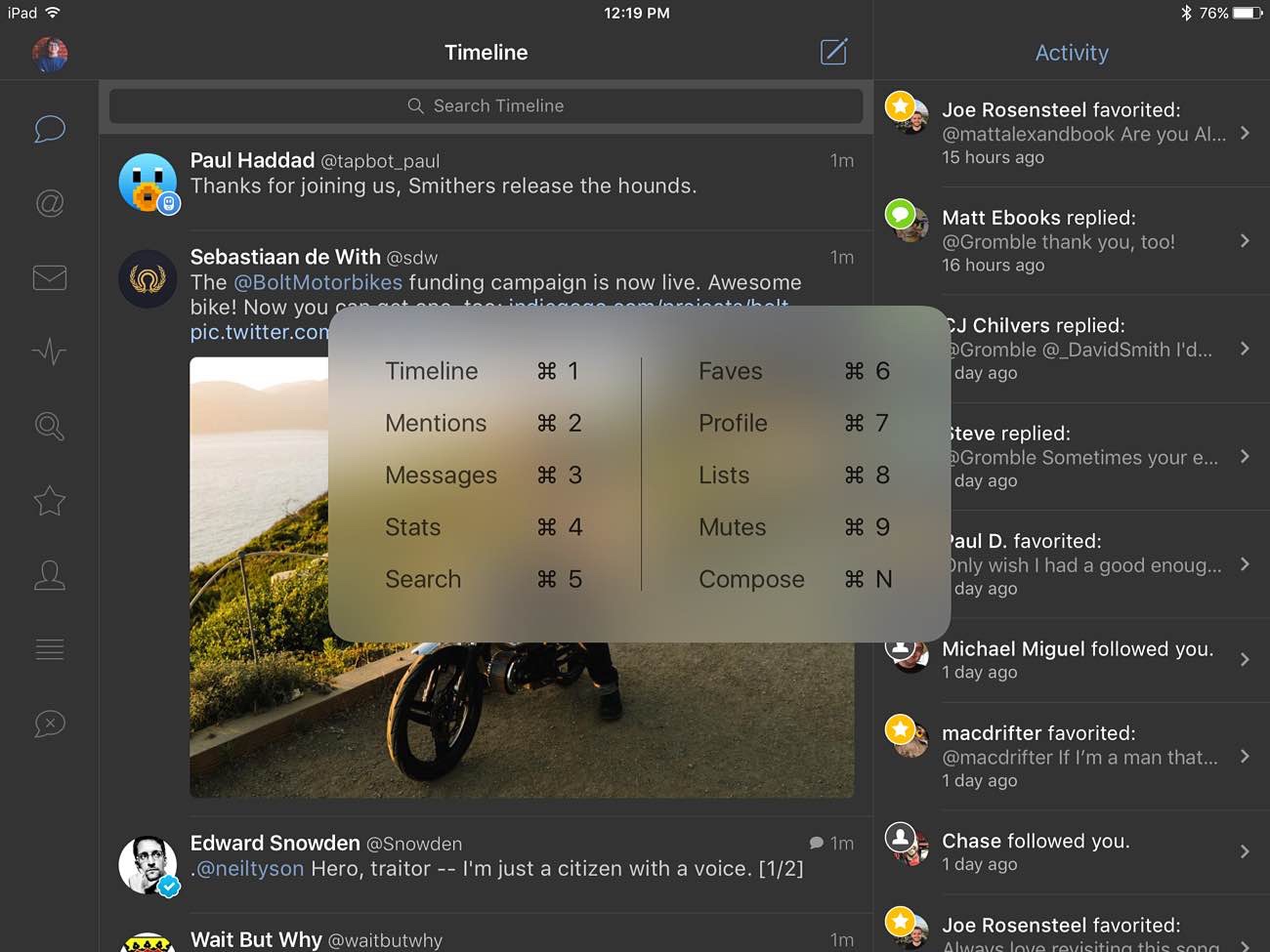 Images
You can now attach up to four images in a tweet. When creating a new tweet, simply tap the images you want to attach, in order, while viewing your recent photos. If you tap Choose from library, you can select another photo folder to pull from, but this comes at the expense of being able to select multiple photos at once.
Additionally, if you open an image from someone else's tweet, and then tap-and-hold it, you'll get four options: Save Image, Copy Image, View Website, and Tweet Link. Tapping and holding an image directly from the timeline view brings up the standard iOS share sheet.
Delight is in the Details
Though there are plenty of new features to drool over, it's the little details that often make Tweetbot so nice to use. Here are a few interesting details we've noticed over the past few days using the app:
When viewing a tweet's "Detail" page, replies now appear below that tweet in chronological order, while any previous tweets — if the one you're viewing is part of a conversation — now appear above it in reverse-chronological order. This is essentially the reverse of the old Tweetbot, and takes a little getting used to.

While viewing your own profile on iPad, you can now scroll the top area (header, bio, etc) away, rather than it constantly taking up half the screen. [Thunderous applause fills the air for several minutes.]

Profile pages now show a user's recent tweets, sans @mentions for the most part — a feature I've long wished for. And, unless you're already following that person, you'll see a row of eight common followers you share with them. With these features you can quickly assess whether someone might be interesting enough to follow.

Muting someone on iPad now immediately removes that person's tweets from your timeline, á la Tweetbot 3 for iPhone. [More thunderous applause.]

There's a new "Short right swipe" setting that allows you to favorite or retweet something by, well, swiping it just a little to the right. Swiping a little further right lets you reply to the tweet, like in previous versions of Tweetbot. As always, swiping left brings up the details page for that tweet.
Tip: Swipe right on the timeline header bar to cycle through your accounts, if you have more than one. Swiping left in this way has no effect.
Nitpicks
As much as we love the new Tweetbot 4, no app is perfect. In addition to the handful of nitpicks already mentioned in this post, here are a few things we would like to see Tapbots take a look at:
It's not always clear which timeline tab you're looking at, especially when you're several levels deep. The active tab's icon is highlighted in blue, but only its outline. It would be far more visible at first glance if the entire icon filled in blue, or even shone a little brighter than it does now.

This is somewhat less of an issue on iPhone, where there are only 5 tabs visible at a time. On iPad, however, that 9-icon column is more difficult to parse.

In my tests, trying to copy a given tweet's link from its toolbar share button fails every single time. Tapping and holding the tweet itself to bring up the share sheet is the only way I've been able to make it work.
The Best Gets Better
With the awesome update to Tweetbot, the app remains our pick as the best Twitter app for both iPhone and iPad.
You can get Tweetbot 4 today. It's now a universal app and is available on the App Store for just $5.
---
A well-deserved "finally" in our opinion. ↩