The iPad Setup of Chris Gonzales
December 9, 2013
Every week we try to post a new interview with someone about what software they use on their Mac, iPhone, or iPad. We do these interviews because not only are they fun, but a glimpse into what tools someone uses and how they use those tools can spark our imagination and give us an idea or insight into how we can do things better.
New setup interviews are posted every Monday; follow us on RSS or Twitter to stay up to date.
* * *
Who are you and what do you do?
My name is Chris Gonzales. I live in Oklahoma City with my wife Chelsea — an Irish dance instructor who runs her own school — and our nearly-two-year-old son Brendon.
I'm mainly known for my site Unretrofied (now The Spark Journal), where I write about things like creativity, writing, mindfulness, craftsmanship, and things that delight—with a splash of geekery thrown in for good measure. I occasionally interview people there.
I'm also a daily contributor over on Tools & Toys, which is a sister site to The Sweet Setup.
Which iPad do you have?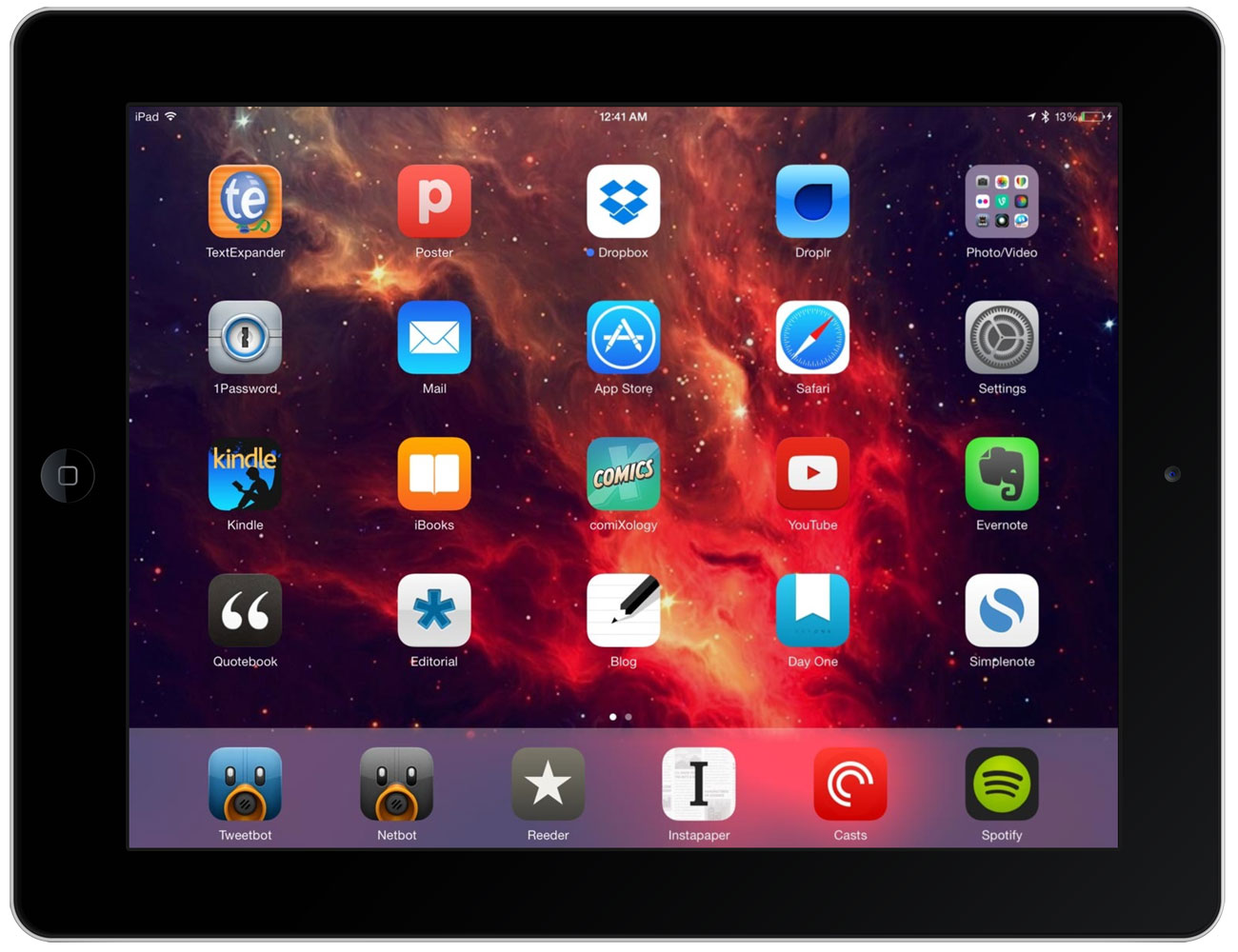 Mine is the fourth-generation iPad with Retina display, which is a bit of a mouthful so I simply call it the iPad 4. More specifically, it's the 16GB non-cellular model, meaning I run out of storage space a lot and I'm basically sunk without a WiFi connection.
How are you using your iPad on a daily basis?
I'd split my daily iPad use into three primary camps:
Reading: Like most people, I read through my Twitter timeline (and the interesting links that I find along the way), I go through my RSS queue, I check email, and that sort of thing. I also enjoy reading eBooks and comic books.

Writing: My iPad is my workhorse — I do 99% of my writing and publishing from it, something the iPad is surprisingly well-suited for. I also keep a journal and do some general note-taking.

Entertainment: I listen to a lot of podcasts and music, and sometimes I procrastinate from writing by kicking back and watching too much YouTube. As you do.
I hope to add podcasting to this list someday, especially now that I know it's possible to do it from an iPad — recording, editing, and all.
What apps do you use the most, and why?
Now that's a loaded question. I feel like I bounce around so many apps all the time. It's too hard to leave any out, so I'll try to quickly talk about each one.
Twitter: I flip between Tweetbot and Twitterrific 5. Tweetbot is easily the best Twitter client around, and it would be my only choice if Twitterrific 5 wasn't so darn pretty.

RSS: I've been a Reeder devotee for years, and I don't see that changing anytime soon. I've tried several competitors but I don't think they compare in terms of usability and design. My RSS service of choice at the moment is Feed Wrangler.

(I should note here that many interesting articles I come across in Tweetbot or Reeder get saved to Instapaper for later reading. Sometimes it's nice to brew a cup of coffee, curl up in my favorite chair, and go through my Instapaper queue. If an article is particularly intriguing to me, I save it to Pinboard.)

Email: For a long time, I was actually using Gmail's iOS app over Mail.app, but I've since switched back to Mail and I'm very happy with it. Why the switch? Well, it's a lot more powerful today than it was when I stopped using it a long time ago.

eBooks: I mostly buy and read books through the Amazon Kindle app, but some cases call for an iBooks store purchase, such as David Sparks' Field Guide series.

Comics: Comixology, all the way. It's got the reading experience down, with an integrated store that I find very easy to navigate. I see no reason to use any other comics app. In fact, it has replaced any desire for me to purchase physical comics.

Writing: My primary writing app at the moment is Editorial. This thing is unbelievably powerful for an iOS text editor, with its built-in web browser and the ability to store and trigger all kinds of complex workflows. Some examples of these workflows:

Post to WordPress.
Convert an entire document from Markdown to HTML and set it to the clipboard.
Take a highlighted portion of text and convert it into a Markdown-style list.

The list just goes on and on. I mean, this is an incredible app and I can't imagine working without it. (I know, I promised to keep each description brief but Editorial deserves some special attention.)

For journaling: There is no other option for me than Day One. I'm currently in the middle of writing a review of the latest version for Unretrofied, so rather than spoil anything here, I'll just say that I agree with The Sweet Setup's review.

For notetaking: I use a combination of Simplenote and Evernote. For more info, see my Simplenote review.

Podcasts: I was once an ardent Instacast fanboy, but after iOS 7 was released, I found that the new version of Pocket Casts was more to my liking. Obviously, I had to write a review about it.

Music: I have a little of my own music synced onto the iPad, but the vast majority of my listening happens in the Spotify app. It only costs me $10/month to have access to an incredibly large library of music, all of which I can organize into playlists as I please and save offline for those times I'm without internet. I also hop on Pandora once in a while, mainly when I'm looking for new music to check out.
Which app could you not live without?
You're asking me to choose just one app? Oh man. I guess I'd have to say Editorial.
* * *
There are more Sweet Setup interviews right here.