Shawn Blanc's iPhone Home Screen, Summer 2020 Edition
June 29, 2020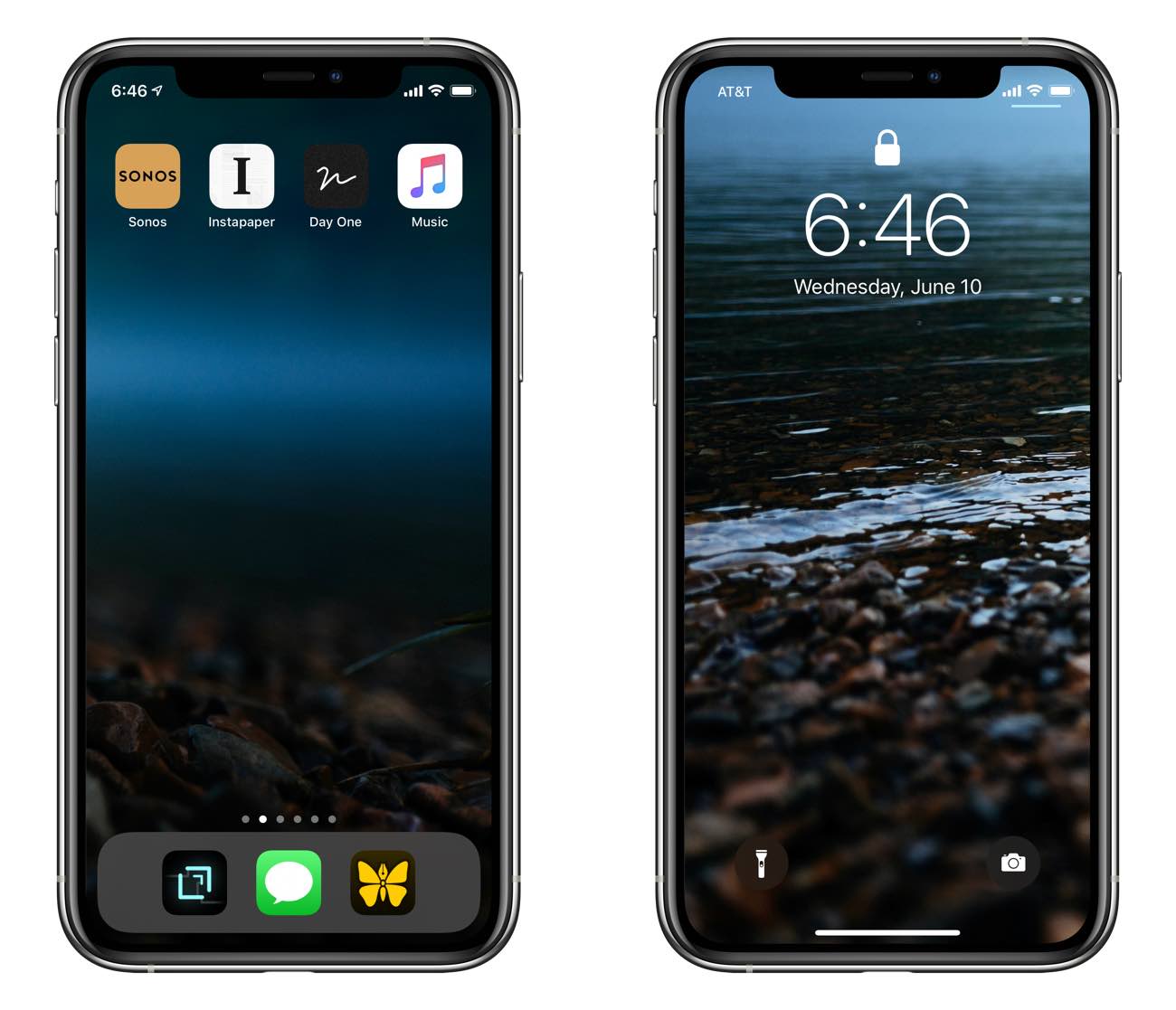 My current iPhone Home and Lock Screens. No widgets… because I haven't put the iOS 14 beta onto my daily driver phone (yet).
Several months ago, I took all the apps on my Home screen and moved them over by one so that my first Home screen was blank. While the totally blank first Home screen was nice, but it didn't stick…
For one, a Home screen without any apps is a bit more aesthetically pleasing, but that's not really the main point.
A blank first Home screen helped with turning my phone off. You see, after I am done with an app, I always swipe up and the up again to exit the app and return Home. This meant I'd return to a blank screen.
Also, it helped me be a bit more intentional about the apps that I open. When unlocking my iPhone, I would often begin at that first, blank Home screen. From there, I'd have to think about what app I wanted to open up.
In practice, over time, though, it didn't seem all that great to have a blank first Home screen.
So now I'm trying something similar but different.
I've placed just a few apps on the first Home screen, none of which have inboxes or infinity pools.
For the next, potential, iterative change to this Home screen setup, I would bring over Basecamp, Things, and Carrot.
And in my iPhone Dock:
Drafts: I have long used two notes apps: one for all the heavy lifting (Ulysses) and one for quick notes and other bits of "throwaway" text. For a while, Bear served as the latter, but I'm giving Drafts a try again for about the first time since 2013. It's only been a few weeks, but one thing I like about it is how incredibly customizable it is. I still have a lot of things to dial in and customize to make Drafts suit me.

Messages: This app has been in the center of my iPhone Dock for as long as I can possibly remember, and it will probably stay there. It's my favorite social network, and one of my most-used apps. (I would love to see the option for alternative icons, and Siri integration with the ability to send voice messages to people the same way you can send text messages.)

Ulysses: This is where all my ideas, thoughts, writing, and notes happen. This is by far and away the most-used app on my iPad — I pretty much live in Ulysses over there. And though I don't use it quite so much on my iPhone, I certainly do use it. Especially for capturing ideas and notes… My only quibble these days with Ulysses is that it often takes 5-10 seconds to launch. Which is way too long when you want to quickly capture an idea or a thought or begin a new document.
The point of having less on my iPhone's most-used screens is that, for me, I just want to help myself be focused with how I use my iPhone.
---
The wallpapers are photos I made when out on a dam foggy camping trip last summer. You can get the lock-screen photo here and the home screen photo here.
Work From Home….
30% Off The WFH Course Bundle
Get our task and time management mini-course (All the Things (Analog)), plus with our Day One in Depth screencast course. This "WFH Bundle" is 30% off right now.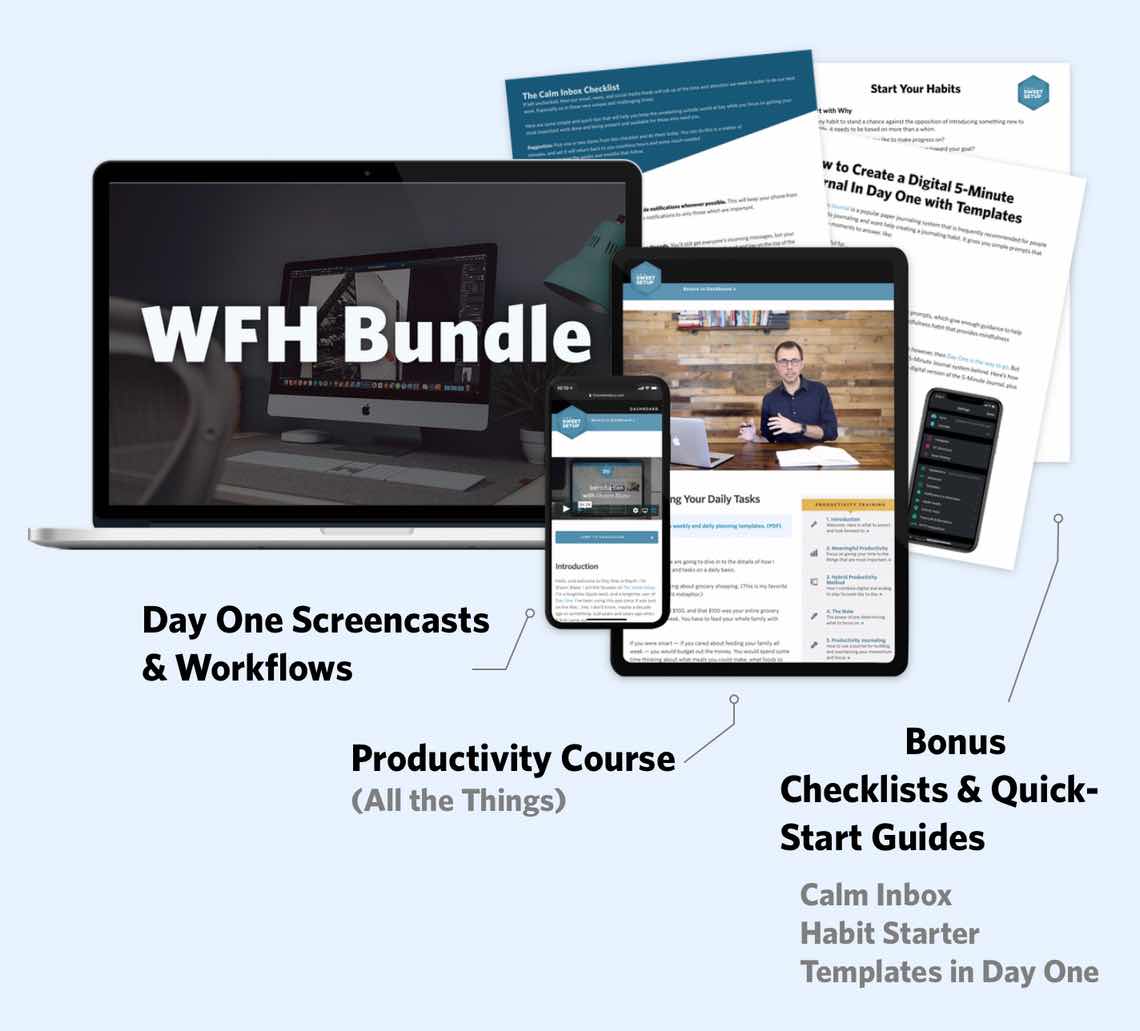 We'll show you…
How to schedule your day for maximum productivity in the least amount of time. This is especially helpful if you and your significant other are juggling responsibilities of kids and home life while also trying to do work.
Weekly planning and reviewing. A great way to get ahead of your upcoming week so you can be prepared and have a priority of what needs to be done.
Custom Productivity Templates: These are a few of the main PDF templates that you can print out or use on your iPad in order to follow along.
How to use Day One, the best journaling app out there: which can help with reducing stress and anxiety, celebrating your wins each day, and keeping a log of what is happening in life right now.
Bundle Bonus: The WFH Bundle also includes three bonuses: The Calm Inbox Checklist, the Habit Tracking Quick-Start Guide, and Using Day One templates for the 5-Minute Journal.
Normal Price: $68
WFH Bundle Price: $47 (You save $21)