A running list of the most notable updates to the best iOS apps
September 17, 2014
Today, iOS 8 is available for most iPhones and iPads. And many, many great app updates are shipping this week. Below, we're collecting a list of the most notable updates and the best new apps. We've also written brief descriptions of the updates so you can know what to look for.
This is a "living" post, so check in to see what's been added as new apps go live in the App Store.
You can follow us on Twitter as well.
Table of Contents
Here's a list of all the updates we've posted so far (14 apps plus a couple quick tops to let you know how to get the Notification Center widgets and the system-wide extensions working). Clicking one will take you to our short overview of what's new in the app. Clicking the (app) link will take you to that app's page in iTunes.
Widgets in Today view of Notification Center
One of the new features of iOS 8 is the ability for developers to offer widgets for the Today view in Notification Center. This is going to allow some great new functionalities for those apps that take advantage of quick input (like Evernote) or a quick glance at your to do list (like OmniFocus). iOS doesn't allow developers to turn those on by default, but the process to turn them on is really simple.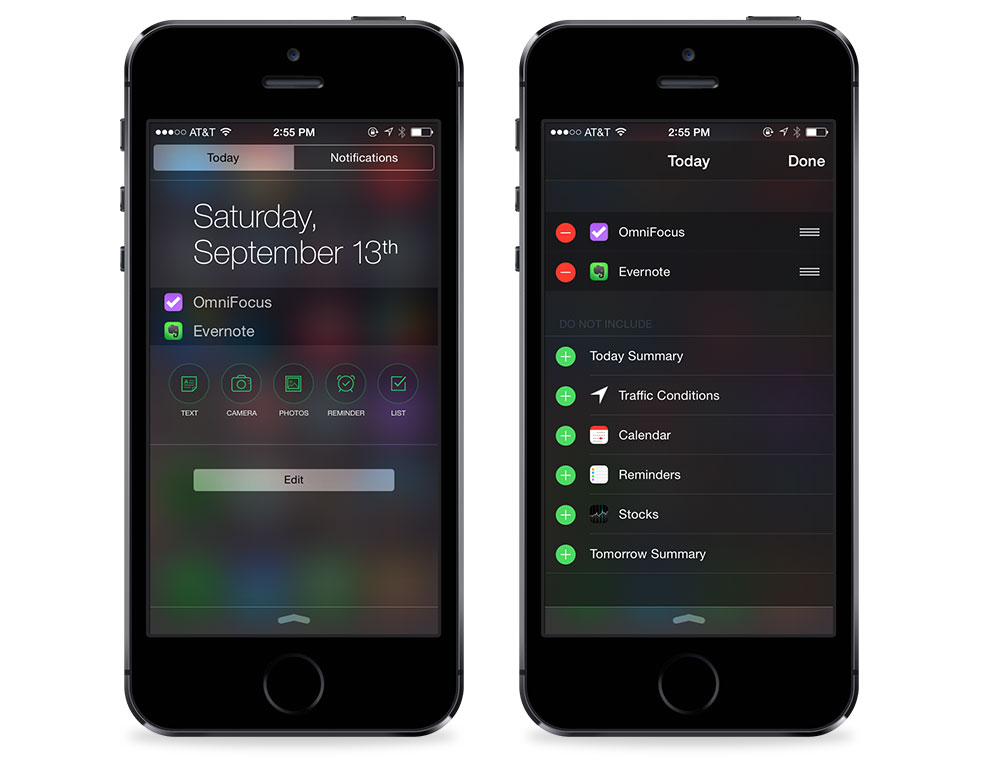 To enable a widget, pull down Notification Center and then switch to the Today view. Hit the Edit button at the bottom. You'll then see all of the apps that you have installed that offer widgets for the Today View. You can customize what apps will appear and you can also rearrange the order in which they appear.
Enable app sharing extensions
The ability for apps to share data amongst themselves is one of the great new features of iOS 8. A perfect example of this is using 1Password to log in to a secure website in Safari. Another example would be sending a PDF from Safari into a specific Evernote notebook. It's important to note that each app must have its extensions turned on (even after installing an update with extensions built in).
From any share menu, you can swipe to the More button on the top row. This menu allows you to manage which apps will be included in the sharing menu. This can include Twitter, Email, Evernote, etc. You can flip them on and off and reorder them.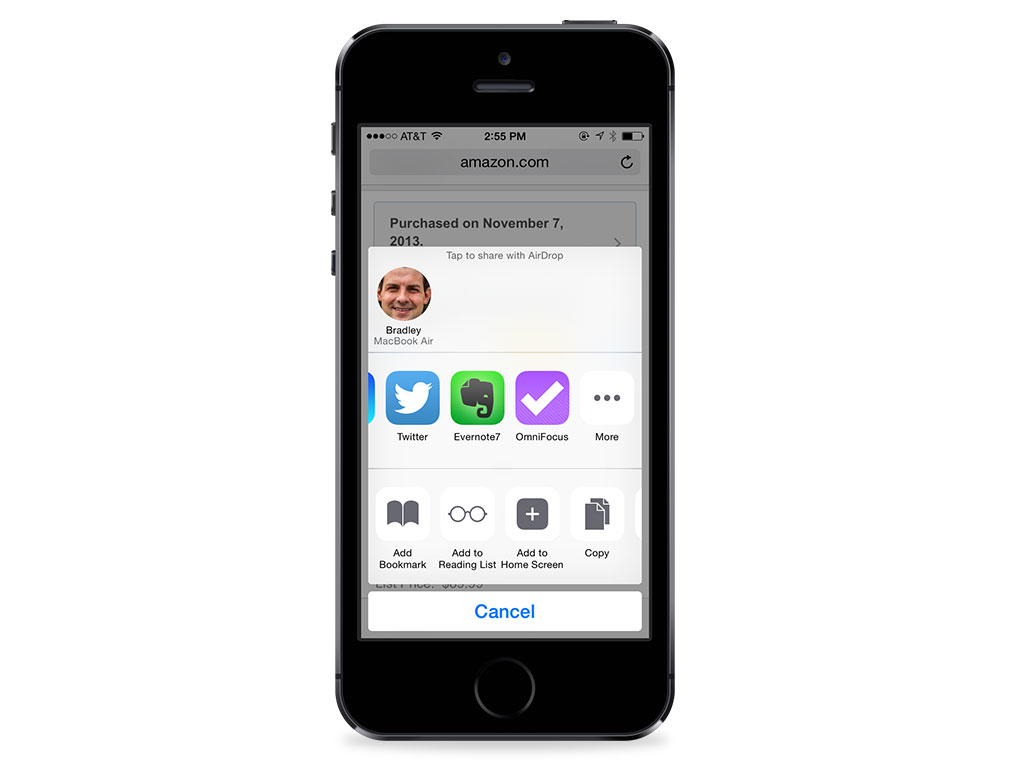 On the second row, you can manage extensions that can interact with the app you are using. This is where the 1Password extension will be useful with Safari. They are turned on and off using the More button at the end of the row.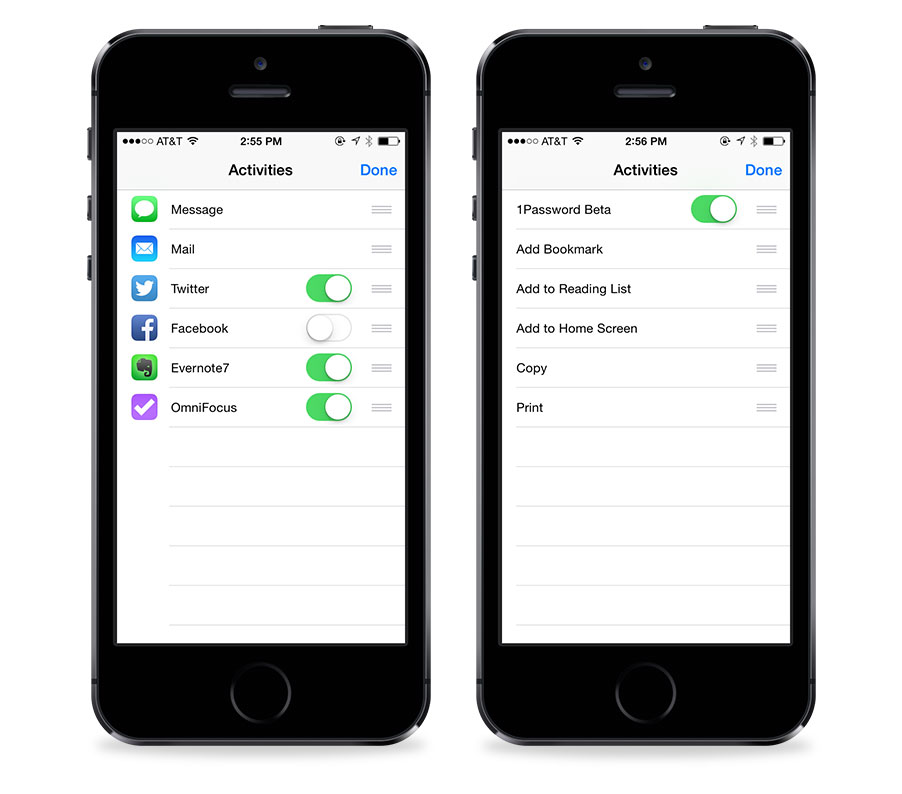 The Omni Group is one the longest running Apple developers in history. Founded in 1989, they've gone through a number of shifts in the Apple ecosystem. Since the birth of iOS, they've been at the forefront of high quality and premium apps. With iOS 7, they released OmniFocus 2 for iPhone. Now they've released an update to OmniFocus for iPhone that takes advantage of some of the new iOS 8 features.
OmniFocus Sharing Extension
If you are in Safari on iOS, you can tap on the share sheet and send the website to an OmniFocus task, though you'll need to enable OmniFocus on the share menu first. You'll also be able to assign a project and/or context, or just send to your inbox.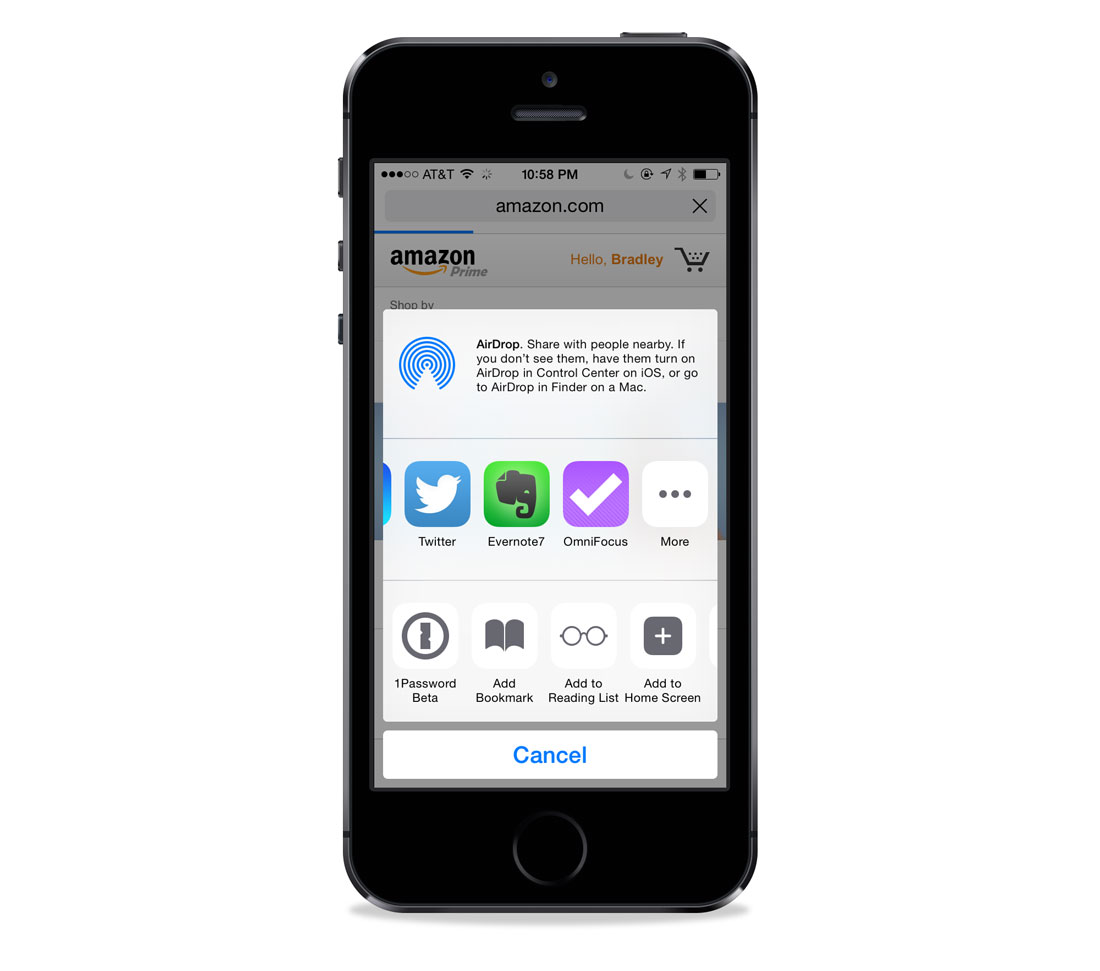 The OmniFocus Today View Widget
OmniFocus also has the option of displaying your due items as a widget in your Today view screen inside of Notification Center. This will be great for quick glances at your tasks that are due today.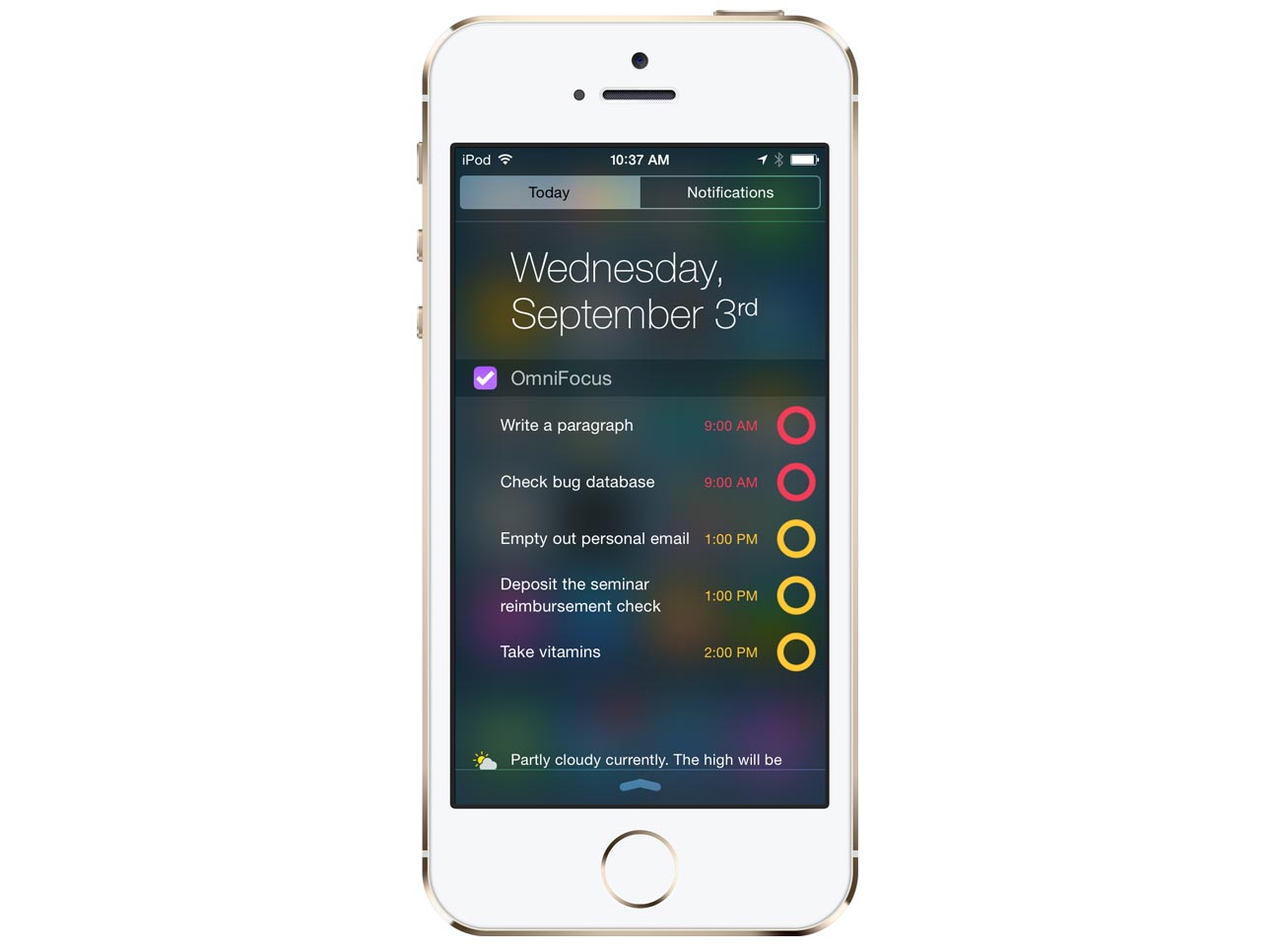 PCalc »
PCalc is the best professional-grade calculator on iOS. If you want a calculator that has lots of power features but values its user interface above all, you'll want PCalc.
New today is PCalc version 3.3, and with it comes a slew of fantastic new features. For one, PCalc has been updated to work on iOS 8 and to be optimized for the new larger screens of the iPhone 6 and 6 Plus. It also supports Handoff, so you can continue your current PCalc calculation on another device. And there is a Widget which puts a basic calculator into Notification Center.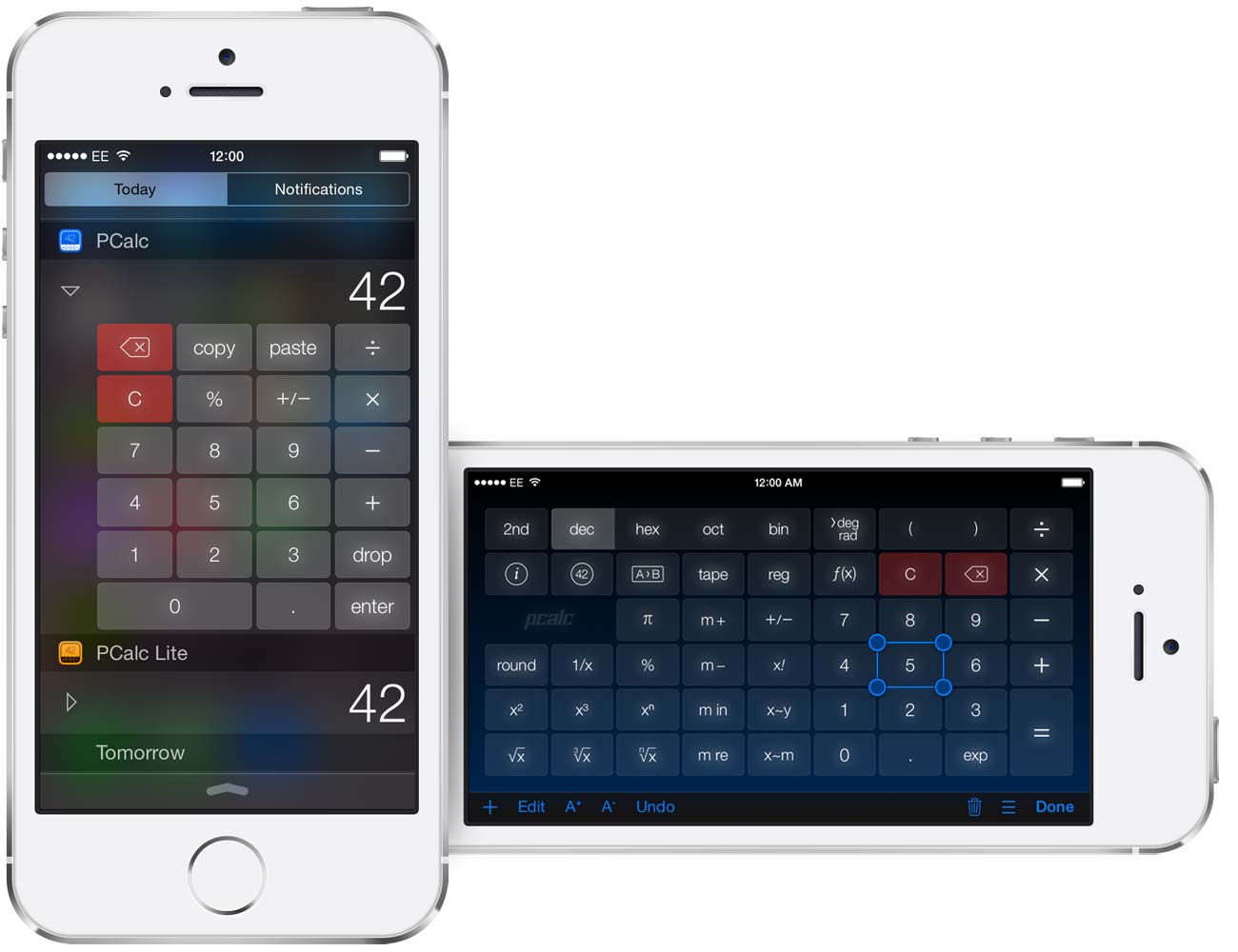 Additionally, PCalc now allows custom layouts. You can move, edit, and resize any button on the calculator.
The update is free for current users, and new users can pick it up for $9.99 on the App Store.
Calendars 5.5 »
Calendars 5 is an excellent iPhone and iPad calendar app, which we heartily recommend. Its update for iOS 8 includes a widget in the Notification Center that shows you all upcoming tasks and events at any time. And in addition to viewing your schedule, you can also create new events right from the Today menu.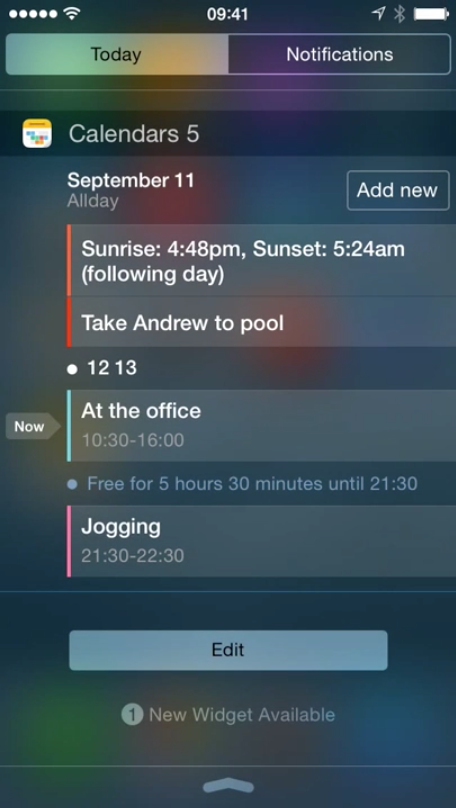 Pocket released version 5.6 of its iOS app that allows you to save items for later. Up until now, saving articles from Safari on iOS required a bookmarklet. While Pocket did a great job of explaining the process, it was still a two-step process to install it, and it required copying and pasting some javascript code. With iOS 8, Pocket has simplified the process in Mobile Safari with a sharing extension — you even have the option of tagging the article before sending it to Pocket.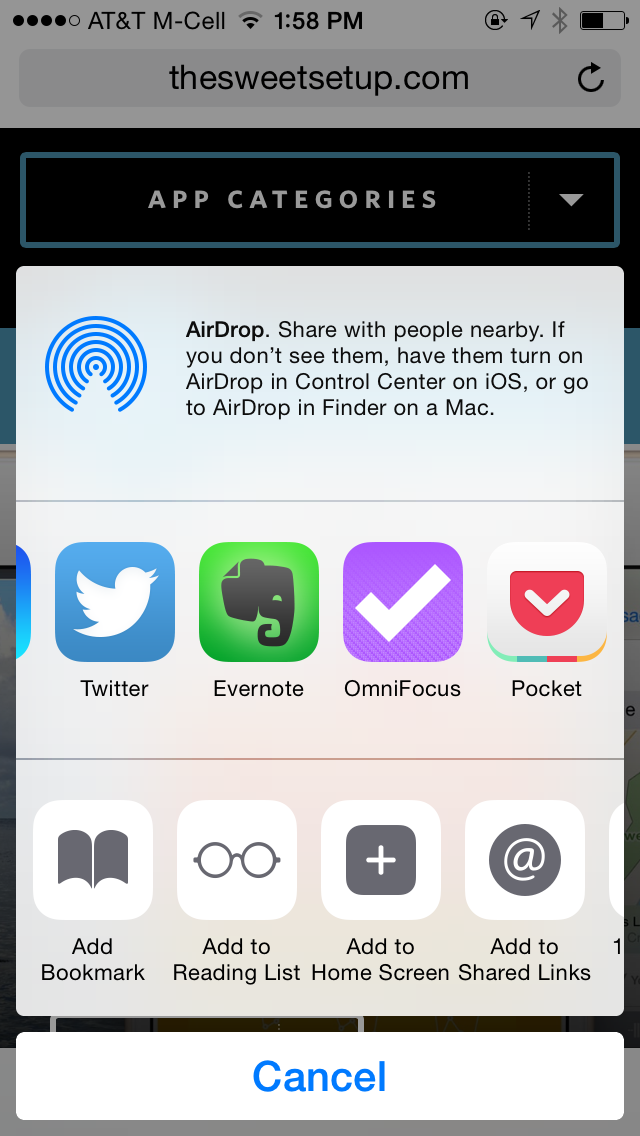 For Premium subscribers, tags will be suggested based on relevance. You can read more on the Pocket Blog.
Note that for some, the Pocket Share extension is not working. The team at Pocket is aware, has reached out to Apple, and is working on a fix.
Evernote is one of those apps that has been around for a long time on iOS. It does a lot. In fact, it does so much that I struggled to understand how to use it in my life for years. Evernote is an "everything bucket." It can hold text, photos, audio, movies, and almost anything else digital. The Evernote update for iOS 8 contains 2 new features:
Notification widget
Safari Extension
Evernote's Notification widget
With iOS 8, apps can now offer the option of including a widget that users can install on their "Today View." Evernote has built in support for this by allowing you to quickly create a certain type of note.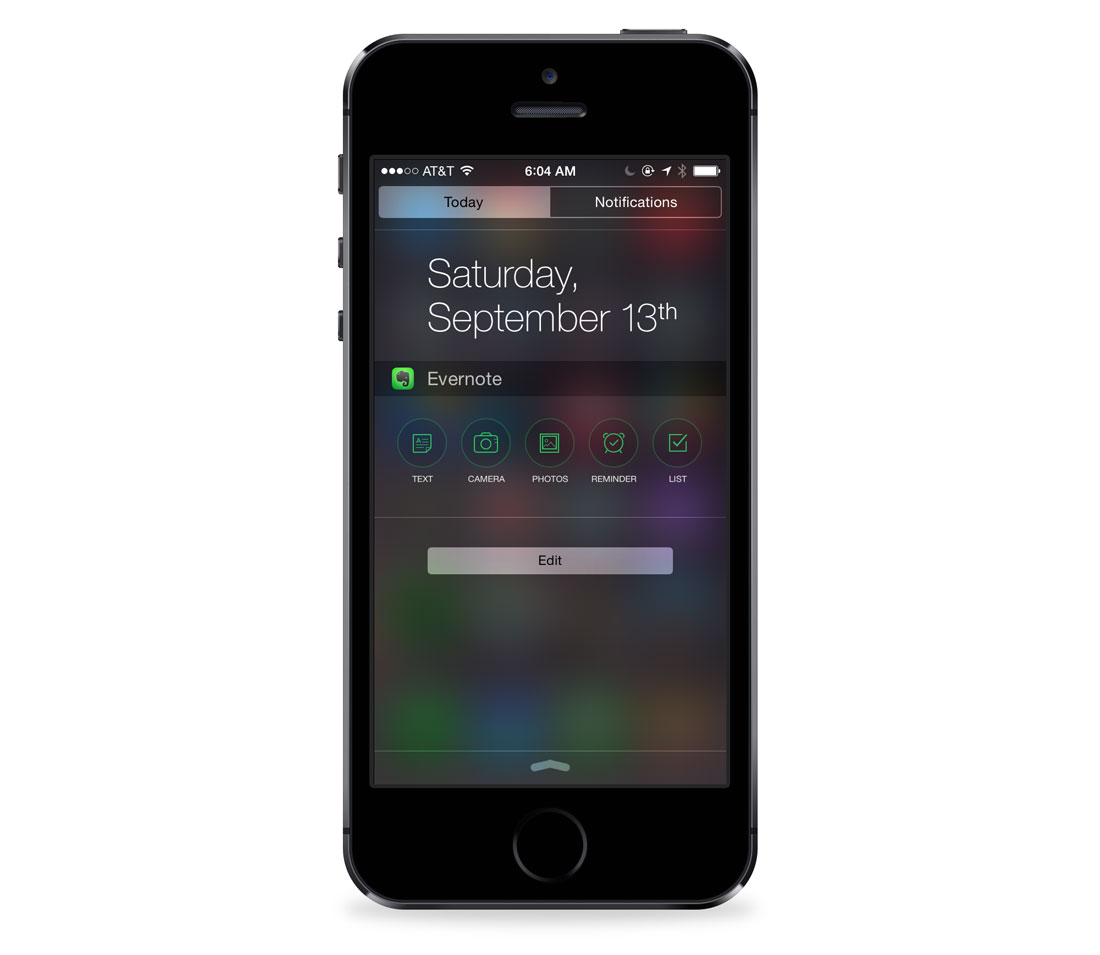 If you frequently create new notes on iOS, this will be a great addition for you. I'd love to see an option to do a search window as well. I frequently search within my Evernote database, so this would save me a step.
Evernote's Safari Extension
The Evernote Web Clipper is one of my most used Safari Extensions on the Mac. While I use Pocket for saving articles that I want to read and discard, I save articles to Evernote that I want to keep forever. The Web Clipper allows me to do just that. With iOS 8, Evernote now has a simplified version of its desktop clipper on iOS.
If you browse to an article that you want to save to Evernote, you can go to the share menu, and you (after enabling) will see an option to share to Evernote.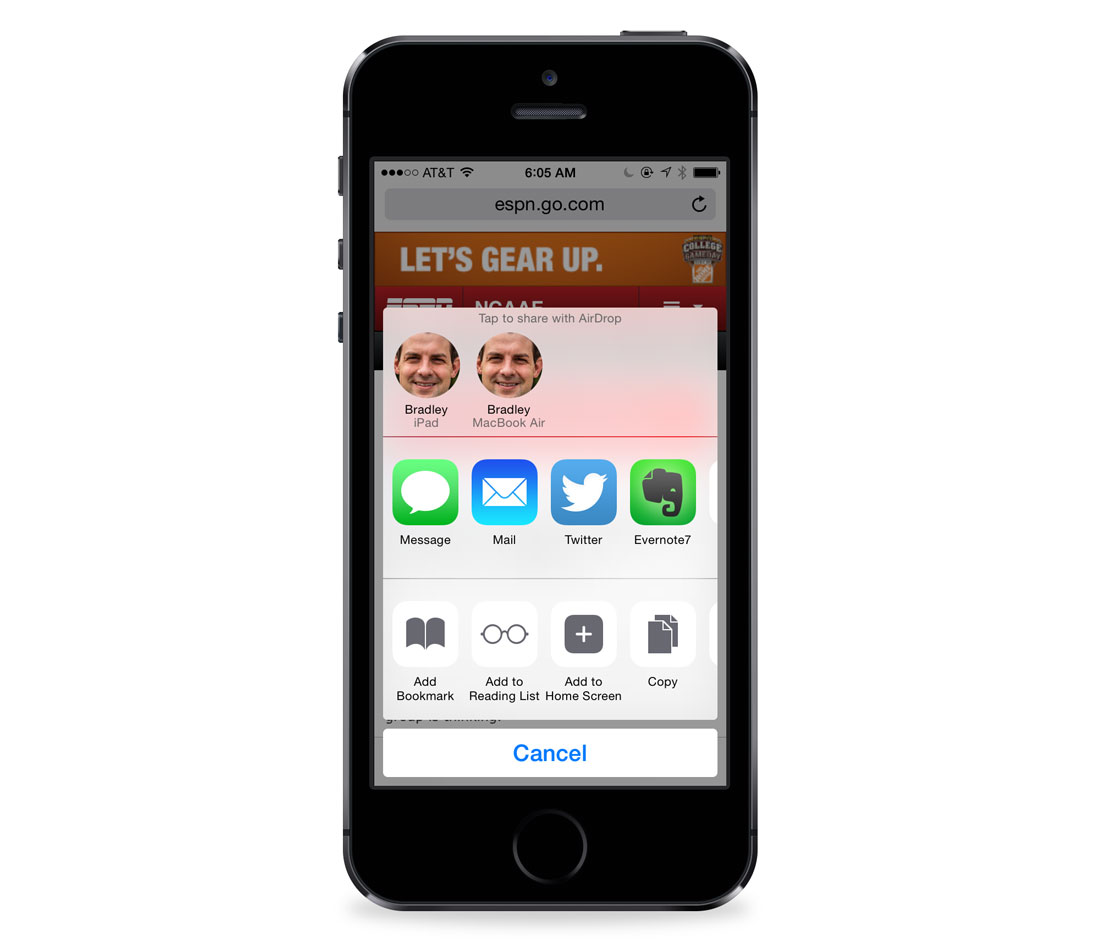 After triggering the extension, you'll see a window that allows you to customize the title and pick which notebook. This functionality will also work with PDFs that are open inside of Safari. After saving the file, you'll find it inside of your Evernote database.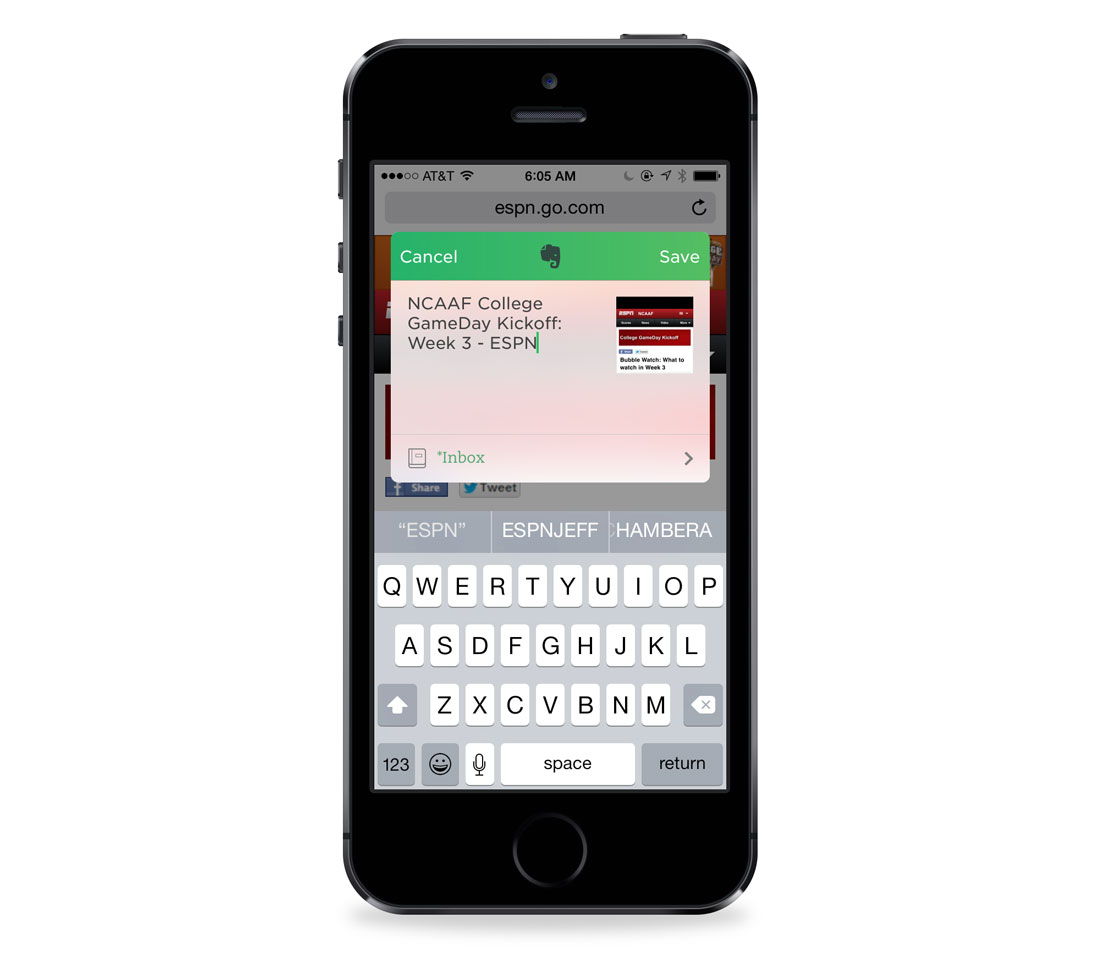 You can read more about the Evernote update in this review by our friends over at MacStories.
1Password for iOS has come a long way. The first version was released back in 2008 and was a shell of what it currently offers for iOS. For instance, there was no Dropbox Sync, only Wi-Fi-based sync. Fast forward to 2014, and 1Password is our favorite password manager for iOS. It's lightning fast with Dropbox Sync, iCloud Sync, and also has a fantastic web browser.
1Password for iOS was always limited on iOS due to the way Apple controlled the web browser and inter-app communication. With iOS 8, 1Password takes a major step forward with three major changes to the app.
Touch ID integration
Safari Extension
App Extension
Touch ID with 1Password
Touch ID was a hardware feature on the iPhone 5s, but iOS 8 opened it up to third-party developers. Now, instead of using your (hopefully) long master passcode to unlock 1Password, you can use your fingerprint. This will be a welcome change for those of us with cryptic passwords.
1Password's Safari Extension
1Password on the Mac has always been tightly integrated into the web browsers. CMD + \ is the shortcut password to launch the login extension. It's become such a well known shortcut, that the team at AgileBits released a t-shirt in honor of it. With iOS 8 support for extensions, 1Password is now able to extend its ability outside of the app. While there is no CMD + \ on iOS, the share menu will have a 1Password option.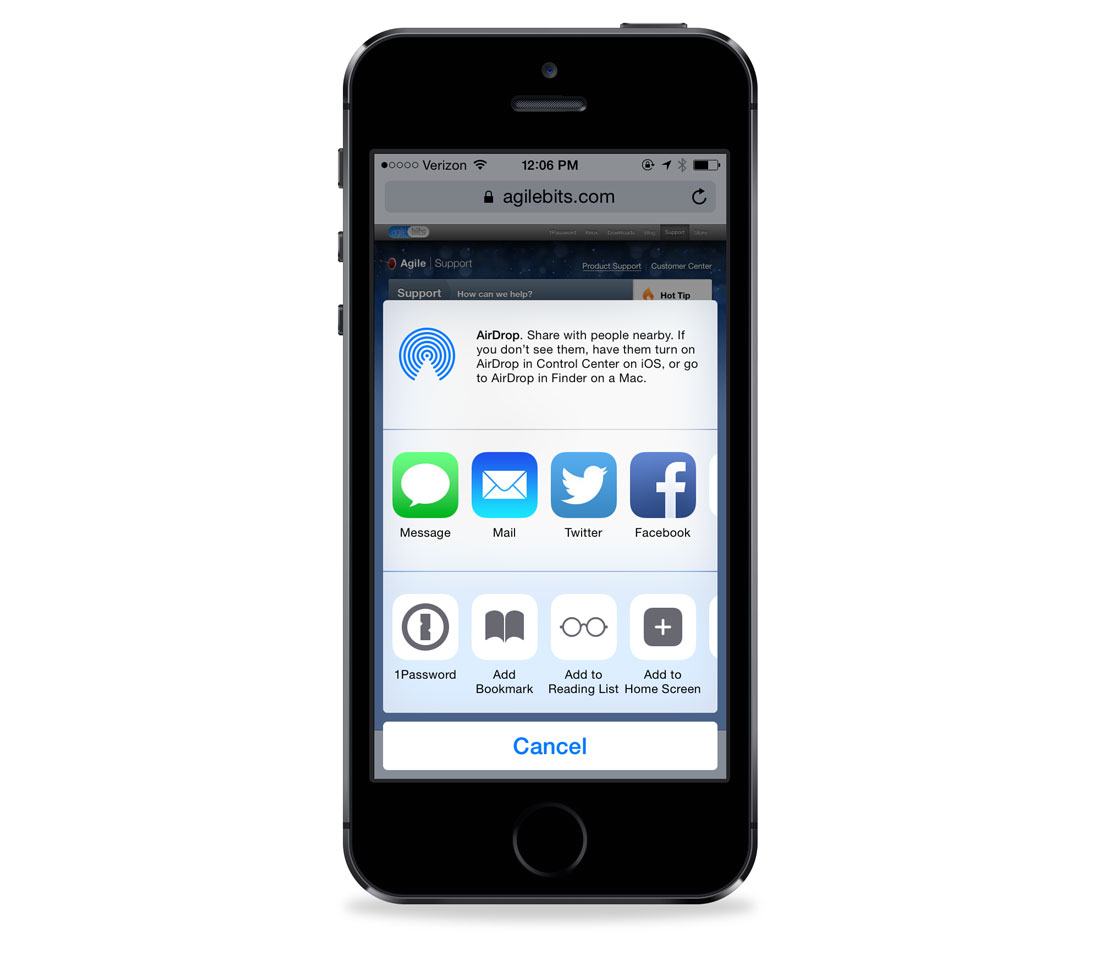 For existing 1Password users, it's a joy to see this functionality on iOS. You'll be able to unlock 1Password by using Touch ID or your master passcode.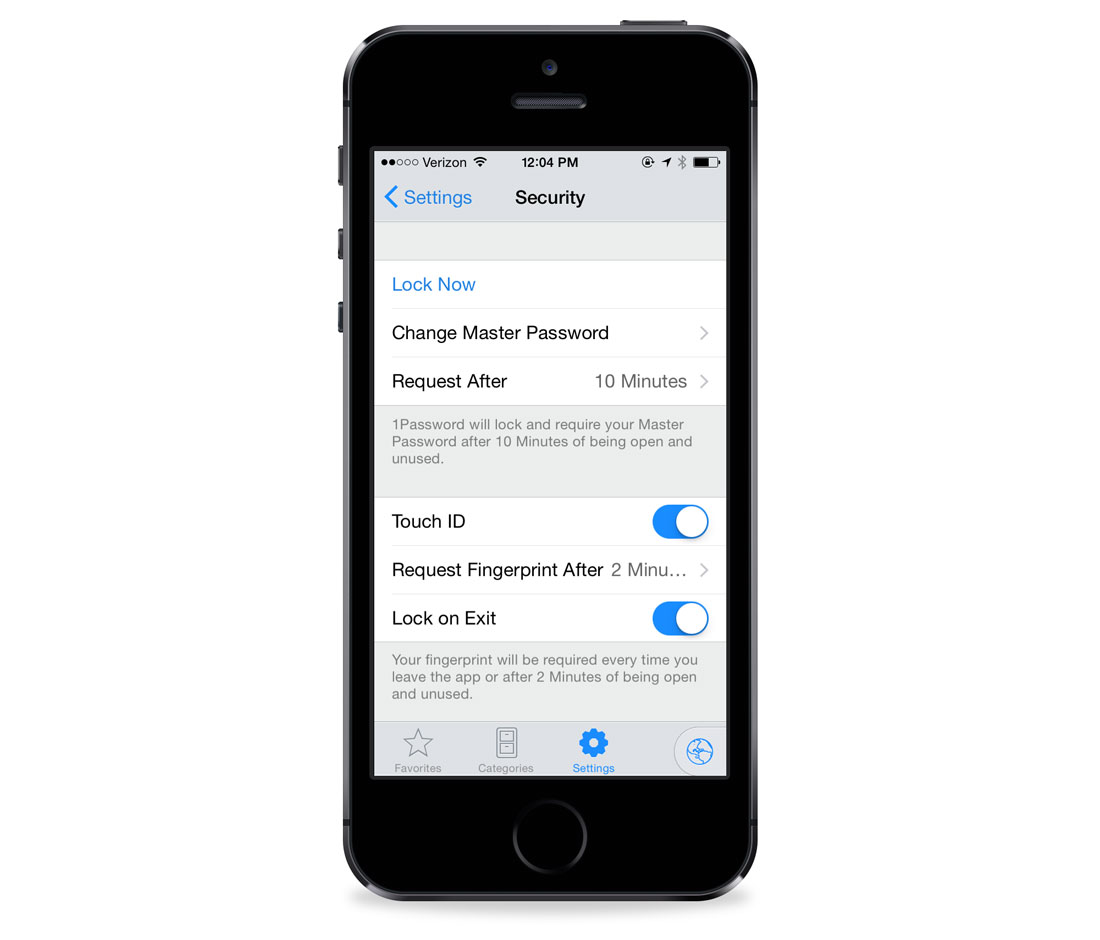 Once you are logged in, 1Password will show you the logins for that domain. Once you tap on the one you want, 1Password will disappear, and you'll be right back in Safari.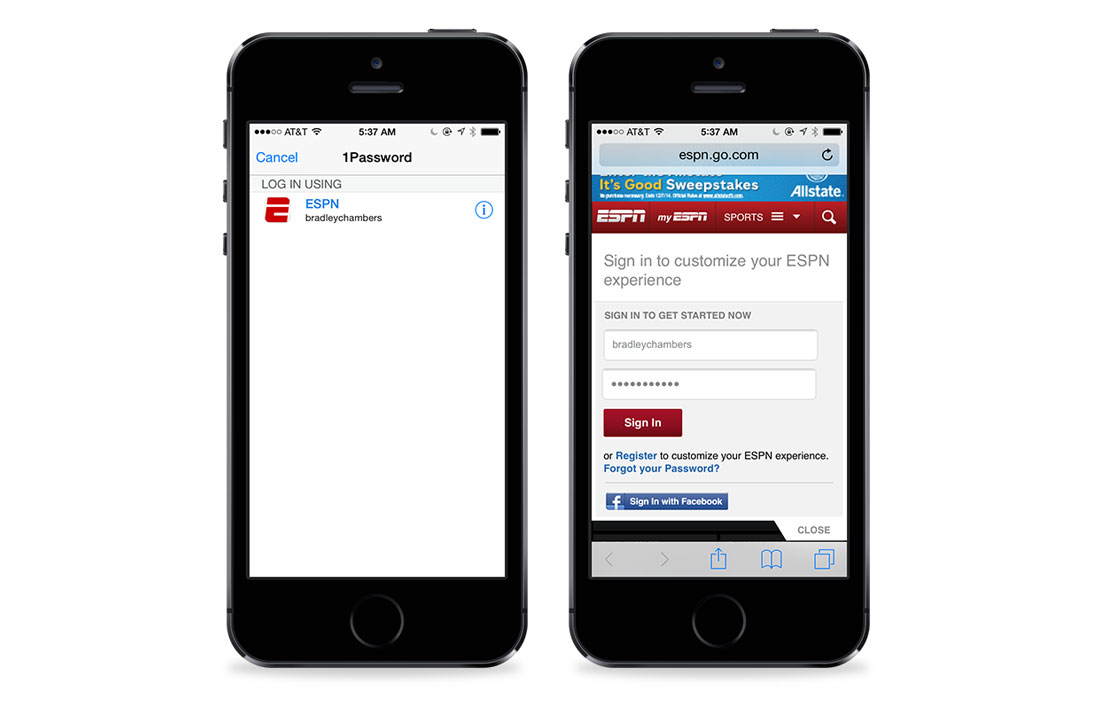 1Password's App Extension
Back in June, the 1Password App Extension was announced. The 1Password Safari extension is a fantastic upgrade, but it won't work inside other apps. You'll see how much you need a feature like this if you ever set up a new iOS device from scratch. The 1Password App Extension will allow other developers to integrate 1Password login functionality directly into their apps.
A new, freemium Pricing Model for 1Password
With the release of version 5, 1Password is now free with an optional in-app purchase ($9.99). The free version can create and edit logins, credit cards, identities, and secure notes. It also syncs with other versions of 1Password. The Pro version unlocks multiple vaults, more organizational options, and more. Existing 1Password owners will receive all of the pro features for free.
At the end of the day, using 1Password effectively will make it easier to use longer and more unique passwords across all your apps and websites. These iOS 8 updates prove that the folks at AgileBits are staying on the cutting edge of iOS development.
VSCO Cam, the best photo editing app for iPhone, just updated to version 3.5 in time for iOS 8.
New features include a slew of manual camera controls. Including control over exposure compensation, white balance, ISO, Shutter speed, and even a manual focus. For more info on how to best use the new features, VSCO has published a series of tutorials.
VSCO Cam is free on the App Store, with optional preset packs available as in-app purchases.
Dropbox just released an iOS 8 update. Along with bug fixes, it contains a number of new features for iOS 8: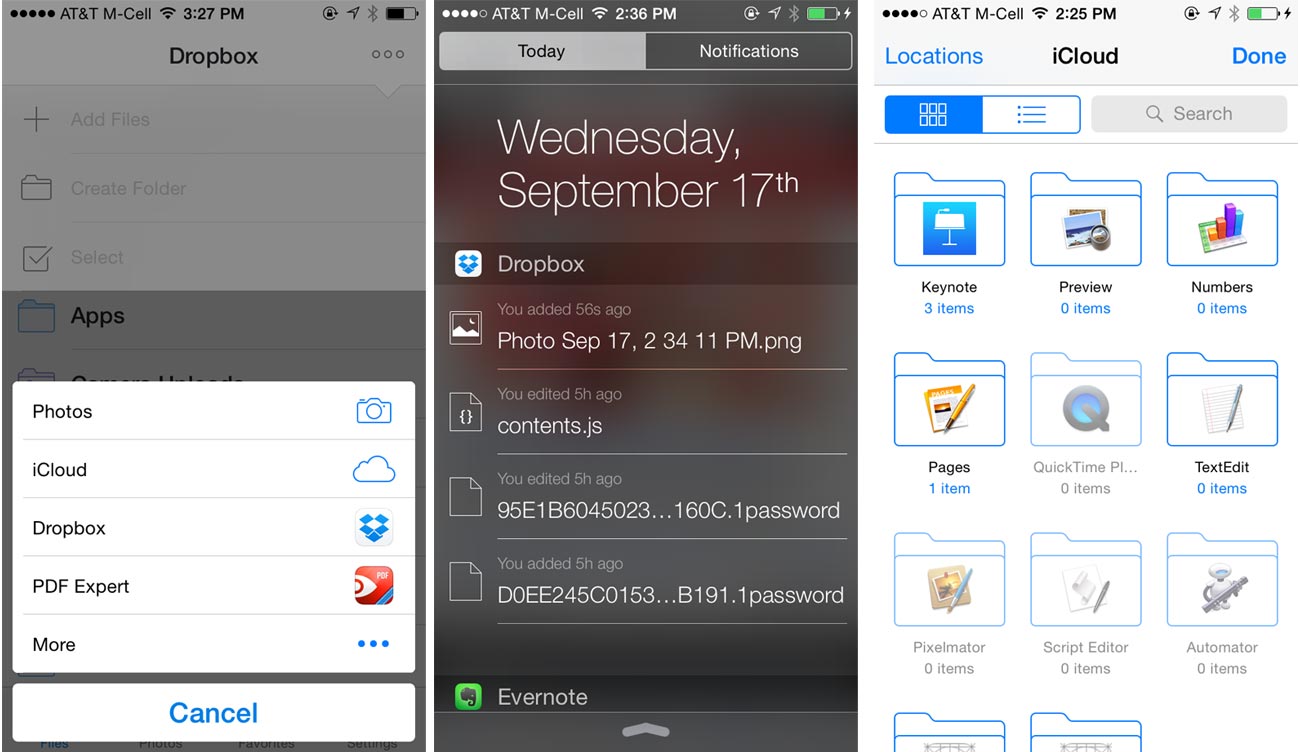 Manage and view shared folder permissions within the app
Supports uploading documents from iCloud Drive (and other storage providers)
Adds an option to display recent activity as a widget in the Today view
Enables support for Dropbox as a storage provider for other apps, so you can open your files directly from within other apps. In our usage, we haven't yet been able to get the Dropbox document picker to work in other apps. It may take a bit of time as apps are updated for it to begin working as expected.
Along with the free iOS 8 update for OmniFocus for iPhone, The Omni Group has released acompletely overhauled version of the iPad app. It contains all the great iOS 8 features along with a modern iOS design.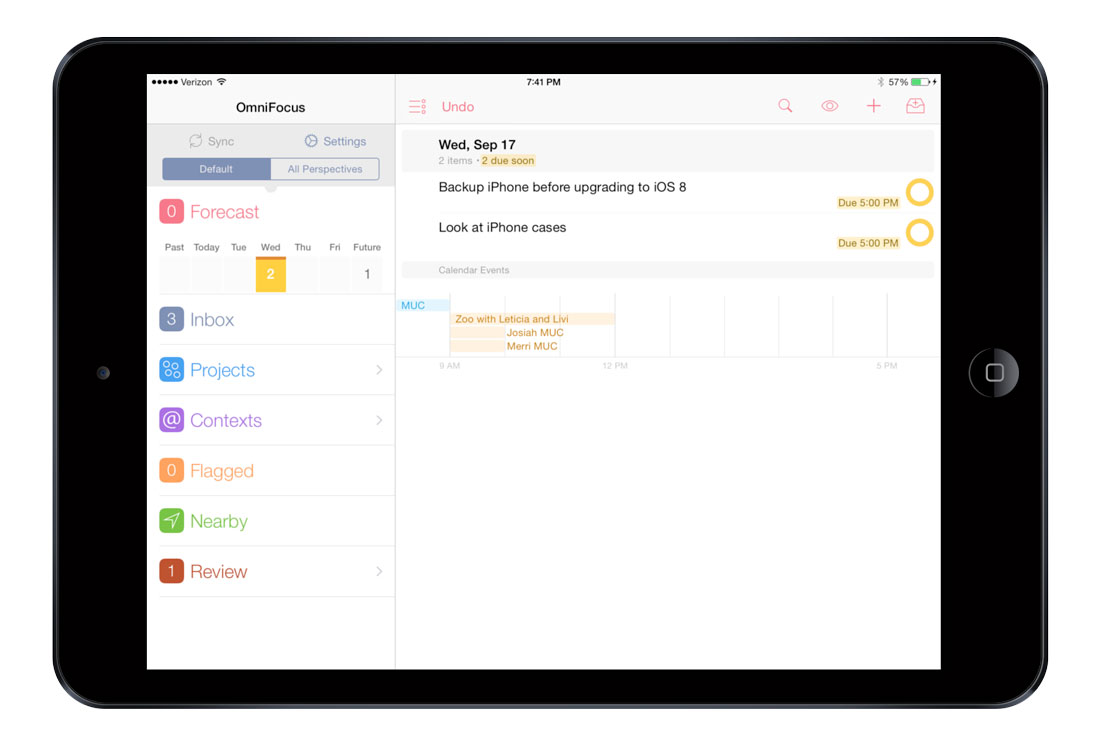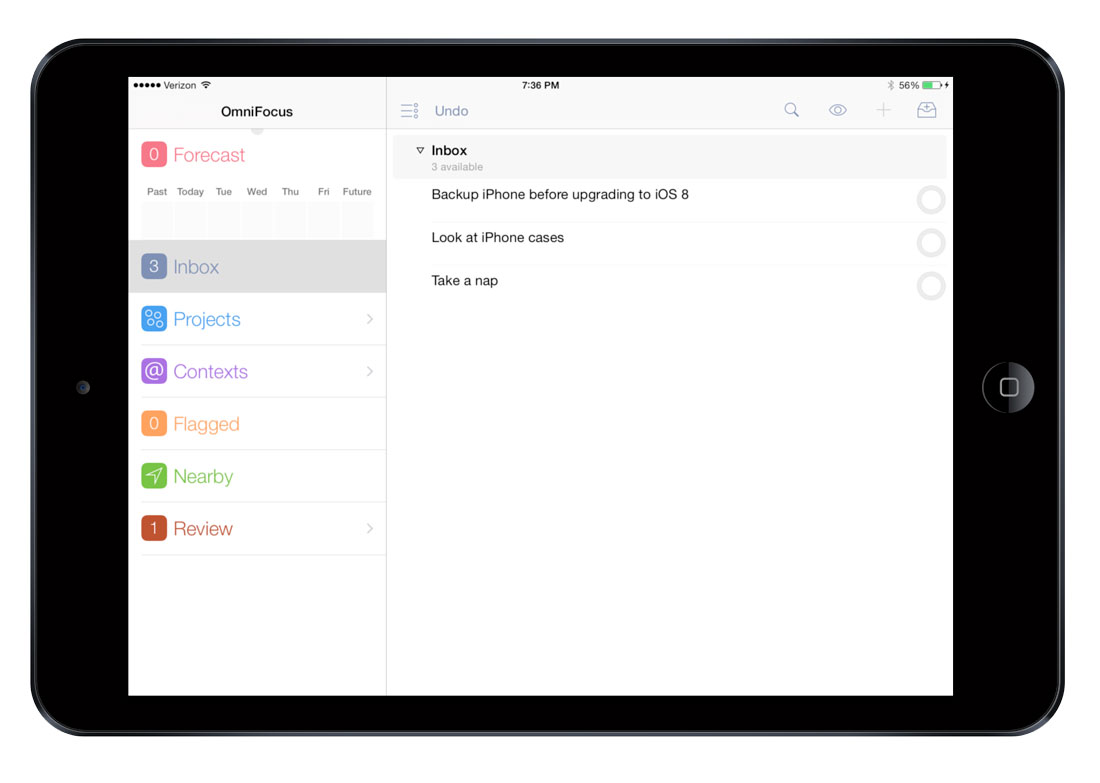 The previous version was pulled from the App Store earlier this year as this version was announced as a paid upgrade. The previous OmniFocus iPad app was many people's favorite version of the 3-app suite, so we can't wait to use the updated version day to day.
OmniFocus 2 for iPad is $29.99, and there is an optional Pro upgrade for $19.99 (in-app purchase) that will allow the ability to create your own view settings, searches, and filters. Also, with the Pro upgrade for OF2 on iPad you'll be able to arrange the top-level sidebar to have faster access to your most-used perspectives.
The Pro upgrade will be free for existing OmniFocus for iPad users. For more information on the Pro upgrade, visit The Omni Blog.
For more info, you can check out the reviews by our friends, Federico Viticci and David Sparks. Also, the OmniGroup has published a free eBook manual that goes in-depth regarding OmniFocus 2 for iPad.
If you're looking for a fantastic journaling app, or a great app for logging and recording various events and milestones of your life, then by far and away the best pick is Day One.
Today, Day One has been updated to take advantage of many of the new features in iOS 8. In addition to being ready for the larger screens of the new iPhone, the Day One app can now be unlocked using Touch ID. Moreover, there is a widget for Notification Center that will show you a small graph of your journaling habits over the past 50 days and two images from your journal timeline — either from a year ago today, or random.
The Notification Center widget is a great way to bring up your past memories and photos and also to encourage you to keep logging new entries.
And lastly, Day One has a system-wide extension so you can send photos and entries to the app from just about anywhere.
Day One is a universal app and is available now for just $4.99.
The task management app, Things, has received a nice update today as well. The new version of Things for iPhone sports a refreshed design that is more in line with the iOS 7/8 aesthetic, an Action Extension that lets you send to-do items from Safari right into Things as a new to-do item, background app refresh, 64-bit support, and even a new icon.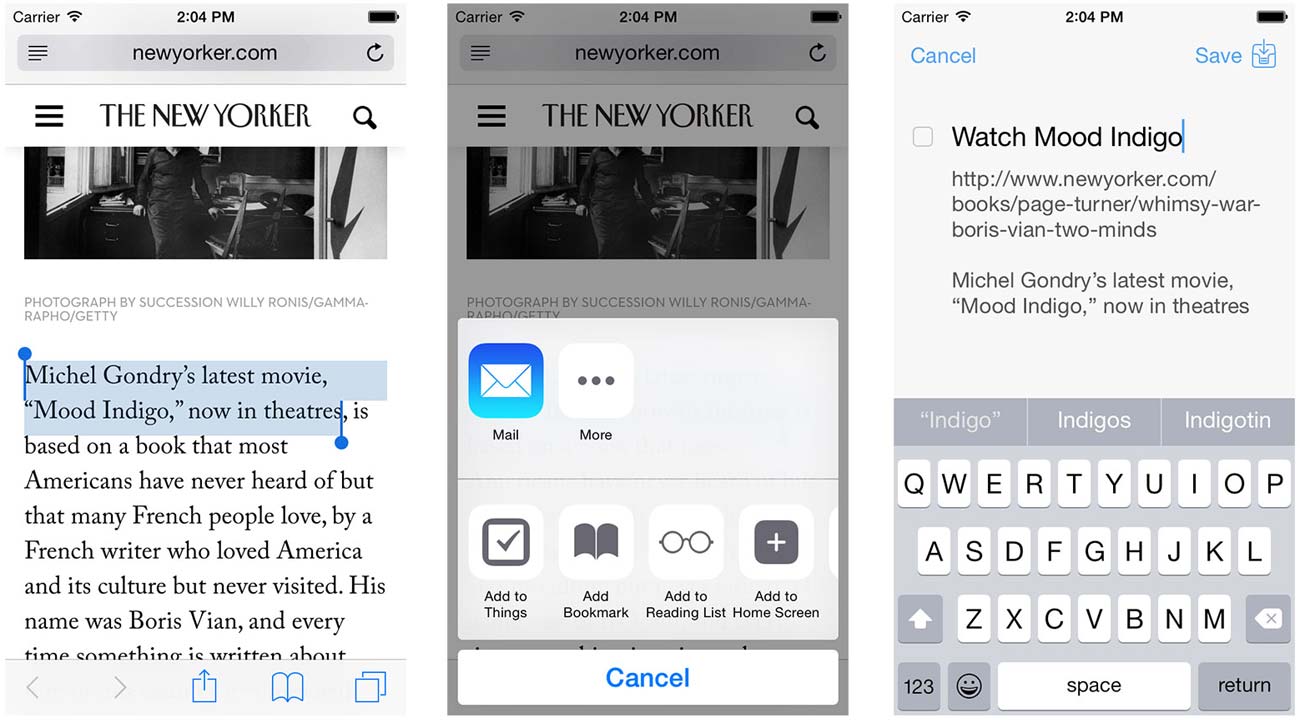 The update will be making its way to the iPad soon, and the Cultured Code team has said they are working on a widget for the Today view in Notification Center that will show you all your current to-do items.
Along with its task-management peers, the awesome and simple to-do list app Clear has been updated to sport a neat new feature for iOS 8: a Today View Widget.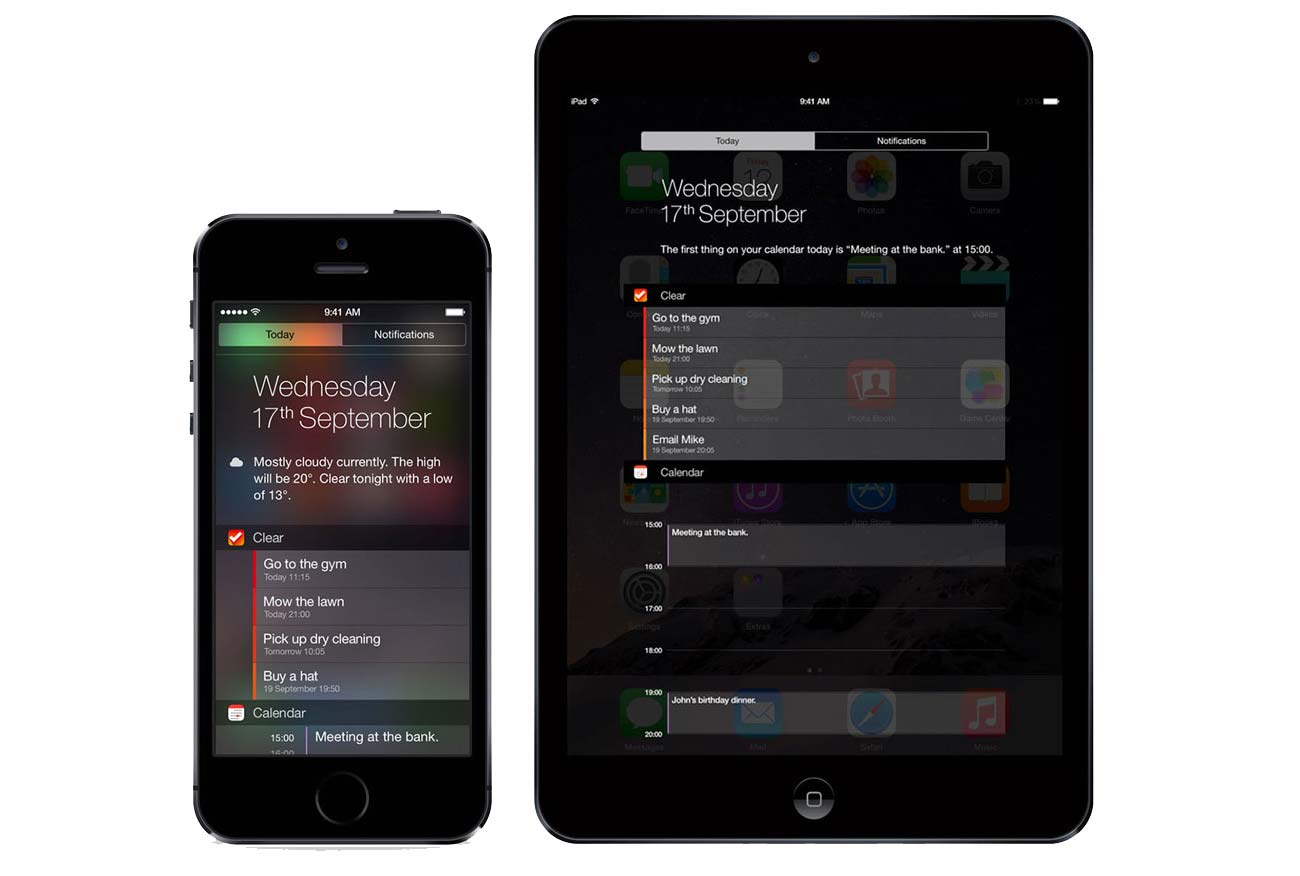 Installing it is simple: just head to the Today view in Notification Center and add Clear (see above for how to add widgets). You'll get a handy view of your upcoming reminders, and with a single tap you can view them in Clear. Mark a task as completed in Clear and the widget will immediately remove it from the list.
Just one more reason why Clear is our favorite simple to-do list app.
The team at Betaworks have released Instapaper 6 for iOS 8, and it's a doozy. Here's a quick rundown of all that's included in what is a Home screen app for many of us: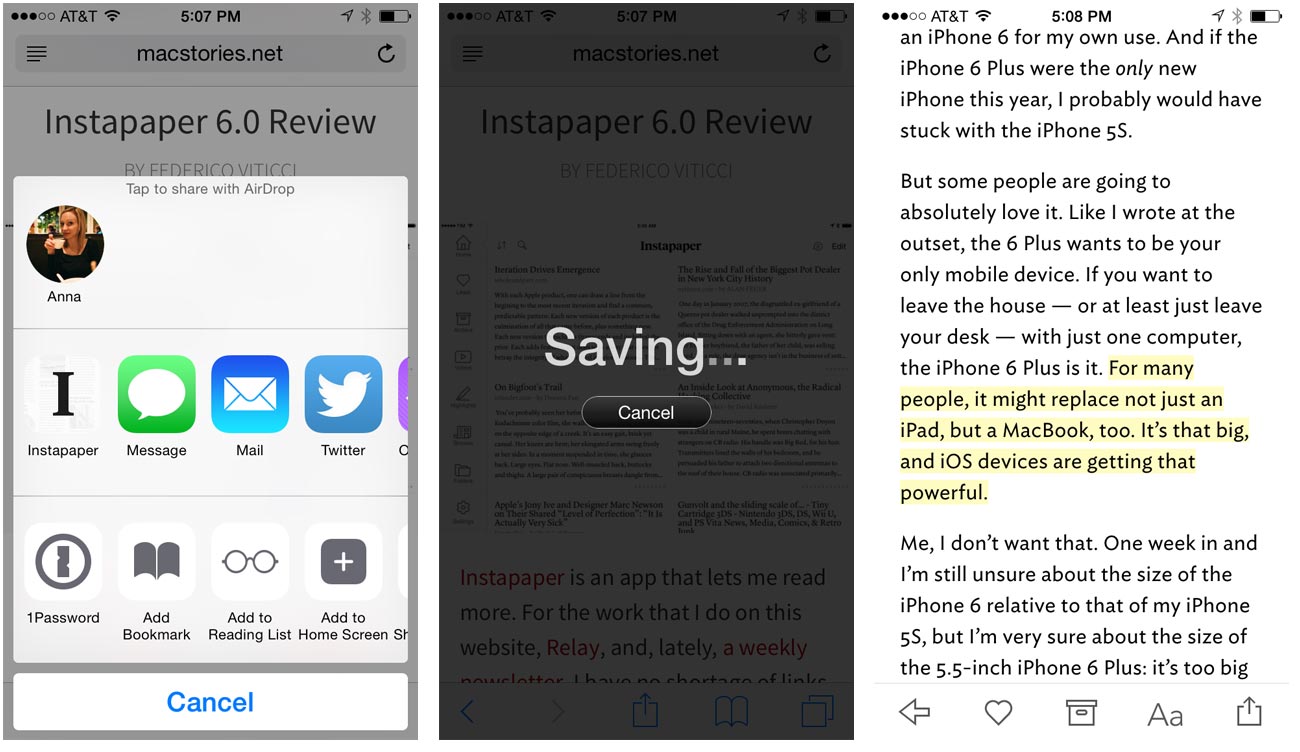 New, freemium business model: The app and service are now free, and there is a new Premium membership ($3/month or $30/year) that unlocks special features such as full-text search and unlimited highlights.

All existing subscribers will be automatically upgraded to Instapaper Premium, and will be grandfathered at their current subscription price. Anyone who bought the app before today will get a free month of Instapaper Premium.

I've been an Instapaper subscriber for quite a long time, and for how much I use the app to save, read, and highlight things. Since I'm already a Premium Subscriber, I'll get grandfathered in at my previous rate of $1/month, but even the $3/month subscription would be well worth it for me.

System-wide "Save to Instapaper" extension: This is a total game-changer. This is what we've wanted from the beginning. Any app with a share sheet can now send content directly to Instapaper. No more bookmarklets or other silly workarounds.

Text-to-Speech:Accessed from Instapaper's share sheet, this feature will read an article aloud to you, the playback of which can be controlled from the lock screen much like a song or podcast. If you're a Premium member, you can create playlists of articles for speech playback.

User profiles: Your liked articles now appear in a publicly-visible profile that can be shared with others, unless you choose to make your account totally private.

And more: such as a unified browse section, where the Feature, Daily, & Friends sections have all been combined into a single feed. And a Today extension for Notification Center that displays everything you've saved today and lets you open articles with a tap.
Panic, the developers behind great apps like Coda, Diet Coda, Transmit, Prompt, and more, released Transmit iOS today alongside iOS 8. Like all the other apps that Panic make, it's incredibly powerful and pleasing to the eyes.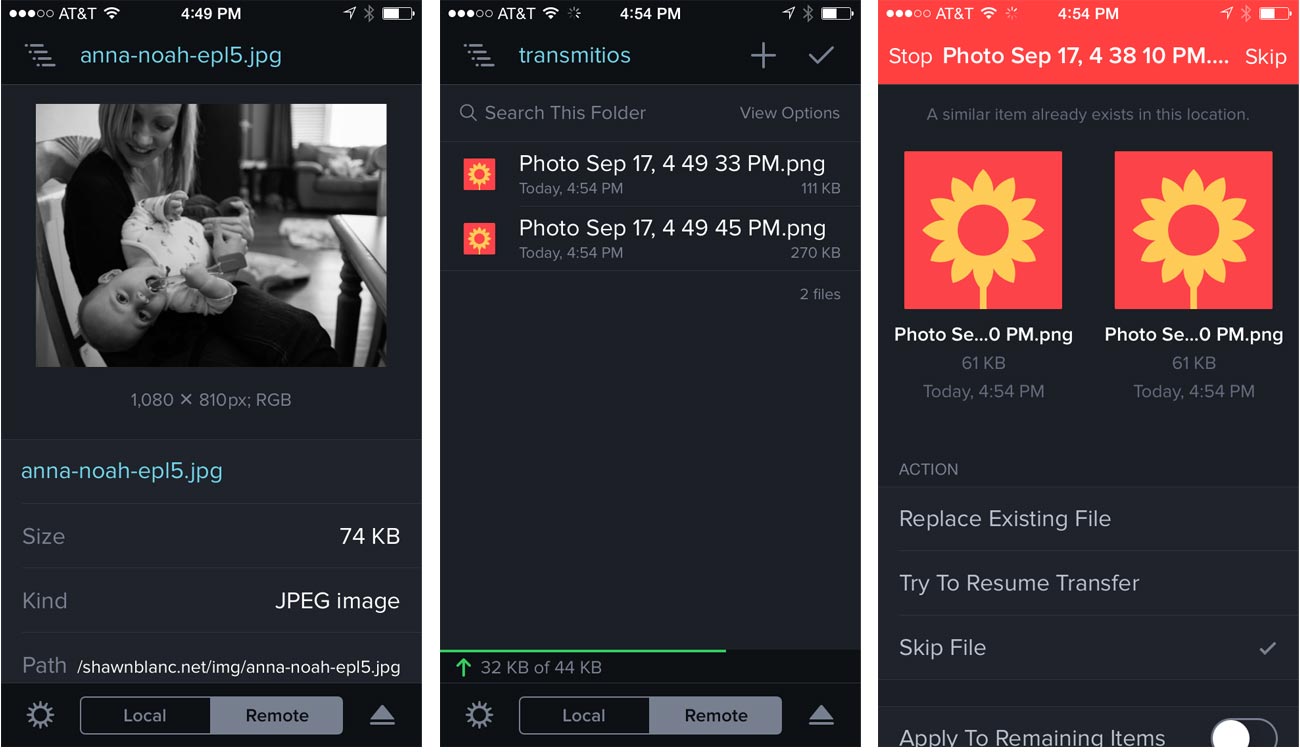 An app like Transmit wasn't really possible before iOS 8, due to the limitations in accessing documents in other applications. Panic describes Transmit as "the world's best file transfer client for iOS," and we totally agree. This app is mind-bogglingly great.
Transmit iOS sports the same engine as the Mac version, so it automatically supports all of the most common FTP protocols, such as FTP, WebDAV, Amazon S3, and more.
There are many other great features included in the app that are made possible by iOS 8, including TouchID security for server access, the new iOS Document Picker, and a sharing extension that works in any app that supports the Share sheet. Oh, and it looks fantastic as well.
Transmit iOS is a universal app and is on sale for just $9.99 for a limited time to celebrate the release. Wow.
In my review of Pinboard apps for iOS, here's how I described the app Pinner, which was on version 2.0 at the time:
"Adheres very closely to iOS 7 design guidelines, for better and for worse. The search function is nearly as quick as Pinbook's, but portions of the app are sparse on contextual information, or are oddly labeled."
With the release of iOS 8 came Pinner 3, and to my delight, developer Sam Oakley has done an awesome job with it.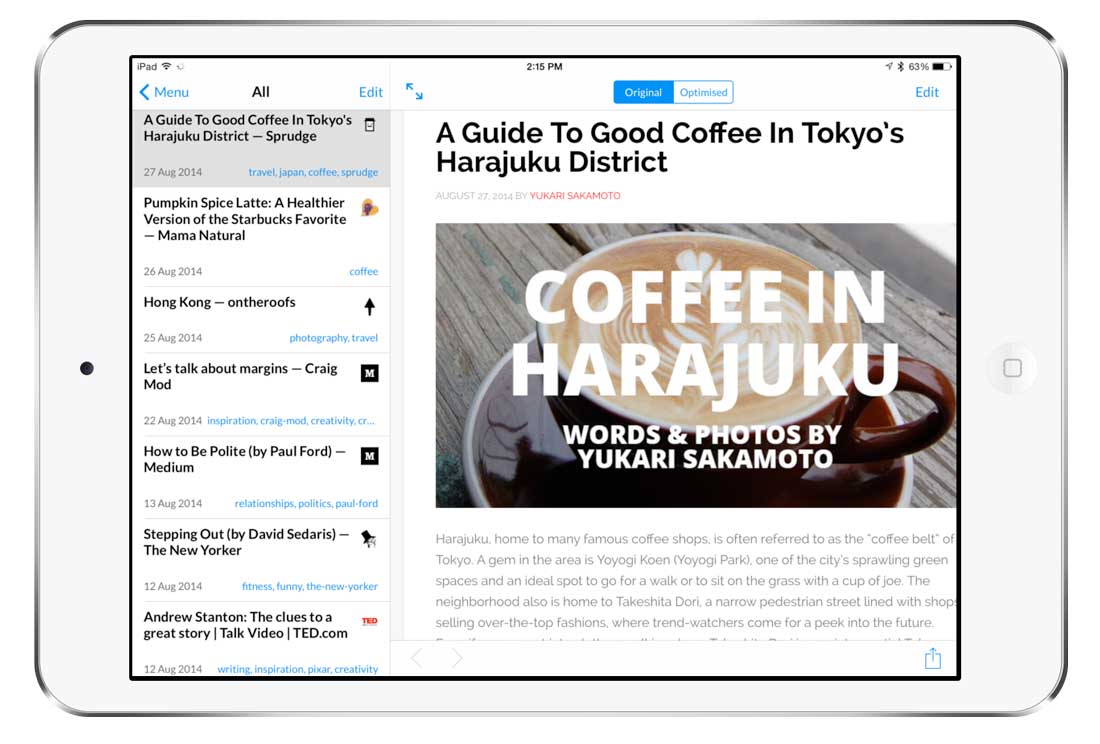 It takes advantage of iOS 8's share sheets to generate a full-featured Pinboard bookmarking screen that works from just about anywhere. It allows you to edit tags (with suggestions from your account!), descriptions, and other Pinboard metadata before sending items directly to Pinner. It even sends each bookmark to Pinboard in the background without forcing Pinner to open.
Pinner also uses iOS 8's Continuity feature to remember what webpage you're reading if you decide to switch between iPhone and iPad, or vice versa. And like many other apps, you can now use 1Password to effortlessly log into your Pinboard account directly from Pinner's login screen.
Pinner 3 is a $5 universal app, and we think you should check it out.
Scanner Pro is a fantastic iOS scanning app from the folks at Readdle. With iOS 8, it's adding a number of new features, like Touch ID support, iCloud Drive support, and a Photos app extension.
The Photos app extension is the most notable feature with this update. After you take a photo, hit the Edit button. Then, tap on the circle with the 3 dots in it. Tap More so you can enable the actual Scanner Pro extension. After that, tap on the Scanner Pro icon. You will then be presented with the Scanner Pro editing tools.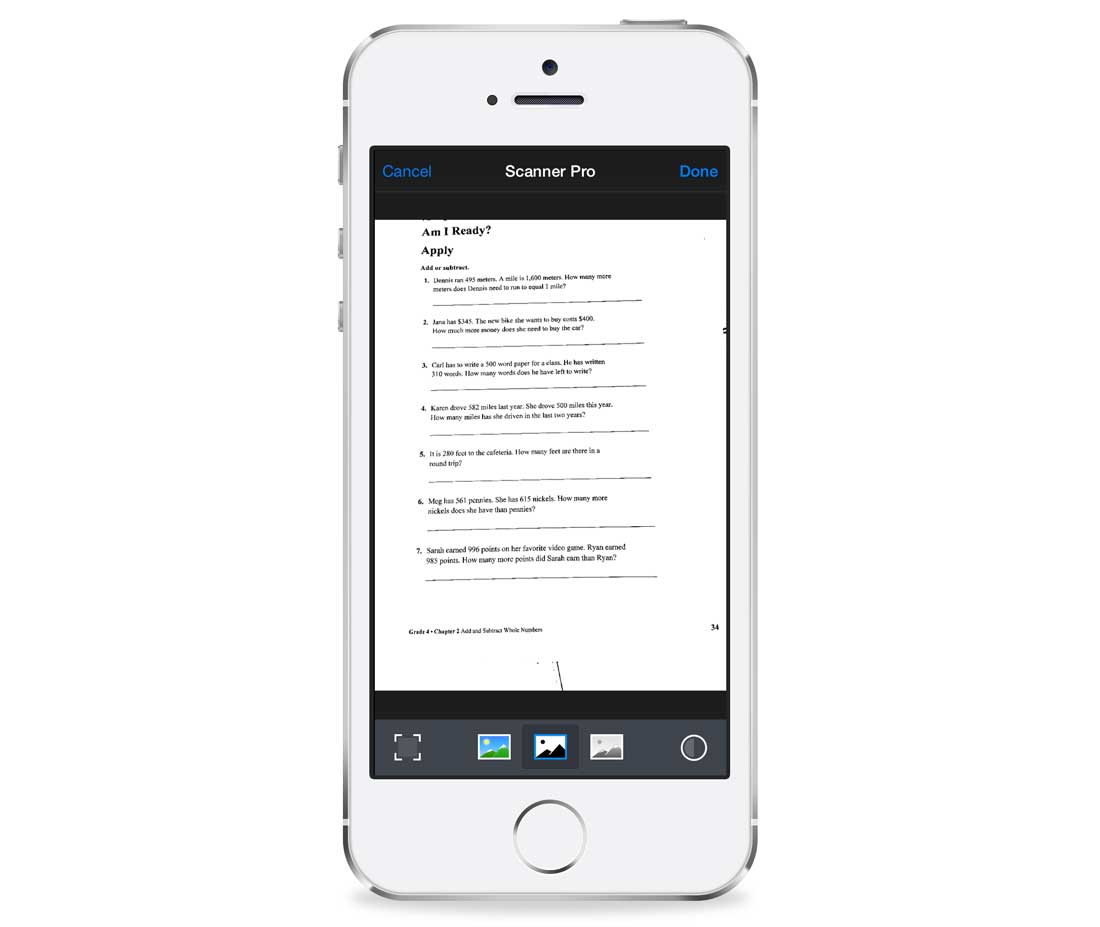 ---
This is a "living" post that we'll be updating throughout the day as new apps go live in the App Store.
You can check back here, and/or follow us on Twitter.