Jeffrey Abbott's sweet Mac setup
March 24, 2014
Every week we post a new interview with someone about what software they use on their Mac, iPhone, or iPad. We do these interviews because not only are they fun, but a glimpse into what tools someone uses and how they use those tools can spark our imagination and give us an idea or insight into how we can do things better.
New setup interviews are posted every Monday; follow us on RSS or Twitter to stay up to date.
---
Who are you and what do you do?
My name is Jeffrey Abbott. I'm a technical writer by trade, but work on Draft Evolution and The Sweet Setup at night. I also contribute a weekly post to The Pen Addict, which is an absolute blast.
What is your current setup?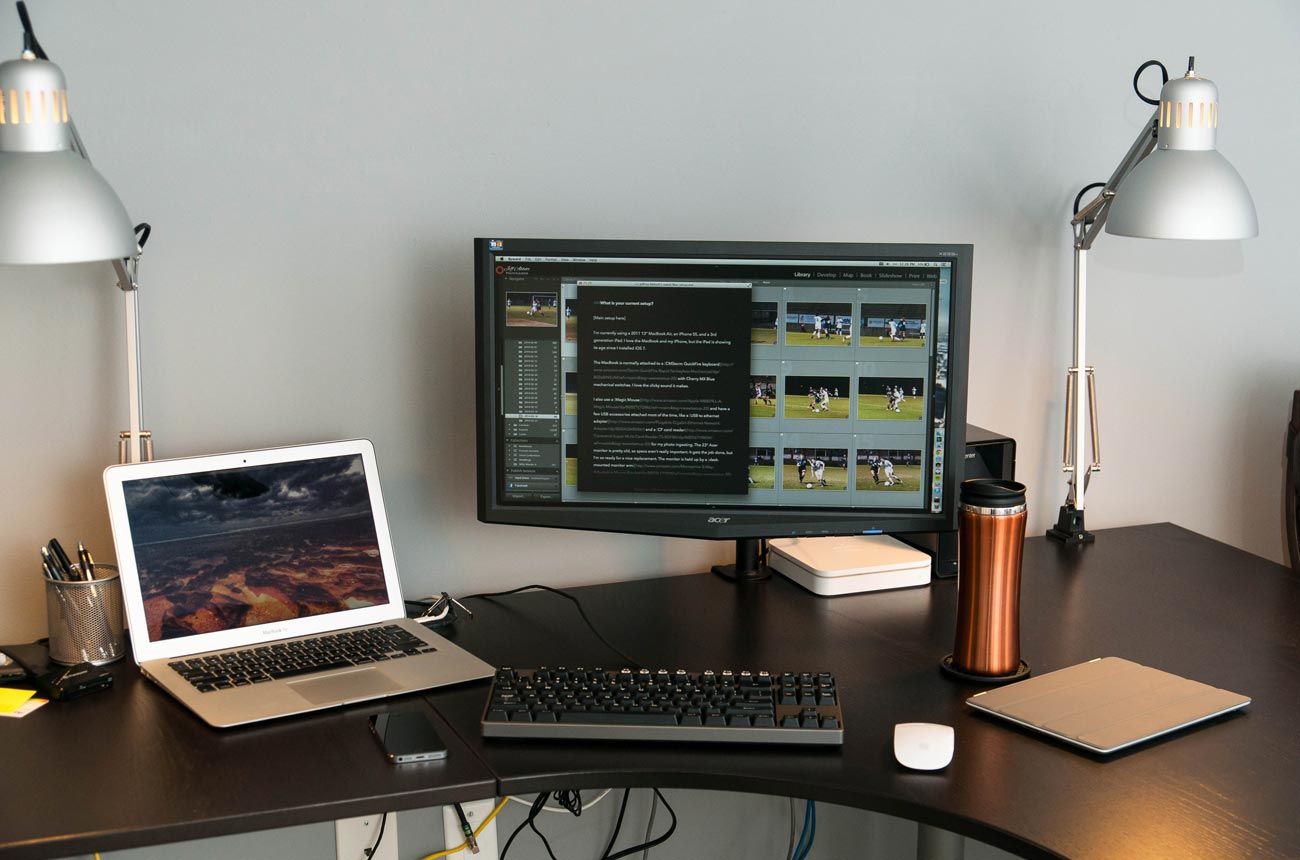 I'm currently using a 2011 13-inch MacBook Air, an iPhone 5S, and a 3rd-generation iPad. I love the MacBook and my iPhone, but the iPad is showing its age since I installed iOS 7.
The MacBook is normally attached to a CMStorm QuickFire keyboard with Cherry MX Blue mechanical switches. I love the clicky sound it makes.
I also use a Magic Mouse and have a few USB accessories attached most of the time, like a USB to ethernet adapter and a CF card reader for my photo ingesting. The 23″ Acer monitor is pretty old, so specs aren't really important. It gets the job done, but I'm so ready for a nice replacement. The monitor is held up by a desk-mounted monitor arm from MonoPrice.
All of this stuff lives on an Ikea Galant desk, which is massive. I also like lamps, so I have 5 lamps in my office. Yes, it's overkill.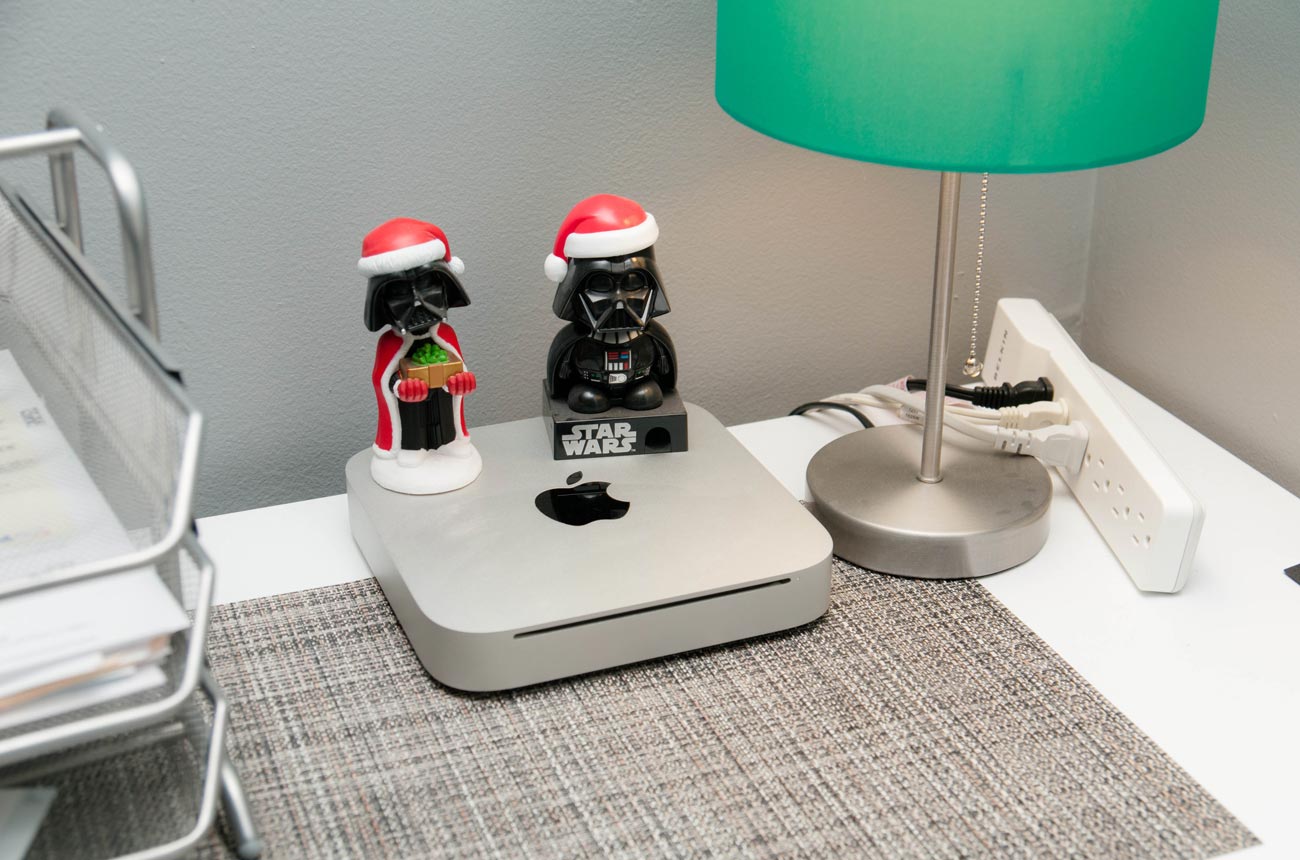 I also have a Mac Mini that serves as a Plex server and a backup point for our shared media. It's great having a computer dedicated to media sharing that is always on is generally maintenance-free.
The Mini runs headless, but I have an Apple bluetooth keyboard and a Magic Trackpad for the rare occasions that I need to use it. I normally use Screen Sharing from my MacBook if I need to use the Mini.
For music, I either use my awesome old-school stereo connected with an aftermarket bluetooth receiver, or I use my trusty Sony MDR-7506 headphones. They were recently upgraded with new ear cushions because the original ones were flaking off. I actually like the Beyerdynamics better – they're more comfortable.
A 5th gen Airport Extreme Base Station bathes our house in WiFi.
For backups, I use CrashPlan and weekly SuperDuper backups. CrashPlan runs constantly, and I also back up all important files (the kind that I'm being paid to produce) to a D-Link NAS continuously. The NAS is also backed up to CrashPlan, thanks to the always-on Mini. There are much better NAS solutions available, and I wouldn't pick the D-Link again.
Overall, not much has changed since Shawn interviewed me last May.
What software do you use and for what do you use it?
Since we recently wrote a massive article about the software we use, I have a really good idea of my favorite apps.
On my Mac, my favorite apps are Lightroom, Byword, 1Password, Chrome, Things, Hazel, CrashPlan, and Spotify. I use other apps as needed, but these are my work-horse apps that I couldn't work without.
I enjoy using MarsEdit when I write my own blog posts, but I'm normally writing and editing for other people.
Another handy app that organizes my messy menu bar is Bartender. It's excellent, and I'm really puzzled when I see a Mac without it.
I still use Spotlight for launching apps and searching for files. Feel free to berate me for my poor life choice. (Seriously, I'm open to switching – I've just never been convinced that it's necessary for me).
How would your ideal setup look and function?
My ideal setup would be fairly similar to the one I have now. I love the form-factor and speed of the MacBook Air, so a current generation model with maxed-out RAM and storage space would be awesome. I'd love to replace my aging monitor with something larger, possibly a Thunderbolt display. If not the display, then at least a Belkin Thunderbolt docking station, like Stephen mentioned in his setup.
---
There are more Sweet Setup interviews right here.