Stephen Hackett's sweet Mac setup
March 17, 2014
Every week we post a new interview with someone about what software they use on their Mac, iPhone, or iPad. We do these interviews because not only are they fun, but a glimpse into what tools someone uses and how they use those tools can spark our imagination and give us an idea or insight into how we can do things better.
New setup interviews are posted every Monday; follow us on RSS or Twitter to stay up to date, or subscribe to our weekly email newsletter.
---
Who are you and what do you do?
My name is Stephen Hackett. I'm probably best known on the Internet for writing 512 Pixels, a weblog about Apple, technology, journalism, and design. I co-host The Prompt on 5by5 with two of my friends, and work as managing editor right here on The Sweet Setup.
What is your current setup?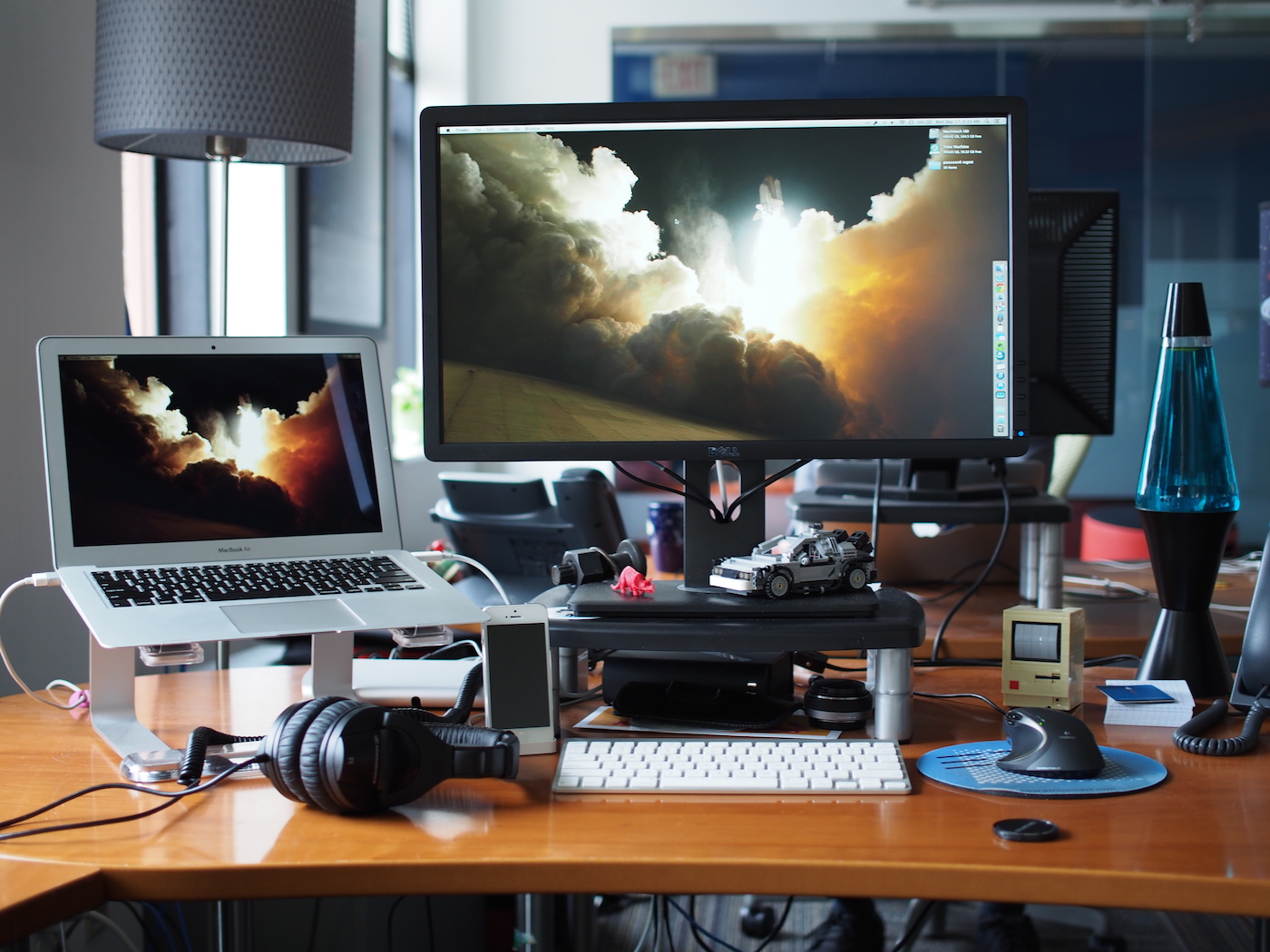 (My wallpaper is a NASA-taken image from the last night space shuttle launch.)
For a long time, I used a work-supplied notebook (usually a MacBook Pro) and an iMac set up at home. I would bounce data and settings between machines, using them about equally.
However, over the last couple of years, I've shifted to using work-supplied laptops as my main computers. I'm lucky enough to be able to use my notebook how I want, so it's my daily driver these days.
All that said, I'm currently using a current-gen 13-inch MacBook Air with the 1.7 GHz i7 processor, 8 GB of RAM and a 512 GB SSD running OS X Mavericks.
At work, I use my laptop with a 23-inch Dell LED LCD display, an Apple bluetooth keyboard, and a Logitech Wireless Performance Mouse MX mouse. While I used to use my notebooks in clamshell mode, I've more recently switched to leaving my MacBook Air open on a stand to the left of the display.
To keep things neat — and to be able to use Ethernet at my desk — I recently added a Belkin Thunderbolt Express Dock to my setup. Now, all I have to do is eject my USB Time Machine drive, unplug a MagSafe and a Thunderbolt cable, and I'm free of my setup. Everything — my display, headphones, etc — is now hooked up to the dock.
At home, I use the Air without any peripherals, except my Rode Podcaster and Sennheiser HD-280 PRO headphones if I'm recording a show.
On the desktop end of things, I sold my latest iMac about two years ago, and now have a Mid-2011 Mac mini with 2.3 GHz Intel Core i5, 8 GB RAM and a 512 (heh!) GB Crucial m4 SSD I installed myself. It's hooked up to our television with a 4 TB Guardian MAXimus RAID hanging off the back for iTunes and other file storage.
What software do you use and for what do you use it?
Both at work and on the Internet, most of what I do on my computer is push words around.
I'm not a programmer or a designer by trade. While I have those tools on my machines, my main apps are Safari, Mail, Evernote, Byword and Tweetbot, in addition to my employer's internal project management software.
Almost everything on my MacBook Air is stored on Dropbox. I pay for a pro account, mainly for storing my photo library. Having vital files on Dropbox not only makes them easy to retrieve from almost anywhere, but I also get the protection of having them on both of my computers and their backups.
Speaking of backups, I use local Time Machine drives as my initial backup, and both of my machines (and the home RAID) also back up to the cloud with CrashPlan. The home Mac mini and it's RAID are also backed up to a set of drives I keep across town (if I told you where, I'd have to kill you).
How would your ideal setup look and function?
As the MacBook Air has become more powerful and has shipped with increased storage space over the years, it's really become the best machine for my needs. While I do drool over the 13-inch MacBook Pro with Retina display, the combination of power, speed, battery life and weight of the Haswell-powered MacBook Air really is stunning.
---
There are more Sweet Setup interviews right here.