Conor McClure's sweet Mac setup
September 22, 2014
Every week we post a new interview with someone about what software they use on their Mac, iPhone, or iPad. We do these interviews because not only are they fun, but a glimpse into what tools someone uses and how they use those tools can spark our imagination and give us an idea or insight into how we can do things better.
New setup interviews are posted every Monday; follow us on RSS or Twitter to stay up to date.
---
Who are you and what do you do?
I'm Conor McClure. I currently live in Western North Carolina and am days away from finishing up a degree in music business. My site conormcclure.net is mostly a photography- and tech-focused blog, where I occasionally write words on various subjects that interest me.
What is your current setup?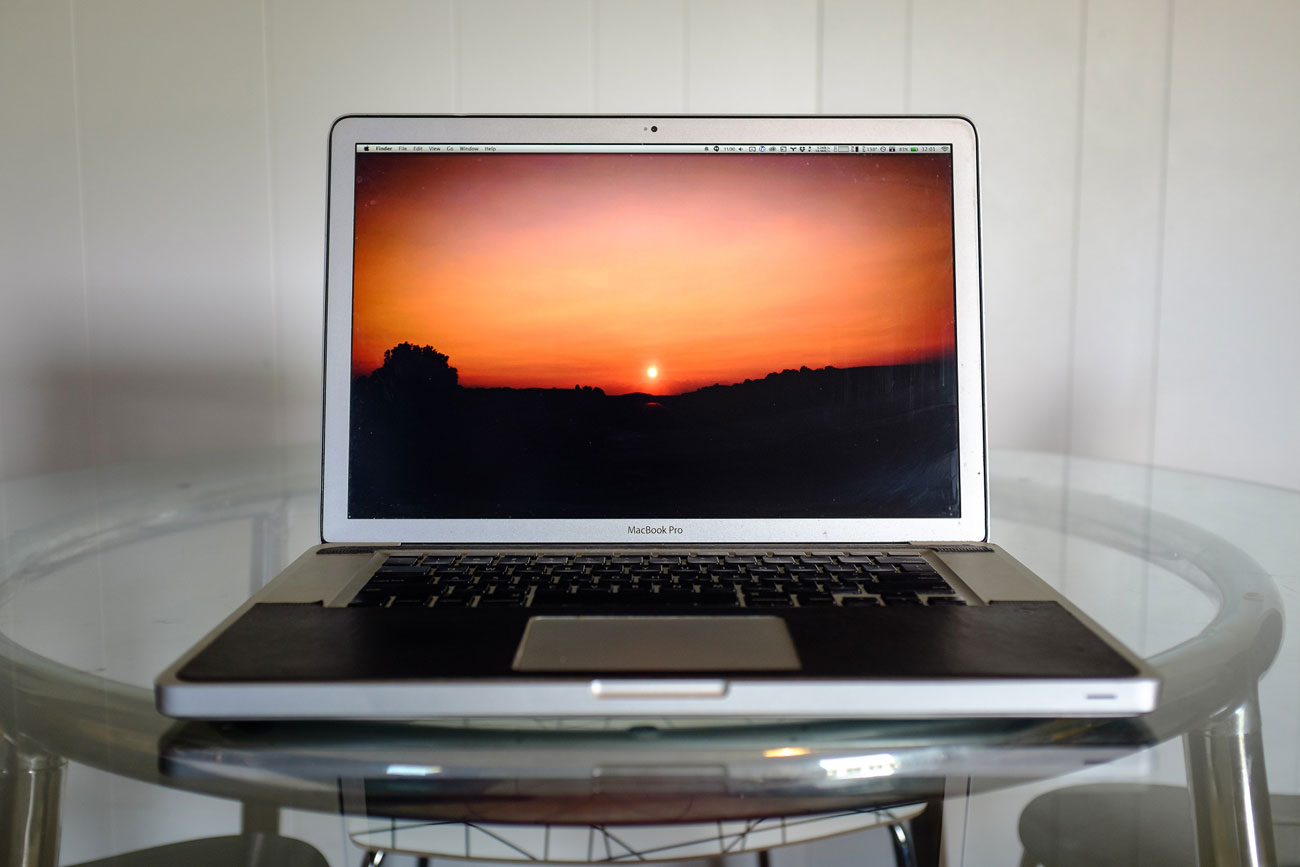 My wallpaper is an image I took myself. It's up on my website here.
My setup is one of the least sexy ones you'll probably find on this site. I work off of a mid-2010 15″ 2.53GHz Core i5 MacBook Pro (which has since been manually upgraded to 8GB of RAM and a 1TB HDD.) It's been pimped out with Twelve South's SurfacePad for MacBook (in black leather, of course.) I love the size of this machine and hope I'm not forced to go smaller by Apple any time soon.
The computer has experienced near-daily use since its purchase date and is starting to show its age. It will likely be upgraded soon. Plus, the CD drive is broken and I don't plan on ever getting it fixed (because seriously, who uses CDs anymore?)
I don't have a desk. Most of the time, I lounge on the floor, and sometimes create a standing desk out of a kitchen counter (or something similar.) I work best this way; don't get me started on the health benefits.
For photos, I've shot primarily with a Fujifilm X100S since mid-2013 and am in love with the camera. The iPhone 5S makes competent images when it has to, and I still have an old Nikon D200 and a variety of lenses when times call for more horsepower. I use Sony SD cards for no reason other than they were on sale one day. The Fuji constantly wears a B+W UV filter and a cheap silver lens hood. Most of my lighting gear is made by LumoPro, and my favorite tripod is a black MeFoto Backpacker. For straps, I like Gordy's.
What software do you use and for what do you use it?
I can't survive on a Mac without a few basic utilities:
Also sitting in my menu bar, in no particular order: Google Hangouts, Visits (for Google Analytics), BetterTouchTool, Dropbox, iStat Menus, and Fantastical.
For task management, I've been loving the newest version of OmniFocus (though I'm waiting to see if Things 3 is any good.) For my needs, OmniFocus is often a bit overkill, but its design and capabilities are as-of-yet unmatched. I also use the iPhone and iPad versions, naturally.
For notes and small bits of writing, I use nvALT (synced via Simplenote, a setup I stole from Shawn Blanc.) I've been meaning to move off of the service for Dropbox, but haven't gotten around to it yet. When writing Markdown or code, I like to hang out in Sublime Text or, more recently, GitHub's Atom, which I greatly prefer to anything else on the market in terms of hackability, but it's often impossibly slow to use. When talking to the Squarespace Developer backend, I use Coda 2. For Terminal use, I prefer iTerm.
My browser of choice is Chrome, which I have specced out with a variety of extensions and workflows. I keep up with email with Airmail (I recently switched from Sparrow). Messages is always open, since I enjoy texting from my computer.
Spotify is constantly playing, as well. I've tried Rdio and Beats, and neither of them could convince me to switch away.
I manage my photography catalog in Lightroom, which is hands-down the best photo managing and editing app out there. Most of my editing is done here as well. I rarely use presets (though I do own all the VSCO packs and make frequent use of Nik and onOne's plugins) and usually manually tackle each photo by hand. I will occasionally open an image in Photoshop CS6—this is usually reserved for touch-ups and small detail edits.
For most everything, I use Avenir Next and Justin Blanton's iA Writer color scheme setup. When coding, I prefer Solarized Dark and Cousine.
How would your ideal setup look and function?
I could go on and on here. My setup is far from ideal, mainly because I'm too broke to spiffy everything up like I'd want to.
In an ideal world, I'd probably be working off a Mac Pro (hooked up to a massive retina Cinema Display) which could then sync effortlessly with a brand new MacBook Air. It'd all be housed on a GeekDesk (or another standing desk, preferably one that's a bit easier on the eyes.) I'd use a Magic Trackpad alongside a mouse, and would have some fancy B&W speakers.
One significant part of the ideal setup that I've been neglecting is backup; Synology looks like it has some fantastic options.
For photos, the minimalist Fuji setup works quite nicely. I'd love to add a PhaseOne to the collection one day, and have been eyeing the Fuji X-T1 for some time, though it appears that a successor to the X100S is soon-to-arrive, which I will most certainly be lusting over.
---
There are more Sweet Setup interviews right here.