Behind The Scenes of Learn Ulysses
August 22, 2017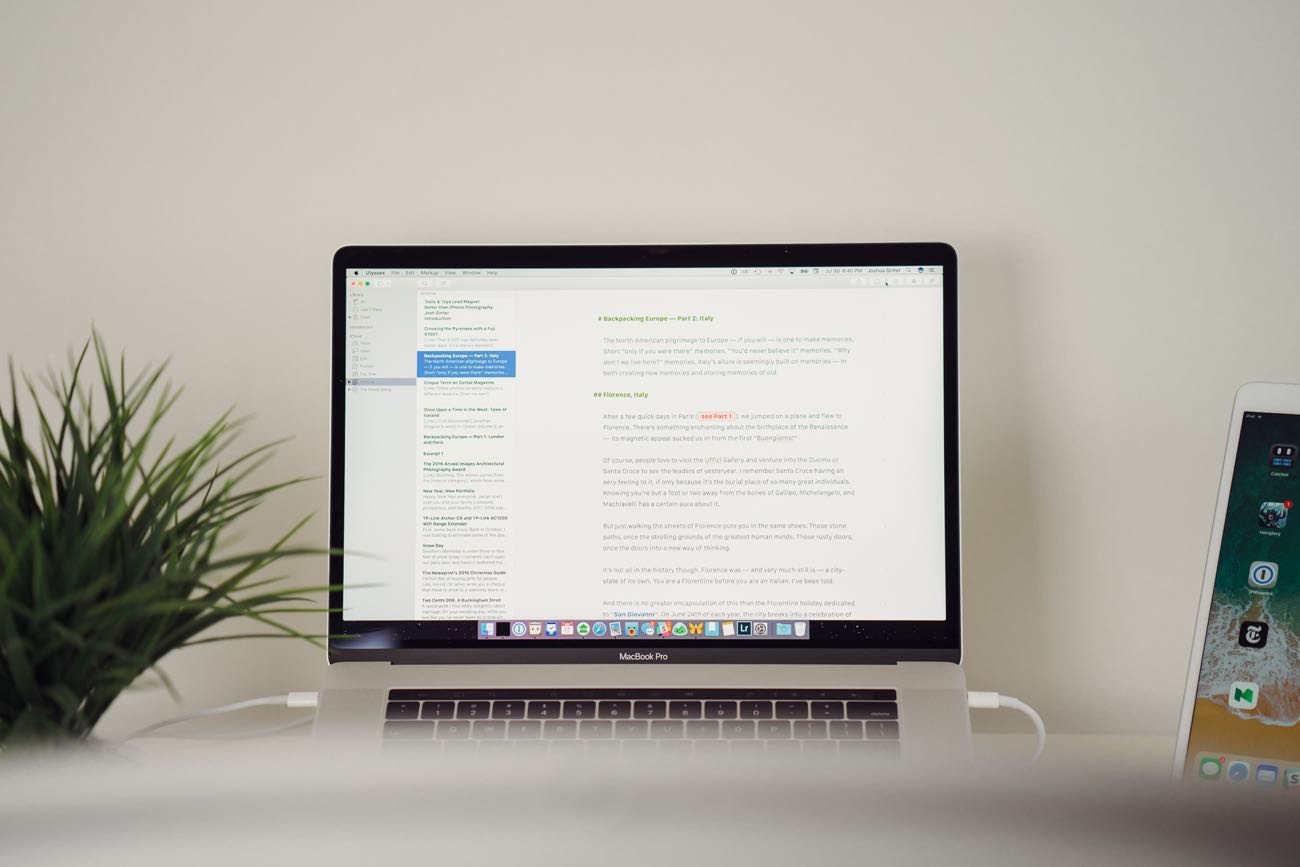 We're on the home stretch. Learn Ulysses launches in one week from today.
Everything major for the new course is done, but there are quite a few little things and final details left to wrap up. There always is. But, to be honest, I love the final leg of a project like this. It's exciting to see all the parts finally coming together into a whole.
The videos themselves have been finished and ready to go for about a month now. And they're awesome. They were written and recorded by my good friend Mike Schmitz, who is, of course, an avid user of Ulysses and also a regular contributor to The Sweet Setup. Mike really knocked it out of the park with these videos and I can't wait for you to see them. (We also have complete transcripts as well.)
Earlier this month, I sent out previews of Learn Ulysses to a handful of friends.
The feedback on the previews so far as been fantastic. Not to toot our own horn, but, well, I did want to give you an idea of what a few folks have said after checking out the course ahead of time:
Wow, this is super slick. I'm impressed. — Scotty Loveless

This is so good! After the first video I had to open Ulysses so I could pause the videos and check out what I just learned myself! — Veronica Domeier
One friend strongly suggested to me that I sell Learn Ulysses for $99.
My aim from the beginning has been to make a course that easily provides $100 worth of value, but then to sell it for less than that.
And that, my friends, is why I've been designing an all-new section of our website that's just for Learn Ulysses. I didn't want to just give you a download link to an MP4 file. I wanted you to have a first-class experience when you go through the material because my long-term goal is for The Sweet Setup to be known for its tutorials and guides just as much as it is known for its app reviews.
We'll be using SendOwl to process orders because of its simple and easy checkout process that also supports Apple Pay. Then we're connecting it in to a custom plugin we had made that will authenticate your access to the course material without the need for you to create a password. It's a different approach for sure, and I'm excited to see how it goes.
Here's a sneak peek of what the new course section looks like (in Safari on my iMac):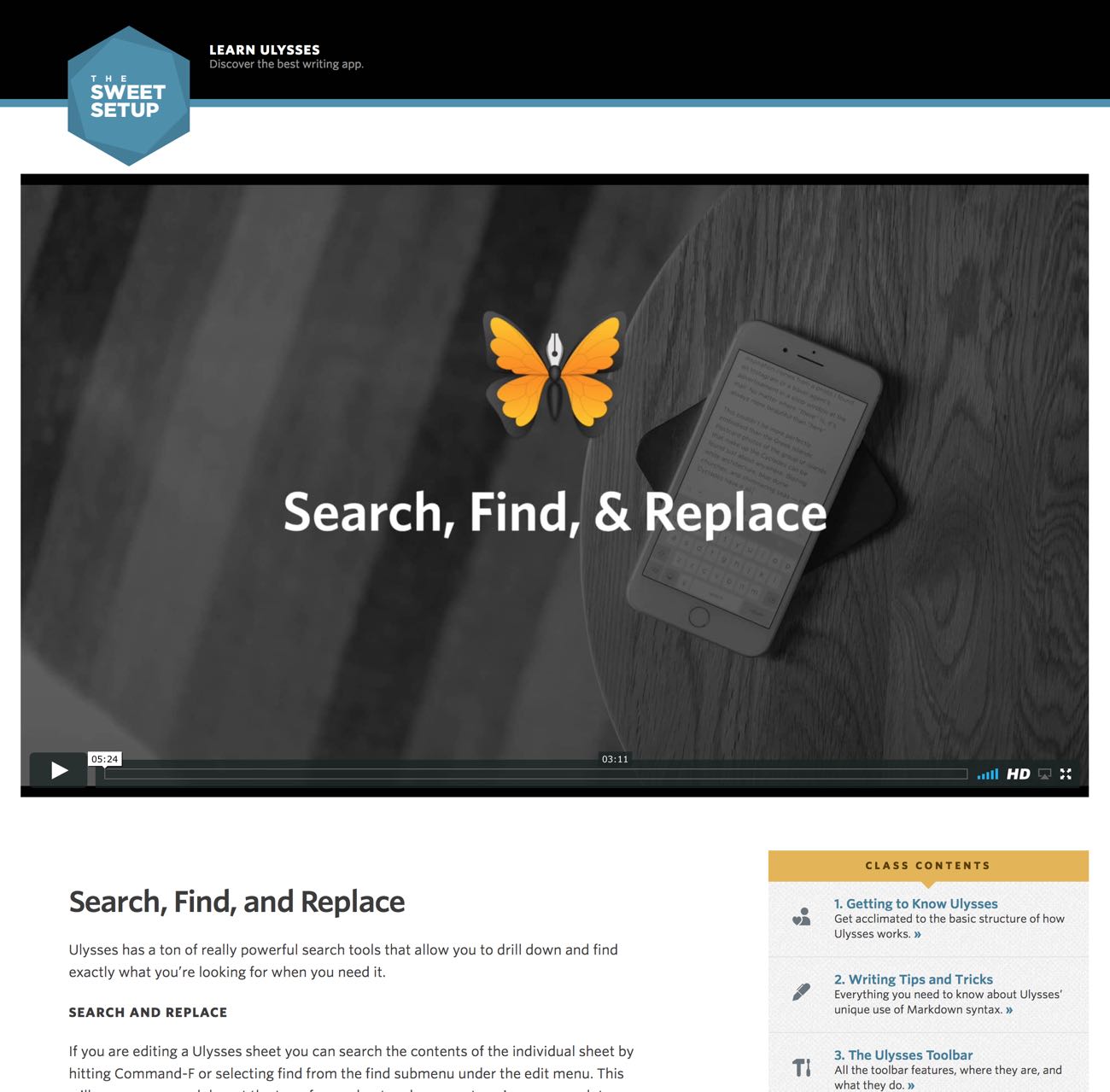 If you look in the bottom right, that's the sidebar table of contents, where we're using icons from the same Symbolicons set that we've been using for years in our app review categories. The icons are giving a bit of pizzazz and personalization to each of the Learn Ulysses sections.
We'll be using those icons on the sales page to give an overview of all the Learn Ulysses content…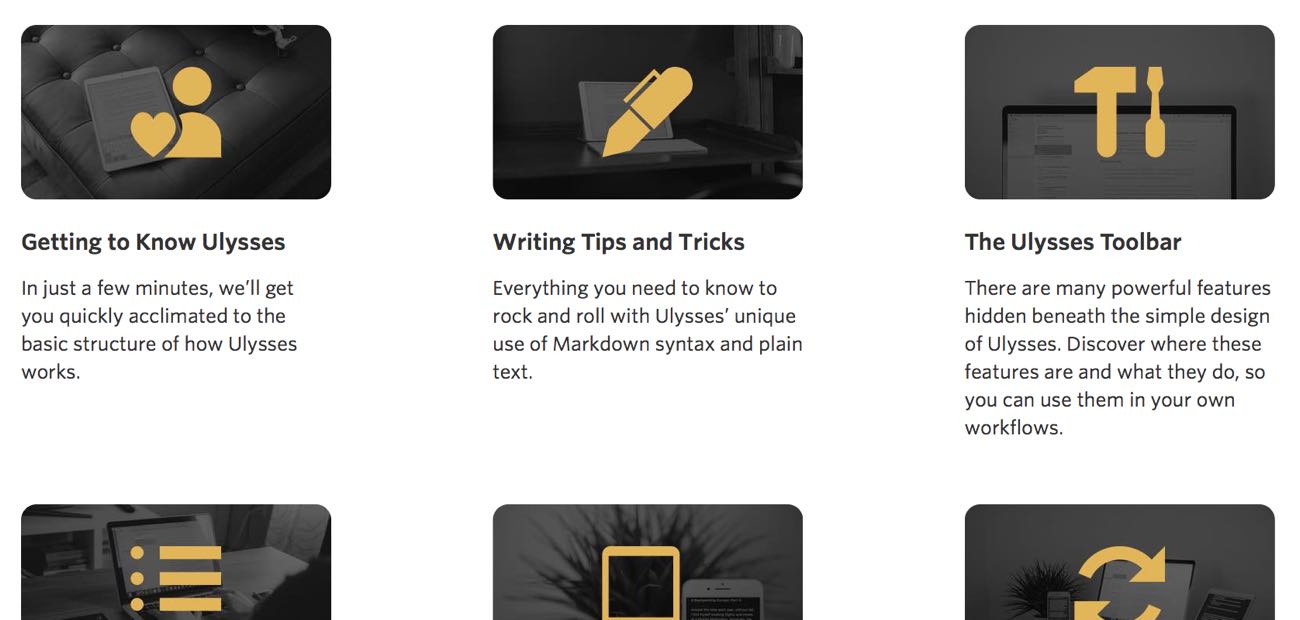 And, as I mentioned, those same icons are also being used in the table of contents (which looks pretty awesome on an iPhone):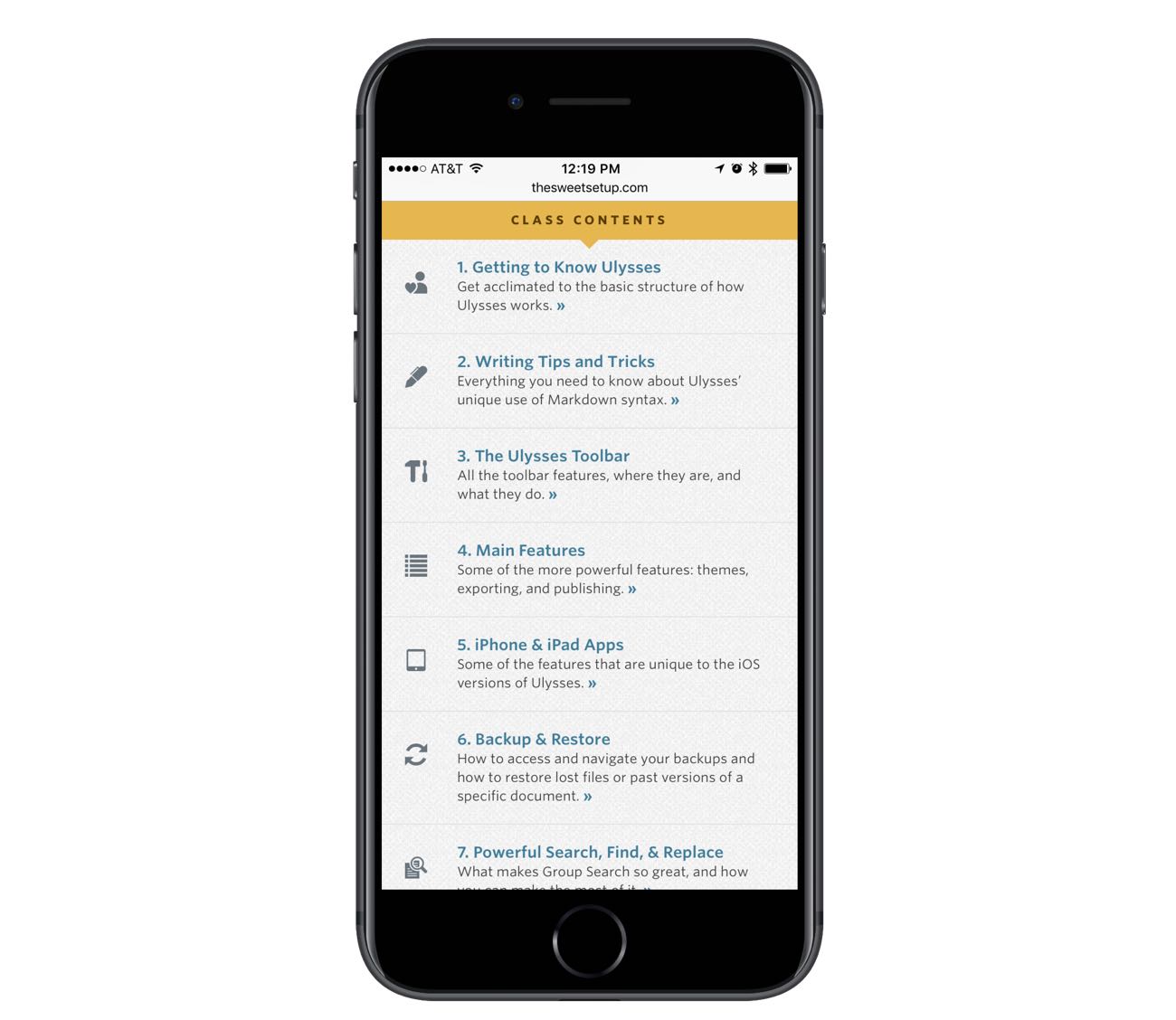 ---
As a brief aside, a few folks have asked us if our new course is sponsored by or affiliated at all with Ulysses. Particularly, people are curious if this is a coordinated effort between us and the Ulysses people (mostly due to the coincidental timing of our new class launch and the recent change in Ulysses pricing).
The answer is no. We are not in any way affiliated with Ulysses, nor did we know in advance about the change in pricing model. We've been wanting to build this Course for over a year, and have been actively working on it since the beginning of the summer. The timing truly is a coincidence.
---
On Thursday I'll be posting a screencast recording of my personal Ulysses setup and workflows. I've found that seeing real-world examples of how other folks use Ulysses is great way to get ideas for how you too could use the app. (That's also why we're including several Ulysses Setup interviews in the Learn Ulysses course.)
And, in case you missed it, here are all the articles we've written so far:
As always, thanks for reading. We're so excited to get Learn Ulysses out the door. You can find out more about the course here.