Our favorite iPad writing app
August 4, 2015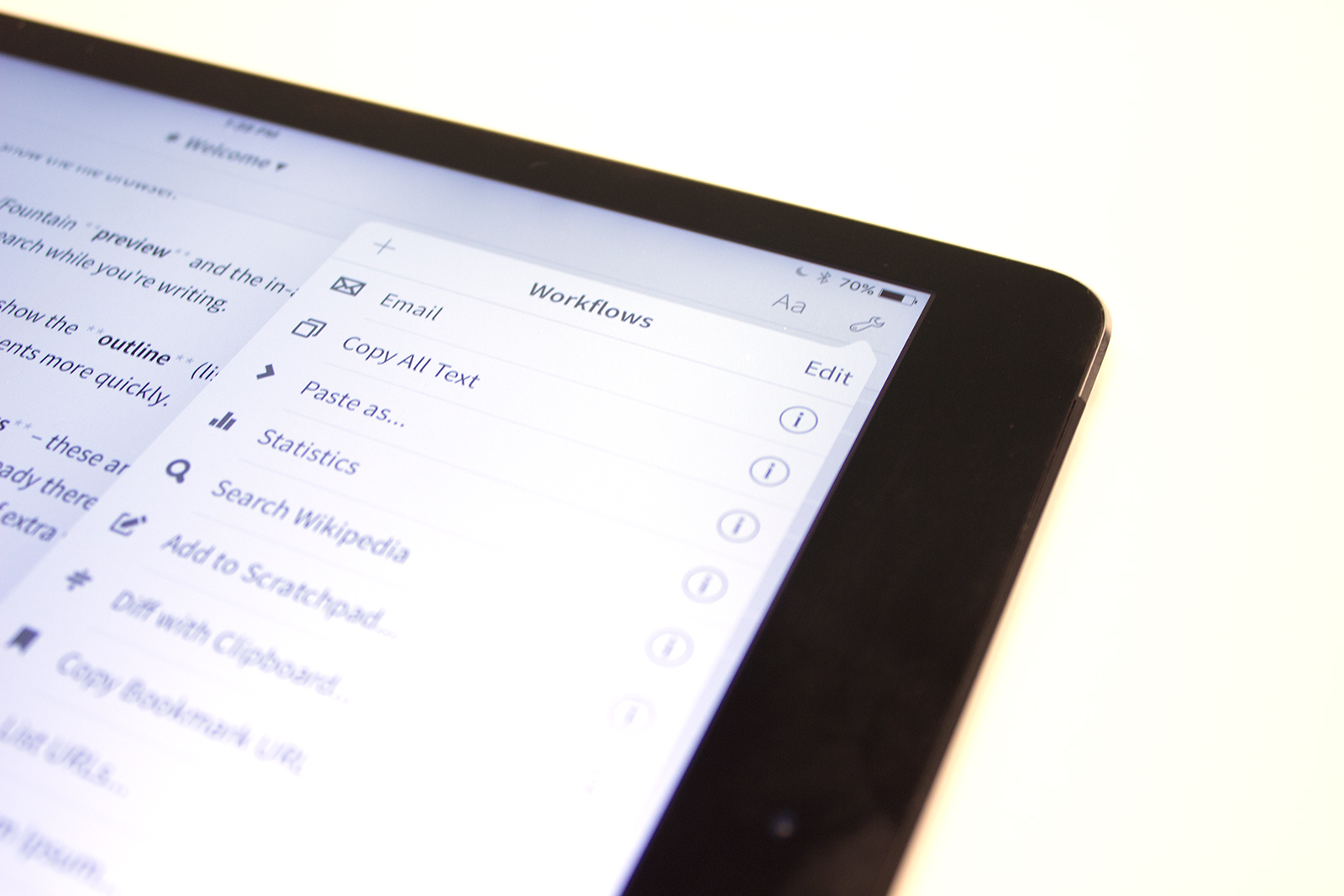 As a writer whose primary device has been an iPad for two and a half years, I have a lot of feelings about writing apps. And, it's no secret that the iOS App Store is replete with great ones. Here are just a few off the top of my head:
I'm probably missing some, and this isn't even counting apps like Drafts, Simplenote, Vesper, and Evernote, which are ostensibly for notetaking but work just as well for general writing.
For me though, the king of them all is Editorial. It has four key features for me:
Basic Criteria
Whenever I try new writing apps, I always look for a handful of essential features:
Without these features, I just wouldn't feel at home in any writing app. Editorial doesn't just meet these criteria — it exceeds them in ways no other text editor has yet been able to.
Notice that "minimalist writing environment" isn't part of the list. It can certainly be a nice feature, but I'll take Editorial's "power user" features over additional blank space on my screen any day.
My Favorite Editorial Workflows
There was a time when the following list would have been much longer. Admittedly, I do still have a ton of workflows saved in Editorial as I write this, which I should do something about.
Many of them are now collecting dust, since (a) I've found a certain groove in my writing process where I don't need as much automation as I used to, and (b) Editorial continues to add native features that copy (or improve upon!) functionality that previously could only be accomplished with workflows. One such feature is the ability to rearrange paragraphs via drag-and-drop, added in the version 1.2 update.
That said, there are still several workflows I find myself using often (click any link below to add that workflow to Editorial on your own device):
What Editorial Lacks
As much as I love Editorial, it's not perfect (yet). These are my ongoing annoyances with the app:
You know how in Safari you can tap-and-hold an image to bring up the option to save it to your camera roll? Editorial's web browser has no such feature, nor have I been able to find any workflows that can accomplish what seems like a basic task. I can't tell you how many times I've had to open a URL in Safari just to grab an image, rather than staying in Editorial where I'm already working. (Not to mention how often this causes Editorial to reopen from scratch, since I'm on an older iPad with less memory.)
The web browser keeps no history between sessions. This normally wouldn't bother me, except that if the app crashes or I've been away from the app a while, any tabs left open at the time either fail to reload the last page, or they manage to load the last page but forget everywhere else they'd visited previously. If Safari crashes, on the other hand, I can at least rest assured knowing that when I reopen it, all my tabs will remember where they've been.
Settings and workflows don't sync or backup automatically between devices. I've lost count of how many times I've had to re-configure everything on my iPhone and iPad after a device restore, or when my Editorial beta has ended and I end up having to delete-and-reinstall when the App Store version fails to download correctly.
These quibbles aside, Editorial is truly the ultimate writing app for me. I don't see myself switching to anything else in the near future.
Editorial is a universal iOS app and can be purchased on the App Store for $9.99.