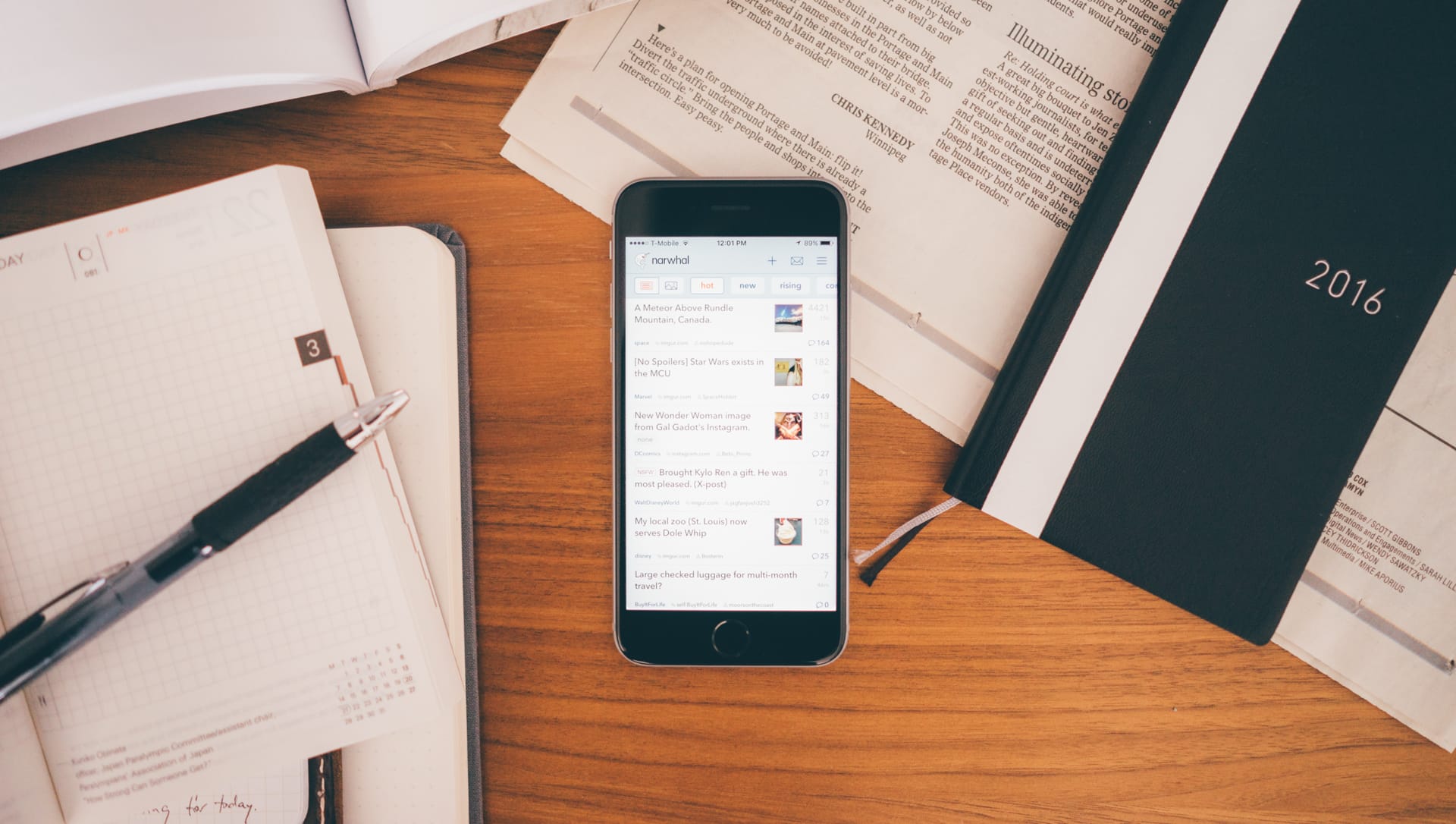 The best Reddit app for iOS
Narwhal
April 12, 2016
For years I avoided Reddit like the plague.
Don't get me wrong, I've tried every other major forum and social network under the sun. Facebook (back when it was only open to college students), the SomethingAwful forums, Digg, Twitter, Path, App.net, Instagram, Flickr, Vine, Snapchat, and more recently, Peach. I'm not exactly close-minded about these things, even if some networks are confusing at best (I'm looking at you, Snapchat).
It wasn't until a year or two ago that I decided to finally put aside my preconceptions and give Reddit a shot, still going nowhere near the subreddits I find distasteful. I quickly discovered they have a subreddit for nearly every niche interest imaginable. You could geek out about anything you wanted, with like-minded people, and avoid the disagreeable parts of the network.
That's not to say I enjoy using the Reddit website itself. Let's be honest: It's terrible, outdated, and generally a mess. I would much rather use an iOS app that presents the content in a more pleasing way. Luckily for you and me, there are plenty to choose from! Now, they do have a mobile site in beta that actually isn't too bad at all. Like most web apps though, it doesn't quite match a native app in terms of performance, features, and that elusive "joy to use" factor.
Scope
With that in mind I, with some help from other members of the Sweet Setup team, set out to see which Reddit client for iOS was the best one, given a small set of criteria. Not only should it be well-designed and easy to use — to the point where you never consider visiting the website itself — it should offer features that are unique to both Reddit and iOS, and it should feel like a good value for what you pay.
On the value front, what we discovered is that every single app in our tests was free to download but offered a $2-$3 in-app purchase, typically to remove ads. The upside for you, dear reader, is that you get to test the entire field without paying a dime! It should go without saying, though, that once you've chosen a favorite app of your own, you should pay for the IAP and support that developer's work.
The Apps We Tested
We formed the following list based on (1) recommendations from fellow Redditors and iOS nerds, and (2) the kind of gut instinct one forms after writing about apps for years — i.e. we searched "reddit" on the App Store and chose the apps that looked obviously worthy of being tested. Here's what we came up with:
Our Pick: Narwhal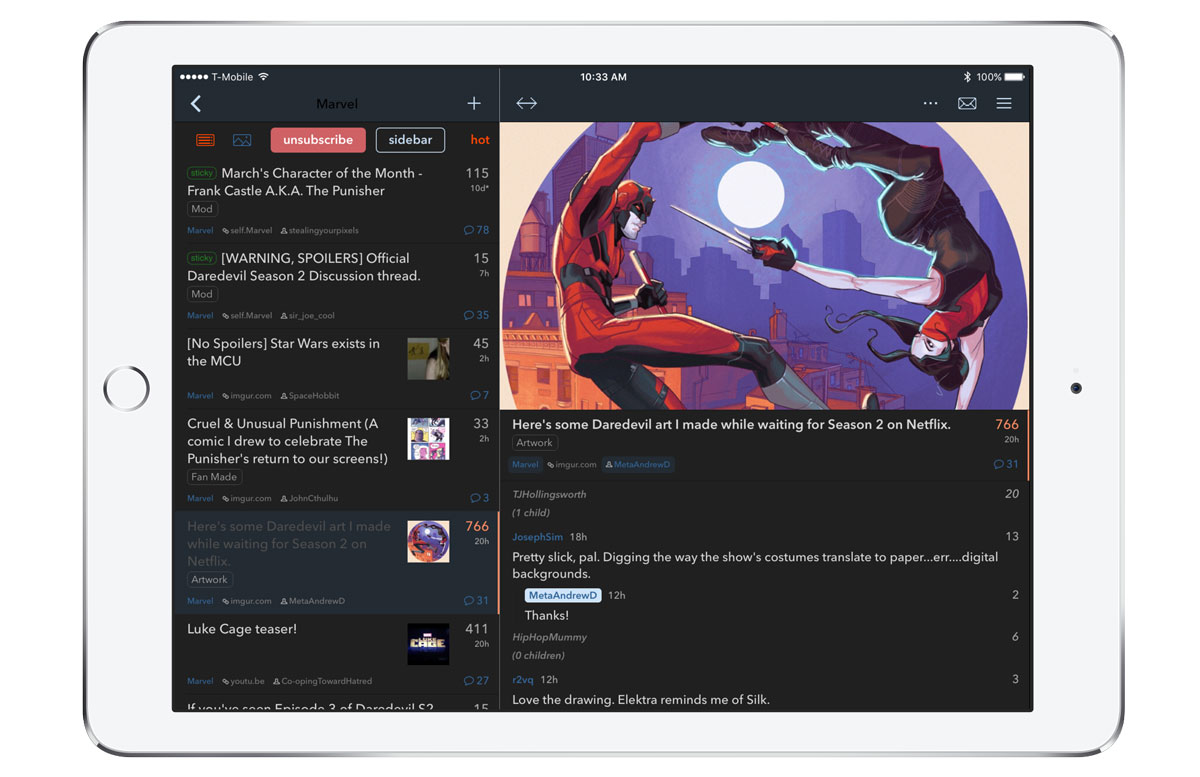 Right away, we knew that Narwhal for Reddit would likely be our top pick. It was far and away more enjoyable to use than any of the other apps, and this has held true even in long-term testing.
Design and Usability
Right off the bat, we appreciated Narwhal's features and attention to detail.
On the main screen, tap the Narwhal logo at the top to toggle between light and dark modes. Both are enjoyable to look at, which is more than some iOS apps can say. (For example, the dark mode in Tweetbot is way better-looking than its light mode in my estimation) In both modes, Narwhal gets the balance of text and UI colors just right.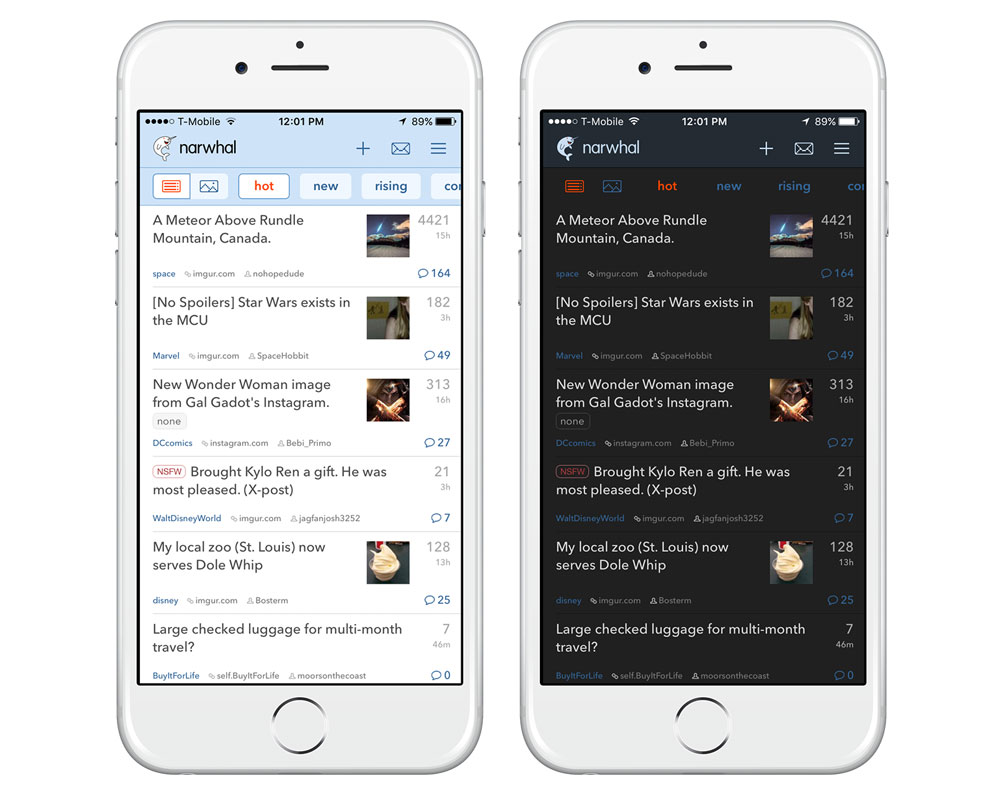 Out of all the apps we tried, Narwhal is the only one with an always-visible "New Post" button while viewing any main feed outside of a comment thread (it's the + button at the top). All the other apps keep such a button tucked away in a menu somewhere, and they're all different. As much as we enjoy a good scavenger hunt, it's nice of Narwhal to keep that option front-and-center.
Another button that's nearly always visible is the pixelated envelope icon at the top, which opens your messages inbox. From there, you can switch "tabs" to view sent messages, comment replies, mentions, etc. When you've got new messages/replies, the envelope lights up in a pleasant-but-eye-catching orange and white.
Even the pull-to-refresh bar is a nice touch. Pull down and you're treated to the app's charming narwhal mascot chewing on a piece of bacon, who gives a joyful smile when you let go to refresh. In "night" mode, the narwhal wears groovy sunglasses and floats in a field of stars in space. Amusing touches like these go a long way to making an app more enjoyable to use.

Another thing I want to mention is how smooth the whole app feels. It never stutters while loading content (even on a throttled LTE connection, threads and comments load surprisingly fast, if not the external links themselves), and it certainly never feels like a chore to use. A lot of care went into every interaction and detail.
Reading and Voting
When you tap to open something from the feed, it loads the external link (if there is one) and the Reddit comment thread simultaneously — external content at the top, thread title and comments at the bottom. Swipe the thread down to view the external link in full (which leaves a "view comments" bar at the bottom to bring them back), or swipe up to view comments only, which lets you tap the top status bar to quickly hide the thread whenever you like. Either way, it's easy to switch to the other view.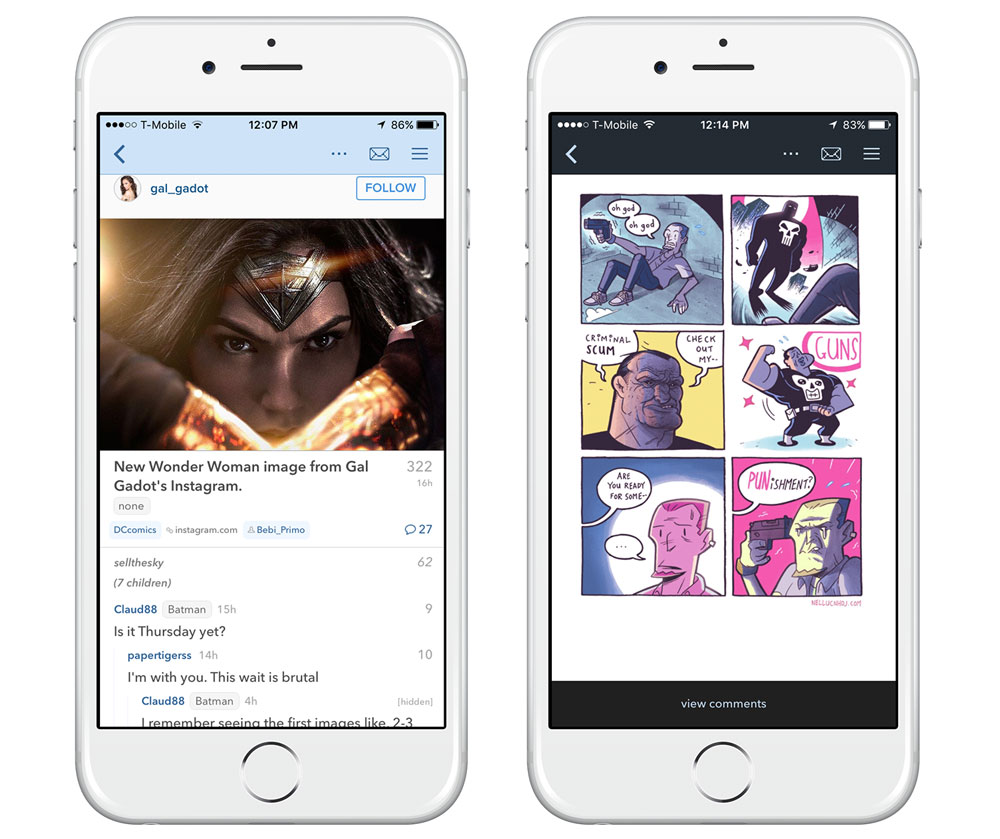 Voting on links, threads or comments is done by swiping a little to the left to upvote, or further left to downvote. Once a vote is made, a line on the right marks that thing with the appropriate color (orange or purple, respectively). The vote counter itself will also match that color. This is much nicer than having an always-visible arrow taking up precious screen real estate.
Other Actions
Swipe a little right on a thread title to save it, or further right to hide it altogether. Pretty simple.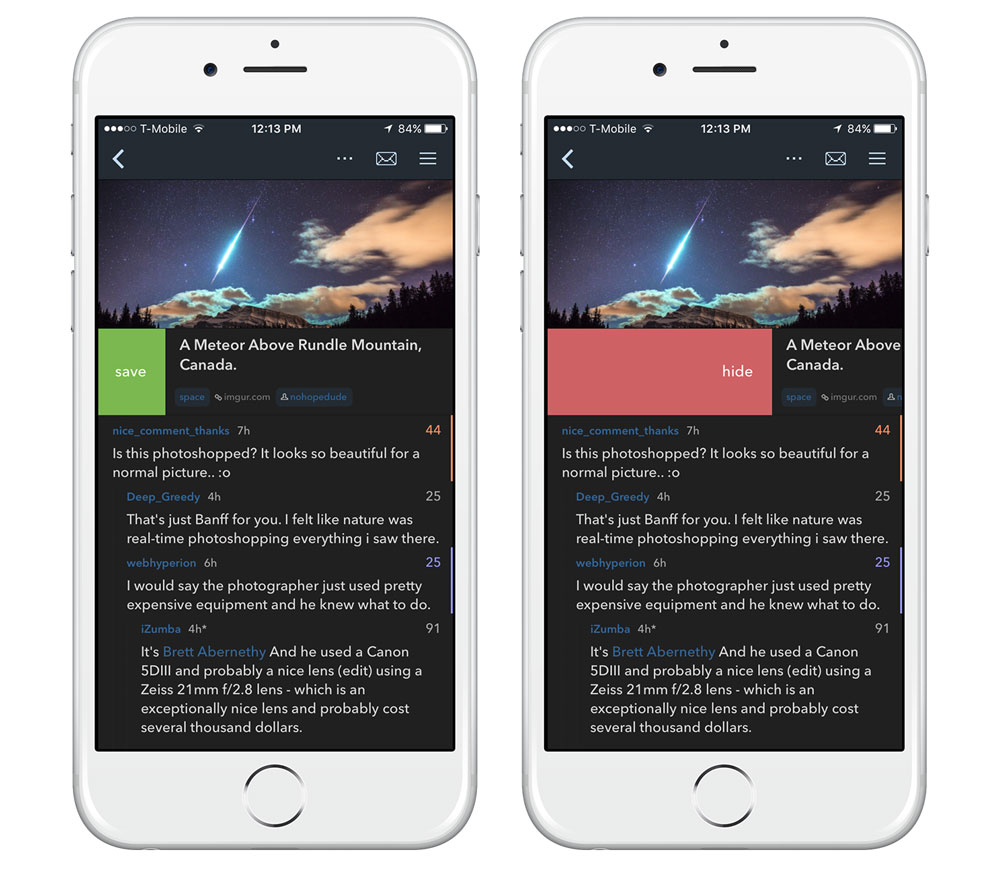 Comments in threads have similar actions: Swipe a little right to reply, or further right to bring up more options:
Private message that user
View their profile
Share comment
Save comment
Report comment
While viewing a thread, the New Post (+) button at the top changes to an ellipsis (…) button that gives you a list of options:
Share the external link (brings up the iOS share sheet)
Share reddit post (again, brings up the iOS share sheet)
Add comment
Sort comments (by best, top, new, hot, controversial, or old)
Refresh comments
Open external link in Safari
Refresh link (this comes especially in handy for imgur links, because their site is terrible and sometimes won't load images)
Whenever you're viewing a main feed of some sort — i.e. your front page, a subreddit, or a list of search results — a horizontal toolbar at the top gives you quick-access options like the toggle for large/small thumbnails, plus the series of typical Reddit sorting options (hot, new, rising, controversial, top, etc). Tapping most of these sorting buttons will give you options for this hour, today, this week, this month, this year, and all time.
The toolbar is contextual too. When viewing search results, the toolbar adds another sorting button for relevance. When viewing a multireddit, you get buttons to view that multi's subreddits and to create a copy of it for yourself. While viewing a standard subreddit, you get buttons for subscribing/unsubscribing and viewing the sidebar.
Sidebar
Narwhal's sidebar makes it easy to access any subreddits and multireddits you're subscribed to, along with your saved posts, your own profile, posts by your friends, and more. There's even an option to switch accounts, which is awesome if you've got multiple handles for different purposes.
Customization
Narwhal offers just the right amount of customization without overloading you with options. On the in-app preferences screen, you can:
Hide NSFW posts.
Hide or blur NSFW thumbnails. "NSFW" in this case doesn't necessarily mean anything adult-themed. A lot of subreddits like /r/Marvel use it as a sort of "spoilers" marker so you don't accidentally see something in your feed before you've seen a film or read a book.
Adjust the separate text size of titles and comments, which can be conveniently viewed live in a preview above.
Choose between three fonts for the app as a whole: Avenir, Helvetica Neue, or San Francisco.
Additionally, there are toggles for night mode, auto-refreshing on launch, and push notifications for messages.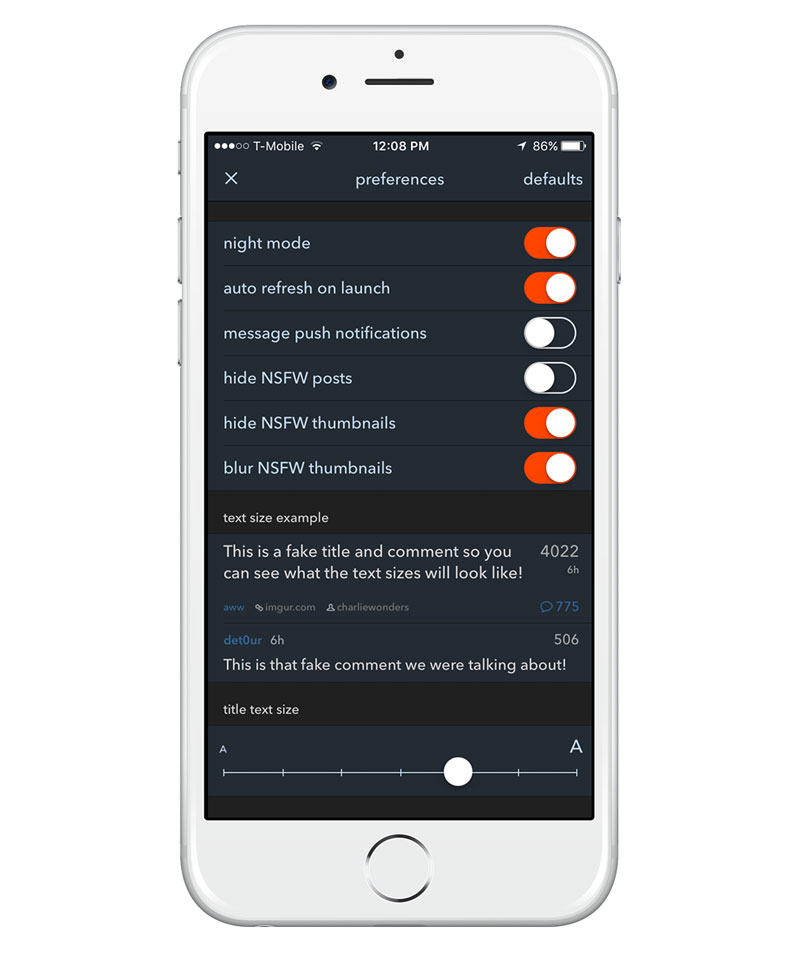 Where Narwhal Could Improve
No app is perfect, right? While we have no major complaints about Narwhal per se, there are several things we'd like the developers to consider:
There is currently no ability to create multireddits in the app. If you make one on the Reddit site, it does instantly show up in Narwhal's sidebar, but this could be better.
There should be a universal swipe action for swapping between light and dark modes, á la Tweetbot's two-finger swipe up or down. If you're not viewing the main feed where Narwhal's logo button is, the process for switching modes becomes Sidebar → Preferences → Night mode toggle. A swipe gesture would save a lot of trouble over time.
It would be nice if the iPhone and iPad versions synced "read" statuses for threads. If I read threads on iPhone and open Narwhal on my iPad later, or vice versa, it doesn't remember which things I've read on the other device. (Speculation: I know "thread syncing" is one of the features offered by Reddit Gold, so maybe Narwhal is barred from having such a feature by the Reddit API?)
Another would-be-nice-to-have: If the search bar remembered what you last typed, or you could somehow modify the existing search rather than retyping the whole thing just to make a change or fix a typo.
There should be an ability to save drafts of posts/comments. As it is, if you 'x' out of the compose window for any reason, you'd better copy everything to your pasteboard first or you lose it all. And even then, you can't just go find a link to insert into your draft because that removes the copied text itself.
The iPad version has no way to "close" or back out of an open link/thread. Maybe you need to close a video real quick, or you're looking at some silly gif at work that might get you in trouble. We're not judging; these things happen sometimes. The only way to close what you're looking at is by switching to another random thread, which if you're acting quickly and not thinking about it, might just open some other auto-playing thing.
There is a double-ended arrow button (↔) that can toggle the link/thread to be full-screen, which is handy sometimes but doesn't help in this case. Maybe the developers could make this swipe-able in the other direction to hide the link/thread and view the post list full-screen? It wouldn't be the smoothest of interactions but it might help.
The Competition
It's difficult to even call these other apps competition. Strange as it seems, not one of them comes close to Narwhal in terms of overall enjoyment. In many cases we found their design choices downright odd. Let's talk about the pros and cons of each one.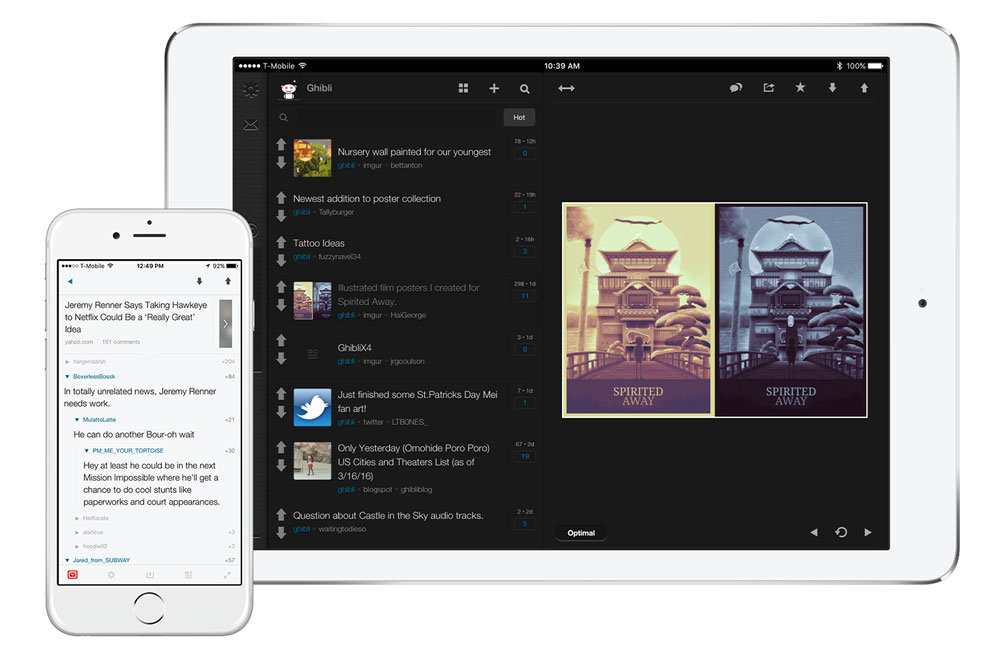 It's hard to believe this is the official Reddit app for iOS. It's ugly, clunky, and unintuitive. We'd rather they just made the mobile beta site their official app.
Let's be honest: The Alien Blue interface is just weird. There are some places you simply can't swipe to go back; you have to stretch to use the back arrow at the upper left corner. Sometimes buttons just don't do anything, like the little gear button while viewing certain external links (imgur images, etc). Other times, settings don't do what you think they would. For example: Changing text size doesn't change anything about the text in the settings menu itself, so you don't know anything has actually happened without closing it.
About the only good thing we can say about Alien Blue is that they recently gifted pre-existing Pro users with four years of Reddit Gold.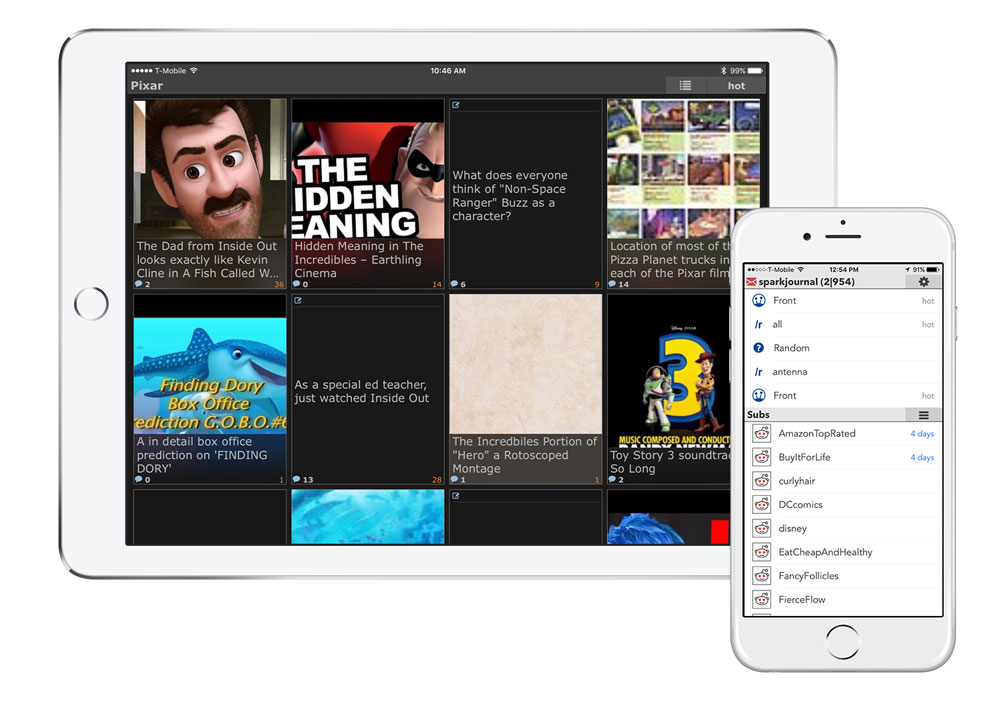 If there is such a thing as "2nd place" in this review, Antenna (formerly AMRC) gets the nomination.
Now, it's not the prettiest app around, and some of what we'd consider basic functionality is walled behind its $3 "Pro" IAP, which unlocks:
User history
Night mode
"Read Later" services
Additional fonts
Search
Filters
Additional shortcuts (i.e. access to multireddits and recently viewed threads)
History sync (via a Synccit account)
Thread submission
…and more
That being said, once you unlock the IAP, Antenna becomes a decent app overall. It even has some features we'd like to see in Narwhal, such as its Markdown shortcut toolbar when composing a post or comment, the ability to set a passcode (with support for Touch ID), cellular download limits, support for spoiler-tagged text, and once you've paid for the IAP, the ability to filter posts based on keywords.
Here's a tip on creating filters: While browsing a main feed like /r/all, tap and hold a thread to bring up a list of options, including "Filter This". Choose that option, and you can filter out the entire subreddit that post came from, the author of the post, anything that shares that post's title flair (for example, "Film + TV"), etc.
Filters are particularly useful for, say, never seeing posts by particularly spammy users who fill subreddits with self-promoting crud.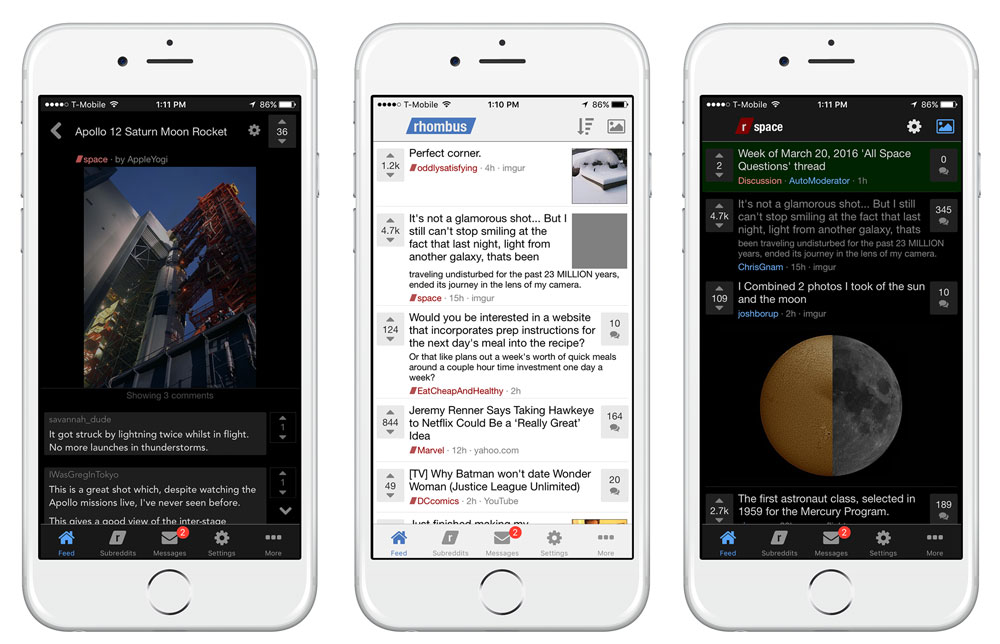 The only app of the bunch that is not only free, but has no in-app purchase to speak of. It's also the only one without an iPad version.
Rhombus, by default, displays a Tweetbot-like "stream" with large post images displayed in-line. You can change it to display smaller images or none at all. Even then, everything in this app feels thick — subreddit names, buttons, default fonts, etc.
Because vote buttons in threads are displayed as these big in-line blocks, they alternate from one side of the screen to the other depending on if they're next to a parent comment or a reply. This is confusing at times to parse and interact with. Voting itself is a little weird — tap to upvote, tap again to change it to downvote, then tap again to remove your vote. This adds up to a lot of taps over time.
In the end, you get what you pay for (or don't, rather) with Rhombus. It doesn't offer anything to set itself apart from the pack other than being 100% free without ads. It's just…meh.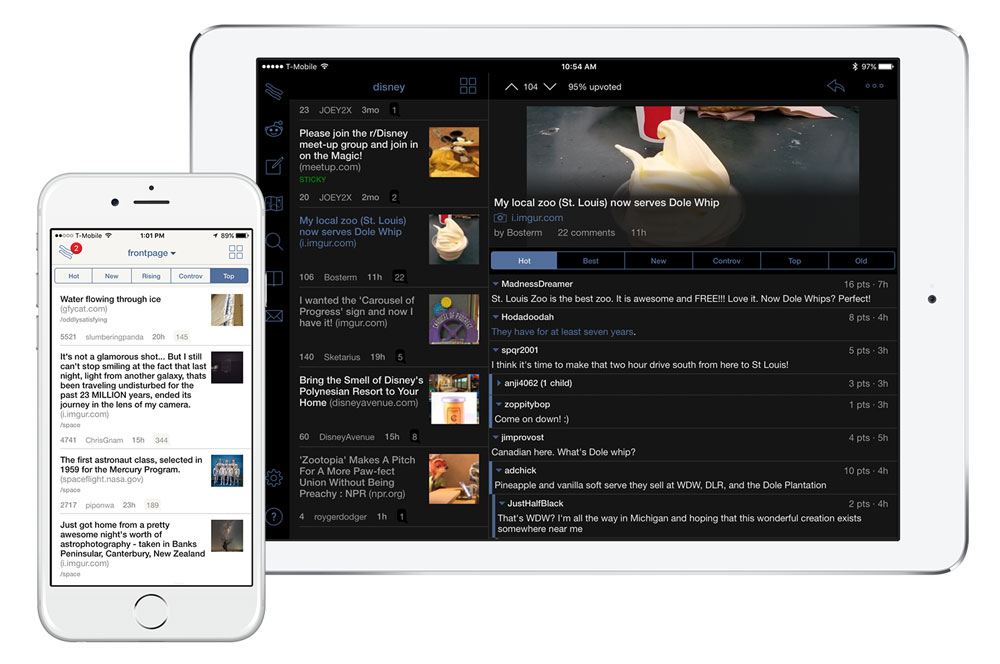 This one stood out in testing by being the only one to prompt users with an EULA on first launch…not exactly a good first impression.
It does have the ability to create multireddits in-app though, which is awesome. You can find this option by tapping the dropdown button at the top of the screen. This page is also where you can easily switch between subreddits. Multireddits on the list are mixed in with subreddits alphabetically by default — a weird choice to be honest, but the list can be sorted the way you like via drag-and-drop, so it's not a huge deal.
Navigating the app in general is easy to comprehend, but we don't really care for the way thread comments are displayed. Replies are all shifted to the right in such a way that they leave solid white space on the left, which makes them look sort of glitchy or broken.
Also, the search feature always defaults to "All Subreddits" rather than a basic search of all of Reddit. We don't care for this ourselves, but others may not mind.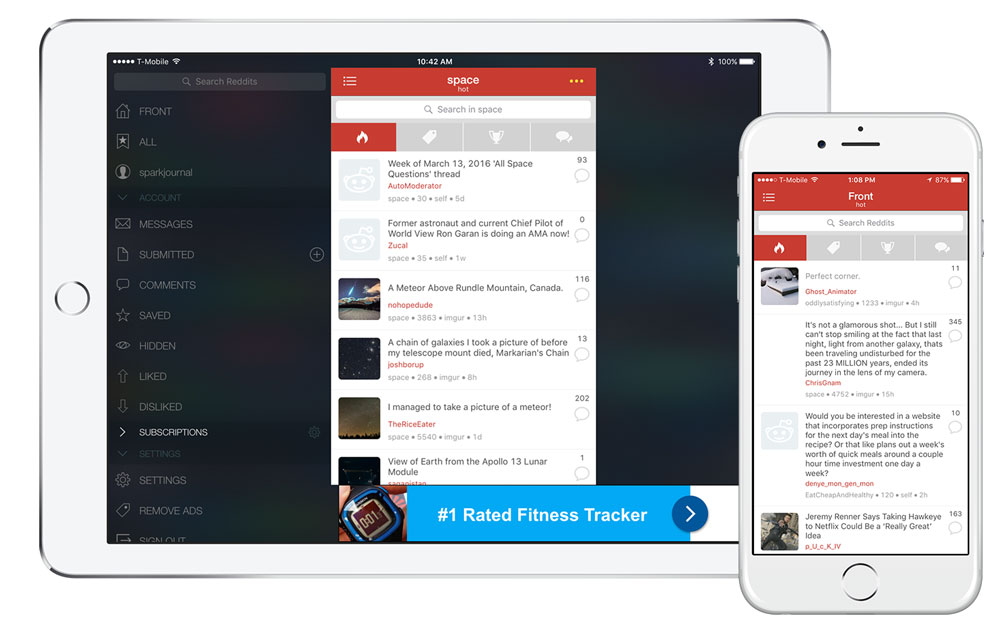 This one immediately stood out for being incongruous on multiple levels. In the App Store it's listed as "iAliens" (plural) but on the home screen shows as "iAlien" (singular). The app icon is blue, but the default theme is red. You get the idea.
It also uses weird icons for its main feed tabs. Why does "New" use a tag icon? Why is a trophy icon used for the "hot posts" filter? What?
The only settings in iAliens are to change the theme, enable/disable NSFW "contents," show NSFW thumbnails, and the ability to mark visited posts or not.
Needless to say, we found almost nothing compelling about iAlien(s).
Conclusion
If you're going to browse Reddit on iOS, we recommend Narwhal. It's easy to navigate, the interface makes sense in every way, and it actually feels enjoyable to use. It's far and away the best Reddit client for iPhone and iPad.