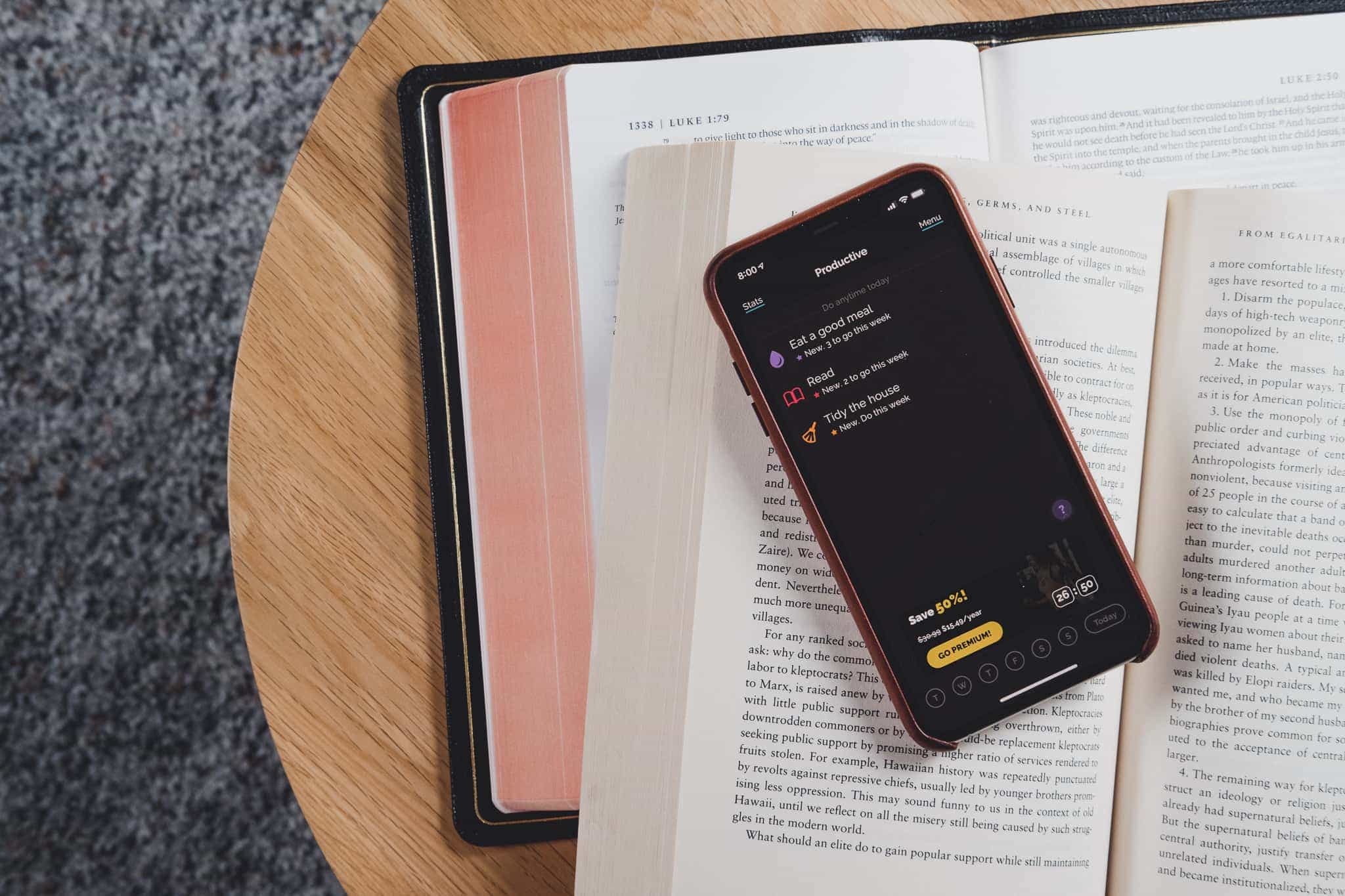 The Best Habit Tracking App for iOS
Productive
December 20, 2018
Every year, the gym is packed with people who make New Years resolutions to get in shape. This is the year they are determined make positive change in their lives. Sure, they said the same thing last year, and the year before that — but this year, they mean it. This year, things will be different.
So, they join the gym. Then they buy new workout clothes. And at the beginning, they do go every day. But within 2-3 weeks, they stop coming. Something throws off their plan or they lose motivation because they don't see any significant change (yet). Their good intentions are not enough to see them through.
It happens to almost everybody. In fact, research at Scranton University says that 92% of New Year's resolutions will fail. But in his book Atomic Habits, author James Clear tells us why:
You do not rise to the level of your goals. You fall to the level of your systems.
The 5 Best Productivity Apps (Sweet Setup Favorites)
Download: We spend an inordinate amount of time sorting through hundreds of apps to find the very best. This list of must-have productivity apps includes app links, quick-start info, and pro-tip workflow recommendations for each app.
If you really want to achieve a big goal this year, the way to do it is to create a system, or habit, that makes success inevitable. Want to lose weight? Don't chase a goal — make a habit of going to the gym. Want to write a book? Make a habit of writing every day.
There's a lot written on the science of habits if you really want to dive into the mechanics of how they work, but you don't have to know it all before you can start making positive changes in your own life. The secret to achieving big goals is consistent small actions. If you can make a habit of doing the right thing every day, success becomes inevitable. With the right habits, this can be the year that you join the 8% who actually achieve their goals.
And the right habit tracking app might be the support you need to make it happen.
Criteria for the Best Habit Tracking App
In selecting the best habit tracking app for iOS, we used the following criteria to select the winner:
Overall Design & Ease of Use – A good habit tracking app is well-designed, making it easy to add habits and track them regularly.
Reports & Statistics – The habit tracking app you decide to use should give you easy-to-understand information in the form of stats, graphs, and charts that make it easy track your progress.
Scheduling & Reminders – When you're trying to create new habits, you might need a little help getting started. If the habit tracking app you decide to use allows you to schedule the habits you want to establish and set reminders, it makes it easier to follow through.
Update Schedule – The habit tracking app you use should have a track record of being well-supported to minimize the risk of it suddenly disappearing, forcing you to figure out a new tool (and possibly losing all your data).
Sync – There's no shortage of habit tracking apps available for your smartphone, but you should consider how your data will be synced if you want to track your habits from the web or your Mac.
Cost – What's a few bucks when compared to the positive impact the right habits in your life will make? But with so many options available, you can afford to be a little bit picky when it comes to price.
Our Favorite Habit Tracking App: Productive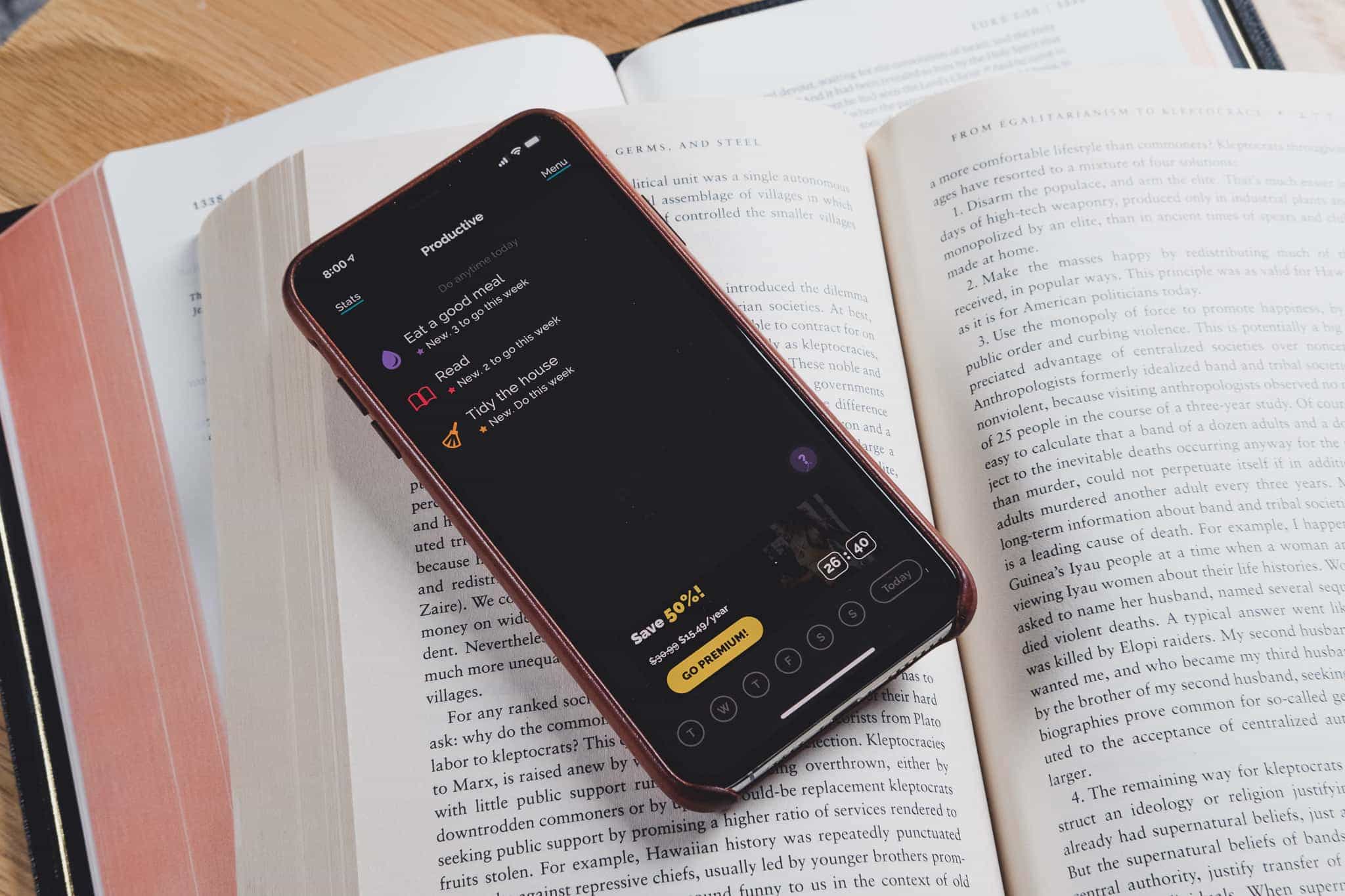 Productive offers the right blend of powerful features and ease of use that makes it the ideal tool to help you establish positive habits.
Productive is built around a philosophy of creating positive change by repeatedly doing the right things. This "Don't Break the Chain" strategy is based open a motivational technique that is popularly attributed to comedian Jerry Seinfeld. The story goes that a young comedian asked Seinfeld how to become great, and Seinfeld responded by advising the aspiring comic to get a big wall calendar and put a big red X on the calendar for every day that he wrote new material. Each day that he was able to put another X on the calendar, the longer the chain would become. The longer the chain became, the more motivated he would be to not break the chain. His only goal at that point was to not break the chain.
The brilliance of Productive's design is in how it reinforces this principle throughout the app, providing motivation to keep going with the positive habits you are trying to create. The Stats screen shows your "Life log" using a monthly calendar that displays a large green dot for all the days that you successfully completed all your tracked habits.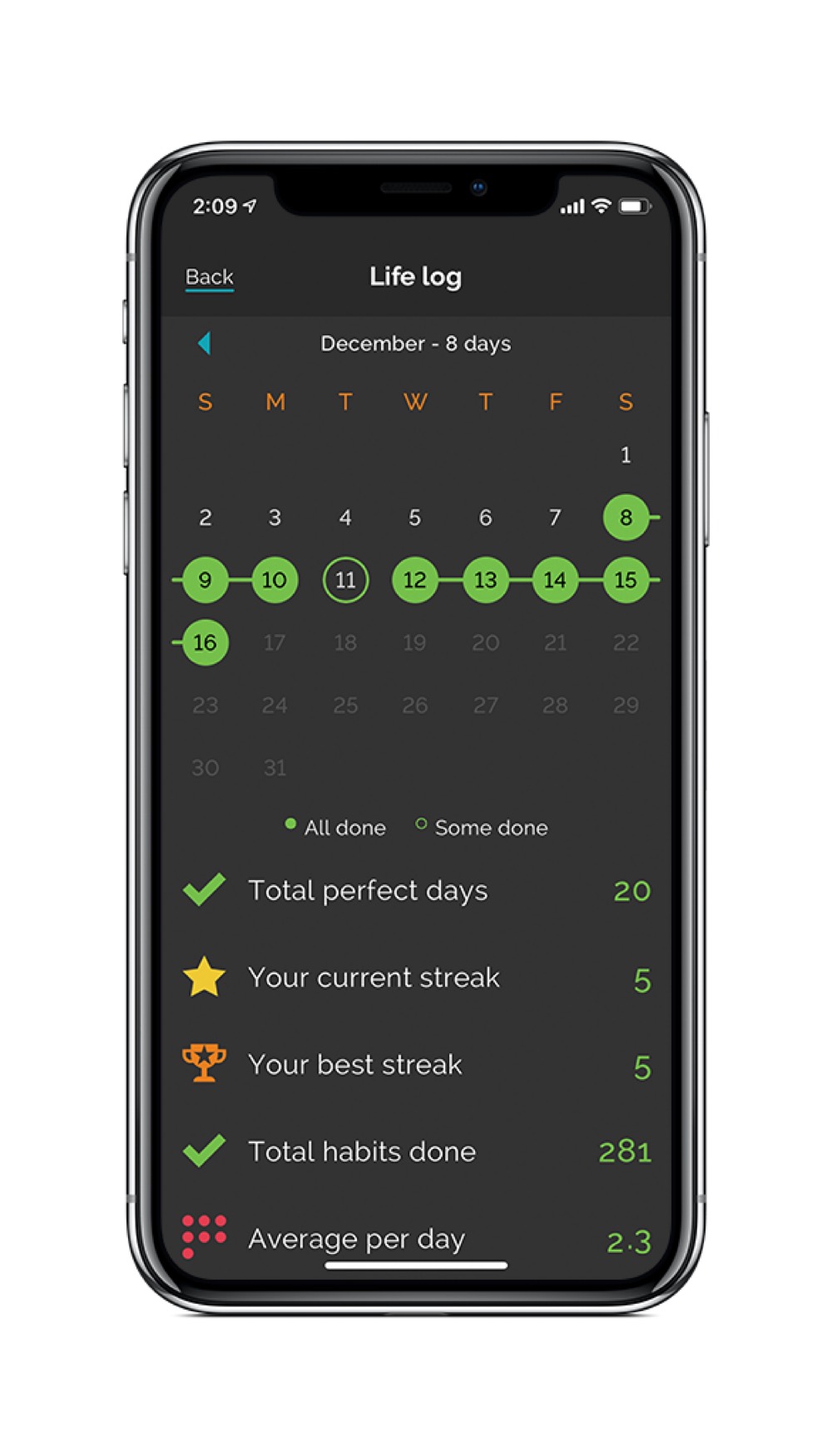 Successful days are linked together with a thin green line, giving you a visual indicator of the length of your chain. The days that you don't follow through and complete all your habits are marked with an empty circle, a visual indication that your chain was broken. It's fairly simple, but it does the job — it inspires you to keep going and not break the chain.
This principle is reinforced on the Today screen as well. Each habit clearly shows the length of your chain for that specific habit. While the Stats screen may show that your perfect day streak is done if you mess up and miss one thing, it doesn't break the chain for all your other individual habits.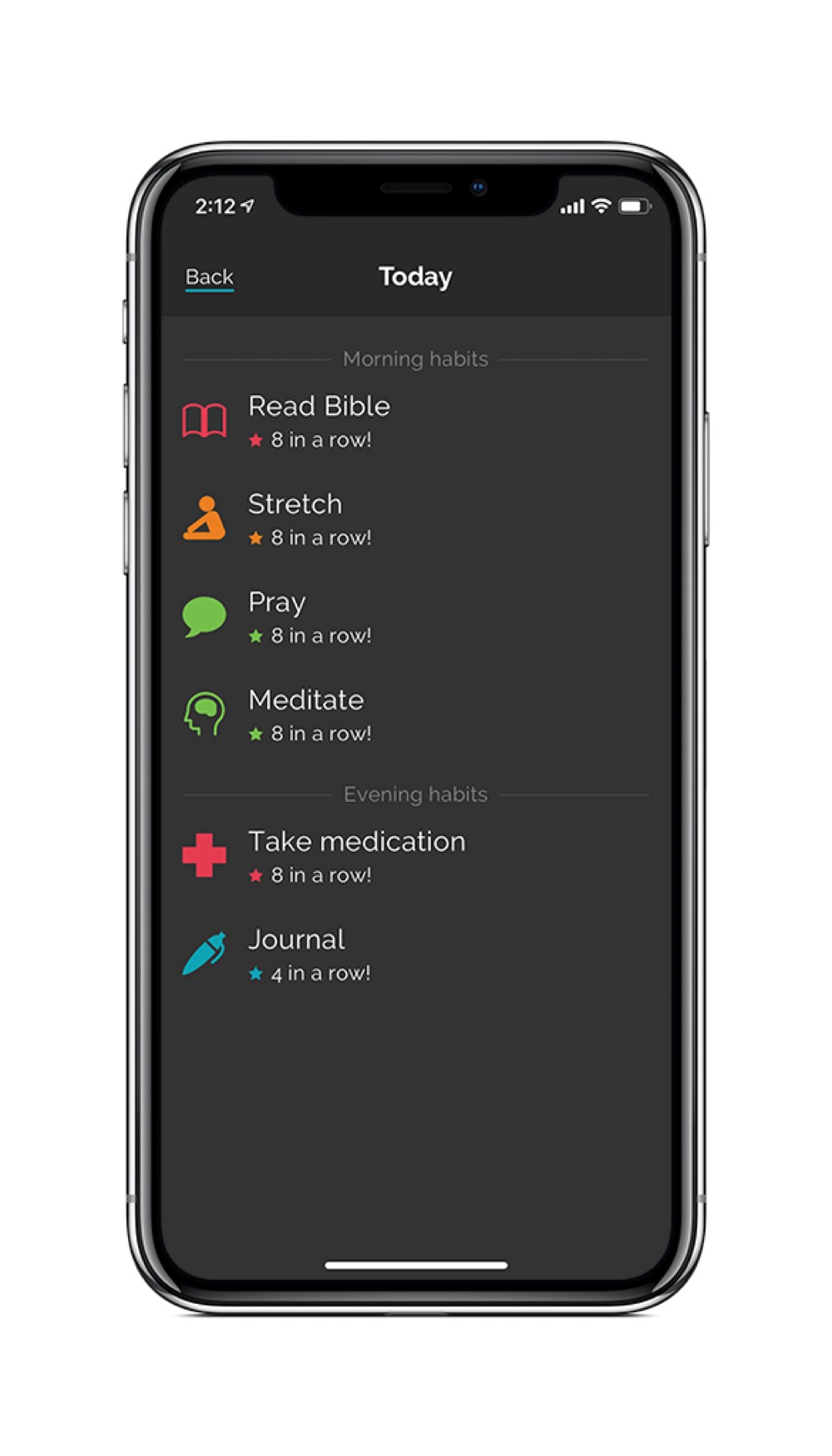 It sounds like a simple thing, but when you're trying to create habits, all these little visual design incentives are important in reinforcing the behavior you want to solidify as part of your daily routine.
One of the things about Productive that makes it a joy to use is the unique way that the interface incorporates swipe gestures. This keeps the interface as clean as possible and sets it apart from a lot of the other apps we tested. For example, there is no button to mark a task as completed — just swipe from left-to-right to mark it as done, or right-to-left to "skip" (which allows you to keep your chain intact without marking the task as complete). To add a new habit in Productive, swipe from top-to-bottom and a colorful banner appears at the top of the screen telling you to "Pull down to add."
When you create a new habit this way, you can select a preconfigured habit from a variety of categories or select "Write my own" to create a custom habit. The next screen allows you to name the habit, pick an icon and a color, and even set a timer for how long the habit will take. After that, you can choose how often you want to repeat the habit (daily, weekly, or monthly), select which days you want it to repeat on, choose a time of day you want to perform the habit (morning, afternoon, evening or any time), and whether you want to set a reminder.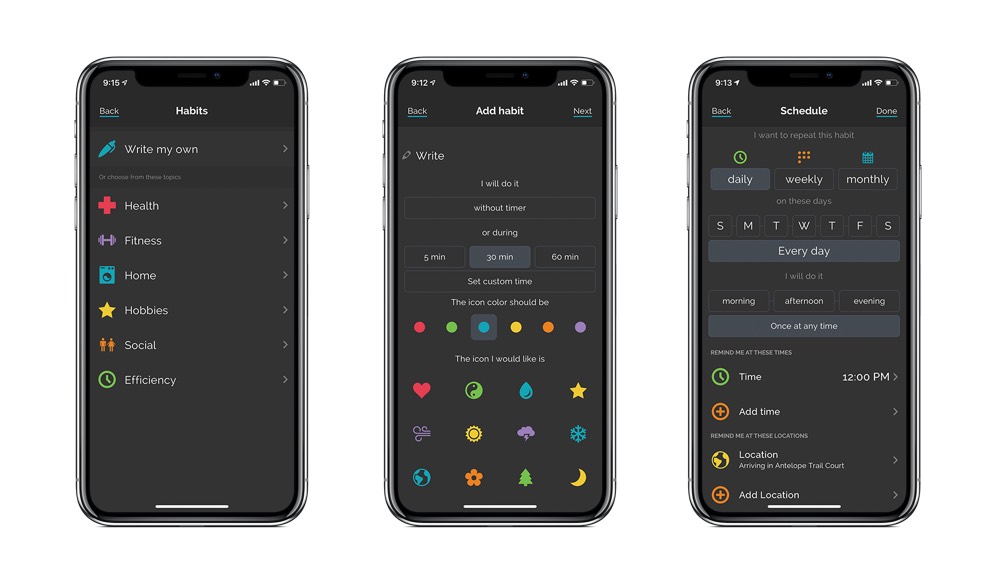 You can set reminders for morning, afternoon, or evening in the Free version and control when these reminders will fire in the Settings. For most people, this will be more than enough and doesn't require you to manually choose a time for each habit you want to create. If you want more granularity, you can set time-based reminders or even location-based reminders if you pony up the $23.99/year for the Premium features.
In addition to more powerful reminders, the Premium version gets you unlimited habits (the free version is limited to 5), better stats, a passcode feature you can use to lock the app, and a light theme. At $23.99/year, the pricing is a little steep compared to some of the other options that are available, but if you don't need the extra reminders or only want to track a small number of habits, you will probably be just fine with the free version. It's also worth noting that in our testing, as soon as we passed on the in-app purchase, we were immediately offered a time-sensitive discount for $13.99/year (the price of the subscription previously). We're not sure if this gets offered to everyone, but this price is a lot more palatable in our opinion.
If you really want to make something a habit, Productive also has a feature called Boost Mode that will set reminders for every half hour. You can only boost one habit at a time, but it can be nice if you need a big push to get started with a particular habit.
Productive also has an Apple Watch app that allows you to check off habits without your phone, which is easy to read and has large touch targets that make it more functional than a lot of Apple Watch apps. Productive also has support for Siri Shortcuts, so you can create trigger phrases for marking off specific habits (for example, "Journaling done").
One strike against Productive is that it doesn't sync with any other platforms or services, so if you want to check off your habits from the web or your Mac, Productive isn't going to work for you. If you want an easy to use app for your iPhone that makes tracking habits fun, Productive is a great option.
The 5 Best Productivity Apps (Sweet Setup Favorites)
Download: We spend an inordinate amount of time sorting through hundreds of apps to find the very best. This list of must-have productivity apps includes app links, quick-start info, and pro-tip workflow recommendations for each app.
A great option for social habit tracking: Habitica
Habitica is a different approach to habit tracking that applies the concept of gamification to creating (or eliminating) habits. It's made in the mold of a classic role-playing game (RPG), and the design will appeal to anyone with an affinity for retro video games. Like all RPGs, the goal is to make your character as powerful as possible. This is done by repeating positive habits and avoiding negative ones.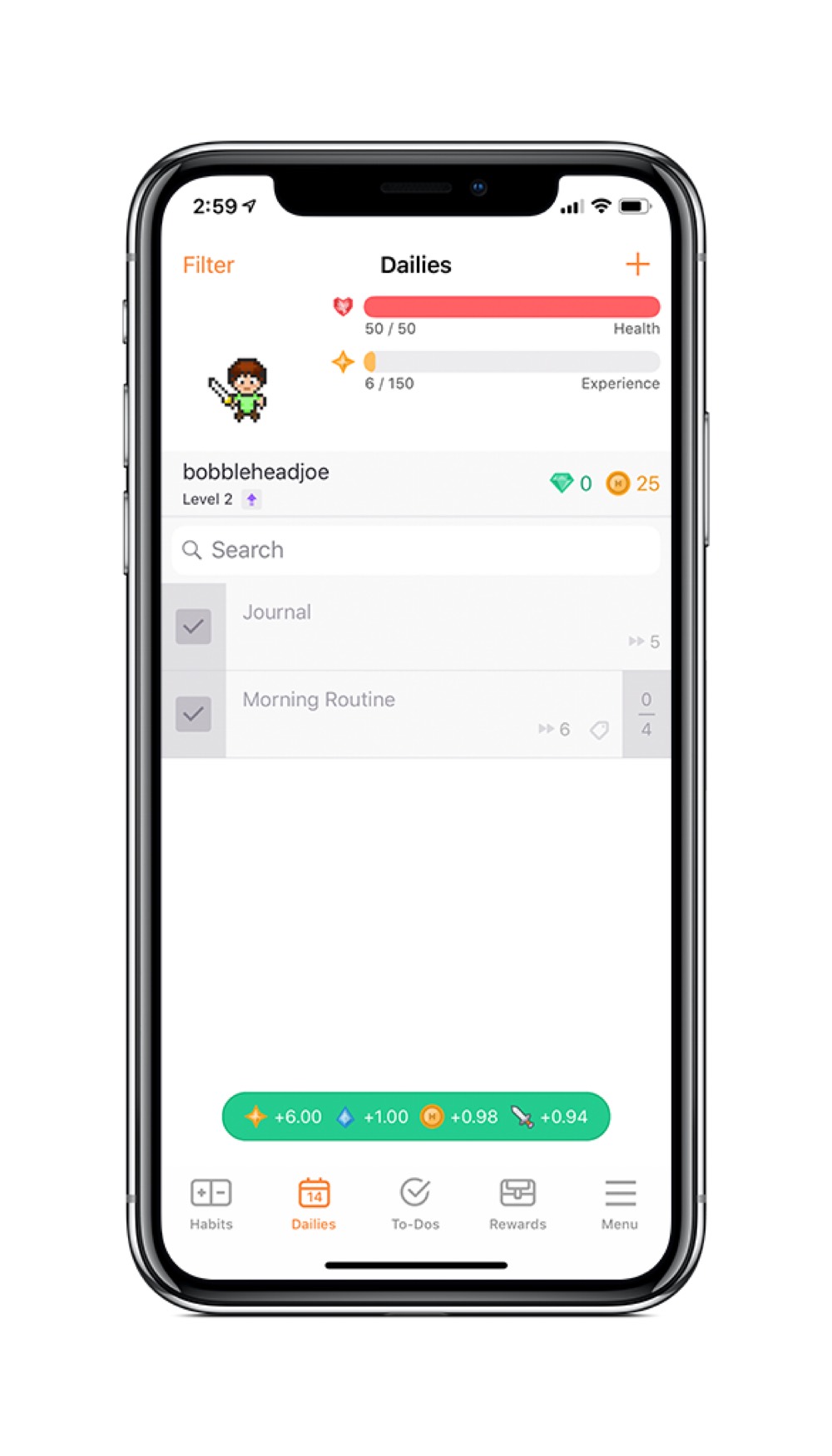 The first thing you do when you launch Habitica is create an account and design your character. Like any good RPG, you can control the class of your character as well as customizing their physical appearance. Once you have created your character, it's time to add your habits.
Actions in Habitica are broken down into a couple different categories: Habits, Dailies (tasks scheduled in a known, repeatable fashion)*, and To-Dos *(tasks that need to be done once or not on a regular schedule). Habits can be either positive or negative, with good habits giving you experience, gold, or mana for completing them and bad habits causing you to lose health or mana. Your goal is to complete habits and acquire experience points that will allow you to "Level Up" without running out of health points.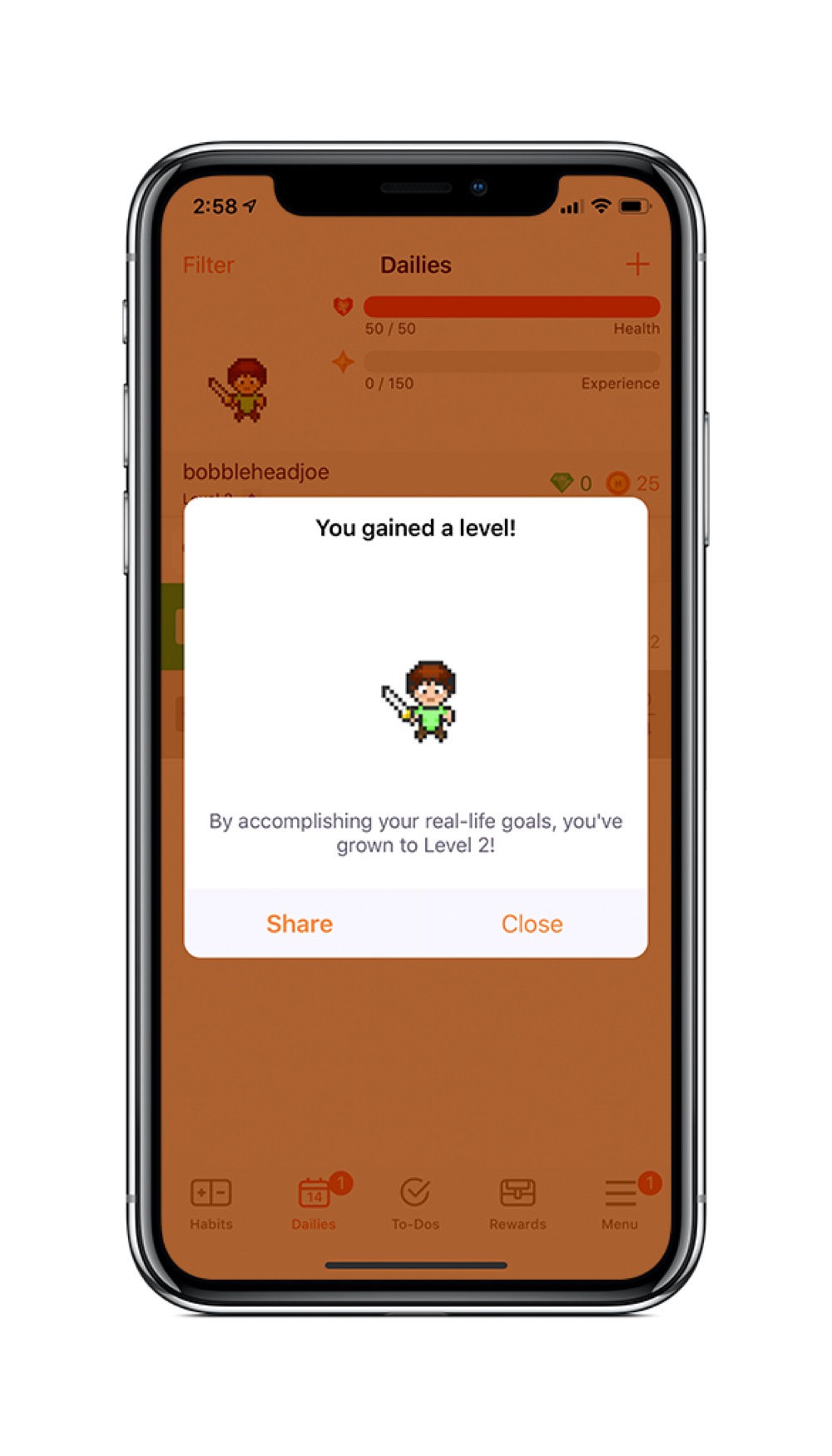 Habitica's RPG-like elements run surprisingly deep. You can even acquire gold and use it to "buy" rewards in the app. The app has an 8-bit style, which is nostalgic to anyone who grew up playing Zelda on their NES growing up (guilty), but it's not nearly as pretty as Productive. Where Habitica really shines though is the social features. Positive peer pressure is a great tool for forming good habits, and Habitica uses this brilliantly.
While you can use/play Habitica solo, it gets really fun when you start collaborating, competing, and holding each other accountable. You can go to the Tavern if you want to chat with other Habitica users, but you can also join up with other players in a Party or a Guild.
Parties are groups of users who play Habitica together, support each other and follow each other's activity. Once you create or join a party, you are able to communicate with other members of your party and embark on challenges where you can fight monsters and earn prizes. It's a great way for you to connect with your friends and hold each other accountable for creating good habits.
Another community aspect of Habitica is guilds. A guild is a social group within Habitica that allows users to discuss similar interests and participate in group challenges. Unlike parties, guilds are free to join, and allow you to connect with other like-minded individuals who can help keep your motivation high.
Unlike Productive, Habitica has its roots as a web app. It is available natively on both iOS and Android, but it is also accessible on the web. It is also (mostly) free to use, although you can purchase Gems via an in-app purchase (which allow you to buy costumes for your avatar, backgrounds, and a few other things). There is also a subscription that allows you to buy gems with gold and gives you access to exclusive monthly items, but it's completely optional. You can use Habitica just fine without the $4.99/month subscription.
Other Options
If Productive or Habitica don't quite work for you, check out one of the other apps we looked at and you'll most likely be able to find something that tickles your fancy.
Strides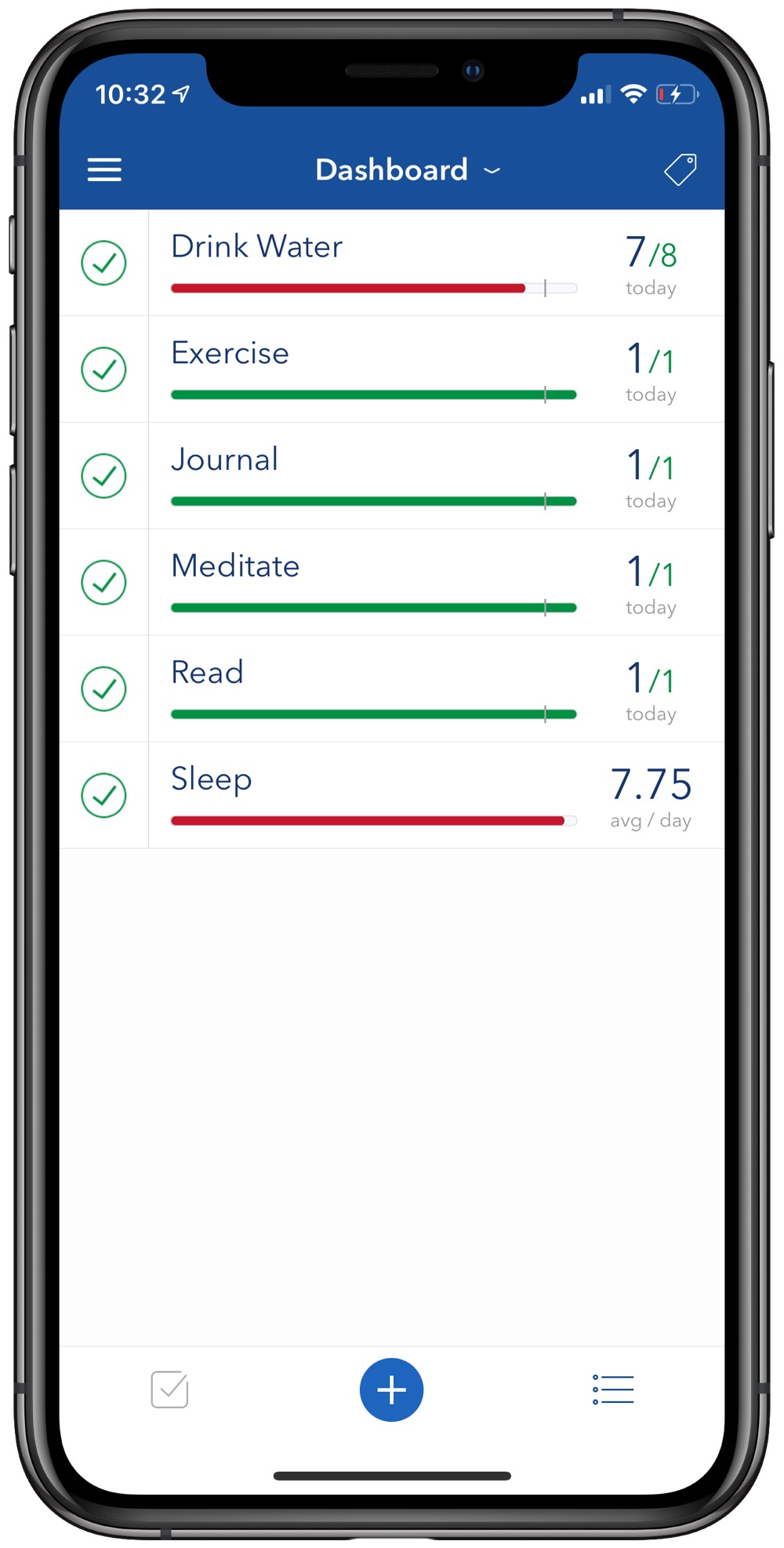 If you're looking for something that can do a bit more, Strides may be for you. Strides is a very powerful habit tracking app that allows you to track things 4 different ways:
Habit, which allows you to track good or bad habits by swiping to log yes or no.
Target, which lets you enter goal values by date and gives you a pace line so you can see if you're still on track.
Average, which shows how long you do something (like tracking how long you sleep each night).
Project, which gives you milestones and percent complete sliders.
It's a solid app and you do get quite a bit with the free version, but if you're just getting started with habit tracking it's a little too complicated in our opinion. Strides Plus is available as an in-app purchase for $4.99/month or $29.99/year, which gives you an unlimited number of habits, a web app and sync between devices, and a whole lot more.
Streaks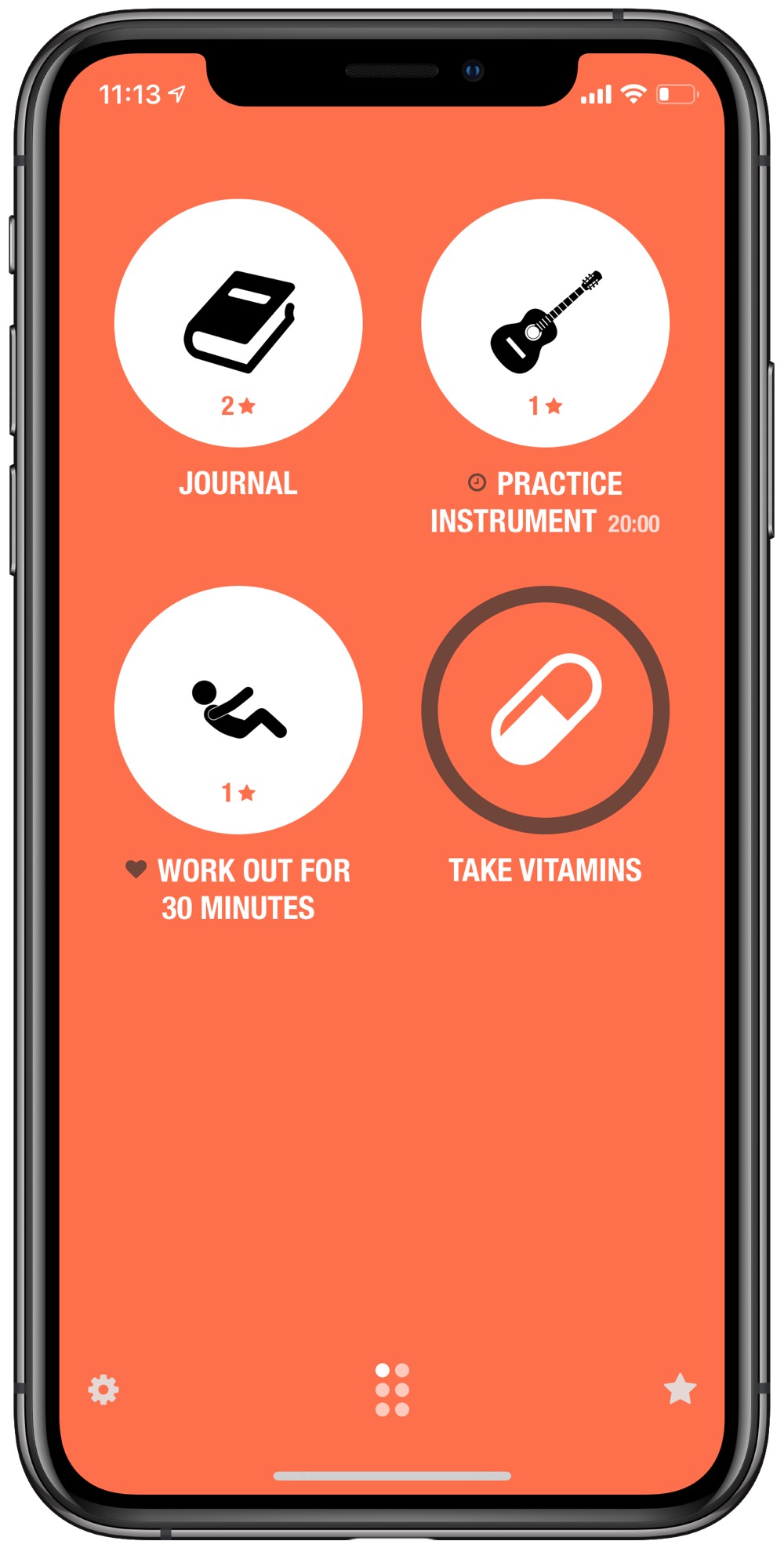 Streaks has a bold visual style that is absolutely beautiful. Unlike a lot of the other apps we looked at that offer a free trial and an in-app purchase subscription, Streaks is a paid app. $4.99 gets you access to everything Streaks offers, including an Apple Watch app and smart reminders that learn when you usually complete a habit and automatically remind you around that time.
One unique feature of Streaks is the integration with the Apple Health app. This allows Streaks to know when you do tasks linked to the Health app and automatically update habits in Streaks. For example, you can set a habit in Streaks of walking a certain number of steps each day and it will show your current number inside the app. You can even do things like tracking your sleep using Sleep Cycle (or any Healthkit-enabled sleep tracker) and that data will automatically be used by Streaks to mark your habit of sleeping 8 hours per night as completed or not.
Habitify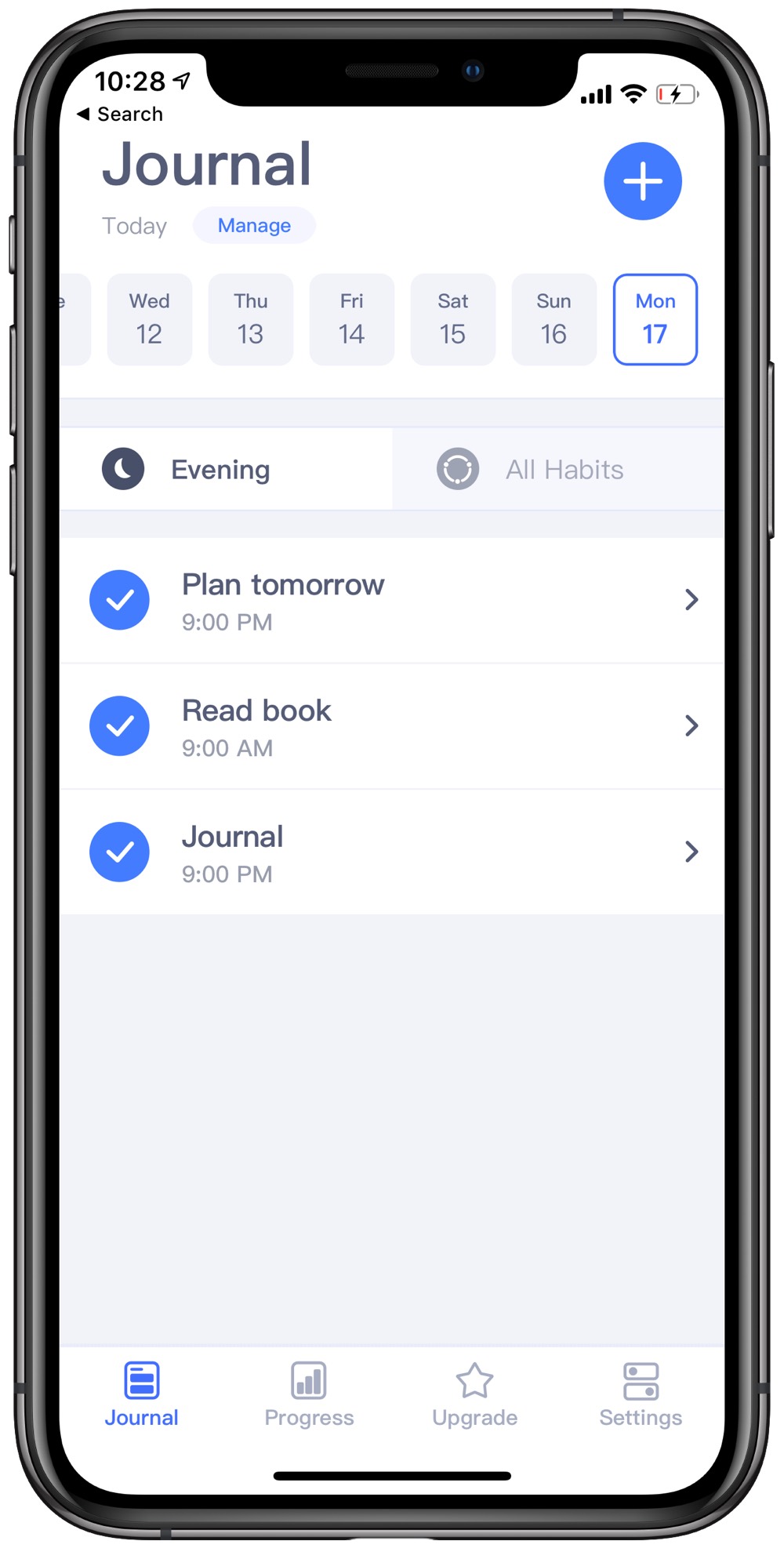 Habitify is a solid app, but it just doesn't quite live up to the high bar set by Productive. It offers unlimited habits, multiple reminders, CSV data export, privacy lock, and dark mode for a one-time $9.99 in-app purchase if you're wary of the subscriptions that many apps offer. There's also a native Mac app (separate $9.99 purchase via the Mac App Store) that allows you to track your habits on your Mac as well. There's currently a Beta version available for Android too, so if you need to track habits on different platforms, you may want to give Habitify a shot.
Way of Life
If you like charts, graphs, and trend lines, Way of Life may be for you. It provides a ridiculous amount of customization when it comes to analyzing your habits. It's not nearly as pretty as some of the other apps we like, but it does give you a lot of options and the in-app purchase to remove the habit limit is only a one-time cost of $6.99, which is quite a bit less than some apps we looked at. If you want full functionality and lots of data for not a lot of money, Way of Life may be for you.
Coach.me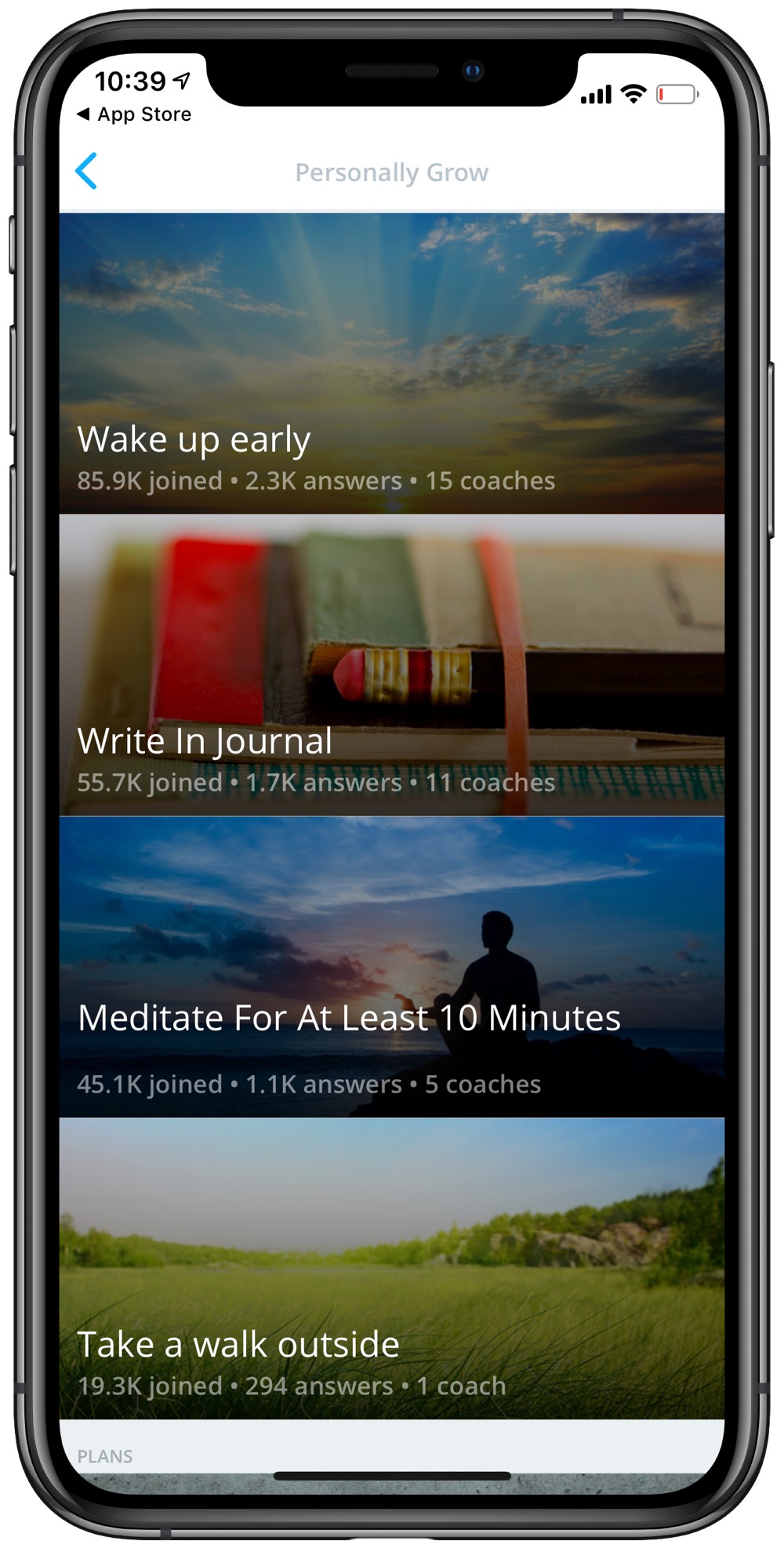 Coach.me is a great service, but it really doesn't fit what we were looking for in a habit tracking app. In fact, you don't have the option of creating your own habits! Instead, you search for and join a community with a pre-defined focus or goal. You can then ask questions, get encouragement, and find accountability within that community. If you're the type of person who would benefit from an online community and can find one that matches your goal/habit, then Coach.me is definitely worth checking out. But if you want to join a group of friends in creating habits together, we still prefer Habitica.
Done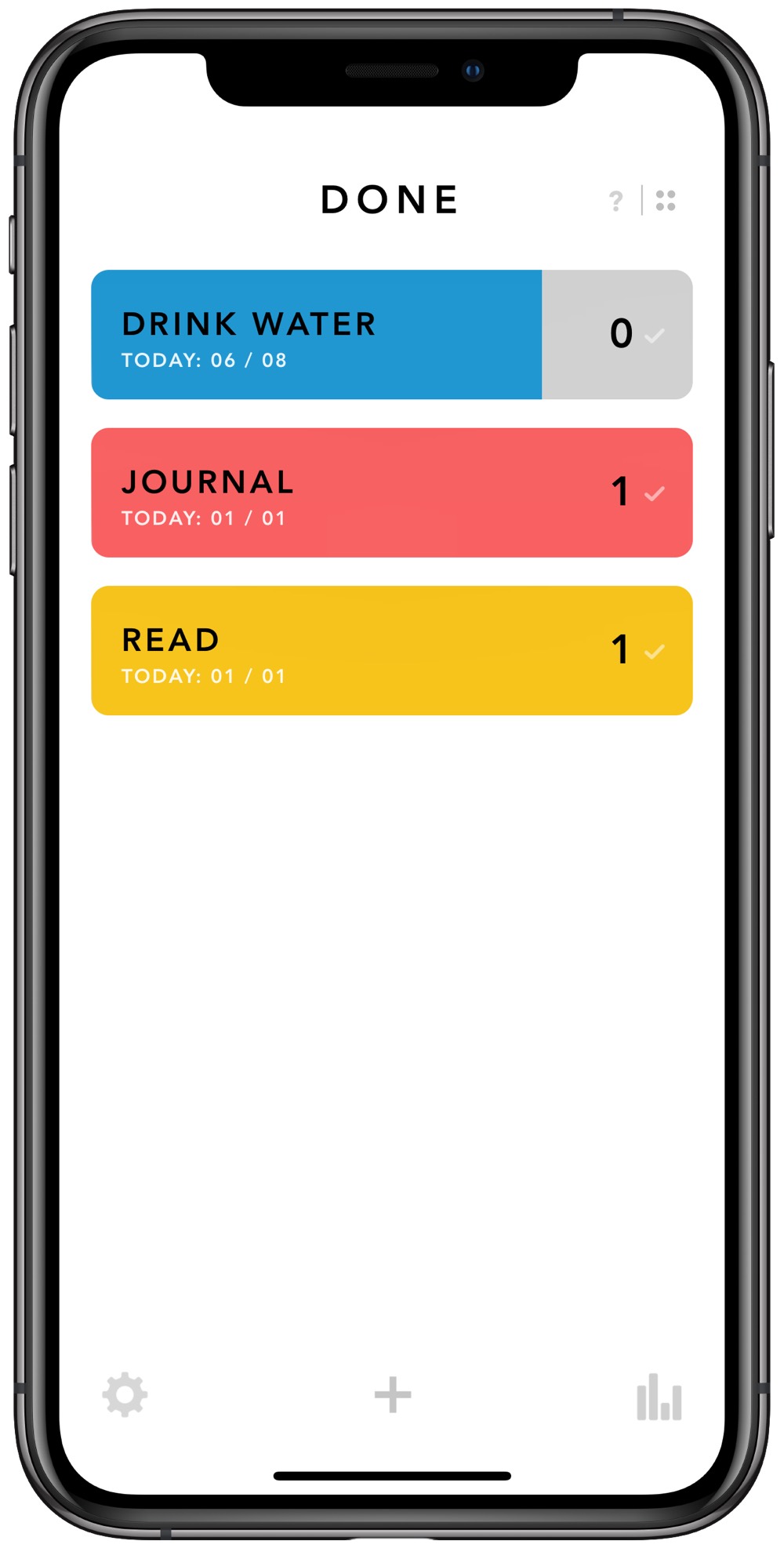 Done is a simple habit tracker that uses horizontal bar graphs to track progress on your habits. It's really well-designed and gives you all the features you need (unlimited habits, iCloud backup, passcode, etc.) for a single in-app purchase of $5.99. One unique feature is the CSV export, which allows you to use your data in any spreadsheet program. It's also available as part of a bundle of five apps called the Growth Bundle which includes other productivity and lifestyle apps by the developer for a subscription fo $2.99/month or $15.99/year.
Today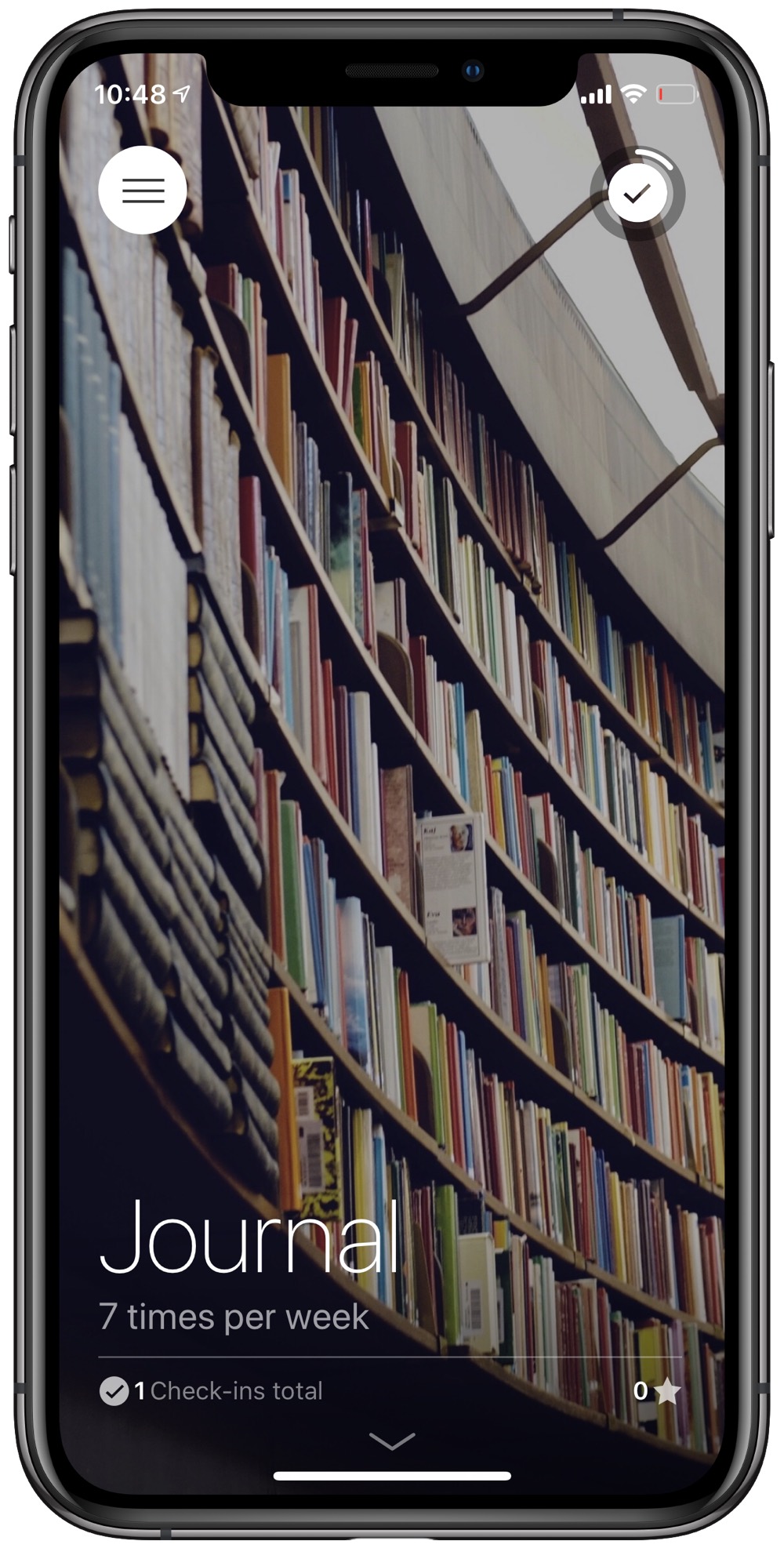 An Editor's Choice award winner in 2016, Today looks great and is a little more visually interesting than a lot of the habit trackers we looked at because it allows you to select a beautiful and motivating full screen photo cover for each one of your habits. You can pick from their selection of photo covers or use any of your own photos. It also allows you to build your own dashboard by using several different "cards," like milestones, stress levels, streak calendars, and Apple Health charts. If you don't like the standard look of most habit tracking apps or want a little more control in setting up your own custom reports, the $4.99 one-time in-app purchase for Today is very reasonable and might be for you.
Fabulous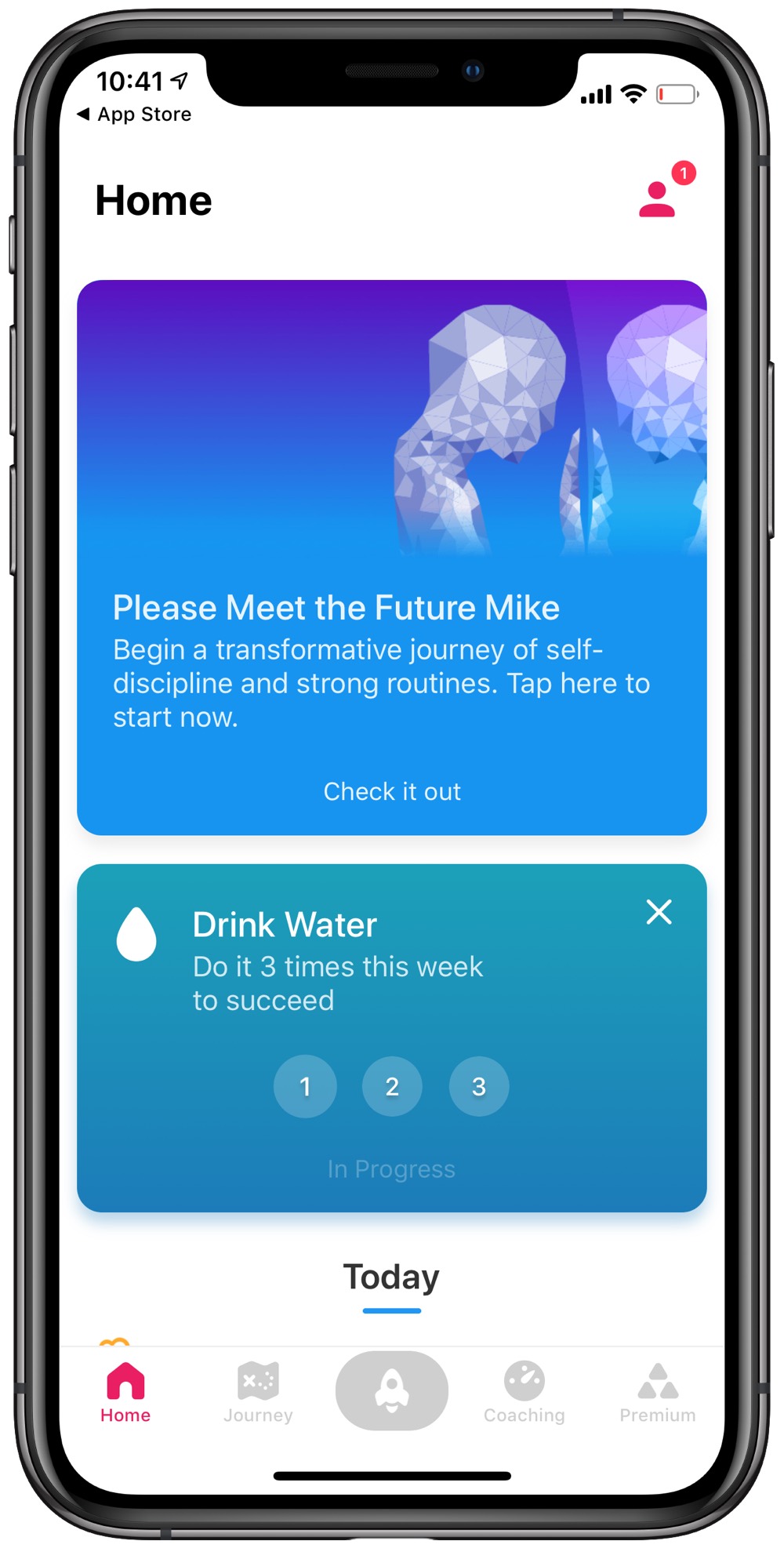 Fabulous is a gorgeous app that was "incubated in Duke's Behavioral Economics lab," promising to help you create a better you in only 19 days. Based on other research around habit building that says it takes at least 21 days and often more like 66 days to create positive habits, this seems like a bit of an outrageous claim to us. It's built around the concept of Journeys, guiding you down a path instead of selecting specific habits you want to create or eliminate. At $49.99/year (with the 50% discount according to the in-app purchase screen), it's also very expensive compared to the other apps we looked at.
Habit List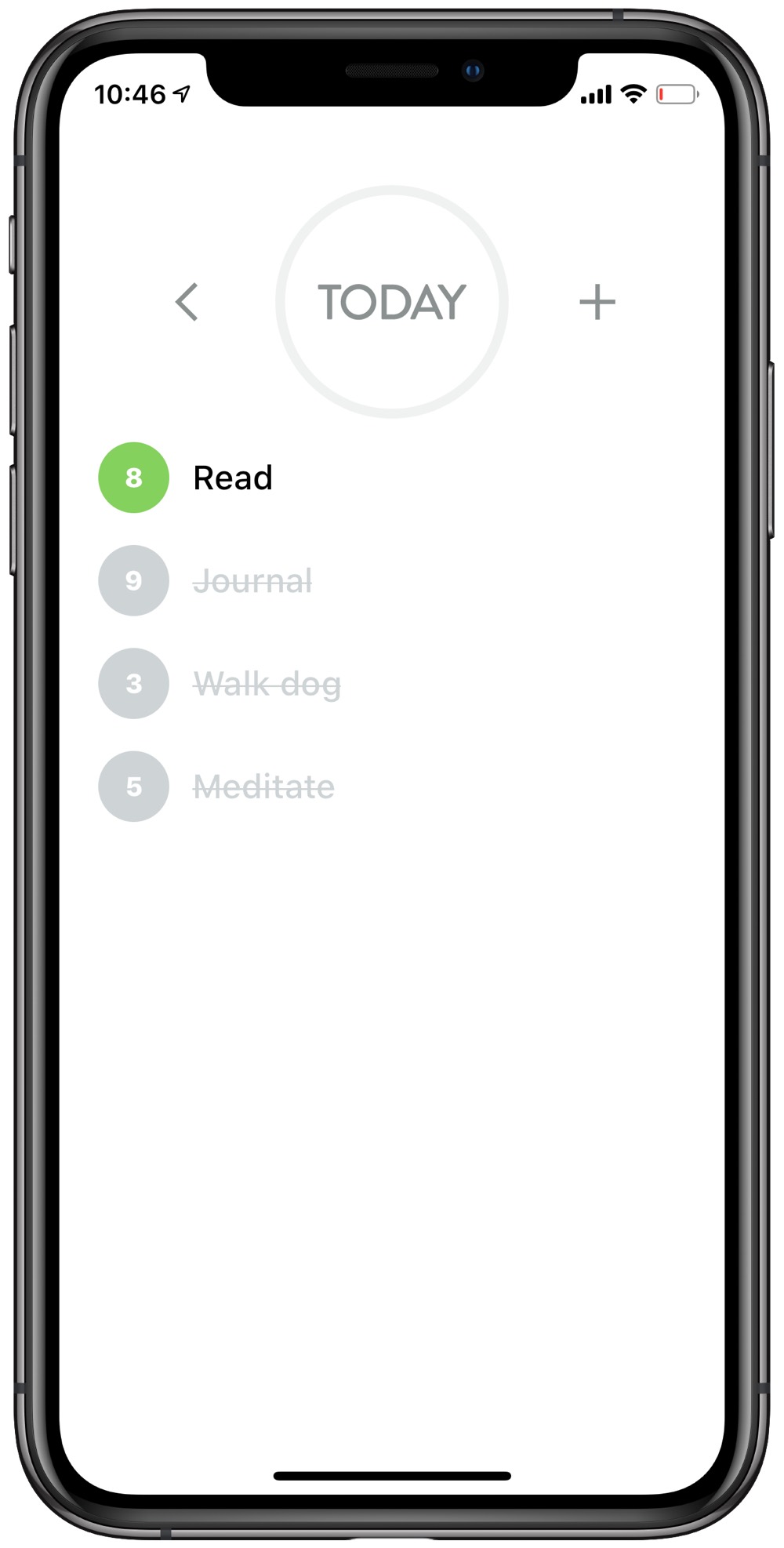 Habit List is a solid app that has been around for a long time. It has a clean, intuitive user interface with all the basic features you need. A one-time in-app purchase of $4.99 unlocks unlimited habits, passcode lock, and a dark mode which looks great. The one thing that gives us pause is that it hasn't been updated in about a year. Granted, it really doesn't need to be, but the team is small (the app says it's only 2 people) so there is the risk that they were pulled off the project for some reason and the app isn't going to receive any more love.
Momentum
Momentum was a great looking app when it launched, and it also offers a native Mac app which may appeal to some users. However, neither the iOS or Mac apps have received an update in the last 2 years. for that reason, we can't recommend this one.
Conclusion
There's an abundance of riches when it comes to habit tracking apps for iOS, but our favorite is Productive. It has powerful features (like Boost Mode and location-based reminders) that give you everything you need to make this the year you achieve your goals, and has a beautiful design that is easy to use. If you like the idea of gamifying your habits or want something more social, check out Habitica.
The 5 Best Productivity Apps (Sweet Setup Favorites)
Download: We spend an inordinate amount of time sorting through hundreds of apps to find the very best. This list of must-have productivity apps includes app links, quick-start info, and pro-tip workflow recommendations for each app.
$0 - $23.99
Productive is the best habit tracking app because of its unique personality, a solid set of features, and a delightful design.