A Mindfulness Monday Review of the reMarkable 2
April 25, 2022
When I first saw the reMarkable 2, I immediately saw the appeal from a mindfulness perspective. In this Mindfulness Monday post, I consider the pros and cons of "the world's thinnest tablet."
What is the reMarkable?
The reMarkable markets itself as a next-generation paper tablet. It's a digital tablet that is roughly the size (and weight) of a standard legal pad.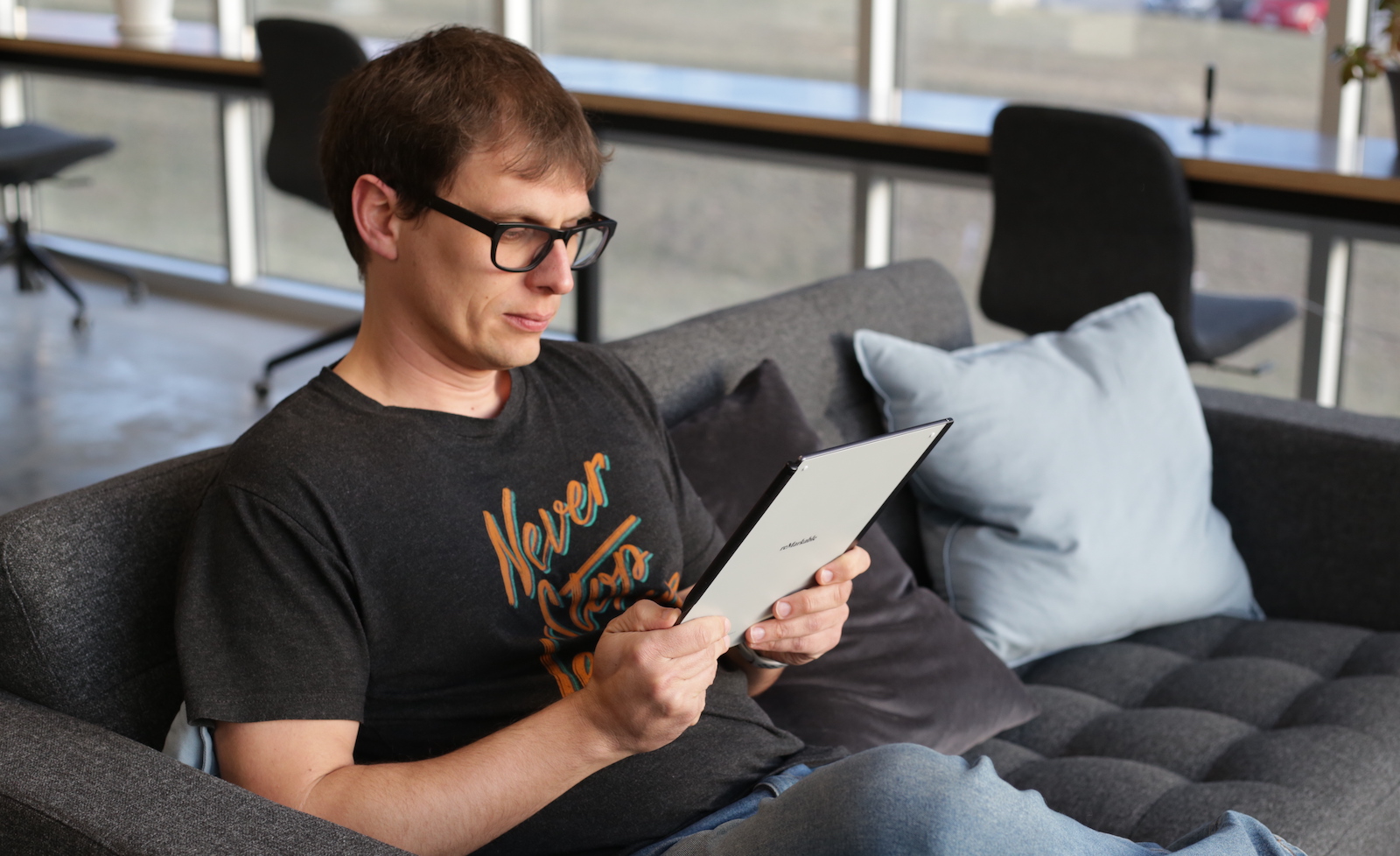 Unlike the iPad, the reMarkable doesn't give you access to a ton of computing power or millions of apps. Its singular purpose is to let you take notes on a digital device that feels like paper.
That may sound like a limitation, but it's actually a feature. The reMarkable isn't trying to replace your computer — it's designed to help you think. There's no social media, no email, and no notifications. It does have Wi-fi to sync your documents, but there's no web browser. It's for reading, writing, and visualization only. It's very much a device designed for mindful technology use.
And I have to admit — I kind of love it.
Who is the reMarkable for?
I'm a big fan of GoodNotes. I've written before about how I use it when taking sketchnotes. I even helped make a whole video course on the app here at The Sweet Setup. I've also written about how I love the feel of pen and paper and use it to plan my day, every day.
And if I had to define who the reMarkable is made for, it is made for people like me who love their digital devices but appreciate the feel of analog tools.
The Hardware
The device itself is thin and light. It feels much more comfortable to carry around and use than an iPad — even my beloved iPad mini. The device itself is 0.19 inches (4.7 mm) thick and weighs 0.88 pounds. That's not a whole lot less than the 1.0 pounds of the newer iPad Air which is roughly a comparable size, but if feels much lighter in your hand. If I had to carry around a note-taking device all day, I'd much rather bring the reMarkable.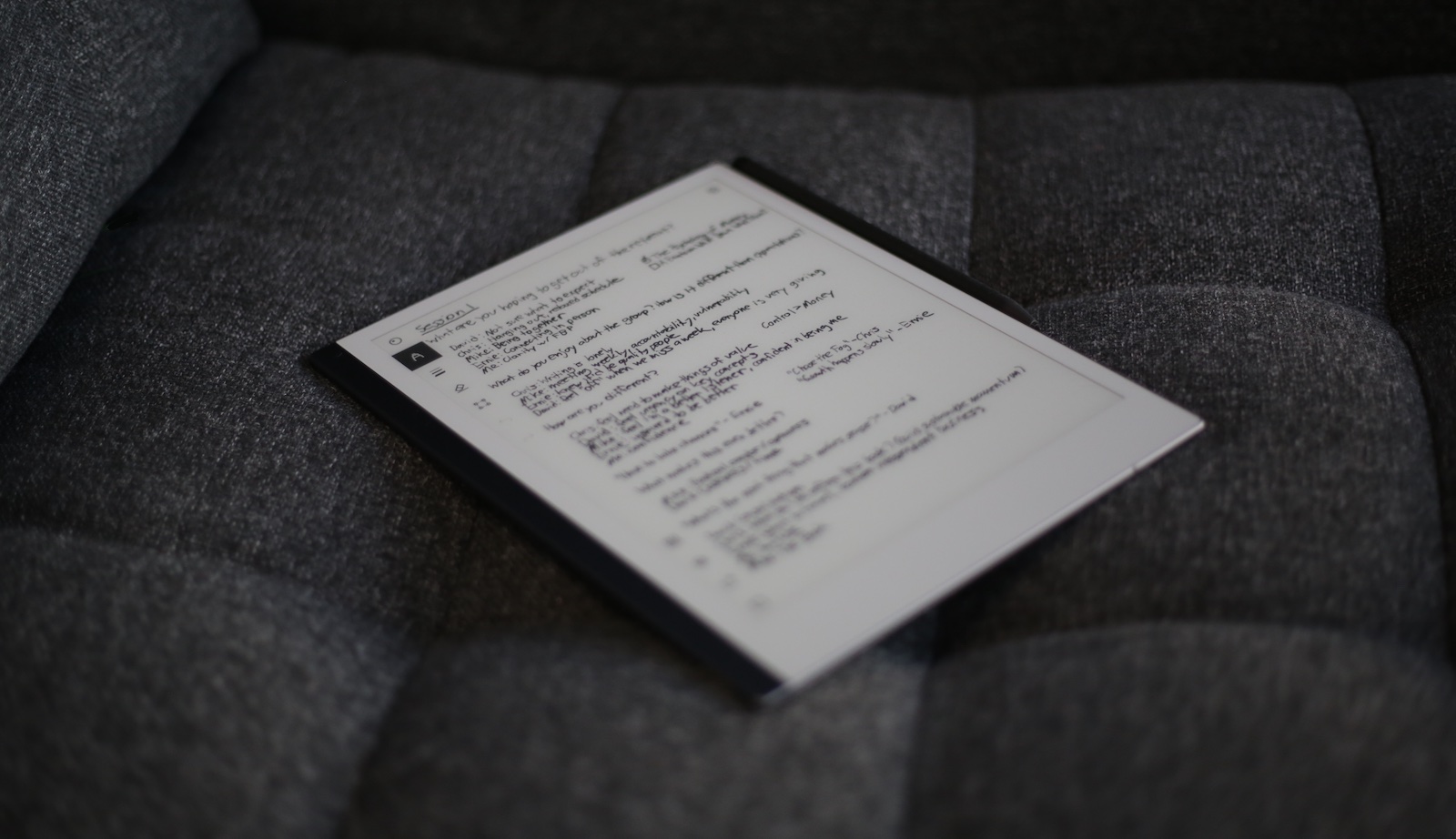 The 10.3″ e-ink screen has a resolution of 1872 x 1404 (226 DPI) and gives the reMarkable impressively long battery life. The website says the 3000 mAh battery lasts about two weeks, but I've had the device for several months and only had to charge it with the included USB-C charging cable a couple of times. Basically, you never have to worry about not having enough juice.
The screen is a second-generation CANVAS display, and it's pretty impressive. It's an e-ink screen, so there's no reflection or glare. If you want to read and annotate PDF documents outside on the reMarkable, it won't be a problem. The surface of the display is designed to mimic the feel of writing on actual paper. It isn't going to fool any pen addicts out there, but it does feel considerably nicer than the glass screen on the iPad. It also has incredible responsiveness for an e-ink screen. It's not quite as good as the iPad in my opinion, but it's not going to be noticeable in everyday use.
The stylus is available in two different models. They both offer the same 4096 different levels of pressure sensitivity, but the premium Marker Plus allows you to flip the stylus over and use the other end as an eraser. It's slightly longer and slightly heavier (19g compared to 15g), but both models never need to be charged or setup and connect to the side of the device magnetically.
Overall, the hardware is great. The software is another story.
The Software
The software on the reMarkable device itself is pretty decent. It gives you a bunch of different tools:
Ballpoint pen
Fineliner
Marker
Pencil
Mechanical pencil
Paintbrush
Highlighter
Calligraphy pen
Each tool has options for stroke thickness and color. There's also an eraser tool, undo/redo, and a selection tool that allows you to select and move parts of your document.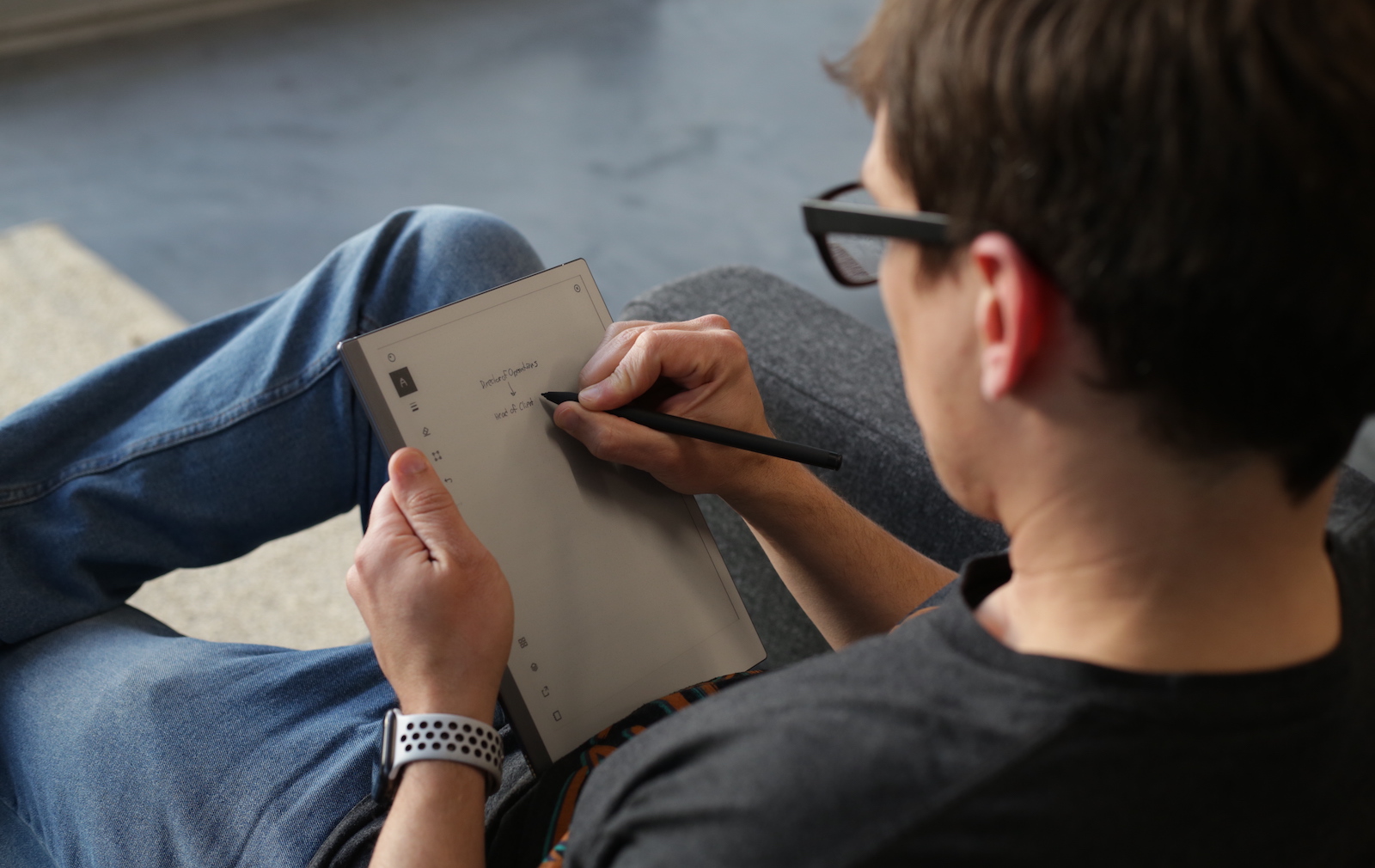 You can also add layers to your notes, just like in an app like Photoshop. This allows you to write on top of your notes without worrying about messing something up on a layer below the one you are editing.
Your notes can be stored in Notebooks, and you can choose different templates or paper types for each notebook. There's an impressive number of templates included, from dot grid to storyboards to checklists to day planners, available in both portrait and landscape orientation. You can also store and mark up PDFs and ebooks on the reMarkable, but be aware that the hard drive isn't huge (8GB). Most people will never bump up against these storage limits, though.
You can also import files and ebooks from other online storage sources like Dropbox, Goole Drive, and OneDrive. This makes the reMarkable a great device for marking up PDF files, though exporting those files back to your computer can be a bit of an adventure.
The reMarkable has built-in optical character recognition (OCR) to convert your handwritten notes into text, and it's the best I've ever seen. It even supports cursive and block letters, meaning the titles I use for my sketchnotes that GoodNotes chokes on work just fine on the reMarkable. So if you don't care about limited color options and prefer stronger OCR, the reMarkable is your dream device.
The problem is what to do with that text.
The only option for sending text from the reMarkable is to send it through email. This works well enough and is great for instantly sending meeting notes to attendees, but I wish there were other options available.
There are also Mac and iOS companion apps, but they're not that great. You can present from your reMarkable to the desktop app using a feature called Screen Share, but other than that the Mac app in particular is pretty limited. For example, you can view your synced documents, but you don't get any of the tools. You can export documents as PDFs, PNGs, or SVGs, but you can't OCR text and paste it into another app.
My reMarkable Wish List
While I do really enjoy using the reMarkable, there are a couple of things I'd like to see added.
First, I don't really have a use for the Chrome plugin that allows you to send websites to your reMarkable to read later. But that does make me wish that it offered some sort of Read-It-Later sync. For example, it would be incredible to be able to sync Readwise to the reMarkable like you can to Obsidian.
I also wish there was a way to export text in additional ways besides email. I personally don't want to email myself text all the time, and wish I could grab it directly from my documents so I could paste it in another app. I should be able to export the text from the reMarkable macOS app instead of having to grab the device itself and email it to myself. This feels incredibly cumbersome every time I try to do it.
I also wish it was a little more affordable. The cost of $299 isn't unreasonable for the device, but you need an additional Connect plan (which costs $7.99/month) to use all the features. You can use the device without a Connect plan, but you lose the Dropbox, Google Drive, and OneDrive integration as well as handwriting conversion and screen sharing.
Conclusion
Overall, I really like the reMarkable. I don't use it all the time (I still love my notebook and fancy pen), but I do find myself reaching for the reMarkable frequently when I want to take notes or in situations where I don't really want to bring my iPad or laptop. From a minduflness perspective, it gets two thumbs up.
The reMarkable isn't perfect, but there is a lot to like about the device. It's thin and light, has great battery life, and provides the closest thing to pen and paper I've ever seen. However, the software on the device is merely average and the companion apps on macOS and iOS leave a lot to be desired.
If you're looking for a digital replacement for your legal pad, you'll love the reMarkable. If you live off your iPad, this device isn't going to replace it. It's also great if you want something for taking analog notes or a more mindful device that won't let you get distracted by email or social media.
It is a little pricey ($299), but does offer a generous 100-day refund policy so you can put it through the paces and decide if it clicks for you.
Must-Have, Most-Used Apps for Thinkers
We spend an inordinate amount of time sorting through hundreds of apps to find the very best. Our team here at The Sweet Setup put together a short list of our must-have, most-used apps for writing, note-taking, and thinking.